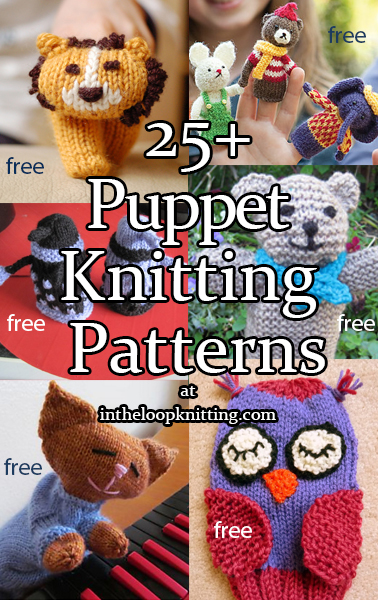 Knitting patterns for finger puppets and hand puppets. Most patterns are free.
To get the knitting patterns, scroll down the page to the individual pattern you want and click on the link to that pattern.
These patterns are not my designs but links to other designers who have generously shared their patterns. If you have questions about how to knit a specific pattern, please contact the designer directly.
All links on this site are for informational purposes, but please note that some links are to affiliate sellers that pay me a small commission on purchases.
Free Patterns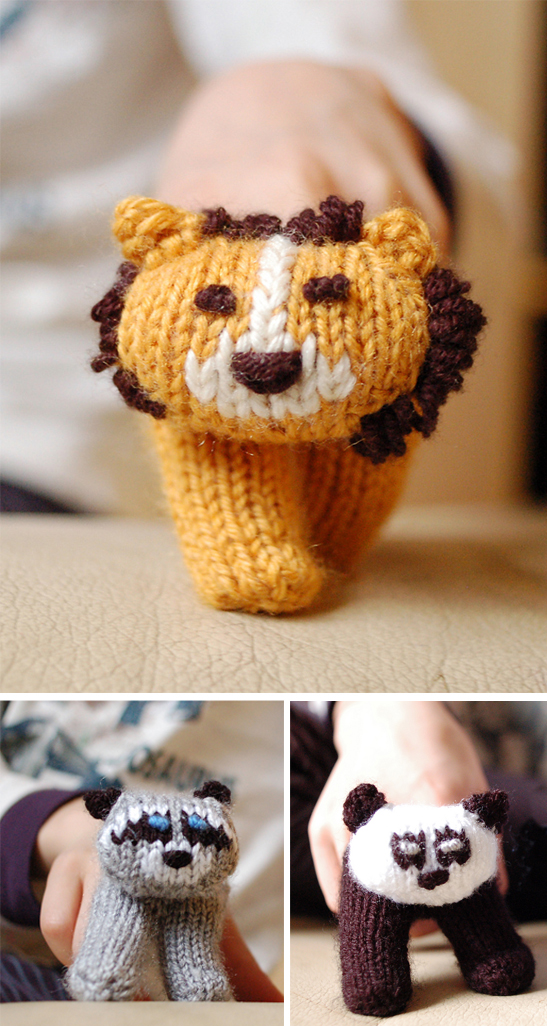 Two-Finger Puppets
Let your fingers do the walking for these cute puppets. There are instructions for 3 faces – 2 cats and a raccoon – but they are easy to customize. Designed by Luciana Jorge. Available in English and Spanish. Pictured projects by Sikari73 who added fringe to create a lion's mane for one and made another in panda colors.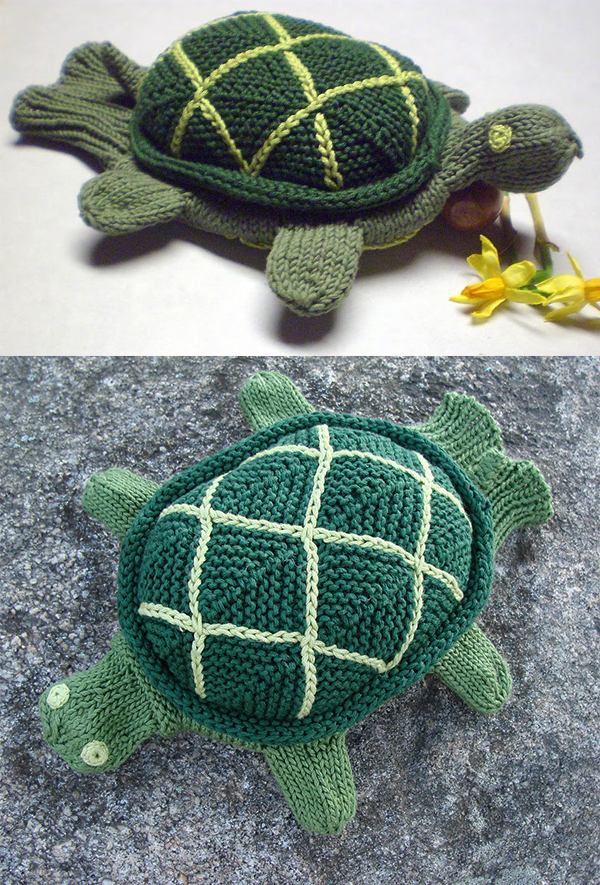 Turtle Puppet
Topher is a hand puppet shaped slightly like a glove. Slip your hand in the cuff at his back and use your fingers to move his head and legs. You can turn him into a bath mitt by knitting in cotton and stuffing the shell with a sponge. Or leave the cuff off and stuff completely as a toy. Designed by Mavis Adam. DK weight yarn. Pictured projects by Patty7737 and designer.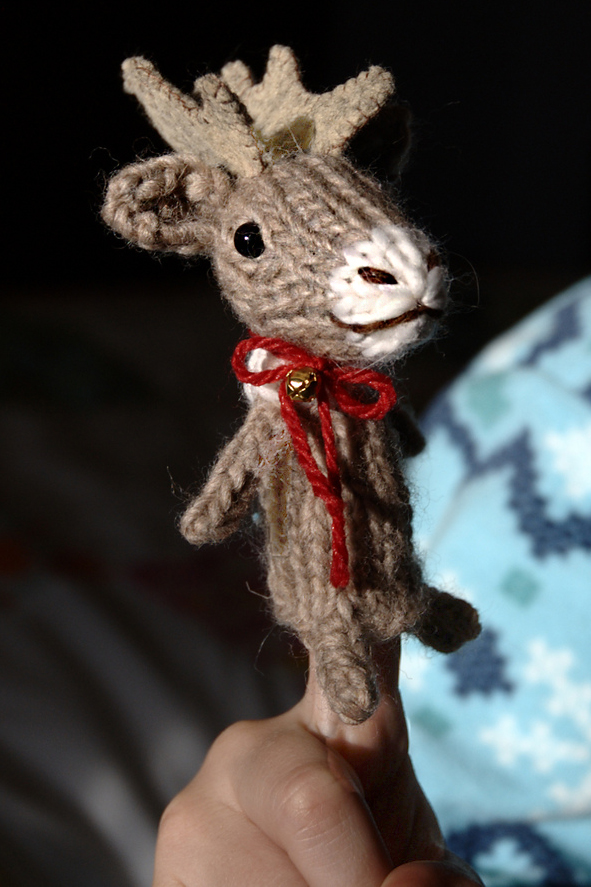 Reindeer Finger Puppet
Quick knit. Size 8 cm or 3". Great stocking stuffer! You can also stuff and use as a small toy or hanging ornament. Designed by Barbara Prime of Fuzzy Mitten.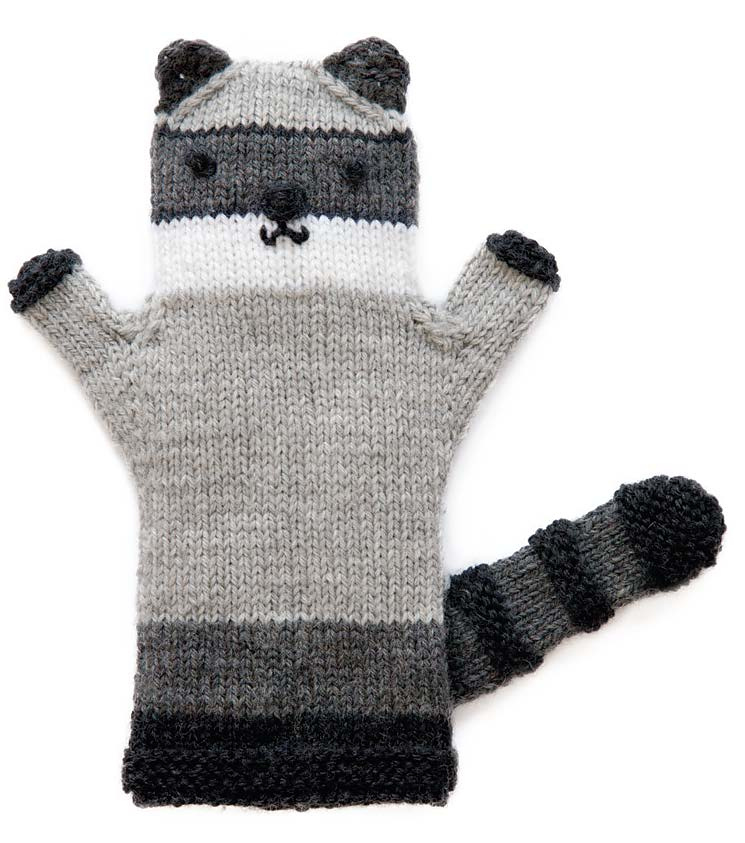 Raccoon Puppet
The body of this hand puppet is knit in the round. Approx 8"/20.5cm. Designed by Pat Olski and excerpted by Craft Foxes from 60 Quick Knitted Toys.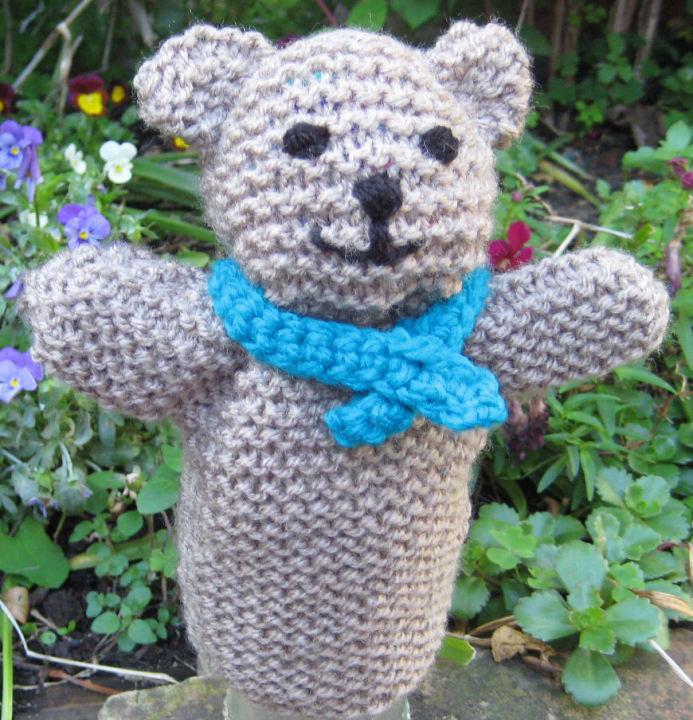 Teddy Bear Hand Puppet
An easy pattern designed to be simple enough for children to knit. It's a garter stitch rectangle with some cast on and bind off for arms. Ears are shaped by sewing along head fold. Designed by Shelley Pearson for Knit a Square Charity.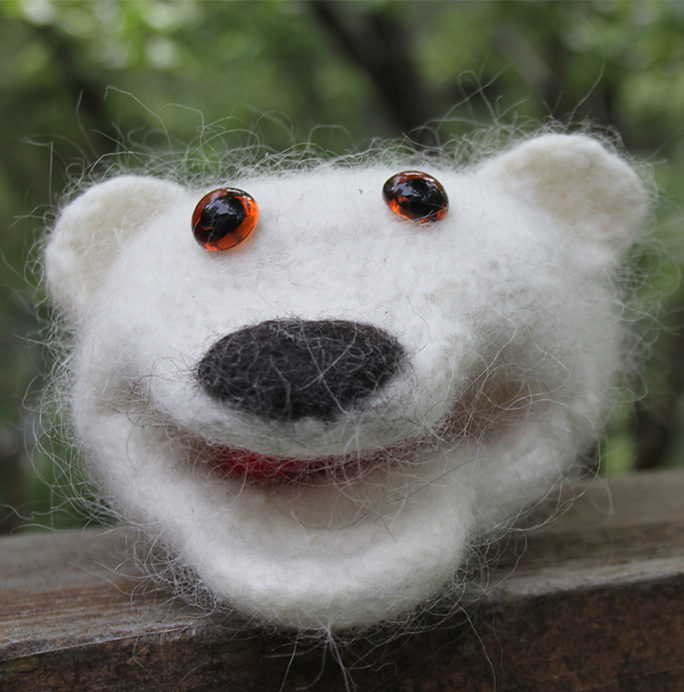 Polar Bear Puppet
Hand puppet that is knit like a sock and felted in the washing machine. Designed by Susan Prince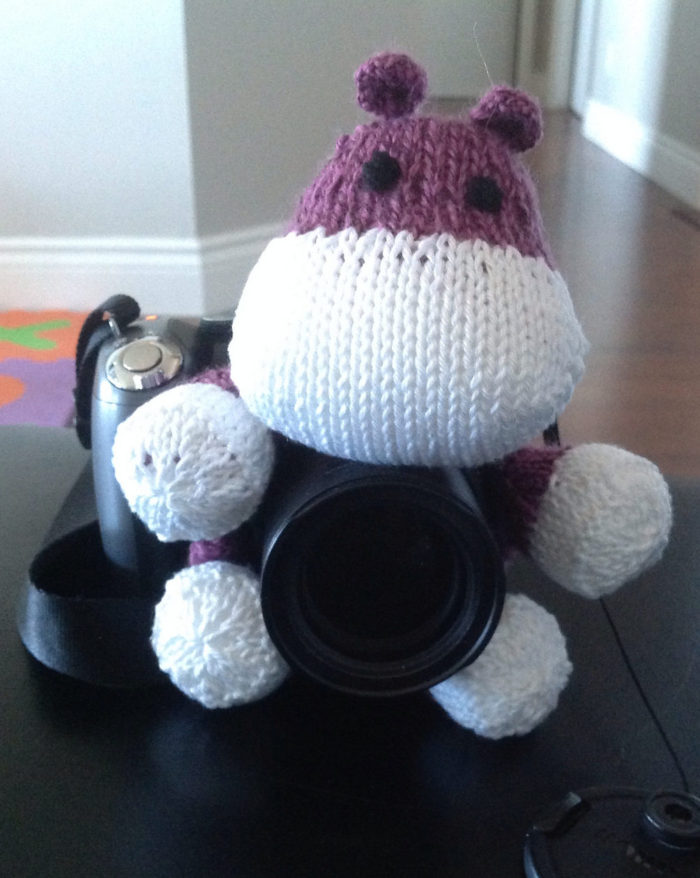 Say Cheese Camera Puppet
Get a smile for the camera from babies and children with this adorable hippo that slips over the lens of your camera. You can also use other head and feet patterns and adjust the size for your camera lens. Designed by Sumiko Sumiko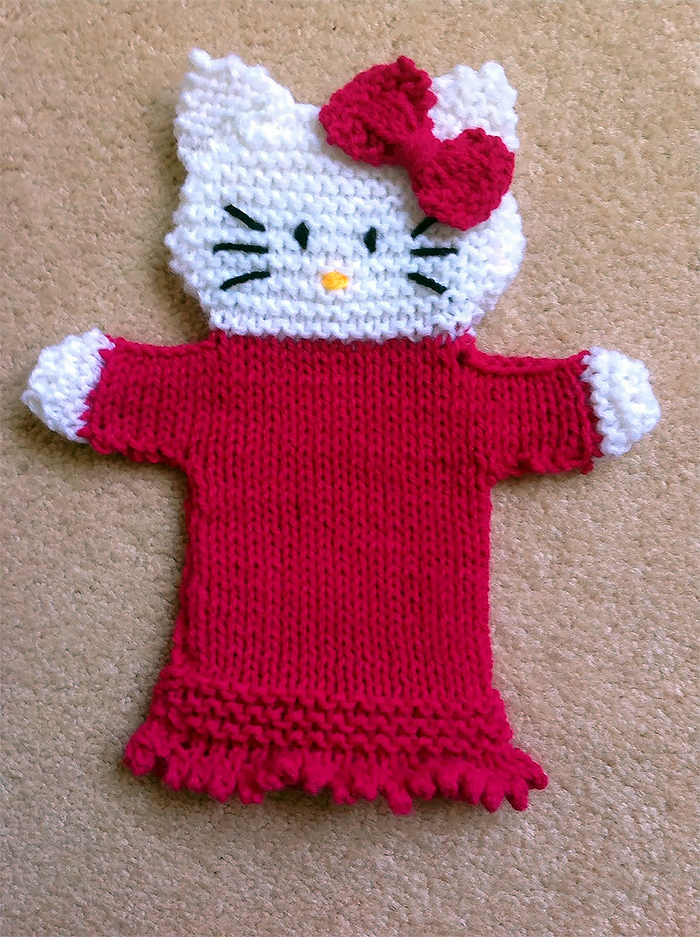 Hello Kitty Hand Puppet
Cat hand puppet knit in DK yarn. Designed by Janet McGregor The Puppet Lady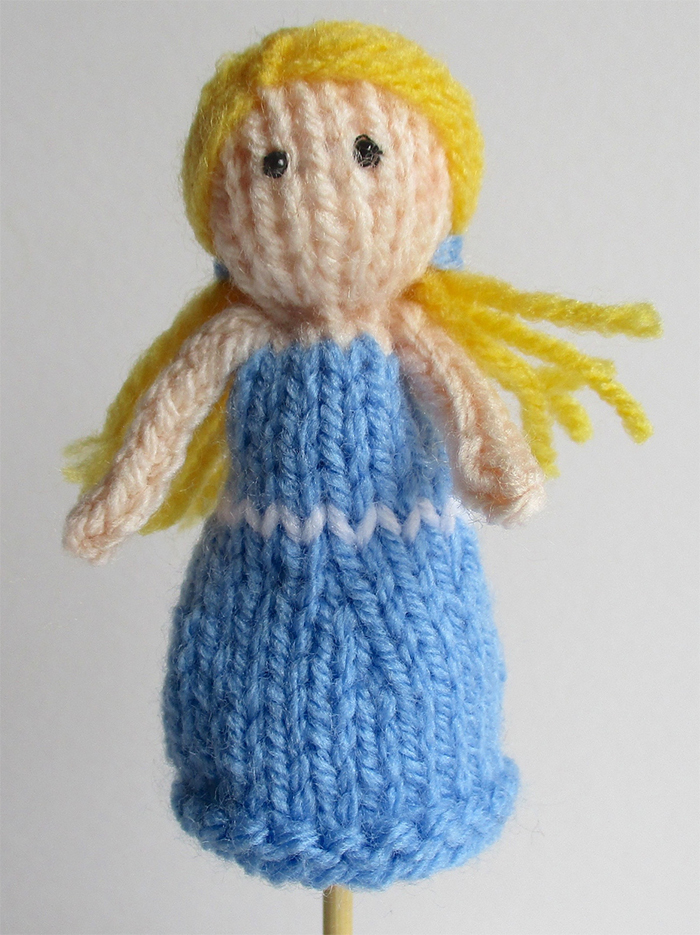 Goldilocks Finger Puppet
This finger puppet by Amanda Berry is easily customizable into other characters by changing skin color, hair, and dress. The designer allows you to sell the finished project to raise money for charity.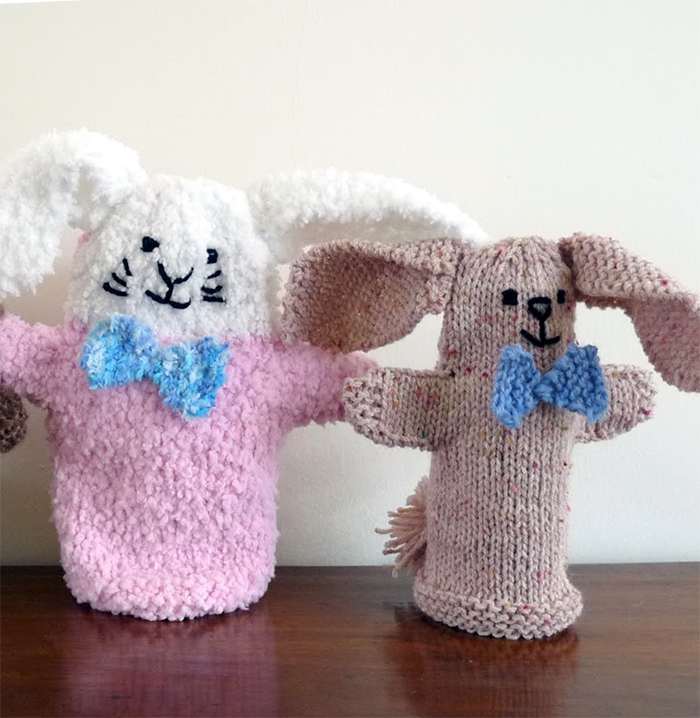 Bunny Hand Puppet
Knit in DK yarn. Designed by Janet McGregor The Puppet Lady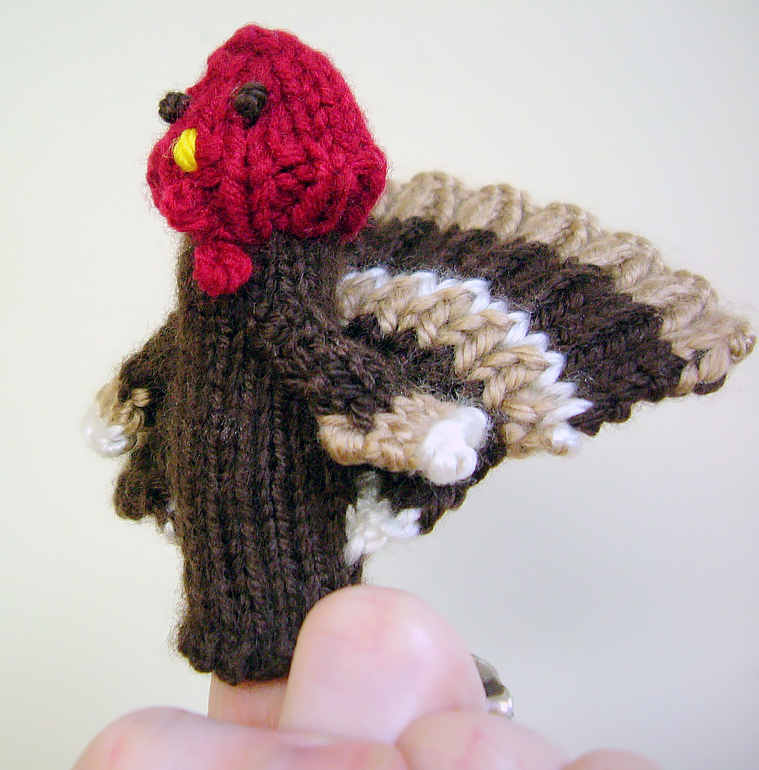 Turkey Finger Puppet
Could easily be adapted to other birds like peacocks. Designed by knittedblissJC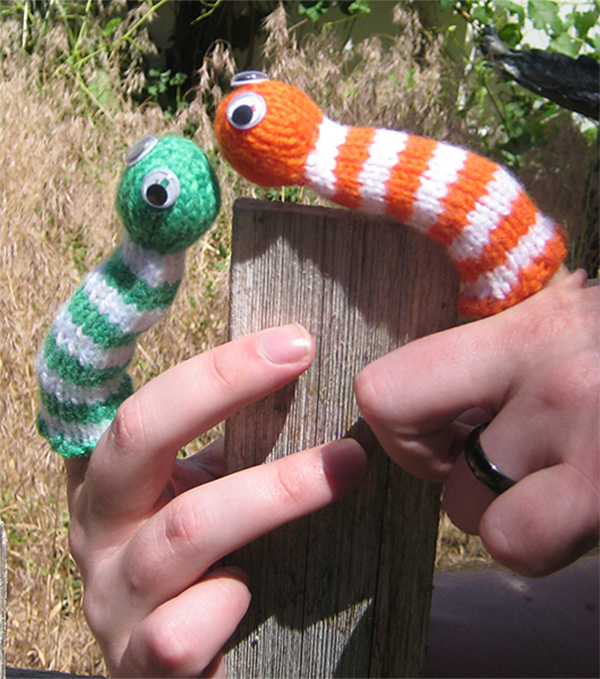 Smiley the Worm Finger Puppet
This cute finger puppet is knit in the round with just 10-15 yards of yarn and a little fiber fill. Designed by ChemKnits Pictured project by knitlette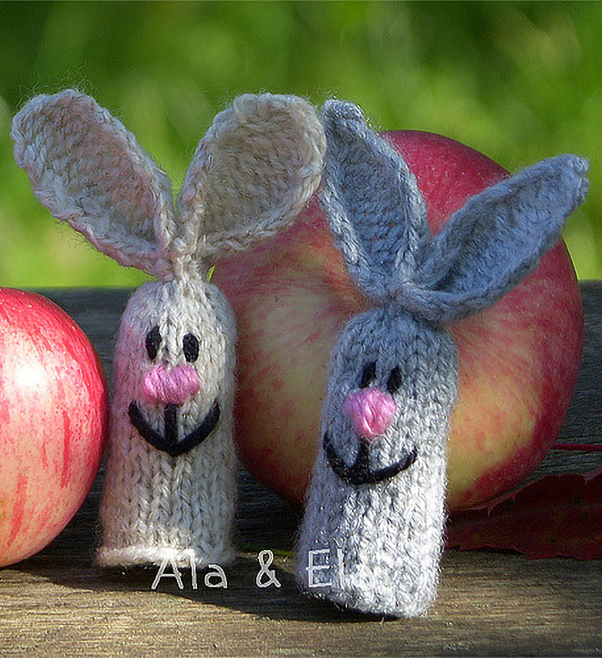 Hare Finger Puppets
Easy puppets about 9 cm (3,5 inch). Designed by Ala Ela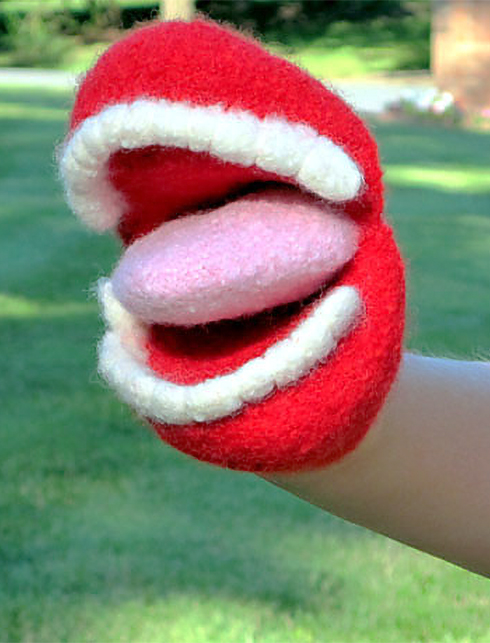 Chow Hand
This mouth puppet is quick knit, then felted in your washing machine. Chow can easily be customized with a little embroidery floss to add braces or other features. Chow is knit in the round … two mouth pieces, a tongue and two rows of I-cord teeth. Designed by C. Randy Wheeless for Knitty
More Free Patterns

Menagerie Puppets
Five dressed-up animal finger puppets including elephant, lion, bear, bunny and reindeer. Designed by Monica Rodriguez Fuertes. Pattern available for free with a free trial at Creativebug. Click link and scroll down to the bottom of pattern list to see the download link. You'll have to sign up for a free trial.
Two options to get the pattern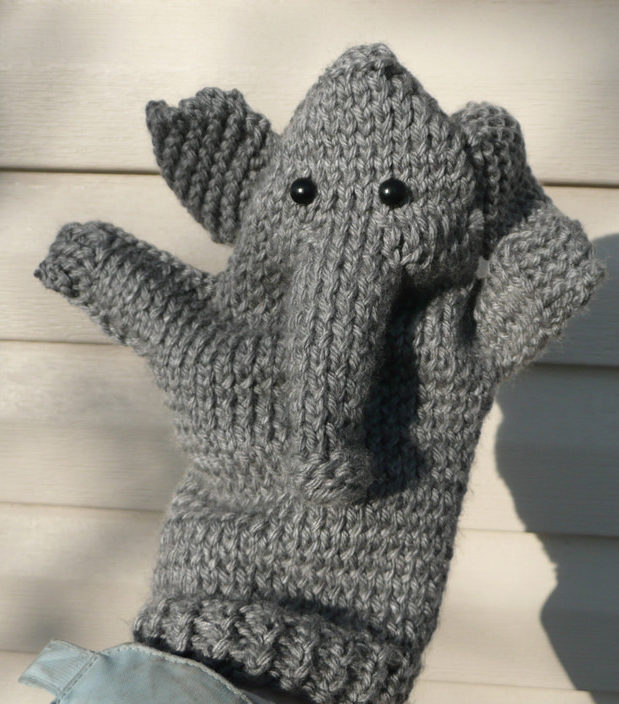 Elephant Puppet
Designed originally by Operation Christmas Child International. Pictured project by needleclicker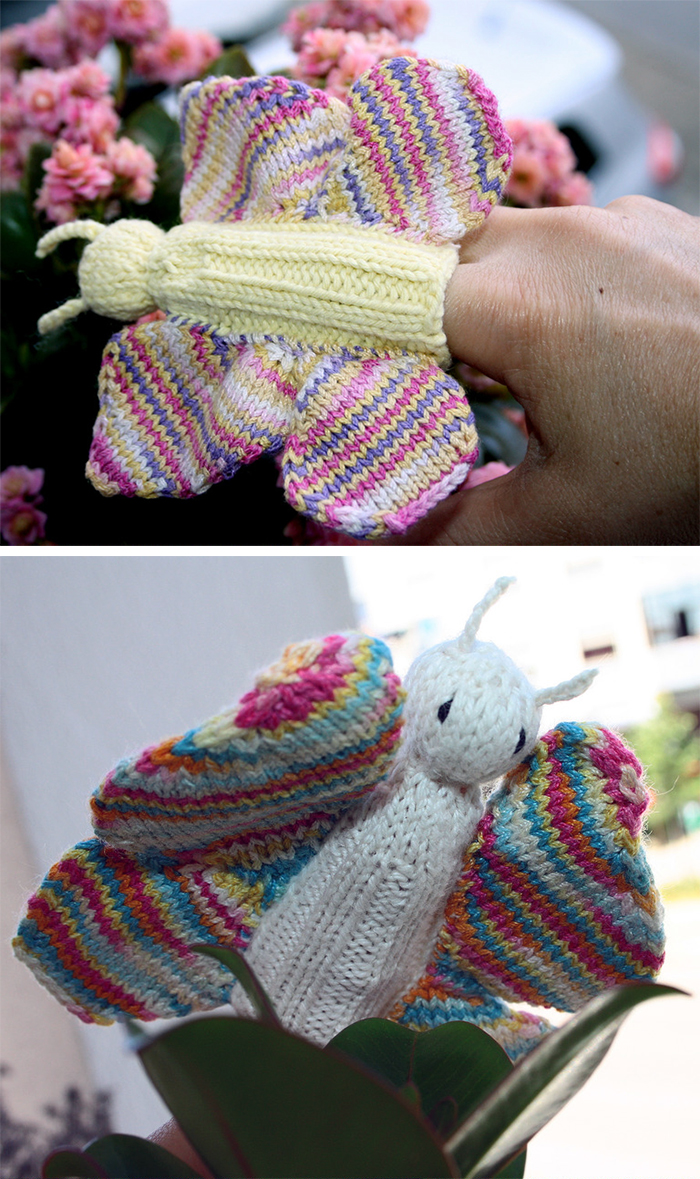 Butterfly Finger Puppet
This butterfly is fast knit, fits over the finger, and uses fingering weight yarn. Designed by ChemKnits. Pictured projects by mamamartinho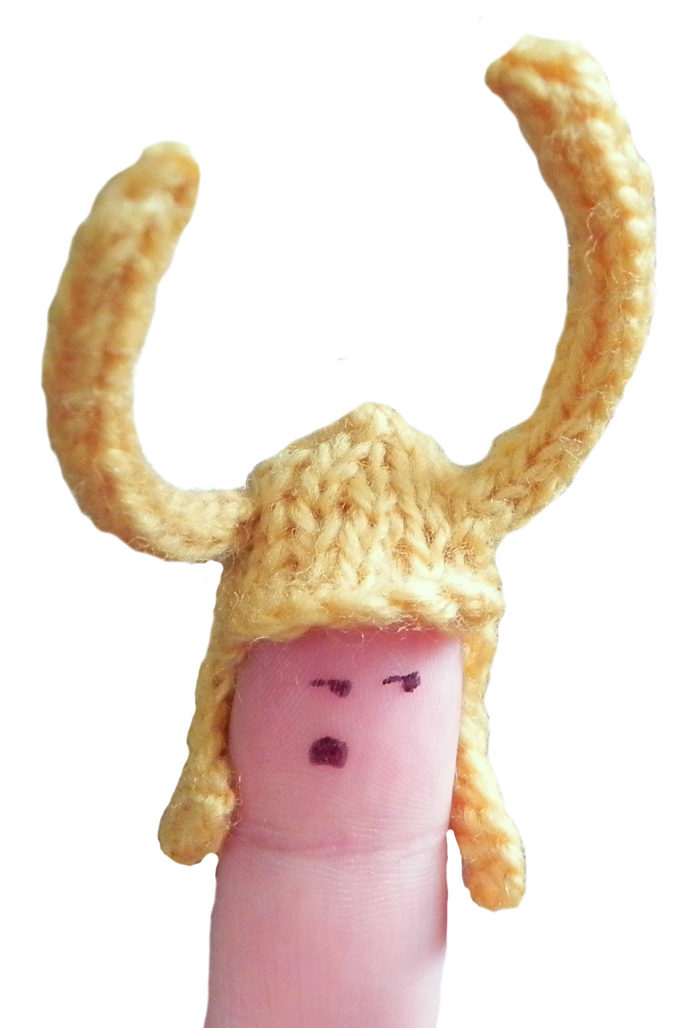 Teeny Tiny Loki Helm
Turn your finger into an Asgardian with this little helm. Loki is burdened with glorious puppeting! Designed by Erin Wilk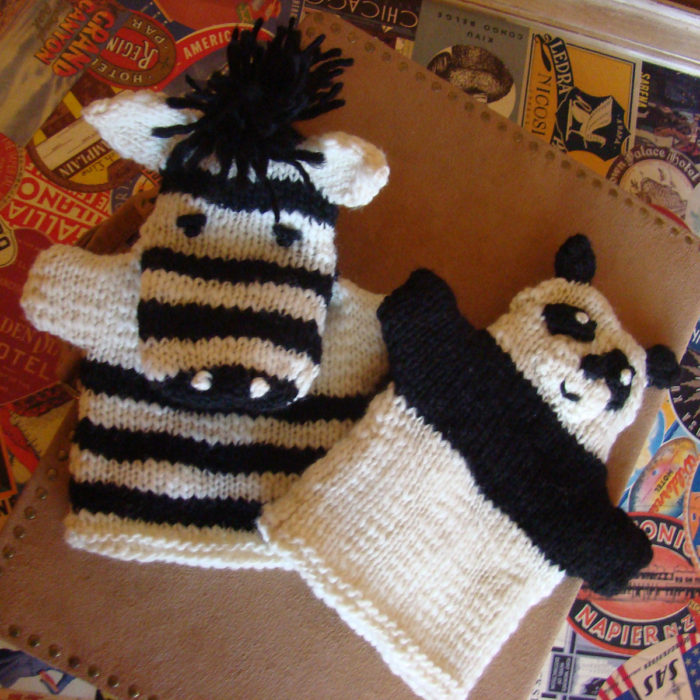 Zebra and Panda Hand Puppets
These easy and quick puppets are knit back and forth on larger-size needles. 91⁄2 inches tall and 81⁄2 inches wide. Excerpted from Itty Bitty Toys by Susan B. Anderson.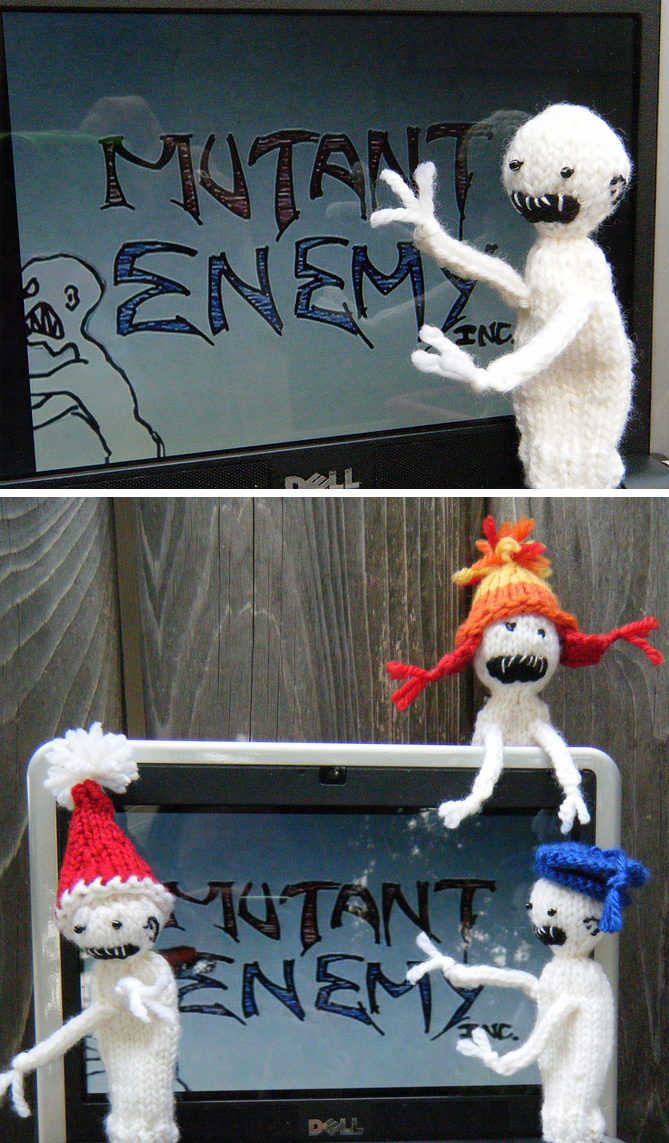 Grr Argh Monster Finger Puppet
Finger puppet inspired by the monster that appears at the end of Mutant Enemy productions such as Buffy, Firefly. Designed by M0mmacat. Note that the original website is no longer available – use the link below to the archived pattern.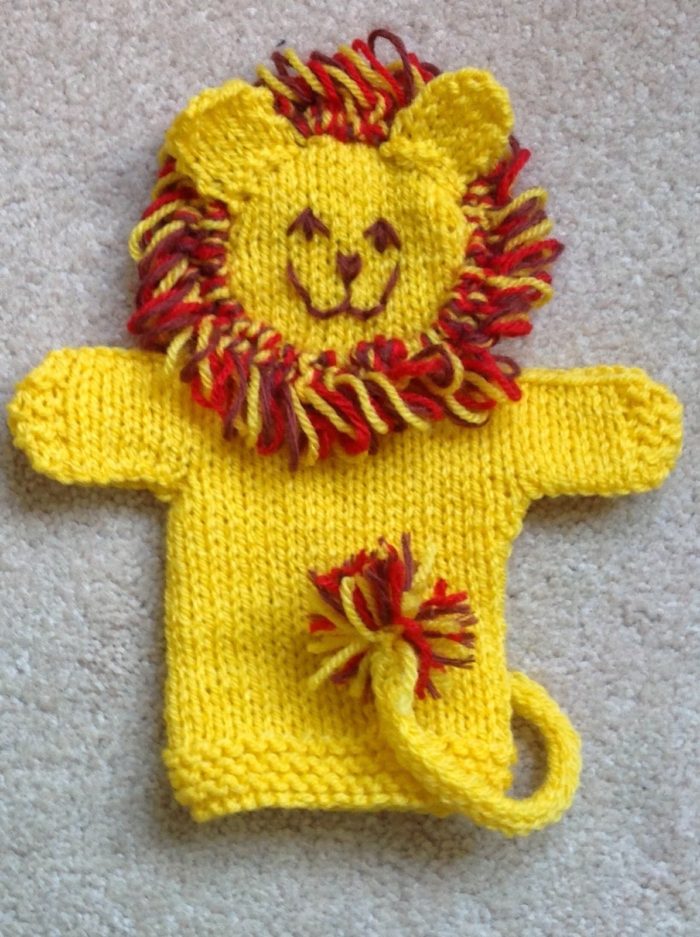 Lion Hand Puppet
Knit in DK yarn. Designed by Janet McGregor The Puppet Lady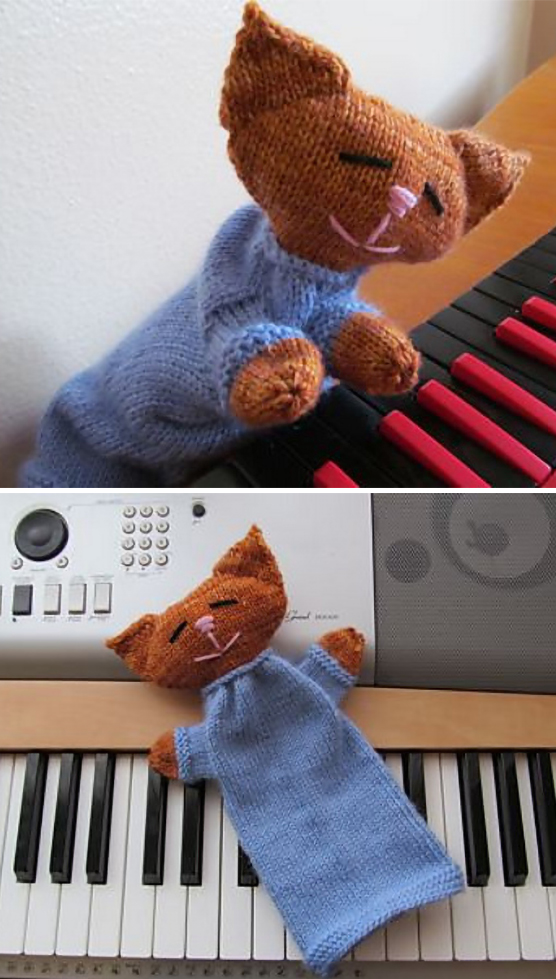 Keyboard Cat
Cat hand puppet in DK weight yarn. Designed by YoursTrulyKnits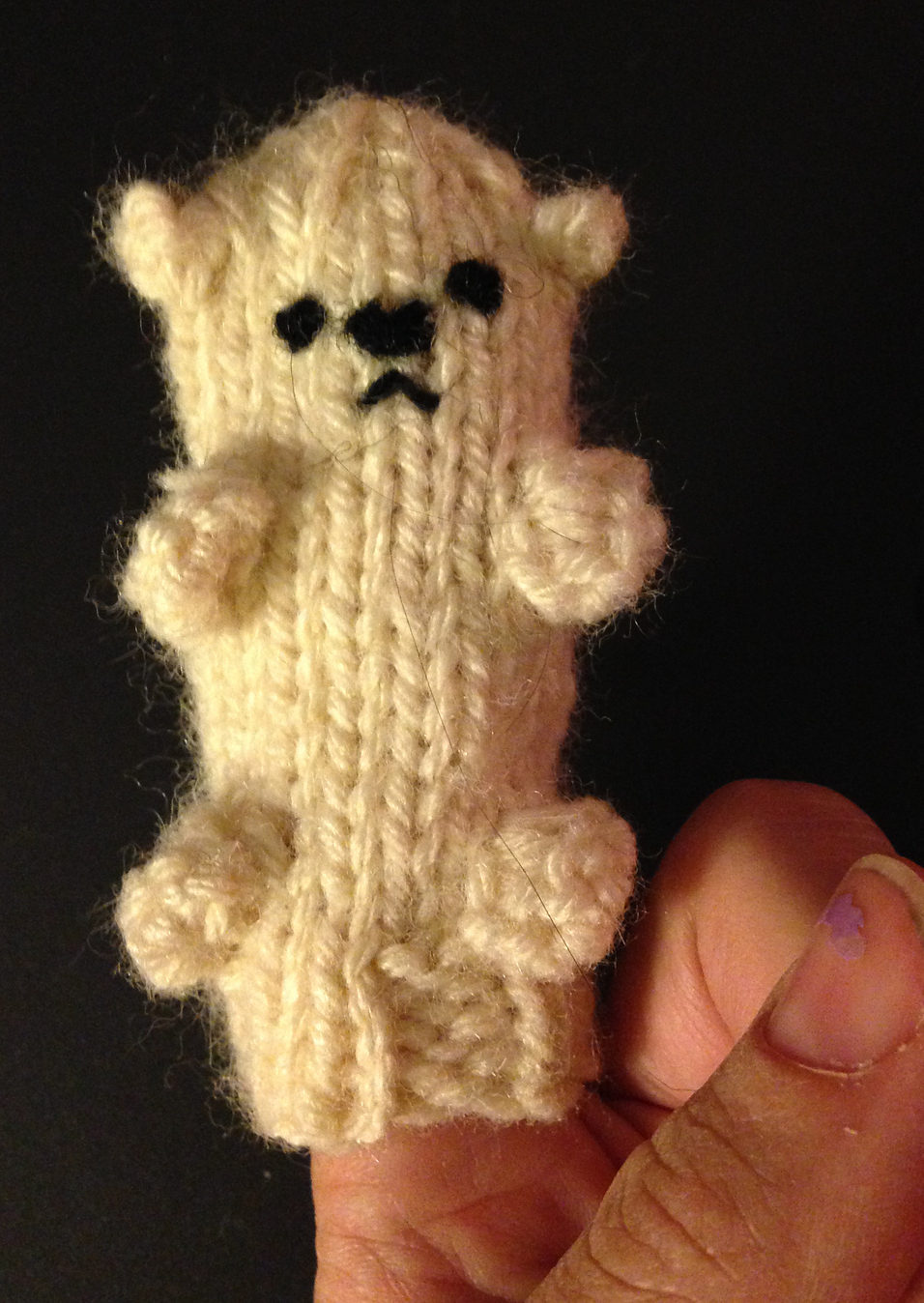 Polar Bear Finger Puppet
Designed by Rachael Wells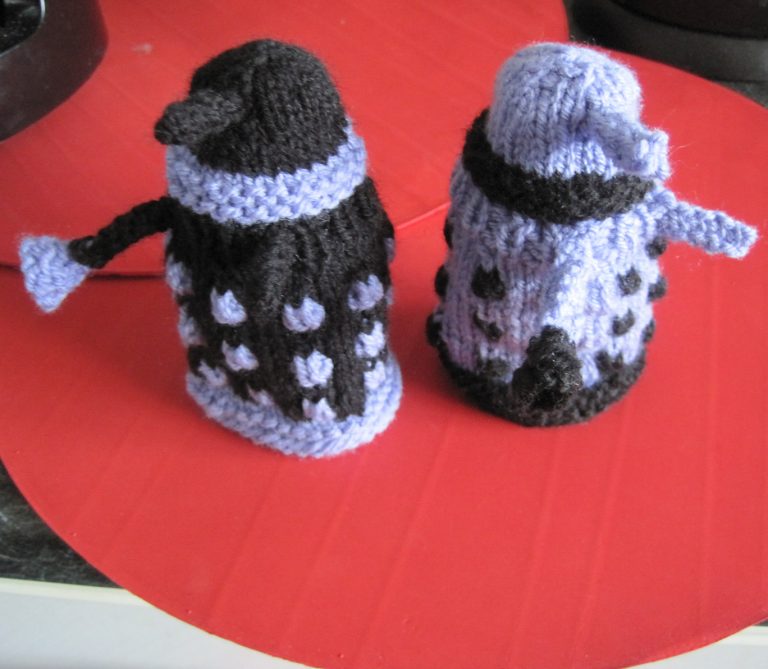 Dalek Finger Puppets
This Doctor Who inspired designs by Lyles' Knit were designed as egg cozies but could easily be used as finger puppets or toys.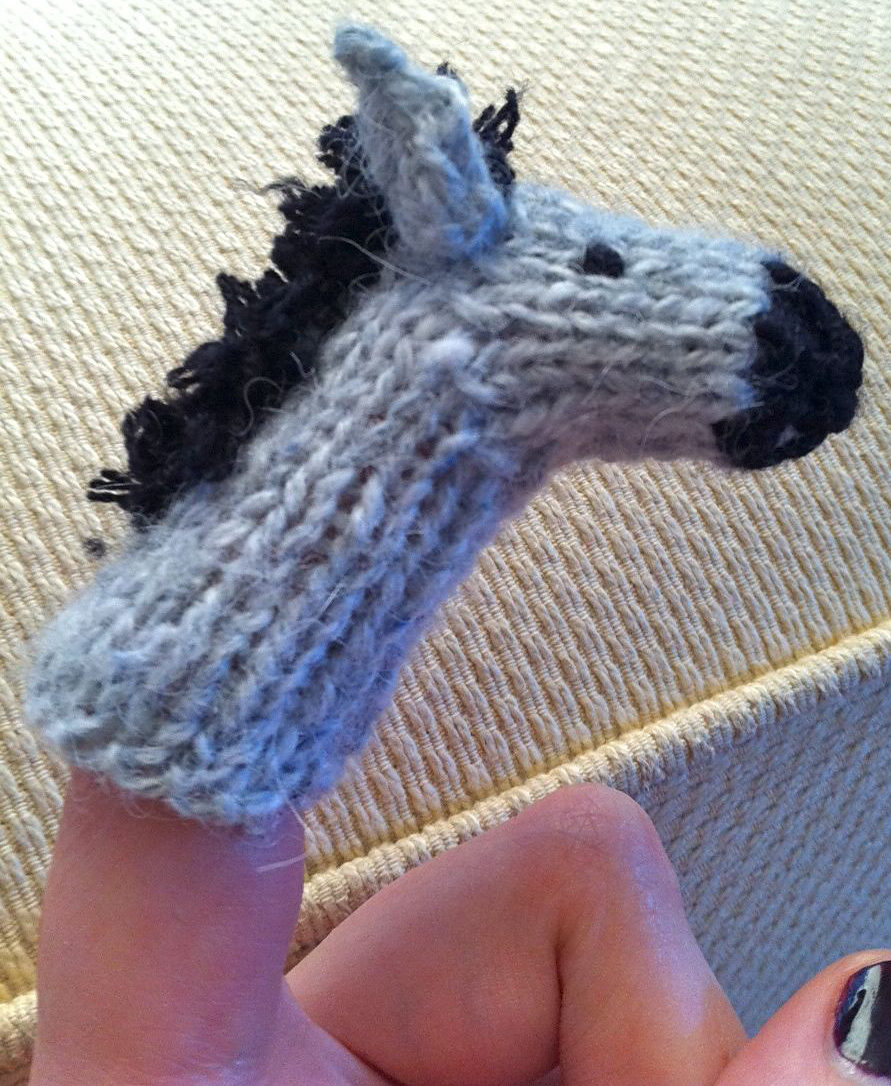 Donkey Finger Puppet or Pencil Topper
This tiny donkey can easily be adapted to look like a horse or zebra. Rated easy by Ravelrers. Designed by Emma Folds

Owl Hand Puppet
Can be knitted in the round or flat. Designed by Janet McGregor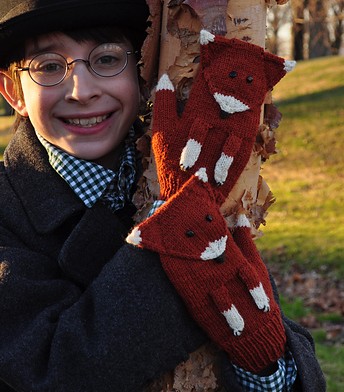 Fantastic Mittster Fox Mittens
This playful combination mittens/puppets design by Allison Stewart-Guinee is knit in the round, seamlessly. The mittens can be worn on either hand, with either the fox face facing up or on the palm.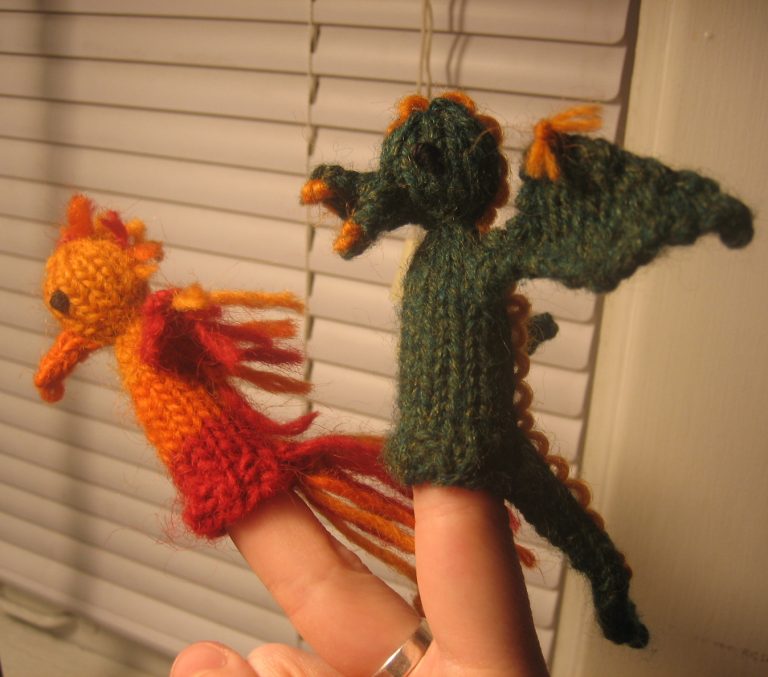 Dragon Finger Puppet
carinbrat designed tiny detailed dragon and phoenix finger puppets.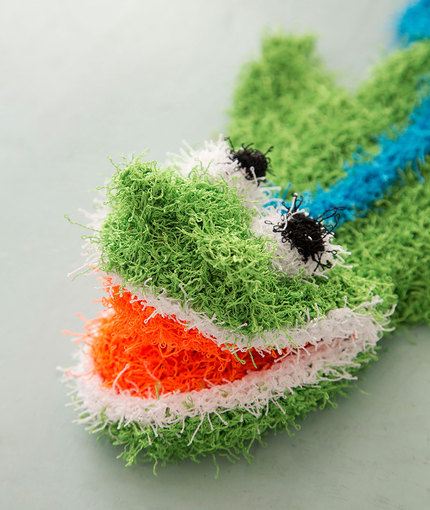 Sea Monster Bath Mitt
Michele Wilcox for Red Heart Yarn designed this adorable puppet that will make kids love bath time. If you use the recommended Red Heart Scrubby yarn, you'll get a textured fabric that's good for getting at dirt but soft enough to use on skin. Red Heart sent me a sample of the yarn for review. Red Heart sent me a sample of the yarn for review. I haven't had a chance to use it yet, but I like the texture — it's softer than I expected.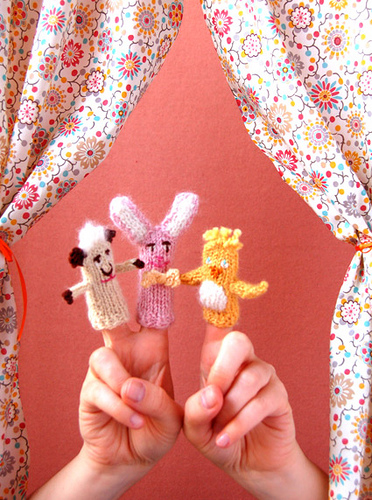 Easter Finger Puppets
Patterns for Purchase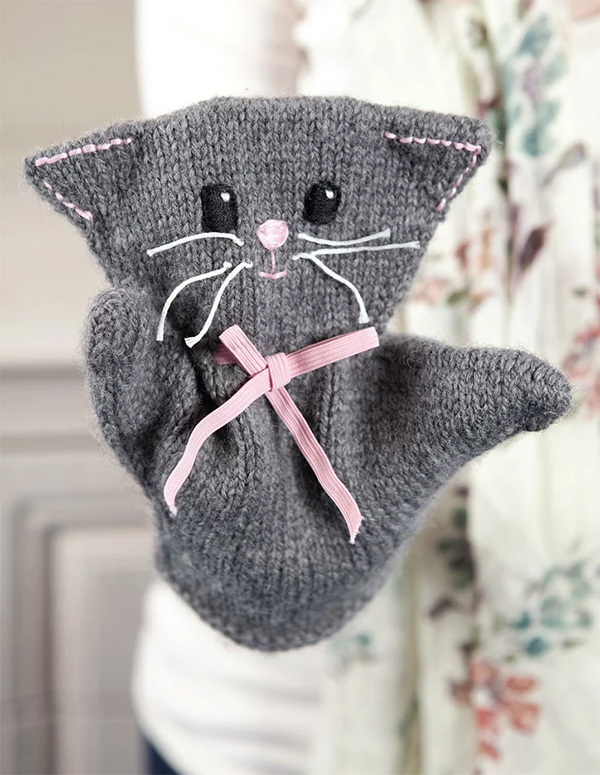 Katie Kitty Puppet
Cat hand puppet knit in the round from the bottom up. This is a quick and simple knit. Designed by browneyedbabs.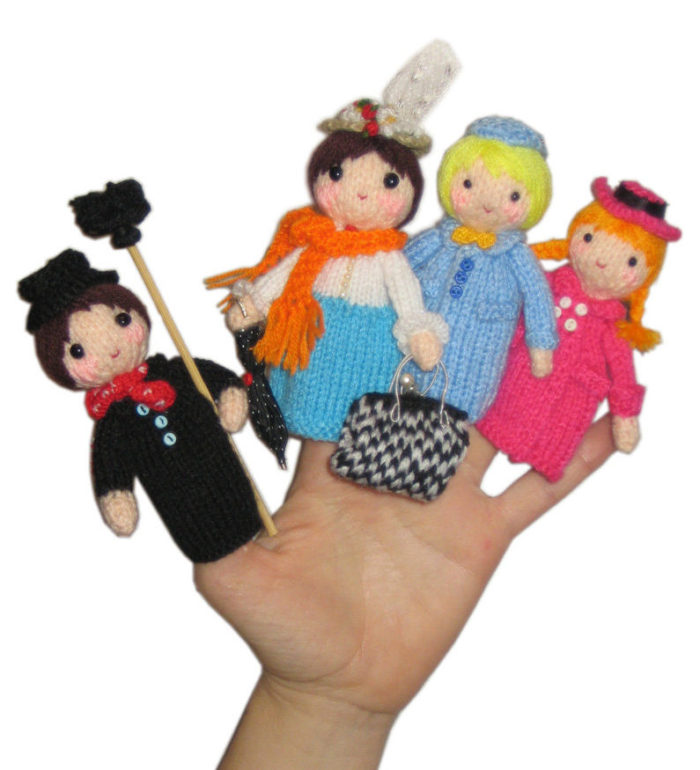 Mary Poppins Finger Puppets
4 finger puppets including Mary Poppins, Bert the Chimney Sweep, and Jane and Michael Banks. Designed by HandMadeAwards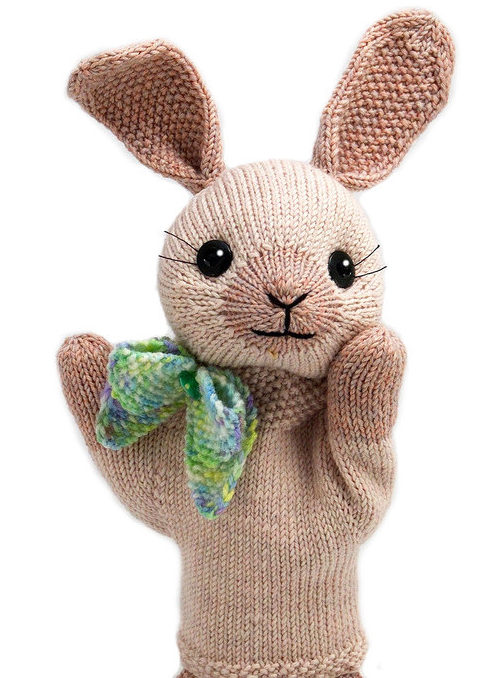 Bunny Puppet
The pattern is written in 3 sizes:
Small: 5 1/2" around, 5" long
Medium: 6 1/2" around, 6" long
Large: 7 1/2" around, 7" long
See more images and get the pattern at Etsy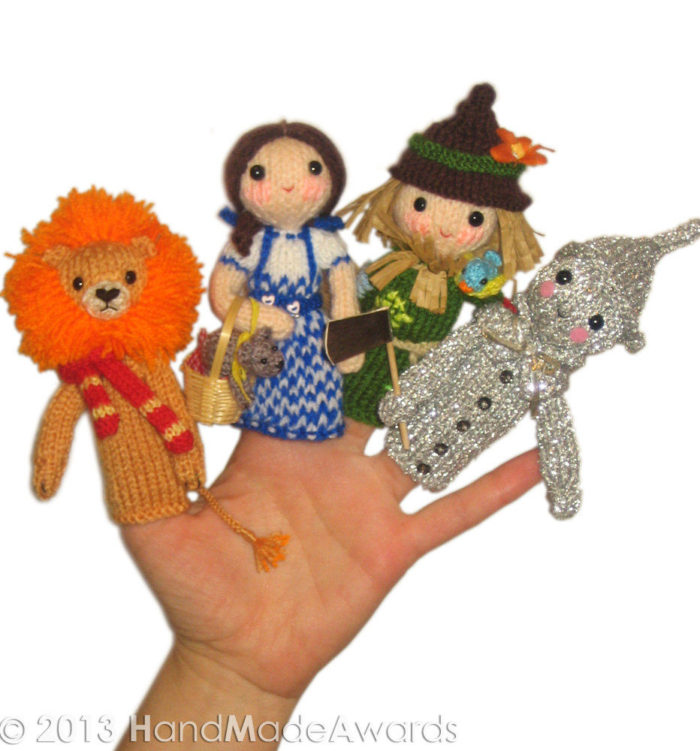 Wizard of Oz Finger Puppets
4 finger puppets including Dorothy, the Scarecrow, Tin Man, and Cowardly Lion. Designed by HandMadeAwards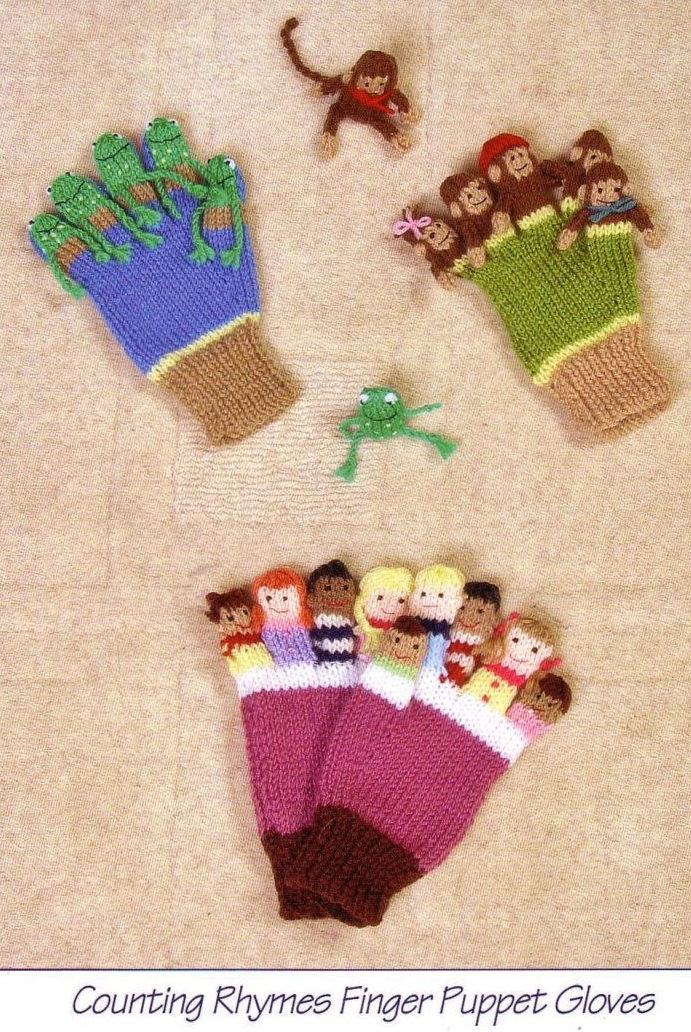 Counting Rhymes Finger Puppet Gloves
Makes three types – five little speckled frogs, five little monkeys or ten in the bed. Little frogs and monkeys can be knitted as part of the gloves or as individual finger puppets. Two sizes – Ages 3-5 and large adult. Designed by Sandra Polley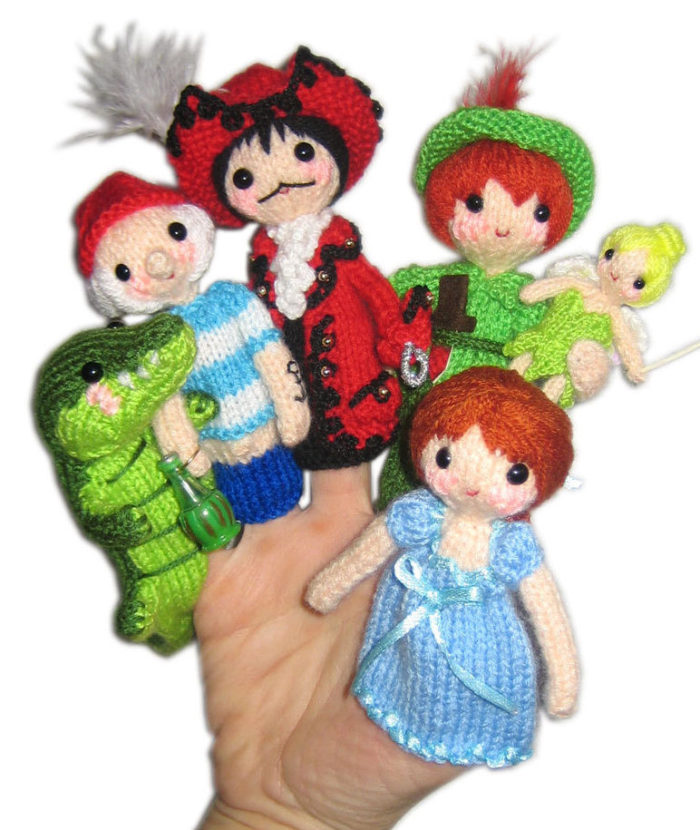 Peter Pan Finger Puppets
Peter Pan, Wendy, Captain Hook, Smee, Crocodile finger puppets and a small Tinkerbell toy. Designed by HandMadeAwards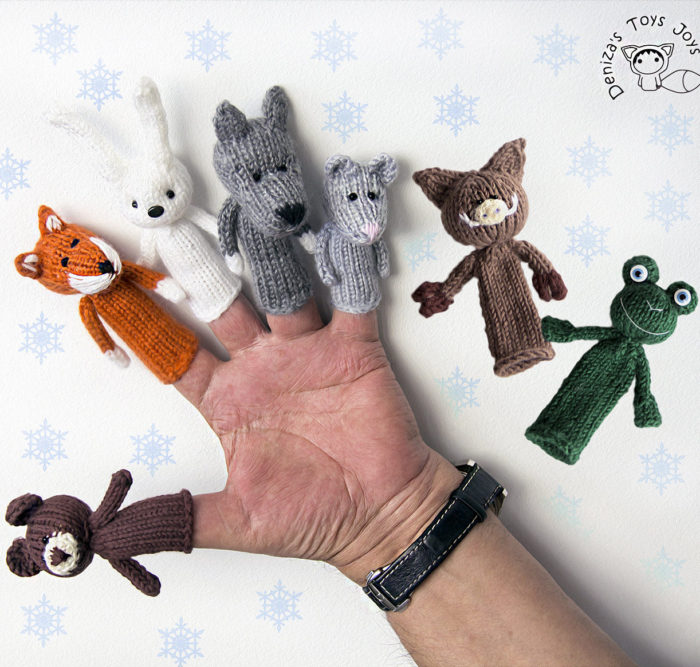 Woodland Animals Finger Puppets
Patterns for 7 finger puppets are included: Fox, mouse, bear, boar, wolf, hare, frog puppets. The puppets are knitted in the round and are recommended for Advanced Beginner Knitters. Designed by Deniza Toys
See more images and get the pattern at Etsy

Storybook Dolls to Knit (CD Included)
This book includes patterns for 17 Walkabout Puppets / Toys of characters from fairy tales and nursery rhymes including Goldilocks and the Three Bears, Humpty-Dumpty, The Big Bad Wolf and the Three Little Pigs, The Gingerbread Man, Hansel and Gretel and the Wicked Witch, Red Riding Hood and the Wolf in Grandma's Clothing, and Mary and Her Little Lamb. Children can slip their fingers into the puppet legs and play along as they listen to the stories on the included CD. Designed by Anita M. Wheeless. Paperback or digital download.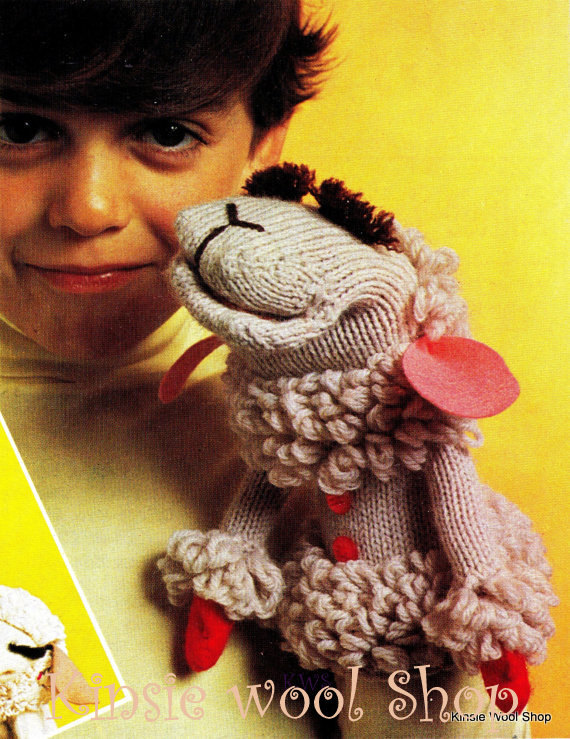 Lamb Chop
Vintage pattern of Shari Lewis' famous hand puppet Lamb Chop with both knitting and crochet versions of the pattern.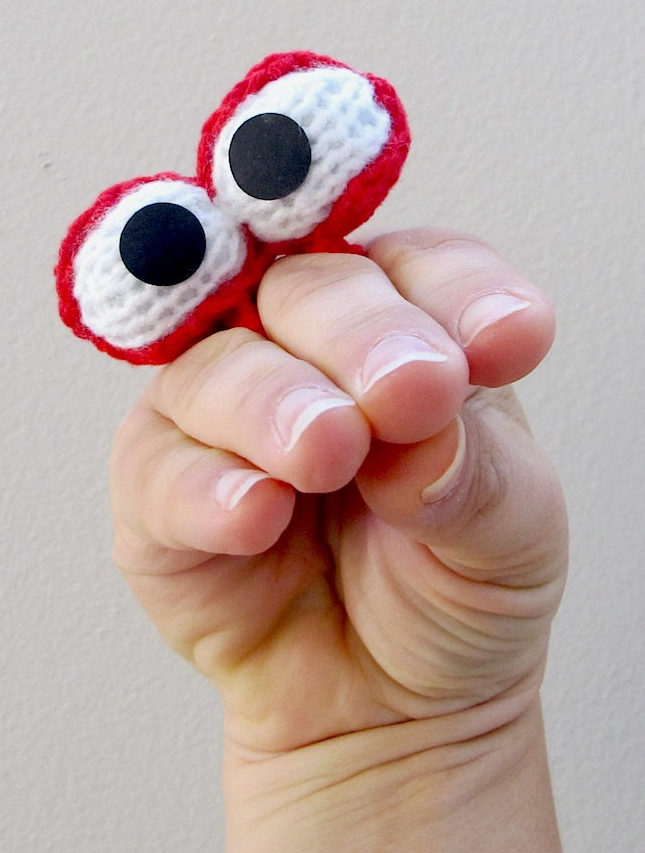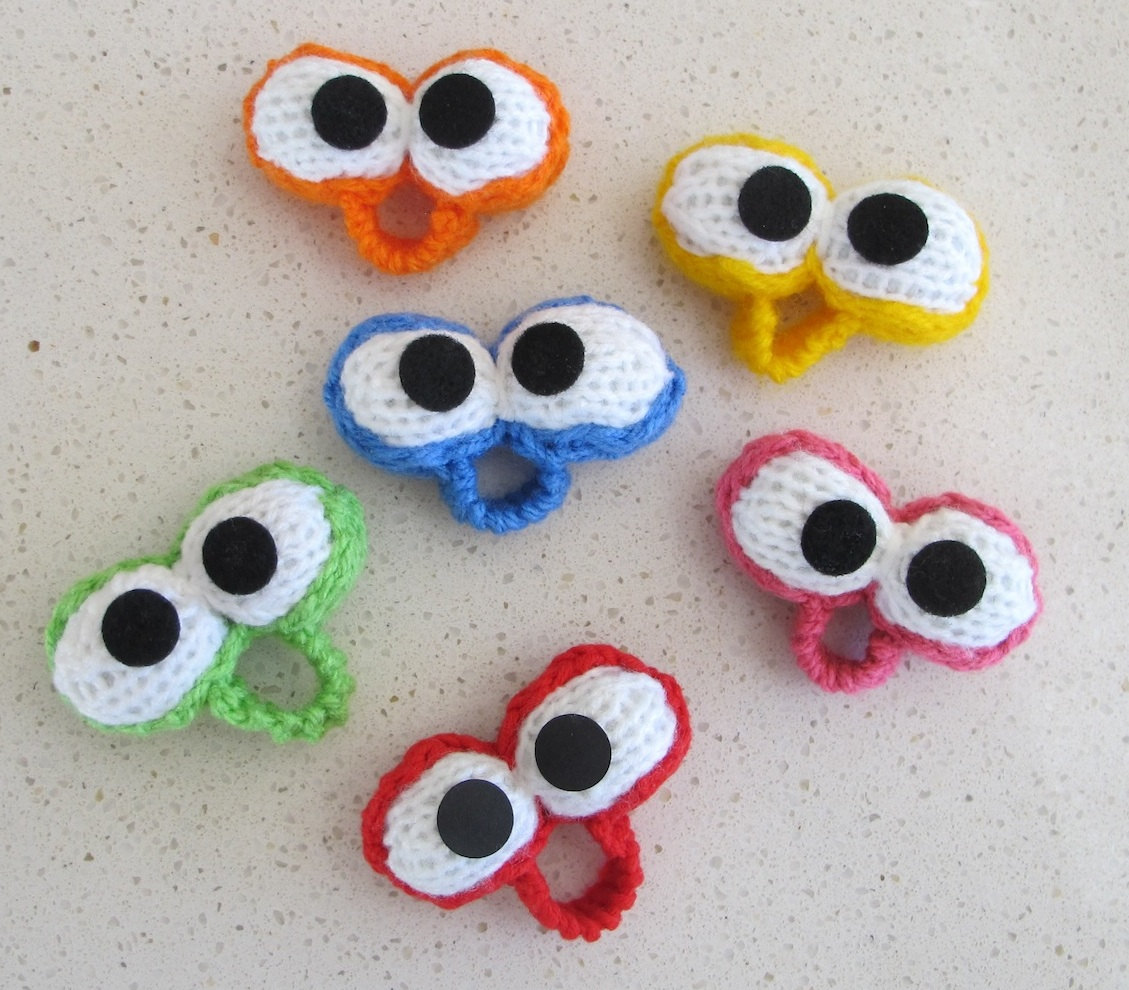 Googlers
This finger / hand puppet toy is knit with about 10 1/2 m (11 1/2) yards of yarn. Perfect for scrap yarn! They also only take about 30-40 minutes to make so they are the perfect last minute gift or stocking stuffer. Knit flat on straight needles. About 6 1/2cm (2 1/2″) tall. Designed by Kookla Creations who allows the selling of finished items.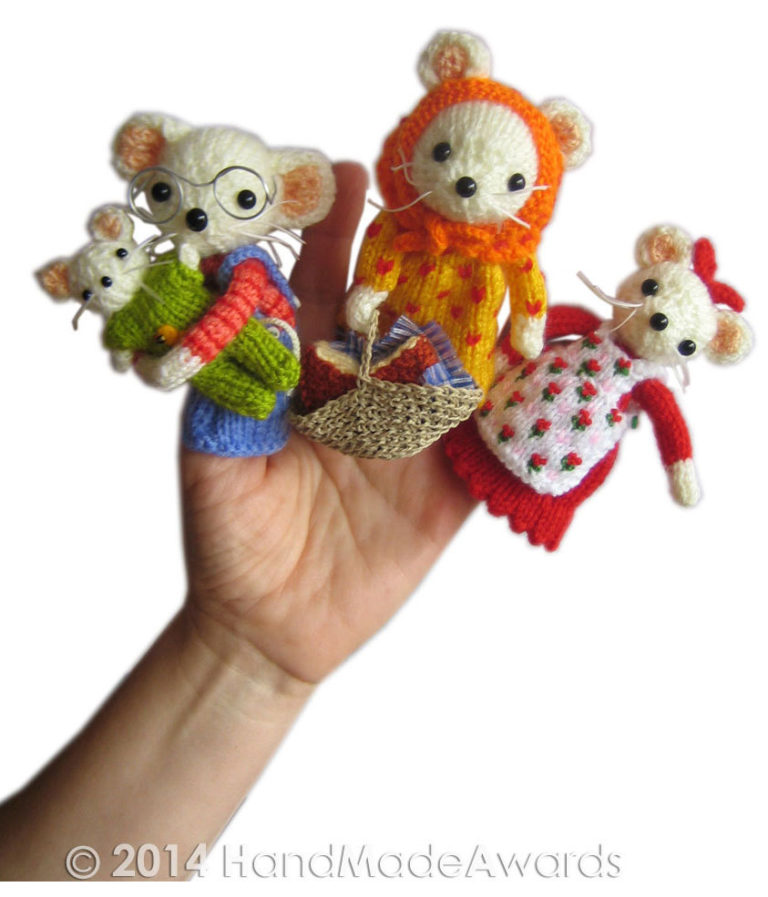 Mouse Family Finger Puppets With Cheese House
The Little House of Cheese Family Mouse toys come with a tiny cheese house pattern.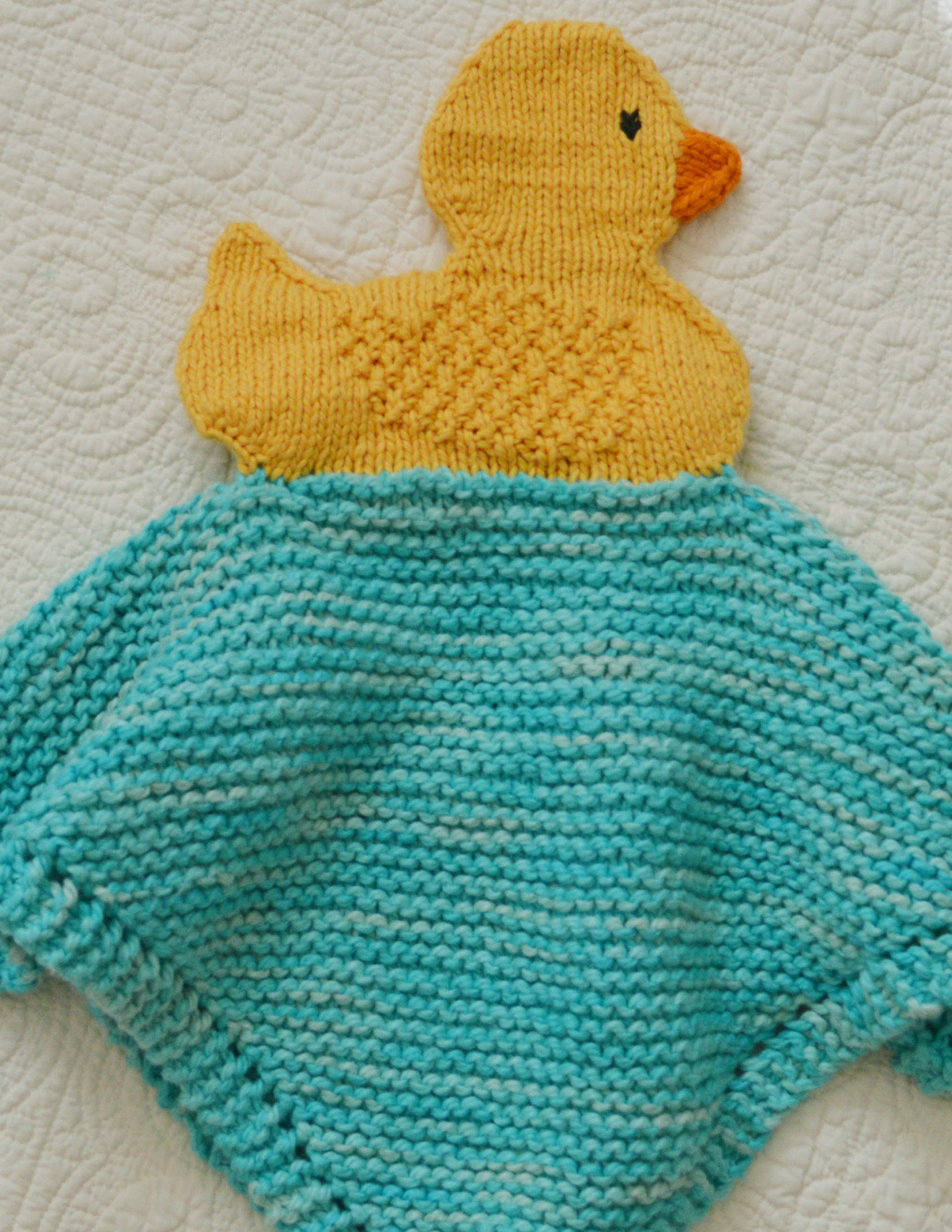 Duckie Lovey
This rubber duckie blanket buddy can double as a puppet because the head is hollow. Perfect baby shower gift. The designer HugKnits says you can sell items made from this pattern!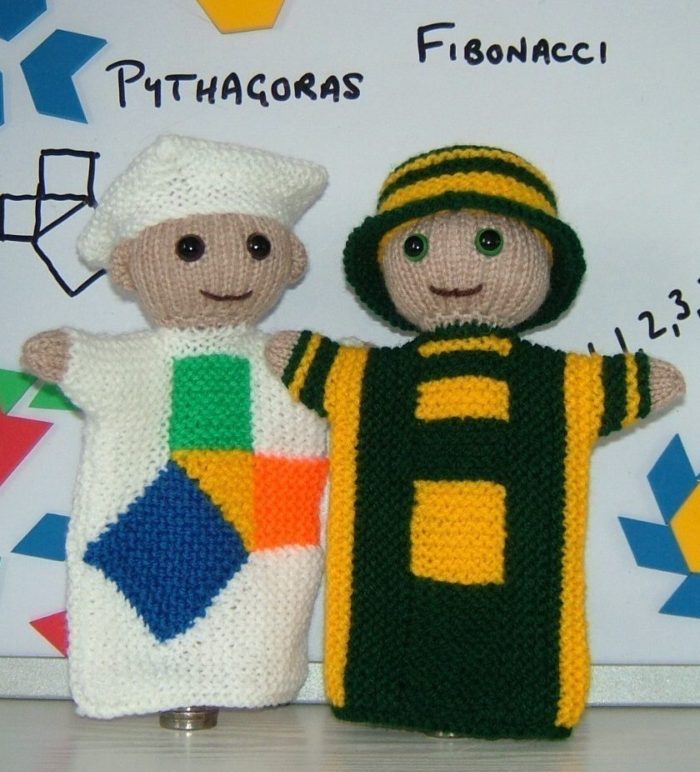 Mr Pythagoras and Mr Fibonacci Puppets
Mr Fibonacci wears a robe designed to show his well-known sequence, in two directions. He also wears a hat showing the same pattern of numbers. Mr Pythagoras wears an example of his theorem on his front. These were designed with adults in mind but are small enough to also be used by a child. Designed by Woolly Thoughts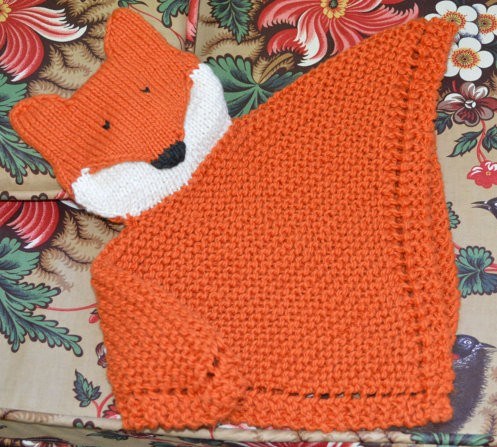 Fox Lovey
This fox security blanket is huggable blankie perfect gift for baby showers and new babies. Can double as a hand puppet because the head is open.