<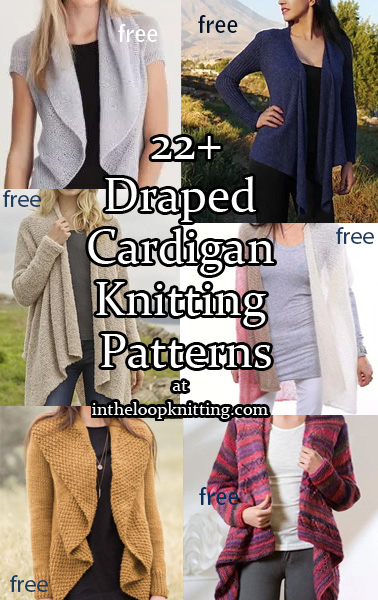 I love draped front cardigans and jackets because the flowing lines seem so flattering and fluid.
To get the knitting patterns, scroll down the page to the individual pattern you want and click on the link to that pattern.
These patterns are not my designs but links to other designers who have generously shared their patterns. If you have questions about how to knit a specific pattern, please contact the designer directly.
All links on this site are for informational purposes, but please note that some links are to affiliate sellers that pay me a small commission on purchases.
Free Patterns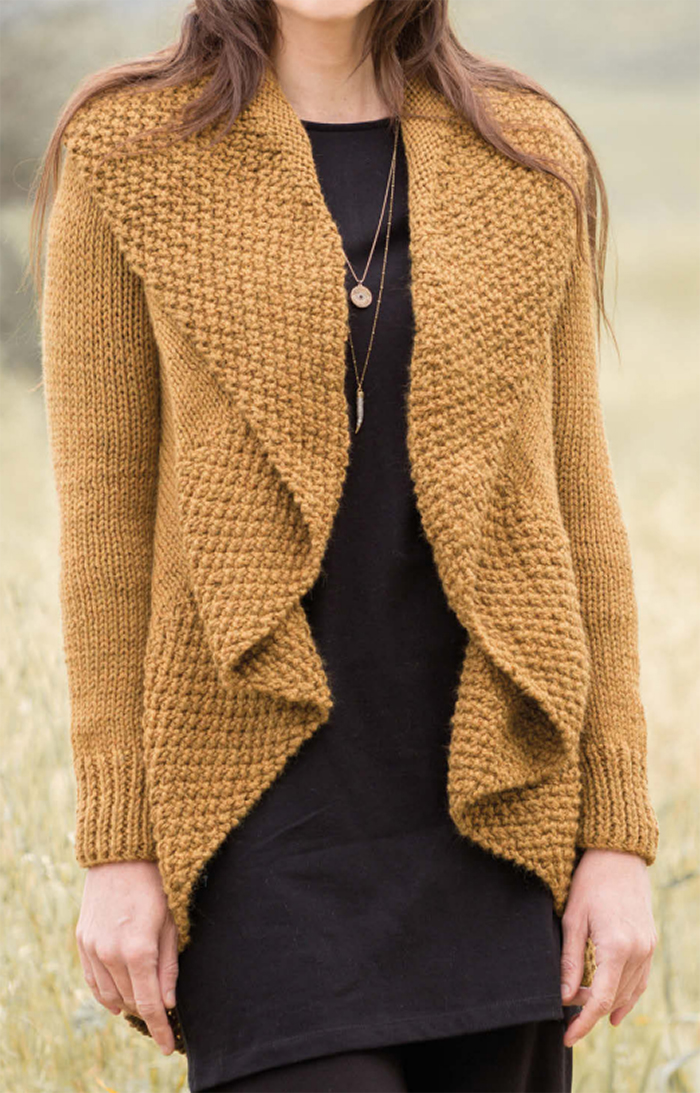 Fleur Cardigan
This circle sweater features a 4 row repeat Moss Stitch collar and draped front. The body is knit in the round in one piece and sleeves are added. Bulky yarn. Designed by Berroco Design Team. This pattern was featured in Season 8 of Knit and Crochet Now! and is free with registration at Annie's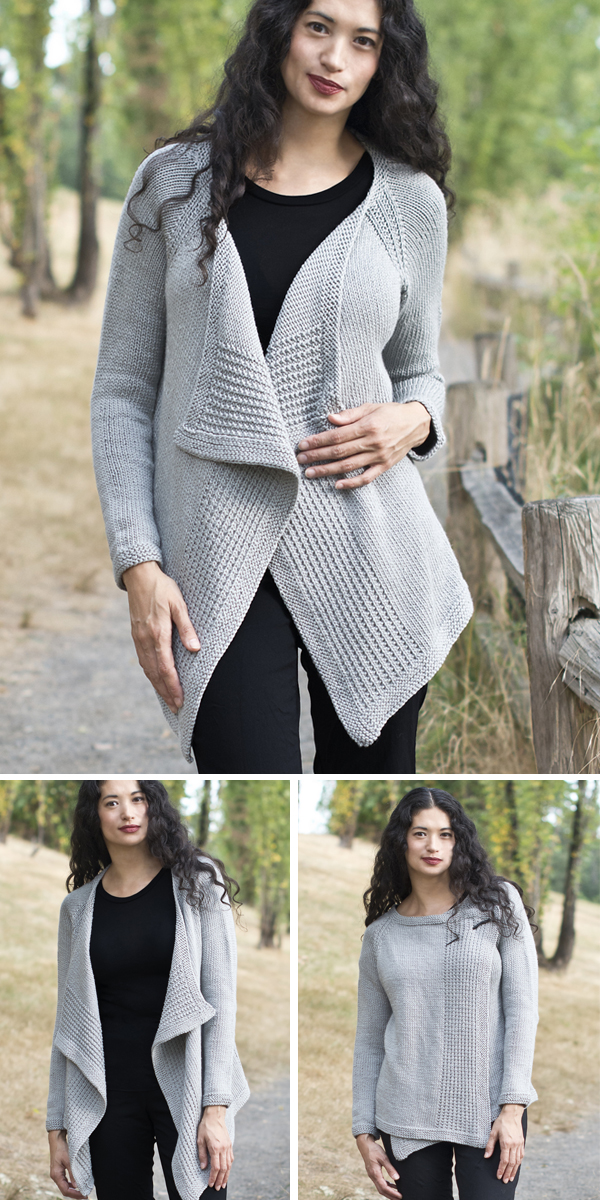 My Favorite Cardigan
Versatile long sleeved sweater can be worn open and draped in front, with collar turned back, or closed and fastened with a pin. Sizes: XS (S, M, L, XL, 2XL, 3XL). Designed by Cheryl Beckerich. Worsted weight yarn.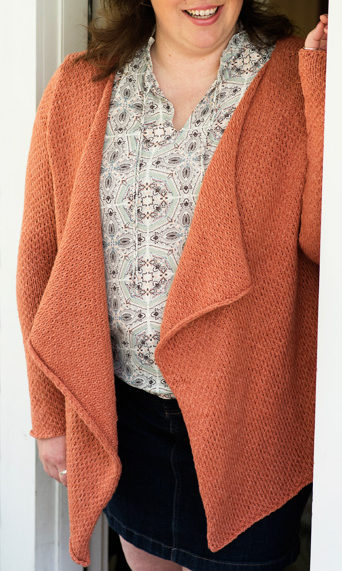 Carrington Cardigan
This long sleeved sweater with flattering draped front is knit in a 4 row repeat textured stitch. Sizes: XS[S, M, L, 1X, 2X, 3X]. Designed by Amy Palmer for Knitty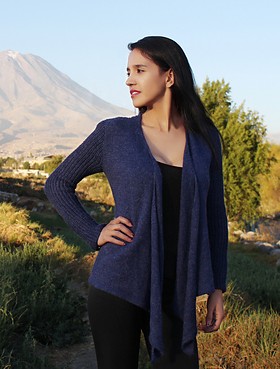 Amano Lupe Cardigan
This sweater designed by Amano yarns features a flattering draped front AND a decorative back with an openwork cable design. To Fit Bust Size: 30(34-38-42-46-50)"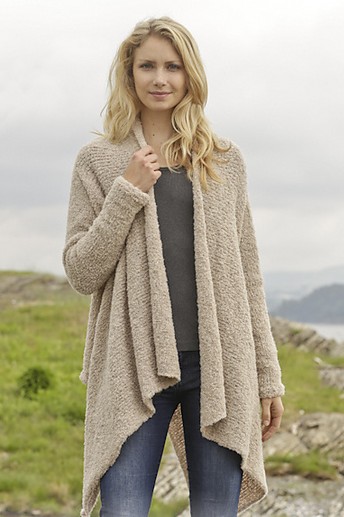 Ballade Jacket
This flowing coat by DROPS Design is knit in stockinette and garter stitch. It gets its texture from boucle yarn. Size: S – M – L – XL – XXL – XXXL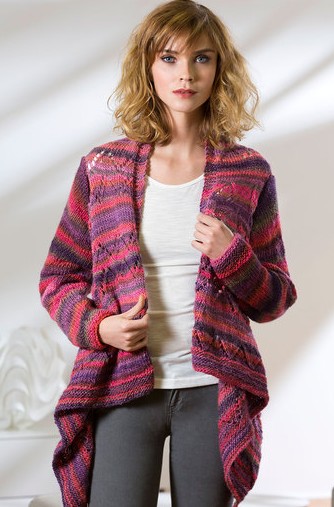 Drape Front Cardigan
Julie Farmer designed this sweater for Red Heart in sizes from Small to XXL.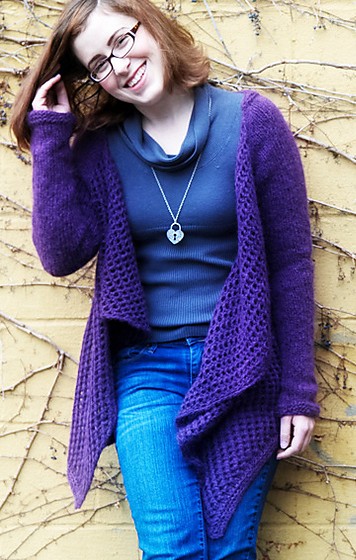 Cirriform Cardigan
This top-down raglan sweater features long asymmetrical fronts in macro lace, and a small lace diamond on the upper back. The designer, Emma Welform, used Berroco Kodiak, and recommends that your yarn choice be lightweight and lofty. Sizes 35.75 [40, 44.5, 48.75, 53.25, 58.75, 63.05] inches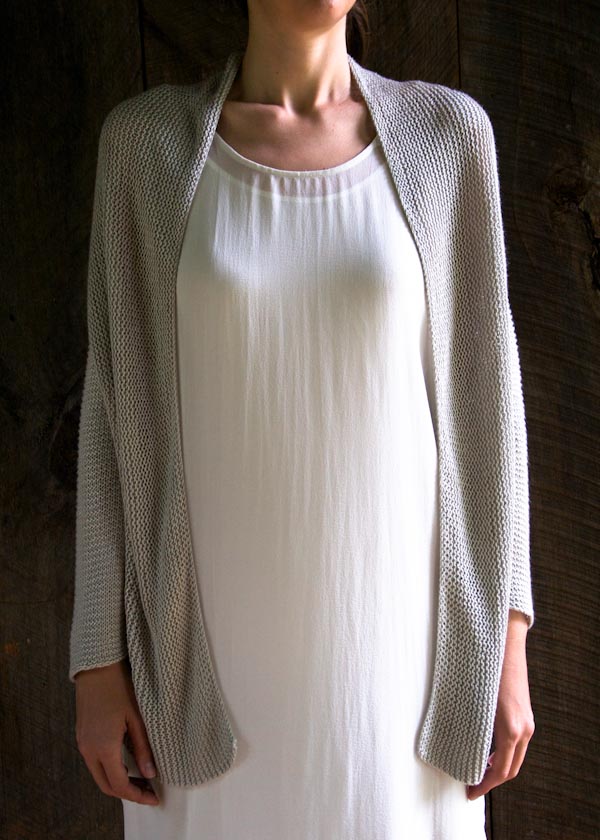 Folded Squares Cardigan
Purl Soho's ingenious design is three garter stitch pieces assembled to form a soft drape in six sizes available: 34 (38, 42, 46, 50, 54)

Radha
I love the shape of this coat! This pattern by Berroco creates a lovely draped coat with ingenious concentric ribbed circles.
More Free Patterns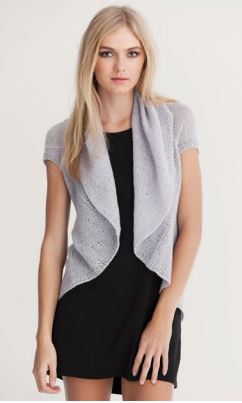 Short Sleeve Draped Cardigan
Lace weight yarn on larger needles helps create this drape. The recommended yarn is Australian but other lace weight superwash merino yarns come close according to Yarnsub. Size: XS S M L XL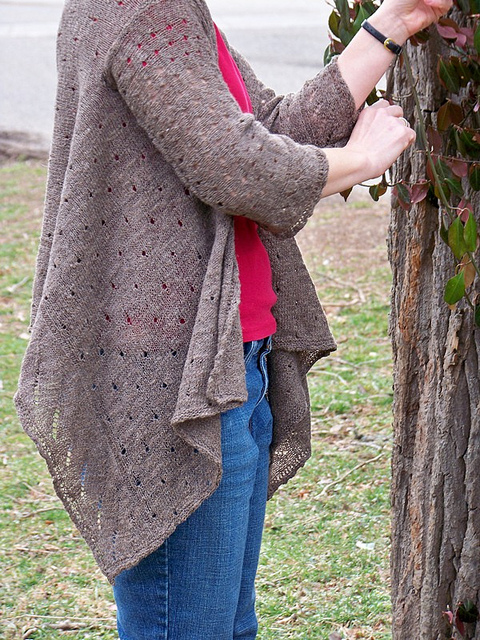 Daedalus
Jodie Gordon Lucas's pattern features lace and cables on a rectangular shape with sleeves that flows when worn. Sizes XS [S, M, L, 1X, 2X, 3X]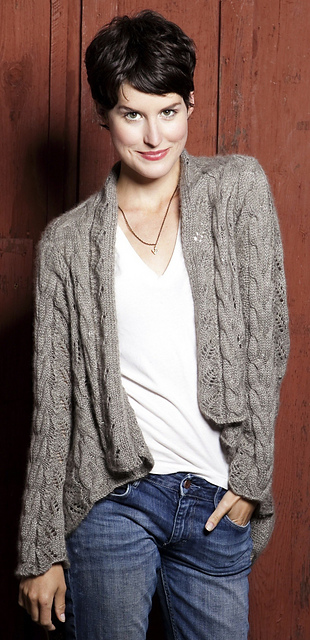 Wayside Lace Cardigan
Schoppel-Wolle Design Team's cardigan features cables and lace and is designed to be worn open or wrapped and pinned closed. XS/S, M/L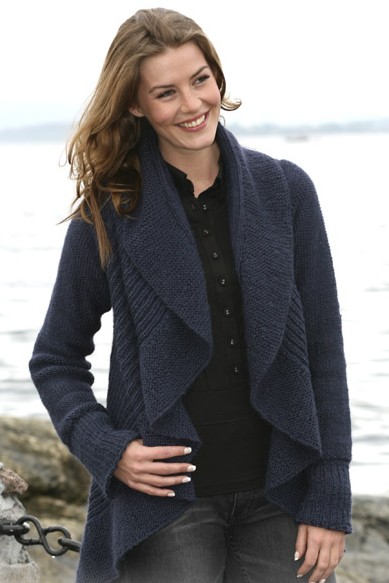 Blue Moon Cardigan
DROPS Design's long sleeved cardigan is essentially a circle with sleeves. Size: S – M/L – XL /XXL – XXXL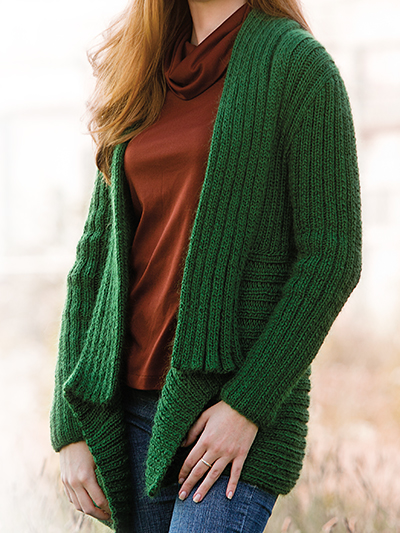 Directional Ribs Cardigan
Irina Poludnenko's long sleeved cardigan creates a drape with its design of vertical and horizontal ribbing.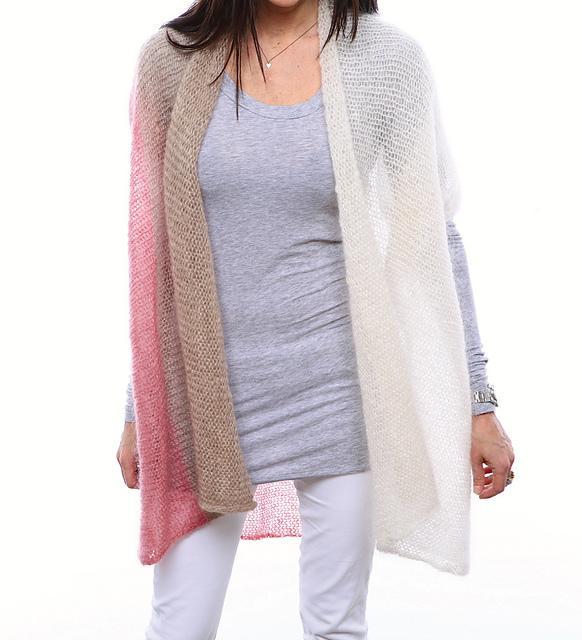 Catherine Jacket
This flowing cardigan by Adele Cutten is just one stockinette rectangle with armholes created by seaming. The airy drape is created by knitting a worsted weight mohair blend yarn on size 11 needles.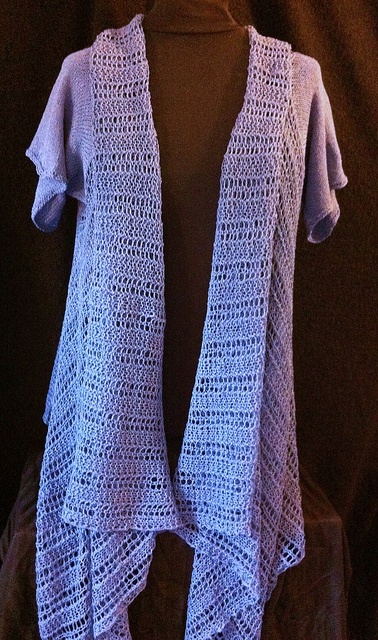 Tango
Berroco Design Team's short sleeve cardigan, knit in an openwork stitch, is really a rectangular shawl with sleeves. One size. Though the pattern calls for worsted yarn, the pictured project by flyingfingers11 used fingering weight yarn.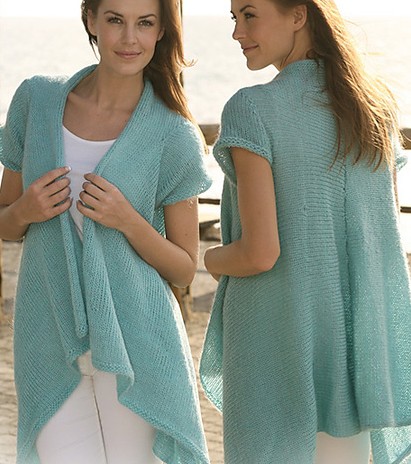 Fly Away
DROPS Design's flowing cardigan is knit in stockinette with two strands of yarn held together. Sizes S – M – L – XL – XXL – XXXL.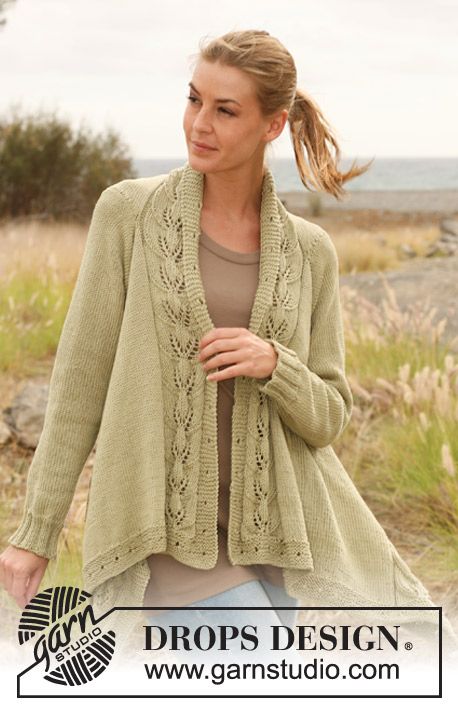 Timeless Grace Cardigan
DROPS Design created this draped cardigan with lace trim. Size: S – XXXL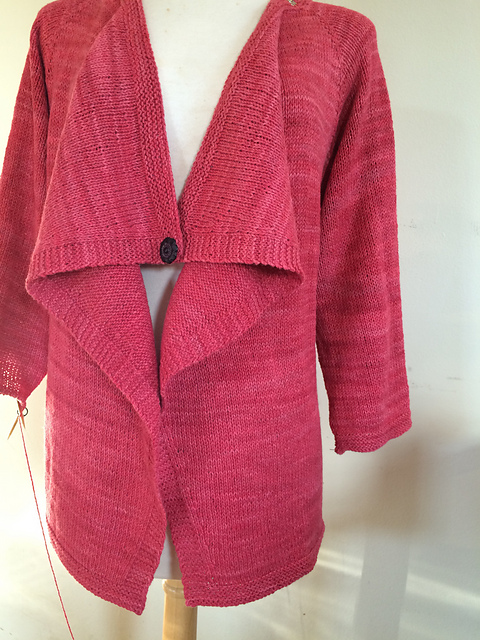 Bienvenidas Cardigan
Vera Sanon's draped cardigan is knit from the top down, with a gradual reversed v-shaped-front that is very figure flattering with ¾ length or full-length sleeves. Fingering, Sport or DK weight yarn. Sizes: XS (S, M, L1, L2)(XL, 2XL, 3XL)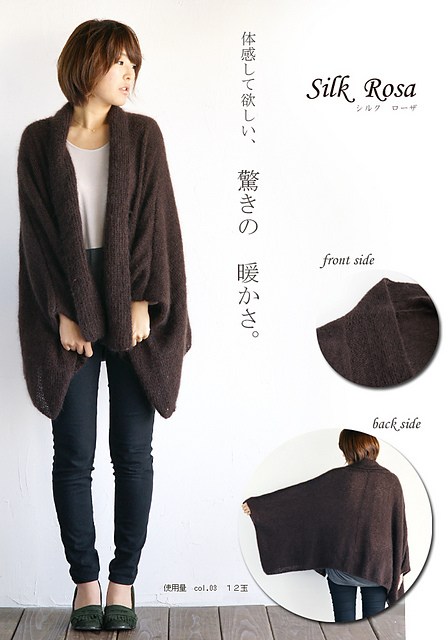 Silk Rosa Dolman Cardigan
Designed Pierrot yarns, this draped cardigan is knit in stockinette, seed stitch, and ribbing.
Patterns for Purchase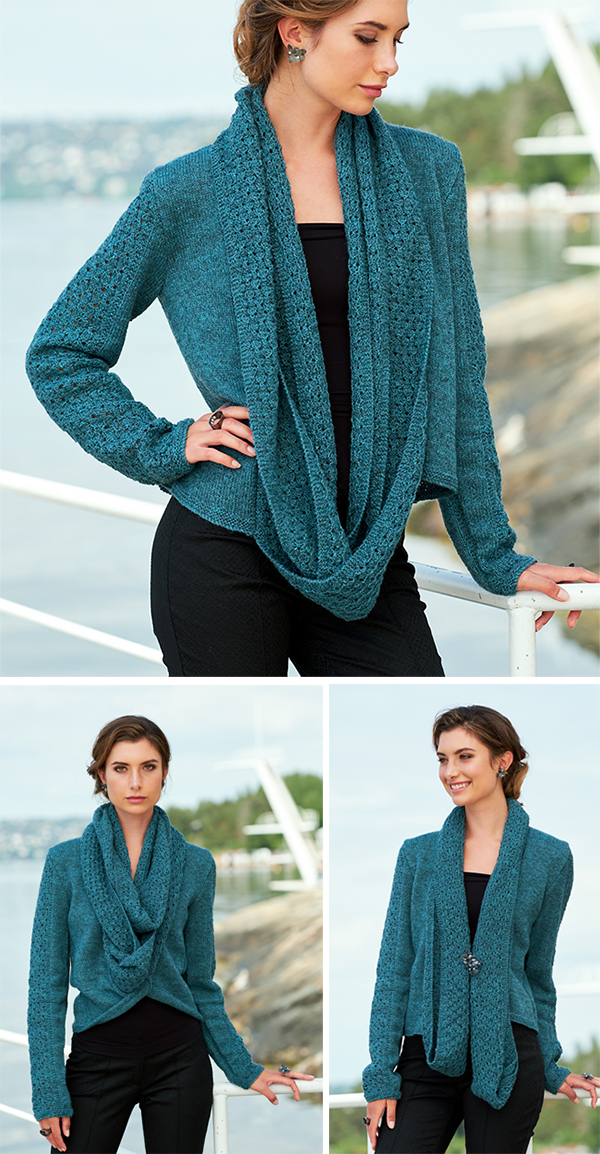 Suli Cardigan
Long-sleeved sweater with a loop collar that you can drape as you please, adorned with a lace pattern on center back, sleeve and collar. The loop collar can be worn loose, folded once behind the neck or twice in front, or folded three times around the neck in a ballerina style. To fit size: XS (S, M, L, XL, 2XL). Fingering weight yarn. Designed by Linda Marveng.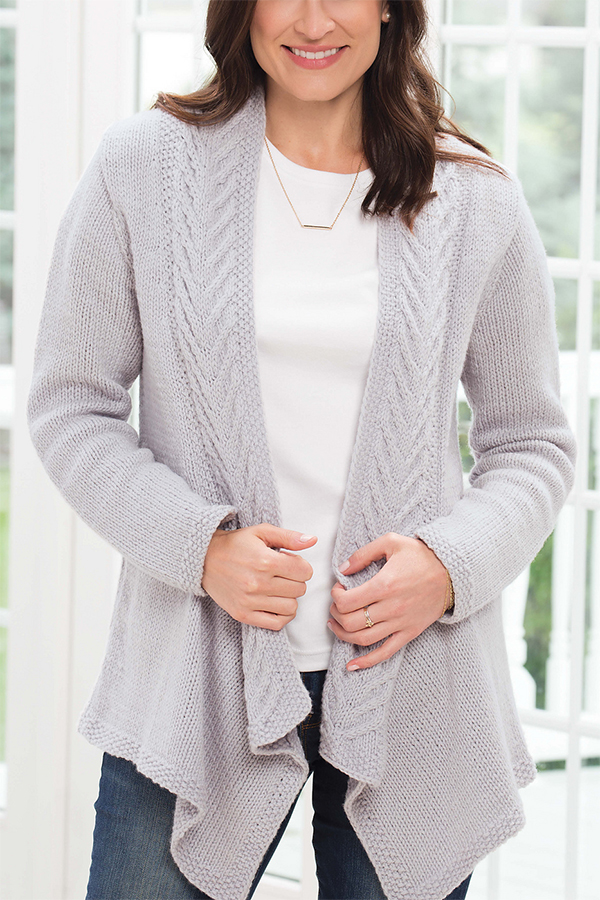 McDowell Cardigan
Long-sleeved sweater with cable edges and draped front. To fit size: S (M, L, XL, 2XL, 3XL). Aran weight yarn. Designed by Corrina Ferguson.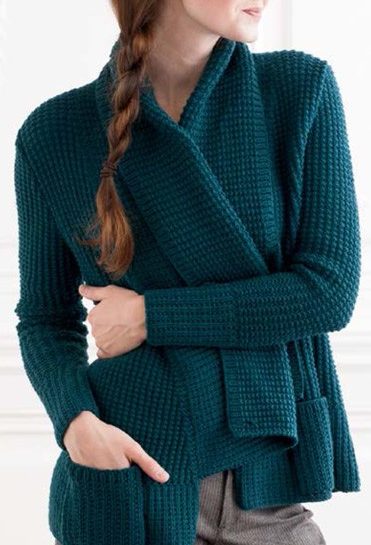 Lark Cardigan
This classy cardigan has an easy fit, pebble rib stitch pattern, pockets and wide draped shawl collar. Sizes 34½ (38, 43½, 47, 52)" bust circumference.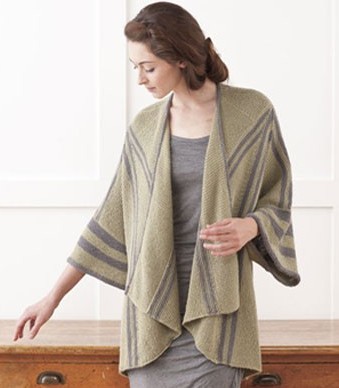 Multi-Drape Kimono
This fluid wrap is knit seamlessly using fun multi-directional knitting techniques. Sizes from 31″ to 50″ actual bust.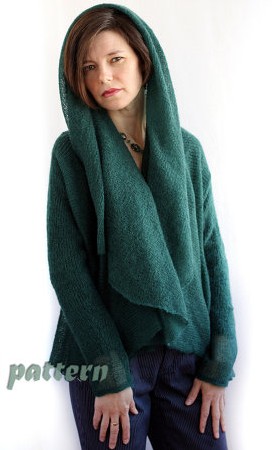 Multiwear Convertible Coat
This is a knitted coat-transformer can be worn in many different ways!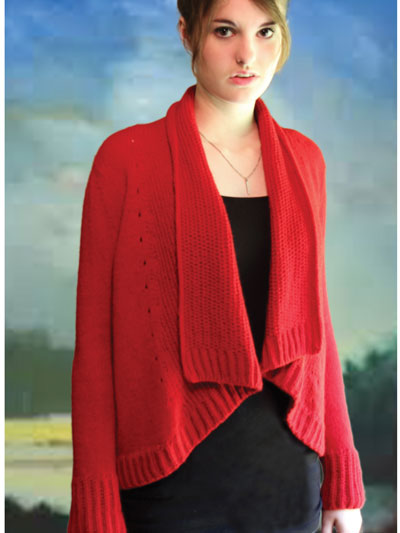 Lithia Park Cardigan
This fashionable yet relaxed cardigan is knit from the top down in a seamless, modular fashion. Finished chest sizes: 34 (36, 38, 41, 44, 48, 52, 56)".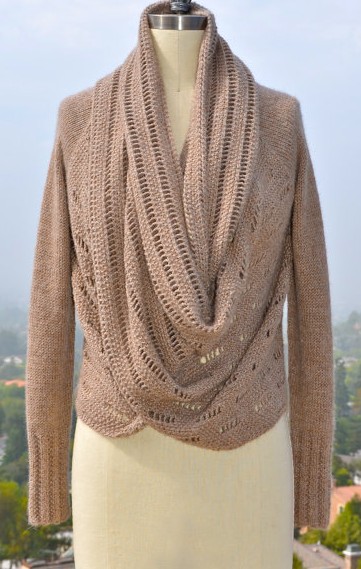 Setsuko Cardigan
This draped front cardigan has an infinitely long collar that can be twisted and wrapped around the head like a scarf or placed over the sides, forming a luscious shawl collar. Sizes: Bust: 32 (36, 40, 44, 48, 52)" / 81.5 (91.5, 101.5, 112, 122,
132) cm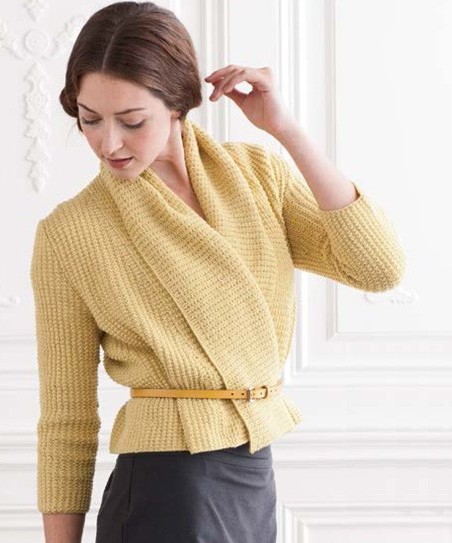 Chickadee Cardigan
An easy pebble rib pattern adds texture. Cardigan sleeves, collar, optional hood, and yarn weight are endlessly customizable. This version features three quarter length sleeves and a draped shawl front. 33½ (38½, 42½, 47, 52)" bust circumference.

Simple Knits Cardigan
The all-over honeycomb brioche stitch is simple to master but looks so sophisticated in this draped front cardigan by Rico Designs. One of 34 patterns in Simply Knitting December 2016. Sizes UK 8-18