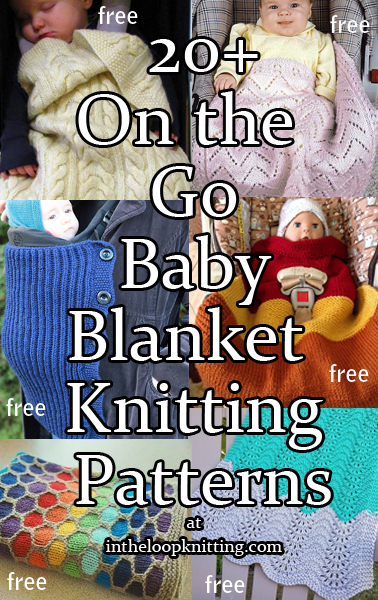 Smaller, portable baby blankets to keep baby warm in strollers, car seats, and wherever they go! Most patterns are free.
To get the knitting patterns, scroll down the page to the individual pattern you want and click on the link to that pattern.
These patterns are not my designs but links to other designers who have generously shared their patterns. If you have questions about how to knit a specific pattern, please contact the designer directly.
All links on this site are for informational purposes, but please note that some links are to affiliate sellers that pay me a small commission on purchases.
Free Patterns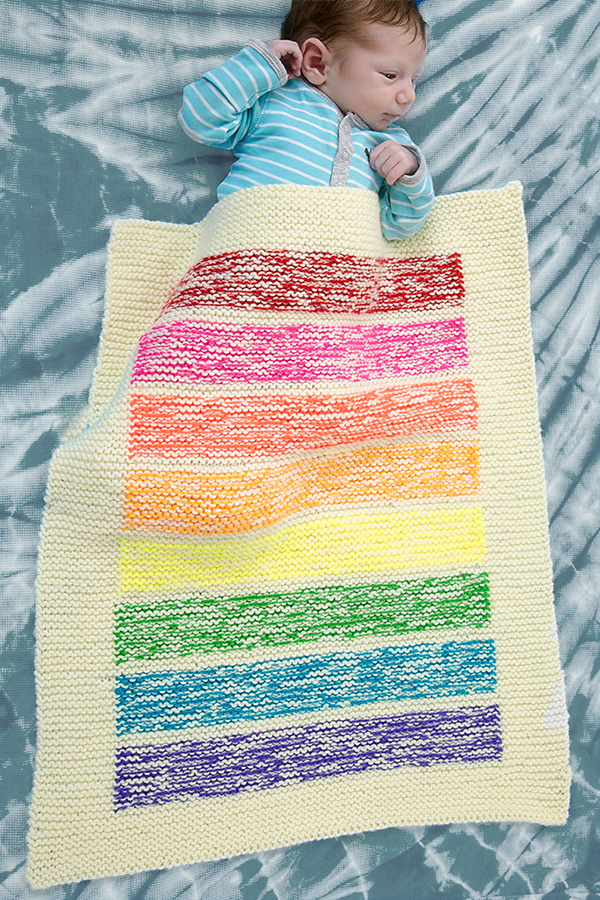 Lemon Squeezy Stroller Blanket
Easy reversible baby blanket is worked in one piece in Garter stitch with marled color block stripes. Rated easy by Ravelrers. Designed by Ann Klimpert for Lion Brand. Aran weight yarn. Great for mini skeins or stash busting.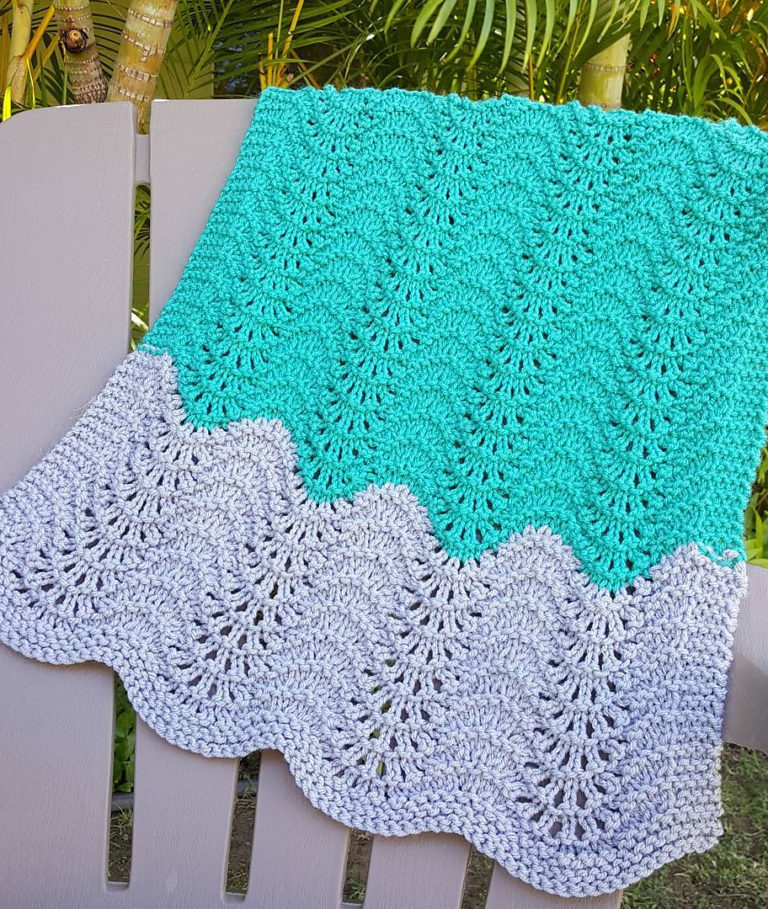 Feather and Fan Car Seat Baby Blanket
Easy 4-row repeat lace baby blanket that's great from stripes and using up stash yarn. Length: 29 inches Width: 19 inches. Designed by Linda Ann Ball. Pictured project by tanyakitty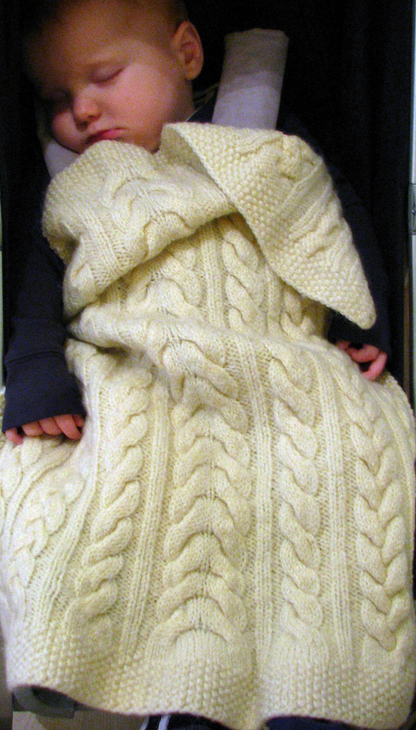 Baby Cable Blanket
This small blanket features three alternating cable patterns and a seed stitch border. Designed by Alex Lawson. Knit in Aran weight yarn. Most Ravelrers found this fairly easy.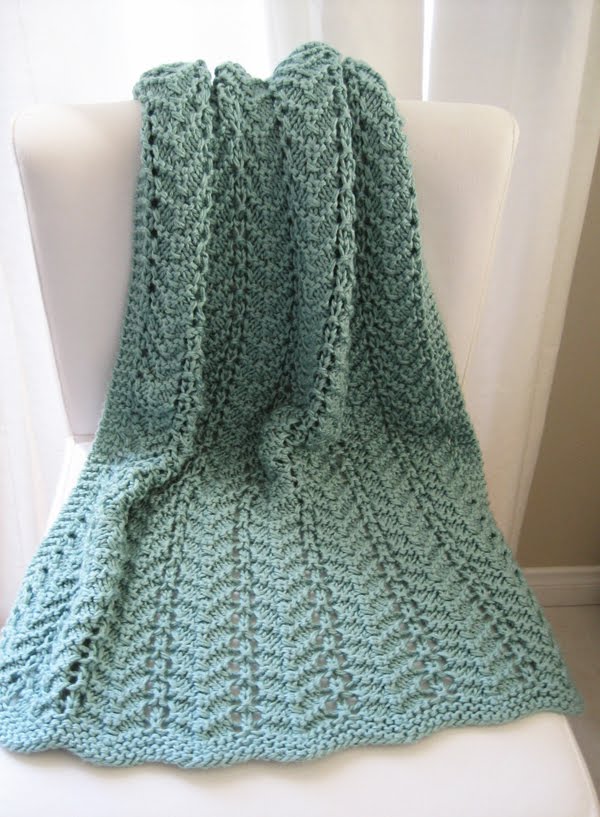 Easy Lacy Baby Blanket
This lace newborn-sized blanket is knit with an easy 4 row repeat. Final blanket measures approx. 19″ wide x 27″ high. Designed by LuluKnits.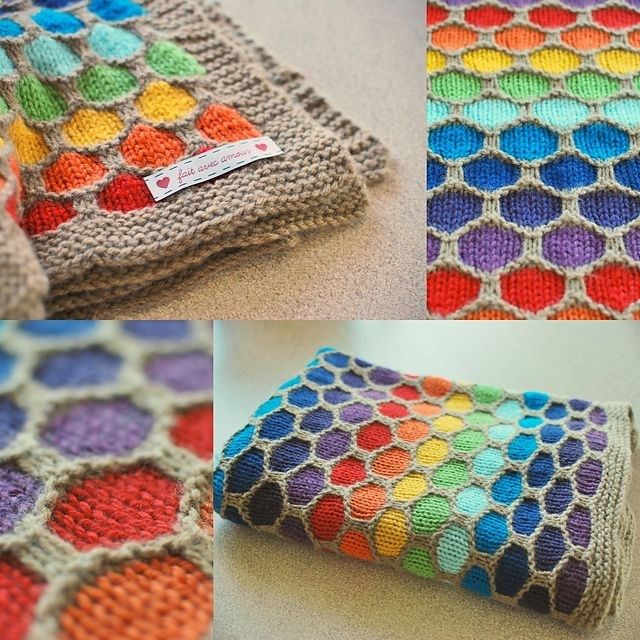 Honeycomb Stroller Baby Blanket
This may look complicated but the honeycomb pattern is made with alternating colors of yarn and slip stitches. Approximately 24x32″ (61x81.5cm). Designed by Terry Kimbrough, Susan Leitzsch, Lucie Sinkler. Picture is from a Ravelry project. The pattern picture is not very good.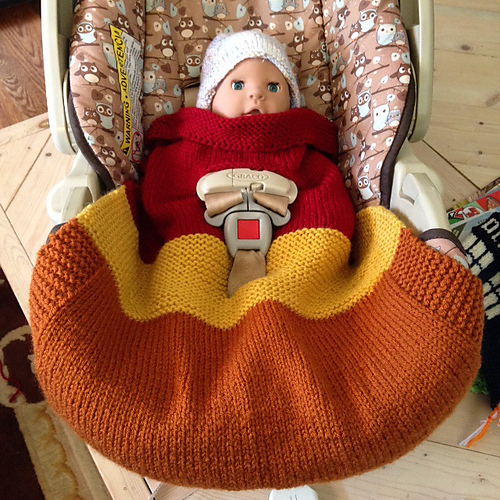 Easy Car Set Baby Blanket
Specifically designed to be used in a car seat, this baby blanket is 20″ by 24″l to reduce bulk and has a hole for the bucklet. Easily customized for any yarn or stitch. Designed by Marion Brown. Pictured project by KnitnPril who added an extra hole for the top of the car seat and used colors from the Firefly Jayne Hat.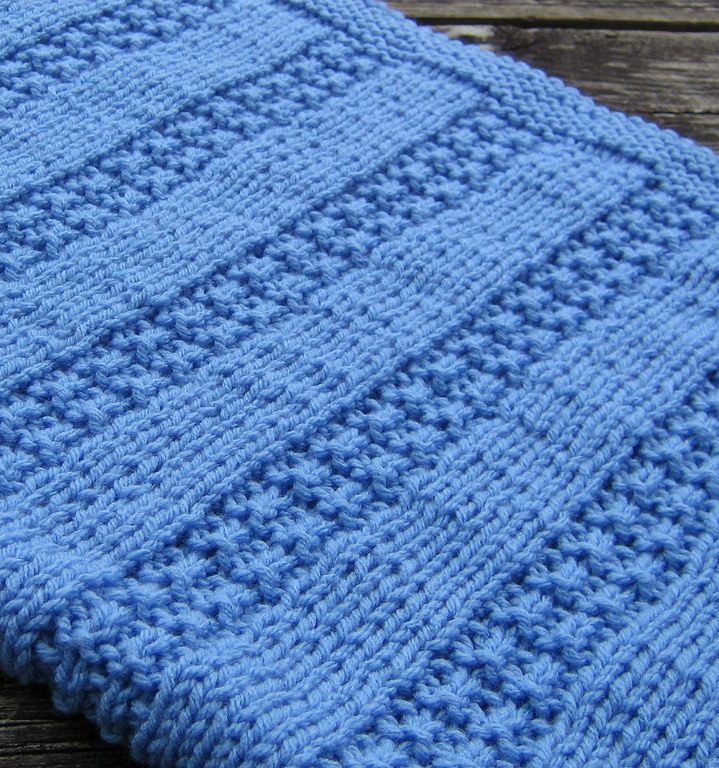 Newborn Baby Blanket
This one-skeing easy baby blanket by Altadena Green measures around 50 by 50 cm (19.6 in square) – perfect for traveling. Pictured project by lunona
More Free Patterns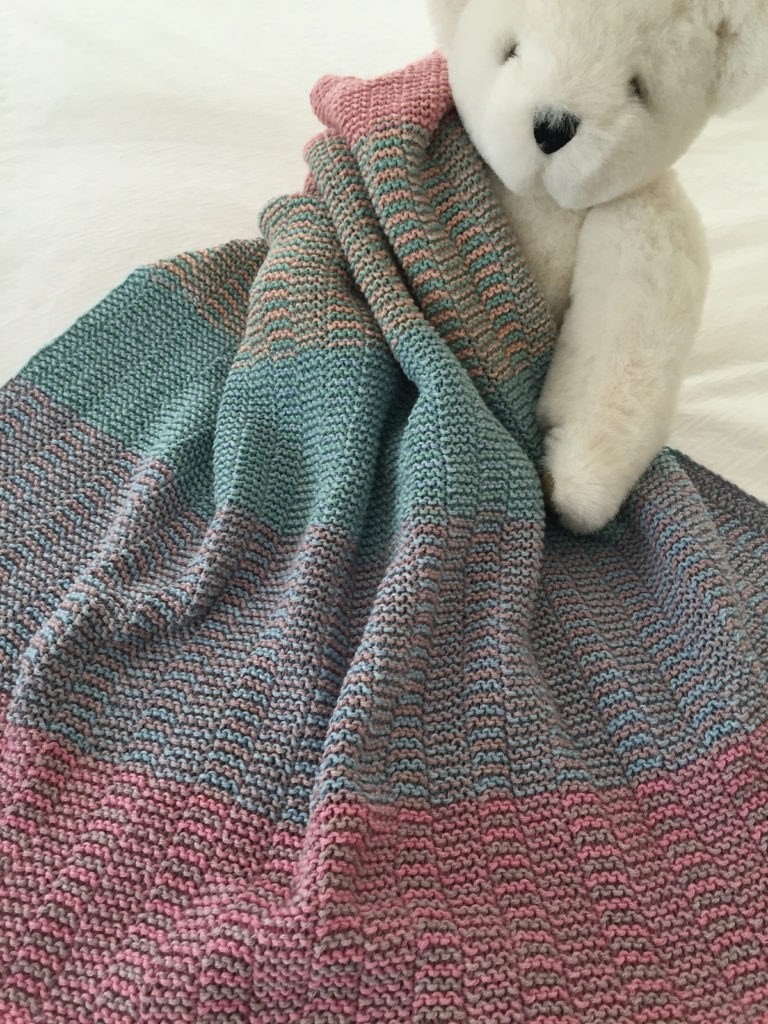 Stroller Blankie
The lovely ombre effect in this easy blanket is created with a broken rib two-row stripe pattern. 28" (width) x 24" Designed by Andra Asars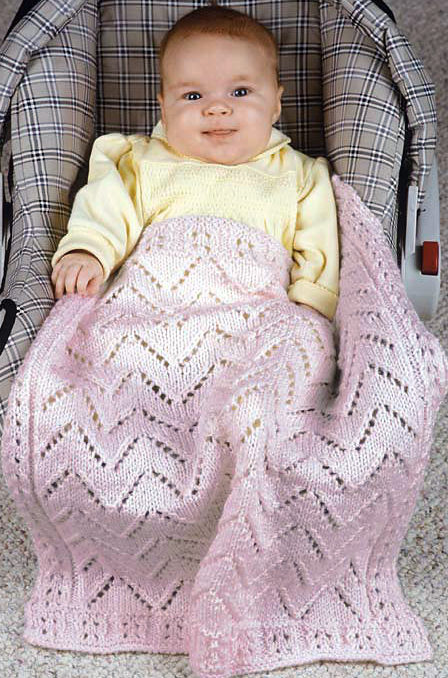 Double Lace Car Seat Baby Blanket
A lace border frames the all-over zigzag lace of this easy baby blanket. Two sizes: 19 x 23 (38 x 48) inches / 48 x 58.6 (96 x 122) cm. Designed by Sue Childress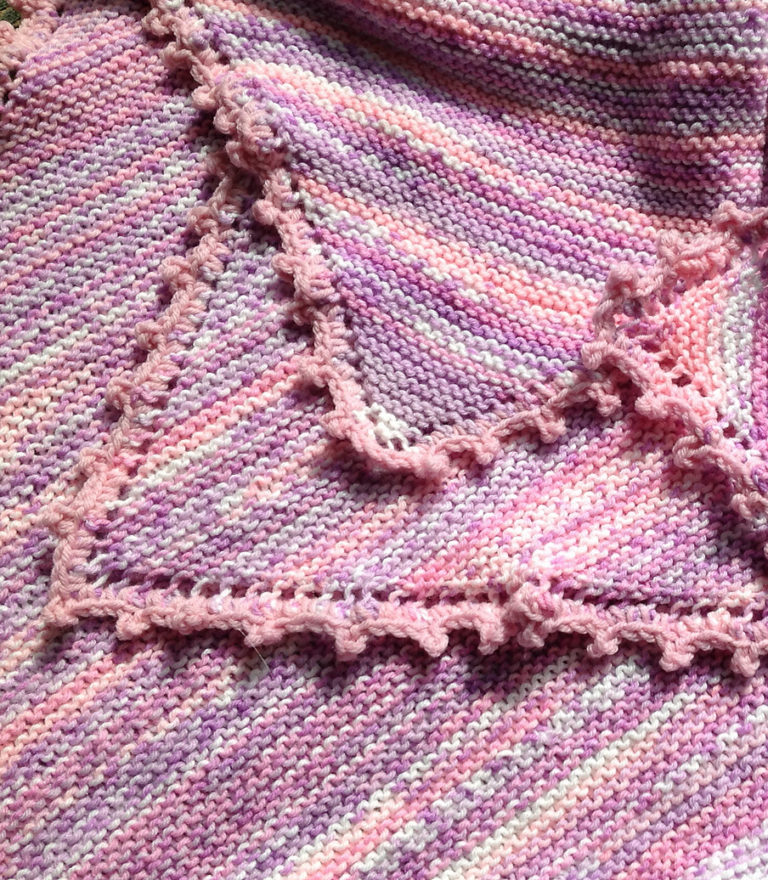 Heaven Mini Baby Blanket
A easy blanket that creates a diagonal stitch pattern by starting small and increasing each row. Just 24 inches square. Use self-striping or multi-color yarn to show off the directional knit. Quick knit in bulky yarn. Designed by Anita Closic. Pictured project by JoanneCarol who added a crocheted picot border.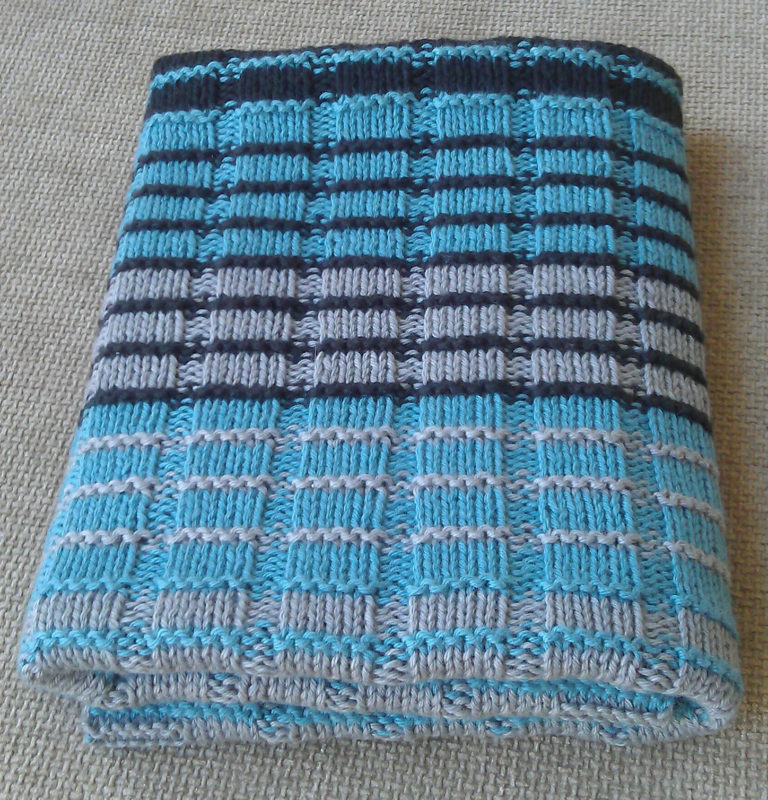 Maxi Cosi Baby Blanket
A easy blanket designed by maanel to fit a Maxi Cosi car seat. It can easily be customized to other sizes. Pictured project by Kottenlottis who added colorful stripes but you can knit it in a solid yarn.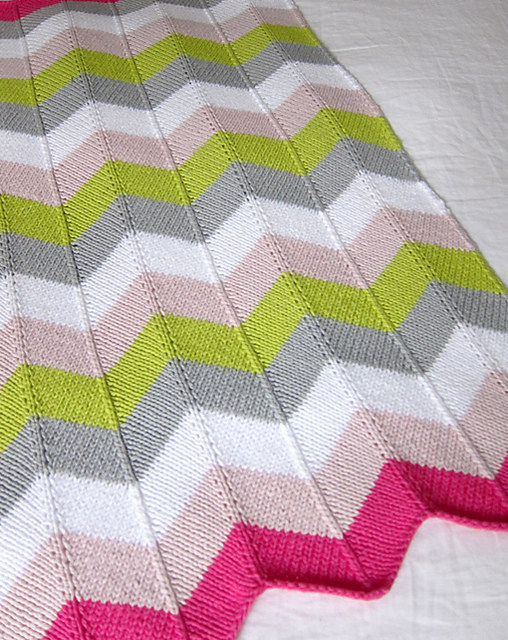 Chevron Baby Blanket
This easy two-row repeat baby blanket is the perfect size for stroller or car seat at 27.5″ x 36″, though it can be easily customized to other sizes. Designed by Espace Tricot.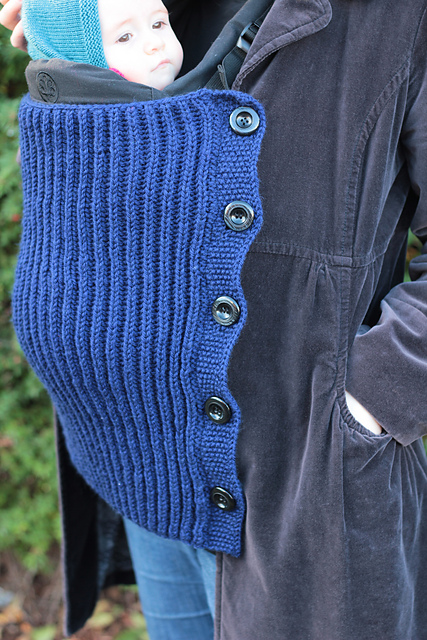 Baby-Wearing Blanket
This ingenious blanket by Playing with Fibre adds an extra layer to keep baby warm while in a carrier or sling. It attaches conveniently to buttons of your jacket or sweater for easy removal without disturbing your baby. It also has an option for attaching to the baby carrier itself. Made of ribbing to stretch with your growing baby.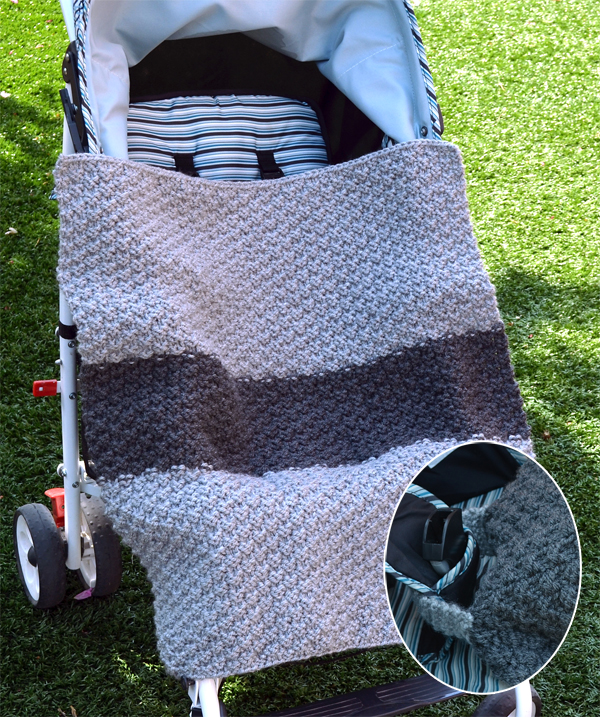 Carseat Cover-up
A loop on the back of this easy double seed stitch baby blanket slips over the buckle to hold it in place in your baby's stroller or carseat. Designed by Karen Van Harten
Patterns for Purchase

Car Seat Blankets
8 Quick-to-knit blankets for your little one when traveling – in a car, stroller or other carrier! Perfect size: enough to cover, yet not too bulky!

Owly Car Seat Baby Blanket
This a reversible blanket knit with Double Cable, Seed and Garter stitches features a multi-point harness slit knit into the blanket so that your blanket will stay in place covering your little one, without bunching up.

Contoured Lace Car Seat Baby Blanket
This baby blanket is shaped to fit car seats or Moses baskets and features an all-over lace pattern with lace border.

Hearts and Flowers Stroller Baby Blanket
Easy knit baby blanket with crocheted flowers. Size: Stroller 30″ x 35″.

Bardan Car Seat Baby Blanket
This cozy cable blanket has two slots for the straps and buckle of the car seat. You can adjust the size as your baby grows by unbuttoning the extra folds at the top.

Timeless Baby Blanket
Easy stroller blanket in two-colors alternating a textured stitch and easy four-stitch cable with slip stitch colorwork. No fair isle, no carrying yarn.

Cable Border Car Seat Cover
This baby blanket uses two skeins of light weight yarn. 22″ [56 cm] square.