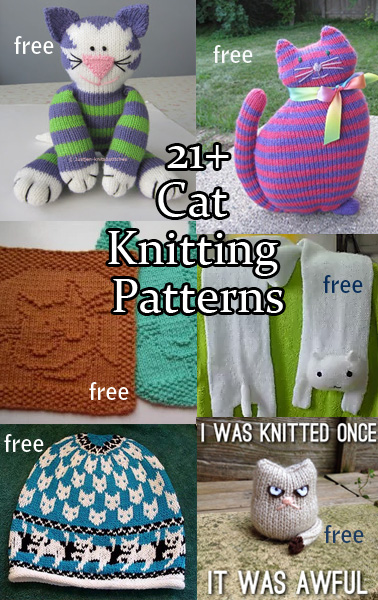 Knitting patterns for cat and kitten softies, hats, scarves, and more.
To get the knitting patterns, scroll down the page to the individual pattern you want and click on the link to that pattern.
These patterns are not my designs but links to other designers who have generously shared their patterns. If you have questions about how to knit a specific pattern, please contact the designer directly.
All links on this site are for informational purposes, but please note that some links are to affiliate sellers that pay me a small commission on purchases.
Free Patterns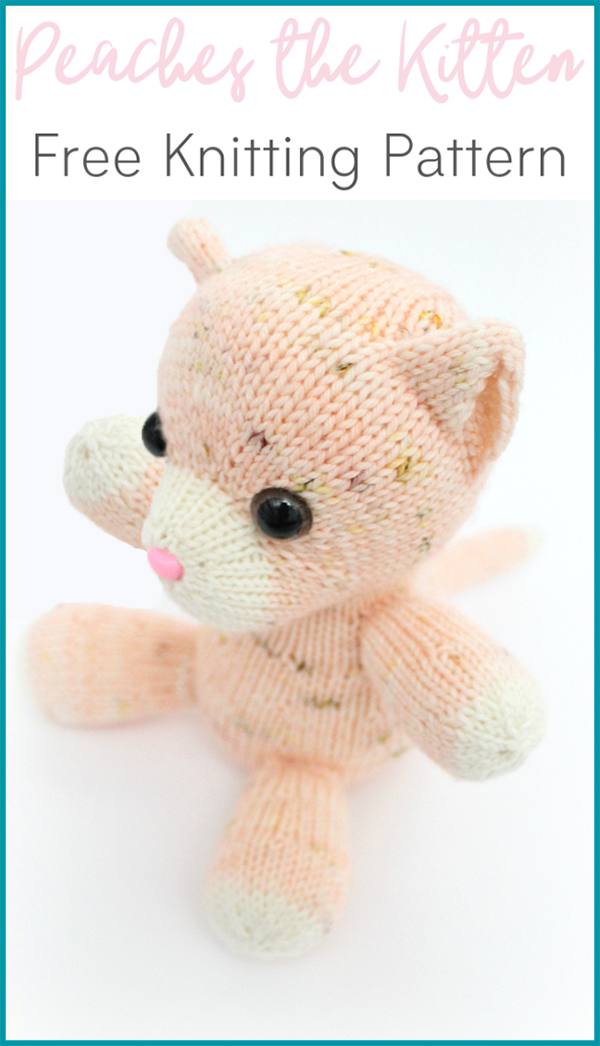 Peaches the Kitten
This adorable kitten toy is knitted in the round on double pointed needles for a seamless knitting project. The finished toy size is approximately 19 cm/ 7.5 inches tall, in sitting position. DK weight yarn. Designed by Hello Dolly Knitting. Web version is free.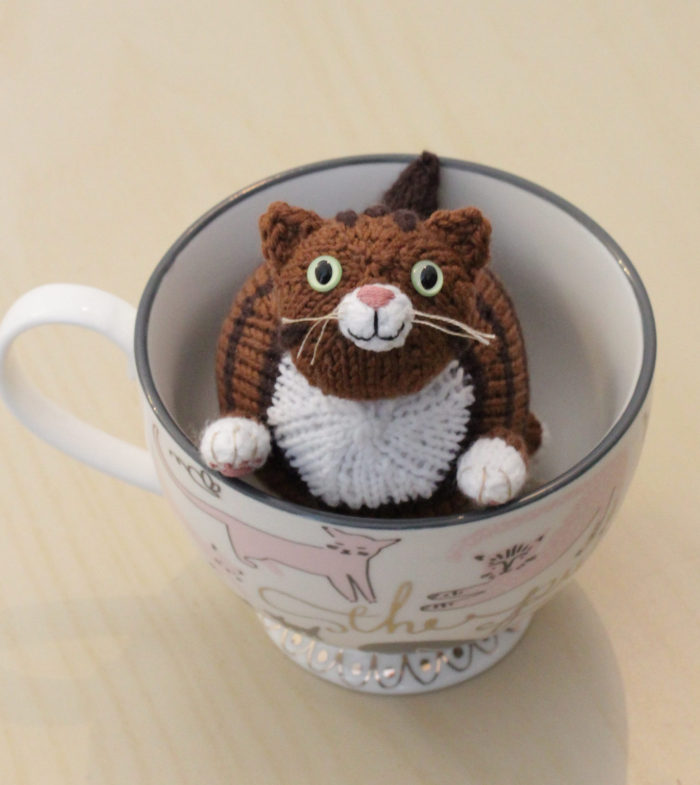 Wub Chub Cat
This adorable kitty can be used as a toy or an ornament. Knit in the round on double pointed needles. The body, paws, tail, head and ears are knitted separately and sewn together. Finished size using 2.5 mm needles is approx. 14cm from nose to tail. Designed by Button Willow Knits

Cat in Jumper
Cat amigurumi softie in pullover sweater. 2 different clothing options. Designed by Sachiyo Ishii. DK weight yarn. Pictured projects by the designer, EllyKnots, and sylv61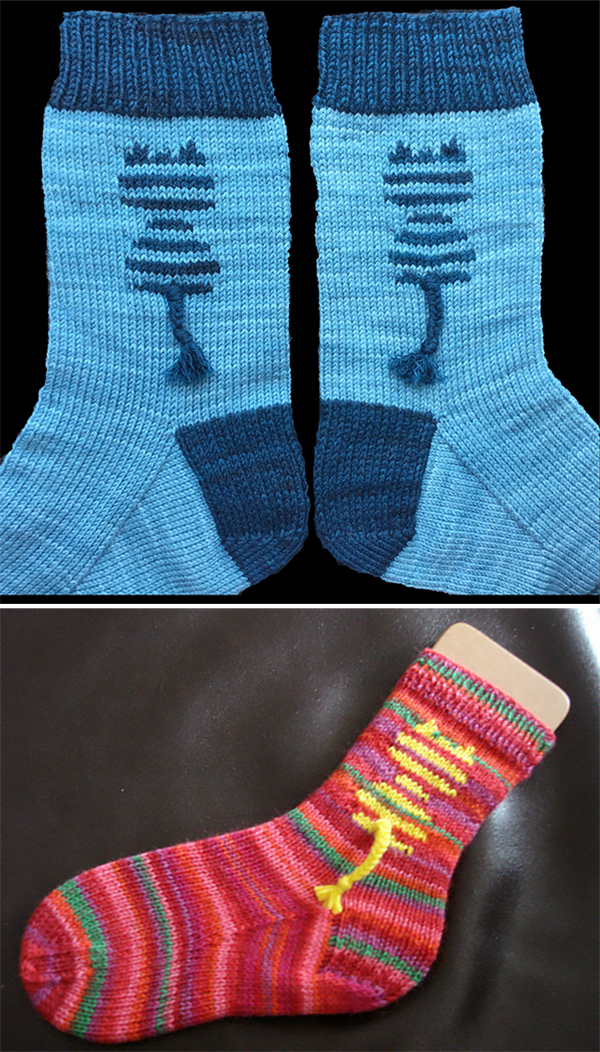 Papageno Kitty Socks
Cuff-down socks with an intarsia striped cat. Use self-striping yarn to get different color stripes on the cat. Sizes child 3-5y (6-8y, woman S-M). Designed by Caoua Coffee. Pictured projects by the designer and akoopi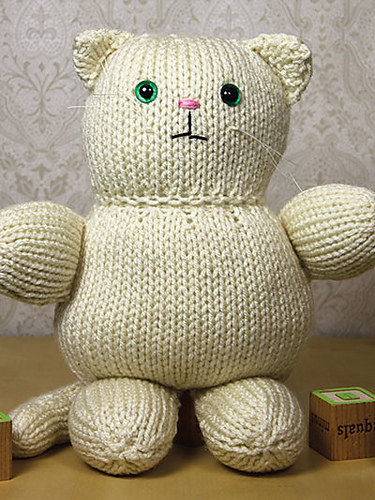 Amigurumi Cat
Michele Wilcox designed this cute cat that's about 11 inches tall. Recommended yarn available on pattern page.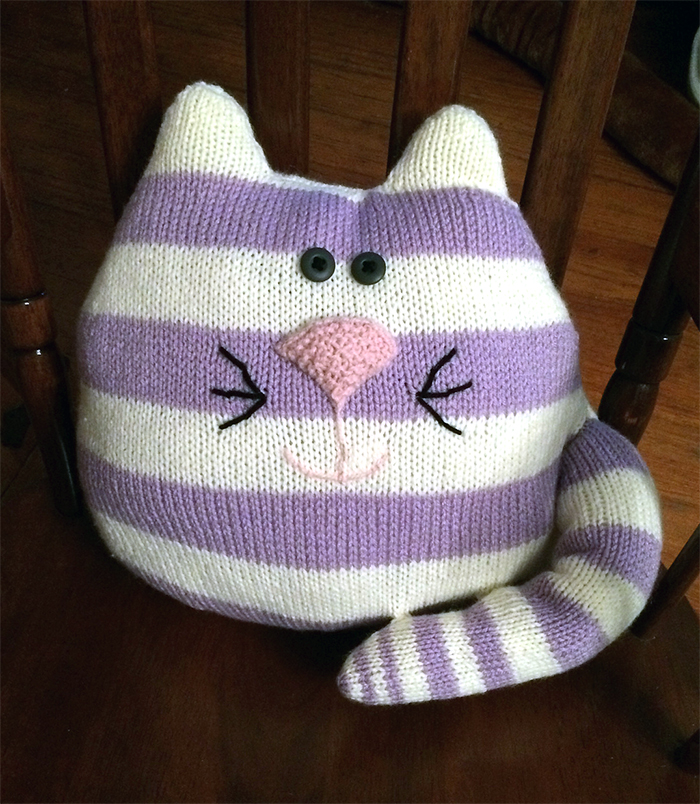 Cat Cushion
Easy cat shaped pillow. If knit in aran weight yarn, the size is 18" x 13" excluding ears. Rated easy by Ravelrers. Designed by Sue Speechley for Granny's World. Pictured project by laurelm78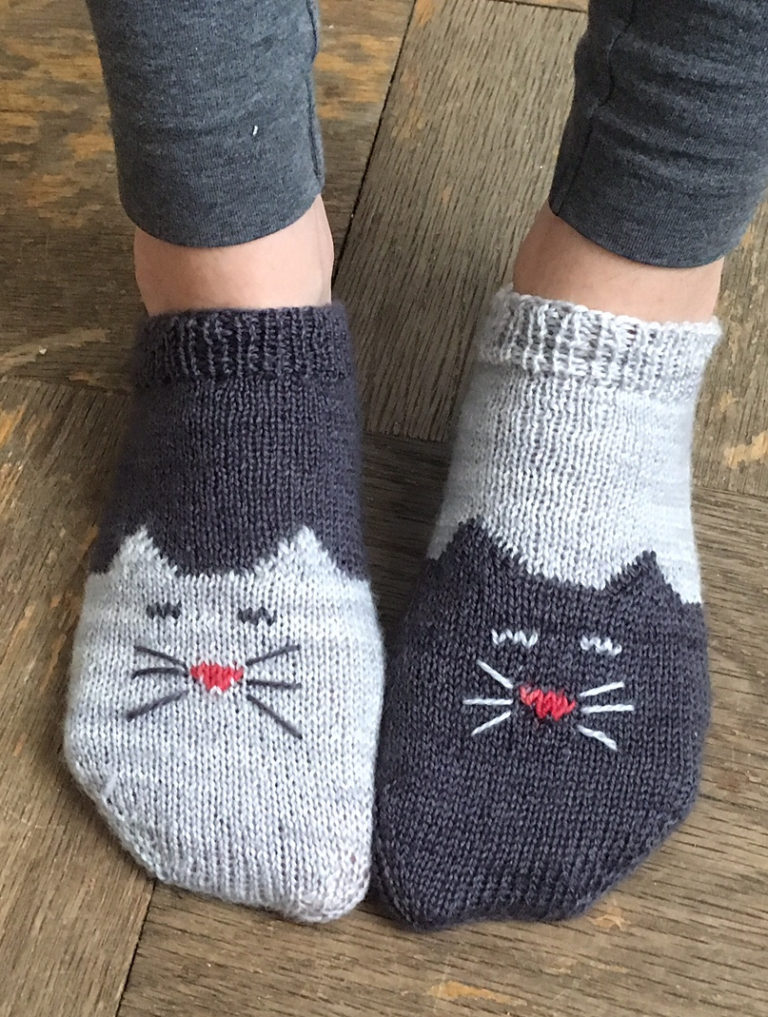 Yinyang Kitty Socks
Toe-up ankle socks with a kitty chart on the toe and foot and a simple short-row heel. Designed by Geena Garcia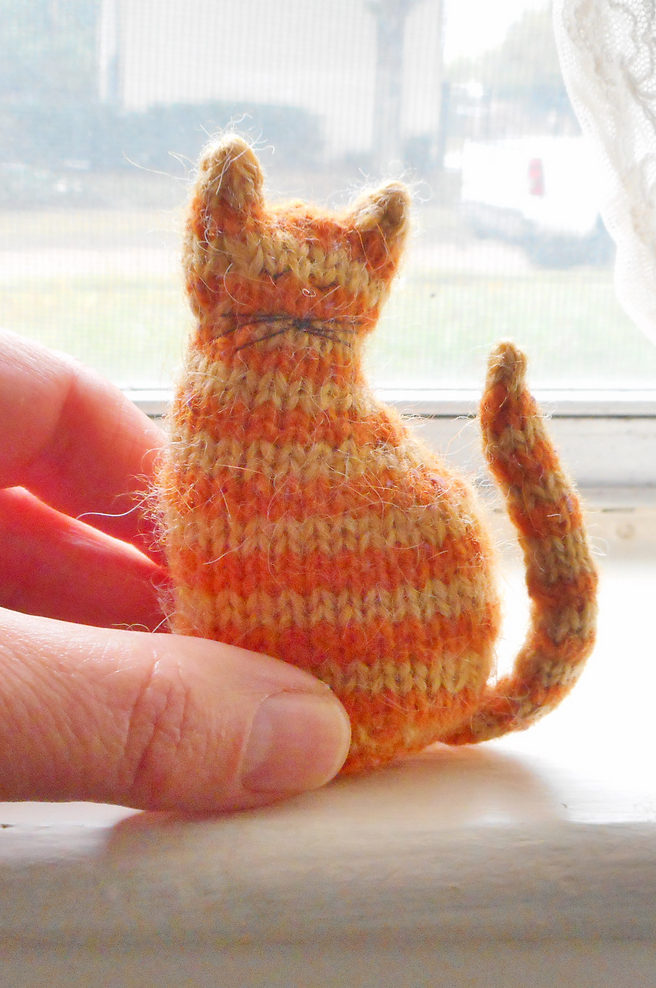 Tiny Window Cat
It's 3 inches tall, worked in the round, and all in one piece except for the tail. Designed by Sara Elizabeth Kellner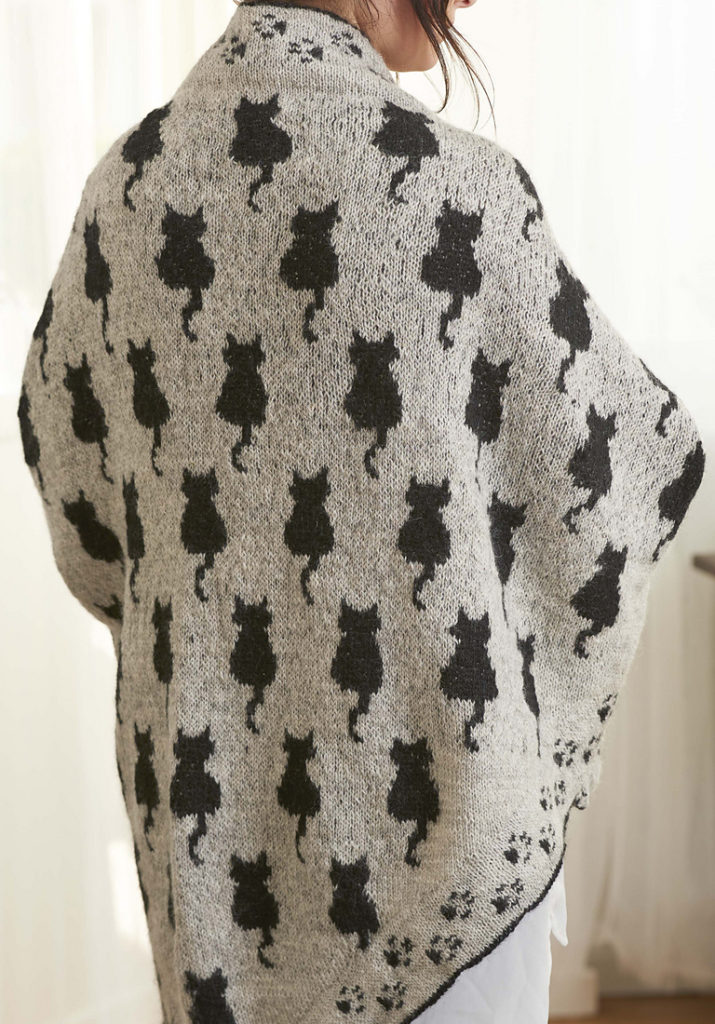 Cat Shawl
Stranded colorwork shawl by Susanne Ljung features cat silhouettes with pawprint border. The English version of the pattern is at the bottom of the page, under the Swedish version.
It looks like the designer's website is down at least temporarily…. Here is a link to the web archive page for the site. The chart for the pattern can take a long time to load.
Knitted Kitty
A folded knitted square is all you need to make the cat body in Lillian's ingenious pattern. The hat and tail are knitted flat and seamed.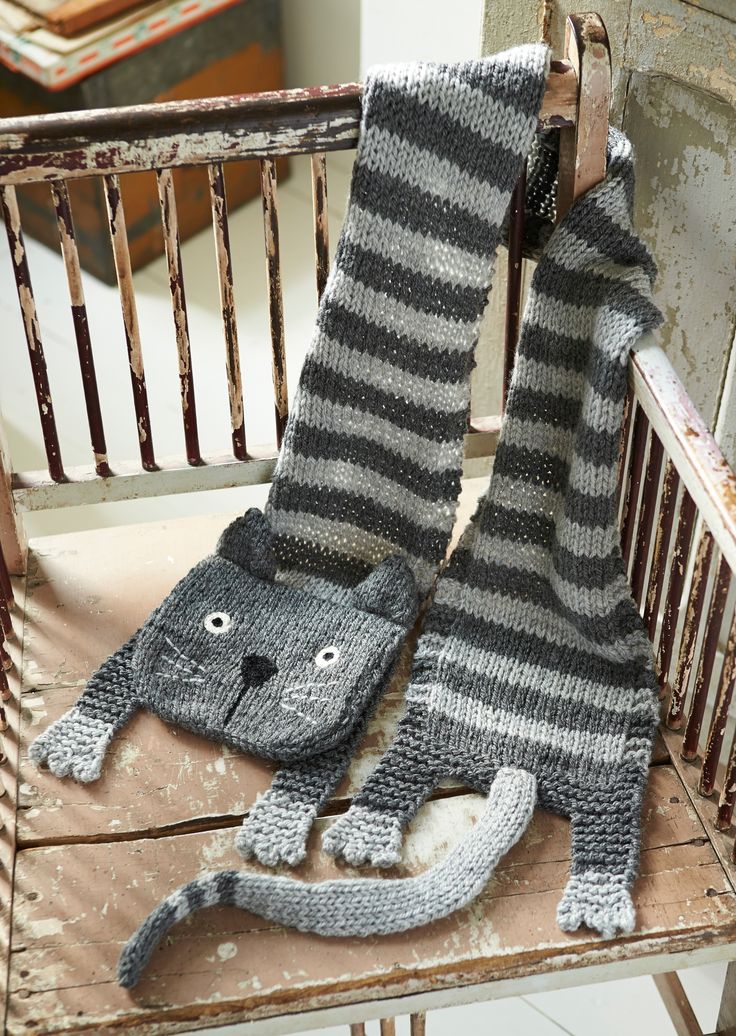 Tabby Cat Scarf
This free pattern is excerpted from Fiona Gable's book Knitted Animal Scarves, Mitts, and Socks: 35 Fun and Fluffy Creatures to Knit and Wear.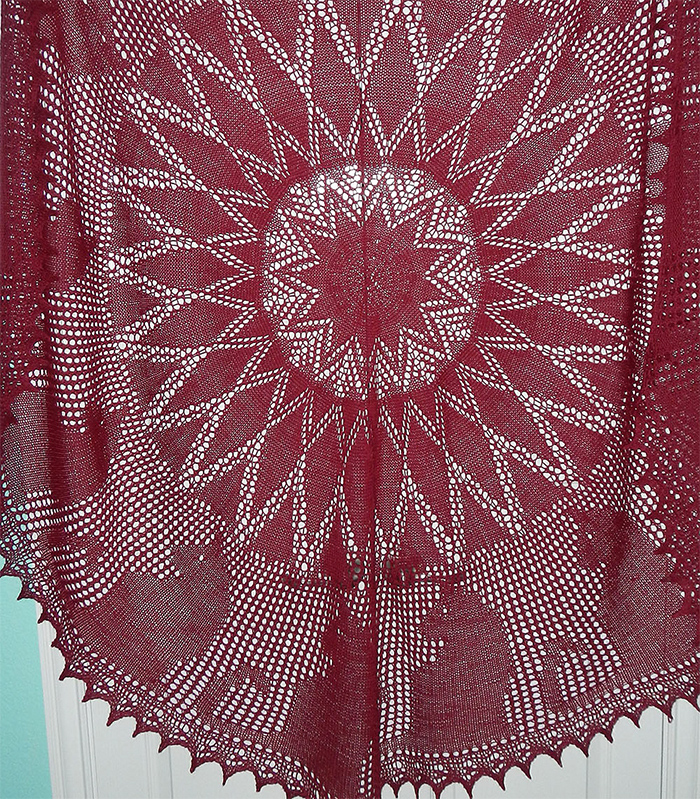 Cat Shawl
Kathleen's Kittens is a circular lace shawl with cat silhouettes around border. Designed by MMario. Pictured project by kibbles-n-bitch who omitted optional rounds.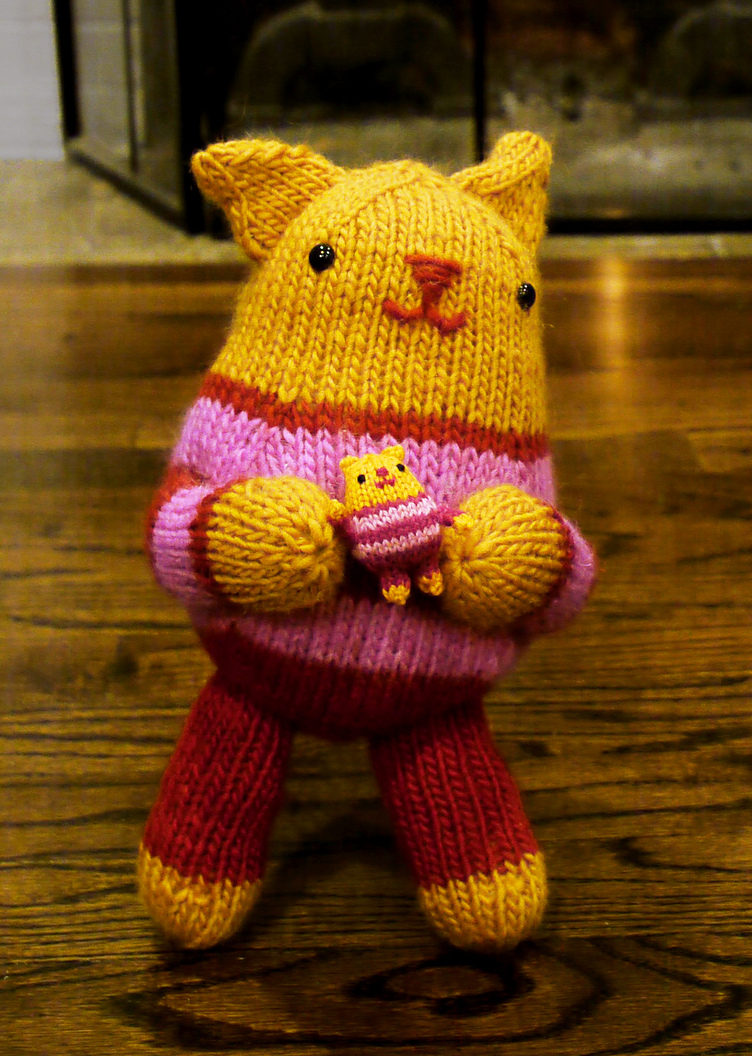 Kate and Kate's Kitten
This pair of toy cats are a perfect pairing. The larger cat Kate is 12 inches from top of ears to toes. Her kitten is 1.75 inches/4.5cm tall. Kate designed by Jess Hutchison and her kitten designed by Anna Hrachovec for Knitty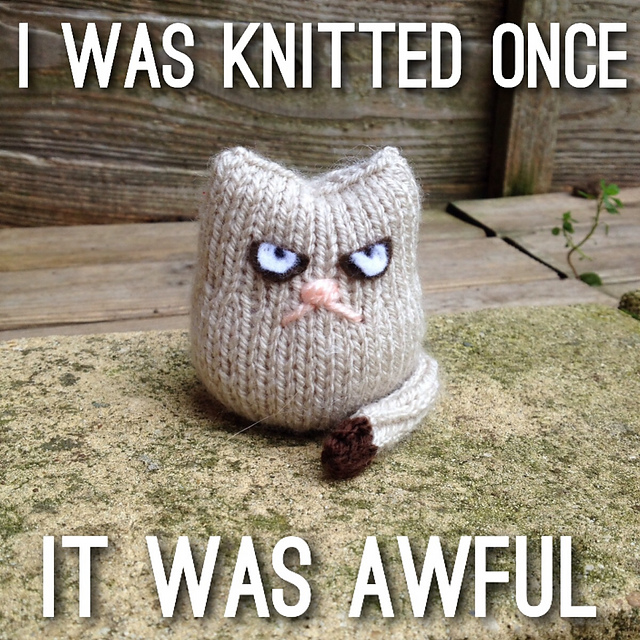 Grumpy Cat
bigdamnhero's Grumpy Cat project is a customization of Linda Dawkins' Beans the Cat pattern (see below).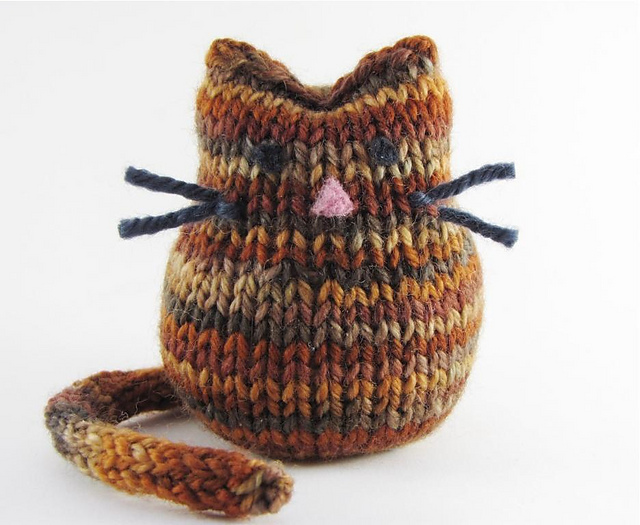 Beans the Cat
Linda Dawkins' original Beans the Cat pattern can be knit in the round or knit flat and then seamed.

Grumpy Cat Chart and Hat
mirella design created this chart of the meme cat that can be used in your knitting projects. Pictured project is by katycabot who has notes on how she made the hat
More Free Patterns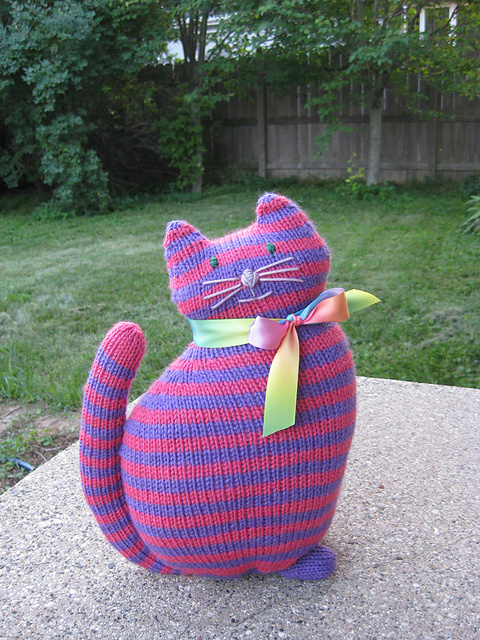 Window Cat
Sara Elizabeth Kellner designed this simple pattern knit in the round from the bottom up. Tail and paws are knit separately, also in the round, and seamed to the body. The pattern is easily customized in a variety of ways. About 12 inches by 7 inches. Pictured project by monicaknitter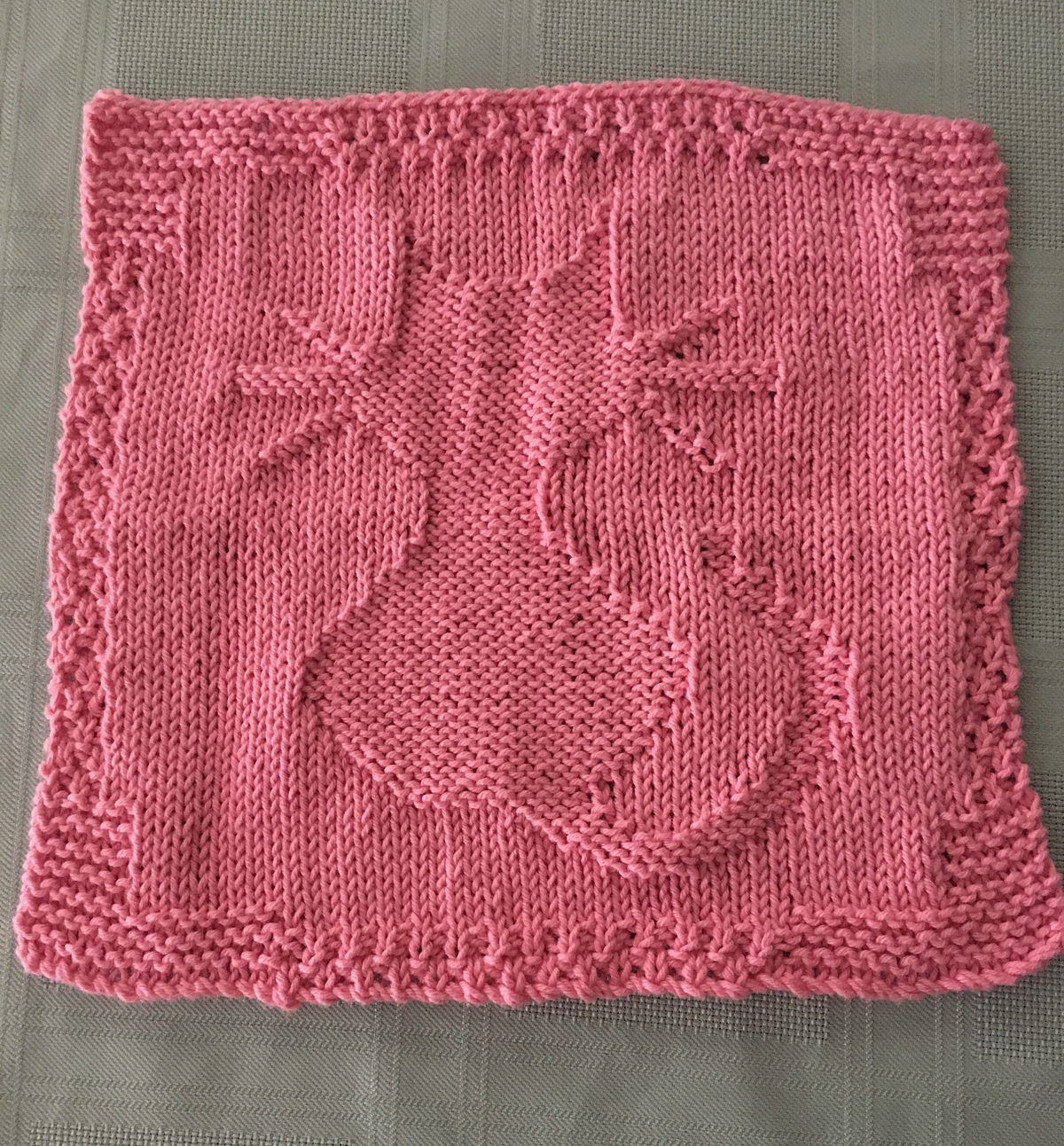 Kitten Kaboodle Dishcloth
This cloth features a cat silhouette that call also be used on afghan blocks and other knitting projects. Designed by Erica Jackofsky for Knit Picks. Pictured project by JanePoppins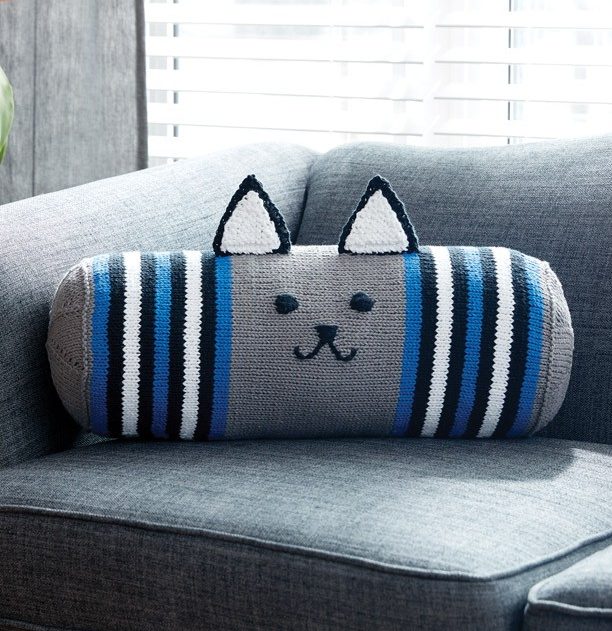 Kitty Bolster Pillow
Adorable cat-faced cushion from Yarnspirations. Approx 19″ [48 cm] long x 7″ [18cm] diameter.
Oliver Cat Teapot Cozy
Knitting pattern offered free by Craft a Cure for Cancer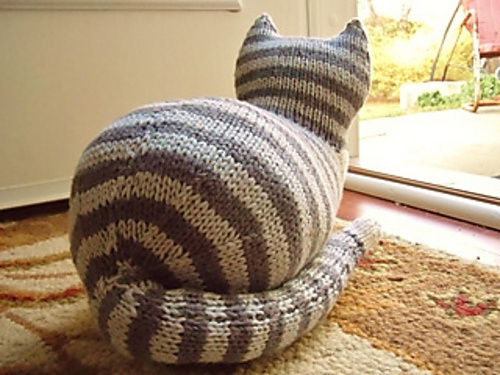 The Parlor Cat
Designed by Sara Elizabeth Kellner, the Parlor Cat is knit in the round, one piece from head to tail, and 10" long and 7" wide.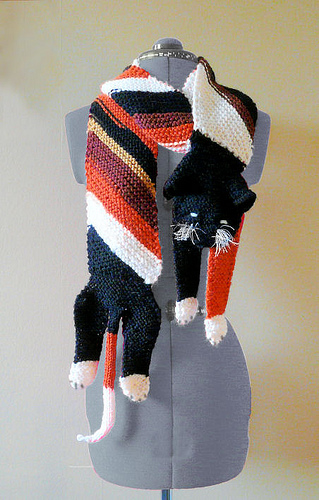 Bracken Cat Scarf
Fifalde designed this scarf in honor of a beloved companion. She says, "Twice I was accosted when out shopping by people demanding to know where I bought it." I'm not surprised! Knit it in the colors of your favorite feline.

Brownie the Cat
Barbara Kobayashi created these soft round kitties perfect for customizing to look like your feline friends. Pictured project by knittypocket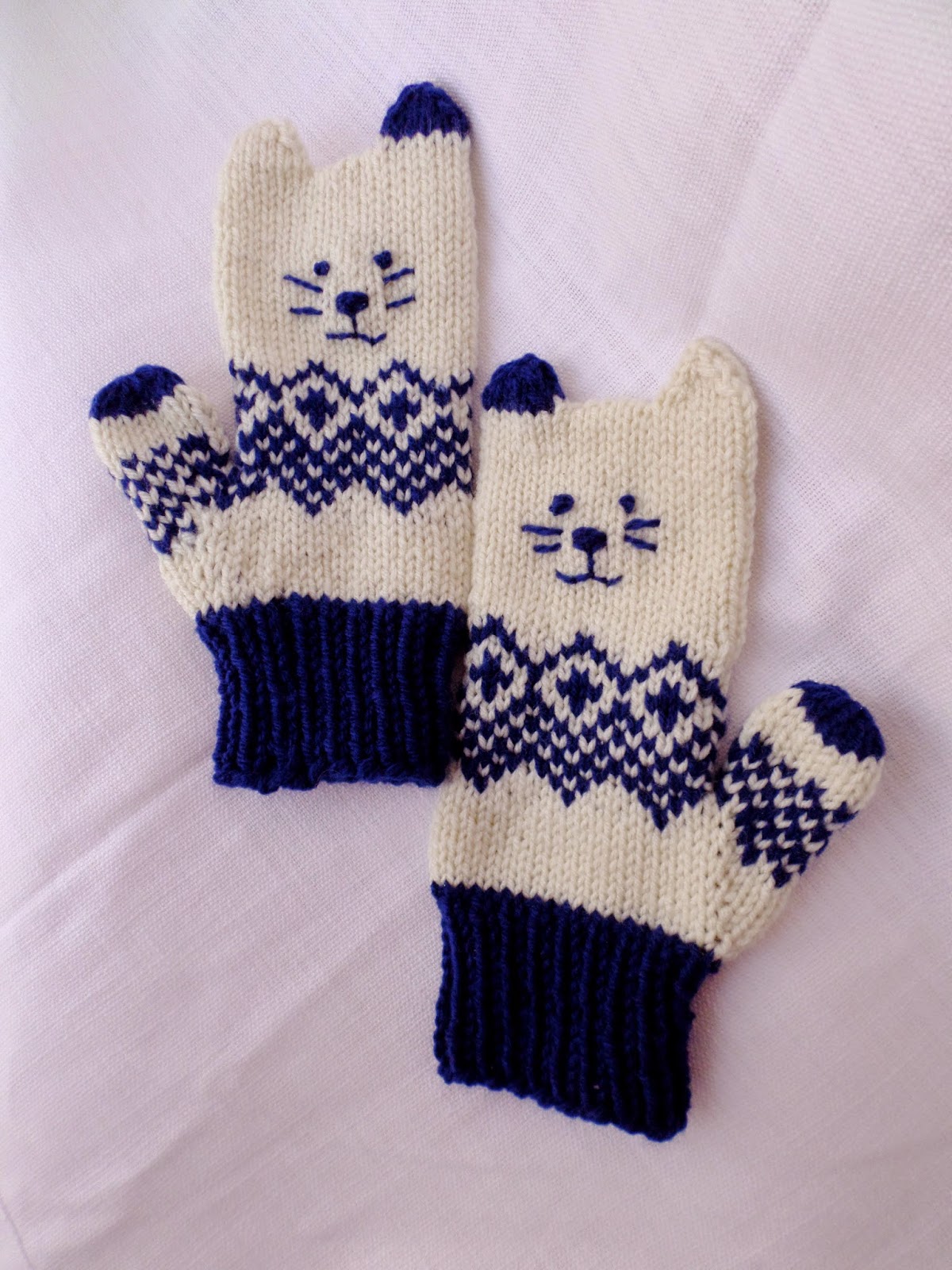 Norwegian Kitten Mittens
Designed by Salty Crafts who also has a striped version.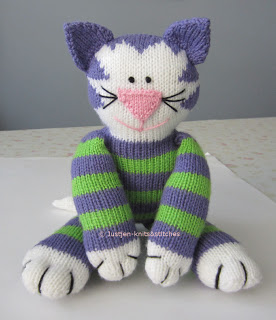 Share Kitty
Designed by Justjen, Share Kitty is 41cm tall. Legs, body & head are knitted as one piece for the front, one for the back, with his arms, ears & tail attached separately.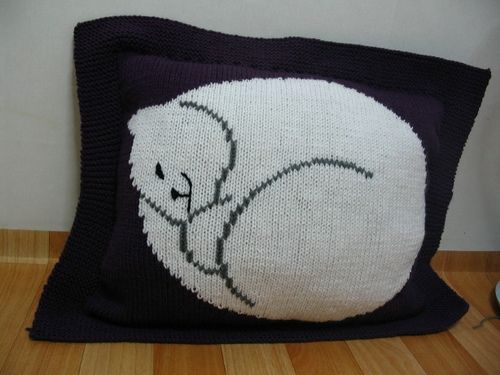 Cat Pillow
Val Love designed this cuddly sleeping cat cushion that is about 20 inches square.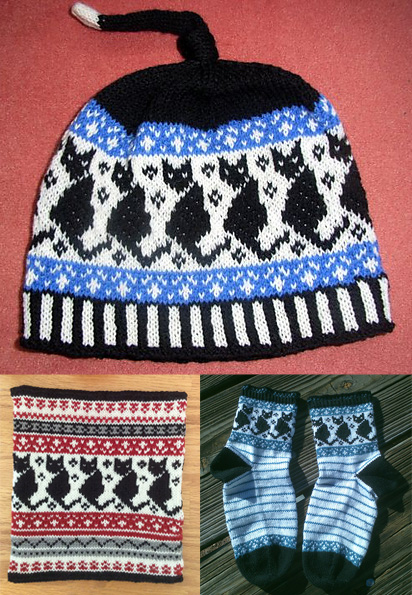 Black Cat Beanie
Designed by Sandra Jaeger, this beanie has been adapted by other knitters into hot pads, socks, and more.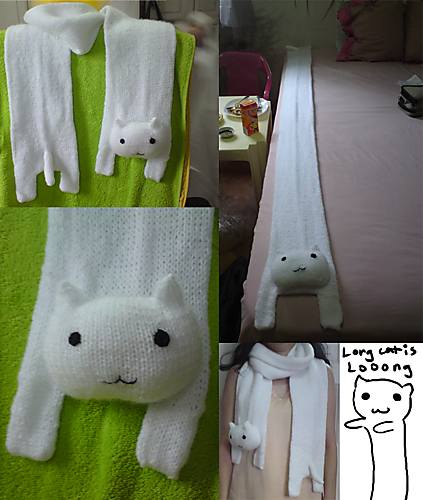 Longcat Scarf
Designed by fluffyduckie plushie.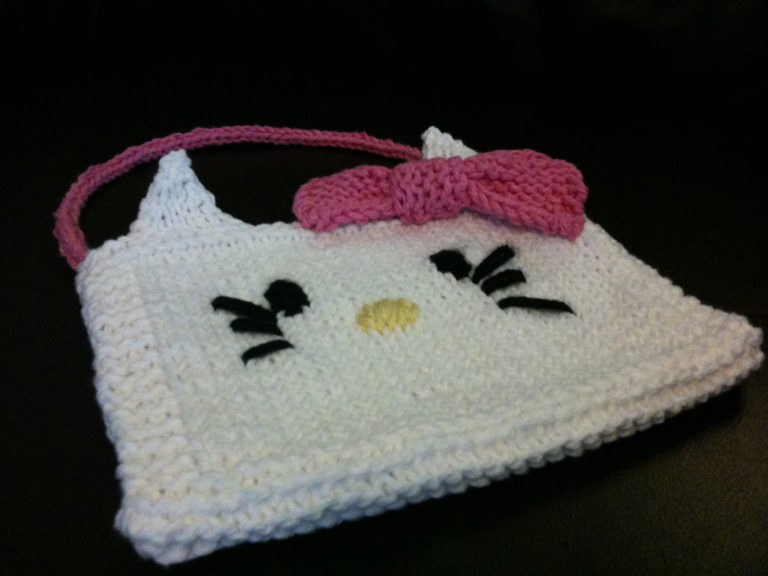 Pretty Kitty Purse
Teresa Harrison designed this cute kitten purse probably inspired by Hello Kitty that is knit flat and seamed.

Mad Cat Handwarmers
Kat Lewinski's fingerless mitts feature Ta mad cat on one side and a paw print on the palm.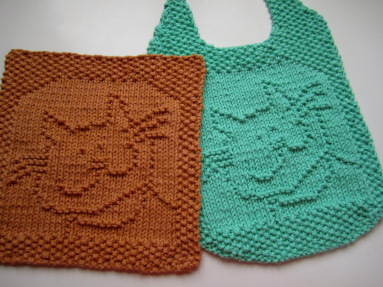 Mickey's Cat Baby Bib
Knitted by Elaine Fitzpatrick based on a design by a grandson, there is also a washcloth version. The link below goes to the blog post. The link to download the pattern is in the list of links on the right side of the post.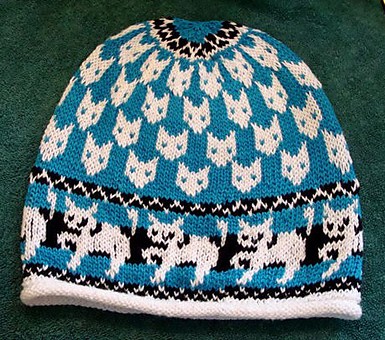 Witch Cat Hat
Designed by Christine da Savoie, this beanie was originally designed as a Halloween hat but has been adapted by other knitters.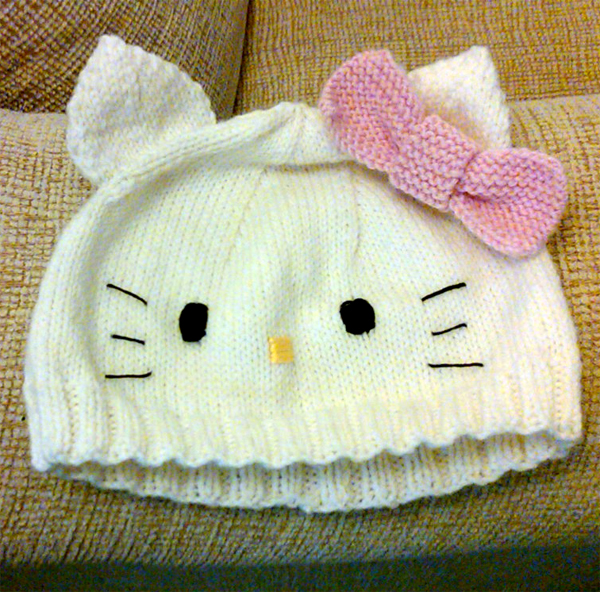 Hello Kitty Hat
Beadwhore designed this easy hat that can be customized to various sizes. Pictured project by lynnoliver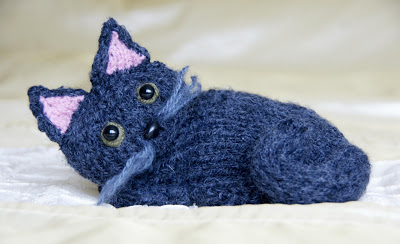 Kitty Cat
Sincerely Louise designed this kitty that is approximately 6 inches long.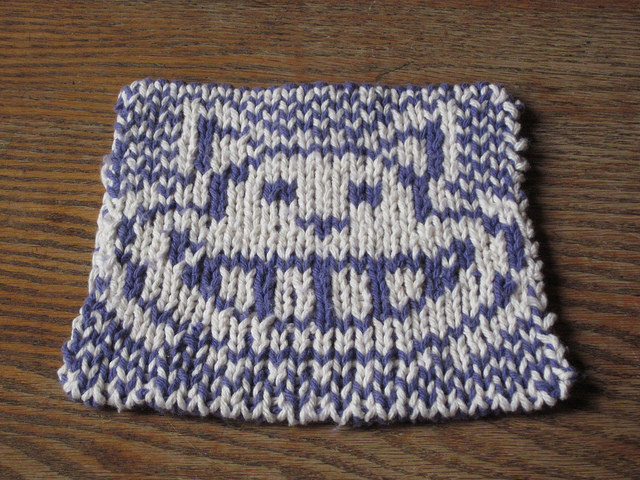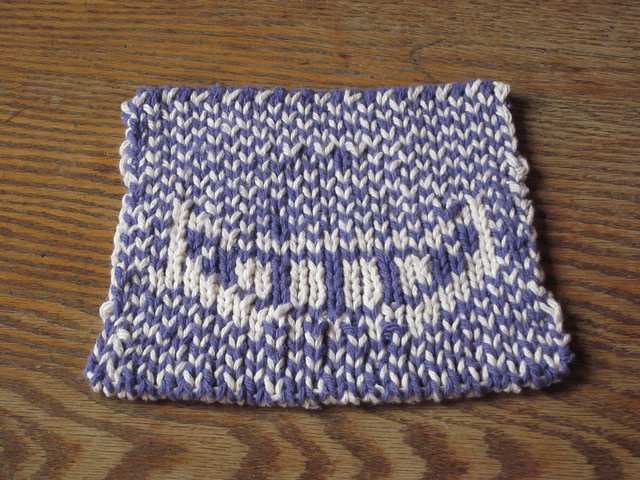 A Grin Without a Cat Potholder
This Cheshire Cat Potholder was designed by Monica Manceñido. The double knit design features the Cheshire Cat on the front and just his grin on the back. Pictured project by jinnif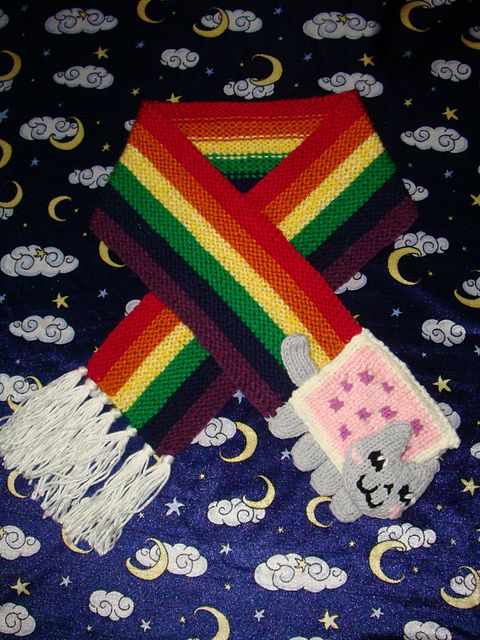 Nyan Cat Scarf
The meme come to life in this design by Collarander the Unicorn
Patterns for Purchase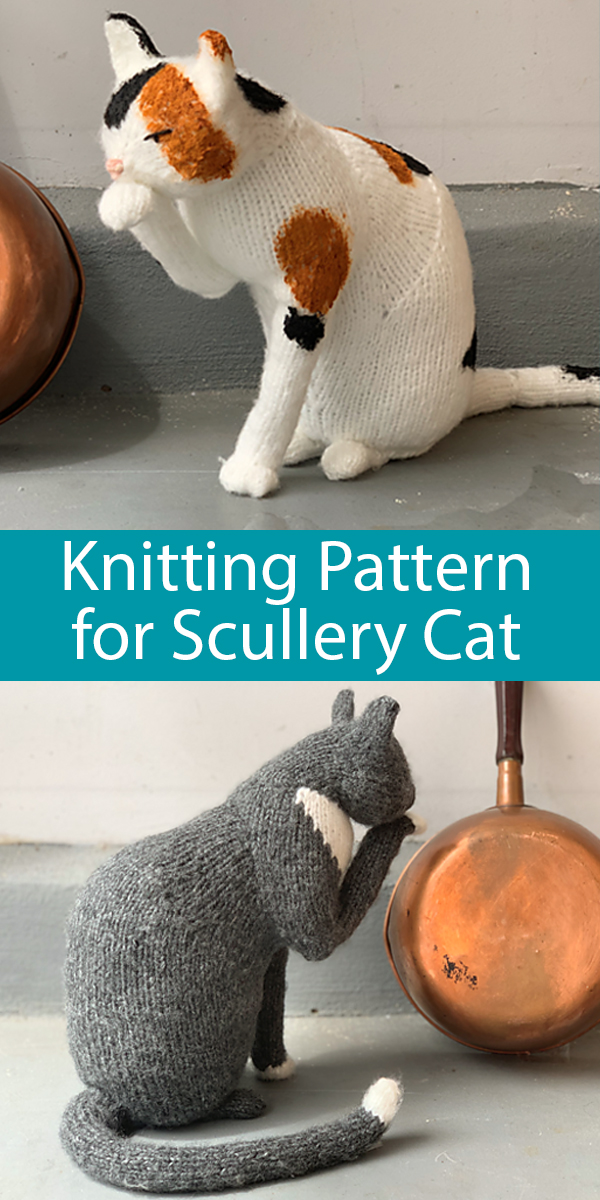 The Scullery Cat
Adorable cat softie toy is 12 inches in height and is 5 inches across the chest. It is worked mostly in the round, mostly in one piece, and can be personalized any number of ways. Bulky weight yarn. Designed by Sara Elizabeth Kellner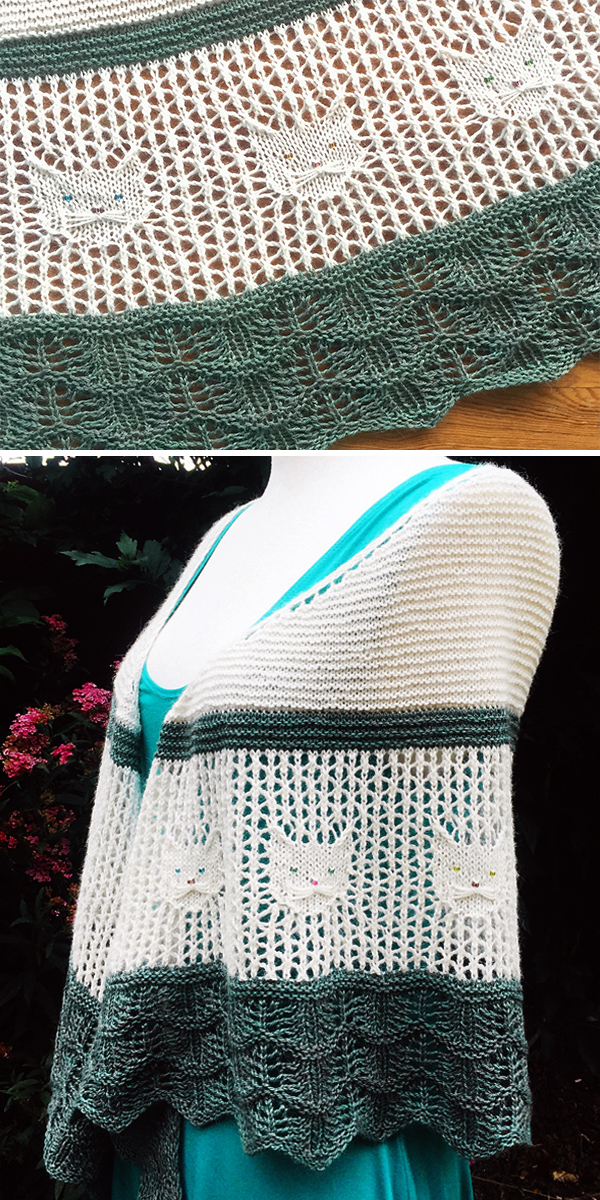 What's New Pussycat Shawl
Crescent shawl with cat faces on a lace border. Designed by Jem Arrowsmith - Under the Olive Tree Knits. Fingering weight yarn.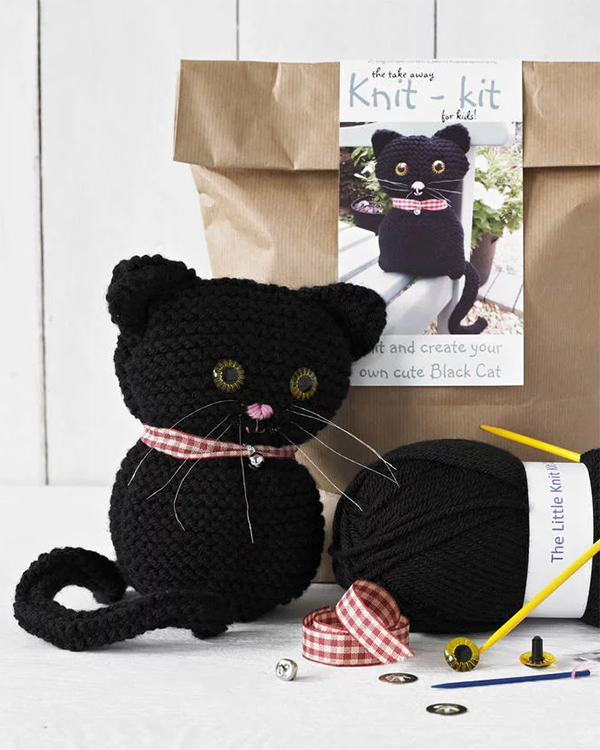 Cat Beginners Knitting Kit
This is an easy to knit kit suitable for beginner level; cast on, knit stitch and cast off techniques only. No shaping required. Simple to make. This beautiful, contemporary knitting kit contains all you need to knit and create your very own cute cat: 1 pair of knitting needles, yarn, stuffing ribbon, 1 set of eyes, bell, thread for whiskers, large sewing up needle, felt, template, DMC thread and easy to follow instructions, full colour are all included. Measures approximately 20cm x 10cm when completed.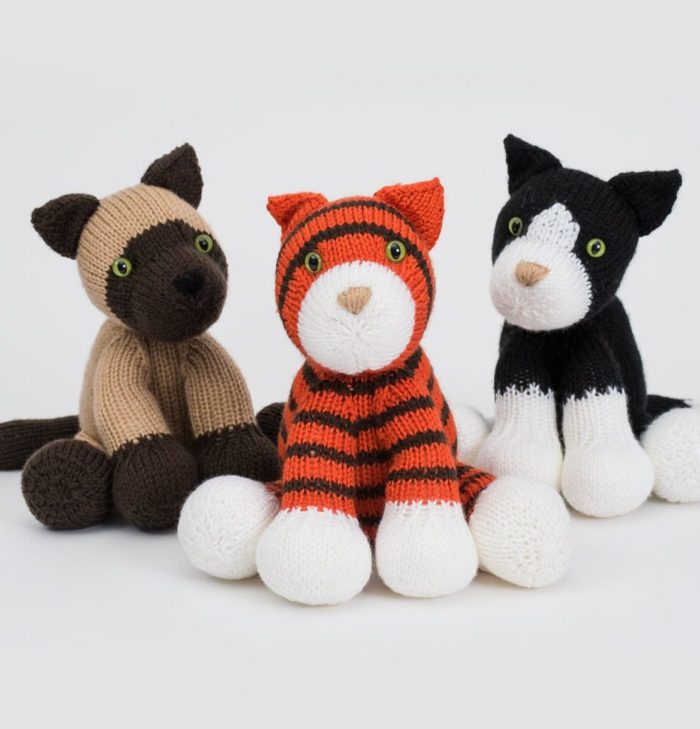 Amanda Berry's Dera-Cats
Knitting patterns and yarn for three cuddly cats: Fudge the Siamese, Millie the Tabby and Jess the Black Cat. Each cat is approximately 22cm tall (sitting).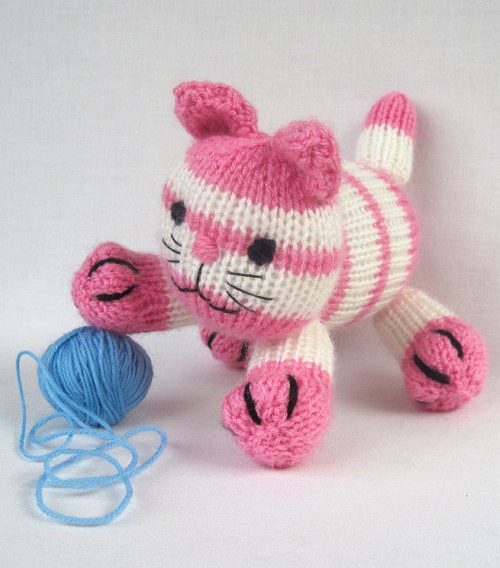 Cupcake the Kitten
CUPCAKE measures 15cm (6in) to the tips of her ears. She is easy to knit.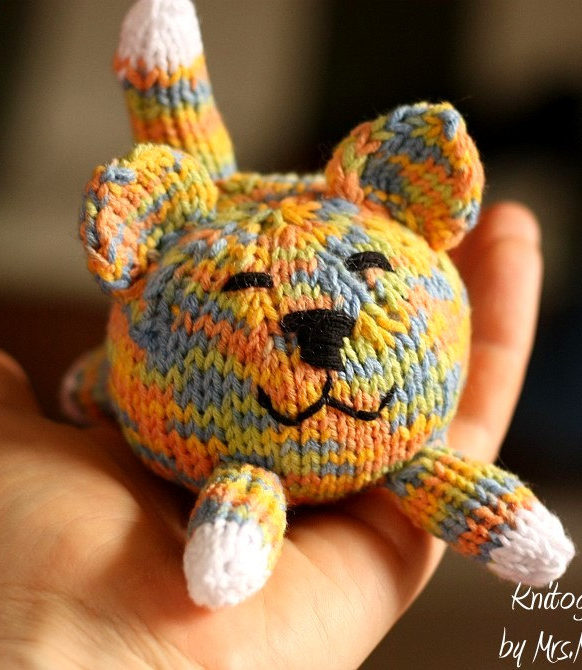 Kitten Softie
This toy cat features a round body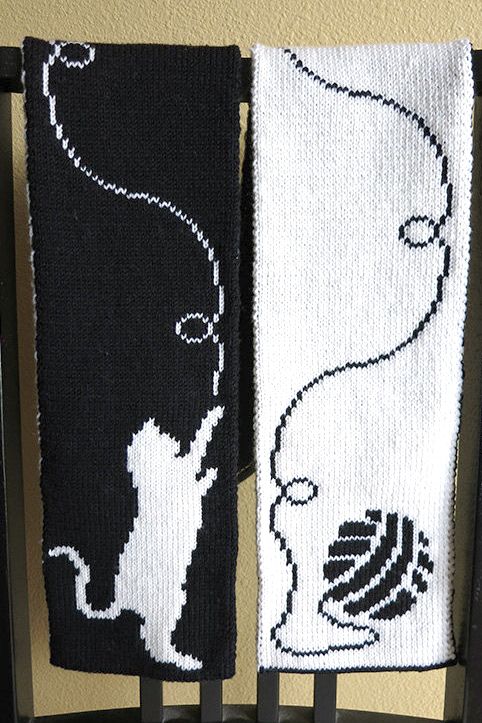 Catitude Scarf
Reversible doubleknit scarf featuring a cat playing with yarn that trails across the length of the scarf. Full instructions for double knitting included.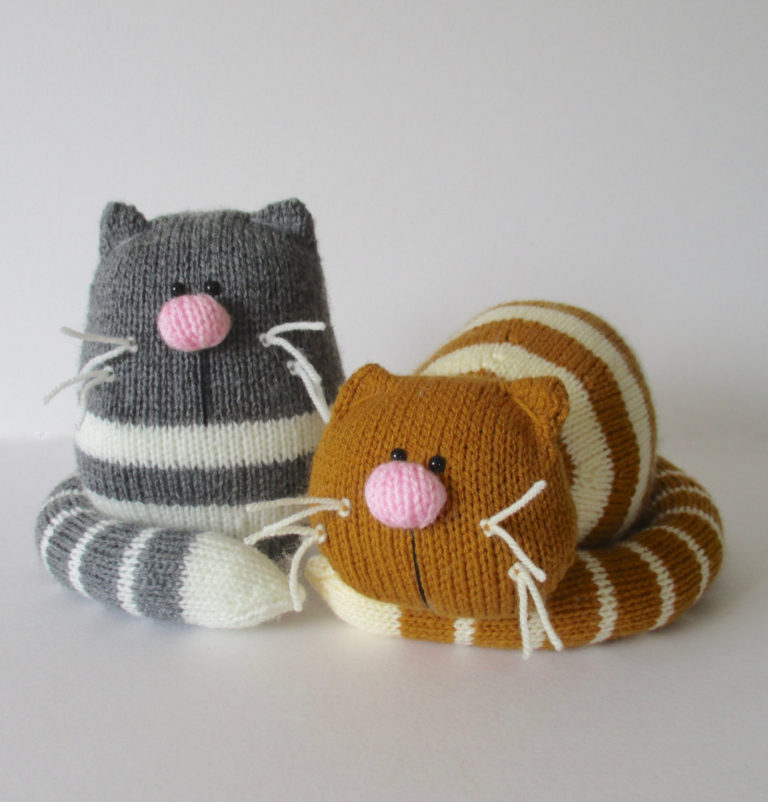 Ginger and Smudge
Patterns included for two adorable cats, one sitting up and one lying down. All pieces are knitted flat (back and forth) on a pair of straight knitting needles. FINISHED SIZE: Ginger (the cat lying down) is approximately 13cm tall and 20cm long. Smudge (the sitting cat) is approximately 17cm tall and 13cm wide. Designed by Amanda Berry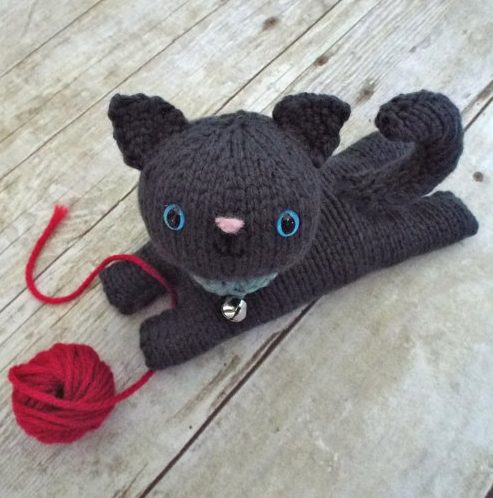 Amigurumi Kitten
Kitten measures 6 inches long.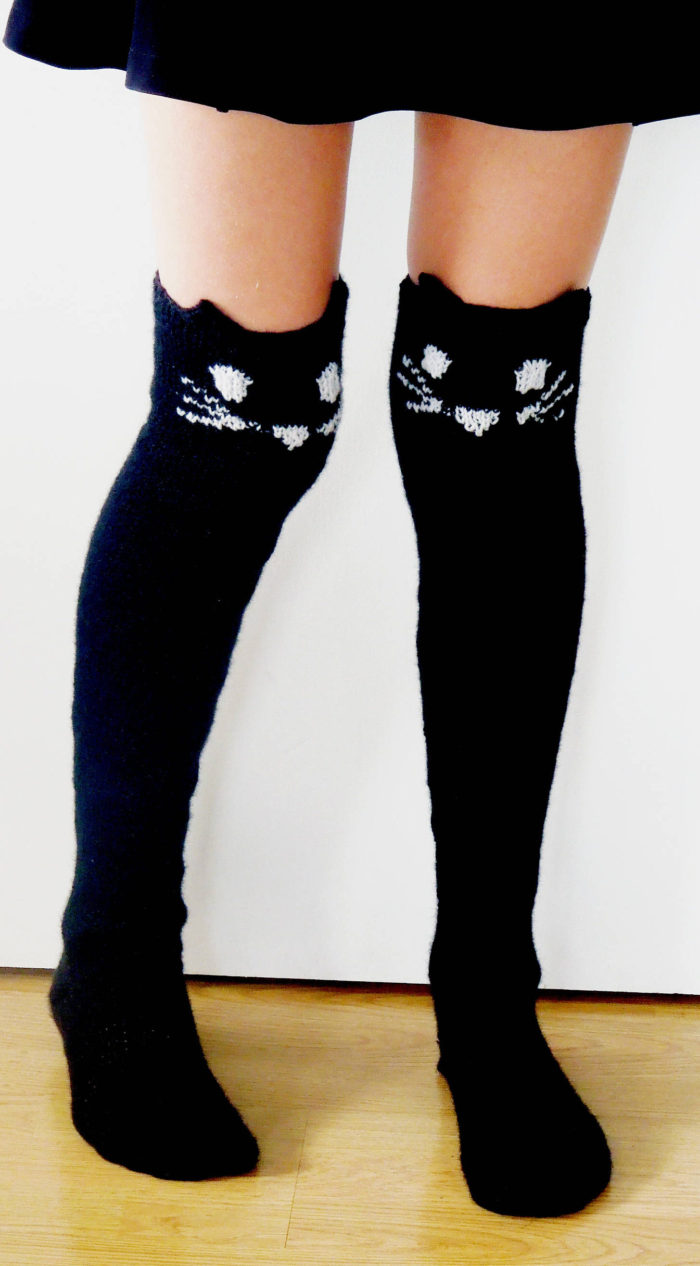 Cat Socks
These socks are designed as thigh high, but with a few easy adjustments to the pattern you can make them to fit as over the knee socks, or simply knee high. 3 sizes. Cat face design is written and charted. Designed by SarahTaylorDesigner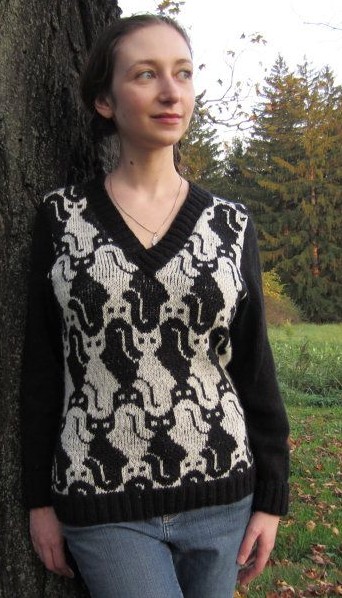 Cat Pullover Sweater
I did a double-take when I saw this sweater pattern! This v-neck pullover has a design of black and white cats in Escher style tiling. Pattern is written for sizes XS (S, M, L, 1X, 2X, 3X).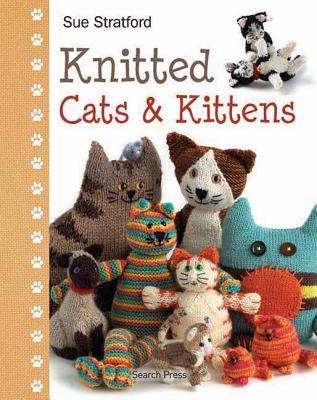 Knitted Cats and Kittens
Sue Stratford's book of patterns includes toy cats, feline projects such as door stops, and even toys for your cats!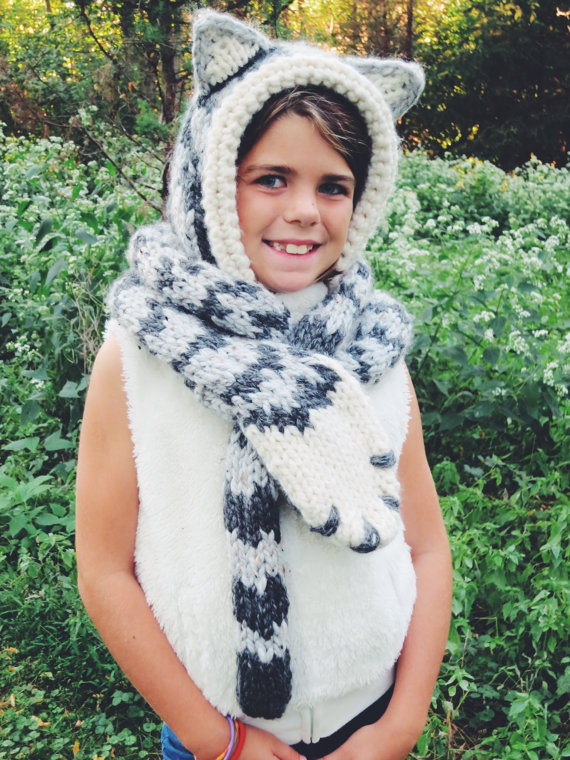 Tabby Cat Hood
This cute, cozy hood pattern includes toddler, child, and adult sizes. It features a tail scarf that wraps around and slips through a loop on the back of the paw on the other end of the scarf to keep it secure.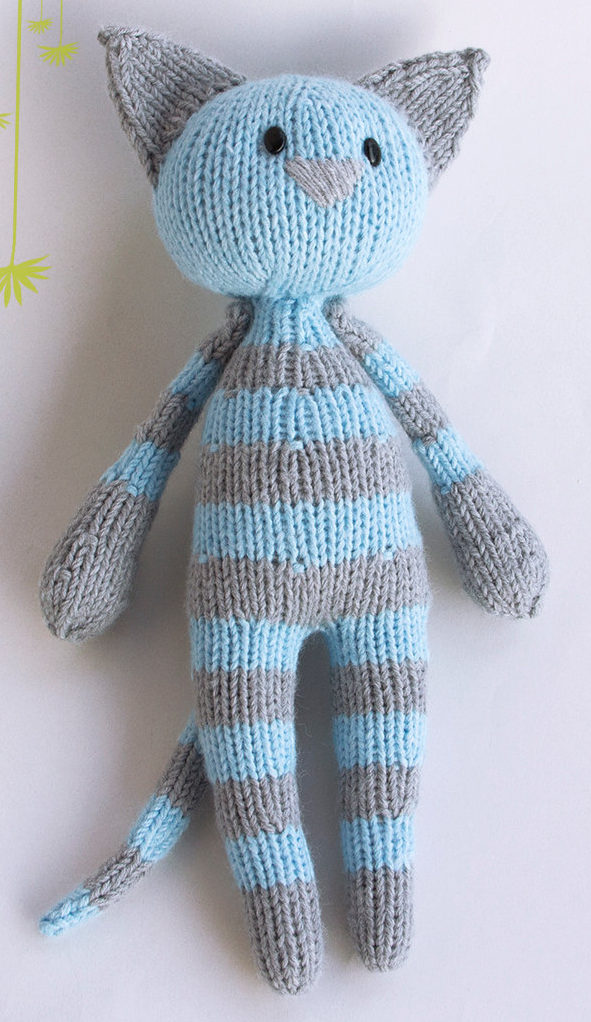 Naptime Tabby Cat
This adorable toy cat softie is approximately 11,5 inches ( 29 cm) tall.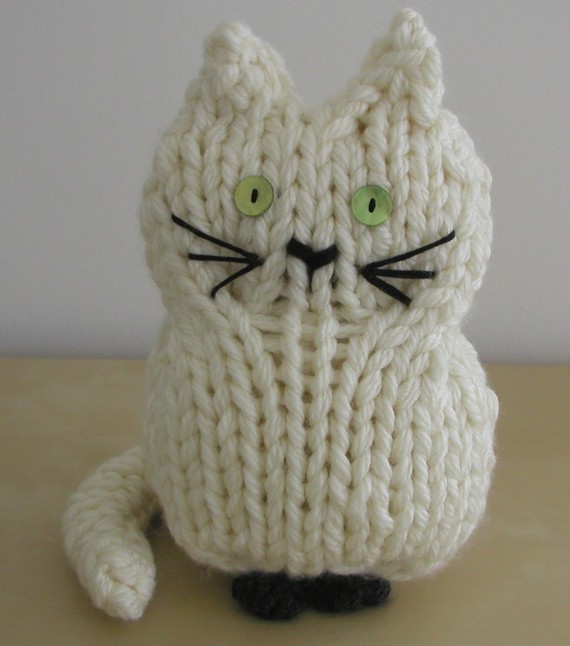 Toy Cat in Bulky Yarn
Quick knit in super bulky yarn. Pictured cat is 10 inches tall. Two other sizes 12 inches and 14 inches.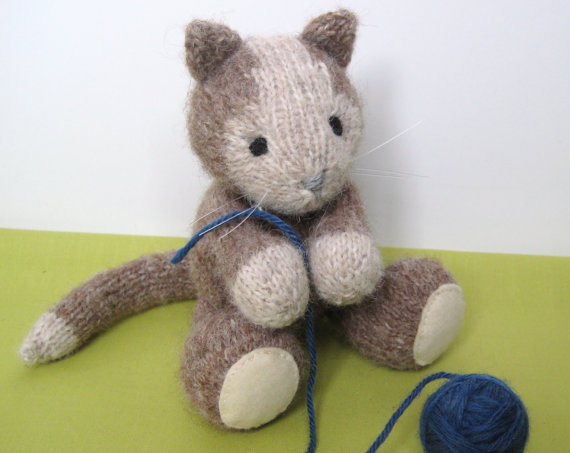 Cavendish Cat
This cute knit kitten is 14cm tall (sitting), but you can make him bigger by following this pattern and using a larger needle size.