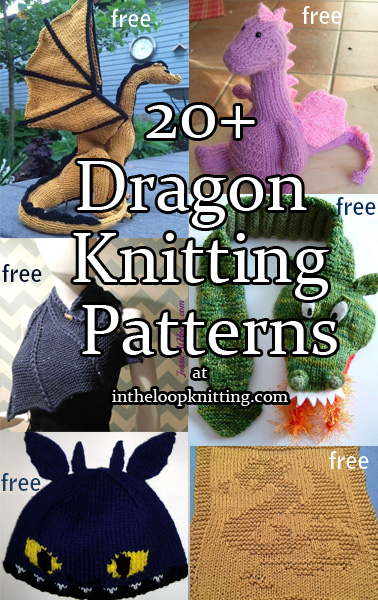 This magnificent creature of myth and fantasy is captured in toys, hats, and inspires clothing design in cowls, shawls, gauntlets.
To get the knitting patterns, scroll down the page to the individual pattern you want and click on the link to that pattern.
These patterns are not my designs but links to other designers who have generously shared their patterns. If you have questions about how to knit a specific pattern, please contact the designer directly.
All links on this site are for informational purposes, but please note that some links are to affiliate sellers that pay me a small commission on purchases.
Dragon
NY Times Bestselling Author Kim Harrison designed this impressive dragon and has generously provided the pattern complete with photo and video tutorials.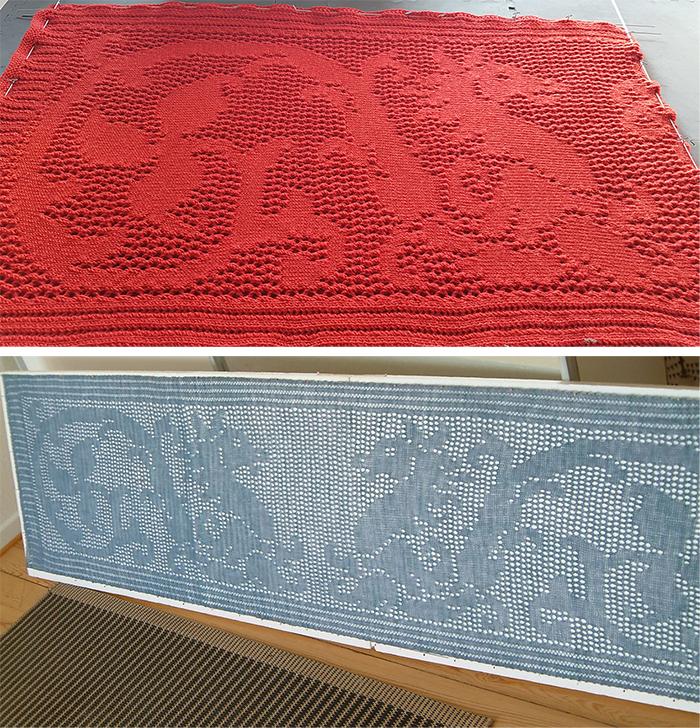 Dragon Stole
Rectangular lace shawl with dragon design. Designed by MMario. Pictured projects by Ev3line and Prinsesse
Dragon Cloths
Knit and purl stitches create a winged fire-breathing dragon in relief for wash cloths and more. Designed by Sharman Cherry. Pictured project by HonorCrowned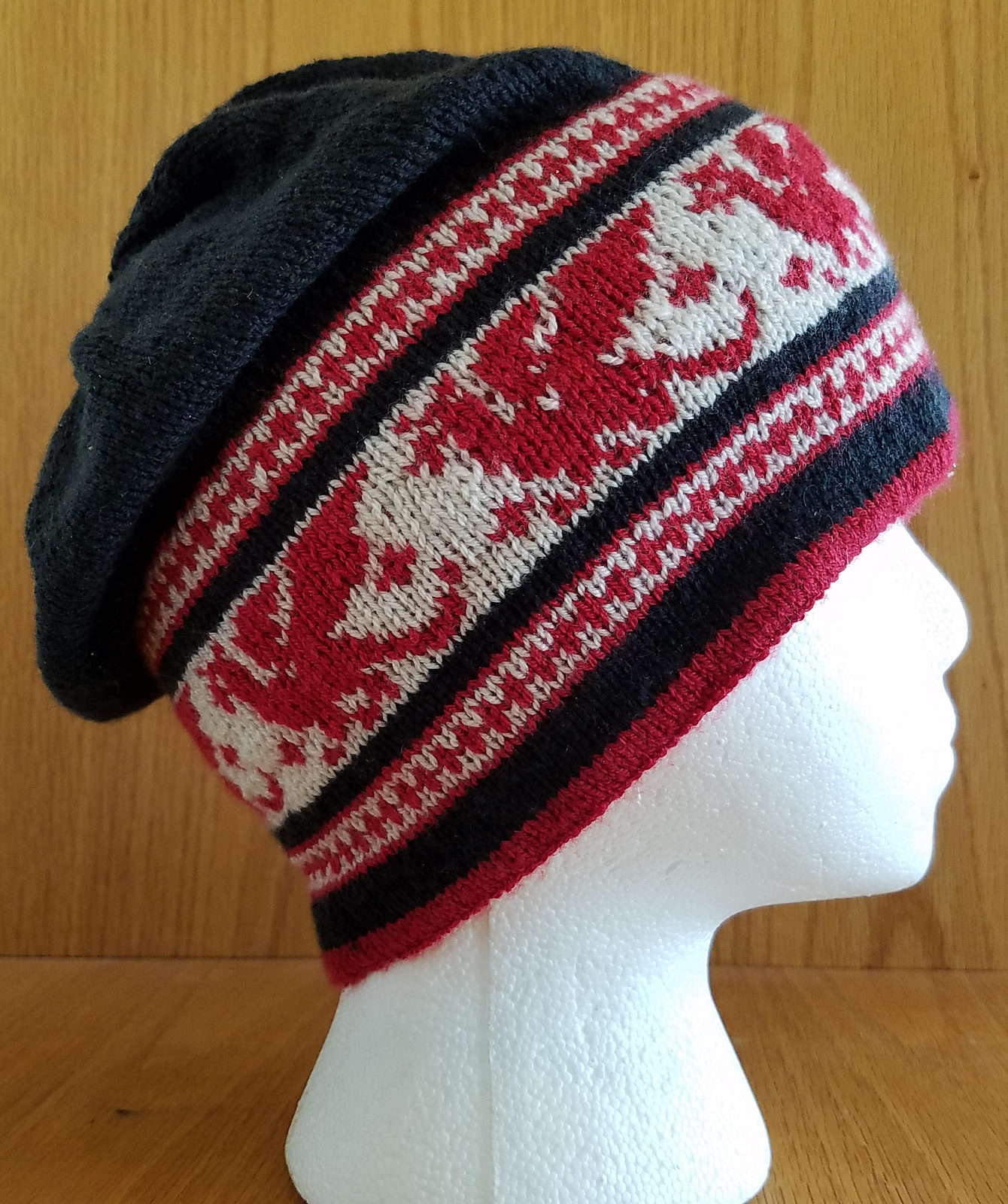 Pendragon Slouch Hat
This slouch hat features dragon motifs in stranded colorwork in the brim. Designed by Laurie Pribbeno

Arm Knit Dragon's Tail Blanket
Cozy cocoon blanket designed to resemble the tail of a dragon or dinosaur. Designed by Amanda Bassetti of SimplyMaggie.com for Premier Yarns. Quick knit in super bulky yarn. Length: approx. 60"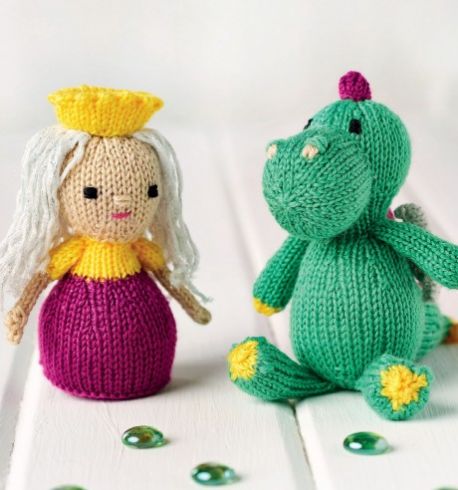 Princess and Dragon Playset
Princess Molly and Arlo the Dragon toy softies. Designed by Christel Krukkert. The file needs to be unzipped after download.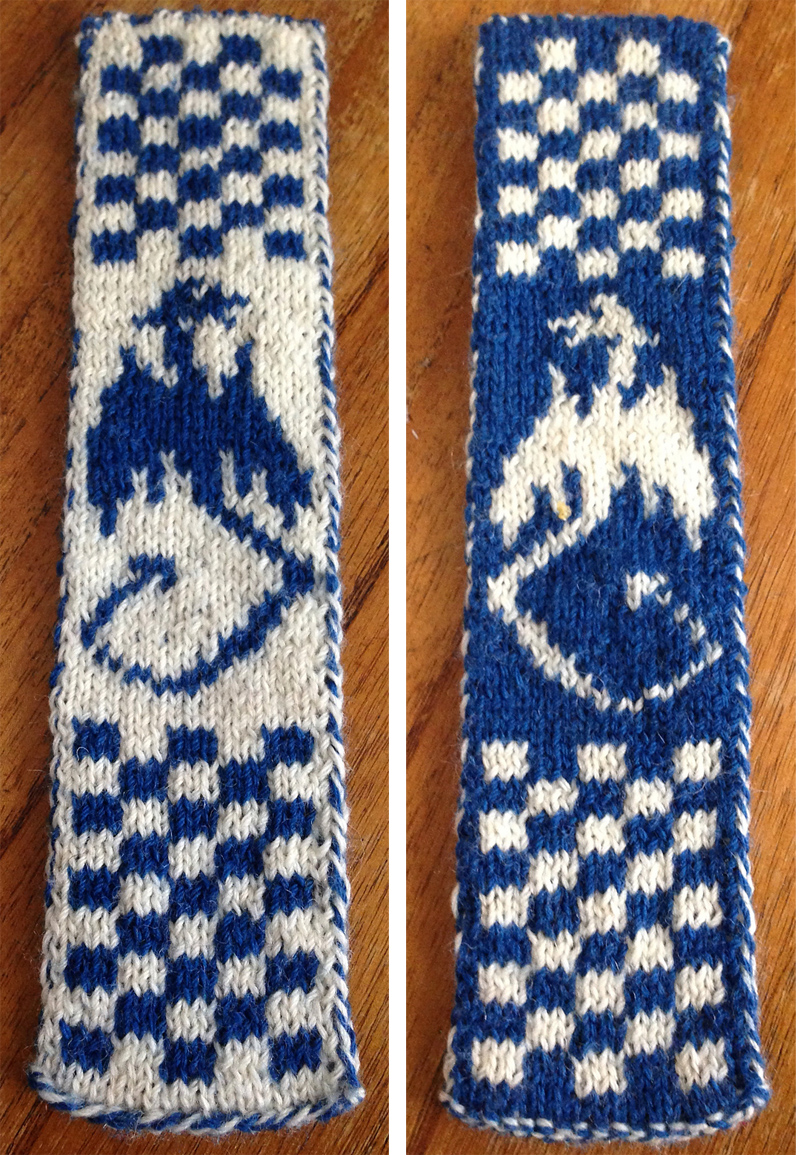 Dragon Bookmark
Reversible doubleknit bookmark with a dragon motif. Designed by LFSAlden. Pictured project by Carla72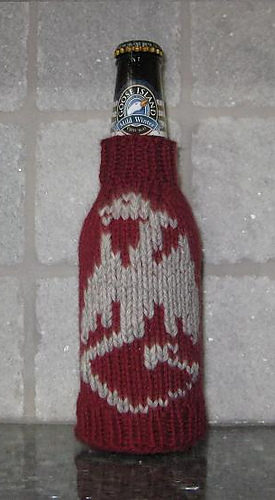 Dragon Bottle Cozy
Colorwork dragon motif on bottle cover adapted from the bookmark pattern above. The knitter writes out general instructions for the bottle cozy in the round but makes the assumption that you will know how to add the chart in the knit section so no details are included. Not for someone who wants detailed instructions. Pictured project by folk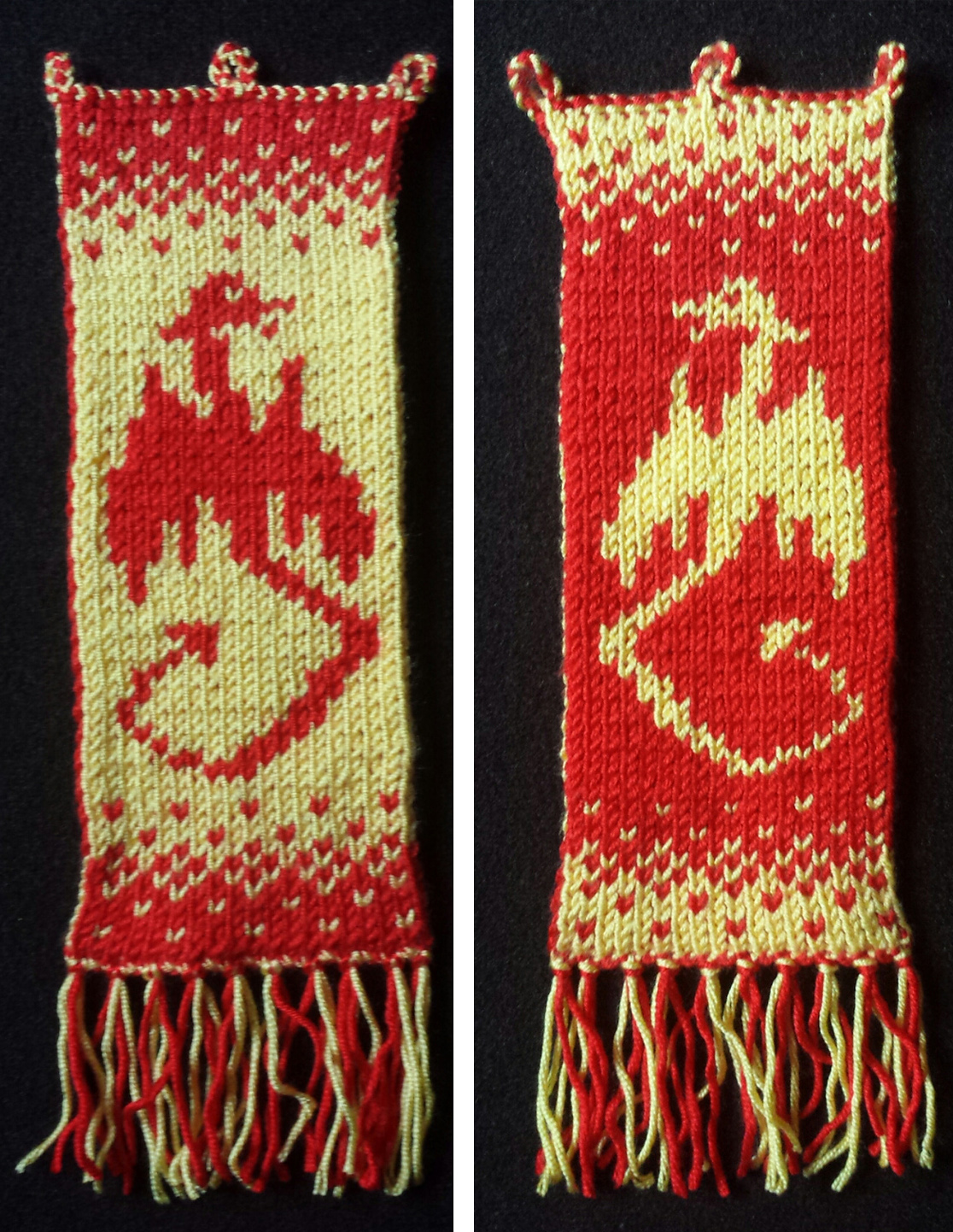 Dragon Wall Hanging
Reversible doubleknit wall hanging adapted from the bookmark pattern above. The knitter writes out the pattern for the border (in vs and os) in the project notes as well as providing links to various techniques. Pictured project by CrisInStitches
Dragon Finger Puppet
carinbrat designed tiny detailed dragon and phoenix finger puppets.
Fiery Dragon Scarf
Brooke L. Hanna designed this scarf to be warm and practical as well as fun. The variegated green yarn gives an impression of scales.

Norberta
Kate Kuckro's cute dragon toy softie In the pictured project, tropicalgirlknits customized hers as the Blind Dragon (from Harry Potter and the Deathly Hallows)
Tarragon the Gentle Dragon
Knit-a-Zoo created this 24 cm dragon that is knit in the round.
Dragon Buddy Blanket
Ruth Bramley's lovey comfort blanket features a knot stitch that resembles scales.

Dragon's Breath Cowl
Lace cowl designed by Nim Teasdale with optional beading. The colors are inspired after the last heat of summer.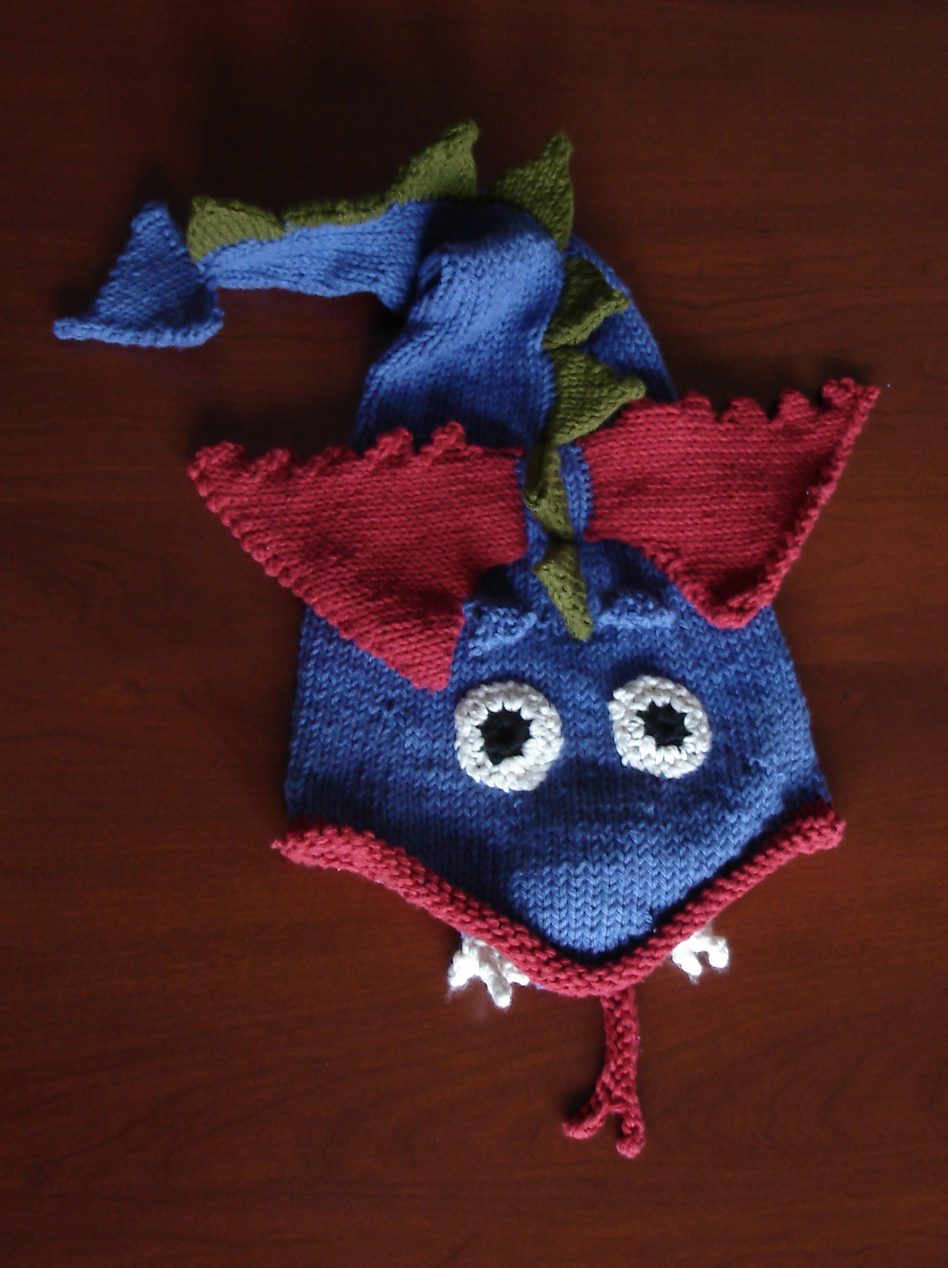 Dragon Hat
Darlene Kitterman designed this stocking hat of a winged dragon that inspired many variations. Be sure to look at the projects!
Dragon Dish cloth
One of two dragon dish cloth designs by Louise Sarrazin. You can use the motif for afghan blocks, scarves, and other projects.
Dragon Wing Cowl
A cowl Daenerys would love! Jessie Rayot's neck wrap uses dropped stitches that are picked up and reknit in bunches to create fun ridges, and simple increases to give it shape.

Dragon Slayer Hood
Hooded scarf for children. About 6 x 56 in. (15 x 142 cm), to fit a child up to about 10 yrs
Dragon Scale Gauntlets
Designed by Annemarie Pearson.
Terry Matz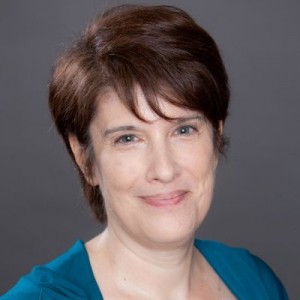 Terry is a knitting late-bloomer, learning to knit as an adult from Internet tutorials, because she wanted a craft that was useful, fun, and portable. Knitting hats for cancer patients inspired her to design her own patterns—available for free at her blog, intheloopknitting.com. Terry met her husband Ken at a science fiction convention and moved to the Kansas City area to be with him more than 30 years ago. Terry supports her yarn stash by creating websites and other digital media. Terry firmly believes in Knitting in Public—it's a great conversation starter!