Knitting projects for fitness, sports, and outside activities.
To get the knitting patterns, scroll down the page to the individual pattern you want and click on the link to that pattern.
These patterns are not my designs but links to other designers who have generously shared their patterns. If you have questions about how to knit a specific pattern, please contact the designer directly.
All links on this site are for informational purposes, but please note that some links are to affiliate sellers that pay me a small commission on purchases.
Free Patterns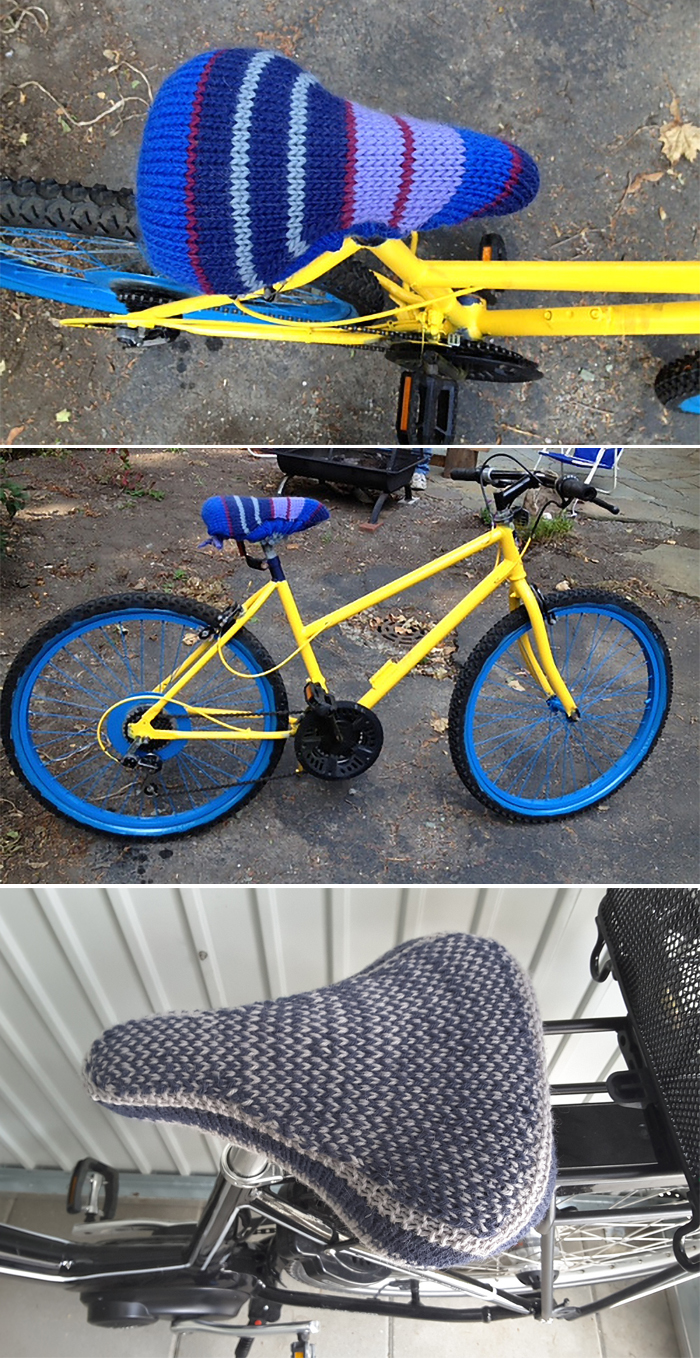 Bike Seat Cover
Add style and comfort to your bicycle with this cozy. Also works great for stationary exercise bikes and yarn bombing bikes. Designed by Lion Brand Yarn. One size, about 7 in. (18 cm) at widest point and about 11 1/2 in. (29 cm) at longest point, will stretch to fit a range of bike seats. Great stashbuster because it only uses 144 yards (132 m) of bulky yarn. Rated easy by Ravelrers. Pictured projects by sallycknits and doemmy who has notes and lined with fleece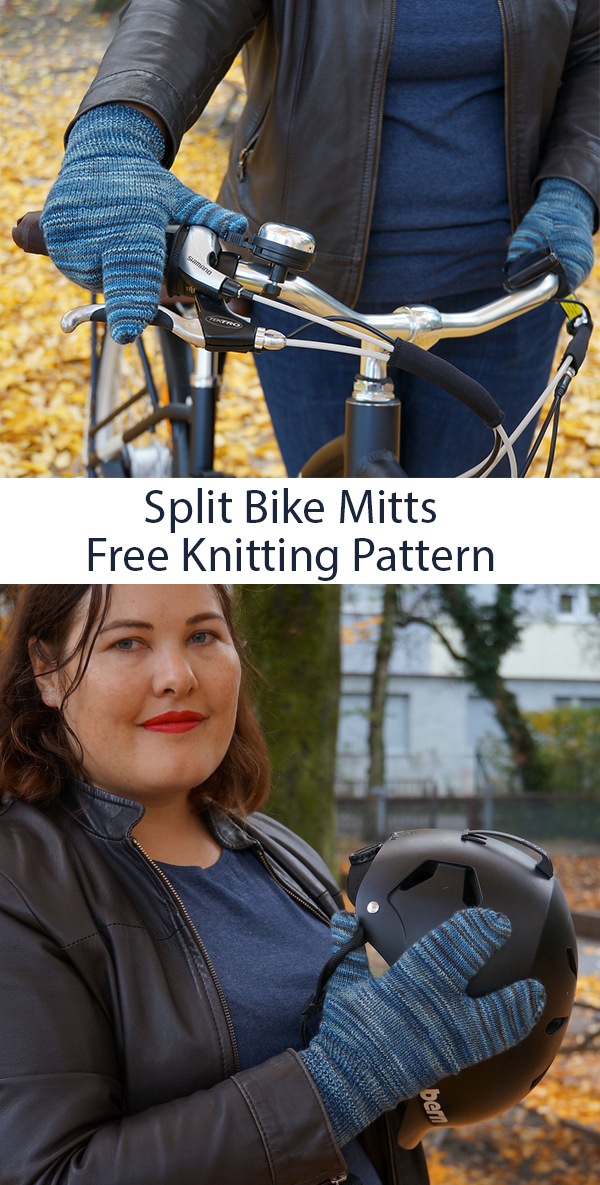 Multimodal Split Bike Mitts
The split design of these lobster claw mittens gives you freedom of movement to change gears and ding the bell, but are cozier and easier to knit than gloves. Designed by Rachel Rayner. Fingering weight yarn.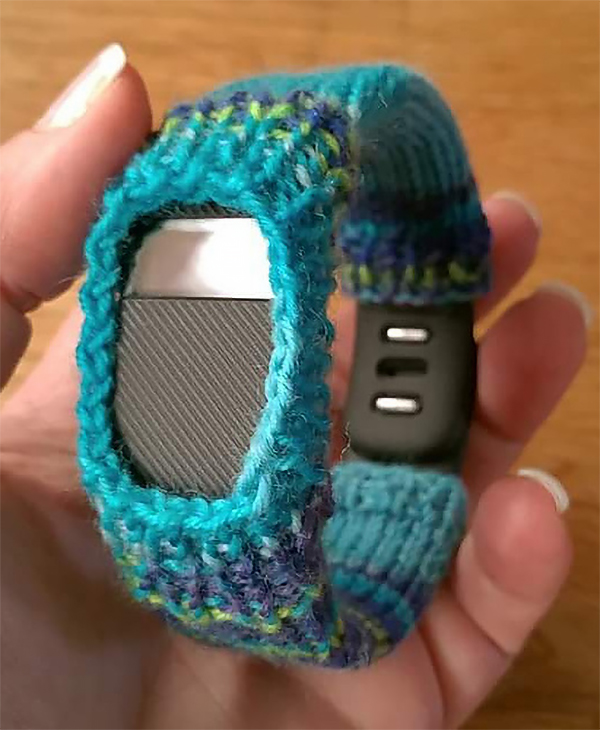 Fitbit Cover
Dress up your activity wristband with this knit cozy. Great use for scrap yarn. Fits Fitbit charge or force. Designed by Janine Steingasser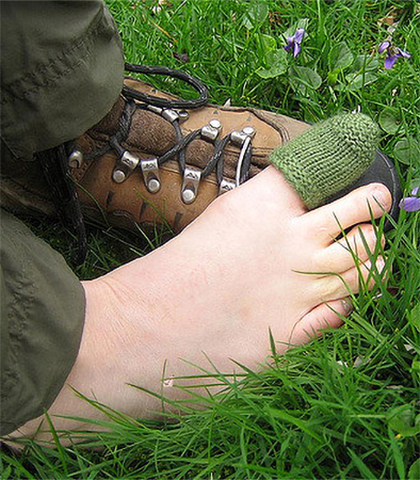 En Pointe Toe Cozy
Toe cushion to protect your toe in hiking boots, especially hiking down hill. Uses 10 – 12 yards (9 – 11 m) of fingering yarn so it's a great use for scrap yarn. Designed by Sharon Fuller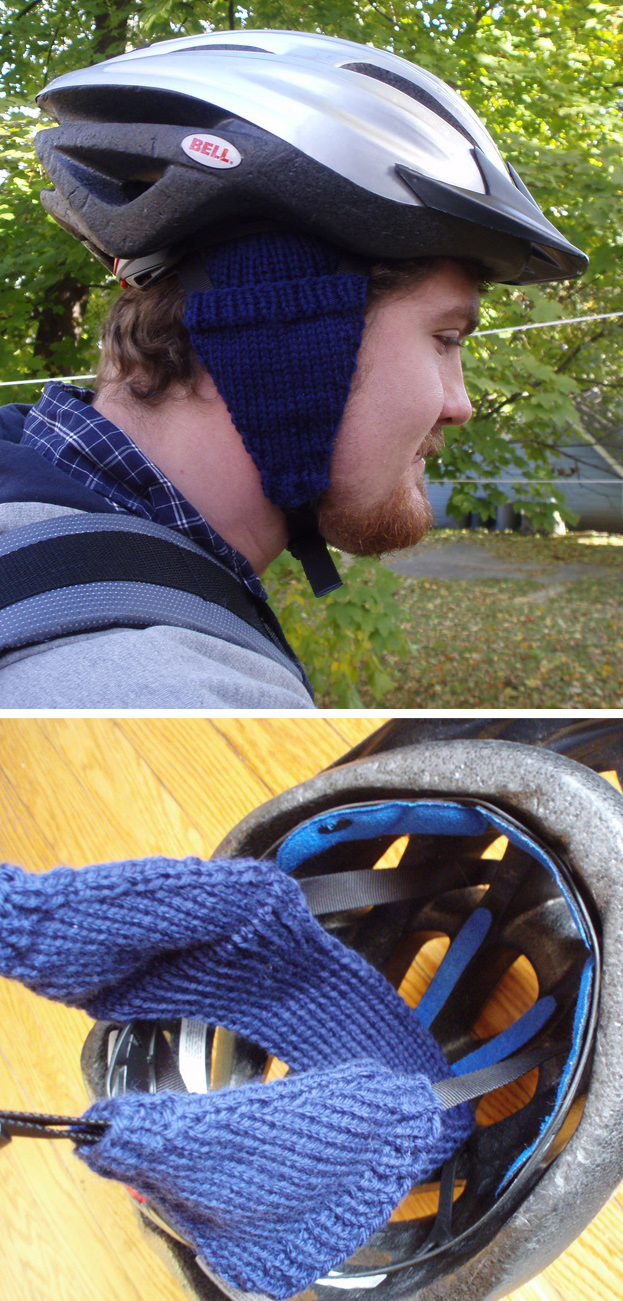 Bike Helmet Ear Muffs
Easy knitting pattern to create ear warmers that slip over the straps of a bike helmet and stay in place to protect your ears in cooler weather. Designed by Kristin Briney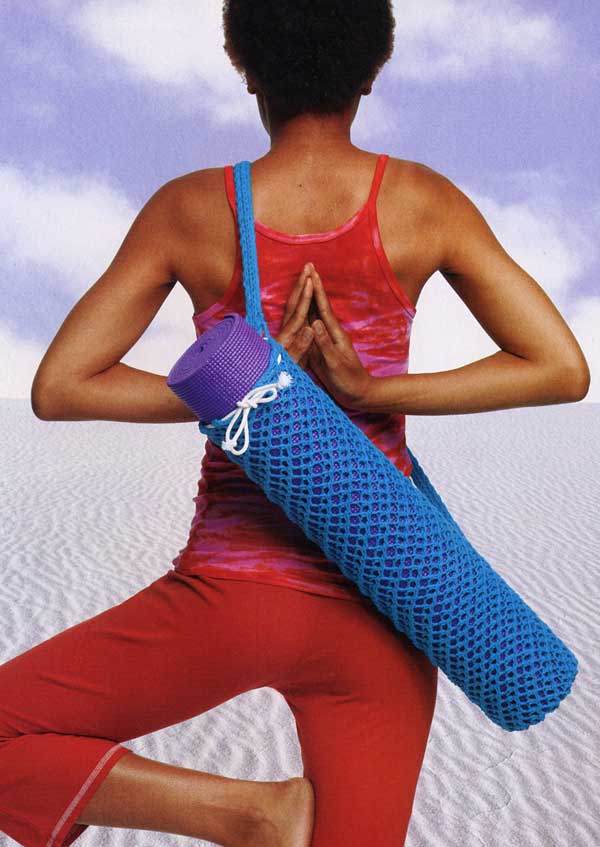 Om Yoga Mat Bag
Debbie Stoller created this mesh bag of cotton with a lace pattern that is easy to memorize. Pattern is excerpted from her book Stitch n Bitch Nation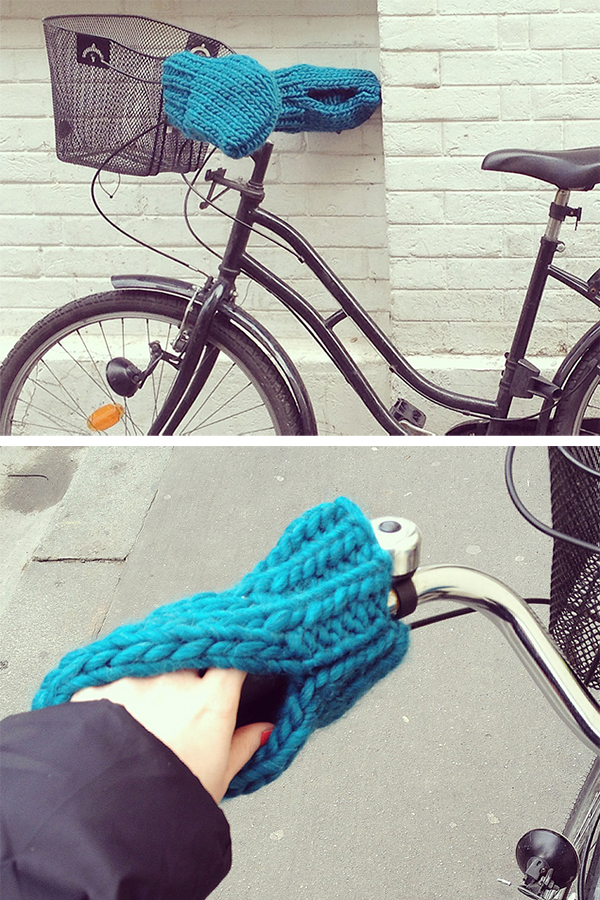 Bike Mittens
Pattern for mittens that fit over bicycle handlebars with an opening to slip your hands into. Although the pattern is only in French, I could easily follow it with in-browser translation and the designer's photos. You basically knit two rectangles with rib and stockinette and then seam leaving an opening. Designed by Charlotte L. Super Bulky weight yarn.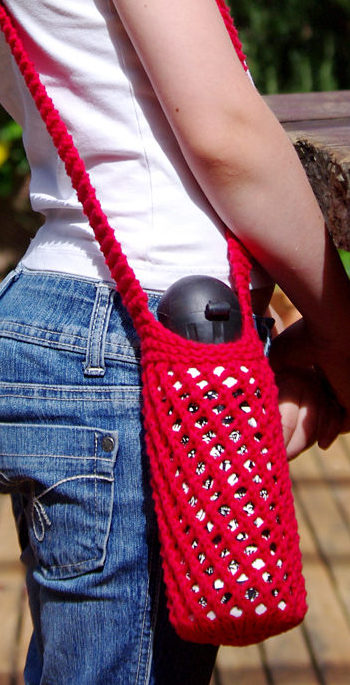 Bishi Water Bottle Carrier
Mesh container carrier with 2 options for strap – garter stitch or stockinette ties. The project can be knit in a couple of hours and requires less than a ball of worsted yarn according to the designer Georgie Hallam.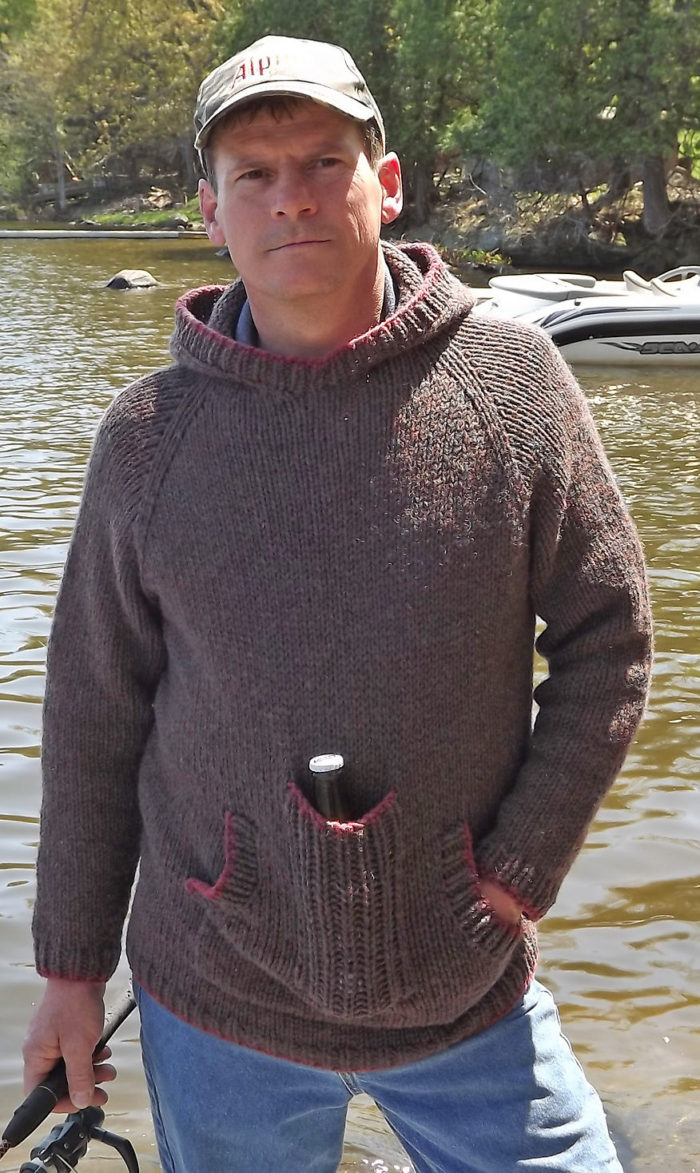 Bottle Rocket
This pullover hoodie features an extra pocket in front perfect for carrying a bottle handsfree when camping, hiking, fishing, or just relaxing. Quick knit in bulky yarn. Men's sizes S(M, L, X-L, 2X-L). Designed by Michelle Porter for Knitty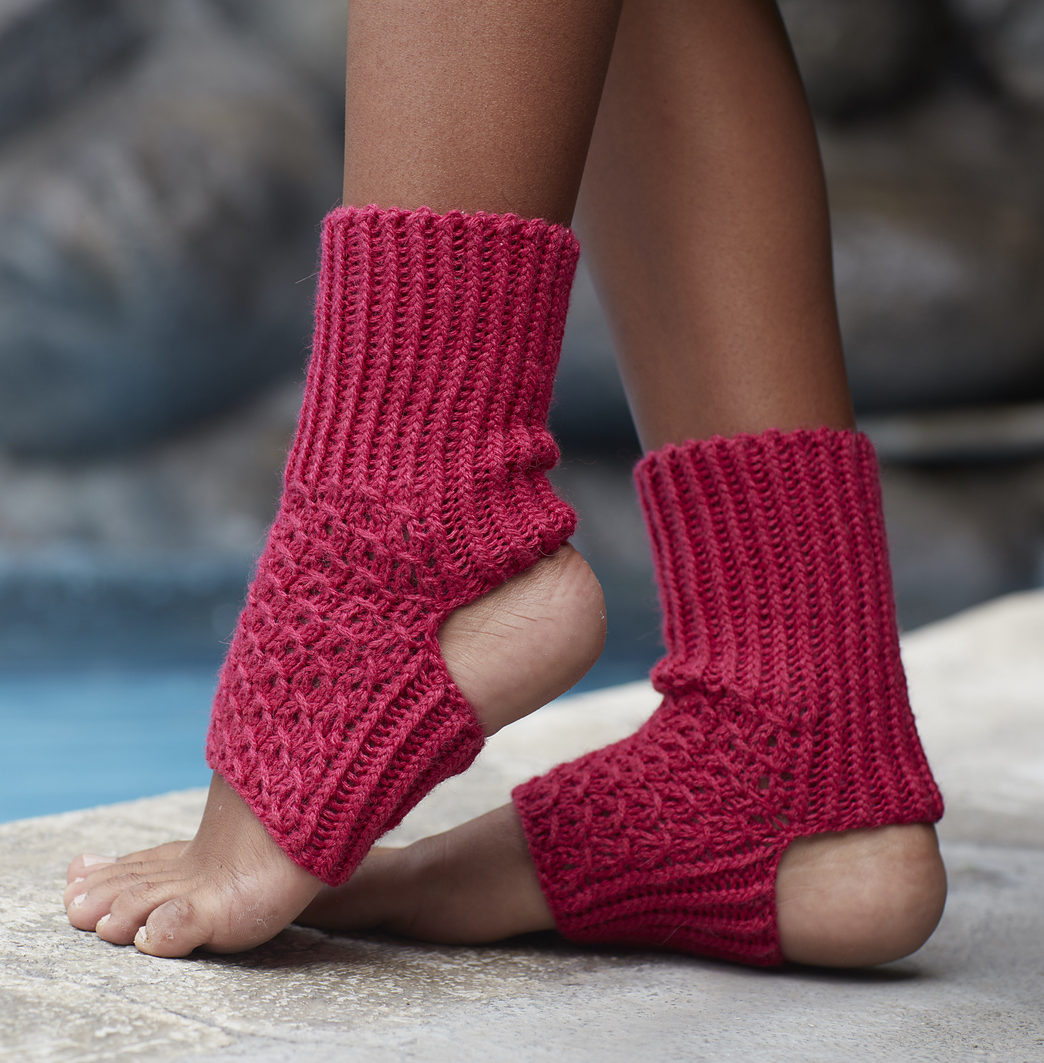 Asana Yoga Socks
Yoga socks with a lace pattern top and ribbing. Worsted yarn. Designed by Cathy Carron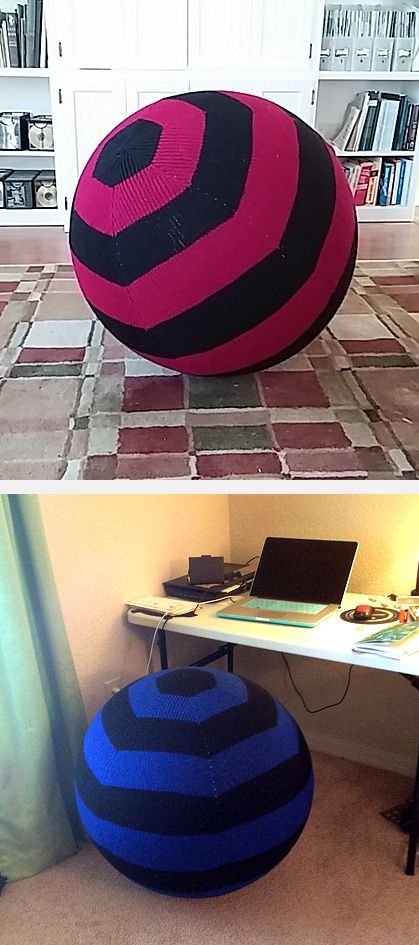 Exercise / Yoga Ball Cover
Knitsquire Designs came up with a clever knitting pattern to make your exercise more comfortable for workouts or as a chair.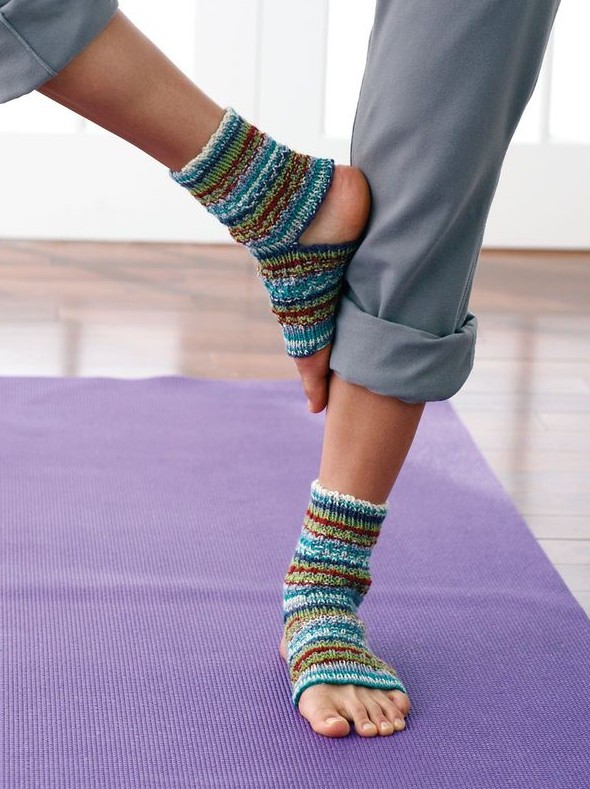 Yoga Socks
Designed by Yarnspirations, these socks give you warmth and comfort while still leaving your heal and toes free to grip and stabilize.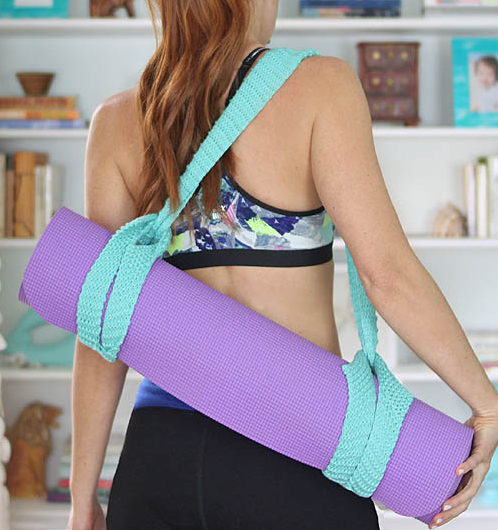 Yoga Mat Strap
Gina Michele wanted a cute carrier for her yoga mat but didn't want the hassle of trying to roll her mat up tightly enough to fit in a tube. She devised this strap with loops that's perfect for carrying her mat. I can think of a lot of other purposes for this strap. I even wonder if you could use it as a yoga strap if the cotton isn't too stretchy. Knit in garter stitch.
Patterns for Purchase

Pocket Earflap Hat
Wabbit Season Hat features earflaps with buttoned pockets that can be tied out of the way on top when you don't need them. Sizes Women's S/M/L/XL and Men's S/M/L. Designed by Alexandra Tinsley. Aran weight yarn.

Pocket Socks
Warm and cozy socks adorned with a side pocket and button closure because who doesn't need a pocket on their sock sometimes? Quick to knit, this sock makes a great treat for yourself or gift for others. Sizes Women's S/M/L/XL and Men's S/M/L. Designed by Joleen Kraft. Worsted weight yarn.

Subway Mittens
These mittens were designed with a pocket perfectly sized for a mass-transit pass card, keys, or other small items. A twisted-rib cuff seals out the wind. Rated easy by Ravelrers. Designed by Colleen Michele Meagher. Worsted weight yarn. Pictured project by flintknits, the designer, and lorcoops