Knitting patterns for baby blankets and afghans knit with easy slip stitch mosaic colorwork. Developed by knitting legend Barbara Walker who found other colorwork techniques awkward, this slip-stitch technique she called "Mosaic Knitting," creates elaborate, colorful patterns using only basic stitches (knit, slip and occasionally purl). Many of the patterns are free.
To get the knitting patterns, scroll down the page to the individual pattern you want and click on the link to that pattern.
These patterns are not my designs but links to other designers who have generously shared their patterns. If you have questions about how to knit a specific pattern, please contact the designer directly.
All links on this site are for informational purposes, but please note that some links are to affiliate sellers that pay me a small commission on purchases.
Follow me for more patterns:
Free Patterns

Trellis Mosaic Blanket
Knit with just one yarn strand per row, this blanket creates a diamond trellis or lattice pattern using easy slip stitch mosaic colorwork. Rated easy by Ravelrers. Written instructions or charts. 3 Sizes Baby (Crib, Throw). Designed by Purl Soho. Aran weight yarn.

Party Heart-y Baby Blanket
Just one yarn strand per row with this baby blanket covered in hearts knit in slip stitch mosaic colorwork. Row by row written instructions or charts. Designed by Yarnspirations. Approx Approx 40" [101.5 cm] square. Worsted weight yarn.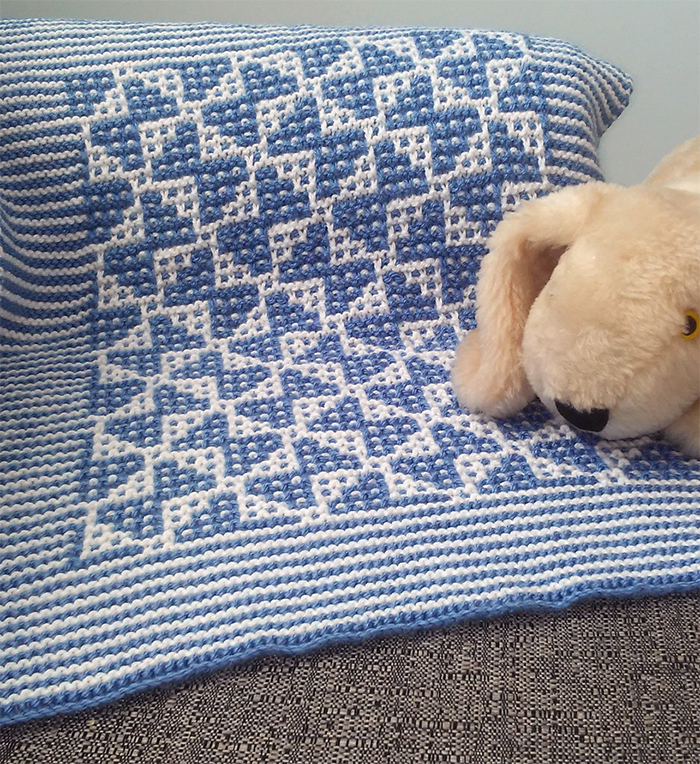 Mosaic Butterflies Baby Blanket
Baby blanket in with butterflies knit with easy mosaic colorwork – knit 1 color per row, forming the design by slipping stitches. 3 sizes. DK weight. Designed by Nancy Lekx
Free Patterns

Cozy Spot Blanket
Baby blanket or throw featuring bands of garter stitch and a mosaic pattern with the Cross and Diamond motif from Barbara Walker's Mosaic Knitting. 2 sizes: Baby: 33" [84cm] wide x 29" [74cm] long , Throw: 50" [127cm] wide x 60″ [152cm] long. Written instructions or chart. Worsted weight yarn. Designed by Pam Sluter for Knotions.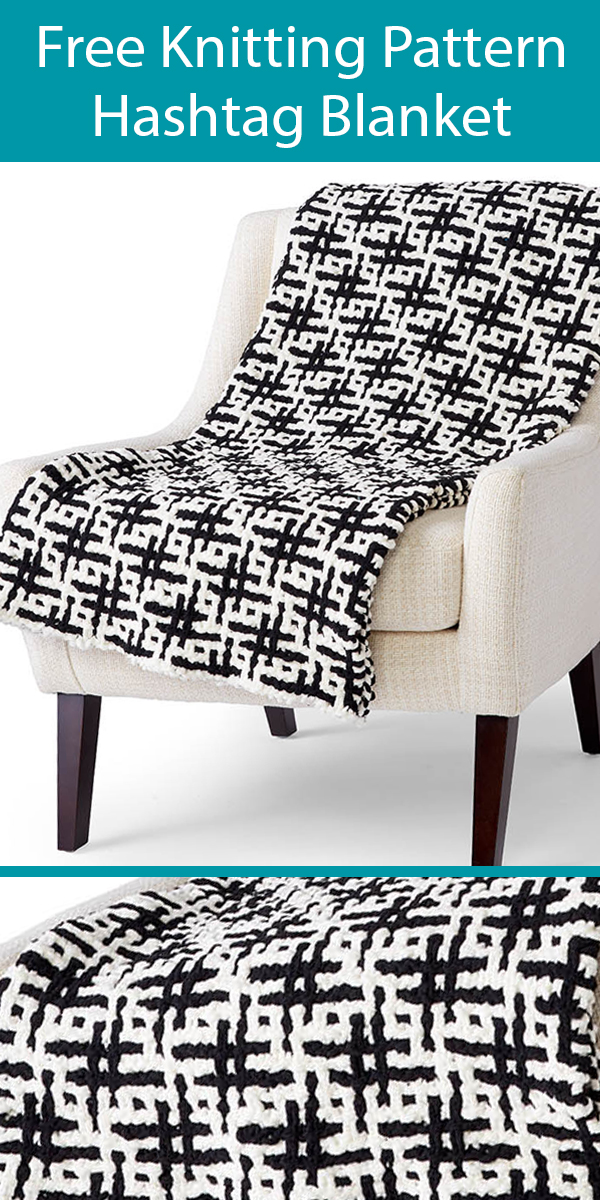 Hashtag Blanket
Just one strand of yarn per row! Fun throw knit in mosaic grid pattern in slip stitch colorwork. Use row by row instructions or chart. Approx 56"x 62". Designed by Bernat. Super bulky weight yarn.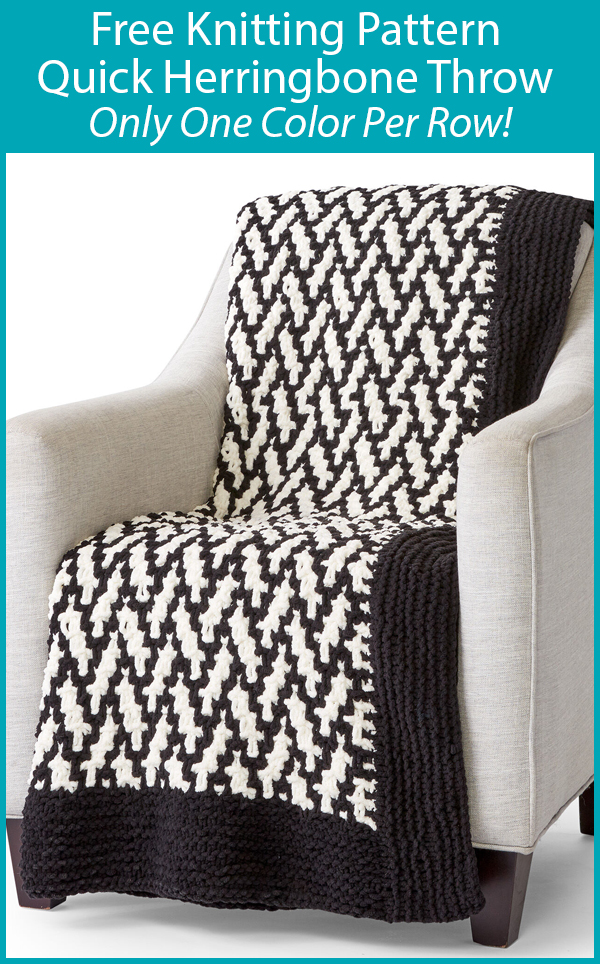 Herringbone Throw
Knit with only one color per row with easy slip stitch mosaic colorwork. Two-color throw is a quick knit in super bulky yarn in a 16 row repeat that changes colors every 2 rows. Written instructions or chart. Designed by Yarnspirations for Bernat Blanket Yarn.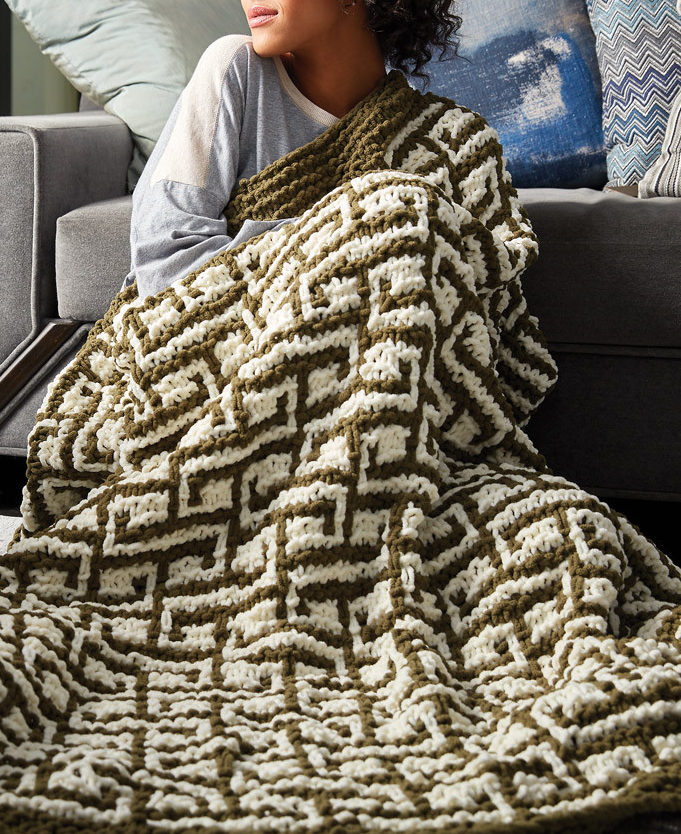 Let It Slip Blanket
Greek key inspired design knit in easy mosaic slip stitch colorwork. Quick knit in super bulky yarn. Designed by Bernat
More Free Patterns

Mosaic Diamond Baby Blanket
Quick baby blanket knit in easy slip stitch mosaic colorwork that only uses one color per row. Knit in super bulky weight yarn so it's a quick project. Approx 38 x 46" [96.5 x 117 cm]. Designed by Bernat for Yarnspirations.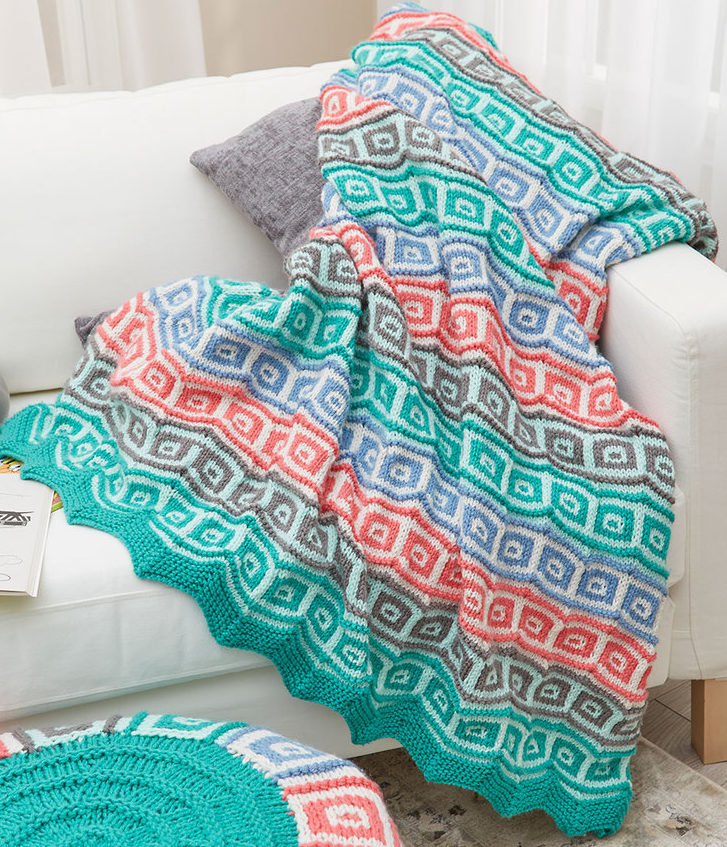 Mosaic Squares Throw
This colorful afghan is knit flat in sections of Zigzag Garter Stitch, Divider, and Mosaic Square patterns. Designed by Heather Lodinksy for Red Heart. Throw measures about 56 x 56″ [142 x 142 cm].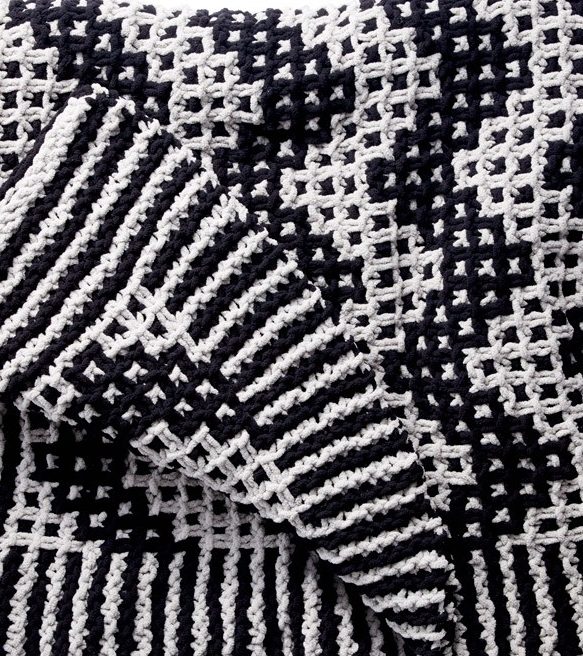 Mosaic Chevron Blanket
Great pattern for Bernat Blanket Yarn, this afghan features a two color mosaic zigzag that's a quick knit in super bulky yarn.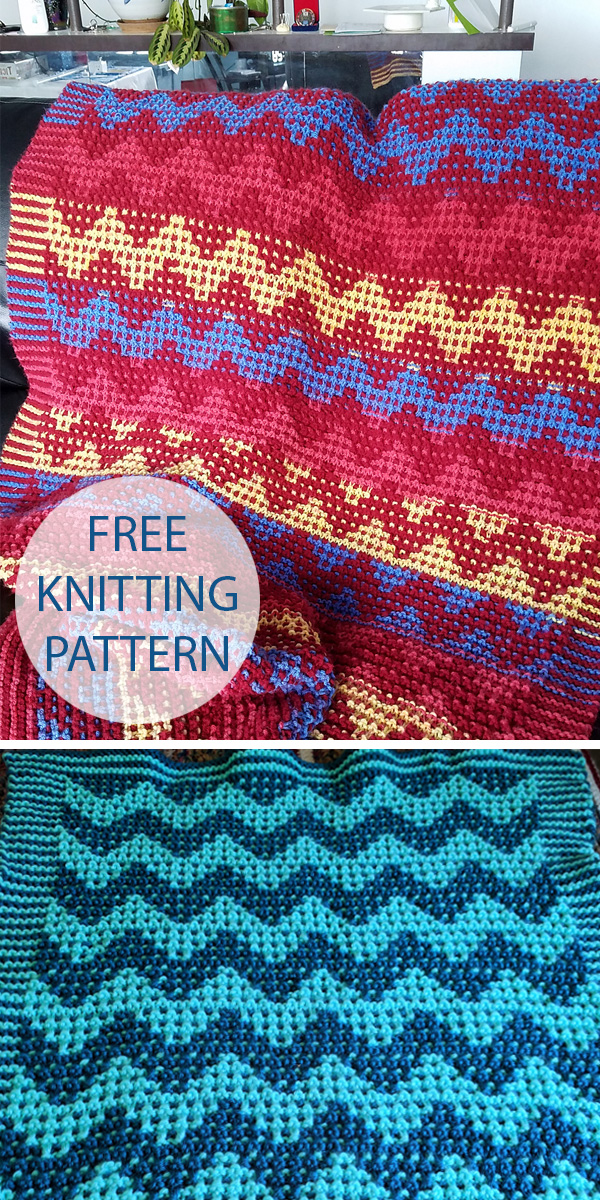 Mosaic Chevron Blanket
Chevron stripes created with easy slip stitch colorwork with just one color of yarn used per rown. Designed by Bernat. Super Bulky weight yarn. Pictured projects by DubNDub and crewchick97.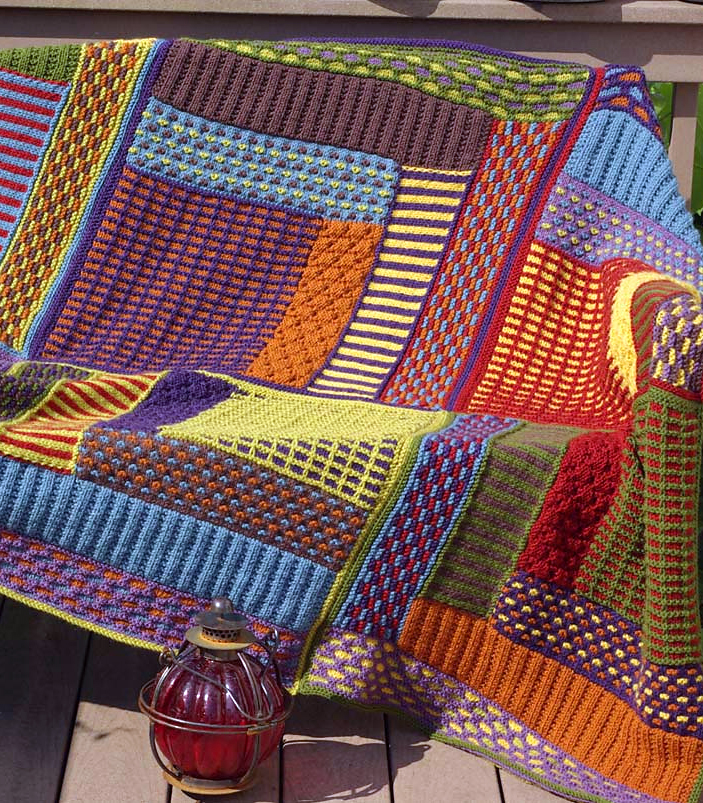 Slip Stitch Sampler Log Cabin Throw
This quilt inspired blanket uses the same log-cabin design 6 times in different color combinations knit with easy slip stitch and mosaic colorwork. 50 x 75 in. (127 x 190.5 cm) Aran weight. Designed by Irina Poludnenko for Lion Brand Yarn

4 Row Repeat Pastille Baby Blanket
This colorful baby blanket is created with stripes of easy slipped stitch mosaic colorwork in in a 4 row repeat. Most Ravelrers rated this easy. Perfect use for stash yarn - you can make the stripes any size and colors you want. Great with multi-color yarn! 25" x 29" but you can customize to any size. Designed by Vickie Hartog. Pictured project by Tyek.

Mosaic Sampler Afghan
Designed by Knit and Crochet Now, this sampler afghan contains 6 different stitch patterns including Leaves of Grass, Bargello, Honeycomb, Mosaic Stitch, Diamond Brocade and Quail afghan blocks. Recommended yarn available on pattern page.