Mittens, gloves, and fingerless mitts inspired by your favorite movies and tv shows. Most patterns for free. Updated 2/13/23.
To get the knitting patterns, scroll down the page to the individual pattern you want and click on the link to that pattern.
These patterns are not my designs but links to other designers who have generously shared their patterns. If you have questions about how to knit a specific pattern, please contact the designer directly.
All links on this site are for informational purposes, but please note that some links are to affiliate sellers that pay me a small commission on purchases.
Free Patterns

No-Face Mittens
Mittens inspired by No-Face from Spirited Away. Designed by Kathleen Taylor.

Spiderman Mittens
Spiderman inspired mittens with a spider in web stranded design. We Call Him Spidey Mittens by Kathleen Taylor. Pictured project by LivM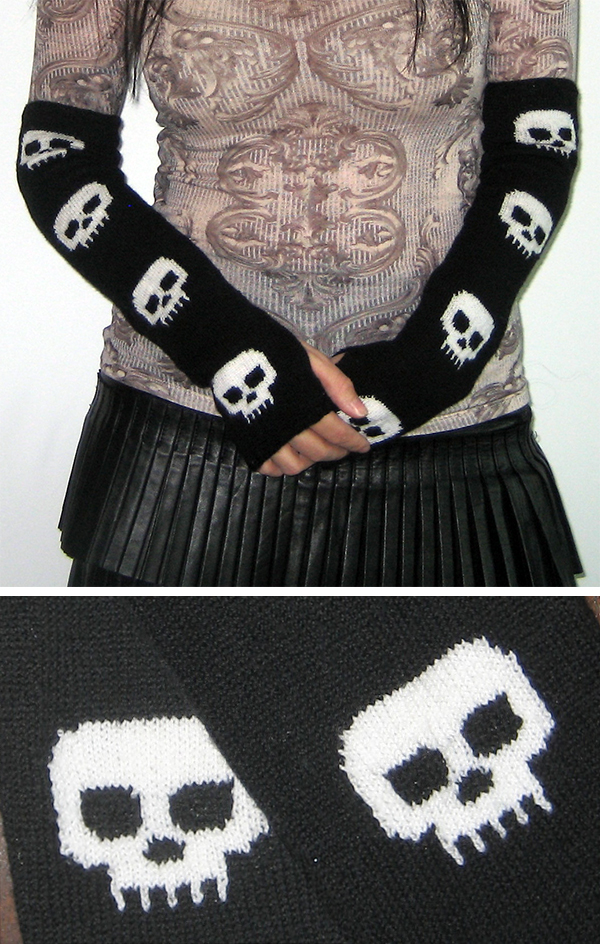 Valkyrie Mitts
Fingerless gauntlets with intarsia skulls inspired by the gloves worn by Kenzi, from SyFy channel's Lost Girl, and valkyries choosing souls for Viking afterlife. Sizes S, M, L. Designed by Natalia Kolasa.

Hobbit Inspired Bombur Mitts
Inspired by the knit handwear the dwarf Bombur wears in The Hobbit movies, the body of the mitts is comprised of Moss stitch and the Seed stitch patch is worked flat with 2 strands of yarn and seamed onto the top of the mitt. Designed by Sheila Toy Stromberg. Aran weight yarn.

Twilight – Bella's Mittens
Marielle Henault's long cabled mittens are inspired by the mittens worn by Kristen Stewart as Bella in the movies "Twilight" and "New Moon". Pictured project by VikkiBirdDesigns.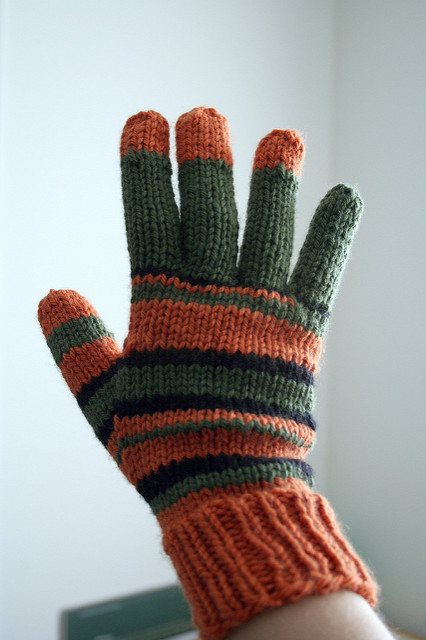 Coraline Gloves
Tika Belle created this people-sized version of the amazing gloves designed by Althea Crome for the film version of Neil Gaiman's Coraline.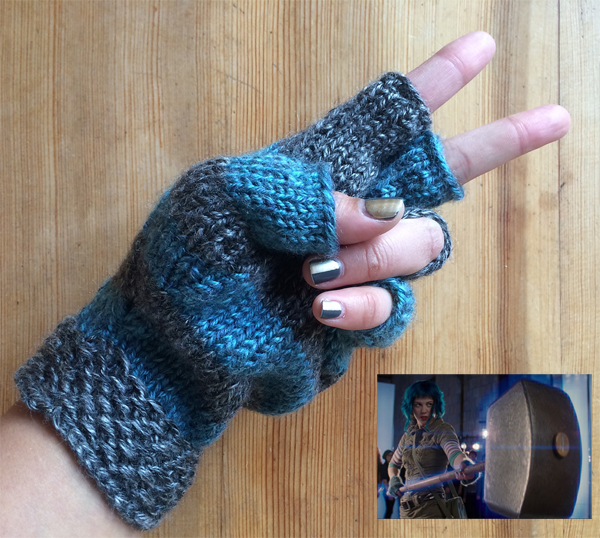 Scott Pilgrim vs. The World: Ramona Flowers Fingerless Gloves
This pattern has three different cuffs to choose from, the first is an easy honeycomb cable pattern that creates a closer fitting cuff, the second is a simple slip stitch honeycomb pattern that creates a looser fitting cuff, and the third is a super simple garter stitch cuff. Shannon Foss's simple fingerless knitted glove pattern is based on the gloves worn by the character, Ramona Flowers, in the movie "Scott Pilgrim vs. The World". Pictured project by Quezzie

Lego Hand Mittens
Designed by Carissa Brown to resemble the molded plastic hands of Lego people. Great for costumes or play. Sizes from baby through adult. 0-2 years[3-5 years, 6-9 years, 10 years-Adult S, Adult M, Adult L]

Nemo Mittens
Clown fish shaped mittens. Designed by Sigurlaug Eva Stefansdottir. Pictured project by mimouna

Angry Birds Mittens
Mittens inspired by the various bird characters from Angry Birds. Designed by Elaine Fitzpatrick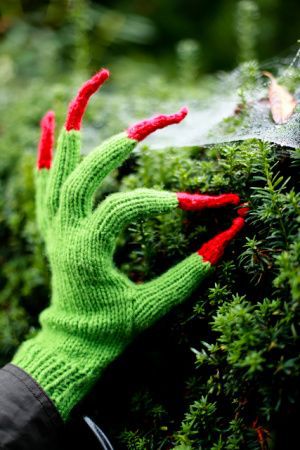 Witchy Hands
Kim Hamlin designed this Oz-some gloves in child and adult sizes.
More Free Patterns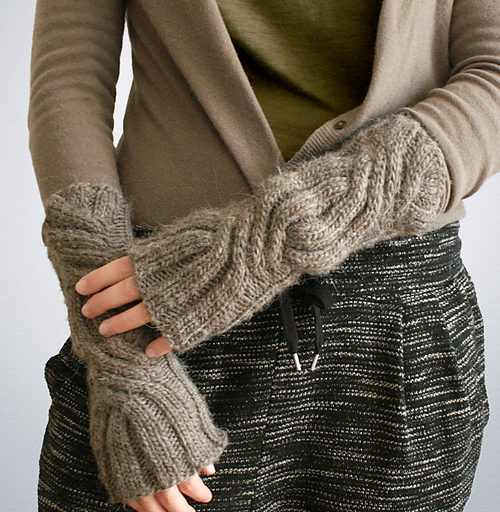 Outlander: Wood Garlic Gauntlets
Designed by Julia Salzer, inspired byfingerless mitts worn by Claire.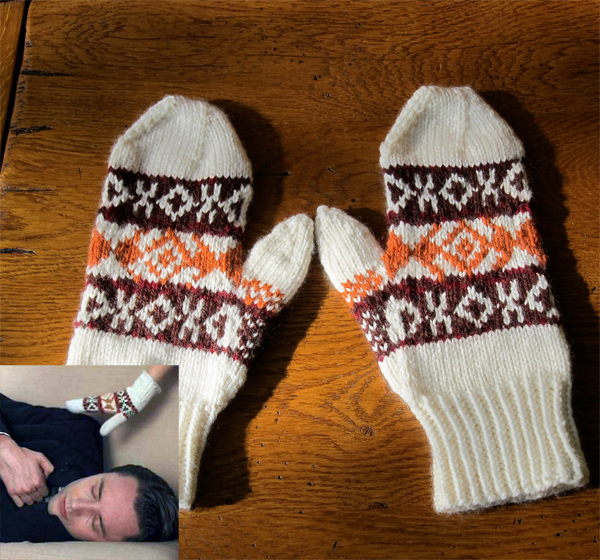 Mad Men Mittens
Staci Perry was inspired by the Mad Men episode "The Grown Ups". In the first scene, Peter Campbell is sleeping on the sofa and Lindy, his secretary, reaches a mittened hand down to wake him. Staci says the mittens are "as absolutely accurate to the originals as possible, except for a few rows of additional color on the thumb (to make for friendlier knitting and fit)." Pictured project by pebblestx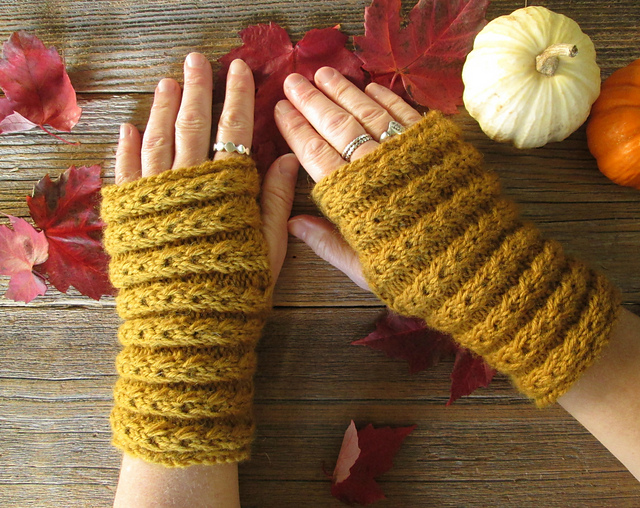 Outlander: Donalda Gilchrist Samhain Mitts
Designed by Polly Foo Foo after the pair of mitts like we see Donalda Gilchrist wearing in the Rent episode during the wonderful wool waulking scene.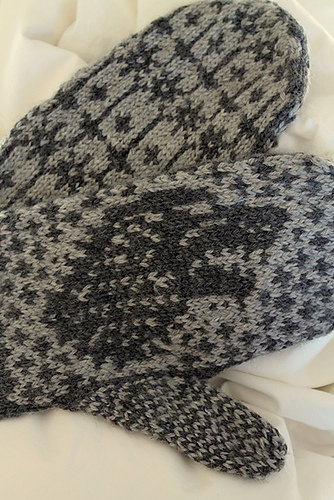 Direwolf Mittens
Designed by Carly Hill, these mittens are knit in the round with stranded colorwork.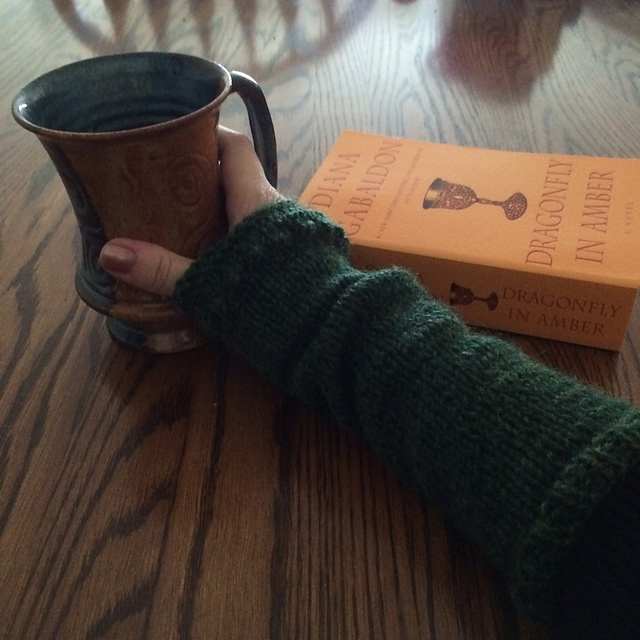 Outlander: Claire's Wool Waulking Arm Warmers
And speaking of the wool waulking, this Outlandish Arm Warmer pattern by Elyse D is inspired by Claire's arm warmers.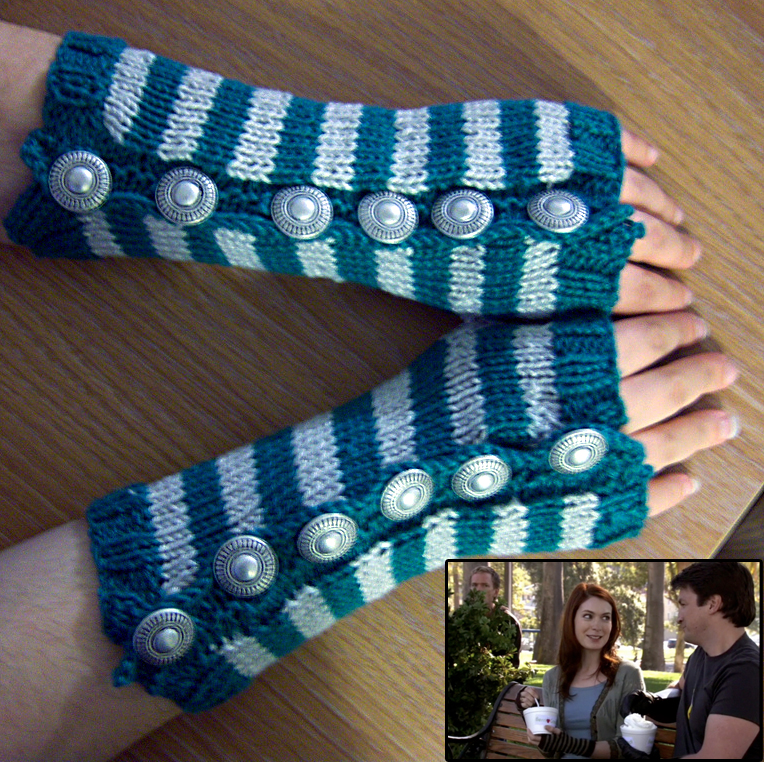 Dr Horrible's Sing-A-Long Wristers
Allison McCaffrey modeled these fingerless mitts after the wristwarmers that Penny wears in Act II while she's eating frozen yogurt with Captain Hammer in the park. Pictured project by Zanahoria12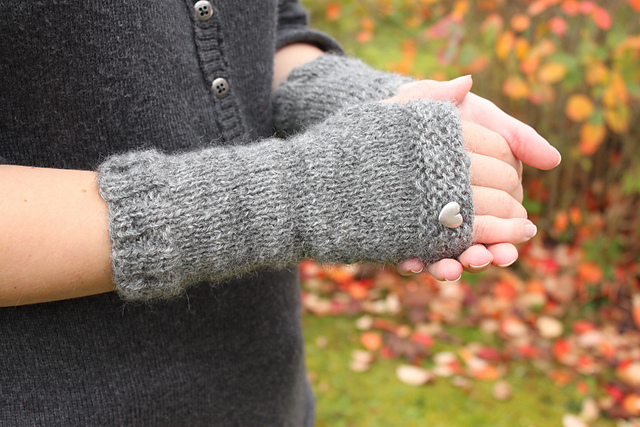 Outlander: Mrs. Fitz's Fingerless Gloves
Marie Svendberg Eriksen designed these mitts after the mitts Mrs. Fitz wears.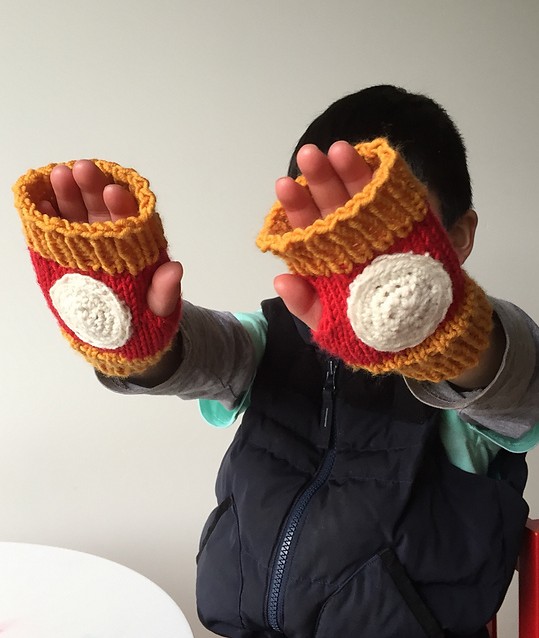 Iron Man Mitts
Irene McCormick's fingerless gloves pattern is written to fit a 3-5 year old with basic instructions on how to make larger. Pictured project by KangaRooi.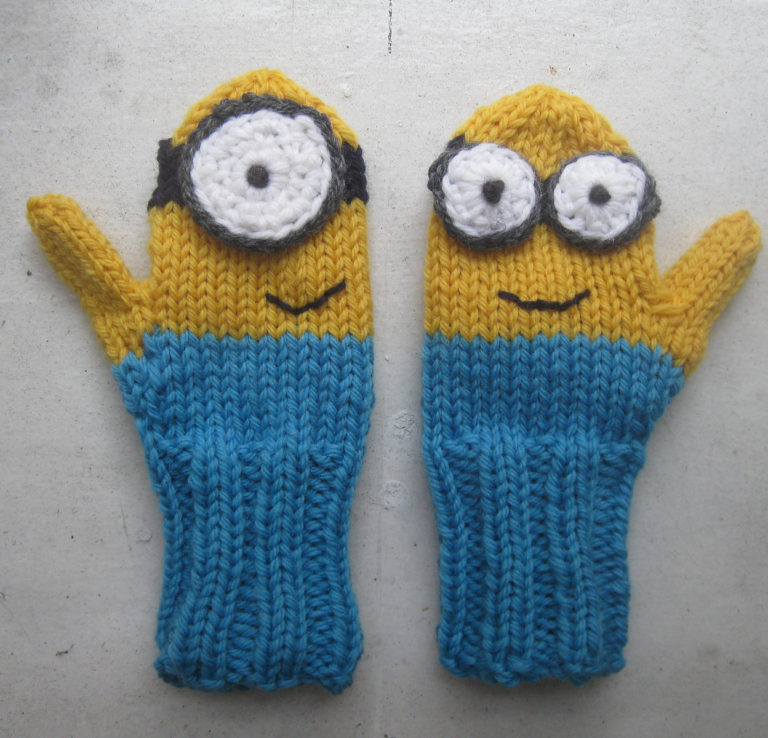 Minion Mittens
Amanda Drover-Hartwick designed these mittens for sizes 2-3 year old, 4-6 year old, 7-9 year old, 10-13 year old. Eyes are knit circles. Pictured project by el399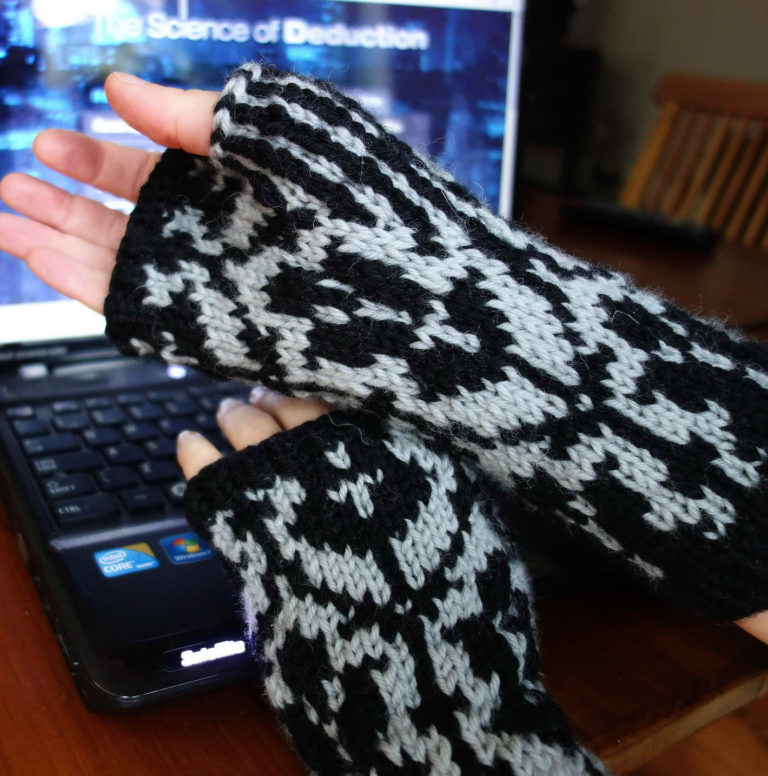 Sherlock- Baker Street Wallpaper Mitts
Professor Fonz's Sherlock-inspired The Game Is On fingerless mitts feature the wallpaper design in Sherlock's flat in the Sherlock tv series. See below for more Sherlock Knitting Patterns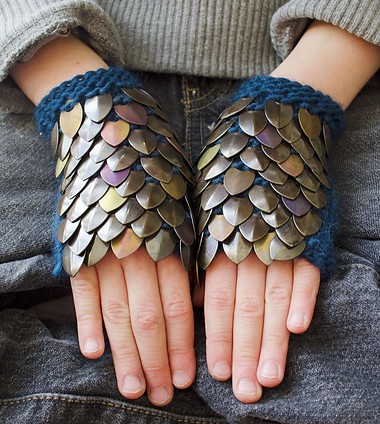 Gimli Son of Gloin Gauntlets
Sheila Toy Stromberg designed these mitts inspired by the dwarf warrior. She provides a tutorial for knitting with scalemail, which is a lot like knitting with beads. Small (Medium, Large, Extra Large, Extra-Extra Large)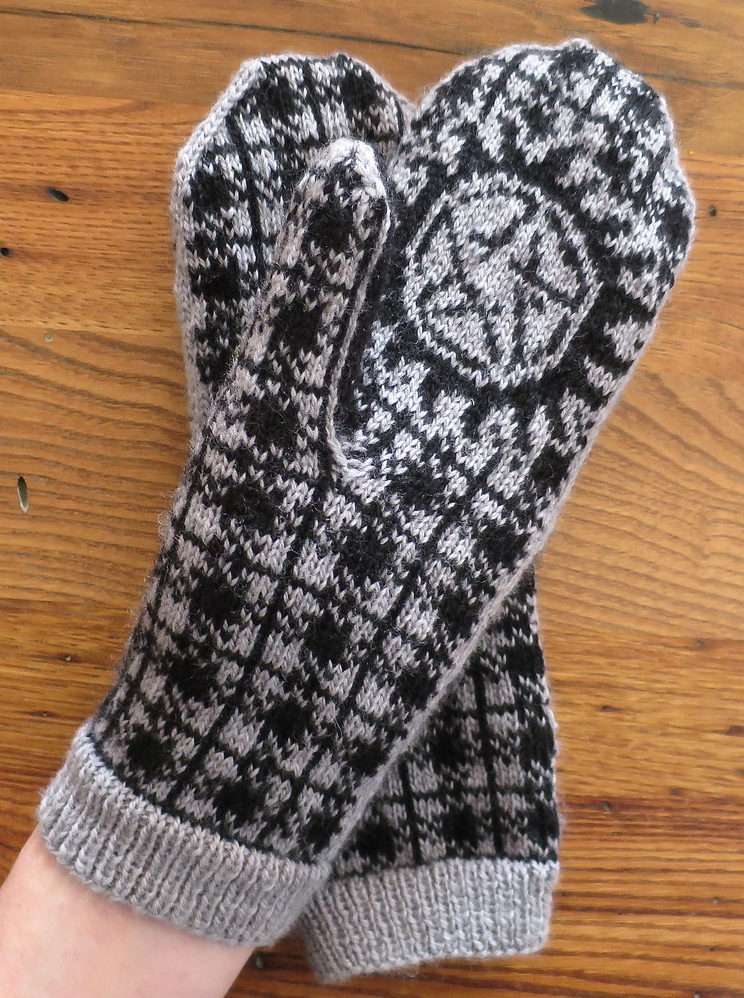 Winchester Plaid Anti-Possession Mittens
Inspired by Supernatural, these mittens designed by Kat Lewinski sport a stylish plaid on top and anti-demonic possession protection on the palms.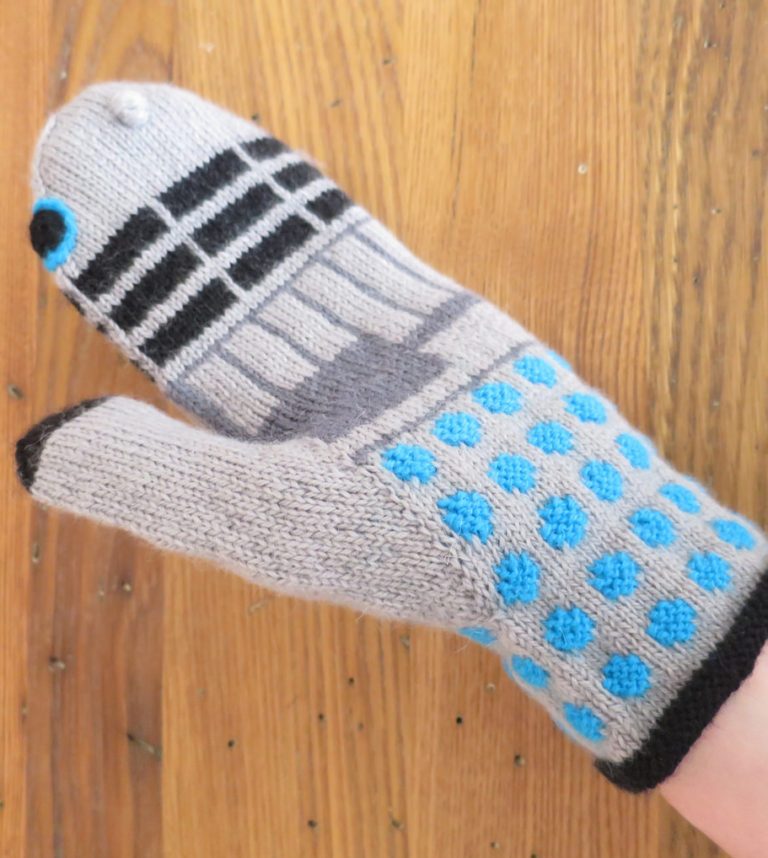 Dalek Mittens
Mittens inspired by Doctor Who's nemesis. Designed by Kat Lewinski
Patterns for Purchase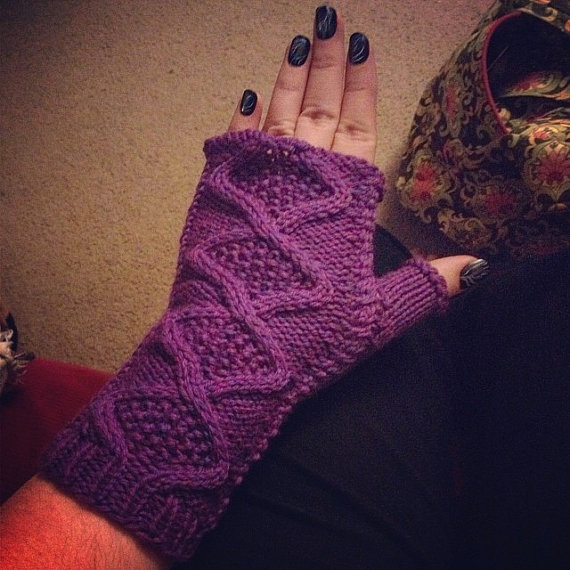 Doctor Who: Doomsday Gloves
Designed by LadyPurl after the gloves Rose is wearing when she loses the Doctor.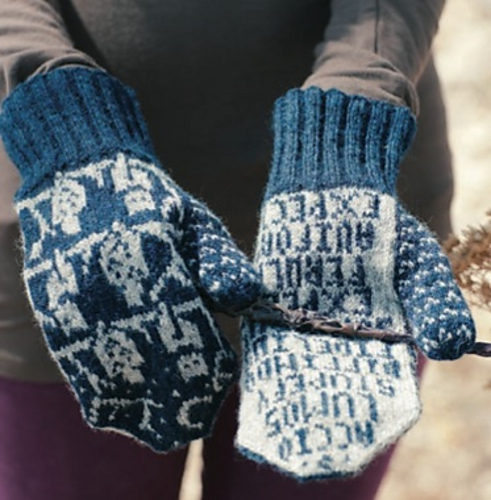 O.W.L. Mittens
Designed by Celeste Young, Owls on one side and a spell reference on the palm for Ordinary Wizarding Level exams.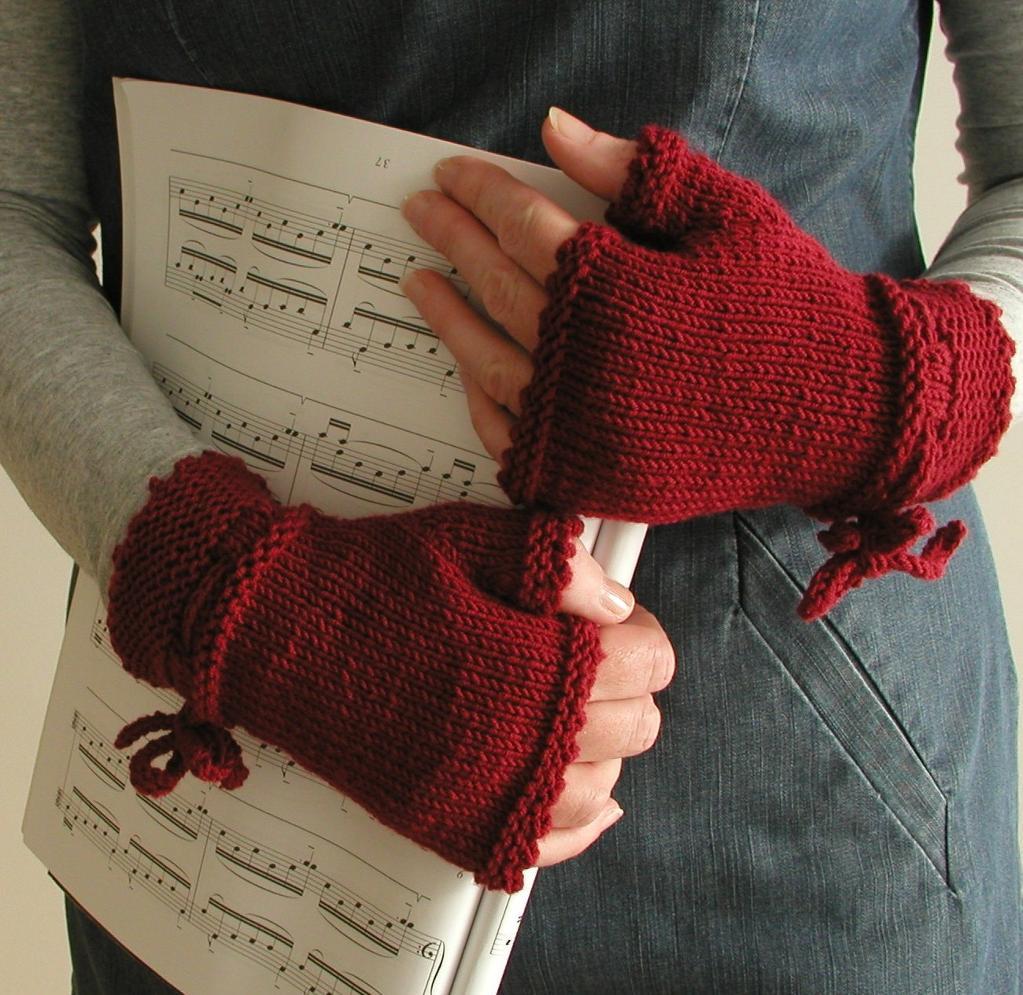 Piano Fingerless Gloves
Inspired by the film, "The Piano", these fingerless gloves are knitted "flat" on straight needles. Channel island cast-on and picot cast-off add a special touch to the edges.