Video stills used on this site are © BBC Worldwide Ltd. The Doctor Who brand is a trademark of the BBC. No infringement is intended or implied.
To get updates on new patterns added to this page, follow me on Pinterest
Though Doctor Who fans run in my family — my brother raised my nieces and nephews on the first regenerations of Doctor Who – it was my husband who really got me hooked.
Fellow Whovians will find knitting patterns here for any age or level of interest. There are meticulously researched knitting patterns for Doctor Who cosplay and fun patterns to show your love of Doctor Who in your daily life. Even patterns for the youngest Whovian in your family!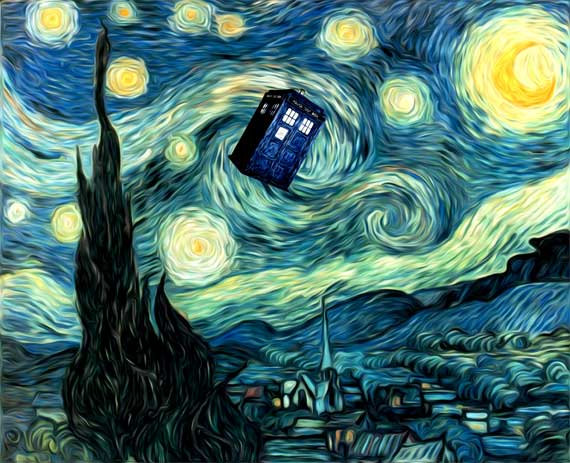 Free Knitting Patterns
Patterns to Purchase
New!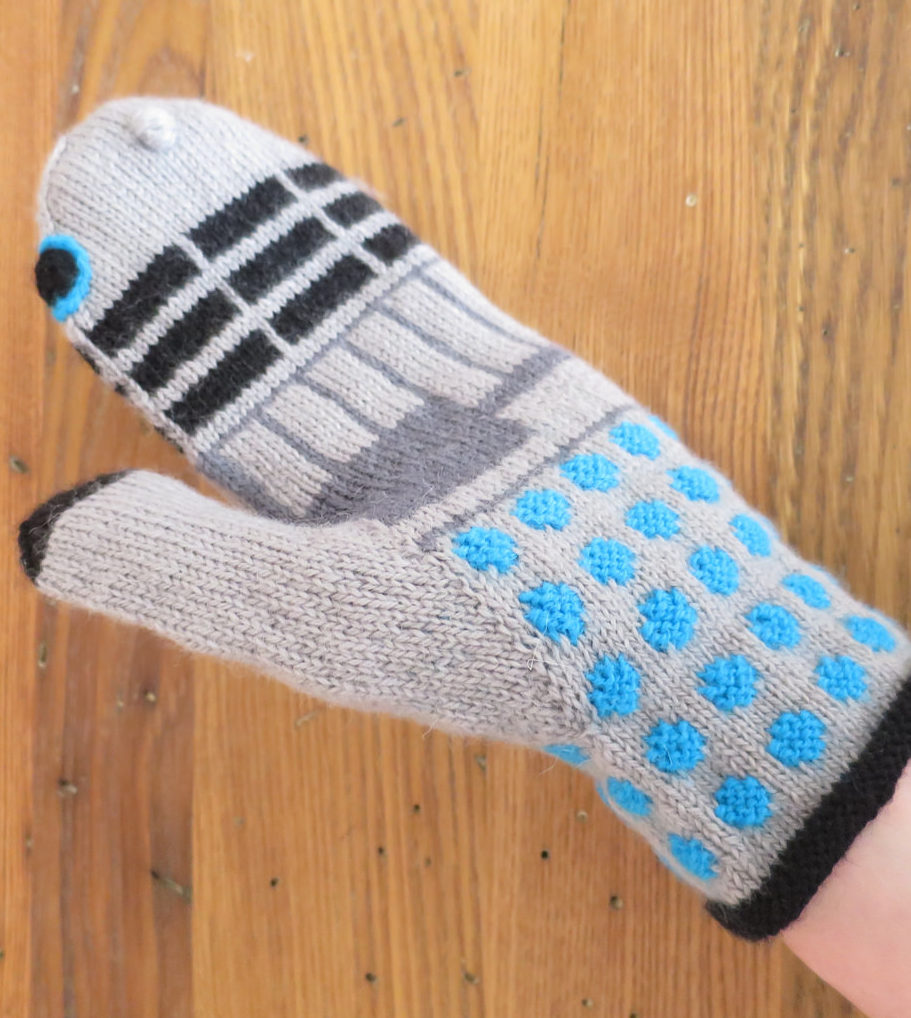 Dalek Mittens
Mittens inspired by Doctor Who's nemesis. Designed by Kat Lewinski

TARDIS Socks
Keladry B's socks were inspired by Doctor Who. Pictured project by TraceyM

Fifth Doctor Beanie
This hat is inspired by the jumper / sweater worn by Peter Davison for his first two seasons as the Fifth Doctor Who. Ellen Hyde states that this is a great first cable project.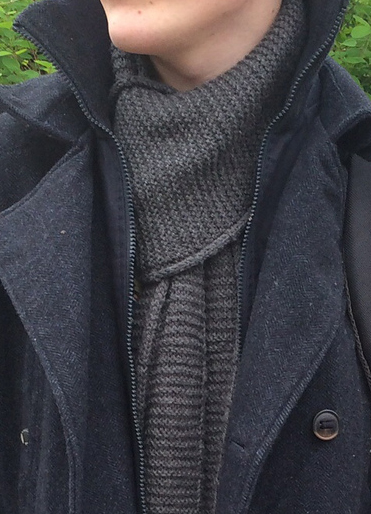 © noddingviolets
The Snowmen Cometh Scarf
Samantha Stewart designed this scarf after the one worn by the Eleventh Doctor played by Matt Smith in the 2012 Doctor Who Christmas Special "The Snowmen".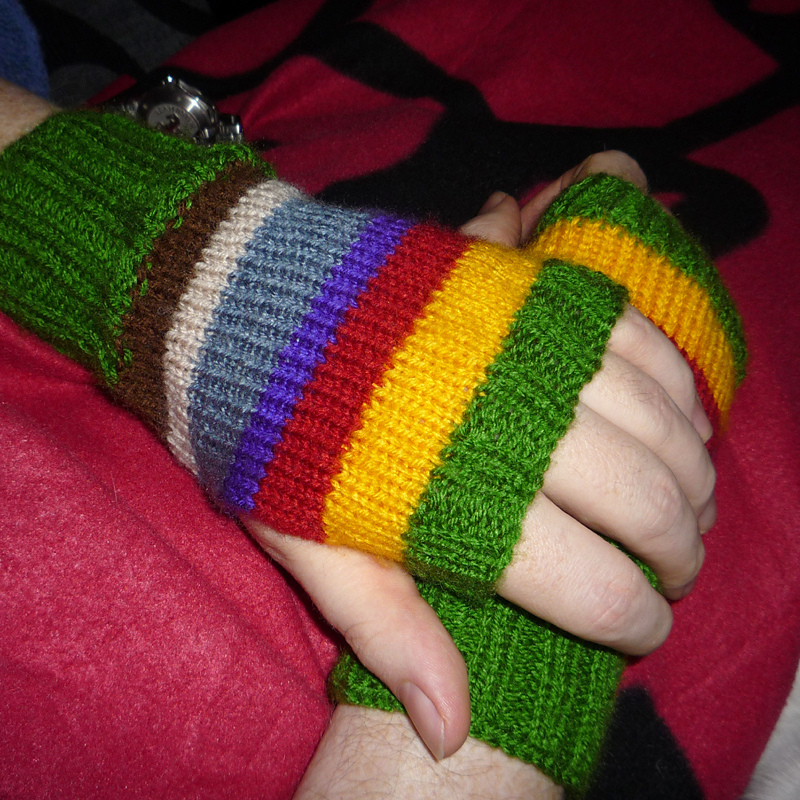 Doctor Who Style Fingerless Mitts
Kathryn Williams designed these easy striped handwarmers to match the Tom Baker Doctor Who Scarves.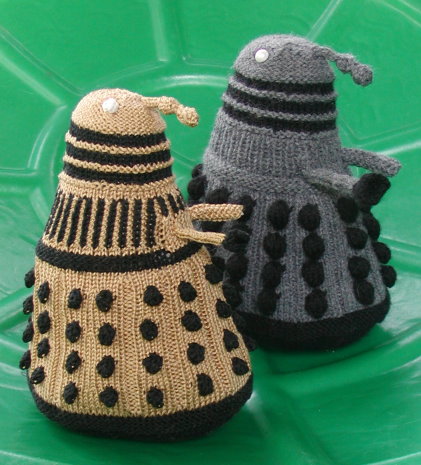 Extermiknit Dalek
Penwiper created this dalek toy that is about 8 inches tall in worsted yarn.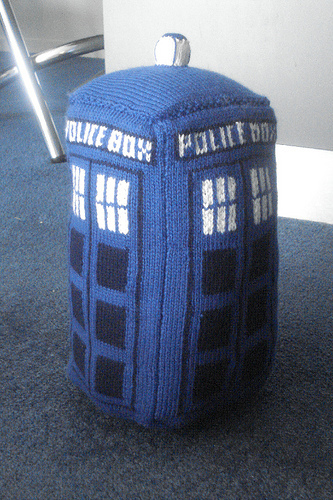 TARDIS Plush Toy
Penwiper created this plush TARDIS that knits about about 10 inches to 3 feet tall depending on yarn.
Bigger on the Inside Shawl
This lace shawl was designed by Kate Atherley with a tardis motif.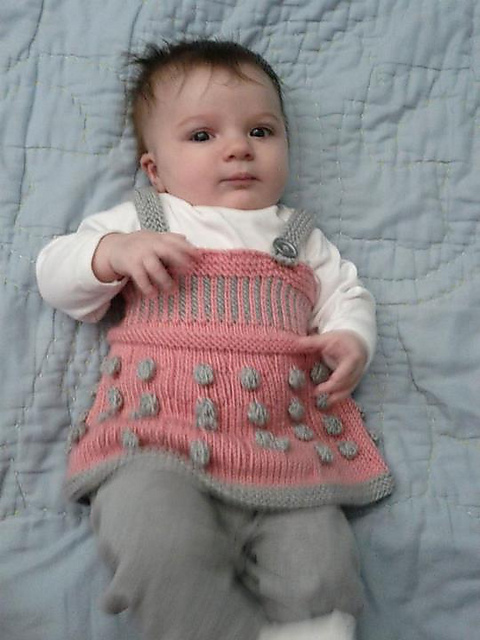 Mommy's Little Dalek Jumper
The Doctor could be in trouble if he was ever confronted by Daleks as cute as this one designed by ABitterKnitter! One size 18.5″ chest.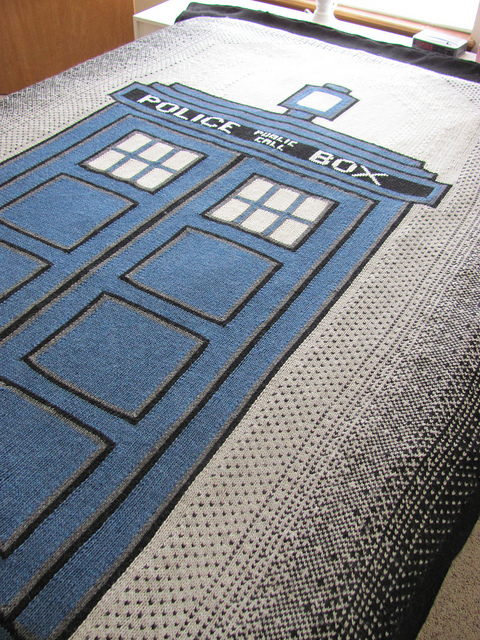 Tardis Afghan
Designed by Carrie Fritsche, this Tardis blanket is almost life size at 9'6″ x 6'4″ and it worked with intarsia in one piece.
Seal of Rassilon Hat
This tam was designed by Ellen Hyde based on the Seal of Rassilon, a symbol of the Time Lords.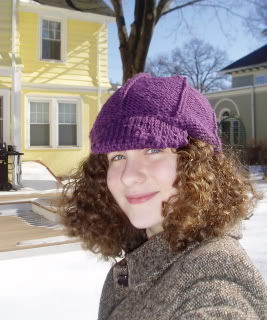 Rose's Slouchy Hat
Designed after a hat Rose wore.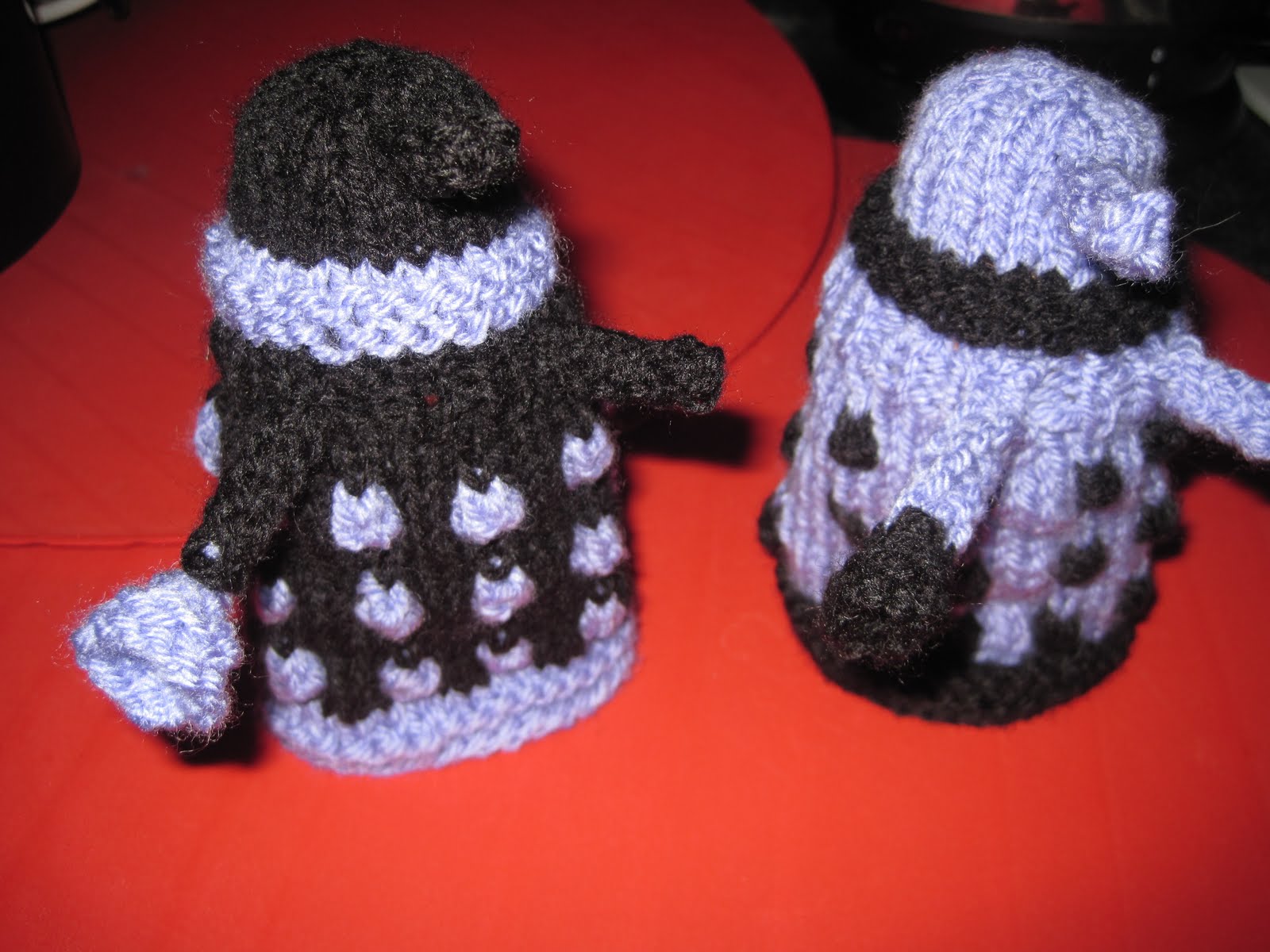 Dalek Egg Cozies
This Doctor Who inspired designs by Lyles' Knit are great for hiding chocolate eggs or Easter eggs. Easterminate!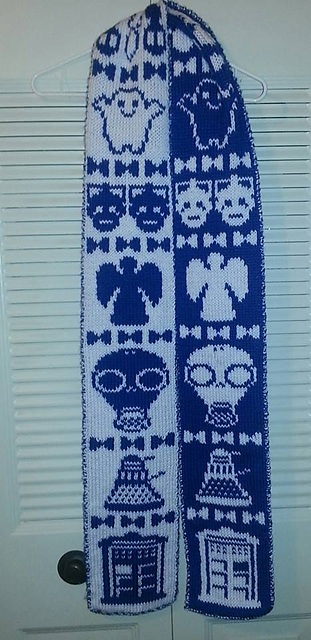 Doctor Who Scarf
Jeanene Hammers has included all your favorite Doctor Who characters in this double-knit scarf.
Get the yarn recommended by the designer, Bernat Satin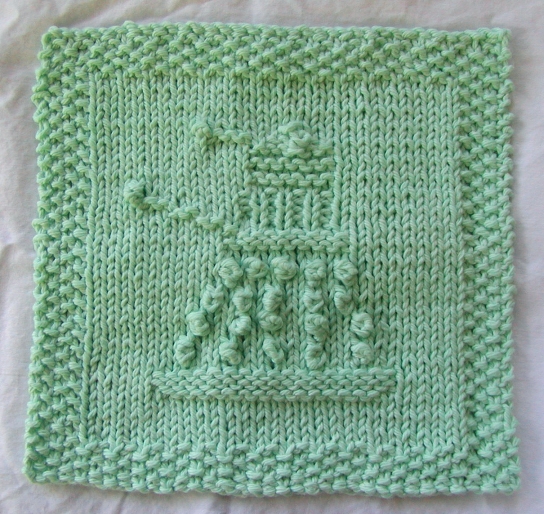 Dalek Motif Wash Cloth or Afghan Square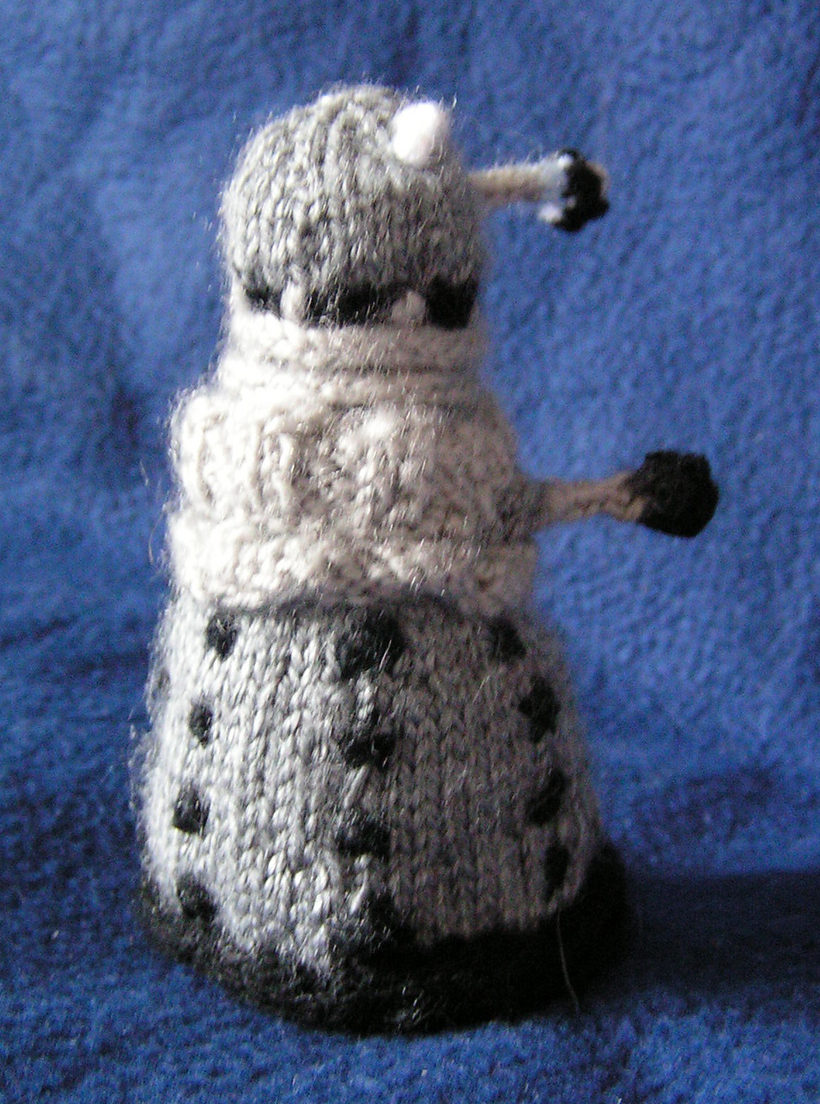 Dalek Toy
New!

Mini K-9
This toy version of Doctor Who's faithful companion by Helen Callis is only 3 inches long. Great for stocking stuffers or tree ornaments!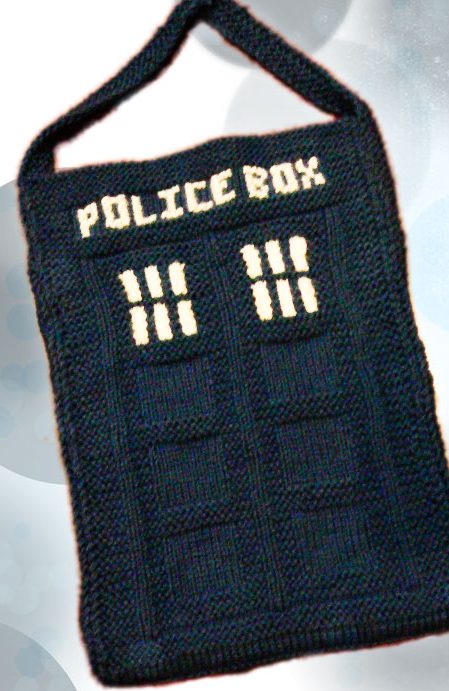 TARDIS Bag
Connielene designed this Doctor Who inspired tote. Finished bag is about 14 by 9 inches or 36 by 23 cm.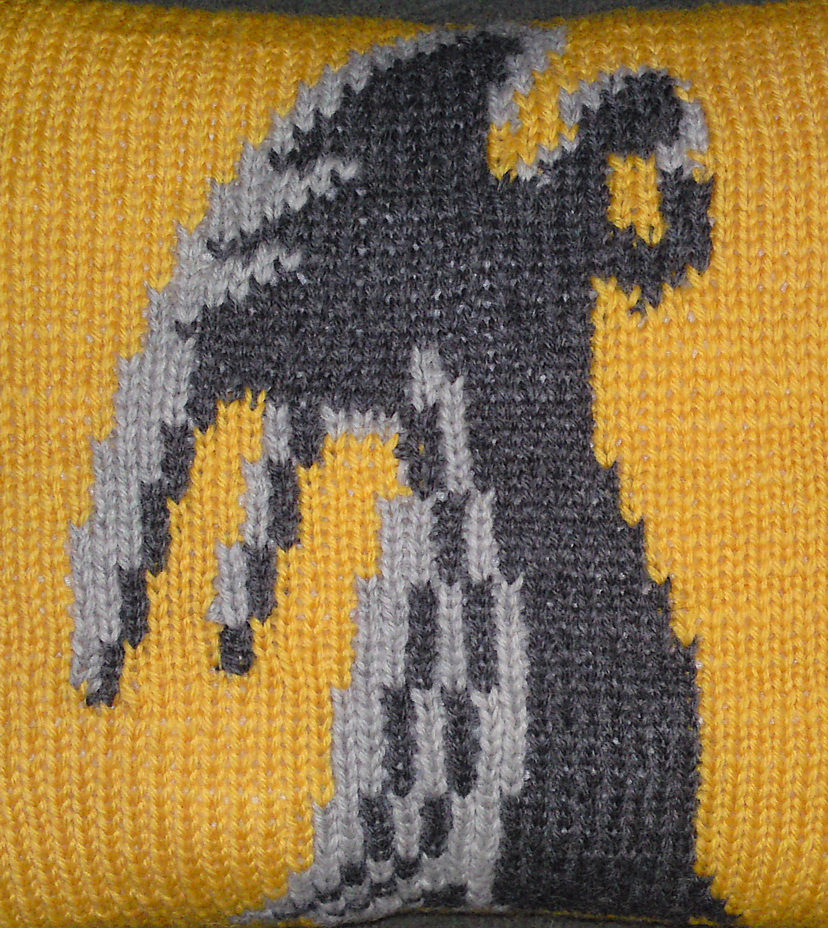 Weeping Angel
Erin Jones designed this 29 stitch by 72 charted panel inspired by horrifying Doctor Who angels. See below for the Weeping Angel Attack chart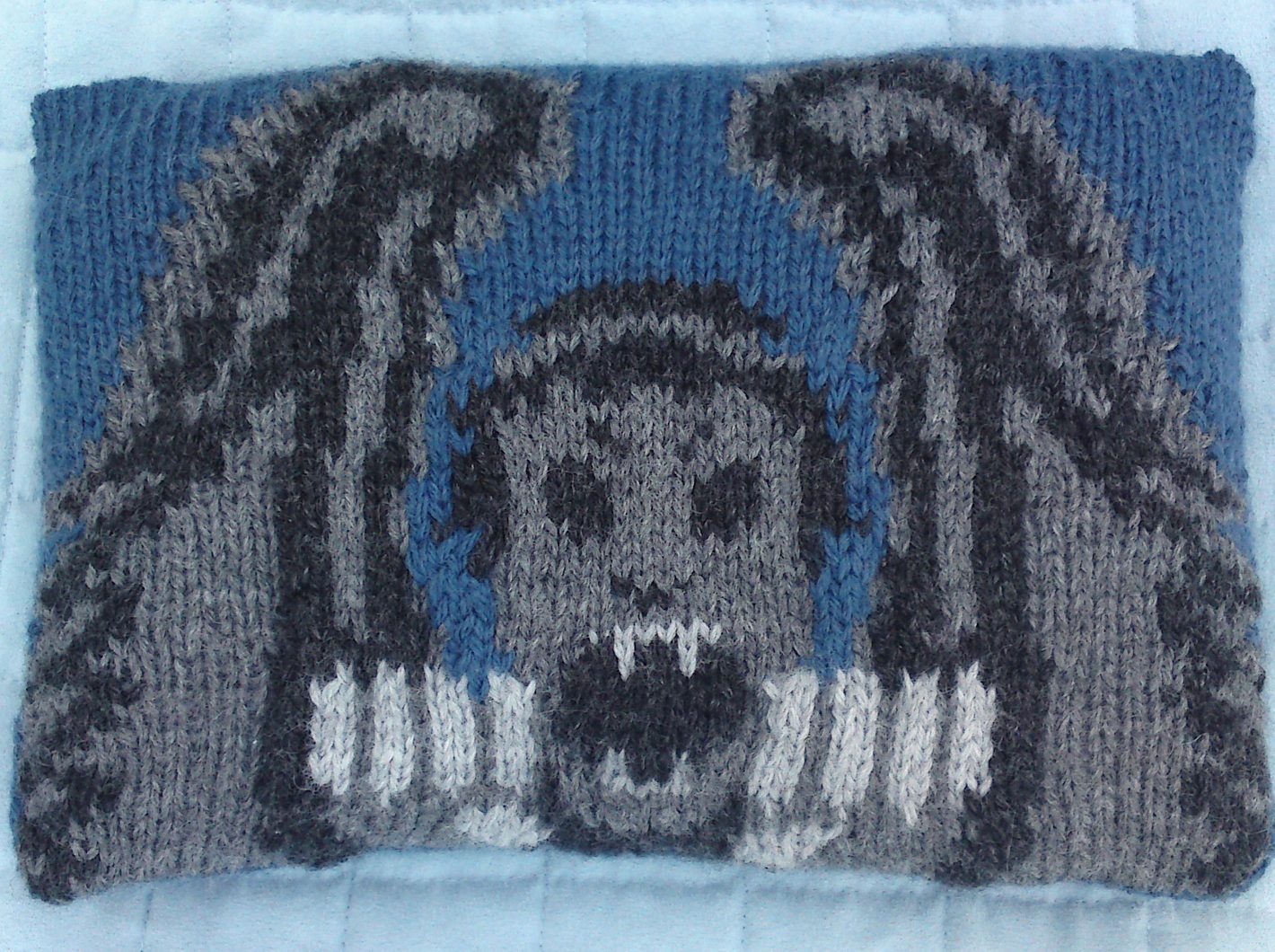 Weeping Angel Attack
Erin Jones designed this 58 stitch by 60 row panel inspired by horrifying Doctor Who angels. Don't blink!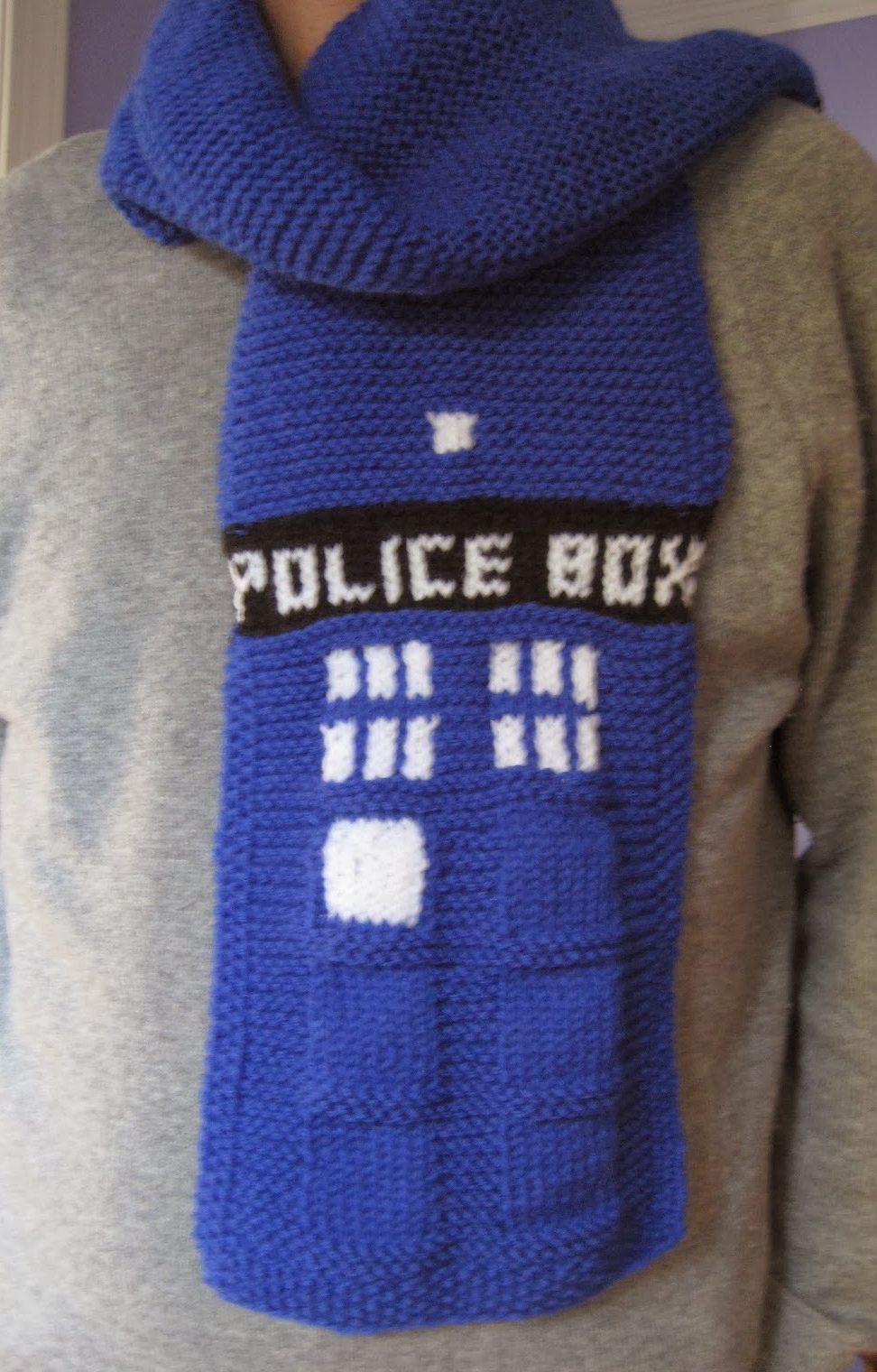 TARDIS Scarf
Knit Purr Live designed this Doctor Who inspired scarf.
TARDIS Mouse
Kristen Howard designed this "pocket-sized TARDIS and pint-sized companion all rolled into one". Approx 5-6″ body (1 foot nose to tip of tail)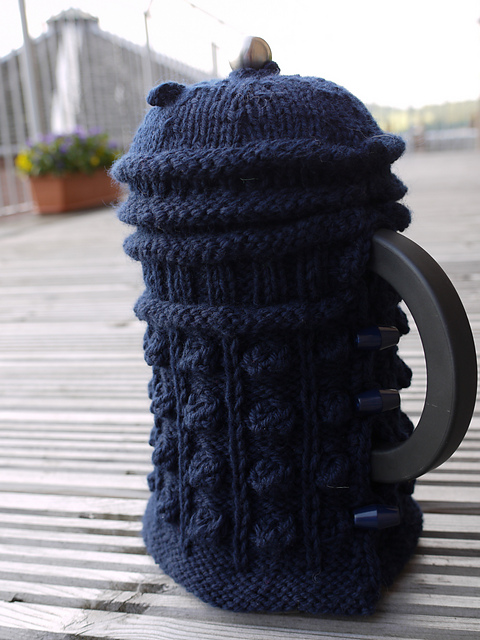 Caffeinate! Press Style Coffee Maker Cozy
Coryna Blasko designed this Dalek-inspired coffee maker cozy.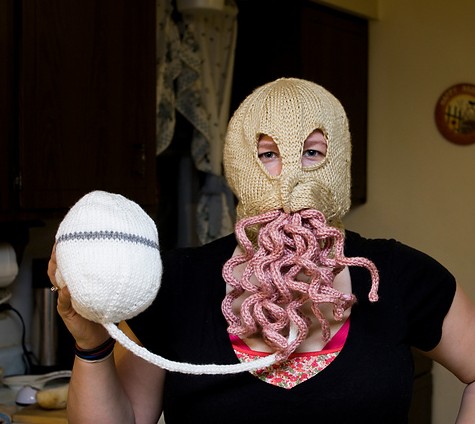 Ood Snood
Teryn Pierce designed this ingenious balaclava with optional nose and mouth holes.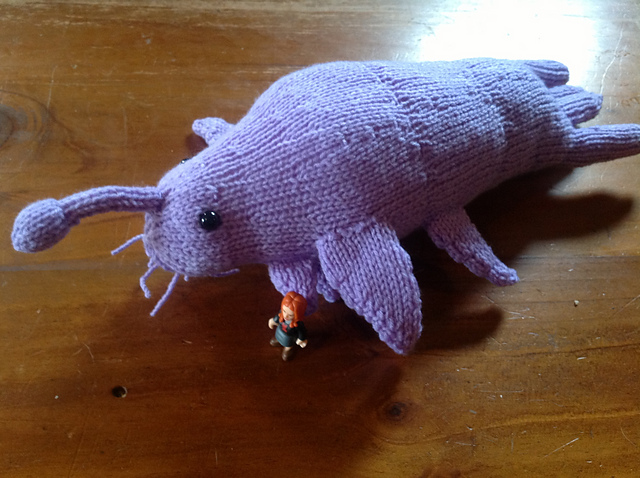 Star Whale
Designed by Juanita McLellan, this is a pattern for the Doctor Who alien, the Star Whale, from the episode in Season 5 (Eleventh Doctor), "The Beast Below".
Tom Baker Scarves
Chris Brimelow has a site dedicated to Chris's thoroughly researched designs for Doctor Who scarves with tips on yarns to use for the best color match.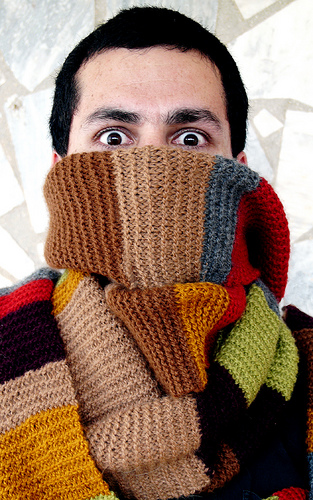 Seasons 12-14 Doctor Who Scarf
Chris Brimelow has a site dedicated to  after the first scarf worn by Tom Baker from Robot in season 12 through The Seeds of Doom in season 13, and in scenes from The Masque of Mandragora, The Hand of Fear, and The Deadly Assassin in season 14
Season 15 Doctor Who Scarf
Chris Brimelow's design of the scarf worn by Tom Baker for his portrayal of Doctor Who in Image of the Fendahl, Underworld, and The Invasion of Time from season 15.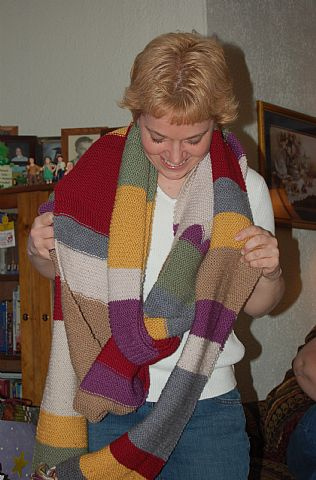 Season 16/17 Doctor Who Scarf
Designed by Chris Brimelow, this is the scarf worn by Tom Baker for his portrayal of Doctor Who in all of seasons 16 and 17 (The Ribos Operation through Shada).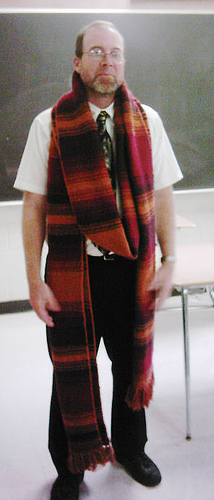 Season 18 Doctor Who Scarf
Designed by Chris Brimelow, this is the scarf worn by Tom Baker for his portrayal of Doctor Who in all of season 18 (The Leisure Hive through Logopolis).

Fourth Doctor's Scarf Purse
Get the free pattern designed by Kristin Lewallen
Fifth Doctor Who Sweater
Designed by Cullen Skinner after the sweater worn by Peter Davison for his first two seasons as the Fifth Doctor. Cullen states that it is stitch for stitch screen accurate.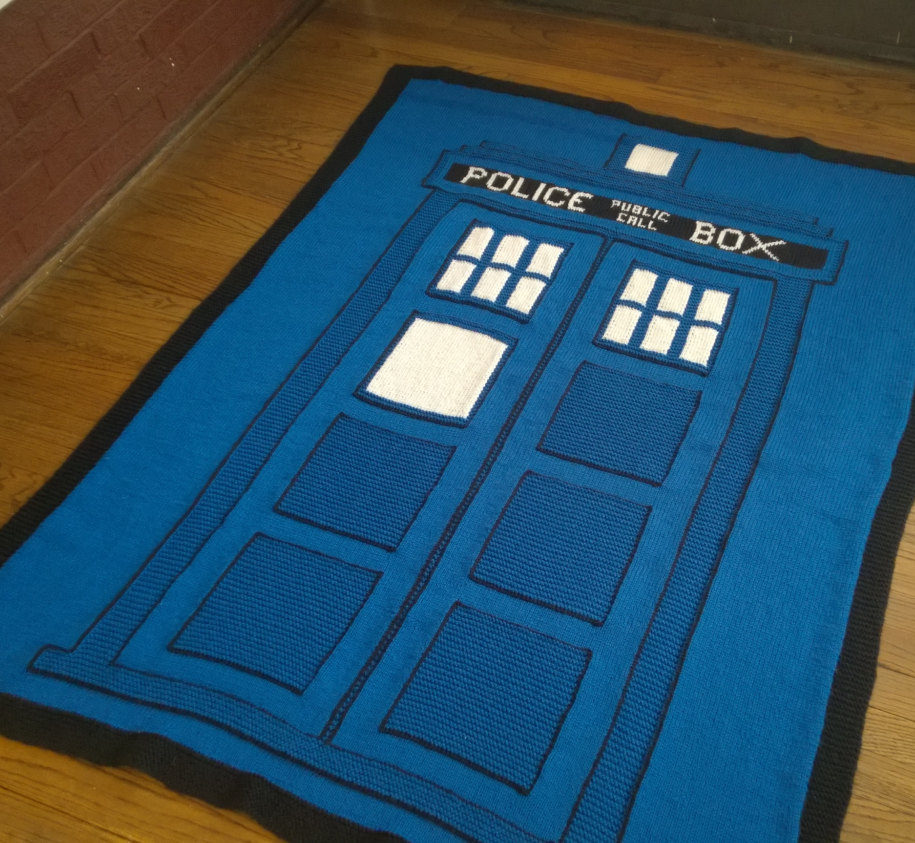 TARDIS Afghan
Finished dimensions of this Doctor Who inspired Police Box blanket are approximately 46 x 62 inches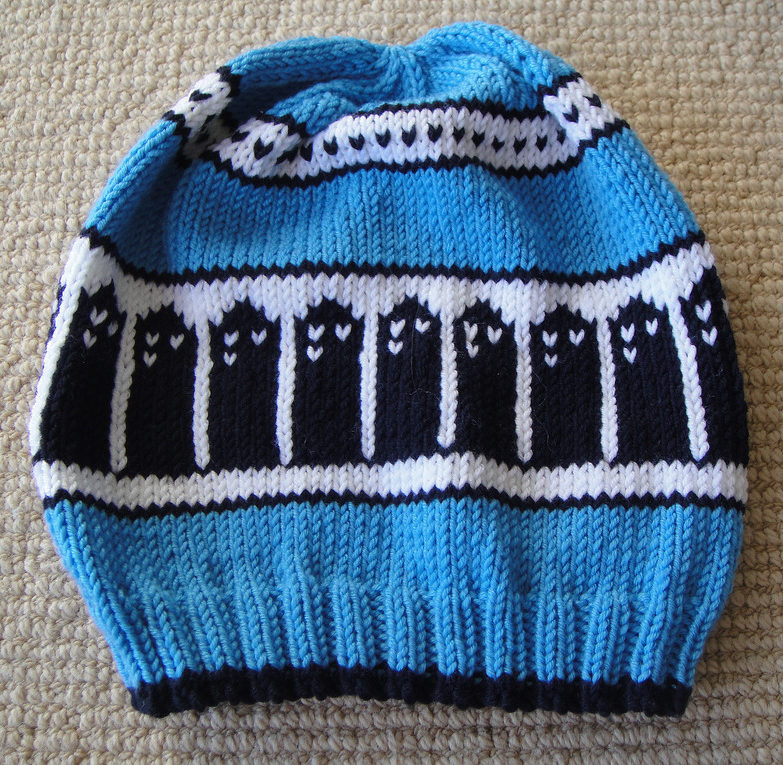 TARDIS Slouchy Beanie
This Doctor Who inspired hat is comes with 3 sizes: child, adult size, and a super slouchy. Pictured project by RobynPearl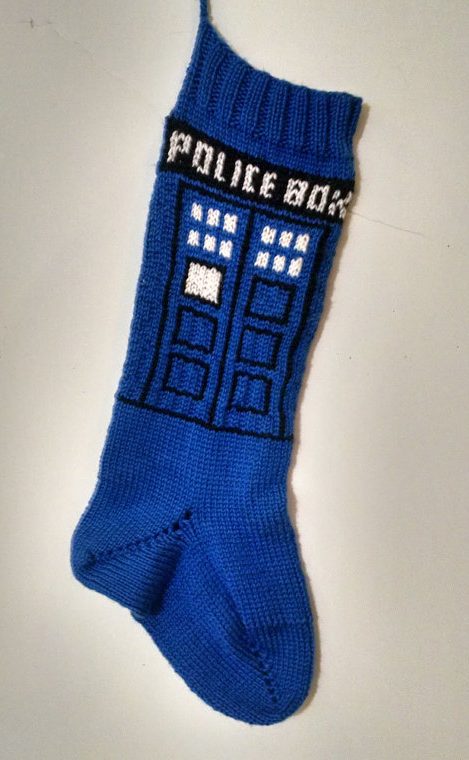 TARDIS Christmas Stocking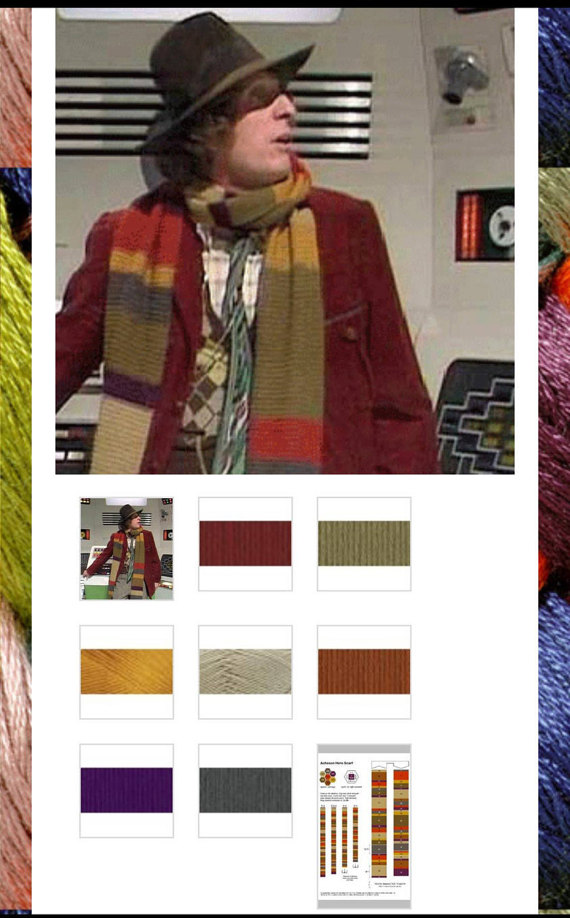 Fourth Doctor Scarf Kit
The hardest part of knitting a Doctor Who Scarf is chasing down the yarn. Here's a kit that did that for you. Included are 9 skeins in the carefully researched colors and the official pattern with variations to accommodate specific seasons/versions, from the Dr Who Scarf Pattern Page.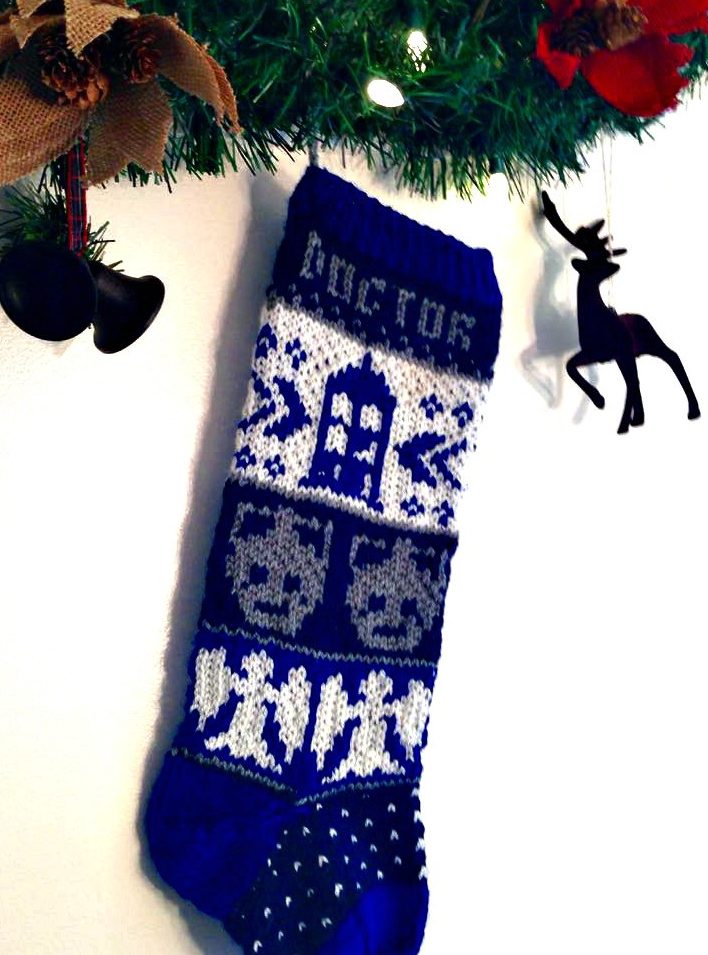 Doctor Who Christmas Stocking
This stocking pattern comes complete with charts for a flying Tardis, staring Cybermen, ominous Angels (don't blink!), and a starry night sky, as well as instructions on how to create your stocking using the Magic Loop Method and Afterthought Heel.
TARDIS Mitts
Fingerless mitts for Doctor Who fans. Pictured project by ianda67 includes the modifications of a black background to the words and black frames on the windows.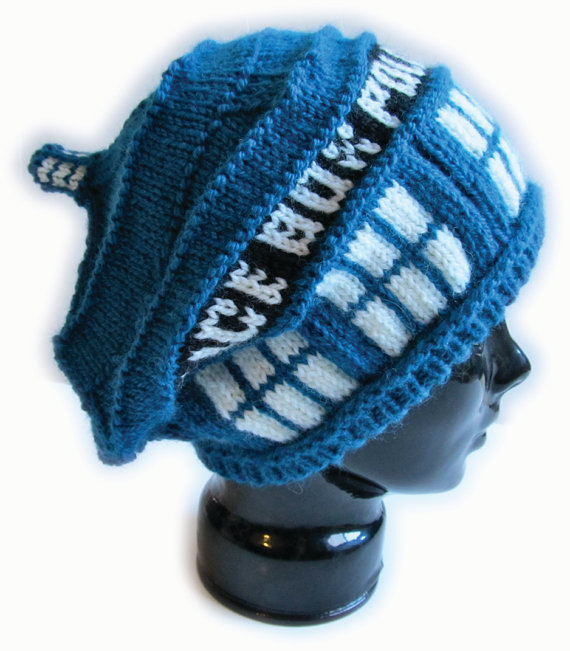 Police Box Slouchy Hat
I've looked at a lot of Dr. Who Tardis inspired hats and in my opinion this is the best. A well-designed, very finished looking pattern with a lot of style. I begged the designer CID Hanscom to put it on Etsy so I could share it with you and she did!
Doctor Who Dalek Knit Fingerless Mitts
I love these! The pattern on the fingerless gloves looks just like the dalek's body.
Get the knitting pattern for $5.00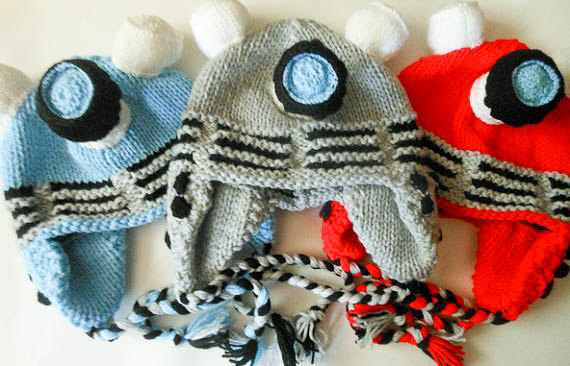 Dalek Hat Knitting Pattern
Two sizes: Ages 3-8 and 9-Adult
This pattern is entirely knit, no crochet involved. The main hat pattern is knitted flat and then seamed.
Get the knitting pattern for $4.54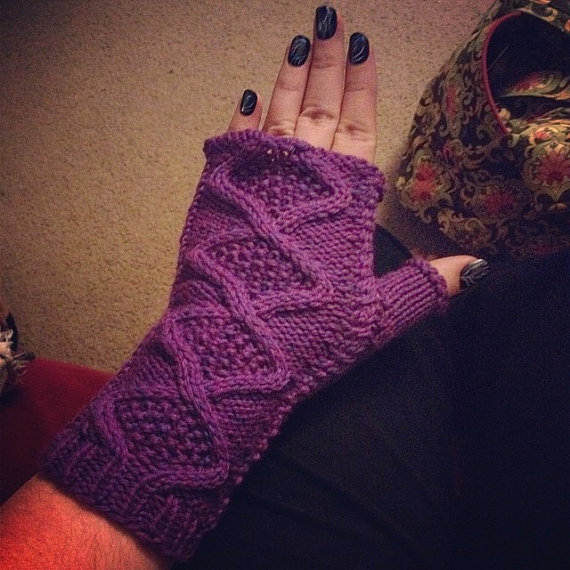 Doomsday Gloves
Designed by LadyPurl after the gloves Rose is wearing when she loses the Doctor.
Get the knitting pattern for $3.00
Amy's Scarf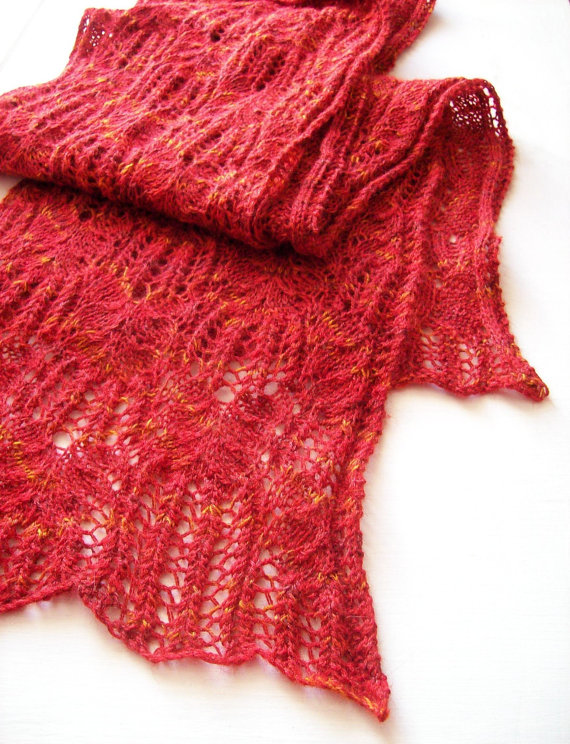 Designed by Amy van de Laar, this delicate lace scarf is inspired by the one worn by Amy Pond in the Doctor Who episodes 'Vampires of Venice' and 'Vincent and the Doctor'.
Get the knitting pattern for $5.00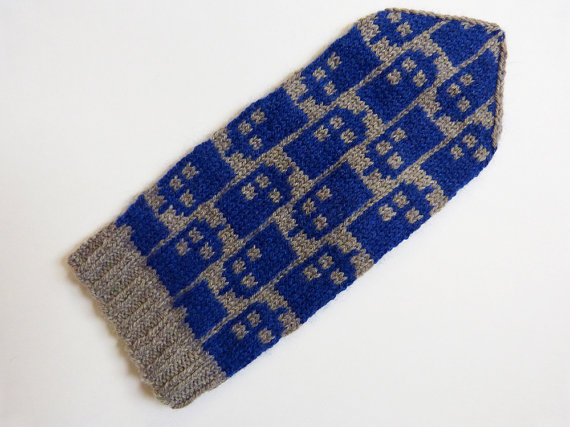 Police Box / Tardis Mittens
Instructions are included in the pattern to produce both mittens and fingerless mitts.
Get the knitting pattern for $6.00