Pullover knitting patterns with cable details. Many of the patterns are free.
To get the knitting patterns, scroll down the page to the individual pattern you want and click on the link to that pattern.
These patterns are not my designs but links to other designers who have generously shared their patterns. If you have questions about how to knit a specific pattern, please contact the designer directly.
All links on this site are for informational purposes, but please note that some links are to affiliate sellers that pay me a small commission on purchases.
Free Patterns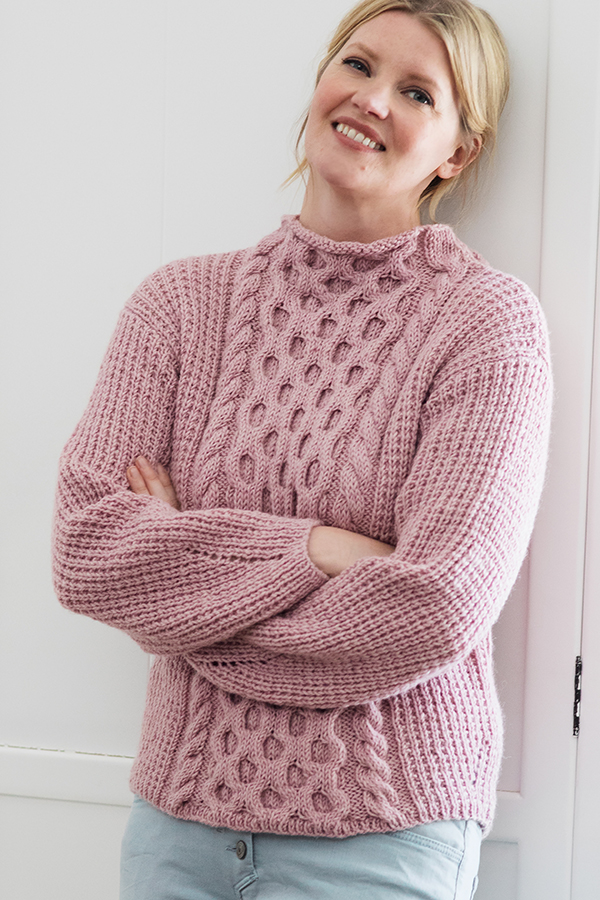 Honeycomb Cabled Sweater
This long-sleeved pullover features a cabled panel framed by cable braids on an easy textured background. Sizes ranging from 37-50". Designed by Lea Petäjä for Novita. Worsted weight yarn.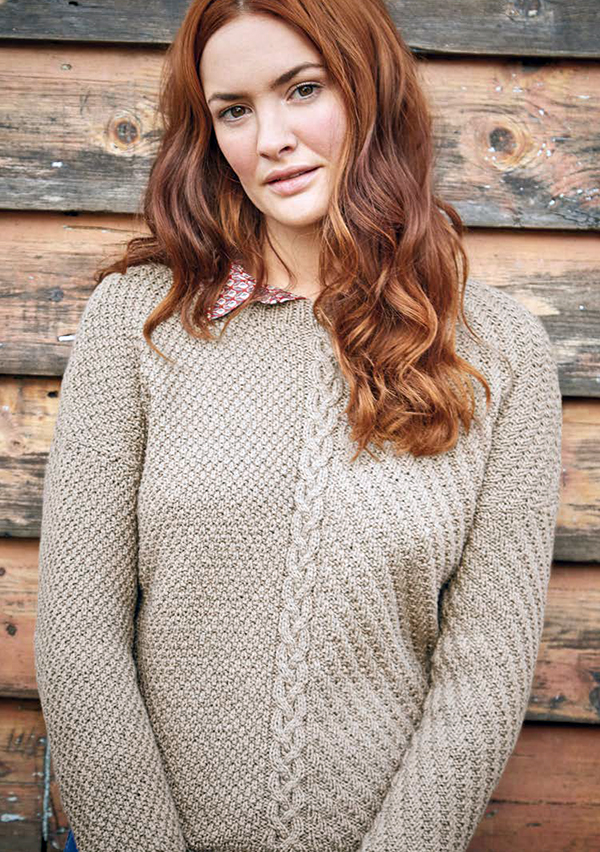 Portico Sweater
This long-sleeved pullover with a cable down the front that separates contrasting stitch textures on each side - moss stitch on one side and a diagonal stitch on the other - that carries through to the sleeves. Sizes 32-34(36-38, 40-42, 44-46, 48-50)" 81-86(91-97, 102-107, 112-117, 112-127) cm. Designed by Emma Wright. DK weight yarn. A kit is also available.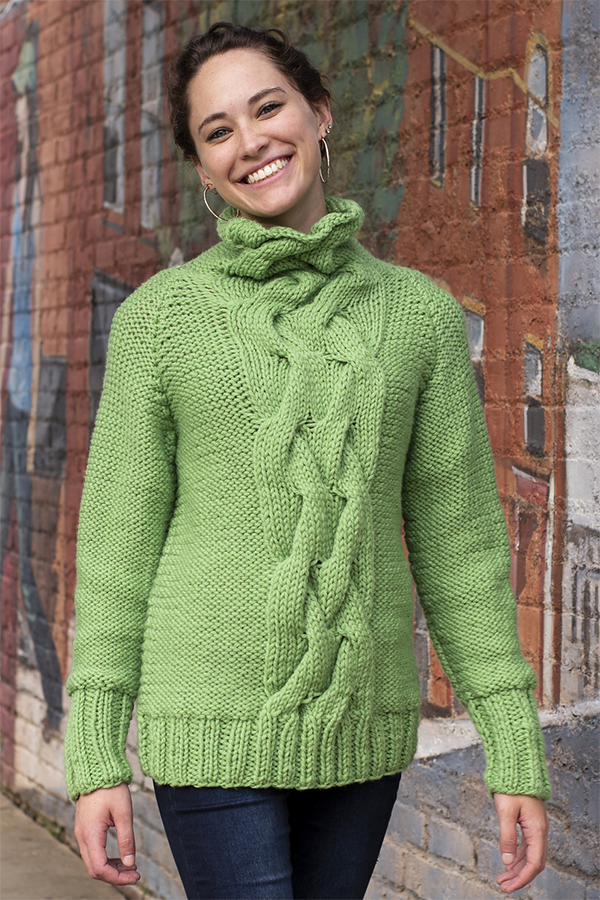 Sequoia Sweater
This long-sleeved relaxed pullover features a dramatic cable panel on the front that is carried into the high neck where is sits as a loose and comfortable turtleneck. Sizes Extra Small (Small, Medium, Large/1X, 2X, 3X, 4X). Designed by Amy Gunderson. Bulky weight yarn.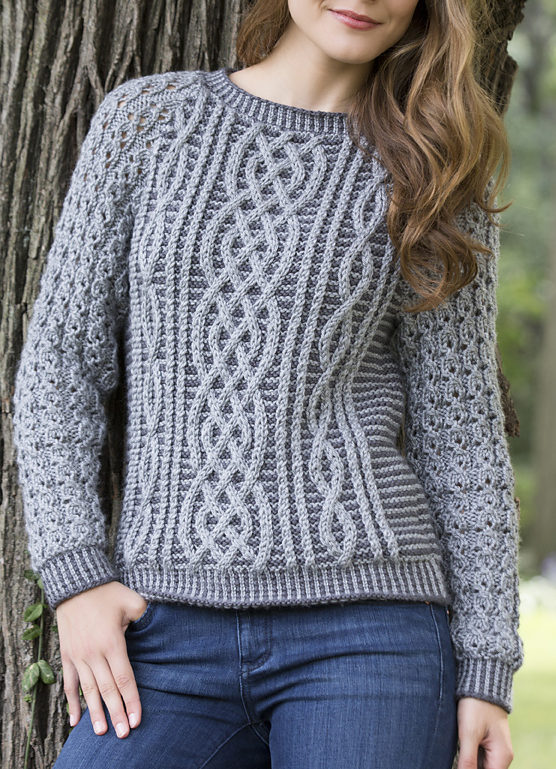 Two Tone Cable Sweater
This long-sleeved pullover uses a lighter shade of yarn for the cables to make them stand out. Sizes small – XX large. Designed by Heather Lodinsky for Red Heart.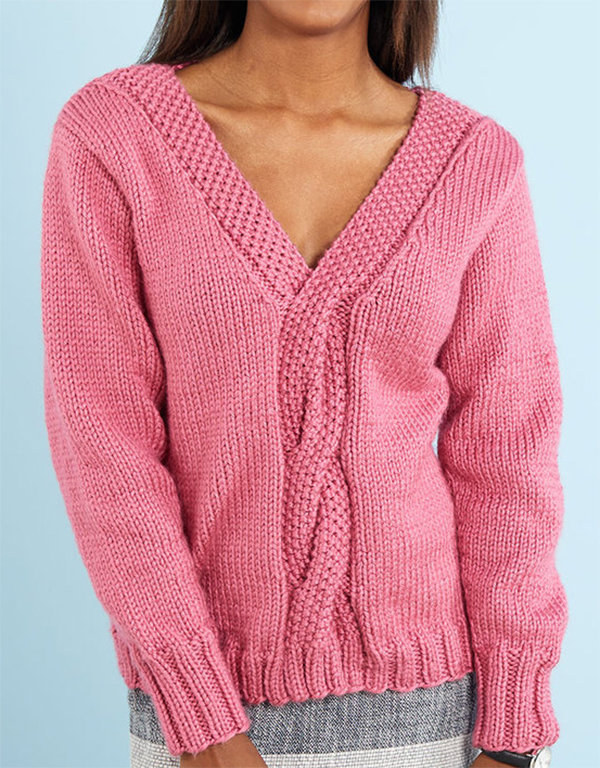 Lovely Cable Sweater
Long sleeved pullover features a neckline that blends into a casual cable. Sizes Small, Medium, Large, X-Large, 2X, and 3x. Quick knit in bulky yarn. Designed by Sandi Rosner for Red Heart.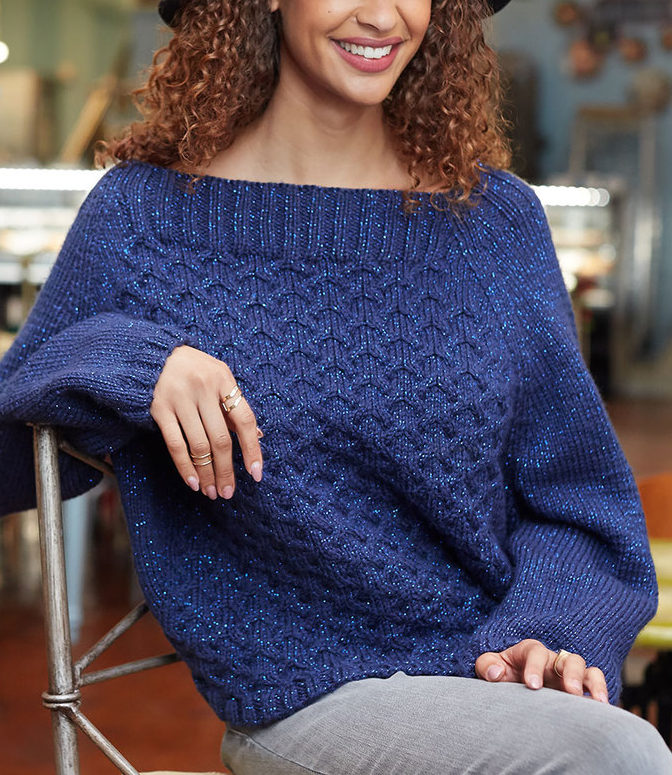 8 Row Repeat Cable Sweater
Dramatic oversized long sleeved pullover with wide ribbed boat neck and overall cable pattern with just 2 rows of cable and 6 of stockinette in the repeat. Sizes XS, Small, Medium, Large, X-Large, XX-Large, and XXX-Large. Designed by Merri Fromm for Red Heart.

Wheat-Ear Cable Yoke Sweater
This long-sleeved raglan pullover features a sleek bodice and sleeves tthat flow into a yoke of delicate cables – a two-stitch twist alternating with a seven-stitch wheat ear. Finished Size 35 (40, 45, 50)" bust circumference. One of the patterns in the free ebook The Art of Cable Knitting: 7 Free Patterns. Designed by Pam Allen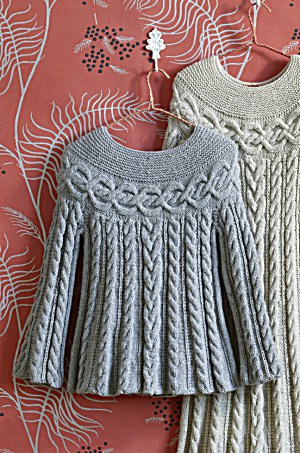 Cable Luxe Tunic
This dramatic sweater designed for Lion Brand is a gorgeous addition to any wardrobe, featuring a beautiful cabled yoke and a slightly belled body and belled sleeves. SIZE: Small, Medium, Large, 1X, 2X in two lengths.
More Free Patterns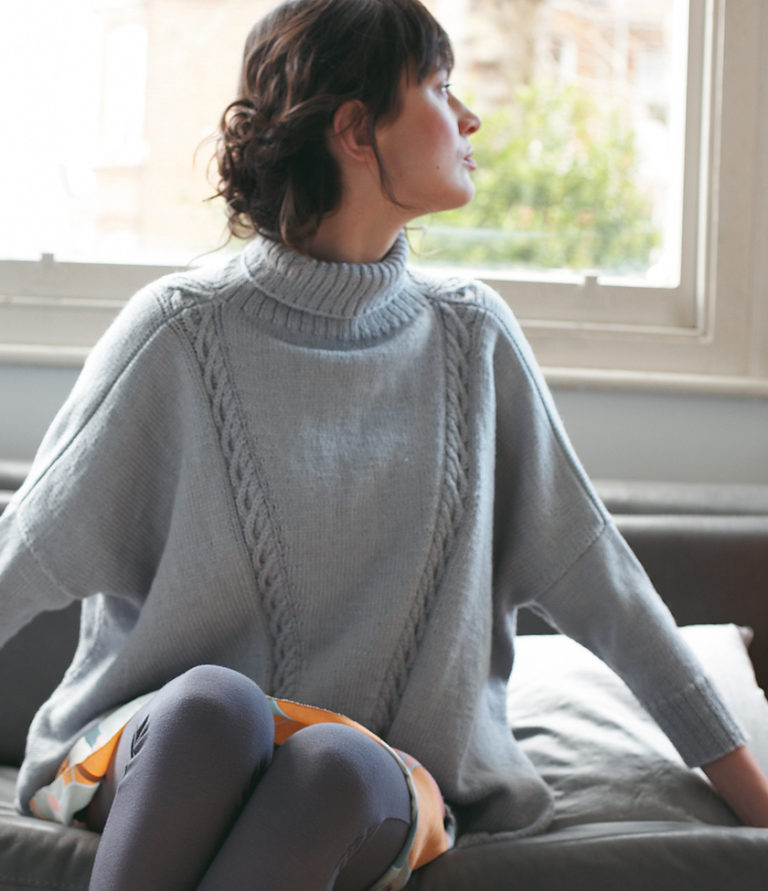 Sasha
This oversized pullover by Debbie Bliss is four knit pieces with minimal shaping, mostly stockinette with cable detail. Stitches are picked up for the turtleneck collar but you could leave it off. Pattern seems easy to me. S/M, M/L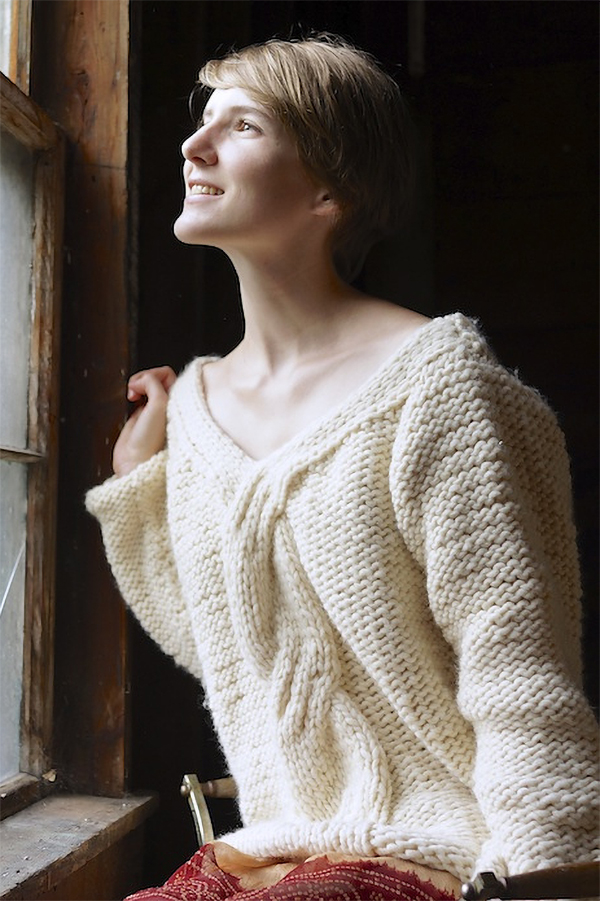 First Snow Sweater
This long-sleeved pullover is a quick knit in reverse stockinette and super bulky yarn. It features large 12 stitch cable out of several smaller cables that splits at the neckline to form a flattering wide v neckline. Designed by Naomi Odean for Knitty. XS [S, M, L, 1X, 2X, 3X]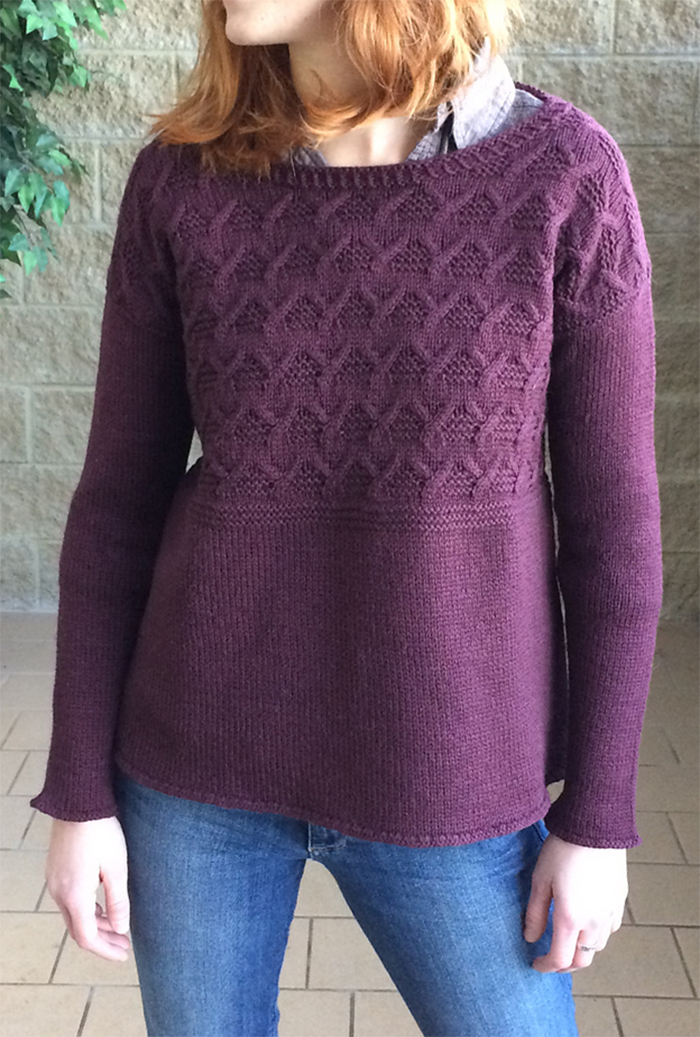 Cable Yoke Pullover
12 row repeat cable and stockinette stitch A-line pullover worked mostly in the round. Worsted weight yarn. XS (S, M, L, XL, 2XL) Designed by Tian Foley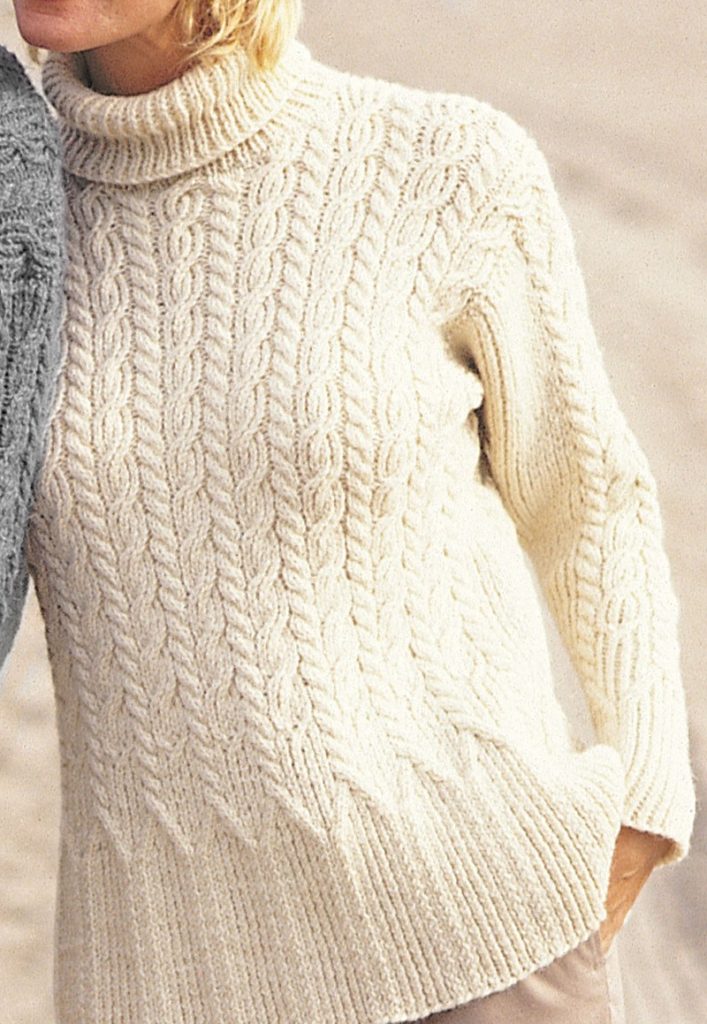 Casual Cables Sweater
Long sleeved cable pullover features a stitch pattern that gives a flattering flare to the hem. Designed by Patons. Small, Medium, Large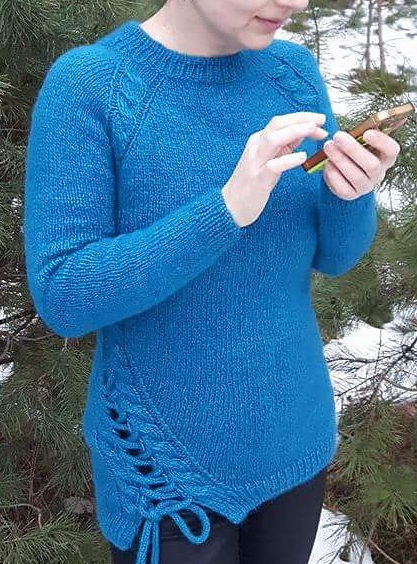 Split Ends Pullover
This long sleeved sweater features figure-flattering cables that start at the neckline and curve to follow the seams with the acorset-style tie slit on one side. Designed by Nataliya Polyakov for Melody's Makings, this sweater is free if you share the blog post. Extra Small, Small, Medium, Large, Extra Large. Pictured project by JuneJuly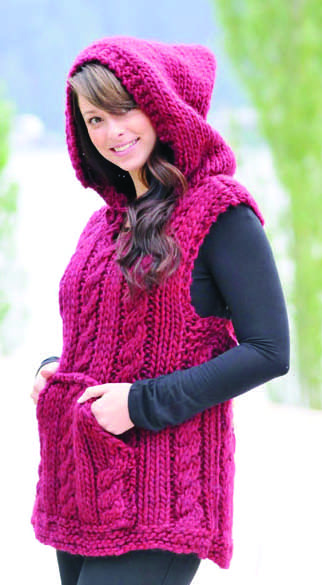 Hooded Magnum Vest
Cabled pullover vest with hood is a quick knit in super bulky yarn. Designed by Susie Bonell for Cascade Yarns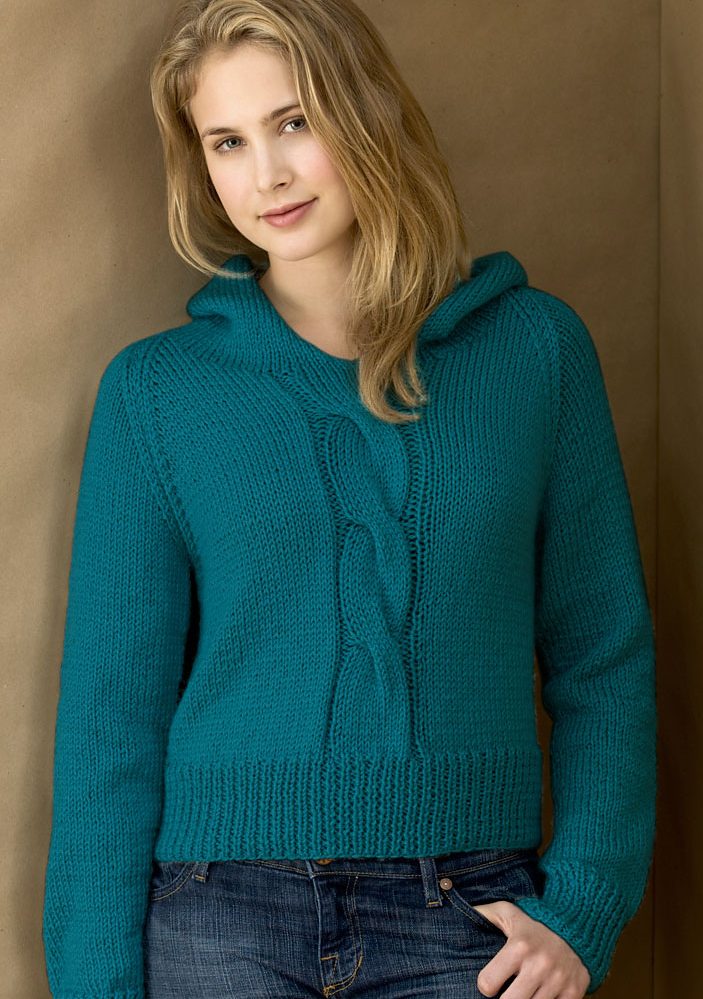 Cabled Hoodie
Ann E. Smith's hooded long-sleeved pullover sweater features a large elegant cable on the front. Sizes S (M, L, XL, 2X)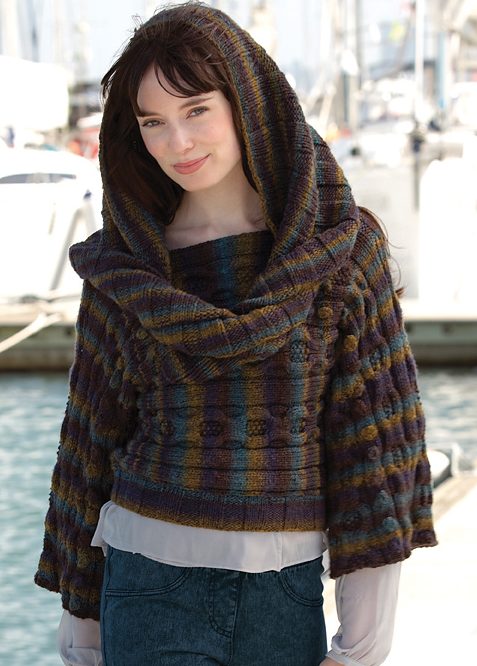 Nadine's Pullover & Hood
I love the drama of this sweater with separate matching hood by the Red Heart Design Team. The pullover features cables and is worked sideways in one piece from sleeve to sleeve.
Patterns for Purchase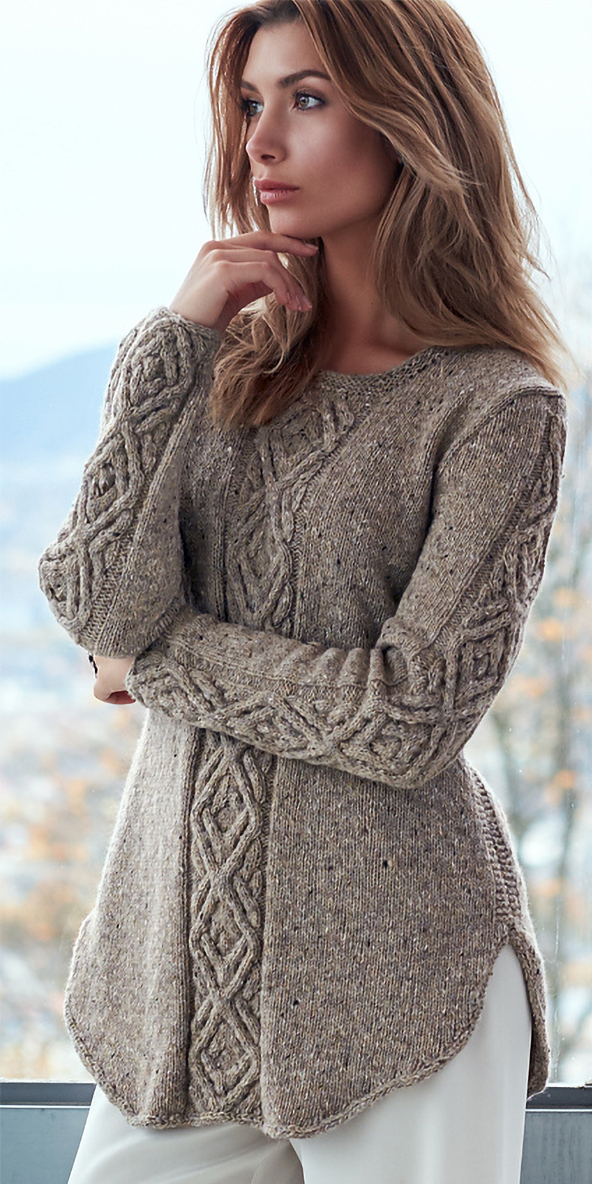 Oydis Sweater
A shadow diamond cable dominates this A-line sweater with a curved flattering hem, and I-cord bands frame the bottom of the sweater, while garter stitches mark the sides and the round neckband. Sizes XS (S, M, L, XL, 2XL). DK weight yarn. Designed by Linda Marveng.

River Braid Sweater
This relaxed fit long-sleeved pullover is very easy according to the designer. It's knit in one piece sideways in garter stitch. A continuous double cable runs up the sleeve, and splits for shaping the neckline.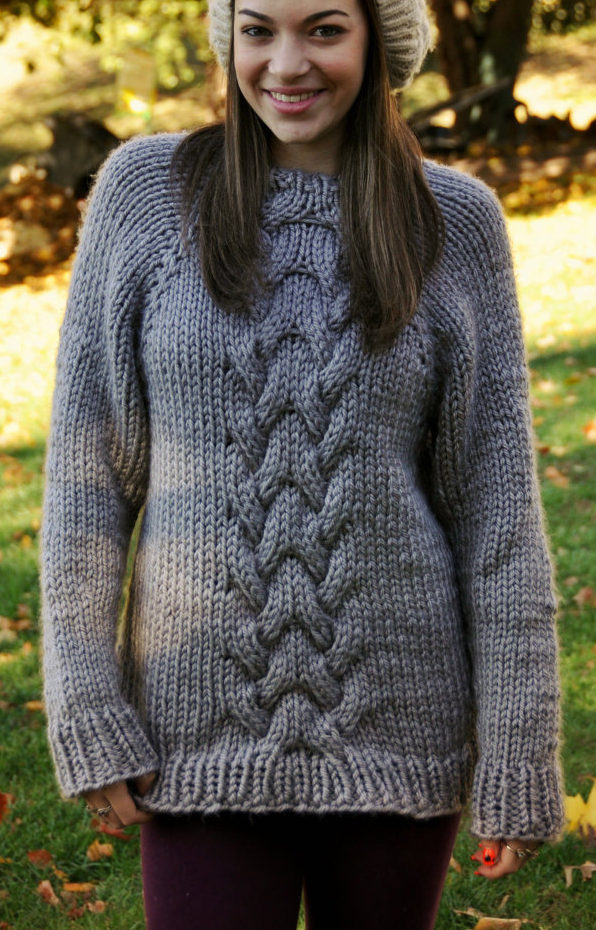 Oversized Cable Sweater
A quick and cozy knit sweater, designed with extra room for comfort in super bulky yarn. Sizes 30 (32, 34, 36, 38, 40, 42, 44, 46, 48) inches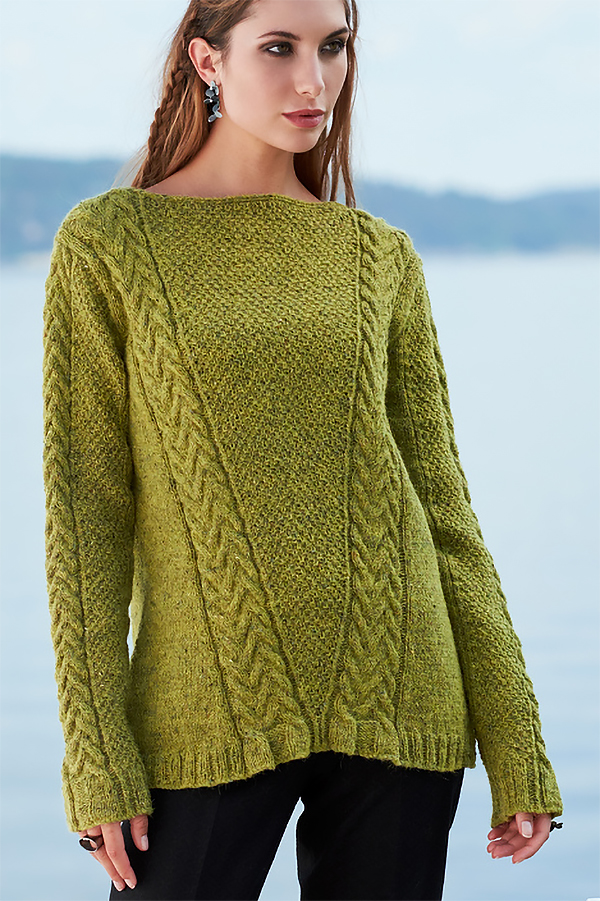 Shalana Pullover
This fitted long-sleeved sweater features Sand Cables that travel from the center towards each shoulder framing the center panel of double seed stitch, a rounded boat neck, and cables on the sleeves. DK weight yarn. Sizes XS (S, M, L, XL, 2XL) Designed by Linda Marveng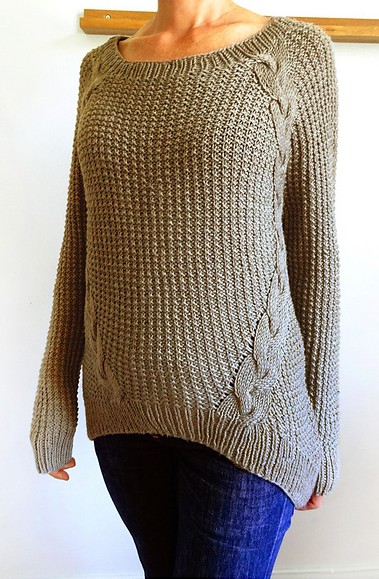 Dagmar Pullover
This elegant and sophisticated sweater will elongate your torso and give your outfit a polished look. The cable patterns move across the bodice and then follow the raglan decreases to the yoke to form a curve around the body. Sizes S (M, L, XL, 2XL, 3XL)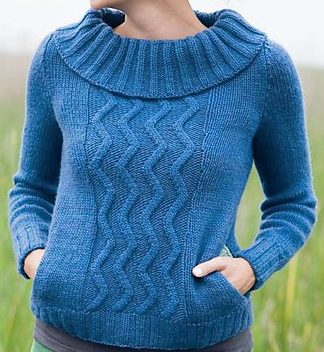 Mystic Pullover
This sweater by Melissa LaBarre features a cowl neck, zigzag cables, and pockets at the seams. Sizes 34 (38, 42½, 46½, 50)"