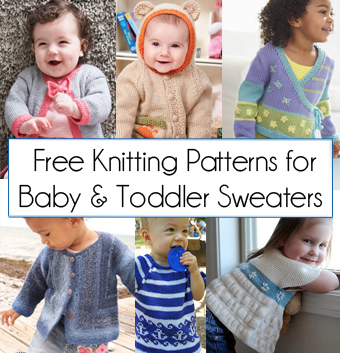 Baby and Toddler Sweater Knitting Patterns. Free knitting patterns for baby sweaters, cardigans, and jackets that are almost as cute as the baby or toddler you are knitting for! Sizes from newborn to 2 years and up. Most patterns are free.
To get the knitting patterns, scroll down the page to the individual pattern you want and click on the link to that pattern.
These patterns are not my designs but links to other designers who have generously shared their patterns. If you have questions about how to knit a specific pattern, please contact the designer directly.
All links on this site are for informational purposes, but please note that some links are to affiliate sellers that pay me a small commission on purchases.
Free Patterns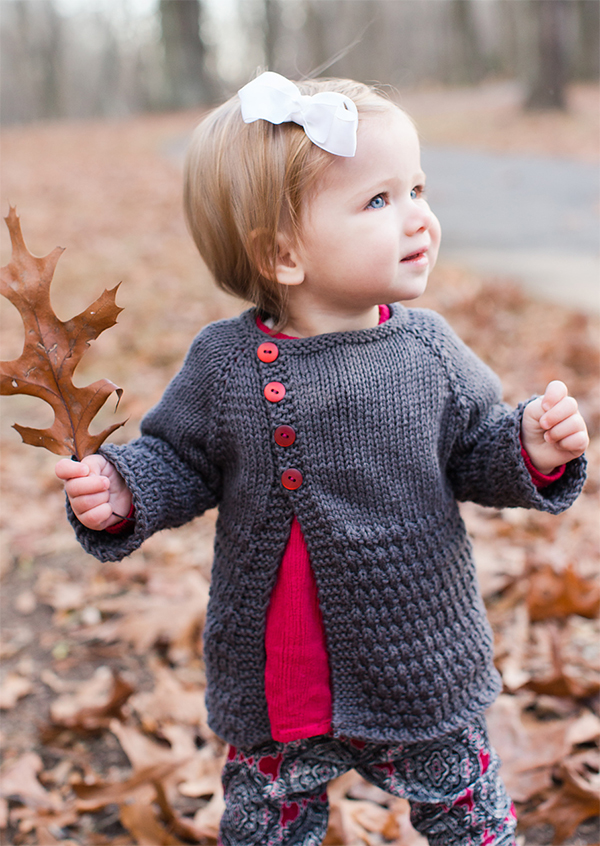 Offset Front Baby Cardigan
Long-sleeved sweater knit top down with an offset front. Sizes 0-3 months (3-6 months, 6-12 months, 12-18 months). Designed by Taiga Hilliard Designs. Worsted weight yarn. Pictured project by lisadoggett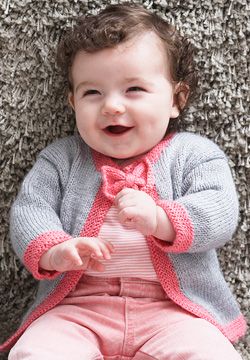 Bow Tie Baby Cardigan
This gets my vote for one of the cutest baby sweaters ever. Link for seaming video tutorial in PDF. Sizes 6 mos and 12 mos.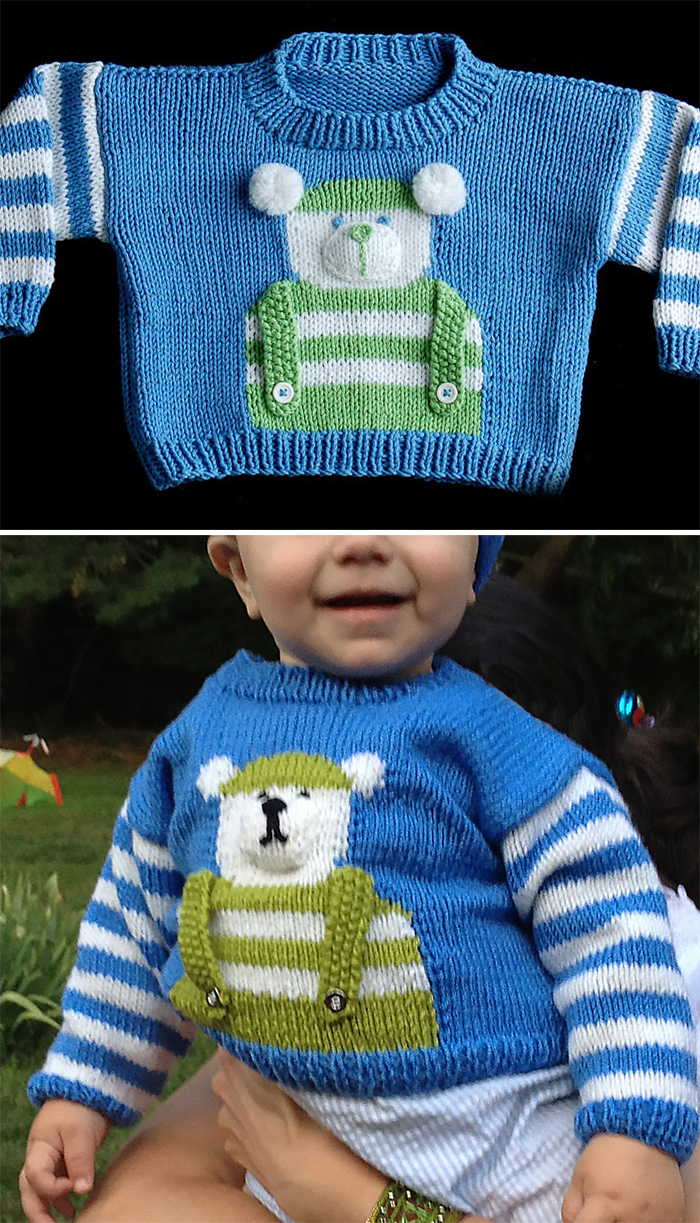 Bear Sweater
Long-sleeved pullover with a cute bear motif created with intarsia and additional pieces. Sizes 6, 12, 18 months. Designed by Amy Bahrt for Cascade Yarns. Pictured projects by the designer and mcshoppe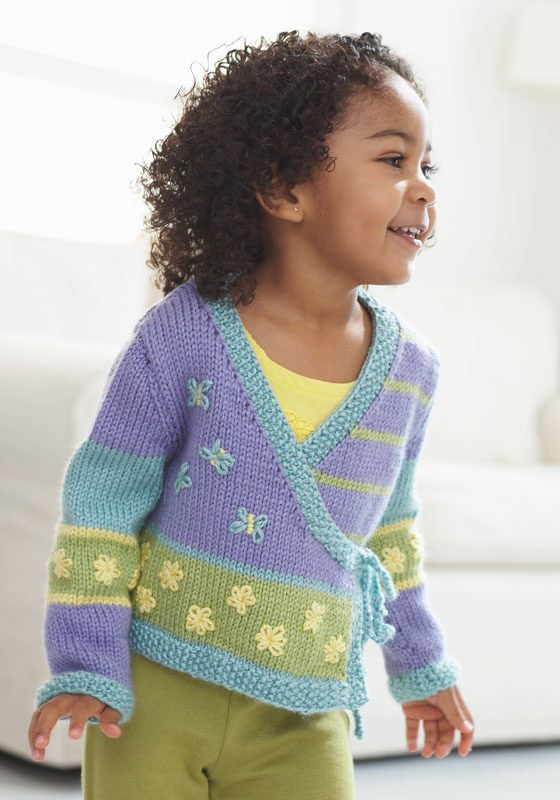 Nordic Kimono
Sweet little kimono with lovely flower and butterfly embroidery is a stylish gift for girls aged 2 – 6 years. Designed by Yarnspirations.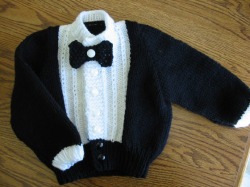 Lil Tux for Baby
Okay, maybe THIS is the cutest. Designed by Judy Lamb for 12 months (2 yrs, 3 yrs)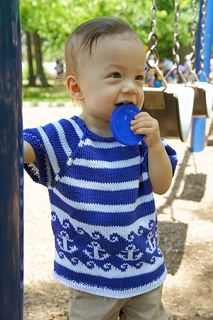 Anchors Aweigh Sweater
Size 12 mos.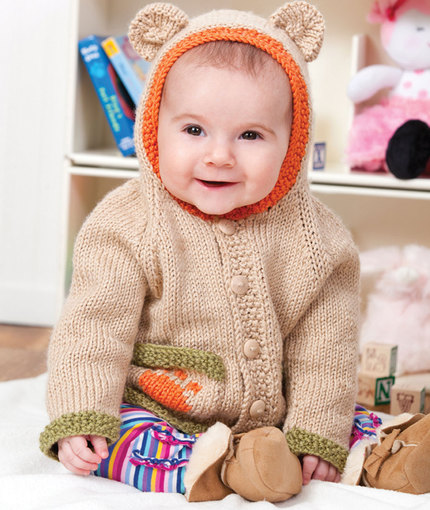 Baby Bear Hoodie
Finished Chest: 22″, including bands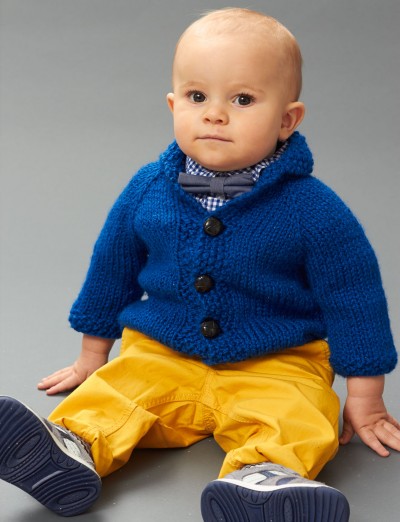 Little Gentleman Jacket
Sized for 12 and 18 months.
More Free Patterns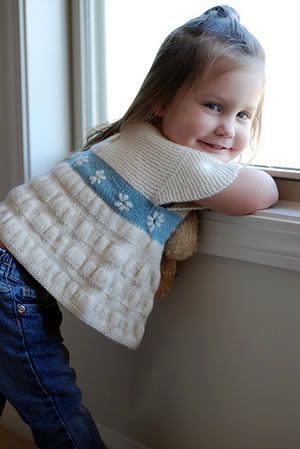 Tea Party Frock Sweater
This cute sweater is one of my most popular pins. Designed by Justine Turner for sizes newborn to 2 years.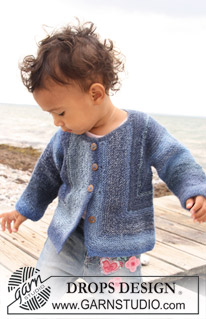 Garter Stitch Baby Cardigan
This is another one of my most popular pins and I can see why. Sizes 1/3 – 6/9 – 12/18 months (2 – 3/4 – 5/6) years
Get the yarn recommended by the designer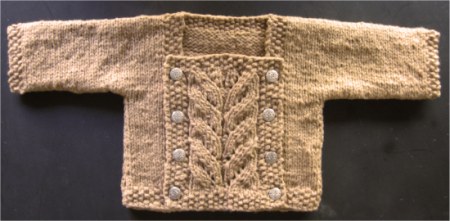 Presto Changeo Baby Sweater
This prize winning pattern by Valerie Wallis is sized for 6 (12, 24) months
Get the yarn recommended by the designer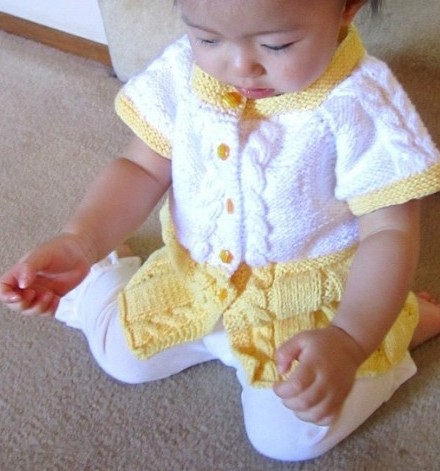 Seamless Top Down Baby Sweater
Sized for 12 – 24 months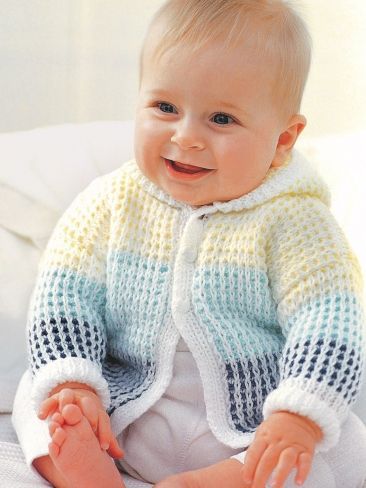 Hooded Cardigan
4 sizes from 0-24 months. Designed by Yarnspirations.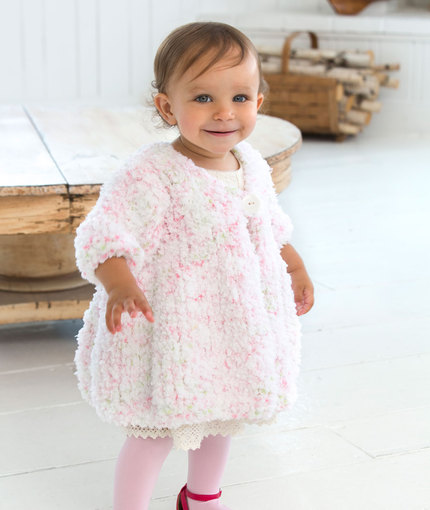 Baby Swing Coat
Sizes 12, 18, and 24 months.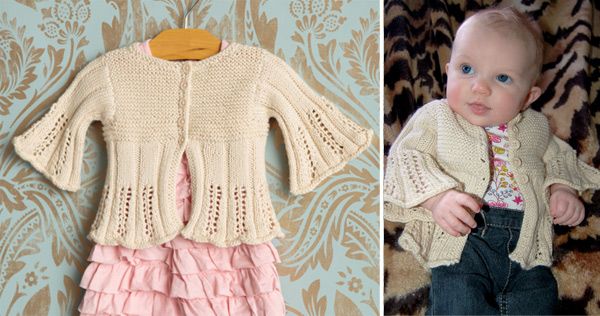 Canyon Baby Cardigan
Designed by Susan Mills for 3-6 (9, 12) months. Shown in size 3-6 months.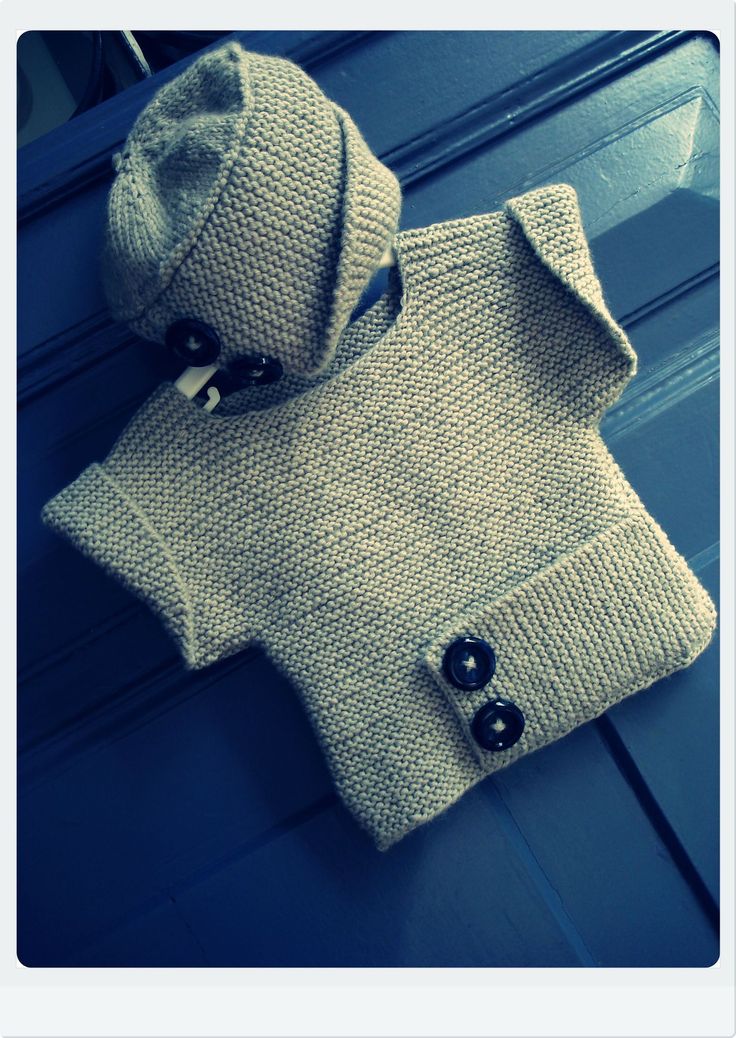 Le P'tite Mousse/The Little Garter
This simple sweater designed by Miss Grain de Sel is all in garter stitch. Note that the hat is a different pattern for purchase.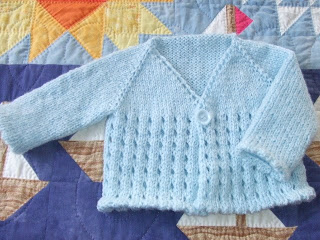 Baby Eyelet Cardi
Designed by Linda at Clickertyclick for a newborn, this cardigan is knit top down.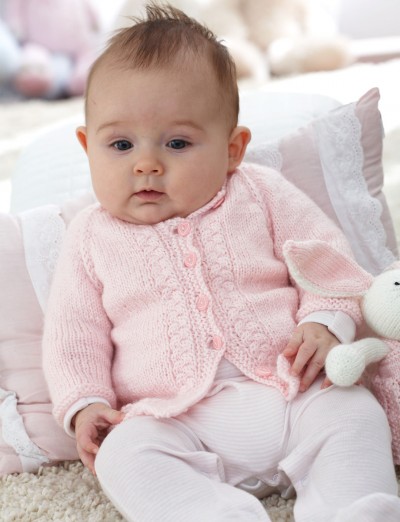 Top Down Vintage Cardigan
For babies and toddlers. Sized for 3 months through 18 months.
Patterns for Purchase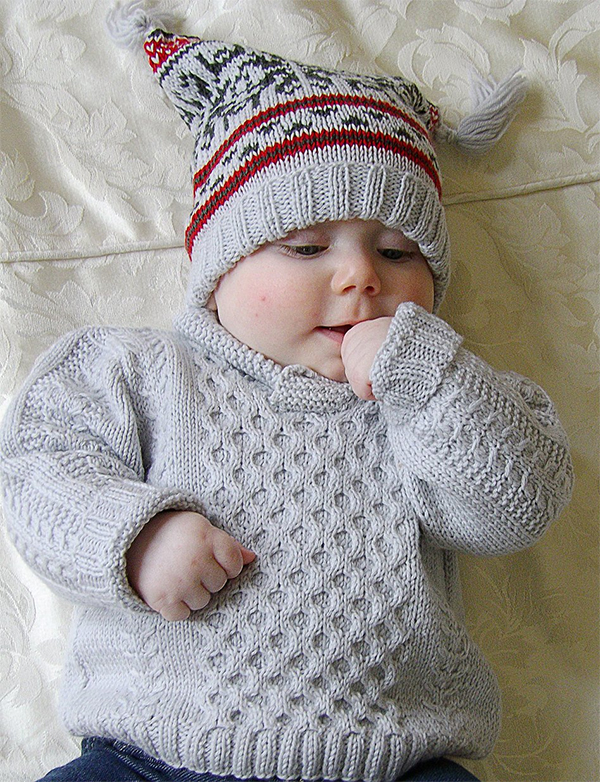 Baby Cable Sweater, Fair Isle Hat, and Booties
This fabulous little baby pullover has a very simple honeycomb cable pattern on the frnt, matching boots and jester style hat with a nordic fair isle pattern. Size SIZE - Approx. age 6 to 9 months. Designed by OgeDesigns. worsted weight yarn.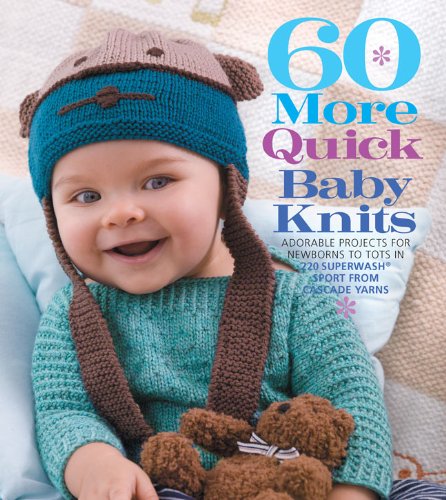 60 More Quick Baby Knits
Includes 21 sweaters as well as blankets, hats, sleep sacks, and more.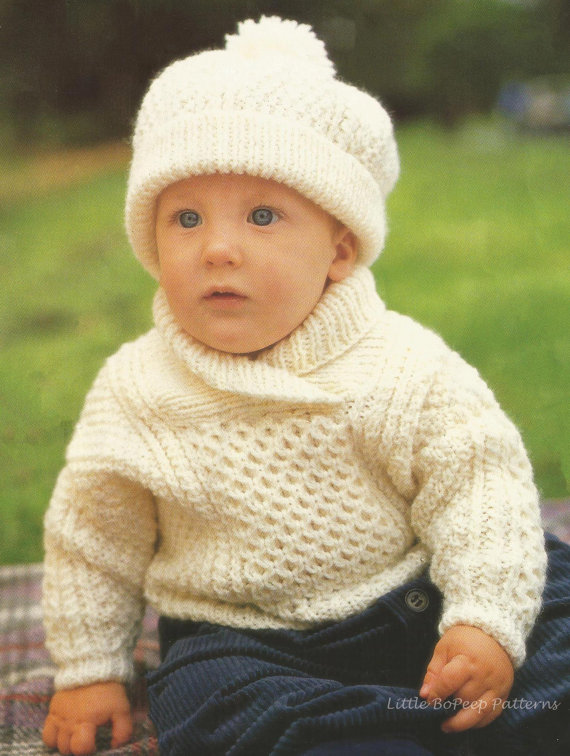 Baby Aran Sweater and Hat Set
In four chest sizes 18-20-22-24 inches (46-51-56-61cm)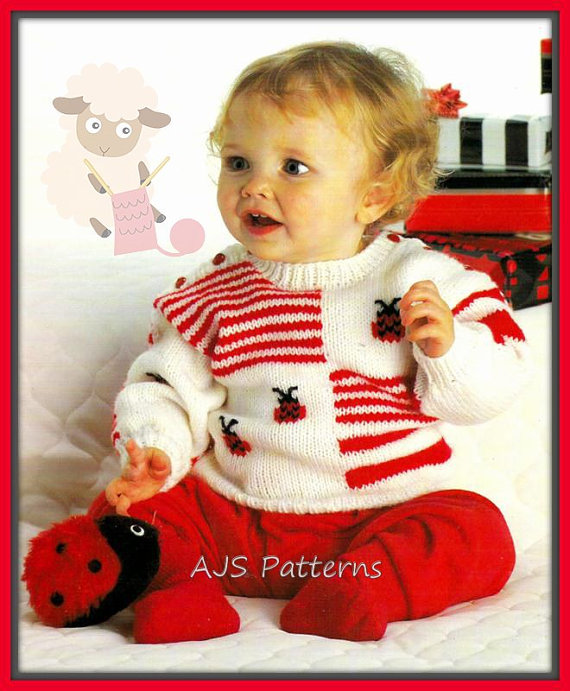 Little Ladybird Sweater
To fit chest sizes 19″ to 22″.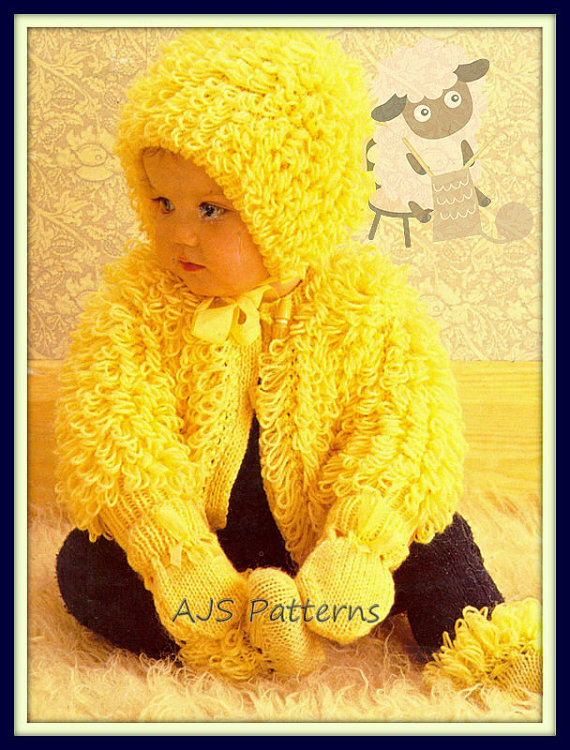 Loopy/Loop Stitch Jacket, Bonnet, Mittens, and Booties
Knit in DK wool and will fit Baby chest sizes 20″ – 22″.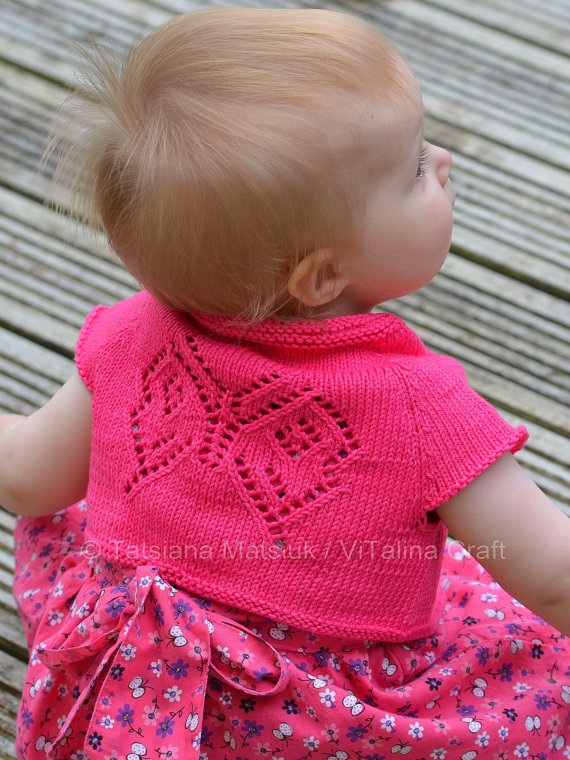 Papillon Bolero
This beautiful bolero is knitted bottom up as one piece with no seams. It has beautiful lace butterfly pattern on the back and raglan sleeves.
The pattern is written for seven sizes: 9-12 months; 12 – 18 months; 2 years, 3 – 4 years; 5 – 7 years, 8 – 10 years, 11 – 12 years.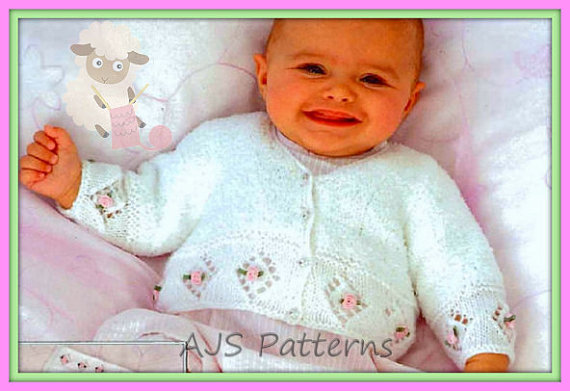 Rosebud Cardigan, Blanket, and Shoe Set
For sizes 16 – 26 inches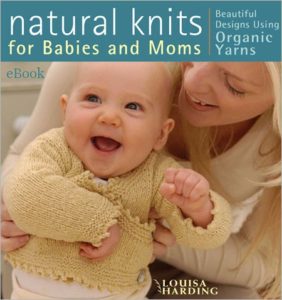 Natural Knits for Babies and Moms
21 irresistible baby projects using organic yarn (though other yarn can be substituted)