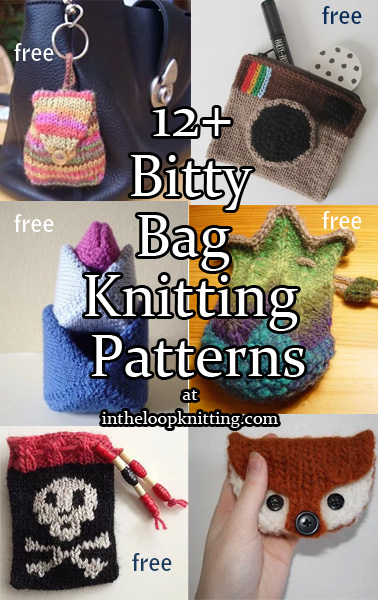 Knitting patterns for Bitty Bags, small purses just right for coins, cards, makeup, gifts, trinkets, and other essentials.
To get the knitting patterns, scroll down the page to the individual pattern you want and click on the link to that pattern.
These patterns are not my designs but links to other designers who have generously shared their patterns. If you have questions about how to knit a specific pattern, please contact the designer directly.
All links on this site are for informational purposes, but please note that some links are to affiliate sellers that pay me a small commission on purchases.
Free Patterns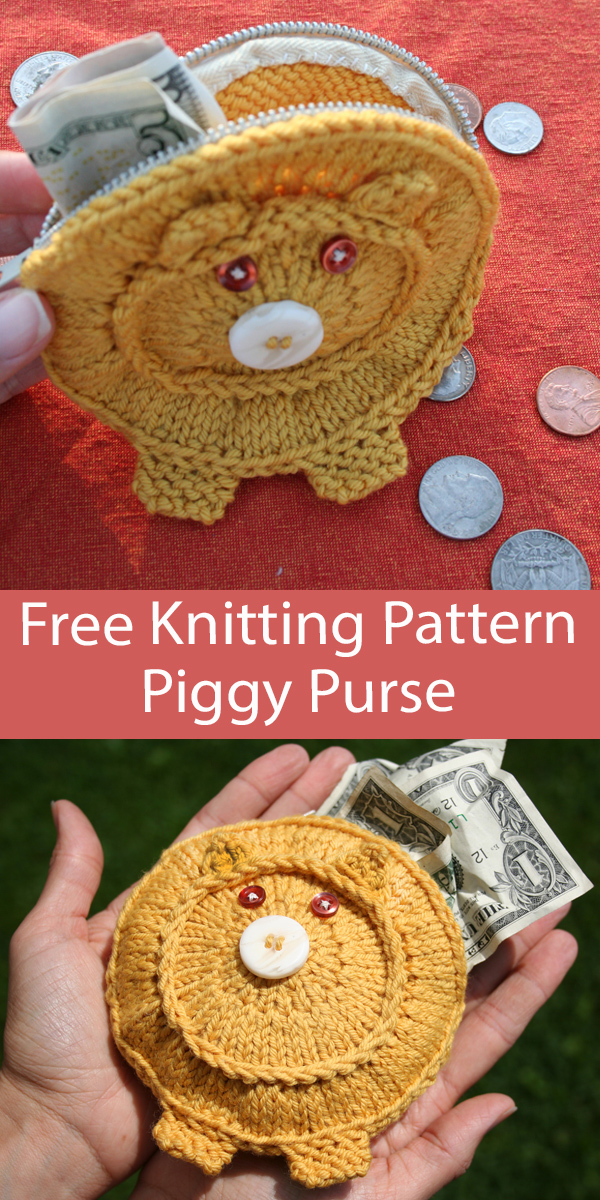 Piggy Purse
Small circular pouch or coin purse shaped like an adorable pig. Aran weight yarn. Designed by Amanda Lilley for Cascade Yarns.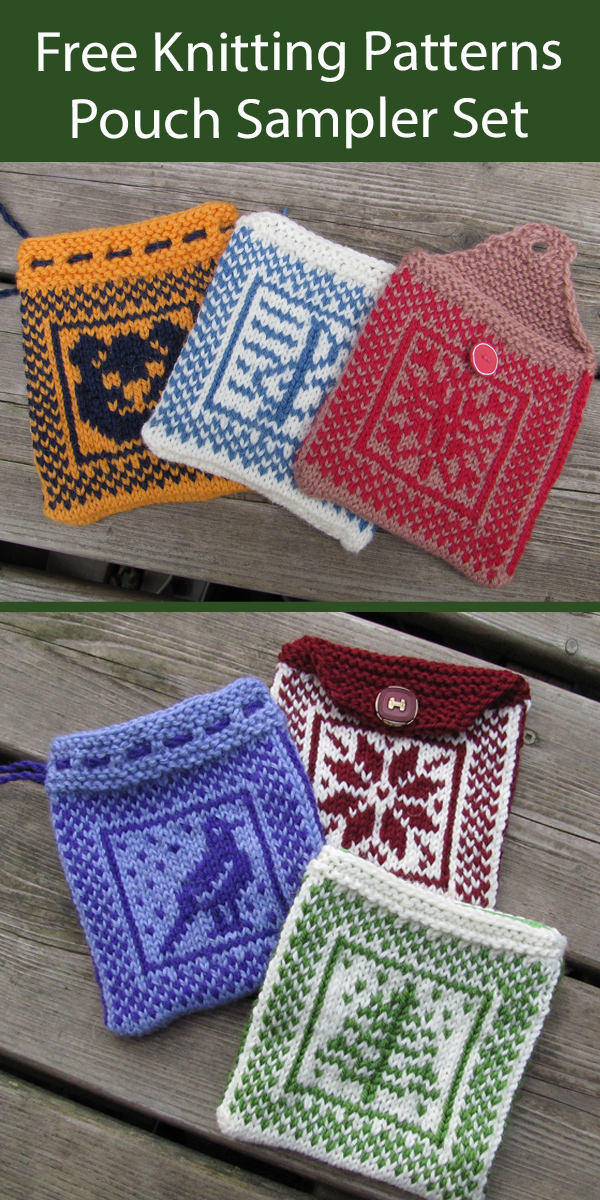 Sampler Pouches
Small pouch in stranded knitting with different closing options such as drawstring, button flap, or open top. 6 different designs including music treble clef, tree, snowflake, nordic flower, bear, bird. Great for small holiday gifts, gift cards, or treats. Great introduction to stranded knitting. Worsted weight creates a pouch of 5 inches square, but you can change yarn and needle size to obtain another size of pouch. Designed by Isabelle Allard.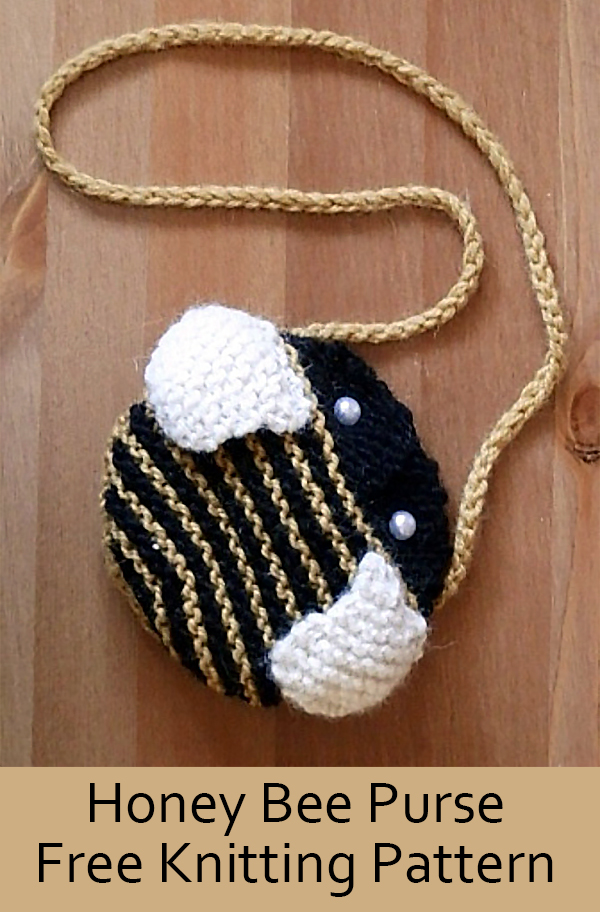 Honey Bee Purse
Adorable small pouch. Designed by Mercy Lambert. Worsted weight yarn.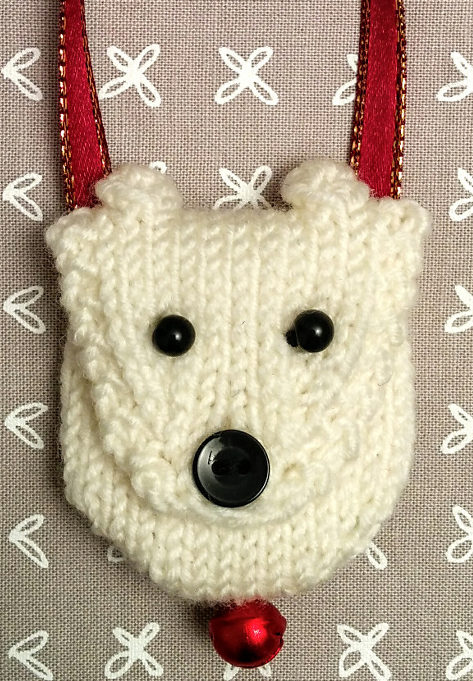 Polar Bear Pouch
This little bag is 5 cm (2″), just large enough to hold small necessities or a small gift. Designed by Barbara Prime of Fuzzy Mitten.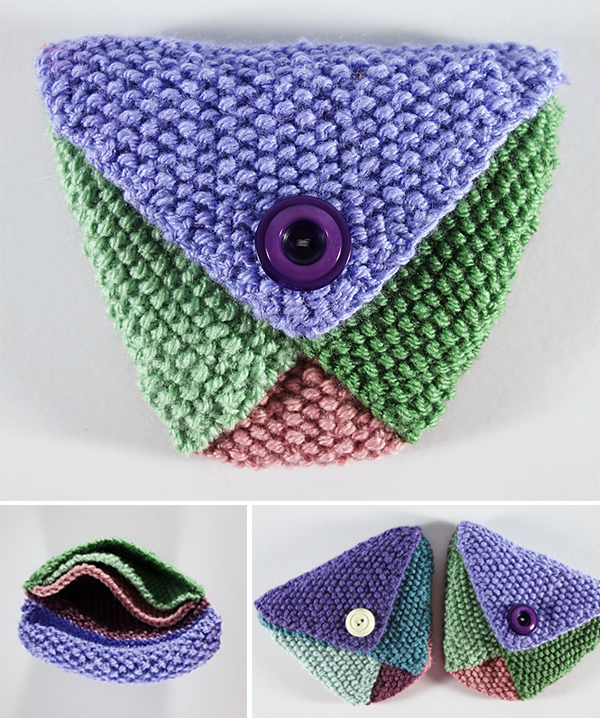 Patchwork Purse
This ingenious purse is based on an origami design and is made up of five simple pieces knit in moss stitch. The finished purse is about 12.5 cm wide and 10 cm tall and has three separate pockets. One purse can be knitted with about 25 - 30 g of DK weight yarn. Designed by Frankie Brown.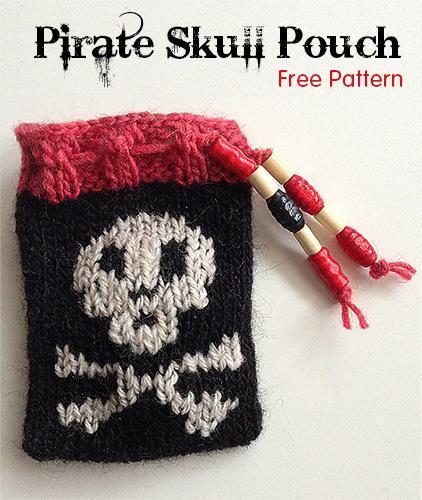 Pirate Skull Pouch
Put your treasures in majapi's bag with skull and crossbones duplicate stitch.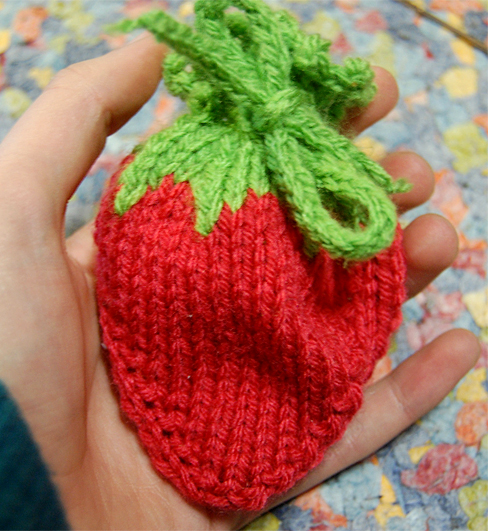 Fruit Pouch
Kate Buchanan designed this strawberry bitty bag measures approx 7cm x 10cm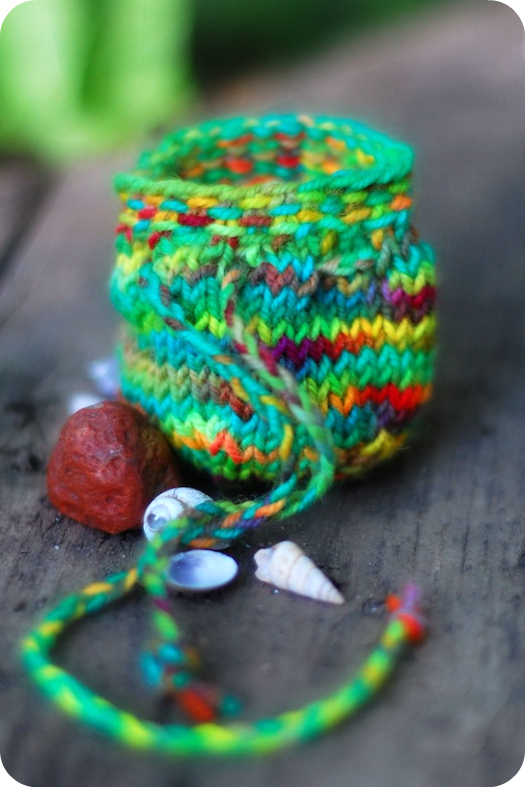 Treasure Pouch
These easy pattern from The Sitting Tree is about 2″ tall. Great with multi-color yarn!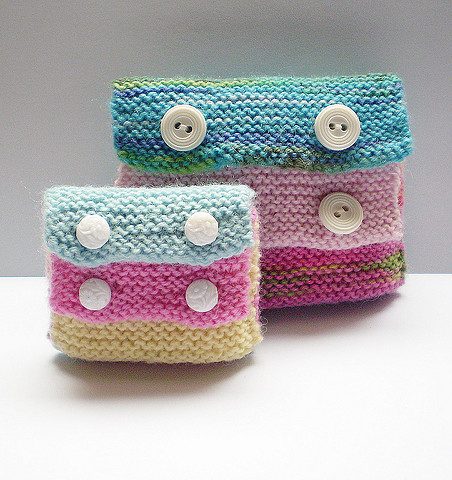 Two Pocket Purse
Frankie Brown designed this purse with two flaps hiding two front pockets. The bag comes in two sizes 6.5 x 5 cm and a 10 x 8 cm.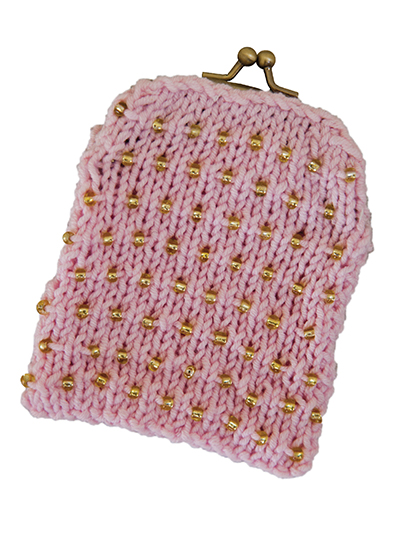 Beaded Coin Purse
Designed by Candi Jensen this purse is approx 3 1/2 x 4 3/4 inches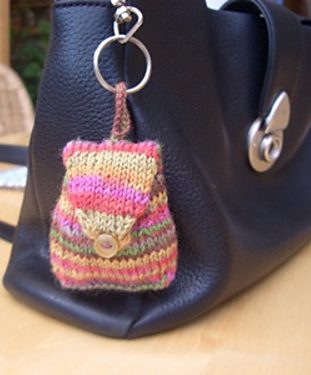 Rucksäckchen à la Susie
Wintogreen designed this cute little rucksack that can be conveniently attached to a keyring or purse ring. Available in English and German. Great stash buster!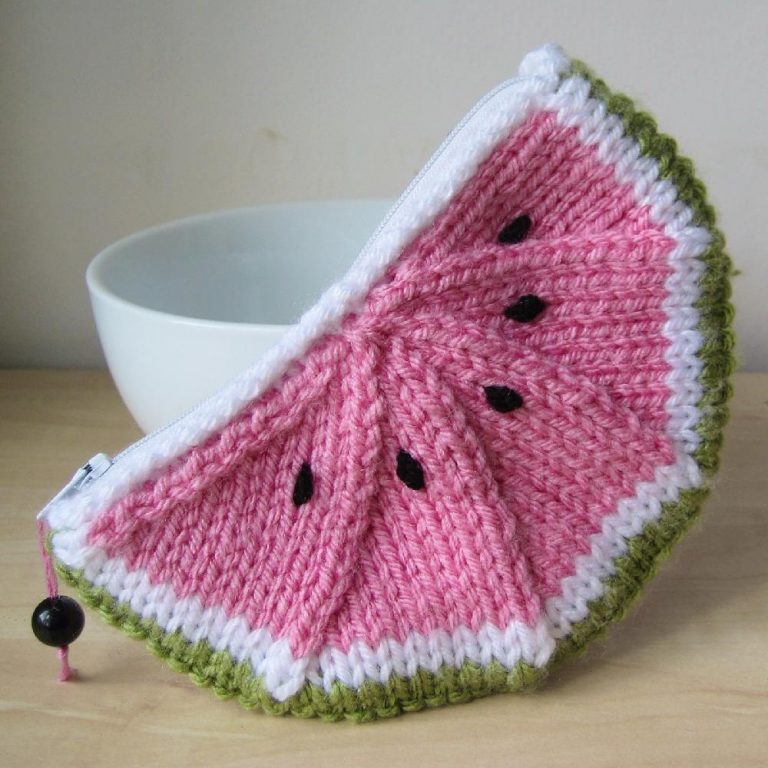 Watermelon Purse
Amanda Berry's cute zippered coin purse knits up quickly in chunky yarn. The finished purse is 16.5cm wide at the top, and 10cm deep.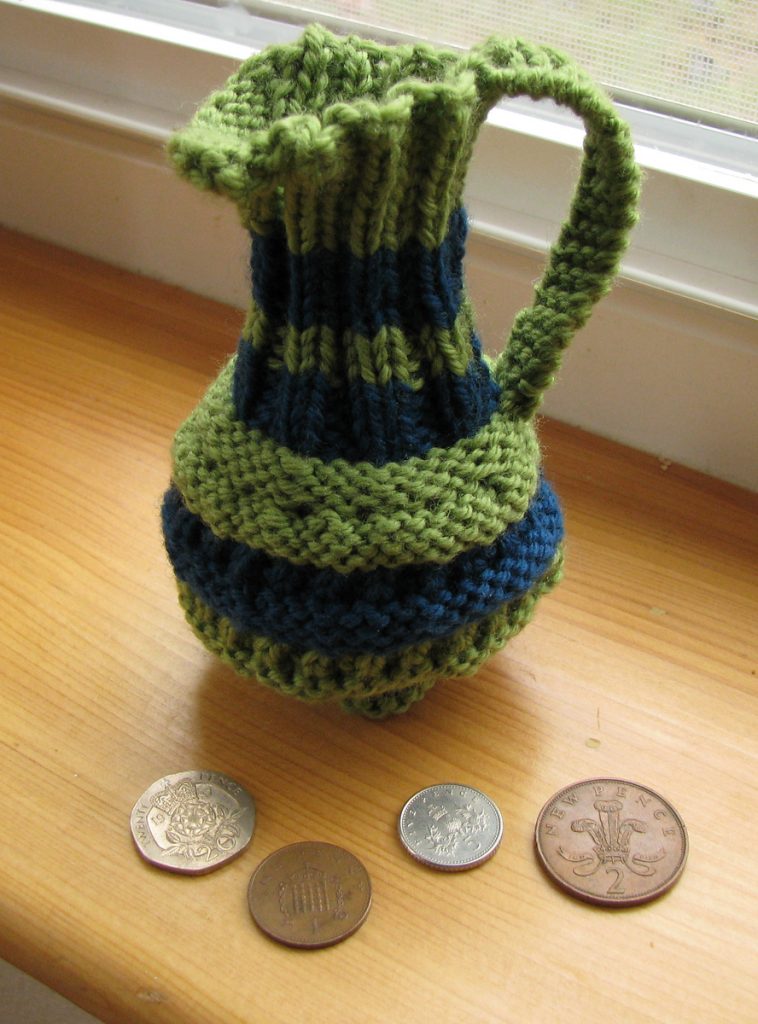 Pence Jug Coin Purse
Popular in the 19th century, pence jugs were coin purses shaped like a miniature water pitchers. Franklin Habit translated and modernized this pattern from the 1843 edition of Frances Lambert's best-selling My Knitting Book for present-day knitters. You can also use as a gift bag. A great stashbuster! Pictured project by theknittingmama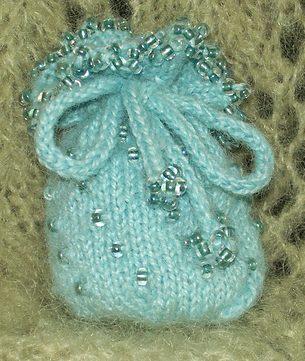 Beady Little Bag
Designed by Marji Yarncrafts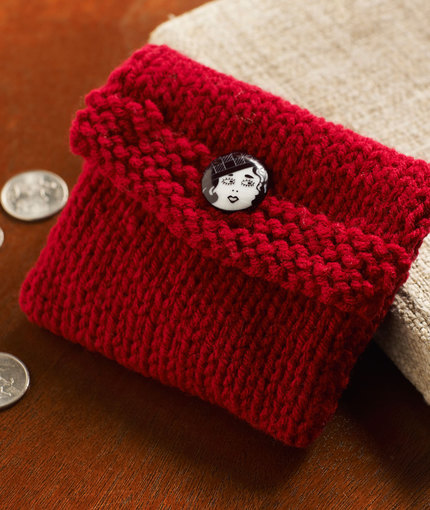 Change Purse
Bobbi Anderson's easy beginner project for Red Heart is perfect for coins, stitch markers, or any little treasures. Perfect stash buster or one skein project! Make it special with a decorative button.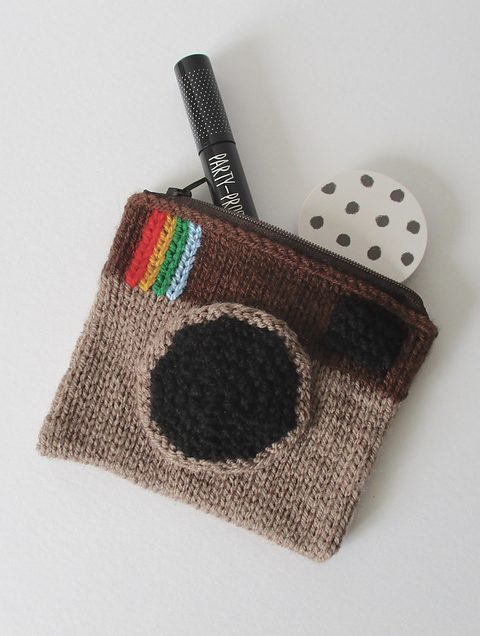 Camera Purse
Amanda Berry's Instagram inspired bag is 14cm wide and 12cm tall.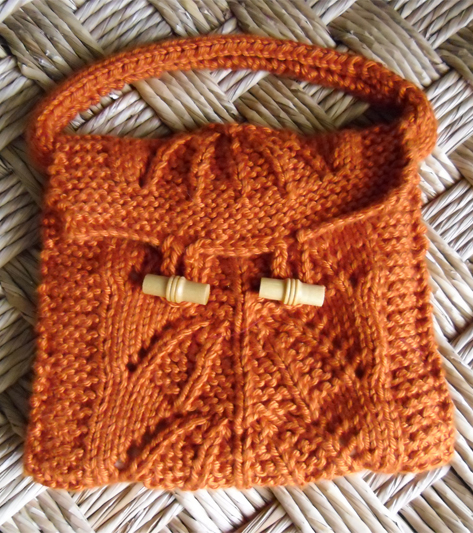 Little Knitted Pouch
Knitted Creations' lace pouch is worked flat, then lined and sewn up. It is large enough to hold craft tools, manicure accessories, and other small items. Pictured projecty by pixikidz71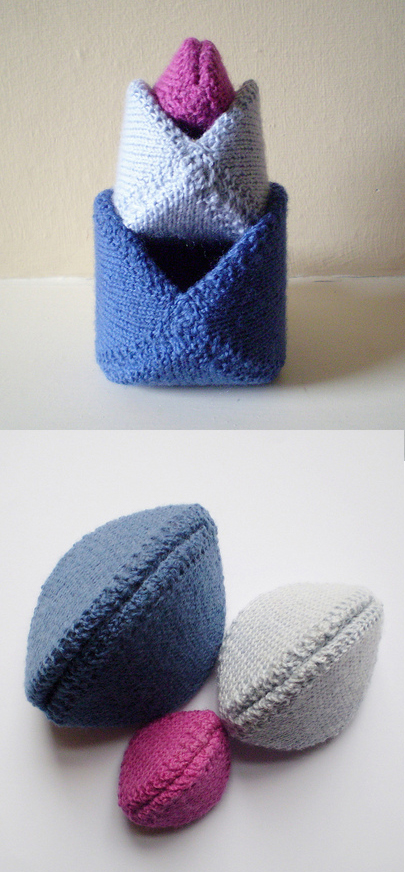 Snapdragon Purse
These tiny coin purses by Frankie Brown are small, three sided purses which snap open when the pointed ends are pressed. Three sizes. Frankie does ask that you consider consider making a donation to the Children's Liver Disease Foundation, at www.justgiving.com/frankiesknittedstuff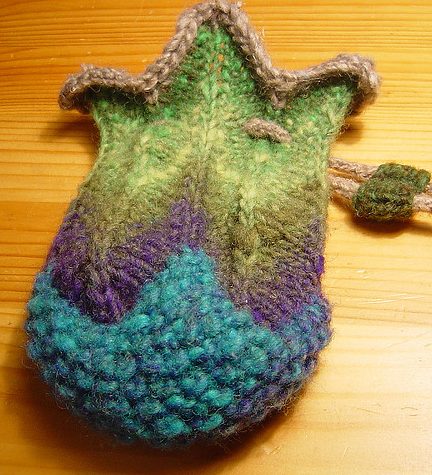 Deep Sea Flower Bag
Nina Nyland designed this as dice bag but it's pretty enough for any use. Available in English, French, Spanish, and Portuguese.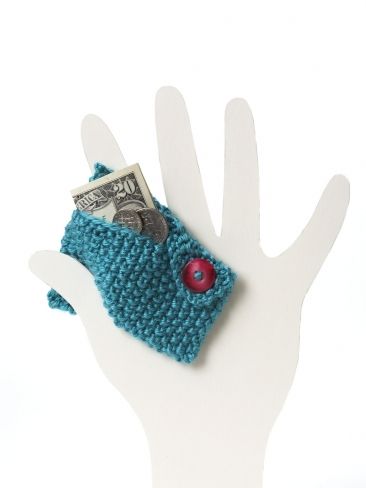 Coin Purse
Quick knit and great beginner pattern from Yarnspirations.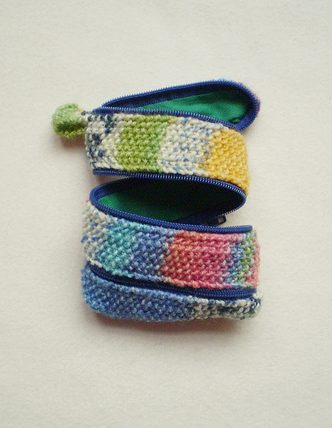 Zippy Strip
Frankie Brown designed this strip of knitting that ingeniously zips up into a coin purse. Great stash buster!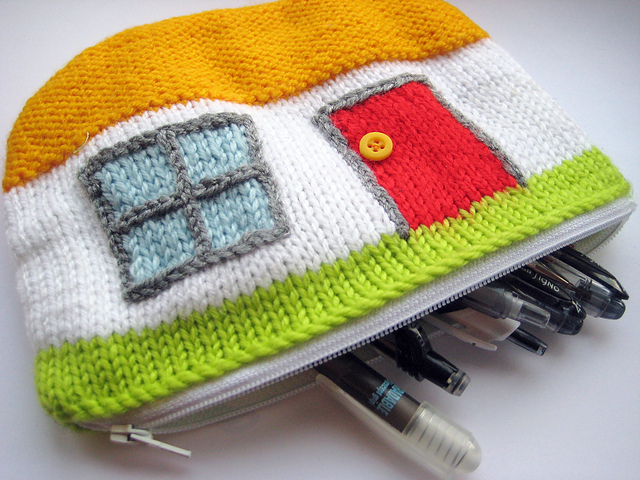 Cottage Case
Amanda Berry designed this cute zippered case that can be used to hold pens and pencils, cosmetics, and more. Approximately 18.5cm wide and 14cm high. Great quick gift!
Patterns for Purchase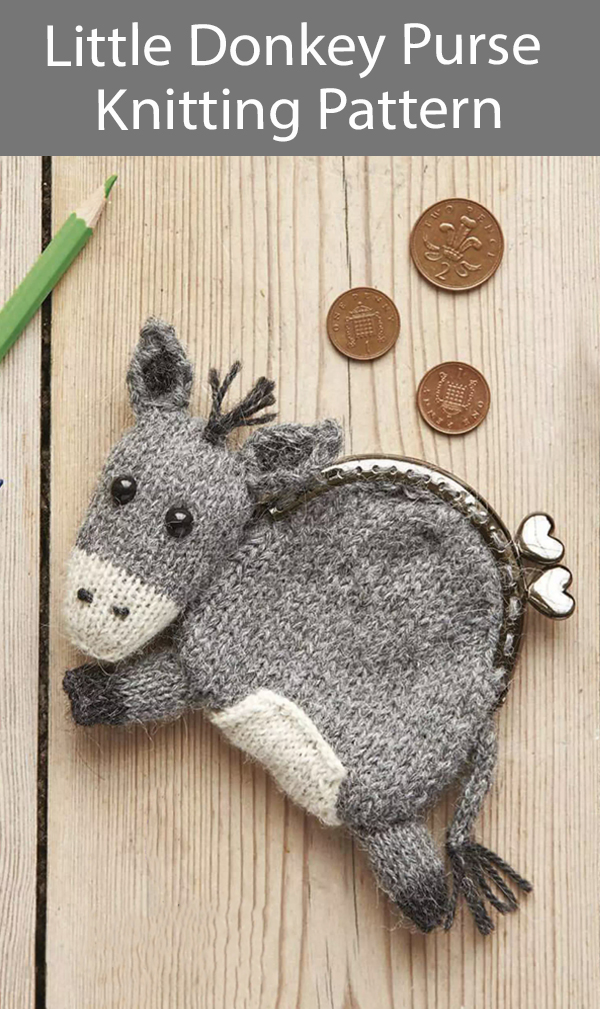 Little Donkey Purse
Small purse for change and other small objects shaped like a donkey. With only a handful of small pieces to make and some simple sewing up to do at the end, this would be a fun project for a weekend. Finished size is approx. 12cm x 12cm Designed by Jane Burns.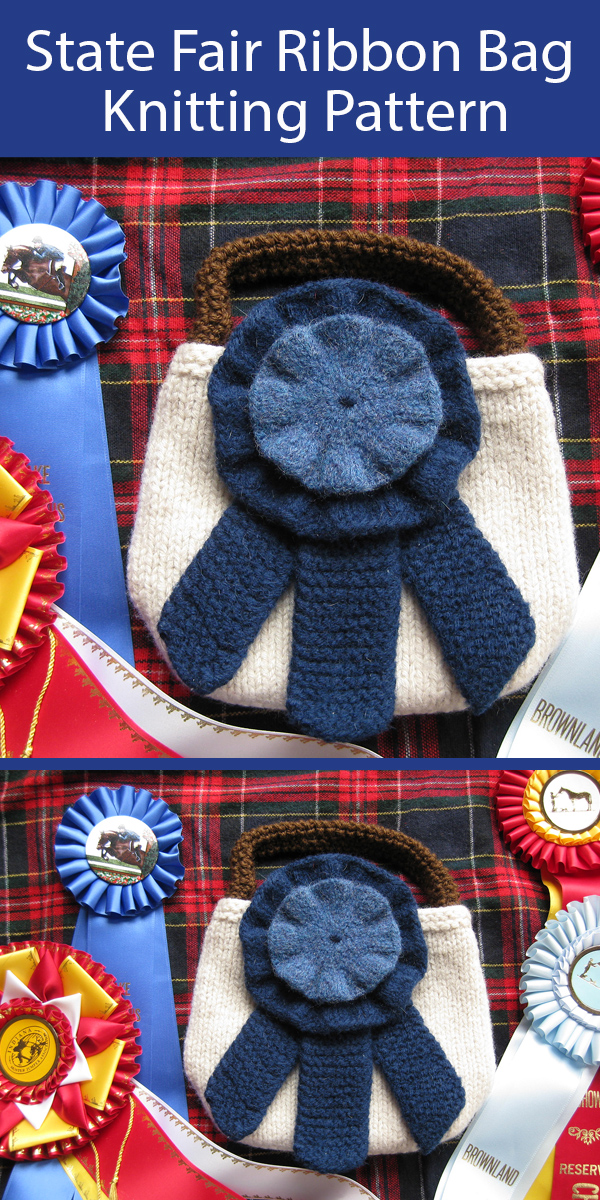 State Fair Ribbon Bag
Let someone know they are first prize in your book! The blue ribbon actually forms the closure for the bag. The blue ribbon can also be knit separately and awarded without the bag. Designed by Sarah Burton. Worsted weight yarn.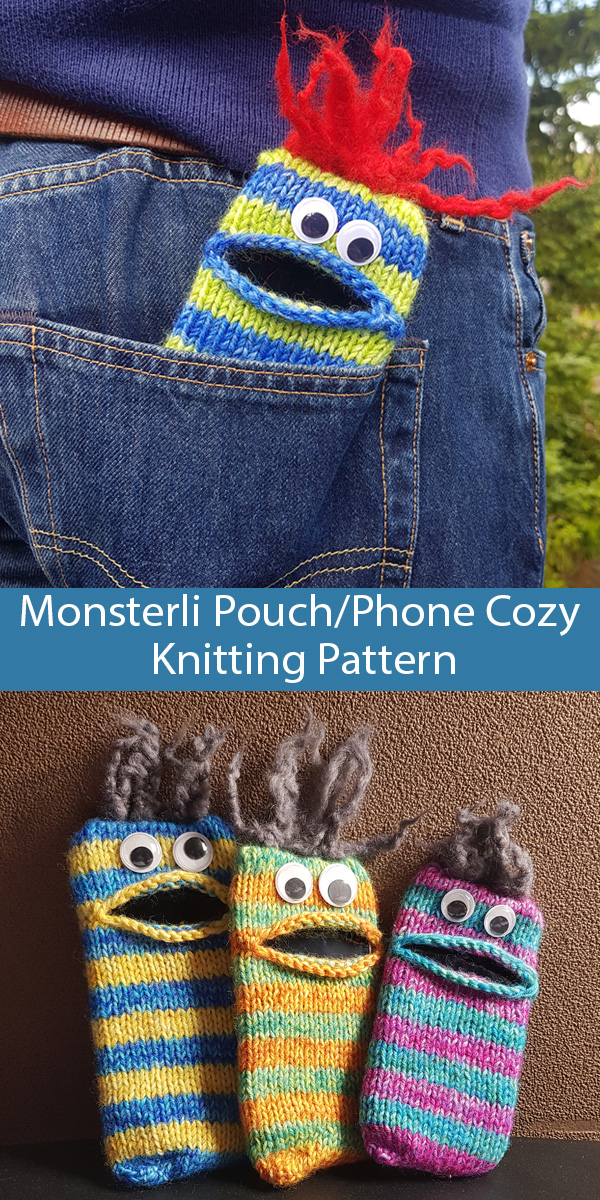 Monsterli Pouch or Phone Cozy
This colorful monster pouch is perfect for carrying mobile, a packet of tissues, or a pack of pills, or whatever threatens to vanish in the depths of a bag or pocket. Great stashbuster! 3 sizes. Available in English and German. Designed by Bianka Schlang. DK weight yarn.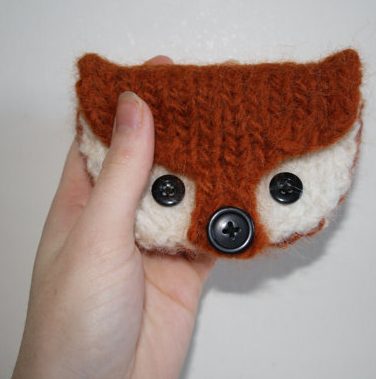 Fox Coin Purse
Designed by OwlPrintPanda, this mini fox is just the right size for your cards and coins (approx 4 x 3 1/2 inches).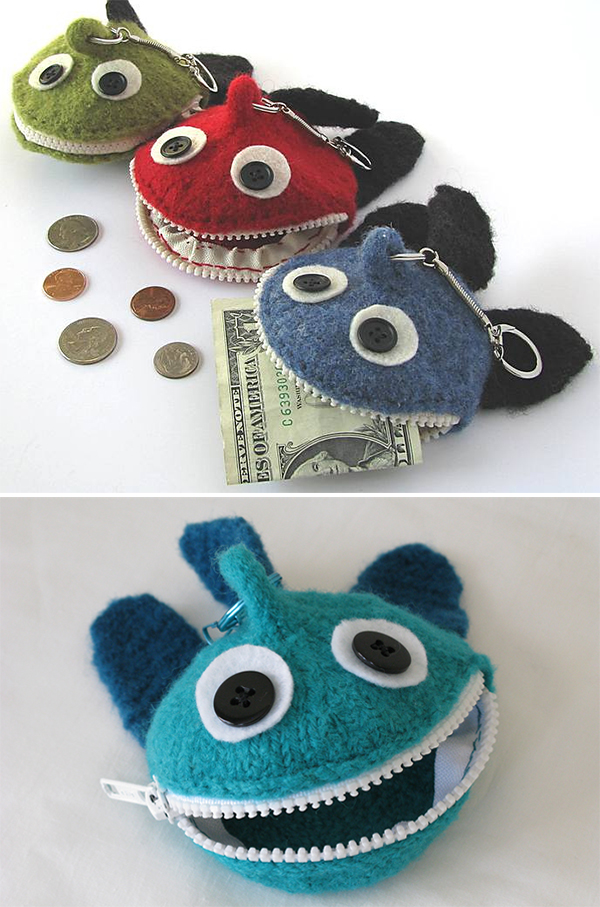 Monster Fish Coin Pocket
Small felted change purse designed to look like a fish with a zipper mouth and teeth. Designed by Nikki's Studio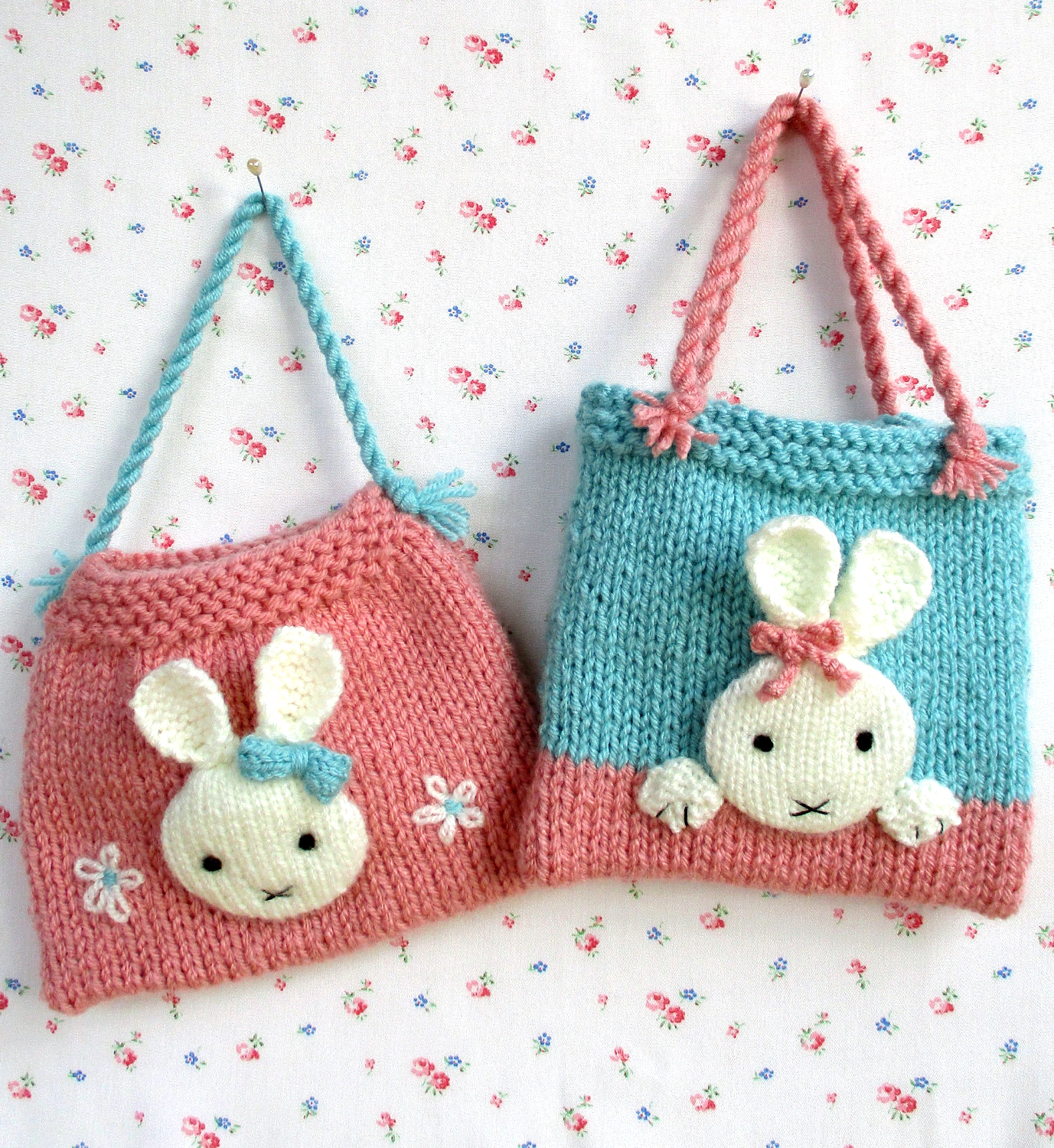 Bunny Bags
These adorable bags are just the right size for treats or toys at 17cm (6.7in) x 15cm (6in).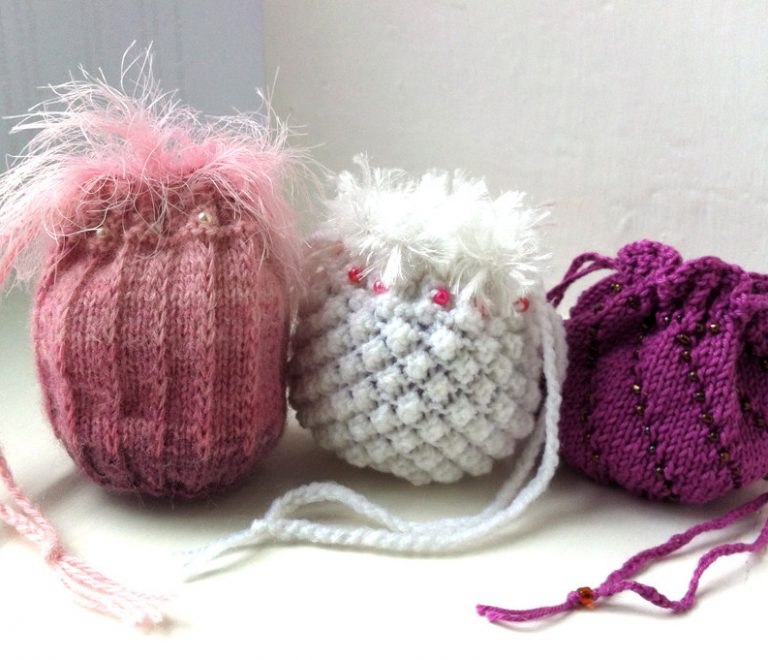 Keepsake Bag Trio
Designed by Knitting Revolution, this set includes patterns for 3 different bitty bags, each 2-3 inches high. Great for gifts and wedding favors.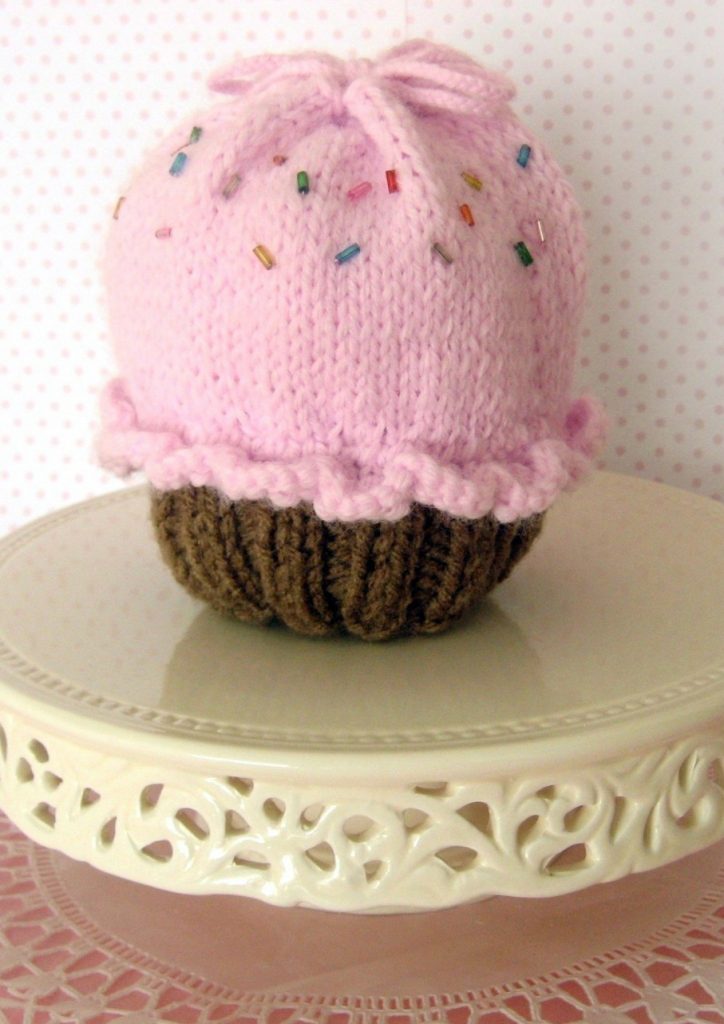 Little Cupcake Purse
This sweet little bag by Amy Gaines has a drawstring close in the icing. Almost 5 inches tall and over 4 inches wide.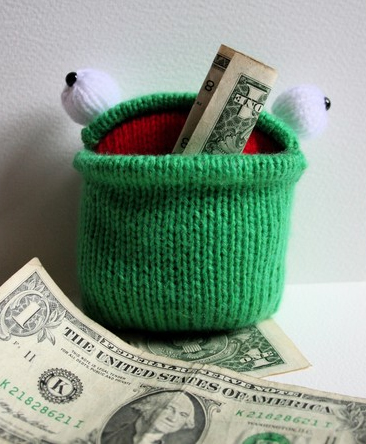 Pocket Frog
Pocket ouch by ButterflyLove to hold valuables on the go or sit on your desk to hold paper clips or rubber bands.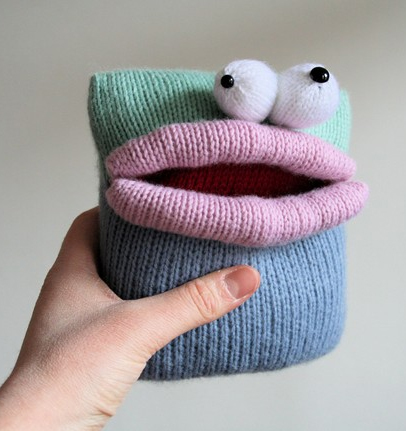 Square-Bellied Monster
This cute pouch by ButterflyLove has room in its stomach for your treasures.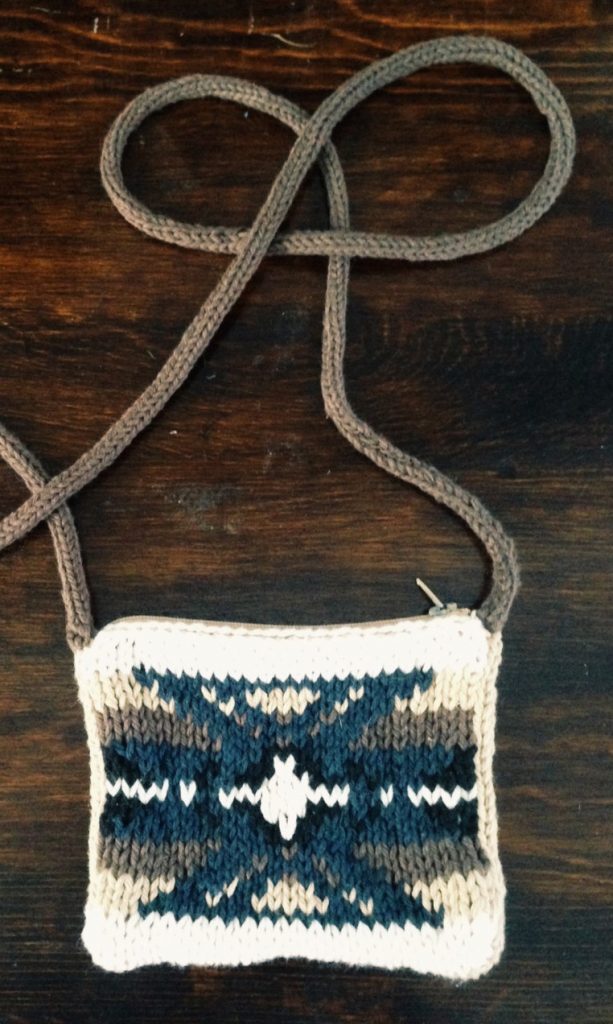 Navajo Purse Cross Body Zip Top Change Purse
This mini purse by Two of Wands is 5.5"/14cm x 4.5"/11.5cm