<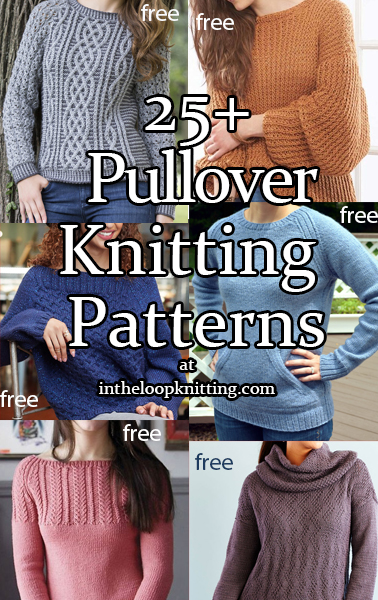 Sweater patterns for a variety of skill levels, including easy.
To get the knitting patterns, scroll down the page to the individual pattern you want and click on the link to that pattern.
These patterns are not my designs but links to other designers who have generously shared their patterns. If you have questions about how to knit a specific pattern, please contact the designer directly.
All links on this site are for informational purposes, but please note that some links are to affiliate sellers that pay me a small commission on purchases.
Free Patterns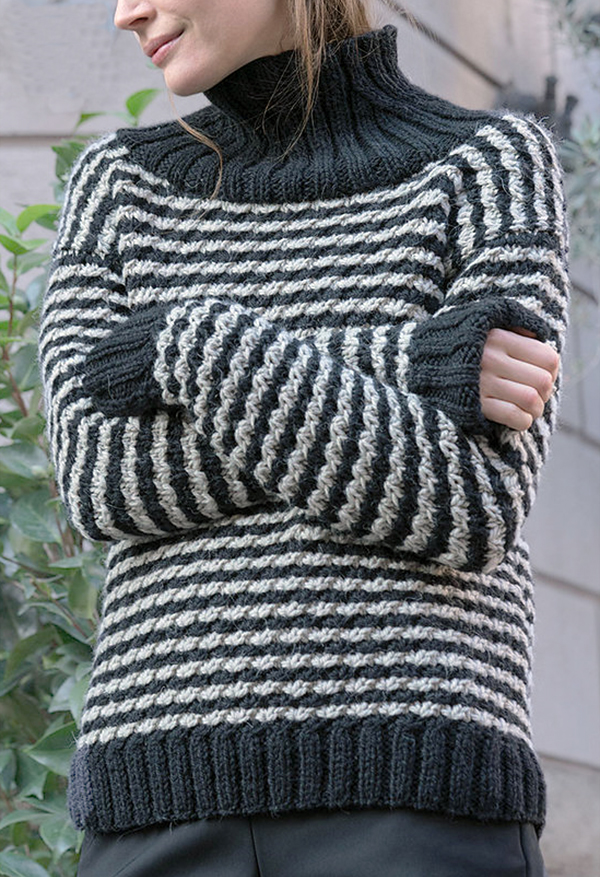 4 Row Repeat Abbraccio Sweater
Long sleeved pullover knit with a 4 row 2 color repeat Shell Stitch with ribbed collar and cuffs. Sizes Small, Medium, Large, X-Large, and 2X-Large. Quick knit in bulky yarn. Rated easy by the Red Heart Italian Story Design Team.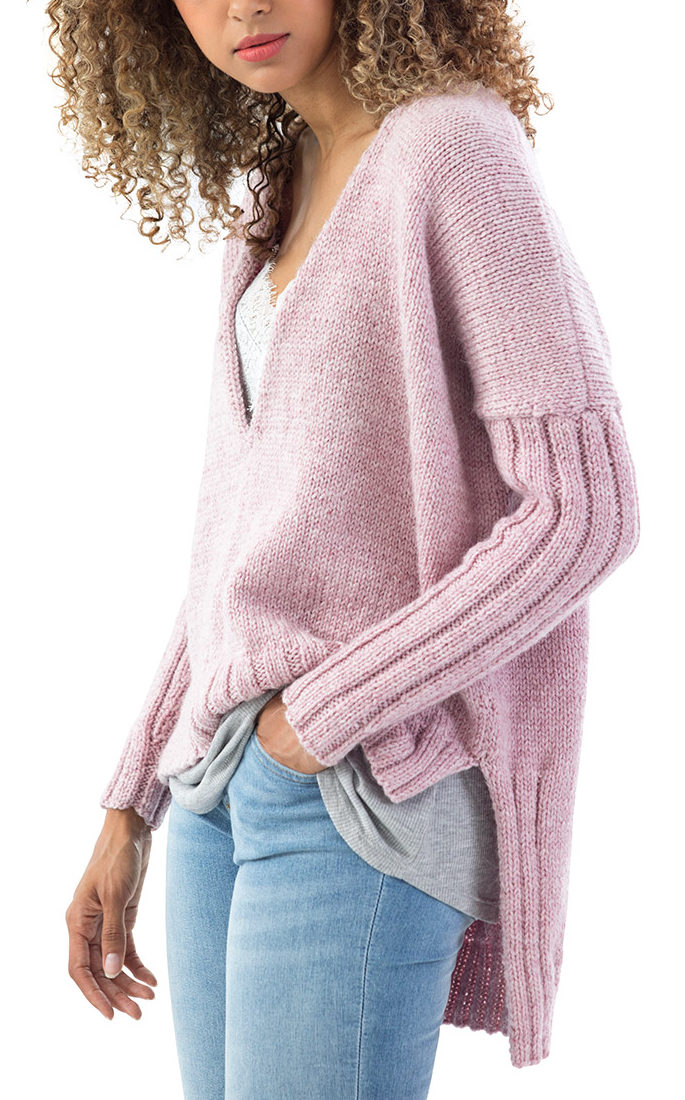 Cedar Hill Pullover
This long-sleeved sweater features ribbed sleeves and high low hem with stockinette body and v-neck. 4 pieces. Uses US size 8 and 7 needles and 1215 yards of worsted weight yarn. Sizes S/M (L/XL, 1X/2X). Designed by Michaels and Lion Brand.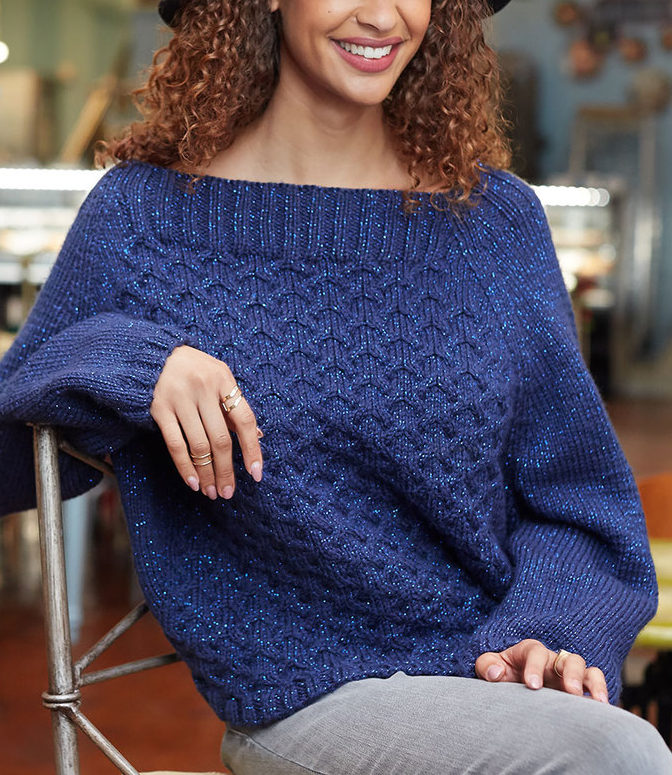 8 Row Repeat Cable Sweater
Dramatic oversized long sleeved pullover with wide ribbed boat neck and overall cable pattern with just 2 rows of cable and 6 of stockinette in the repeat. Sizes XS, Small, Medium, Large, X-Large, XX-Large, and XXX-Large. Designed by Merri Fromm for Red Heart.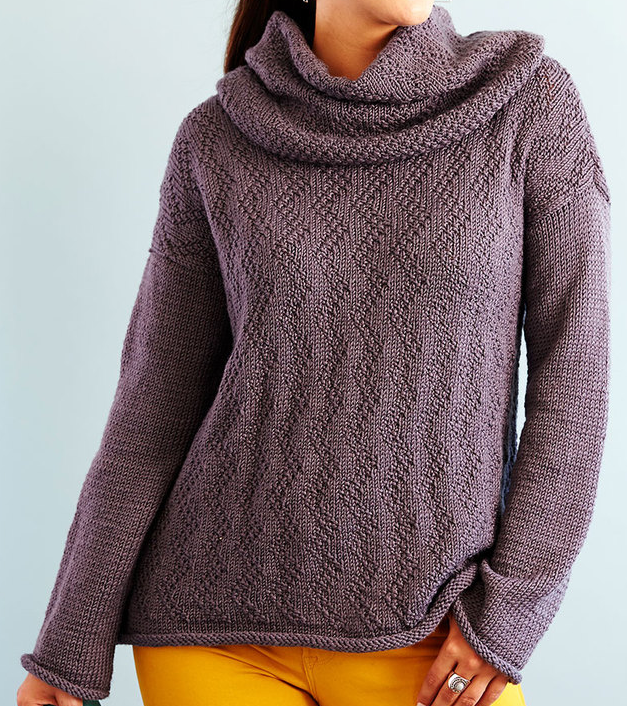 Feather Chic Sweater & Removable Cowl
This long-sleeved pullover is knit with a zigzag moss stitch and has a rolled stockinette neck, hem, and cuffs. A matching cowl means you can change the neckline style to fit your mood or the weather. Sizes XS, S, M, L, XL, 2X, and 3X. Designed by Marly Bird for Red Heart.

Wheat-Ear Cable Yoke Sweater
This long-sleeved raglan pullover features a sleek bodice and sleeves tthat flow into a yoke of delicate cables – a two-stitch twist alternating with a seven-stitch wheat ear. Finished Size 35 (40, 45, 50)" bust circumference. One of the patterns in the free ebook The Art of Cable Knitting: 7 Free Patterns. Designed by Pam Allen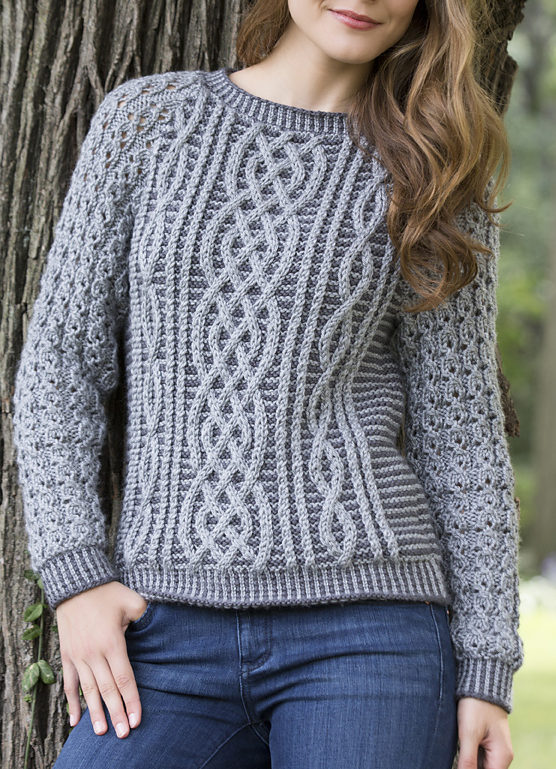 Two Tone Cable Sweater
This long-sleeved pullover uses a lighter shade of yarn for the cables to make them stand out. Sizes small – XX large. Designed by Heather Lodinsky for Red Heart.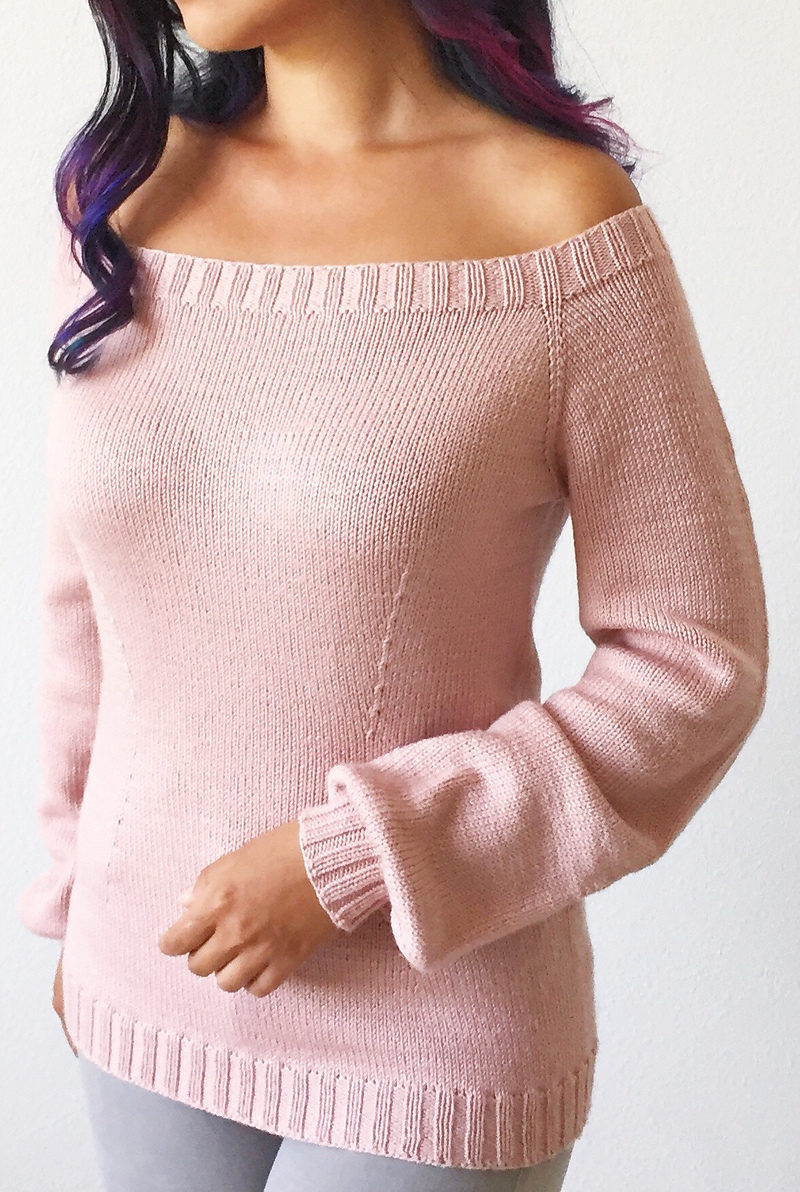 Forever April Sweater
Fitted long sleeved pullover with off the shoulder neckline shaped with short rows. Sizes S (M,L) – bust 32.5"/82cm (36"/92cm, 40"/101cm) Designed by Life Is Cozy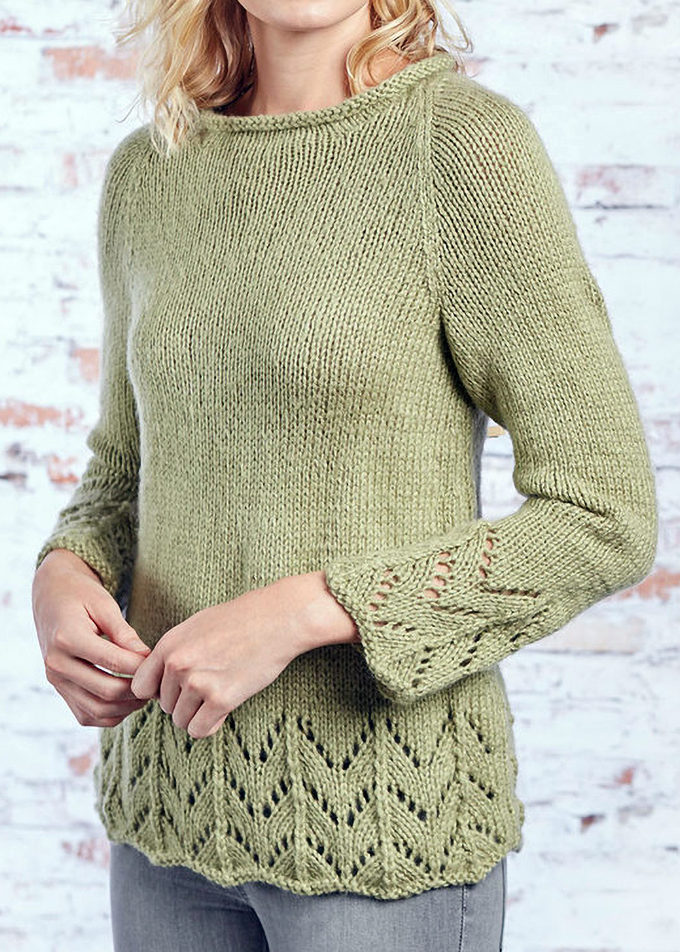 Fluted Lace Pullover
An 8 row repeat lace border at the hem and cuffs adds flair to this long sleeved pullover. Sizes Small, Medium, Large, X-Large, and 2X-Large. Quick knit in bulky yarn. Designed by Jodi Lewanda for Red Heart.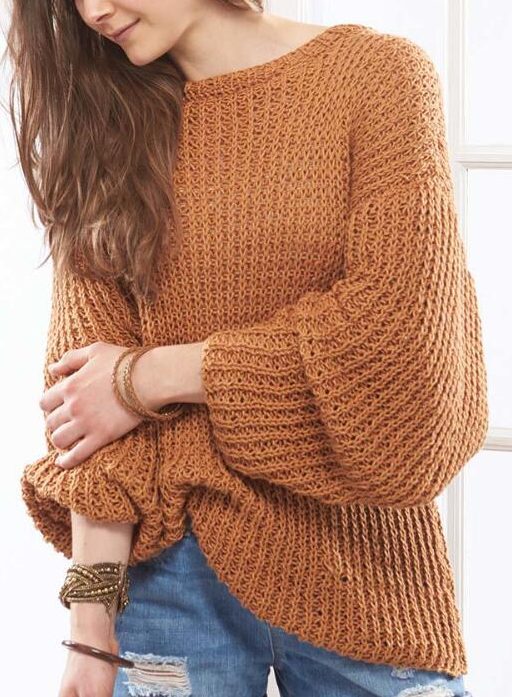 Sandbar Pullover
This looks super comfy! Knit with a 4-row repeat tuck stitch pattern, this long-sleeved oversized pullover perfect for cool summer nights. Sizes: Extra Small (Small, Medium, Large, 1X). Designed by Rae Blackledge for Willow Yarns.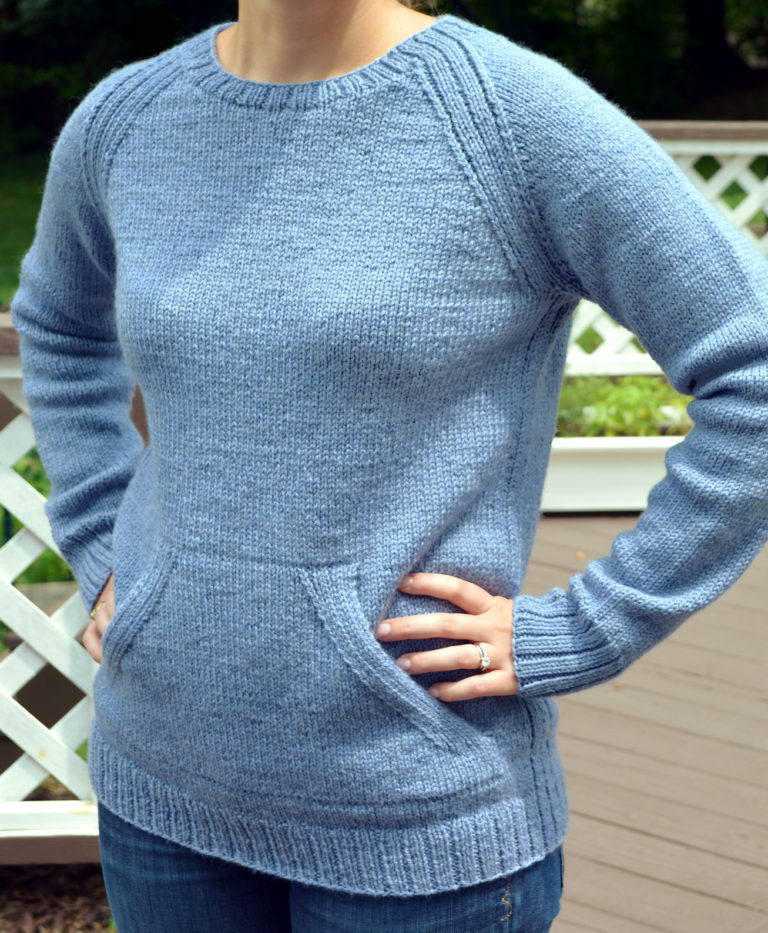 Sweatshirt Sweater
Purl Soho designed this gender-neutral long-sleeved pullover inspired by classic sweatshirt style with front kangaroo pockets. Great for layering or wearing on its own. X-Small (Small, Medium, Large, X-Large). Pictured project by comblitz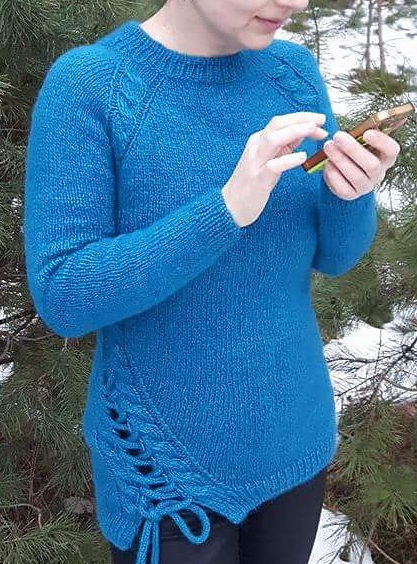 Split Ends Pullover
This long sleeved sweater features figure-flattering cables that start at the neckline and curve to follow the seams with the acorset-style tie slit on one side. Designed by Nataliya Polyakov for Melody's Makings, this sweater is free if you share the blog post. Extra Small, Small, Medium, Large, Extra Large. Pictured project by JuneJuly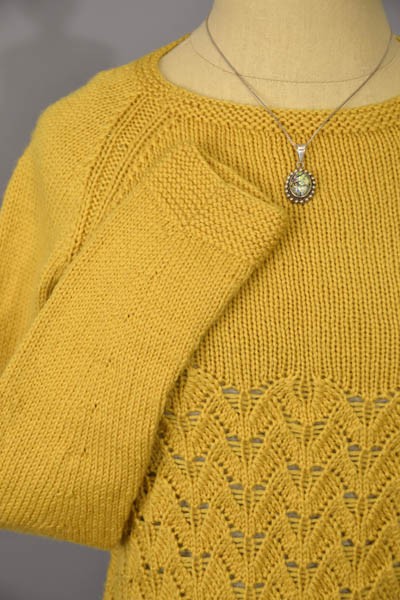 In Flight Pullover
This long sleeved sweater features a lace pattern that looks like the wings of birds in flight. Knit in the round for sizes Small (Medium, Large, 1X)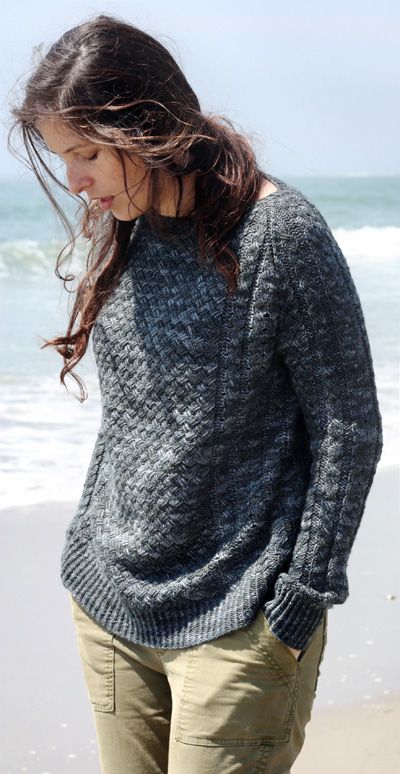 Jamestown Pullover
Amy Christoffers designed relaxed pullover featuring easy basketweave cable on the front and more cables on the sleeves. Sizes Sizes XS, S, M, L, 1X, 2X, 3X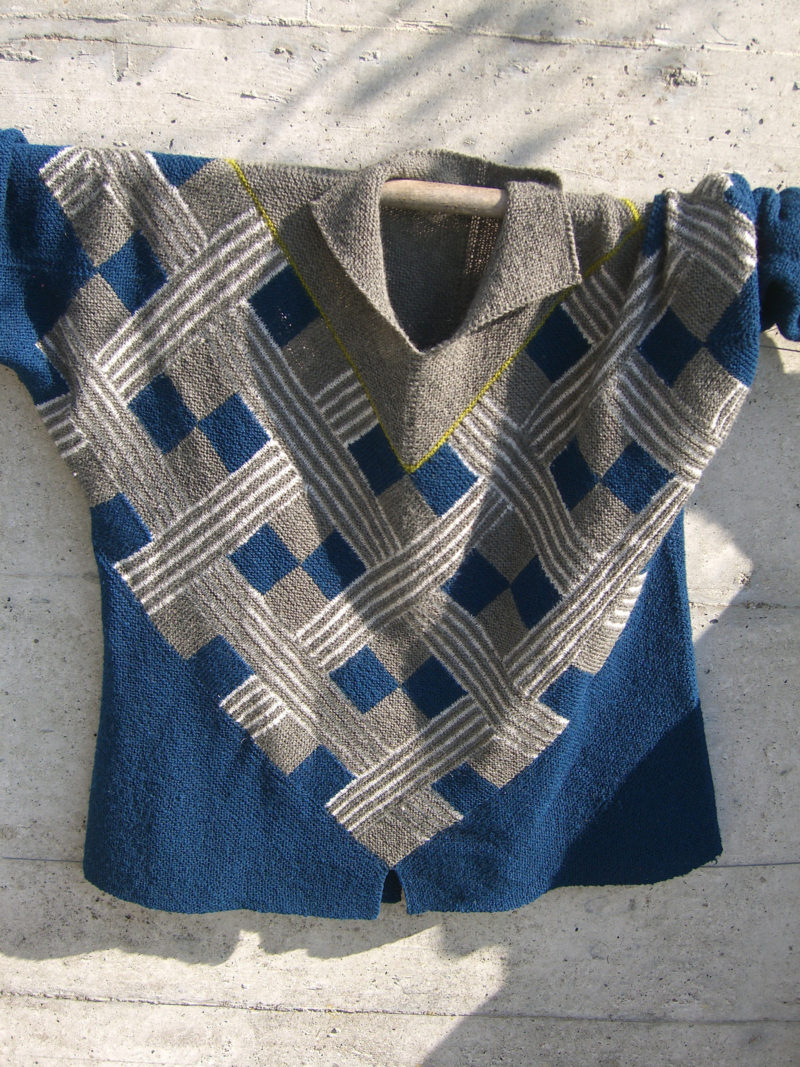 Kongo / Congo Sweater
Marianne Isager designed this striking graphic sweater for her book Knitting Out of Africa. The yoke is knit in modular units. There is an option for a v-neck or standup collar (pictured). Size: Small (47″), Medium (51″). Pictured project by barbarastrickt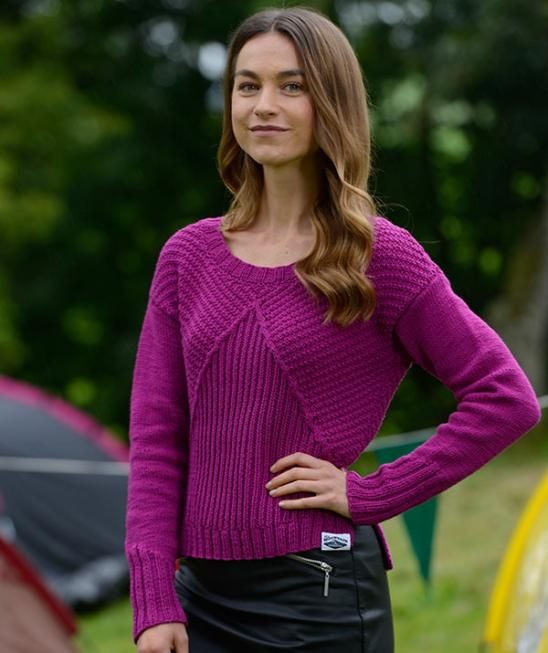 Mount Angelika Pullover
Schachenmayr's sweater pattern features figure flattering diagonal texture and ribbing. Sizes: XS (S, M, L, XL)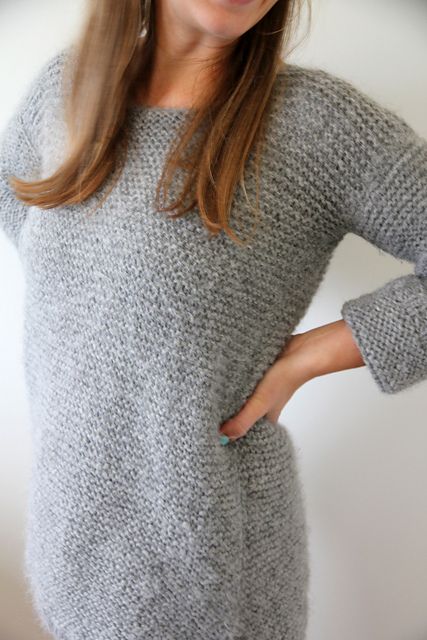 Skappelgenseren
Very easy pullover sweater pattern that's great for beginners and stylish by Dorthe Skappel. The pictured project is by guroskaar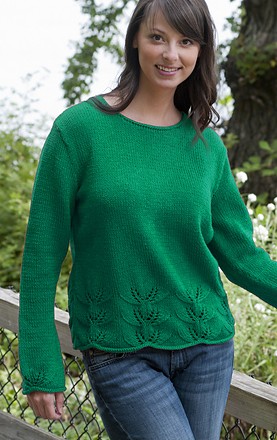 Simply Avalon Pullover
This design by Cascade Yarns features lace detail at the hem and the sleeves. Sizes: 38", 42", 47" (Sweater is oversized)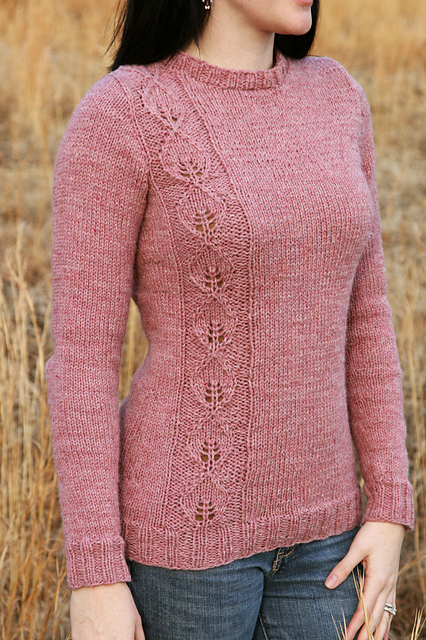 Waiting for Spring Pullover
Susan Dempster's sweater features a leaf lace motif and is constructed in the round from the bottom up with set-in sleeves knit separately in the round. Sizes 30, 34, 38, 42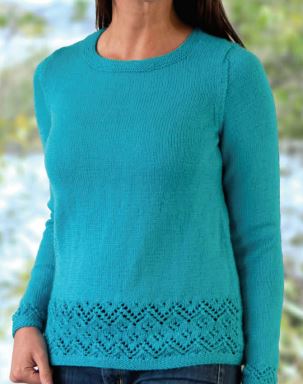 Placed Lace Pullover Sweater
Melisssa Leapman's design for Cascade Yarns features lace detail at hem and sleeve hems. Bust: 34 (38, 41, 45, 48 ½)"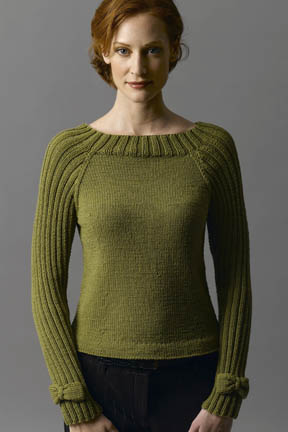 Bow Tie Pullover
Irina Poludnenko designed this flattering sweater for Takhi St. Charles that features feminine bows at the wrist and a flattering ribbed neckline. SIZES Small (Medium, Large)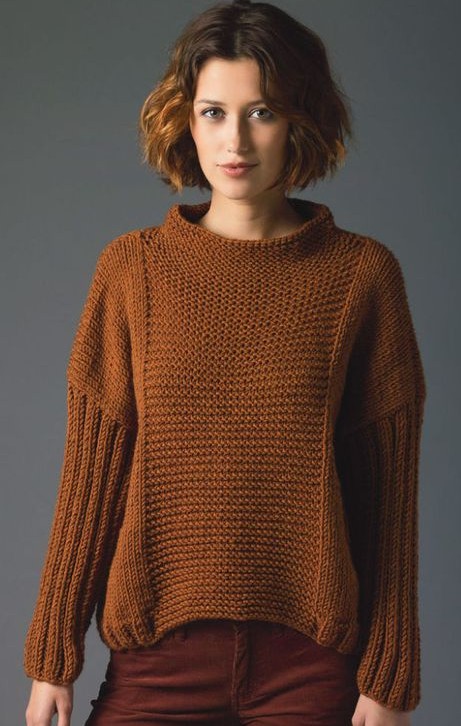 Lion's Pride Pullover
Love the neckline and asymmetrical hem of this sweater! Pullover is worked in 4 pieces: Back, Front and 2 Sleeves Sizes XS/S (M/L, 1X/2X)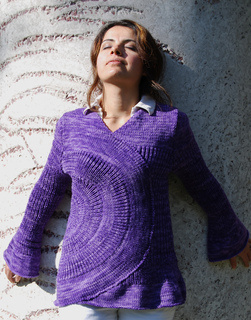 Spoke Sweater
Lori Versaci designed this unique pullover with a circular motif inspired by Paris fashion. With a a flattering pull at the waist and flares around the hips, it is not as complicated as it looks. Great with variegated yarn. Sizes XS[S, M, L, 1X, 2X]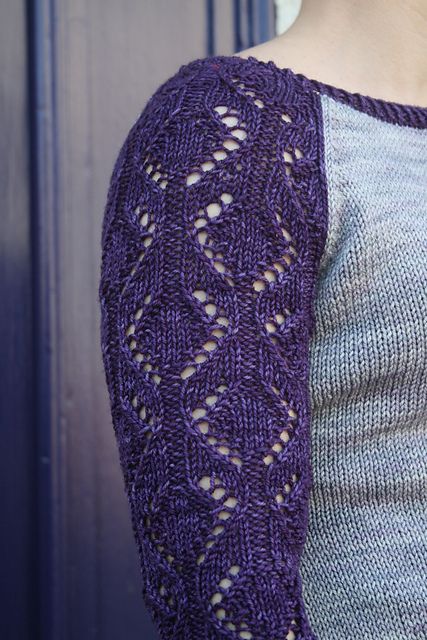 Jasseron Pullover Sweater
Becky Wolf designed this intriguing pullover with feminine lace sleeves and ballet neckline contrasting with a casual body. Sizes XS (S, M, L, 1X, 2X, 3X)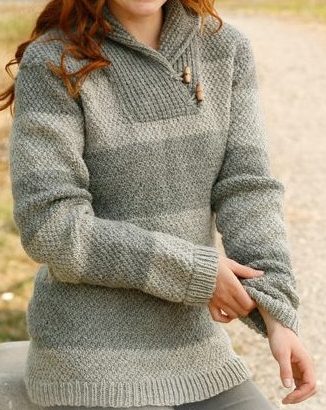 Anna Sweater
Garnstudio DROPS Design created this textured pullover in double seed stitch with cozy collar. Size: S – M – L – XL – XXL – XXXL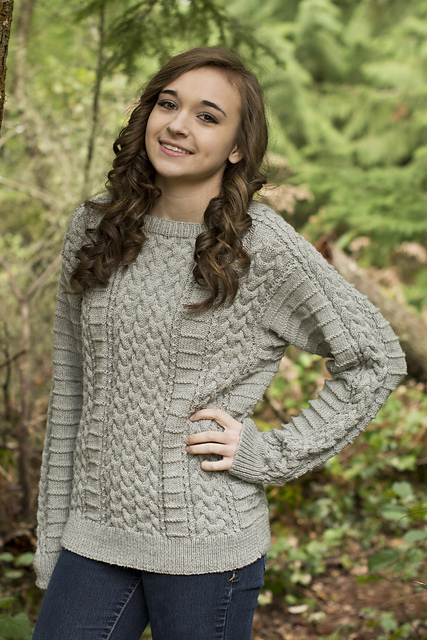 Bracknaugh Aran Pullover
Melissa Leapman's sweater design for Cascade Yarns features cable panels and texture detail. Sizes: Bust: 35 (39, 43, 47, 51)"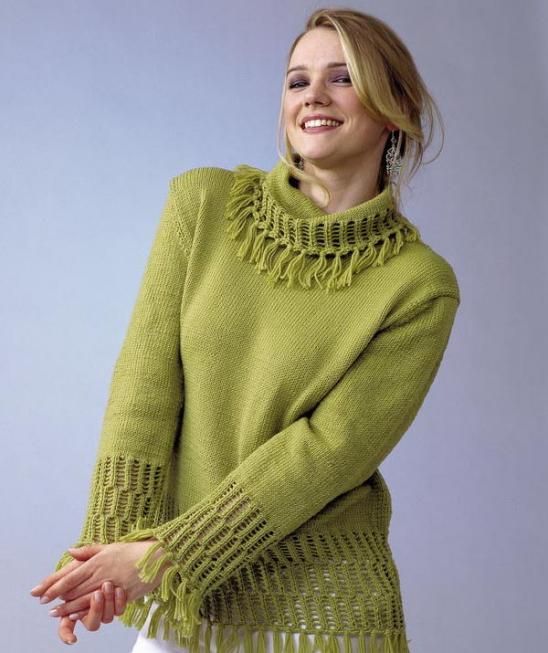 Pullover Sweater With Tassels
This looks like a fun sweater to knit and wear. Schachenmayr's Ladies Sweater 5950 features lace and tassels to make a unique statement. Size: to fit bust 92/97 cm [36¼"/38¼"], 102/107 cm [40¼"/42¼"] and 112/117 cm [44″/46″].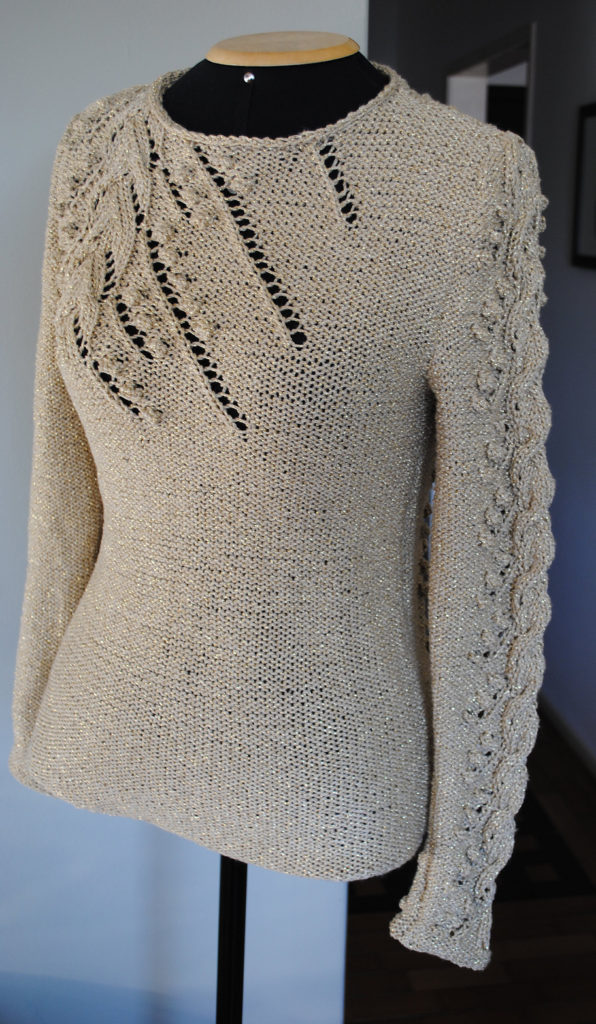 Blusa Precioso Pullover
Crestina Consorti designed a stunning sweater featuring lace and bobbles that start in the front and continue down the sleeves and back. In English and Portuguese. Size M
Patterns for Purchase

Knitting Kit for Krysten Ritter Best Friend Cropped Sweater
Long sleeved pullover designed by Jessica Jones star and knitter Krysten Ritter in collaboration with We Are Knitters. Sizes S, M, L, XL.
Aumangea Pullover

Long-sleeved fitted sweater features a 2 color graphic design of chevron stripes. Aumangea is the Maori word for strong, brave, plucky or tenacious. Worsted weight yarn. Sizes S (M, L, XL) with 4″ of negative ease Designed by Francoise Danoy

Leaving Pullover or Cardigan

This feminine cardigan or pullover features a loose hem and high, A-line shape. It's close-fitting through the bust and sleeves and has a panel of curling openwork leaves at center front and back, as well as the lower sleeve. Sport weight yarn. Sizes XXS/XS/S/M/L/1X/2X/3X/4X Designed by Anne Hanson

Misti Brioche Honeycomb Sweater

I love this design! This dramatic sweater by Karen Clements features dramatic kimono sleeves knit in super bulky yarn.

Arrow Sweater

Long-sleeved raglan pullover sweater with arrow chevron colorwork. Sizes S/M/L/XL/2XL/3XL

Dagmar Pullover

This elegant and sophisticated sweater will elongate your torso and give your outfit a polished look. The cable patterns move across the bodice and then follow the raglan decreases to the yoke to form a curve around the body. Sizes S (M, L, XL, 2XL, 3XL)

Agnes Round Yoke Sweater

This long sleeved pullover features leaf lace on the yoke. And it's seamless! Sizes S (M, L, XL, 2XL, 3XL)

Mystic Pullover

This sweater by Melissa LaBarre features a cowl neck, zigzag cables, and pockets at the seams. Sizes 34 (38, 42½, 46½, 50)"

Notre Dame de Grace Pullover

Veronik Avery's design features a tailored collar and button accent for details, and a combination of double seed stitch and garter ridges for easy knitting. A loose fit and clean, unadorned edges add to the sweater's relaxed feel. Sizes 36 (40, 42, 46, 50, 52)" finished bust circumference

Middlefield Pullover

This sweater by Melissa LaBarre is worked in two directions, and leaves lots of opportunities for customization. Sizes 34 (38, 42, 46¼, 49¾)"

Caftan Pullover

This long-sleeved stockinette sweater by Norah Gaughan features a deep V-neck embellished with patterned inserts along the front opening and at the cuffs. The sweater's easy fit flatters any figure. Sizes 35, 39.5, 43.5, 48, 52.5″ bust. Pictured project by Autumnsky5

Plumage Pullover

This design contrasts a staggered feather pattern with reverse stockinette stitch to create a texture-block sweater with a strong diagonal line. Sizes 32 3/4 (37, 41 1/2, 45 1/2, 49 3/4)" bust circumference.

Flared Pullover

Reverse-stockinette triangles create the flared hem and cuffs of this flattering scoop-neck sweater. Sizes: 34(37,40,44)"