These shawl patterns were labeled by designers or knitters as easy to work. Many are stockinette or garter with decorative borders or simple colorwork.
To get the knitting patterns, scroll down the page to the individual pattern you want and click on the link to that pattern.
These patterns are not my designs but links to other designers who have generously shared their patterns. If you have questions about how to knit a specific pattern, please contact the designer directly.
All links on this site are for informational purposes, but please note that some links are to affiliate sellers that pay me a small commission on purchases.
Free Patterns

Arlequin Shawl
Triangular shaped shawl with color-blocks of 2 colors knit with alternating sections of stockinette and garter stitch. Size is customizable. Rated very easy by Ravelrers. Designed by peggy maxheim. Available in English and French. Fingering weight yarn. Pictured projects by the designer and CitizenQueen

22 Little Clouds Shawlette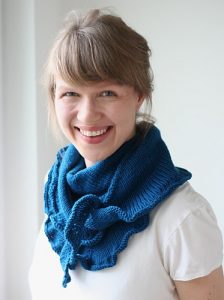 Martina Behm's easy stockinette shawlette features a ruffled edge with long ends that can be wrapped comfortably around your neck and secured with a little knot. Size is customizable. Rated very easy by Ravelrers. Available in English, German, and Italian. Pictured project by frauliebtwolle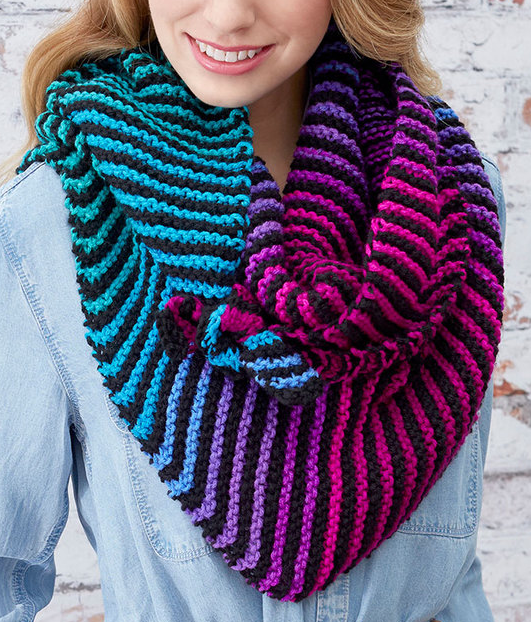 Brighten My Day Shawl
Triangular shawl knit side to side in garter stitch alternates a self-striping yarn with contrasting color like black for a striking effect. Rated easy by Red Heart. Designed by Nancy J. Thomas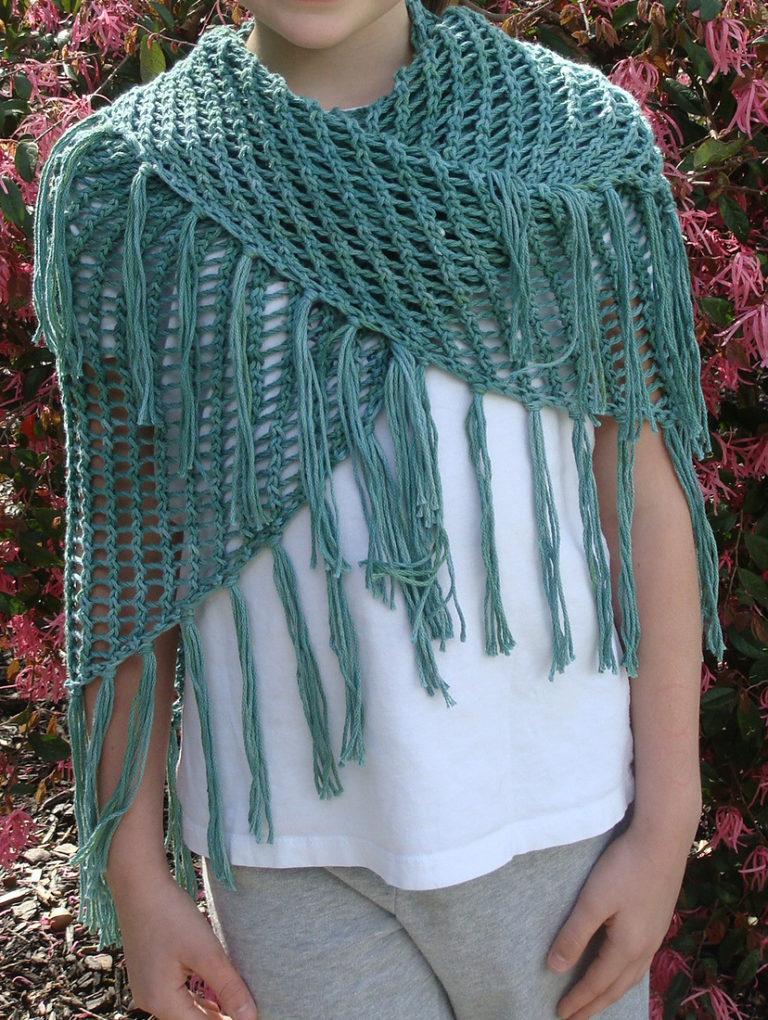 Sweet November Shawl
Caryl Pierre was inspired by the shawl / scarf Charlize Theron wore in Sweet November to create this easy lace drapey wrap. Pictured project by lolamama.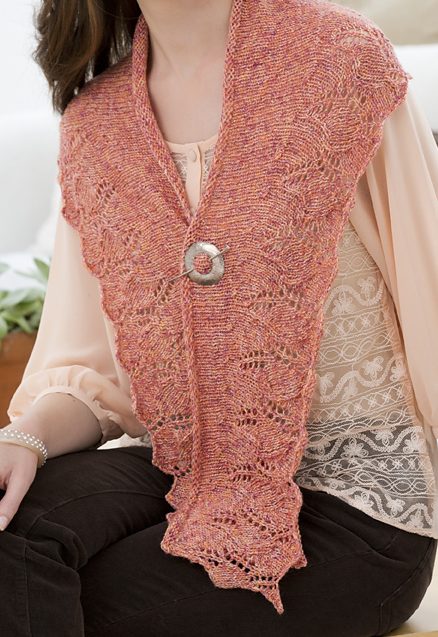 Lily Crescent Shawlette
Julie Farmer designed this easy lace shawl in fingering yarn.

3S Shawl
Amy Meade's easy garter stitch triangle shawl is dressed up with eyelet rows and a picot bind-off. (There's also an option for a crochet cast-off instead.)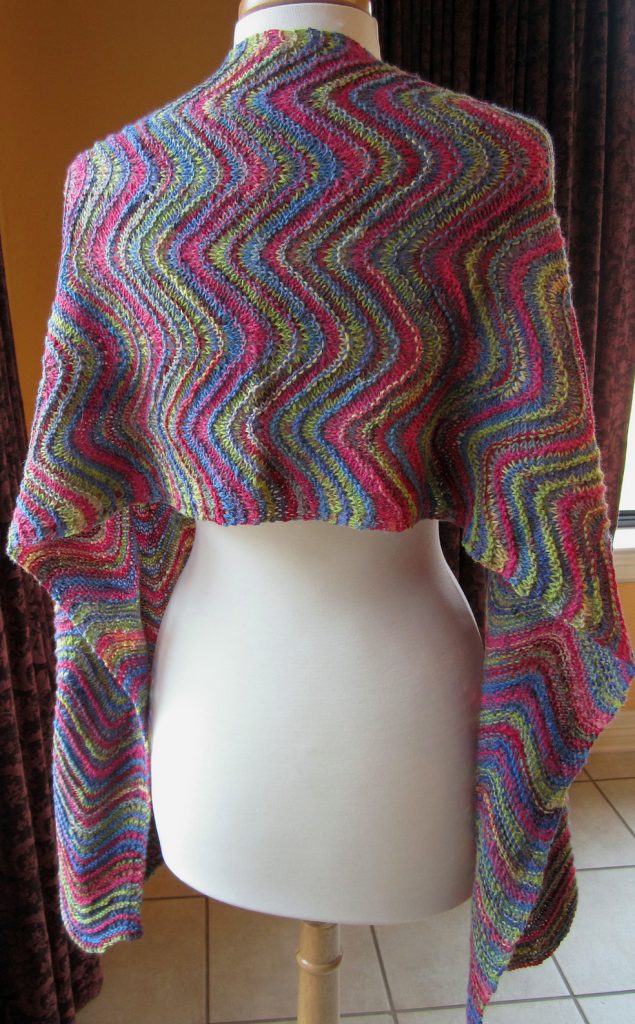 Feather & Fan Shawl
The combination of the easy 4-row repeat wave lace pattern and self-striping yarn creates a dramatic shawl in this design by Samantha Lever for Red Heart. Pictured project by Melke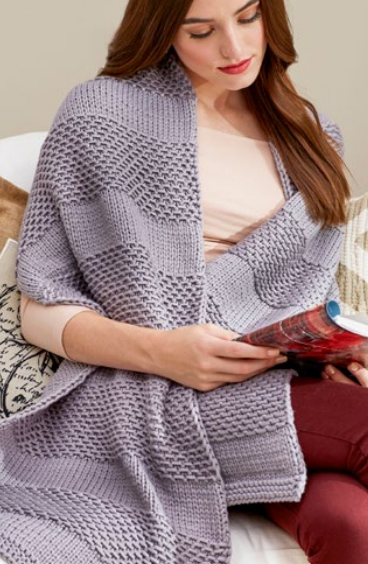 Soothing Comfort Shawl
This easy rectangular shawl by Christine Marie Chen features a slip stitch texture pattern in tubular bulky yarn.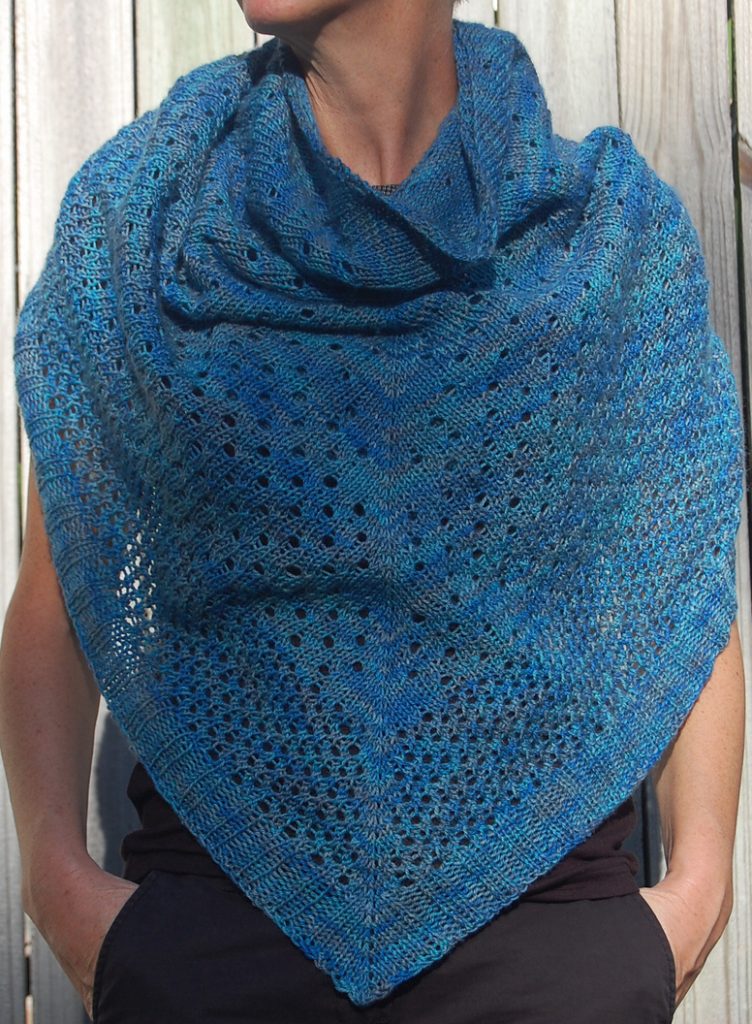 Campside Shawl
Alicia Plummer and Julie Asselin Hand Dyed Yarns collaborated on this design of cascading eyelets. Most Ravelers rated it easy. Pictured project by YARNstudio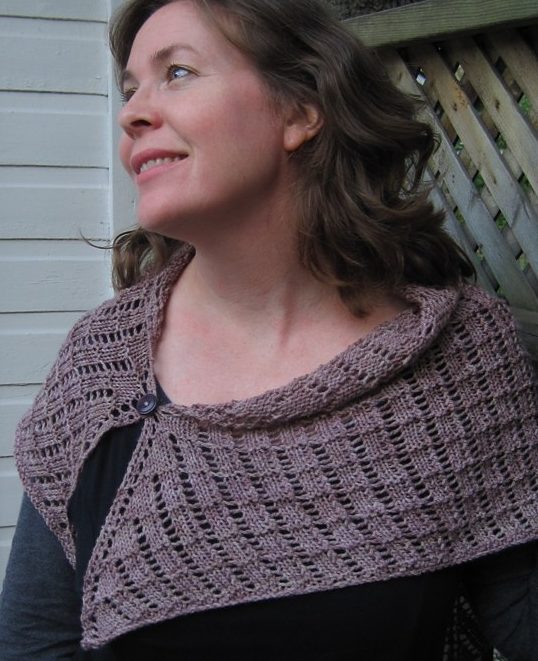 Lazy Day Lace Shawl
Mary Keenan designed this shawl as a quick easy project for last-minute gifts. Ravelers rated it as pretty easy but it has more rows to repeat than other patterns on this page. Available in English and French.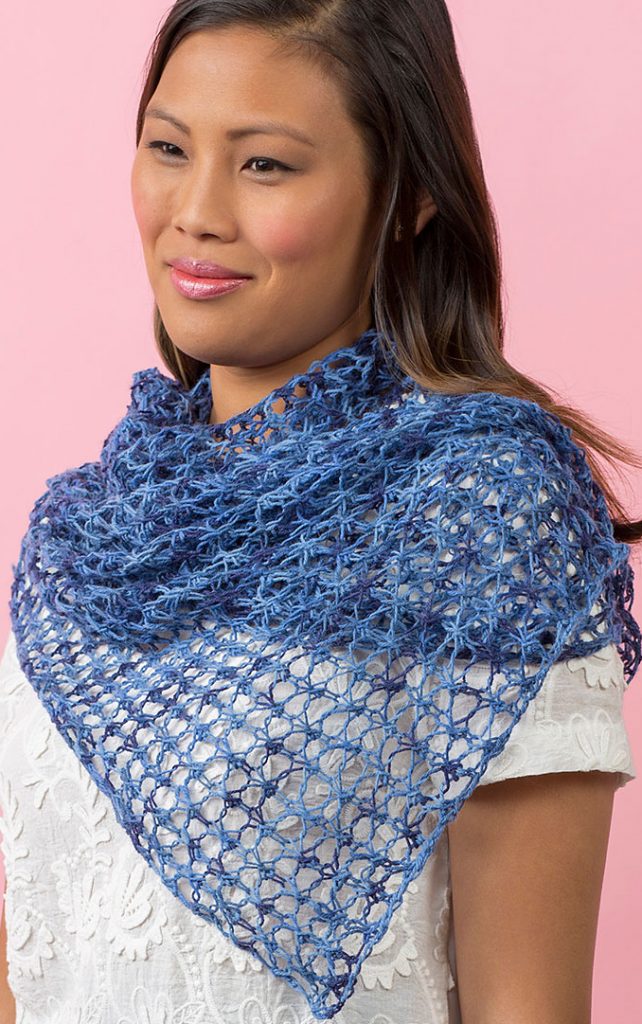 Laid-Back Shawl
Lorna Miser designed this easy openwork mesh lace shawl that is great with multi-color yarn! 4 row repeat. Can also be worn as a scarf.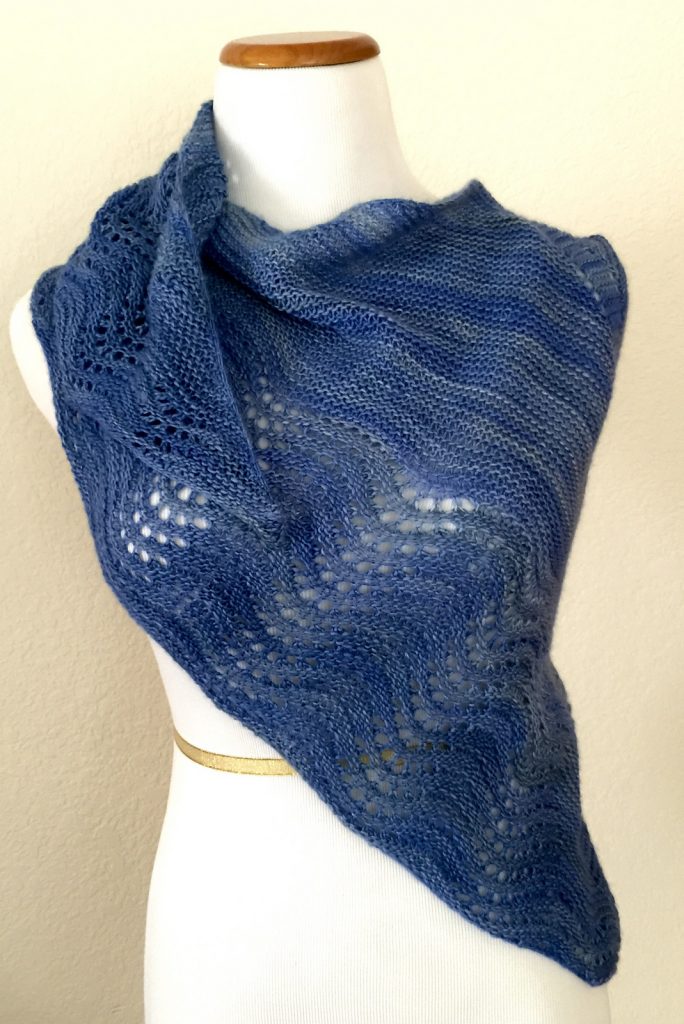 Multnomah Shawl
Kate Ray's shawl features an easy feather and fan lace border on a garter stitch shawl. Great with multi-color yarn! Pictured project by Saddlepals22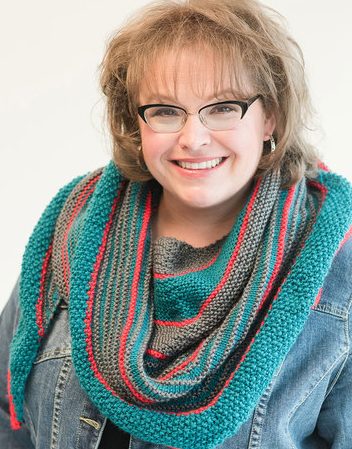 Marly's Garter Stripe Shawl
Three colors in three easy sections of garter stitch, garter stripes, and seed stitch create this stunning shawl by Marly Bird for Red Heart.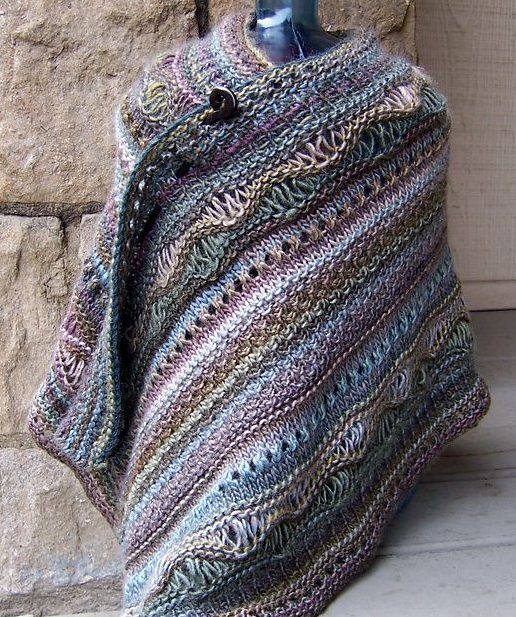 Stitch Sampler Shawl
On This Day designed this rectangular wrap that is great for multi-color yarn or as a stash buster for multiple yarns. Most Ravelers rated this an easy pattern. Pictured project by lyndseyloo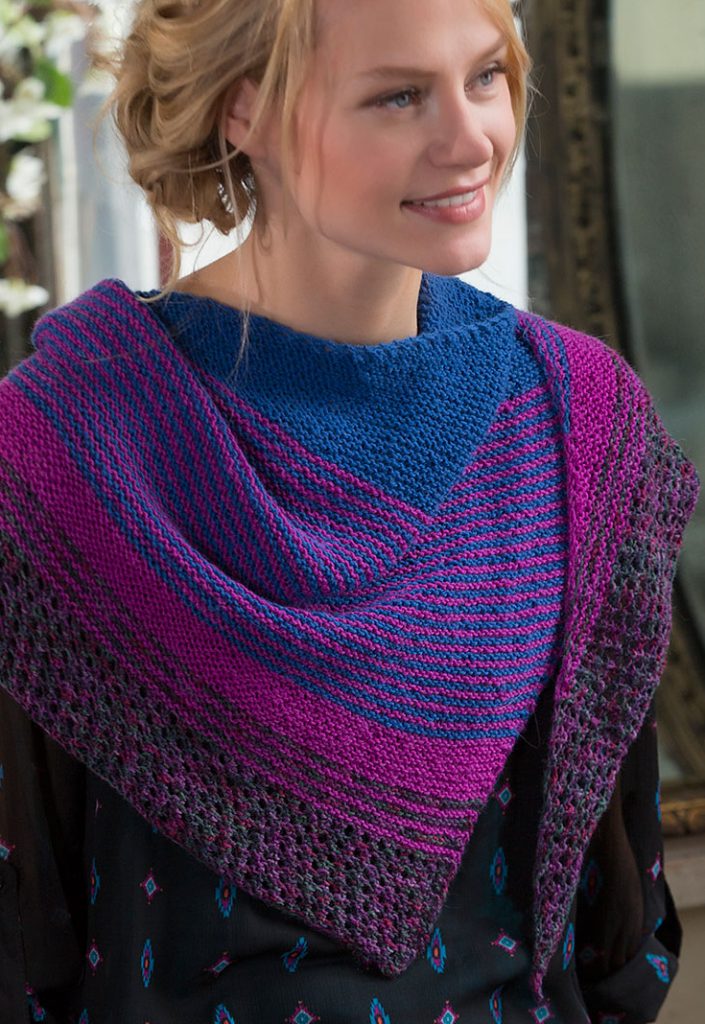 Modern Stripe Shawl
Julie Farmer designed this easy shawl pattern in garter stitch with an eyelet border.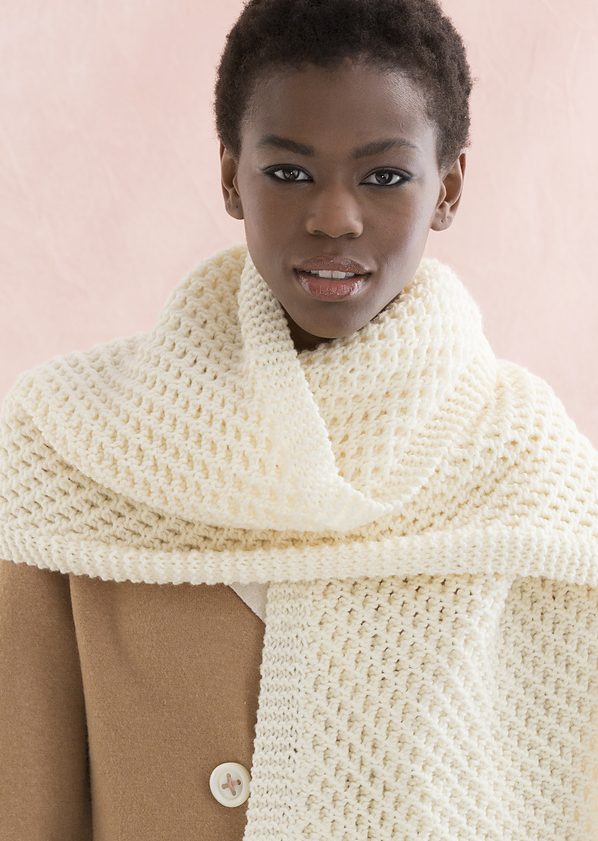 Honeycomb Stitch Wrap
This is one of my absolute favorite stitch patterns! This shawl / scarf by Cathy Payson for Red Heart is just a 4 row repeat. It's a great first cable pattern.
Patterns for Purchase


Holmes Shawl
This triangular shawl features concentric triangles made in textured stitches. Finished Size 70" wingspan and 22.5" tall. Rated easy by Ravelrers and by Interweave. Designed by Sierra Morningstar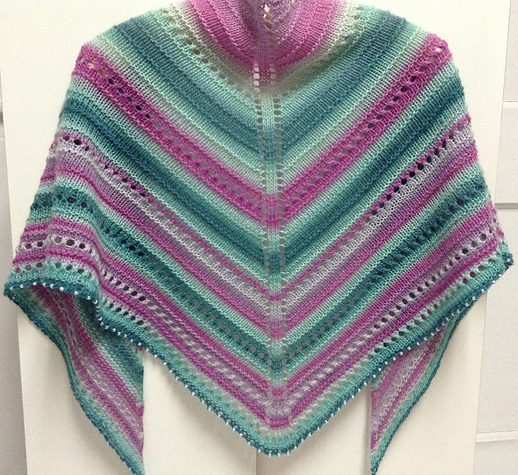 Have a Seat Please Shawl
Iglinz Crafts says, "Sit down and relax, here comes the no effort shawl." Designed for 1 ball of sock yarn, this triangle eyelet lace shawl is perfect for multi-color yarn. Pictured project by CarrieSpinner.

Zariah Shawl
Easy seed stitch and a flouncy ruffle made a feminine yet cozy wrap. Two sizes.

Ishka Shawl
Ishka is an easy reversible stole, perfect for beginners in lace knitting, according to the designer. Looks great in variegated yarn!

Lacy Crescent Shawl
Easy shawl with 3 stitch patterns – garter stitch, linen stitch, and lace.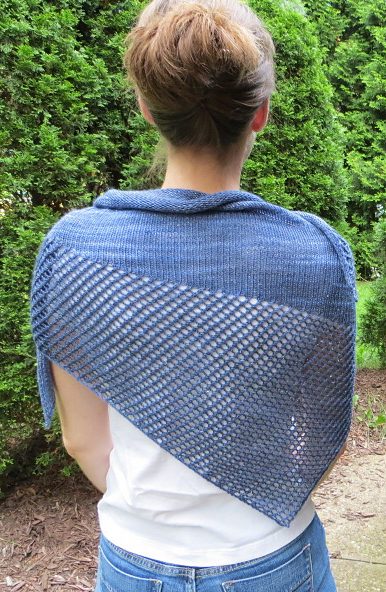 Pinkerton Shawl
Susan Dittrich designed this dramatic lace shawl shaped using short rows over stockinette and a simple knit-two-together, yarn-over lace pattern. Pictured project by handknitsbysusan