Use up your leftover, stash, and scrap yarn with these shawl and poncho knitting patterns.
To get the knitting patterns, scroll down the page to the individual pattern you want and click on the link to that pattern.
These patterns are not my designs but links to other designers who have generously shared their patterns. If you have questions about how to knit a specific pattern, please contact the designer directly.
All links on this site are for informational purposes, but please note that some links are to affiliate sellers that pay me a small commission on purchases.
Free Patterns

Squared Shawl
Simple modular poncho style wrap knit with 2 strands of different colors held together for a marled effect. Perfect stash buster. Designed by Beata Jezek for Hedgehog Fibres. Fingering weight yarn.

Anemone Shawl
Semi-circular shawl is knit in simple sections, each using only one stitch pattern including lace, dropped stitches, bobbles, slipped stitches, eyelet and mesh stitches. Designed for mini skeins, it also is perfect for scrap fingering / sock yarn. Designed by The Noble Thread.

Scrappy Bias Shawl
Garter stitch shawl knit on bias to create asymmetrical triangle shape with color changes. Perfect for scrap fingering / sock yarn or mini skeins. Designed by Emily Clawson, Pictured project by janehunter8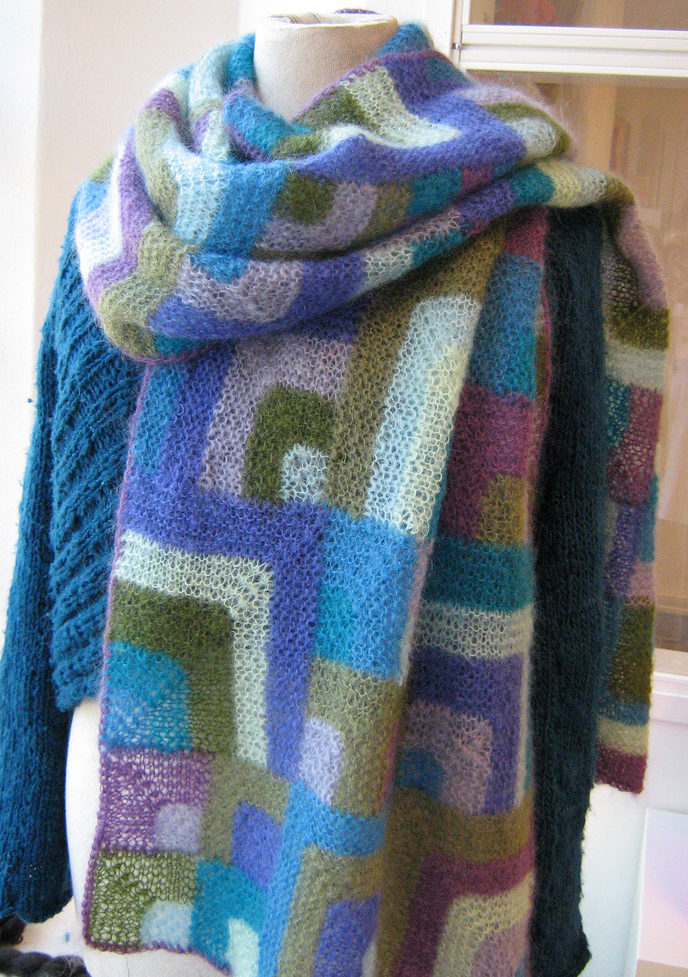 Modern Quilt Wrap
This wrap/oversized scarf is created with the mitered-square method of color knitting, as effortless as working in stripes, but the results are far more impressive. Great use for stash or scrap yarn! Designed by Mags Kandis. Pictured projects by karinhoja and summerinatlanta. There are several ways to get the pattern. Also the designer recommends weaving in the ends as you knit.

Nebula Poncho
Nebula is a simple seed stitch poncho, reminiscent of woven fabric and Saori weaving with its magical fiber inserts. 5 colors (or more) are faded one into the other, and fibers are inserted as you knit at random, making it a great project for stash and scrap yarn. Knit flat as a rectangle and seamed at the shoulder. Worsted weight. Designed by The Noble Thread

Anything Goes Shawl
Triangle-shaped shawl is a combination of lace and garter stitch bands. You can make your bands as wide as you like or as narrow as you like, or mix and match the widths so it's perfect for stash yarn. Designed by Elena Nodel
More Free Patterns

Yarn Deli Poncho
This easy garter stitch poncho is designed to use up your stash and scrap yarn. It even self-fringes! Designed by Linda Jo Park. Pictured project by WIHH

Skye Shawl
This striped shawlette is knit in with 5 colors in amounts of 30 yards to 135 yards of DK yarn so it's perfect for stash or scrap yarn. Designed by Gretchen Tracy

Flying Fringe Scarf
This colorful scarf is knit in garter stitch on the bias with 2 strands of different color yarn held together to create a marled effect. Designed for mini skeins, you could easily used stash and scrap yarn instead. And no weaving in ends – they become part of the fringe! Designed by Beata Jezek for Hedgehog Fibres. Rated very easy by Ravelrers.

Waterlilies Runner Stole
This rectangular shawl or throw is knit with sections of stockinette stripes of 17 colors in intarsia. Worsted.Designed by Kaffe Fassett for Rowan

Easy Outline Shawl
This easy rectangular wrap or scarf was designed specifically to use up scraps of sock yarn or mini skeins. It's length, width, and color scheme are easily customizable. Rated easy by Ravelrers. Designed by Beata Jezek for Hedgehog Fibres. Pictured project by Splendorfalls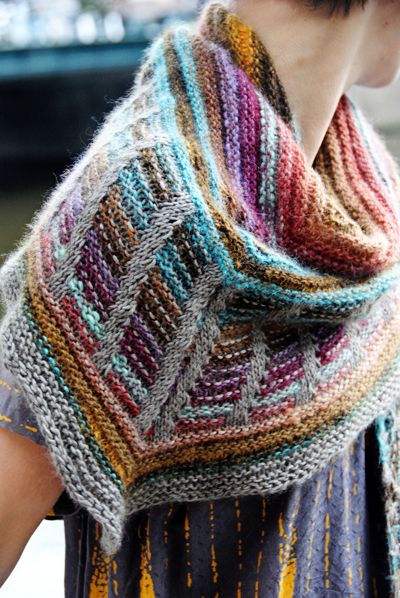 Metalouse Shawl
This free pattern is designed by the amazing Stephen West for Knitty.com. It is knit top down in corrugated rib and slip stitch colorwork. Although it is designed for multi-color yarn, I think this would easily lend it self to stash busting several colors.
Patterns for Purchase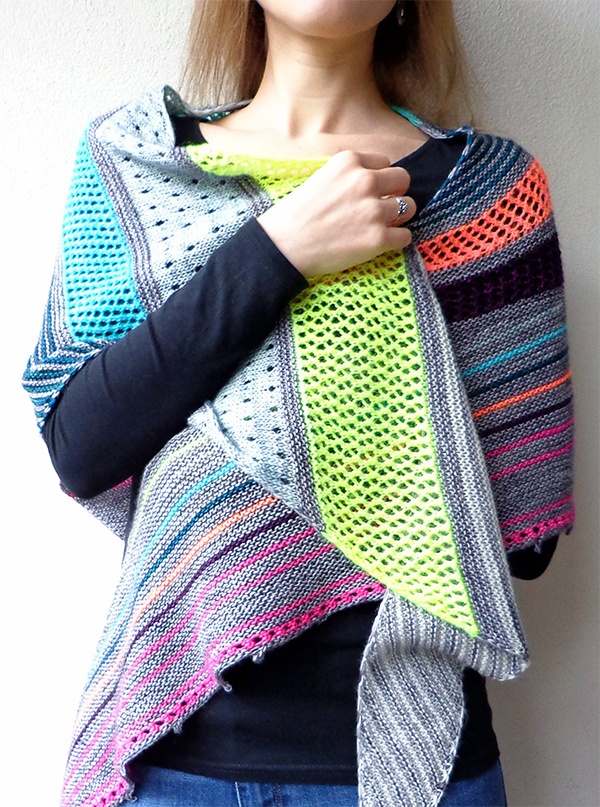 Take It All Shawl
This colourful shawl combines garter stitch with some easy lace to create colorful stripes and sections. Perfect for your mini skeins or using up your stash! You can use as many contrast colors as you like…1 or 2 or 3 or 4 or 8. Designed by Lisa Hannes. Fingering weight yarn.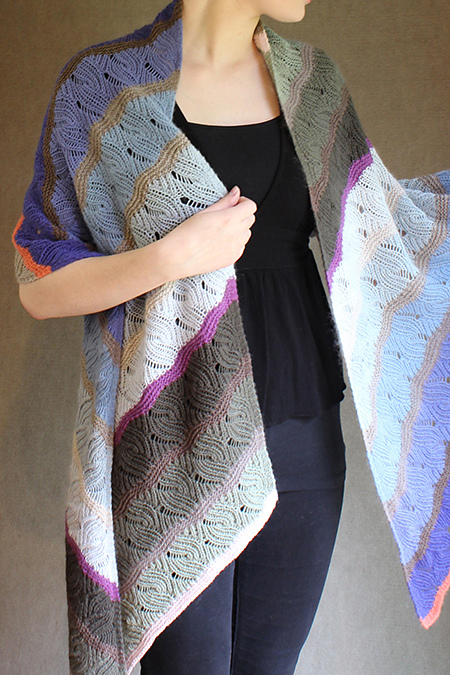 Windfeather Shawl
This stunning reversible shawl features feathery lace and rippling garter stitch knit with multiple colors of sport-weight yarn. Designed by Carol Sunday. 3 shapes / sizes: scarf, stole, and shawl.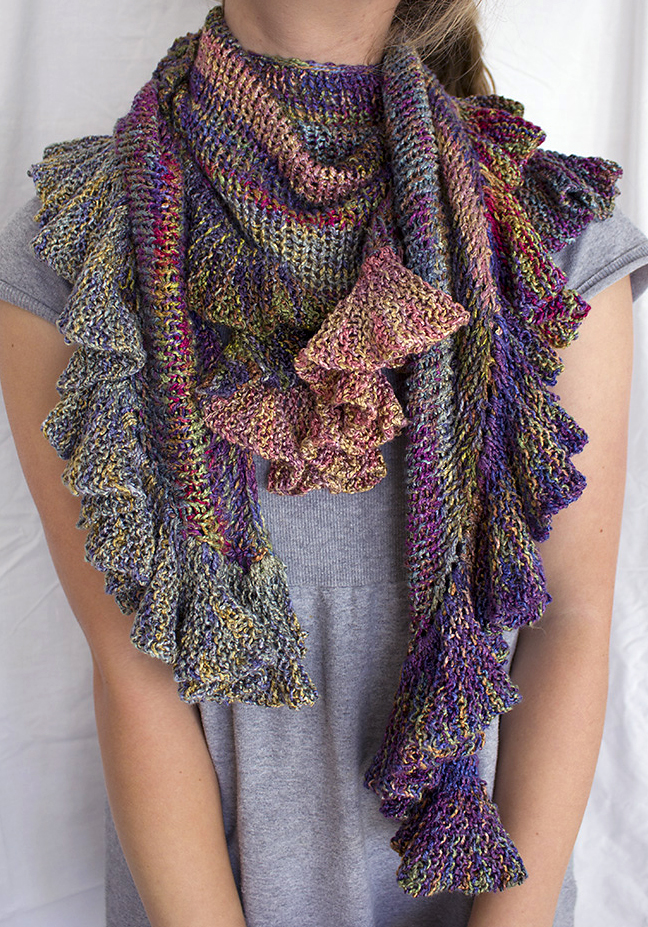 Finch Ruffle Shawl
This pattern is for a beautiful, ruffled shawl with delightfully transitioning colors, knit with two strands of yarn together in a gentle curve by increasing at the edges of the body. The ruffle is knit with a single strand on smaller needles in short row sections along the bottom edge of the shawl so that the colors transition sideways along the bottom. Knit with at least 6 colors of fingering weight / sock yarn, it is perfect for stash yarn. Designed by Robin J. Edmundson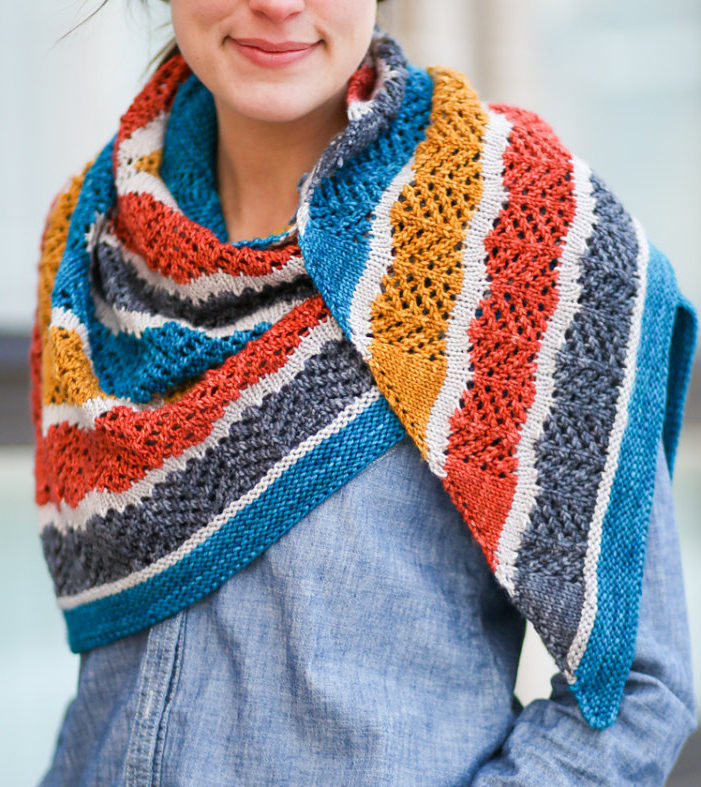 Lorelai Shawl
Triangular shawl designed for 5 colors alternating lace stitches and stockinette. DK weight. Designed by Shannon Cook.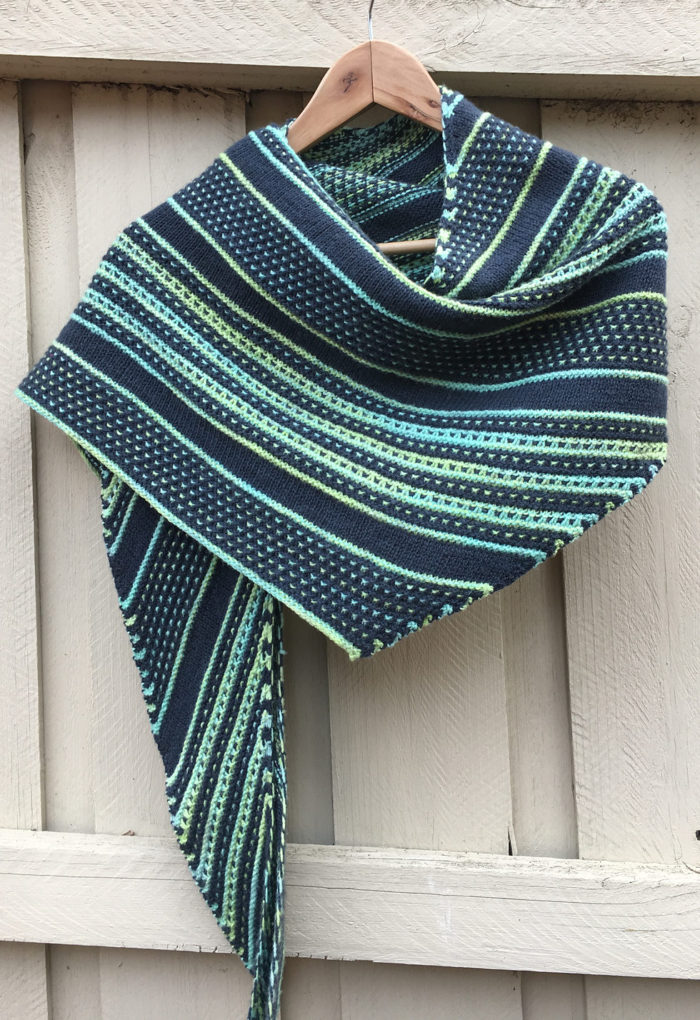 Interplay Shawl
Asymmetric shawl knit in the bias with stripes of texture and color. Although the pictured project is in 2 colors, I think this would look great with different colors from your stash. Designed by Jo-Anne Klim. Pictured project by loveslicorice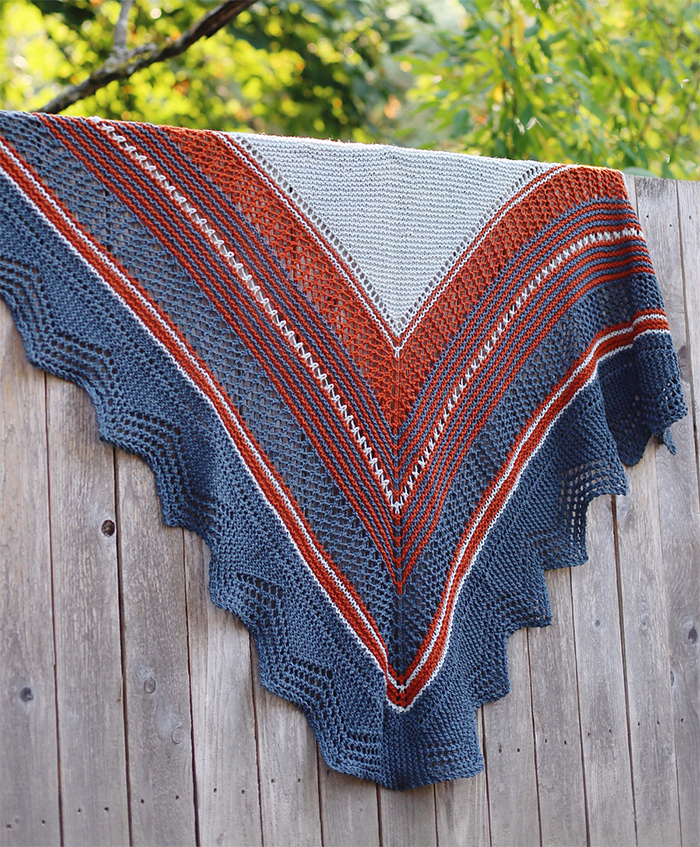 Haro Shawl
Generous sized shawl with unique construction and stripes of texture and color. Although it was designed for 2 colors and the pictured project is 3 colors, I think this would look great with multiple colors from your stash. Worsted weight. Designed by Shannon Cook. Pictured project by katyrae