Scrap and Stash Yarn Shawl Knitting Patterns
To get the knitting patterns, scroll down the page to the individual pattern you want and click on the link to that pattern.
These patterns are not my designs but links to other designers who have generously shared their patterns. If you have questions about how to knit a specific pattern, please contact the designer directly.
All links on this site are for informational purposes, but please note that some links are to affiliate sellers that pay me a small commission on purchases.

Anemone Shawl
Semi-circular shawl is knit in simple sections, each using only one stitch pattern including lace, dropped stitches, bobbles, slipped stitches, eyelet and mesh stitches. Designed for mini skeins, it also is perfect for scrap fingering / sock yarn. Designed by The Noble Thread.

Scrappy Bias Shawl
Garter stitch shawl knit on bias to create asymmetrical triangle shape with color changes. Perfect for scrap fingering / sock yarn or mini skeins. Designed by Emily Clawson, Pictured project by janehunter8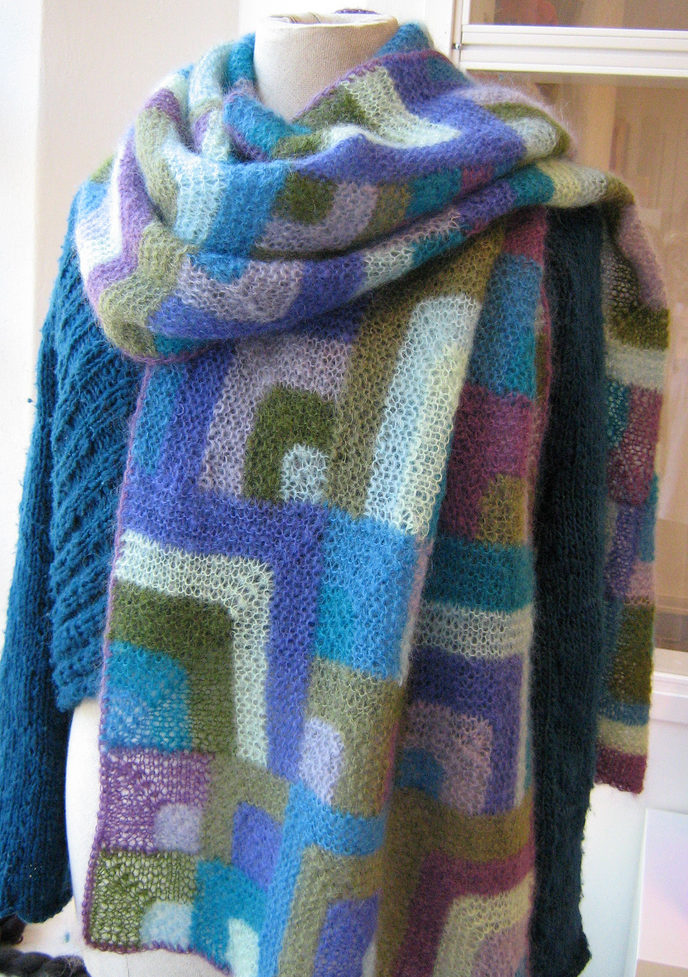 Modern Quilt Wrap
This wrap/oversized scarf is created with the mitered-square method of color knitting, as effortless as working in stripes, but the results are far more impressive. Great use for stash or scrap yarn! Designed by Mags Kandis. Pictured projects by karinhoja and summerinatlanta. There are several ways to get the pattern. Also the designer recommends weaving in the ends as you knit.

Nebula Poncho
Nebula is a simple seed stitch poncho, reminiscent of woven fabric and Saori weaving with its magical fiber inserts. 5 colors (or more) are faded one into the other, and fibers are inserted as you knit at random, making it a great project for stash and scrap yarn. Knit flat as a rectangle and seamed at the shoulder. Worsted weight. Designed by The Noble Thread

Anything Goes Shawl
Triangle-shaped shawl is a combination of lace and garter stitch bands. You can make your bands as wide as you like or as narrow as you like, or mix and match the widths so it's perfect for stash yarn. Designed by Elena Nodel

Yarn Deli Poncho
This easy garter stitch poncho is designed to use up your stash and scrap yarn. It even self-fringes! Designed by Linda Jo Park. Pictured project by WIHH
Windfeather Shawl
This stunning reversible shawl features feathery lace and rippling garter stitch knit with multiple colors of sport-weight yarn. Designed by Carol Sunday. 3 shapes / sizes: scarf, stole, and shawl.
Finch Ruffle Shawl
This pattern is for a beautiful, ruffled shawl with delightfully transitioning colors, knit with two strands of yarn together in a gentle curve by increasing at the edges of the body. The ruffle is knit with a single strand on smaller needles in short row sections along the bottom edge of the shawl so that the colors transition sideways along the bottom. Knit with at least 6 colors of fingering weight / sock yarn, it is perfect for stash yarn. Designed by Robin J. Edmundson
Lorelai Shawl
Triangular shawl designed for 5 colors alternating lace stitches and stockinette. DK weight. Designed by Shannon Cook.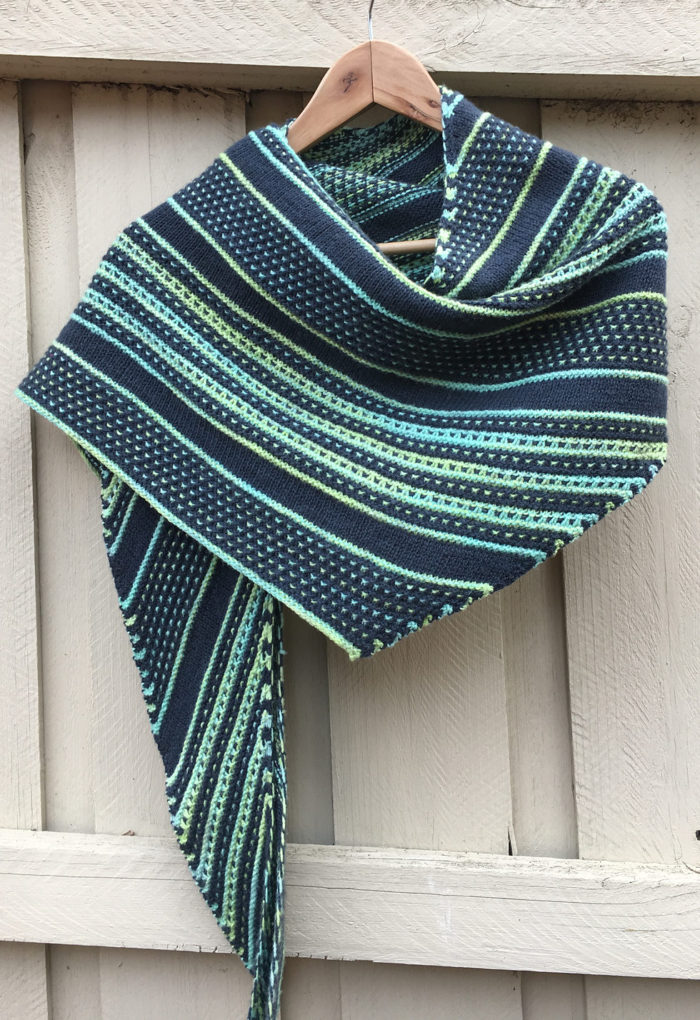 Interplay Shawl
Asymmetric shawl knit in the bias with stripes of texture and color. Although the pictured project is in 2 colors, I think this would look great with different colors from your stash. Designed by Jo-Anne Klim. Pictured project by loveslicorice
Haro Shawl
Generous sized shawl with unique construction and stripes of texture and color. Although it was designed for 2 colors and the pictured project is 3 colors, I think this would look great with multiple colors from your stash. Worsted weight. Designed by Shannon Cook. Pictured project by katyrae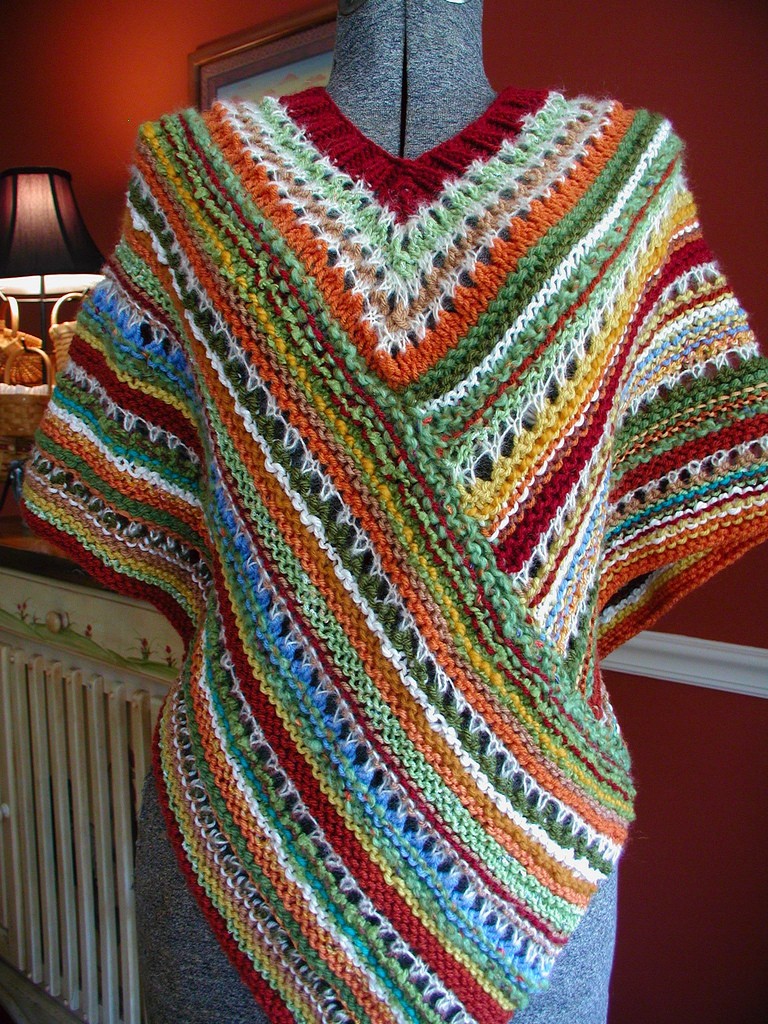 Buckster's Fall Fiesta Poncho
Colorful eyelet and garter stitch poncho with ribbed collar. Perfect for scrap yarn! Designer gives instructions to switch yarn without having to weave in ends. Designed by Dawn Sparks
Terry Matz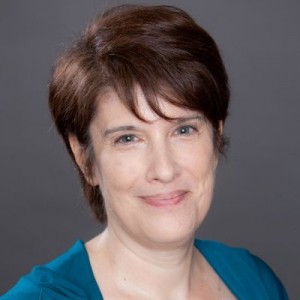 Terry is a knitting late-bloomer, learning to knit as an adult from Internet tutorials, because she wanted a craft that was useful, fun, and portable. Knitting hats for cancer patients inspired her to design her own patterns—available for free at her blog, intheloopknitting.com. Terry met her husband Ken at a science fiction convention and moved to the Kansas City area to be with him more than 30 years ago. Terry supports her yarn stash by creating websites and other digital media. Terry firmly believes in Knitting in Public—it's a great conversation starter!