Easy Poncho Knitting Patterns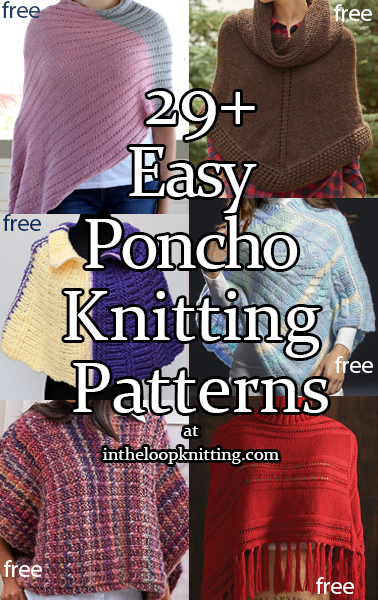 These poncho knitting patterns were rated easy by the designers, or knitters who've made them, or based on their simple instructions.
To get the knitting patterns, scroll down the page to the individual pattern you want and click on the link to that pattern.
These patterns are not my designs but links to other designers who have generously shared their patterns. If you have questions about how to knit a specific pattern, please contact the designer directly.
All links on this site are for informational purposes, but please note that some links are to affiliate sellers that pay me a small commission on purchases.
 
Easy Peasy Poncho
Knit flat in one rectangle. DK yarn. Rated very easy by Ravelrers. Designed by Tina Irving. Pictured project by kathinka14
 
Getaway Poncho
Knit in the round from the top down in a bulky yarn with a big garter-stitch cowl and a stockinette-stitch body, with a simple eyelet pattern at the bottom. Quick knit in super bulky. Rated very easy by Ravelrers. Designed by Melissa LaBarre
Roll Neck Poncho
Knit in 2 panels with a 2-row repeat eyelet and stockinette pattern. Stitches are picked up for collar. Rated easy by Red Heart Yarn.  2 Sizes.
 
Worked in 2 pieces in seed stitch, stockinette / reverse stockinette stripe, with rolled collar that does require picking up stitches. Quick knit in bulky yarn. Rated very easy by Ravelrers. Designed by Cathy Payson. Pictured project by knitonator
Wedges Cape
This poncho is knit sideways with an 11-row repeat Wedges stitch with ribbing that shapes the cape. Zipper can be sewn in, or you could probably just seam and wear as a pullover. 3 sizes 36-38, 40-42, 44-46. Quick knit in super bulky yarn. Rated easy by the designer Wiam's Crafts.
Shadow Poncho
This poncho is knit with a simple 8 row repeat all over cable pattern that you can knit without cable needles if you want. Knit flat in one piece and seamed. sport yarn. Designed by Kathy Yurman
Ribbed Poncho
Color-blocked poncho is knit with a 2 row repeat version of the broken rib stitch. Knit flat in one piece and seamed. Worsted yarn. Designed by Vanessa Ewing. Rated easy by Ravelrers.
Surfside Poncho
Poncho knit with 2 panels with a 10 row repeat of cable, lace, stockinette, and eyelet, and then the panels are sewn together. Bulky yarn. Designed by Premier Yarns
Moonlight Poncho
Easy poncho knit in in the round with simple stitches, no seams and no picking up stitches. Worsted yarn. Designed by Max Huerta
Easy Boat Neck Poncho
Easy poncho pattern is knit sideways in a 2-row 4-stitch repeat that looks great in multi-color yarn. Quick knit in super bulky yarn. 5 sizes from small to xx-large. Designed by Michele Maks for Red Heart.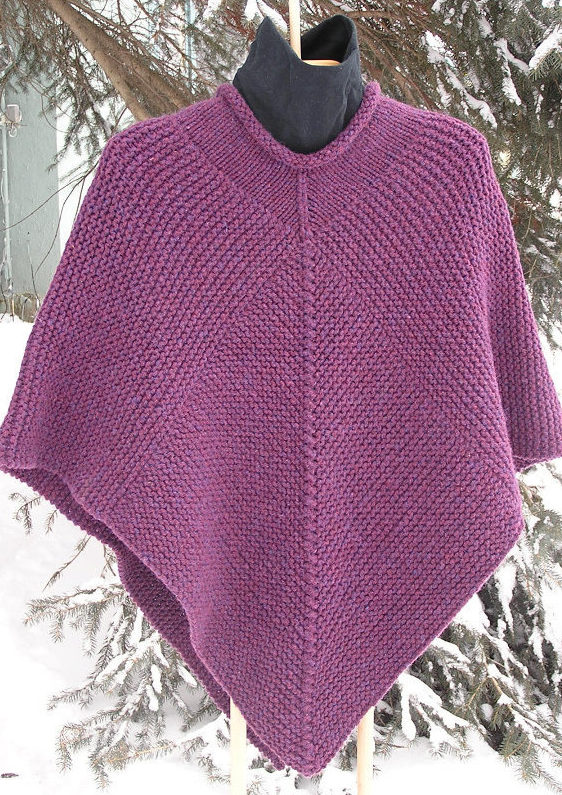 50 x 50 Poncho
Garter stitch poncho that's as easy as counting to 50: diamond panels with 50 stitches on each side and 50 decreases with side panels of 50 stitches times 50 ridges. Chunky yarn. Designed by CabinFeverSisters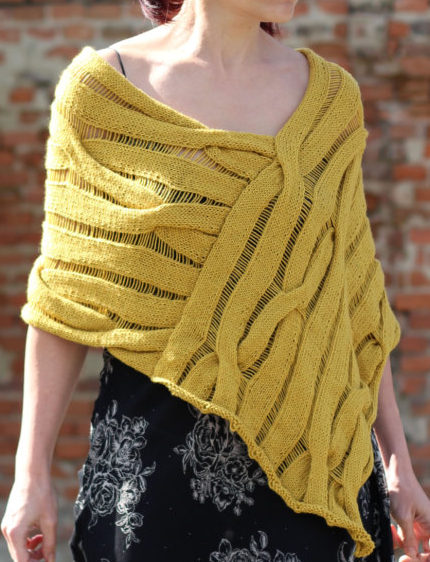 Lara Poncho
This modern poncho uses cables and drop stitches to create a dramatic look. The designer says this poncho is very easy to make. DK yarn. Designed by GAMMAstudio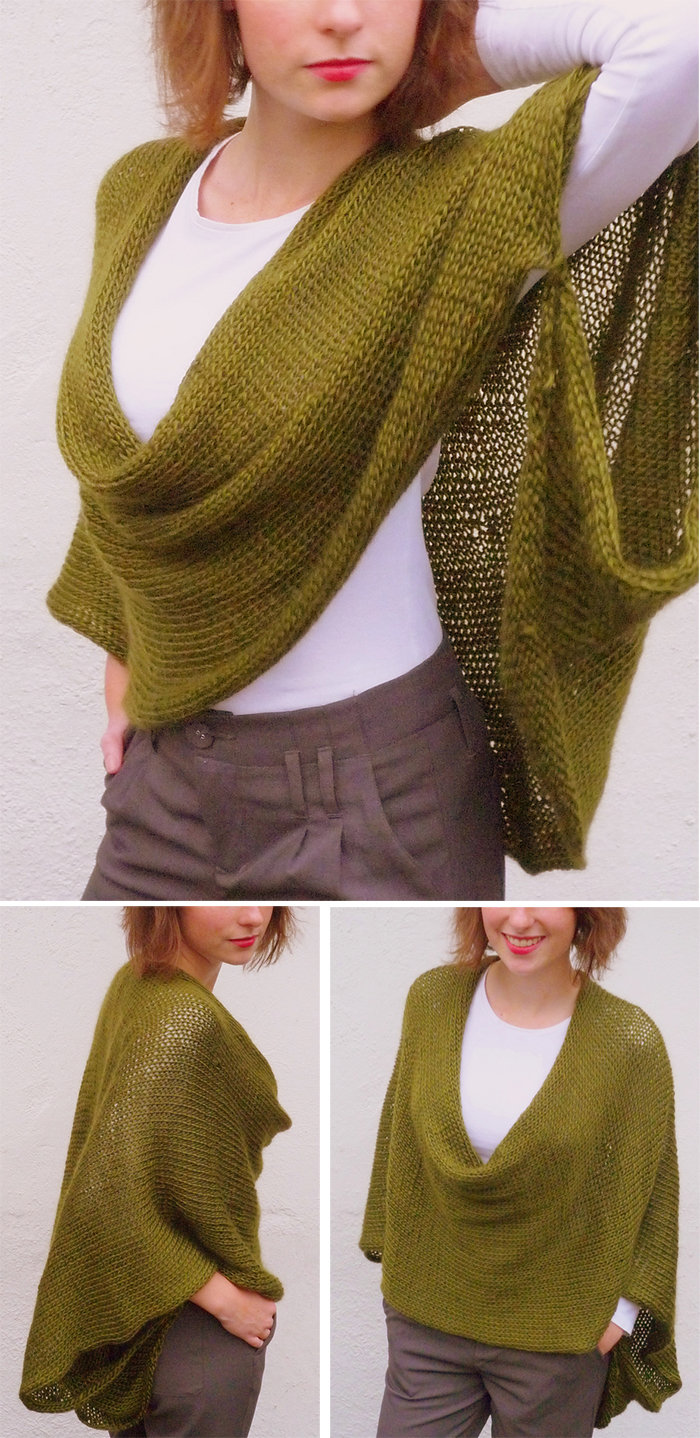 Soft Wrap Poncho
One long rectangle, sewn in back and at the arms for a wrap. Rated very easy by Ravelrers. Designed by Alice Tang. Pictured project by luna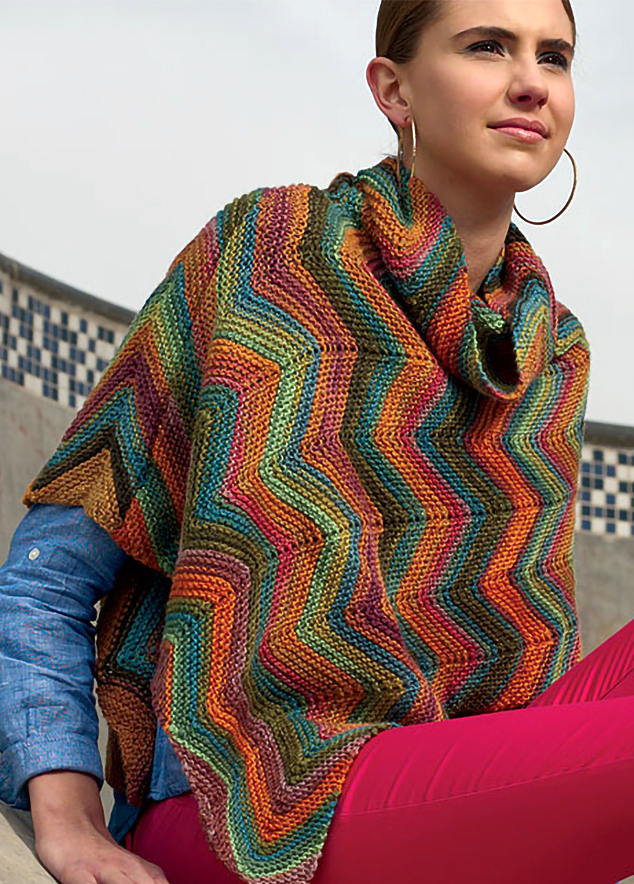 Amalfi Poncho
Knit side to side in a chevron pattern that showcases long repeat multi-colored worsted yarn in 2 colorways. 2 sizes. Rated easy by Ravelrers. Designed by Ann McDonald Kelly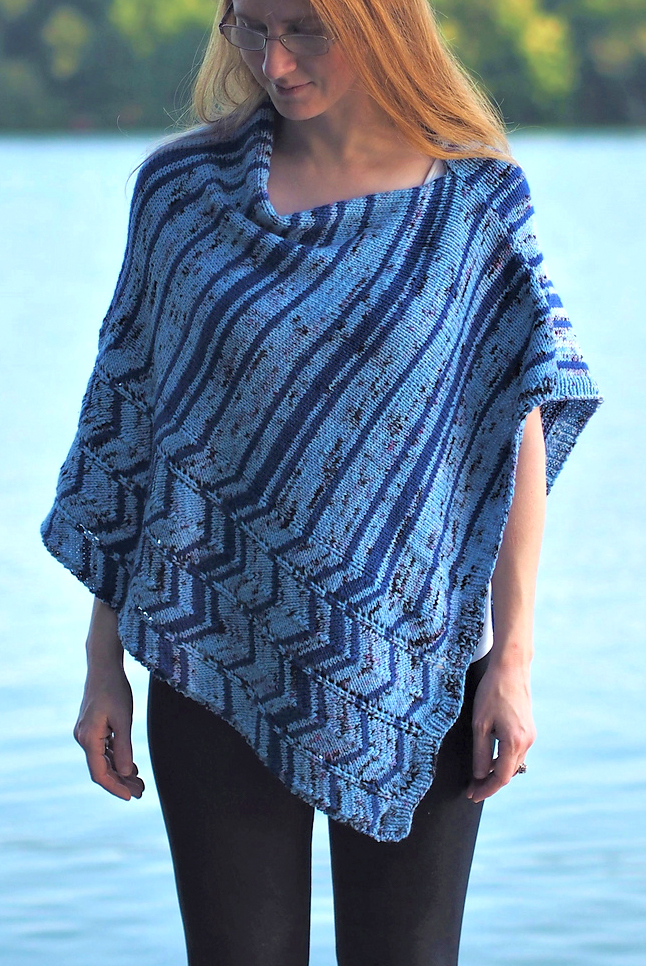 Ocean Current Poncho
This poncho combines chevron and stockinette in wrap that is knit flat in one piece and seamed. Sport yarn. Designed by Vanessa Ewing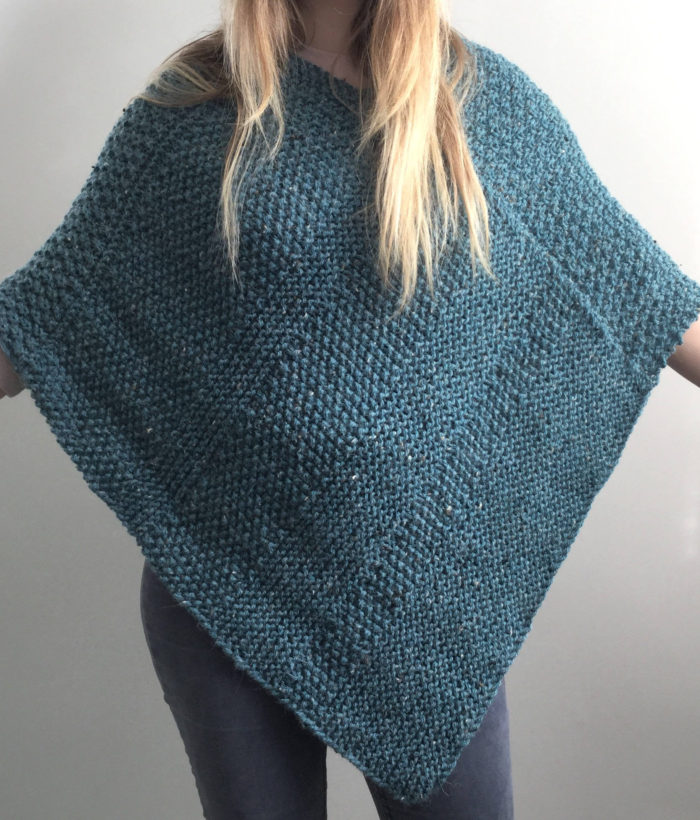 Lorna Poncho
This easy poncho is knit flat in easy knit and purl textures including moss, double moss and garter stitch. Designed by The Lonely Sea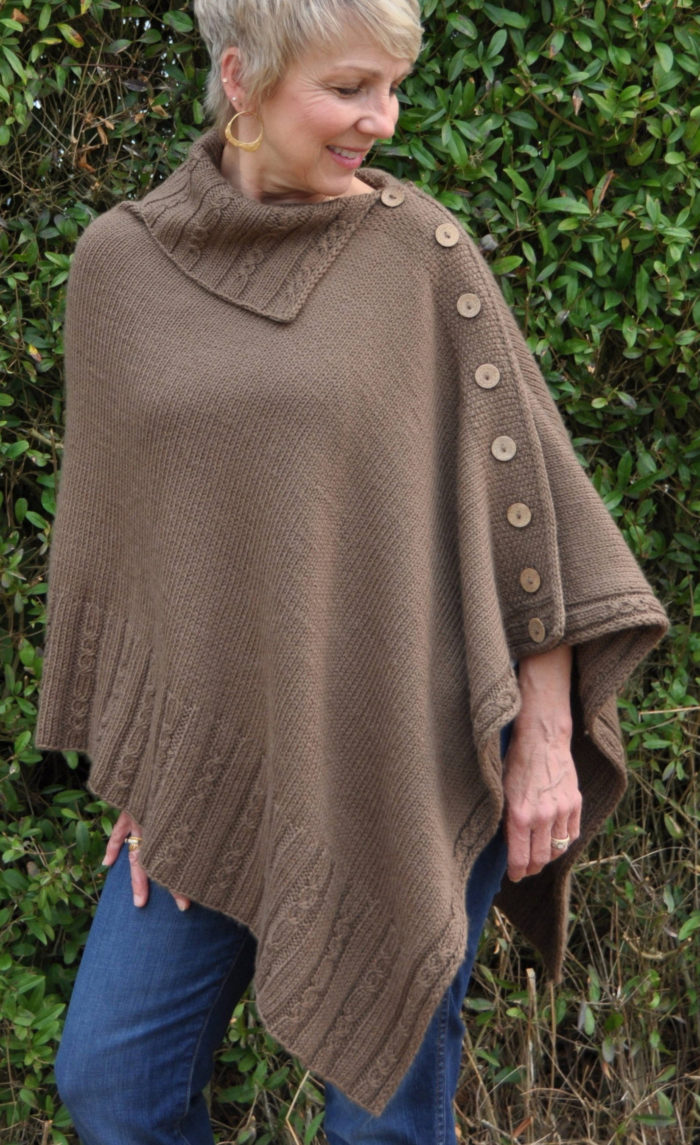 Miriam Carole Poncho
This buttoned poncho with open collar is mostly stockinette stitch and is knit bottom-up in a single rectangular piece with no provisional cast-on, no cable needle, no rearranging stitches, no grafting and no sewing.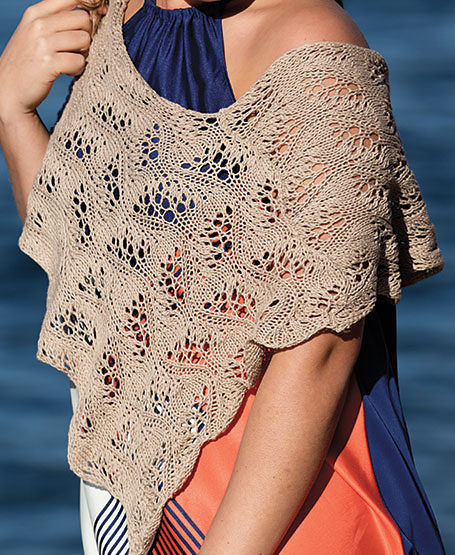 Moonlight Poncho
This lace poncho features a Japanese feather pattern that is easy to master. Knit in a rectangle and seamed. Rated easy by Ravelrers. One of the patterns in Love of Knitting, Summer 2017.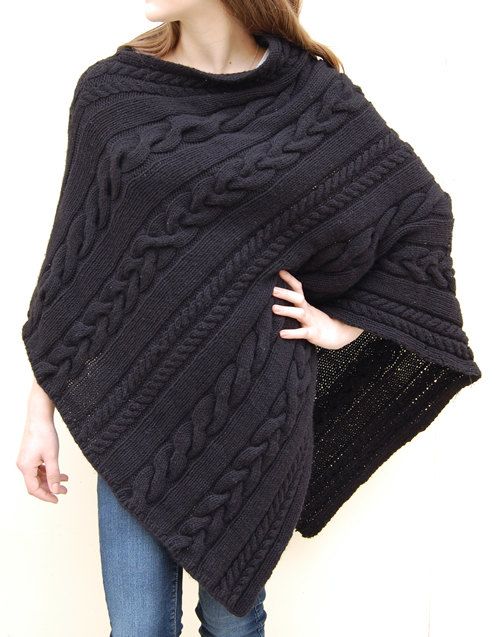 Dianne Cabled Poncho
Easy cable poncho knit in one piece sideways with a slight cowl neck by jenniferwenger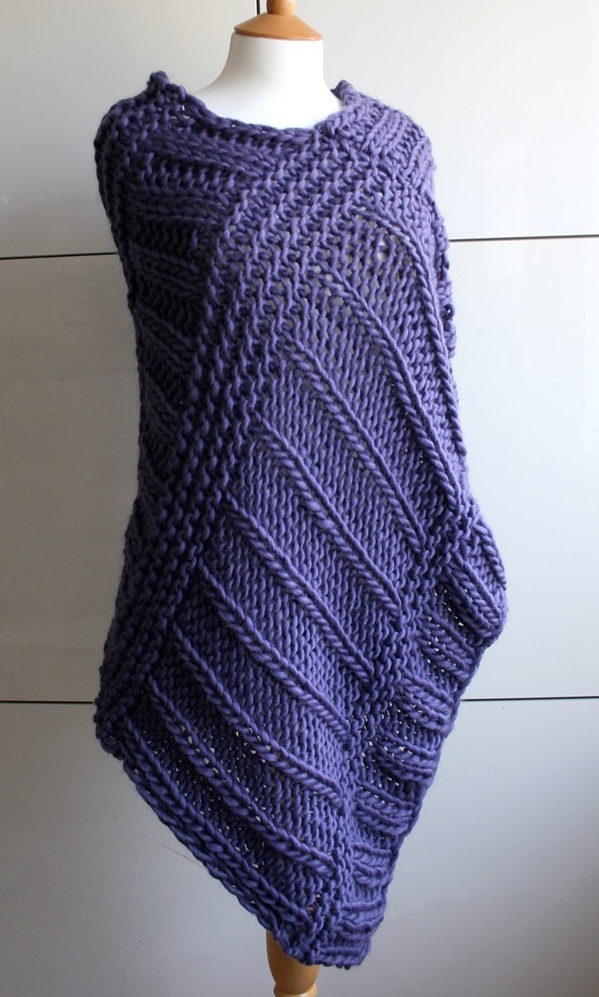 Boho Poncho
Versatile poncho is a quick knit in super bulky yarn.
Terry Matz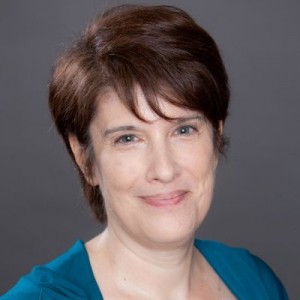 Terry is a knitting late-bloomer, learning to knit as an adult from Internet tutorials, because she wanted a craft that was useful, fun, and portable. Knitting hats for cancer patients inspired her to design her own patterns—available for free at her blog, intheloopknitting.com. Terry met her husband Ken at a science fiction convention and moved to the Kansas City area to be with him more than 30 years ago. Terry supports her yarn stash by creating websites and other digital media. Terry firmly believes in Knitting in Public—it's a great conversation starter!