<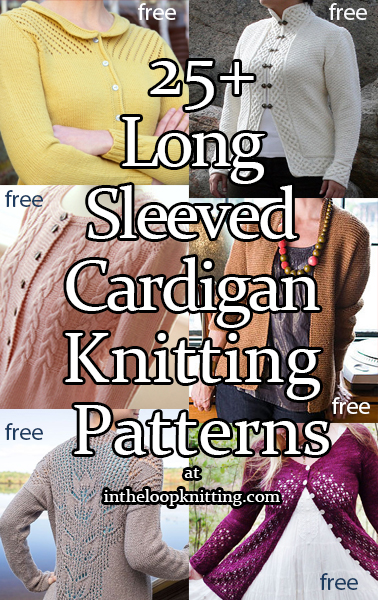 Knitting patterns for long-sleeved sweaters - cardigans, boleros, and jackets. Most patterns are free.
To get the knitting patterns, scroll down the page to the individual pattern you want and click on the link to that pattern.
These patterns are not my designs but links to other designers who have generously shared their patterns. If you have questions about how to knit a specific pattern, please contact the designer directly.
All links on this site are for informational purposes, but please note that some links are to affiliate sellers that pay me a small commission on purchases.
Free Patterns

Ornella Cardigan
Long-sleeved thigh-length sweater with pockets that fastens with a buttoned belt just below the bust. Designed by Adriafil. Sizes European 42-46. Available in DK weight yarn.

Krydda Cardigan
Long-sleeved cardigan features a flattering V-neck and a lace stitch that starts at the yoke wraps around from the fronts to meet in the back. Worked seamlessly in one piece from the top-down. Designed by Madeleine Nilsson. Sizes XS (S, M, L, 1X, 2X, 3X). Available in English and Swedish.

Lace Yoke Cardigan
Classic long-sleeved cardigan is knit seamlessly in one piece from the top down. Sizes 30 ½ (32 ½, 34 ¼, 36, 38 ½, 40, 42 ½, 44, 46 ½, 48 ½, 50 ½) inches. Pattern and instructional video class by the designer Gudrun Johnston available for free with a free trial at Creativebug OR purchase pattern and class individually.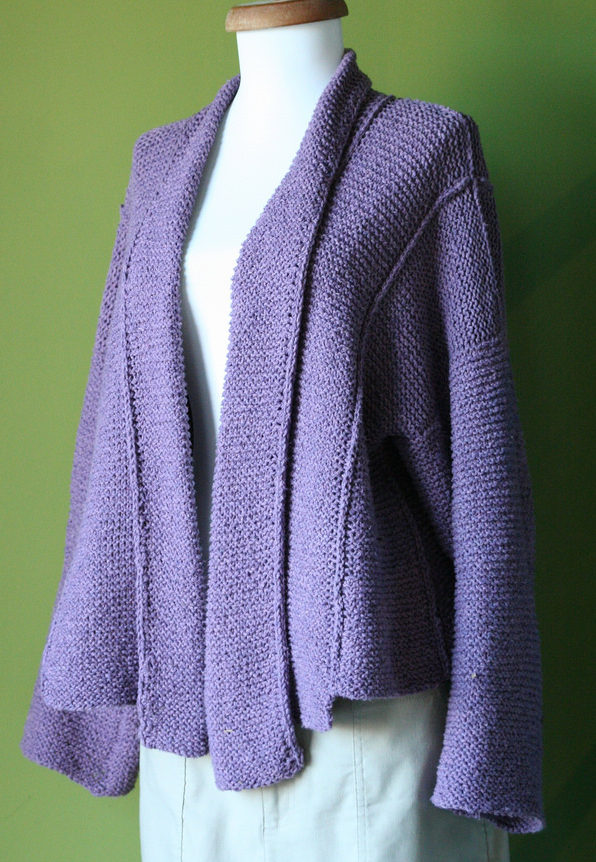 Panel Jacket
Long sleeved cardigan designed by Carol Lapin is knit in 10 garter stitch panels in bulky yarn and joined with three needle bind-off that create a piping effect. One size. Pictured project by indigirl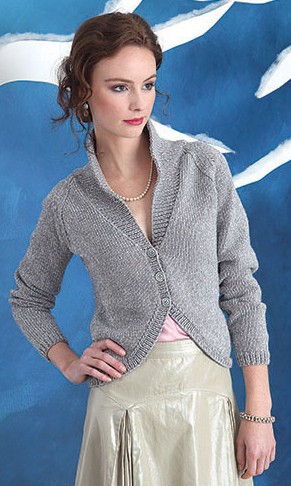 Silver Jacket Cardigan
Designed by Sian Brown for Knitting magazine, this cardigan is knit with a strand of DK yarn and a strand of fingering yarn held together. You can combine a metallic yarn with merino yarn as pictured to create a glamorous evening accessory or combine other yarns for a more casual look. To fit: 81[86:92:97:102:107:112]cm (32[34:36:38:40:42:44]in)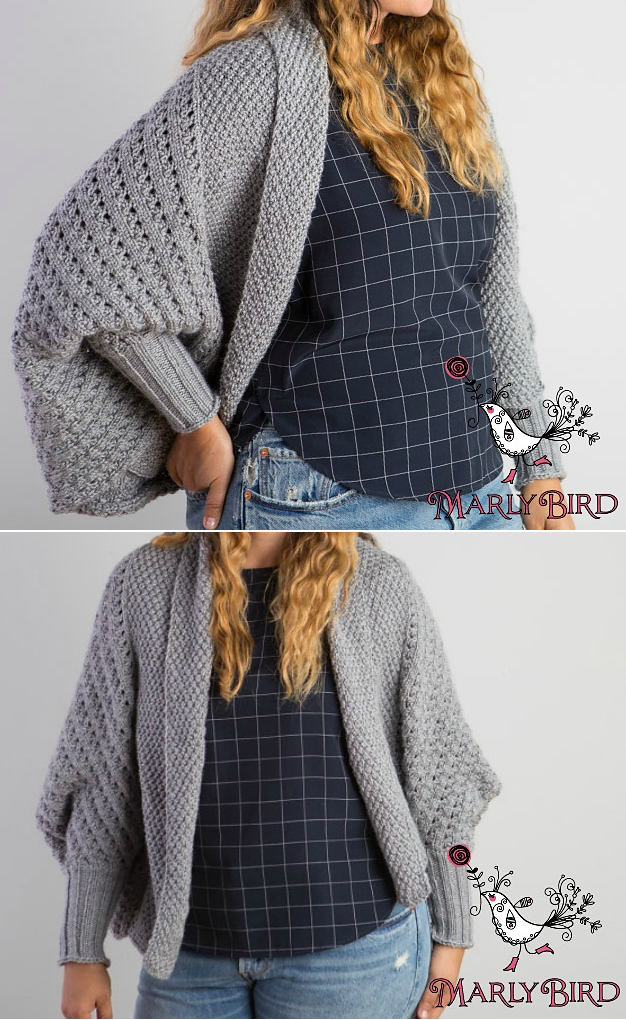 Cocoon Cardigan
Designed by Marly Bird, this long sleeved sweater features oversized lace sleeves with fitted cuffs, a shawl collar, and interesting overall texture. 3 sizes. Pattern and instructional video class available for free with a free trial at Creativebug OR purchase pattern and class individually.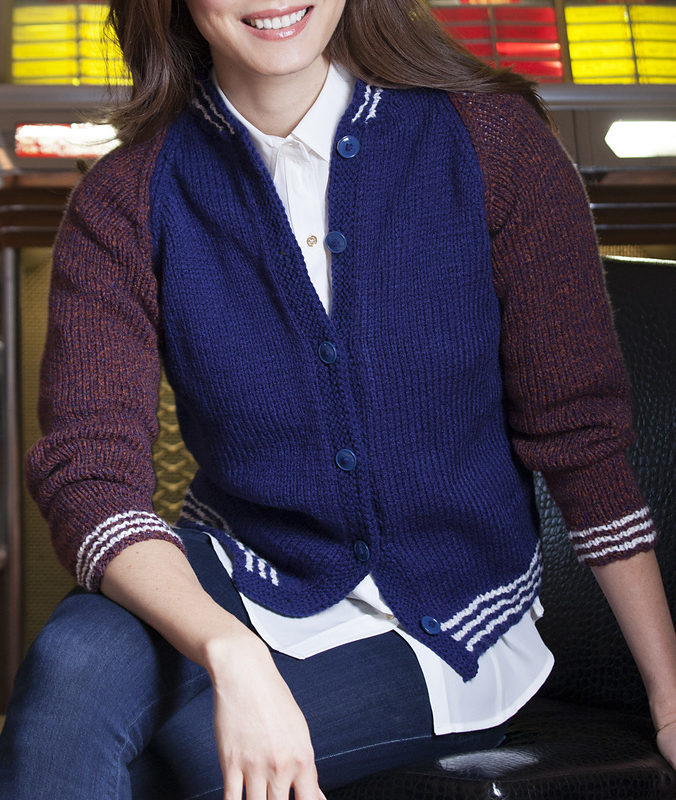 Letter Jacket Cardigan
Cute classic cardigan styled like school letter jackets. Customize with your own school colors. Designed by Jodi Lewanda. Sizes x small – 2X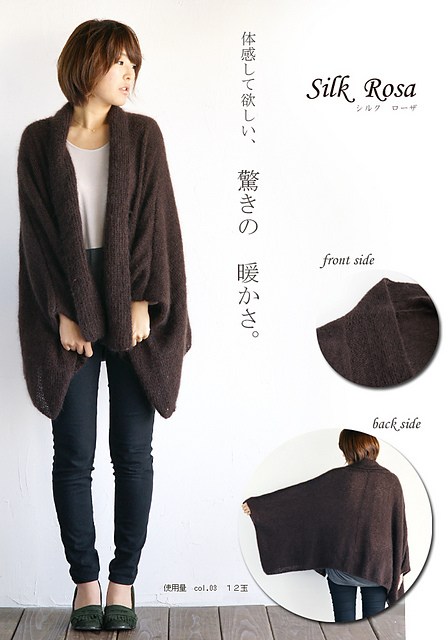 Silk Rosa Dolman Cardigan
Designed Pierrot yarns, this draped cardigan is knit in stockinette, seed stitch, and ribbing.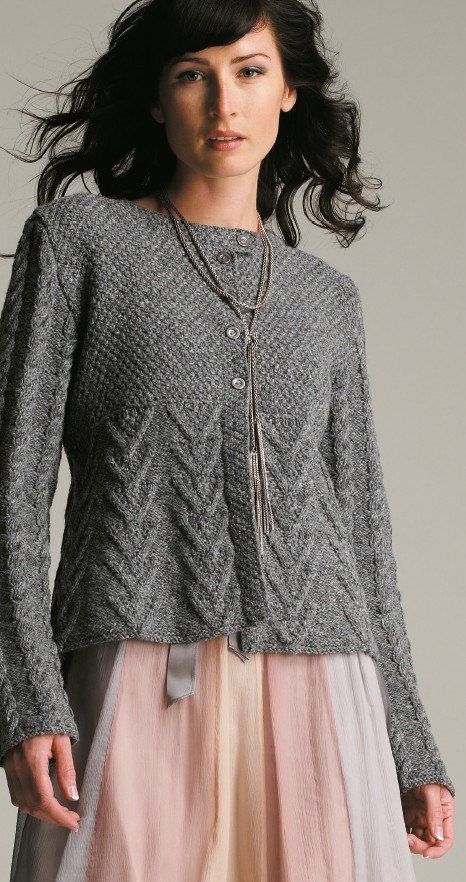 Textured Cardigan
Sarah Hatton designed this shaped cardigan with cables and moss stitch for Rowan. Requires registration to download. Sizes S, M, L, XL.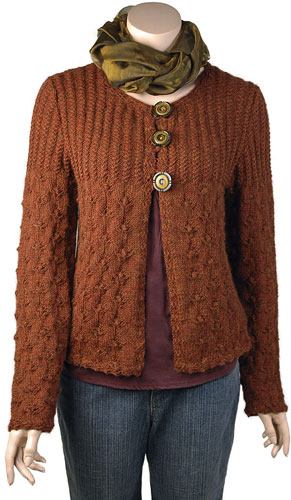 Rosebud Cardigan
Dainty rosebuds decorate this cardigan from Berroco. The rosebuds are difficult to see in this brown color but they are quite sweet and made with floral bobbles. Sized for X-Small, Small, Medium, Large, 1X and 2X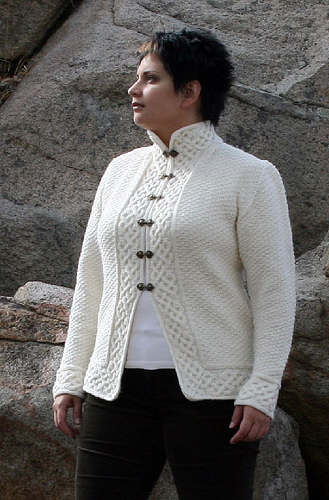 Pohjan Neito Cable Cardigan
Tuulia Salmela designed this flattering fitted jacket with lovely cable trim detail and high collar, this shape-flattering cardigan includes two different front neckline options. Body circumference:approximately 46″. Pattern also contains instructions for a coat.
More Free Patterns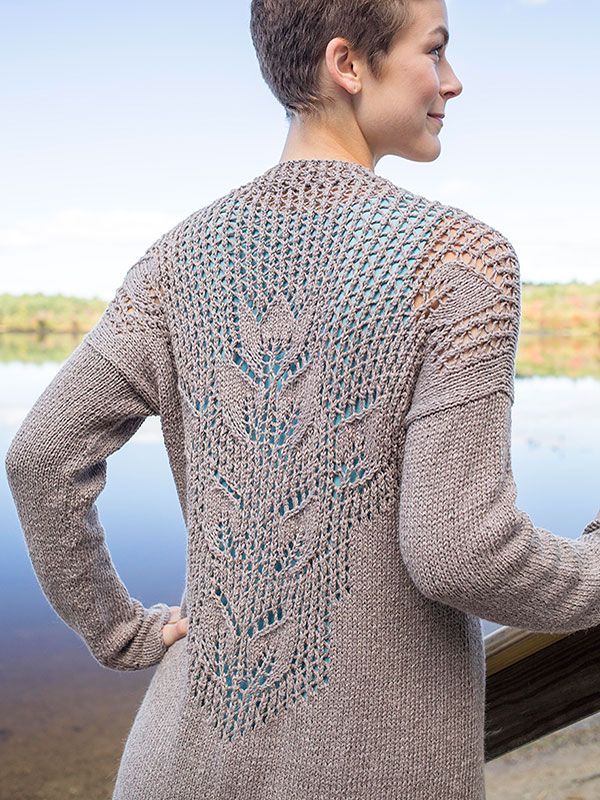 Mallow Cardigan
Elegant and graceful, this cardigan designed by Berroco features a stunning floral lace back and edging. Sizes X-Small, Small, Medium, Large, 1X and 2X.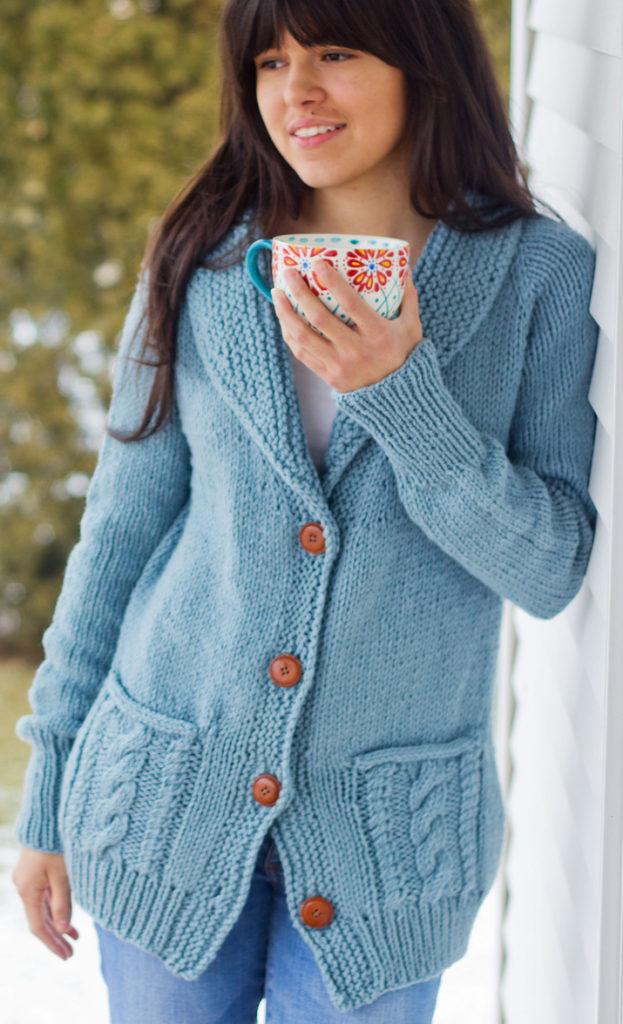 Fezziwig Cardigan
Cozy, top down, raglan cardigan with shawl collar, cable pockets, and beautiful back details is a quick knit in bulky yarn. Adult sizes 32(34, 38)/81(86, 97)cm. Designed by Melissa Schaschwary

Avocet B
Nora Gaughan designed this easy elegant garter stitch cardigan with shaping. XS (S, M, L, 1X, 2X)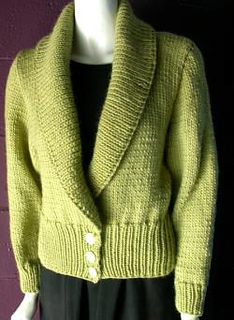 Shawl Collar Cardigan
Designed by Crystal Palace Yarns, this cardigan is an easy sweater project. It has a lovely shawl collar but no complicated stitches. Super chunky yarn makes this a quick project. Sizes S, M, L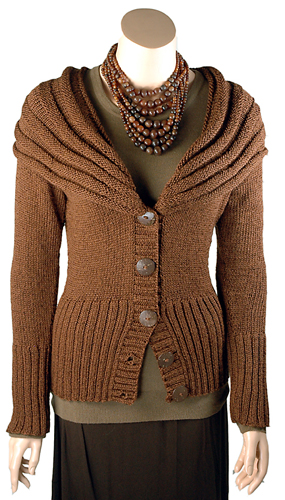 Sadie Cardigan
Designed by Berroco, this cardigan has a lovely corrugated shawl collar and fitted ribbed waist. Sized for X-Small, Small, Medium, Large and X-Large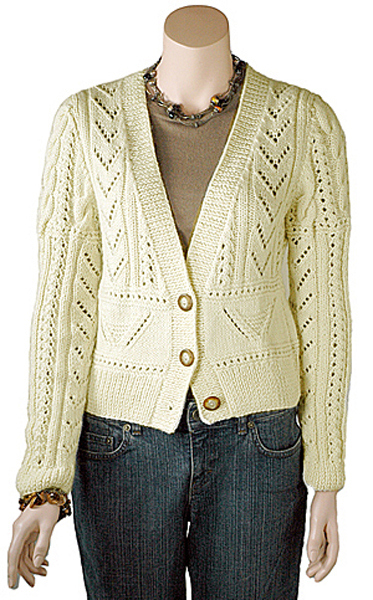 Hibito Cardigan
Norah Gaughan designed this lace button-front cardigan for Berroco. Sized for X-Small, Small, Medium, Large, 1X and 2X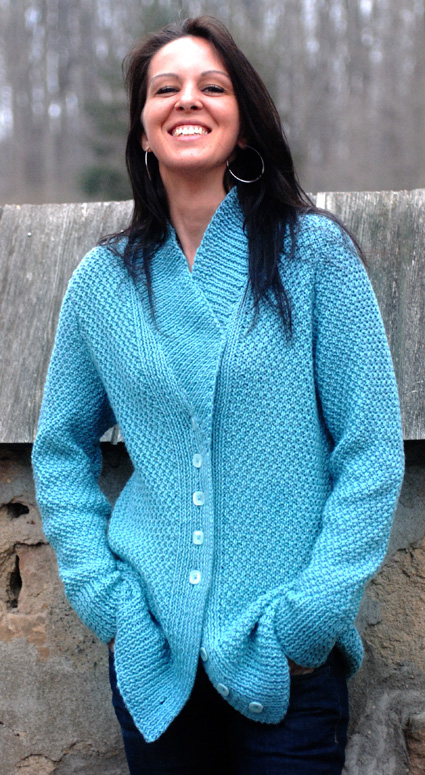 Victoria Cardigan
Designed by Lori Versaci for Knitty, this pattern has sizes XS to 5X (actual chest measurements from 32-60 inches).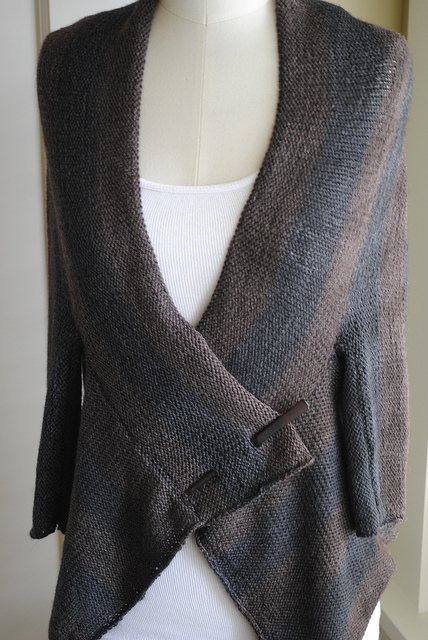 Triple Fold Striped Wrap Cardigan
This ingenious cardigan by Monica Welle Brown is made from one rectangle (with strategic bind-offs and cast-ons) and then folded and seamed into this cardigan.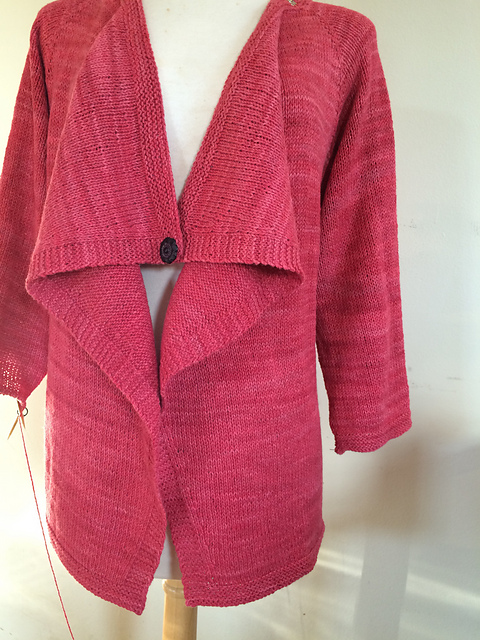 Bienvenidas Cardigan
Vera Sanon's draped cardigan is knit from the top down, with a gradual reversed v-shaped-front that is very figure flattering with ¾ length or full-length sleeves. Fingering, Sport or DK weight yarn. Sizes: XS (S, M, L1, L2)(XL, 2XL, 3XL)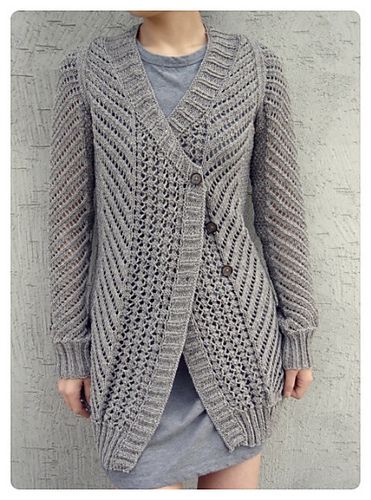 Oblique Cardigan
Veronik Avery designed this wrap cardigan with diagonal lace. Sizes XS[S, M, L, 1X, 2X, 3X]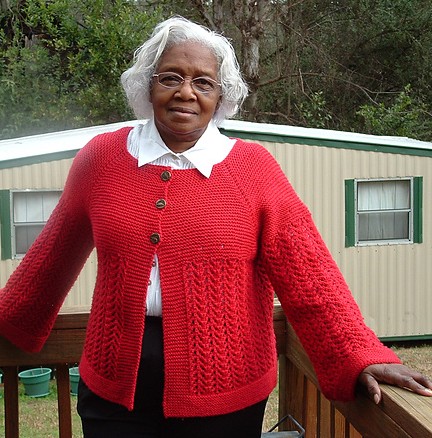 February Lady Cardigan
Pamela Wynne designed this swingy lace cardigan for sizes 35, 37.5, 41, 41, 44, 49.5, 52.5 inches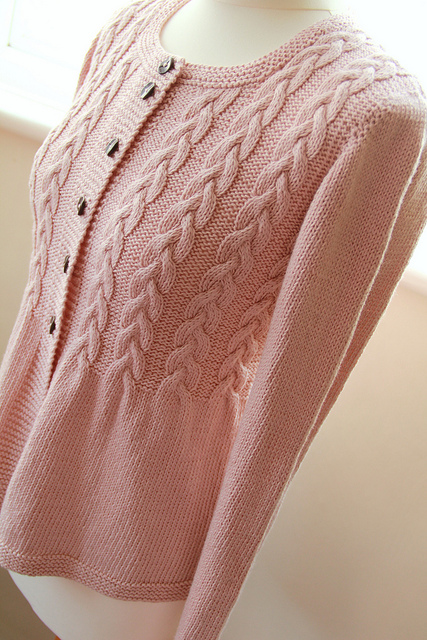 Venezia Sport Cable Cardigan
Designed by Vera Sanon for Cascade Yarns, this shape-flattering cardigan includes two different front neckline options. Sized for X-Small, Small, Medium, Large, XL and 2X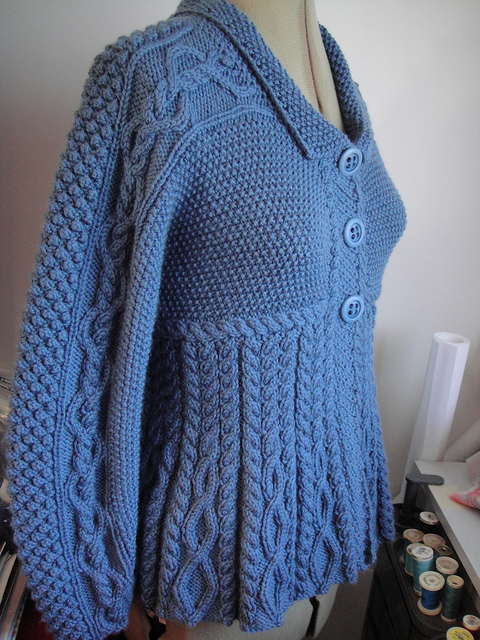 Silver Belle / Romy Cardigan
Debbie Bliss design featured on a Vogue Knitting cover is a masterpiece of cables and textured stitches. Sizes – Bust (buttoned) – 32 (36, 40)"/ 82 (92, 102)cm. Pictured project by RobynPearl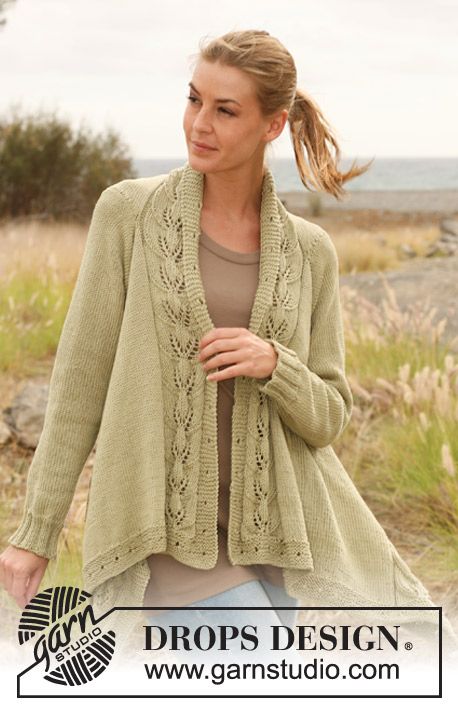 Timeless Grace Cardigan
DROPS Design created this draped cardigan with lace trim. Size: S – XXXL
Patterns for Purchase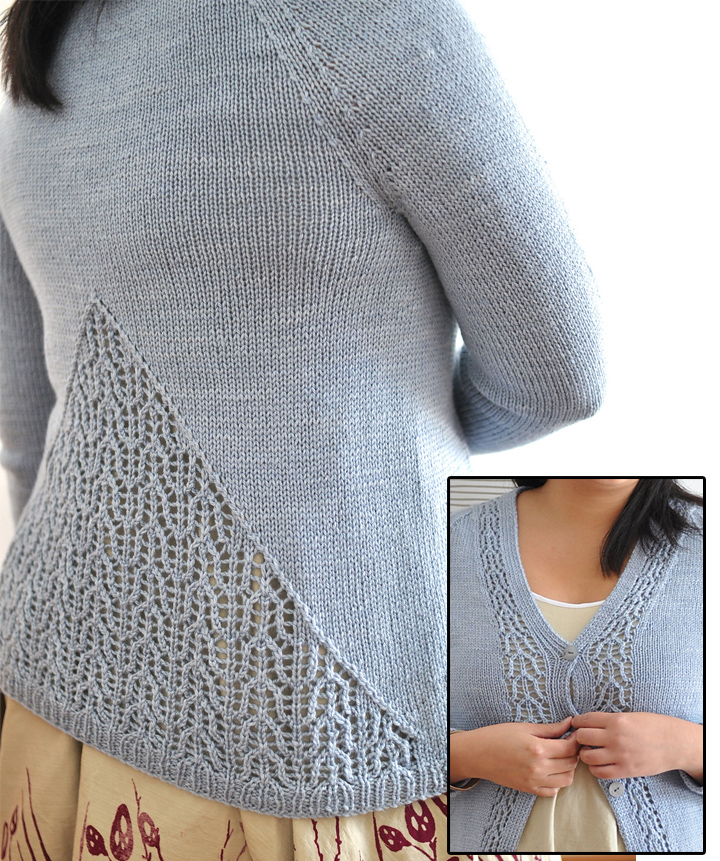 Elston Cardigan
Long sleeved cardigan sweater features bracelet length sleeves and a swingy triangular lace insert. The easy lace pattern is also worked along the front bands and extended around the neck for the collar. Finished Bust: 33.25 (34.75, 36.25, 37.75, 39, 42, 45, 47.75, 50.75, 53.75, 56.5)". Recommended yarn on pattern page.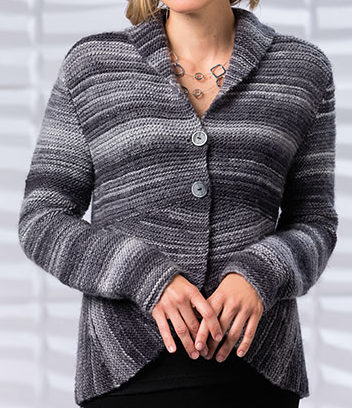 Simple Yet Stunning Cardi
Long sleeved cardigan sweater features short-row shaping that looks great with self-striping or multi-colored yarn. Woman's small (medium, large, X-large, 2X-large)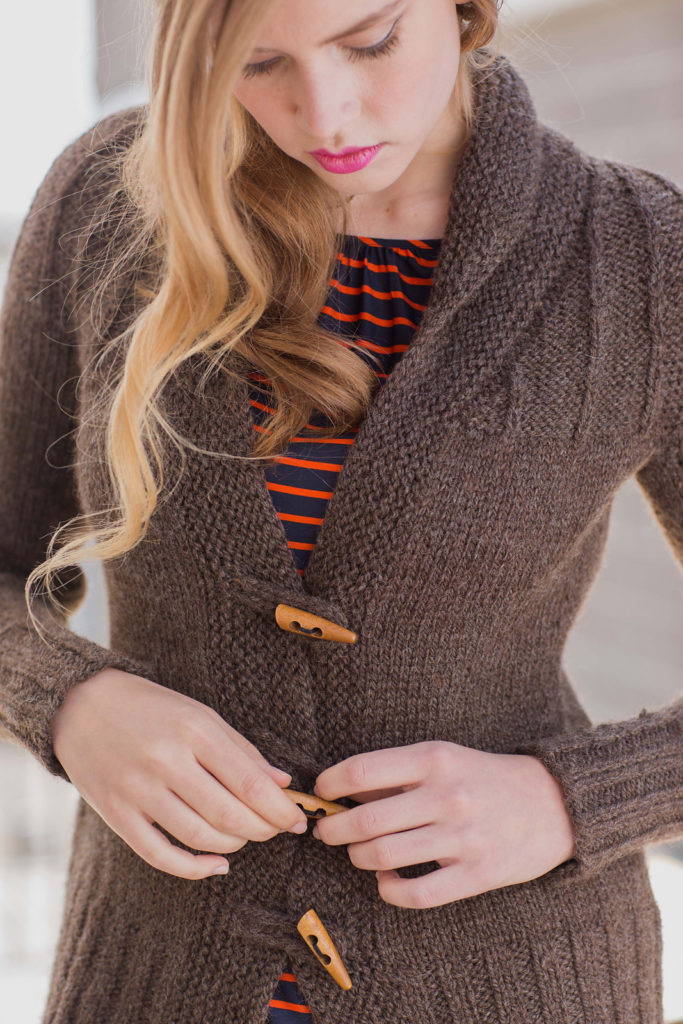 Solitude Jacket
This seamless cardigan features a deep ribbing pattern at the shoulders and bottom hem to offset a simple garter-stitch cowl shaped with short-rows.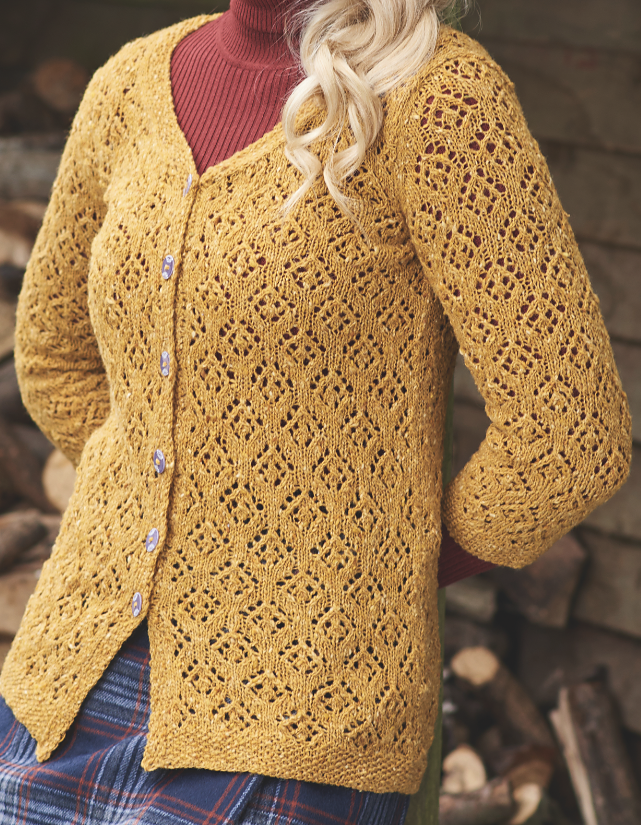 Winter Sun Cardigan
Stunning lace cardigan by Anniken Allis with an all-over pattern in chart and written instructions. One of 34 patterns in Simply Knitting December 2016. Sizes UK 8-26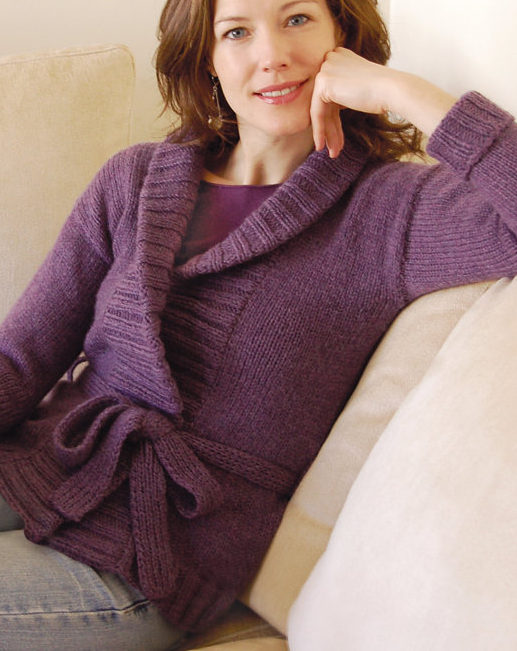 Wrap Jacket
The designer Val Love says this is a very easy jacket pattern, with a double thick shawl collar and wrap front. Worked in one piece with shoulder seams. Size: XS-XXL.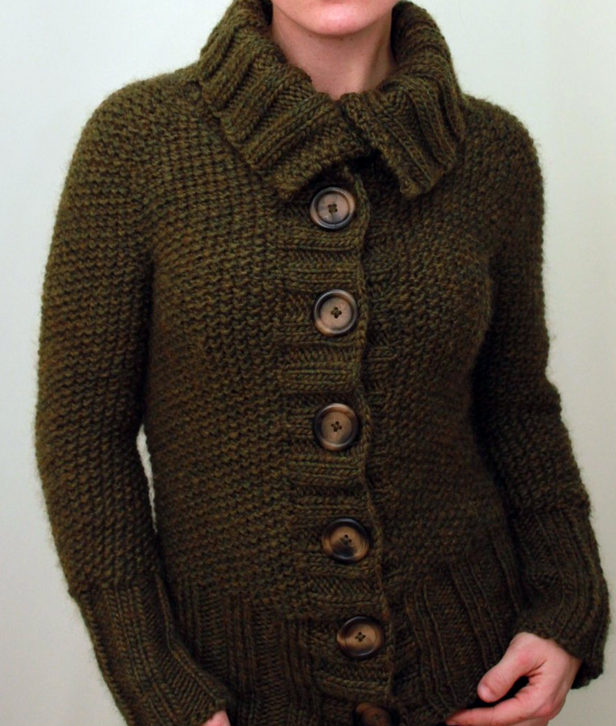 Sedum Cardigan
Cozy seed stitch cardigan with long ribbed collar and cuffs. Quick knit in bulky yarn. Sizes 28(30, 32, 34, 36, 38) in AND 40(42, 44, 46, 48, 50) in. Designed by Jane Richmond.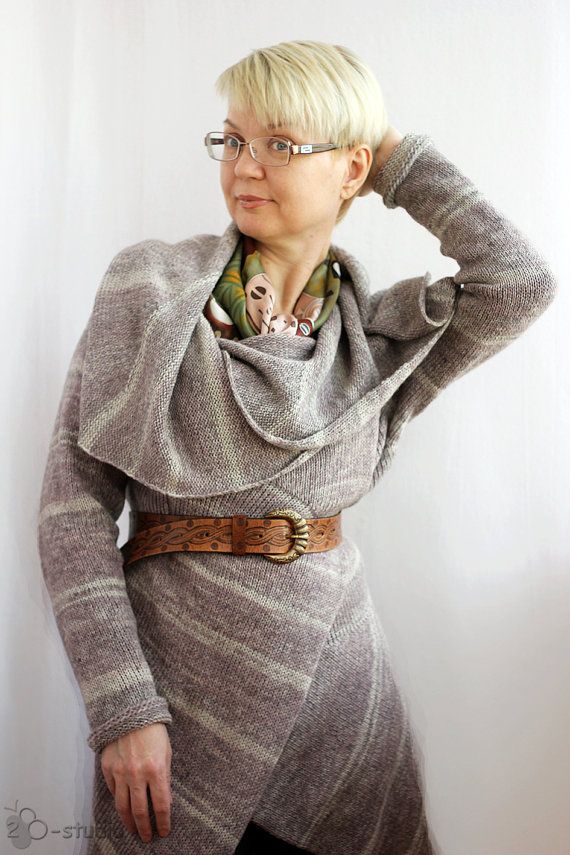 Multiwear Cardigan
Knitted coat-transformer can be worn in many different ways! In one version it has a back length to the knee, and in another version the collar gets bigger and the coat becomes a jacket!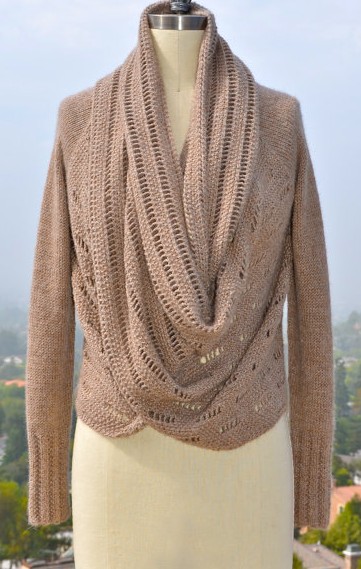 Setsuko Cardigan
This draped front cardigan has an infinitely long collar that can be twisted and wrapped around the head like a scarf or placed over the sides, forming a luscious shawl collar. Sizes: Bust: 32 (36, 40, 44, 48, 52)" / 81.5 (91.5, 101.5, 112, 122,
132) cm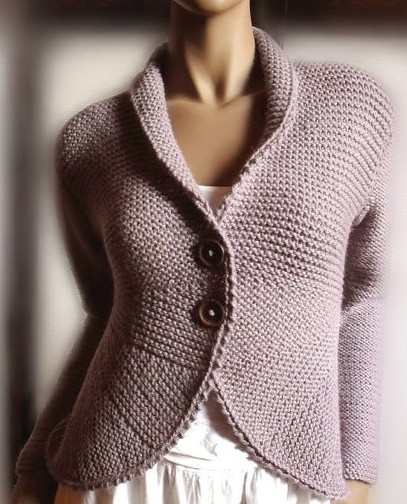 Blazer Jacket Cardigan
Very easy to knitting pattern for fitted cardigan, suitablefor beginners. Sizes: XS – S – M – L – XL – XXL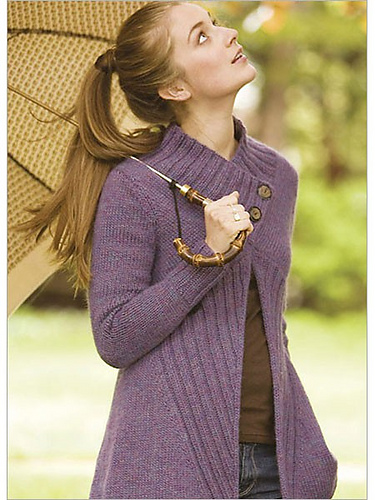 Tilted Duster Cardigan
Norah Gaughan builds her architectural Tilted Duster in pieces for movement and drape. Sizes XS, (S, M, L, XL)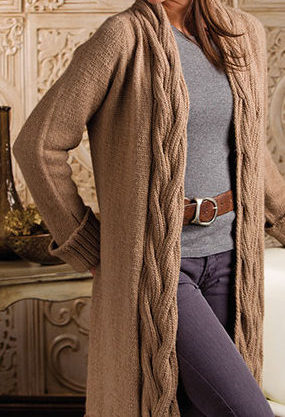 Urban Flats Jacket
Long, flowing cardigan features cable edge in front and flattering ribbed flare in back.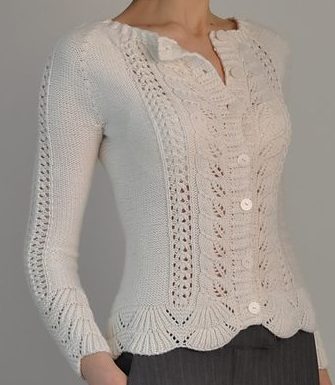 Rambling Rose Cardigan
This is barce's one-color version of Laura Zukaite's lace long-sleeved cardigan, originally designed for two colors. 30 (43)" bust circumference. Pictured project by barce