<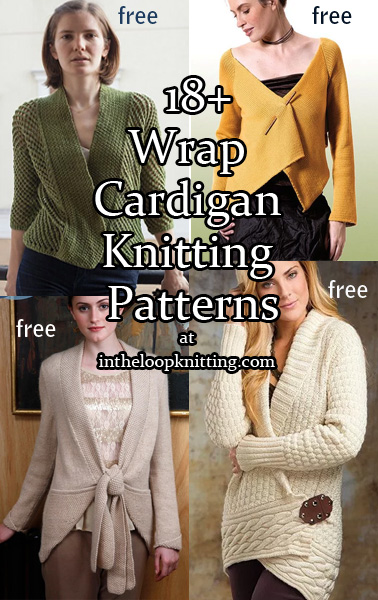 These knitting patterns for cardigans are wrapped in many stylish and flattering ways with asymmetric fronts, pleating, ties, and more.
To get the knitting patterns, scroll down the page to the individual pattern you want and click on the link to that pattern.
These patterns are not my designs but links to other designers who have generously shared their patterns. If you have questions about how to knit a specific pattern, please contact the designer directly.
All links on this site are for informational purposes, but please note that some links are to affiliate sellers that pay me a small commission on purchases.
Free Patterns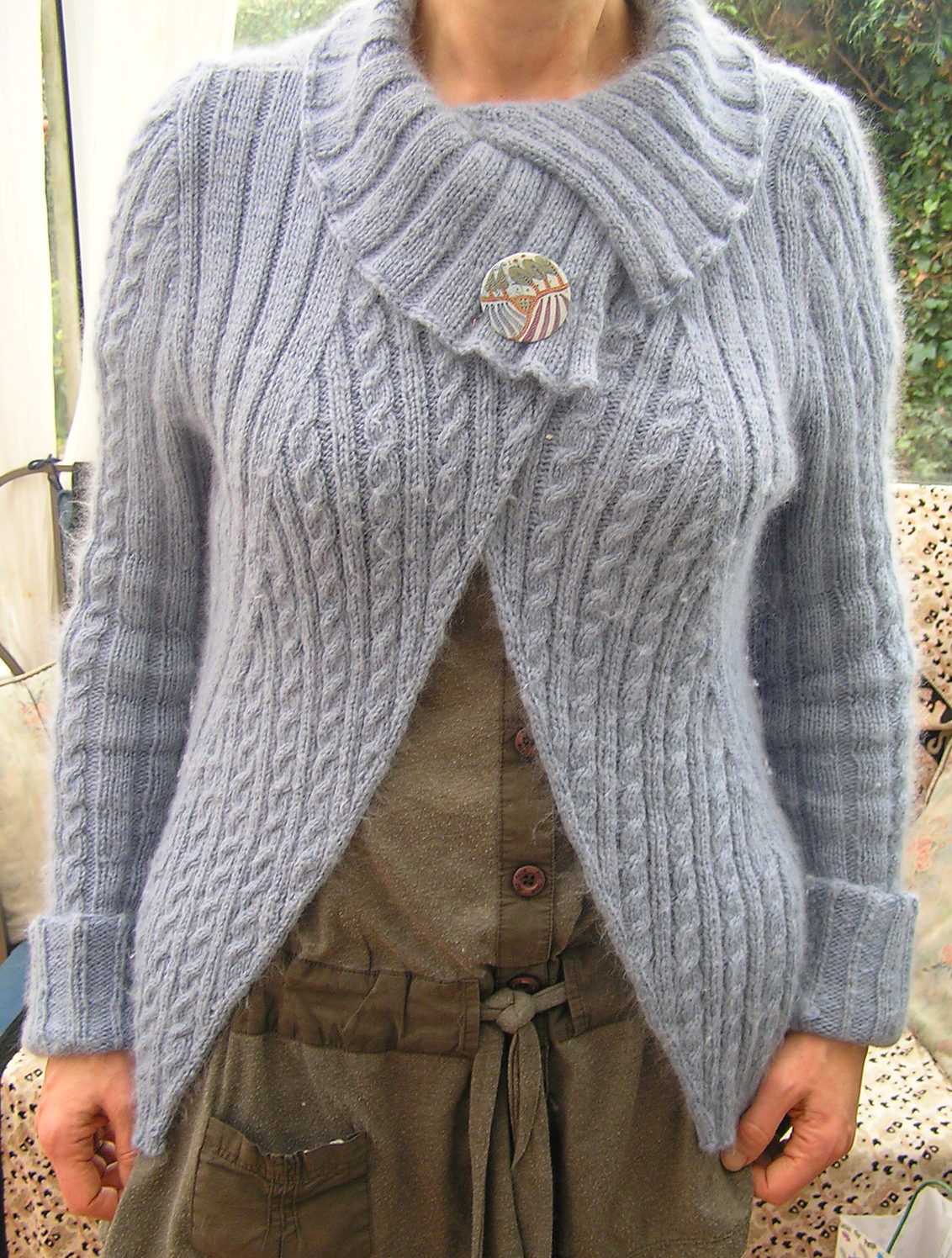 Twist and Shout Cardigan
This long-sleeved, split collar sweater that wraps at the neck flatters all body shapes thanks to the combination of simple waist shaping, all-over ribbing, cables and the angled center panels. Four sizes from XS to 4X. Designed by Robynn Weldon for Knitty. Pictured project by rossity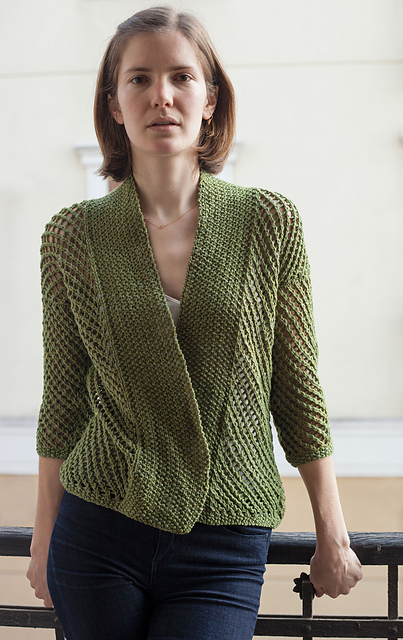 Eyelet Harvest Cardigan
The pattern in the collar continues to the back to form a panel. Designed by by Juan R. Alcantar & Lois Horychata for sizes Small, Medium and Large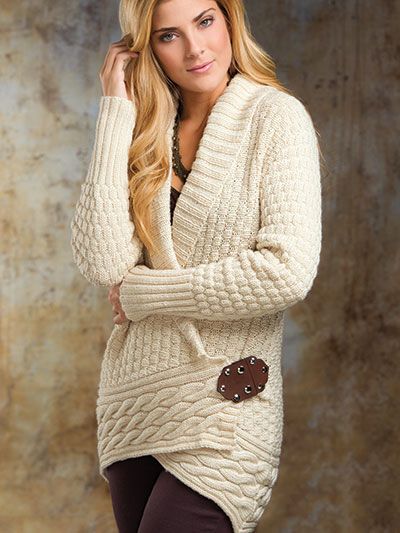 Alabaster Cardigan
Cheryl Beckerich designed this beautiful asymmetrically wrapped cardigan with cable border and shawl collar. Sizes XS, S, M, L, XL, 2X. Recommended yarn available on pattern page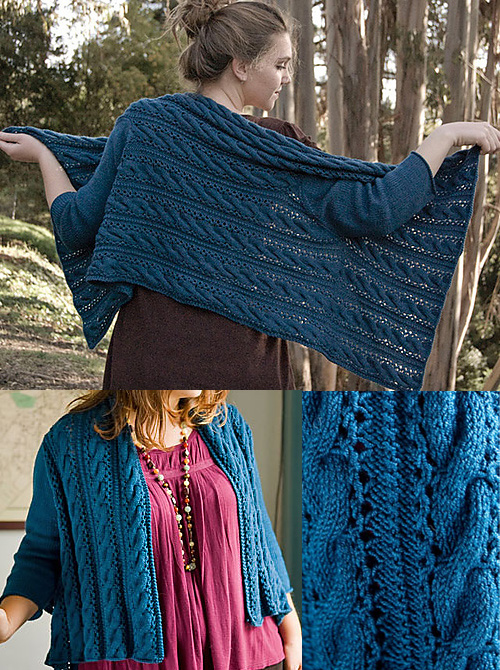 The Mead Sweater
Designed by Norah Gaughan, this cable and lace cardigan wrap is a rectangle shawl with sleeves that drapes over the shoulders. 46 – 51″ wide x 24 – 25″ long. Recommended yarn available on pattern page.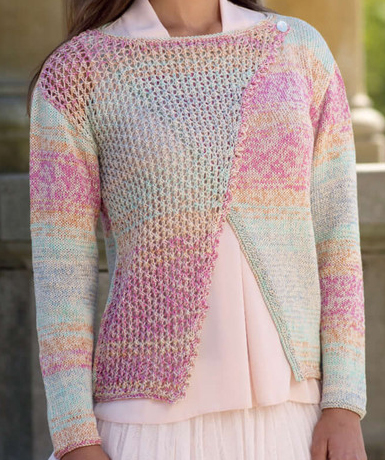 Lace Front Wrap Cardigan
Sirdar Toscana DK 7974 asymmetric wrap features a lace panel and knit lace edge. Option for long or short sleeves. Sizes Size 32/34 36/38 40/42 44/46 48/50 52/54 inches.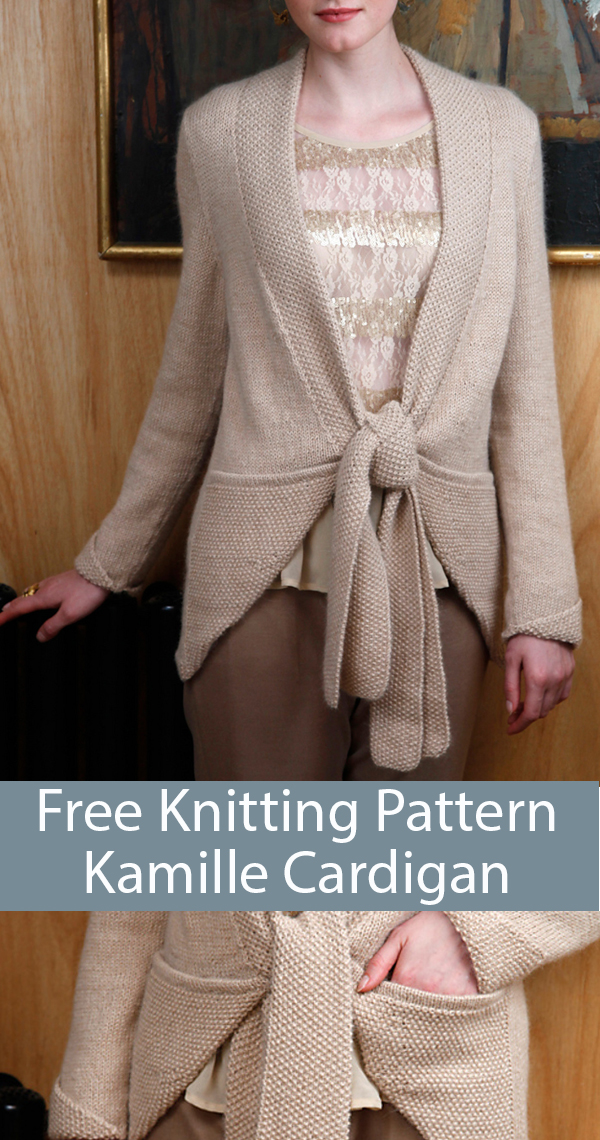 Kamille Cardigan
Long-sleeved sweater with seed stitch ties and pockets. Sizes to Fit Bust: 78cm/30in to 137cm/54in. Designed by Judy Furlong for Artesano. DK weight yarn.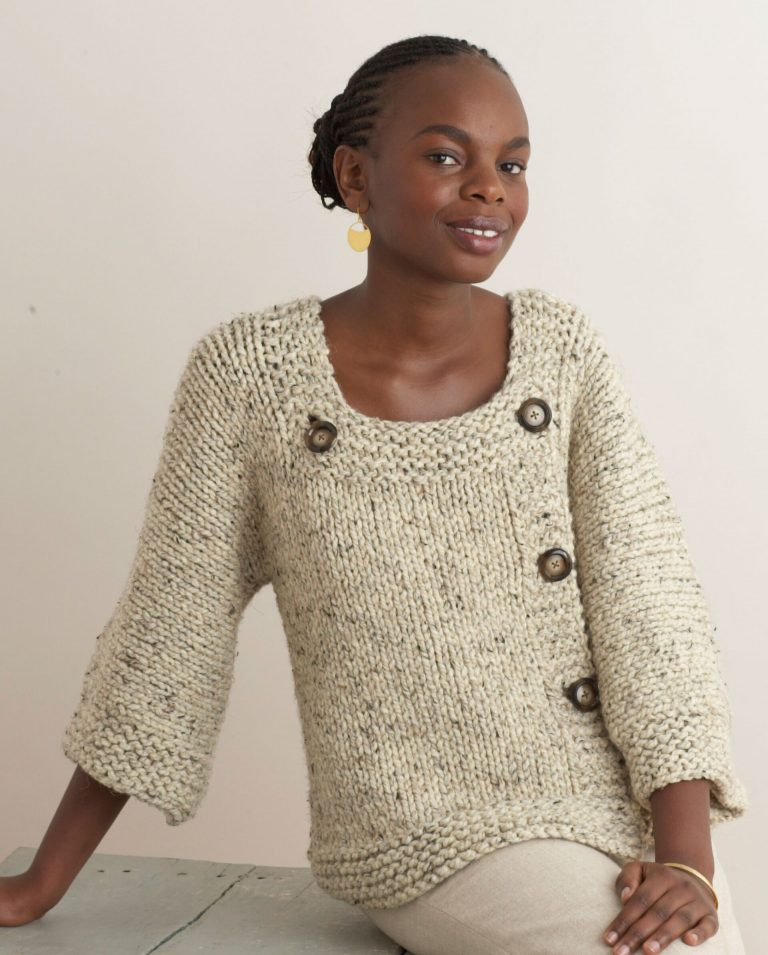 Extra Easy, Extra Fabulous Sweater
Designed by Lion Brand, this asymmetric cardigan is knit in stockinette and garter stitch. Small, Medium, Large, 1X, 2X
More Free Patterns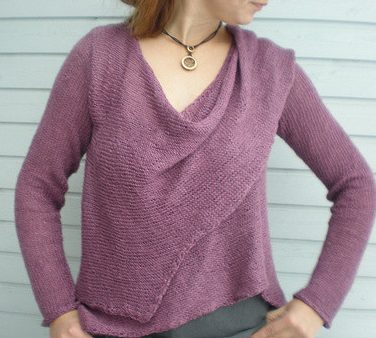 Asymmetric Jacket
This wrap cardigan from DROPS Design is worked in stockinette and sized for S – M – L – XL – XXL – XXXL. Available in variety of languages. Pictured project by NeulovaNarttu

Madge
This design by Katie Smith, this part wrap part sweater with a cowl collar is knit from the top down with little seaming. Bust sizes 32(34,36,38,40,42,44)"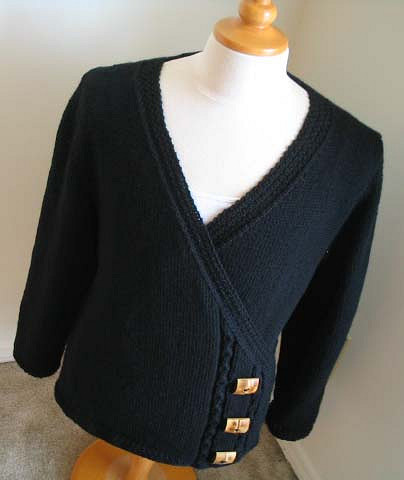 Lillie Cardigan
Nicole Reeves designed this elegant wrap cardigan in 5 sizes: 38″, 40″, 42″, 44″, 46″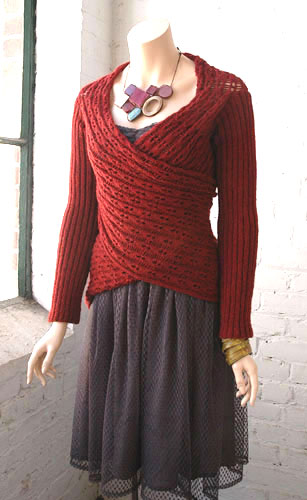 Julianna
This versatile ingenious sweater by the fantastic Norah Gaughan for Berroco is actually a scarf with sleeves. Easy and beautiful! Sizes X-Small/Small, Medium/Large and 1X/2X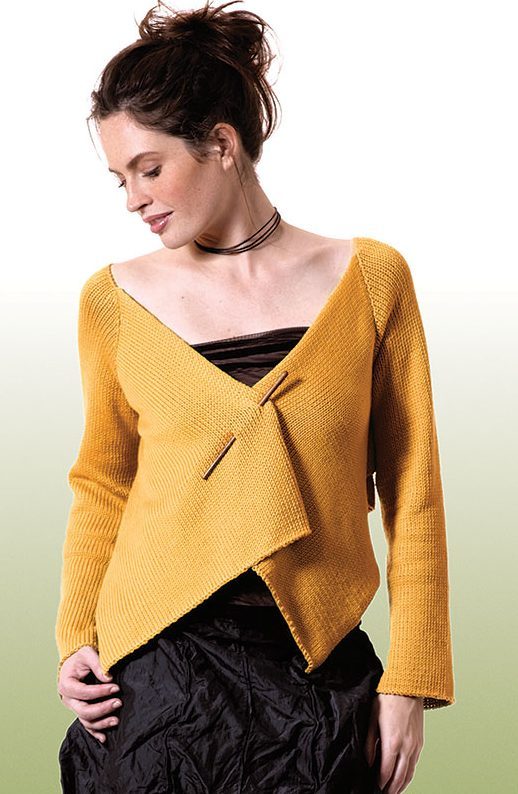 Sanpoku
The brilliant Norah Gaughan was inspired by Japanese style to create this wrapped cardigan for Berroco. The recommended yarn is my current favorite Berroco Modern Cotton which has lovely drape and stitch definition and is so comfortable.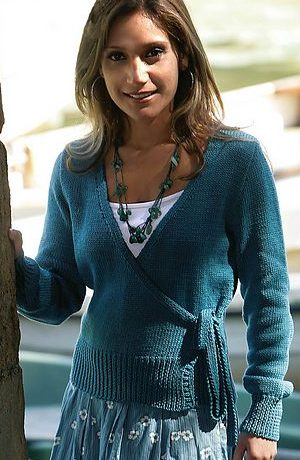 Cross Over Cardigan
Thomas B. Ramsden & Co's sweater is sized for 81-107cm (32-42ins)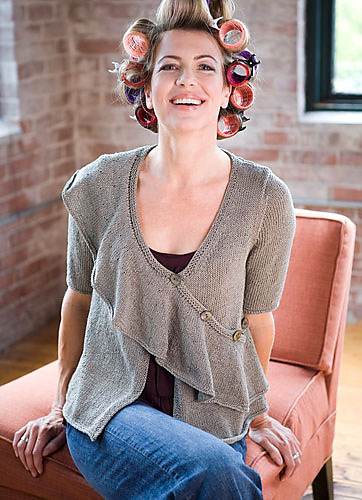 Egret
Designed by Nora Gaughan for Berroco. One of my favorite designers and I love this unusual ruffle wrap but I don't know why Berroco thought it was a good idea to put the model in curlers. Sizes 32(36-40-44-48-52)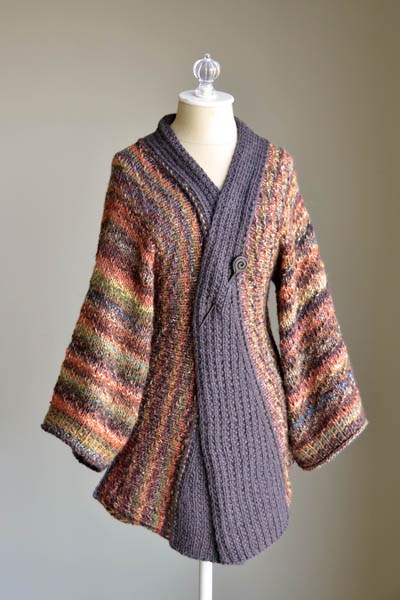 Reika Kimono Cardigan
Amy Gunderson designed this Japanese inspired jacket. Great for multi-color yarn! Small (Medium, Large, 1X, 2X)
Patterns for Purchase

Dramatic Lace Wrap Cardigan
Bold leaf lace panels define the front, hem, and back of this gorgeous top-down design. The slight fullness of the sleeves gives the cardigan a kimono-like air and makes this an easy layering piece. Finished Bust Measurements: 31 (35, 39, 43, 47, 51, 55)". Designed by SweaterBabe. Worsted weight yarn. Pictured project by malusica

Patti Ann Cardigan
This fabulously cozy blanket-style cardigan features a cascading wrap front, wide ribbed edging and long slim sleeves. To fit chest: 33 1/2 (37 1/4, 41, 44 1/2, 49 1/2, 53 1/4)".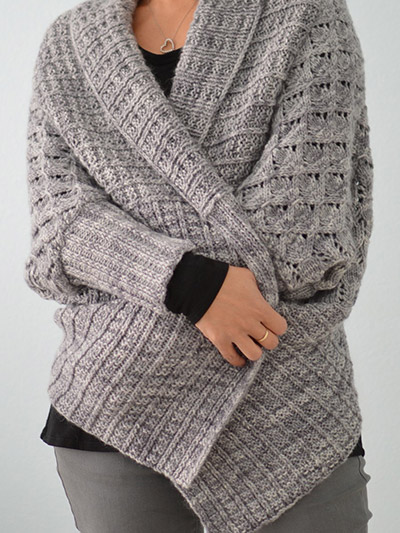 Two Way Wrap Cardigan
With generous dolman sleeves, an open front and an option to wear it upside down for a shawl collar, this is the ultimate go-to cardigan. To fit: S/M (L/XL, 2XL) Recommended yarn available on pattern page.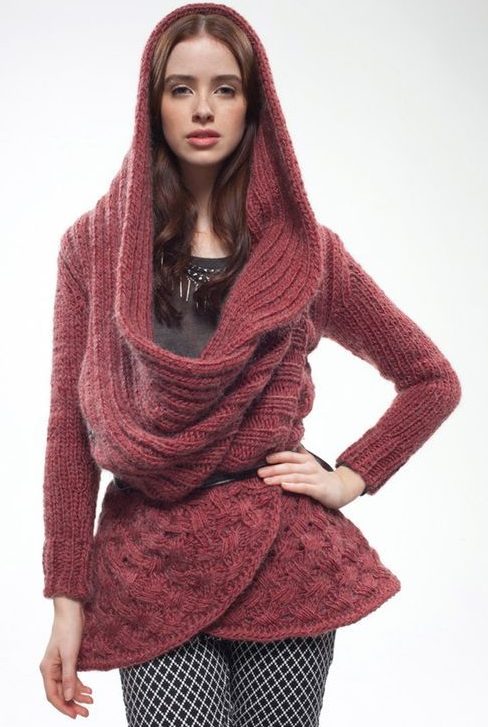 Big Red Cardigan
The bottom section of this draped cowl cardigan by John Bennet for Rowan is knitted using a cable wrap stitch with deep rib detail to the top section. This cardigan can be belted to draw it in at the waist. Cowl can be worn down around neck or as a hood Sizes 32-38, 40-46, 48-50 inches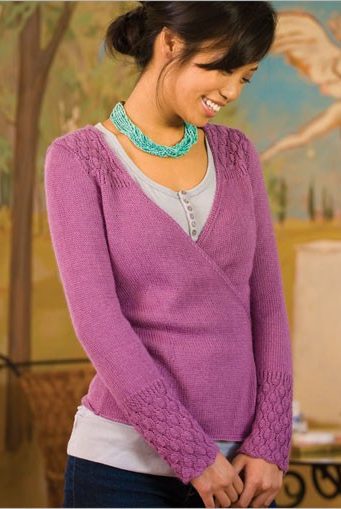 Silk Cocoon Cardigan
Connie Chang Chinchio uses clusters of cocoon stitch reminiscent of a just-opened bellflower. 30 (33, 36 ½, 40 ½, 44, 48)" bust circumference.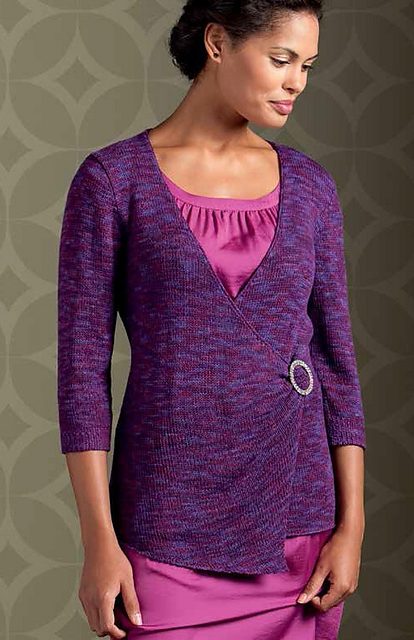 Wrap Blouse
Vicki Square's sweater features figure flattering diagonal lines and soft pleats. Sizes 34 (36, 38, 40, 42, 44, 46, 48)" (86.5[ [91.5,96.5,101.5, 106.5, 112, 117, 122]cm).