I love color and these scarf patterns deliver lots of color using fair isle, entrelac, slipstitch colorwork, short rows, multi colored yarn and more.
To get the knitting patterns, scroll down the page to the individual pattern you want and click on the link to that pattern.
These patterns are not my designs but links to other designers who have generously shared their patterns. If you have questions about how to knit a specific pattern, please contact the designer directly.
All links on this site are for informational purposes, but please note that some links are to affiliate sellers that pay me a small commission on purchases.
Free Patterns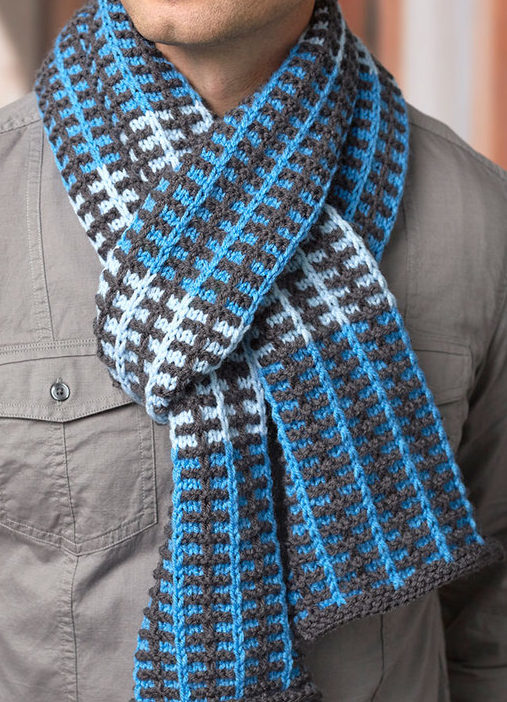 Slipped Stripes Scarf
This easy scarf uses slipped stitches to create the colorful pattern. Designed by Stacey Gerbman for Red Heart.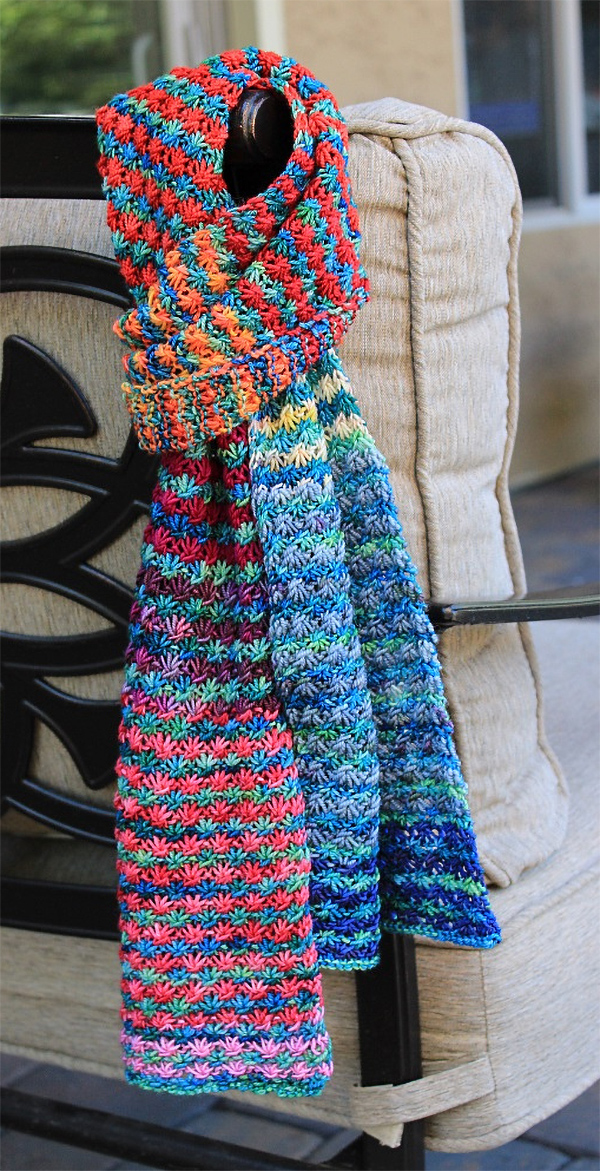 Posie Rows Scarf
Alternate colors of multi-colored sock yarn in 4 row repeat Daisy Stitch create striking textured stripes. Designed by Julie Tarsha. Great stashbuster!

Double Knit Scarf
Learn to double knit! This reversible scarf pattern is one of the projects included with the Double Knitting Workshop class by Edie Eckman. Pattern and instructional video class available for free with a free trial at Creativebug.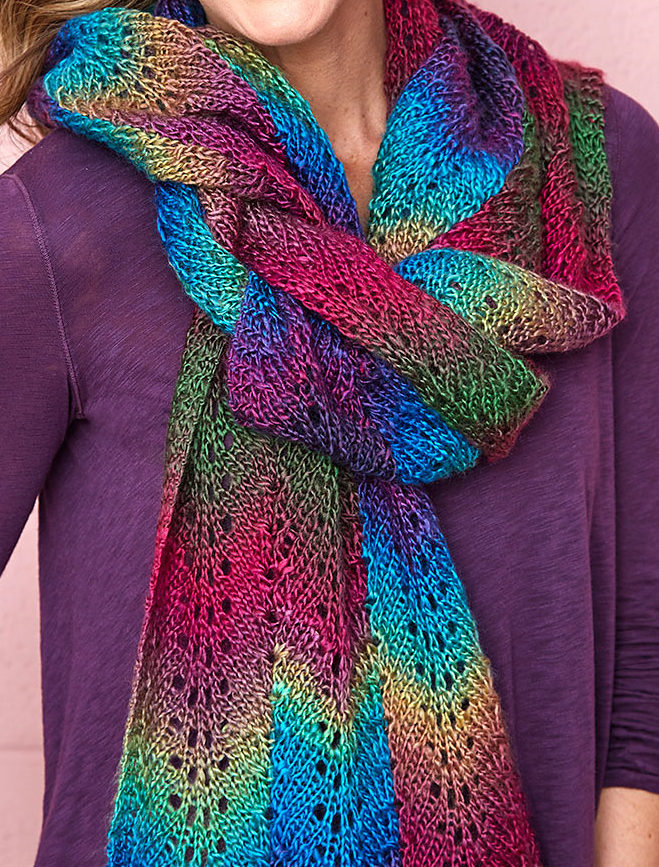 Bargello Scarf
This easy lace scarf is knit with an easy 4-row repeat with three columns of color. Designed especially for multi-color yarn by Patty Nance for Red Heart.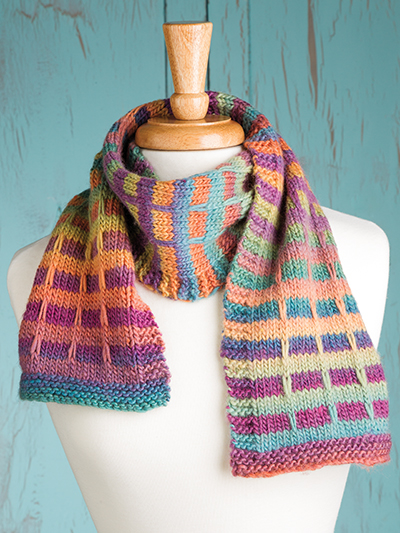 Mock Plaid Scarf
Designed by Susan Druding for Crystal Palace Yarns, easy slipped stitch colorwork with two multi-colored yarns creates a striking geometric pattern. You could also substitute one or two solid colors. Recommended yarn available on pattern page.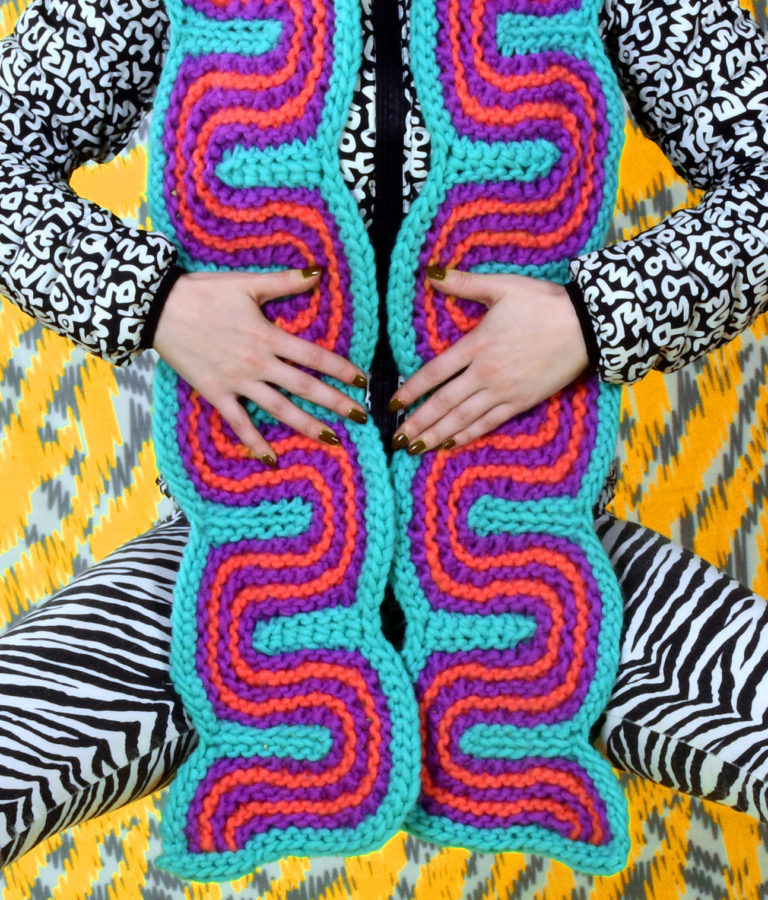 Ribbon Candy Scarf
The waves in this quick scarf are made with stacked increases and decreases to create a pattern inspired by Op Art. Designed by Xandy Peters. Quick knit in super bulky yarn.

Rainbow Scarf
This double knit scarf by Eline Sanders is easily customizable and perfect for multi-colored yarn!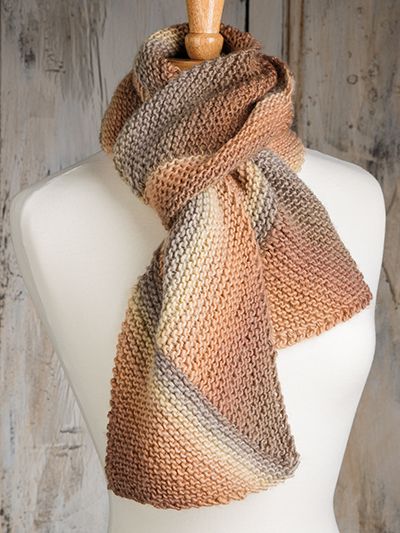 On the Bias Scarf
Designed by Knit and Crochet Now, multi-colored yarn combines with short row sections to create a stunning scarf. This is a pattern that really cries out for multi-colored, self-striping, or variegated yarn. Recommended yarn available on pattern page.

Rotini Scarf
Knitted short rows create this curly scarf that showcases multi-color yarn. Shared by Maggie Smith, though the original source is unknown.
More Free Patterns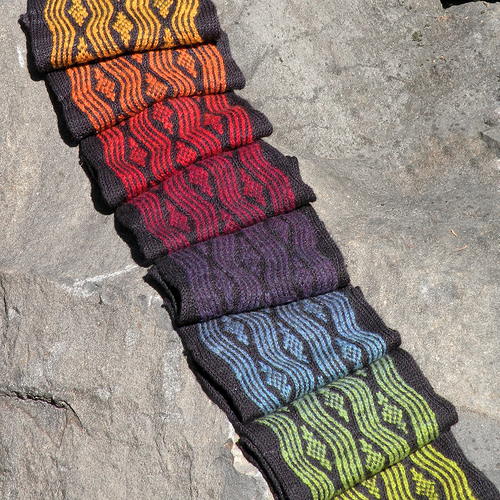 Fair Isle Rapids Scarf
Designed by Kieran Foley, this scarf comes in two versions – narrow and wide. Although the multi-color yarn version pictured is striking there are two-color projects that are also gorgeous.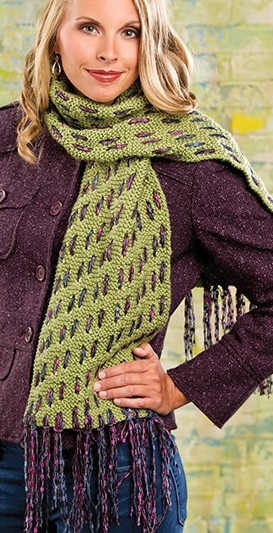 Woven Mesh Scarf
I love this idea! Lee Gant designed this easy garter stitch scarf dressed up by weaving yarn strands through the scarf that end up as fringe. Ingenious! The recommended yarn is available on the pattern page. Great for multi-colored yarn!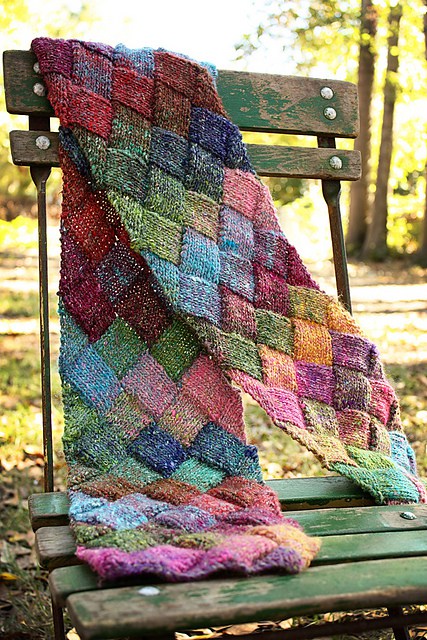 Entrelac Scarf
Allison LoCicero's scarf is a perfect introduction to entrelac knitting — there is even a link to a video tutorial. This design is also great for multi-color yarn. Pictured project by Heidi Pitre.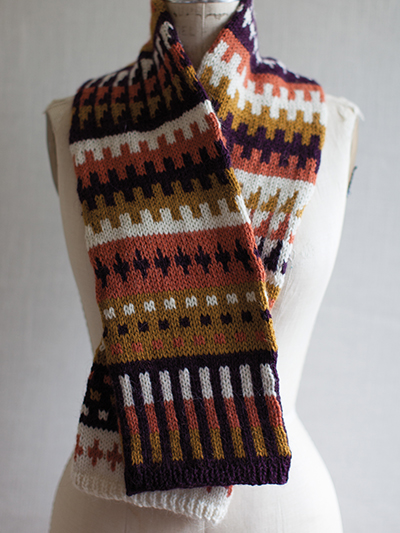 Fair Isle Scarf
Designed by Irina Poludnenko with a geometric pattern. Recommended yarn available on pattern page.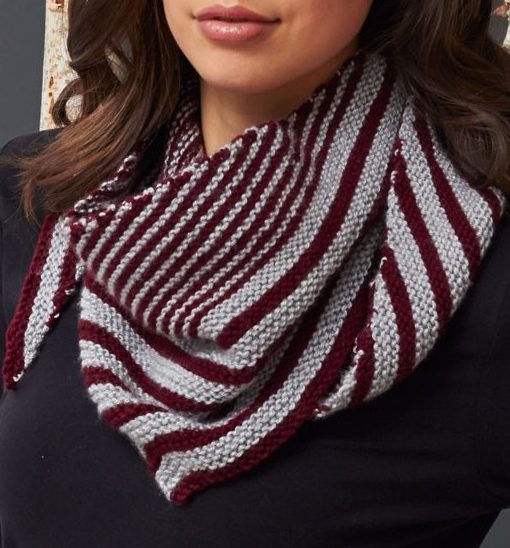 Lana's Scarf
Stylish striped scarf by Yarnspirations. Approx 11″ [28 cm] deep x 62″ [157.5 cm] long.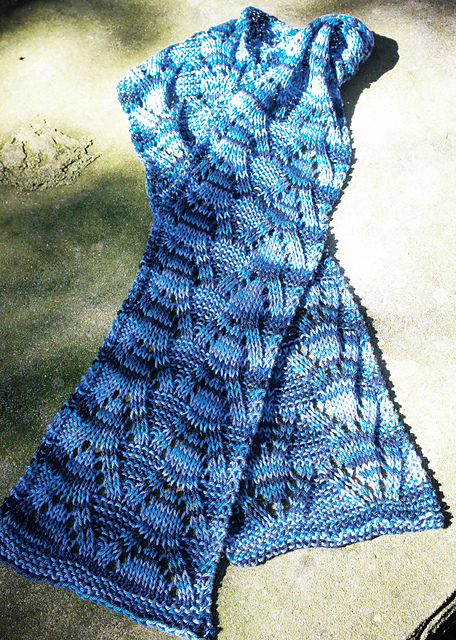 Lacy Scarf
Tanis Gray's narrow lace scarf is perfect for multi-color yarn.

Oszilla Scarf
Sybil Ramkin designed this garter stitch scarf that gets its design from a curve of short row stripes.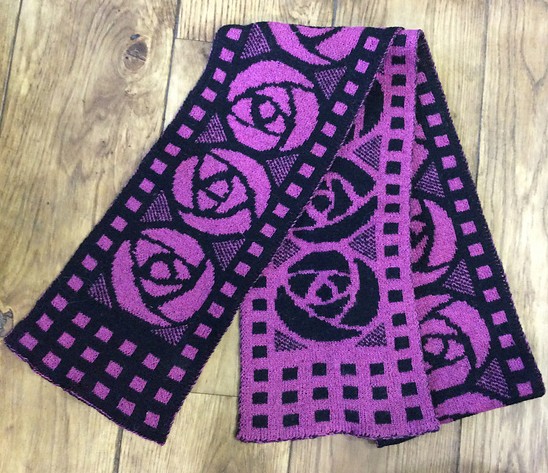 Art Nouveau Scarf
Andreas Banholzer was inspired by the roses and squares in the artwork of Glasgow Art Nouveau artist and architect Charles Rennie Mackintosh. The scarf is double-knit and reversible. Pictured project by Ramsey3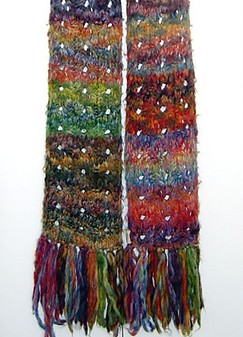 Rose Tyler's Boomtown Scarf
Zoe Stevens designed this scarf after the scarf worn by Rose Tyler in the Boomtown episode of Doctor Who. Pictured project by tardis_wardrobe

Argosy Scarf
Vyvyan Neel's lace scarf may look modular but it isn't. The blocky effect is created by casting on and decreases throughout the pattern. Written instructions and charts. Though it looks great in multi-color yarn, she has solid color examples.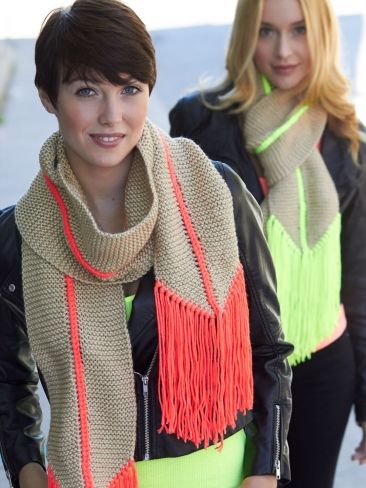 Hot Point Scarf
Designed by Yarnspirations, neon details and trim make these scarves pop — but you can use whatever colors you want.
Patterns for Purchase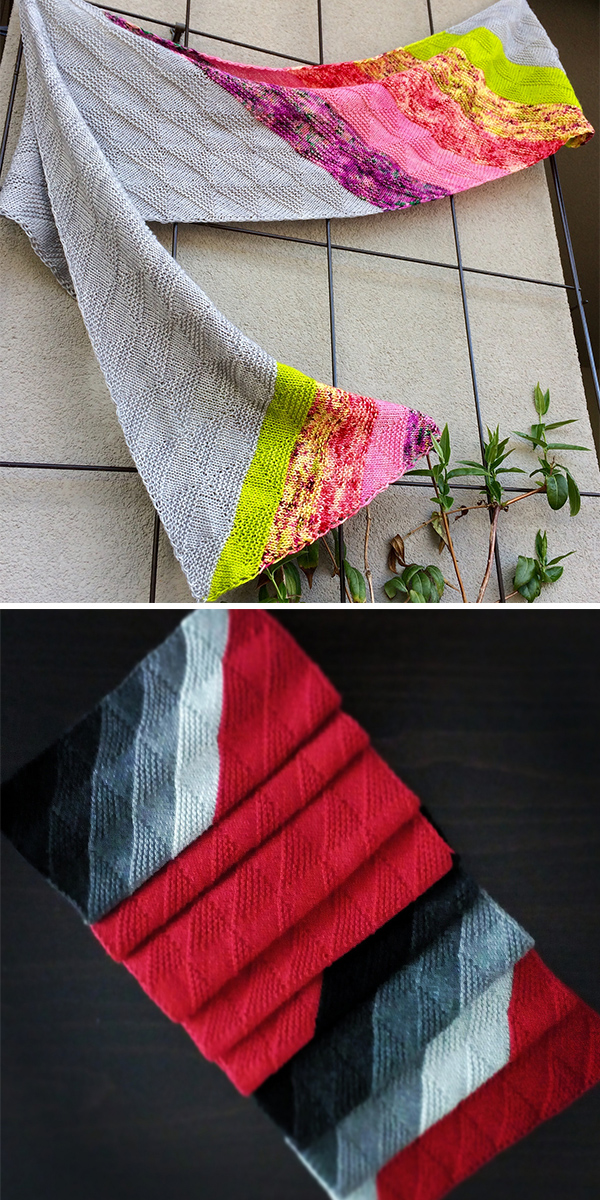 Colorful Geometry Scarf
Adjustable bias knit rectangular wrap, which can be made with a full skein of main colour and a set of five or six mini skeins of any size. It can also be made with scrap yarn or even just one or two colors, the sky is the limit! The geometric texture adds interest to make this an engaging knit for beginners as well as seasoned knitters. Designed by Petra Machová Kouřilová. Fingering weight yarn. Pictured projects by the designer and Nogate.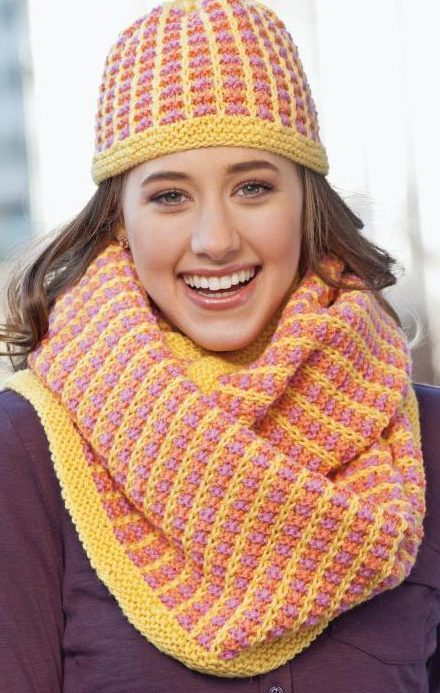 Helsinki Hat and Scarf Set and Reykjavik Hat and Infinity Scarf Set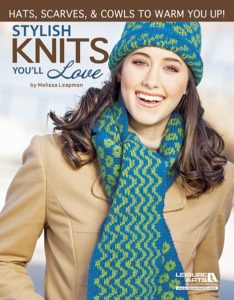 These colorful scarves with matching hats are included in Stylish Knits You'll Love by Melissa Leapman. Available as Digital Download or Paperback.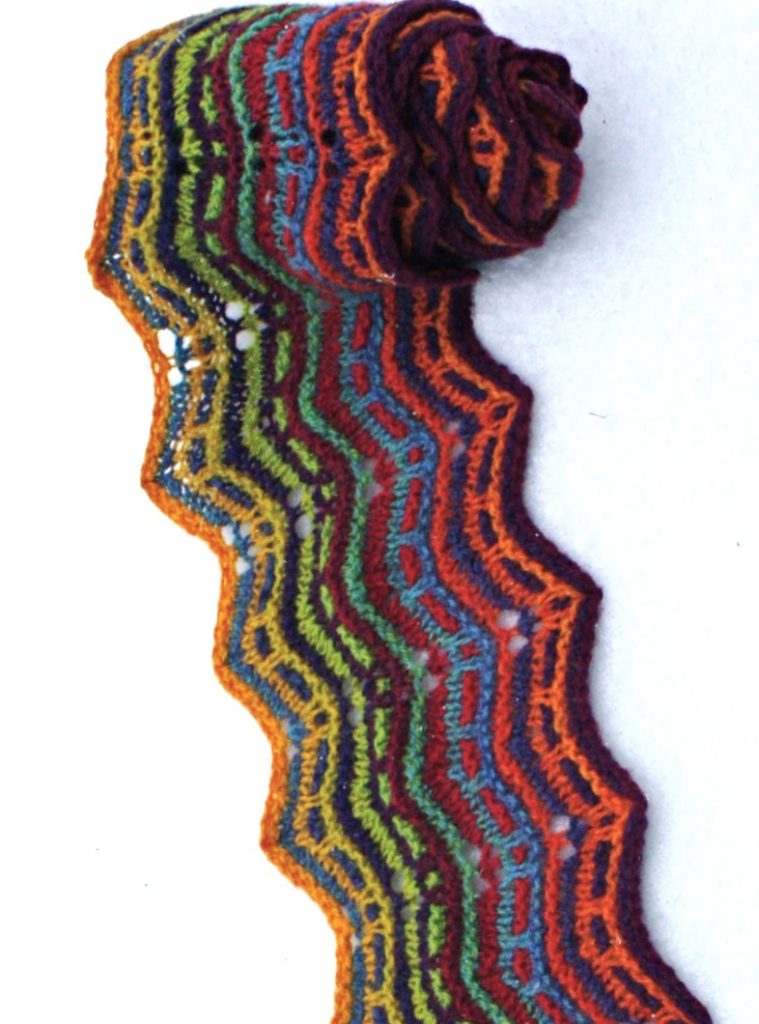 Ripple Slip Scarf
This versatile slip stitch colorwork pattern can be used to make a scarves, shawls, washcloths, baby blankets or even a full size afghan. It can be knit at any gauge, lengthwise or crosswise.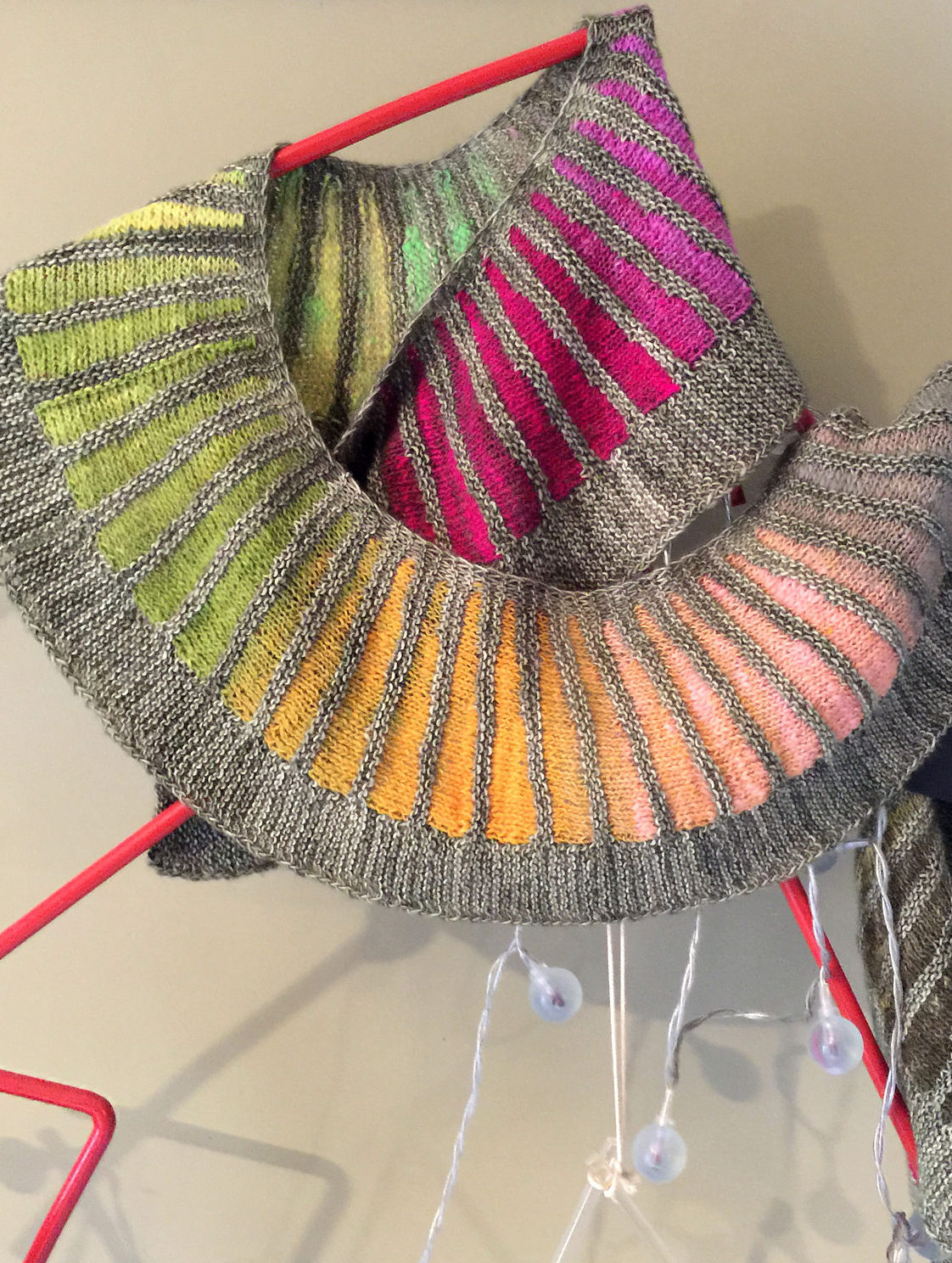 Spectra Scarf by Stephen West
No designer is better with color than Stephen West. This lightweight scarf uses two colors of yarn and short row shaping to create wedges like a color wheel. Great with multi-color yarn! Pictured project by MetalIndigo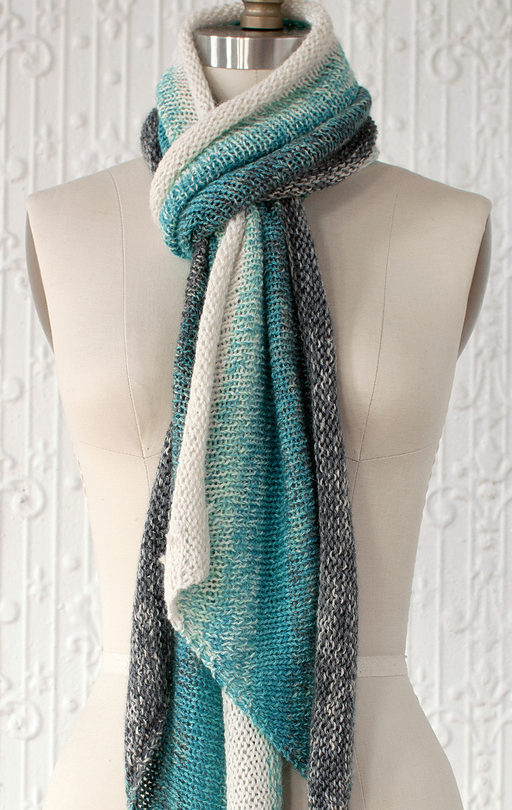 Gradiente Scarf
Three colors of yarn are combined in this easy scarf pattern to make a gradient look. Recommended yarn available on pattern page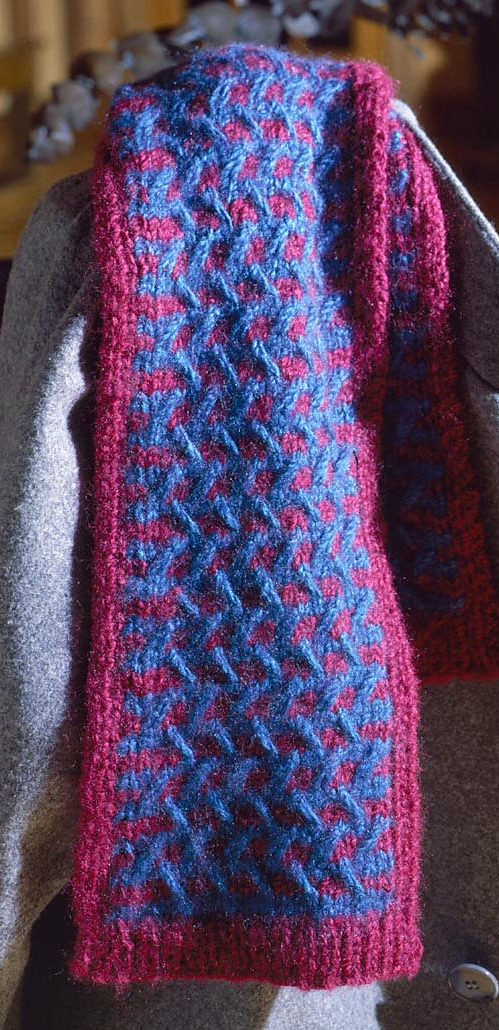 Two-Color Cable Scarf
This striking cabled scarf is knit in two colors to really highlight the cable pattern. Quick knit in bulky yarn.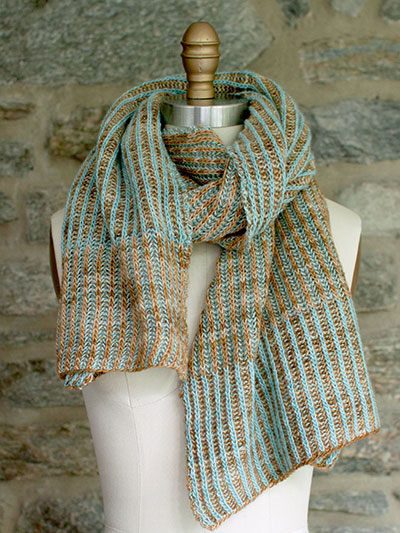 Churros Scarf
The brioche stitch gives this scarf its color pattern and soft drape.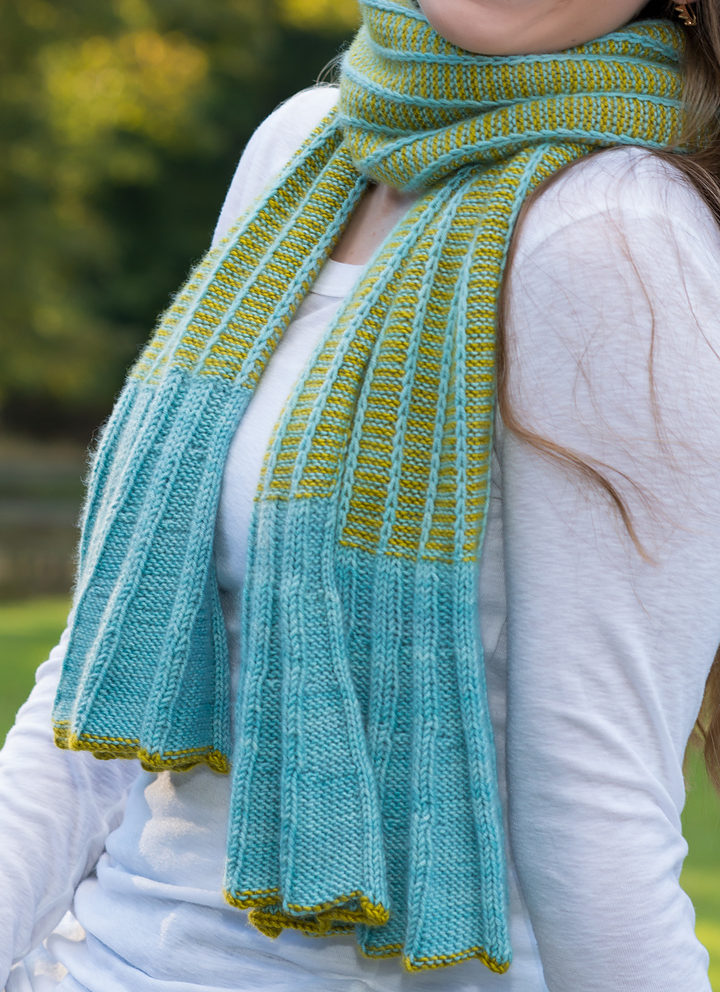 Outside In Scarf
Knit as a tube with slipped stitch colorwork, all you have to do is turn this scarf inside out to get a different look. See the inside out look by clicking the link below and then clicking See more images.