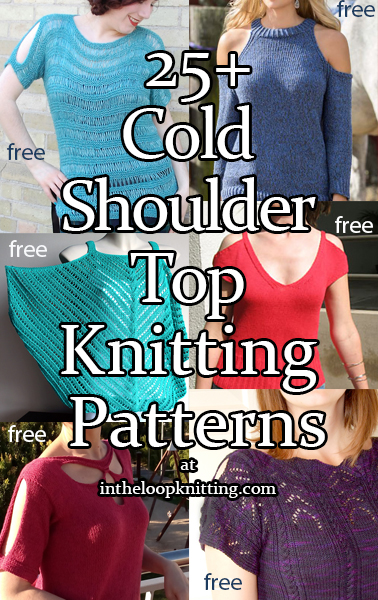 Knitting patterns featuring fashionable sleeve cutouts and open shoulders.
To get the knitting patterns, scroll down the page to the individual pattern you want and click on the link to that pattern.
These patterns are not my designs but links to other designers who have generously shared their patterns. If you have questions about how to knit a specific pattern, please contact the designer directly.
All links on this site are for informational purposes, but please note that some links are to affiliate sellers that pay me a small commission on purchases.
Free Patterns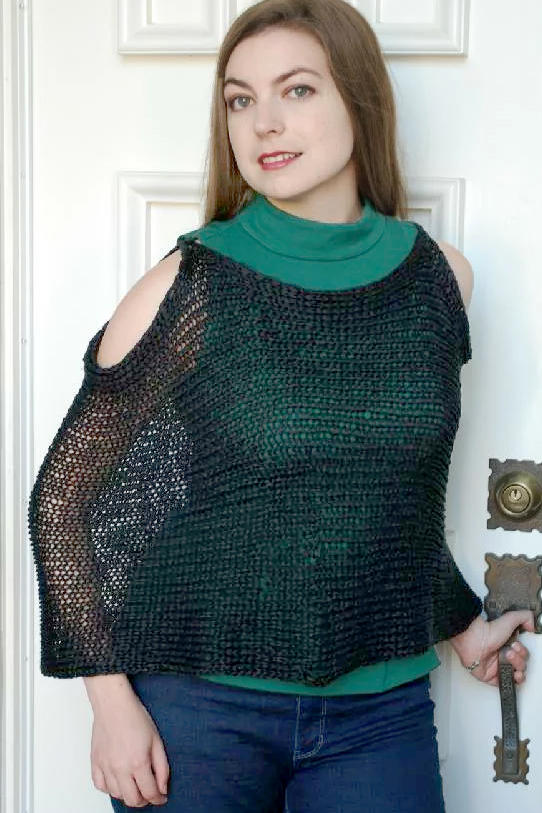 Nuit Cold Shoulder Poncho
Easy poncho with peekaboo openings at the shoulders is knit in one flat piece with large size 13 (9mm) needles and requires minimal sewing to make up. A great beginner project and a fast knit according to the desinger Sarah Seabury. Worsted weight yarn.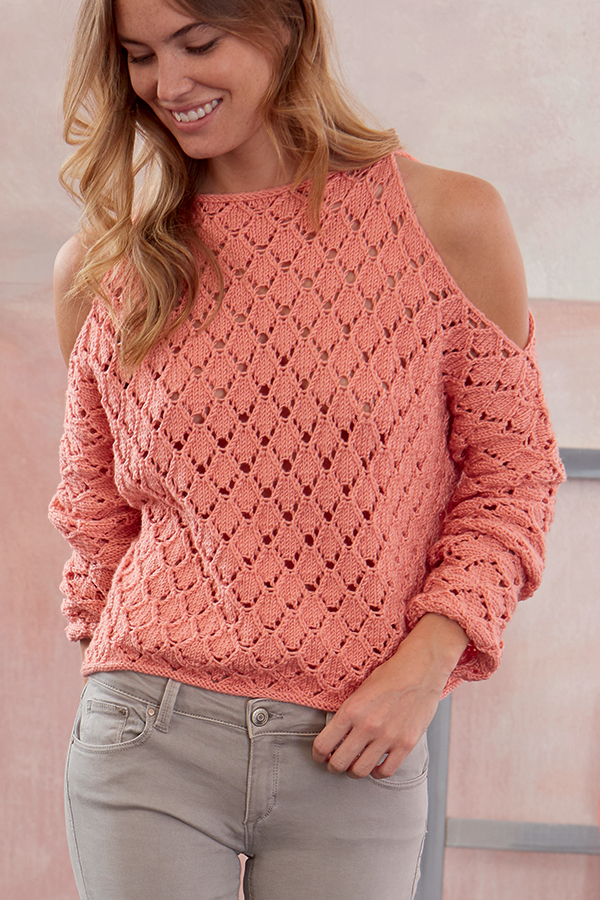 Lace Cold Shoulder Pullover
This long sleeved sweater features an allover 8 stitch repeat lace pattern with cold shoulder cutout sleeves and a split back. Sizes XS, S, M , L and XL. Designed by Dorothea Neumann for Schachenmayr. Available in English, Danish, and French. Although the website asks you to register you can click Continue to Download without registering.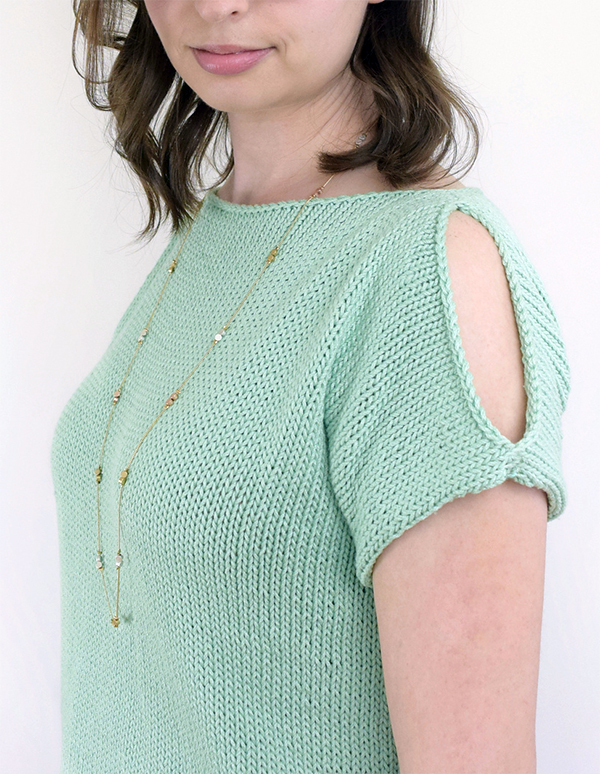 Peek-A-Boo Tee
This short sleeved pullover top with cold shoulder cutout sleeves is knit simply in two identical panels, with no increasing or decreasing, making it a great project for beginners, according to the designer, Destiny Meyer. Sizes XS (S, M, L, XL, 2X) To fit bust: 28-30 (32-34, 36-38, 40-42, 44-46, 48-50) in. Worsted weight yarn.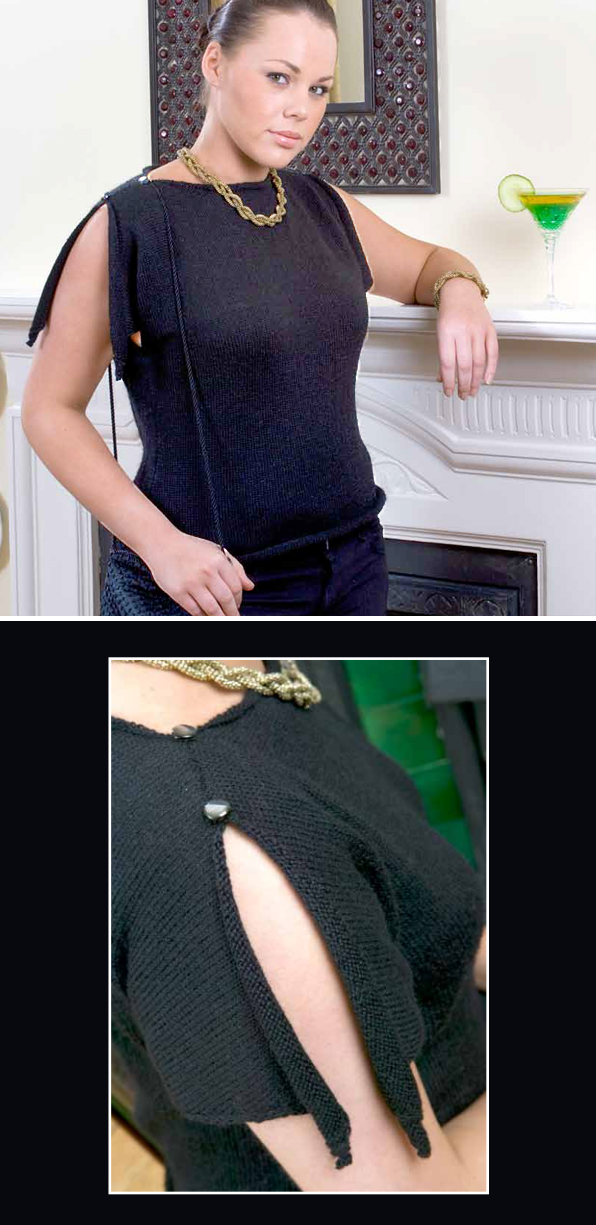 Romance Top
Draped open sleeves add intrigue to this simple but elegant top. Knit in 2 identical pieces in stockinette. Sizes to fit bust 102[107:112:117:122]cm (40[42:44:46:48]ins) but it seems like it could easily be adapted to other sizes. DK weight yarn. Designed by Ros Wilson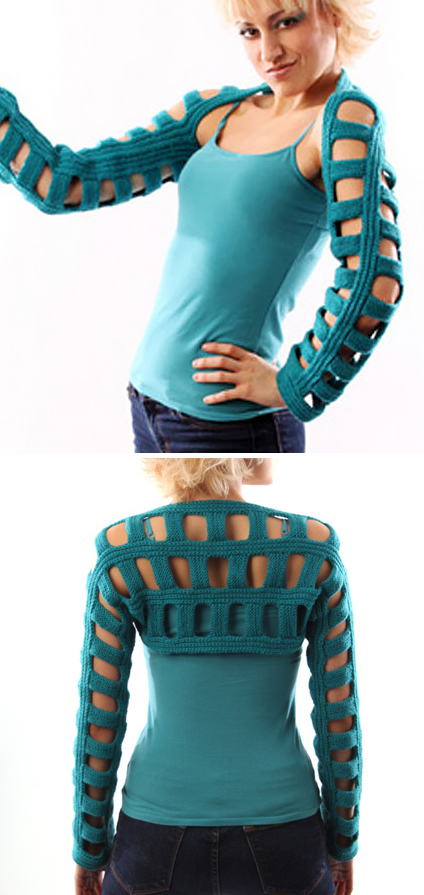 Atlas Shrug
This shrug features allover cutout openwork. It is knit flat sideways in one piece from cuff to cuff and seamed. Sizes Small/Medium, Large/X-Large Worsted weight yarn. Designed by Sandi Prosser.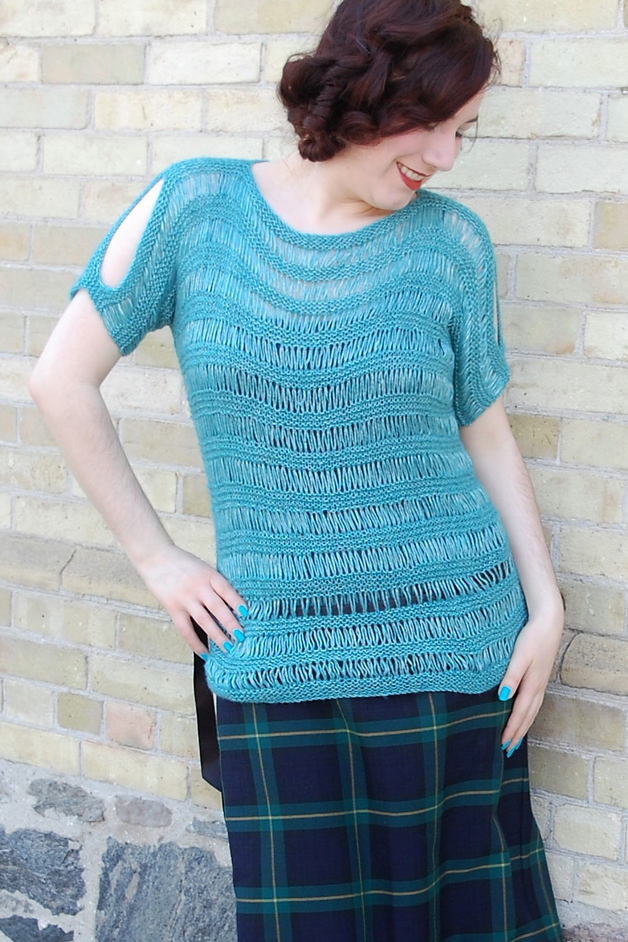 Openwork Cold Shoulder Top
This short sleeved pullover is knit in a T-shape with drop stitches and peekaboo sleeves. It is finished with a ribbon woven through the lower body to create a dropped waist look. It seems like an easy pattern but it is a scanned vintage pattern "Slip-On Jumper" from a 1923 Australian newspaper The Advertiser, and so not as detailed as modern yarn company patterns. Size for 36" bust with instructions for modifying the pattern. Pictured project by PurlsofthePast who used DK weight yarn.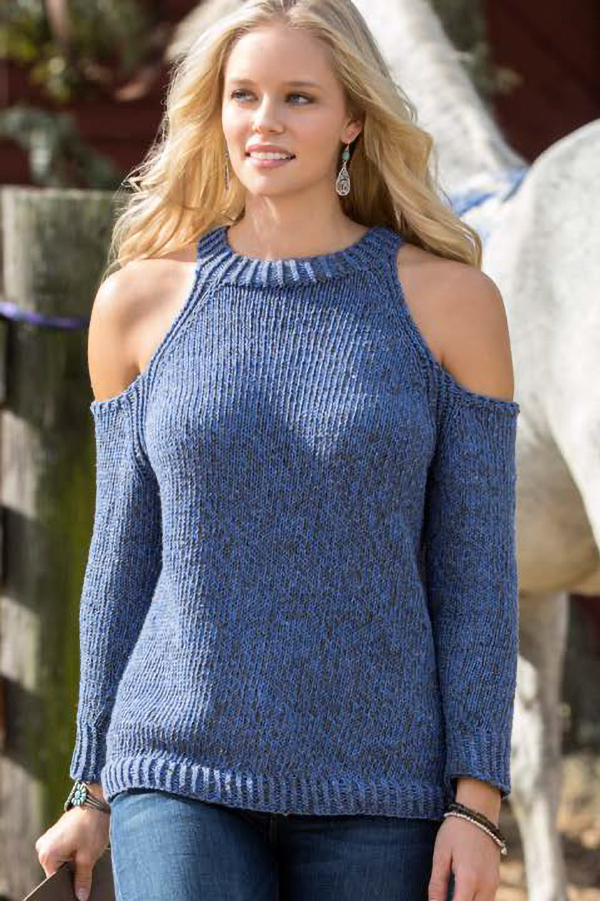 Cold Shoulder Sweater
Long-sleeved pullover with cutout shoulders knit in 2 row repeat Twisted Rib. Sizes Bust: 36¾ (40½, 44¾, 48½)" Worsted weight yarn. Designed by Premier Yarns Design Team.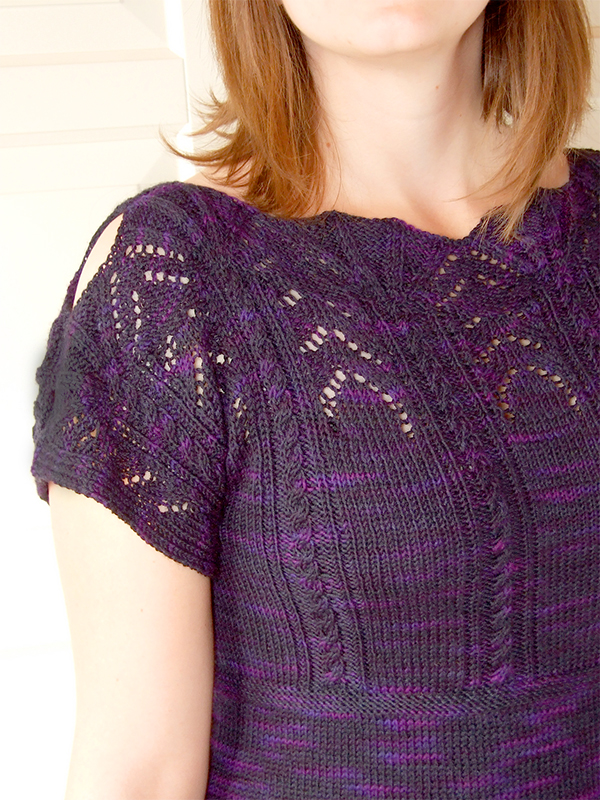 Kirsche
It's all about the extraordinary details in this pullover tee including lace, cables, a shell lace neckline, and cutouts on the sleeves. The pattern is only one size so you will have to customize and/or read the notes on other projects for modifications. Designed by Rhona R. Fingering weight yarn.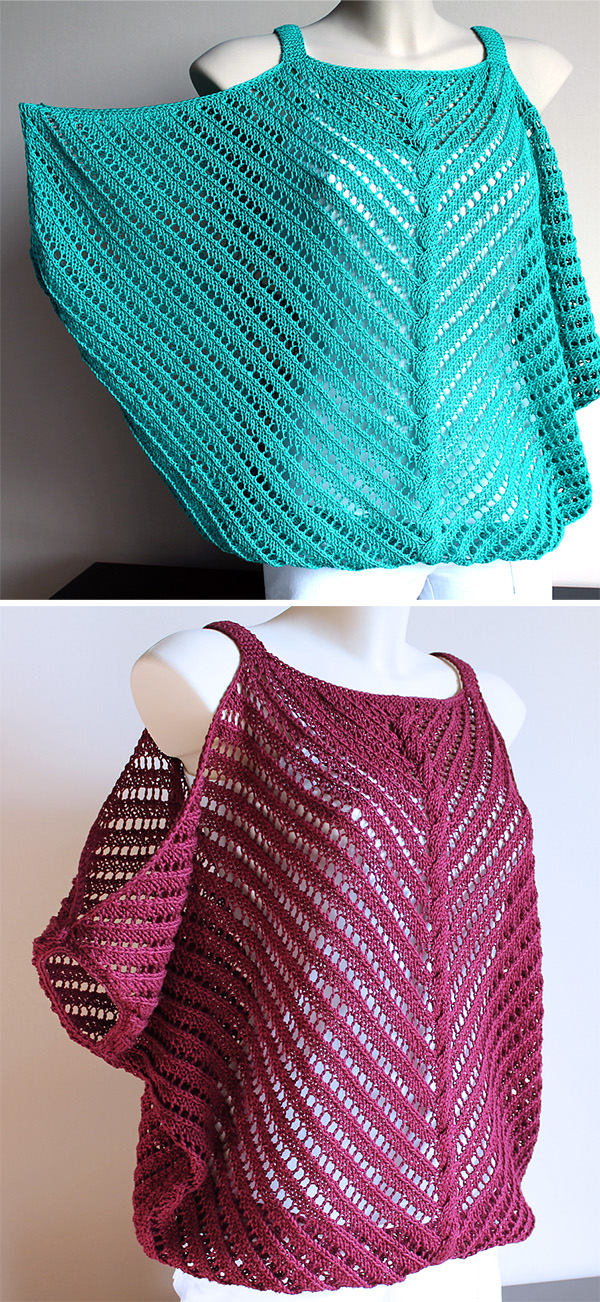 Flirt Top
Lace pullover with cold shoulder sleeves and a center cable. There isn't a picture of a person wearing this so the sleeves are difficult to see but you can see it hanging down in the red version. Pattern stitch is an 8 row repeat. Chart. Sizes 36/38 (40/42) 44/46. Designed by Szilvia Emri. Sport weight yarn. Available in English and Hungarian.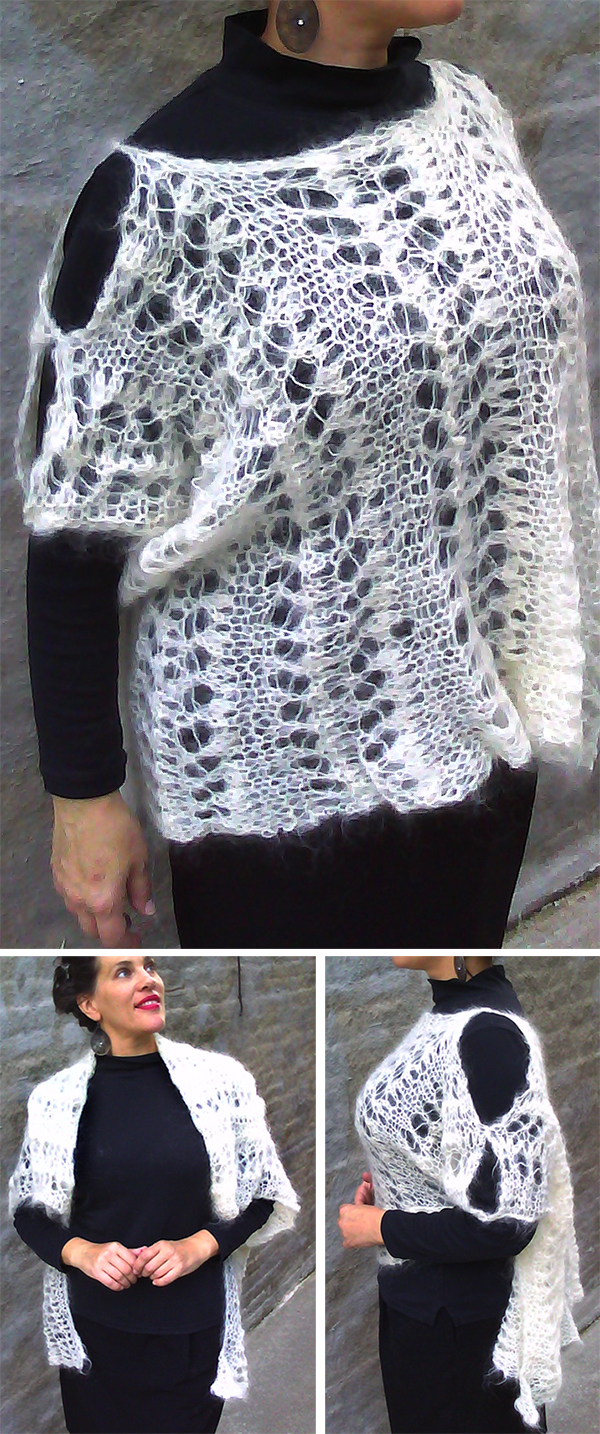 Luxury Over-Blouse
This versatile sweater with cold shoulder sleeve openings can be worn numerous ways: loose, tied in back, as a scarf, belted, over your head as a hood, or as a lacy jacket. Knit with a 12 row repeat lace pattern on oversized needles. Designed by Wendy Ann Lindquist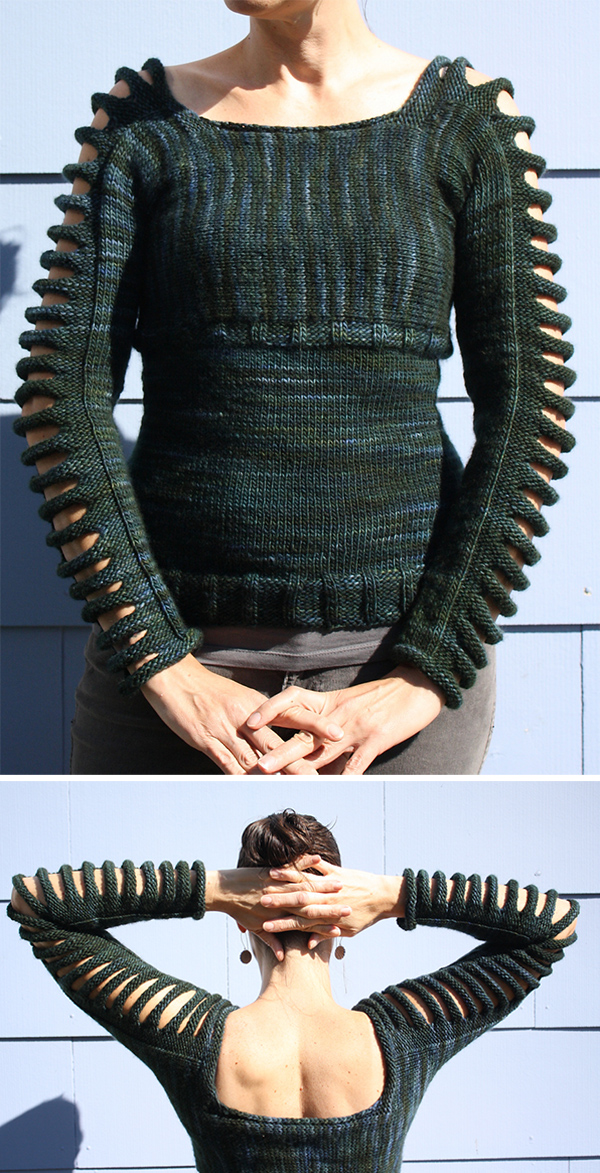 Day Dreams Pullover
This sweater is knit from cuff to cuff with horizontal slits and a square neckline. Designed by Stacy Collingham. Aran weight yarn.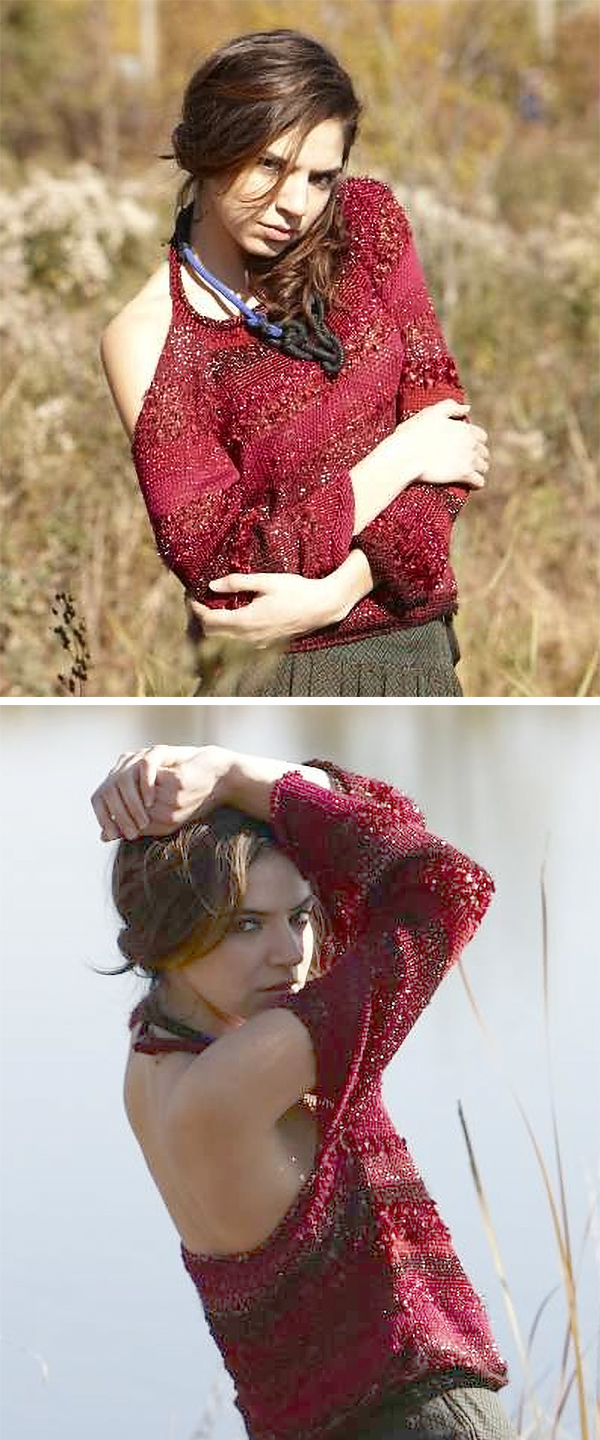 Camino Pullover
This daring top features exposed shoulders that lead into a plunging back. Sizes S M L XL. Designed by Feza Yarns. Worsted weight yarn.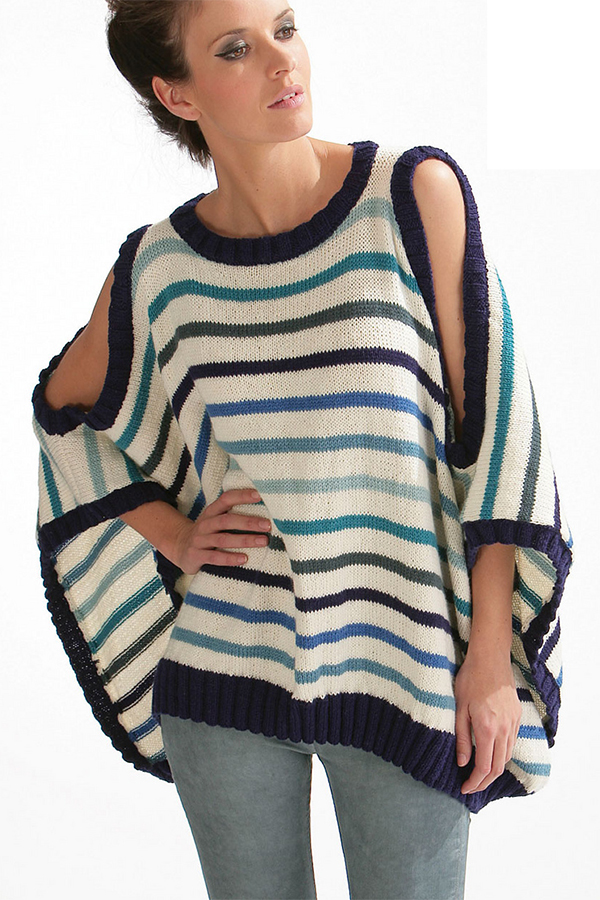 Striped Cold Shoulder Poncho Top
This pullover is knit in 2 pieces with shaping for sleeve cutouts and neckline which have ribbed edges. The shaping is mostly charted. Designed by Cheval Blanc Official. Pattern includes English, French, Dutch, German, and Spanish. DK weight yarn.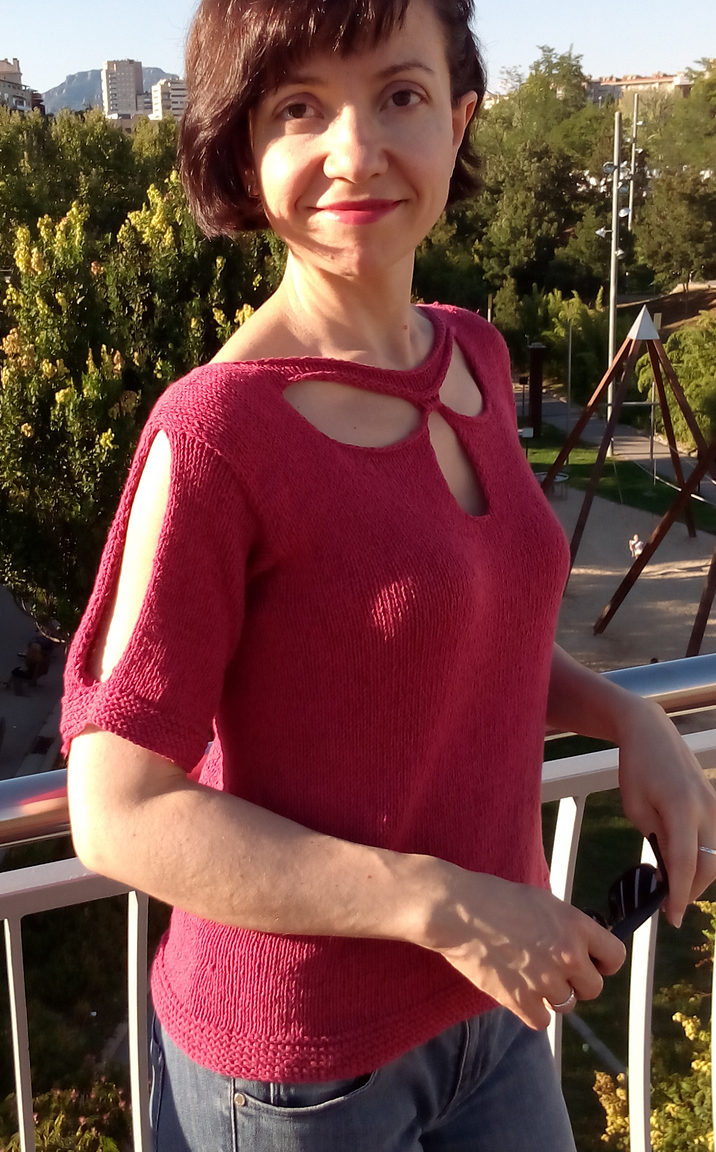 Tempesta Top
Short sleeved pullover with flower petal cut outs in the front and cold shoulder sleeves. Sizes 35 (39, 43, 47, 51)" Bust. Designed by Kristin Omdahl. Pictured project by Carmen73. Sport weight yarn.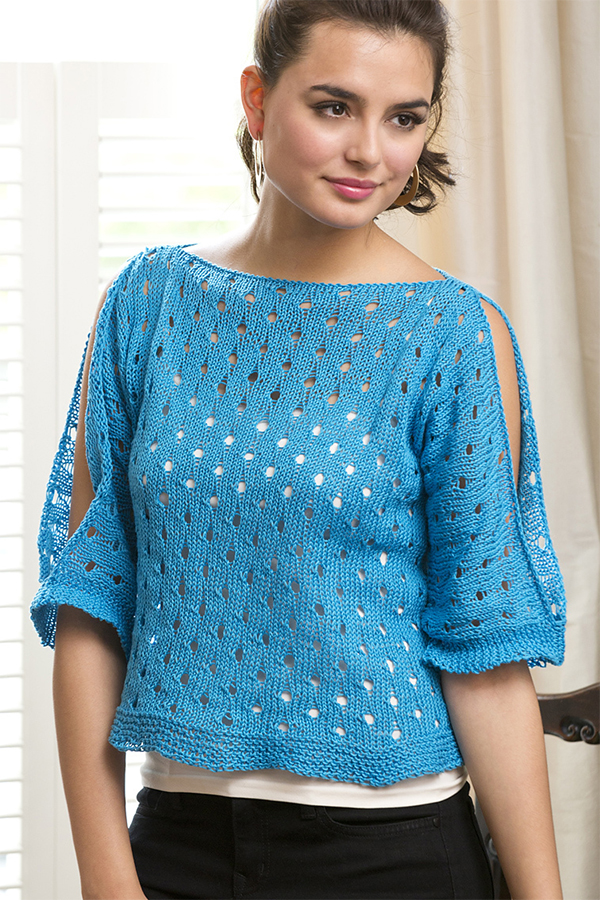 Cold Shoulder Pullover
Lace boat neck top with three quarter sleeves that open at the shoulders. Knit with an 8 stitch, 8 row repeat lace pattern. Sizes Small-2X. Designed by Kristin Omdahl for Coats & Clark. Available in English and German. Sport weight yarn.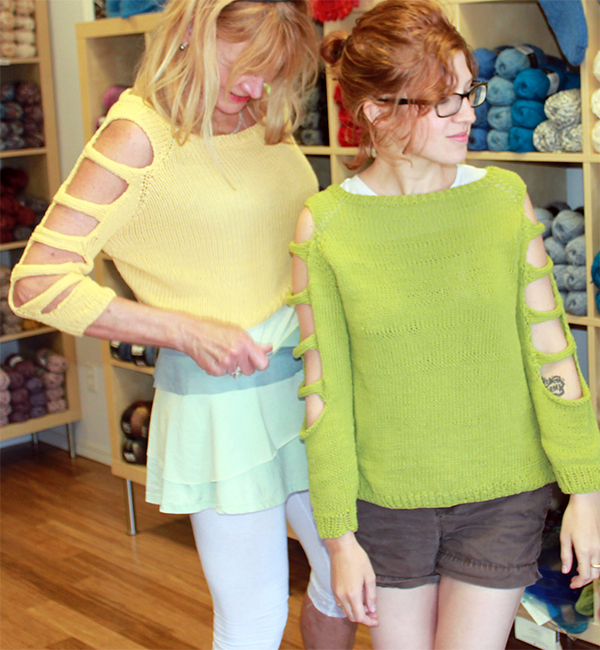 Pullover with Sleeve Cutouts
Long-sleeved pullover with multiple openings along sleeve. It can also be modified to have closed sleeves to make more of a basic pullover sweater garment. Designed by NordicMart. Sizes Small - XXXL. DK weight yarn.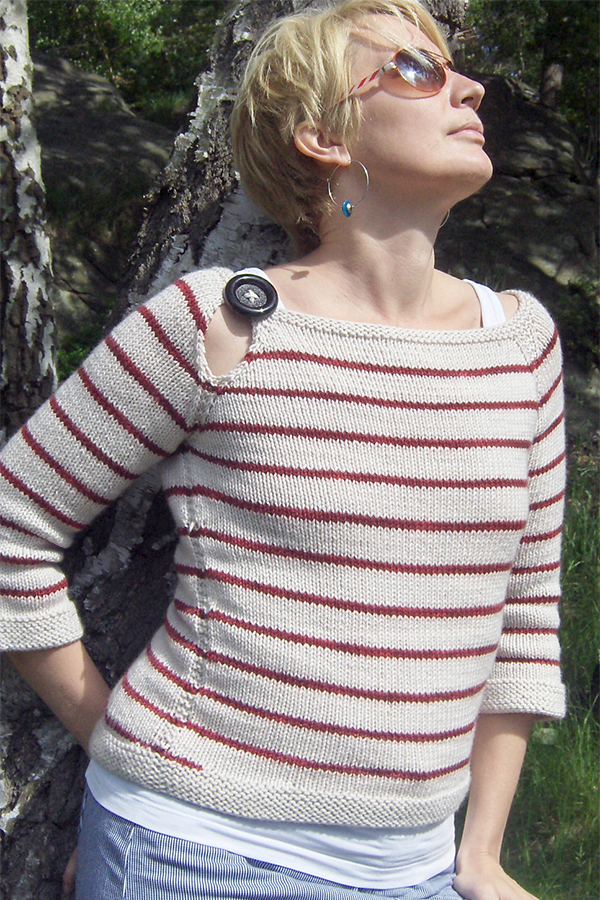 Molly Pullover
This sweater features a wide neckline with a peekaboo keyhole at the shoulder. Size is customizable. Designed by Mia Edvardson. Available English and Swedish.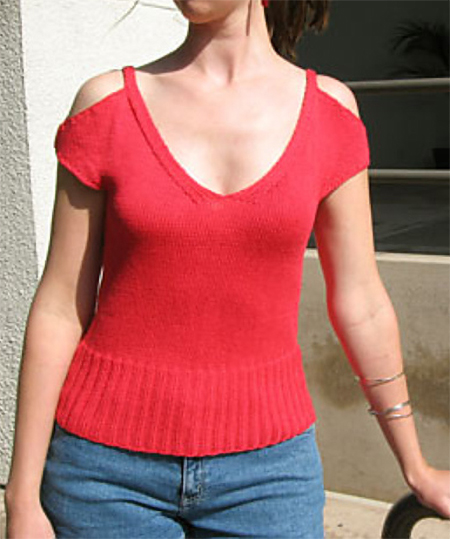 Cold Shoulder Pullover
Short-sleeved top with scoop neck and shoulder cut outs. Sizes XS, S, M, L, 1X. La Petite Grue designed by Robin Dodge. Sport weight yarn.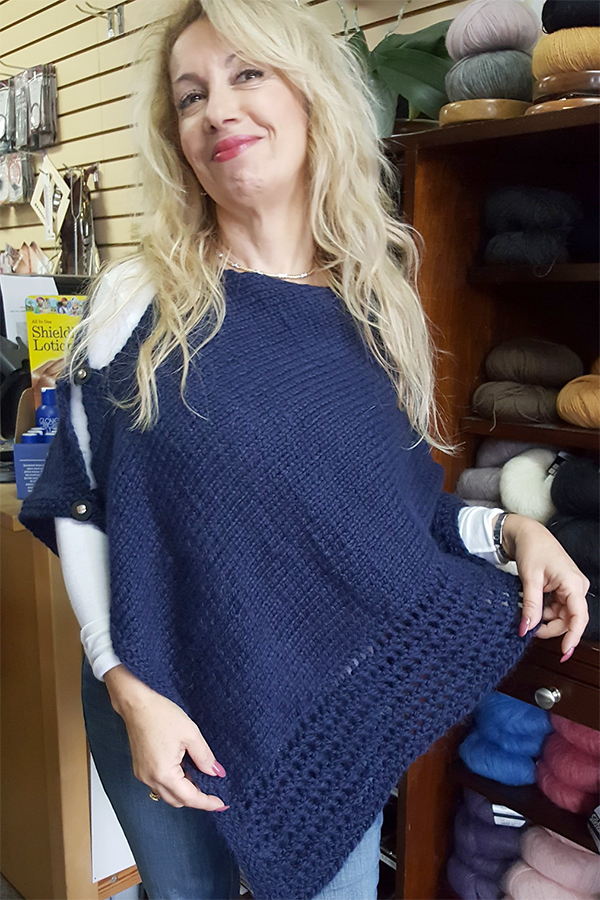 Cold Shoulder Multi-gauge Poncho
Poncho knit flat as a rectangle and fastened at the shoulder with cold shoulder openings on one side. Any gauge of yarn, any size. Designed by Theresa Gilbert.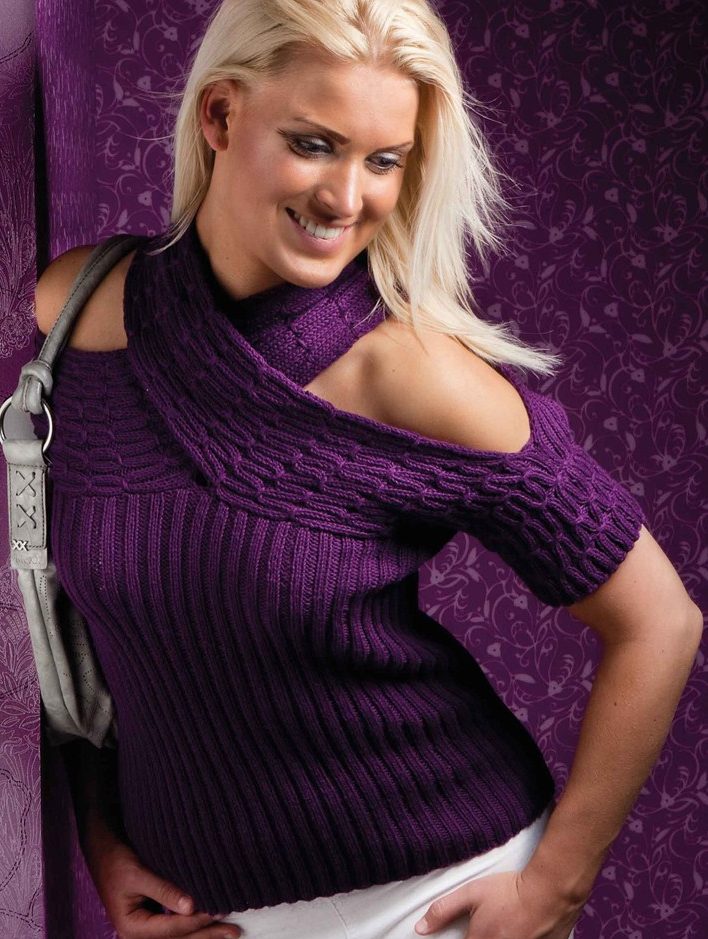 Crossed Neck Top
Short sleeved pullover knit completely in ribbing with a crossed neckline and open shoulders. This seems like an easy pattern. Body is knit in the round in one piece with no shaping — the ribbing creates the fit. Smocked sleeves and neckline are creating by sewing strands on the ribbing. Designed by Viking of Norway. Sizes S (M) L. Sport weight yarn. Available in English, Norwegian, and Swedish.
When you click on the link below, you will go to the Viking of Norway site. If you don't see a list of downloads, scroll down the page and click on GRATIS NEDLASTINGER. Then click on the language download you want. The pdf contains several patterns. This pattern is 1004-2 Topp on the first page, second column.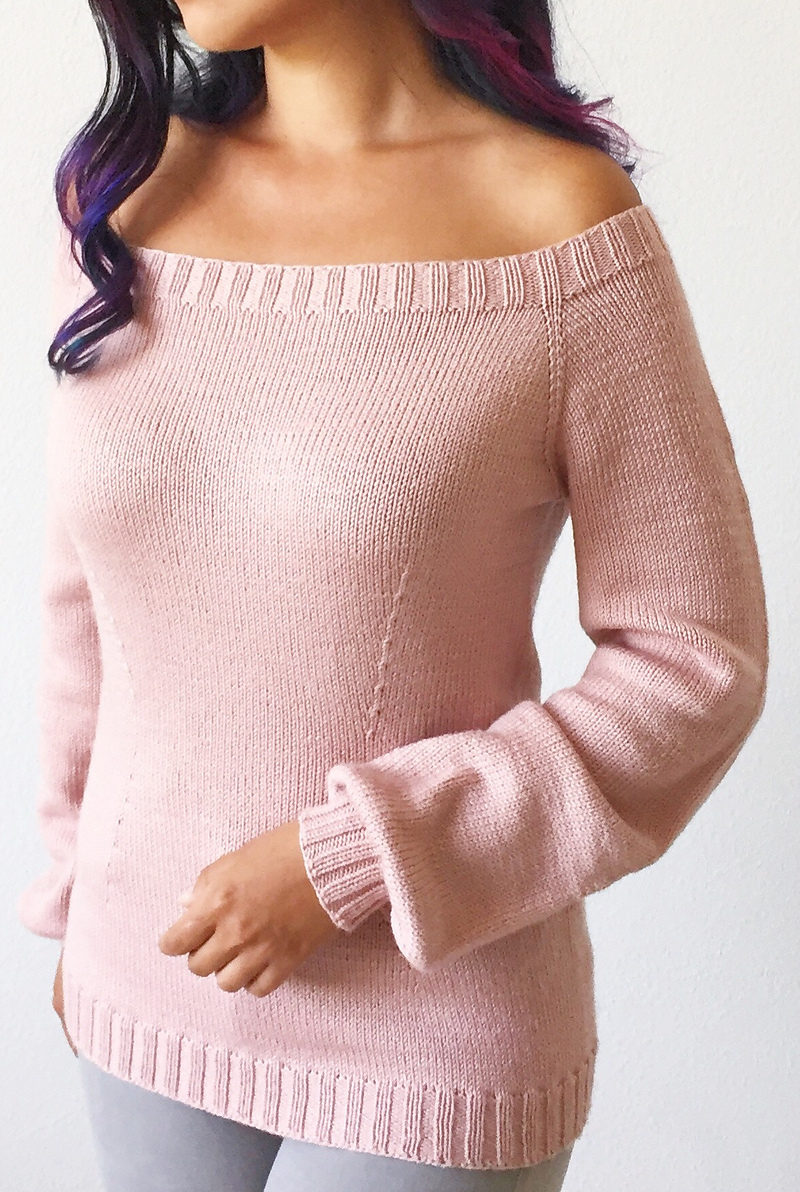 Forever April Sweater
Fitted long sleeved pullover with off the shoulder neckline shaped with short rows. Sizes S (M,L) – bust 32.5"/82cm (36"/92cm, 40"/101cm) Designed by Life Is Cozy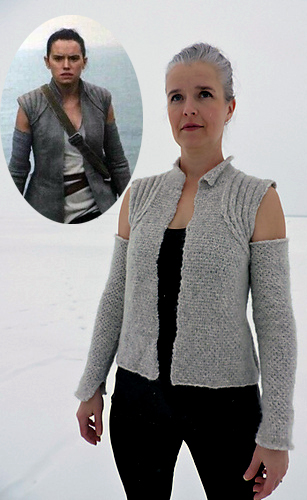 Rey Vest
Inspired by the Rey's costume in the final scene of Star Wars: The Force Awakens, this cardigan sweater with shoulder cutouts designed by Soile Pyhänniska comes in English and Finnish.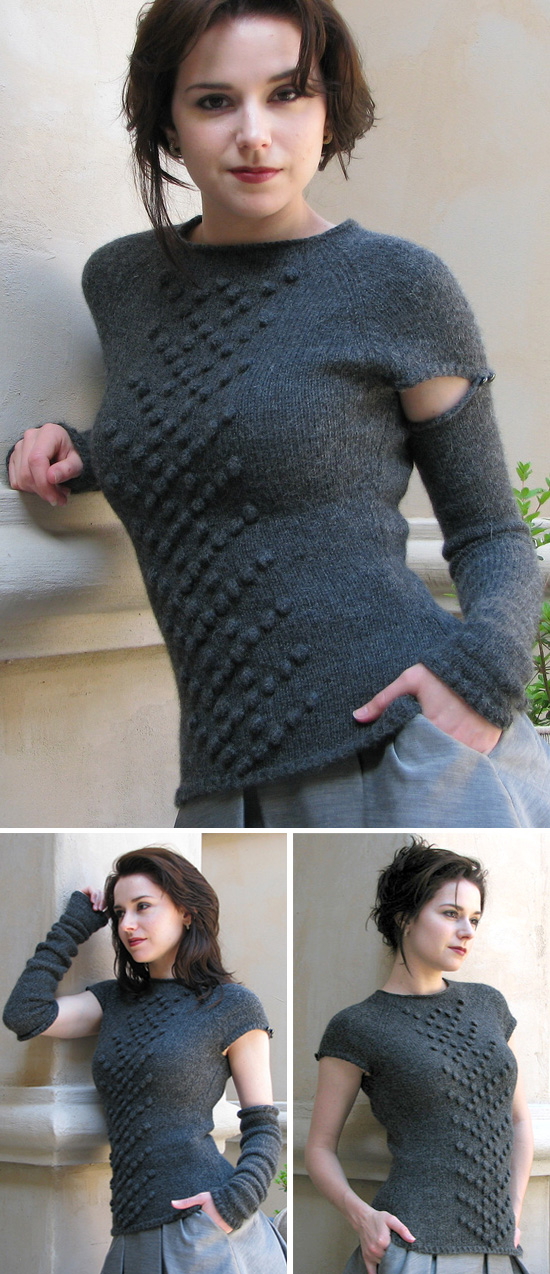 Camden
Ashley Adams Moncrief designed this flattering top with the practical yet decorative removable sleeves. The top can be worn with or without the sleeves and the detachable sleeves can be worn as arm warmers. Sizes XS[S, M, L, 1X, 2X, 3X]
Patterns for Purchase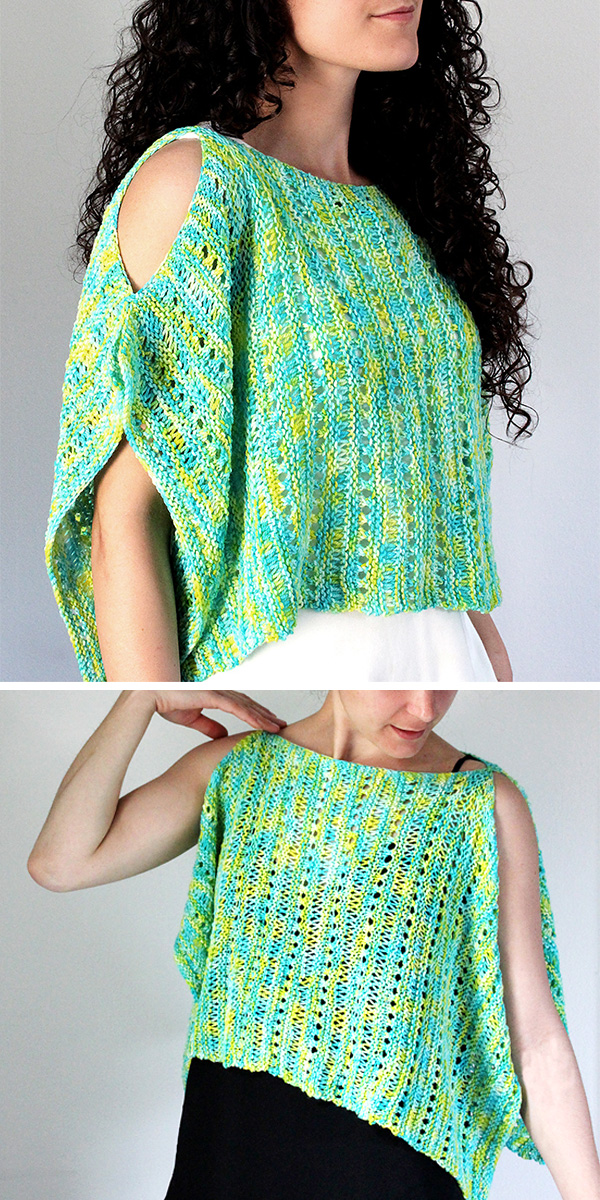 Cosimia Top
Swingy, cold-shoulder poncho wrap can also be worn using the shoulder openings as an armholes. Sizes: S (M, L). Designed by Emily Johannes. Sport weight yarn.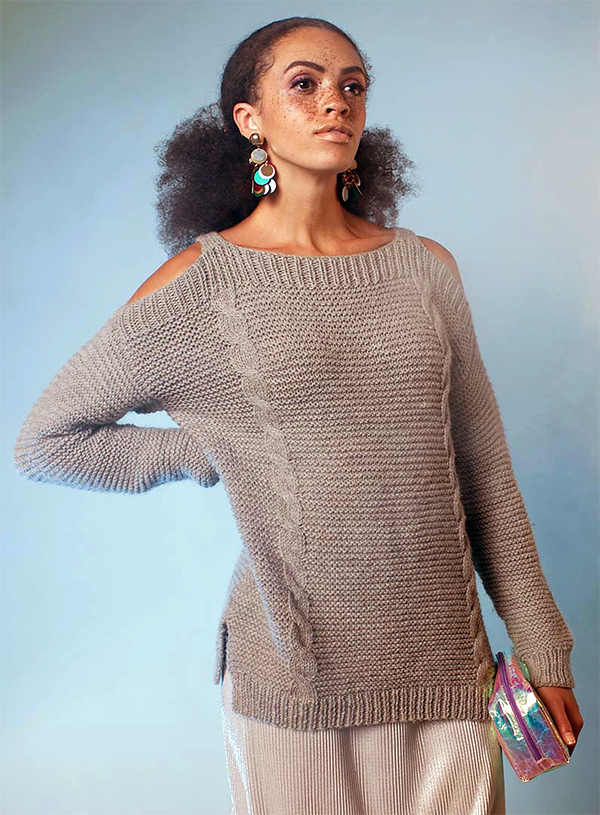 Shimla Cold Shoulder Sweater
Long-sleeved pullover with a classic drop-shoulder silhouette with several modernizing design elements, including a unique cold shoulder, short side-hem slits, and thoughtfully placed cables on the front and back. Sizes: 34¾ (38½, 43, 47, 50¾, 54½)" circumference at underarm. Designed by Lana Jois. Worsted weight yarn. One of the 20 patterns in knitscene, Winter 2018.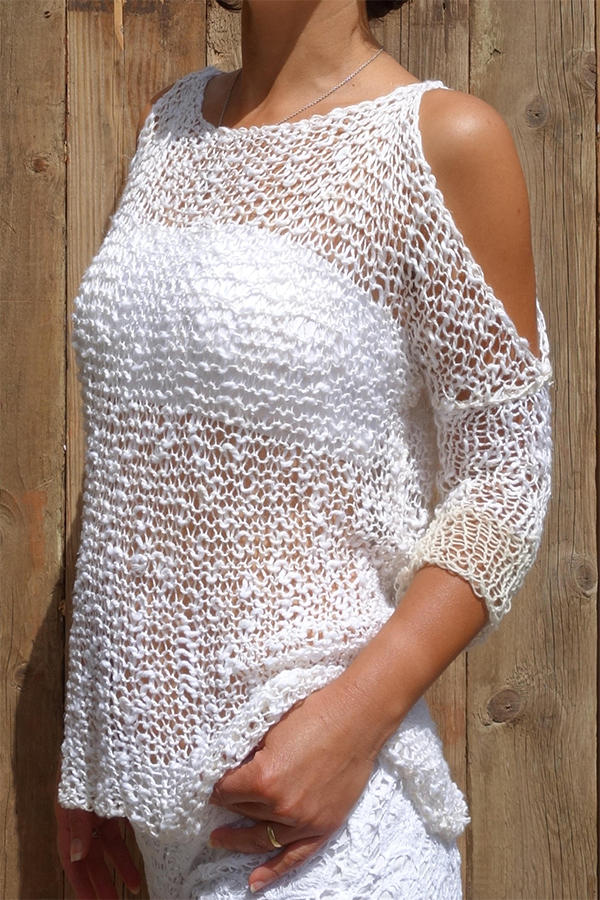 Foam Cold Shoulder Top
Loose knit pullover featuring open shoulders. Suitable for beginners according to the designer. Knit it in a soft thick and thin yarn to give it a boho look. Size: XS,S,M,L,XL Designed by Camexia Designs who also offers a crochet version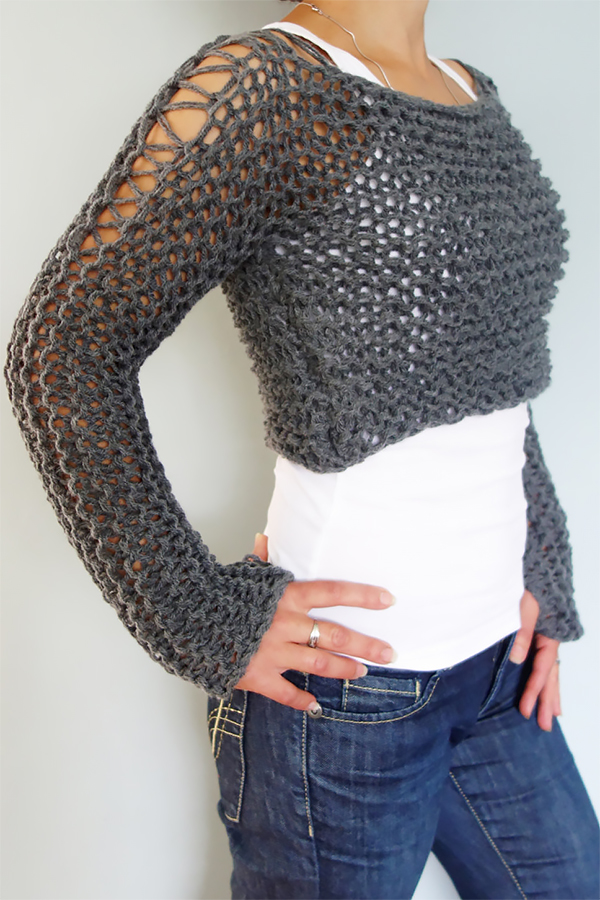 Andra Cropped Thumb Hole Sweater
This chunky knit cropped pullover is a quick and easy project, suitable for a beginner, according to the designer. The simple pattern is enhanced with elongated stitches on shoulders to create a sexy modern look. Size: XS,S,M,L,XL Designed by Camexia Designs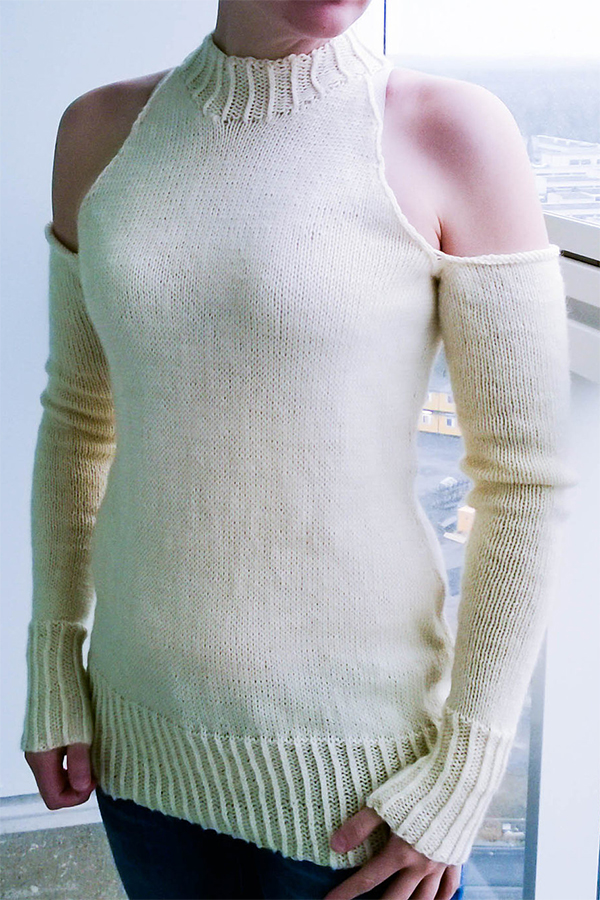 Low Winters Sun
Fitted pullover with crew neck and long sleeves with cold shoulder cutouts. Sizes: XS [S] M [L] XL [XXL]. Sport weight yarn. Designed by Artesanitarium Designs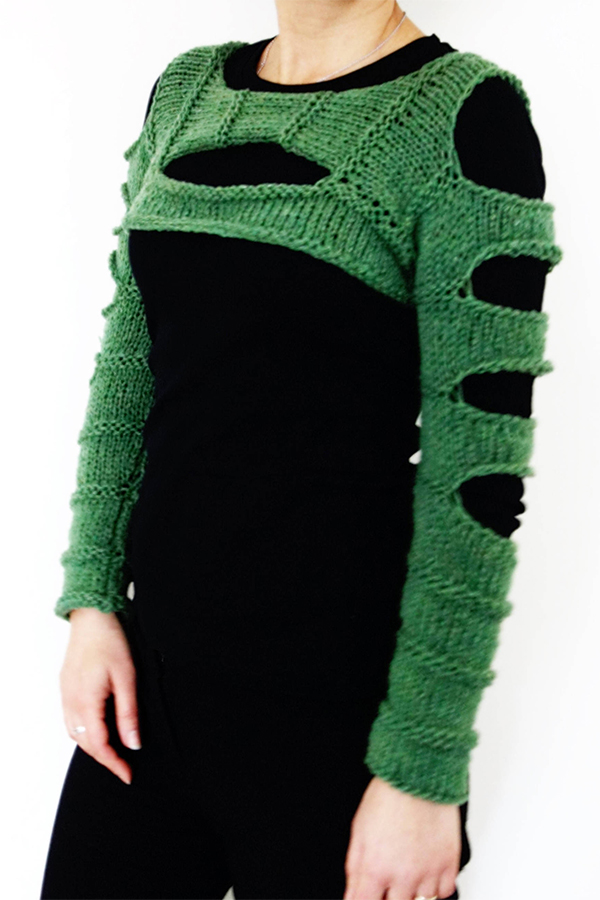 Cut Outs Cropped Top
This long sleeved cropped pullover cut outs from elbow up to shoulder and then an unexpected one in the front. It looks great either over a tank top, a dress, a camisole with jeans or a skirt. Size: XS,S,M,L,XL Designed by Camexia Designs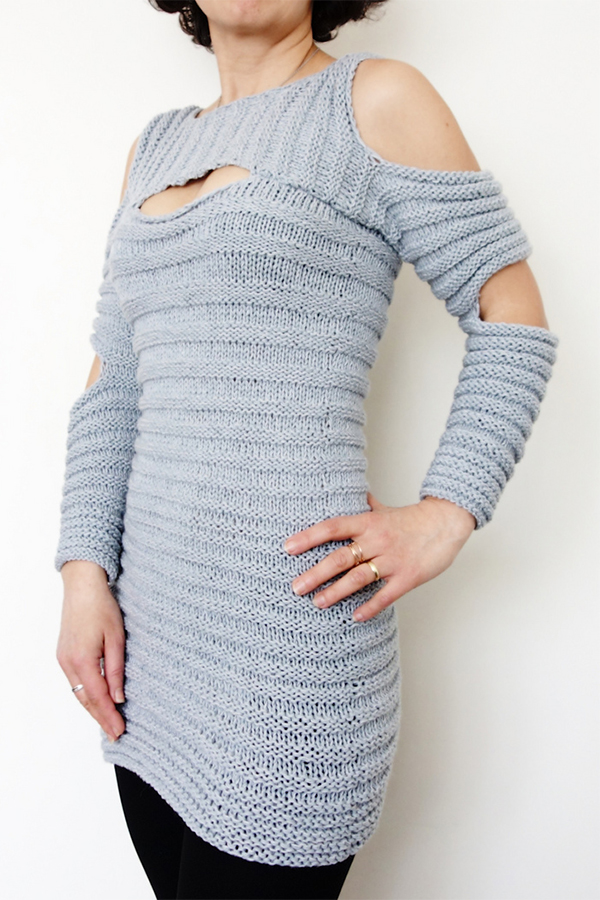 Ribbed Cut-Outs Tunic
This stylish ribbed tunic is adorned with well placed cutouts that make it unique. The ribbed look is created in thin and thick widths to create the optical effect of a curvy silhouette. Sizes XS, S, M, L, XL. DK weight yarn. Designed by Camelia Mit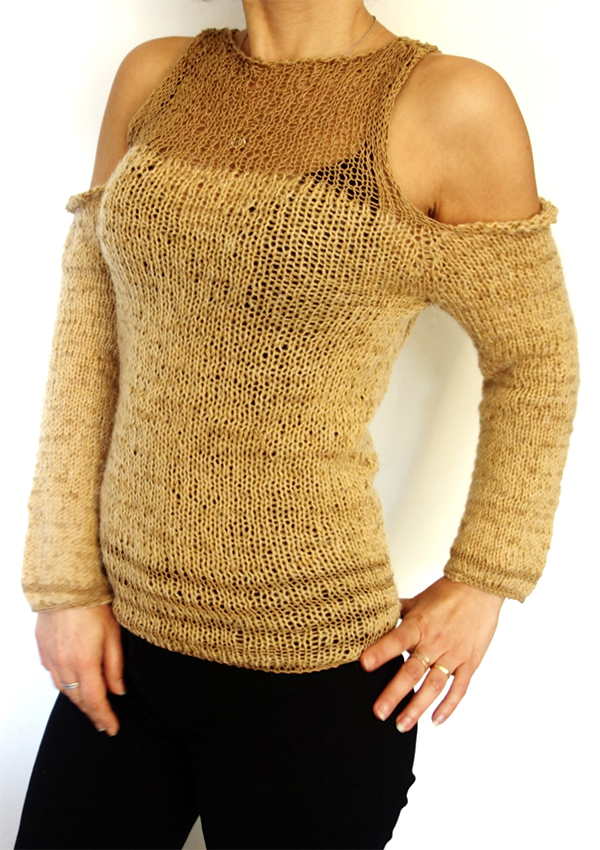 Open Shoulder Pullover
This Open Sleeve looseknit sweater is worked with two types of yarn in a simple and elegant stitch. The sweater is finished with flattering cut-out shoulders. Size: XS,S,M,L,XL Designed by Camexia Designs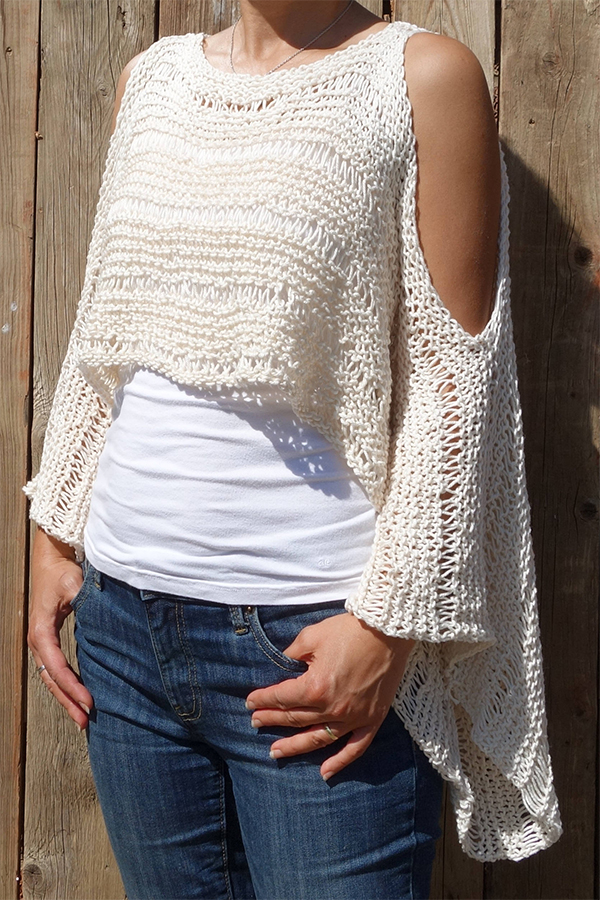 Drop Stitch Cold Shoulder Top
This sweater features long kimono sleeves with open cutouts. Shown cropped but length is easily adjustable. Size: XS,S,M,L,XL Aran weight yarn. Designed by Camexia Designs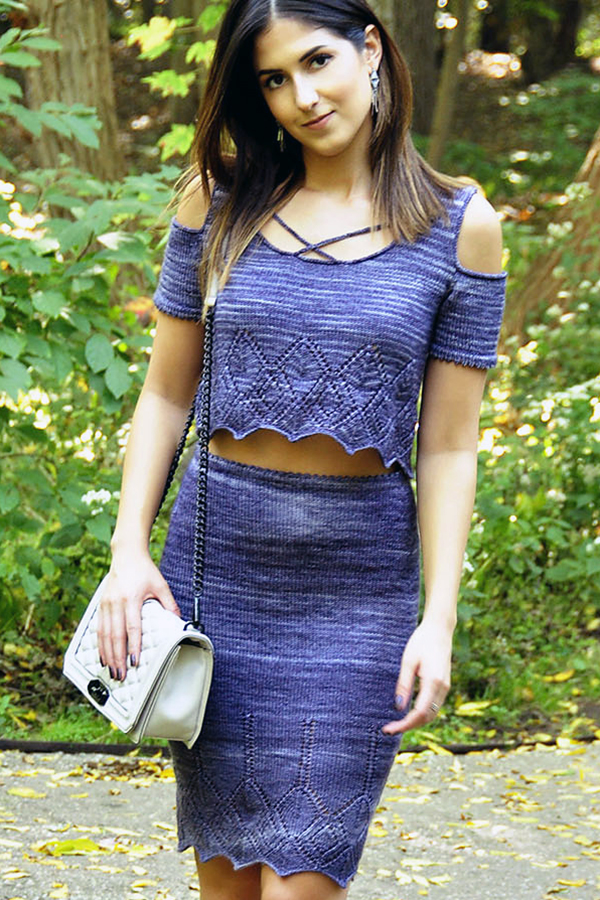 "Better Lace Than Never" Crop Top and Skirt Set
This 2-piece set includes a crop top with cold shoulder detail and a coordinating high waisted fitted skirt. Both feature diamond lace and a delicate picot finish. Sizes XS (S, M, L, XL, 1X) which range to fit a 30-48" Bust and 32-50" Hips. Fingering weight yarn. Designed by Lauren Riker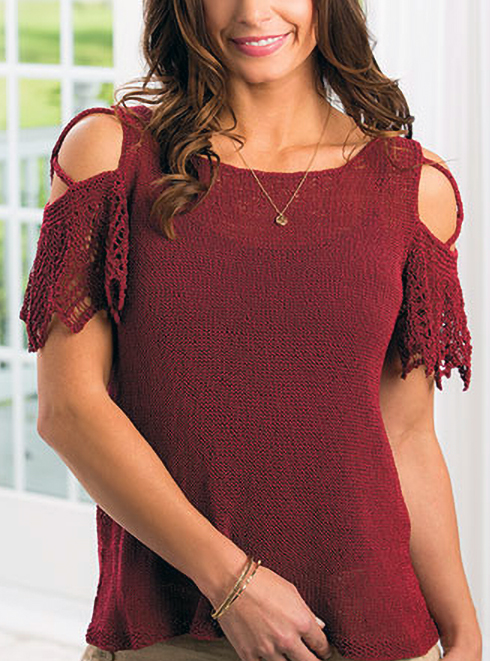 Norcross Tee
Pullover top with lace sleeves topped with criss cross straps in a romantic variation on the cold shoulder look. One of the patterns in Creative Knitting Simple Knits for Spring & Summer DK weight yarn. Designed by Margaret Holzmann