Yarn Project Tote Knitting Patterns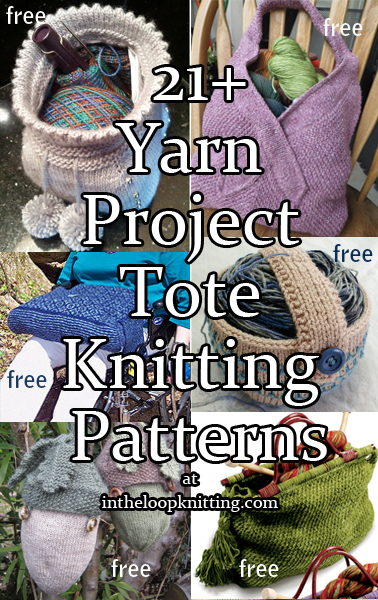 To get the knitting patterns, scroll down the page to the individual pattern you want and click on the link to that pattern.
These patterns are not my designs but links to other designers who have generously shared their patterns. If you have questions about how to knit a specific pattern, please contact the designer directly.
All links on this site are for informational purposes, but please note that some links are to affiliate sellers that pay me a small commission on purchases.
 

Brioche Yarn Cozy
The Fiberista Yarn Cozy keeps your yarn cake neat and is the perfect perfect project for a first-time brioche knitter. Great use for scrap yarn! Designed by Ariane Gallizzi.
 
Scrap Bag
This tote is knit in slip stitch colorwork with short lengths of scrap yarn of different colors so it's the perfect stash buster for small amounts of yarn. Insert plastic canvas in the front back and base to give it sturdiness. The finished bag is 28 cm wide, 27 cm tall and 8 cm deep. Designed by Frankie Brown.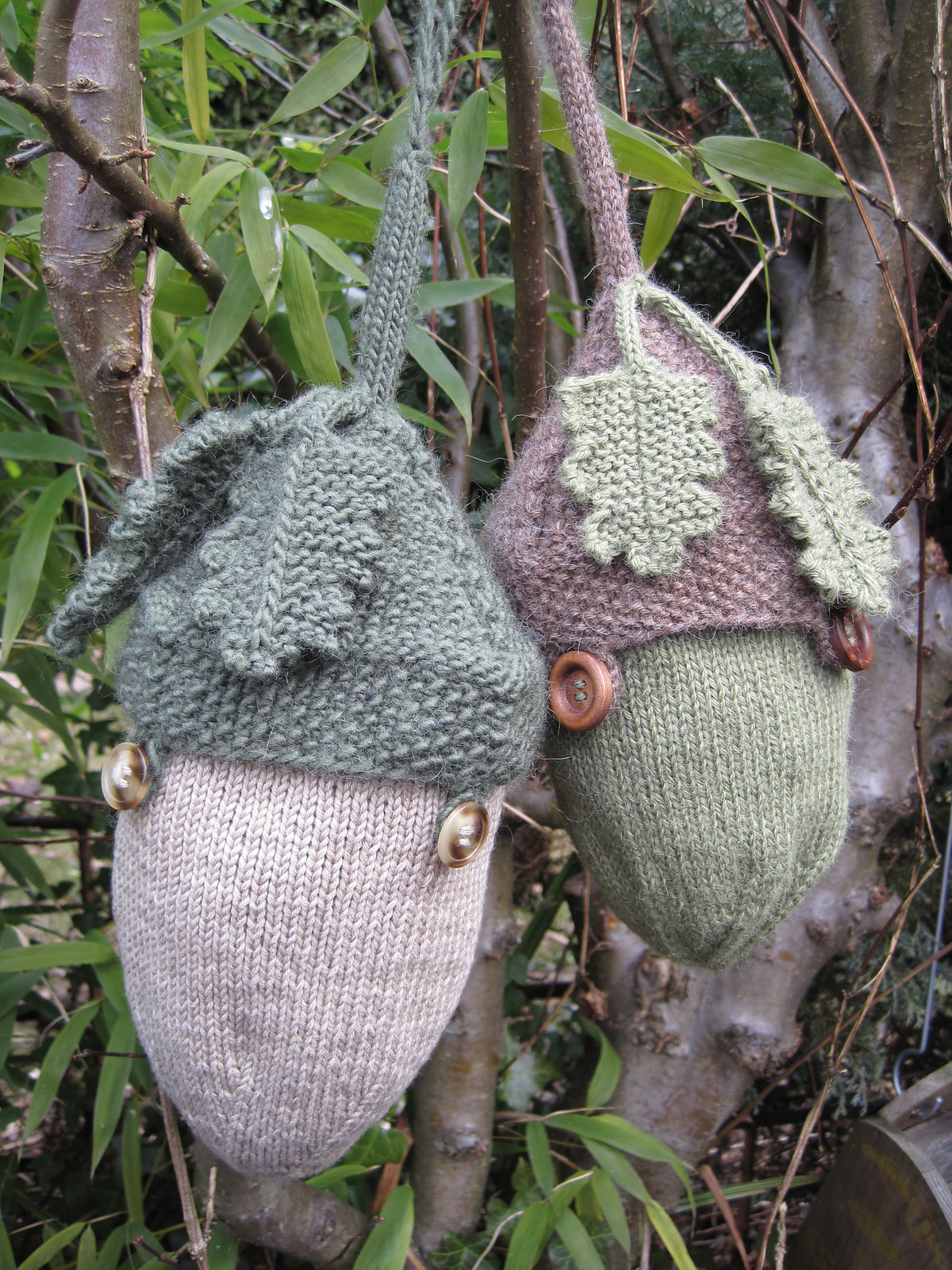 Acorn Project Bag
Wrist bag to hold your on-the-go yarn projects in style. Designed by Kelly Erin Fournier. In the pictured project, VengefulLovers made some mods and added oak leaves from Lesley Stanfield's 100 Flowers to Knit & Crochet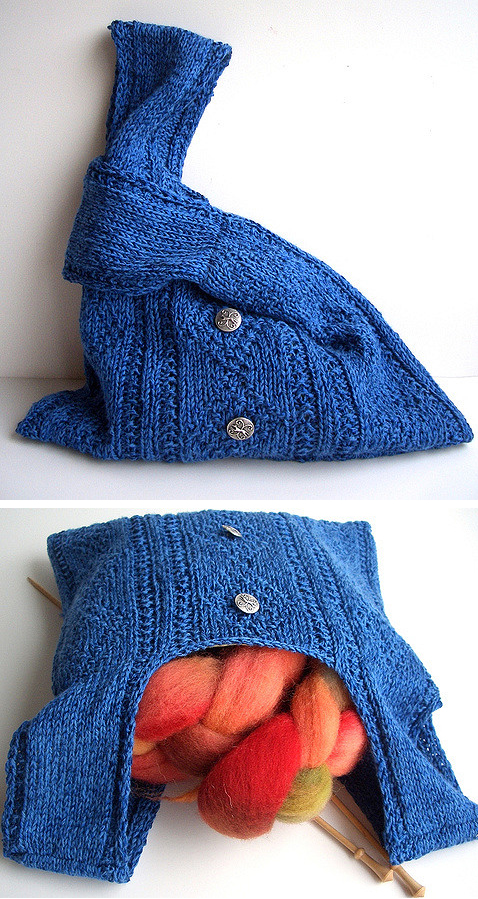 Square Cake Project Bag
This variation on the Japanese knot bag features diamond stitch panels. The handles act as both handle and closure. Just twist one handle through the other to keep your project safe when you have to pause and then pull open up the handles when you can knit again! Two sizes – Width: 7.25[10.5] inches, Height (including handles): 11.5 inches Designed by Jairlyn Mason for Knitty. Pictured project by SmokingHotNeedles

Sock Baggie
This small project bag stands roughly 6 inches high. 13 inches around at the drawstring row and 17 inches around the widest part. It features picot edge, braided drawstring with optional pompoms and beads. Pictured projects by the designer Rebecca Enoch, CharliWilson, and nettischaf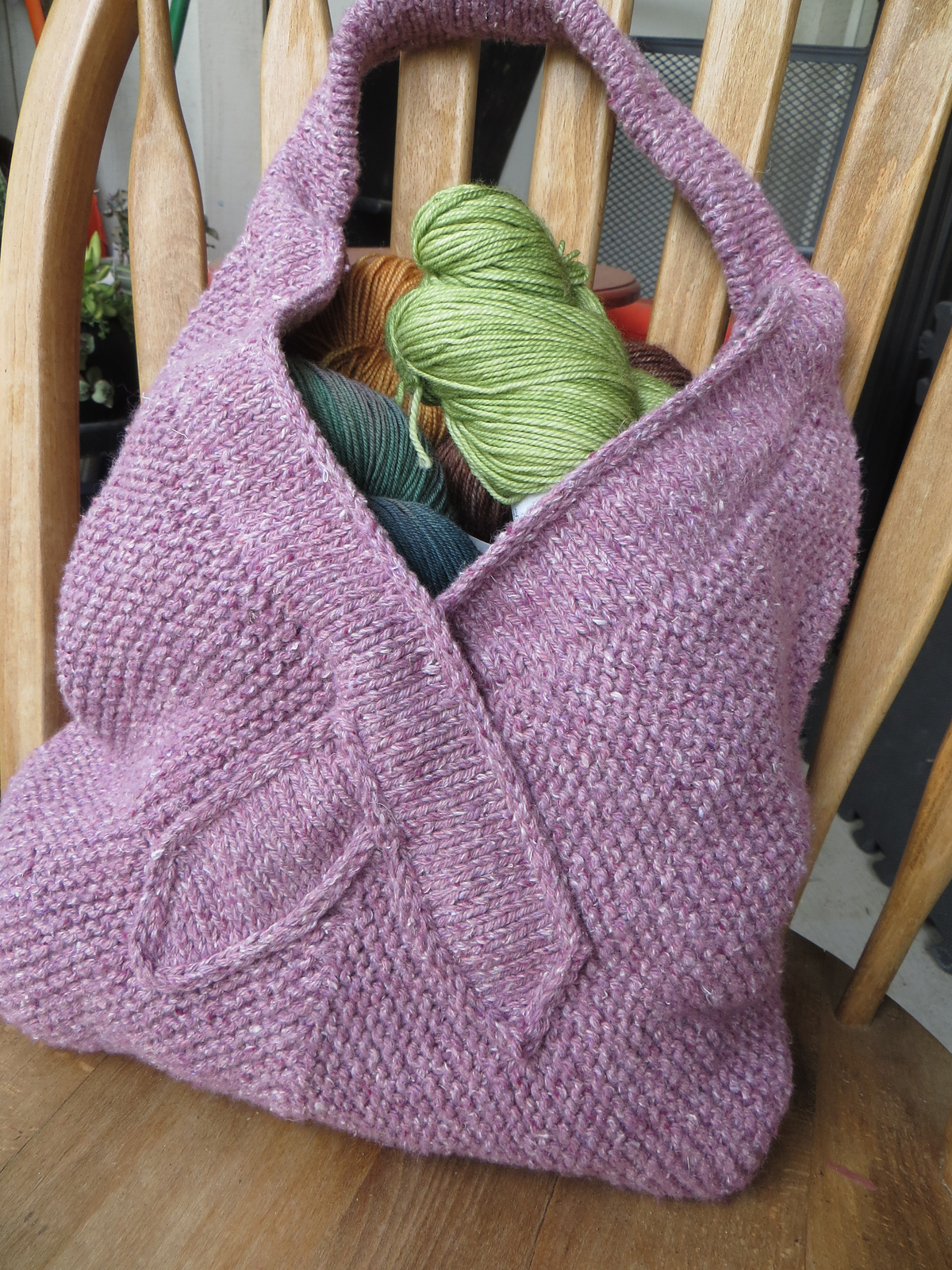 Tote for a Cause
The design of this tote is inspired by the ribbon worn to support the fight against breast cancer.  Designed by verybusymonkey who suggests you donate to your favorite cause if you want to show your appreciation for the pattern.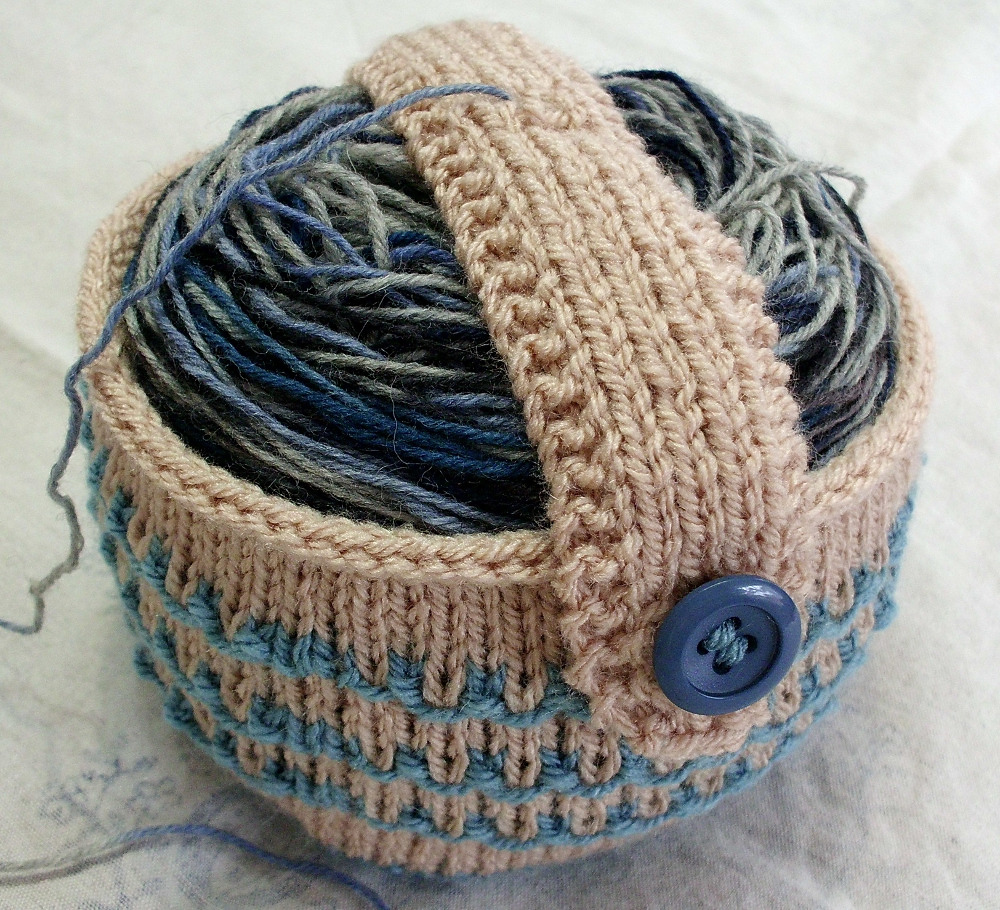 Home for the Cake
This yarn cozy holder was designed to hold yarn cakes and keep them tidy. The center pull goes through a little hole in the strap that holds the cake down. Perfect for on the go projects! Designed by Mareike Meyer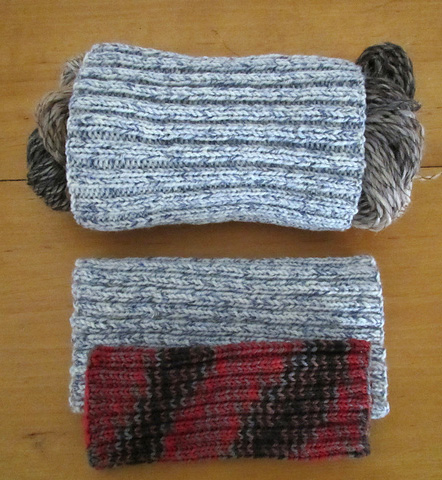 Yarn Ball Cozy
Keep your yarn balls and skeins tidy and prevent unraveling with this yarn sleeve tube by Kerstin Geiger. Great stashbuster!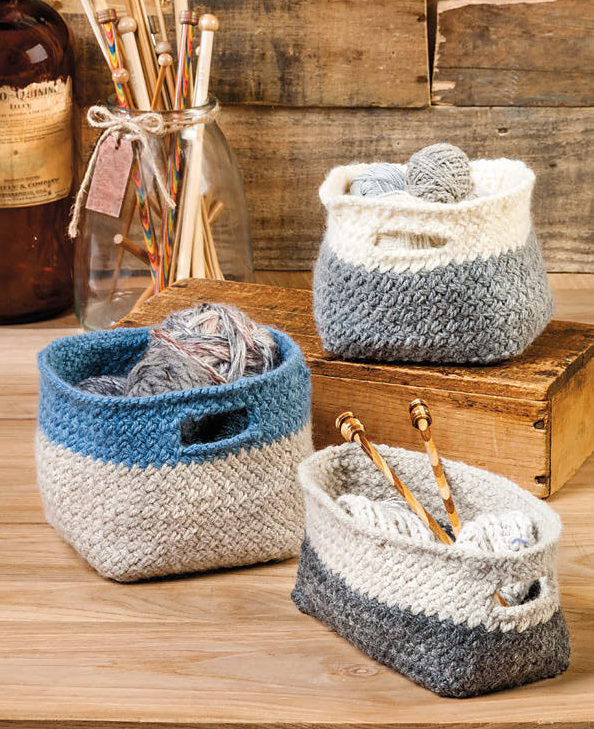 Modern Cubist Baskets
Easy basket trio is a quick knit in bulky yarn. Finished measurements: Small basket: 5″ W x 5″ L x 5″ D, Large basket: 6″ W x 6″ L x 6″ D, Rectangle basket: 4″ W x 8″ L x 4″ D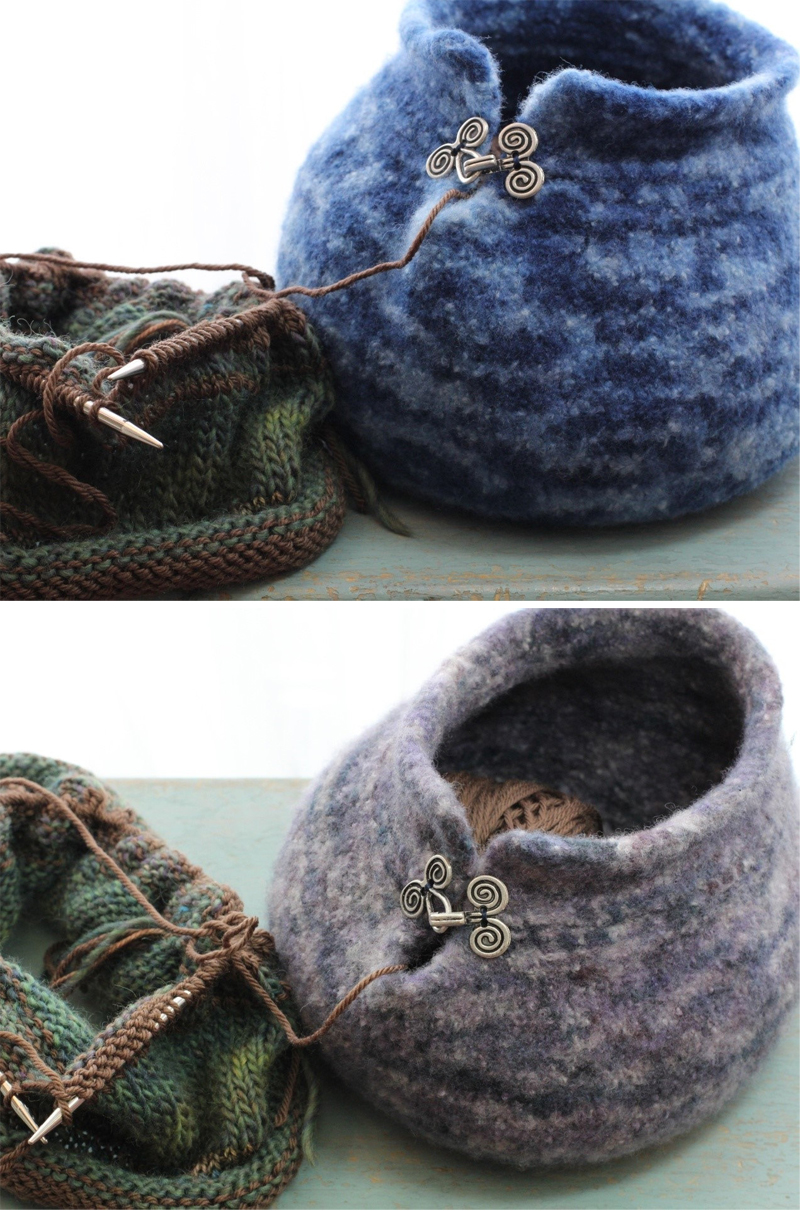 Felted Yarn Bowl
3 patterns for creating your own small yarn bowls — with worsted, chunky, and super chunky yarn. All of the yarn bowls are between 5″ and 6″ tall and 6″ to 7″ wide at the base. The bowls will usually hold one or two skeins of yarn and have an opening to feed yarn through. Great for multi-color yarn! Completed yarn bowls are also available from the designer.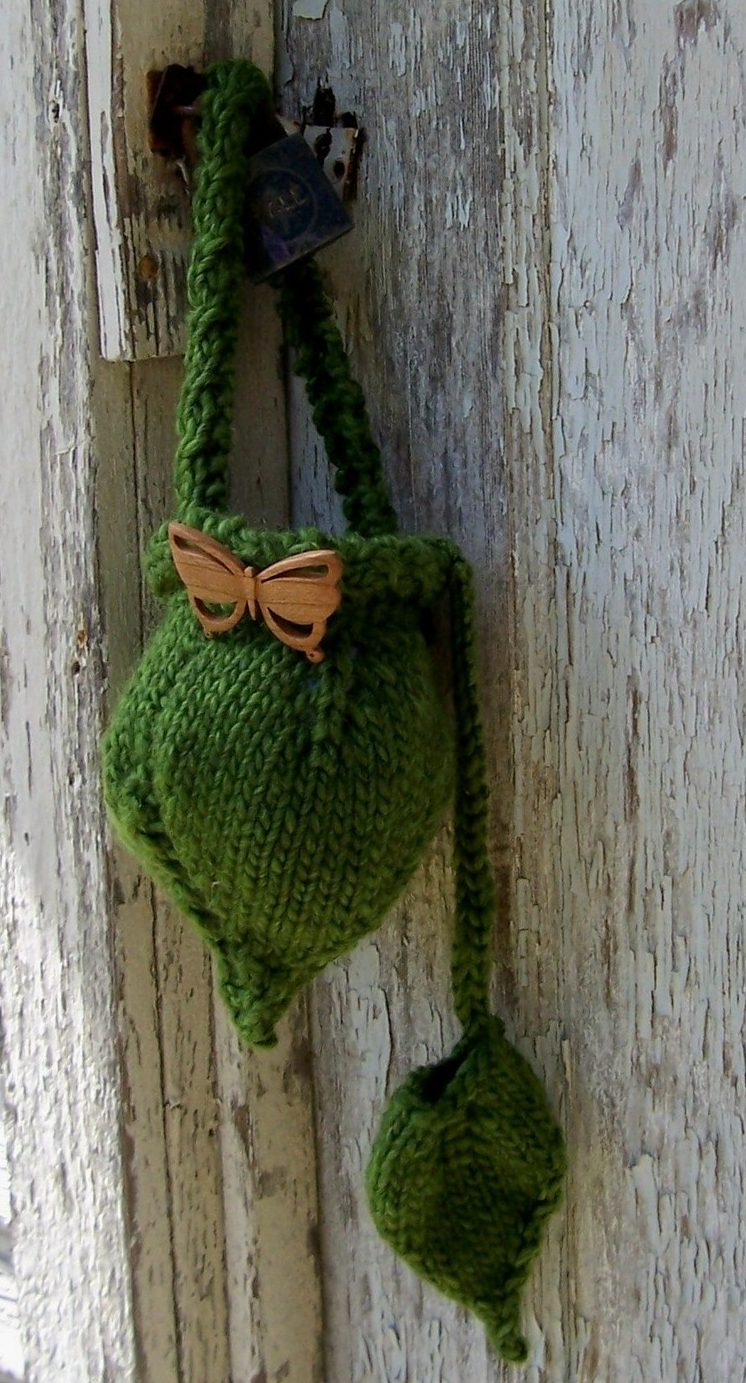 Leaf Wristlet with Accessory Pouch
This leaf wristlet is designed to hold one skein of yarn and a few essential accessories for portable projects. The accessories pouch tucks into the wristlet nicely to keep everything comfy cozy.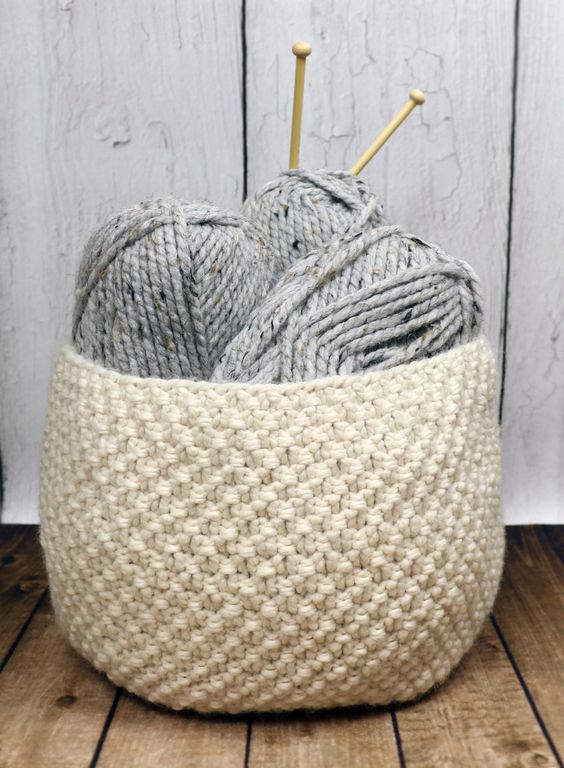 Oodles Basket
Easy pattern and quick project in super bulky yarn. 28″ around x 9″ high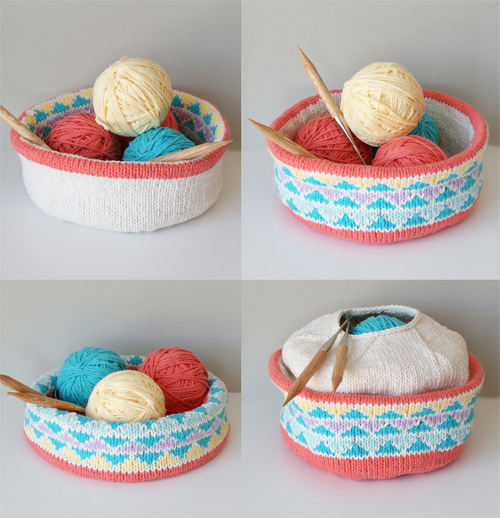 4-Way Bowl
This colorful Triangle Color-Blocked Bowl is multi-functional. It can be folded and refolded to create a reversible bowl, basket or tray. You can unfold it and refold it based on your needs and at 8 inches in diameter it is the perfect size to be used to hold knitting projects, fruit, bread, or even as a super useful catchall.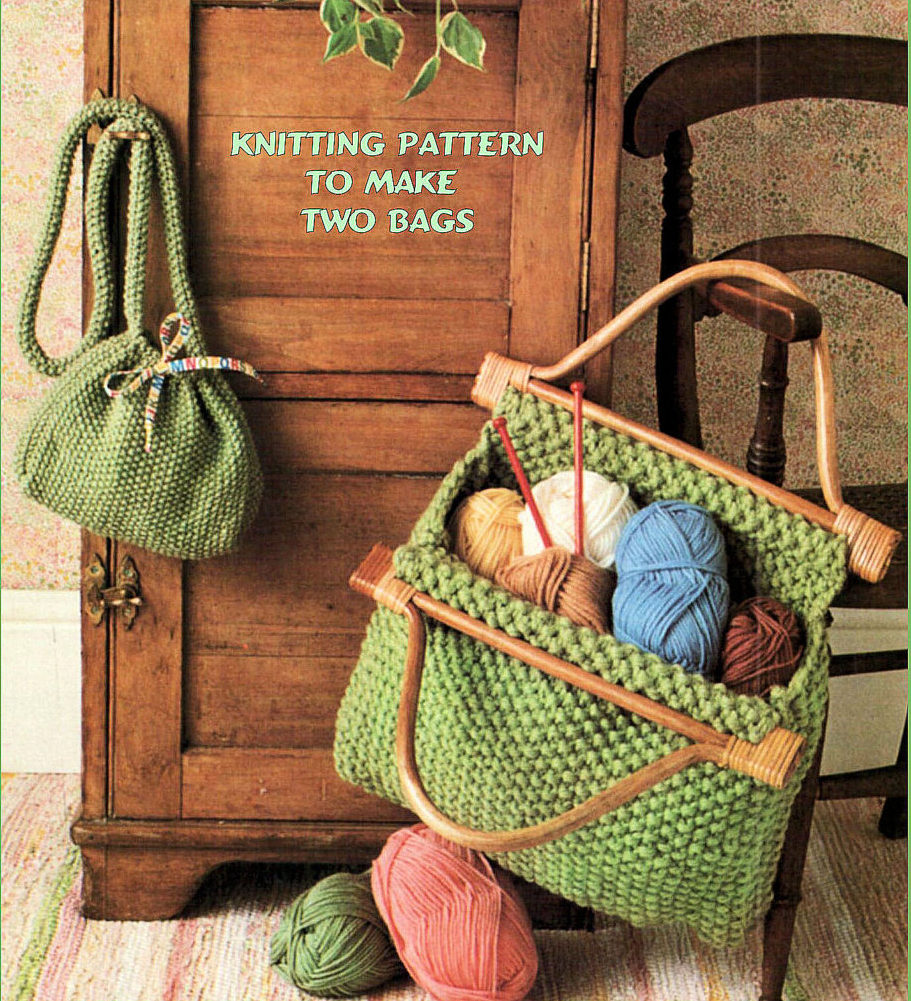 Two Moss Stitch Bags
The finished handbag measures 14.5 X 13.5 inches. The drawstring bag measures 7 X 6 inches.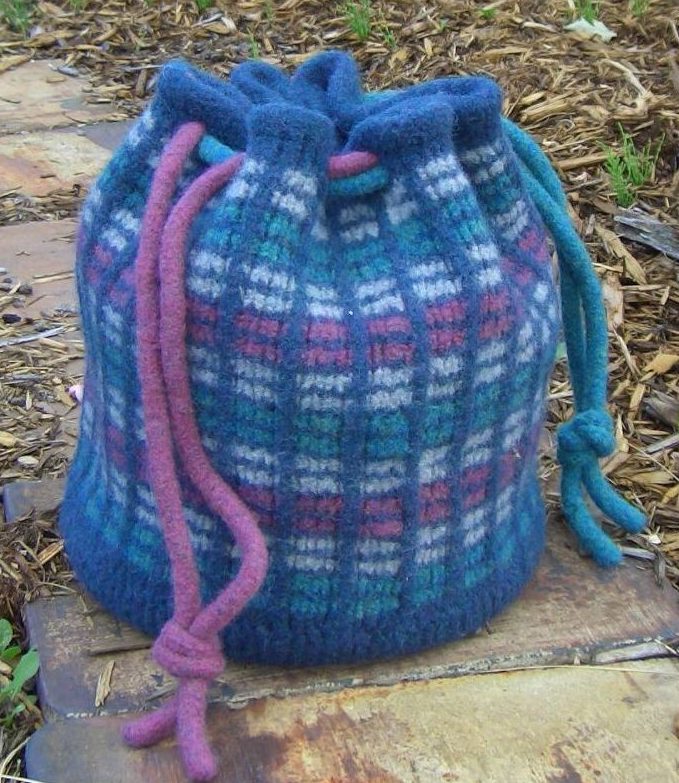 Pane Bags
Large felted bag with a round bottom (knit with short-rows), drawstring handles and slip stitch colorwork. Approximately 10″ across the bottom, and 11″ high.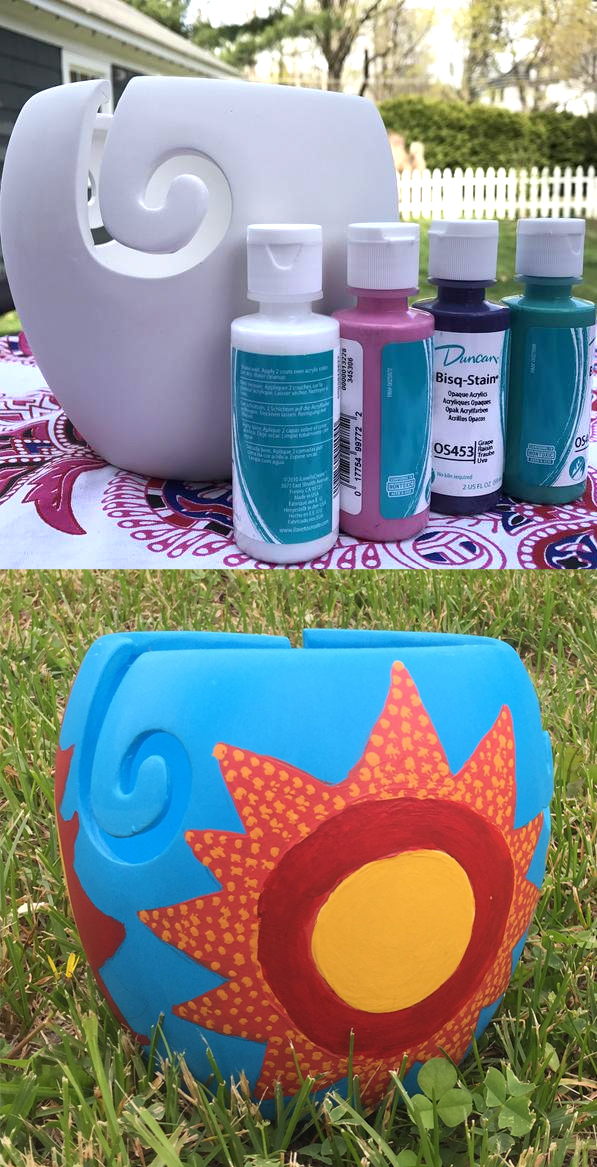 DIY Ceramic Yarn Bowl
What's more fun than a gorgeously crafted, ceramic yarn bowl?! One that you can decorate yourself of course! These ceramic yarn bowls from Darn Good Yarn have a matte finish so that you can decorate them however you want. Paint it with paints that come with the bowl or your own paints, Modge Podge it with beautiful pressed flowers, paint them, or even doodle on them with Sharpies. Two sizes – regular and jumbo, with or without paints.
Terry Matz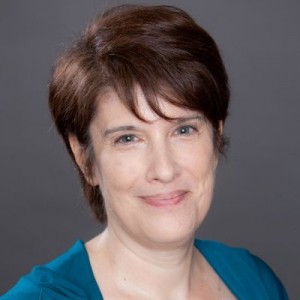 Terry is a knitting late-bloomer, learning to knit as an adult from Internet tutorials, because she wanted a craft that was useful, fun, and portable. Knitting hats for cancer patients inspired her to design her own patterns—available for free at her blog, intheloopknitting.com. Terry met her husband Ken at a science fiction convention and moved to the Kansas City area to be with him more than 30 years ago. Terry supports her yarn stash by creating websites and other digital media. Terry firmly believes in Knitting in Public—it's a great conversation starter!