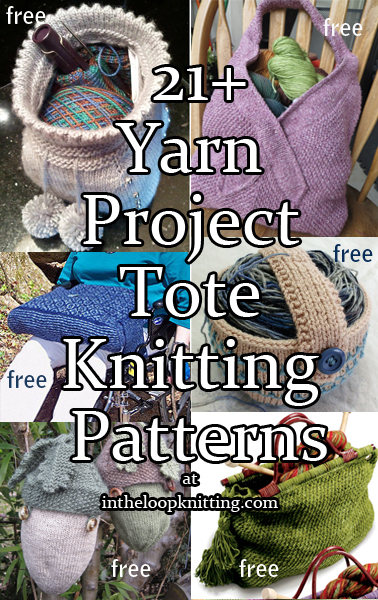 Knitting patterns for craft totes, yarn cozies, and other project bags. Updated 8/9/2022
To get the knitting patterns, scroll down the page to the individual pattern you want and click on the link to that pattern.
These patterns are not my designs but links to other designers who have generously shared their patterns. If you have questions about how to knit a specific pattern, please contact the designer directly.
All links on this site are for informational purposes, but please note that some links are to affiliate sellers that pay me a small commission on purchases.
Free Patterns

Brioche Yarn Cozy
The Fiberista Yarn Cozy keeps your yarn cake neat and is the perfect perfect project for a first-time brioche knitter. Great use for scrap yarn! Designed by Ariane Gallizzi. Pictured projects by designer and LovelyJezebel

Knit-Me-A-Yarn Tote
Kniting project tote with a large front pocket for patterns and side pockets for needles, tools, and accessories. Winner of a Knitting Guild Association contest. Designed by Georgia Vincent for Berroco.

Scrap Bag
This tote is knit in slip stitch colorwork with short lengths of scrap yarn of different colors so it's the perfect stash buster for small amounts of yarn. Insert plastic canvas in the front back and base to give it sturdiness. The finished bag is 28 cm wide, 27 cm tall and 8 cm deep. Designed by Frankie Brown.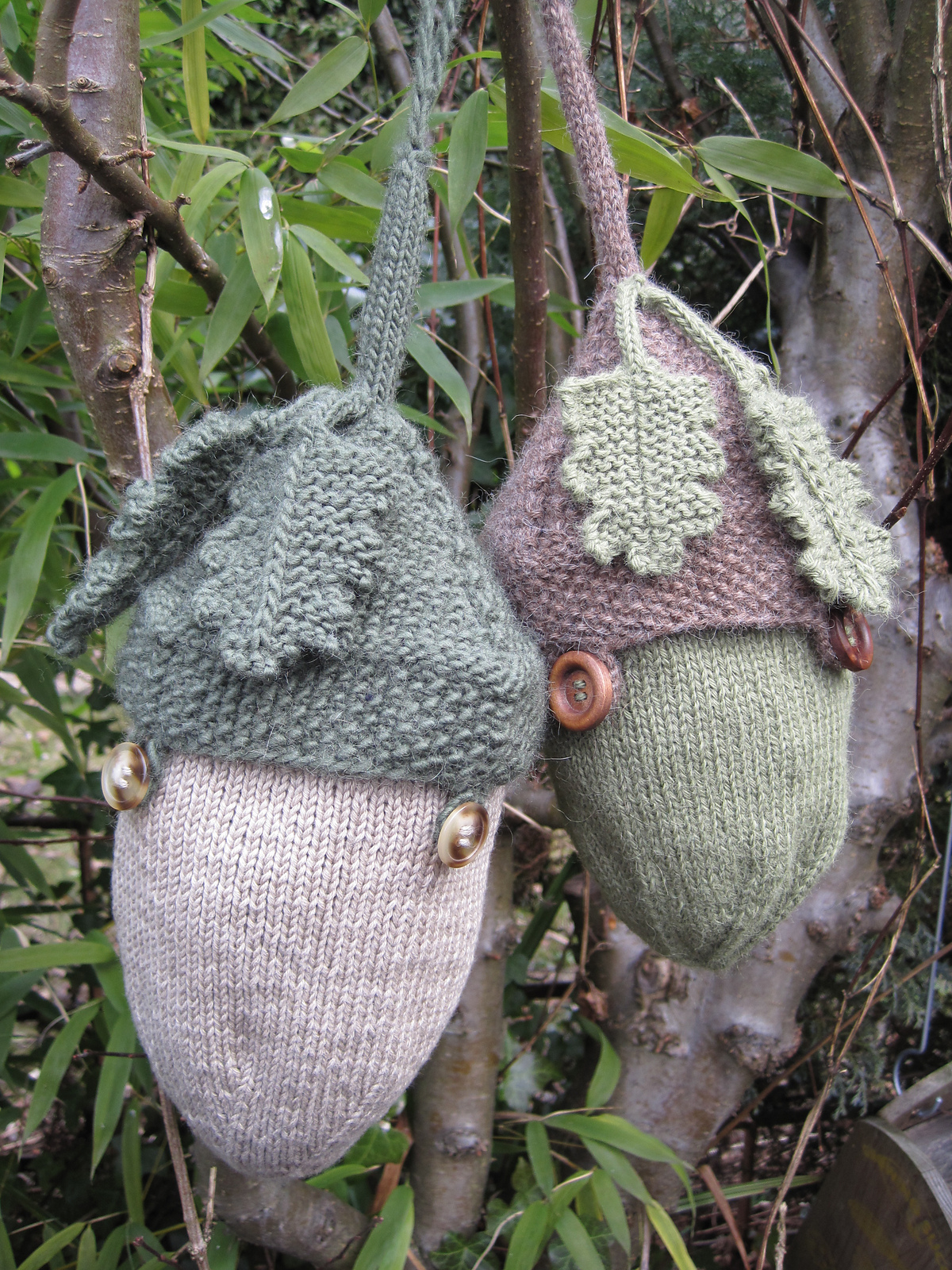 Acorn Project Bag
Wrist bag to hold your on-the-go yarn projects in style. Designed by Kelly Erin Fournier. In the pictured project, VengefulLovers made some mods and added oak leaves from Lesley Stanfield's 100 Flowers to Knit & Crochet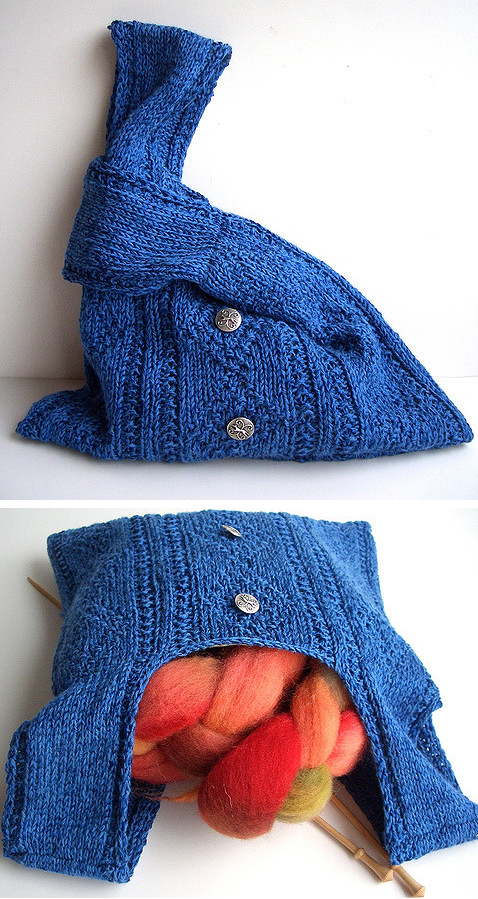 Square Cake Project Bag
This variation on the Japanese knot bag features diamond stitch panels. The handles act as both handle and closure. Just twist one handle through the other to keep your project safe when you have to pause and then pull open up the handles when you can knit again! Two sizes – Width: 7.25[10.5] inches, Height (including handles): 11.5 inches Designed by Jairlyn Mason for Knitty. Pictured project by SmokingHotNeedles

Sock Baggie
This small project bag stands roughly 6 inches high. 13 inches around at the drawstring row and 17 inches around the widest part. It features picot edge, braided drawstring with optional pompoms and beads. Pictured projects by the designer Rebecca Enoch, CharliWilson, and nettischaf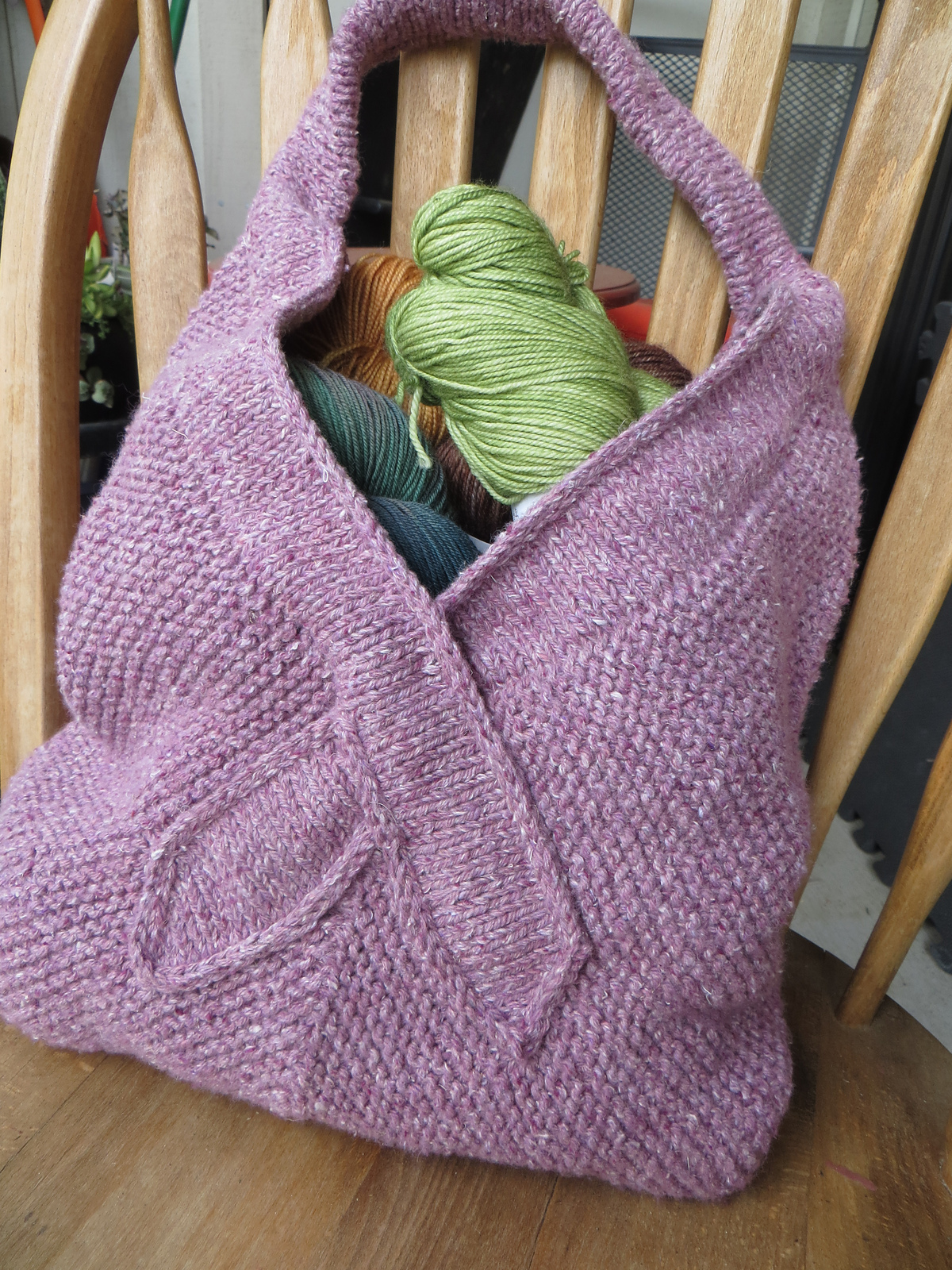 Tote for a Cause
The design of this tote is inspired by the ribbon worn to support the fight against breast cancer. Designed by verybusymonkey who suggests you donate to your favorite cause if you want to show your appreciation for the pattern.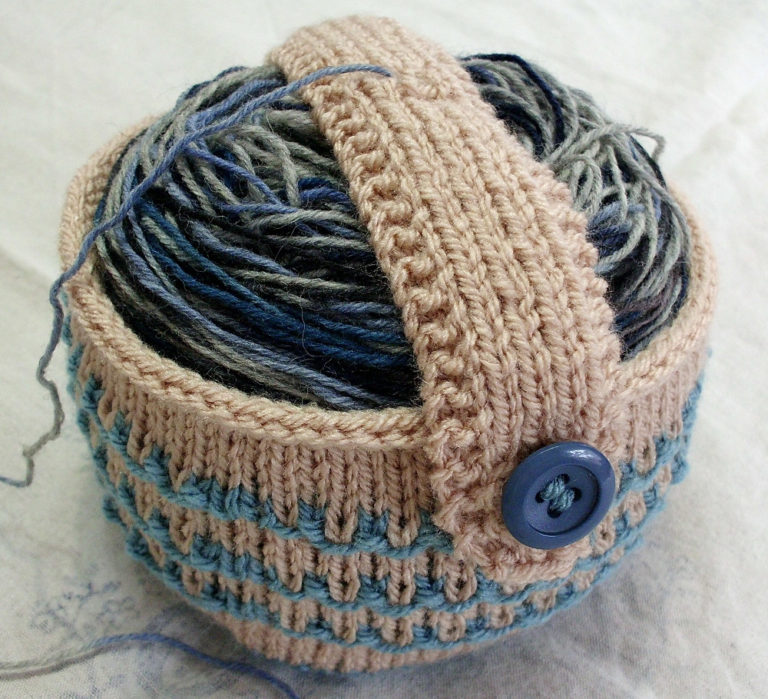 Home for the Cake
This yarn cozy holder was designed to hold yarn cakes and keep them tidy. The center pull goes through a little hole in the strap that holds the cake down. Perfect for on the go projects! Designed by Mareike Meyer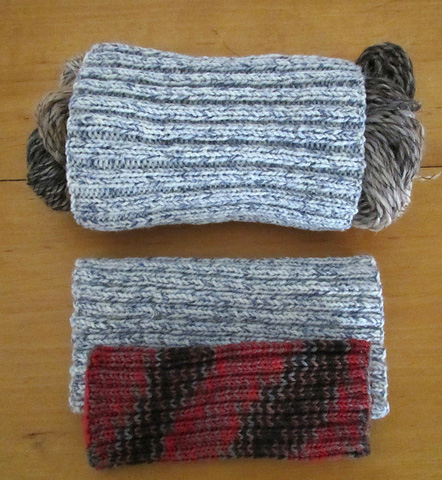 Yarn Ball Cozy
Keep your yarn balls and skeins tidy and prevent unraveling with this yarn sleeve tube by Kerstin Geiger. Great stashbuster!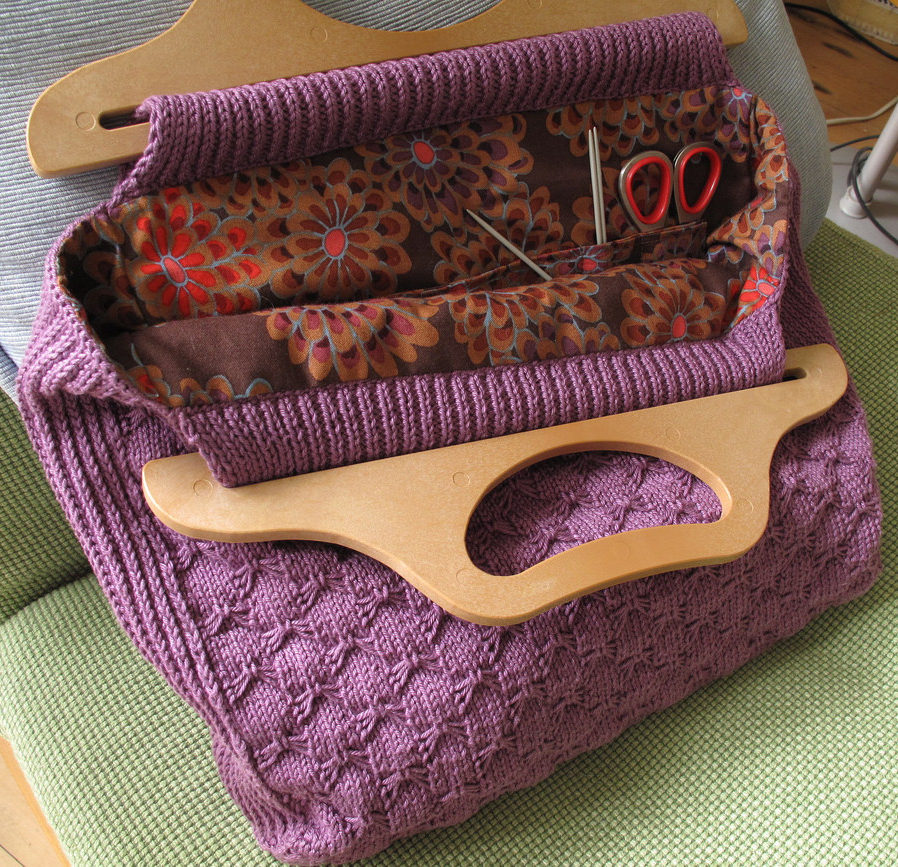 Retro Knitting Project Bag
This knitting tote features the butterfly stitch. Finished dimensions are 13″ long x 4″ wide x 10″ high. Designed by milobo. Pictured project by andante

Jaywalker Wrist Yarn Holder
Tandy Imhoff designed this chevron stitch bag to keep your yarn tidy and clean when you're on the go. It also features a reinforced hole in the bottom for convenient double stranding. Pictured project by bonitinha. Great with self-striping yarn.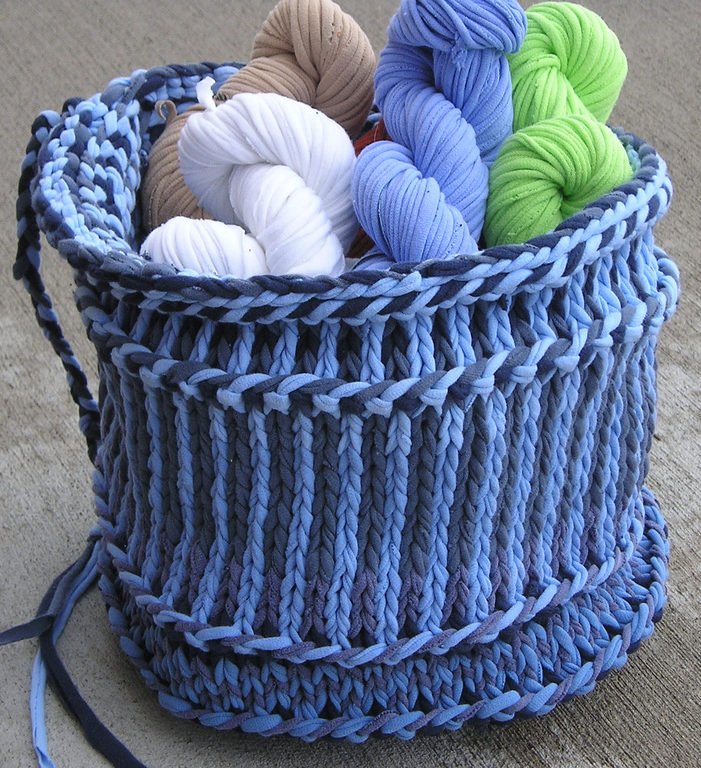 Twined Basket
This basket is knit with t-shirt yarn in twined technique that creates a sturdy fabric. Designed by Melissa Somerville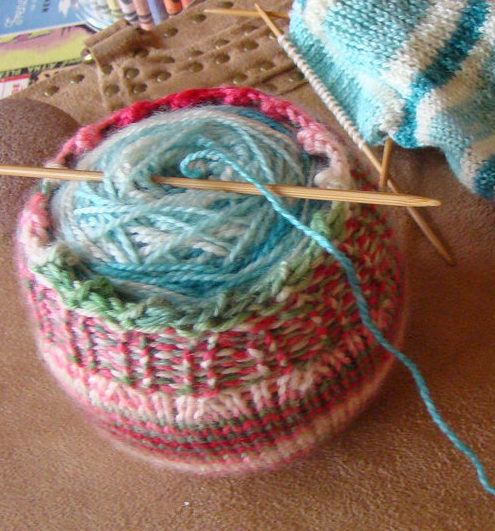 Fruit or Yarn Cozy
This easy cozy is a great way to corral your yarn ball or cake to keep it neat or to protect your apple or pear from bruising in a lunch bag. Designed by Susan B. Anderson. Apple cozy project by AngelaTong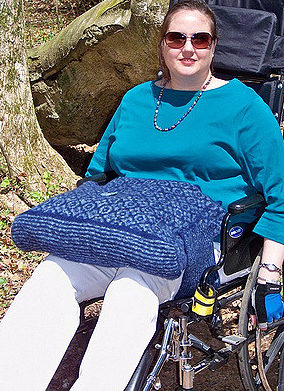 Ramp Tote
This ingenious hands-free tote was designed Jodie Gordon Lucas with panels that fit beneath your legs to keep your knitting projects or other items secure but convenient. Three designs. Jodie points out it also is ideal "for knitting while sitting in bleachers, knitting while sailing, knitting on a rollercoaster, knitting on a ski-lift, knitting on a motorcycle".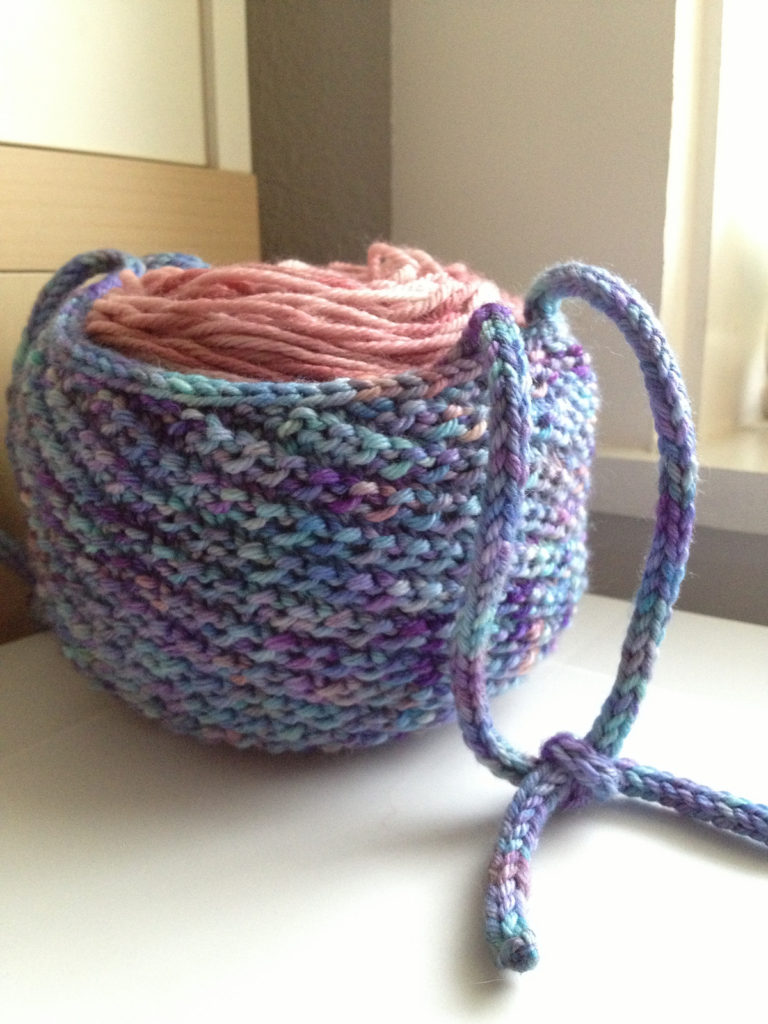 Wrist Yarn Holder
This yarn cozy holder holds a cake or ball or yarn. It features a swirl stitch pattern and strap. The original design has a garter stitch strap. In the pictured project, tinypurrs used two i-cord handles instead. Perfect for on the go projects! Designed by Teresa Murphy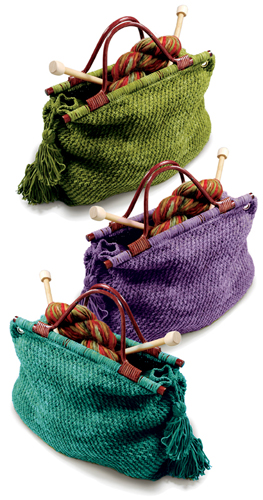 Knitting Tote
Donna Yacino designed this tote for Berroco. Approximately 15" wide x 11" high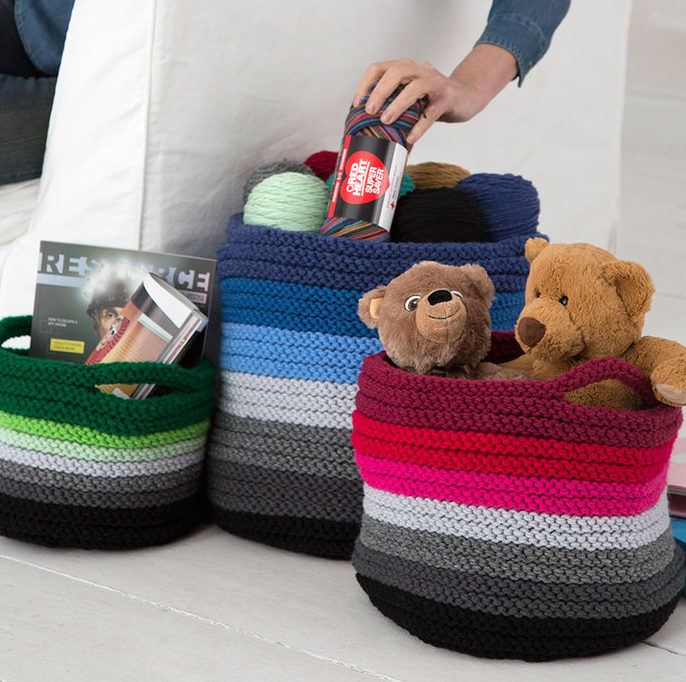 Ombre Baskets
Three sizes of striped baskets with optional handles. Large basket measures about 14" [35.5 cm] tall, Medium about 10½" [26.5 cm] tall, and Small about 7½" [19 cm] tall. Designed by Heather Lodinsky for Red Heart.

Dotty Pot Yarn Cozy
Colorful baskets that are the perfect size for keeping yarn cakes tidy but sturdy enough to stand on their own without felting (though you can felt if you want). Designed by the amazing Frankie Brown. Great stash buster! Pictured project by AliceInDilbrtlnd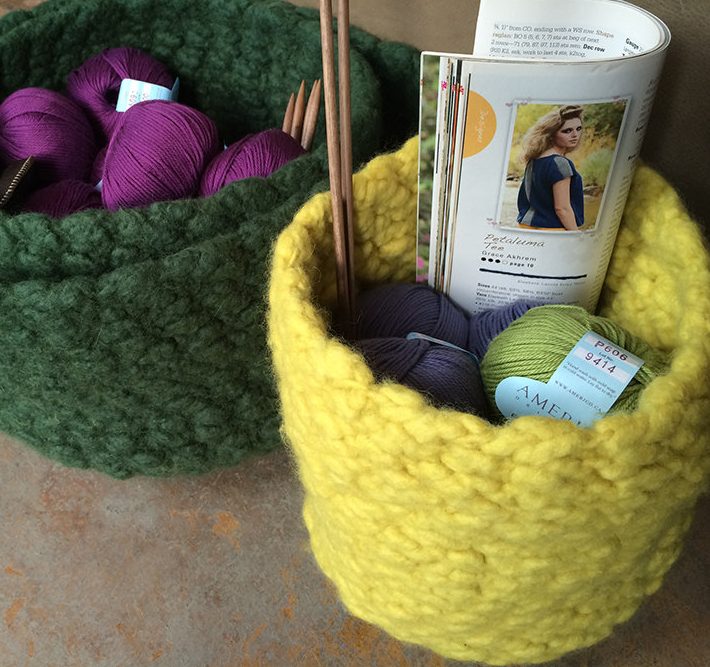 Ellenesque Felted Bowl
Easy pattern featured by Americo Originail in Canadian Living for storage baskets in any size.
Patterns for Purchase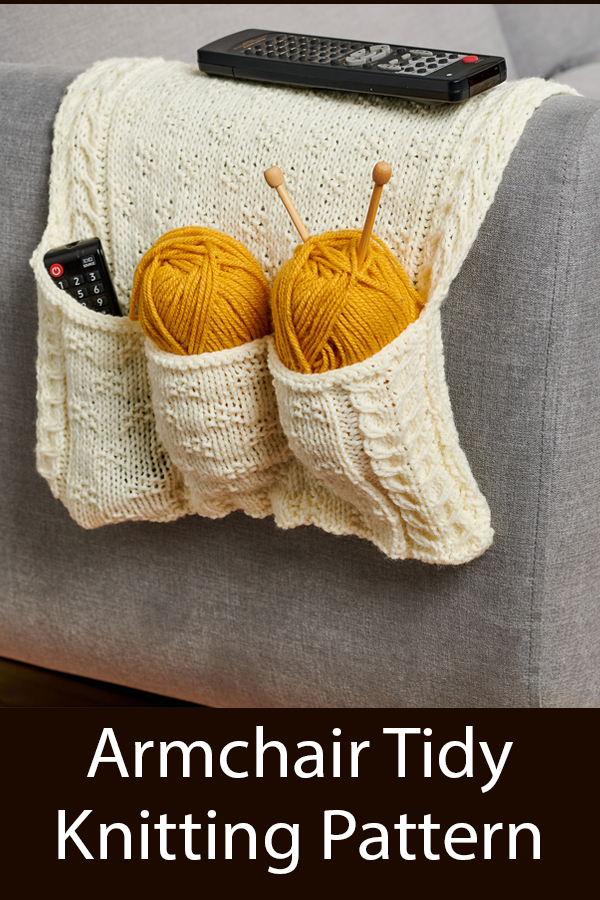 Armchair Tidy
This cabled cozy has three handy pockets and fits neatly over the arms of chairs and couches to keep yarn, remotes, and other essentials at your fingertips. Worsted weight yarn. Designed by Monica Russel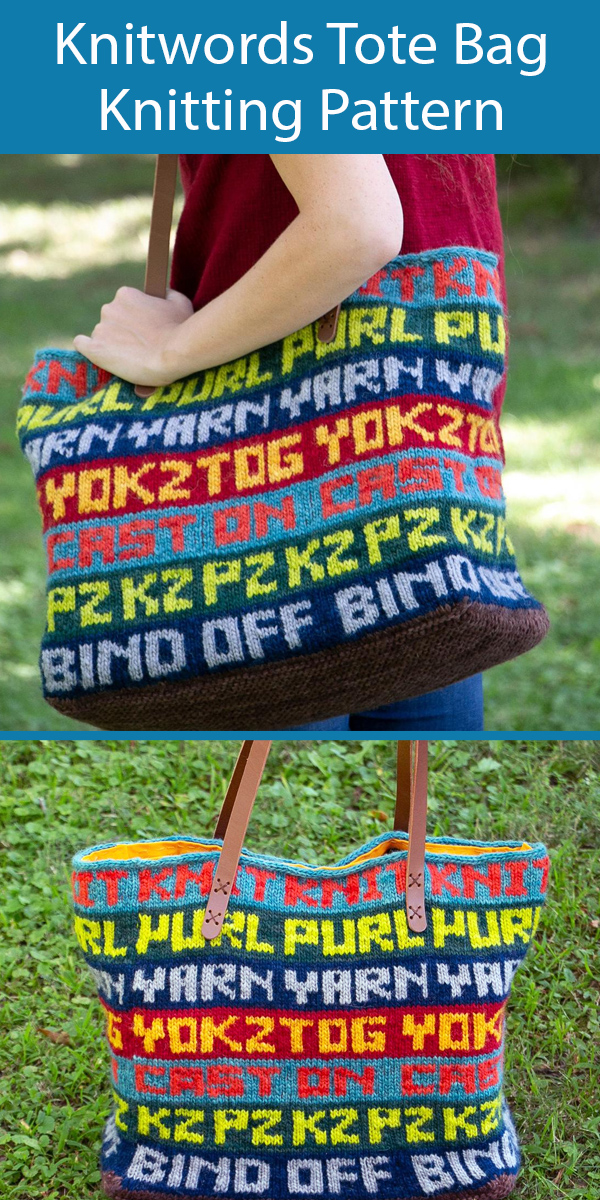 Knitwords Tote Bag
Knitting themed tote is perfect for carrying your yarn projects with the words Knit, Purl, Yarn, YOK2TOG, Cast On, P2K2, and Bind Off in stranded colorwork. Options for smaller size and felting. Available as individual pattern or as part of an ebook with 8 other Knitwords patterns. Designed by Cori Eichelberger.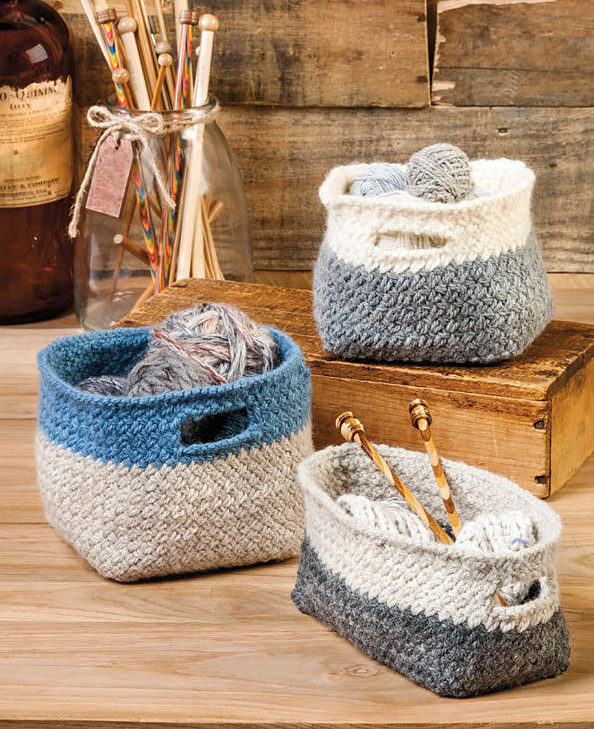 Modern Cubist Baskets
Easy basket trio is a quick knit in bulky yarn. Finished measurements: Small basket: 5″ W x 5″ L x 5″ D, Large basket: 6″ W x 6″ L x 6″ D, Rectangle basket: 4″ W x 8″ L x 4″ D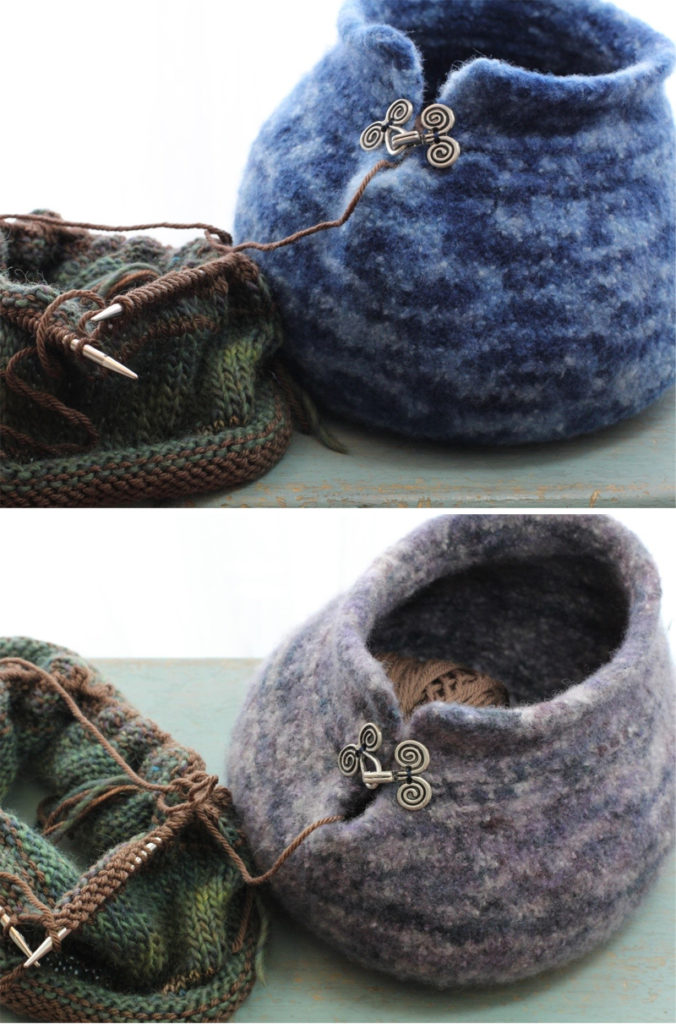 Felted Yarn Bowl
3 patterns for creating your own small yarn bowls — with just 1 skein of worsted, chunky, and super chunky yarn. All of the yarn bowls are between 5″ and 6″ tall and 6″ to 7″ wide at the base. The bowls will usually hold one or two skeins of yarn and have an opening to feed yarn through. Great for multi-color yarn! Completed yarn bowls are also available from the designer.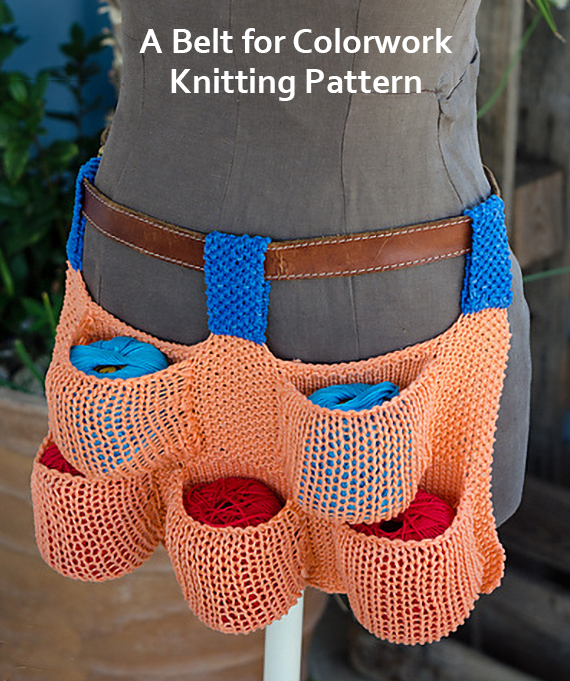 A Belt for Colorwork
Ingenious knit belt with pockets to help keep yarn skeins separate when you are knitting intarsia or other colorwork. Knit flat utilising only basic skills. It features 5 roomy pockets (though you can easily add more), 3 belt straps and a waist strap (not shown in sample pictures). Designed by Asimina Saranti. DK weight yarn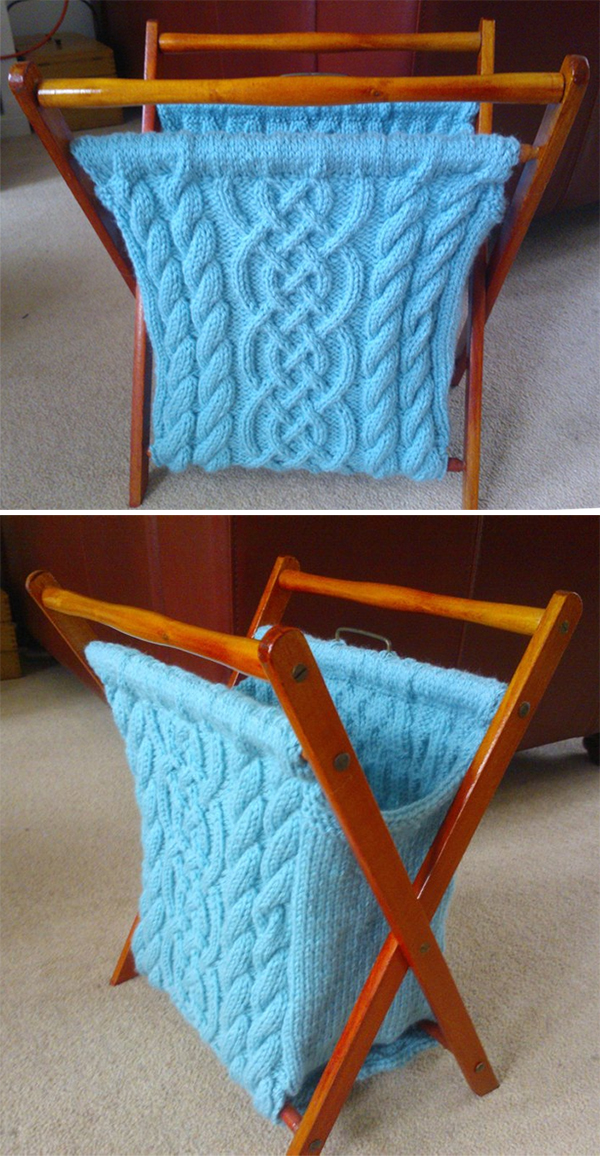 Knitted Folding Craft/knitting Storage Bag/basket
Full instructions are included to knit the cover for a folding frame and to assemble the cover to create a lovely craft storage bag. You will also need a frame for the craft bag, measuring 28cm x 28cm, with an opening gusset of 22cm x 15cm.. Designed by Sarah Dennis / Murray. Aran weight yarn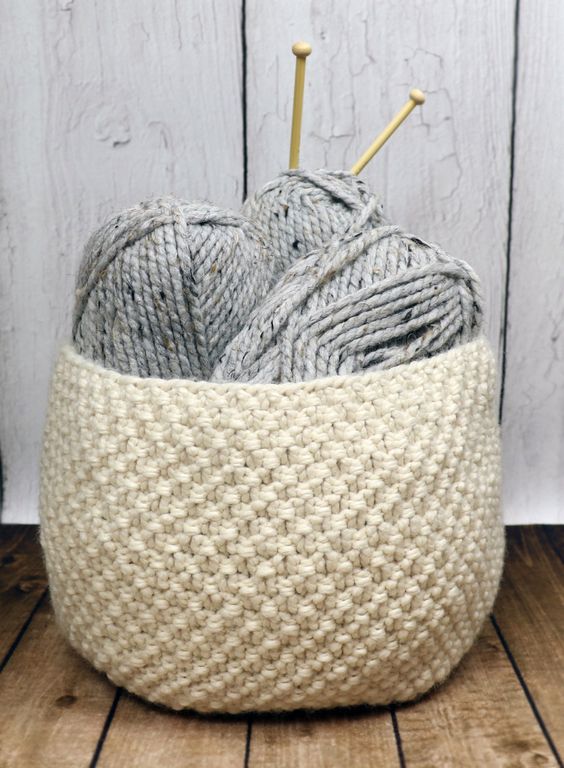 Oodles Basket
Easy pattern and quick project in super bulky yarn. 28″ around x 9″ high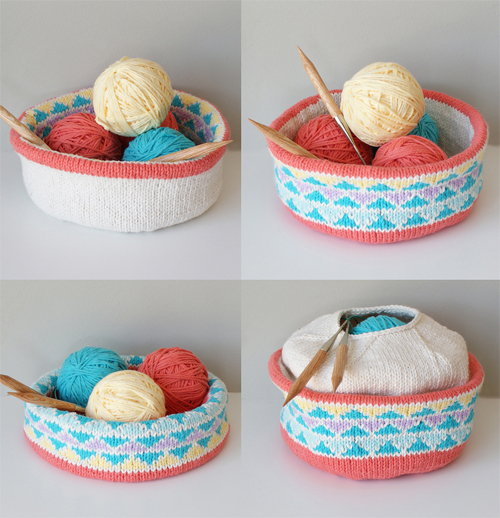 4-Way Bowl
This colorful Triangle Color-Blocked Bowl is multi-functional. It can be folded and refolded to create a reversible bowl, basket or tray. You can unfold it and refold it based on your needs and at 8 inches in diameter it is the perfect size to be used to hold knitting projects, fruit, bread, or even as a super useful catchall.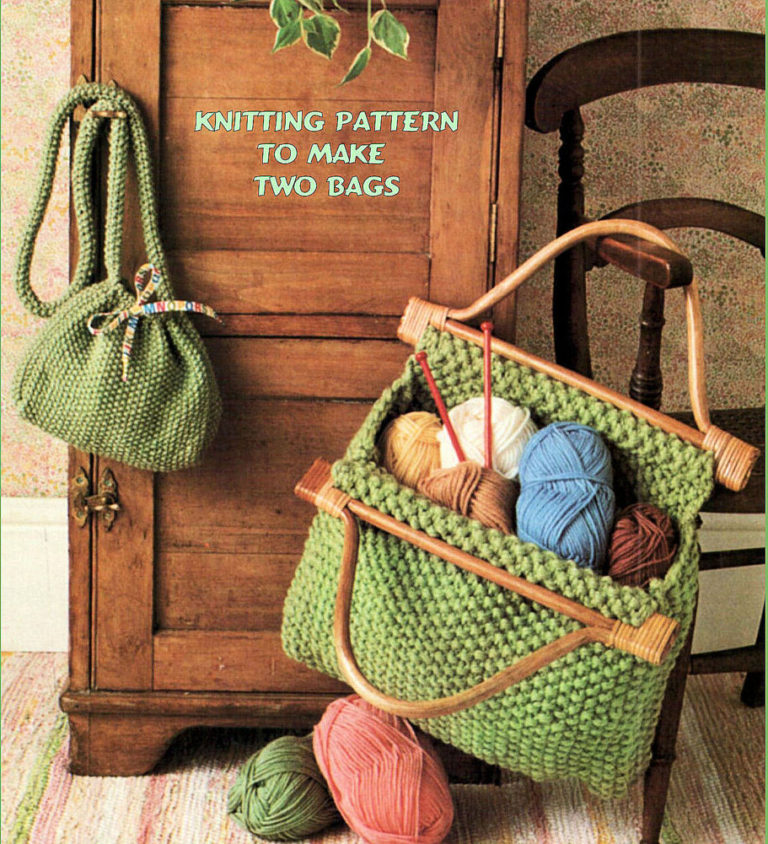 Two Moss Stitch Bags
The finished handbag measures 14.5 X 13.5 inches. The drawstring bag measures 7 X 6 inches.