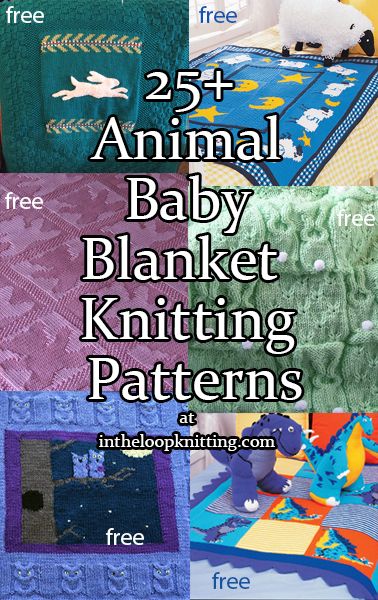 Baby blankets with animal themes.
To get the knitting patterns, scroll down the page to the individual pattern you want and click on the link to that pattern.
These patterns are not my designs but links to other designers who have generously shared their patterns. If you have questions about how to knit a specific pattern, please contact the designer directly.
All links on this site are for informational purposes, but please note that some links are to affiliate sellers that pay me a small commission on purchases.
Free Patterns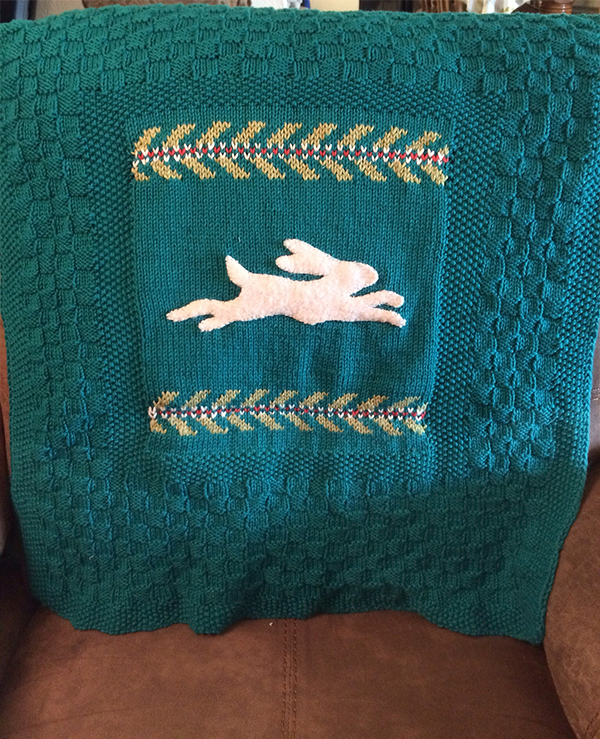 Henry's Blanket
This blanket features simple background knit with three easy stitches (seed, basket weave, and stockinette) along with an optional Fair Isle leaf pattern and an appliqued knit and felted rabbit. 28 X 32 inches. Designed by Sara Elizabeth Kellner. Worsted yarn. Pictured project by lbedwell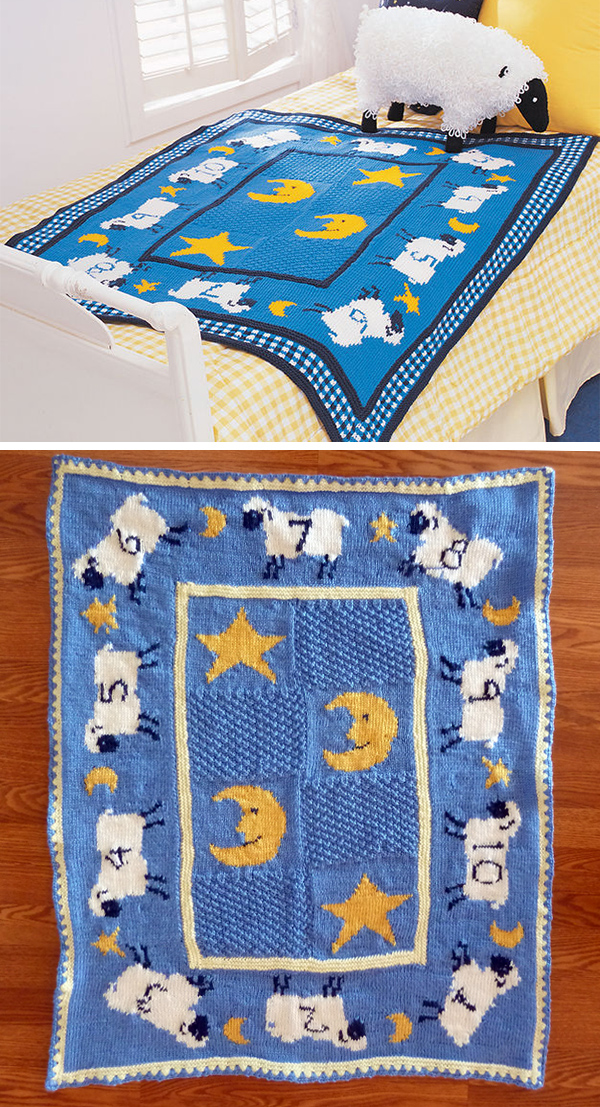 Counting Sheep Blanket and Sheep Toy
This blanket features intarsia numbered sheep surrounding moons and stars. The pattern for the sheep toy in the top picture is also available. Designed by Patons. Worsted yarn. Pictured project by betsyq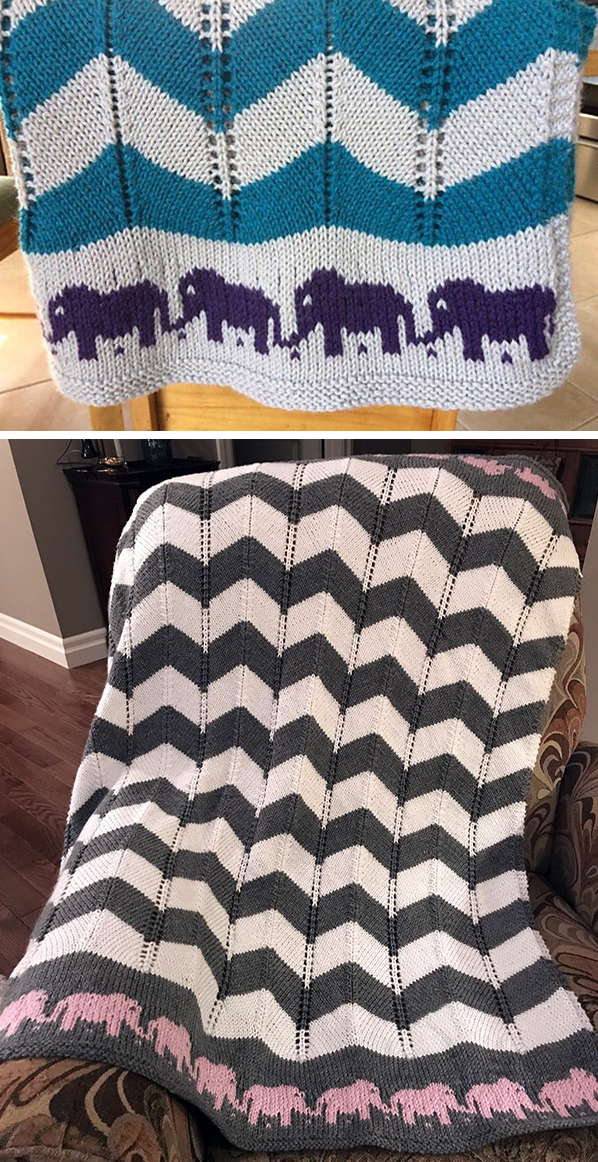 Marching Elephants Baby Blanket
Blanket with an overall chevron design and stranded elephant border at top and bottom. Designed by Sue Williams. Worsted weight yarn. Pictured projects by MissDayo and AndersKnits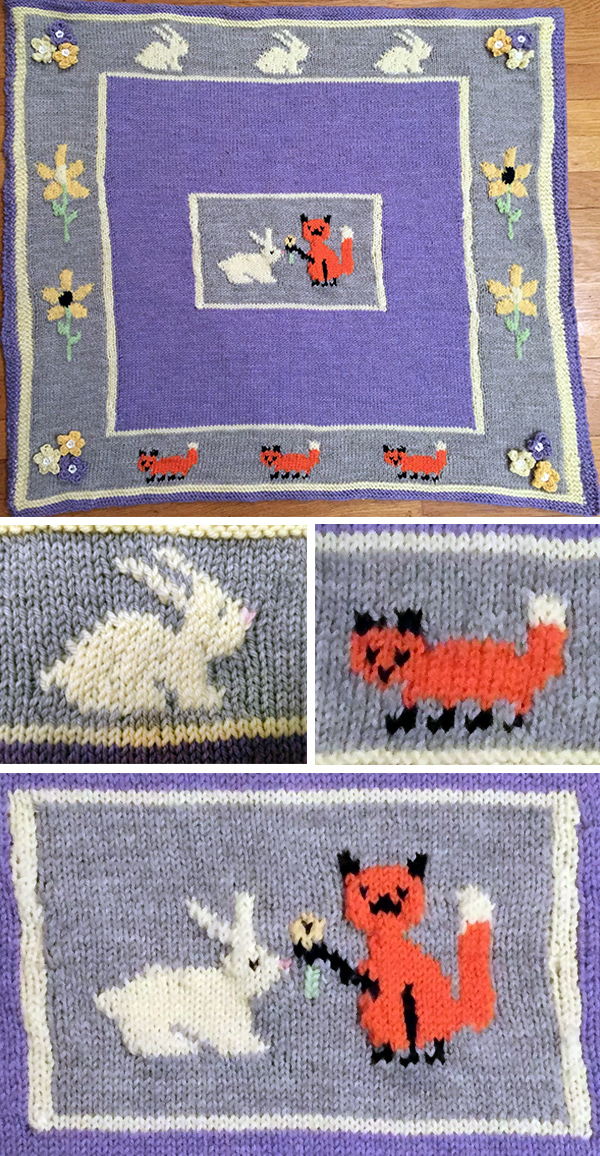 Fox and Bunny Blanket
Blanket with intarsia designs of foxes, bunnies, and flowers. Designed by Ali Wilkinson. DK yarn. Original blanket was backed with flannel. The designer has the intarsia charts posted on her website and asks that you contact her for the full blanket pattern. But I think you could easily figure out how to incorporate these motifs into any basic square blanket design.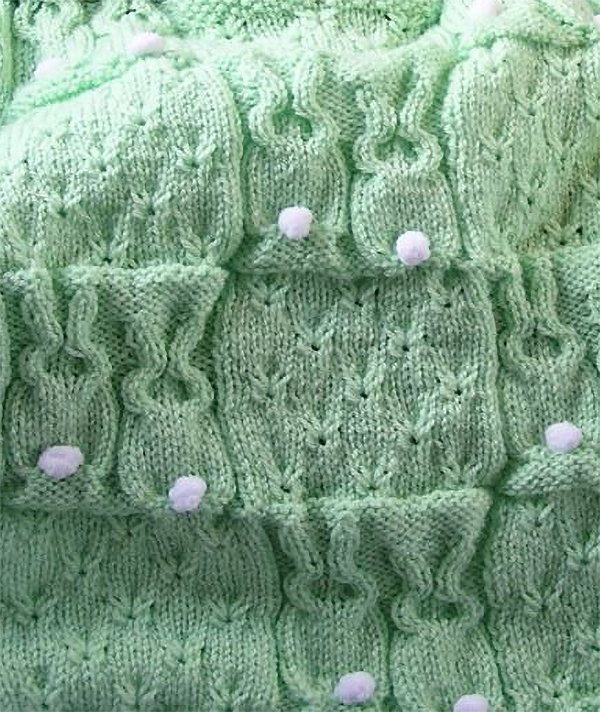 Spring Rabbits Baby Blanket
This baby blanket features alternating sections of cable bunnies and an eyelet stitch that looks like a bunny head and ears. 30" (76cm) x 20" (51cm). DK weight yarn. Designed by Threads and Yarns of Pleasure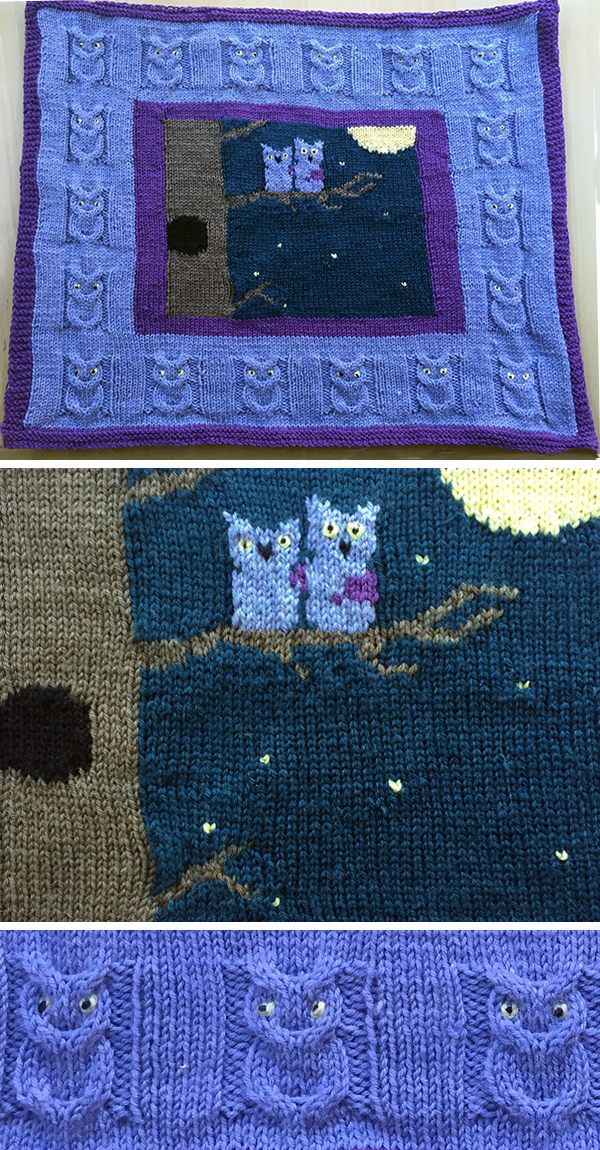 Owl Baby Blanket
Baby blanket with intarsia owl scene panel surrounded by a border of cable owls. Designed by Ali Wilkinson. DK yarn.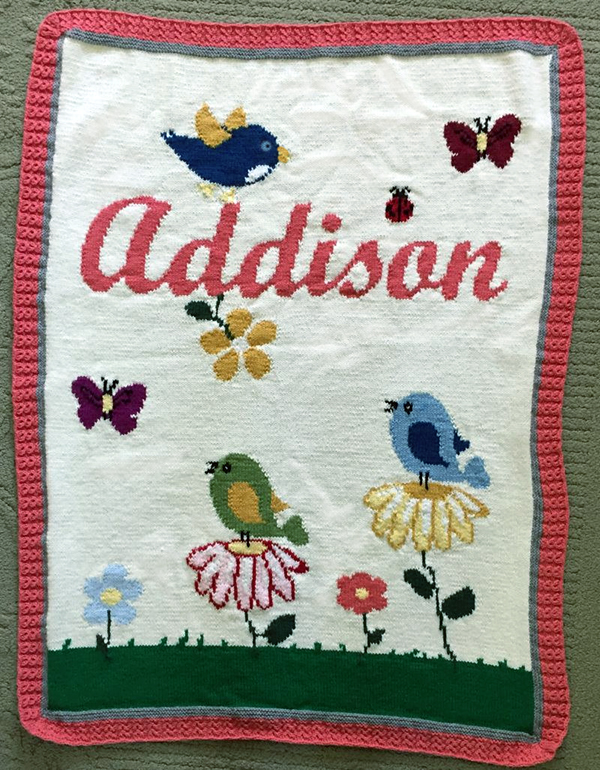 Birds and Flowers Baby Afghan
Intarsia birds, butterflies, and flowers grace this afghan. The garter stitch strips and mock cable border are added after the design is complete. General instructions are included for creating a graph for the child's name. Great ! Designed by Deborah V. Gardner. Worsted yarn.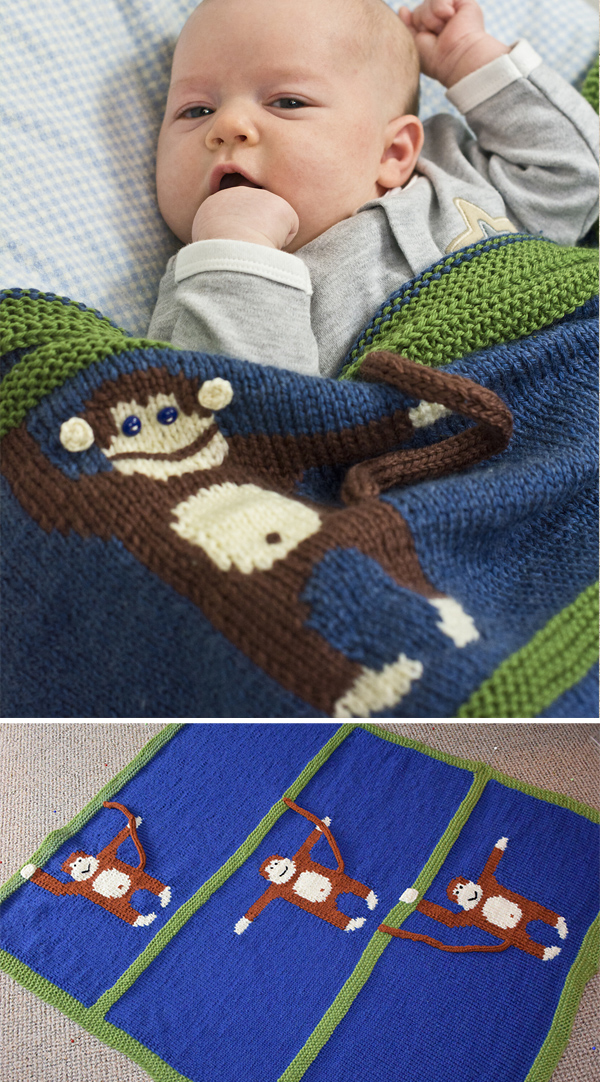 Monkey Business Blanket
Baby blanket with playful monkeys in intarsia. Designed by Amy Bahrt for Cascade Yarns. Pictured projects by the designer and Diva100. Worsted yarn.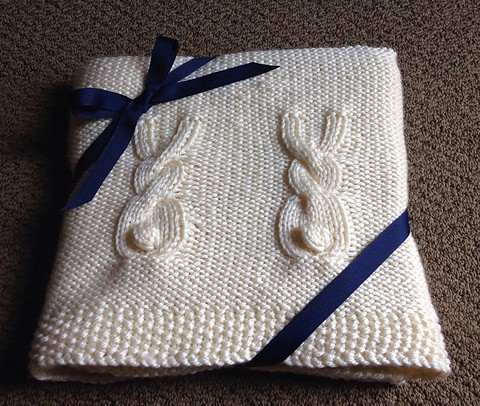 Heirloom Bunny Baby Blanket
Stacylynn Cottle designed this adorable blanket with cable and bobble bunnies to grow with the child from crib to toddler bed and possibly beyond.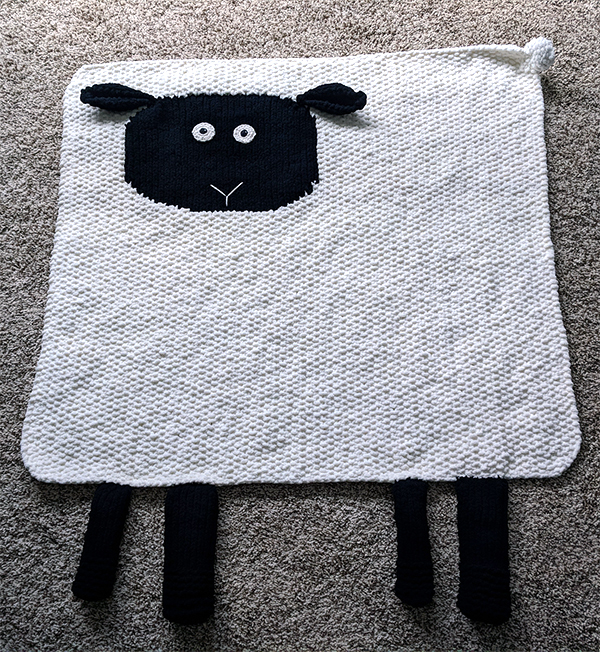 Sheep Blanket
A seed stitch blanket turns into a sheep with stockinette face and attached legs. Designed by Amy Bahrt for Cascade Yarns. Pictured project by JustUnwinding. Quick knit in super bulky yarn.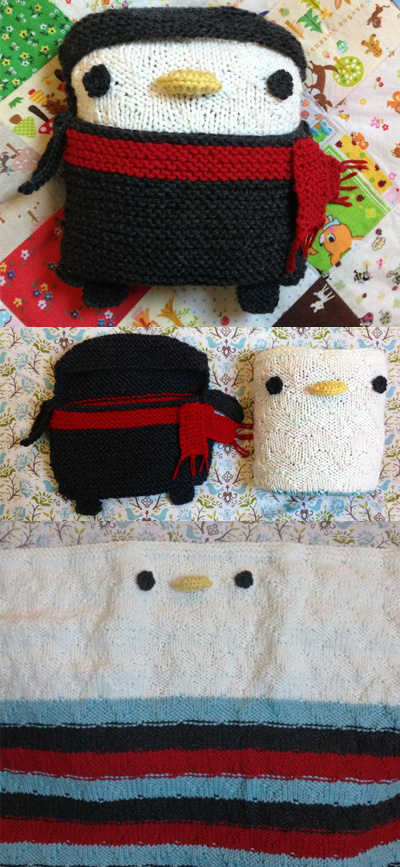 Penguin Baby Blanket
Amy Gaines designed this fun pattern to make a baby blanket that folds and fits into a Penguin holder. Blanket measures 24 inches by 24 inche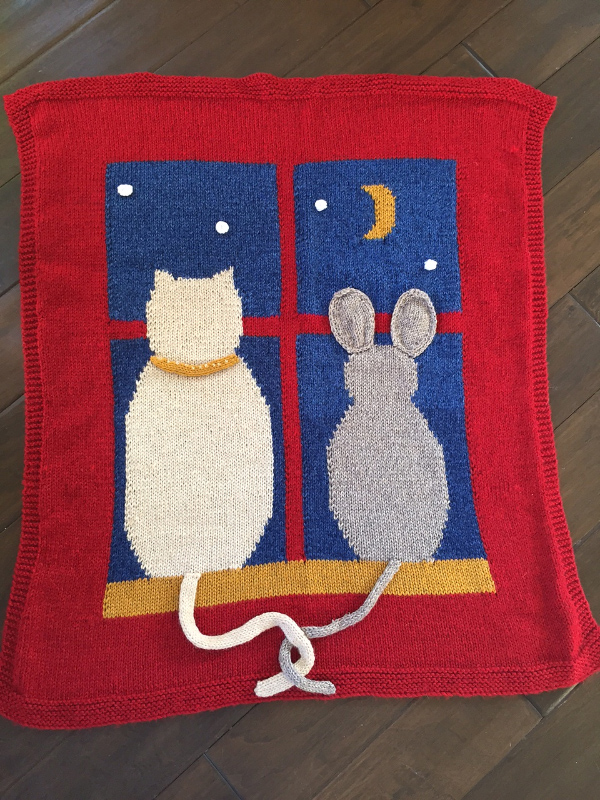 Cat And Mouse Blanket
Intarsia blanket featuring two animal friends looking out a window. 28 1/2 x 38 in. (72.5 x 96.5 cm). Designed by Amy Bahrt. Pictured project by Sansocks whose blanket won a blue ribbon at the county fair, 2015.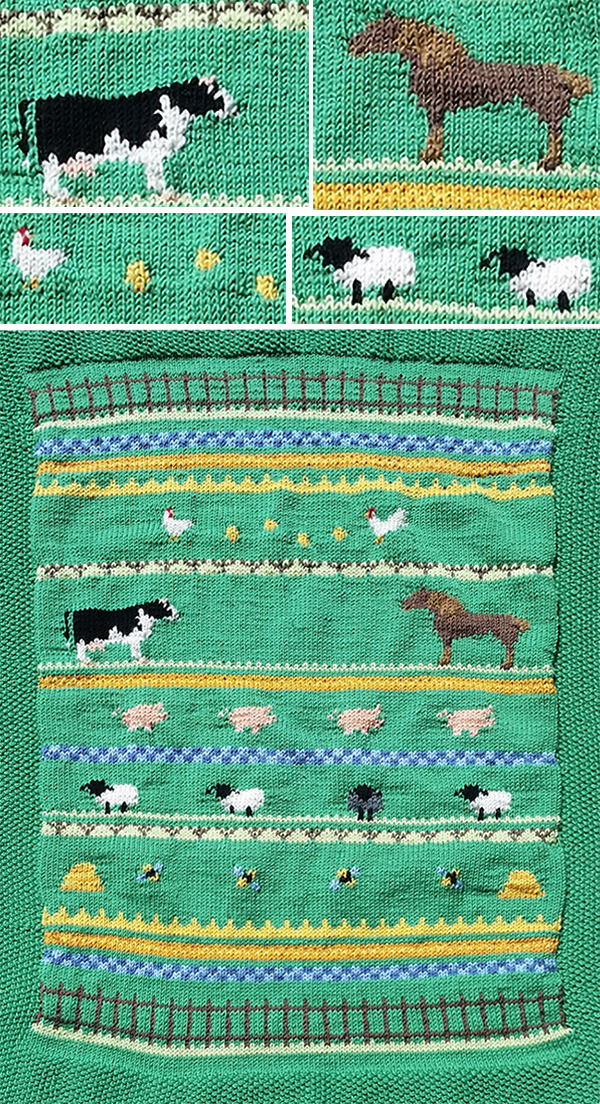 Ingrid's Baby Blanket
Intarsia blanket with chickens, cow, horse, pigs, sheep, and bees. Blank space in middle is for the baby's name. You can duplicate stitch or embroider later if you don't know the baby's name. Chart. Designed by Aggro inc.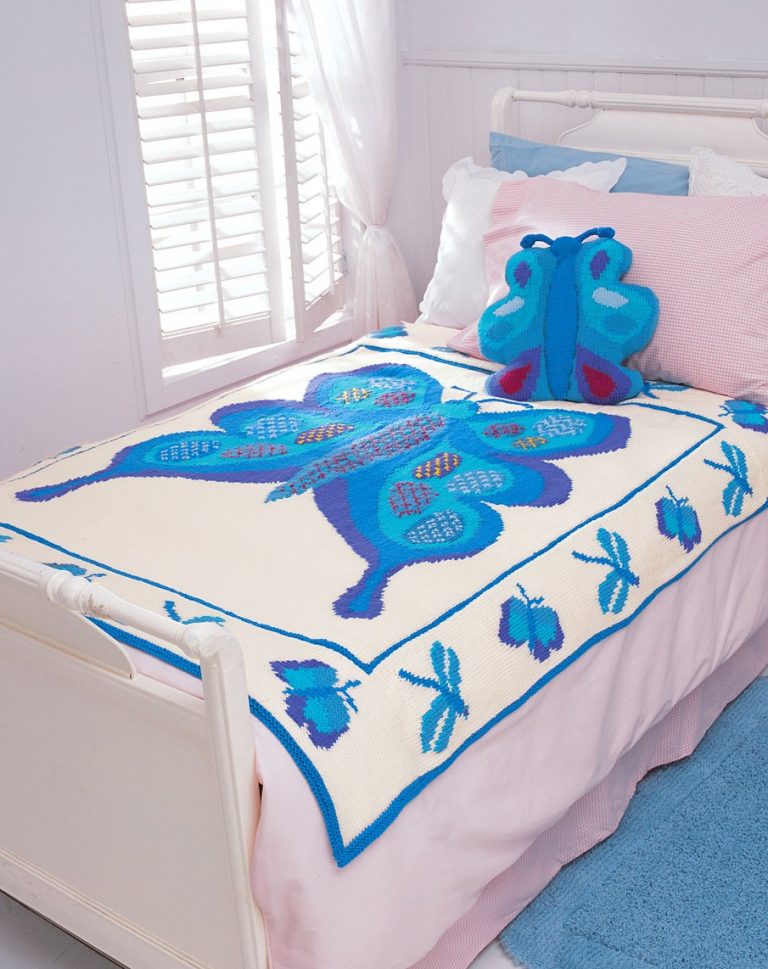 Butterfly Blanket and Pillow
This fair isle design by Yarnspirations is features on a blanket that is approx 47 x 55 ins [119.5 x 139.5 cm] and a cushion that is shaped and colored like a butterfly approximately 16 x 16 ins [40.5 x 40.5 cm]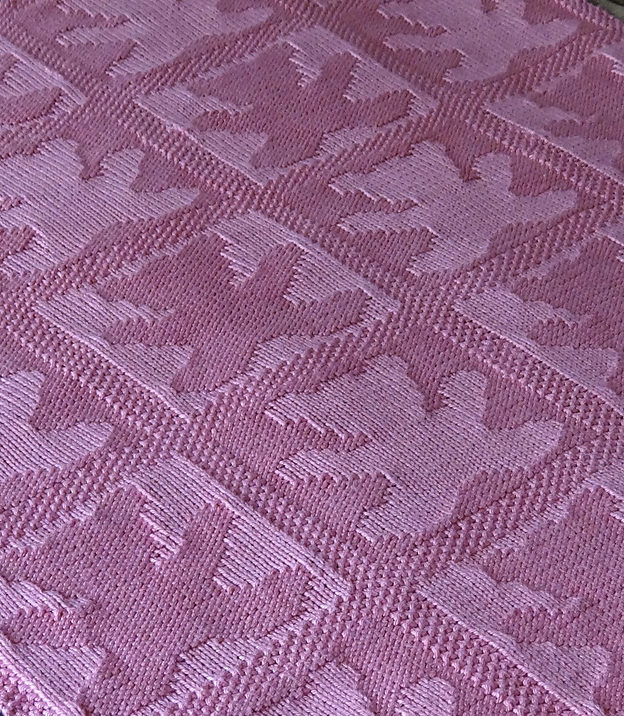 Teddy Bear Blanket
32.5″ wide x 28″ long. Designed by Barbara Breiter for Crystal Palace Yarns. Pictured project by olexis.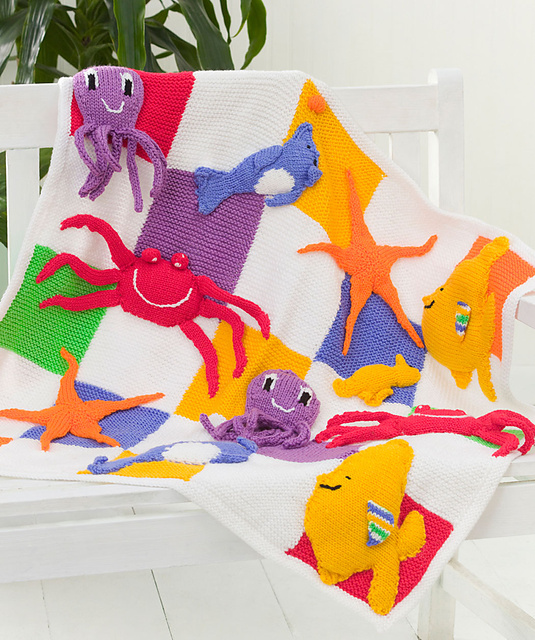 Sea Creatures Throw
Carol J. Sorsdahl for Red Heart Yarn designed this fun project that is half blanket and half toy. Blanket is knit in strips and sewn together. Sea creatures are knit separately and sewn to blanket. 32″ x 32″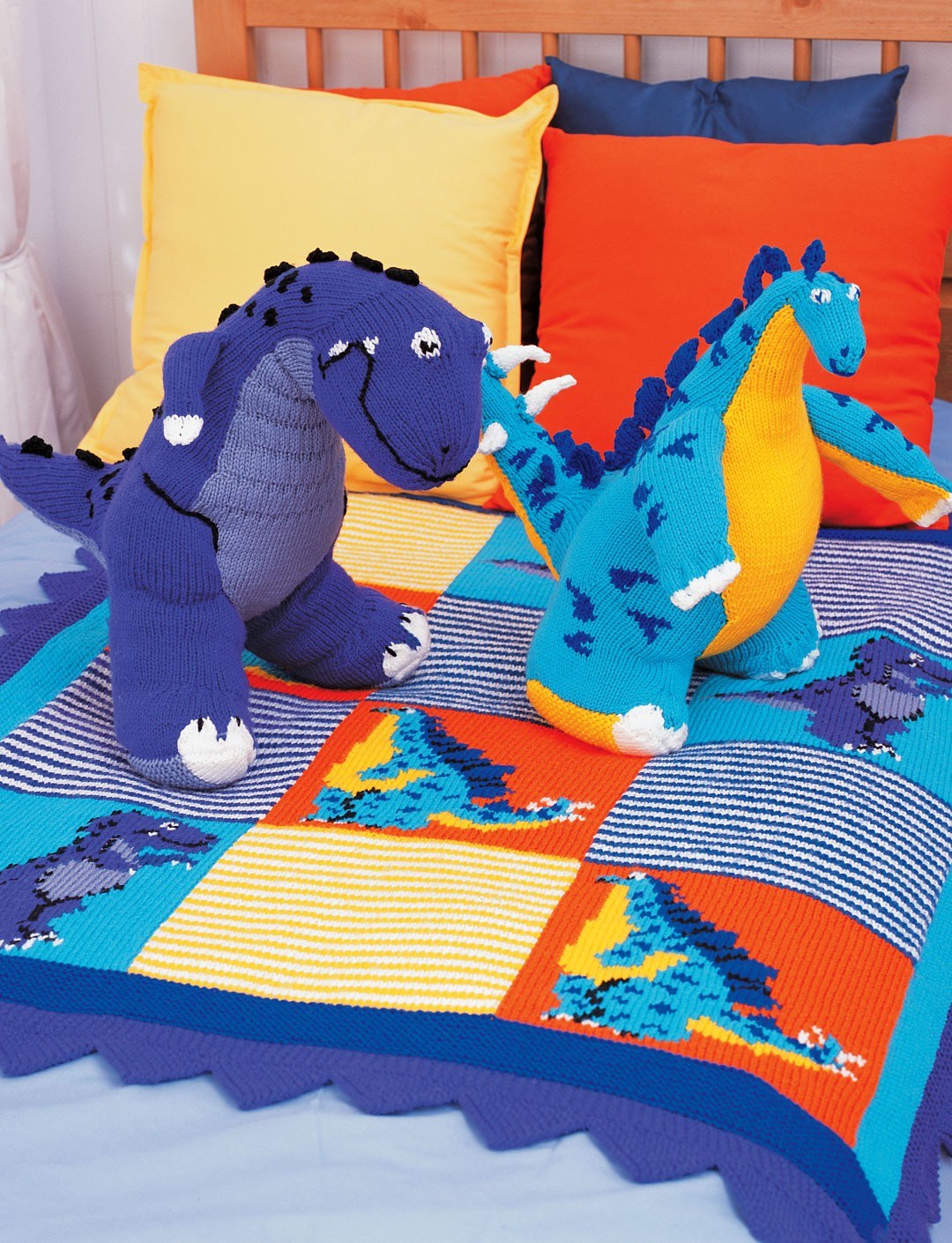 Dinosaurs Blanket
Designed by Patons. Also available – matching toy dinosaur patterns. Toy Height: 20 ins [51 cm]. Blanket 37 x 52 ins [94 x 132 cm] point to point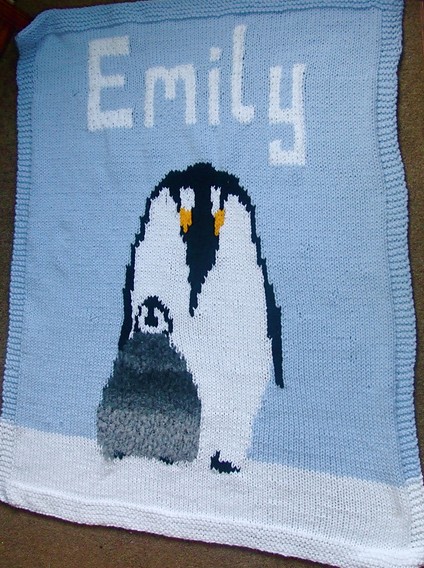 Penguin Baby Blanket
Designed by Fiona Byrne.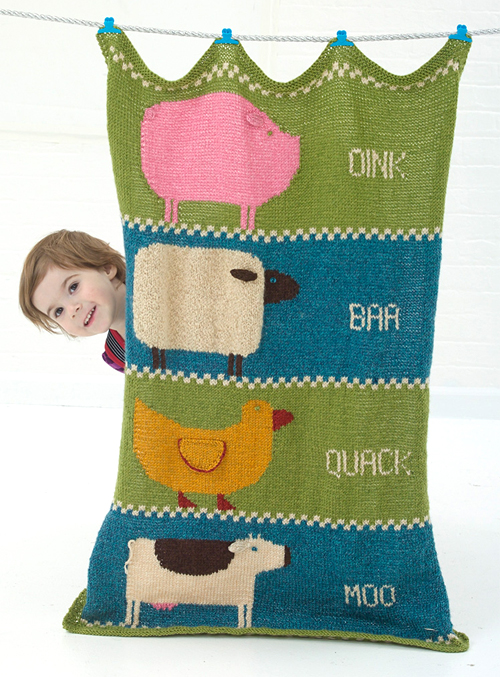 Animal Talk Throw
Amy Bahrt designed this fun throw for animal lovers. Fun attachments of ears, tails, and wings make this a three-dimensional blanket. 29 in x 38 in. Matching cardigan sweater pattern available for 2 years (4 years, 6 years).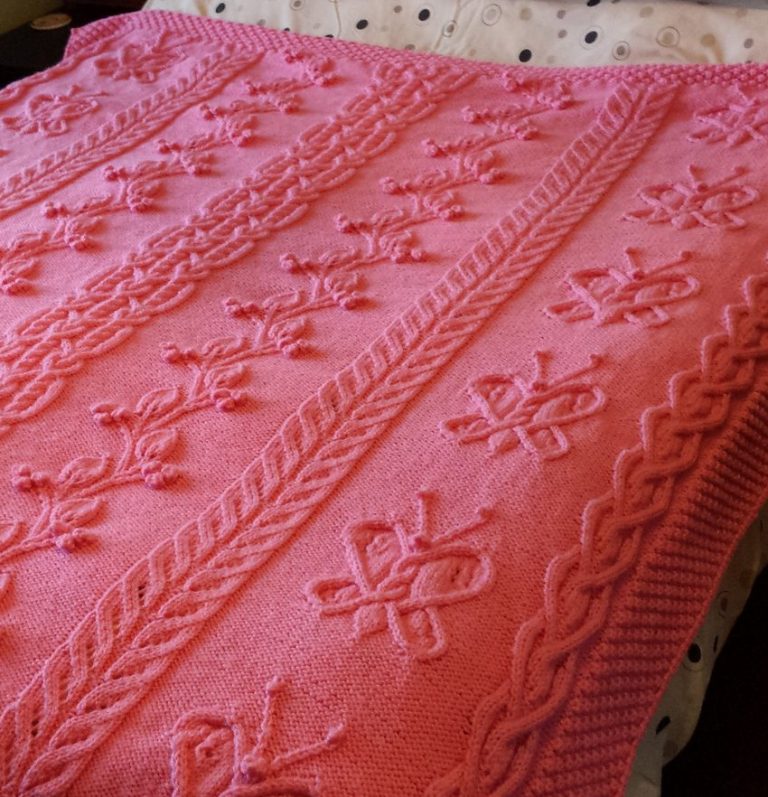 Butterfly Cabled Blanket
Joan Barnett designed this breathtaking cable afghan for Red Heart with 4 different cable patterns and a Bramble Stitch border. 58 x 66″ (147.5 x 167.5 cm). Pictured project by laudanum1964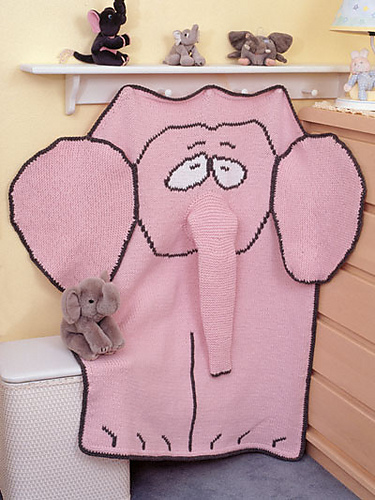 Spencer the Elephant Baby
Designed by Kathy Sasser for the book Quick Knitted Afghans, the blanket is worked in stockinette and garter with the features in duplicate stitch. 33 X 45″
Patterns for Purchase

Sheep Blankie Baby Blanket
This blanket with intarsia sheeps is one of the 16 knitting patterns for baby blankets in Precious Knit Blankies for Baby that are quick and easy to knit according to the designer. Designed by Jean Adel. Aran weight yarn. Available as digital download or paperback. .

Swan Family Baby Blanket
This baby blanket features swans in intarsia. Size 93 x 80 cm (36,6 x 31,4 inches). Designed by Mathilde R. Aran weight yarn.

Bears and Bows Baby Blanket
This 9 square blanket can easily be made in a larger size by adding more squares. Designed by Honey Bee Bears. Aran weight yarn.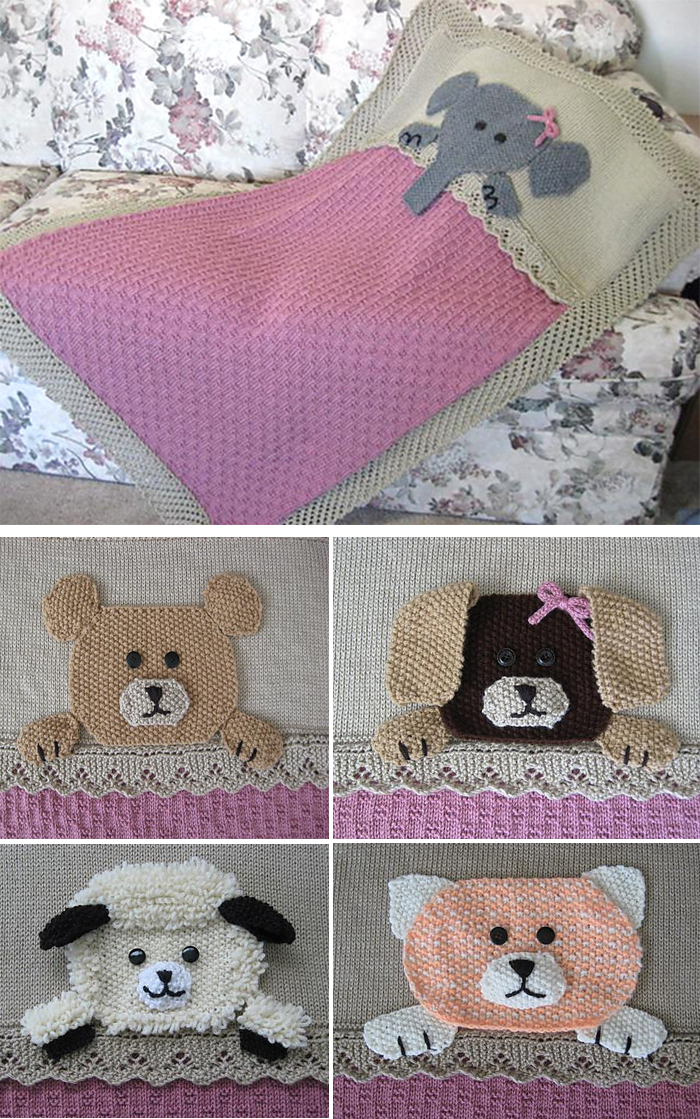 Who's Sleeping in My Bed Crib Blanket
Adorable baby blanket features a cuddly animal friend sleeping in their own lace edged "bed". Choose from an elephant, bear, dog, cat, lamb, or monkey (not pictured) – all included in pattern. Worsted-weight yarn. Finished size is 32″ x 45″.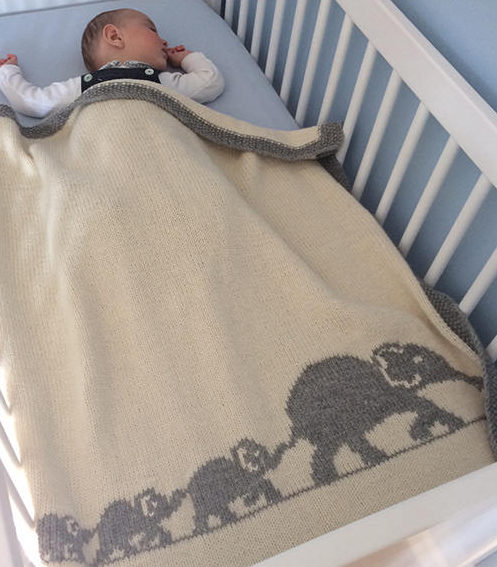 Elephant Family Baby Blanket
Finished size of the blanket: 85 x 80 cm (93 * 87 inches). Pattern is in English and French. Designed by Mathilde R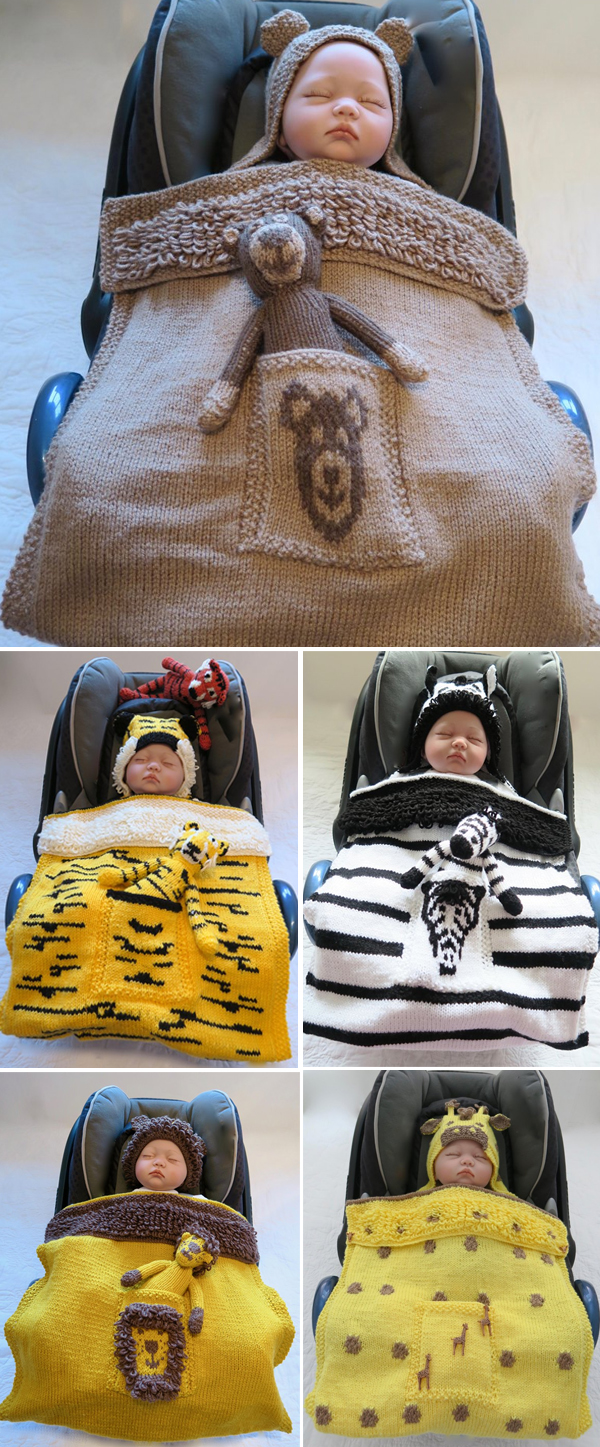 Animal Car Seat Blankets
A variety of baby blankets either hooded or with hats. Some include toy animal patterns. Pictured are bear, tiger, lion, zebra, and giraffe. Designed by Creative Knits.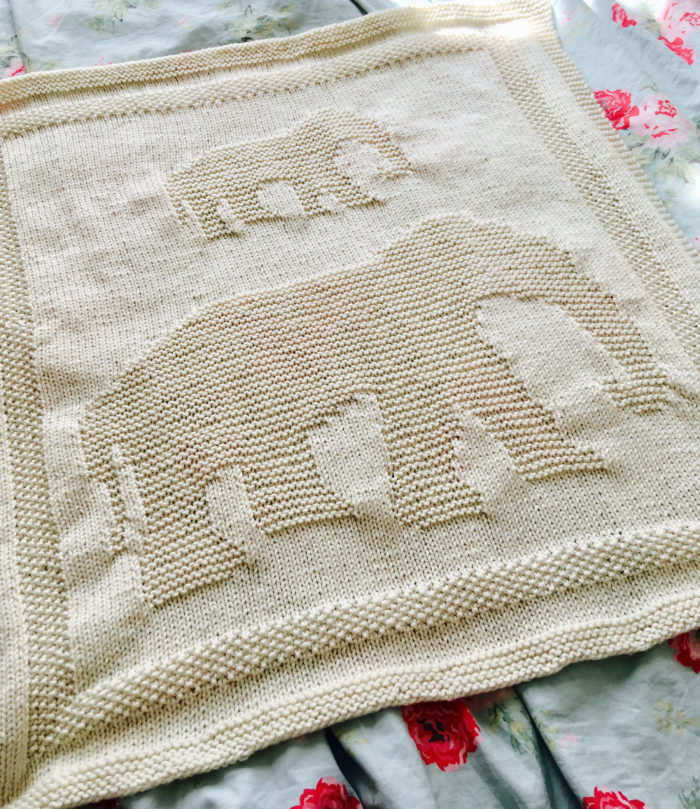 Elephant Baby Blanket
Easy blanket in just knit and purl stitches. The completed blanket will measure 71 x 71cm.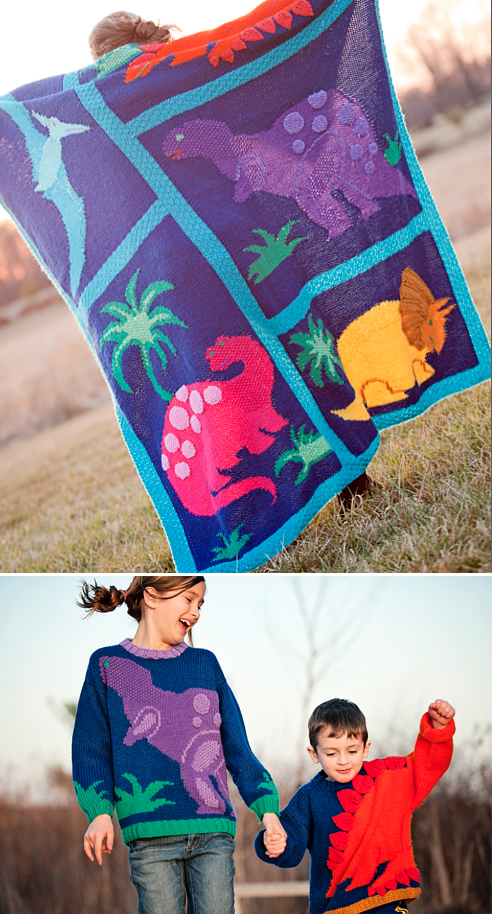 Dino Mania Blanket and Sweaters Set
This set includes patterns for a child sized afghan with a variety of dinosaurs and at least two dinosaur sweater patterns in sizes 4,6,8. Designed by Nicky Epstein. Worsted weight yarn.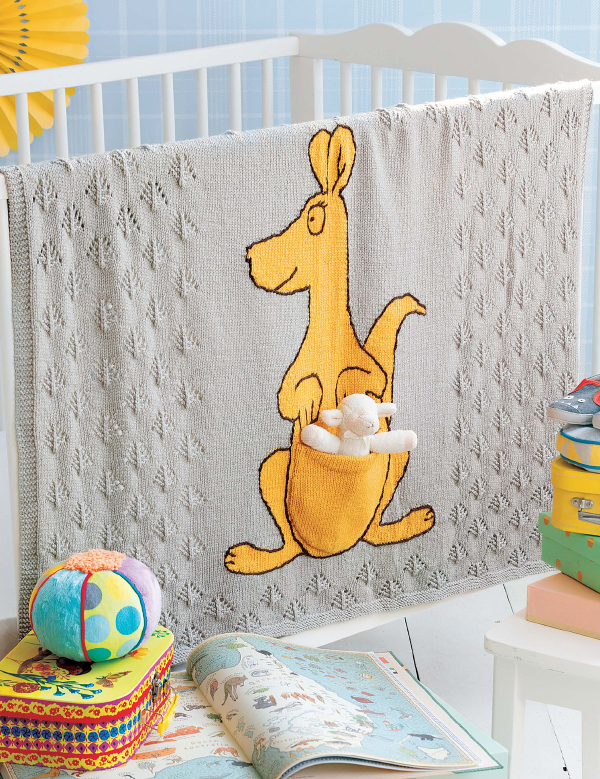 Kangaroo Baby Blanket
Blanket with intarsia colorwork kangaroo with a pocket pouch for tiny treasures and lace tree border. Approx 41¾ x 28¾"/106 x 73cm. Designed by Wei Wilkins. One of the patterns in 60 More Quick Baby Blankets. Worsted weight.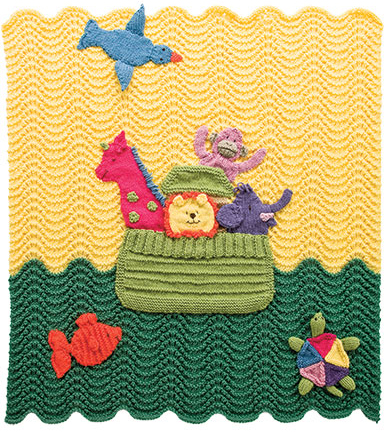 Noah's Ark Baby Blanket
Bring a cherished children's Bible story to life with this precious afghan knit in worsted yarn. Finished size is 34″ L x 30″ W. Designed by Michele Wilcox

Butterfly Baby Blanket
The design of this throw was inspired by the Eastern Tailed Blue Butterfly. Width across upper left wingtip to upper right wingtip: 51″ Length of butterfly body (center): 27″

Butterfly Baby Blanket
This blanket features an extra wide rib pattern with a row of lace butterflies at each end. DK yarn. Finished size: Length: 37.5 inches/95 cm, width: 29 inches/74 cm.