One Day Knitting Projects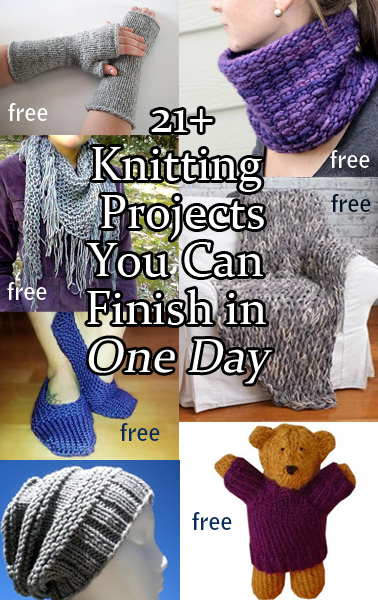 If you need a quick gift or fast knitting project, take a look at this collection of patterns that take from a couple of hours to 8 hours to finish. If you just have an evening there are patterns for hats, slippers, scarves, and more, even a shawl! If you have all day, there are bigger projects for a shawl and afghan. Please note that most of these patterns are fast because they use bulky or super bulky yarn with larger needles, some times with several strands knit together — so the projects are fast but you may need to get the materials.
To get the knitting patterns, scroll down the page to the individual pattern you want and click on the link to that pattern.
These patterns are not my designs but links to other designers who have generously shared their patterns. If you have questions about how to knit a specific pattern, please contact the designer directly.
All links on this site are for informational purposes, but please note that some links are to affiliate sellers that pay me a small commission on purchases.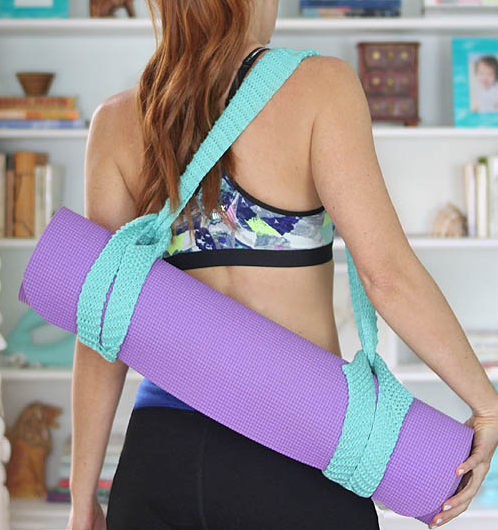 Yoga Mat Strap
Gina Michele wanted a cute carrier for her yoga mat but didn't want the hassle of trying to roll her mat up tightly enough to fit in a tube. She devised this strap with loops that's perfect for carrying her mat. I can think of a lot of other purposes for this strap. I even wonder if you could use it as a yoga strap if the cotton isn't too stretchy. Knit in garter stitch.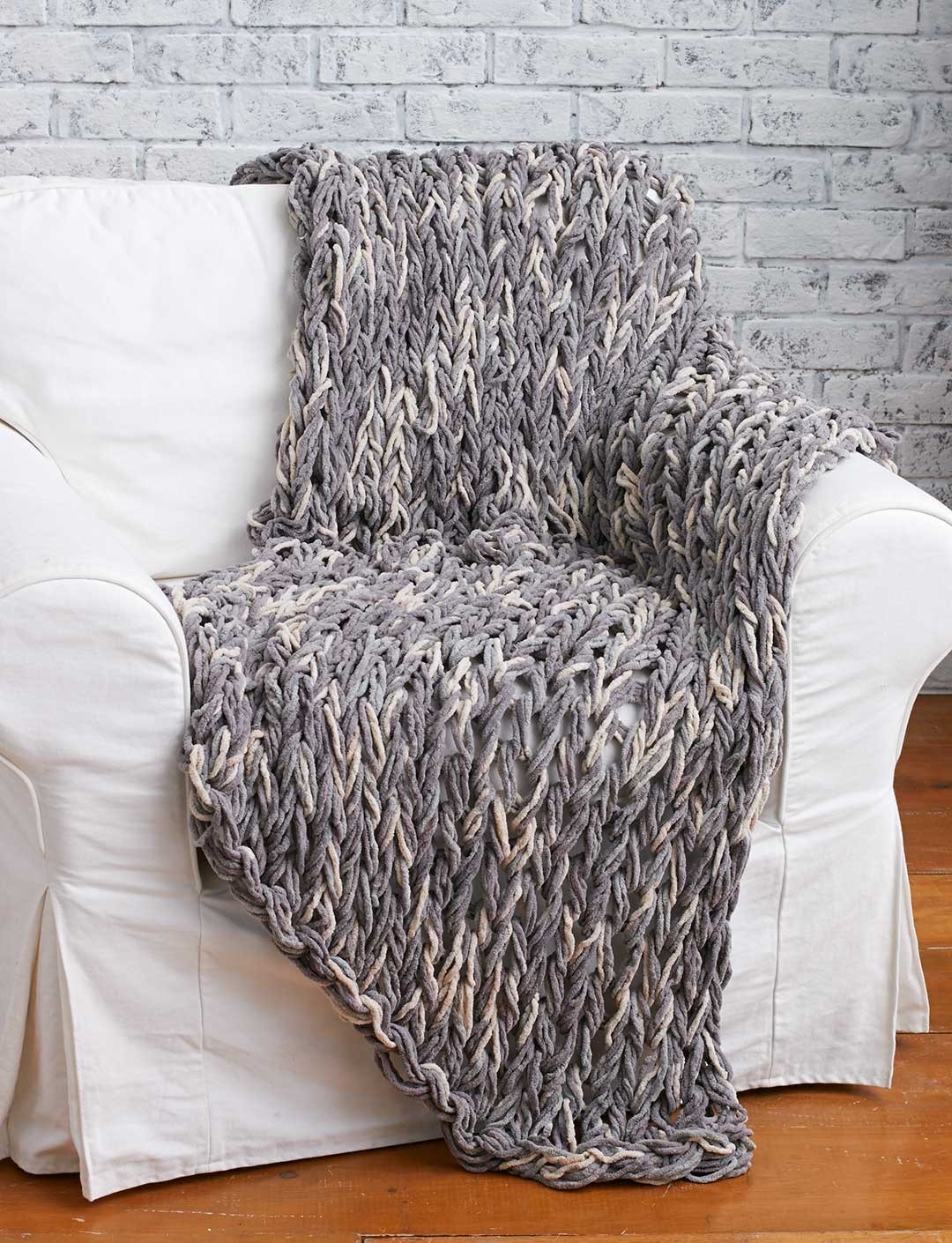 Arm Knit 3 Hour Blanket
Use 4 strands of super chunky yarn to knit this throw. Approximately 45″ [114.5 cm] wide x 60″ [152.5 cm] long.

The Neck's Big Thing
Shelley L Brander's clever scarf is a quick easy pattern that takes advantage of the texture of chunky or handspun yarn. You just knit the loop and let the yarn strands loop through. Amazingly beautiful effect for very little effort! You have to have great yarn for the best look.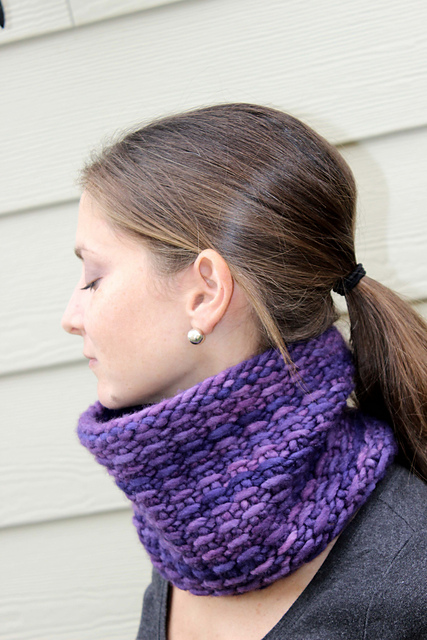 Slip It Cowl
Knitters reported that it took them two hours to finish the cowl and the designer Jenny F says "a few hours". A great way to show off multi colored super bulky yarn! And it's reversible!
The Literally 2-Hour Shawl
Wolfberry Knits says that a reasonably quick knitter can knit the garter stitch triangular shawl in 1½ hours and the other ½ an hour is for blocking and attaching the fringe. The knitter tankgirl58 who did the project above reported it took 2 hours and 6 minutes. Adaptable to other weights of yarn – the project above was in Aran weight. I will say that the size looks on the smaller side so a larger version might take longer. Great for multi-color yarn!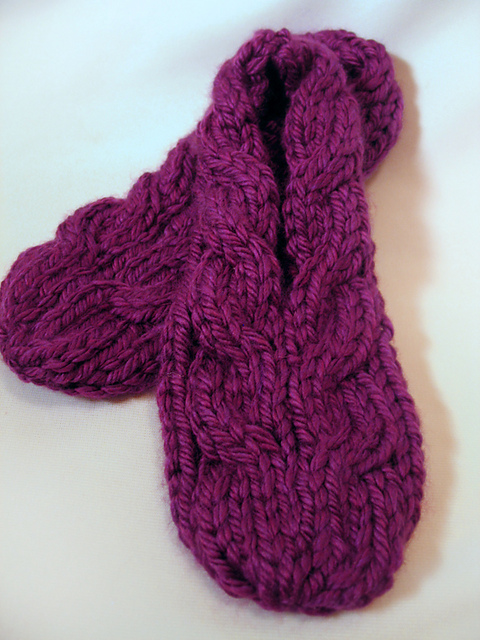 Less Than Two Hour Slippers
Knitters who completed Julie Koerver's cabled slippers attested that they took about two hours to knit.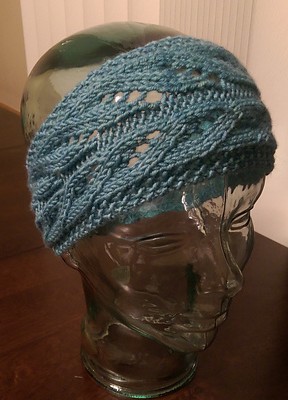 Serenity Headband
Zuri Scrivens designed this lace headband that she says can be completed in a few hours. One knitter reported it took 3-4 hours.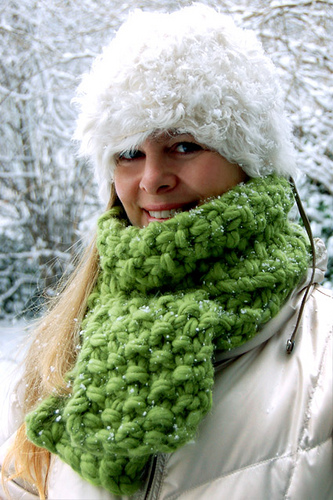 Eleventh Hour Scarf
Purl Soho's scarf was designed as a last-minute gift you can be proud of. Knit with two strands of super bulky yarn together, the designer says it can be finished while you watch one movie. Other knitters agree that they knit it in one evening.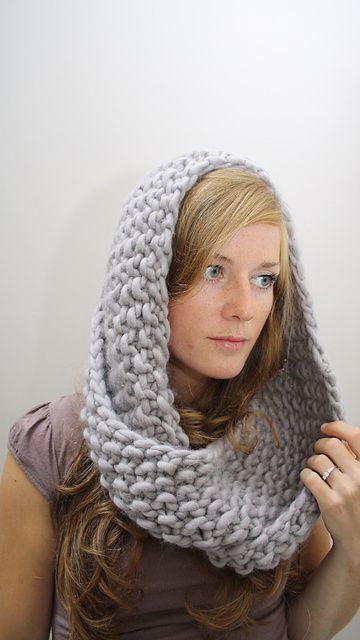 Marian Cowl
Jane Richmond designed this super bulky cowl with a moebius twist that can be knit in one sitting. Other knitters say it is a fast knit.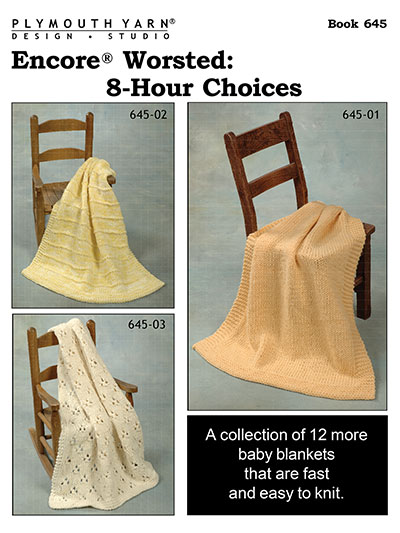 8- Hour Baby Blankets
12 delightful and easy baby blankets to knit in no time flat! Each pattern uses worsted-weight yarn with an approximate finished size of 27″ x 32″.
[widget id="black-studio-tinymce-13″]

Two Hour Toe Up Slippers
The slippers in this pattern are knit from the toe up using bulky weight yarn or worsted yarn held double. It takes approximately 2 hours to knit a pair.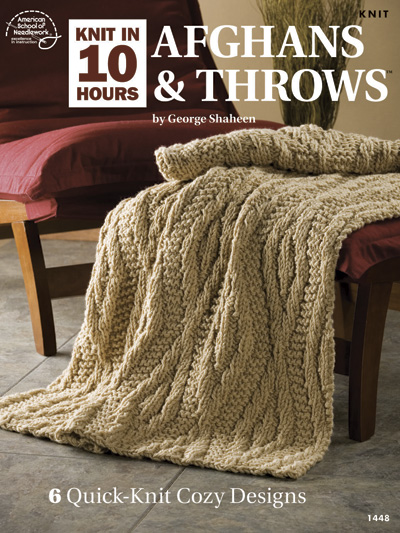 10 Hour Afghans and Throws
6 projects: 3 afghans, 3 throws. Electronic download.
[widget id="black-studio-tinymce-13″]

Wildflower Necklace Kit
Knit a necklace of fabric yarn with braided i-cord in about an hour. Patterns included for braided and sailor knot necklaces. Choose from 4 fabric options for the kit (options available are different than pictured projects by designer.)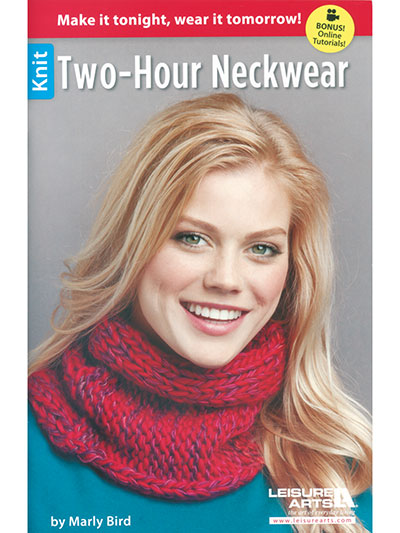 Two Hour Neckwear
Knit it tonight – wear it tomorrow. Chunky yarn, big needles and a couple of hours are all you need to knit any of these 12 designs!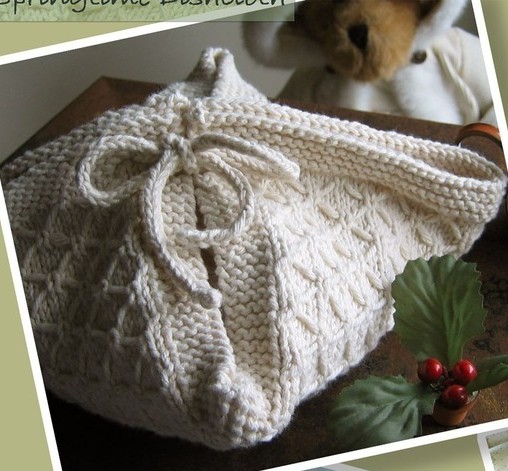 Biscuit Blanket
This could be used for scones, cookies, a small loaf of bread … anything yummy that needs to stay warm. A nice gift to knit whether it is stuffed ahead of time with baked goods or not! BONUS: This knitting pattern include the designer's personal Blue Ribbon Biscuit Recipe, and a Springtime Dishcloth knitting pattern.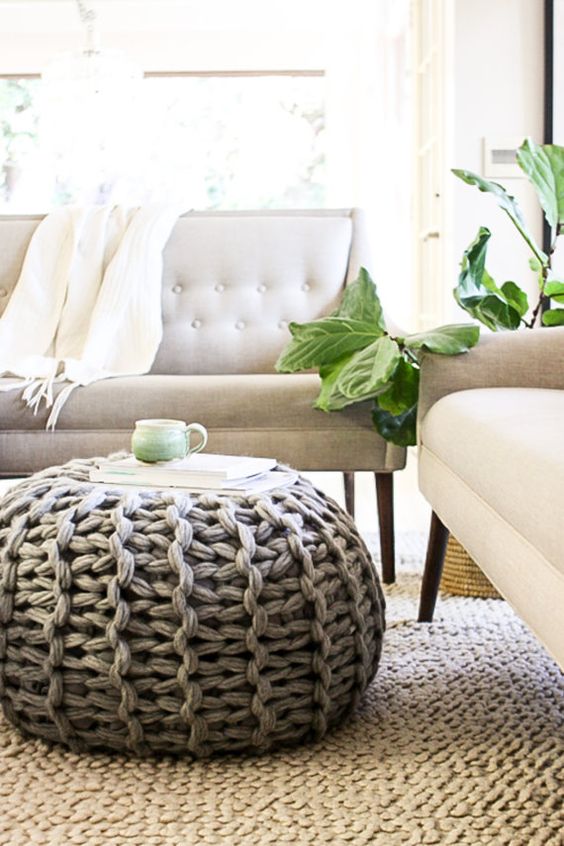 Arm Knit Fabulous Floor Pouf
Arm knit this ottoman in a couple of hours with super bulky yarn. The pouf is 24″ x 24″.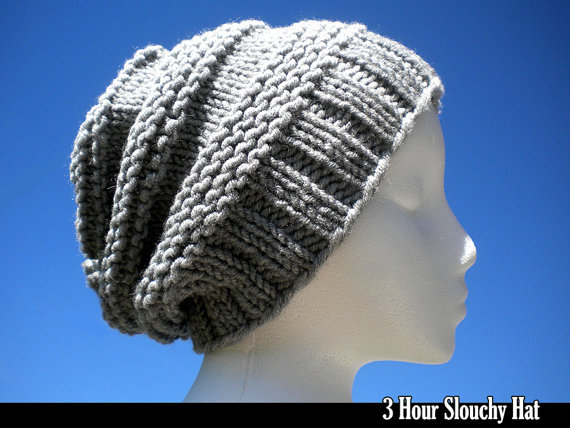 3 Hour Slouchy Hat
The designer says she knits this in two hours but is a fast knitter. Two adult sizes included in the pattern.
3 Beginner Baby Hats With 1 Skein
Knit all three hats with 1 skein each of Bernat® Giggles™ using U.S. size 7/4.5mm double-point and 16″ circular needles. Finished sizes: 14 (16, 18)".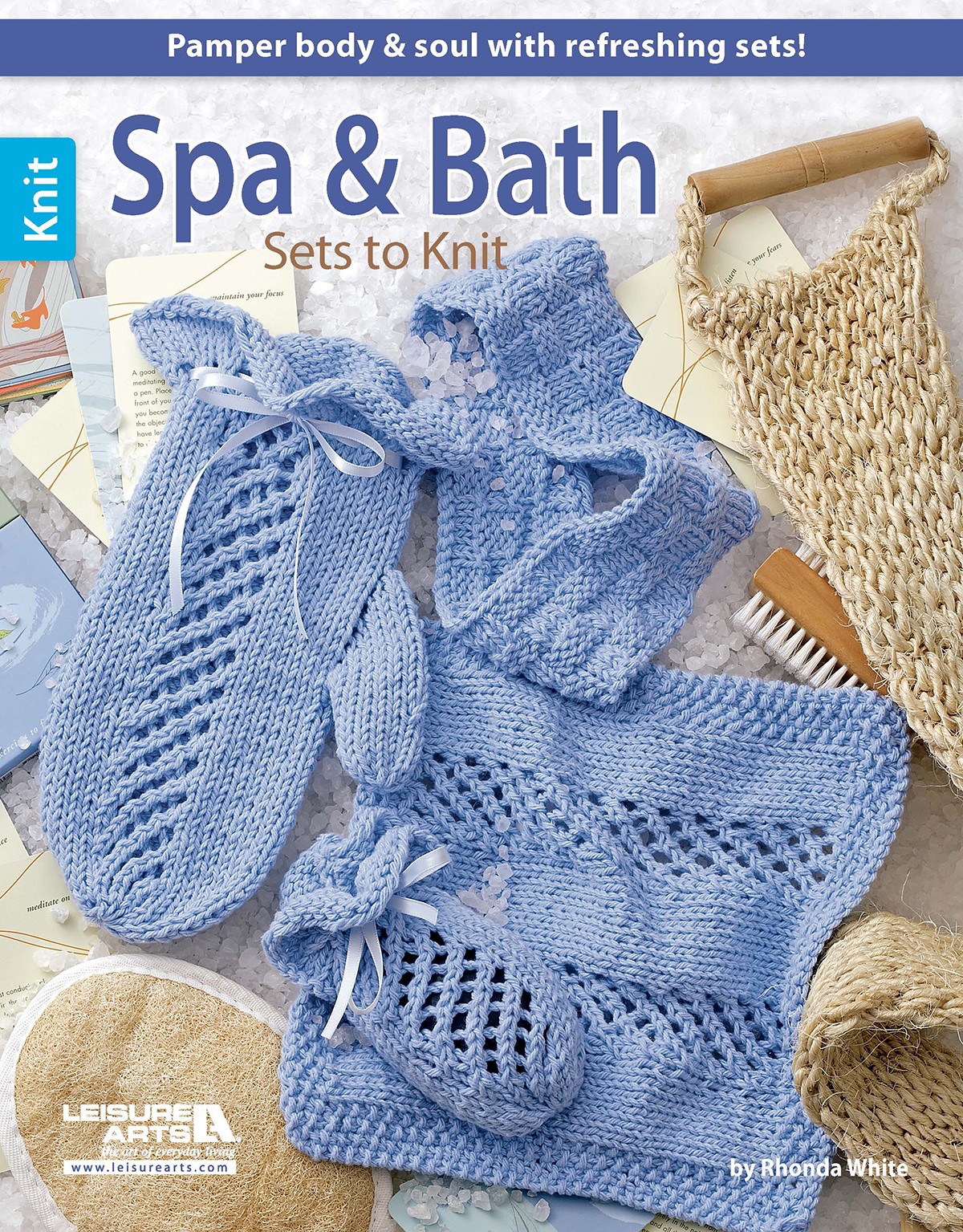 Spa & Bath Sets to Knit
Each of the 5 sets in Spa & Bath Sets to Knit has an adult-size bath mitt, drawstring soap sack, facecloth, and headband knit in soft cotton worsted weight yarn. Sets are Refresh (featuring a lacy diamond border), Paradise (diamond lace pattern), Rejuvenate (forget-me-not floral pattern), Sunrays (eyelet mock cable pattern), and Tranquility (with an eyelet lattice border).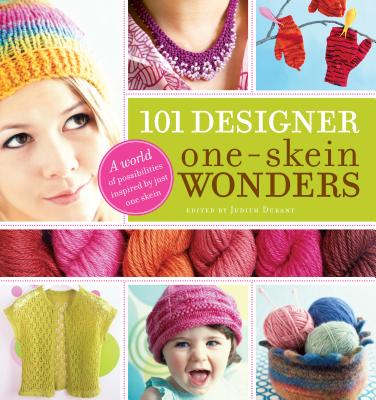 One Skein Wonders
Judith Durant has created a series of books with projects that use just one skein of yarn. Some of the patterns are in this post.