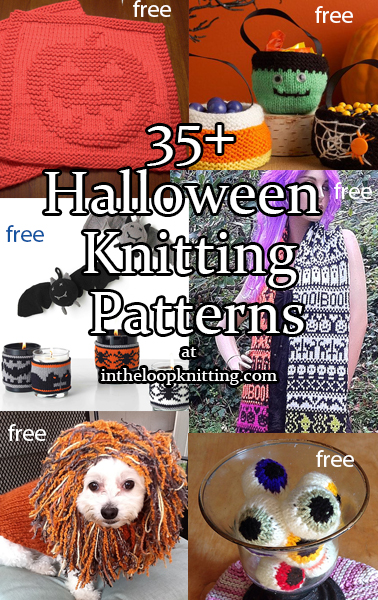 Knitting Patterns for Halloween Decorations and Costumes. Most Patterns are free.
To get the knitting patterns, scroll down the page to the individual pattern you want and click on the link to that pattern.
These patterns are not my designs but links to other designers who have generously shared their patterns. If you have questions about how to knit a specific pattern, please contact the designer directly.
All links on this site are for informational purposes, but please note that some links are to affiliate sellers that pay me a small commission on purchases.
Free Patterns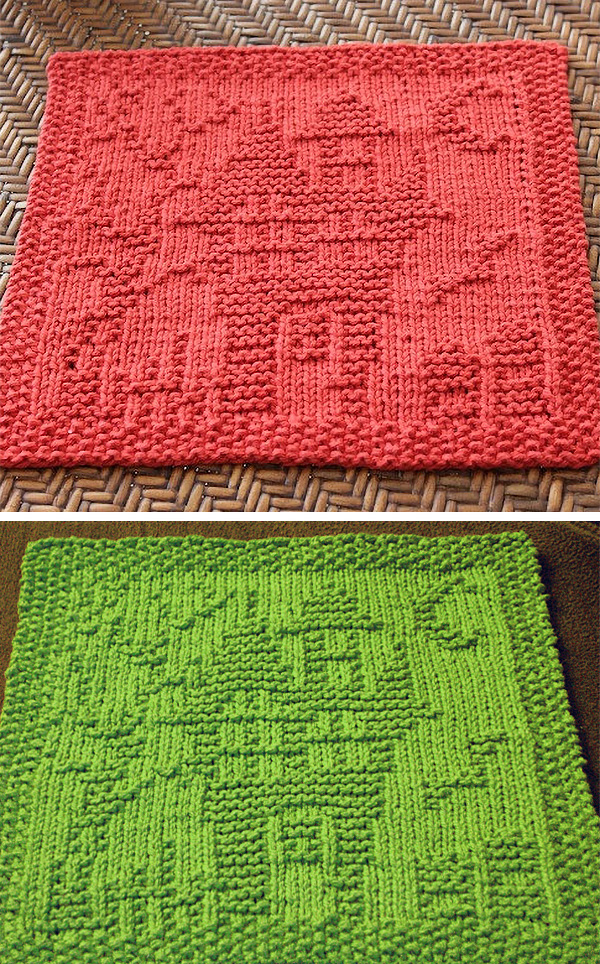 Haunted House Dishcloth
Spooky scene in knit and purl stitches of haunted mansion with bat, scary tree, gravestones, moon, and more. Designed by Kris Knits. Great for Halloween or any time! Worsted weight yarn. Pictured projects by missblonde, Urchetana and nomacustom. Rated easy by Ravelrers.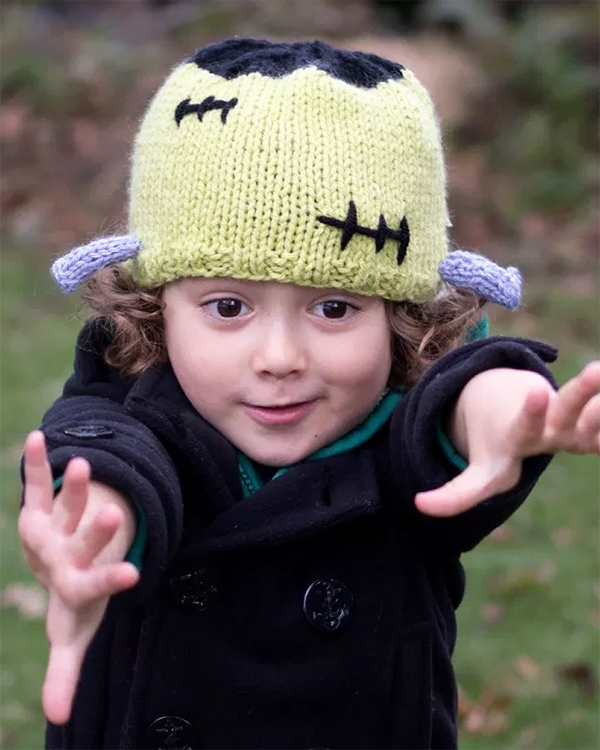 Frankenstein Hat
This hat is knit in the round with a simple color swap at the crown. The bolts are knitted separately and stitched on. Designed by Gina Michele. Great for Halloween or any time! Worsted weight yarn.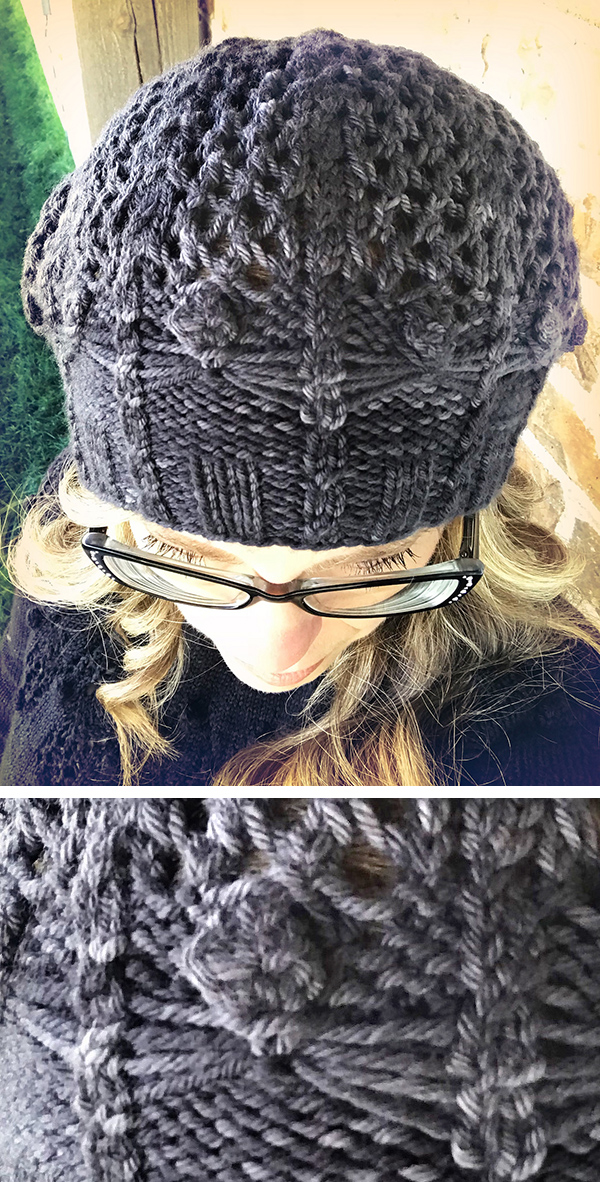 Spider Colony Hat
Fun hat with spiders created with bobbles and slipped stitches circling the brim and a simple lace pattern on the upper half. Sizes from child to adult: XS, S, M, L. Acromantula Colony Hat designed by Christy Houghton. DK weight yarn. Great for Halloween or any time!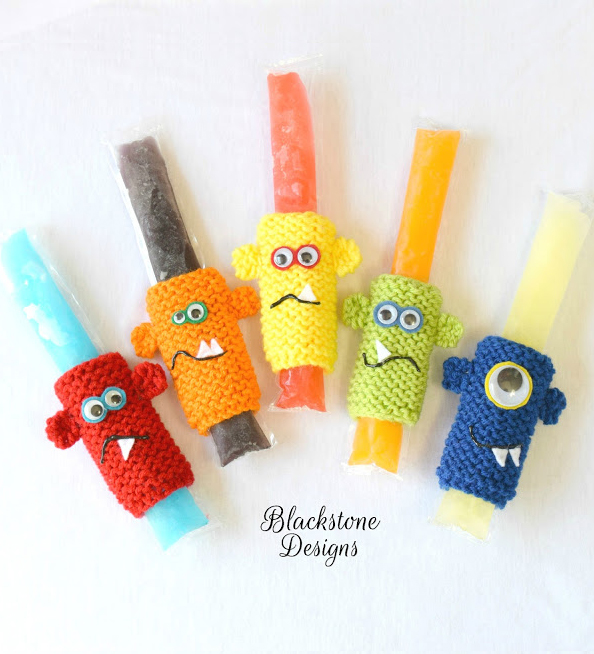 Monster Popsicle Holders
Easy adorable treat holders that you can customize with sewn on ears, googly eyes, and felt. Designed by Blackstone Designs. Great for Halloween or any time! Worsted weight yarn.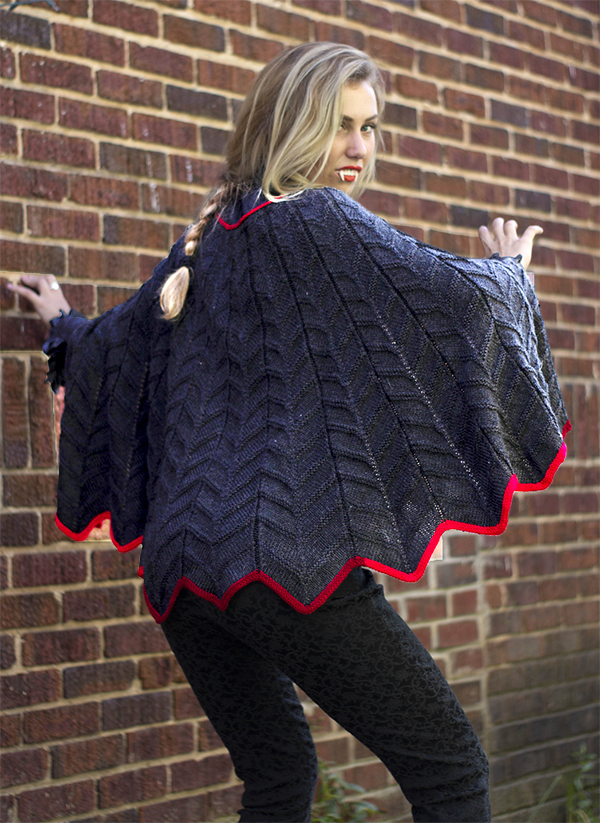 Batcape
Grab your vampire fangs and this knitted cape with zigzag pattern emulating bat wings, and you've got yourself an instant costume for Halloween - a gorgeous shawl for the rest of the year. This shawl is knit in one piece from the top down. A contrast I-Cord tie is added at the end. Designed by Universal Yarn. DK weight yarn.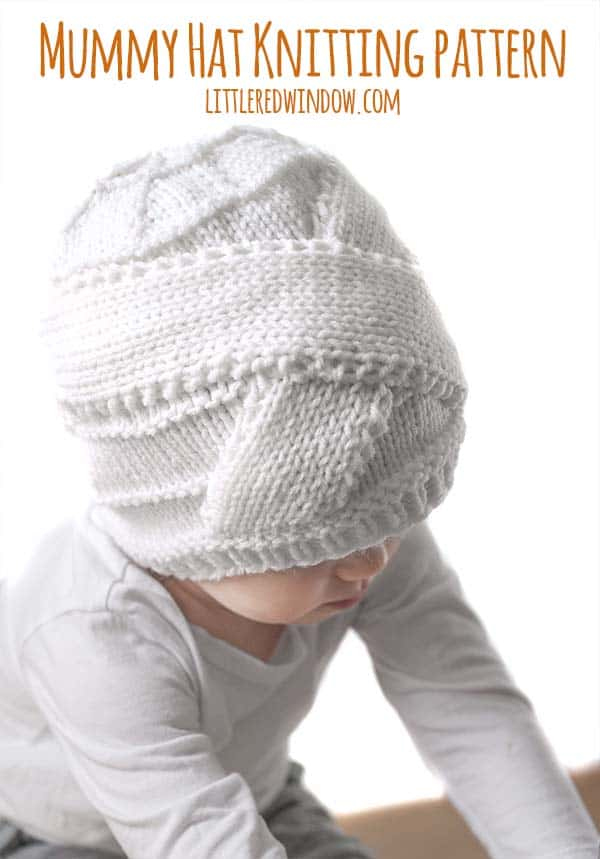 Mummy Hat
Cute quick baby hat designed to look like bandages. Just add some white pajamas and some torn strips of cloth and you've got a quick baby Halloween costume! Web pattern for size 12 months is free. More sizes and a printable pdf are available on Etsy. Designed by Cassie at Little Red Window.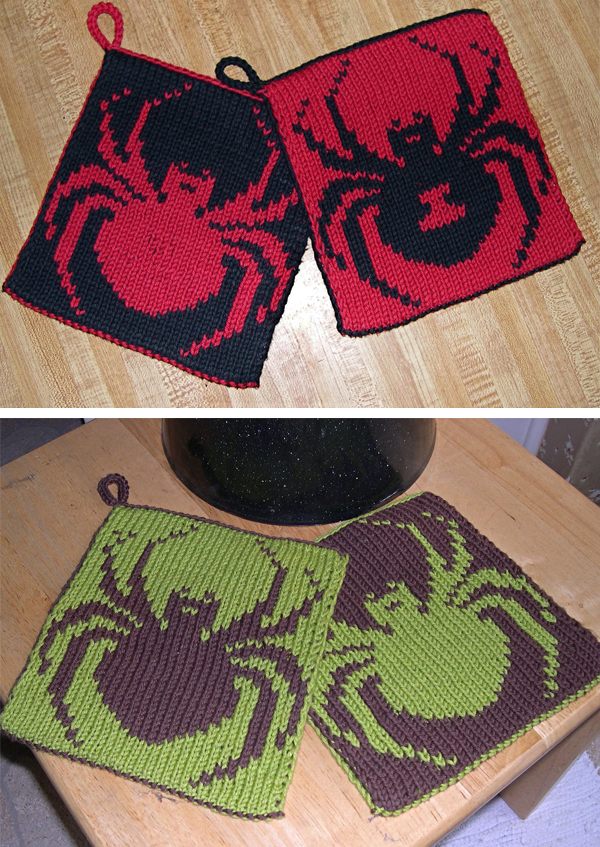 Spider Potholder
Double knit, reversible potholder. Instructions to knit with black widow motif on one side, plain spider on the other. Designed by Jana Trent. Worsted weight yarn.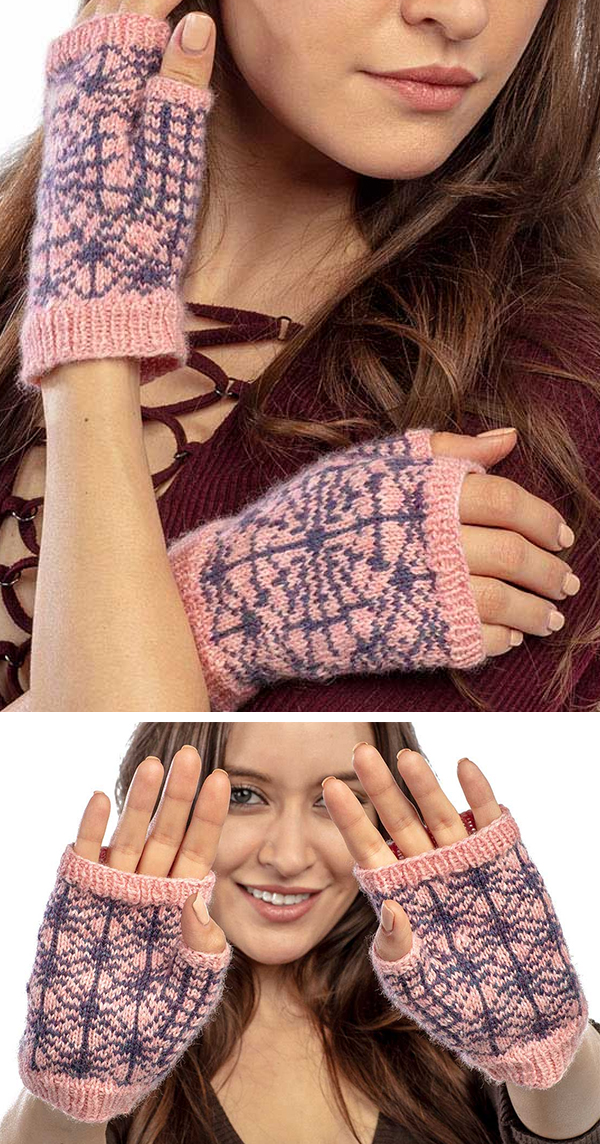 Spider Web Fingerless Mitts
Mitts with stranded colorwork webs, perfect for Halloween or any time. Sizes small, medium, large. Charlotte Mitts designed by Kathleen Sperling for Knotions Magazine. Fingering weight yarn.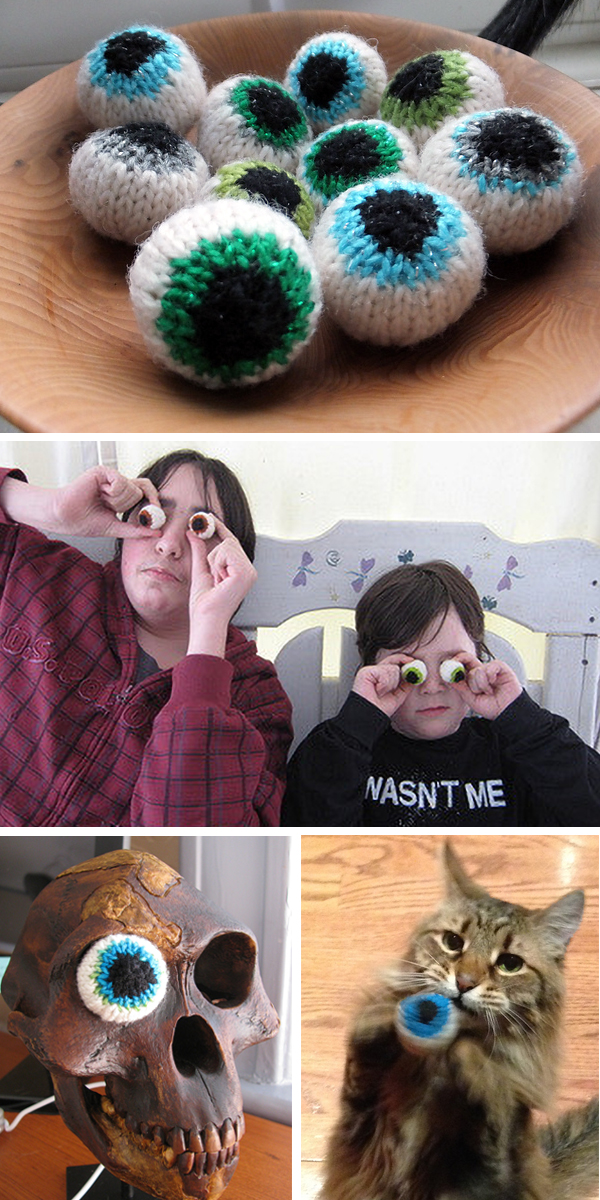 Gruesome Knitted Eyeballs
Quick project for Halloween decorations, gifts, costume additions, or cat toys. Designed by Mary Jane Mucklestone. Pictured projects by russianfox, SleepyEyes, Isis, and theneedletree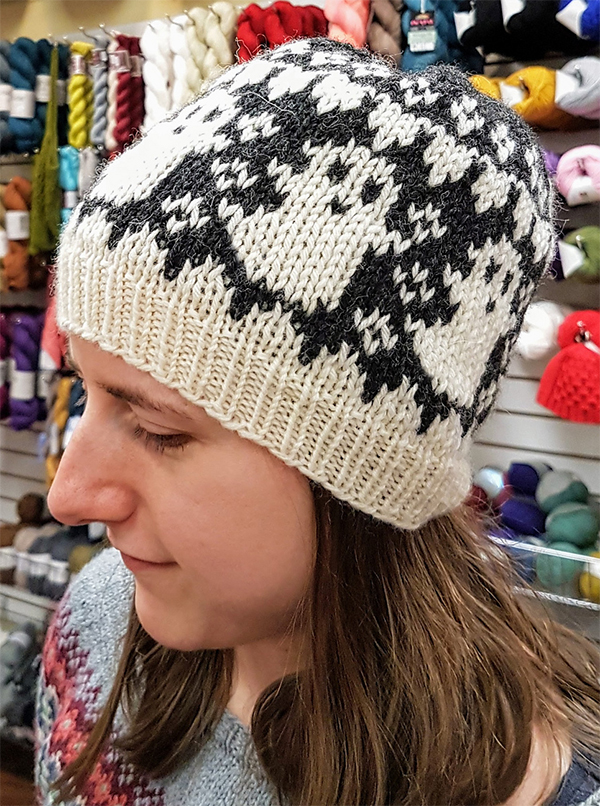 Ghost Hat
Beanie with stranded ghosts and other designs. Designed by Nicole Vanderlee.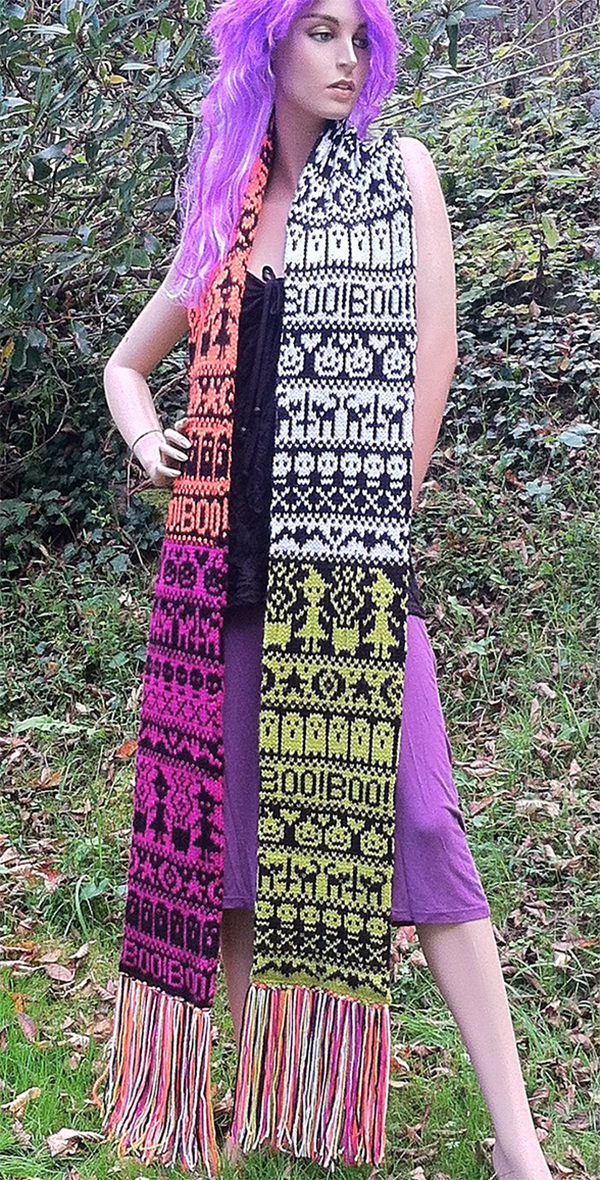 Halloween Fair Isle Scarf
This floor-dusting statement scarf lets you celebrate Halloween when you can't wear a costume. Motifs include ghosts, Boo!, jack o'lanterns, black cats, witches, skulls and crossbones, bats, and more. Designed by Siouxsie Stitches.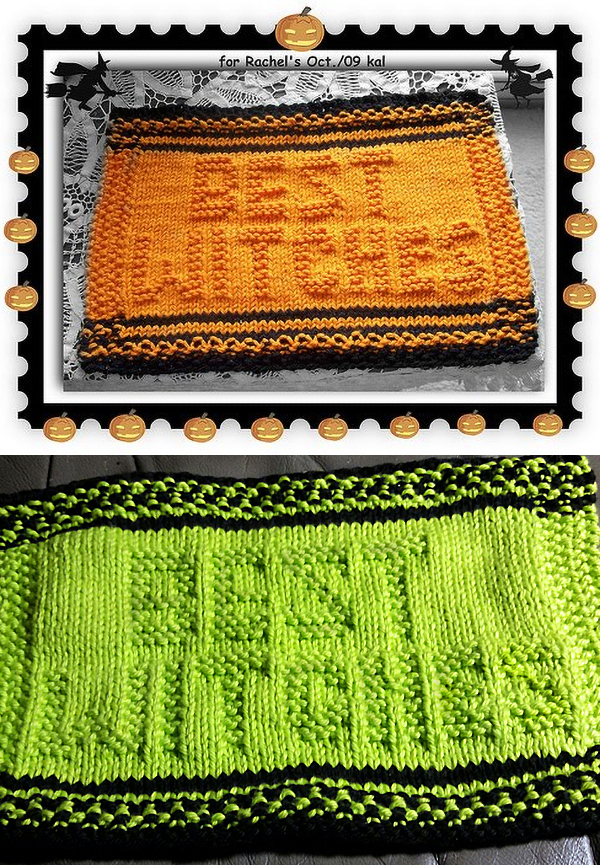 Best Witches Dishcloth
Easy Halloween wash or dish cloth or decoration. Designed by Marilyn Wallace. Pictured projects by the designer and TerriPurl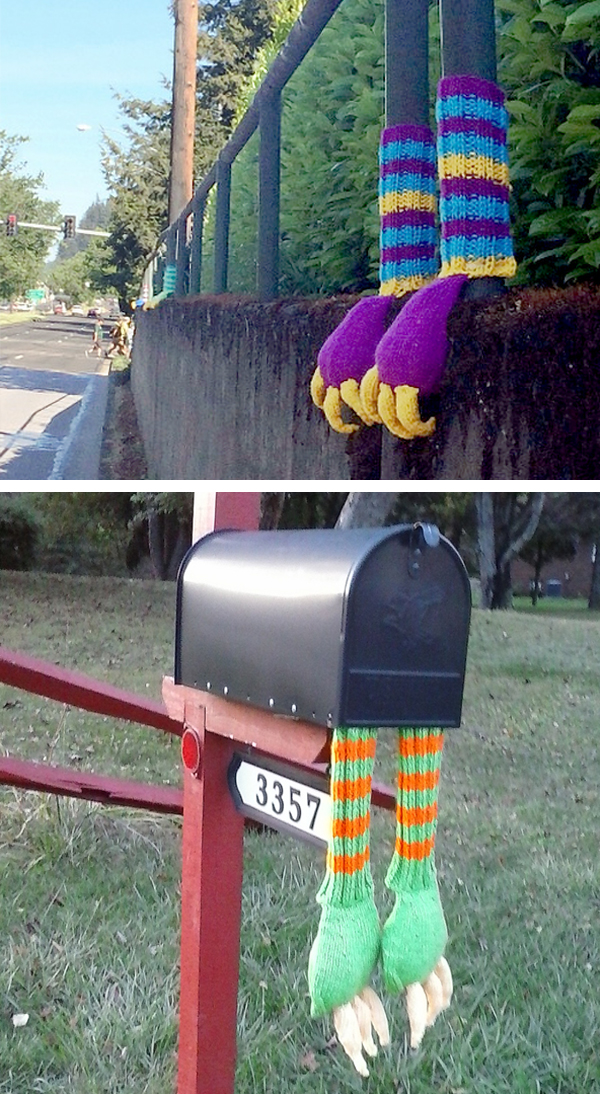 Monster Feet
These knit feet are great for all types of decorations indoor and outside. The legs are knit flat so they can be wrapped around poles if you want. Great for yarnbombing too! Designed by J. Harris. Bulky weight yarn. Pictured projects by the designer and PersiaGem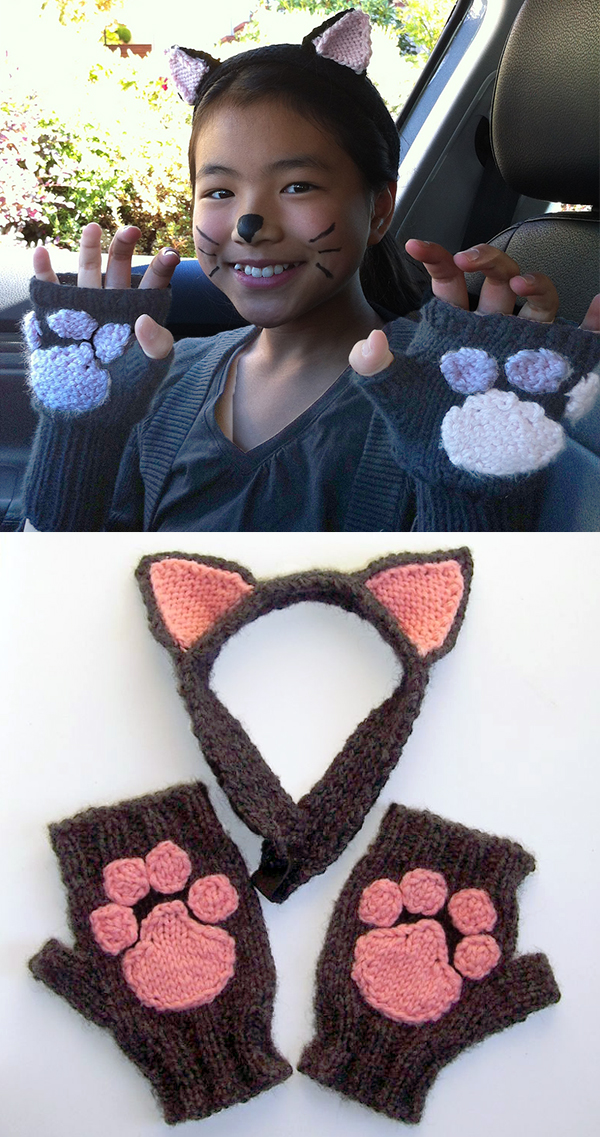 Cat Headband and Wrist Warmers
Great quick or minimal costume project. Aran weight yarn. Designed by Kim Hamlin. Pictured projects by craftstorejunkie and D-chan who knit the paw pads in stockinette instead of garter stitch. Rated easy by Ravelrers.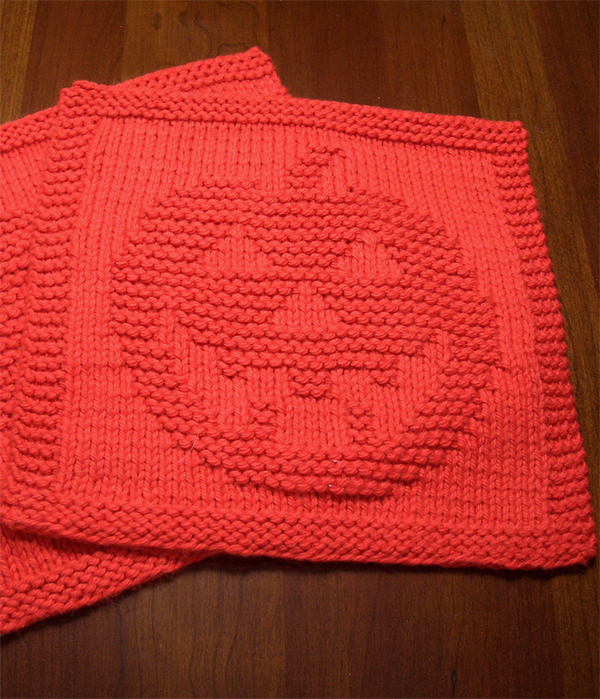 Jack O Lantern Cloth
Dish or wash cloth with a carved pumpkin motif in knit and purl stitches. Written instructions as well as chart form. Worsted weight yarn. Designed by Kat Mcab. Pictured projects by MaryChidester. Rated easy by Ravelrers.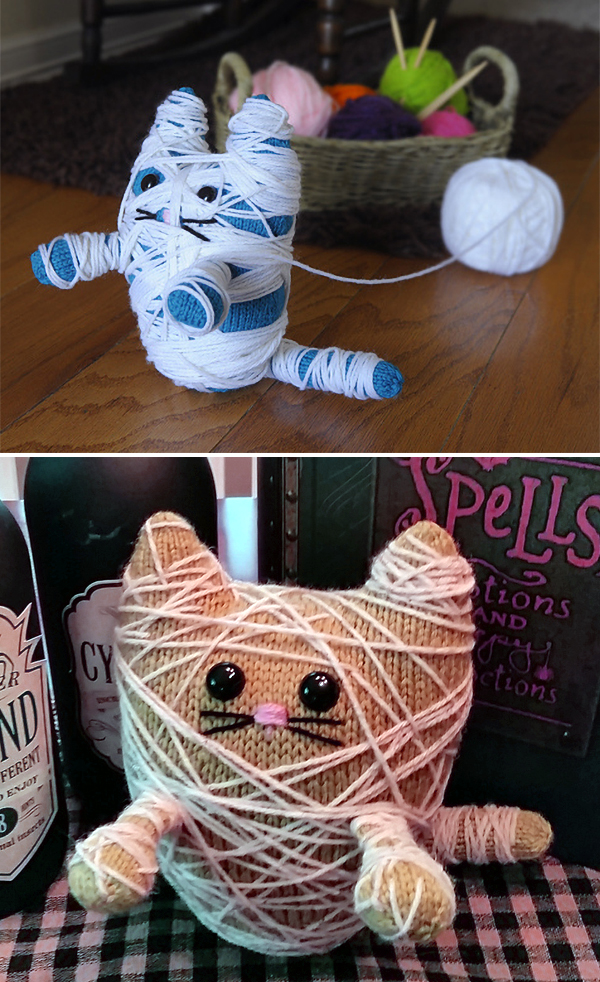 Sarcophacat
Cute cat softie mummy wrapped in yarn. Perfect Halloween decoration for yarn-lovers and cat-lovers. Or knit the huggable cat as a toy without the mummy wrappings! Designed by Anna Hrachovec and excerpted from her book Super-Scary Mochimochi. Approx 7½" (19cm) tall. Aran weight yarn. Pictured projects by the designer and serenitynow1979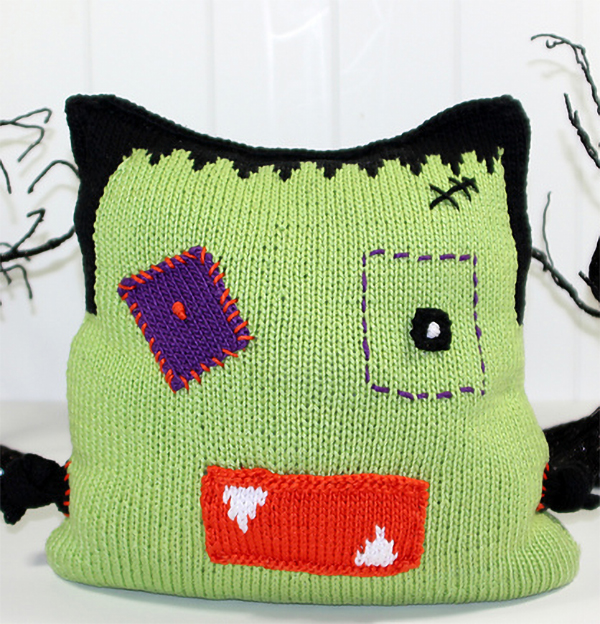 Count Frankenstein Pillow
Pillow design is a hybrid of the two favorite monsters in stranded colorwork. Designed by Sassy Skein.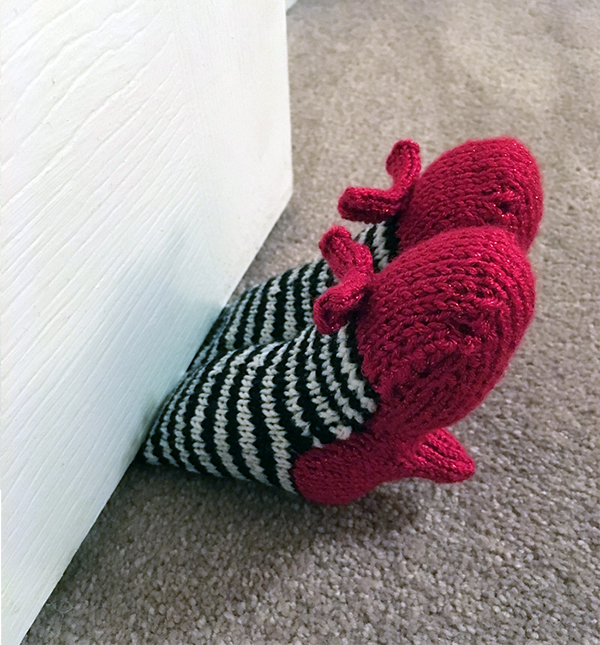 Ruby Slippers
These softie ruby slippers with striped witch socks are designed to be slipped under doors, sofas, lamps, chests, any edge, to make a perfect Wizard of Oz inspired decoration at Halloween and any time of year. Designed by Katja Blum. Pictured project by lotuslady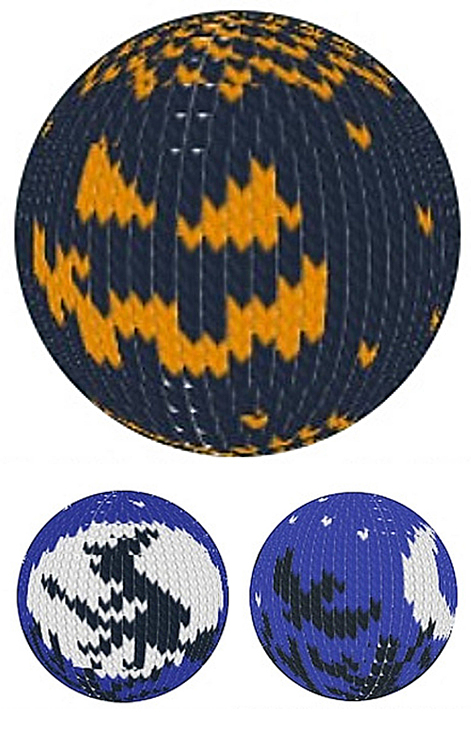 Halloween Ornaments
Ball ornaments aren't just for Christmas any more. Knit these Halloween motifs of jack o'lantern, witch, and bat and stuff to make Halloween ornaments. Designed by Susann Hajjar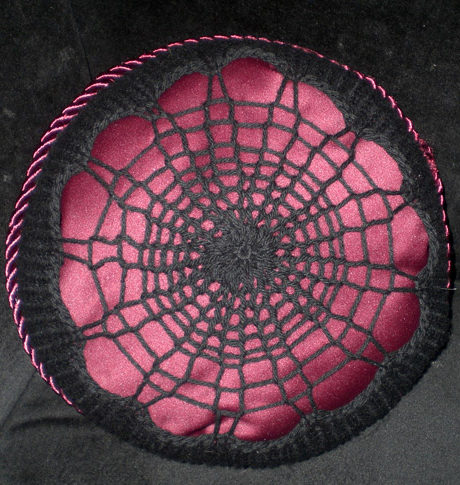 Spider Web Pillow
This Parlor Round pattern by Jessi Vowels uses dropped stitches and cast on stitches to create spiderweb pillow faces. Approx. 11.5″/29cm in diameter.
Costume Knitting Patterns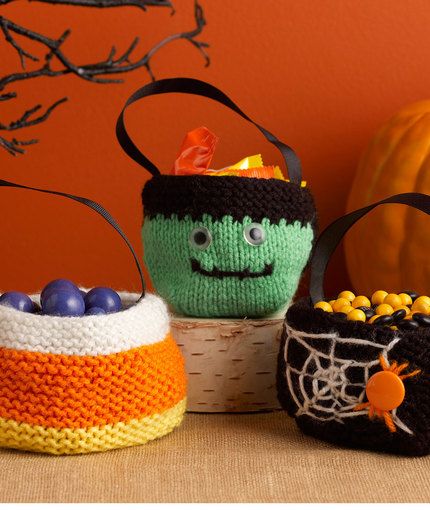 Treat Bag Trio
Christine Marie Chen designed these cute knit treat bags that can also be used as table decor inspired by candy corn, a spider's web, and Frankenstein's monster.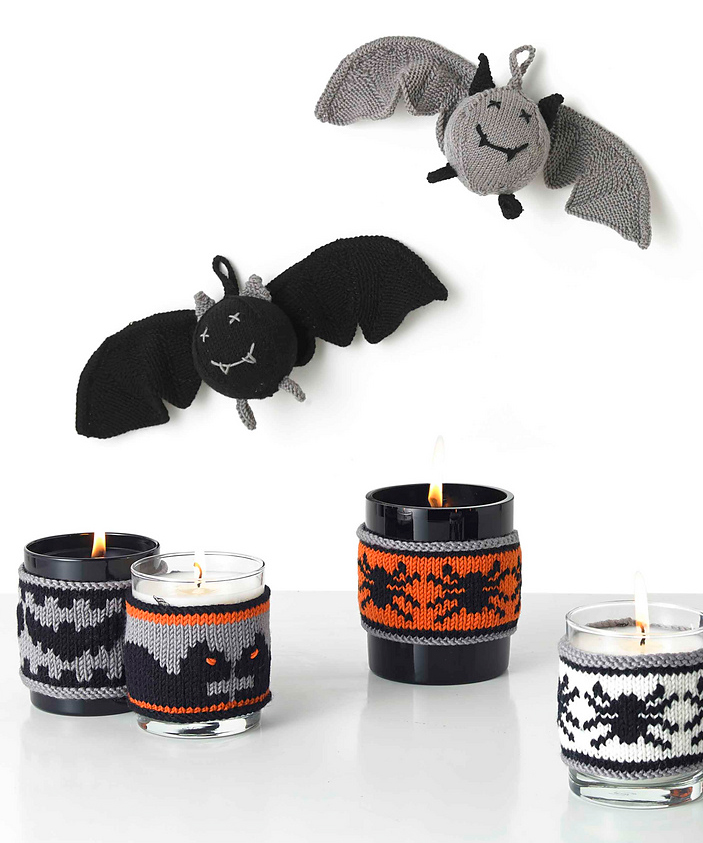 Bat Toy and Candle Cozies
MillaMia's bat decoration / softie uses a tennis or polystyrene ball for the body and a pipecleaner to provide a bit of structure to the wings. Candle cozies feature bat, spider, or black cat motifs. Though the page is titled for the Bat Toy, all patterns are included in the download.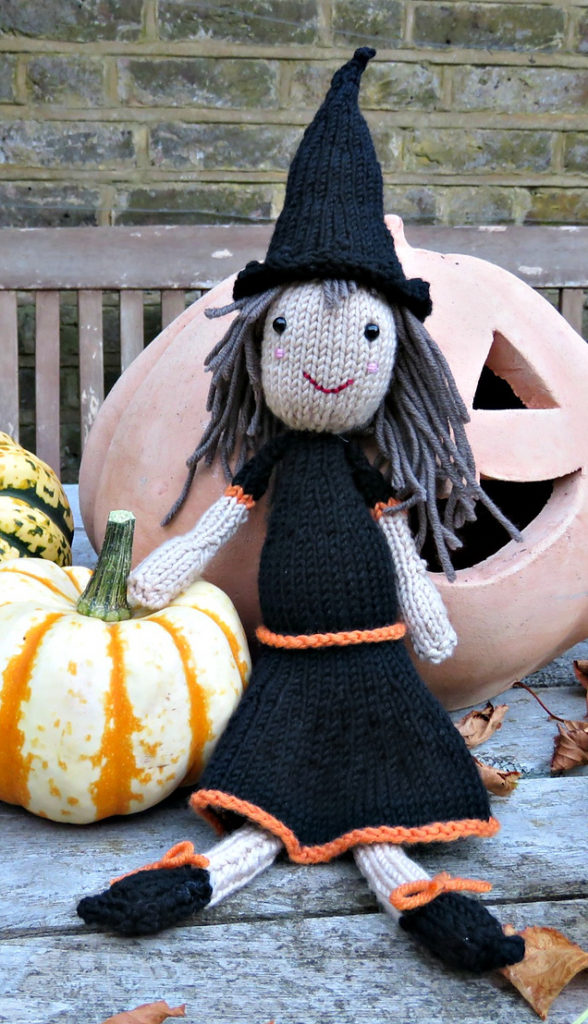 The Bewitching Ms. Witch Doll
Bonny Bonafilla's pattern comes with detailed photos. Doll measures 30 cm/ 12.5″ but can be customized to other sizes.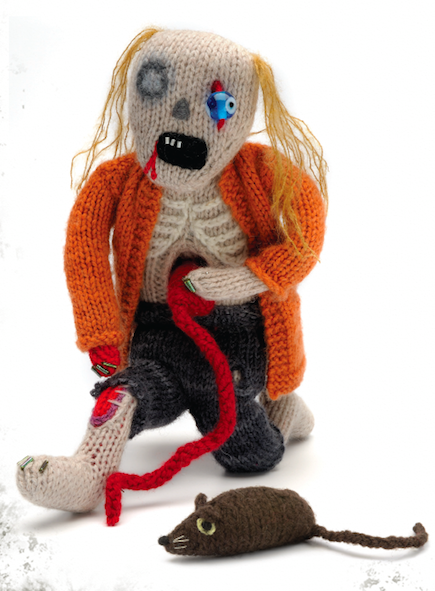 Zombie Doll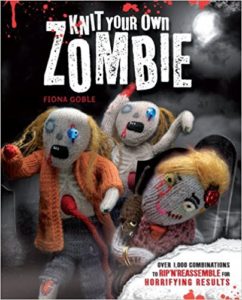 Classic zombie doll with pet rat by Fiona Goble from her book Knit Your Own Zombie: Over 1,000 Combinations to Rip 'n' Reassemble for Horrifying Results.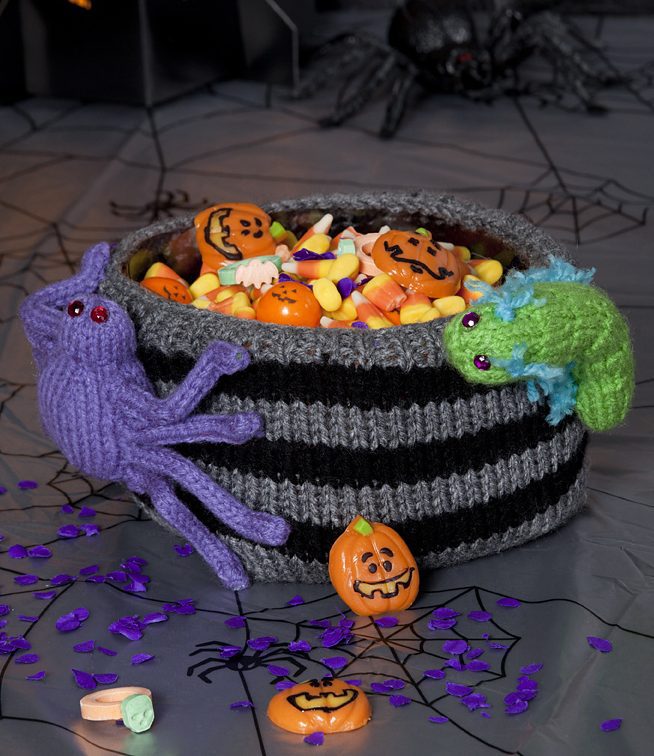 Bug Infested Bowl
Nancy Anderson designed this fun decorative treat bowl for Red Heart. easy by Red Heart and Ravelry knitters. Not just for Halloween! Bowl Finished Size: 5½"(14 cm) wide x 4″ (10 cm) tall

Spidey
Amanda Berry designed this cute spider toy approximately 12cm tall and 13cm wide. The legs are i-cords with pipe cleaners inserted so Spidey can stand.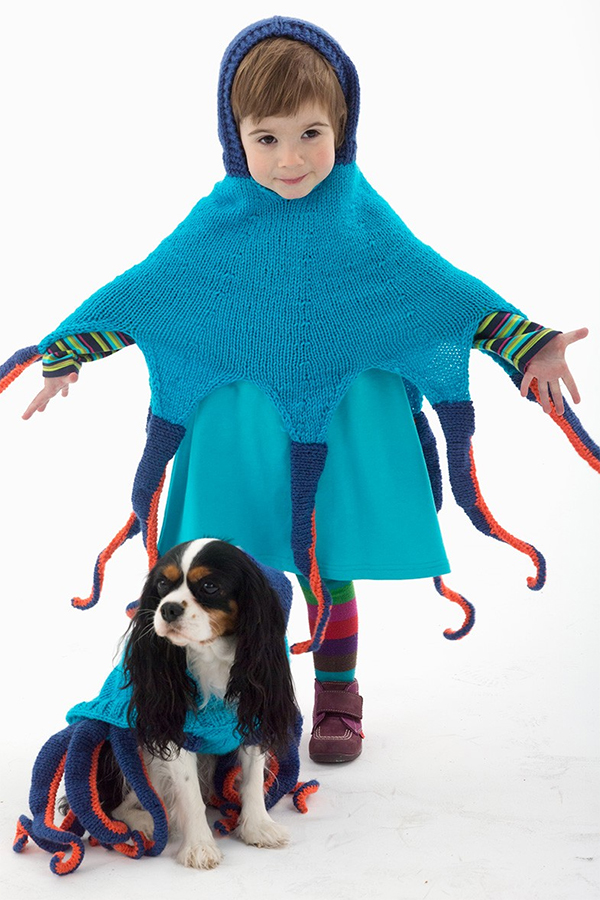 Octopus Poncho and Octopus Dog Sweater
Create matching or individual octopus costumes for kids and pets. Poncho with hood and tentacles in sizes to fit about 2-5 years. Dog sweater with hood and tentacles sized for S (M) Finished Neck Circumference About 13 (15) in. (33 (38) cm) Finished Chest About 16 (19) in. (40.5 (48.5) cm). Designed by Lion Brand Yarn.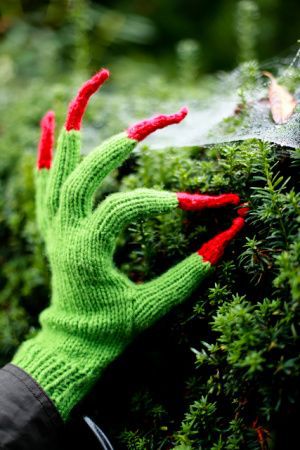 Witchy Hands
Kim Hamlin designed this Oz-some gloves in child and adult sizes.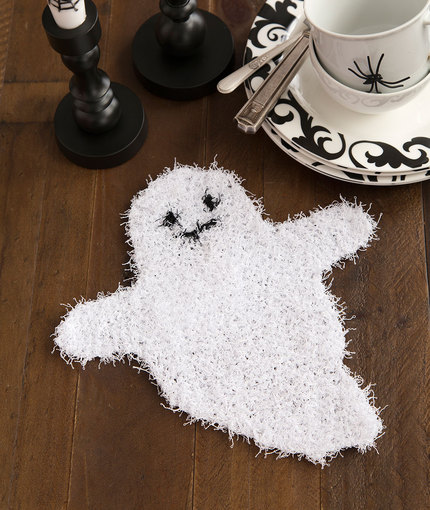 Ghostly Dish Scrubber
Nancy Anderson designed this Halloween cloth for Red Heart Yarn. If you use the recommendedRed Heart Scrubby yarn, you'll get a textured that's good for getting at dirt even on dishes but soft enough to use on skin. Red Heart sent me a sample of the yarn for review. I haven't had a chance to use it yet, but I like the texture — it's softer than I expected.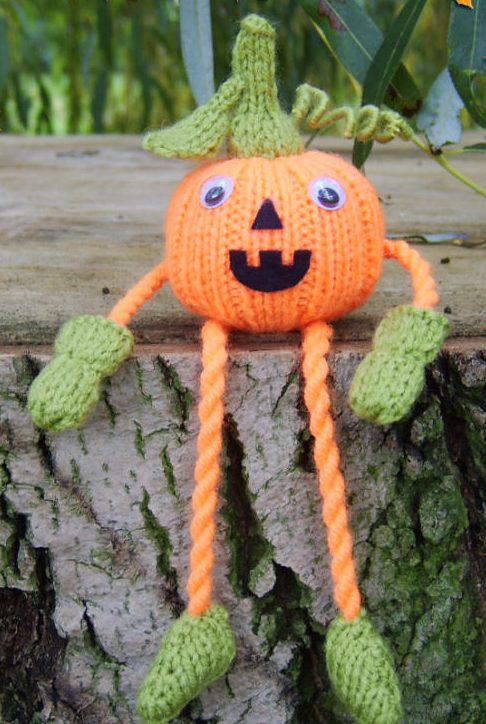 Dangling Legs Jack O'Lantern
phoeny's Russet the Pumpkin Halloween decoration / toy is knit flat.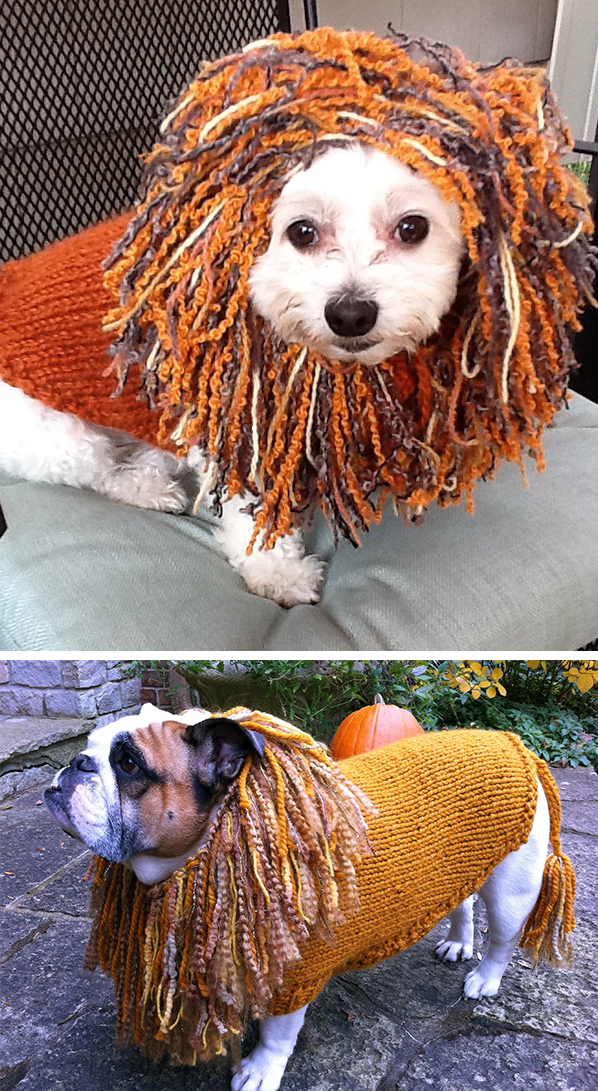 King of the Beasts Lion Dog Sweater
Dog costume sweater with lion mane.SIZE: Small, Medium, Large, 1X. Designed by Lion Brand Yarn. Pictured projects by lucy-and-company and Knitagin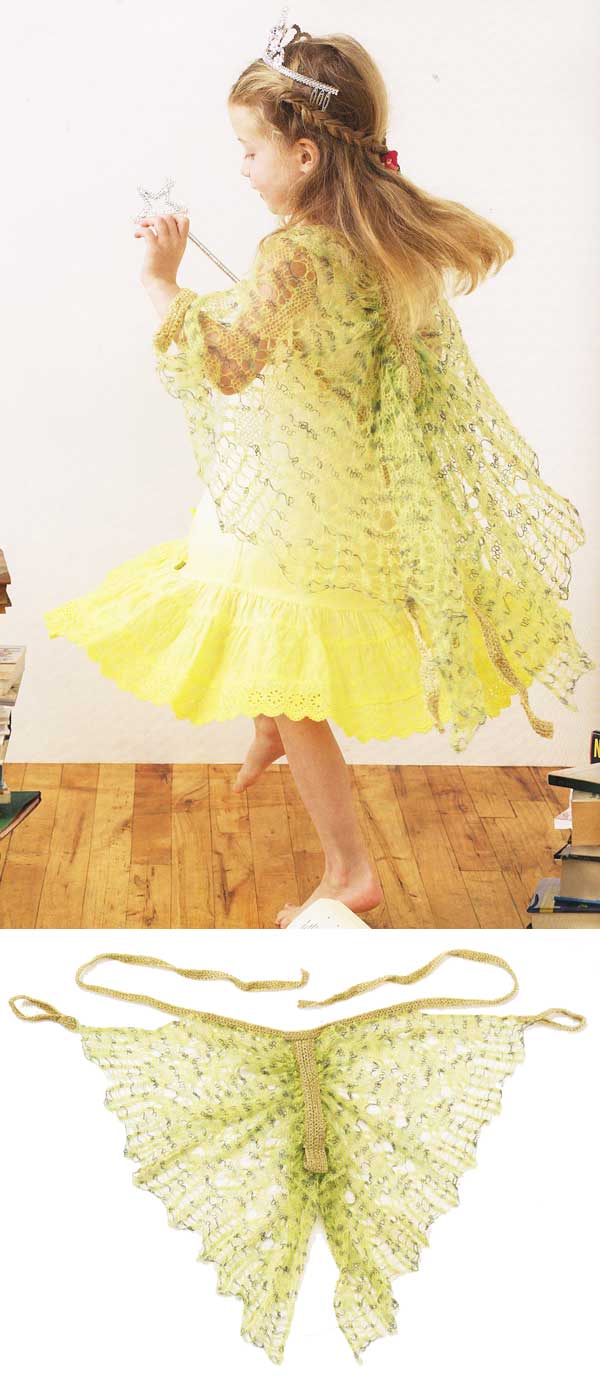 Woodland Fairy Wings
Kat Coyle's lace fairy wings are knit and then gathered into a centerpiece. Although the pattern calls for crocheting the central section and ties, I would think that you could knit them instead. Also though this pattern calls for mohair, Ravelrers have used a variety of yarns for their projects. This pattern is excerpted from her book Boho Baby Knits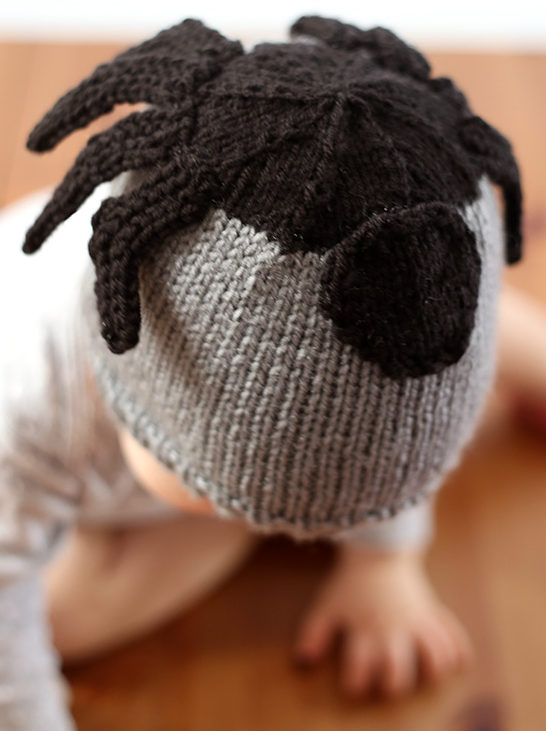 Silly Spider Baby Hat
Cassie Heckman of Little Red Window created this adorable baby hat for Halloween. You can get the free pattern for the 6 month baby size on her website. Printable pattern with more sizes is available for purchase on Etsy.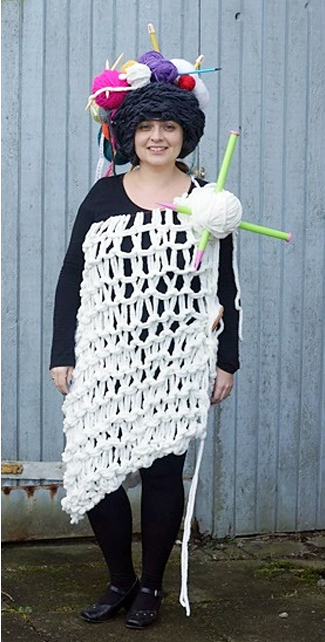 Knitter Pride Costume
Anja Hjorth designed this WIP costume that's perfect for knitters. The turban and vest are all arm knitting in super bulky yarn. What a great way to use your stash!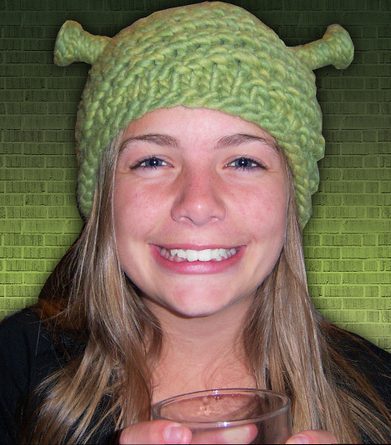 Shrek – Ogre My Ogre Hat
Gunilla Leavitt's cute hat is a fast knit in bulky yarn.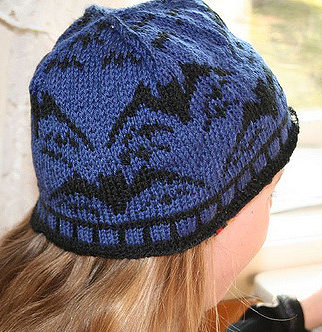 Bat Hat
You'll go bats for this colorwork beanie from Monica Gausen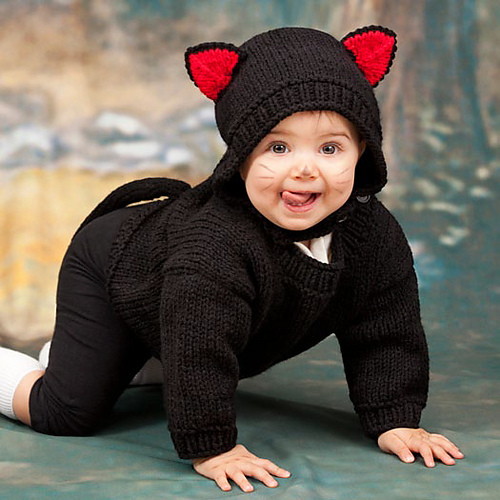 Baby Black Cat
Mary Jane Protus designed this adorable hat and sweater set for babies 6 months, 12 months, 18 months, 24 months.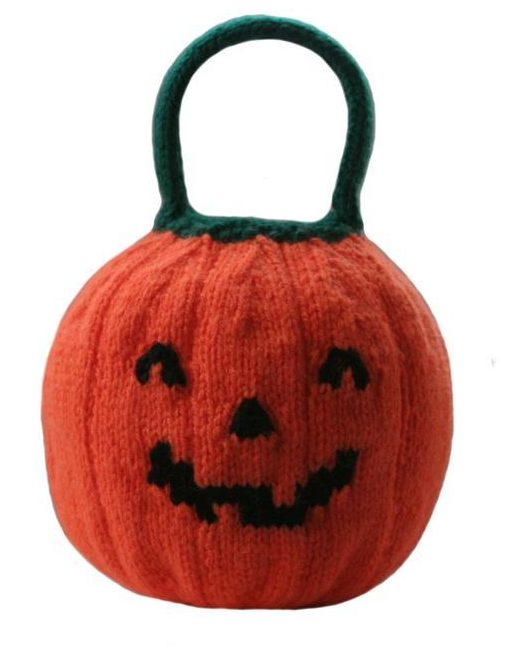 Jack O'Lantern Trick or Treat Bag
This free pumpkin shaped bag is by Knitables.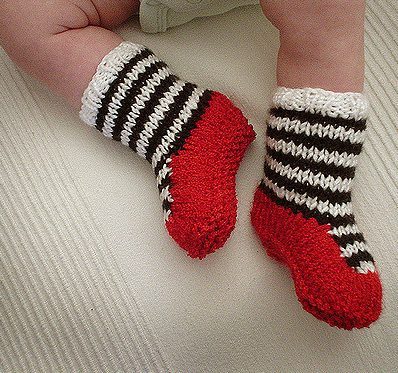 Ruby Slipper Booties
Rain O'Brien designed these baby booties inspired by the Wicked Witch of the East. Size: 3-6 (6-9) months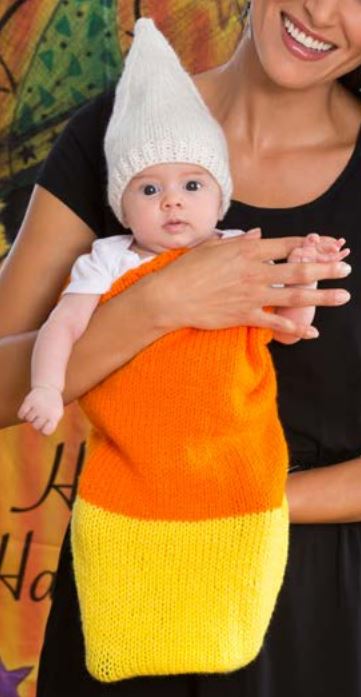 Candy Corn Cocoon and Cap
Dress up baby trick or treaters in this easy cozy snuggle sack for Halloween from Red Heart Yarn.
Patterns for Purchase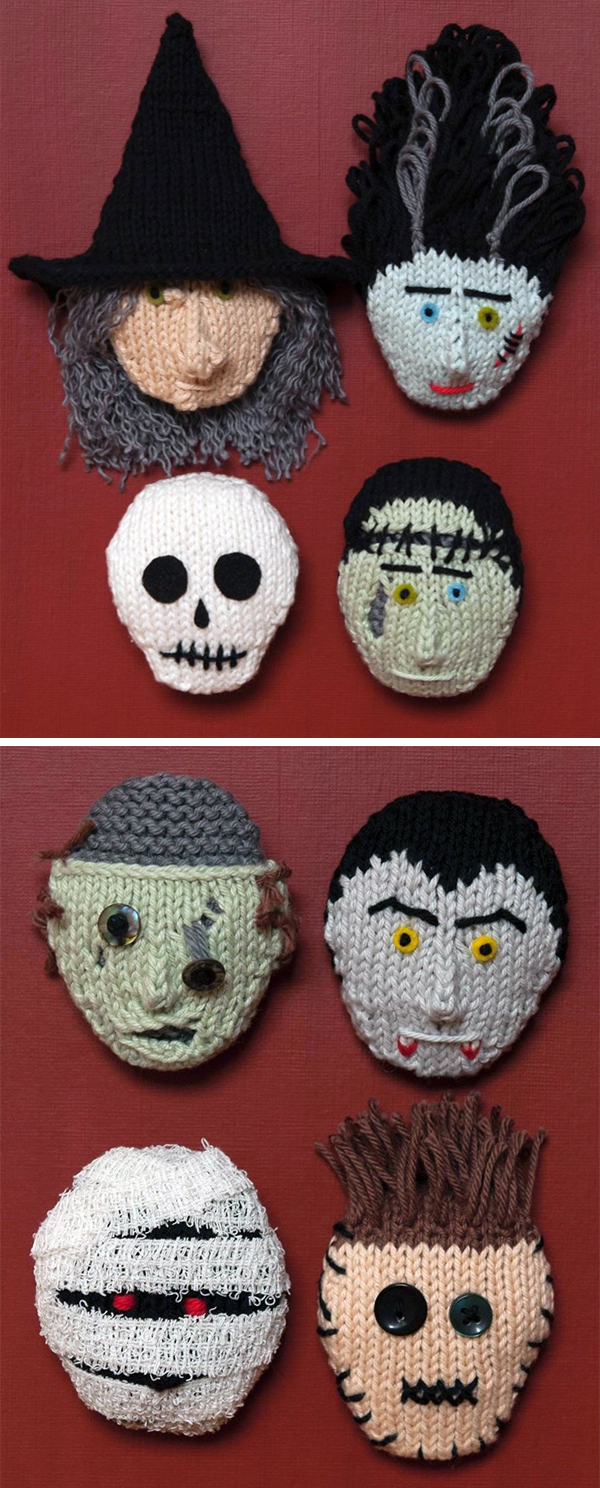 Halloween Heads
Two sets of spooky amigurumi faces - Set 1: Zombie, Mummy, Vampire and Voodoo Doll. Set 2: Skull, Witch, Frankenstein's Monster and Bride. Perfect for sweetly spooky decorations or giving to children as treats instead of candy. The heads are knit flat and are between 7 and 12cm (2¾ - 4½ inches) tall. Designed by Squibblybups. DK weight yarn.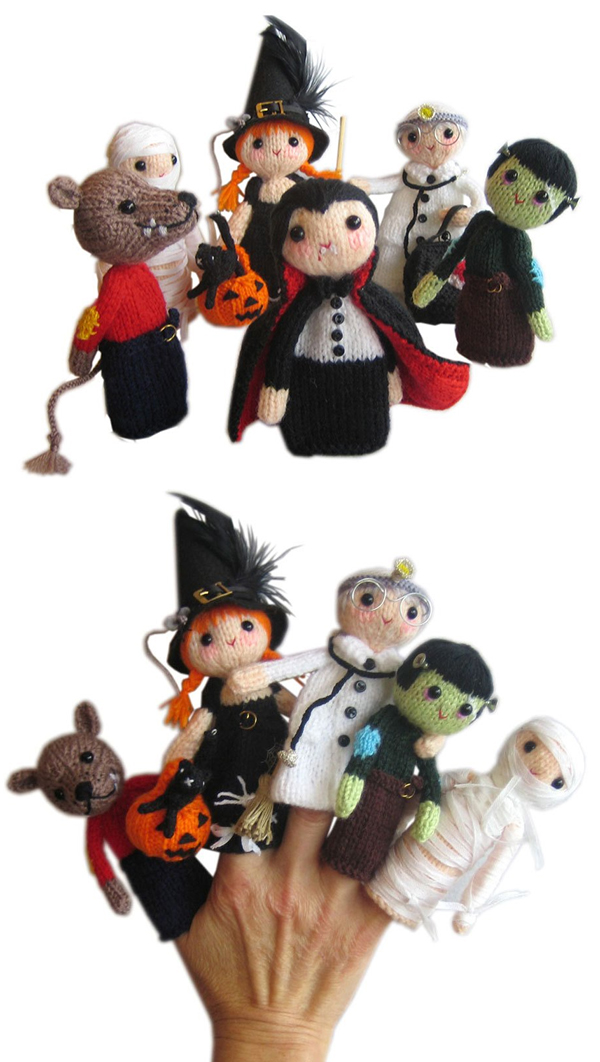 My Favorite Monsters Halloween Finger Puppets
This Cute Gang of 6monsters are Count Dracula, the Wolfman, the Mummy, Doctor Frankenstein and his best friend Frankie and the lovely Witch with her black cat and the sweet pumpkin bag. Designed by HandMadeAwards Design by Loly Fuertes.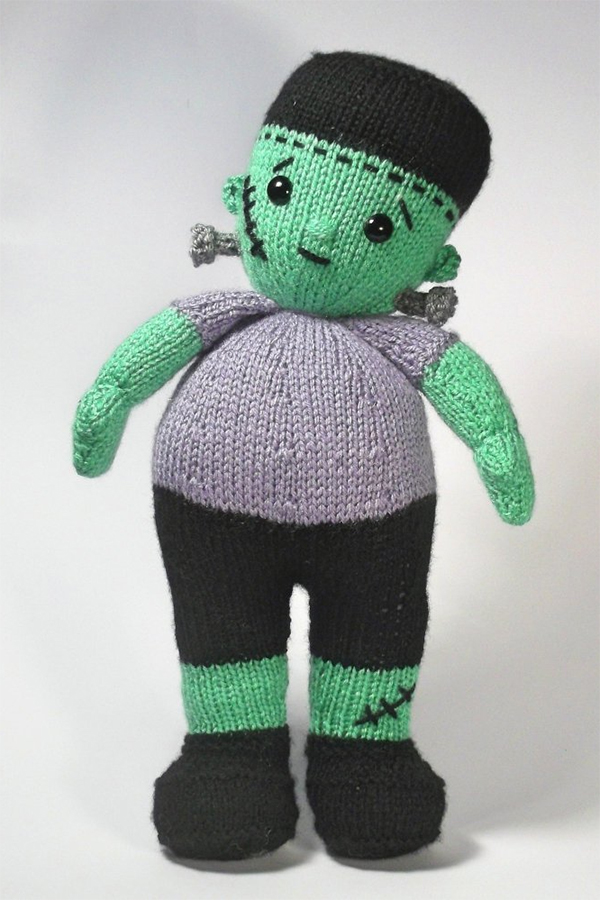 Little Frankenstein
Toy softie is knitted flat and seamed, his arms are made separately and sewn on. Size - 38cm /15" tall. Designed by ClaireFairallDesigns.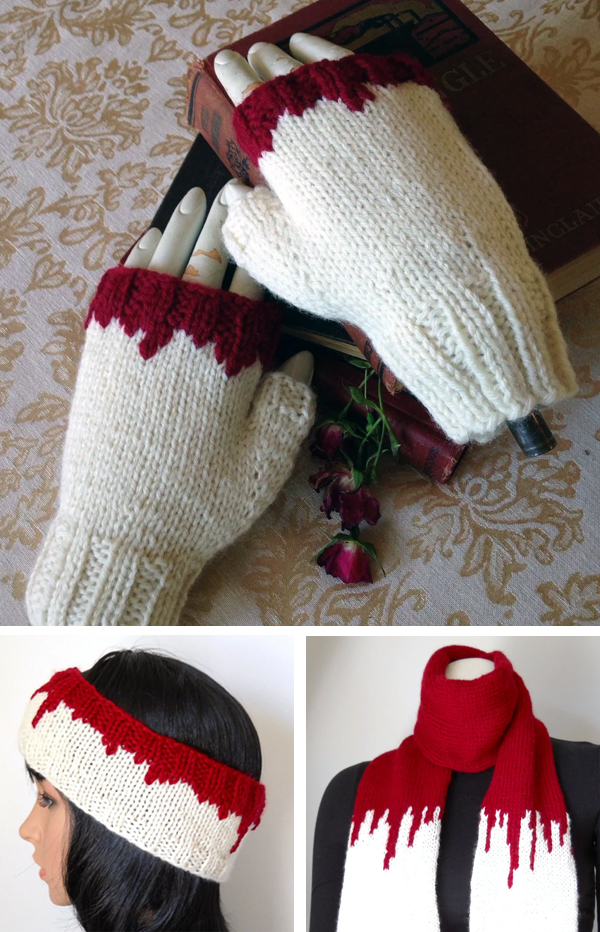 Zombie Apocalypse / Vampire Victim Set
Looking for a quick, effective Halloween costume? Knit a blood-soaked headband, mitts, and/or scarf. The designer also sells finished items. Designed by Pikeys.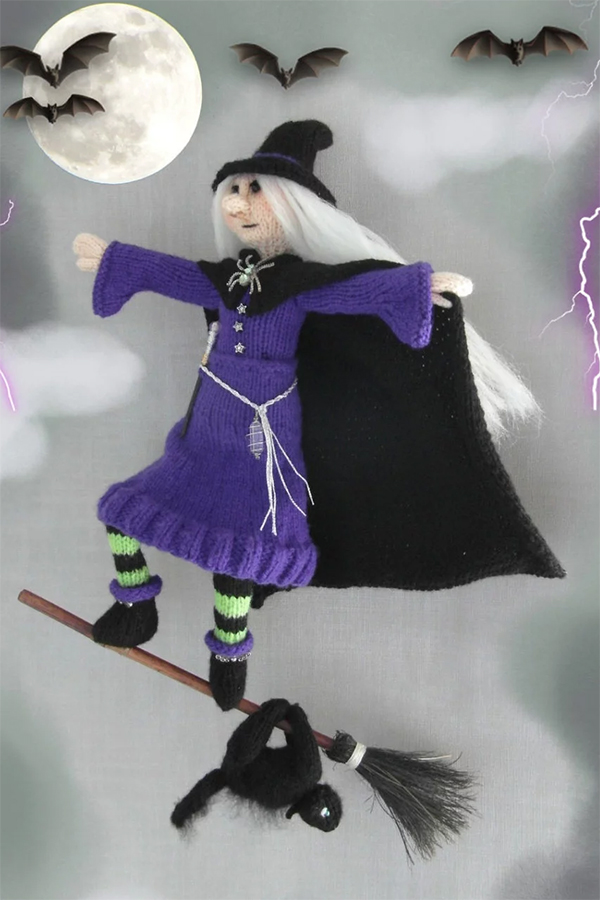 Witchhazel the Flying Witch
Witchhazel is not a witch to conform, she is a modern witch with a sense of fun and adventure. Instructions included for witch softie, her 'familiar'- Scaredy Cat, and how to construct the broom and make her "fly". When finished, she is 15 inches standing and 11 inches sitting. She is knitted flat on 3 and 4mm needles using DK. Designed by Phoenixknits.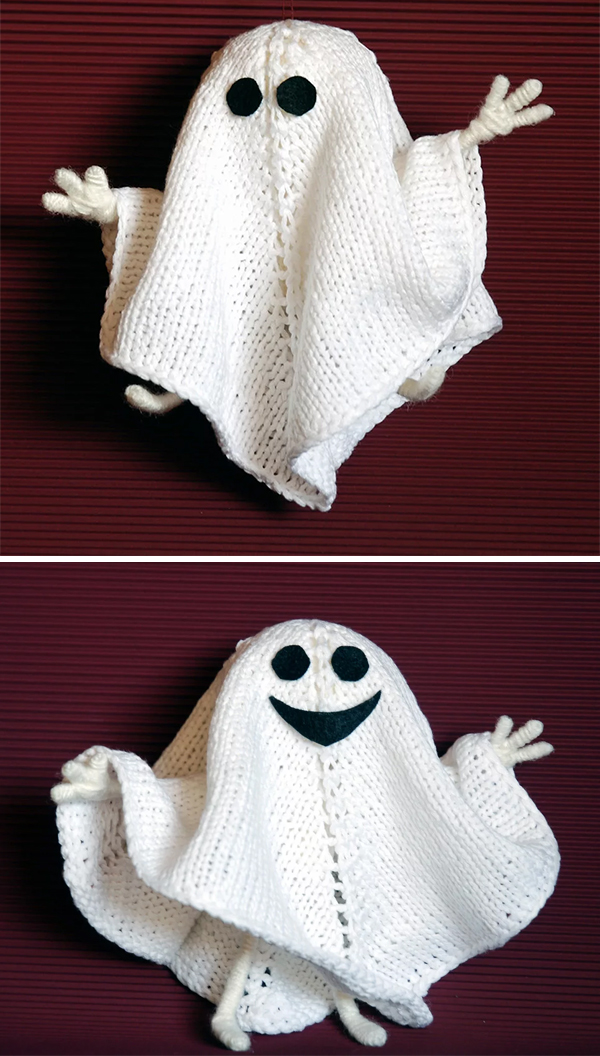 Halloween Ghost
This little ghost decoration or toy has wire inside the legs and arms that allow you to pose your ghosts. The finished doll is approximately 5,9 inches (15 cm) tall. Designed by Denizia Toys.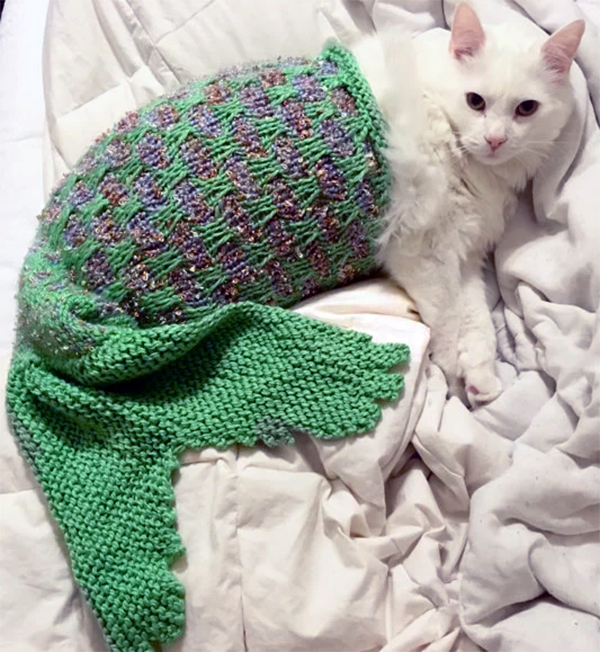 Pet Mermaid Blanket
Knit a mermaid tail for your cat, dog, or other pet. Great for Halloween or photo props. The designer also has human-sized mermaid blanket patterns. Designed by TheFluffyBlanketFort.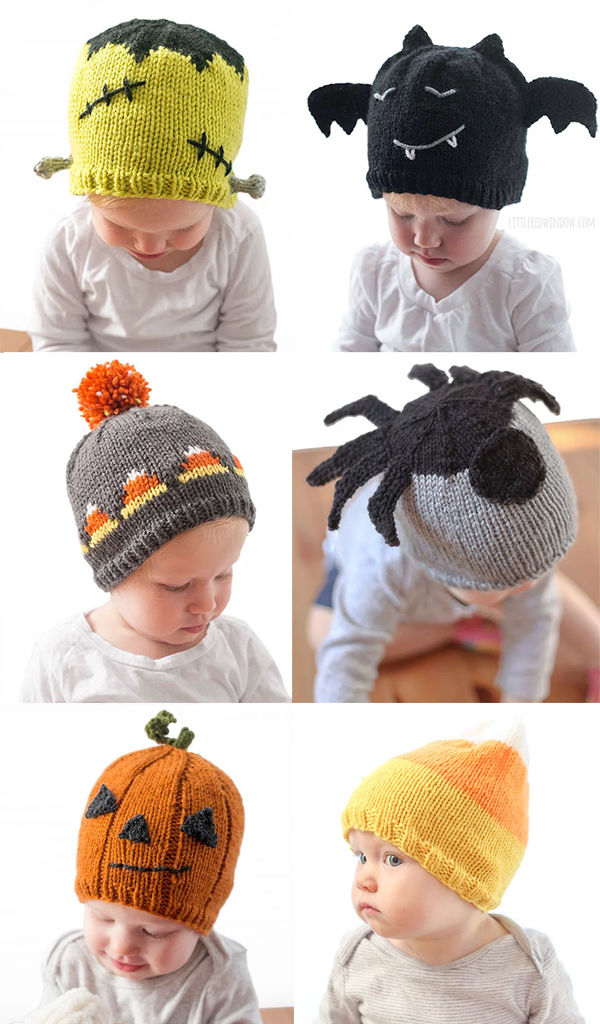 Halloween Baby Hats
Adorable baby hats with Halloween themes such as jack-o-lanterns, Frankenstein's monster, bats, spiders, and candy corn. Sizes 0-3 months, 6 months, 12 months, & 2T+' Designed by Cassie at Little Red Window.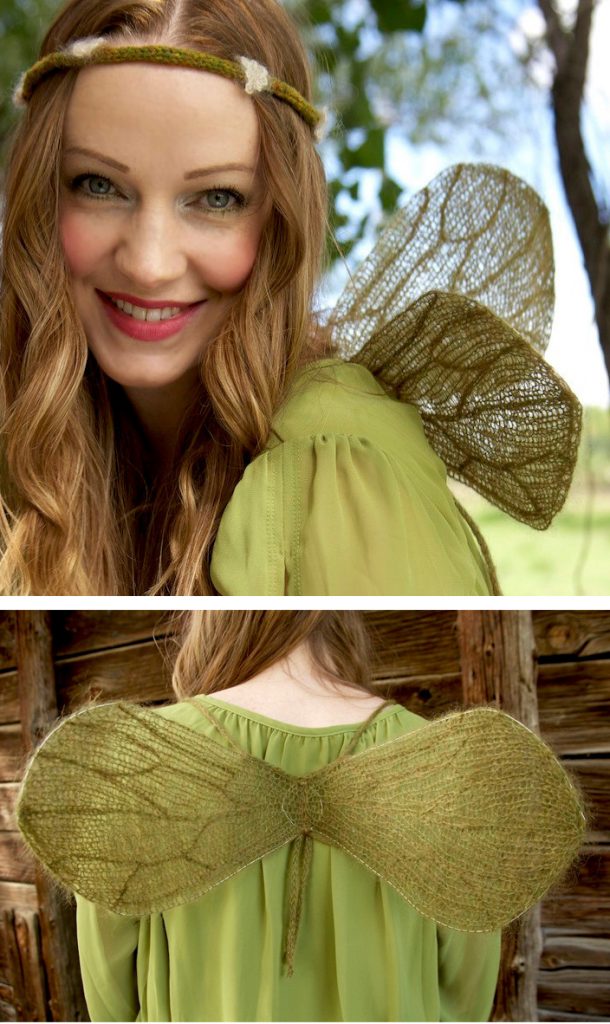 Fairy Wings
What a cute idea! These light and simple fairy wings are a snap to make and a breeze to wear. One size fits child and adults.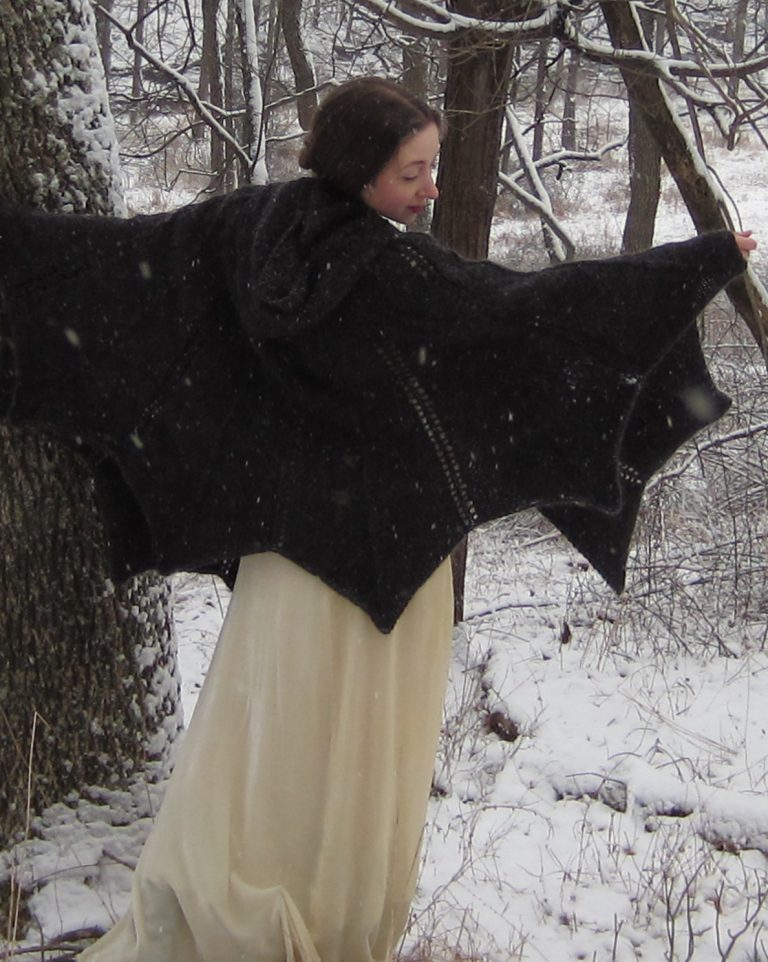 Bat Cape
Hooded cape shaped like bat wings for gothic or vampire inspired costumes. Worked in a lacy chevron pattern with ribbon tie at neck.
See more pics and get the knitting pattern on Etsy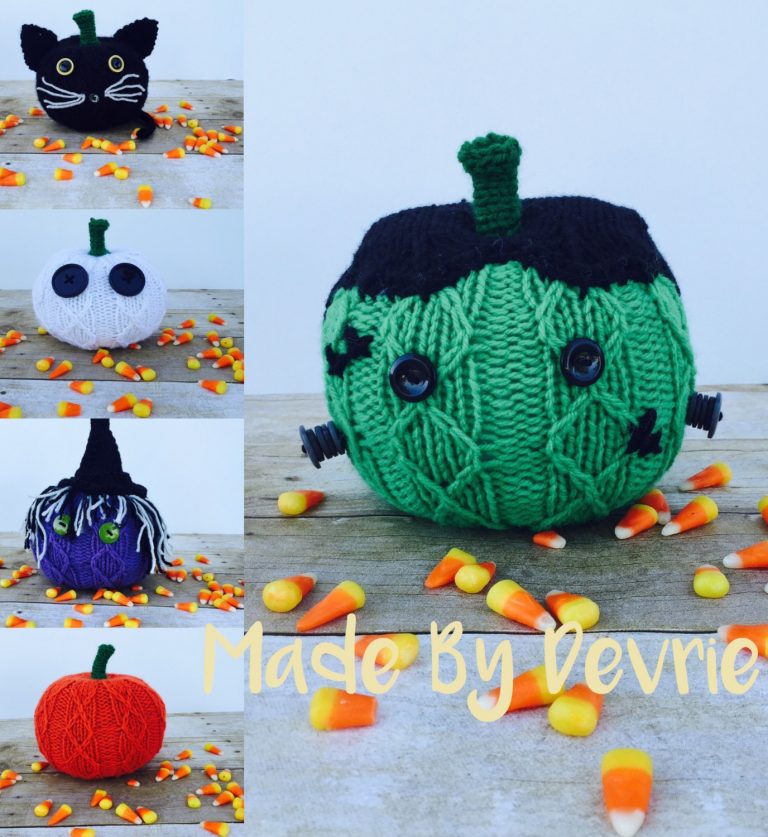 Pumpkin Friends
Pumpkin shaped softies for decorations or toys. Includes patterns for a witch, ghost, black cat, Frankenstein's monster and a cabled pumpkin.
See more pics and get the knitting pattern on Etsy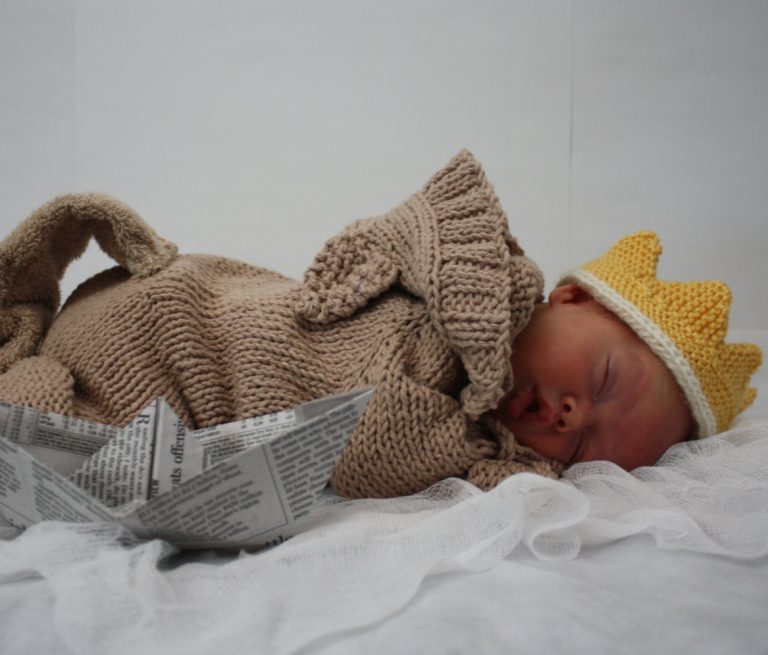 Where the Wild Things Are Romper
This romper is an adorable first Halloween costume for baby. The versatile knit for newborns to 2 years old can be customized into a lion, devil, cow, or any other costume with ears and tail.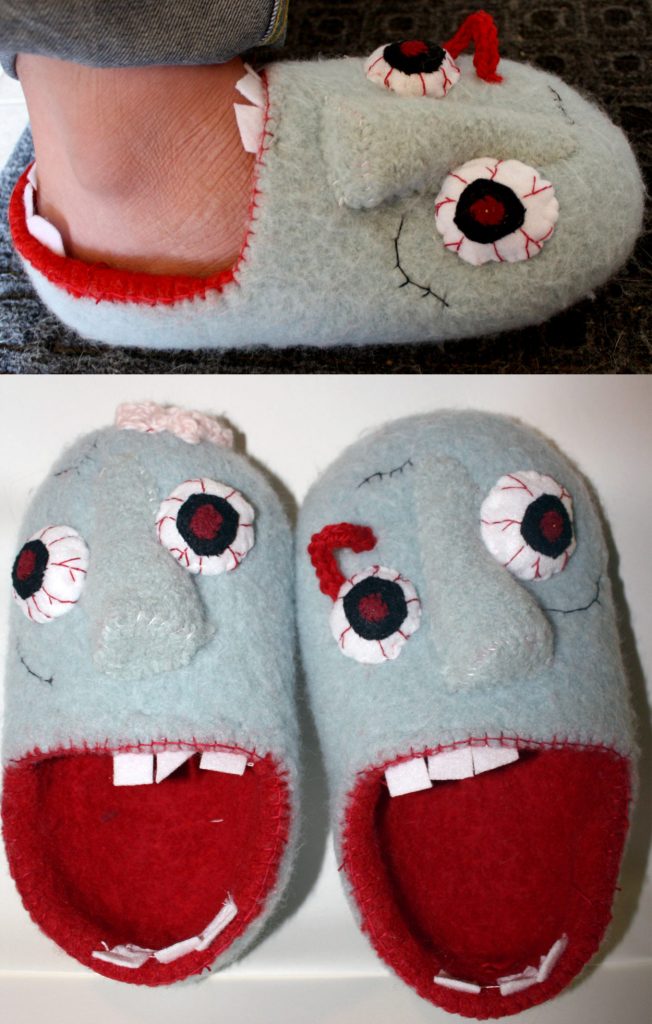 Waking Dead Zombie Slippers
These cozy zombie slippers are knitted, felted and then embellished with a face. As they wear out they become even more zombified as the inside flesh will begin to show.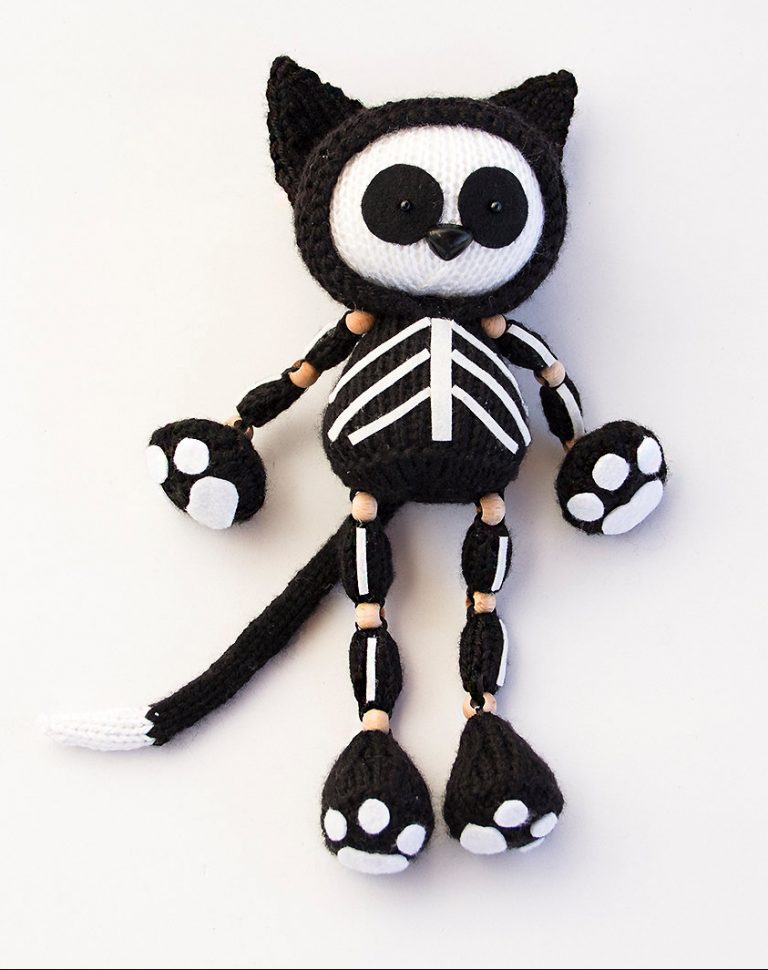 Skeleton Black Cat
This black cat toy or decoration is knit in the round and uses beads for the joints. The finished cat is approximately 12 inches (30 cm) tall.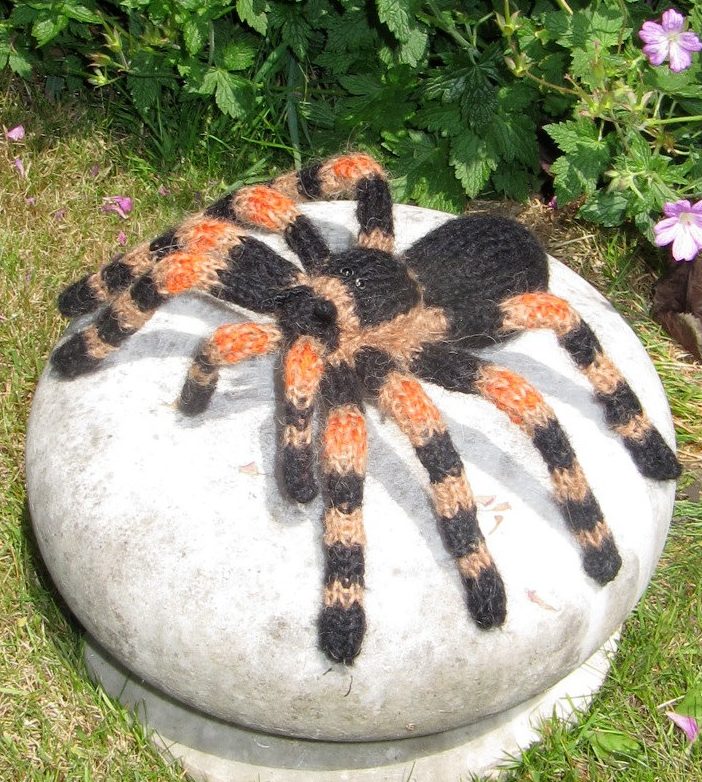 My Pet Tarantula
This tarantula toy pattern is an exact life size copy of the mexican red-kneed tarantula, according to the designer madmonkeyknits
See more pics and get the knitting pattern on Etsy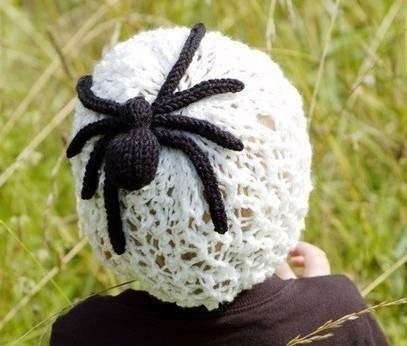 Charlotte's Web
Adult and child sizes! Knit a lace hat with Charlotte the spider sitting on top. Perfect for Halloween too! Size: Infant (Toddler, Child/Adult Woman, Adult Man)
See more pics and get the knitting pattern on Etsy