These quick projects for necklaces, bracelets, earrings, rings and more, use yarn or wire and sometimes beads to create unique statement jewelry.
To get the knitting patterns, scroll down the page to the individual pattern you want and click on the link to that pattern.
These patterns are not my designs but links to other designers who have generously shared their patterns. If you have questions about how to knit a specific pattern, please contact the designer directly.
All links on this site are for informational purposes, but please note that some links are to affiliate sellers that pay me a small commission on purchases.
Free Patterns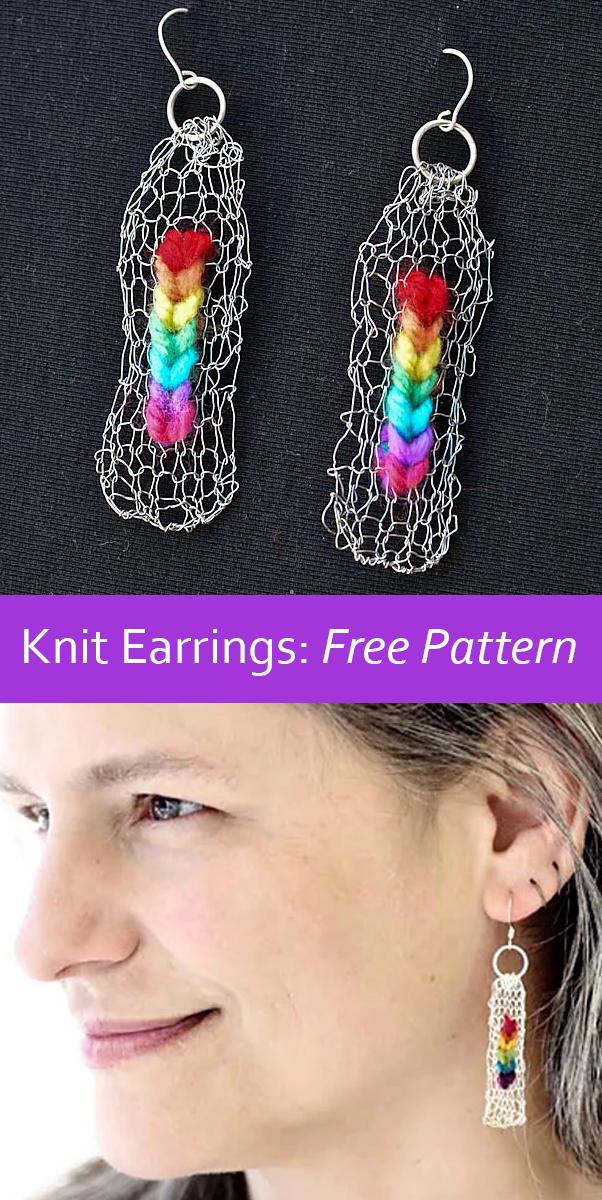 What the World Needs Now Earrings
Mesh earrings knit with wire embellished with duplicate stitch rainbow. Designed by Romi Hill for Knitty.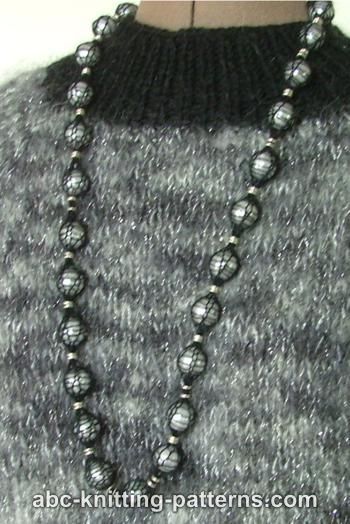 I-Cord Necklace
An ingenious necklace knit with beads inserted into an i-cord.
Free video and instructions on how to make i-cords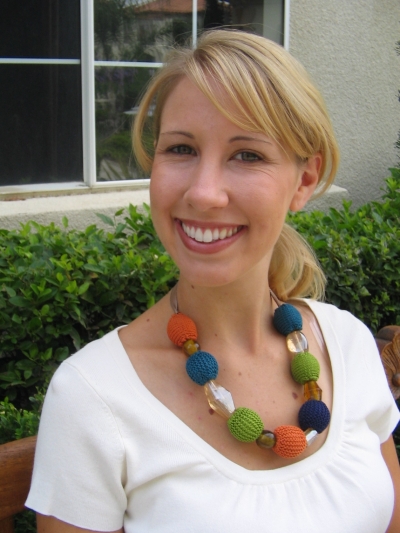 Julie Statement Necklace
Designed by Jordana Paige after designer necklaces.
Shop for the floss recommended by the designer at Michaels
Shop for beads and jewelry supplies at Michaels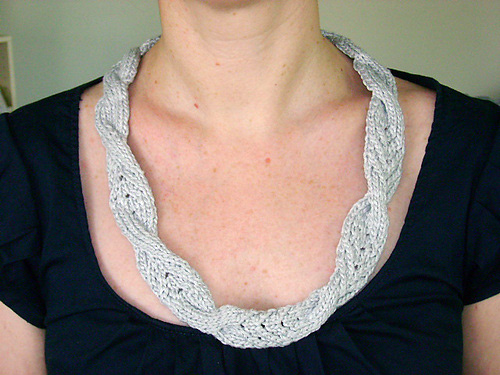 High Tea Collar Necklace
This versatile necklace designed by Donna Heron can be worn with either the button fastening in the back as a necklace or in the front for more of a collar look.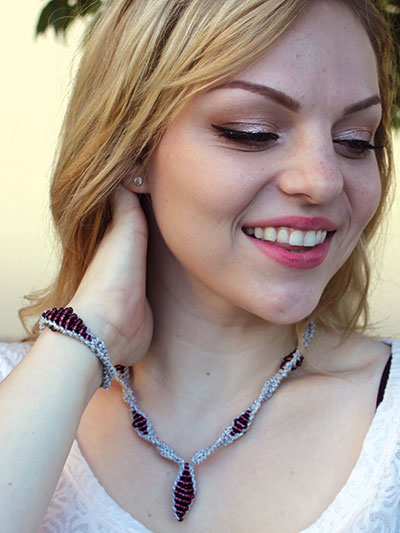 Paloma Necklace and Bracelet
Necklace and bracelet in metallic yarn designed by Andi Jovori.
Get silver lined glass beads at Etsy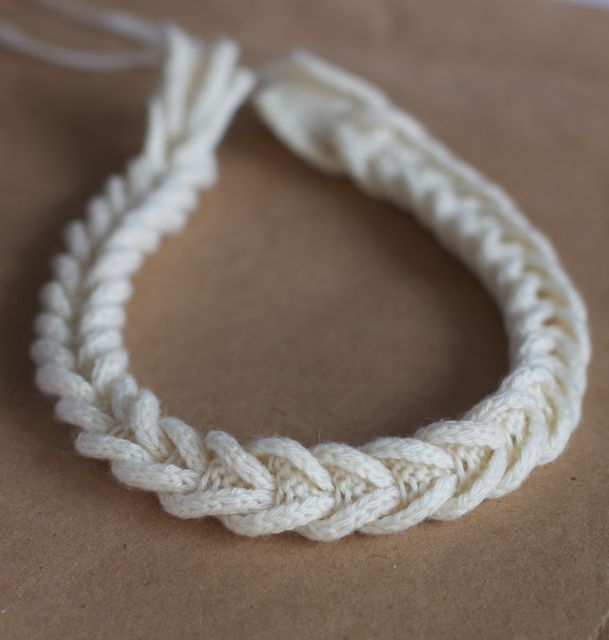 Cable Braided Necklace
Designed by Olga Jazzy this necklace is braided from two pieces of stockinette.

Knecklace
Designed by Hilary Engebretson, this necklace can be adjusted for any weight of yarn.
Get the yarn recommended by the designer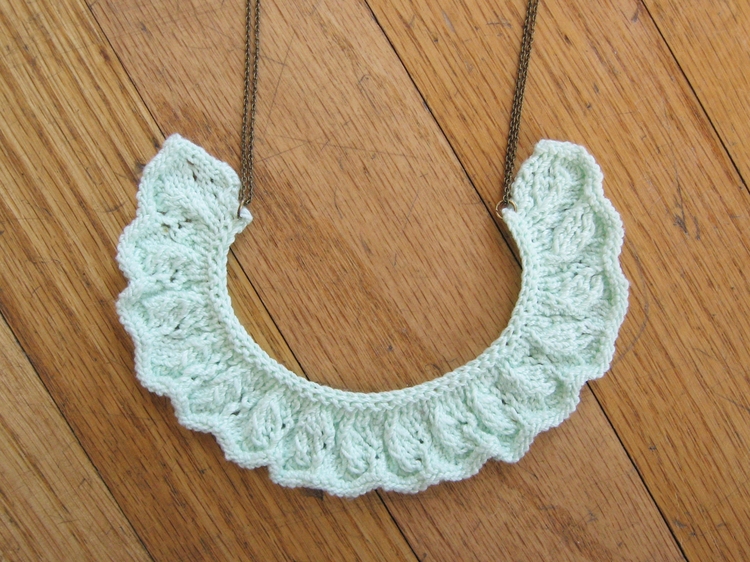 Ruched Necklace
More Free Patterns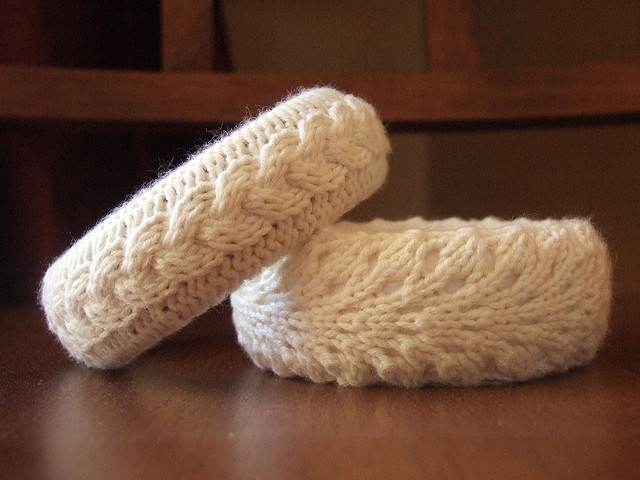 Swatch Bracelet
What a great idea from Mimsie! Don't know what to do with those swatches? Turn them into bangles. I know I'll be more inclined to knit more swatches.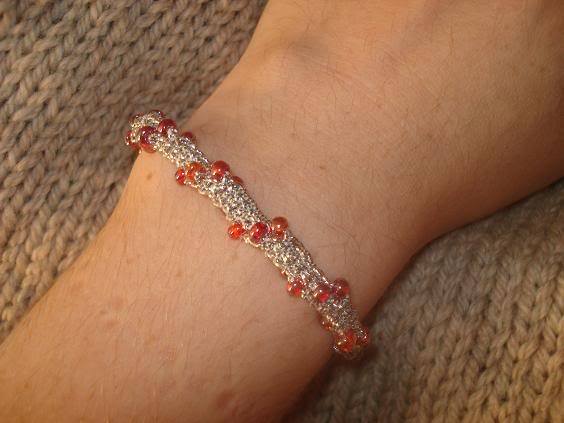 Beaded Bracelet
Knit with metallic elastic cord. Beading tutorial included.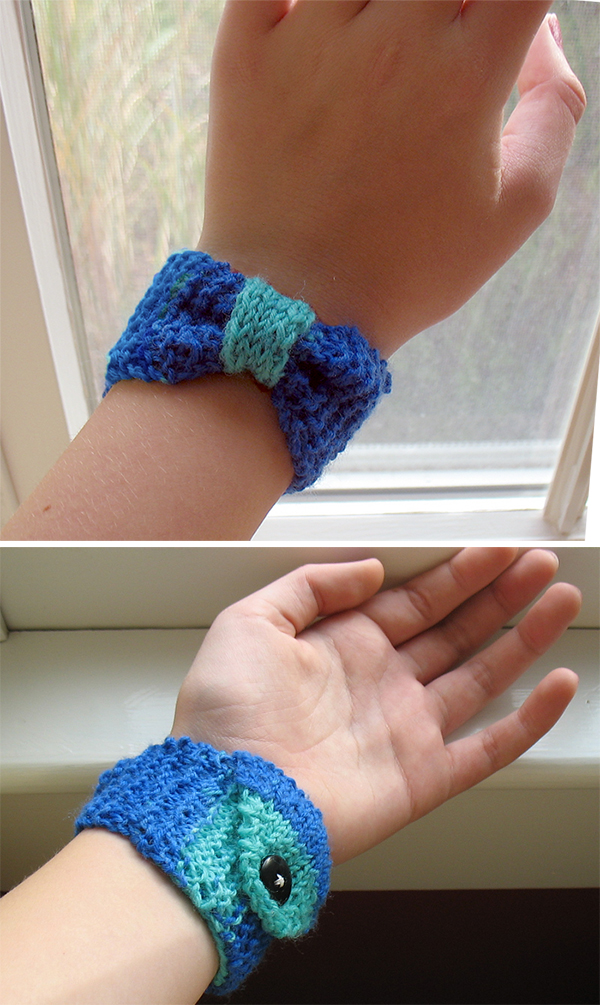 Bow Pouch Bracelet
This cute bow bracelet designed by Derya Davenport has a secret — a little pouch on the underside where you can put coins, bobby pins, etc. A great beginner project because it's made of 3 rectangles.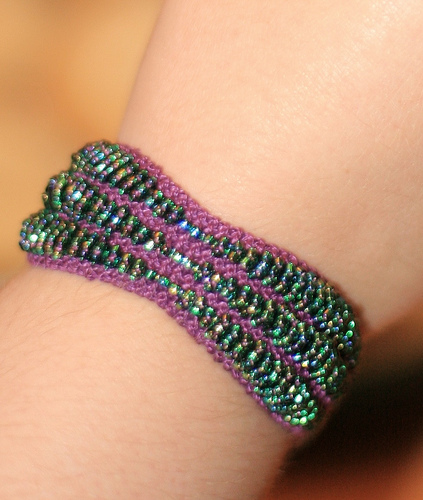 Emerald Beaded Bracelet
This design by Heather Murray is easy and quick to knit. The beads are all prestrung before the knitting starts, and all rows are knitted, with the same number of stitches in each row. The shaping is produced by varying the number of beads in a row.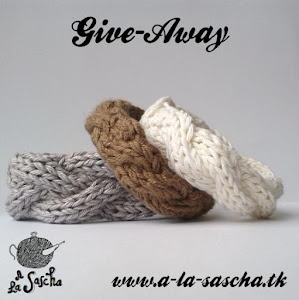 Cable Bracelets
Great quick project for stash yarn! Worked flat on 5.0mm needles with two strands of shiny cotton held together.
Get the free knitting pattern. Note that the link to the English pattern is in the second section on the page.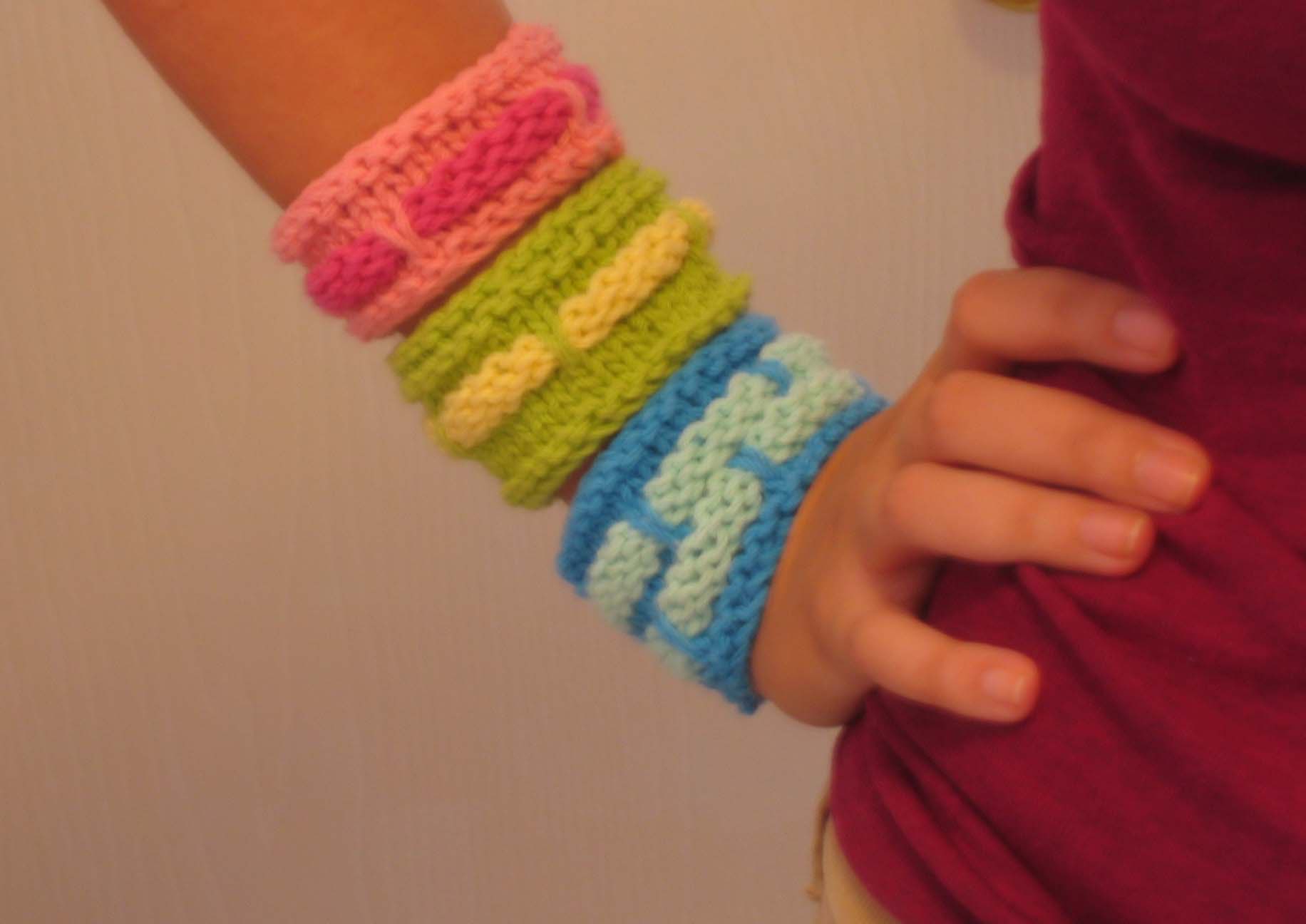 Band Cuffs
Make in less than an hour and wear out tonight!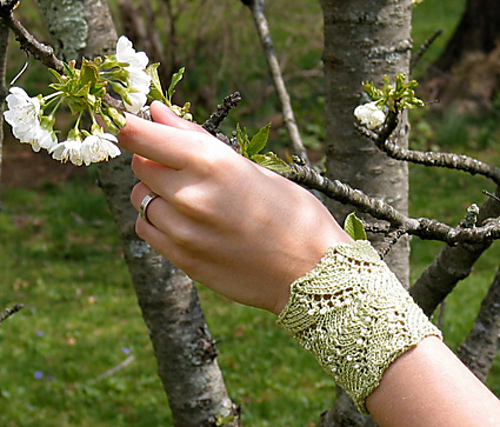 Perdita Cuff
Three floral motifs designed by Elizbeth Klett for sizes XS (S, M, L, XL).
Get the floss recommended by the designer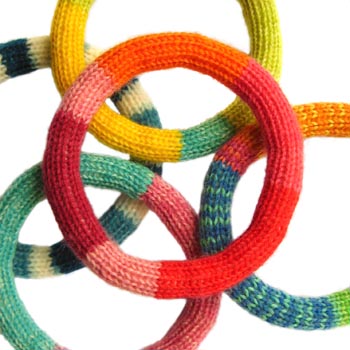 Seamless Bangle
Get the free knitting pattern designed by Oddknit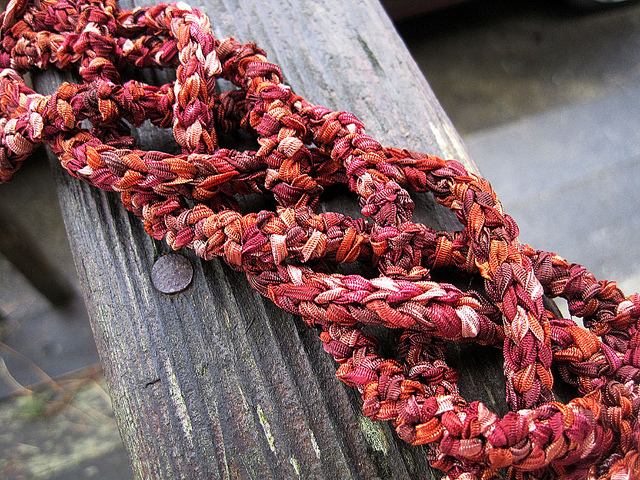 Ribbon meShell Bracelet
A great use for those ribbon yarns you love but don't know what to do with.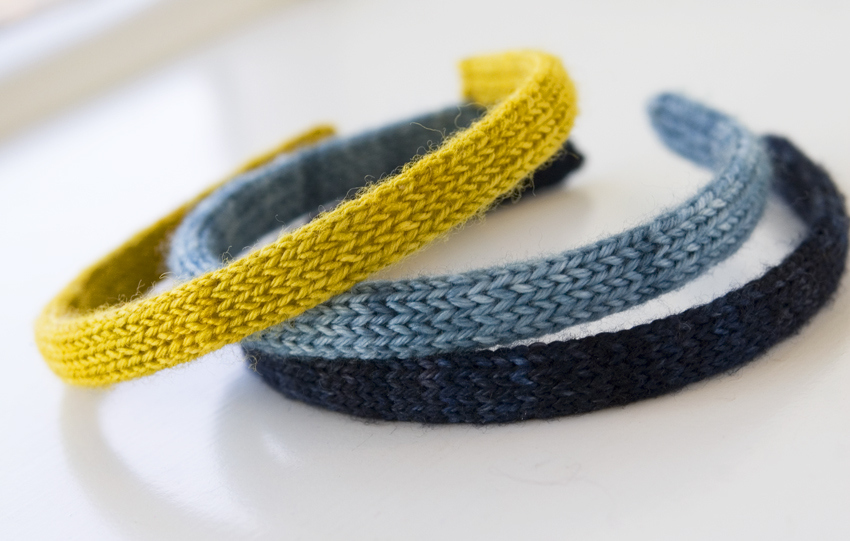 Bonanza Headbands
Patterns for Purchase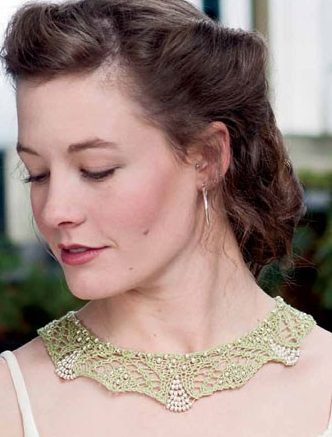 Endira Necklace
Two different beading techniques add a little sparkle to crisp old-world linen lace.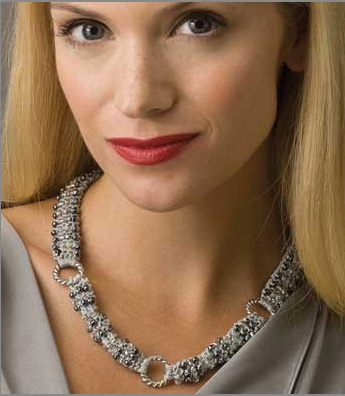 Jacqueline Necklace
Designed by Andi Javori this beaded knit necklace is 19″ x 1/2″.
See more pics and get the knitting pattern at Interweave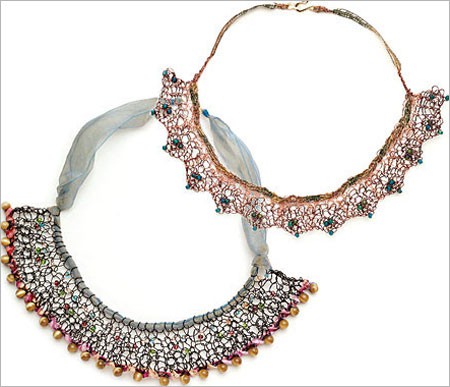 Three Wire Necklaces
Three unusual knitted necklaces, combining glass beads, colored wire, and just a bit of yarn or ribbon. The wire, prestrung with beads, is used as the knitting yarn and the beads are slipped into place as required.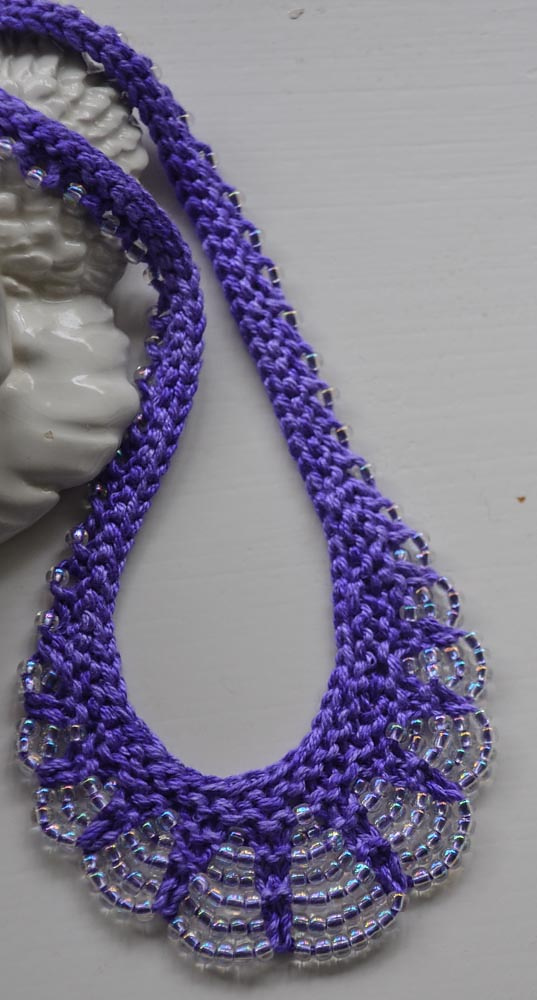 Scallop Edge Beaded Necklace
The original pattern for the Scallop Edge Beaded Necklace featured in 101 Designer One-Skein Wonders. This version includes both the book version and a variation using finer yarns and smaller needles than the pattern in the book. Pictured project by tinpins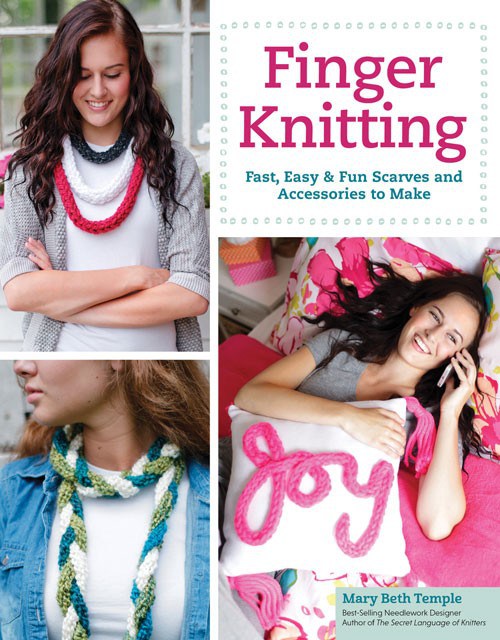 Finger Knitting
Finger knitting is the amazingly simple process of knitting with only your fingers, instead of with traditional knitting needles. It's the ultimate on-the-go, take-it-with-you craft. 13 totally cute projects are included in this book, from bracelets, necklaces, scarves, belts, and headbands, to wreaths, coasters, rugs, and pillows.