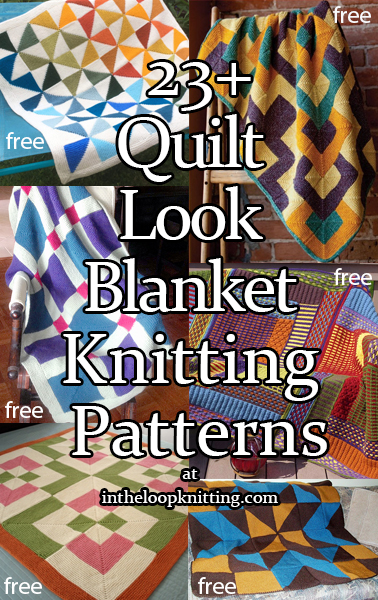 Knitting patterns for afghans modeled after traditional quilt designs. Many of the patterns are free.
To get the knitting patterns, scroll down the page to the individual pattern you want and click on the link to that pattern.
These patterns are not my designs but links to other designers who have generously shared their patterns. If you have questions about how to knit a specific pattern, please contact the designer directly.
All links on this site are for informational purposes, but please note that some links are to affiliate sellers that pay me a small commission on purchases.
Free Patterns

Tamarix Quilt Afghan
This knitted afghan is composed of simple garter-stitch mitered squares worked in stripes of color creating a handquilted look. Directions are provided for easy seaming as you go, or you can sew the pieces together in finishing. The edge is finished with attached I-cord. Designed by Heather Zoppetti. Worsted yarn.One of the free patterns in the free ebook 7 Free Knitted Blanket & Afghan Patterns from Interweave. Designed by Hana Jason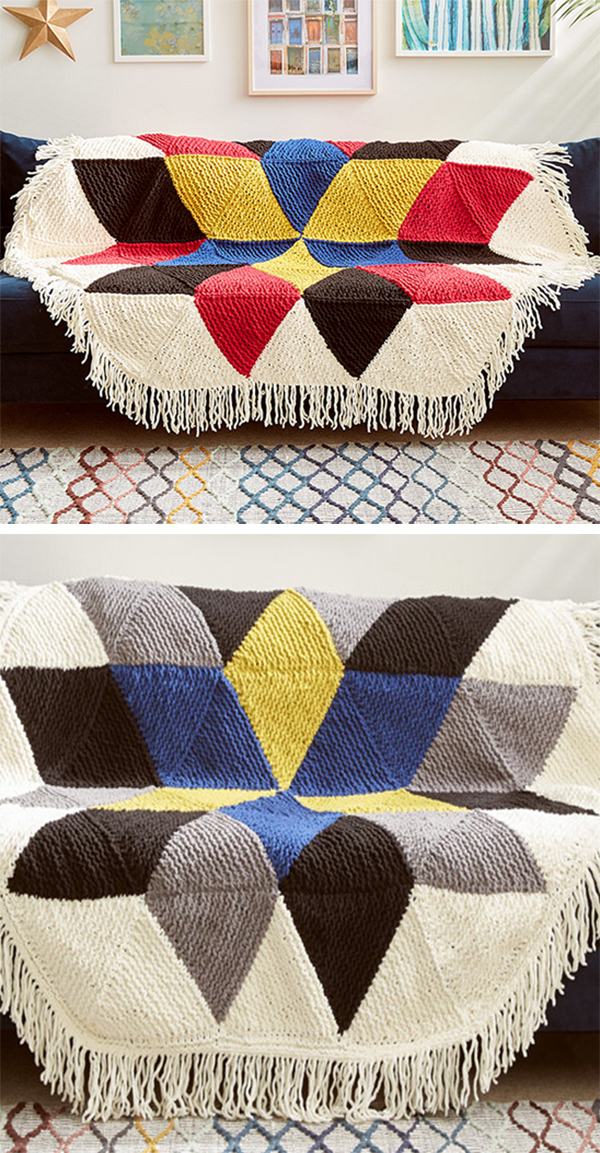 Hexagonal Starburst Afghan
This hexagonal motif of this throw is knit mainly in garter stitch shaped strips which are later joined, making it a great on-the-go project. Designed by Bernat. Super Bulky weight yarn.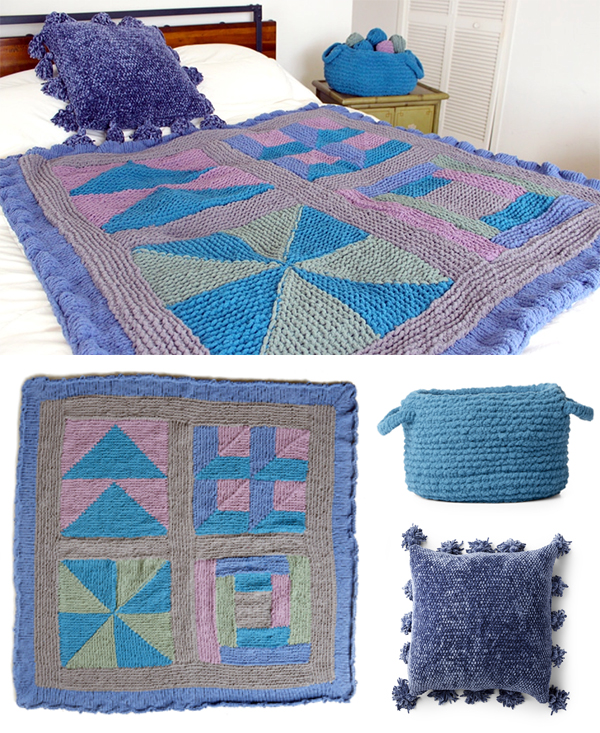 Stitch Along Quilt Blanket, Pillows, and Basket
Four block afghan inspired by the traditional quilt designs Flying Geese, Log Cabin, Attic Windows, and Pinwheel Blocks. Because this is a stitch along the pattern is downloaded in parts accompanied by video tutorials. Designed by Studio Knits for Bernat Blanket yarn and Joann. Page includes bonus patterns for basket and pillows.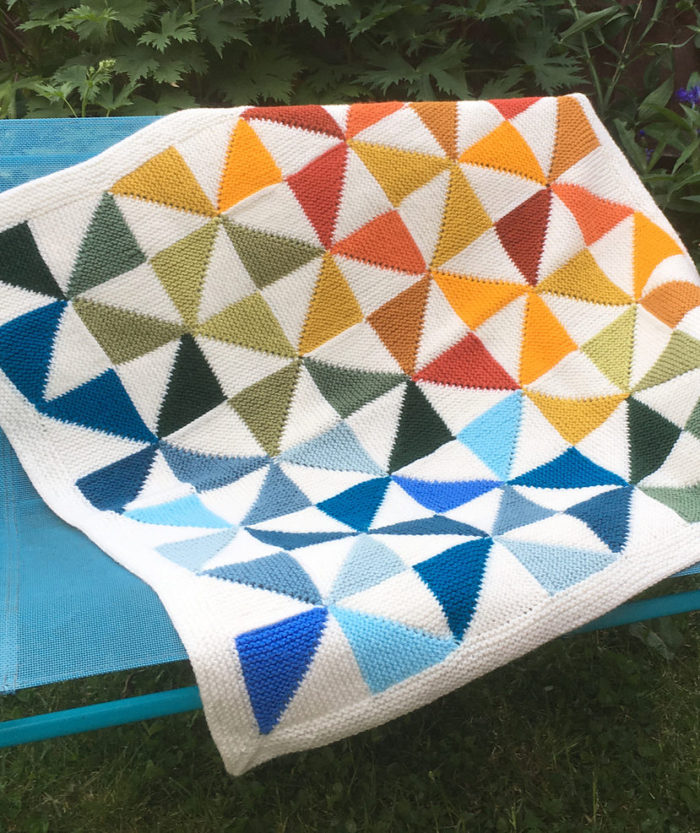 Country Quilt Baby Blanket
Afghan of modular pinwheel blocks inspired by traditional quilt designs. Designed by Caron Design Team. Pictured project by Mootthing who did 4x4 blocks.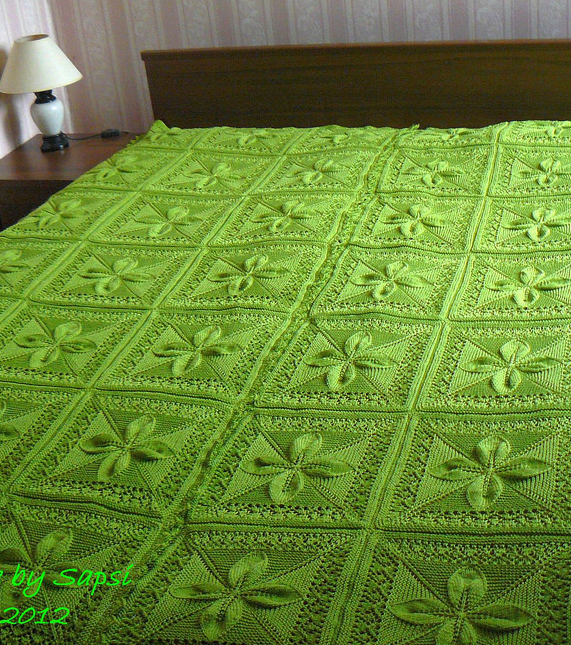 Counterpane Quilt with Leaves
Antique pattern, fully updated by Sarah Bradberry. Great pattern for baby blankets or wedding quilts. Instructions for one square. Pictured project by Sapsi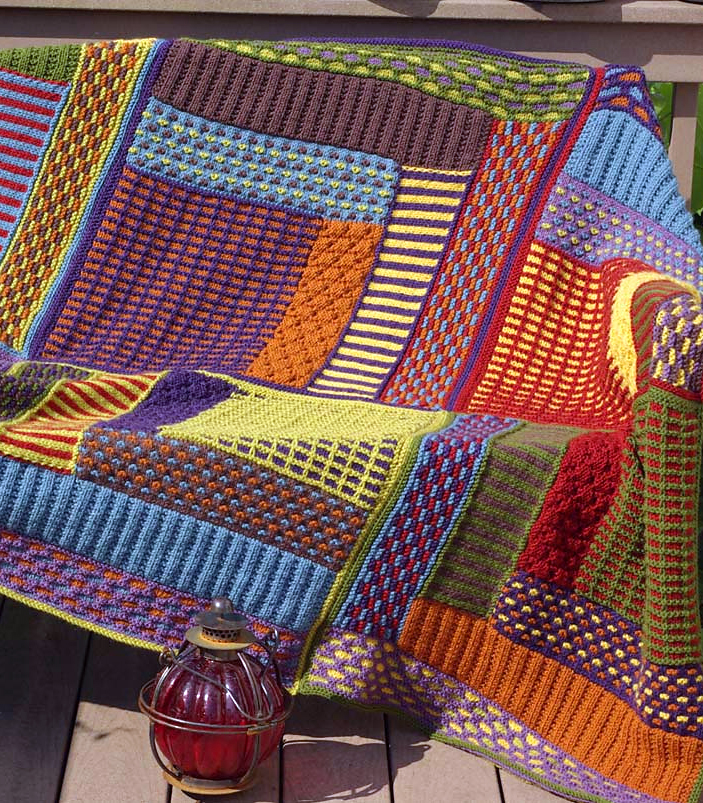 Slip Stitch Sampler Log Cabin Throw
This quilt inspired blanket uses the same log-cabin design 6 times in different color combinations knit with easy slip stitch and mosaic colorwork. 50 x 75 in. (127 x 190.5 cm) Aran weight. Designed by Irina Poludnenko for Lion Brand Yarn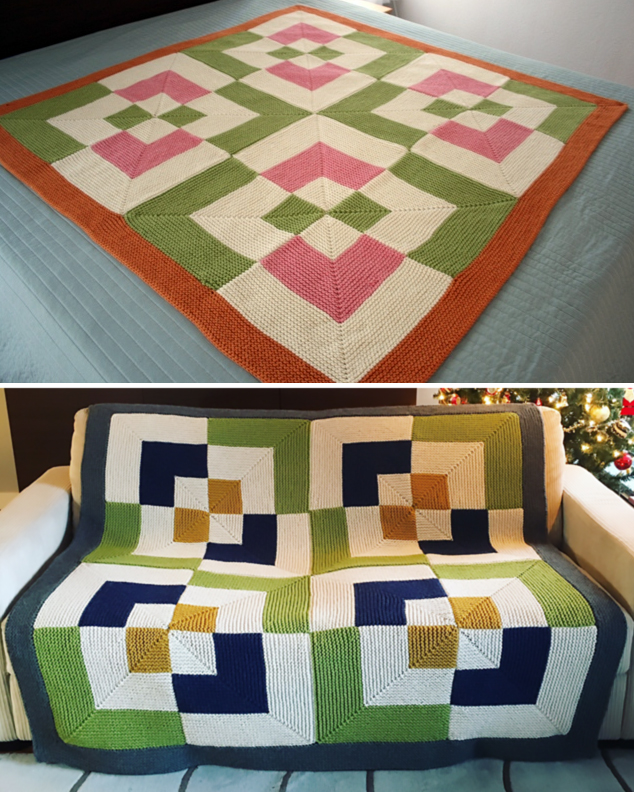 Bento Box Quilt
Modular garter stitch afghan based on the Bento Box quilt block. Includes a coloring page and free video tutorial at the designer's website. Designed by Staci Perry of Very Pink Knits. Pictured projects by the designer and SRWhitcombe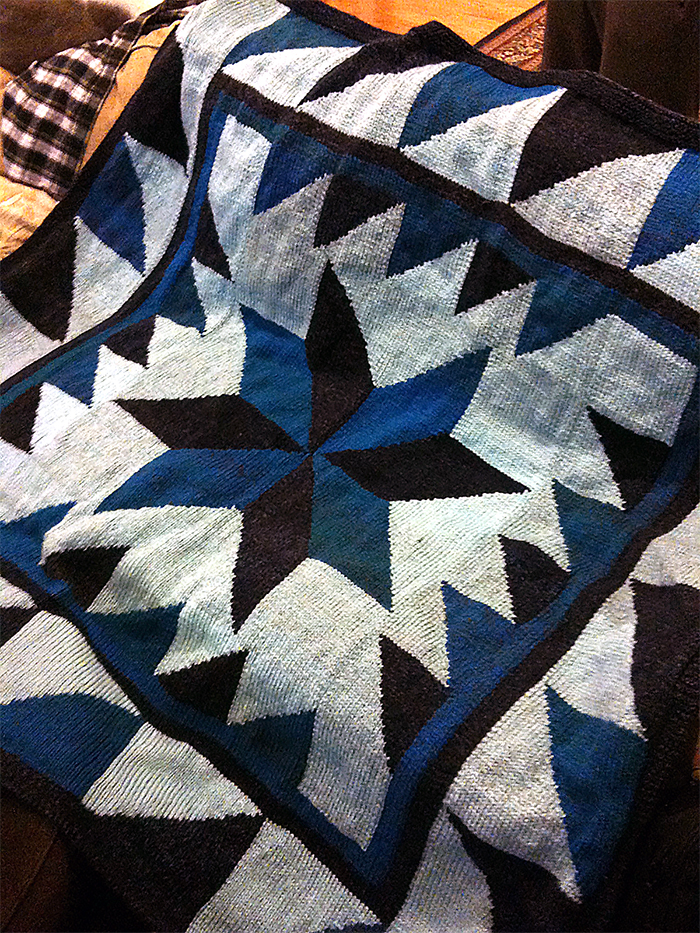 Homespun Pinwheel Afghan
Knit interpretation of the traditional pinwheel quilt with sawtooth borders. Bulky yarn. Designed by Lion Brand Yarn. Pictured project by daurynn who knit the pattern with intarsia instead of pieced squares – check the project notes for more information.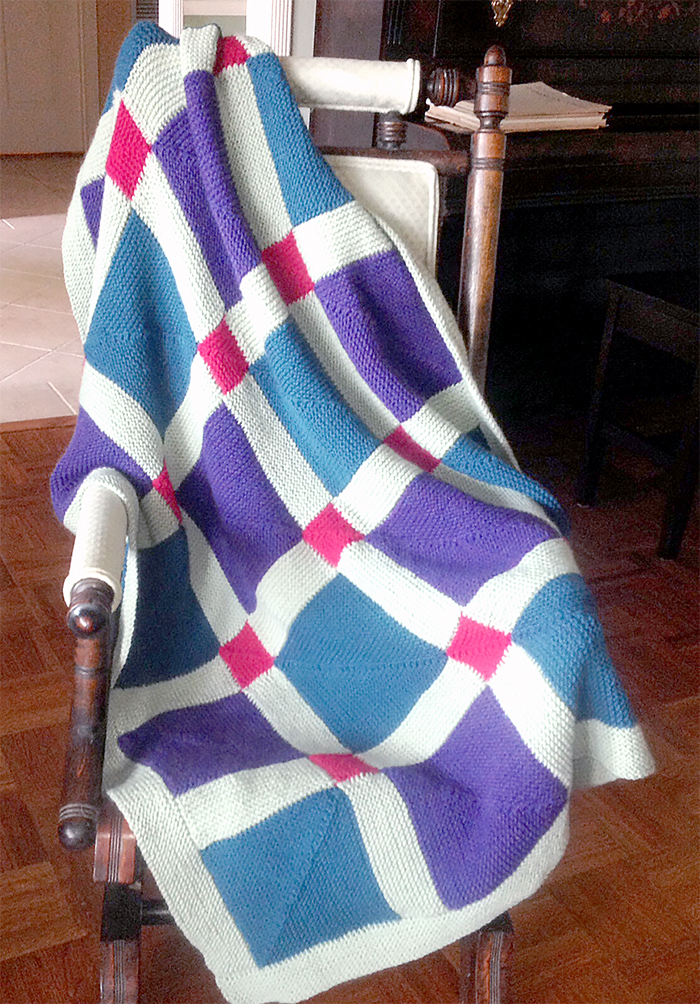 Fenced In Afghan
This blanket is knit in modular pieces in garter stitch. Great opportunity to play with color and use up your stash. Designed by Miriam L. Felton. Pictured project by purldoc who rated the pattern easy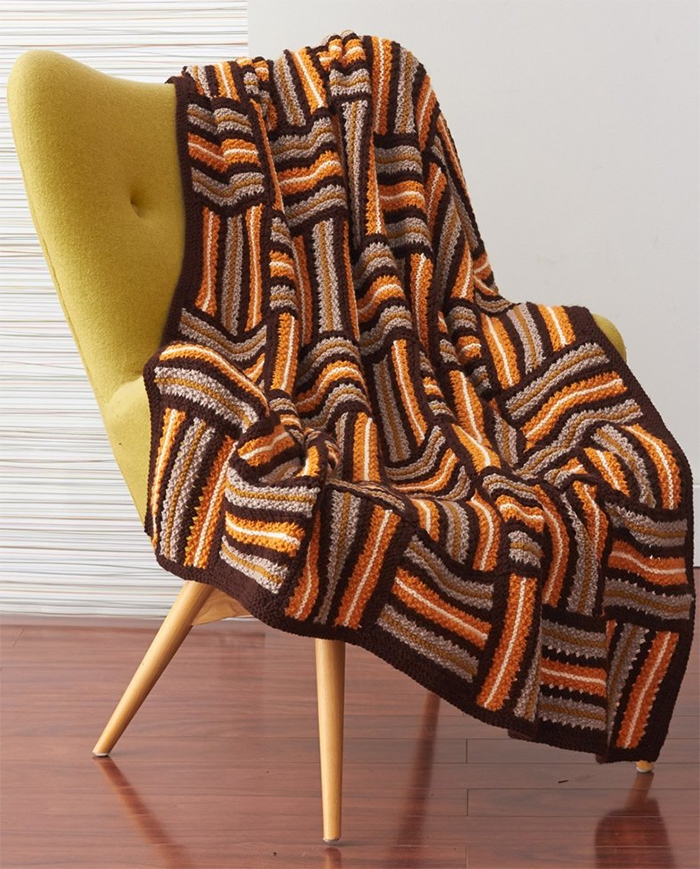 Parquet Quilt Afghan
Modular blanket inspired by classic piece quilts. Approx 46″ x 52″ [117 x 132 cm]. Designed by Patons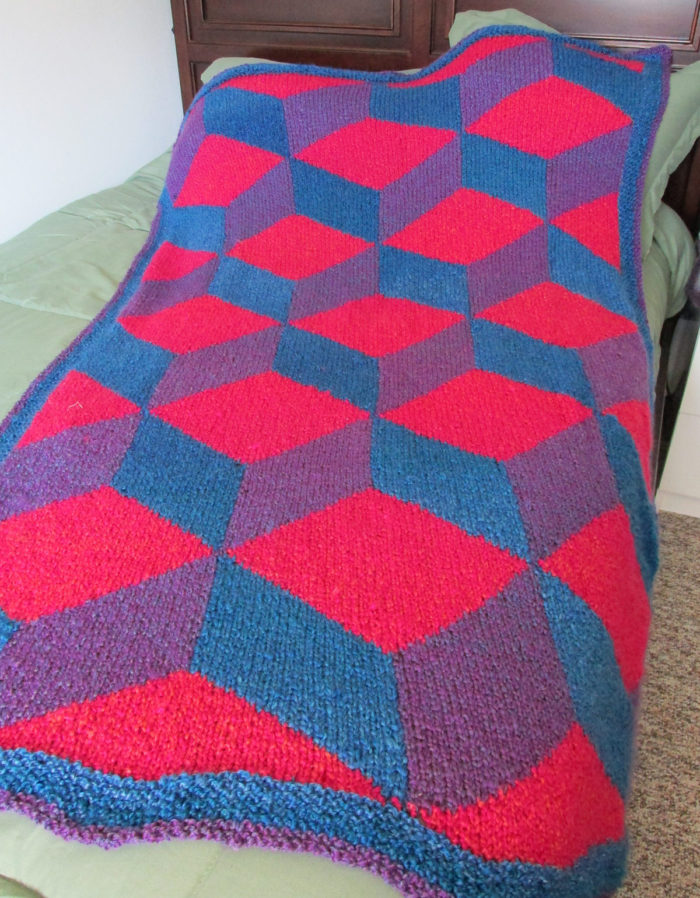 Tumbling Blocks Afghan
Three color throw inspired by the three dimensional look quilt design. Bulky yarn. Designed by Lion Brand Yarn. Pictured project by musicalewok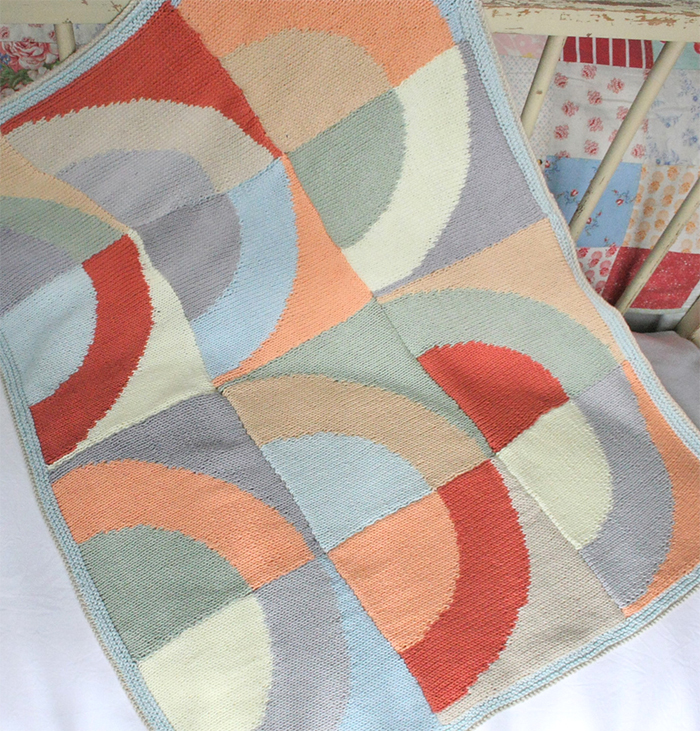 Tiny Dancer Baby Blanket
Blanket created of 12 intarsia squares reminiscent of modern quilt designs. 68cm x 89cm; 27in x 35in. DK weight. Designed by Rosee Woodland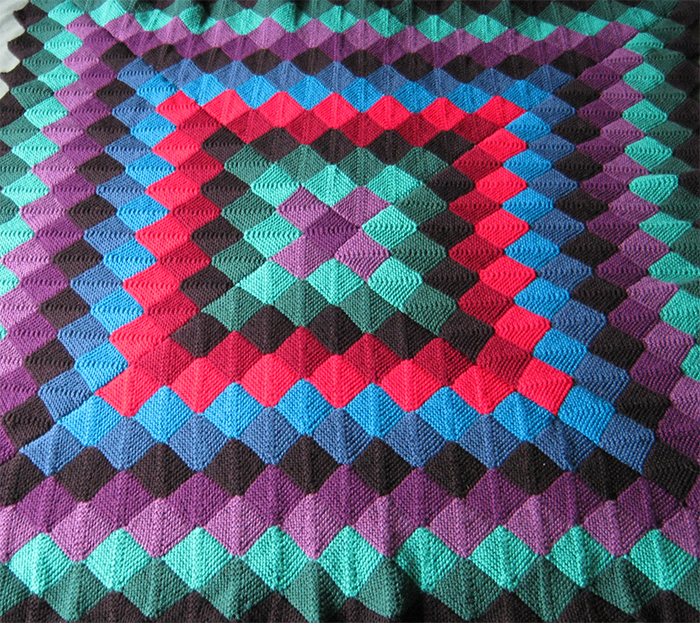 Sunshine and Shadow Throw
Based on the traditional Amish quilt design of the same name, this afghan of mitred squares is a great stashbuster. Designed by Sixties Spirit.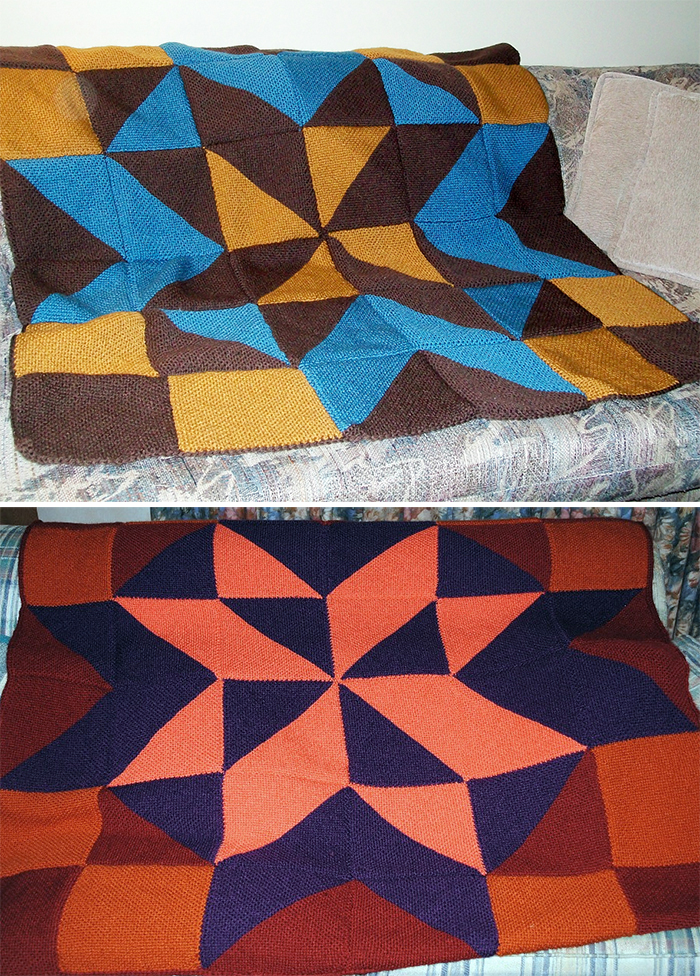 Nine Patch Star Blanket
Afghan of inspired by traditional quilt designs with blocks knit on the bias. Designed by Kristi Paul. Pictured projects by the designer and ajoans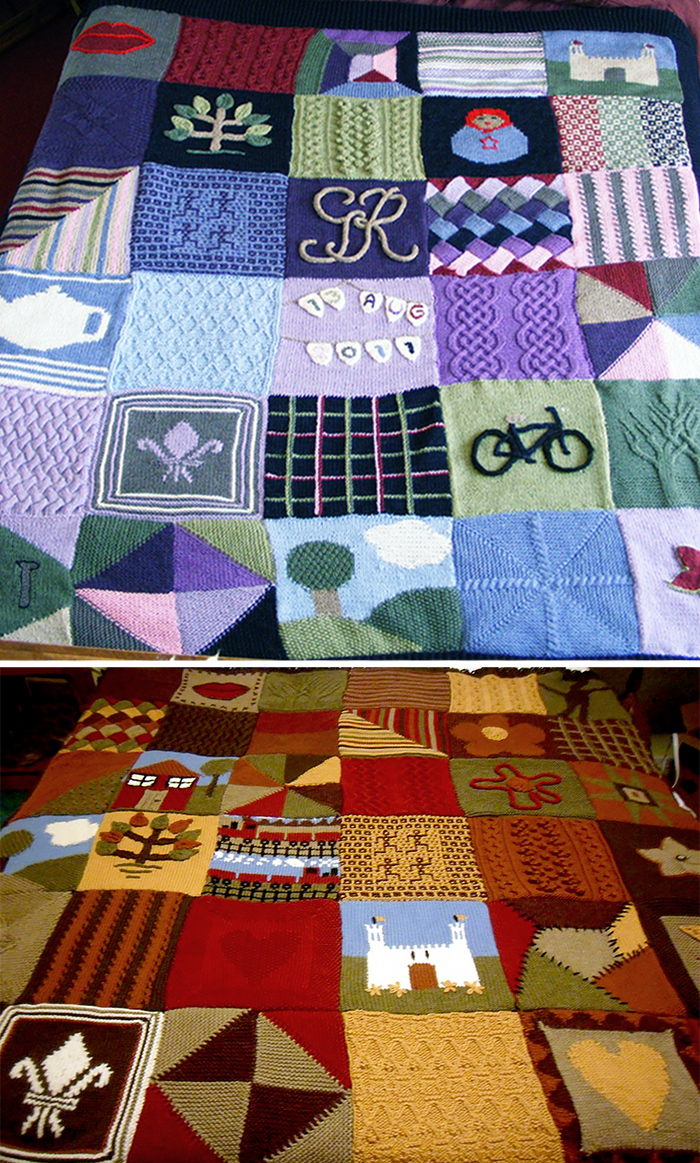 Oddball Sampler Afghan
Each square of this patchwork blanket lets you try out different, and possibly new to you, knitting techniques. Many are modeled after classic quilt blocks such as Ohio Star, Windmill Quilt, Log Cabin, Magic Diamond, Victorian Patchwork, Tree of Life, and more. Knit some or all. Great stashbuster. Designed by Sarah Bradberry. Pictured projects by Pine-needles and katlewis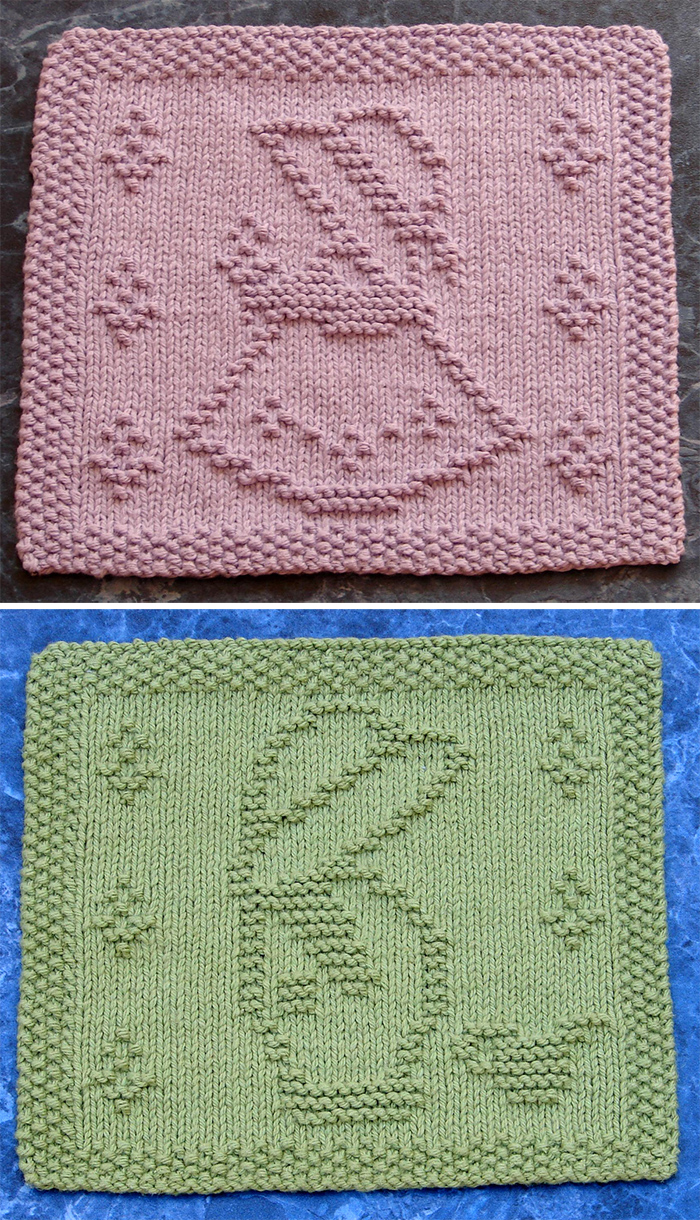 Sunbonnet Sue and Sam Cloths or Blocks
These Little Garden Girl and Little Garden Boy patterns are inspired by traditional sunbonnet quilt blocks. Designed by Rachel van Schie of Knits by Rachel. Rated easy by Ravelrers.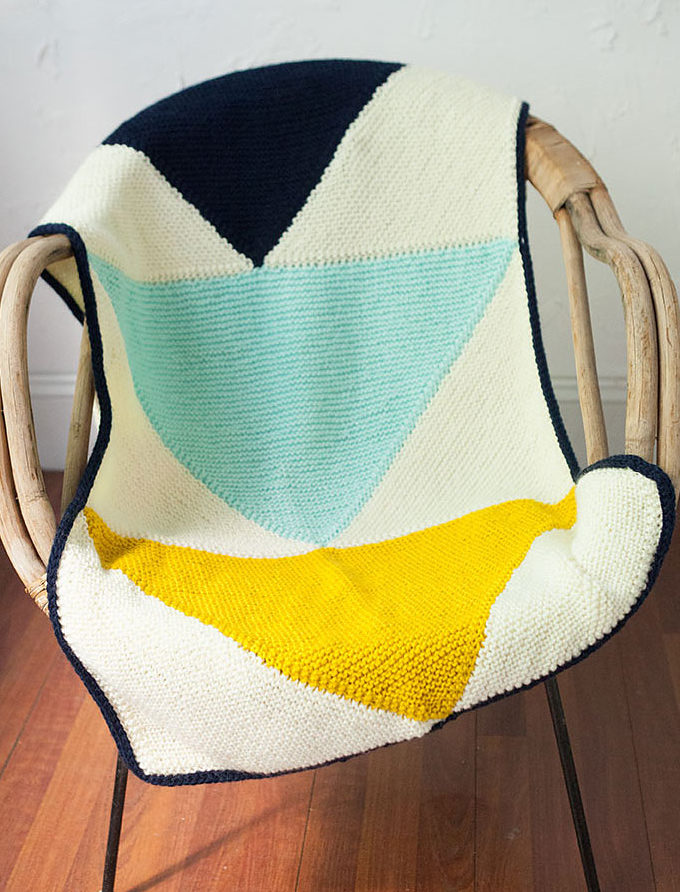 Flying Geese Baby Blanket
The traditional stacked triangle quilt design interpreted in a modern color block knitting pattern. 24 x 36 inches but you can make it larger by knitting more triangle panels or more than one strip. Designed by Purl Soho. Pictured project by KPJenny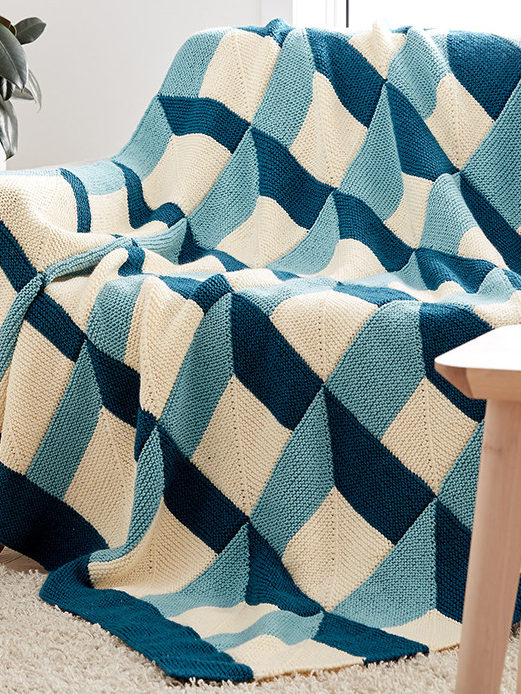 Shadowbox Blanket
Three color afghan knit in garter stitch mitered squares. Designed by Patons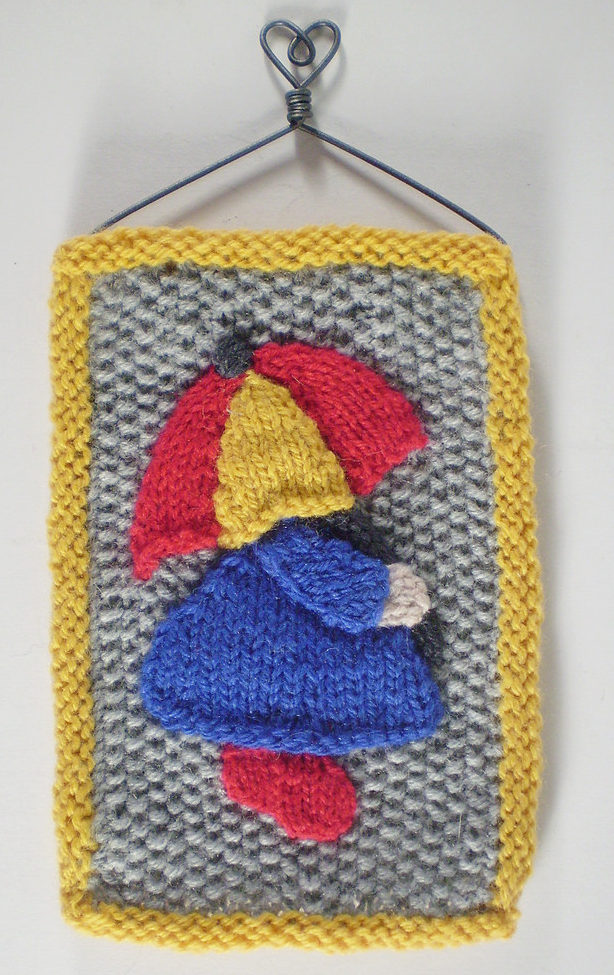 Umbrella Girl Quilt Block
This block based on the traditional quilt design can be used as a wall hanging with its knitted frame and button hanger fastening, or the design can be added blankets, hats, scarves, bags. The pieces for the pictures are knitted separately and sewn on to the background. Designed by Frankie Brown
Patterns for Purchase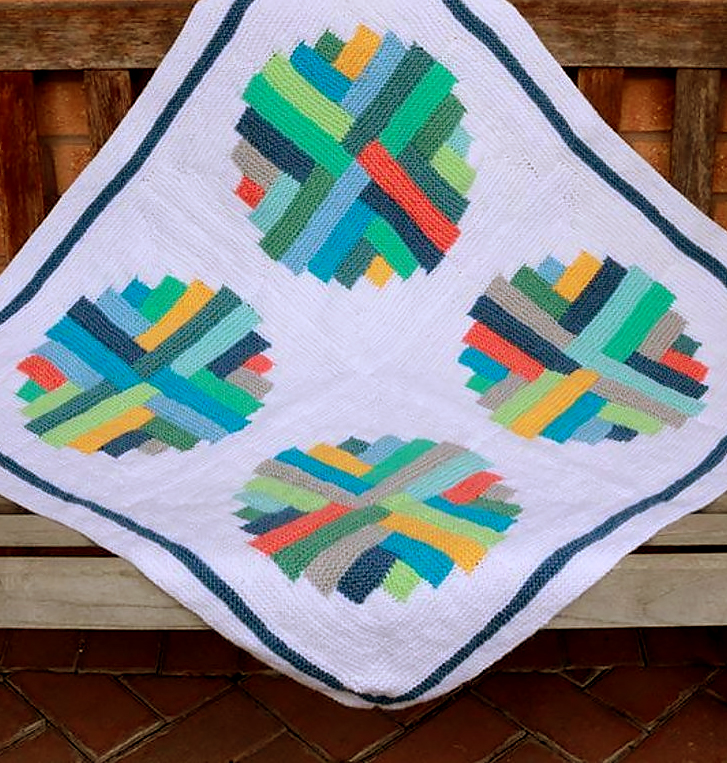 Portholes Log Cabin Quilt
This modular knit blanket is a modern take on a traditional log cabin design. It is knit in squares which are sewn together to give the circular effect. 3 sizes. DK weight yarn. Designed by Julie Taylor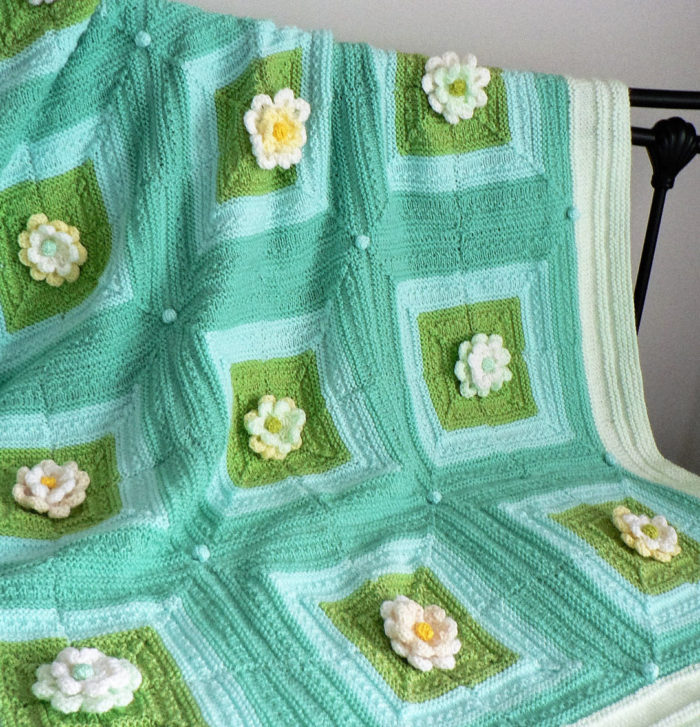 Waterlily Blanket
Patchwork style blanket consisting of 48 individually knitted mitred squares that are stitched together & embellished with separately worked floral motifs. Finished size is 39 ins x 48 ins (99 cms x 122 cms) but can be adapted to larger or smaller sizes. DK weight yarn. Designed by LittleImaginKnits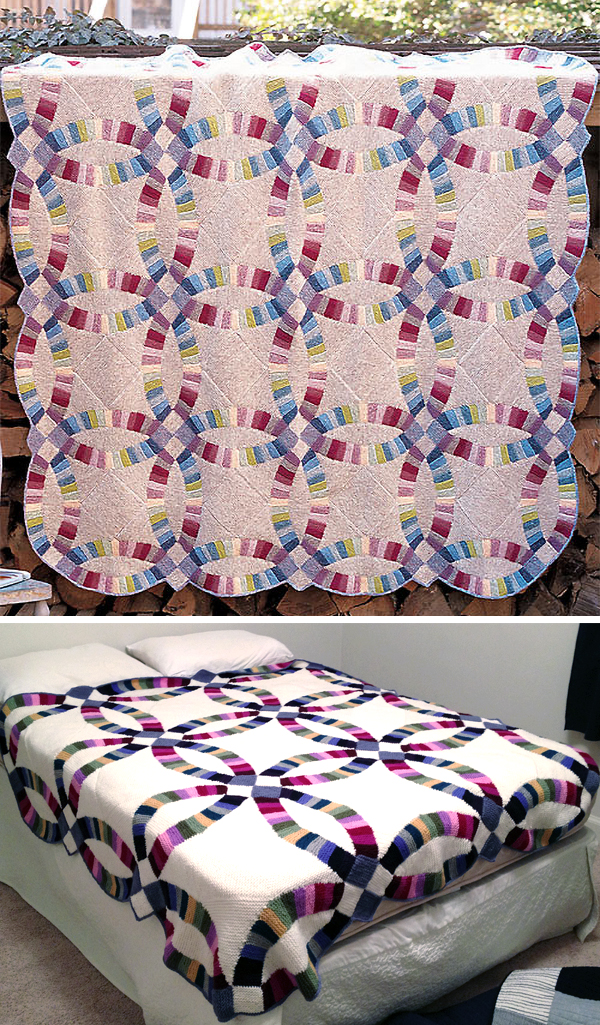 Double Wedding Ring Quilt
Inspired by the classic quilt pattern symbolizes wedding rings, this blanket is easy to knit but requires a bit of sewing. It is composed of numerous small garter-stitch shapes – squares, ovals, and rectangles – that are sewn into sixteen circular (or part-circle) units, which in turn are joined together. Finished size is 58″ (147.5 cm) square. Designed by Sharon O'Brien. Pictured projects by the designer and VirgoKnitter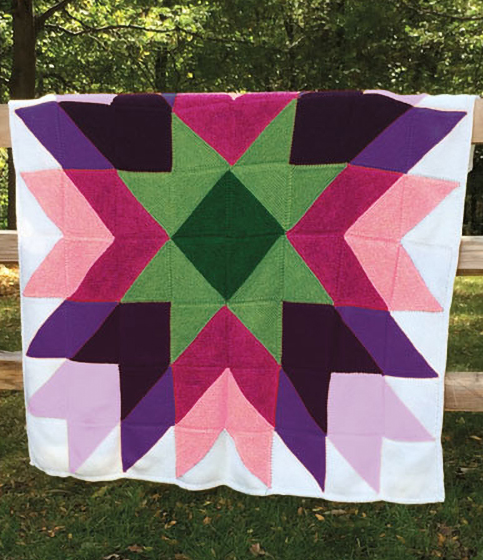 Spring Bouquet Quilt Afghan
Blocks are knit with two colors in garter stitch using simple increases and decreases, then sewn together to form the "quilt." Knit with worsted-weight yarn. Finished size is 54″ square. Rated easy by the designer.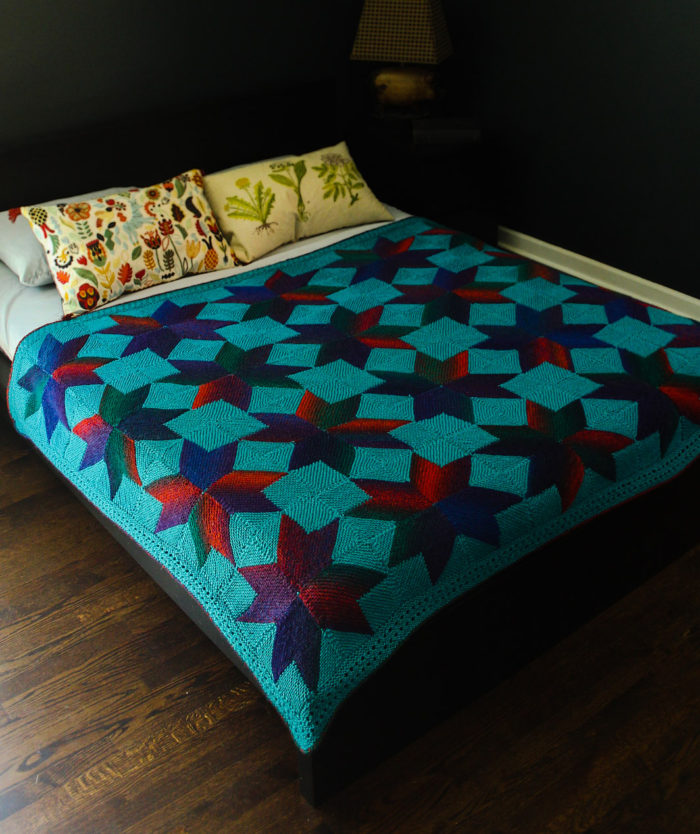 Starshade Afghan
Garter-stitch squares knit on the bias are worked separately and seamed together to create this quilt inspired afghan. Knit with worsted-weight yarn. Finished size is 69 1/2″L x 56 1/2″W.. Designed by Amy Gunderson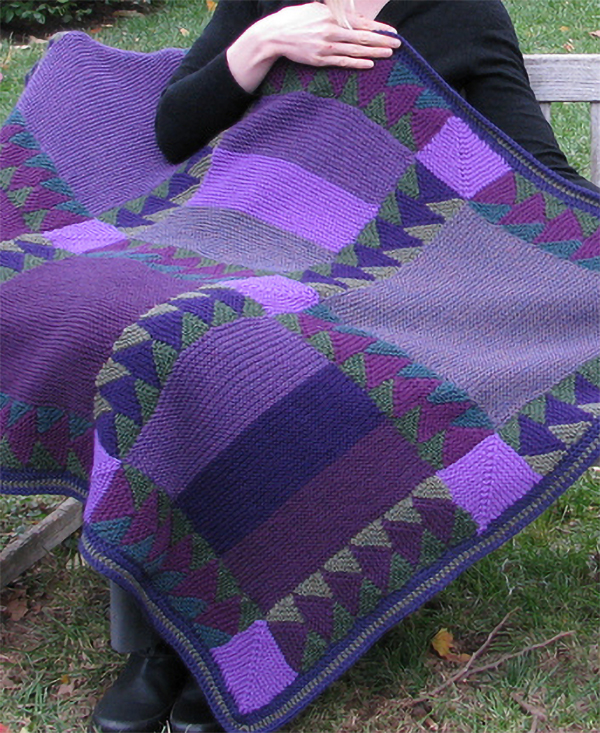 Flying Geese Blanket
This knit version of the traditional quilt is knit with strips of triangles, or 'geese,' which are made separately, so it makes a great portable project. The strips are then joined to squares in a log cabin technique. Designed by Ann Hahn Buechner. Pictured project by annaforsyth. One of the patterns in Mason Dixon Knitting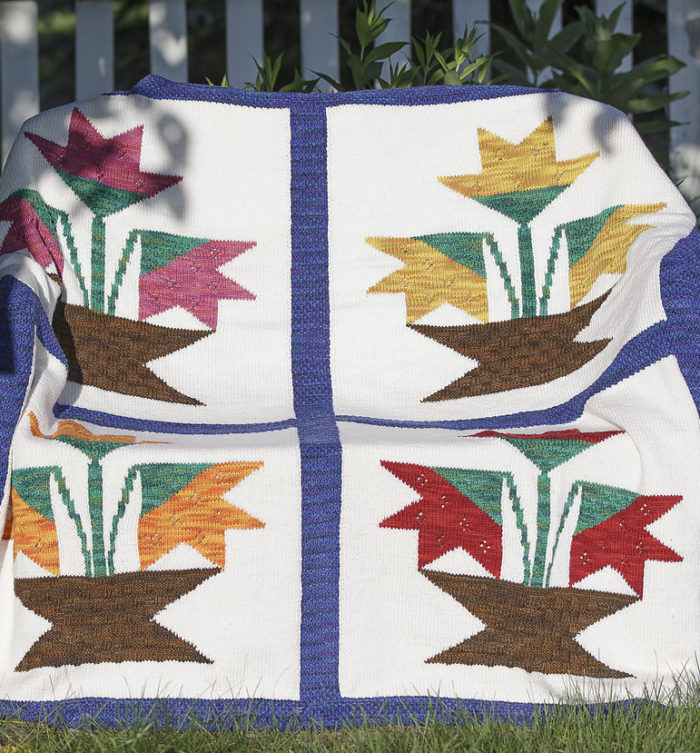 Jan's Garden Afghan
This knit version of the traditional Flower Basket quilt is created with intarsia in tonal yarns and textures to emulate a calico quilt look. Knit with worsted-weight yarn. Finished size is 58″ x 56″. Designed by Suzanne M Ross