Quilt Baby Blanket and Afghan Knitting Patterns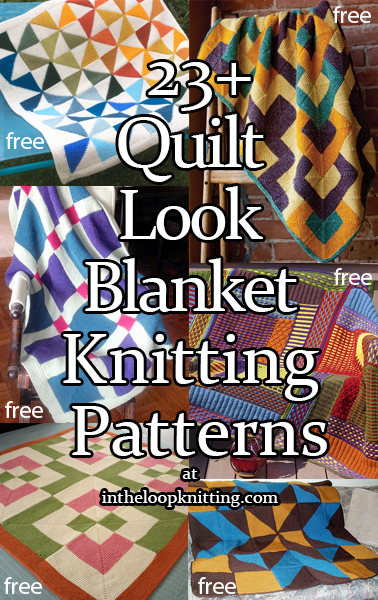 Knitting patterns for afghans modeled after traditional quilt designs.
To get the knitting patterns, scroll down the page to the individual pattern you want and click on the link to that pattern.
These patterns are not my designs but links to other designers who have generously shared their patterns. If you have questions about how to knit a specific pattern, please contact the designer directly.
All links on this site are for informational purposes, but please note that some links are to affiliate sellers that pay me a small commission on purchases.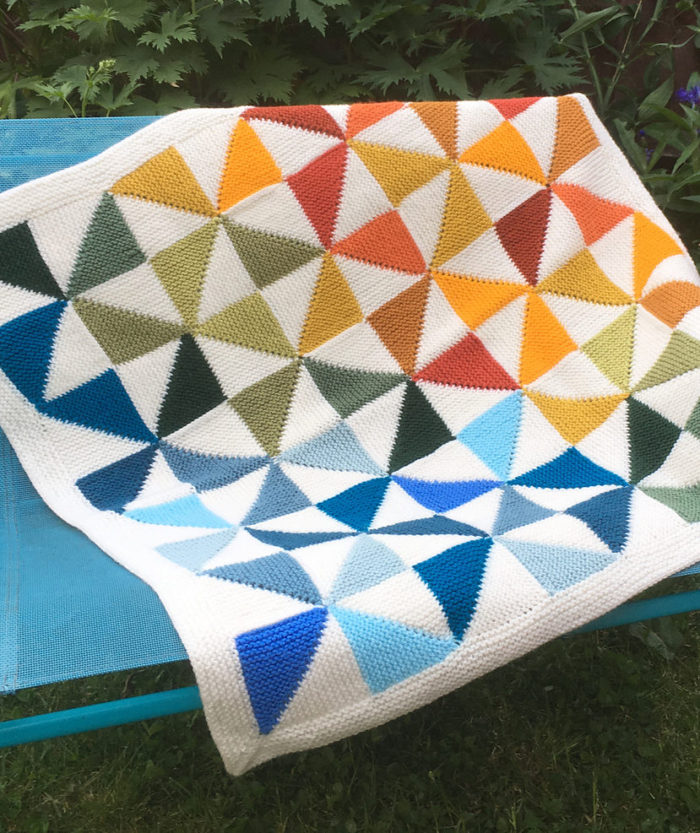 Country Quilt Baby Blanket
Afghan of modular pinwheel blocks inspired by traditional quilt designs. Designed by Caron Design Team. Pictured project by Mootthing who did 4x4 blocks.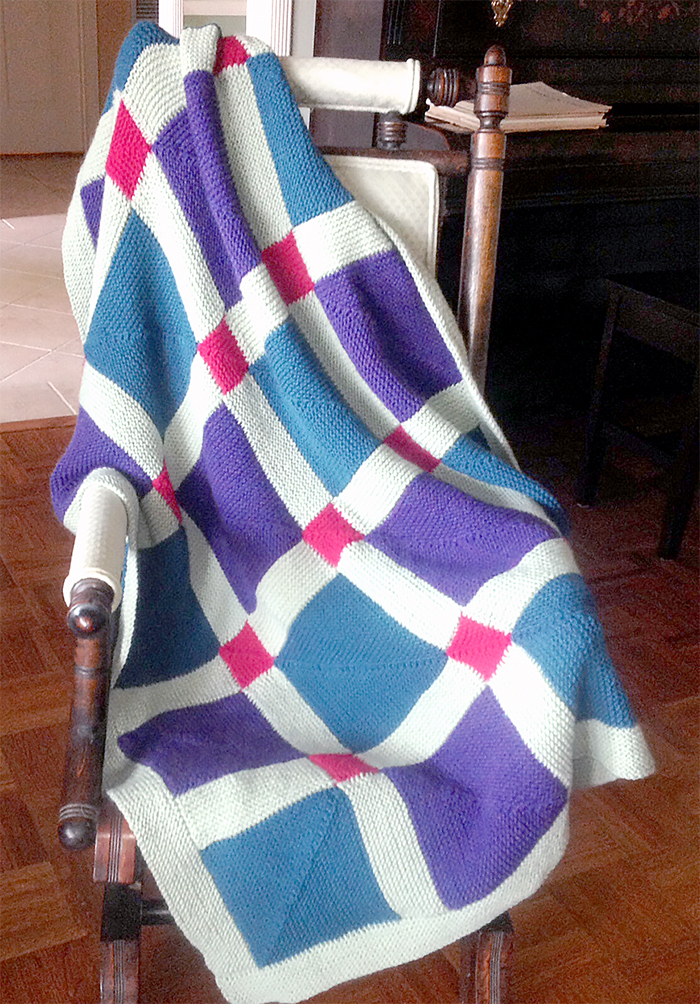 Fenced In Afghan
This blanket is knit in modular pieces in garter stitch. Great opportunity to play with color and use up your stash. Designed by Miriam L. Felton. Pictured project by purldoc who rated the pattern easy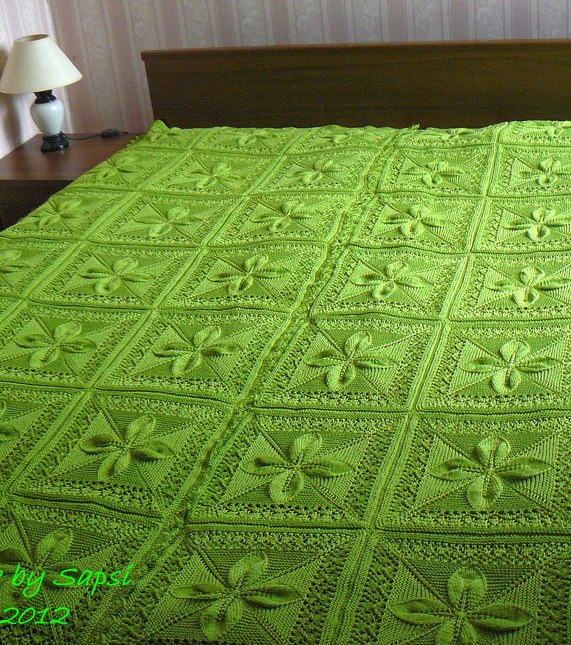 Counterpane Quilt with Leaves
Antique pattern, fully updated by Sarah Bradberry. Great pattern for baby blankets or wedding quilts. Instructions for one square. Pictured project by Sapsi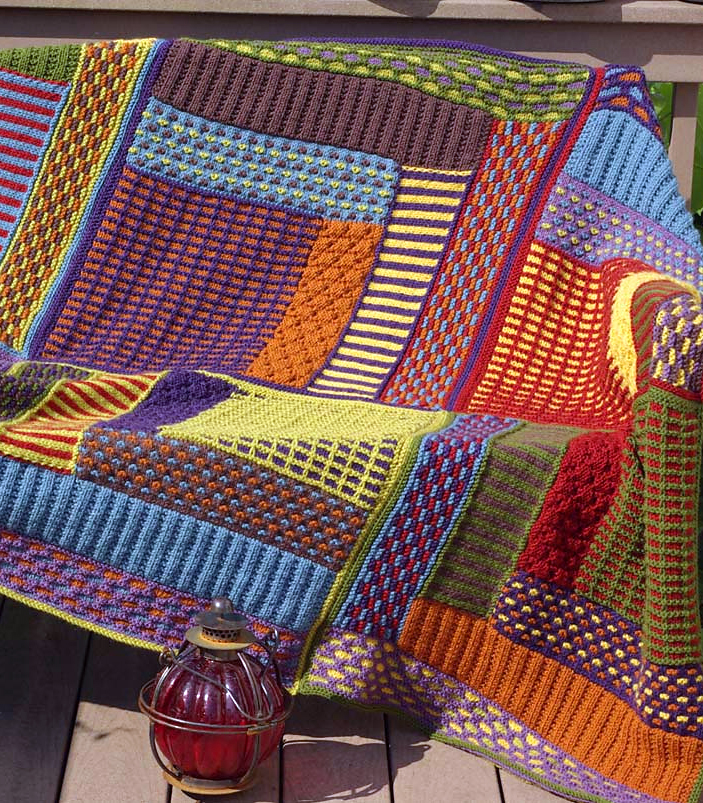 Slip Stitch Sampler Log Cabin Throw
This quilt inspired blanket uses the same log-cabin design 6 times in different color combinations knit with easy slip stitch and mosaic colorwork. 50 x 75 in. (127 x 190.5 cm)  Aran weight. Designed by Irina Poludnenko for Lion Brand Yarn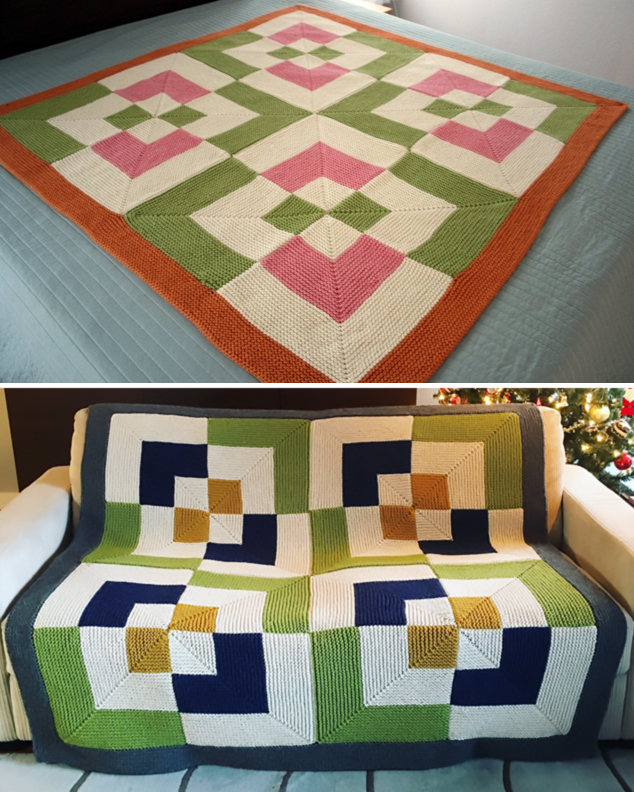 Bento Box Quilt
Modular garter stitch afghan based on the Bento Box quilt block. Includes a coloring page and free video tutorial at the designer's website. Designed by Staci Perry of Very Pink Knits. Pictured projects by the designer and SRWhitcombe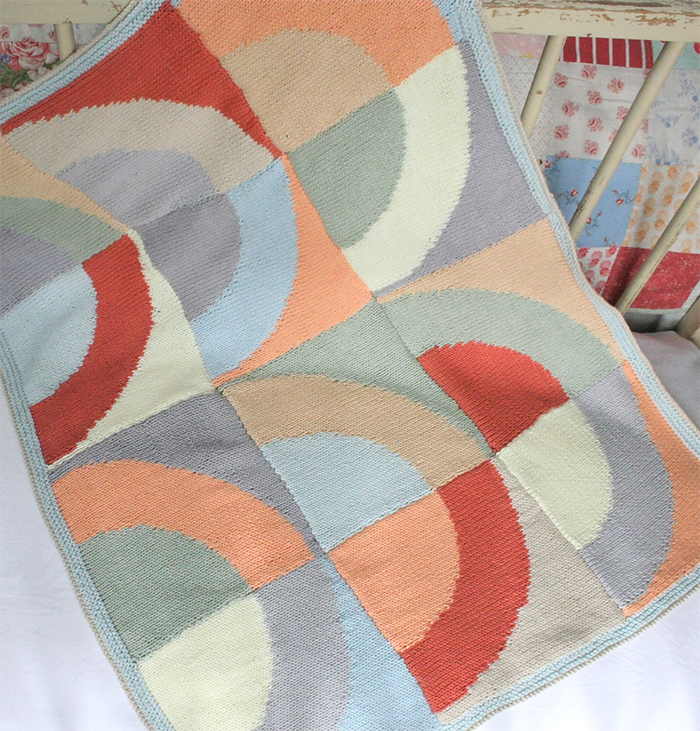 Tiny Dancer Baby Blanket
Blanket created of 12 intarsia squares reminiscent of modern quilt designs.  68cm x 89cm; 27in x 35in. DK weight. Designed by Rosee Woodland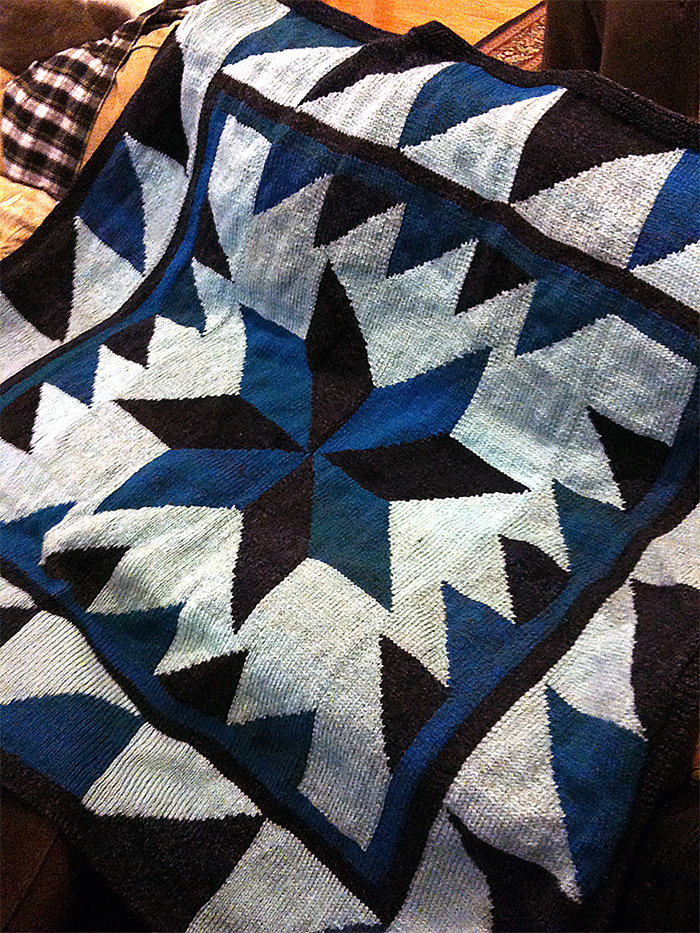 Homespun Pinwheel Afghan
Knit interpretation of the traditional pinwheel quilt with sawtooth borders. Bulky yarn. Designed by Lion Brand Yarn. Pictured project by daurynn who knit the pattern with intarsia instead of pieced squares – check the project notes for more information.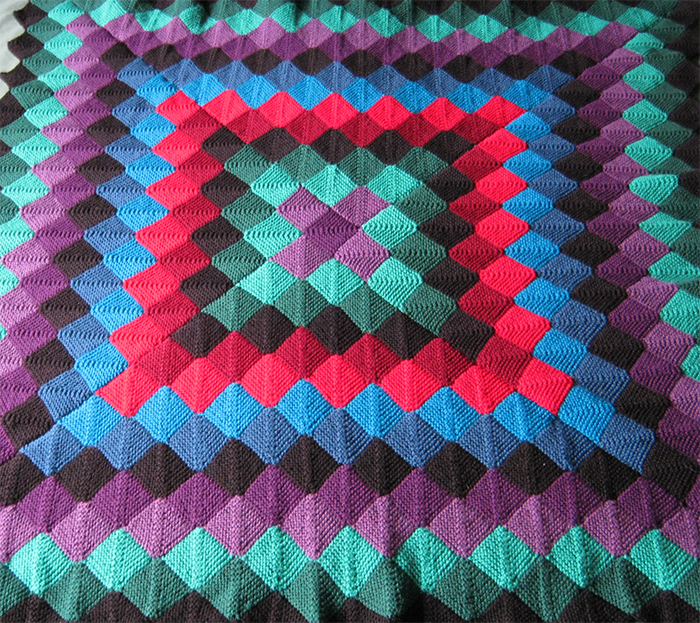 Sunshine and Shadow Throw
Based on the traditional Amish quilt design of the same name, this afghan of mitred squares is a great stashbuster. Designed by Sixties Spirit.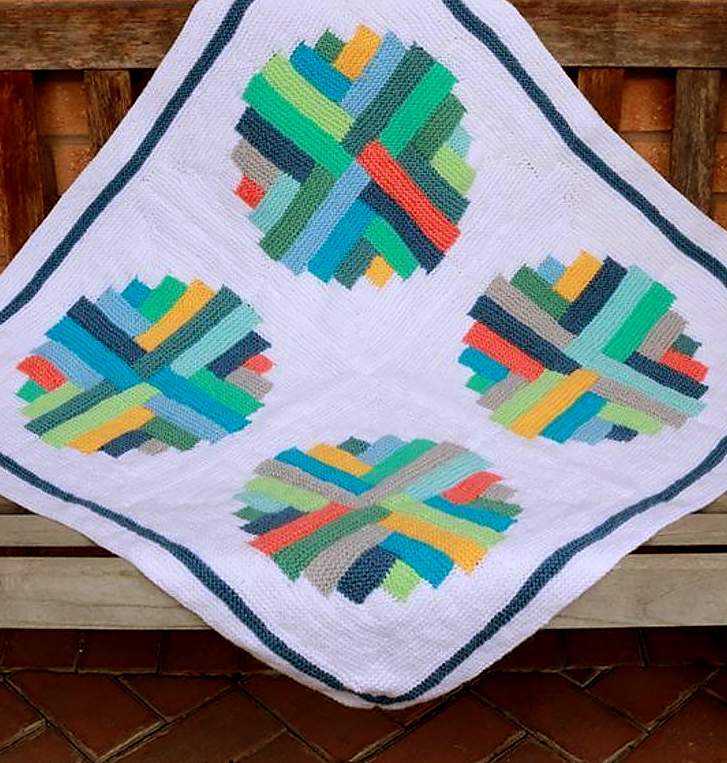 Portholes Log Cabin Quilt
This modular knit blanket is a modern take on a traditional log cabin design. It is knit in squares which are sewn together to give the circular effect. 3 sizes. DK weight yarn. Designed by Julie Taylor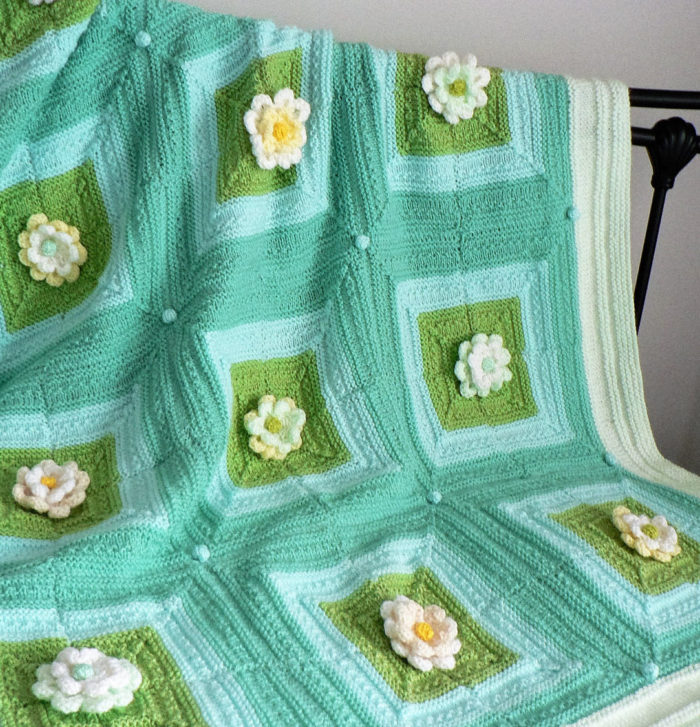 Waterlily Blanket
Patchwork style blanket consisting of 48 individually knitted mitred squares that are stitched together & embellished with separately worked floral motifs. Finished size is 39 ins x 48 ins (99 cms x 122 cms) but can be adapted to larger or smaller sizes. DK weight yarn. Designed by LittleImaginKnits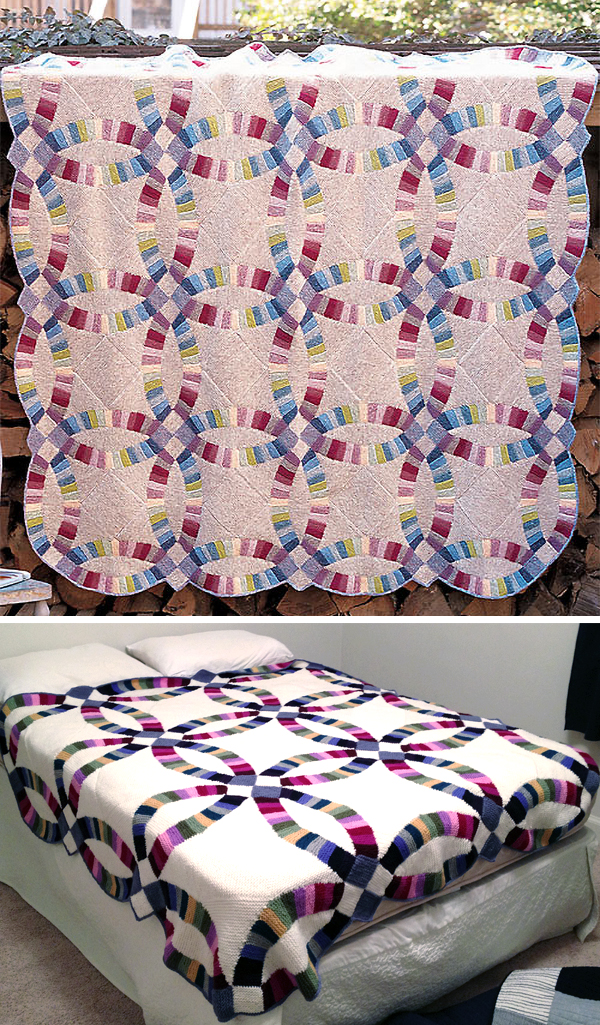 Double Wedding Ring Quilt
Inspired by the classic quilt pattern symbolizes wedding rings, this blanket is easy to knit but requires a bit of sewing. It is composed of numerous small garter-stitch shapes – squares, ovals, and rectangles – that are sewn into sixteen circular (or part-circle) units, which in turn are joined together. Finished size is 58″ (147.5 cm) square. Designed by Sharon O'Brien. Pictured projects by the designer and VirgoKnitter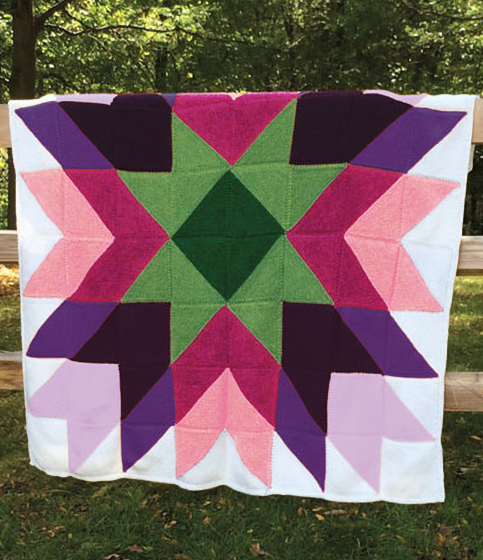 Spring Bouquet Quilt Afghan
Blocks are knit with two colors in garter stitch using simple increases and decreases, then sewn together to form the "quilt." Knit with worsted-weight yarn. Finished size is 54″ square. Rated easy by the designer.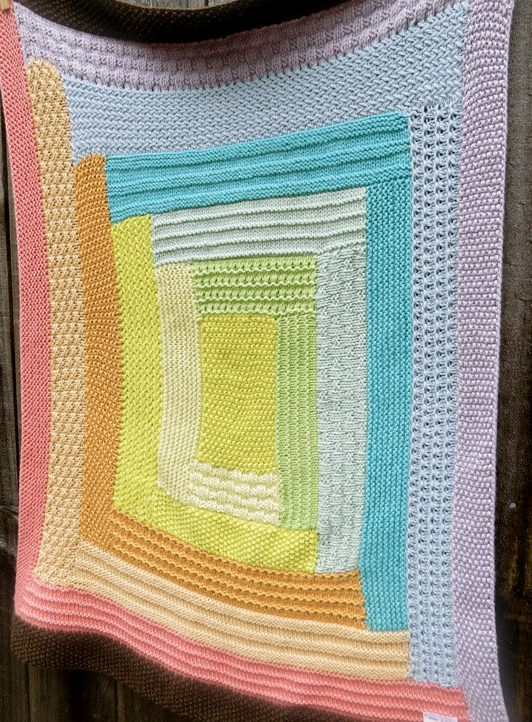 Textured Log Cabin Blanket
Unlike the traditional log cabin, texture replaces color in the Wonky Log Cabin, which uses multiple stitch patterns. Finished size is25″ x 30″. Designed by Susan Barstein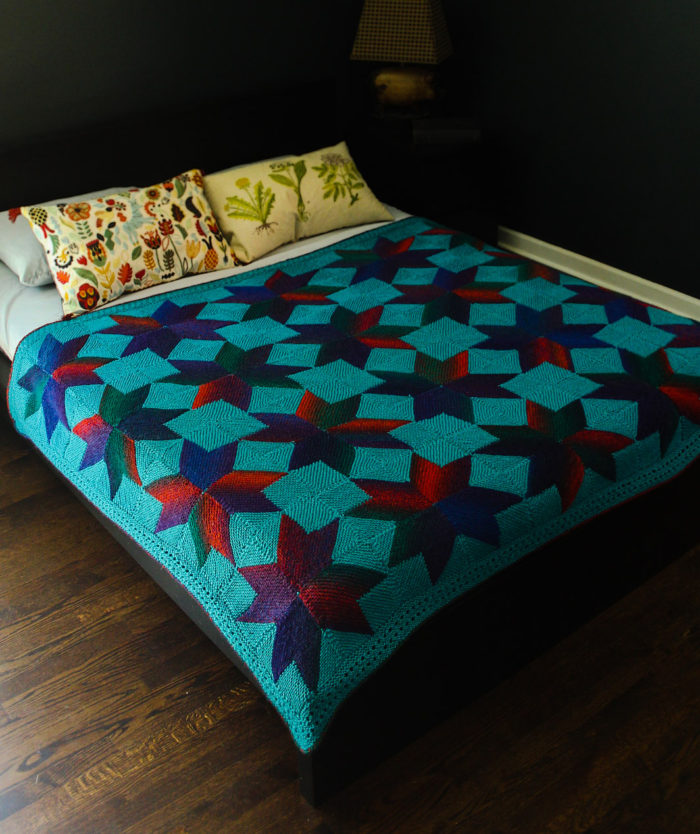 Starshade Afghan
Garter-stitch squares knit on the bias are worked separately and seamed together to create this quilt inspired afghan. Knit with worsted-weight yarn. Finished size is 69 1/2″L x 56 1/2″W.. Designed by Amy Gunderson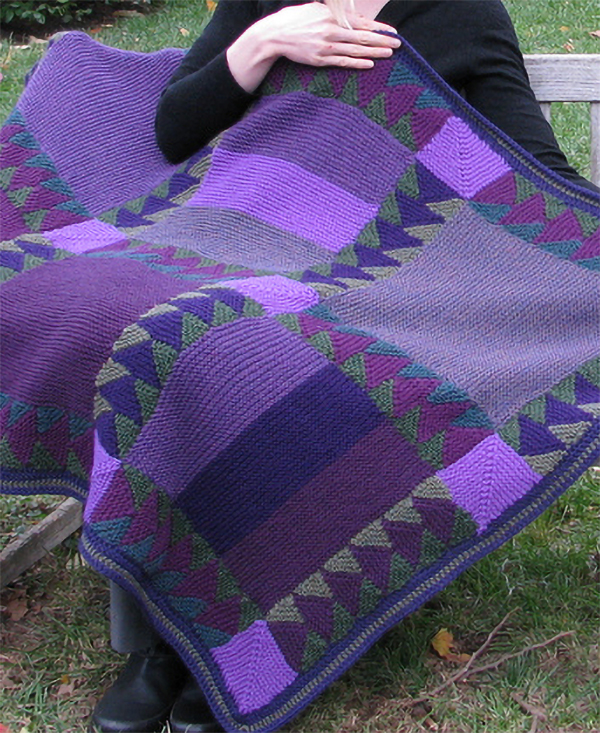 Flying Geese Blanket
This knit version of the traditional quilt is knit with strips of triangles, or 'geese,' which are made separately, so it makes a great portable project. The strips are then joined to squares in a log cabin technique. Designed by Ann Hahn Buechner. Pictured project by annaforsyth. One of the patterns in Mason Dixon Knitting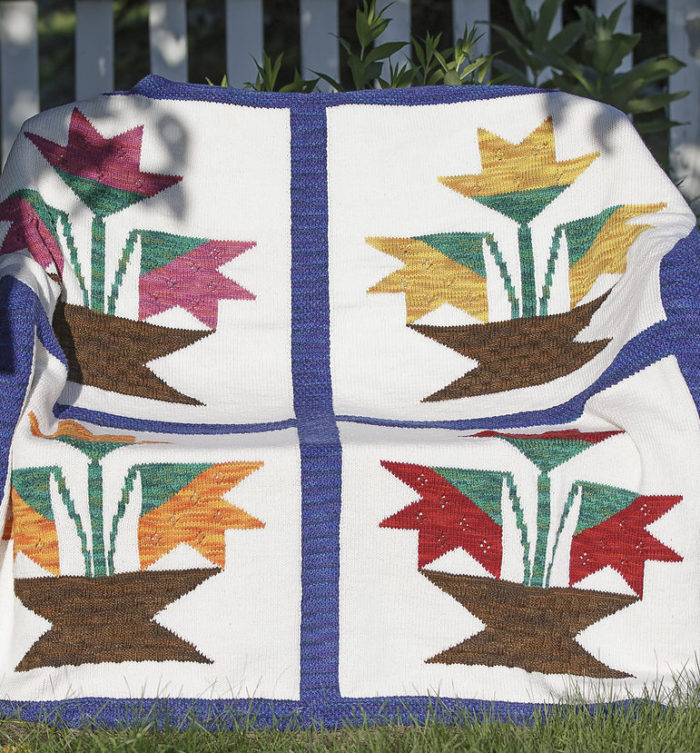 Jan's Garden Afghan
This knit version of the traditional Flower Basket quilt is created with intarsia in tonal yarns and textures to emulate a calico quilt look. Knit with worsted-weight yarn. Finished size is 58″ x 56″. Designed by Suzanne M Ross
Terry Matz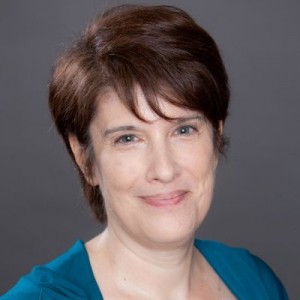 Terry is a knitting late-bloomer, learning to knit as an adult from Internet tutorials, because she wanted a craft that was useful, fun, and portable. Knitting hats for cancer patients inspired her to design her own patterns—available for free at her blog, intheloopknitting.com. Terry met her husband Ken at a science fiction convention and moved to the Kansas City area to be with him more than 30 years ago. Terry supports her yarn stash by creating websites and other digital media. Terry firmly believes in Knitting in Public—it's a great conversation starter!