Romantic, dramatic, cozy, practical! These fingerless mitt patterns are great for keeping hands warm, fashionable, and free for texting! Plus they make unique but quick gifts. Most patterns for free.
To get the knitting patterns, scroll down the page to the individual pattern you want and click on the link to that pattern.
These patterns are not my designs but links to other designers who have generously shared their patterns. If you have questions about how to knit a specific pattern, please contact the designer directly.
All links on this site are for informational purposes, but please note that some links are to affiliate sellers that pay me a small commission on purchases.
Free Patterns

Essential Wristwarmers
Fingerless mitts with an easy cable. The stripes are created with the recommended cake self-striping yarn. Aran yarn. Designed by Paintbox Yarns. Bulky weight yarn.

Garden Of Shadows Mitts
Fingerless mitts featuring a cable embellishment on the top of the hand, and fun seed stitch on the palm. Sizes Juniors, S, M. Fingering yarn. Designed by Dragon Hoard Designs.

Garter Cable Wristlets
Fingerless mitts knit flat from side to side in garter stitch and cables at wrist and fingers. Sizes Adult S/M (L). Sport yarn. Designed by Amy Loberg for Classic Elite Yarns. Pictured projects by the designer and SanDiegoJane

Cloudburst Fingerless Mitts
Lace fingerless mitts. Fingering yarn. Designed by Arienne Grey.

Flower Fingerless Mitts
These Silver Brunia fingerless gloves feature a flowering plant with bobble blossoms, lace leaves, and twisted stitch roots. DK yarn. Designed by Ieva Šimkutė-Pilelė. Pictured projects by the designer and sketeryte

Lush Fingerless Mitts
Knit with a 4 round repeat cable and lace center panel in the round. Aran yarn. Designed by Susan Mills for Classic Elite Yarns.

Honeycomb Cable Fingerless Mitts
These mitts feature an easy cable pattern on the back. Designed by Laura Eccleston

Felicity Mitts
These fingerless gloves feature a lace-trimmed cuff, eyelet detailing, and I-cord edging at palm and thumb. Add buttons or I-cord laces at the cuffs for extra style. Three sizes. Uses 200 – 250 yards of the recommended yarn. Designed by Cloud House Studio

Lambing Mitts
These fingerless gloves feature a cuff that can be unfolded to keep your fingers warm. Designed by Veronika Jobe

Modern Sophisticated Glovelets
These fingerless gloves feature a fashionable button closure and eyelet bands. Designed by Nazanin S. Fard

Bronte's Mitts
These lace fingerless mitts feature picot edges. Designed by Diane Mulholland. Pictured project by knitteria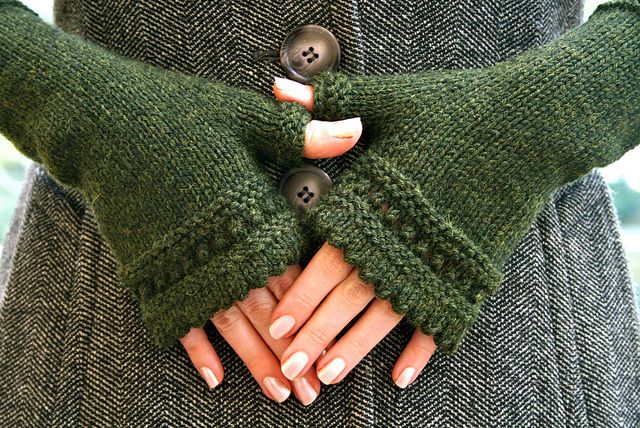 Susie's Reading Mitts
Fingerless gloves with eyelet detail designed by Susie Rogers make a very romantic look. Pictured project by Helen at Pointy Point Sticks
Get the recommended yarn at Etsy

Spatterdash Wristwarmers
Designed by Dagmar Mora, these fingerless mitts are knit flat and wrapped around the hand to imitate spats. The feather and fan lace gives a lovely texture that showcases variegated yarn well, yet also works well with solid yarn. This is a lovely and versatile pattern that is only limited by your imagination — try your prettiest yarn and buttons! Sizes: Women's S[M, L]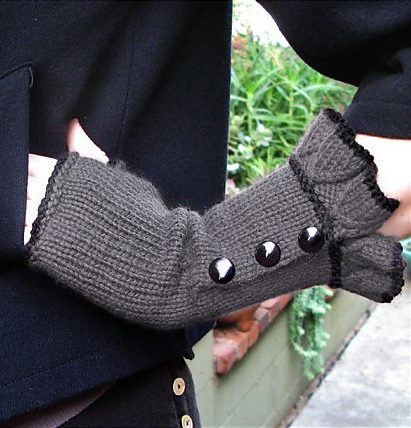 Belle Ruffle Gloves
Designed by Veronica O'Neil, these fingerless gloves combine romance and drama with ruffles, contrasting trim, and buttons. Sizes: Women's S[M, L]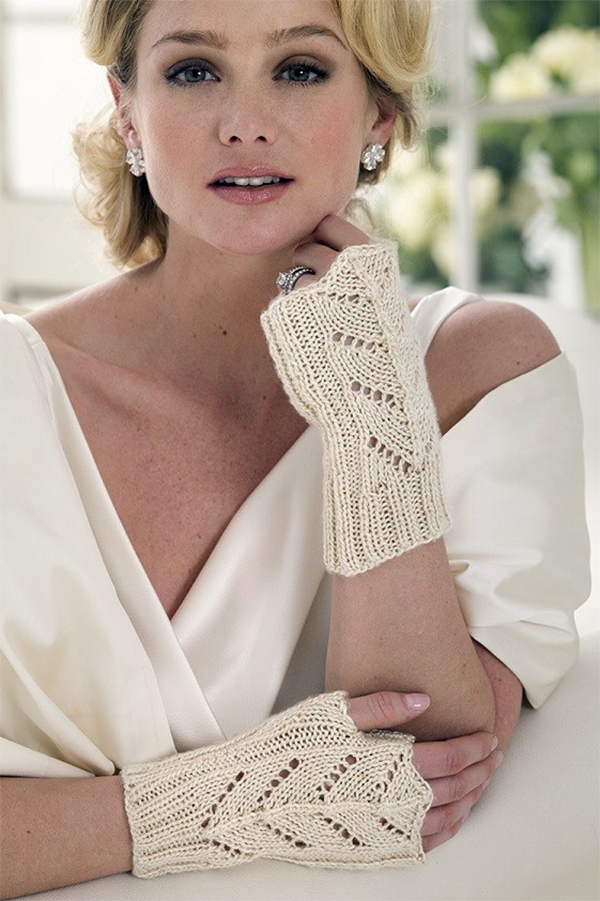 Wedding Belle Lace Gloves
Designed by Cathy MacGuire
Get the free knitting pattern for registration at Lion Brand's site
See more Wedding and Bridal Knitting Patterns

Pieces of Eight Mitts
The miracle of this design by Knitting and So On is that these fingerless gloves are knitted in one piece (no yarn cutting involved) beginning at the thumb. The "Eight"-Shape is achieved by increasing in the first part of a row, and decreasing in the second part.

Nereid Fingerless Gloves
Pattern by Denise Sutherland based on a chart originally designed for socks. Pictured project by knotaknitwit

Double Helix Mitts
Designed by Sybil R, these fingerless gloves are knit by winding strips of knitting and joining as you knit. Great for keeping your hands warm fashionably while you text or pin. They also are a great way to use leftover oddball yarn. Great for multi-colored yarn.
Download the free knitting pattern

Knucks
It's difficult to type this when I'm laughing so hard! Instead of tatooing your knuckles, try this pattern by Pamela Grossman for fingerless gloves and embroider your favorite eight letters on the knuckles. Knit from the knuckles up.
Get the recommended yarn at Etsy

Swirling Gauntlets
These gauntlets designed by Susanna IC are simple and quick. The swirls are formed by cables and the cable pattern is easy enough for the beginner. The length of the mitts can be extended and many of the projects have made longer mitts. Pictured project by zuzusus

Rye / Ruista
The clever design element of the tab and button turn these easy stockinette mitts into stylish ruched accessories. You couldn't find an easier way to be fashionable than this pattern designed by Hanne Katajamäki. Scroll down the pattern page for the English language pattern.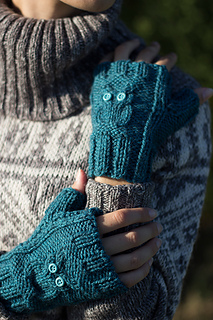 Owl Fingerless Gloves
A special cable pattern with tiny buttons forms an owl motif.
See more Owl Knitting Patterns

Endpaper Mitts
These reversible mitts by Eunny Jang are perfect for highly contrasting yarns and a great project for beginneers in colorwork.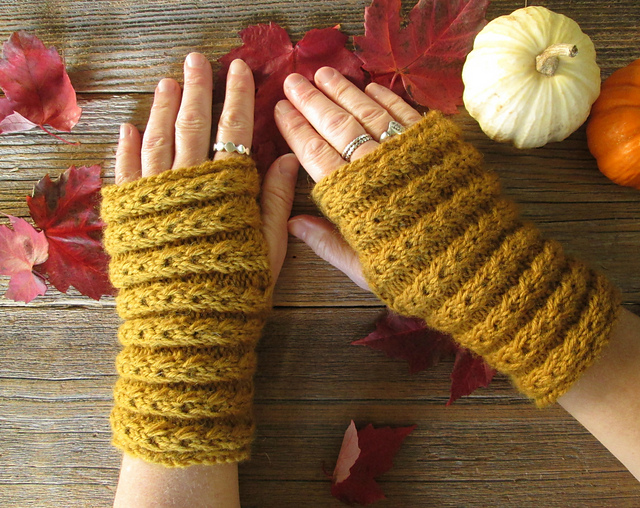 Donalda Gilchrist Samhain Mitts
Designer Polly Foo Foo was inspired by characters in a beloved historical fantasy series.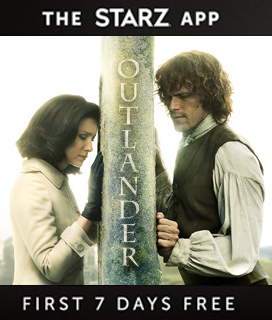 Musica Fingerless Gloves
Anne Neumann designed these wristwarmers so musicians could keepy their hands warm while playing but they are great for music lovers too! Pictured project by Sarajewel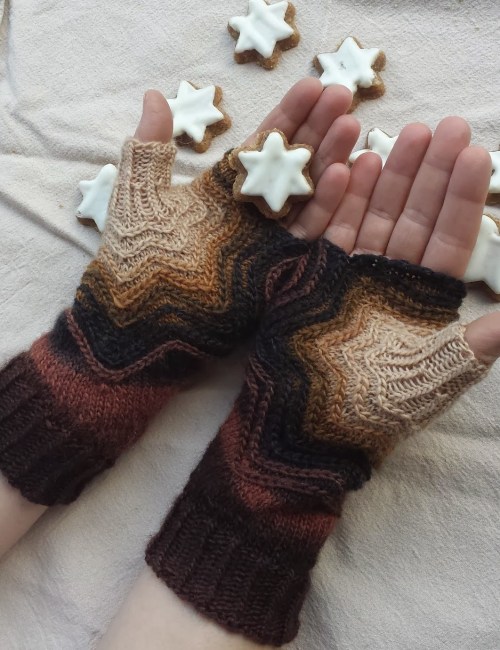 Cinnamon Star Fingerless Mitts
The designer Knitting and So On named these fingerless mitts after a favorite Christmas cookie, Zimstern –which means Cinnamon Star. The techniques used include hexagon and circle mitt knitting and surface crochet or slip stitch.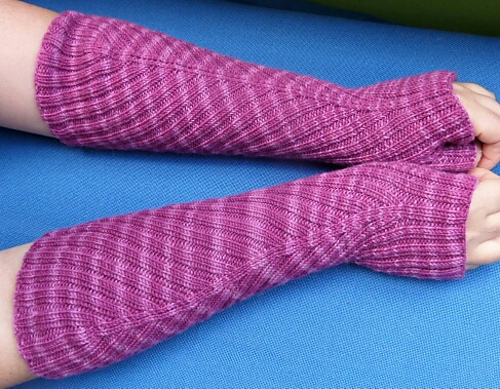 Marywarmers
These armwarmers designed by Lisa Reeve have a radiating ribbed pattern that works well with variegated or self-striping yarn. (Also looks great in solids!) Pictured project by Kampfhamster112

Mixed Waves Fingerless Mitts
Pattern by Knitting and So On creates elegant gloves from short row sections interspersed with garter stitch rows of a different color.
Get the free pattern at Ravelry
Patterns for Purchase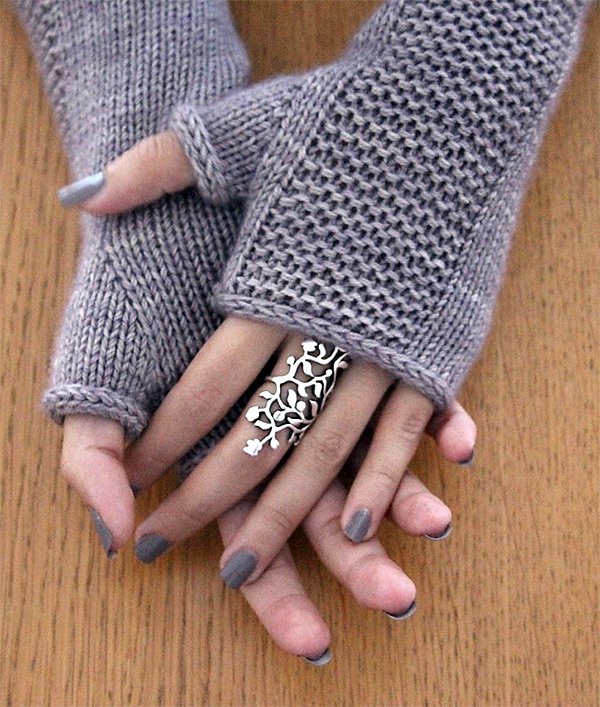 Heaven Mitts
Fingerless mitts in sizes S-M-L. Sport weight yarn. Designed by Julie Partie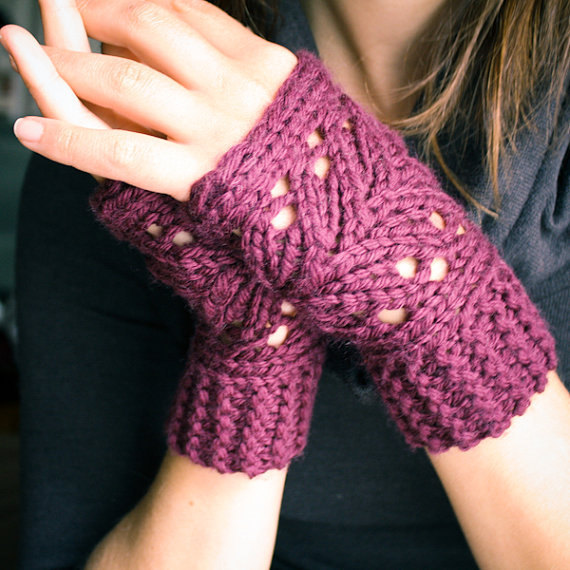 Lacefield Fingerless Mitts
Knit flat with chunky wool and easy to remember lace pattern, this is a quick but lovely pattern.
Get the knitting pattern at Etsy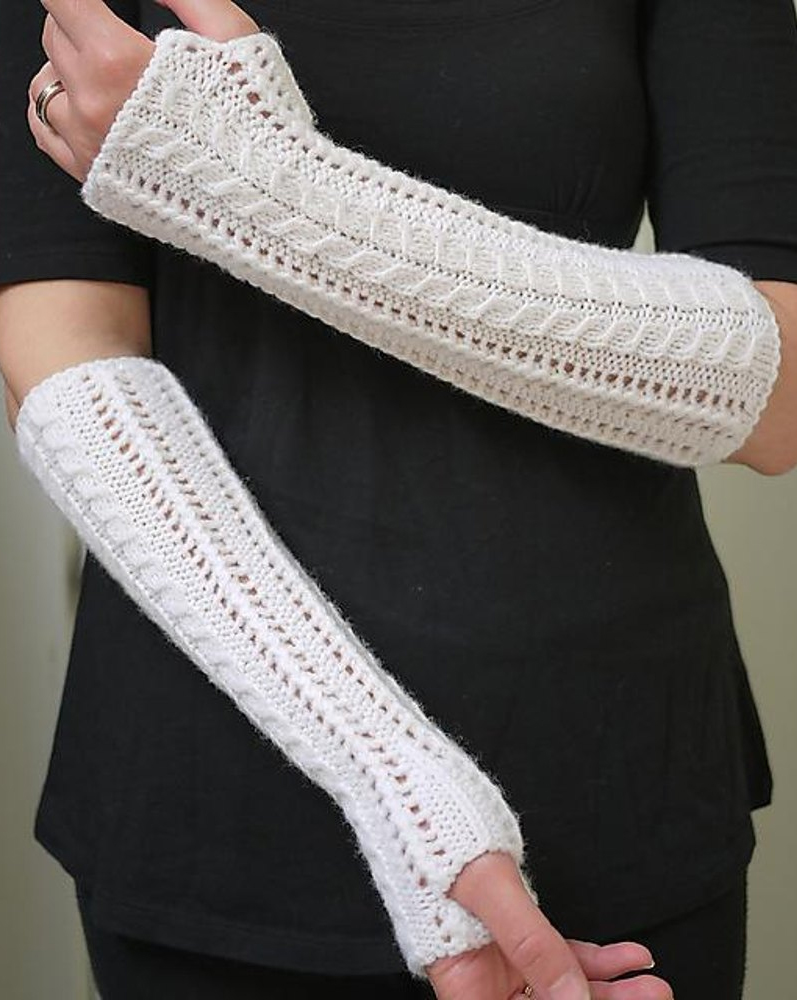 Lace Fingerless Gloves
These elegant gloves only use one ball of worsted weight yarn.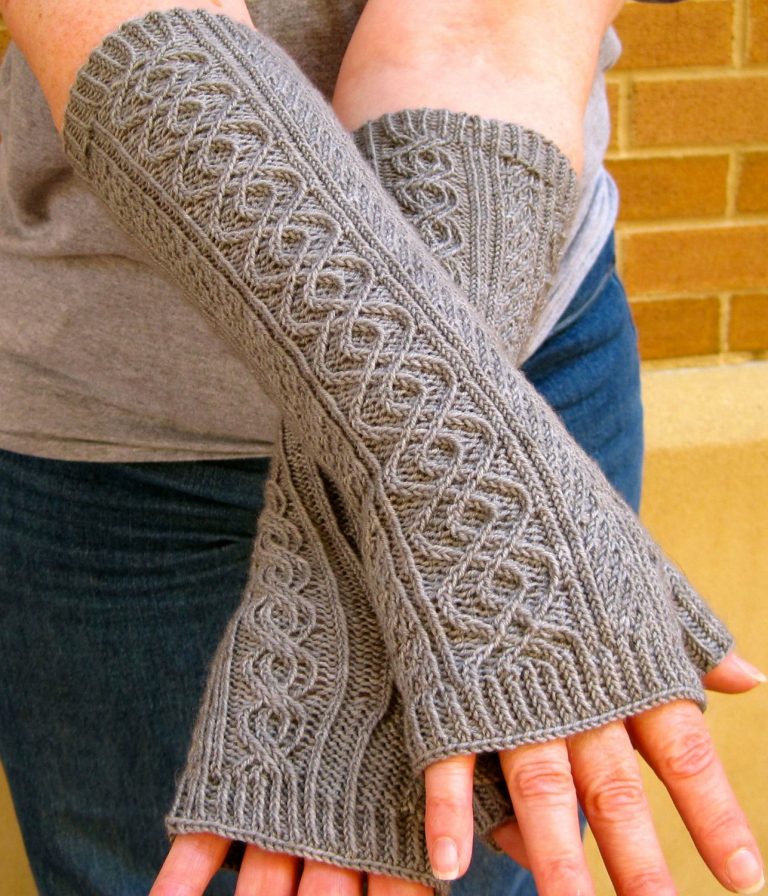 Totally Cabled Fingerless Gloves
These fingerless mitts feature two distinct cables, as well as one twisted stitch. Instructions are written out and charted.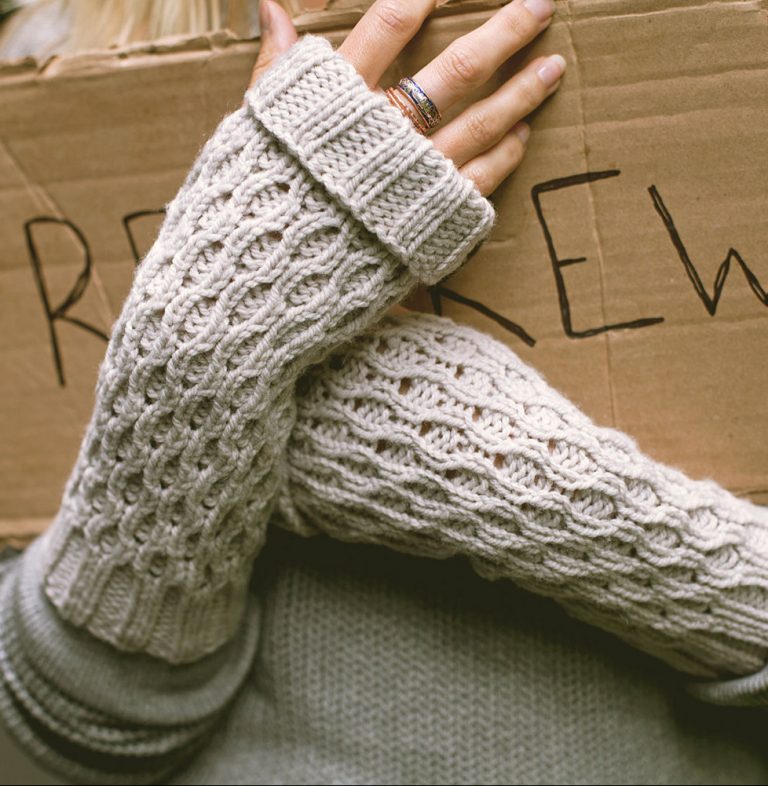 Spate Fingerless Mitts
Jane Richmond designed these armwarmers that feature an all-over raindrop pattern that looks like cables but requires no cable needle. Spate features a fold-able cuff that can be worn flipped over your fingers to keep them warm on those blustery days. They are knit in the round which is the only complication.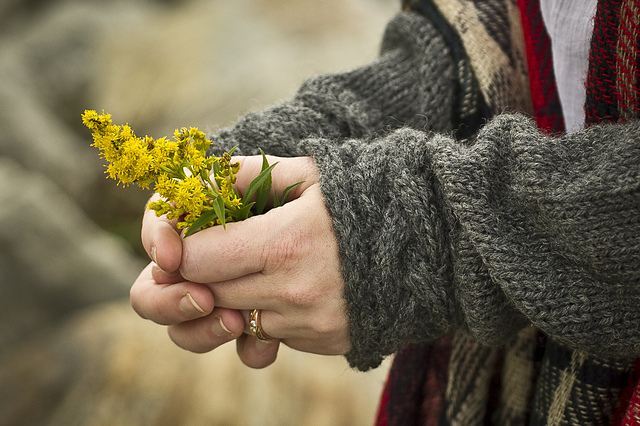 Apothecary Cuffs
No longer free. Designed by Carolyn Macpherson, after cuffs that Claire might use to keep warm in gathering medicinal plants.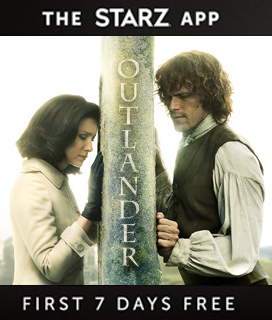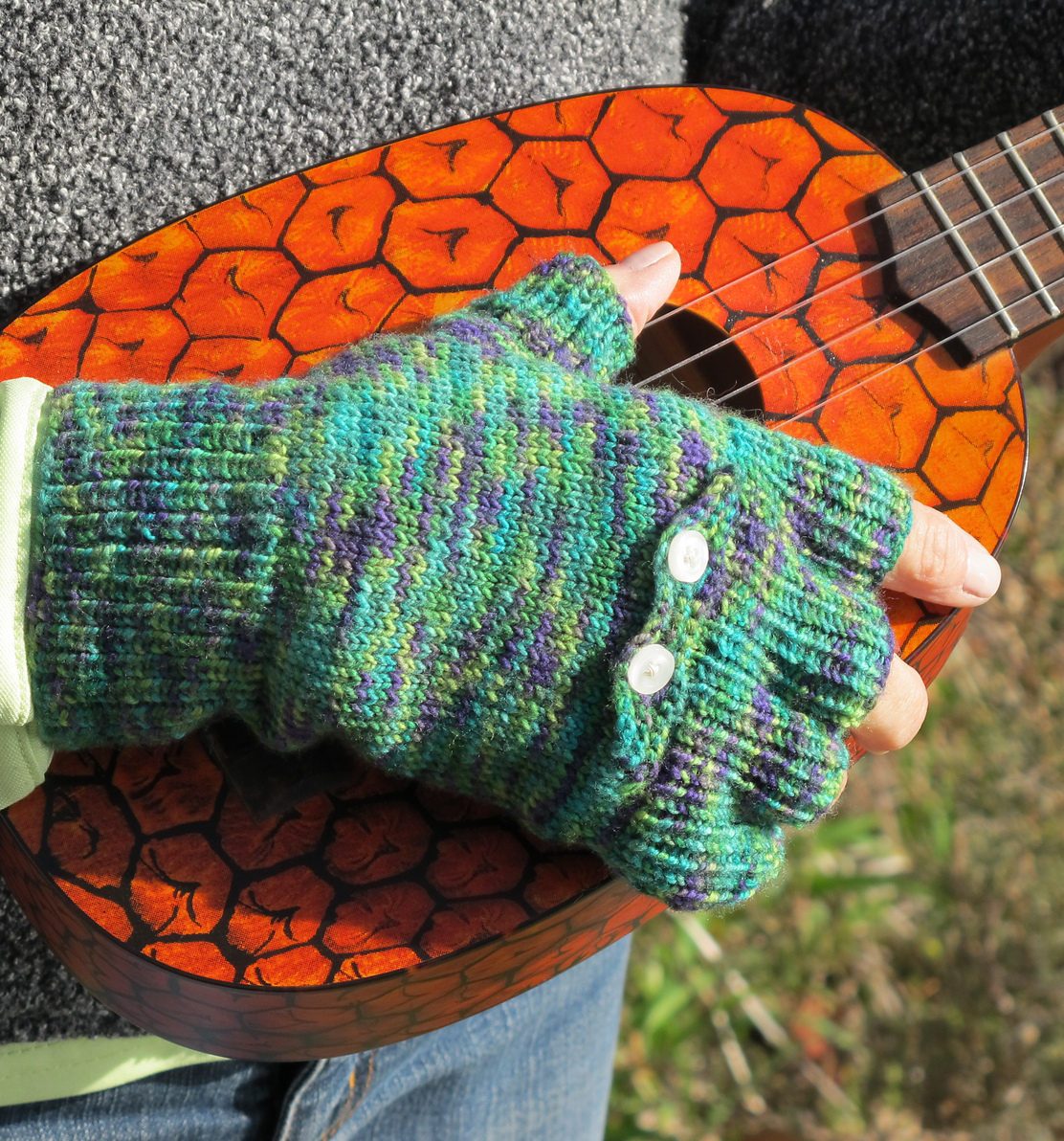 Fingerless Gloves With Pockets
These handwarmers feature an inside pocket on the top closed with two buttons that's perfect for key, change, parking passes, and other essentials.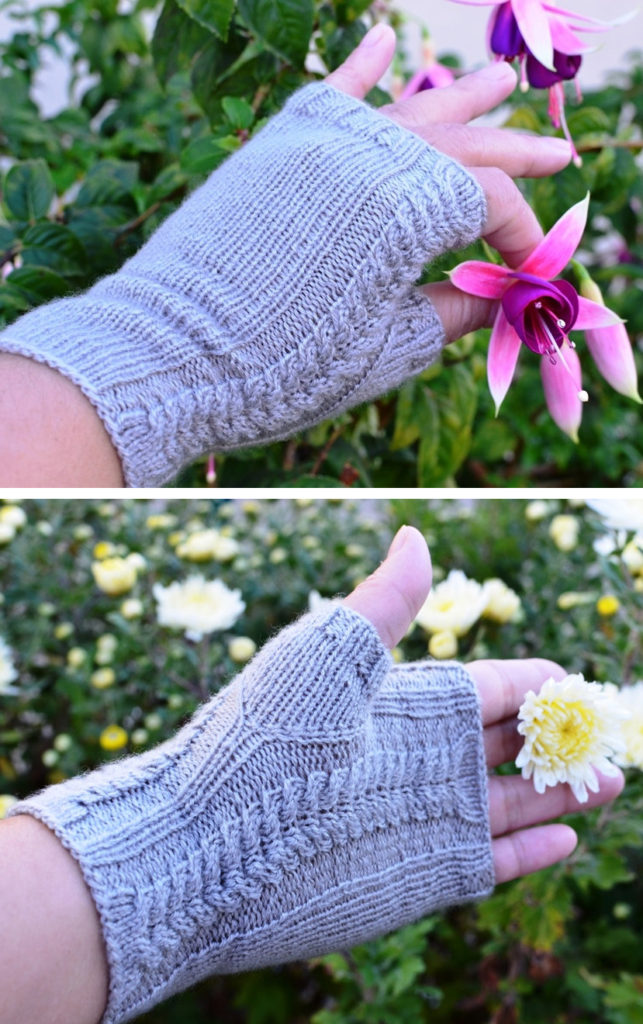 Cables Fingerless Mitts
Knit in the round. Size: Small to Medium, Large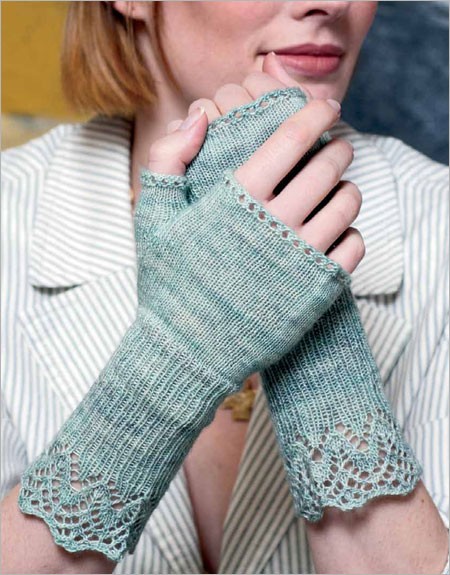 Pianissimo Mitts
Designed by Becky Herrick, these mitts feature a frothy, lacy cuff flows organically into ribbing and then stockinette stitch before finishing in a row of clean eyelets.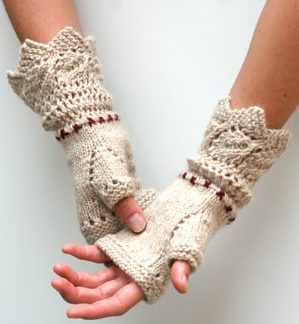 Prairie Fingerless Gloves
These dainty hand warmers boast gorgeous lacy cuffs in a delicate leaf pattern.
Get the knitting pattern at Etsy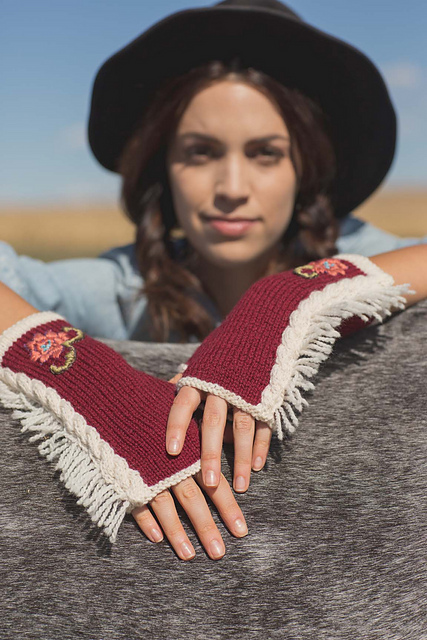 Loretta Mitts
Brenda K. B. Anderson designed fingerless handwarmers worked flat get a little bit of flair from an easy cable pattern, a bit of fringe, and customizable, easy embroidery.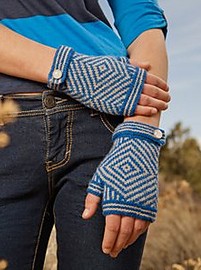 God's Eye Mitts
Stranded colorwork makes off-centered God's eye motifs on the back of the hand and palm. Button the cuff and you have a snug, warm accessory.