Japan Inspired Knitting Patterns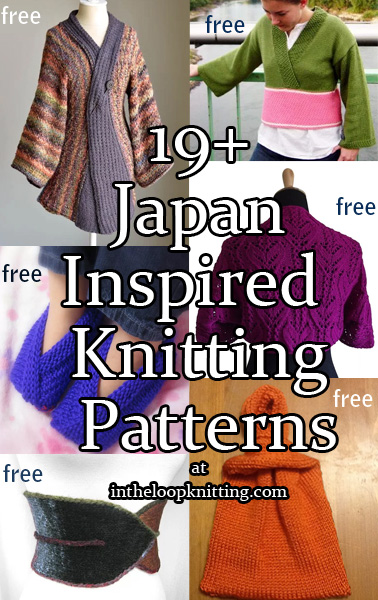 Knitting patterns inspired by Japanese style including kimonos, sashes, knot bags. Most patterns are free.
To get the knitting patterns, scroll down the page to the individual pattern you want and click on the link to that pattern.
These patterns are not my designs but links to other designers who have generously shared their patterns. If you have questions about how to knit a specific pattern, please contact the designer directly.
All links on this site are for informational purposes, but please note that some links are to affiliate sellers that pay me a small commission on purchases.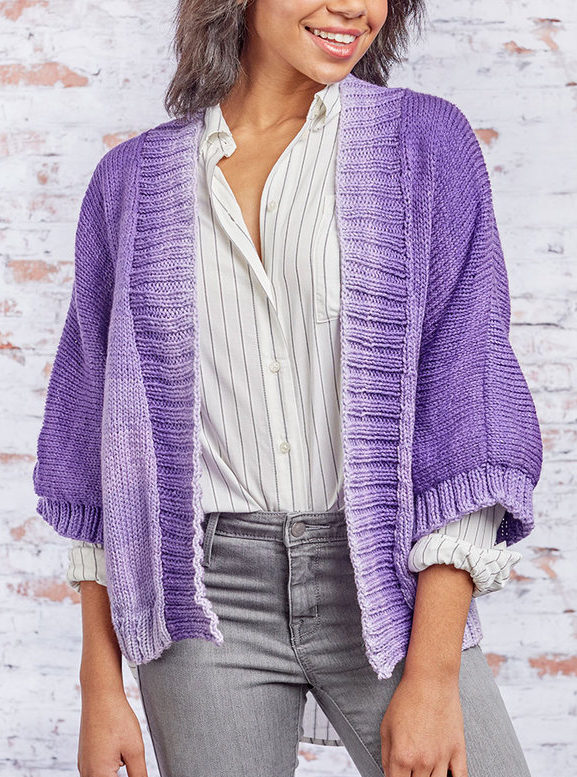 Kimono Style Jacket
This cardigan inspired by Japanese style is rated easy by the designer though it does include picking up stitches. Sizes from XS to XL. Designed by Sara Louise Harper for Red Heart
[widget id="black-studio-tinymce-17″]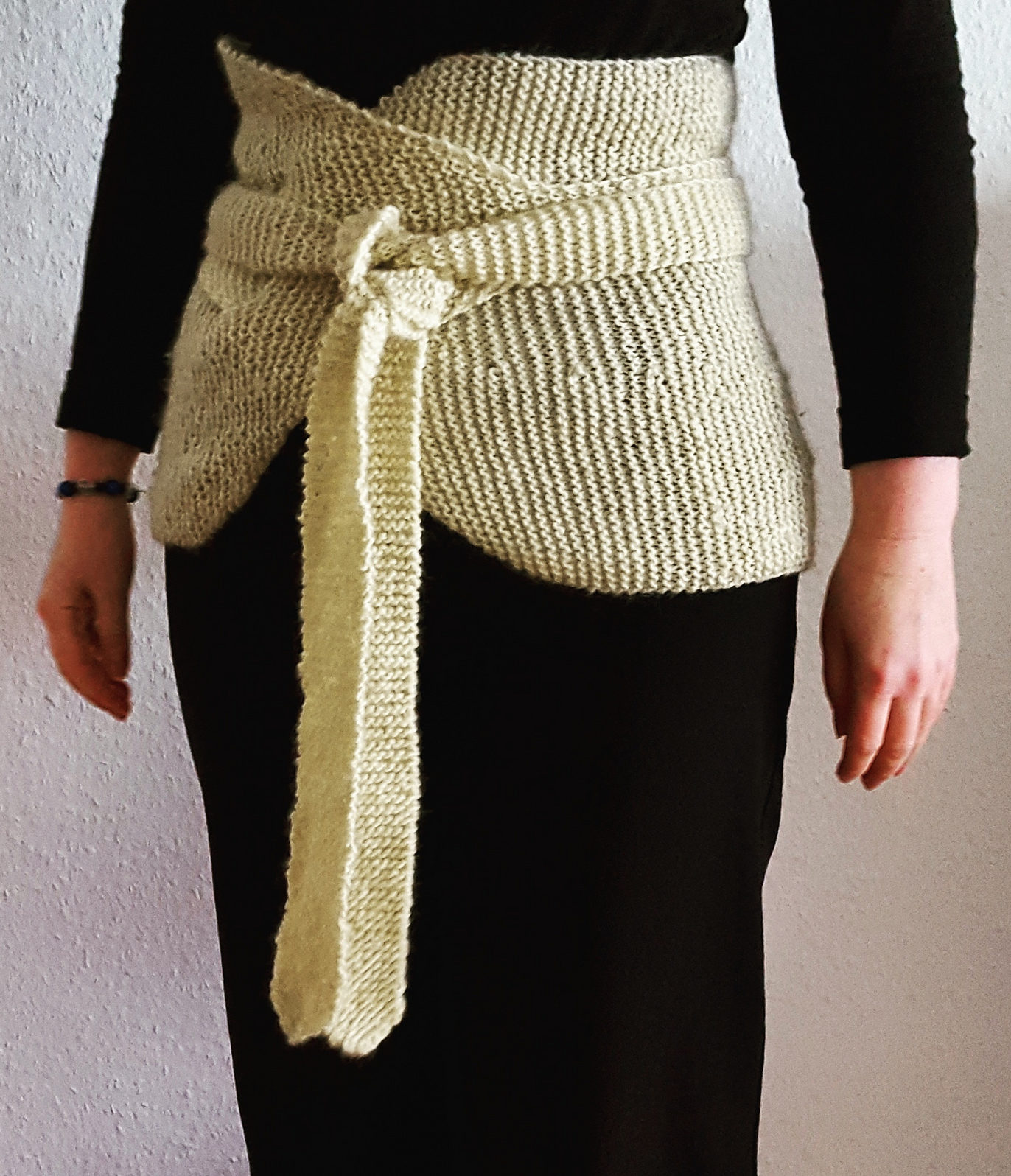 Garter Stitch Haramaki
Haramaki (腹巻, literally "belly wrap" or "bellyband" in Japanese) are designed to keep your middle warm and stylish. This haramaki has straps, too, so that it can be wrapped around your body and bound in front. It is knitted flat and all in garter stitch. Designed by Sybil R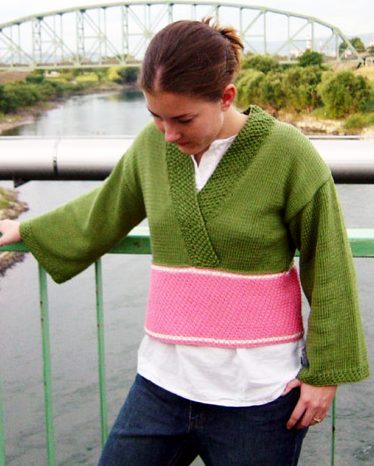 Kyoto
Karen Stockton was inspired by the Japanese summer festival kimono, the Yukata, to create this pullover sweater with built in seed stitch sash.
Sanpoku
The brilliant Norah Gaughan was inspired by Japanese style to create this wrapped cardigan for Berroco. The recommended yarn is my current favorite Berroco Modern Cotton which has lovely drape and stitch definition and is so comfortable.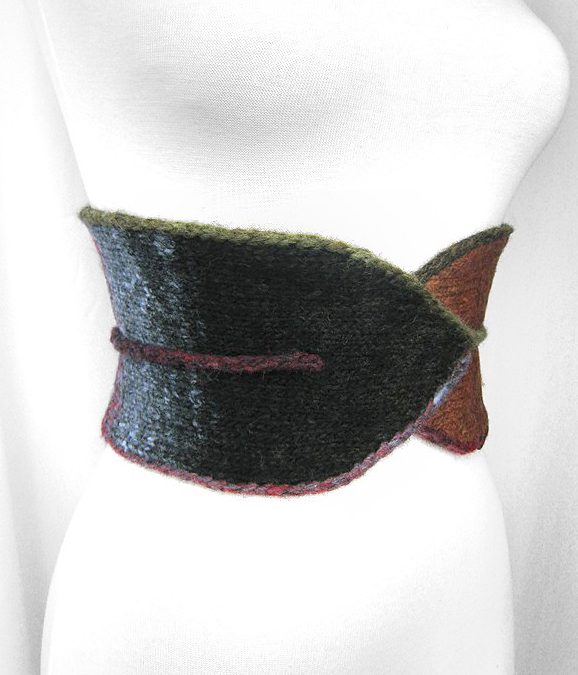 Norobi
Veronica O'Neil designed this 6 inch wide belt that can be wrapped in front or back.
Japanese Alternating Leaf Stems Shrug
Designed by Pamela Young with a Japanese lace stitch pattern.
Nordic Kimono
Sweet little kimono with lovely flower and butterfly embroidery is a stylish gift for girls aged 2 – 6 years. Designed by Yarnspirations.
Pinwheel Purse
The amazing Frankie Brown based this purse on a traditional origami design. Measuring square, this purse opens up when you pull the top apart and then snaps back closed when you let it go.

Openwork Kimono Cardigan
Want! Knitting pattern for Openwork Kimono cardigan sweater jacket with shorter kimono sleeves.

Origami Cardi
From the amazing Norah Gaughan, a wrap cardigan with Japanese inspiration constructed of simple square shapes sewn together in raglan fashion. Sizes 33 ½ (38 ½, 44, 48 ½)" bust circumference.
Viften / The Fan
Marianne Isager designed this cardigan with lace and construction inspired by Japanese fans. One of 12 patterns in her e-book Japanese Inspired Knits.

Haiku Knits
Author Tanya Alpert, a knitwear designer and fiber artist, presents 25 simple, modern garments and accessories inspired by Japanese design.

Rhythm Kimono
Self-striping yarn adds style to this kimono style cardigan. Finished bust is 40 1/2 (44)".

Kimono Wrap Cardigan with Sash
Knit in pieces and seamed, the Kimono Wrap pattern features set-in, belled sleeves, turned hems, a wraparound collar, and a linen stitch sash. SIZES Women's XS (S, M, L, XL, 2XL, 3XL)
Terry Matz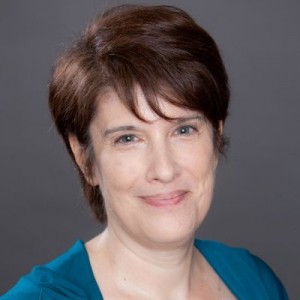 Terry is a knitting late-bloomer, learning to knit as an adult from Internet tutorials, because she wanted a craft that was useful, fun, and portable. Knitting hats for cancer patients inspired her to design her own patterns—available for free at her blog, intheloopknitting.com. Terry met her husband Ken at a science fiction convention and moved to the Kansas City area to be with him more than 30 years ago. Terry supports her yarn stash by creating websites and other digital media. Terry firmly believes in Knitting in Public—it's a great conversation starter!