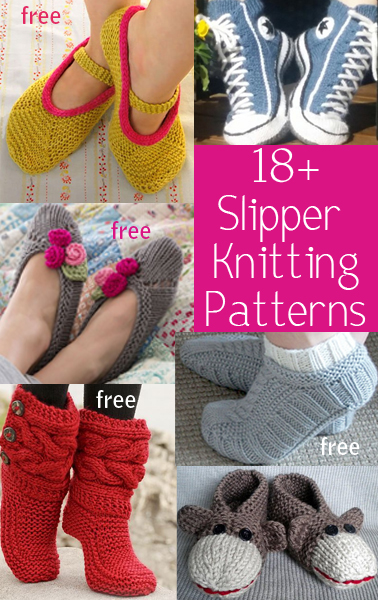 Below are knitting patterns for all types of slippers for women and men, including ballet-style, mary janes, boot style, slipper socks, and even sneaker slippers, sock monkey slippers and more. These make great gifts because they are quick for you to knit and stylish and comfy to wear. But be sure to make a pair for yourself!
Free Knitting Patterns
Patterns for Purchase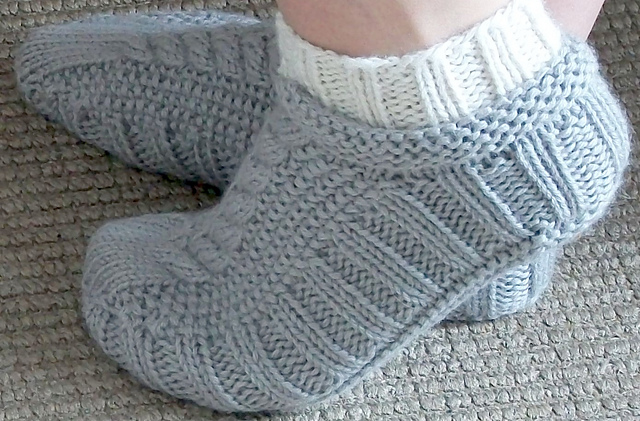 Cabled Cozies Slippers
Designed by Stacey Gerbman for Galler Yarns, these aptly named slippers are knit in the round with cable, moss stitch, and ribbing. Women U.S. sizes 6-10. (These slippers are stretchy and will fit a variety of lengths and widths.)
Simple Garter Stitch Slippers
Hanna Leväniemi designed these easy slippers knit flat in simple garter stitch and seamed with neat crocheted finishing.
Non-Felted Slippers
Designed by Yuko Nakamura, these seamed slippers knit up fast in super bulky yarn.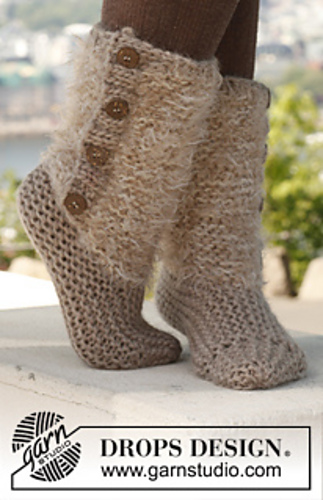 Moscow Slipper Boots
Designed by Drops Design. Size: US: 5/6½ – 7½/9 – 9½/10½ ; EU: 35/37 – 38/40 – 41/43 ; Foot length: 22-24-27 cm / 8¾"-9½"-10½"
Get the recommended yarn for slipper section at Etsy: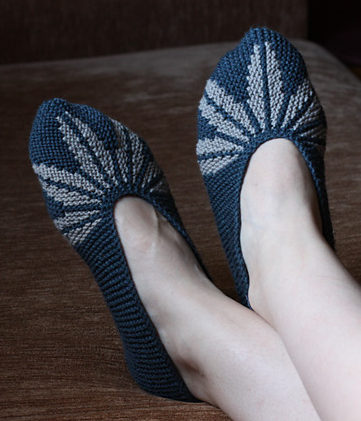 Leaf Motif Slippers
Scroll down on the pattern page for the English language version.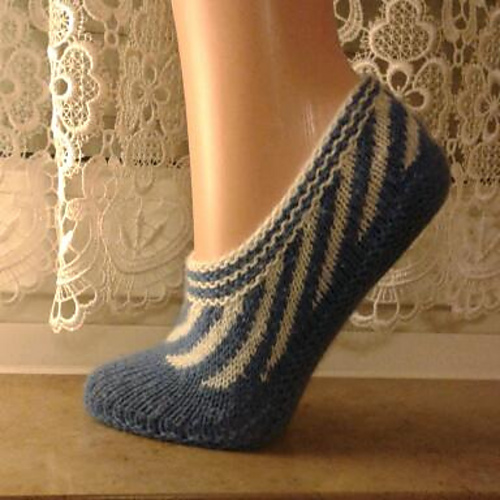 Swirly Slippers
Simple slippers with many options designed by Rahymah. Sizes – Europe: 38-43 (USA w: 7.5-10.5, USA m: 6-9, UK w: 5-8, UK m: 5.5-8.5)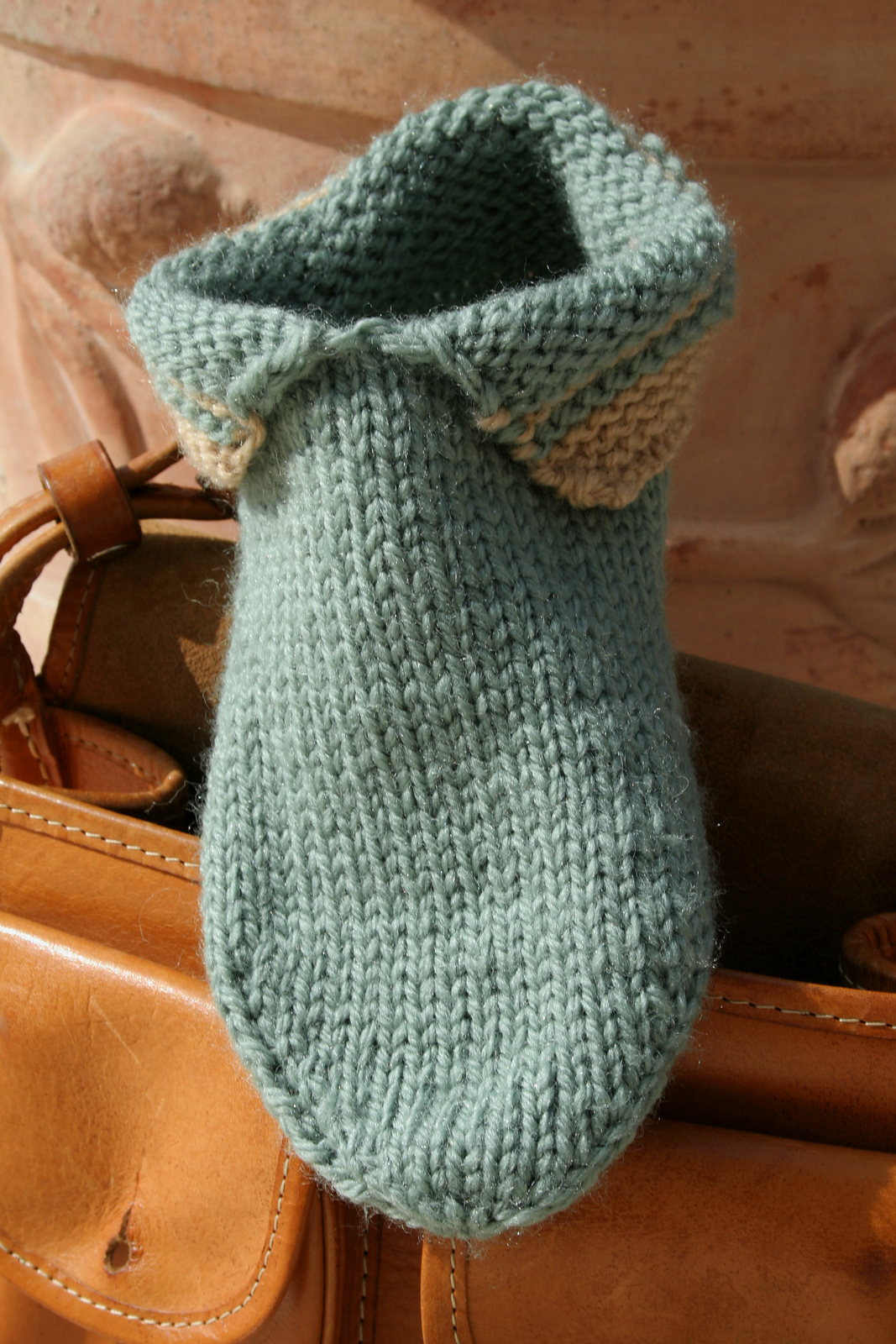 Grouse Slippers
Simple slippers designed by Lusianne R.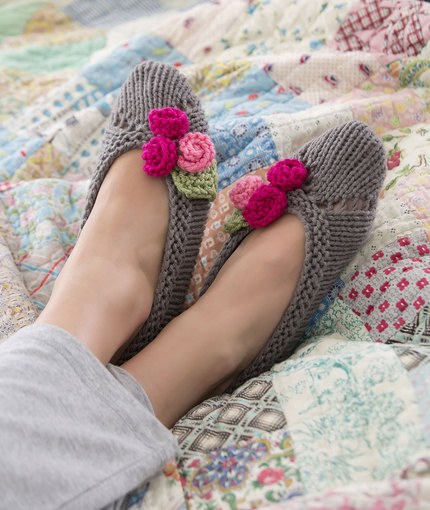 Slippers for Her
Designed by Red Heart, this pattern for ballet style slippers with flowers comes in sizes small, medium, large.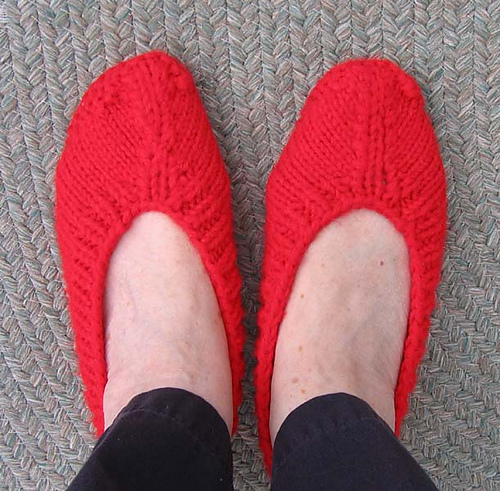 Ballet-style Slippers
Designed by Kathy North, the pattern is written for women's shoe size 9 (medium-large) but size is adjustable.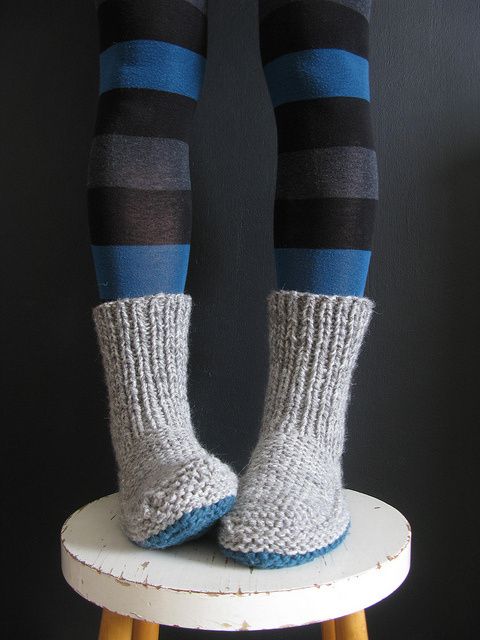 Nola's Slippers
Designed by Nola Miller for the Seamens Church Institute, these unisex slippers are knit with two strands of worsted together. Size: Men's Medium.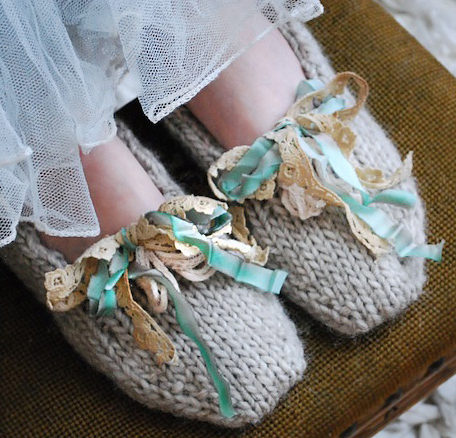 Amy March's Slippers
Beribboned slippers inspired by Little Women and designed by tiny owl knits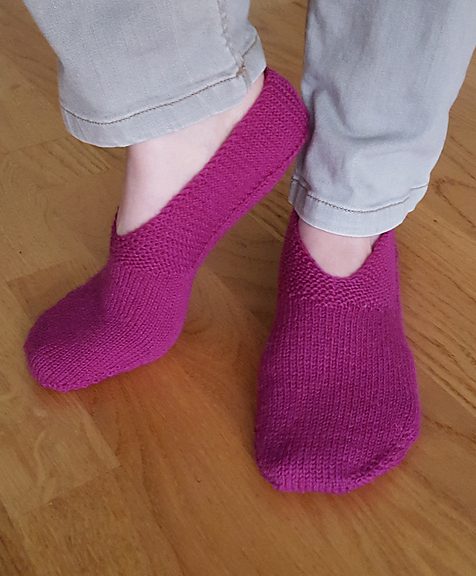 Geranium Slippers
Sybil R's seamless, toe-up slippers feature a triangular garter stitch detail on the top of the foot.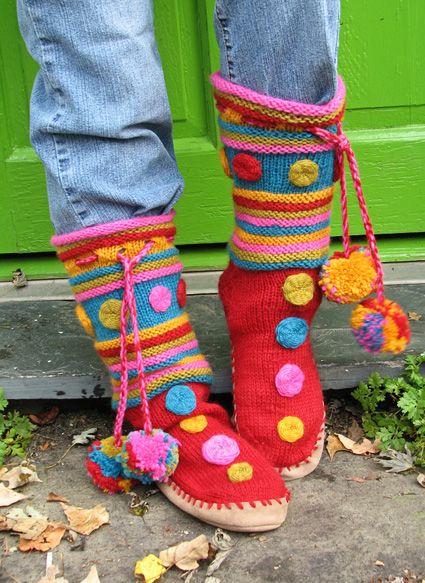 Macarons
Designed by Kristin Nicholas, these slipper boots are fun but easier than they look.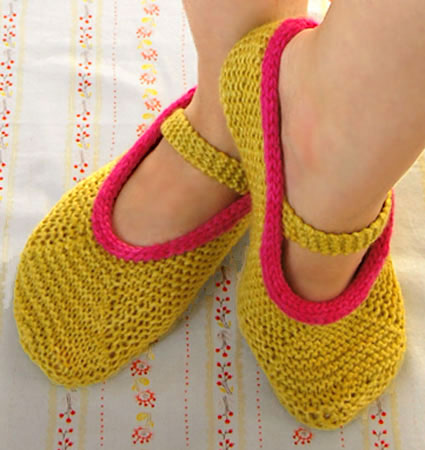 Mary Jane Slippers
Get the free knitting pattern designed by Purlbee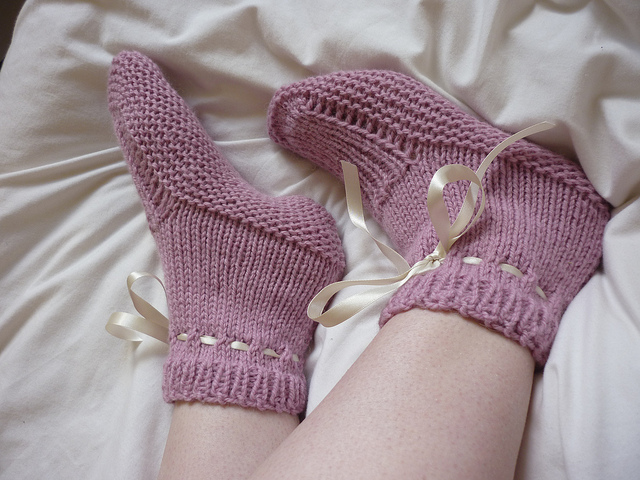 Worsted Knit-Flat Bedsocks
No need to worry about DPNs or magic loop with these slippers designed by Zebbie Barback to be knit flat on straight needles and seamed. The design is a family pattern adapted from a baby bootee design resized for adults.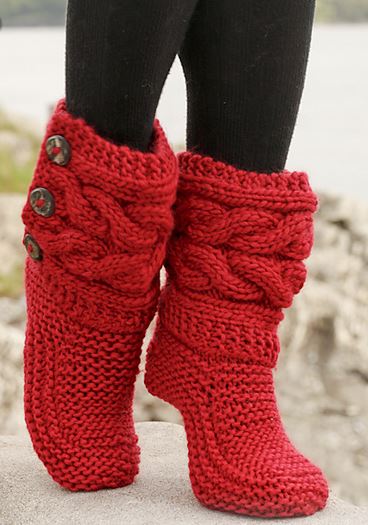 Little Red Riding Slippers
Boot style slippers with cable cuffs from Drops Design.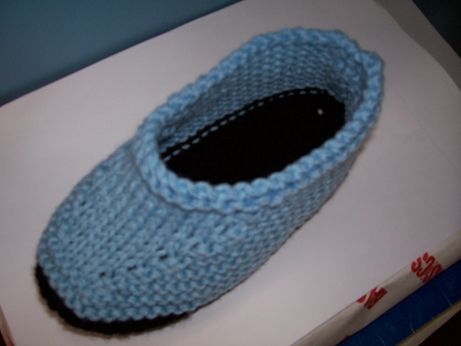 Moccasin Slippers
Designed by Sue's Crochet and Knitting, these slippers are easy for beginners and are larger than they look in the picture. She includes instructions for sizing.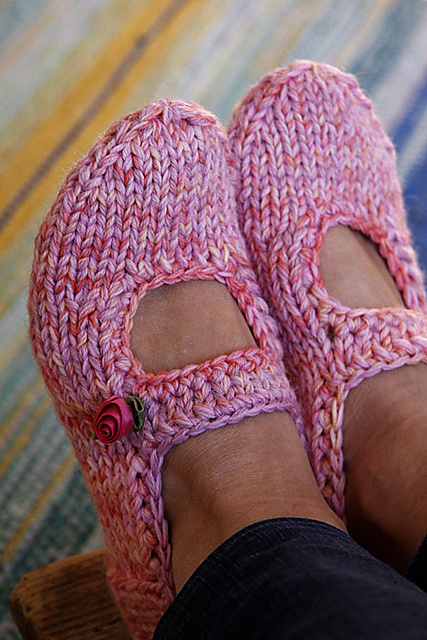 AK's Slippers
Designed by Anna Kaisa Piispanen for size 7 in bulky yarn.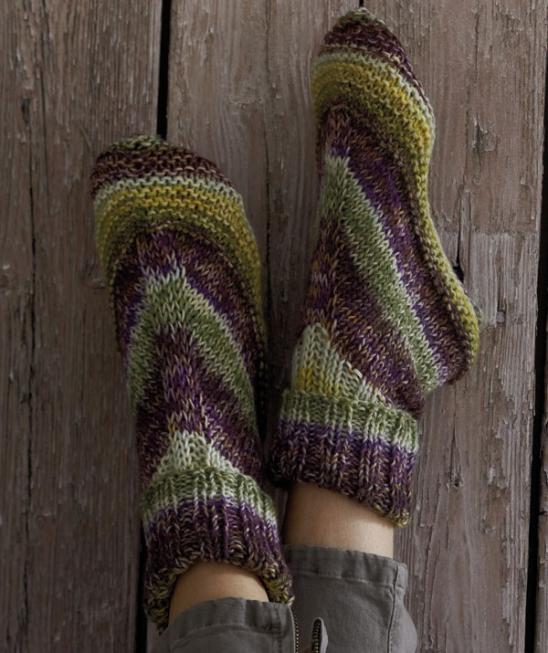 Alaska Color Home Socks
Designed by Schachenmayr, these unisex slippers in worsted are great gifts for every member of the family.

Home Slippers
These slippers are created by ingeniously folding a flat piece of knitting. The pattern is mostly instructions translated from Russian.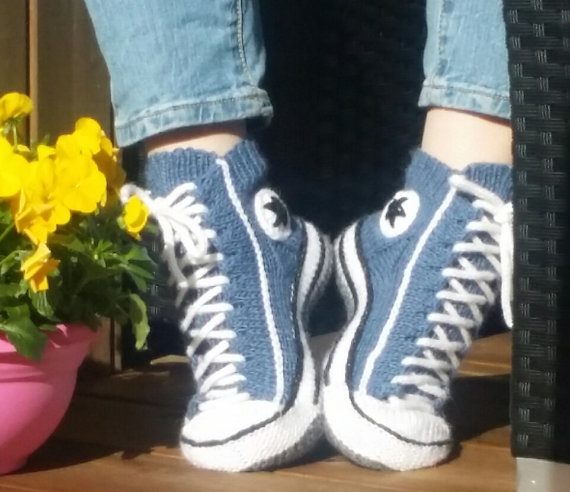 Converse Reaverse All Star Slipper Socks
Rea Jarvenpaa designed this tennis / sneakers / running shoe slipper pattern that is all knit.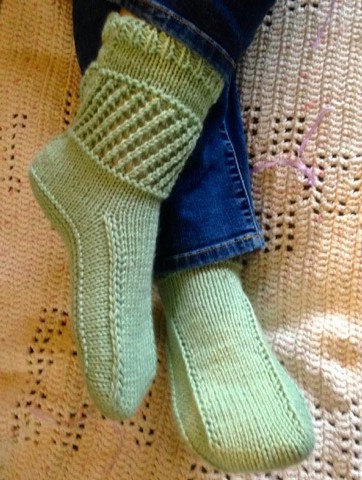 Ankle Warmer Boots
Easy to Knit Slippers for adults in 3 different styles and 3 sizes, all with worsted yarn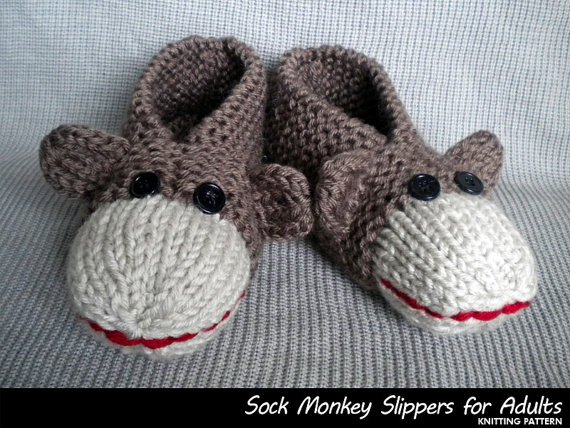 Sock Monkey Slippers
Adorable sock monkey slippers designed just for adults! They are designed to be stretchy and very comfortable. Includes instructions for the following sizes: Women: 6-8, 9-11, 12+, Men: 5-7, 8-10, 11+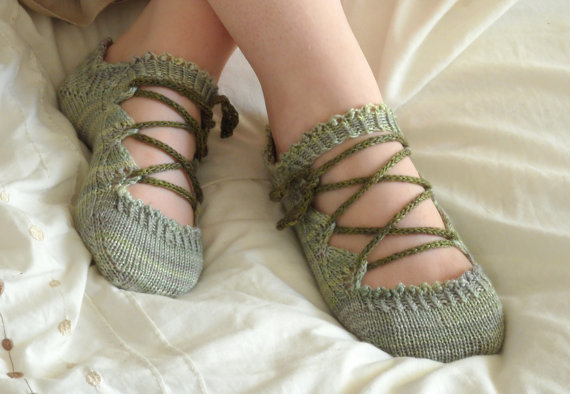 Elven Slippers
What should one wear while dancing amongst trees in a golden wood? Surely elves would appreciate these silky slippers, covered in leaves and laced with vines. These pretty and playful slippers knit up super-quick, and take less than one 50g ball of sock yarn. The slippers are knit from the toe-up for an easily customized fit. The sweet leafy lace pattern continues up the foot and right onto the cuff (which can be knit short or long).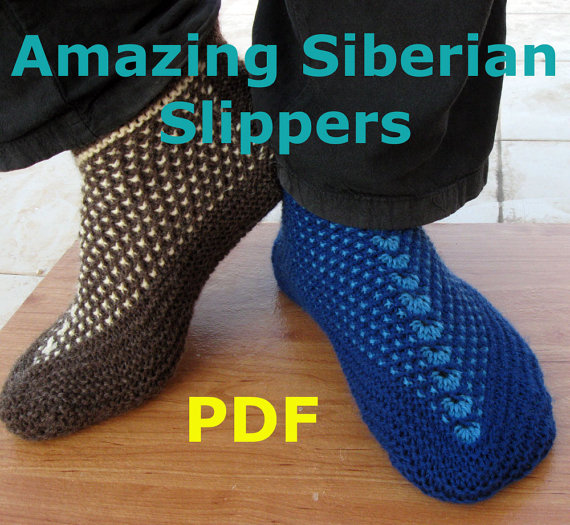 Amazing Siberian Slippers
What makes this slippers so amazing is that they are knit flat on straight needles in one piece but there are no seams or grafting. The designer learned this technique from a friend's mother who lives in a tiny village in Siberia.
See more information and get the pattern at Etsy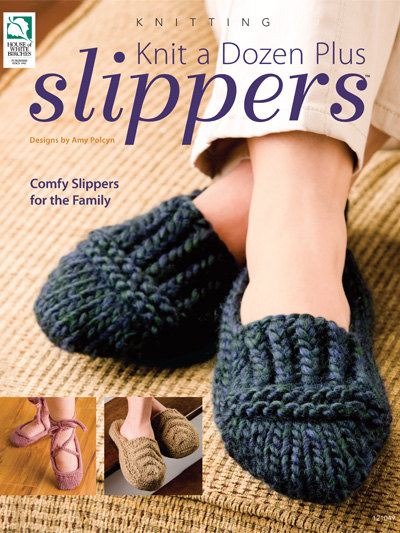 Knit a Dozen Slippers
Knit a Dozen Plus Slippers includes styles and sizes to fit anyone from young children to adult women and men. Each pattern comes with instructions for multiple sizes so the fit will be just right.
See the slipper patterns in the book and get the book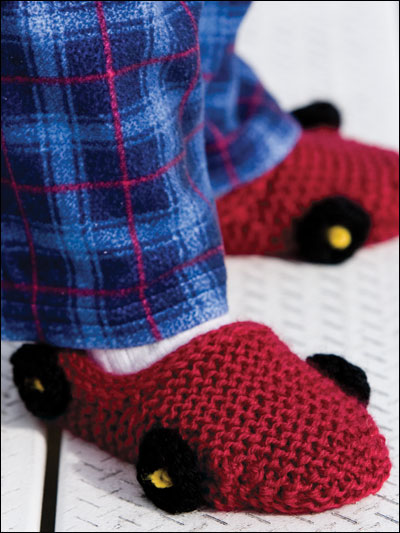 Car Slippers
These garter stitch slippers designed to look like race cards are one of the thirteen patterns in Knit a Dozen Plus Slippers.  This digital book includes styles and sizes to fit anyone from young children to adult women and men.
See the slipper patterns in the book and get the book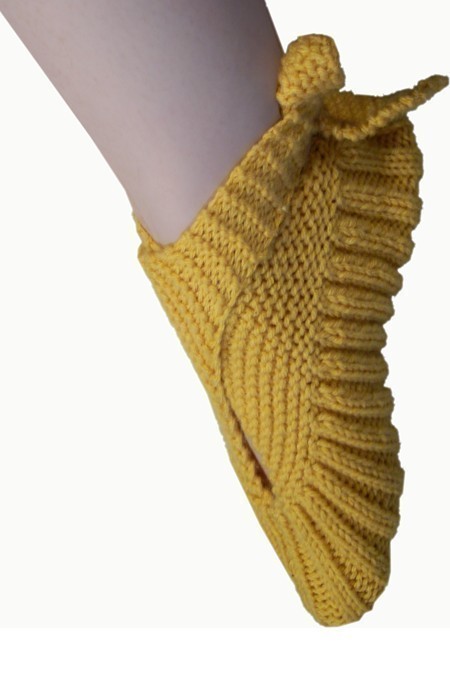 Sling-Heel Slippers
This ingenious pattern is knit flat with a minimum of sewing and then assembled by tying. This is a pdf of a vintage pattern.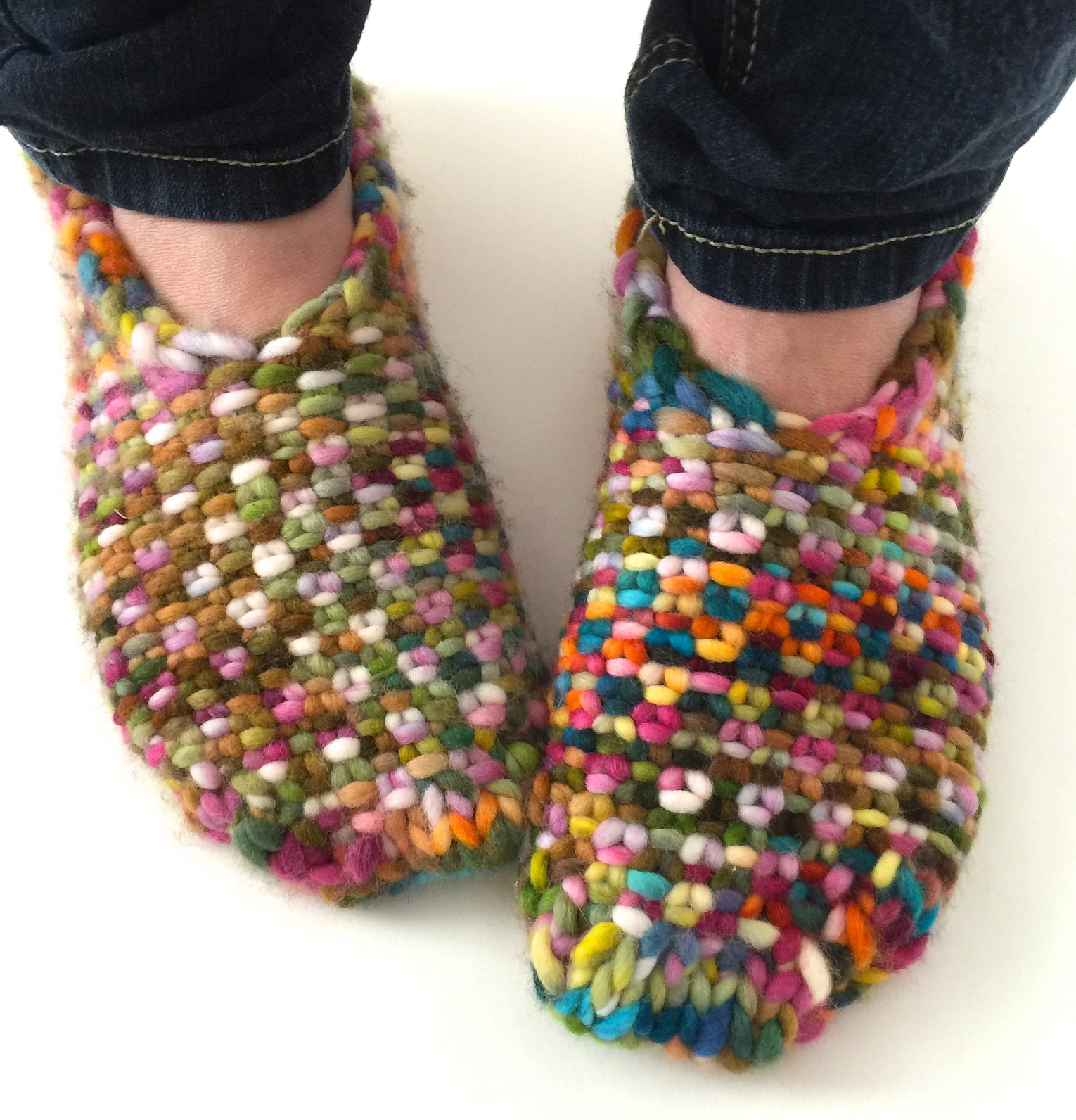 Slippies
The linen stitch pattern for these slippers makes them dense for warmth and creates a foot-hugging shape inJessica Owen Day's design. Quick knit in super bulky yarn.