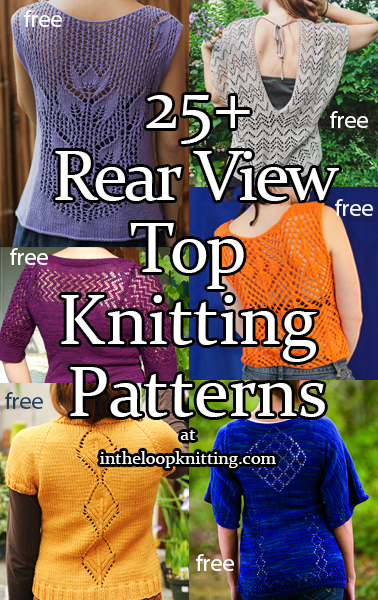 The backs of these tops are the attention grabbers in these sweaters, pullovers, and cardigans with cable, lace, cutout, or other back details.
To get the knitting patterns, scroll down the page to the individual pattern you want and click on the link to that pattern.
These patterns are not my designs but links to other designers who have generously shared their patterns. If you have questions about how to knit a specific pattern, please contact the designer directly.
All links on this site are for informational purposes, but please note that some links are to affiliate sellers that pay me a small commission on purchases.
Free Patterns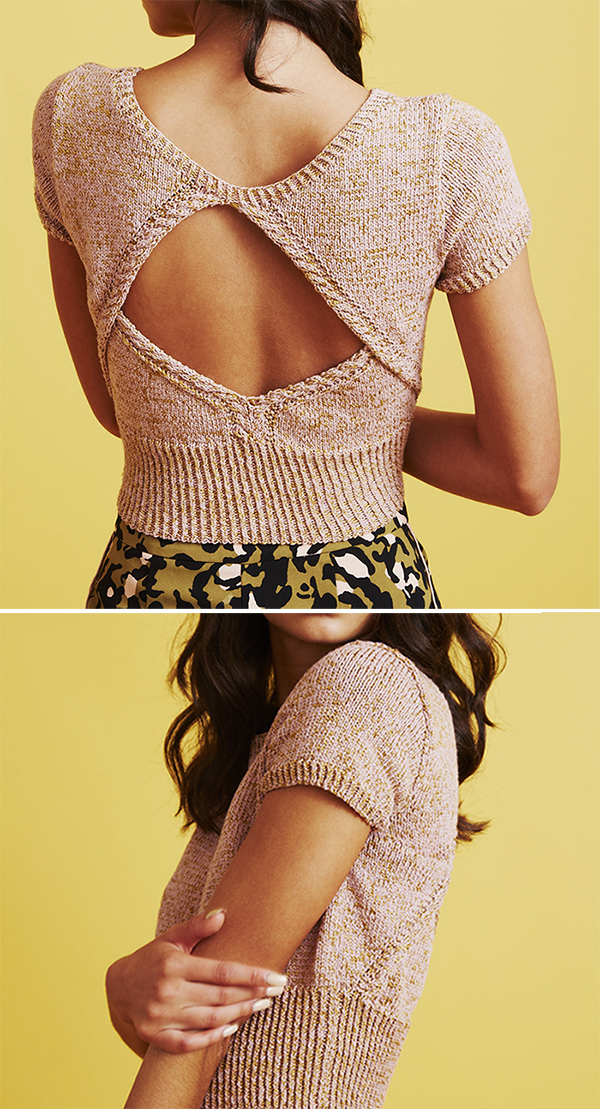 Open Backed Cropped Top
This short-sleeved pullover has sophisticated cable detail framing an open back and a deep ribbed hem. Sizes To Fit Bust: 82cm to 107cm Designed by Paintbox Yarns. DK weight yarn.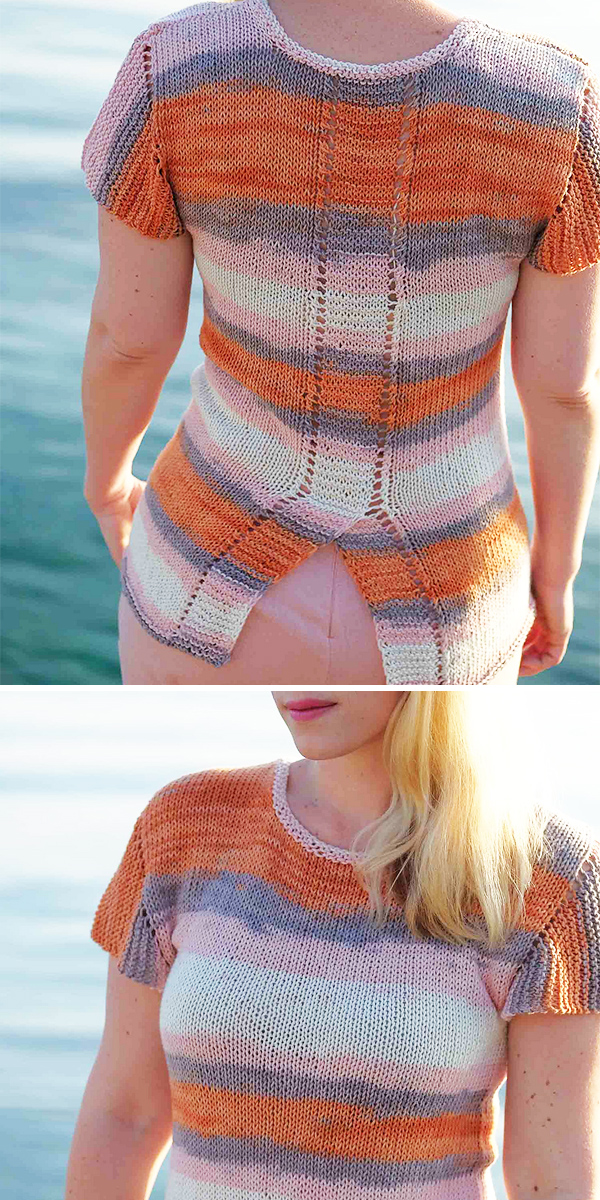 Oh Pa Top
This pullover tee with a garter stitch detail down the back that divides into a split hem. Sizes S (M, L, XL, XXL). Designed by Jesse Molzan. Directions for 2 weights of yarn Worsted and Aran weight.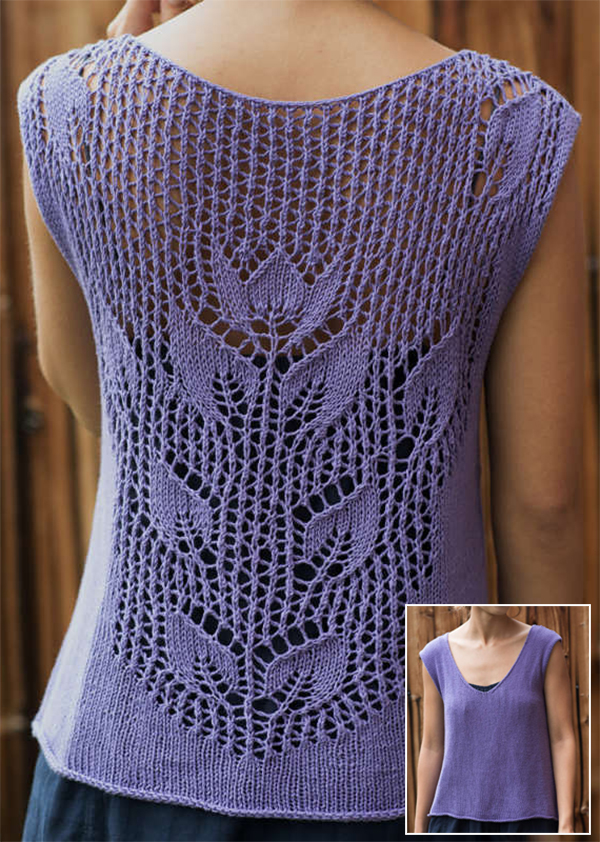 Marsh Top
This pullover top features simple cap sleeves and a plain stockinette front, while the back features an almost full-body lace pattern. Sizes Bust—38 (42, 46, 50, 54, 58, 62)" Designed by Amy Palmer for Berroco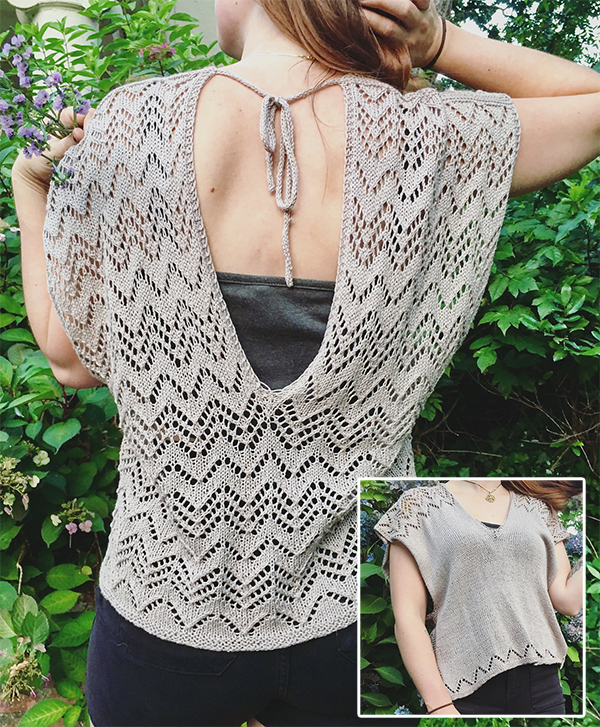 Bauxite
This breezy pullover features v-neck front with chevron lace details, a deep v-neck back with all over chevron lace, and I-cord straps fastening. The chevron lace pattern is a 10 stitch repeat, charted. Fingering yarn. Designed by Samantha Stadter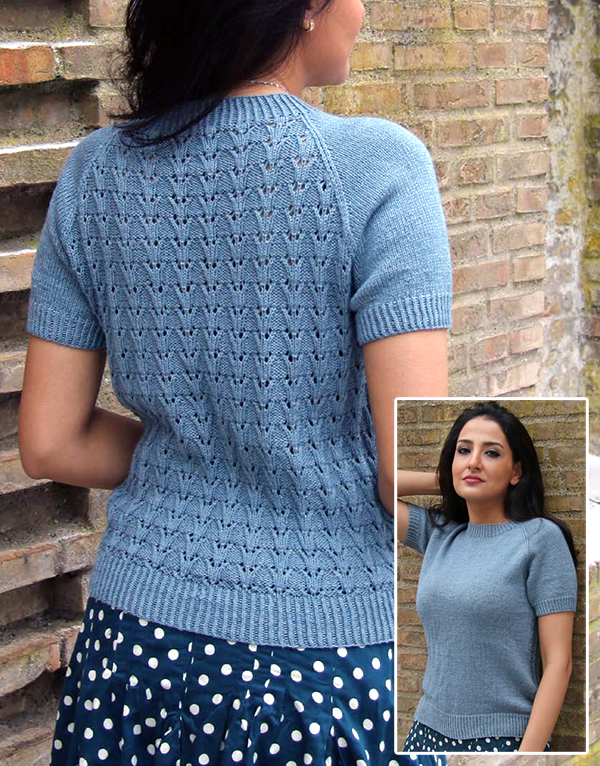 Toulouse
An 8 row repeat lace pattern adds elegance to the back of this short-sleeved pullover tee with a vintage look. Sizes XS (S) M (L) XL. Designed by Rachel Søgaard for Filcolana. Fingering weight yarn. Available in English, Danish, and German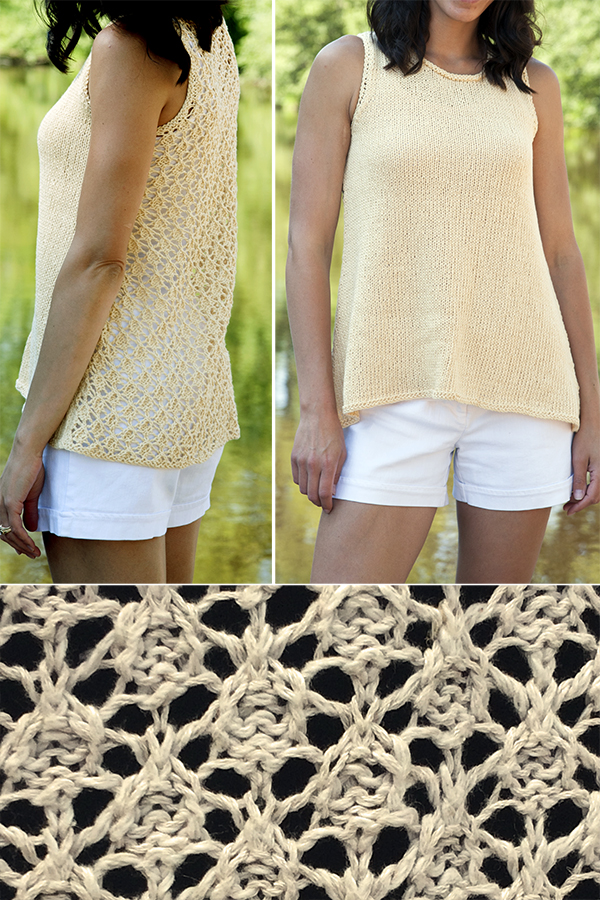 Driftwood Tank
An 8 row repeat lace back contrasts beautifully with a classic stockinette stitch front on this A-line shaped sleeveless pullover top that's perfect for layering. Bust: 34 (38, 42, 46, 50, 54)" [86 (97, 107, 117, 127, 137)cm] Aran yarn. Designed by Rae Blackledge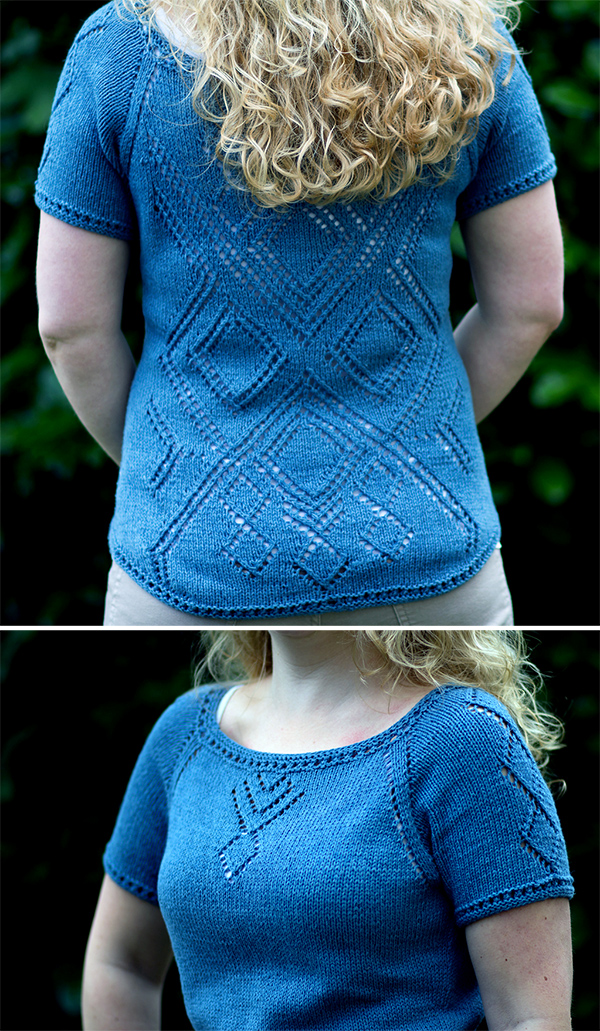 Feels Like Me
Short-sleeved tee pullover with geometric lace on back and lace detail on sleeves and neckline. Sizes S - M - L - XL. Designed by Cherrytree Design. DK weight yarn.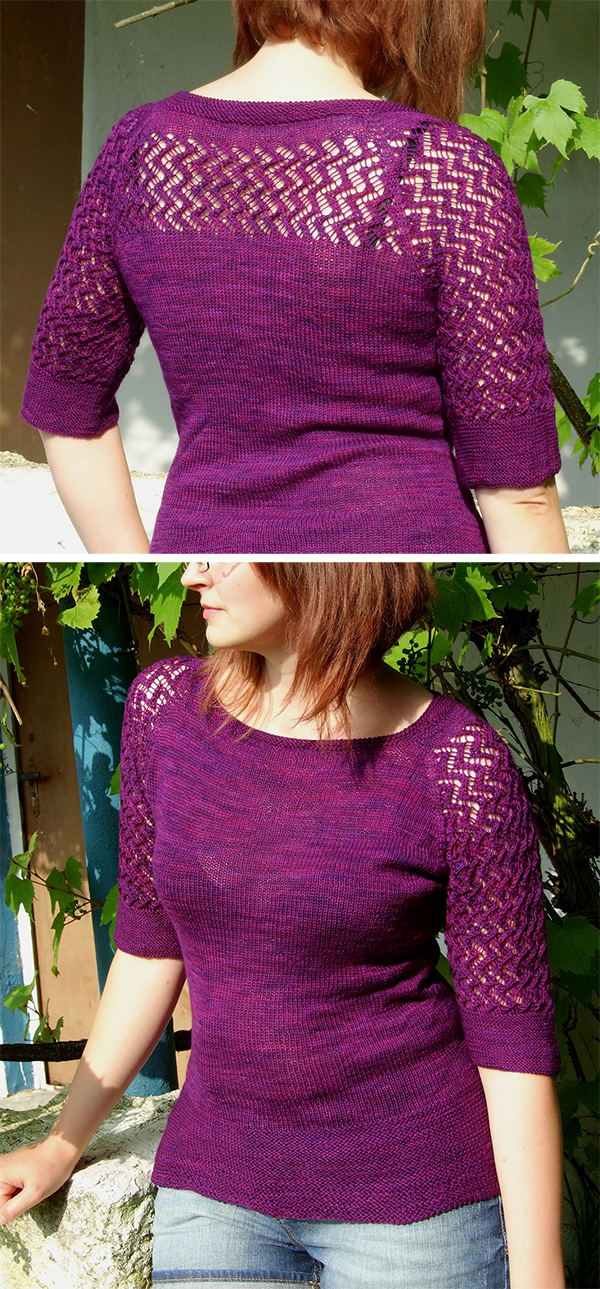 Electricity
Pullover top with chevron lace back and sleeves. Designed by Rhona R.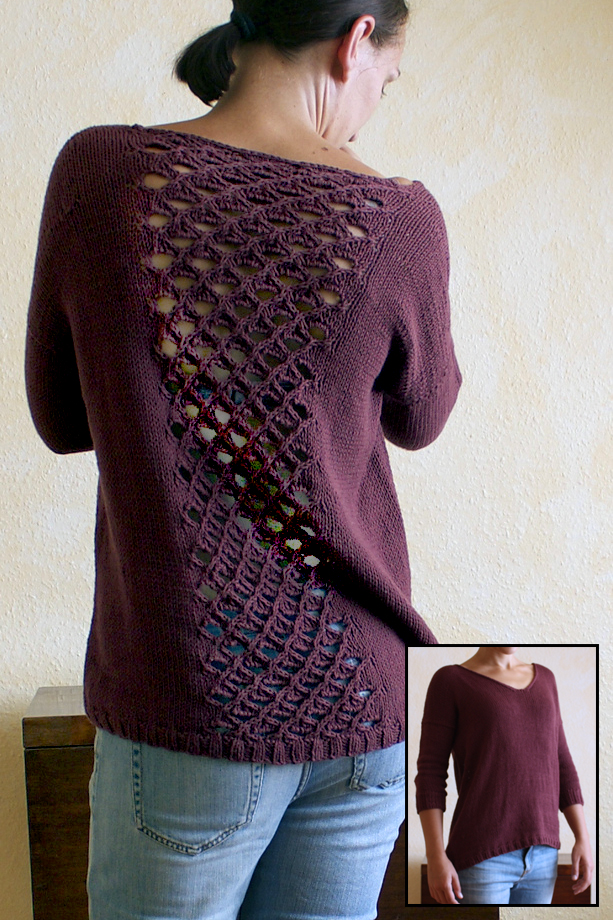 Beetroot Salad Sweater
Loose-fit v-neck pullover with a back lace panel worked in an an 8 stitch, 8 row repeat triangular lattice stitch called Grand Eyelet Lattice. Designed by Julie Tootill. Worsted weight yarn. Pictured project by Kajumama who has notes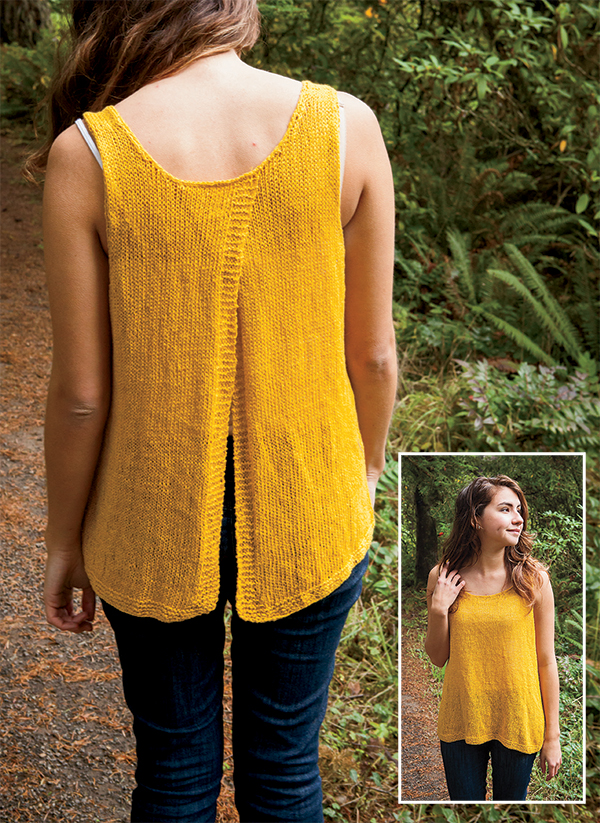 Split Back Tank
Swingy A-Line top. Sizes Included: 28", 32", 36", 40", 44", 48", 52", 56", 60" finished bust. Designed by Allison Griffith. Fingering weight yarn.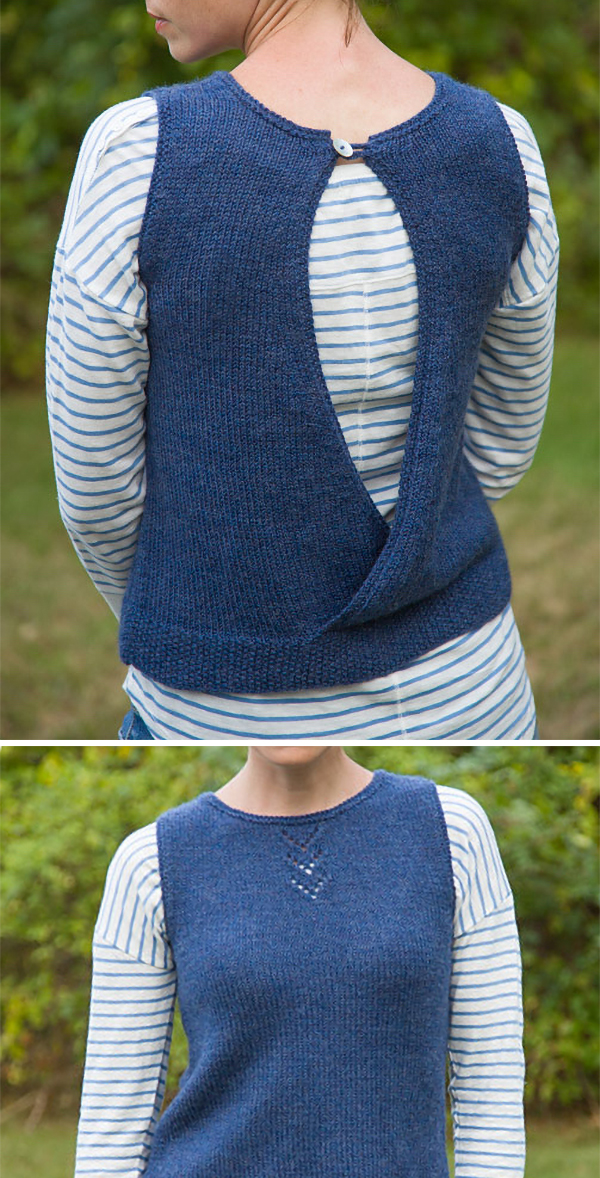 Adelaide Open-Back Vest
Sleeveless top or vest with an overlapped peekaboo back and lace detail on the front. Sizes XS (S, M, L, XL) Designed by Kim Barnette. Worsted weight.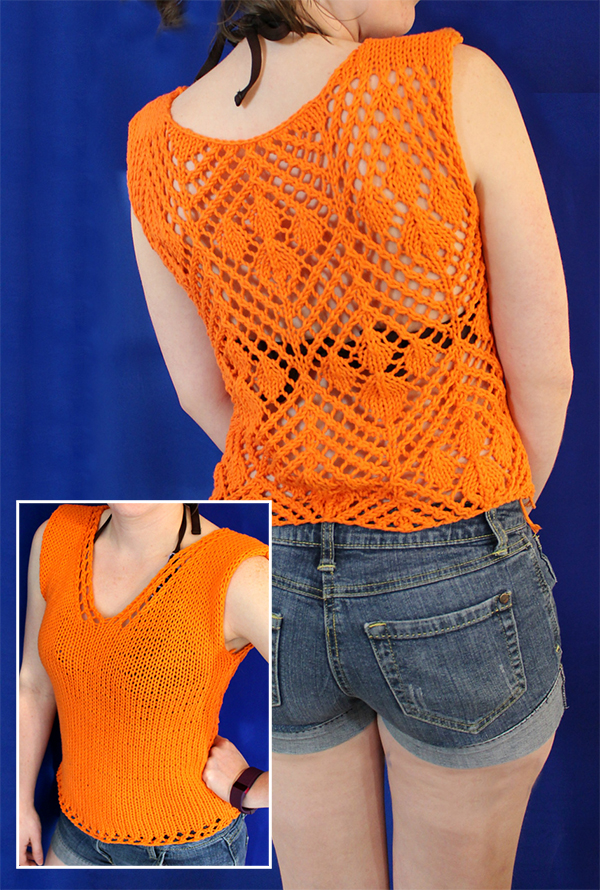 Lake Diamond Top
Sleeveless pullover features an intricate lace diamond design while the front is knit mostly in stockinette, with eyelets around the collar and hem. Sizes XS, S, M, L, 1X, 2X, 3X Designed by Kristin Jones for Knitty. Bulky weight yarn, although some Ravelrers used a lighter weight.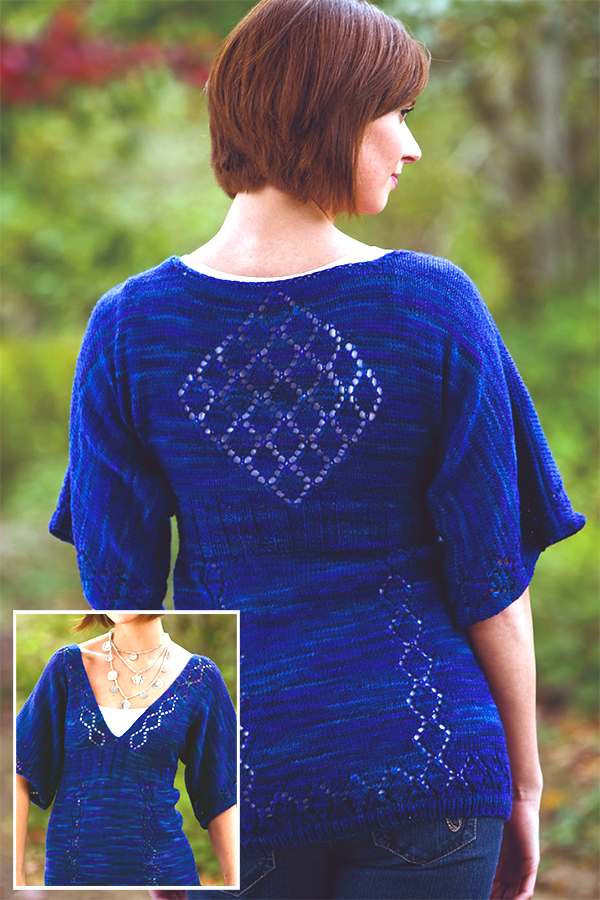 Kimono Diamond
Pullover top with diamond lace panel on the back and diamond lace columns on front and back and around the hem and neckline. Great for layering. Sizes S, M, L, XL Designed by Heather Robb. Fingering weight yarn.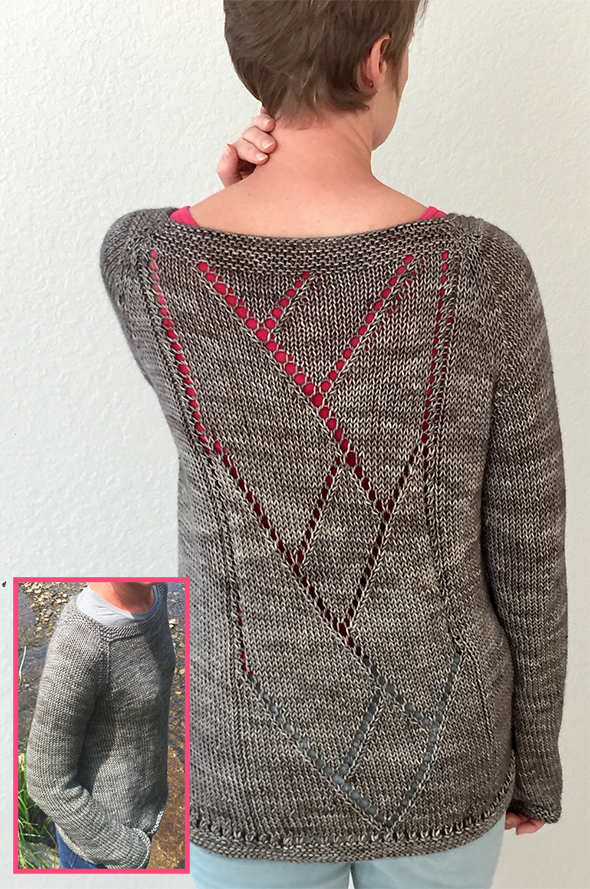 Center Street Sweater
Boatneck pullover features a geometric lace panel up the center back. Sizes 35, (38, 42, 46, 50, 54) inches. Worsted weight yarn. Designed by CJOriginals for Knotions.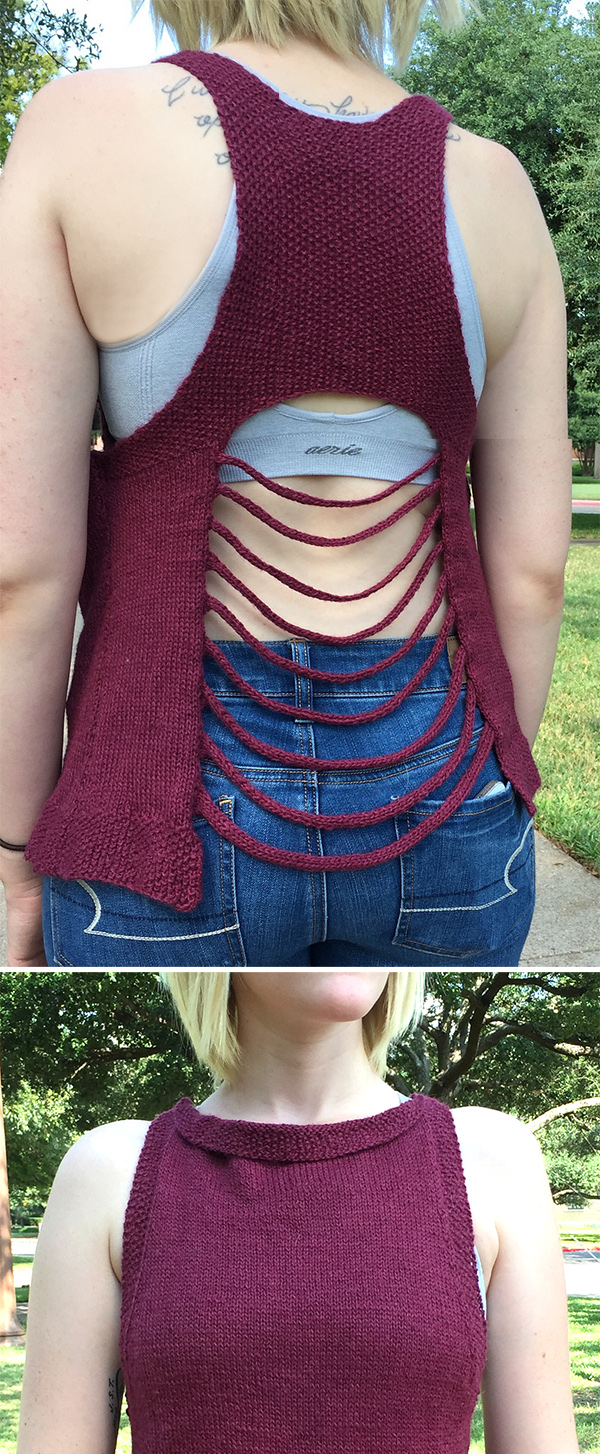 Dahlia Shell
Racer back tank with an elegant boatneck in front and an open lower back embellished with loops. Throw on a jacket for a modest look with a surprising secret, or wear bare-armed (and backed!) for a night on the town. Sizes XS, S, M, L, XL Designed by Kristina Mentakis

Leaflet Cardigan
Short sleeved sweater with leaf lace design on back. Sizes 31.5[34.75, 37.75, 41, 44.25, 47.5, 50.75] inches, Designed by Cecily Glowik MacDonald for Knitty. Aran weight yarn.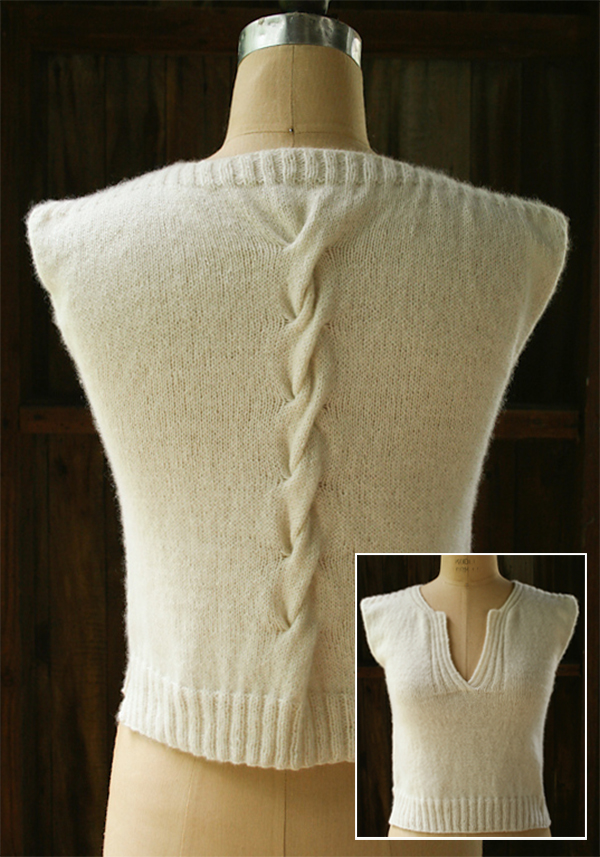 Cable Back Shell
Sleeveless pullover top with henley neckline and cable detail down the back. Sizes XS (S, M, L, XL, XXL): 33 (37.5, 42.25, 46.5, 51.25, 56) inch bust circumference. Designed by Purl Soho

Gemini
Jane Richmond designed this versatile top with a lace panel that can be worn in back or in front. XS [S, M, L, 1X, 2X, 3X]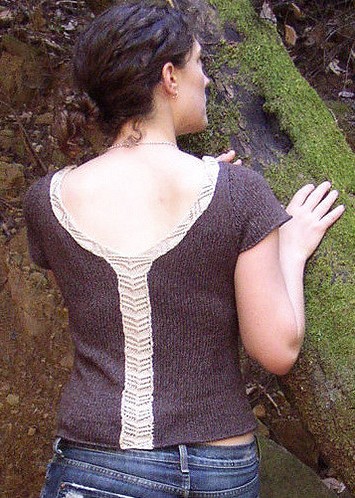 Honorine Tee
Designed by Fathom Harvill, this top features a contoured lace insert in the front and back which creates a subtly sexy and immensely flattering v-shape. Finished bust: 32 (34, 36, 38, 40, 44)"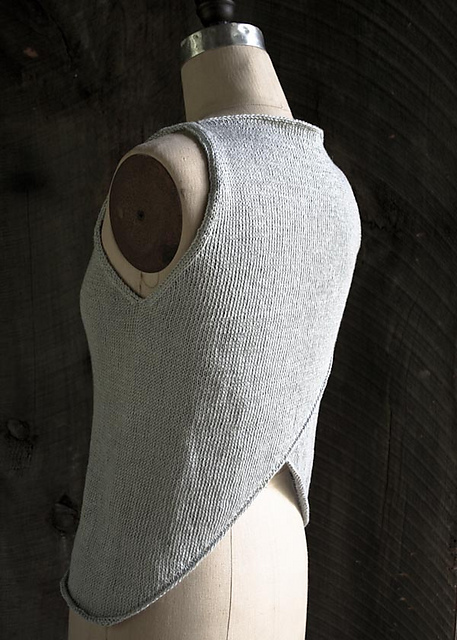 Tulip Tank Top
Designed by Purl Soho, for sizes 31 (35, 39, 43, 47), this tank features a unique construction inspired by tulip petals.
Patterns for Purchase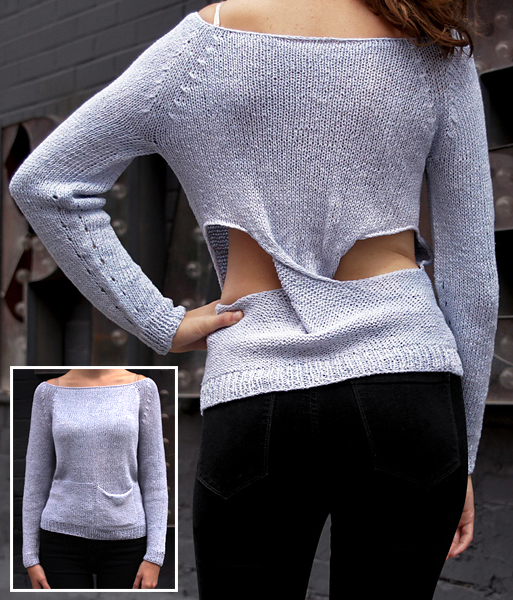 Halistrom
This long-sleeved pullover features a handy pocket and daring, twisted back detail that naturally creates a bit of waist cinching. 32 (35½, 39, 42½, 46)" Designed by Sachiko Burgin. Aran weight yarn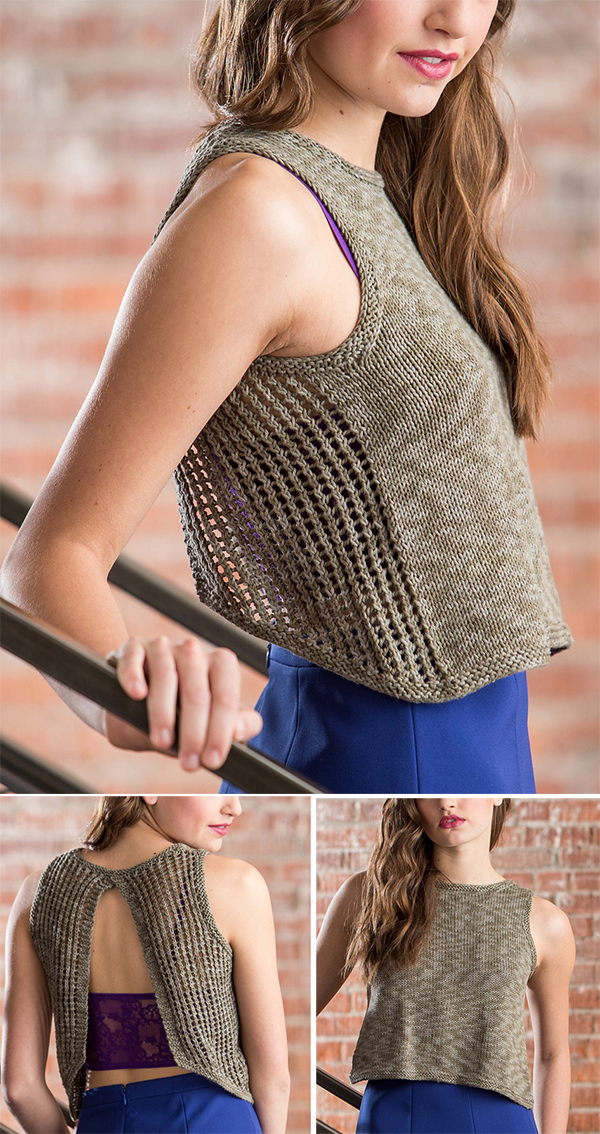 Open Back Bias Tank
A simple lace creates natural biasing, which angles the back hems of this sleeveless top. 32 (36, 39½ , 44, 47, 52)" bust circumference. Designed by Sachiko Burgin.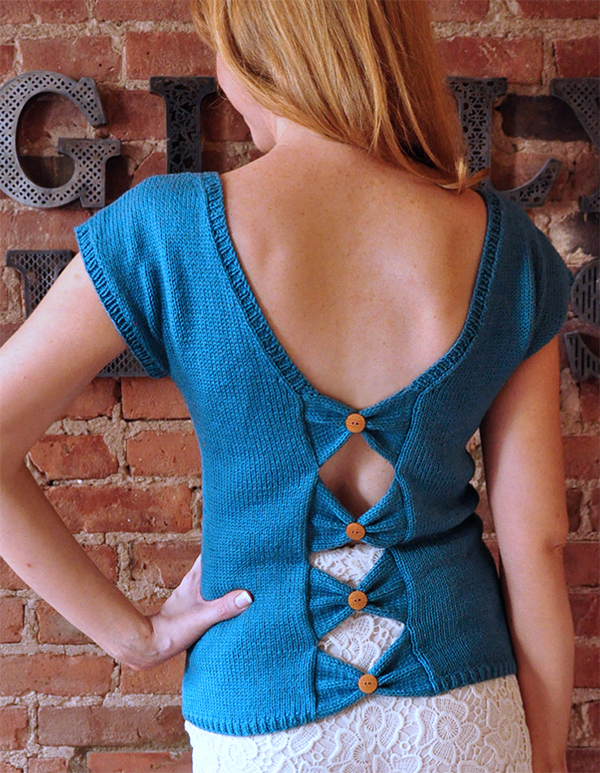 Bow Back T-Shirt
With Sprinkles on Top Tee has instructions for knitting bows with either knit centers or buttons. There is a colorwork ice cream cone on the front but I'd personally knit it without the design. Sizes XS-XL to fit a 30-44" Bust. Designed by Girly Knits.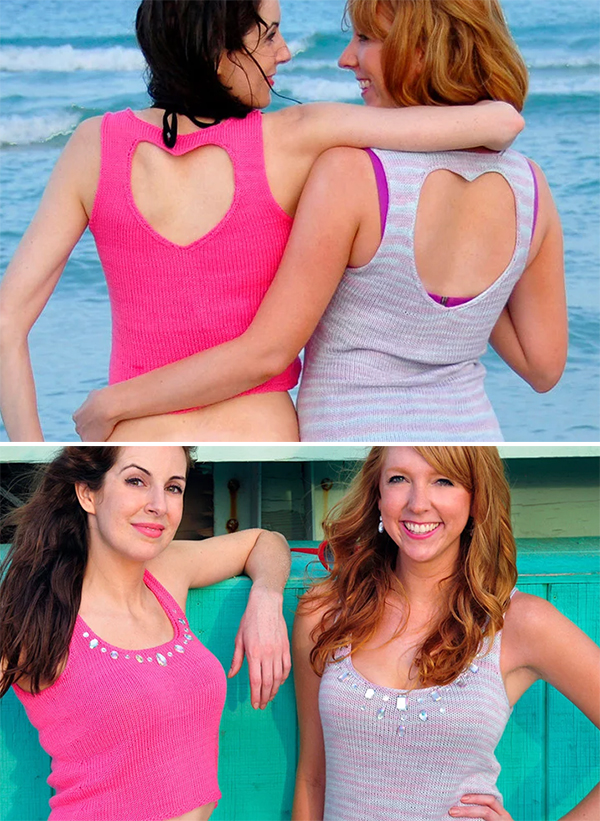 Heart to Heart Tank Top
The heart cut out on the back of this sleeveless top is written so that you can easily use it on other top patterns. This tank top has instructions for 2 length options, regular length and cropped length. It also has 2 layout options for the jewel embellishment along the neckline. Sizes XS-XL to fit a 29-44" Bust. Designed by Girly Knits.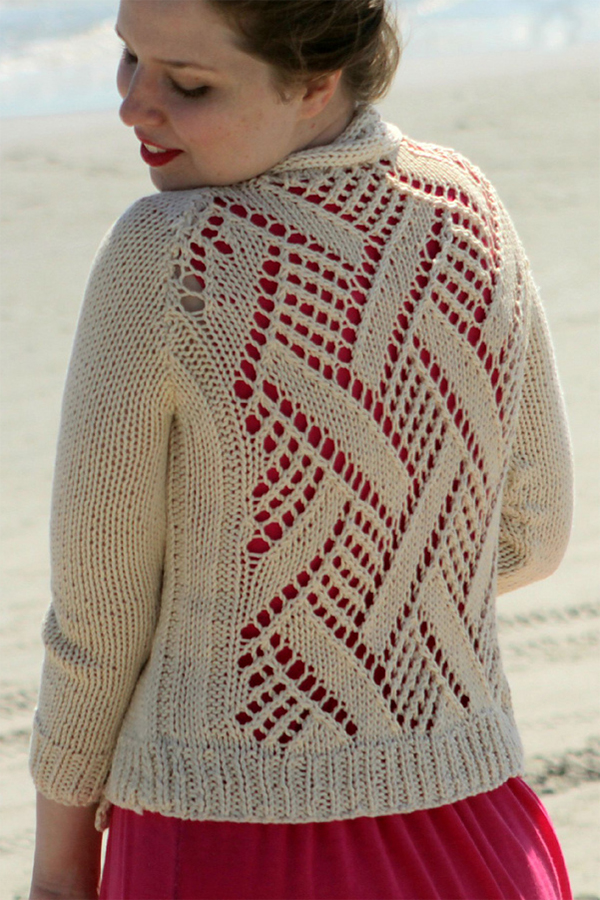 Rockaway Cardigan
This long-sleeved raglan sweater features a cute, casual style with buttonless front edges and a back lace panel. Includes chart and written instructions. Finished Bust Size 32 (36, 40, 44, 48, 52, 56)" to fit 30 (34, 38, 42, 46, 50, 54)" / 81 (91, 102, 112, 122, 132, 142) to fit 76 (86, 97, 107, 117, 127, 137) cm Designed by Kristin Jones.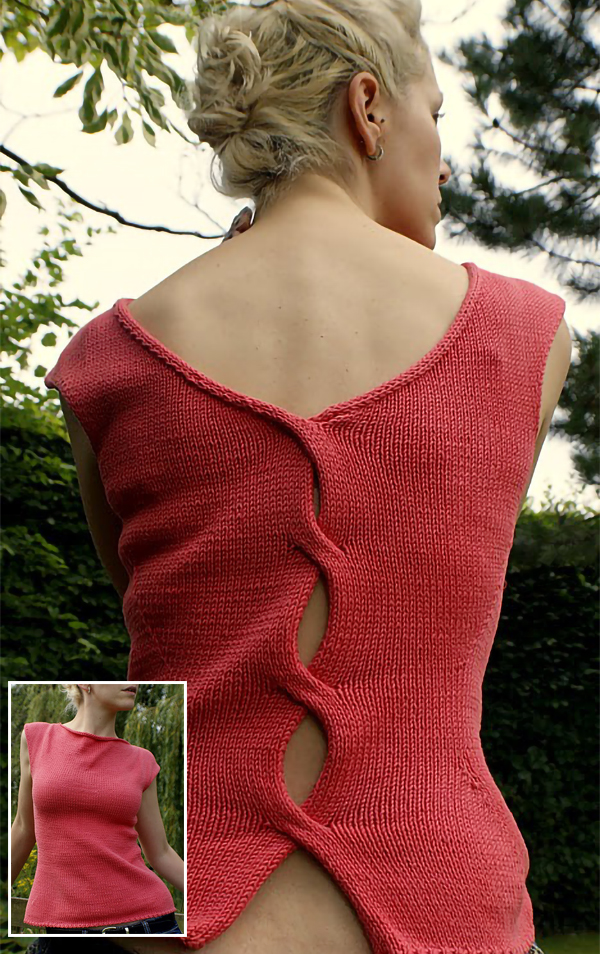 Anchored Top
This show-stopping sleeveless top features peek-a-boo crossings down the back and figure-flattering shaping. Sizes 30 (32, 34, 36, 38, 40, 42, 44)" / 76.20 (81.30, 86.35, 91.45, 96.50, 101.60, 106.70, 111.75) cm. DK weight yarn. Designed by Ruth Garcia-Alcantud.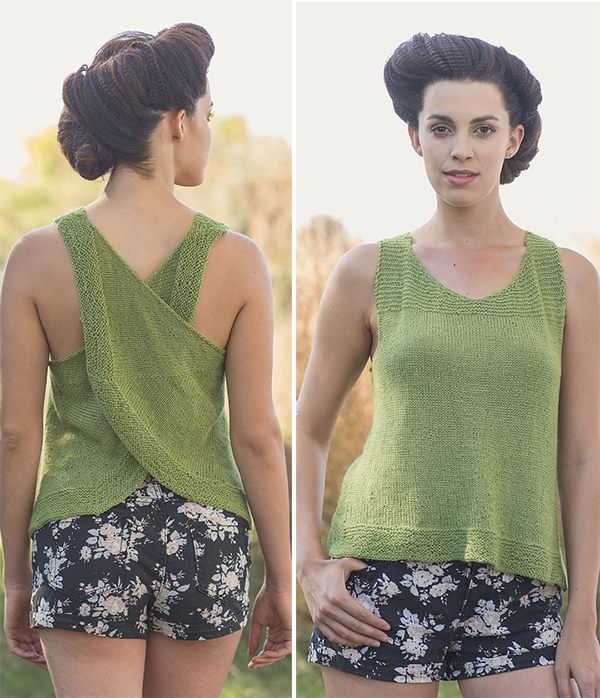 Green Apple Tank
With its intriguing crossover back, Amy Palmer's design is an easy knit in simple garter and stockinette stitches knit from the top down. Sizes 14½ (16¾, 19, 20¼, 21¾, 24)" front width.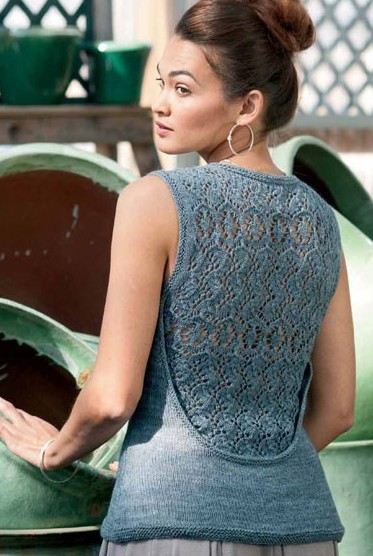 Seaglass Shell
The front is elegantly simple with a bit of lace at the shoulders that swoops to a deep lace panel in the back. 35 (38½ , 43, 48, 53)" bust circumference.

It's All About the Back Pullover
Easy long sleeved sweater in worsted weight with something a little sassy across the back. S (M, L, XL, 2XL)