Knitting patterns that feature motifs of homes of all kinds from a Hobbit hole to a castle to a cabin.
To get the knitting patterns, scroll down the page to the individual pattern you want and click on the link to that pattern.
These patterns are not my designs but links to other designers who have generously shared their patterns. If you have questions about how to knit a specific pattern, please contact the designer directly.
All links on this site are for informational purposes, but please note that some links are to affiliate sellers that pay me a small commission on purchases.
Free Patterns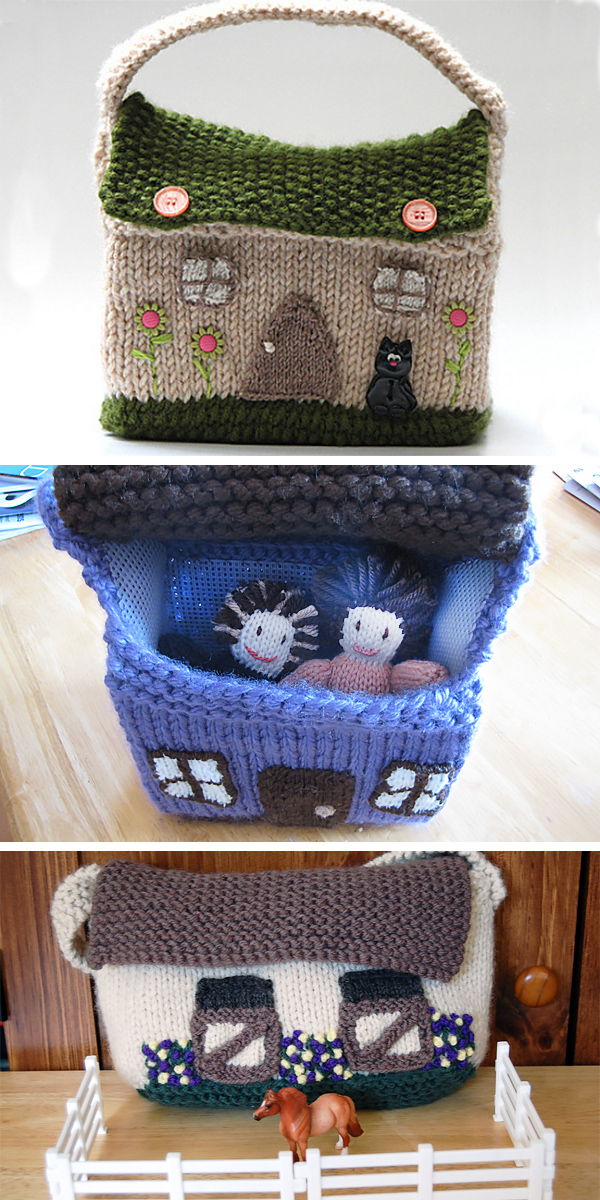 Dollhouse Purse
With a little embellishment and imagination, this knit bag can be both a purse and a portable dollhouse. Made from super-bulky yarn, it's sturdy and knits up quickly. It's a fun and practical gift for chilldren. This is the basic pattern for the purse. The embellishments and dolls shown in the pictured projects are not included in the pattern. Designed by Jennifer Jones. Pictured projects by Fusselideen who added felt and button embellishments, annieruth who included knit dolls (not included in pattern), and Ciarrai who customized it to a horse barn.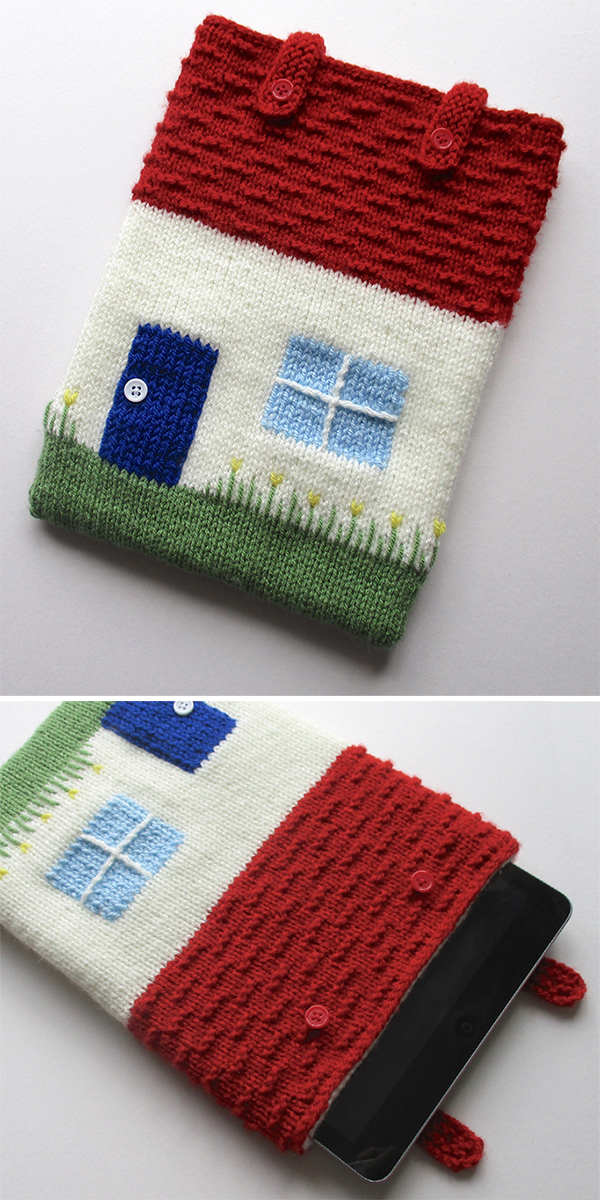 Cottage Tablet Cosy
Home sweet home for your electronic device! Amanda Berry designed this tablet sleeve that you can customize to look like your house or the recipient's house. This has a knitted outer and lining to give extra protection. 26cm tall and 19.5cm wide. DK weight yarn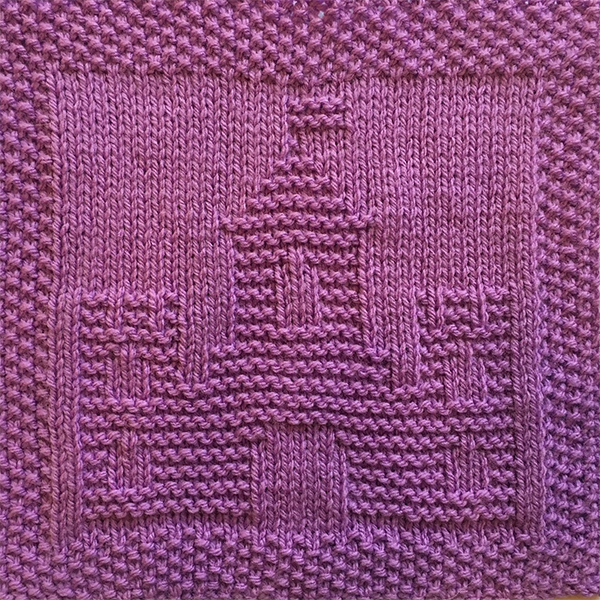 Castle Square
Great as a dishcloth or washcloth or with other squares to form a blanket or afghan. Both chart and written pattern are included. Finished square (using DK yarn and 4 mm - US6, UK8 - needles) approximately 22 cm x 22 cm (8.5 inches x 8.5 inches). Designed by Daisy and Storm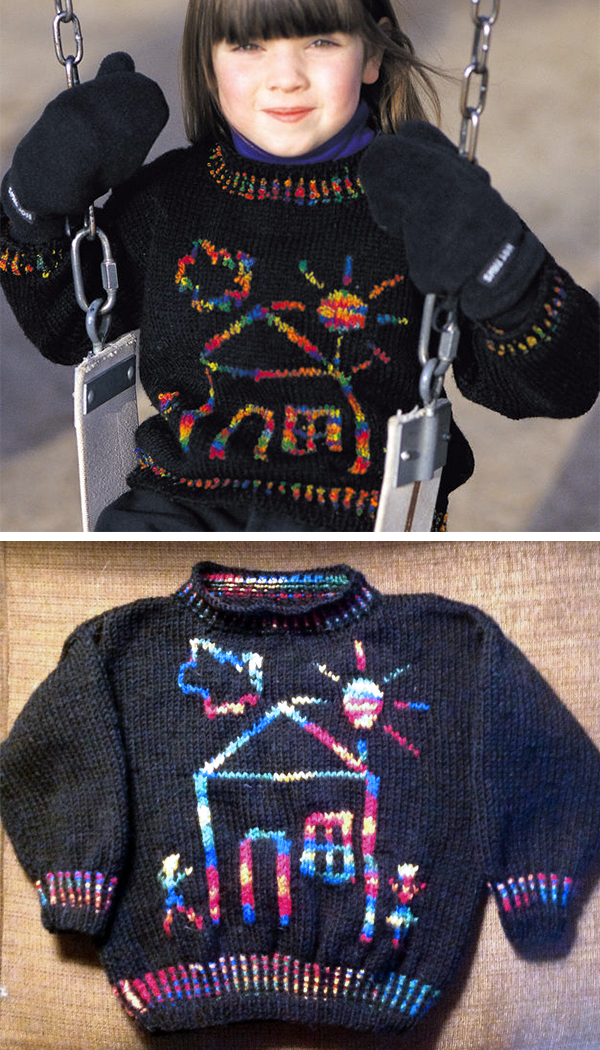 Crayon Crewneck
Long-sleeved pullover sweater with intarsia crayon-style house scene. Child: 2, 4, 6. Designed by Patons. Pictured project by ssub. Worsted weight yarn.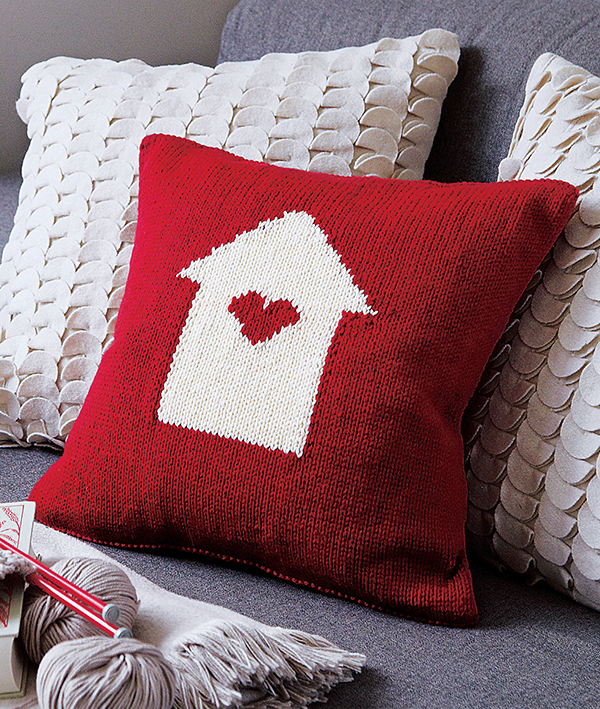 Home Is Where the Heart Is Pillow
Cushion with intarsia house with heart. 41 x 41 cm/ 16 x 16". Designed by Debbie Bliss. Aran weight yarn. Excerpted from Knits to Give: 30 Knitted Gift Ideas
More Free Patterns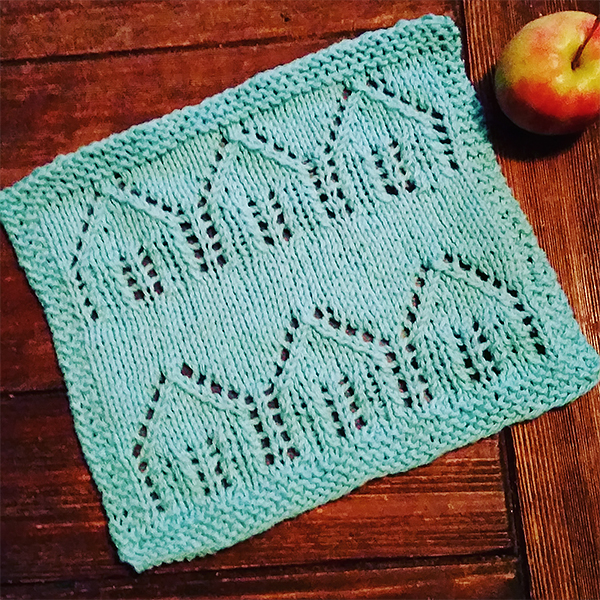 Little Houses Cloth
Dish or wash cloth with lace houses. Also great as an afghan block. Designed by Jean Gatto. Worsted weight yarn. Pictured project by SaltboxKnits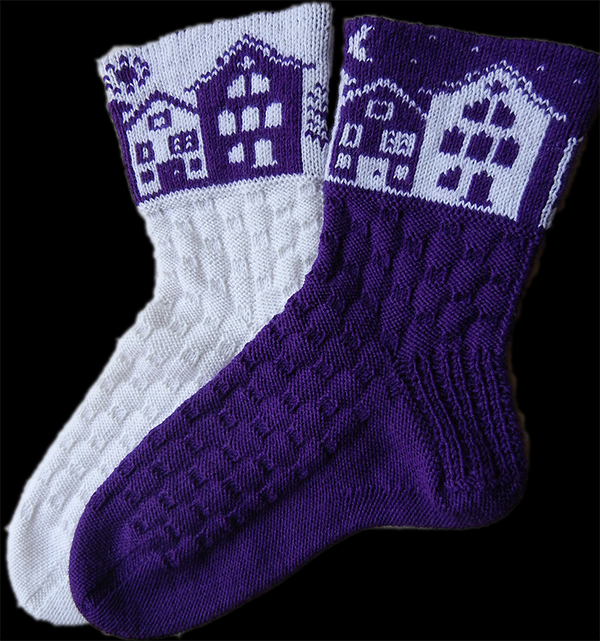 Day and Night Reversible Socks
Day and night in the city are shown on the cuff of these doubleknit reversible socks. "Tonight Socks" pattern designed by Caoua Coffee who was inspired by the song in West Side Story. Sizes: women's US 7-8 (9-10). Fingering weight yarn.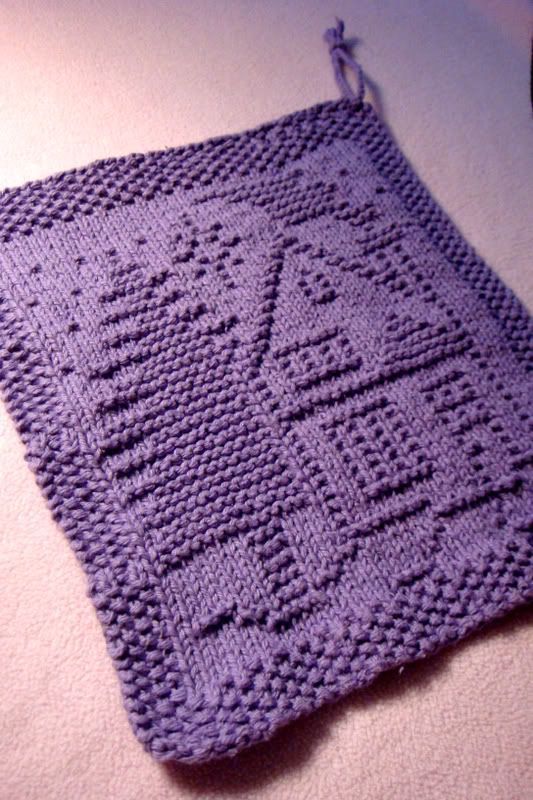 Home for the Holidays Dishcloth
Designed by Kris Knits, this cloth features a home for the holidays theme and is 9″x10″. The motif could also be used for blankets or other knitting projects.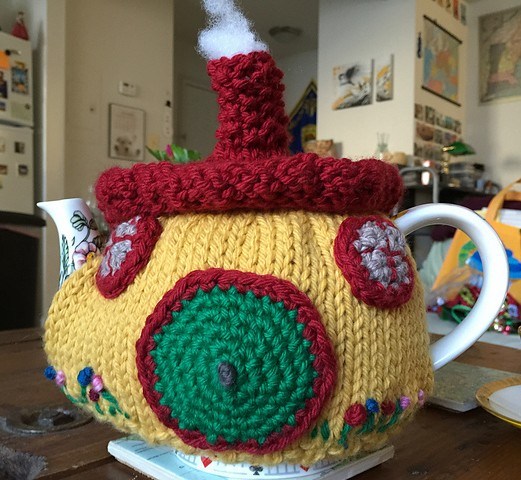 Hobbit Cottage Tea Cozy
Heather Tunnah's pattern instructs you how to knit the body, roof and chimney of this cozy. Embellishments are added with duplicate stitch, embroidery, or crochet. The pictured project by jesbelle varies from the original pattern by using crocheted circular doors and windows.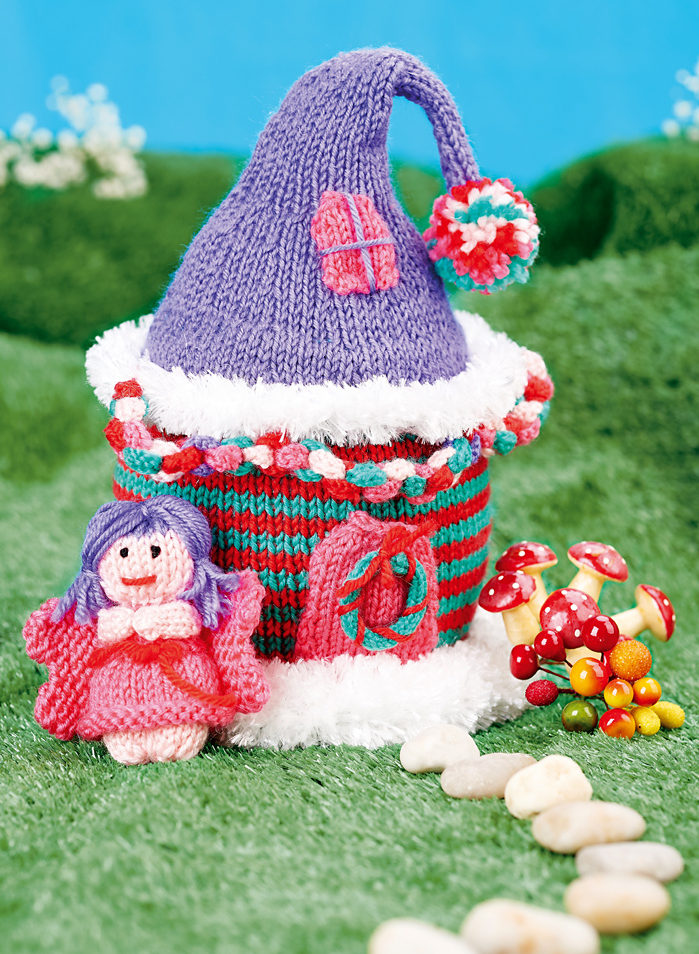 Fairy House with Fairy
This toy house and doll are created with simple knit stitches. Designed by Nicola Valiji. The file needs to be unzipped after download.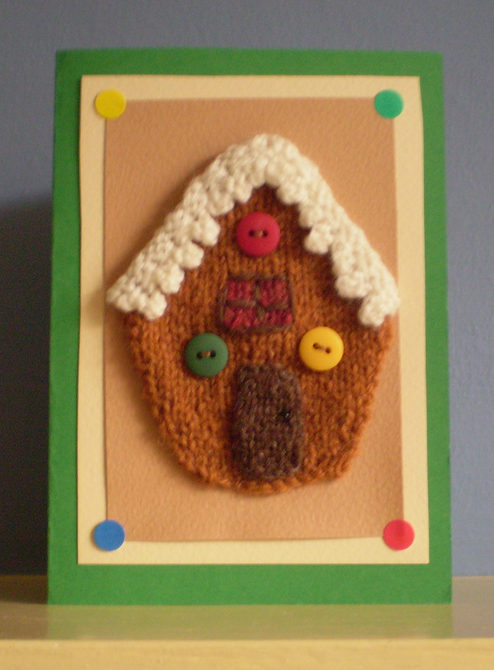 Gingerbread House Card
This knitted gingerbread house motif would make a special Christmas card. It is worked in 4 ply yarn and decorated with buttons. Designed by the amazing Frankie Brown.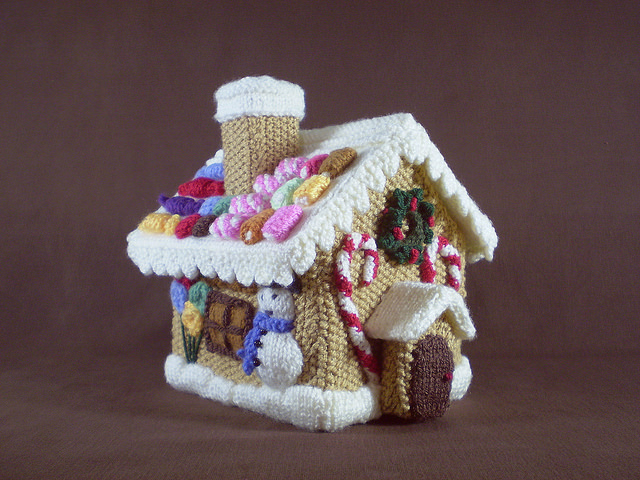 Gingerbread House
Frankie Brown's ingenious little house about 13 × 17 cm and 20 cm tall. Knitted treasures cover plastic canvas and the roof is hinged so you can store more treasures or treats inside the house.
Patterns for Purchase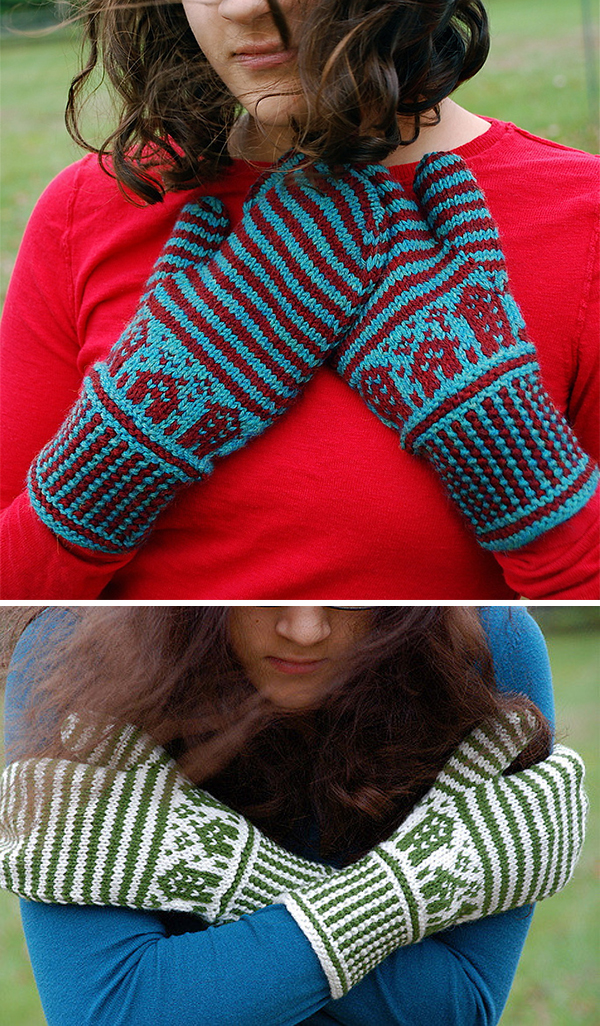 Reykjavik Mittens
These mittens feature a combination of stripes and a wee village worked in stranded colorwork.Designed by Kirsten Kapur. Worsted weight yarn.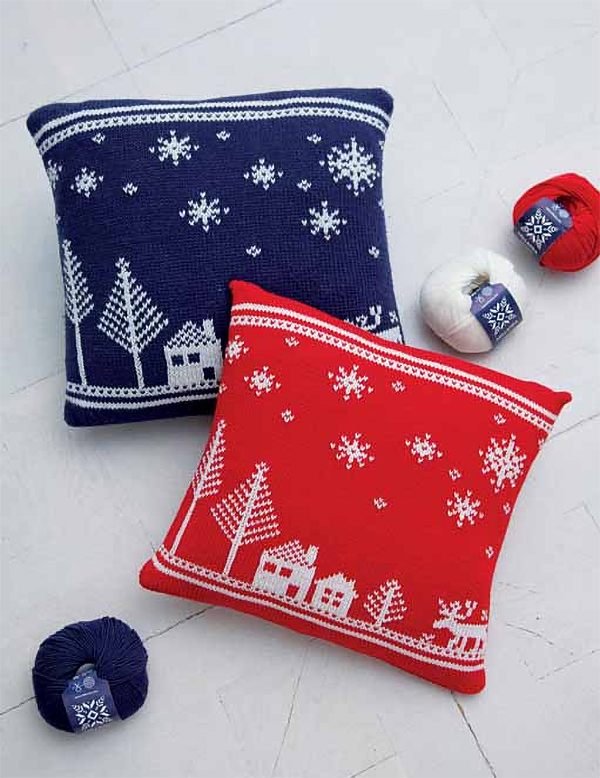 Nordic Nightscape Cushion
Pillow cover with scene with houses, trees, and snowflakes in colorwork of your choice, though the designer recommends duplicate stitch. Size 33cm/13in by 33cm/13in to fit a 35cm/13 3/4in by 35cm/13 3/4in cushion pad. Designed by MillaMia. Sport weight yarn.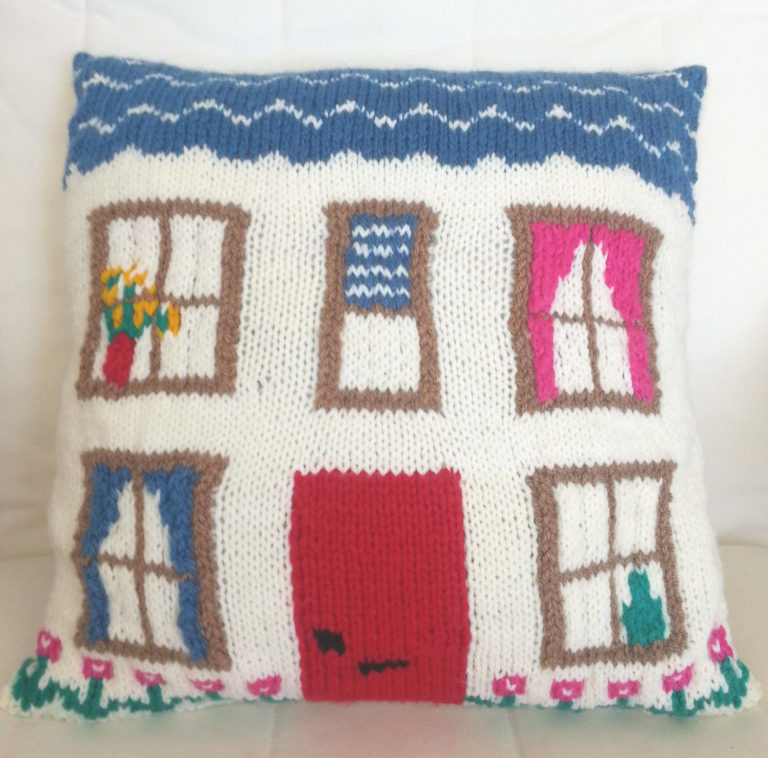 House Pillow
Personalize this pillow to match your house or for a gift recipient. Uses a combination of intarsia and stranded (fair isle) knitting. Great housewarming gift!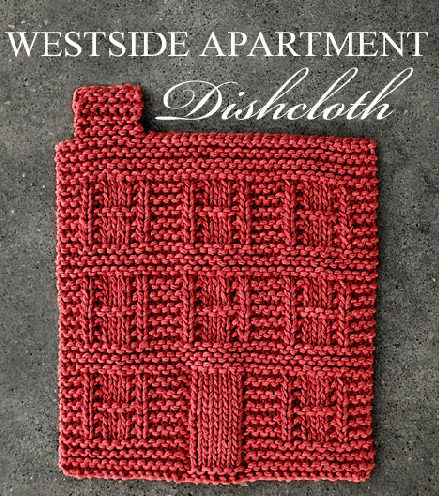 Westside Apartment Dishcloth
Approximately 7½" x 8", this cloth shaped like an apartment building makes a great housewarming gift!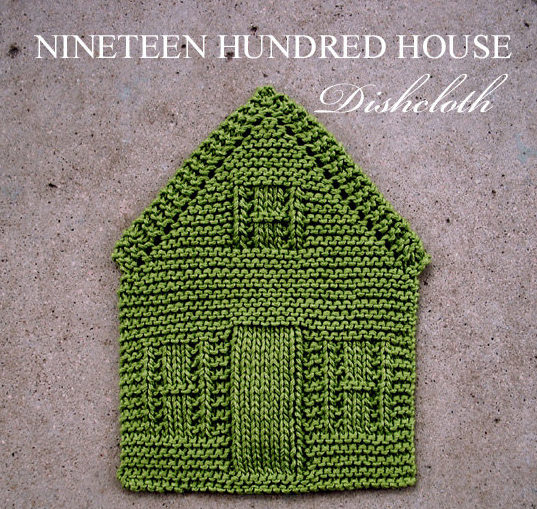 Nineteen Hundred House Dishcloth
Approximately 7″ by 10″, this house also makes a great potholder, hot pad, and housewarming gift!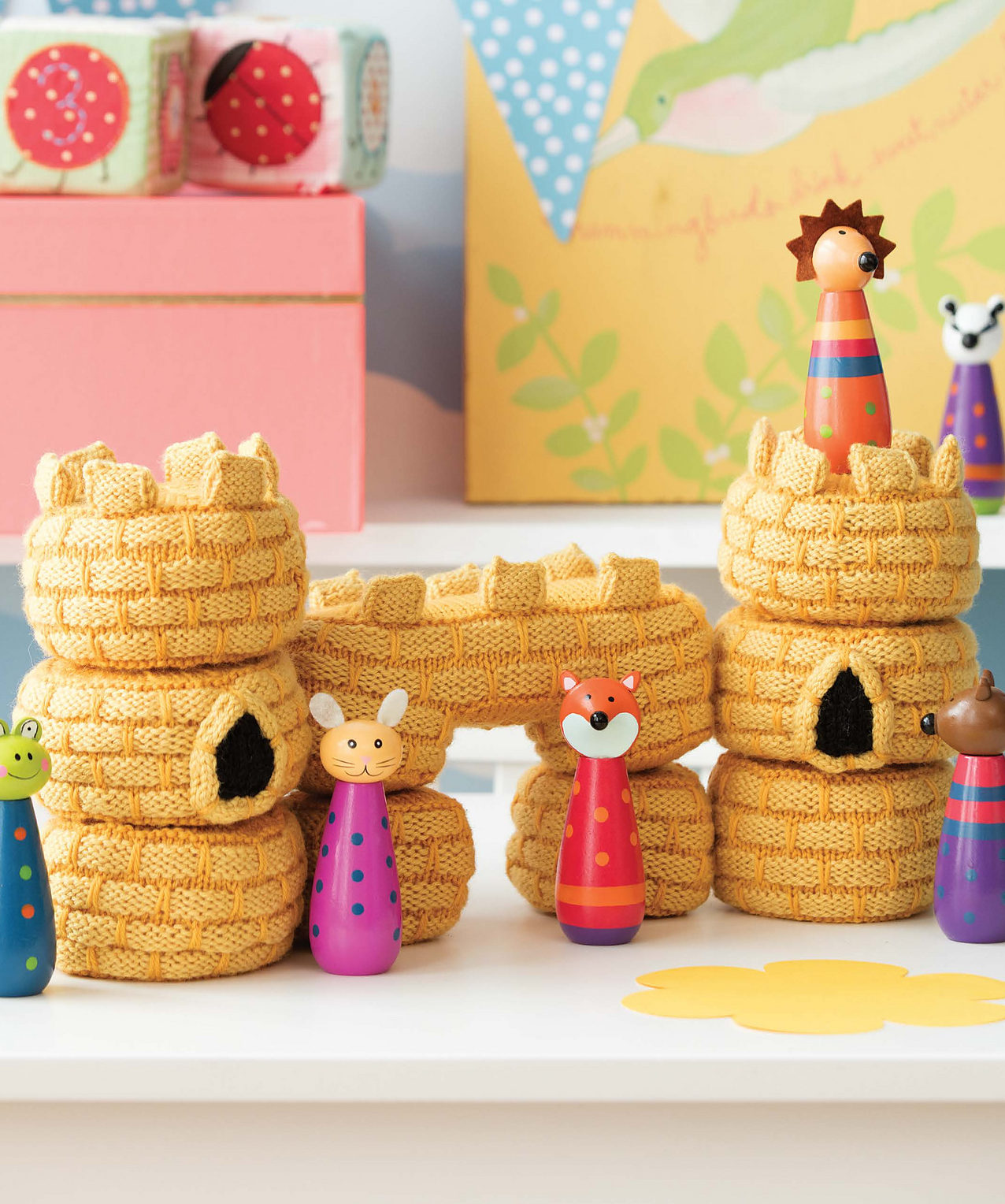 Castle Set
Create a knitted castle of your favorite child's dreams. Pattern is complete with instructions for archways, columns, and circular columns. Windows and merlons are knitted separately and attached. The castle pieces can also be rearranged for even more creative play. One of the patterns in 60 Quick Knitted Toys. Designed by Megan Kreiner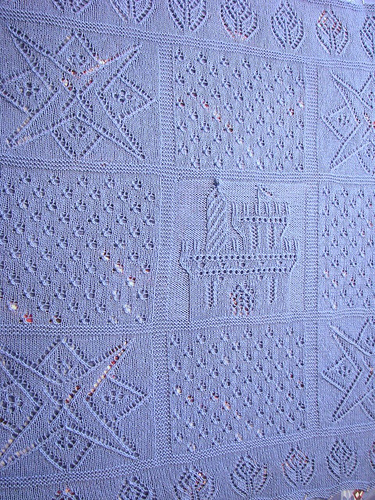 Fairy Tale Sweet Dreams Baby Blanket
A lace blanket of magical motifs designed by Melanie Lewis with an enchanted castle, stars to wish upon, fields of flowers. Size 38 x 38. This pattern is one of more than 10 patterns in the Interweave Knits Spring 1997 Digital Edition.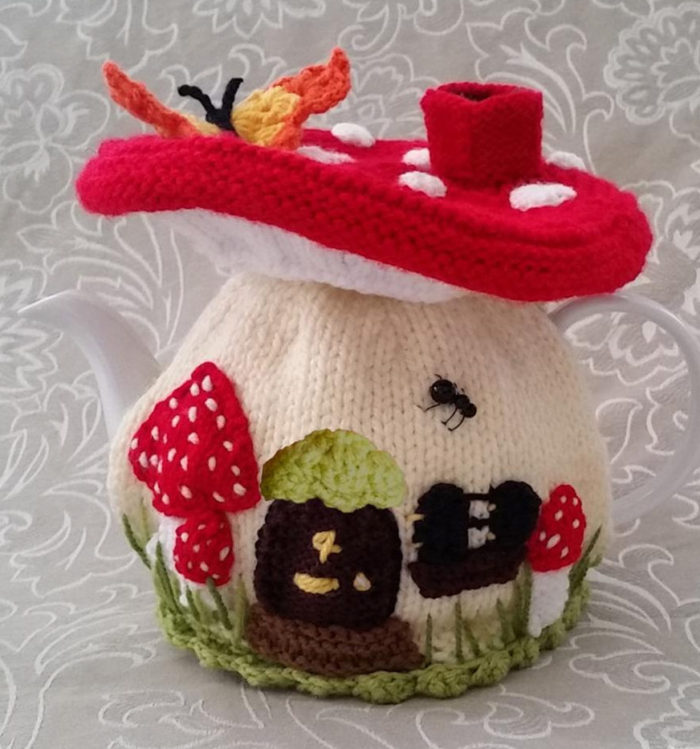 Fairy Mushroom Tea Cosy
The teapot cozy features a fairy house in a mushroom. Knitted on the flat with single pointed needles. Designed by Nowmine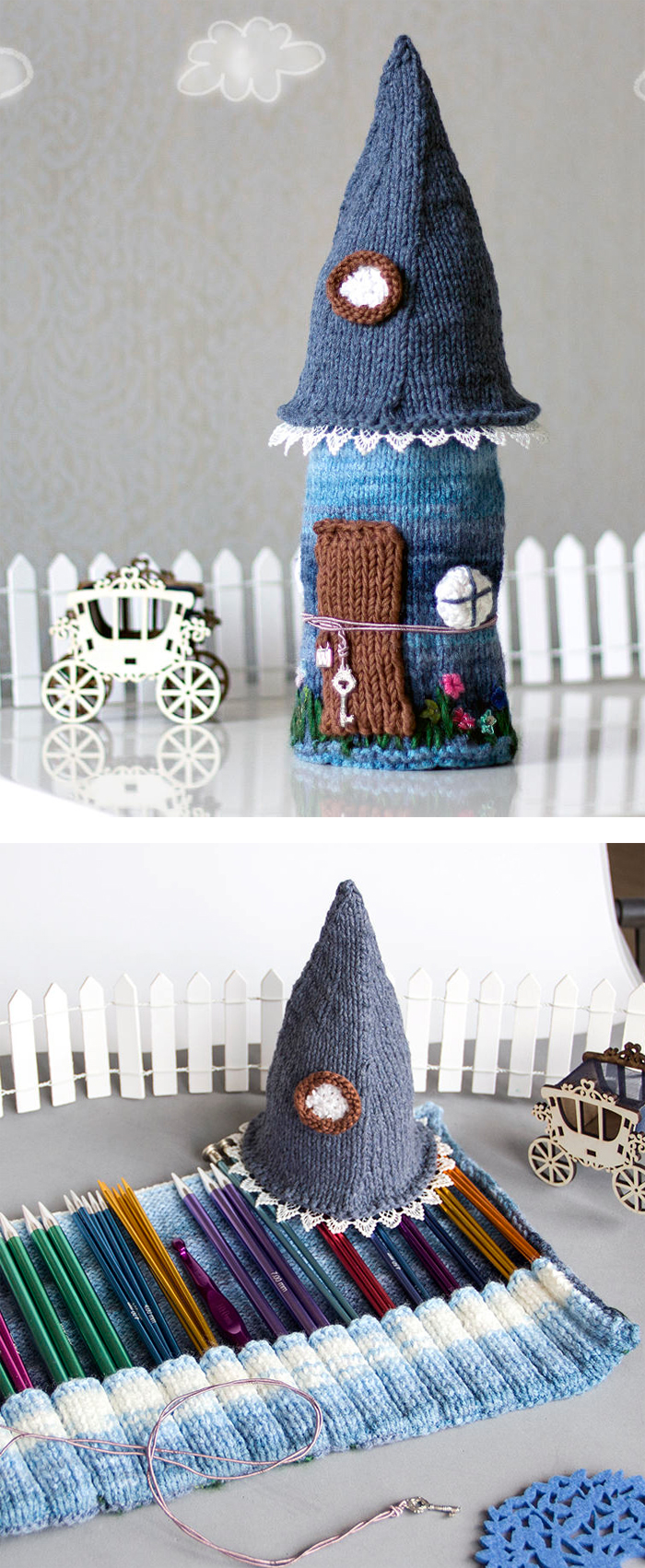 Fairy Tale House Case
This roll up case is perfect for knitting needles or color pencils and looks like an enchanted cottage. House height is about 31 cm /12.2 inches/.