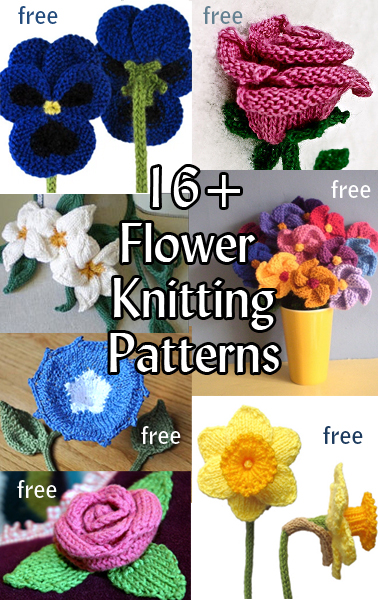 This garden of flower knitting patterns can be used for all sorts of knitting projects: to create centerpieces for special occasions, for brooches or other clothing embellishment, as appliques to other knitting projects, as home decor and more! Knit one or knit several to make a bouquet.
Free Knitting Patterns
Patterns to Purchase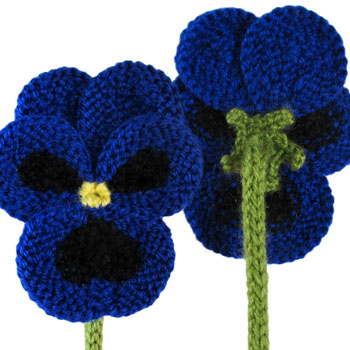 Pansy Knitting Pattern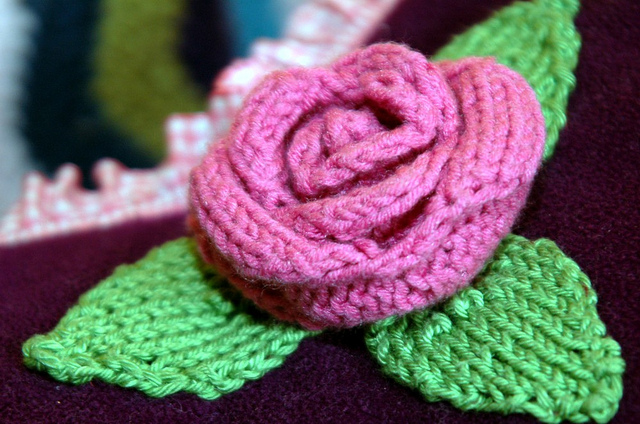 Rose
Lesley Stanfield designed this rose that is knit as one piece and then wrapped to create the rose.
Morning Glory
Lesley Stanfield created this beautiful flower knit in the round with leaves knit on straight needles.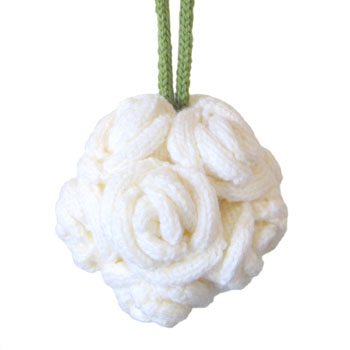 Throwing Bouquet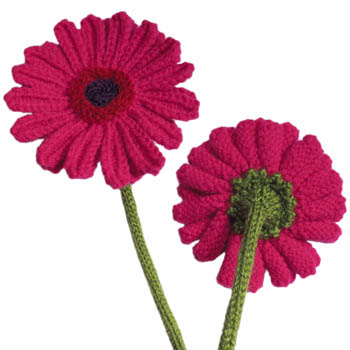 Gerbera Daisy
No matter what colors of yarn you have lying around there's probably a gerbera to match, so go wild!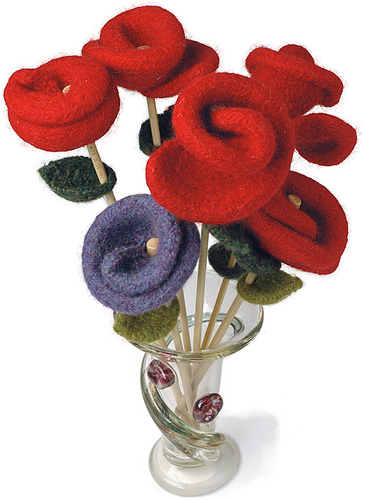 Peruvia Rose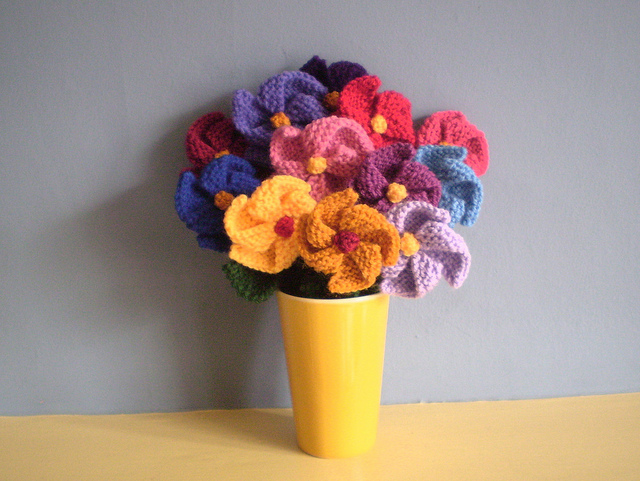 Pinwheel Flowers
These flowers designed by Frankie Brown are simple garter stitch flowers, knitted in one piece, from DK yarn. A pattern for stalks and leaves is also included, should you want to knit a bouquet.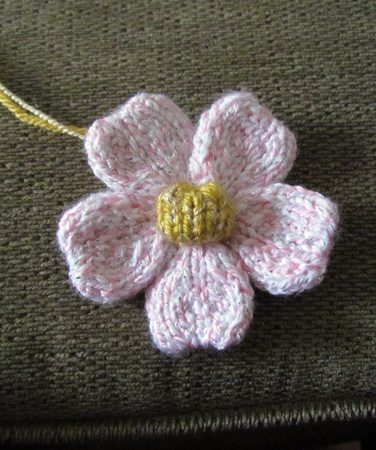 Knitted Flower Pattern
Designed by Yarn Art Cafe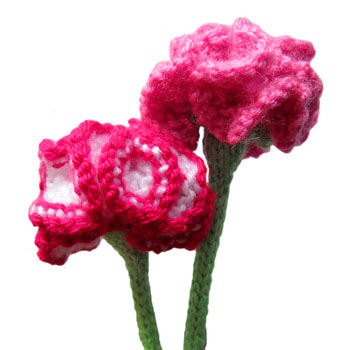 Carnations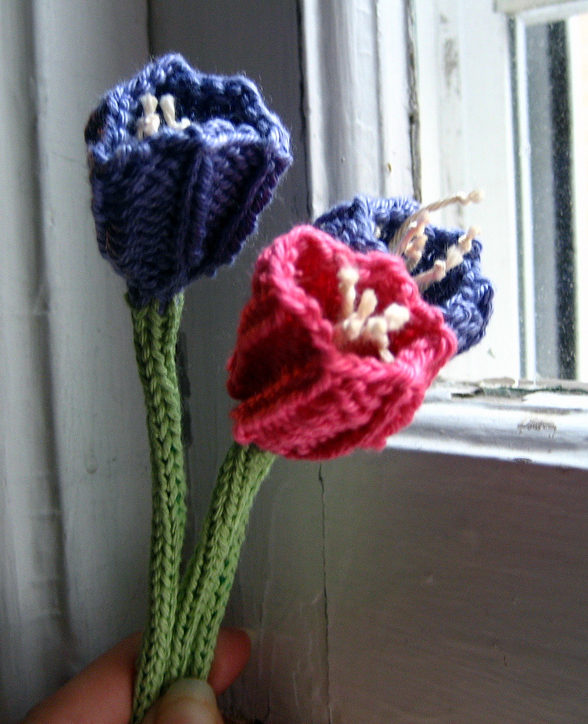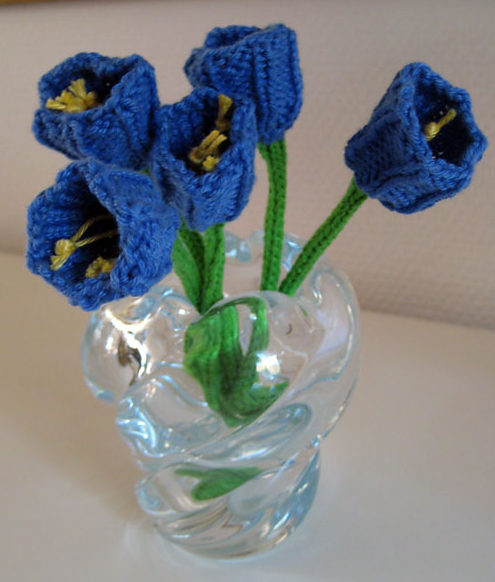 Flower – Bloem
Easy tulip-shaped flowers by Saartje de Bruijn. Pictured project by caramelsnow or Padlitam

Diamond Jubilee Flower
This bead and wire knit flower design by Fiona Morris can be used as jewelry or decoration. Also comes with a pattern for wire and bead necklace and bracelet.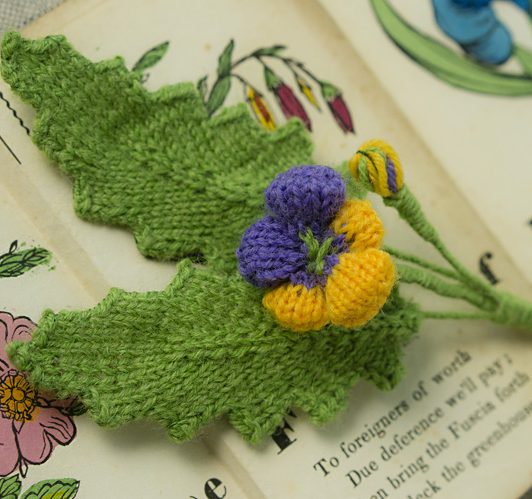 Heart's Ease Boutonniere
Franklin Habit adapted this pattern from a 19th century design from The Floral Knitting Book; or, The Art of Knitting Imitations of Natural Flowers. Franklin Habit is best known for his cartoons about knitting that have been collected in It Itches A Stash of Knitting Cartoons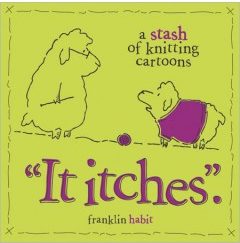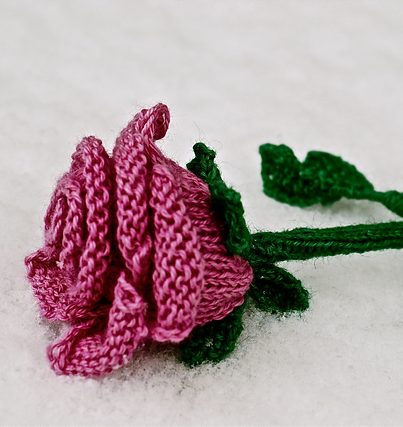 Rose
Libby Summers created this beautiful rose design that is knitted in four pieces – one center piece and three outside petals. There are six pieces for the leaves. The stem is knitted in one piece as a tube using double pointed needles.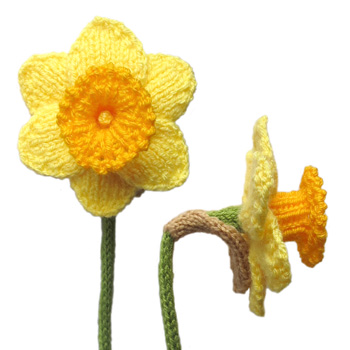 Daffodil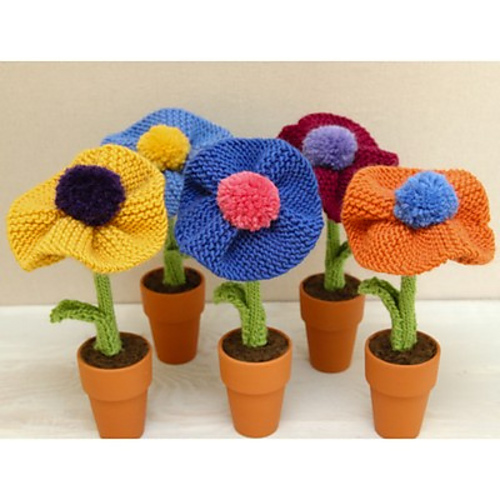 Berkshire Blossoms
These easy bright flowers by Valley Yarns for Valley Yarns Berkshire are a quick knit using garter stitch flower with a pom pom center.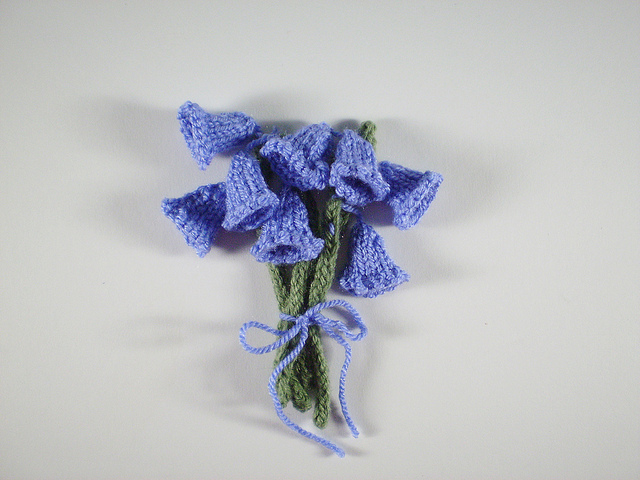 Bluebells
Frankie Brown designed these woodland bluebells that are knitted two to a stem. The flowers come in two sizes -2cm and 3cm.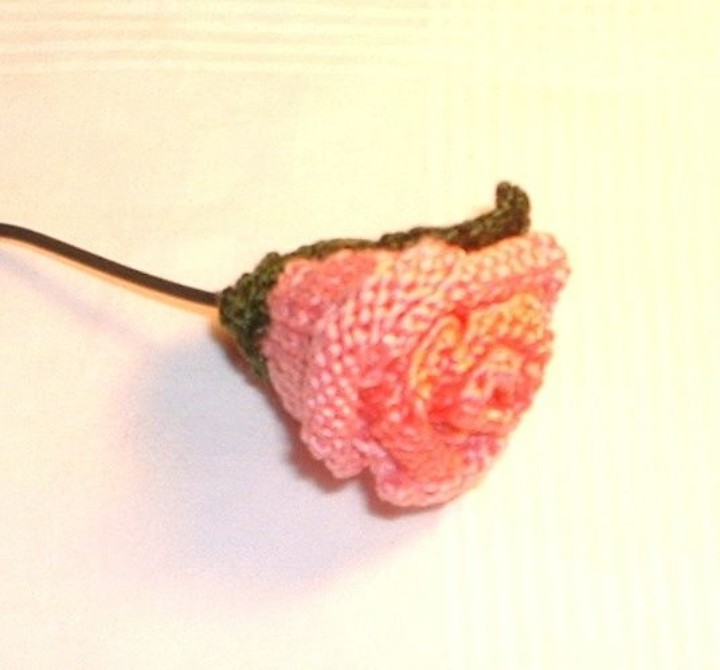 Rosebud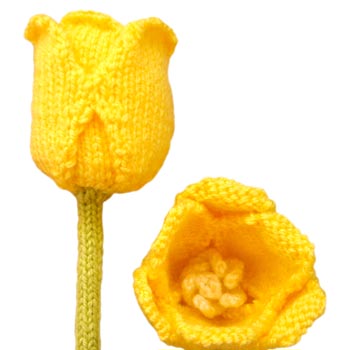 Tulips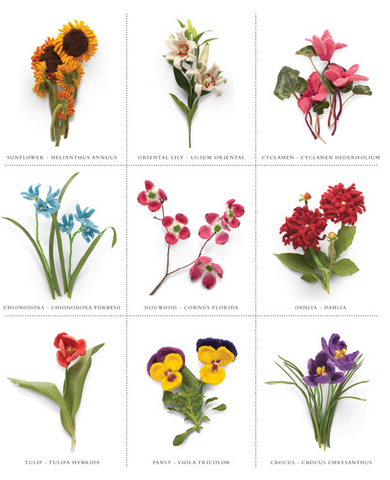 Noni Flower 40 Exquisite Knitted Flowers
These designs by Nora Bellows are truly amazingly gorgeous!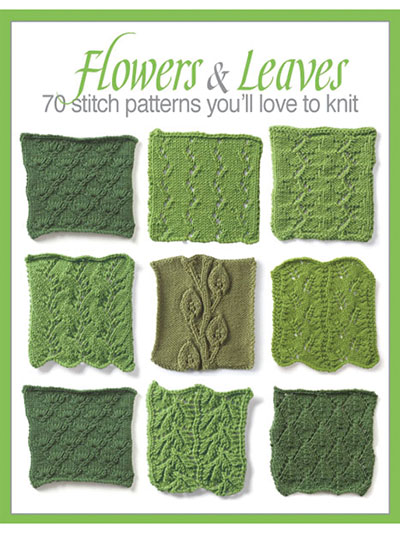 Flowers & Leaves: 70 Stitch Patterns You'll Like to Knit
More interested in stitch patterns than decor? Then you'll love this book. Designs include cable and lace stitches for flora such as eyelet fern, blackberry stitch, budding leaves, rosettes, diamond leaves, spring leaves, vines and so much more!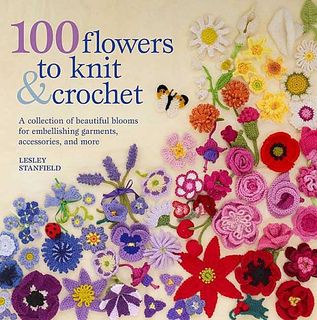 100 Flowers to Knit and Crochet
Lesley Stanfield created a beautiful collection of patterns perfect for embellishing your favorite clothing or accessories are a perfect way to use up scraps of yarn or try out interesting new yarns. With 100 patterns you pay less than 18 cents per pattern!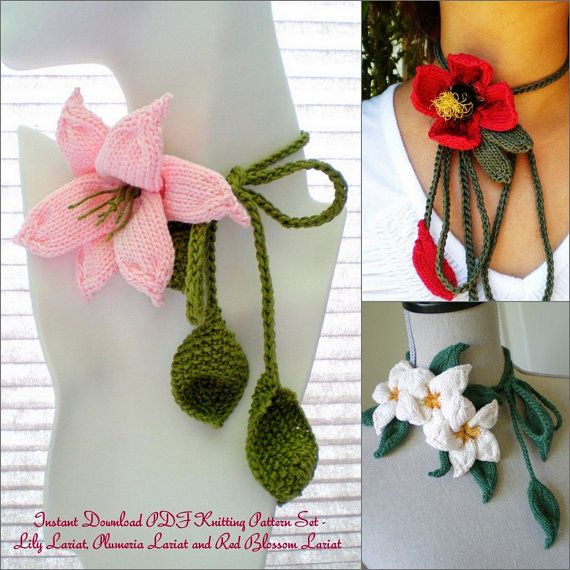 Lily Lariat, Plumeria Lariat and Red Blossom Lariat
Patterns can also be purchased individually.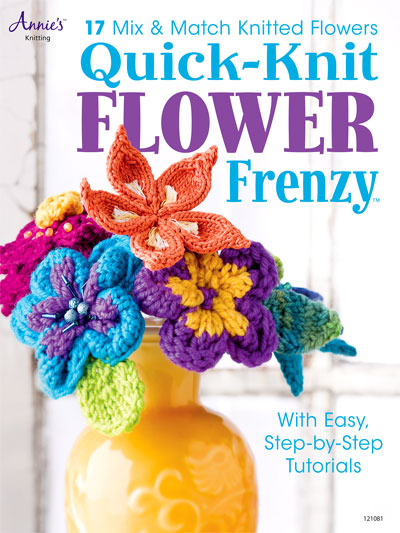 Knit Flower Frenzy
Create whimsical knit flowers using 17 easy-to-follow knitting patterns — no felting required!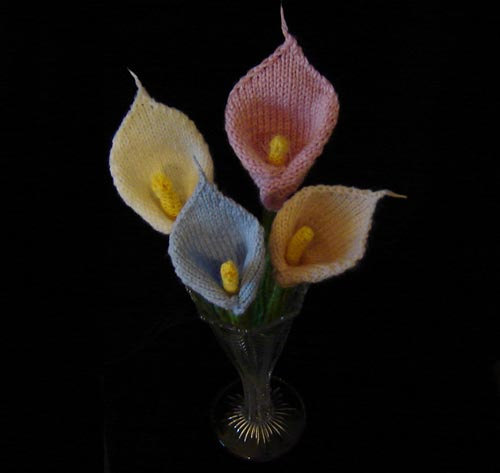 Calla Lily
These knitted Calla Lily flowers are quick and easy for even a beginner to make.
Get the knitting pattern for $3.50 at Etsy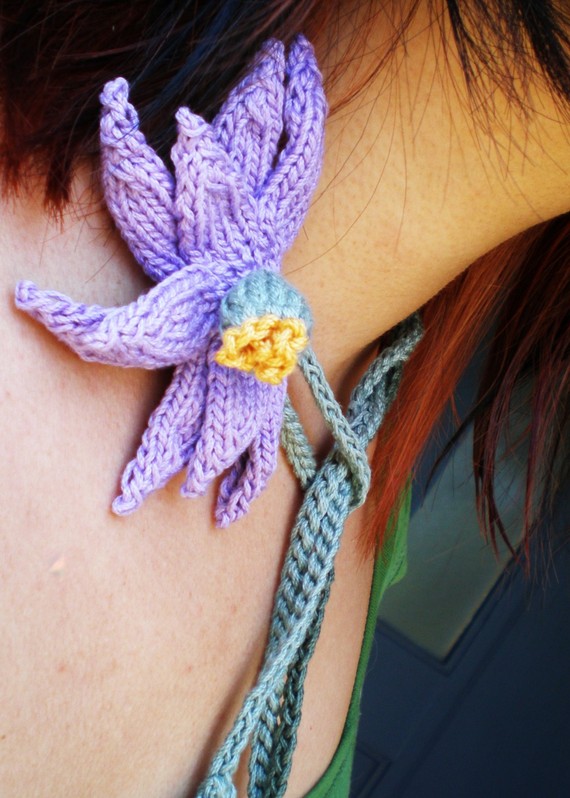 Daisy Loves Me Lariat