Fun Afghan Knitting Patterns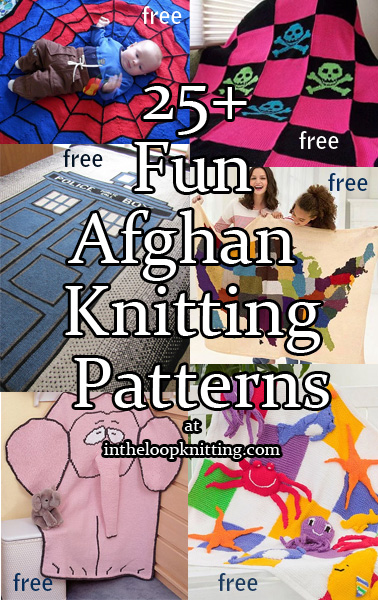 These blanket and throw patterns vary from the whimisical to quirky to educational, but all are attention-getters.
To get the knitting patterns, scroll down the page to the individual pattern you want and click on the link to that pattern.
These patterns are not my designs but links to other designers who have generously shared their patterns. If you have questions about how to knit a specific pattern, please contact the designer directly.
All links on this site are for informational purposes, but please note that some links are to affiliate sellers that pay me a small commission on purchases.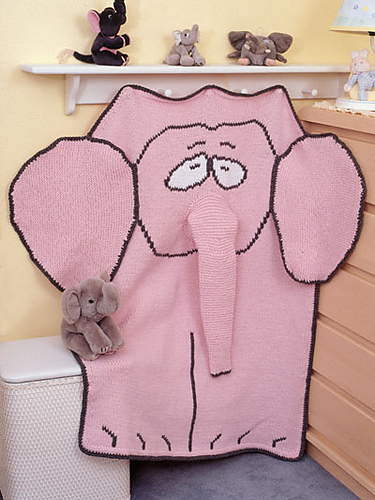 Spencer the Elephant Baby
Designed by Kathy Sasser for the book Quick Knitted Afghans, the blanket is worked in stockinette and garter with the features in duplicate stitch. 33 X 45″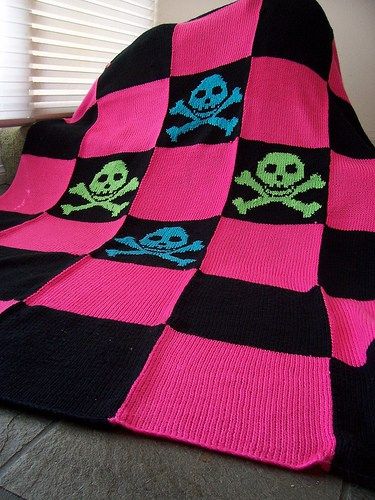 Pretty Punk Blanket
Afghan for the pirate or punk in your life from the Running Yarn. This blanket is knit in five long strips, like scarves, then seamed together at the end. Width: 5 feet Length: 7 feet.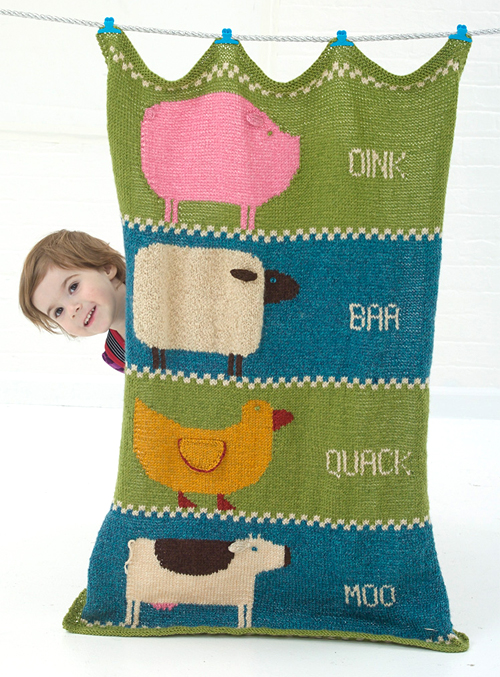 Animal Talk Throw
Amy Bahrt designed this fun throw for animal lovers. Fun attachments of ears, tails, and wings make this a three-dimensional blanket. 29 in x 38 in. Matching cardigan sweater pattern available for 2 years (4 years, 6 years).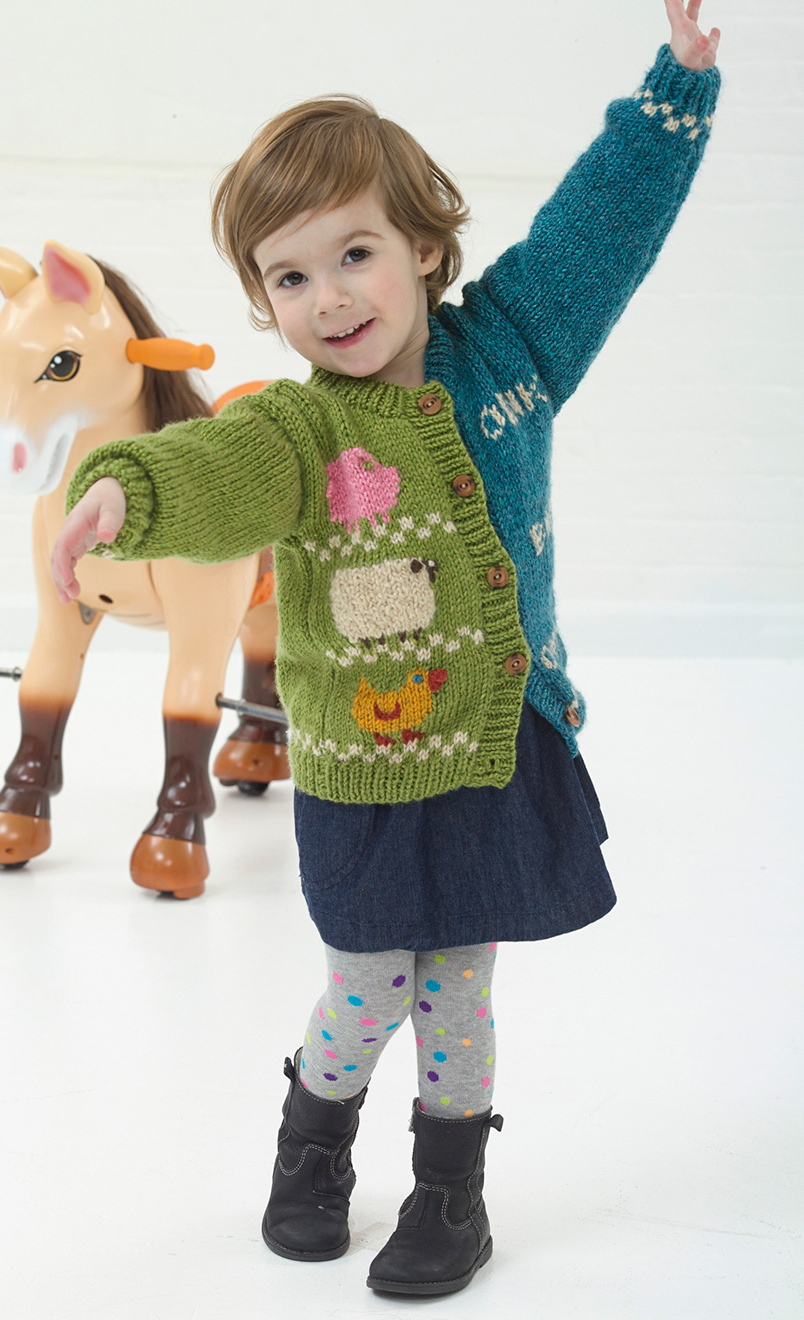 Get the free knitting pattern for the matching Animal Talk Cardigan for 2 years (4 years, 6 years)
Map of the World Afghan and Pillows
Kay Niederlitz designed this detailed project. It is knit in strips. I think you could customize it and make the continents all one color if you didn't want to knit the countries and/or wanted to emphasize global unity.
USA Map Afghan
Intarsia map of the United States from Lion Brand with different colors for each state. 45 x 66 in. (114.5 x 167.5 cm)
Spiderman Blanket
Annen Blogi designed this colorful design.
Tardis Afghan
Designed by Carrie Fritsche, this Tardis blanket is almost life size at 9'6″ x 6'4″ and it worked with intarsia in one piece.
Star Wars Knitting Charts
Leah Fenton designed these charts you can use for blankets, hats, sweaters, or any knitting projects.
OpArt Blanket
This high contrast, op art blanket is designed by Melissa Dominguez to appeal to a baby's developing vision, but we adults love it too! Two sizes.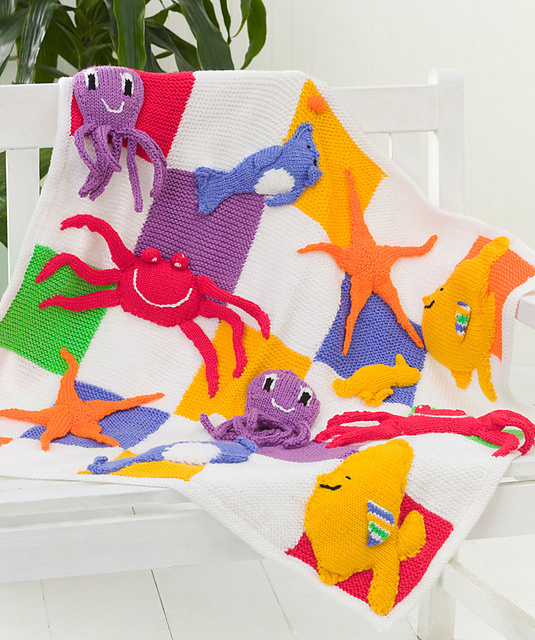 Sea Creatures Throw
Carol J. Sorsdahl for Red Heart Yarn designed this fun project that is half blanket and half toy. Blanket is knit in strips and sewn together. Sea creatures are knit separately and sewn to blanket. 32″ x 32″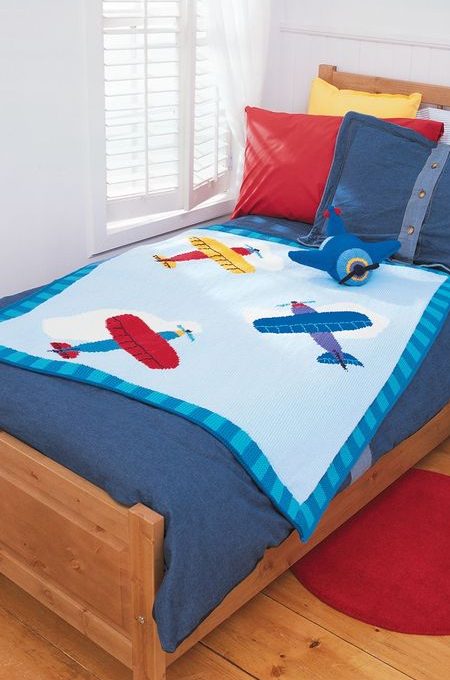 Airplane Blanket and Toy
This bright design by Patons is Approx 38 x 46 ins [96.5 x 117 cm]. The matching airplane toy pattern is also available.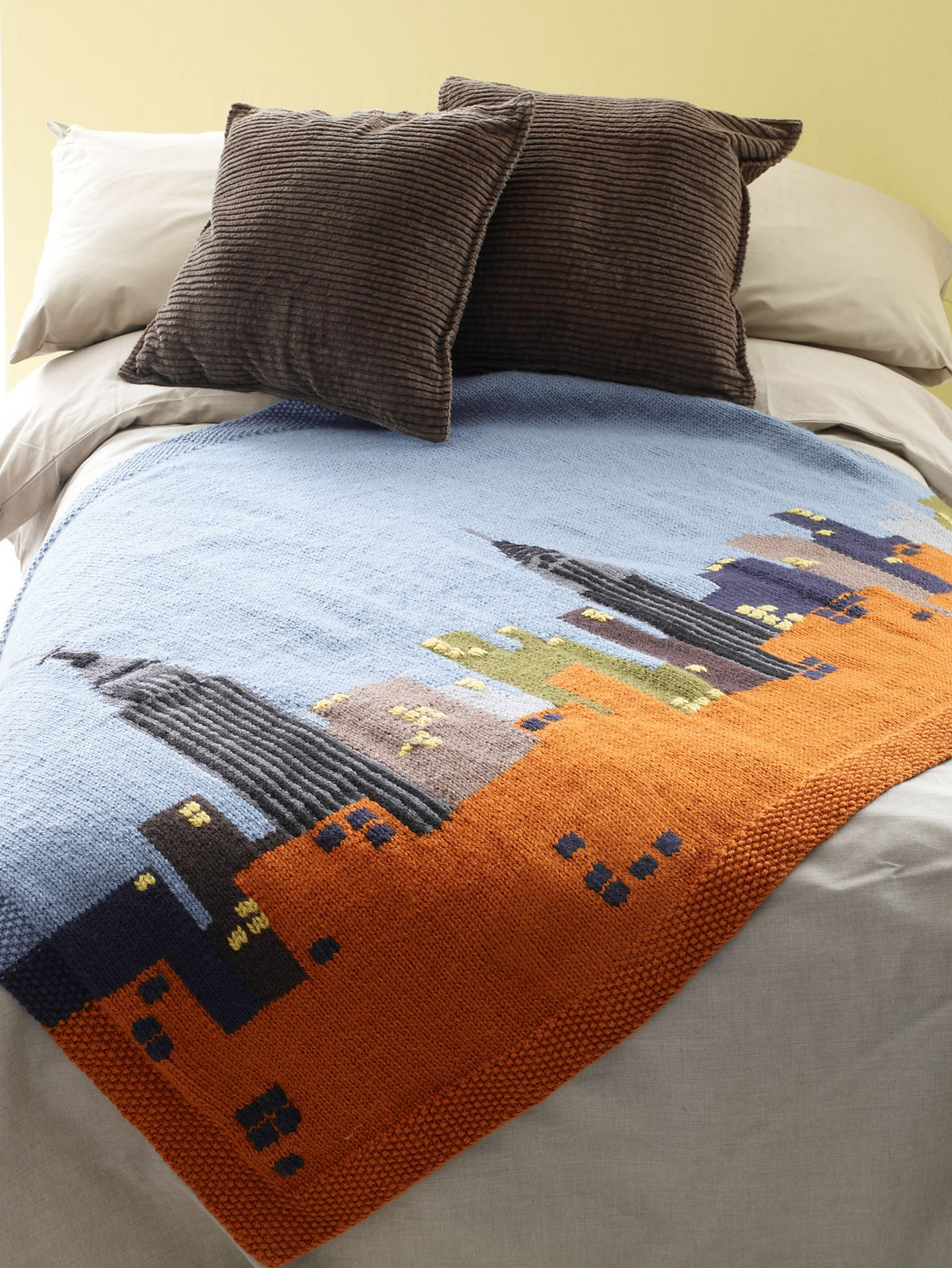 NYC Skyline Afghan
Lion Brand Yarn created this blanket with familiar New York City buildings.
Kittens and Butterflies Blanket
Judy Lamb designed this adorable blanket with lace motifs. 34 inches wide X 32 1/2 inches high. The picture above is just one strip of the blanket.

You Can Do It Afghan
Susan Reckford designed this empowering throw with an homage to Rosie the Riveter on the front and You Can Do It on the back. Front and back are knit separately and sewn together. About 50 x 59 in. (127 x 150 cm)
Periodic Table
Jessica Evans designed charts for the Periodic Table of Elements that can be used for knitting or crochet. The pictured project is knit by GretelW with modifications. Oh, and if you wonder about the quote at the top of the pictured afghan, it's from Tom Lehrer's Elements Song If you haven't heard it, you're in for a treat!
Dinosaurs Blanket
Designed by Patons. Also available – matching toy dinosaur patterns. Toy Height: 20 ins [51 cm]. Blanket 37 x 52 ins [94 x 132 cm] point to point
The Ron Weasley Blanket
Jackie Wierzbicki at the Penguineer was inspired to re-create Ron Weasley's Blanket as seen in the Harry Potter movies on his bed in the dormitory in Gryffindor tower. She carefully researched the blanket from all the images she could find. It probably is not a true sampler blanket because the squares are all garter stitch but I couldn't resist adding it here. A great stash buster!
Game of Thrones Blanket
The sigils of the houses adorn this knitted design by Ruby Gal is created with intarsia, a simple cable pattern, and basic embroidery.