Cat and Kitten Knitting Patterns
Knitting patterns for cat and kitten softies, hats, scarves, and more.
To get the knitting patterns, scroll down and click on the link to the individual pattern.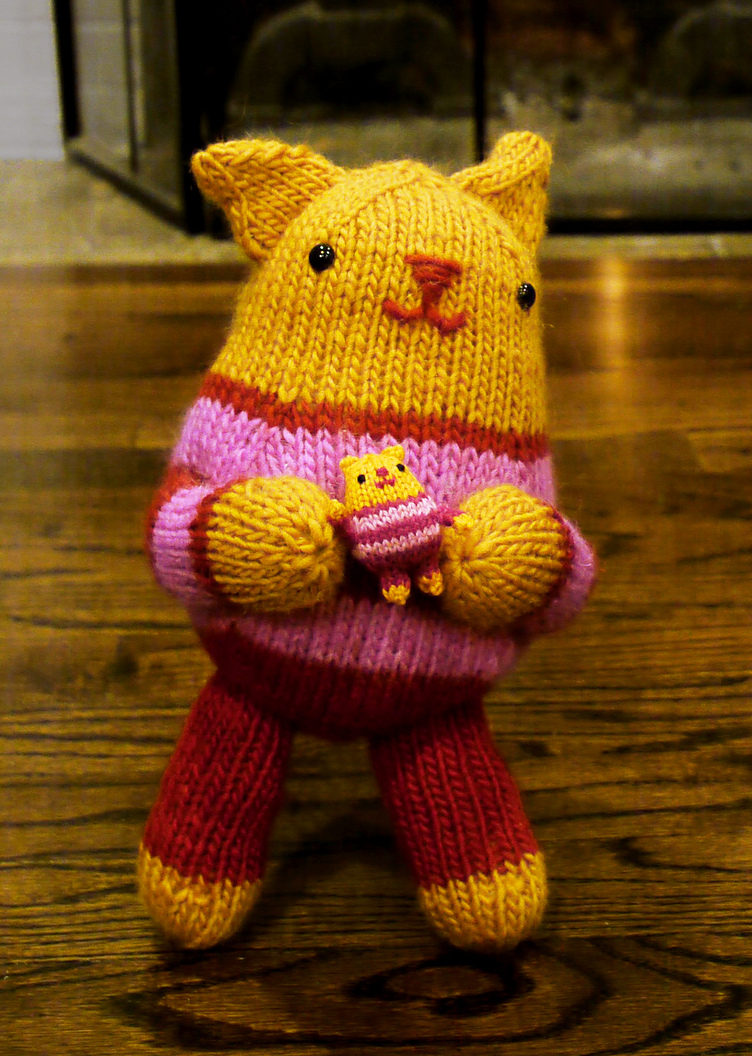 Kate and Kate's Kitten
This pair of toy cats are a perfect pairing. The larger cat Kate is 12 inches from top of ears to toes. Her kitten is 1.75 inches/4.5cm tall. Kate designed by Jess Hutchison and her kitten designed by Anna Hrachovec for Knitty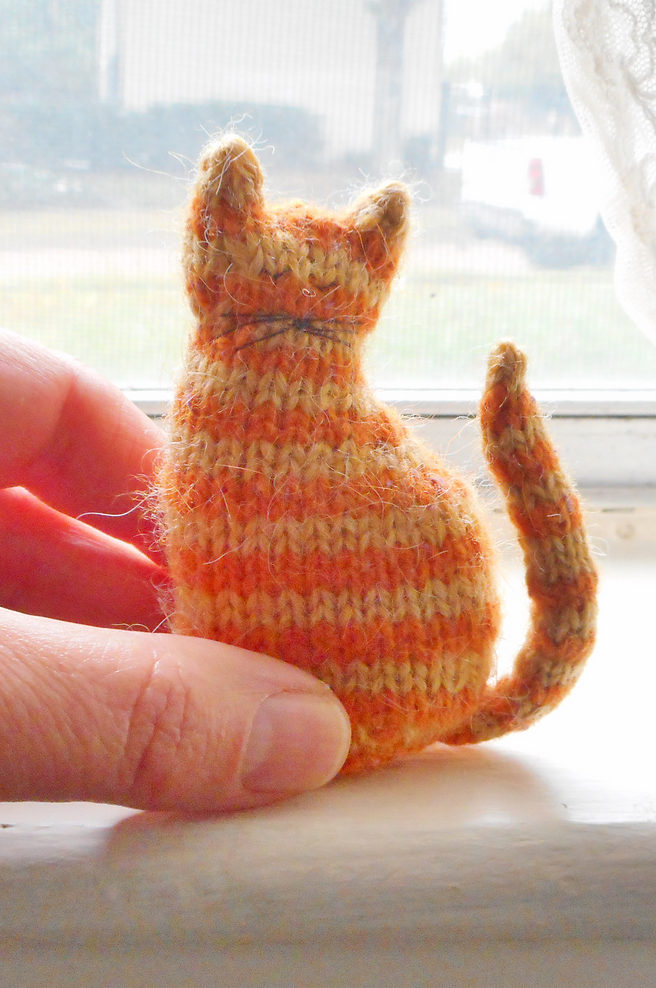 Tiny Window Cat
It's 3 inches tall, worked in the round, and all in one piece except for the tail. Designed by Sara Elizabeth Kellner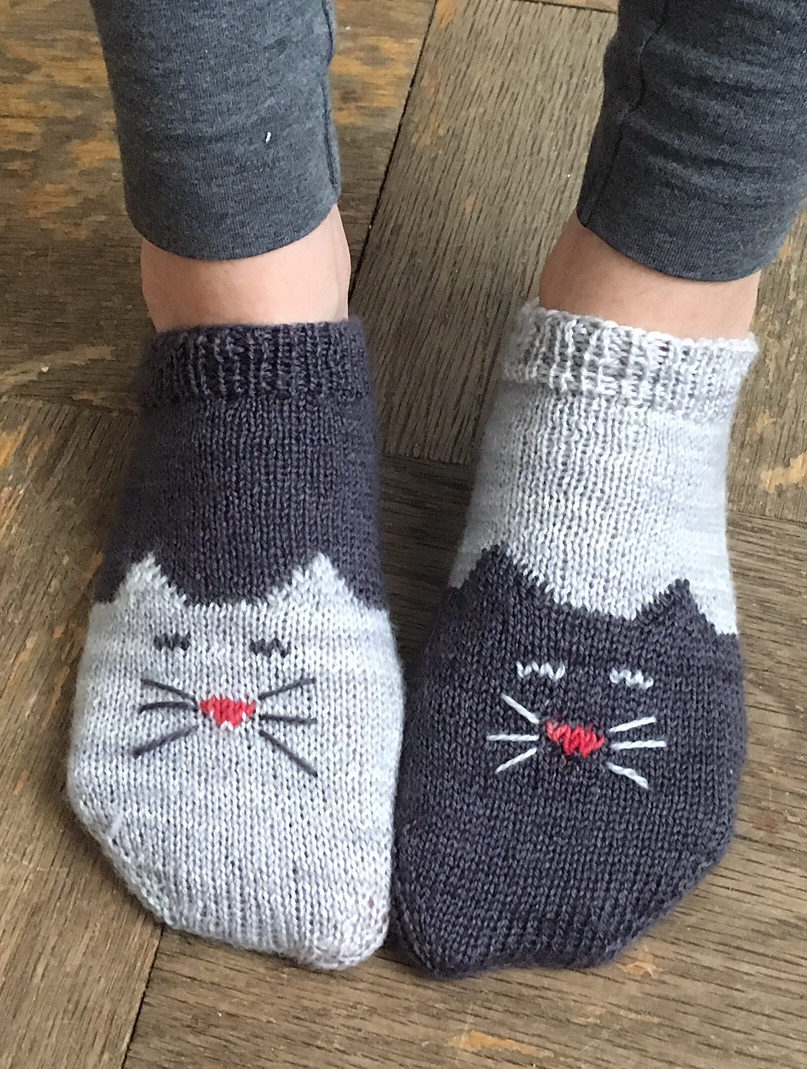 Yinyang Kitty Socks
Toe-up ankle socks with a kitty chart on the toe and foot and a simple short-row heel. Designed by Geena Garcia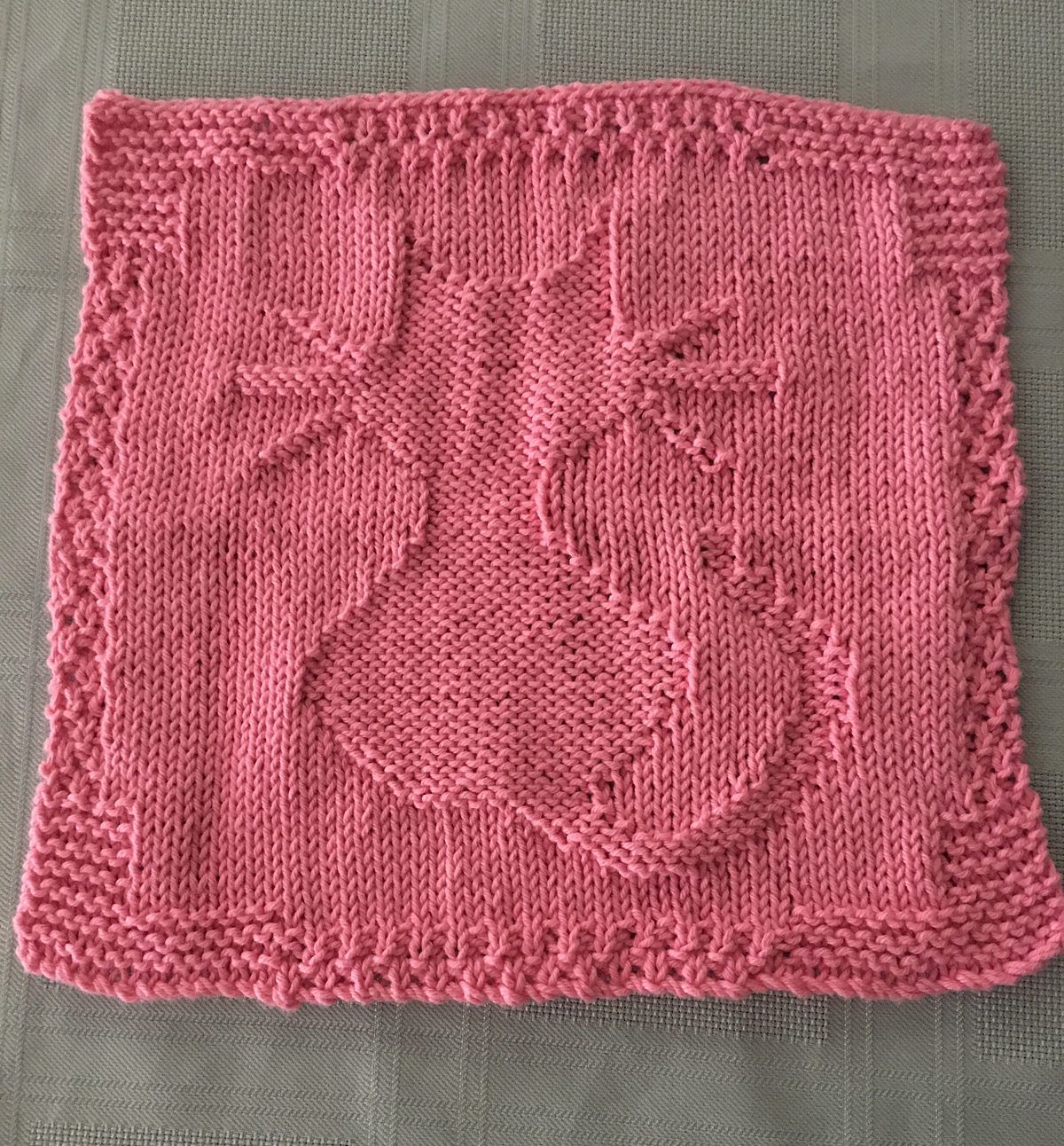 Kitten Kaboodle Dishcloth
This cloth features a cat silhouette that call also be used on afghan blocks and other knitting projects. Designed by Erica Jackofsky for Knit Picks. Pictured project by JanePoppins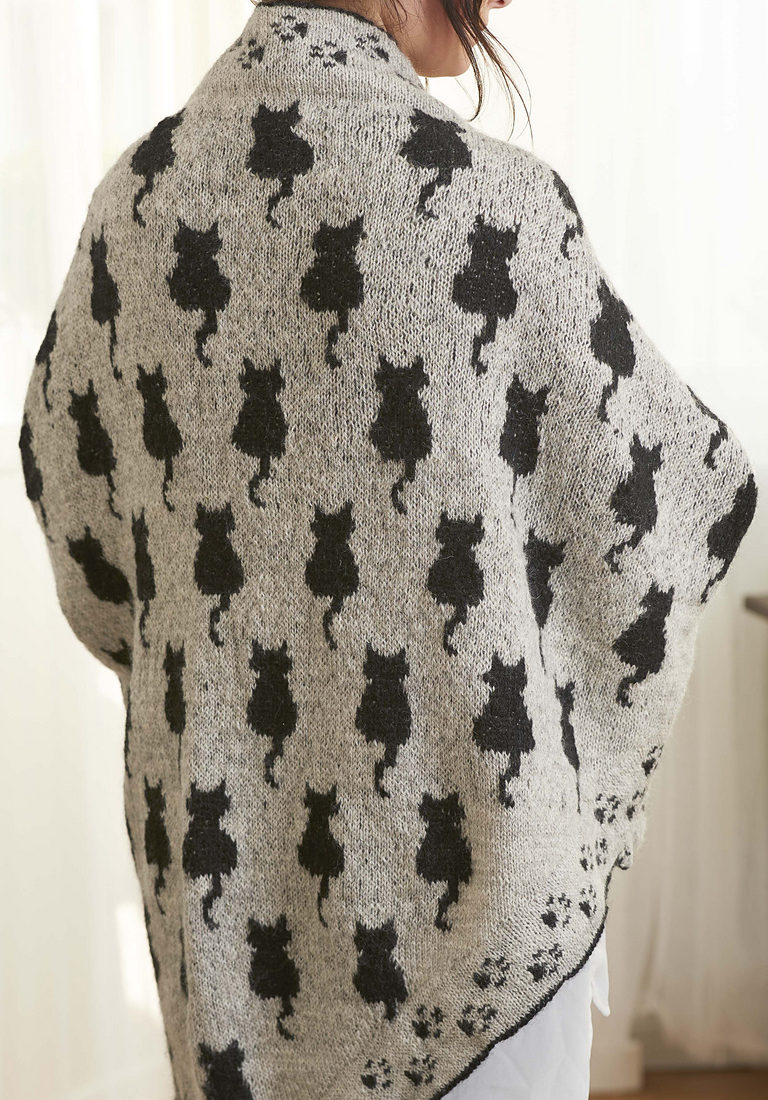 Cat Shawl
Stranded colorwork shawl by Susanne Ljung features cat silhouettes with pawprint border. The English version of the pattern is at the bottom of the page, under the Swedish version.
It looks like the designer's website is down at least temporarily…. Here is a link to the web archive page for the site. The chart for the pattern can take a long time to load.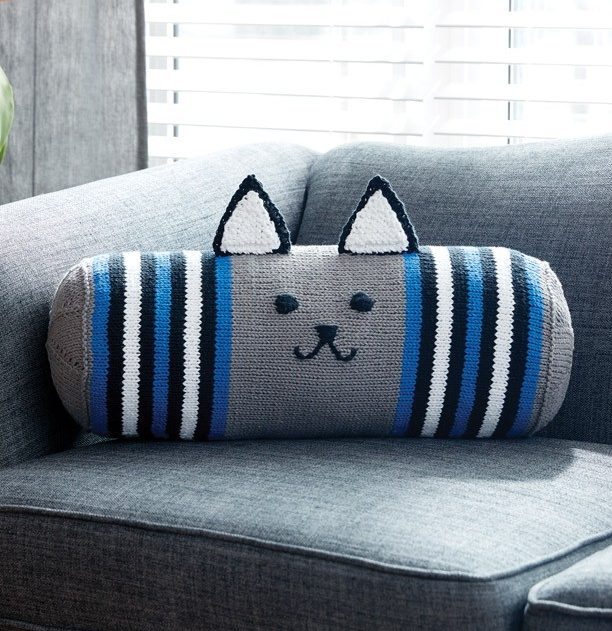 Kitty Bolster Pillow
Adorable cat-faced cushion from Yarnspirations. Approx 19″ [48 cm] long x 7″ [18cm] diameter.
Grumpy Cat
bigdamnhero's Grumpy Cat project is a customization of Linda Dawkins' Beans the Cat pattern (see below).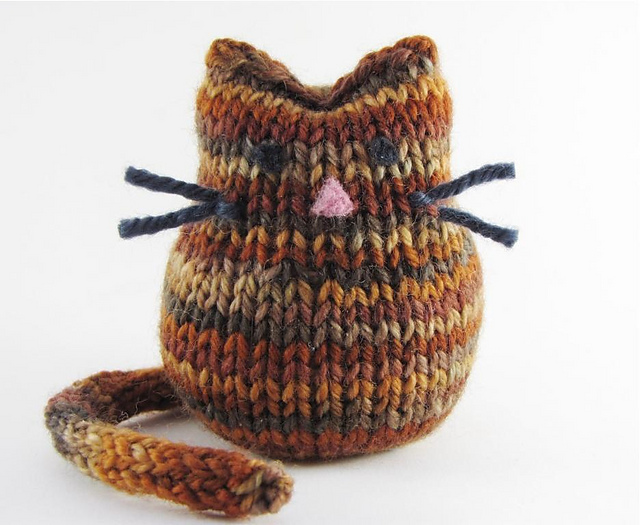 Beans the Cat
Linda Dawkins' original Beans the Cat pattern can be knit in the round or knit flat and then seamed.

Grumpy Cat Chart and Hat
mirella design created this chart of the meme cat that can be used in your knitting projects. Pictured project is by katycabot who has notes on how she made the hat

Brownie the Cat
Barbara Kobayashi created these soft round kitties perfect for customizing to look like your feline friends. Pictured project by knittypocket
Oliver Cat Teapot Cozy
Knitting pattern offered free by Craft a Cure for Cancer
Window Cat
Sara Elizabeth Kellner designed this simple pattern knit in the round from the bottom up. Tail and paws are knit separately, also in the round, and seamed to the body. The pattern is easily customized in a variety of ways.  About 12 inches by 7 inches.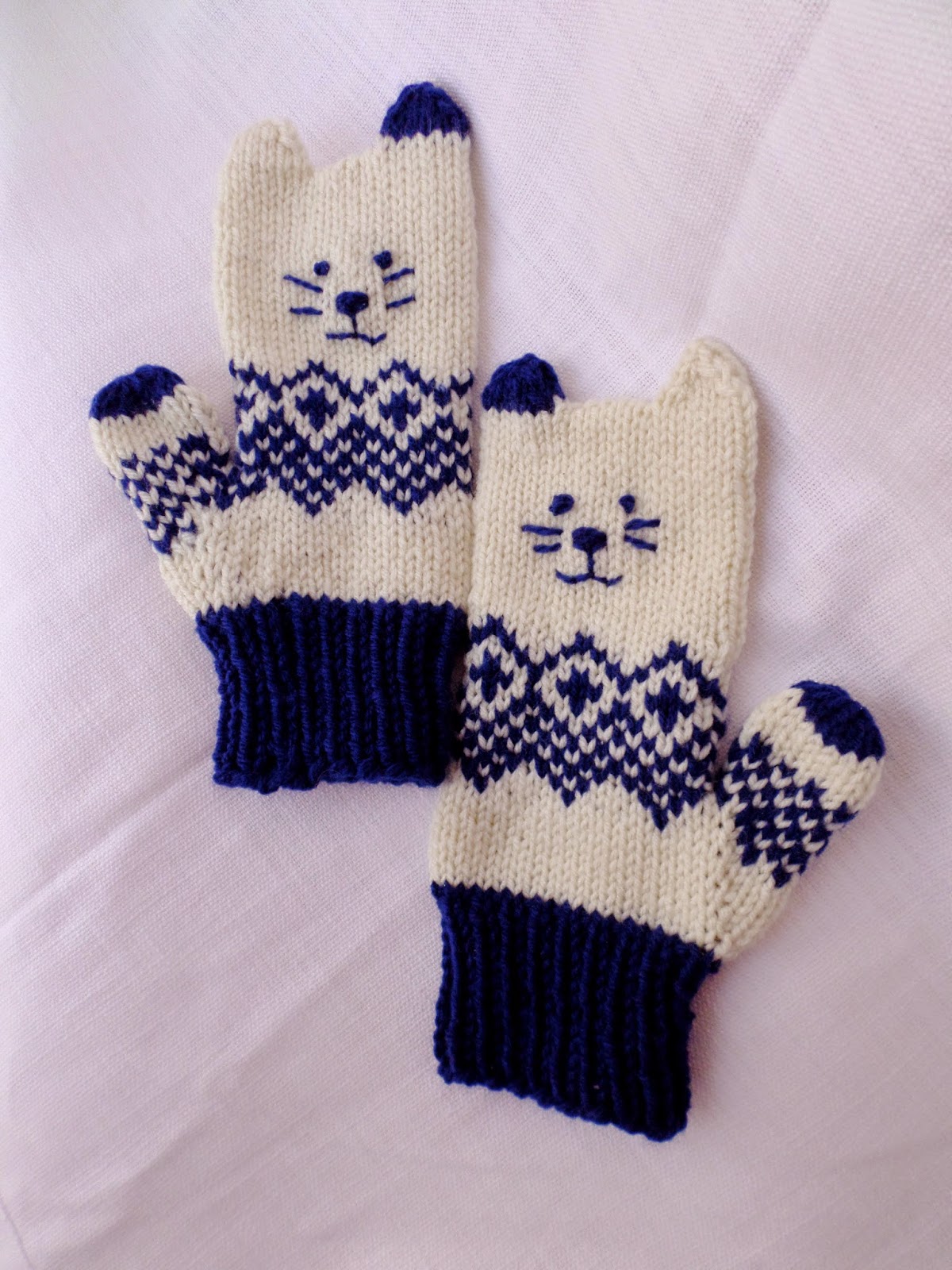 Norwegian Kitten Mittens
Designed by Salty Crafts who also has a striped version.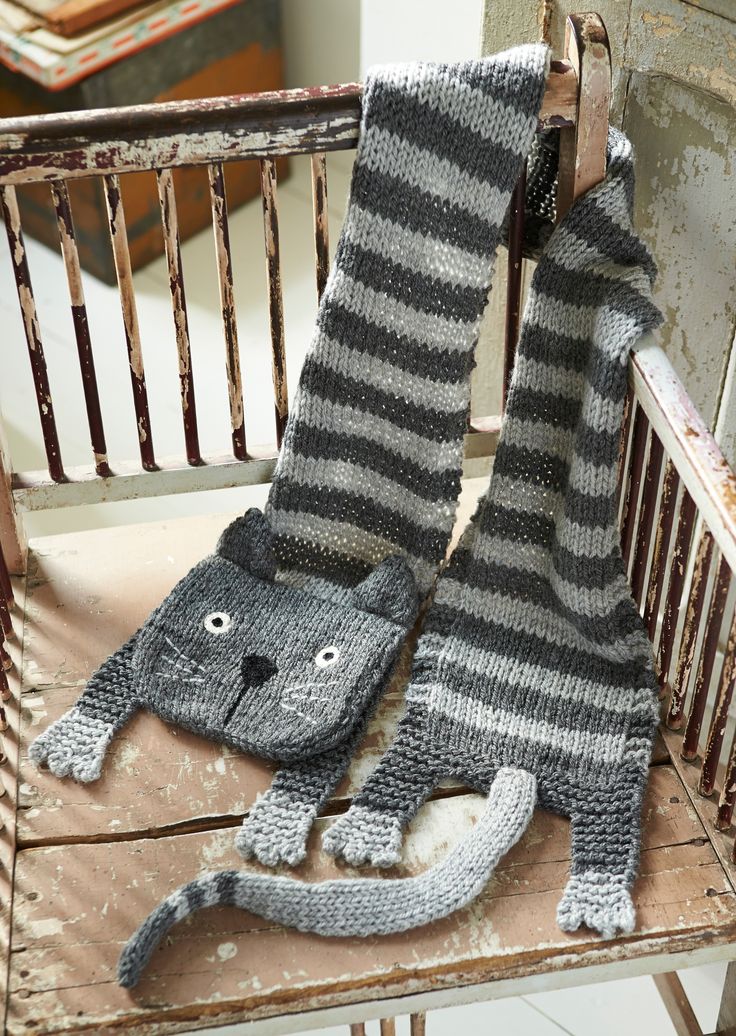 Tabby Cat Scarf
This free pattern is excerpted from Fiona Gable's  book Knitted Animal Scarves, Mitts, and Socks: 35 Fun and Fluffy Creatures to Knit and Wear.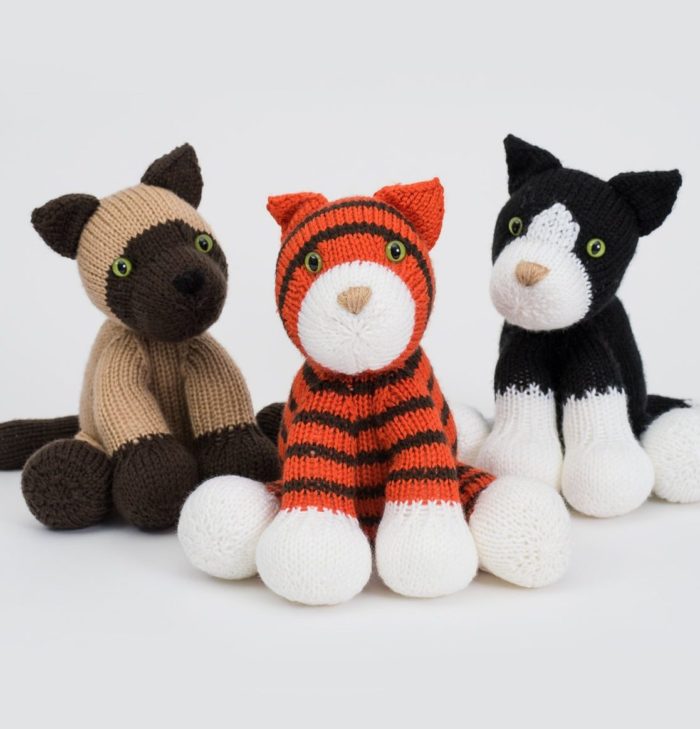 Amanda Berry's Dera-Cats
Knitting patterns and yarn for three cuddly cats: Fudge the Siamese, Millie the Tabby and Jess the Black Cat. Each cat is approximately 22cm tall (sitting).
Kitten Softie
This toy cat features a round body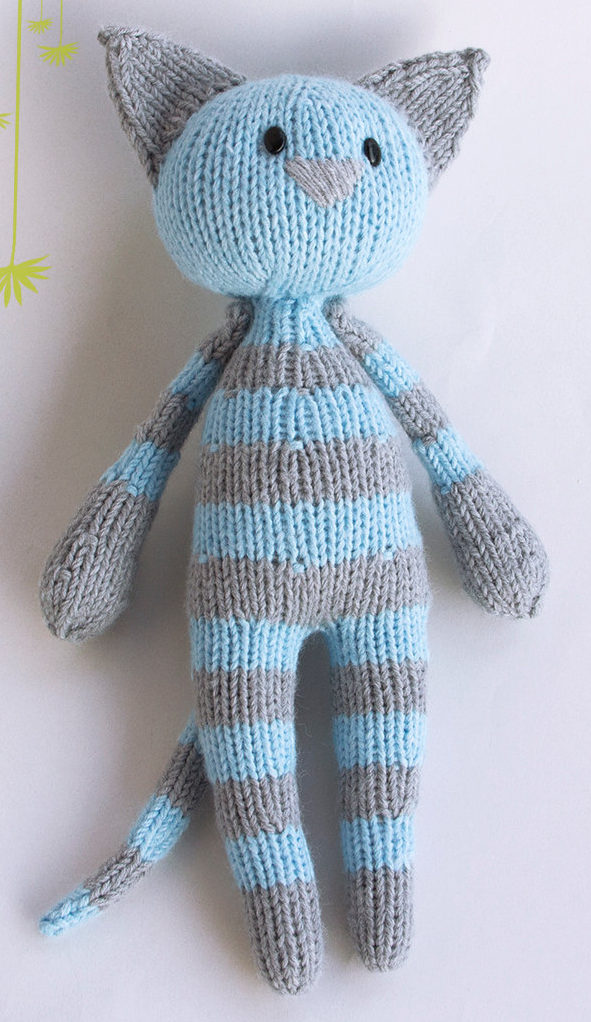 Naptime Tabby Cat
This adorable toy cat softie is approximately 11,5 inches ( 29 cm) tall.
Ginger and Smudge
Patterns included for two adorable cats, one sitting up and one lying down. All pieces are knitted flat (back and forth) on a pair of straight knitting needles. FINISHED SIZE: Ginger (the cat lying down) is approximately 13cm tall and 20cm long. Smudge (the sitting cat) is approximately 17cm tall and 13cm wide. Designed by Amanda Berry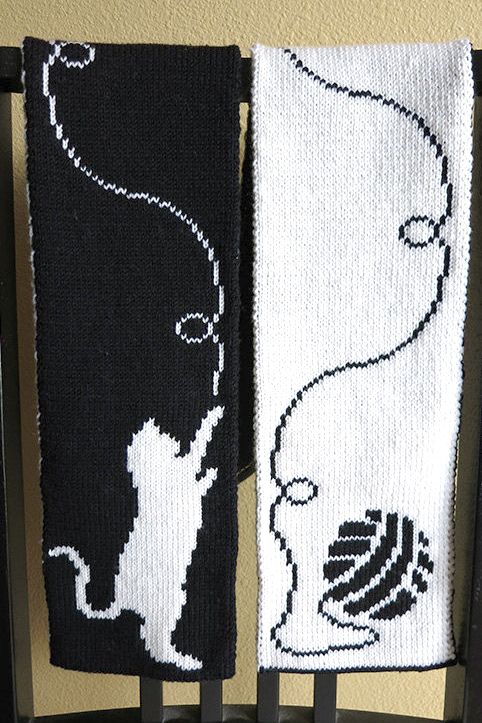 Catitude Scarf
Reversible doubleknit scarf featuring a cat playing with yarn that trails across the length of the scarf. Full instructions for double knitting included.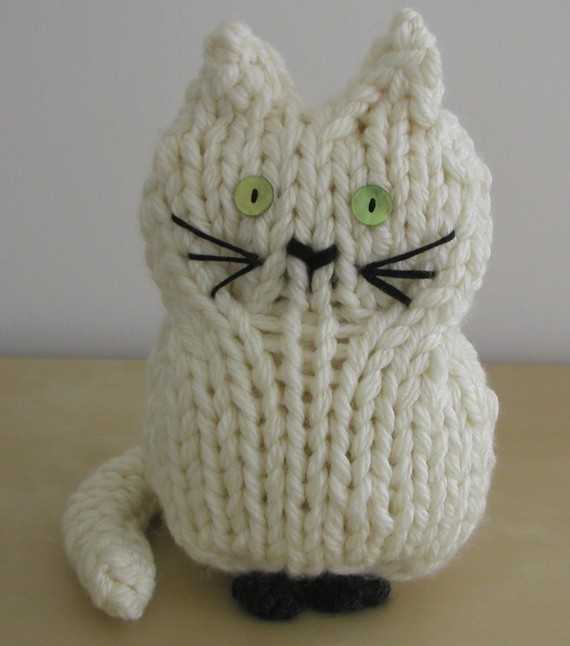 Toy Cat in Bulky Yarn
Quick knit in super bulky yarn. Pictured cat is 10 inches tall. Two other sizes 12 inches and 14 inches.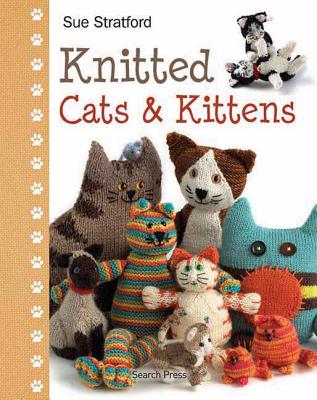 Knitted Cats and Kittens
Sue Stratford's book of patterns includes toy cats, feline projects such as door stops, and even toys for your cats!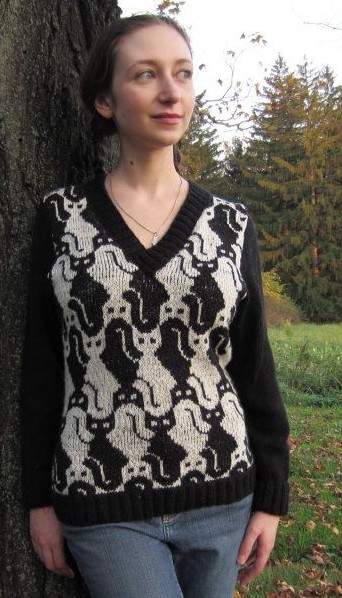 Cat Pullover Sweater
I did a double-take when I saw this sweater pattern! This v-neck pullover has a design of black and white cats in Escher style tiling. Pattern is written for sizes XS (S, M, L, 1X, 2X, 3X).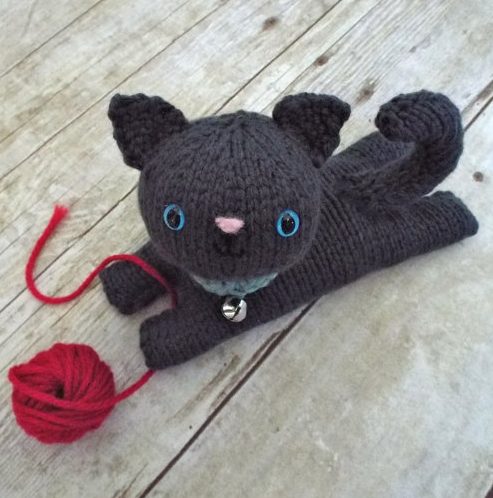 Amigurumi Kitten
Kitten measures 6 inches long.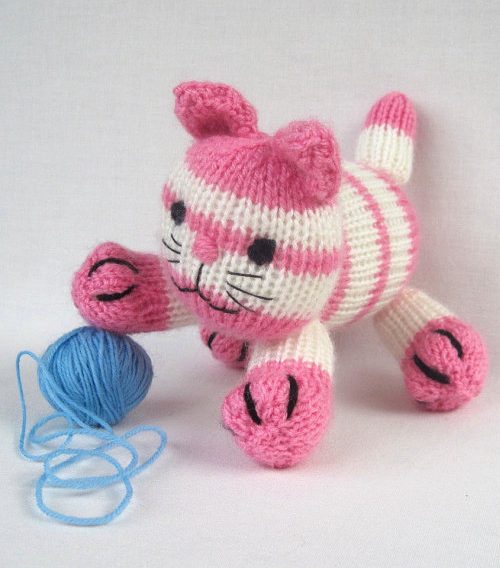 Cupcake the Kitten
CUPCAKE measures 15cm (6in) to the tips of her ears. She is easy to knit.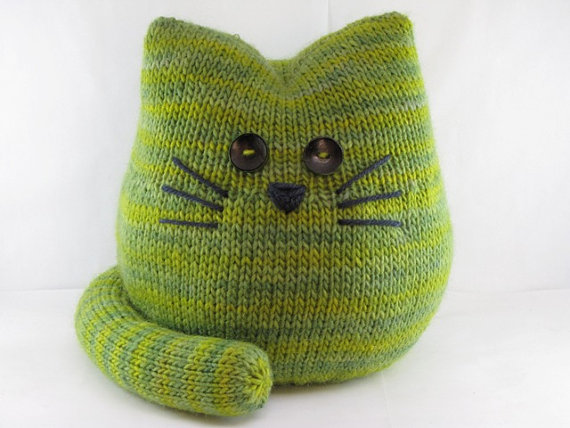 Pickles the Cat
This cuddly kitty is 8 inches tall and knit in the round with minimal sewing — even the tail can be knit seamlessly!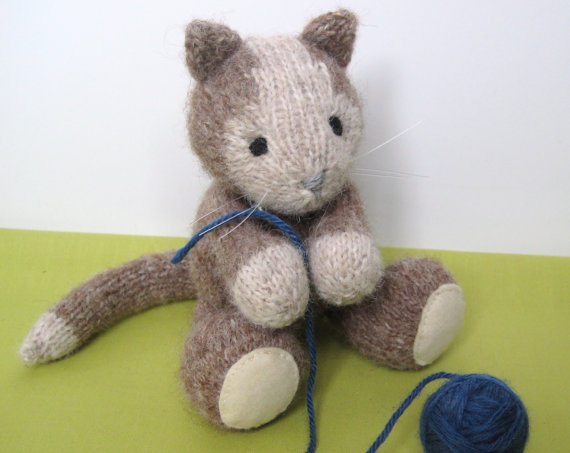 Cavendish Cat
This cute knit kitten is 14cm tall (sitting), but you can make him bigger by following this pattern and using a larger needle size.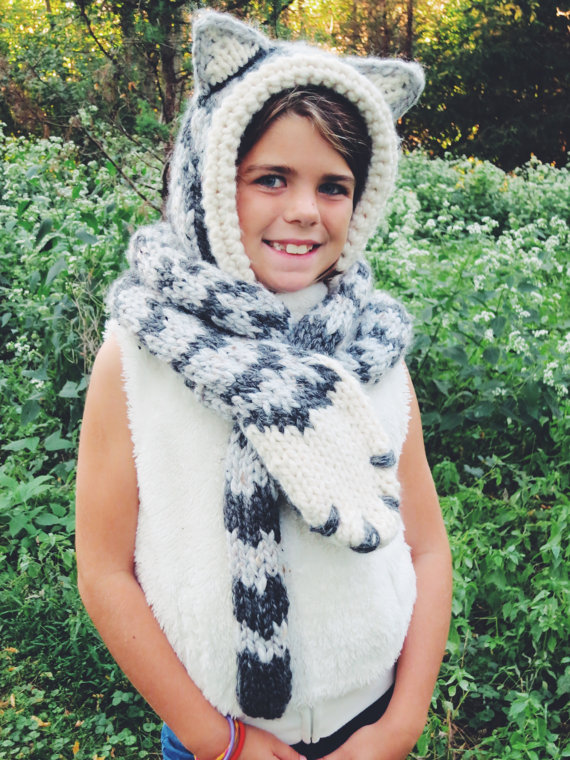 Tabby Cat Hood
This cute, cozy hood pattern includes toddler, child, and adult sizes. It features a tail scarf that wraps around and slips through a loop on the back of the paw on the other end of the scarf to keep it secure.
Top This! Blanket Buddies
This collection of patterns couldn't be easier. Just buy a ball of Top This! yarn with the cute animal head included and knit up a lovey. Pattern includes instructions for monkey, puppy, and kitten, but I'm sure you could substitute one of the other animal yarns such as giraffe, owl, teddy bear, and more.