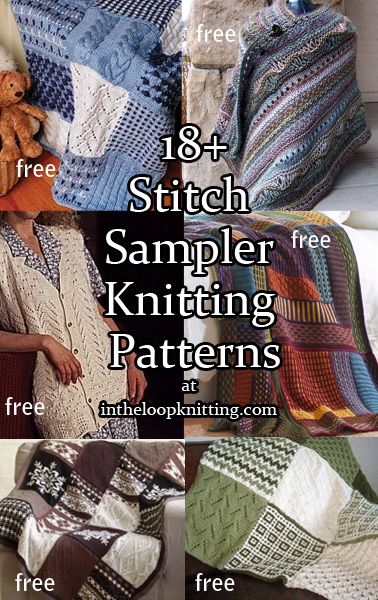 Sampler stitch patterns are a fun way to try out new stitches or to make sure you are never get bored with a project. Here is a collection of sampler stitch patterns including afghans and throws but also clothing and accessories.Many of the patterns are free.
To get the knitting patterns, scroll down the page to the individual pattern you want and click on the link to that pattern.
These patterns are not my designs but links to other designers who have generously shared their patterns. If you have questions about how to knit a specific pattern, please contact the designer directly.
All links on this site are for informational purposes, but please note that some links are to affiliate sellers that pay me a small commission on purchases.
Free Patterns

16 Row Repeat Lace Panel Throw
Sample afghan with 8 different stitch variatons of lace, cable, and texture. All are knit together with a 16 repeat overall (some are 8 row repeated twice). Designed by Margret Willson. Aran weight yarn.

Knit Your Cables Afghan
Experiment with 10 cable stitch patterns in this sample, accented with garter stitch squares. Instructional videos available too.

Cabled Cubed Throw
A beautiful way to practice your cables is this pieced blanket of 5 different cable patterns in squares.

12 Square Sampler Afghan
Includes 12 stitch patterns such as Basketweave, Seed Stitch, Beels & Rib, Daisy Chain, Pueblo Square, Windswept, Wrap Mock Cable, Tumbleweed, Turnpike, Jubilee Diamond, Mini Diamond, Acorn, and Finishing Squares. Size 30″ by 40″. Designed by Red Heart

Norah's Vintage Afghan
The amazing designer Norah Gaughan designed this sampler afghan made up of 20 blocks worked in 5 beautiful colors. Pictured project by knotkit1purl1

WEBS Mystery Knit-A-Long Blanket
Designed by Sara Delaney, this sampler afghan consists of 4 different stitch patterns. Love the colors!

Garden Sampler Afghan
Designed by Knit and Crochet Now, this sampler afghan contains 6 different stitch patterns including garden inspired stitches like bamboo, peas and carrots, rose trellis, and bean sprouts, as well as horseshoe cable and eyelet hearts. Recommended yarn available on pattern page.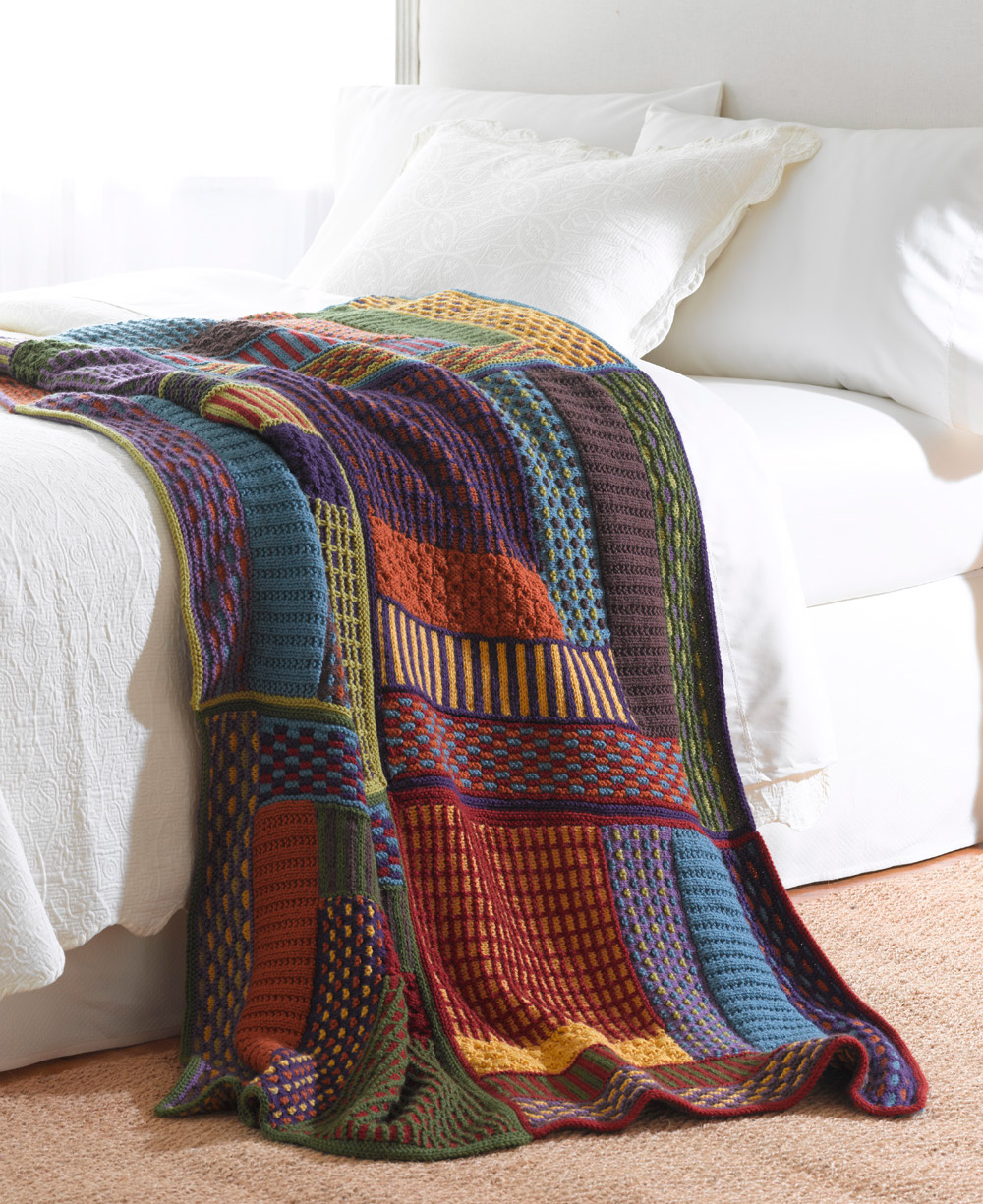 Slip Stitch Sampler Afghan
Lion Brand's colorwork sampler is worked in 6 squares, each square in a log cabin style, with 6 logs, each with a different slip stitch design. A great stashbuster! About 50 x 75 in. (127 x 190.5 cm)
<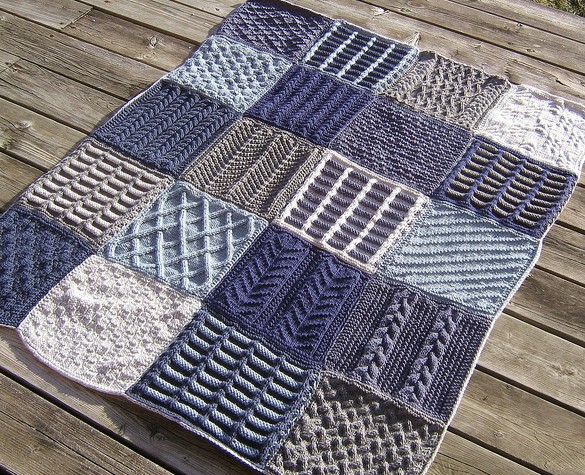 2009 Sampler Afghan
Designed by Lorena Haldeman and Sharon Emery, this afghan is made of 12 different squares, one for each month of the year. Pictured project by lunona.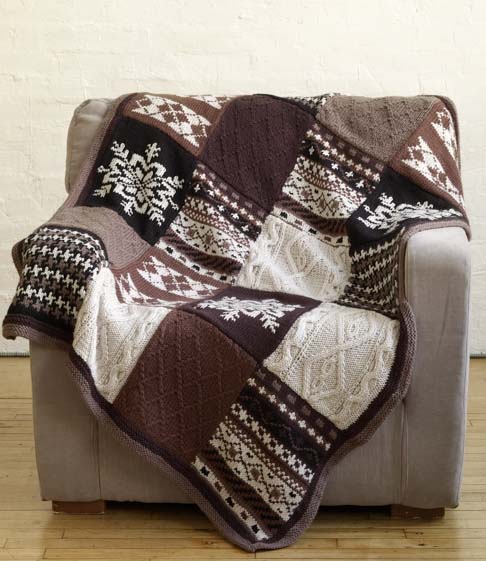 Fireside Patchwork Afghan
Designed by Nicky Epstein, this afghan is made of 6 different blocks repeated. About 38 x 56 in. (96.5 x 142 cm) Each block measures about 8 1/2 x 10 1/2 in. (21.5 x 26.5 cm)

Mosaic Sampler Afghan
Designed by Knit and Crochet Now, this sampler afghan contains 6 different stitch patterns including Leaves of Grass, Bargello, Honeycomb, Mosaic Stitch, Diamond Brocade and Quail afghan blocks. Recommended yarn available on pattern page.

Lace Sampler Baby Blanket
Designed by Amy Gunderson for Universal Yarns. 34" x 34"
Textured Afghan
Yarnspirations designed this throw with panels of garter slip stitch, moss rib, and trinity stitch. Approx 46½" x 64½" [118 x 164 cm].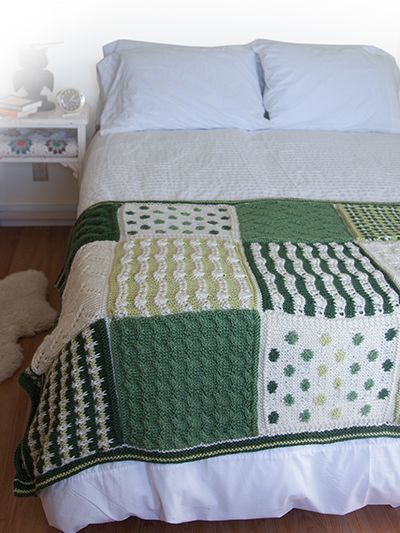 Square of the Week Afghan
Despite the name of this sampler afghan, the pattern contains all the instructions for six different blocks including Bow Tie Square, Scalloped Shell Square, a Lace Stitch Square, Ice Storm Stitch, Each square is about 12 inches x 12 inches.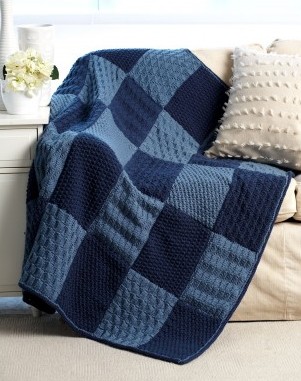 Checkerboard Sampler Afghan
Yarnspirations designed this throw sized about 46 x 43 ins [117 x 109 cm].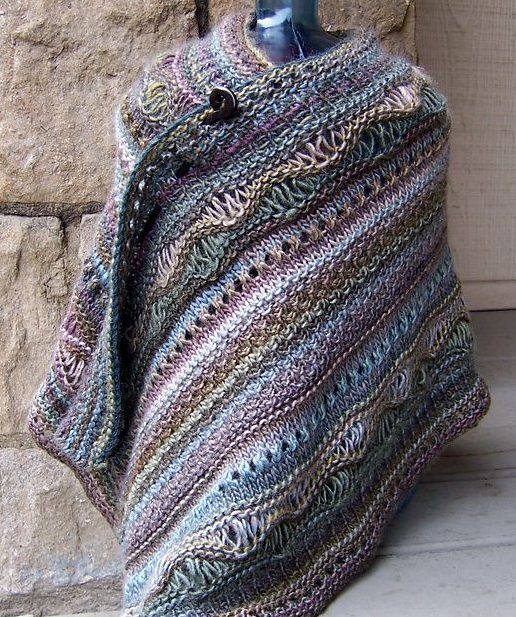 Stitch Sampler Shawl
On This Day designed this rectangular wrap that is great for multi-color yarn or as a stash buster for multiple yarns. Pictured project by lyndseyloo.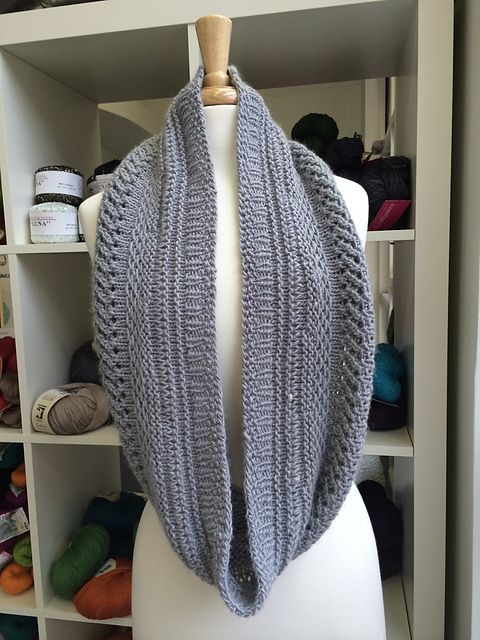 Sampler Cowl
heather knitz designs created this mid-size cowl to showcase several textured but easy stitch patterns. Pictured project by caracannon.

Lace Sampler Vest
Designed by Yarnspirations. Sizes Small, Medium, Large. Light summer vest knit in a series of lacy patterns

Lace Sampler Tunic
Designed by Melissa Leapman for Cascade Yarns, this pullover sweater features three lace patterns separated by garter stitch and lace edging. Small (Medium, Large, 1X, 2X)

Pack and Go Throw
Designed by Cathy Payson, this sampler afghan contains 5 different stitch patterns using just knit and purl stitches, including diamond, chevron, rib, woven, and more. Great stash buster!
Patterns for Purchase

60 Easy-To-Knit Pattern Stitches Sampler Afghan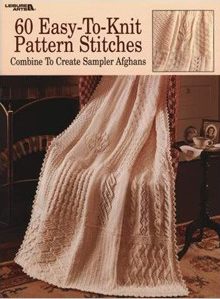 Select any twenty of the sixty patterns featured here and start knitting your afghan. Not only will you create an heirloom design — you'll increase your knitting know-how with every square you complete.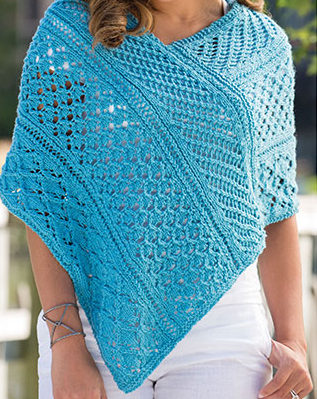 Lace Sampler Poncho
Customizable sampler stitch poncho.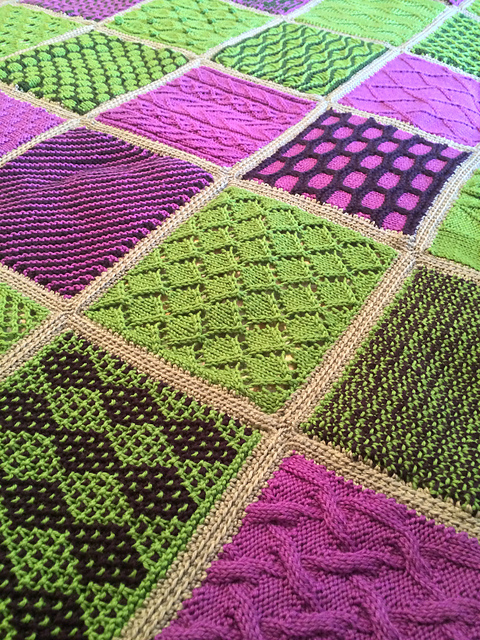 Learn to Knit Afghan
Barbara Walker, famous for her stitch collections, created this afghan pattern book that combine all kinds of knitting techniques in a single project. Pictured project by Violiknit.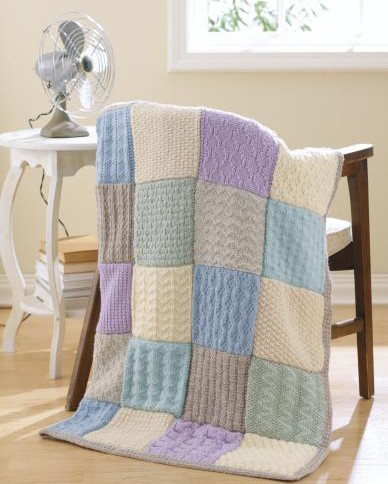 Easy Textured Sampler Throw
One of 29 projects in Easy Textured Knits ebook from Leisure Arts.

Reluxe Sampler Wrap
This cowl neck poncho features cables, bobbles, and classic textural patterns.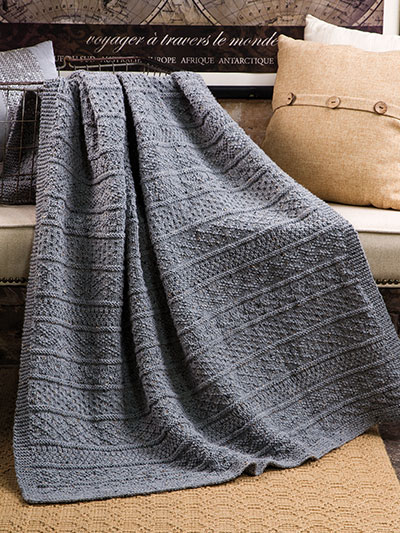 Gansey Afghan
Five different stitch patterns are repeated in row sections in this fishermen's sweater style afghan. Finished size is approximately 44″ x 50″.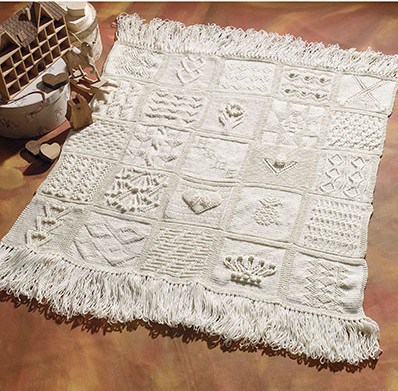 Sampler Afghan
25 creative block patterns including Imperial Twist, Cable Twist, Triplet Cable, Raised Heart, Sunflowers and more. Finished size 48″ x 48″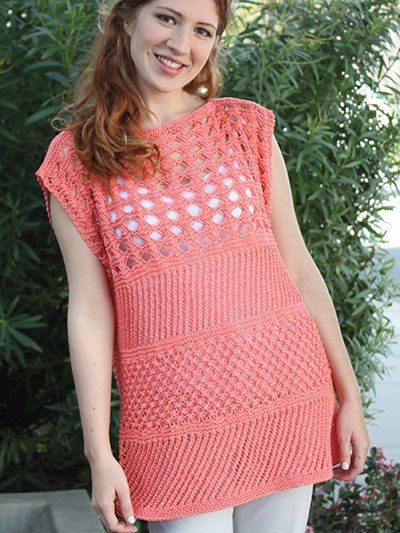 Lace Sampler T-shirt
This beautiful sampler top will become your favorite warm-weather wardrobe item! The lacy openwork makes it a breezy dream for hot and stuffy days, and the loose and long fit makes it flattering on anyone.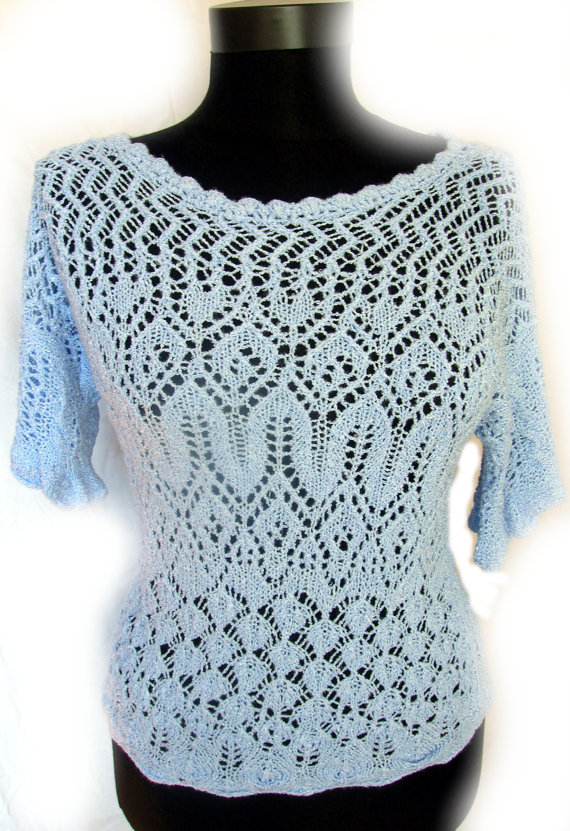 Summer Sky Lace Blouse
At least seven lace stitch patterns create this lovely top that is great for layering.