A grab bag of various knitting patterns inspired by movies and tv series. I have several other posts that focus on individual movies and tv shows. Most patterns for free.
To get the knitting patterns, scroll down the page to the individual pattern you want and click on the link to that pattern.
These patterns are not my designs but links to other designers who have generously shared their patterns. If you have questions about how to knit a specific pattern, please contact the designer directly.
All links on this site are for informational purposes, but please note that some links are to affiliate sellers that pay me a small commission on purchases.
Free Patterns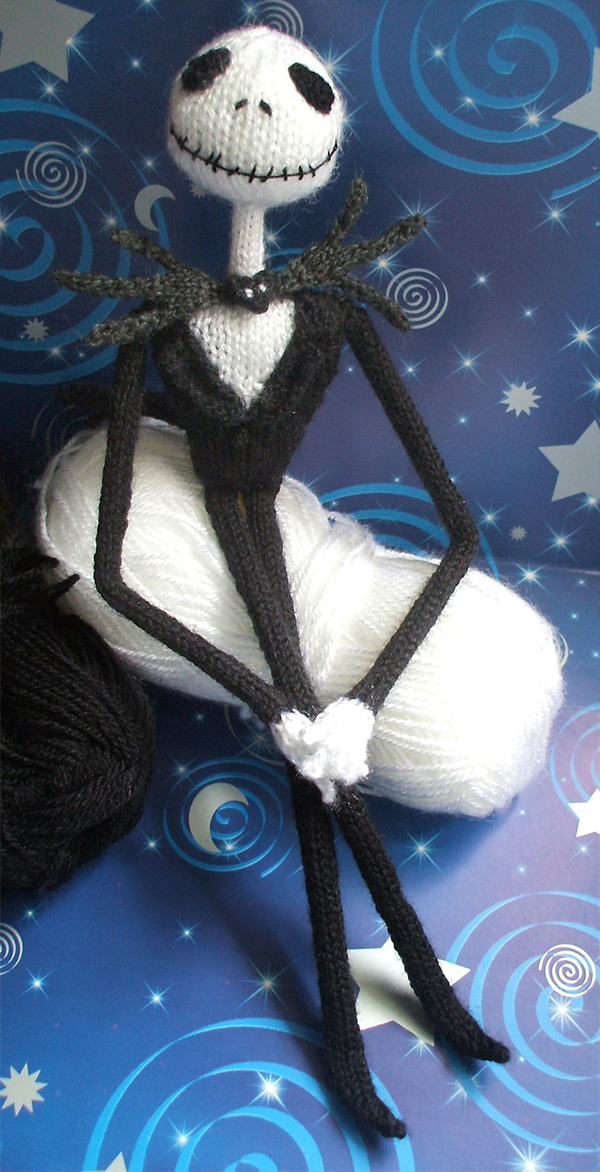 Jack Skellington
Doll inspired by the Nightmare Before Christmas character. Designed by Sunshyne Leland. Worsted weight yarn. Pictured project by marico.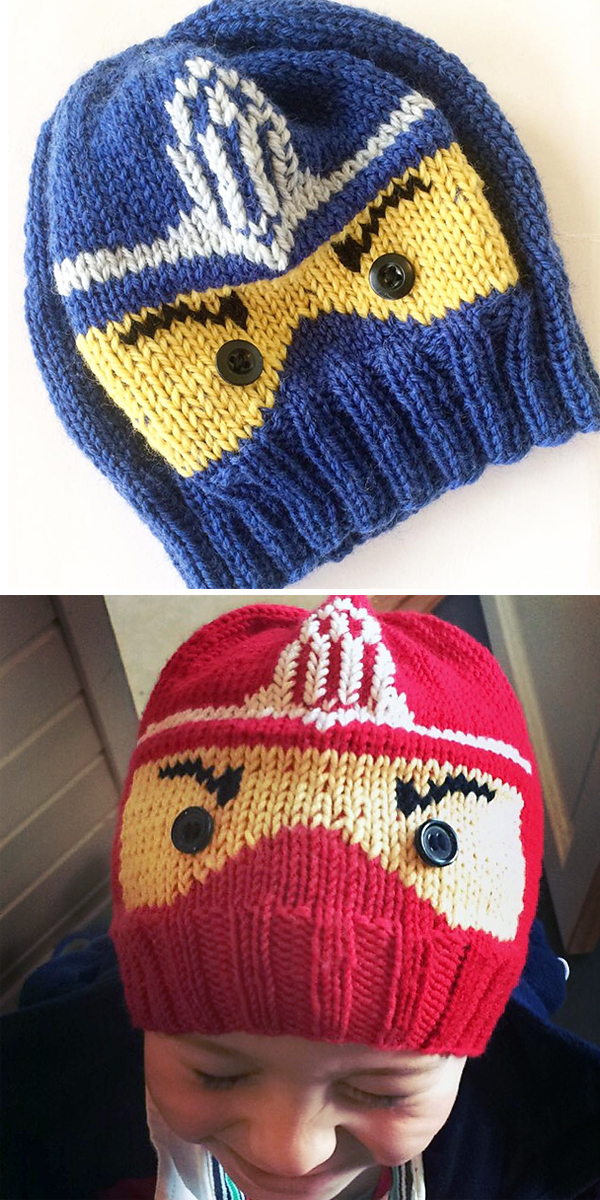 Ninjago Hat
Beanie with the face of the Lego ninja character in colorwork. Designed by Cecilie Hegge. DK weight yarn. Pictured projects by the designer and VanjasVerksted. Available in English and Norwegian.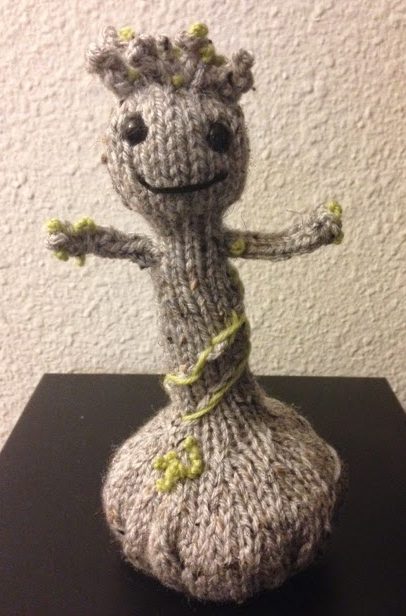 Baby Groot
Amber L. Uphoff designed this adorable toy inspired by Guardians of the Galaxy.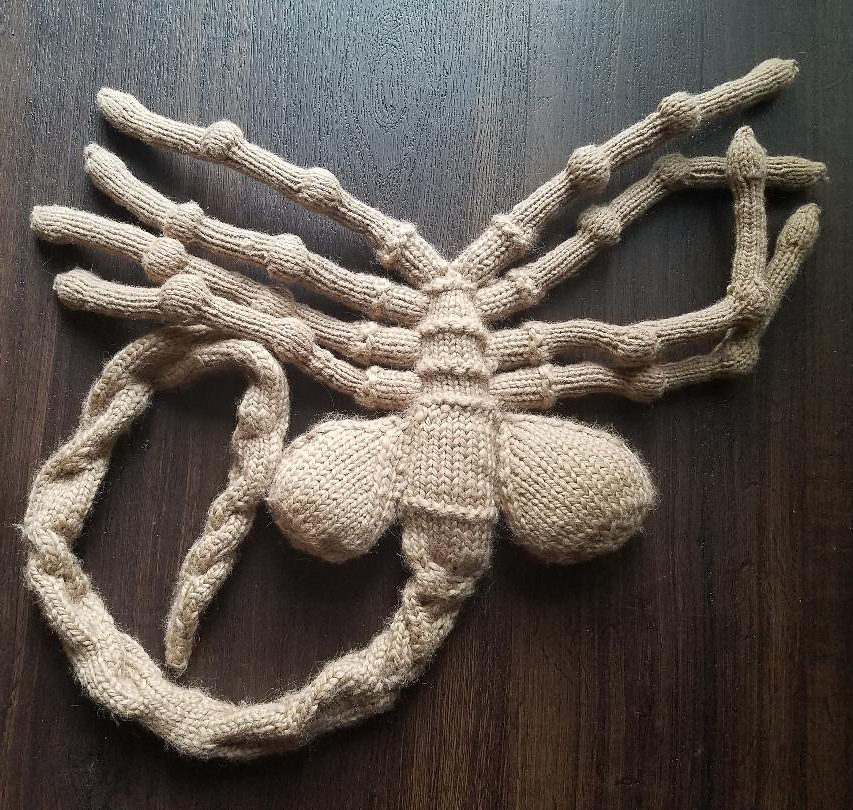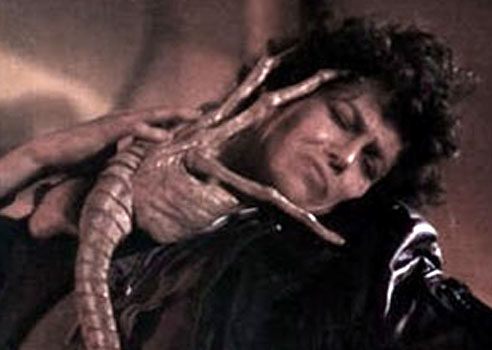 Alien Facehugger Toy
Plush creature inspired by the Aliens movies designed by Neetza Drake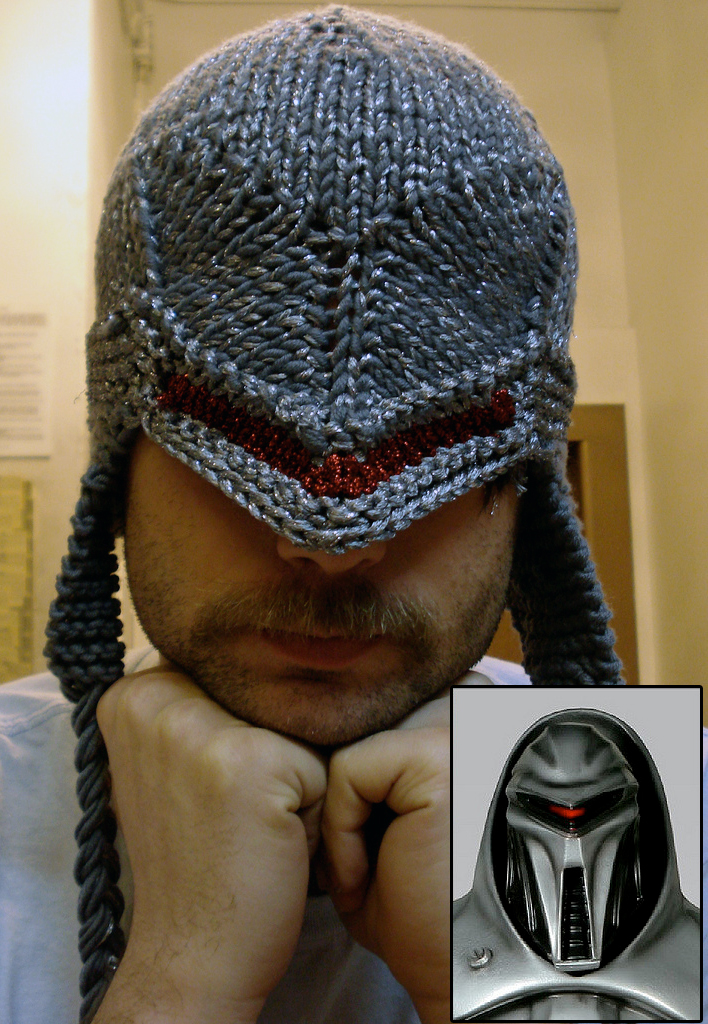 Cylon Centurion Hat
Earflap hat inspired by Battlestar Galactica designed by Thea Eschliman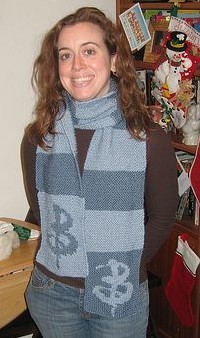 Buffy the Vampire Slayer Chart
Free knitting chart by overmama of the Buffy logo.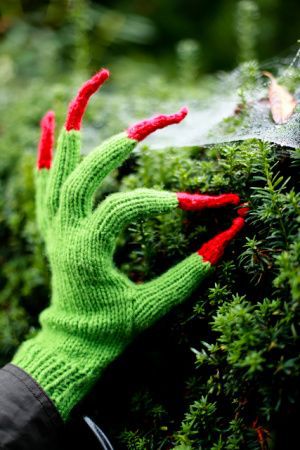 Witchy Hands
Kim Hamlin designed this Oz-some gloves in child and adult sizes.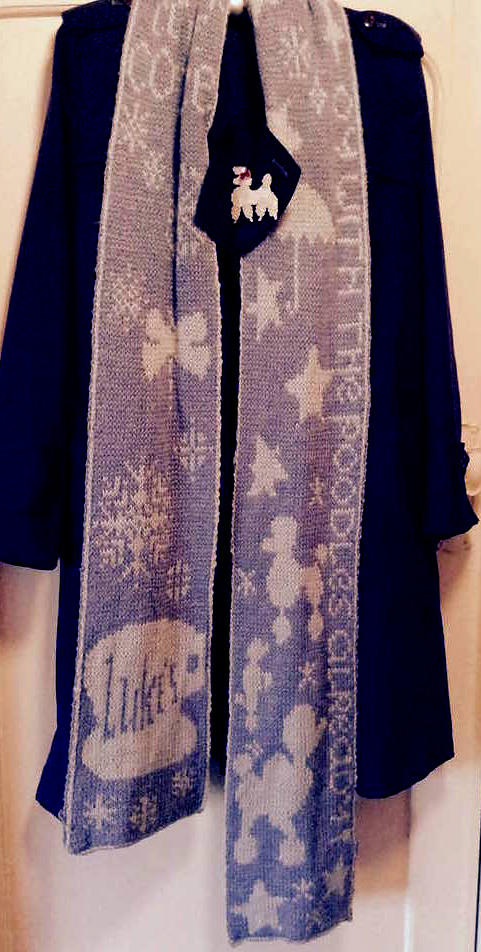 Gilmore Girls – The Road to Stars Hollow Scarf
Rebecca-Anne C Do Rozario's double knit reversible scarf features your favorite Gilmore Girls motifs: Luke's diner, a dragonfly for the wonderful Dragonfly Inn, a Lorelai coffee quote, an umbrella which might be for the Life and Death Brigade and might be for that time when they were working on Luke's place and Jess gave Rory an umbrella with her breakfast, and, of course, poodles!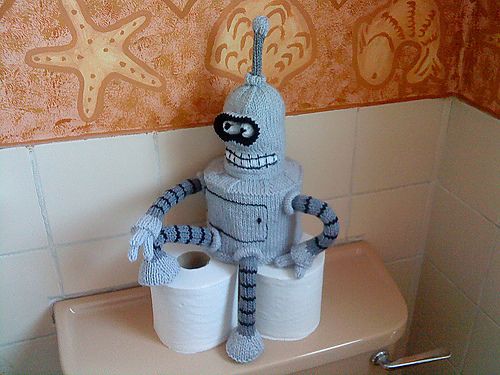 Bender
Elizabeth Jarvis's Bender is worked in stocking stitch with some simple shaping.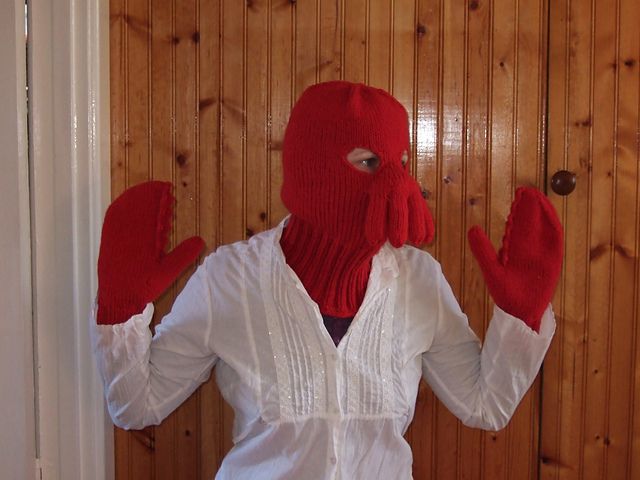 Dr. Zoidberg
Kate Quinn designed this balaclava with tentacles and mittens with claws to bring this Futurama character to life.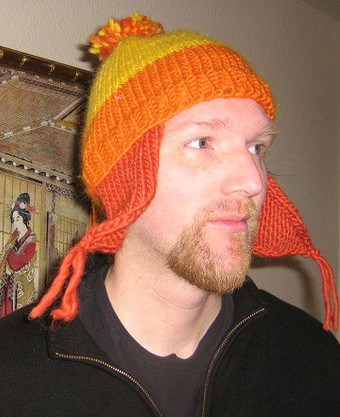 Jayne Cobb Hat
Dryope designed this Firefly-inspired earflap hat from the episode of "The message"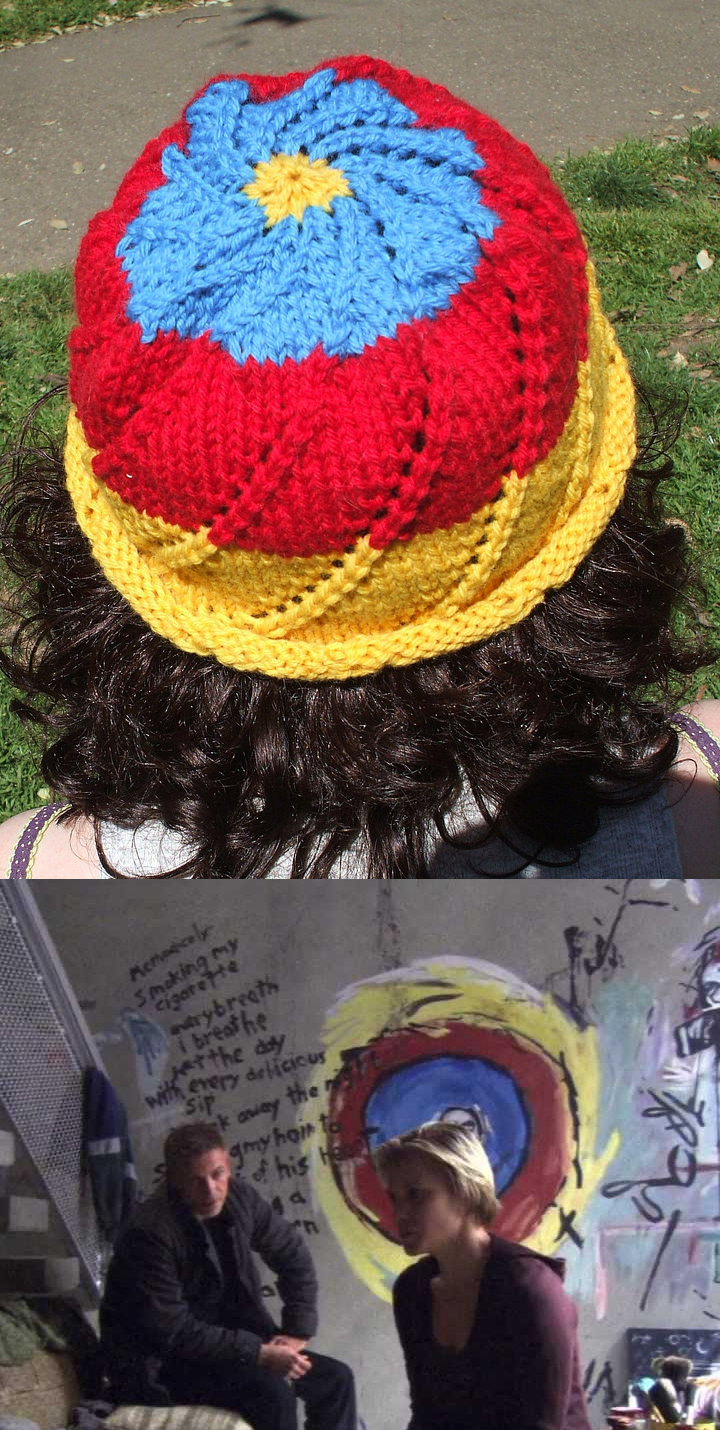 Battlestar Galactica: Starbuck's Mandala Hat
Stephanie Ivy Whiteside was inspired by the mandala on Starbuck's wall in the Maelstrom episode of Battlestar Galactica to create this swirl beanie.
More Free Patterns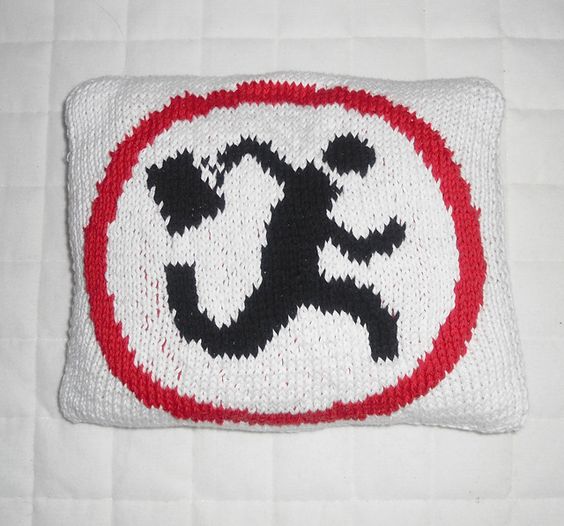 Nerd Herd
Andrea "trooperschaf" re-created the Nerd Herd symbol from Chuck in a knitting chart that you can use for sweaters, pillows, blankets, and more.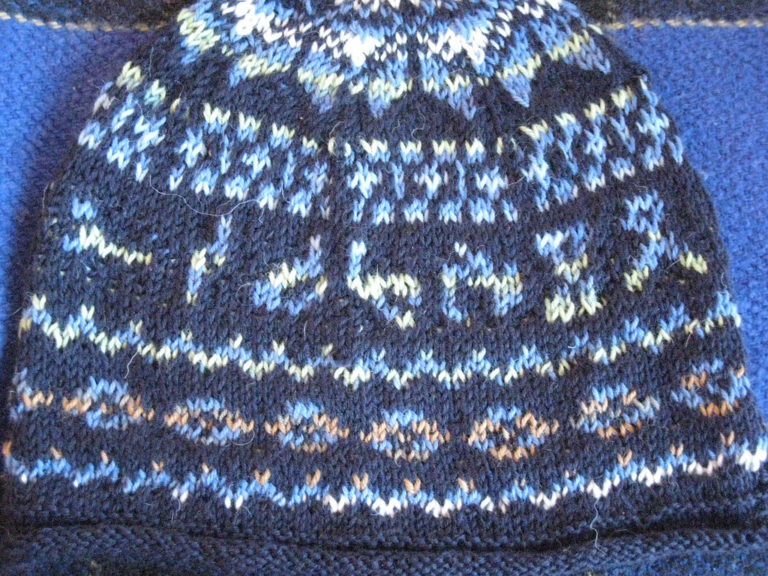 Stargate Hat
This SG Fair Isle hat by Carol Schoenfelder features glyphs from the tv series.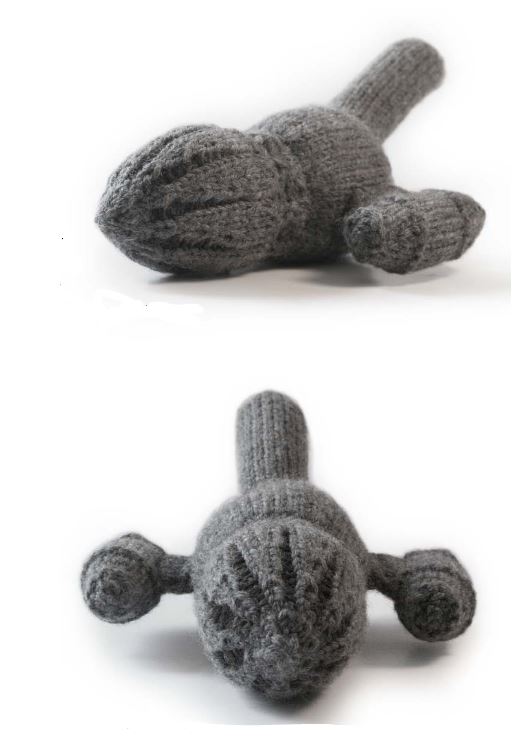 Serenity Firefly
Kelly Gardner designed this toy ship softie.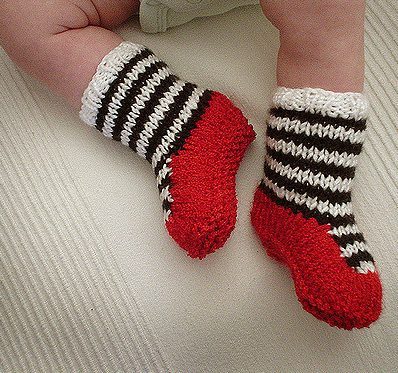 Ruby Slipper Booties
Rain O'Brien designed these baby booties inspired by the Wicked Witch of the East. Size: 3-6 (6-9) months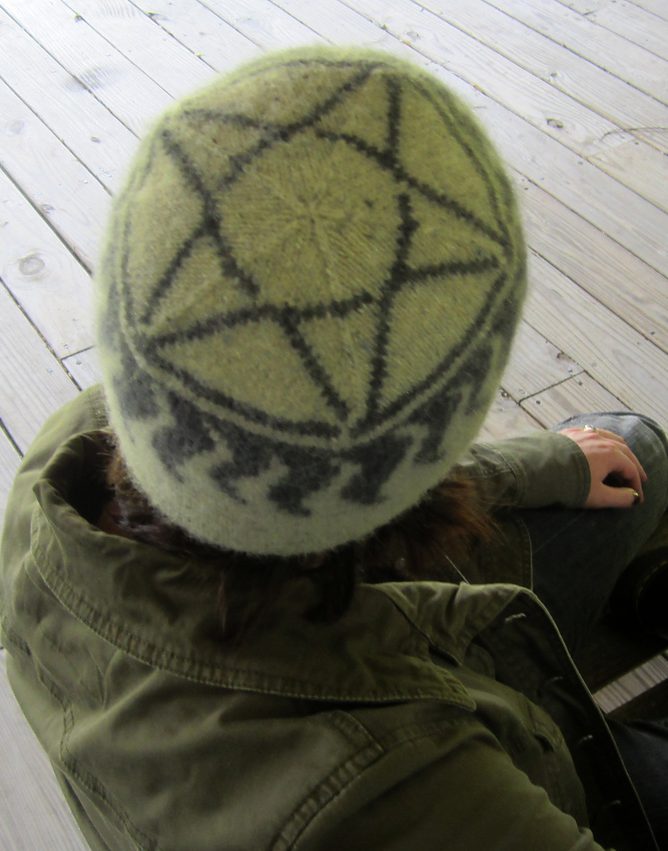 Supernatural Anti-Possession Hat
Ellen Hyde designed this reversible double-knit winter hat that incorporates the anti-possession symbol from the CW's show Supernatural.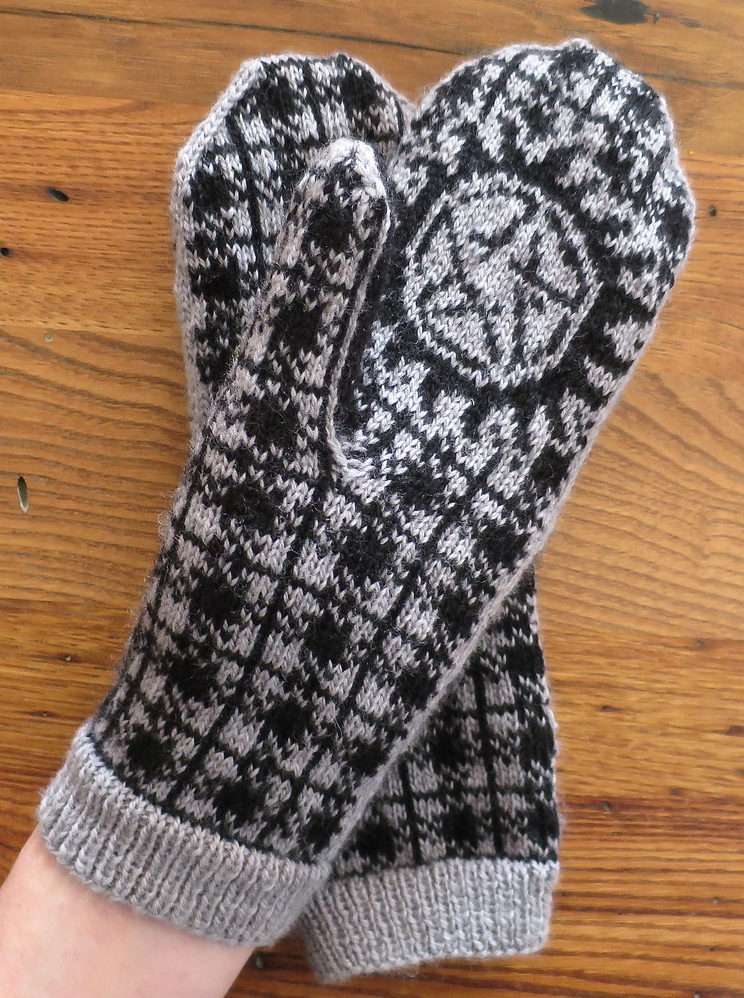 Winchester Plaid Anti-Possession Mittens
Inspired by Supernatural, these mittens designed by Kat Lewinski sport a stylish plaid on top and anti-demonic possession protection on the palms.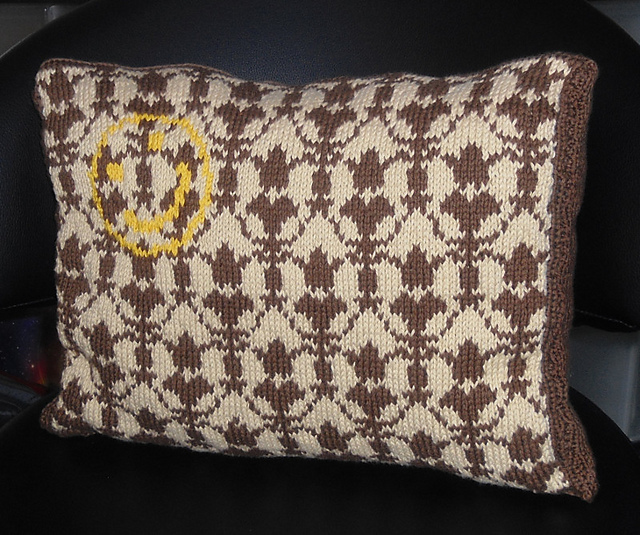 Sherlock Wallpaper Pillow
Andrea "Trooperschaf" designed this pillow after the wallpaper in Sherlock's flat in the Sherlock tv series.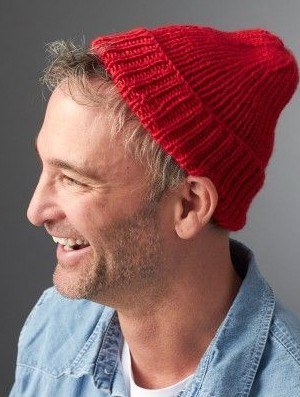 Steve's Beanie
Yarnspirations' unisex beanie is inspired by the iconic Team Zissou hat from The Life Aquatic with Steve Zissou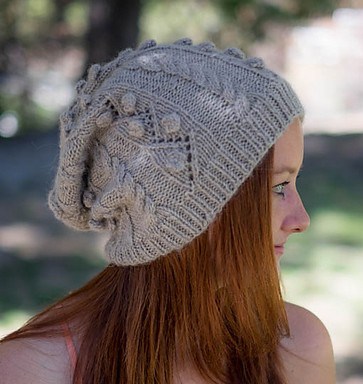 Gwen Stacy Hat
Hailey Knits' bobble, cable, and lace hat was inspired by the hat Gwen Stacy wore in the Amazing Spiderman movie. Slouchy and shorter styles available. Pictured project by britsknits2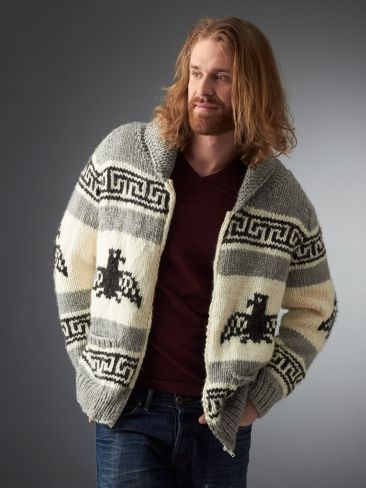 I'm the Dude Jacket
Yarnspirations' jacket inspired by The Big Lebowski features a fair isle pattern. Sizes from XS through 5XL.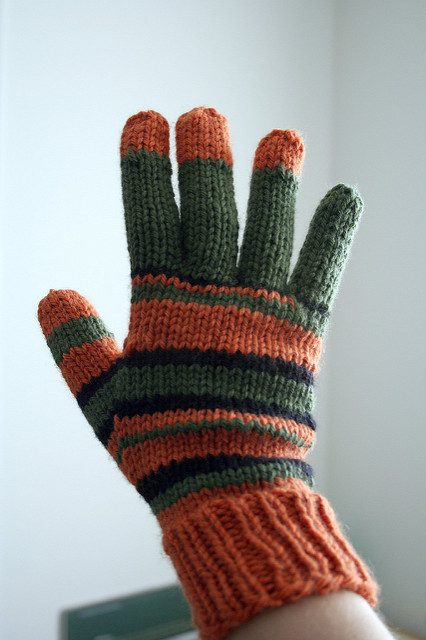 Coraline Gloves
Tika Belle created this people-sized version of the amazing gloves designed by Althea Crome for the film version of Neil Gaiman's Coraline.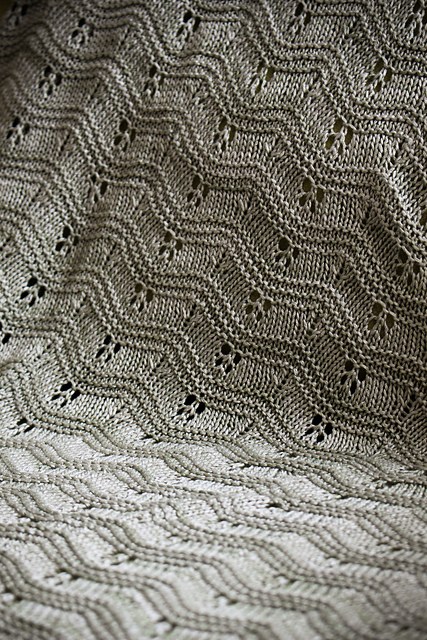 Lars and the Real Girl Blanket
Tanis Gray & Louisa Demmitt designed this baby blanket after the blanket that Lars' mother knit for him as a child. With his mother long gone and having lost her at a young age, Lars clings to this blanket like any small kid would – it's more or less the only link he has to his mom.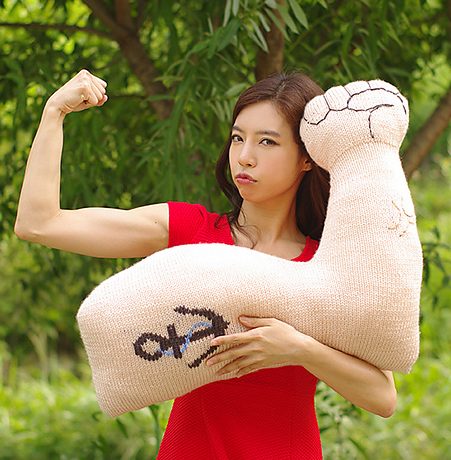 Popeye Strong Arm Cushion
Joo-young Yoon designed this arm shaped cushion complete with anchor that reminds me of Popeye.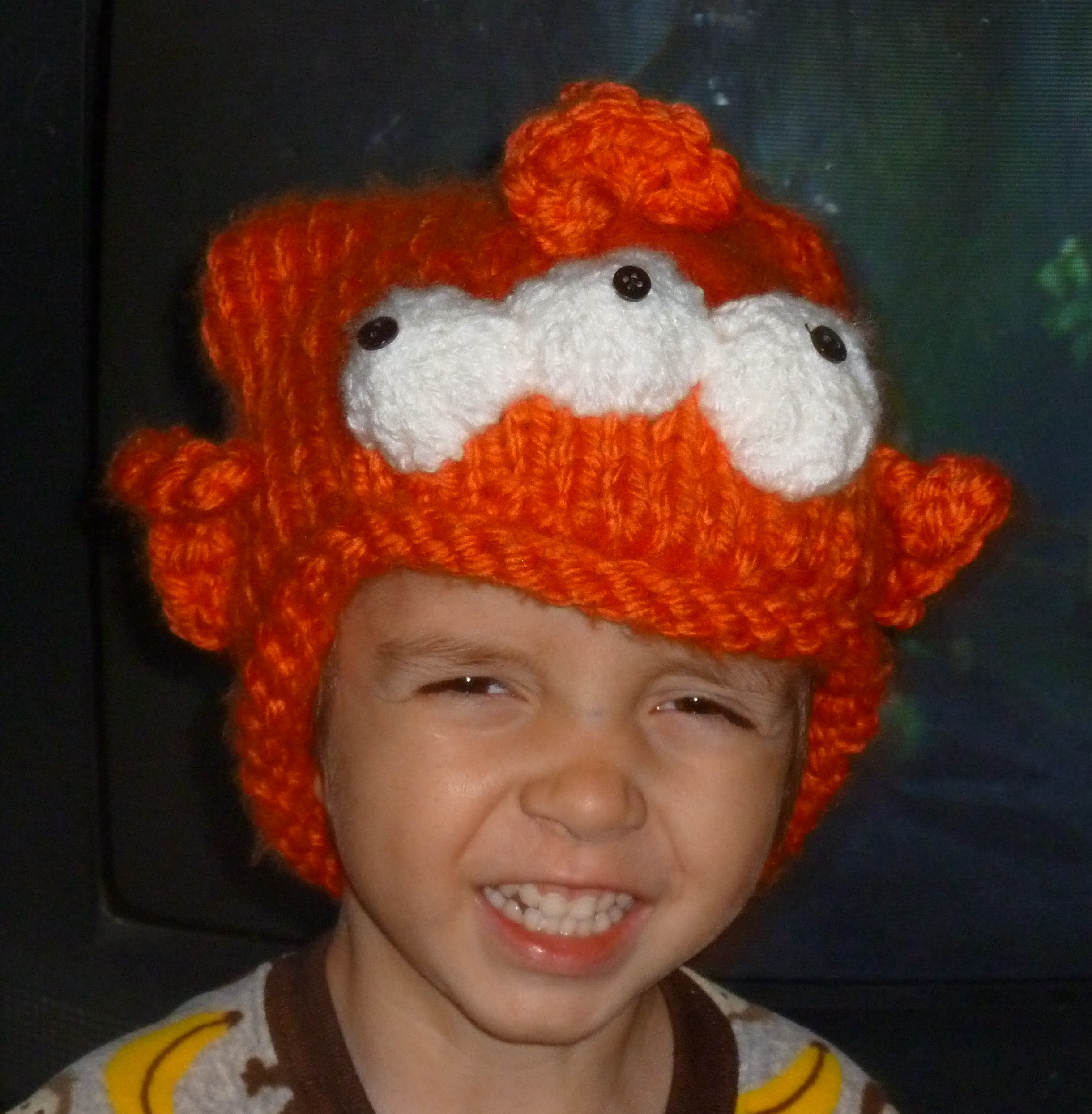 Three Eyed Fish Hat
Thora Bey designed this hat inspired by the Simpsons mutant.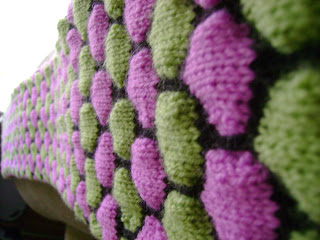 Penelope Cobblestone Scarf
Jennifer Moretti's design was inspired by the 2006 movie Penelope starring Christina Ricci and James McAvoy. Size: 8 inches wide and just over 60 inches long. Includes a photo tutorial for the Cobblestone stitch.
Patterns for Purchase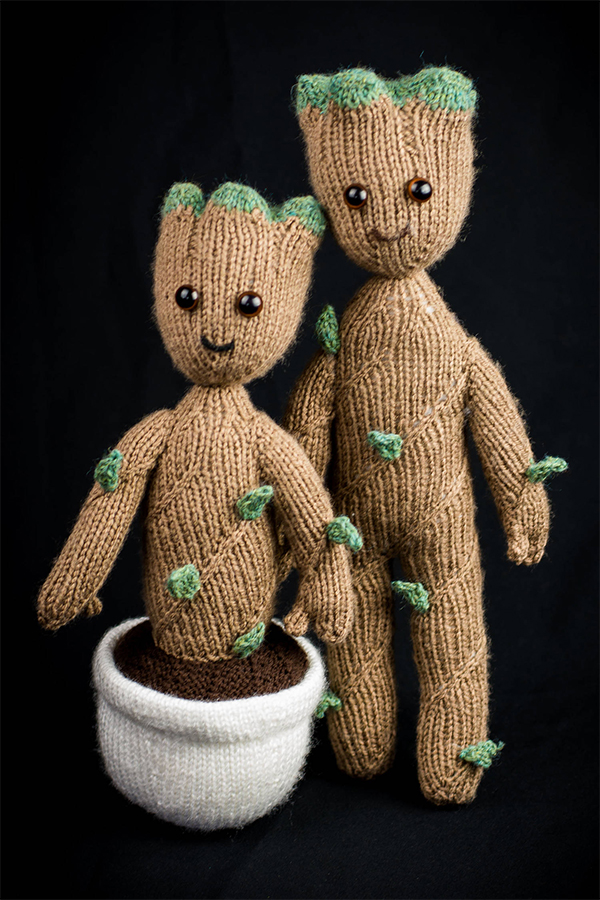 Baby Groot Toy
Inspired by the most adorable character in the film Guardians of the Galaxy 2. Designed by WoolyMcWoolface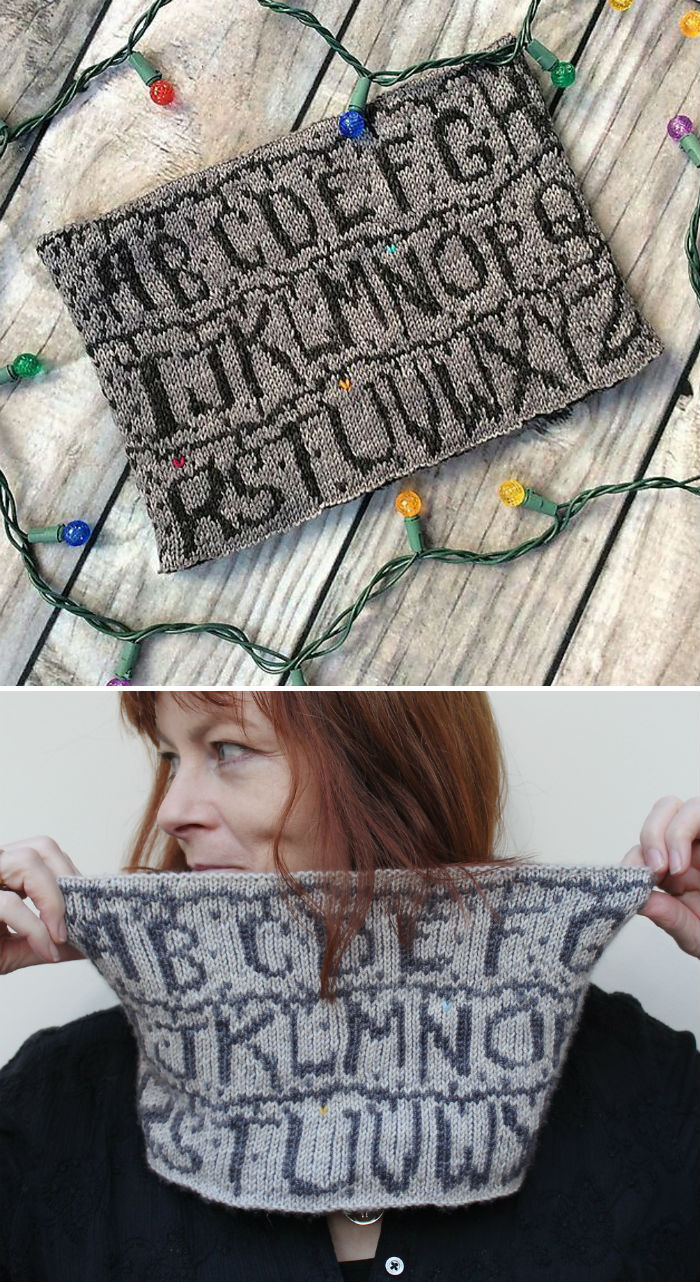 Stranger Things Cowl
This colorwork cowl features an alphabet lined up with a string of Christmas lights. Use duplicate stitch with scraps of brightly colored yarn to light up whichever letters you choose! Designed by Mary Annarella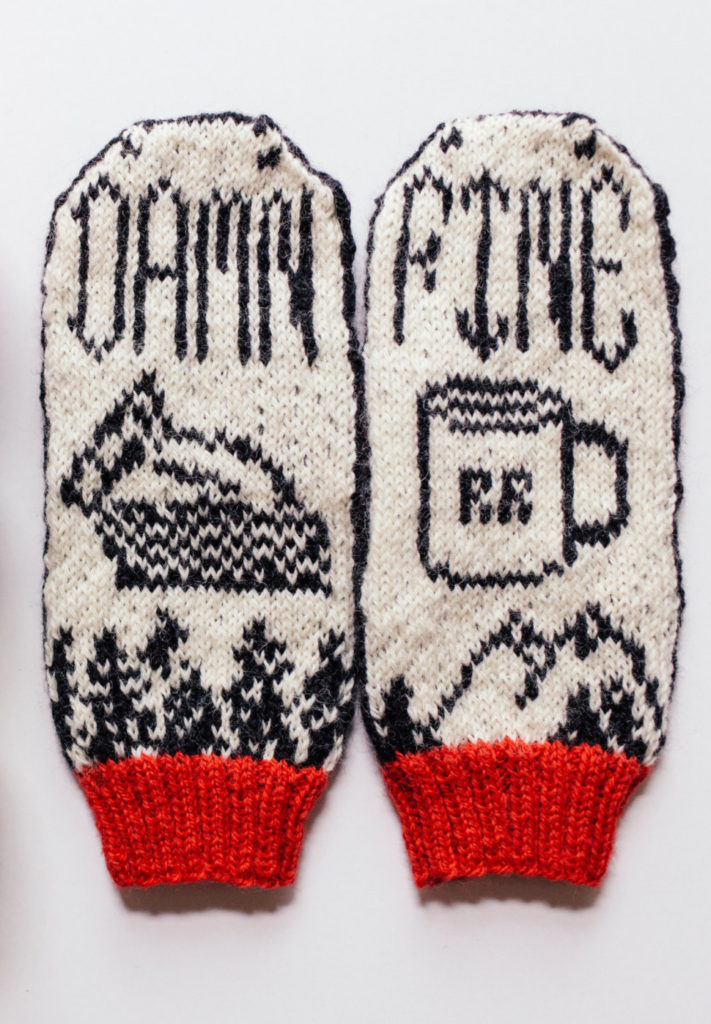 Twin Peaks Damn Fine Mittens
Ready for some damn fine pie and coffee and the revival of Twin Peaks? Knit these mittens while you watch.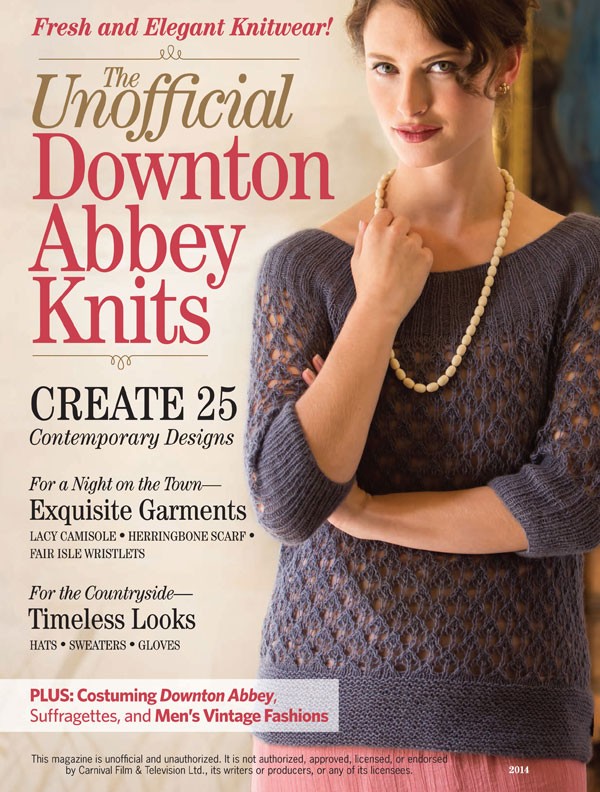 Unofficial Downton Abbey Knits 2014
A group of outstanding knitwear designers have used the magnificent PBS seriesDownton Abbey as the inspiration for twenty-five projects imbued with the spirit of the show and its setting yet perfect for life in the twenty-first century.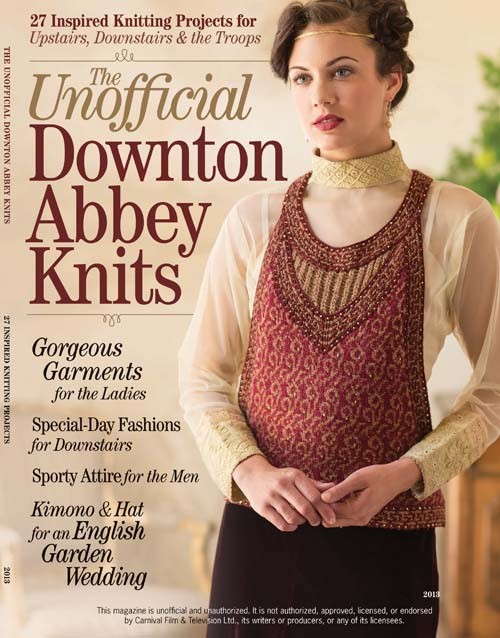 Unofficial Downton Abbey Knits 2013
Enjoy 26 knitting patterns inspired by the lavish sets and styling of the hugely popular television series, which tells the story of the Grantham clan and their servants at England's Downton Abbey. Projects include knitted lace cardigans, socks, knitting for the troops and more!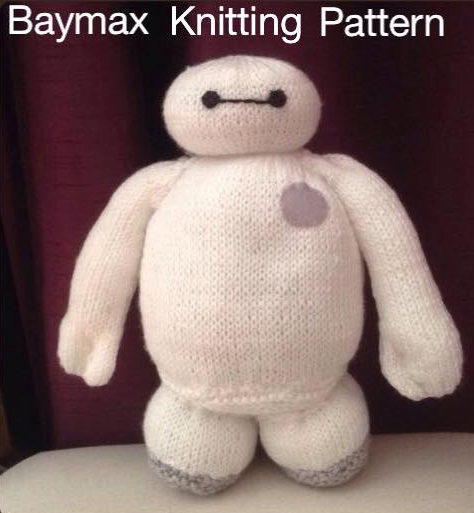 Baymax Toy from Big Hero
The finished toy measures 28cms (11inches). The designer says it's very easy to make and suitable for beginners.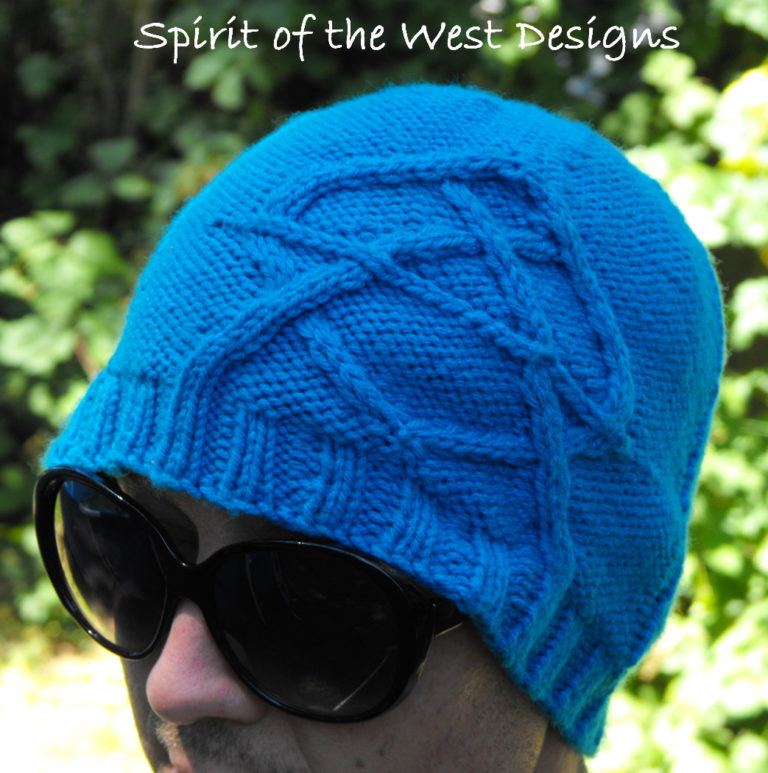 Sons of Anarchy Inspired Knit Hat
A unique cable pattern is inspired by the logo of the Sons of Anarchy tv series.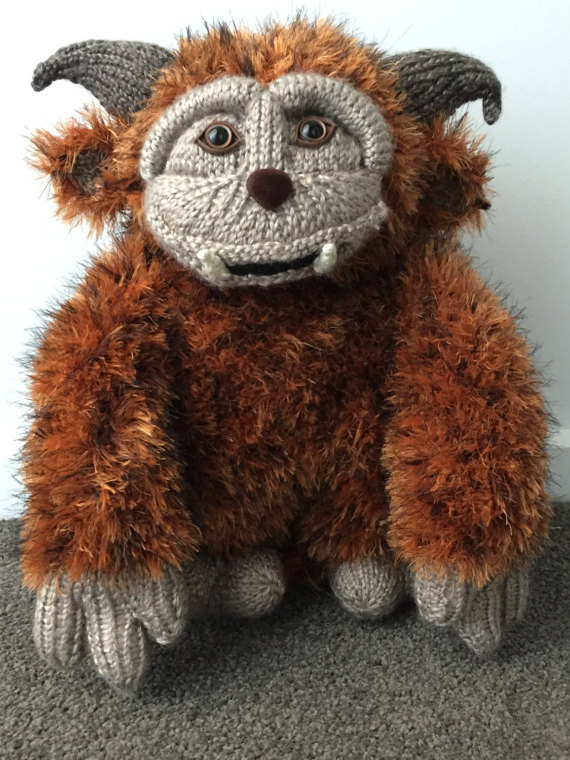 Ludo from Labyrinth
Ludo, friend! Labyrinth has been an amazing move for generations and this is your chance to make one of its most lovable characters. The pattern is flat knit on two needles and requires some skills in sewing. The finished tpy is approximately 35cm tall.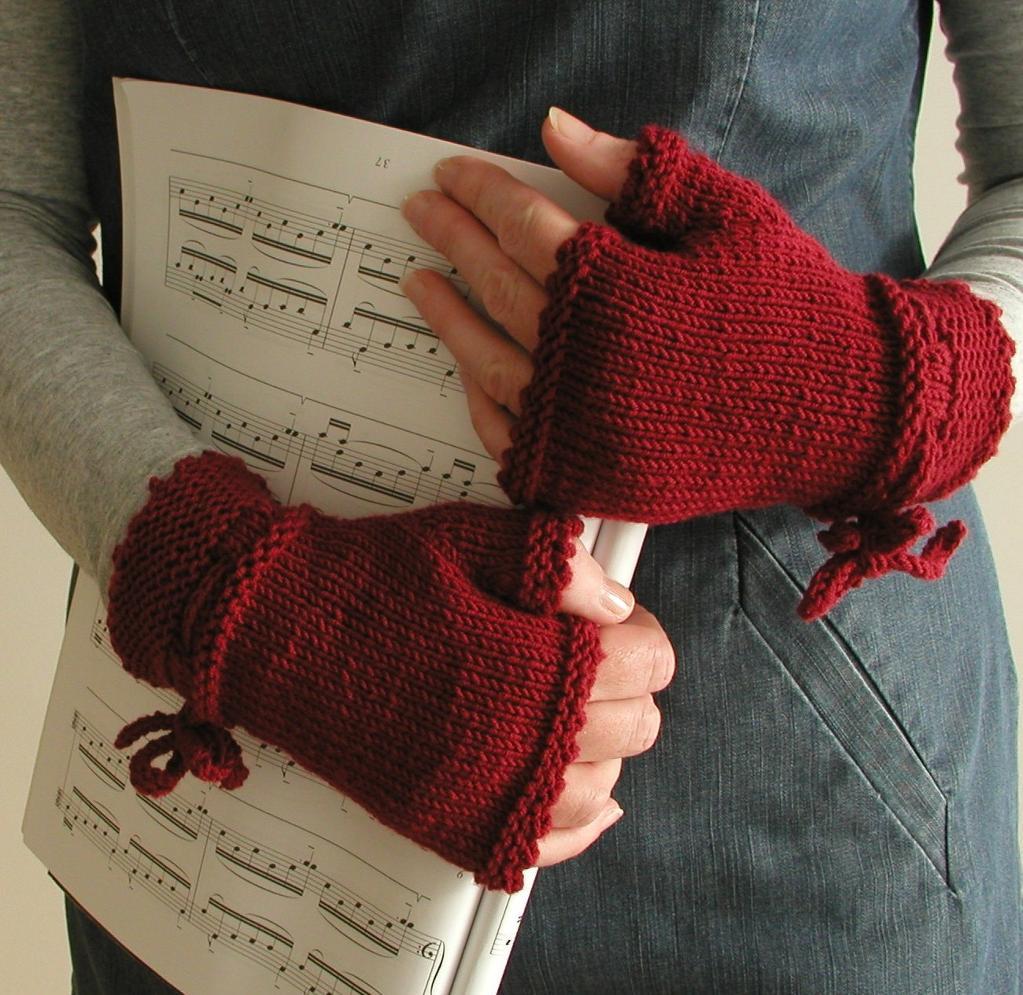 Piano Fingerless Gloves
Inspired by the film, "The Piano", these fingerless gloves are knitted "flat" on straight needles. Channel island cast-on and picot cast-off add a special touch to the edges.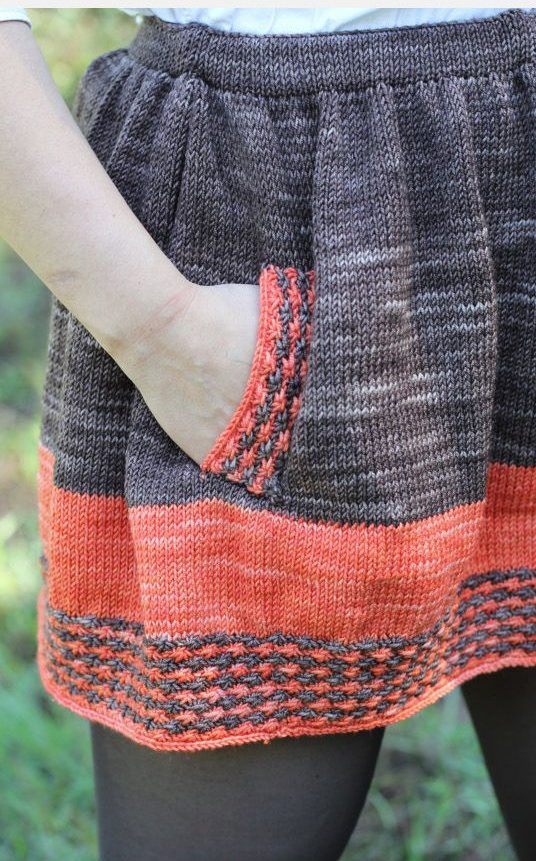 New Girl Skirt
Inspired by the style of Zooey Deschanel's character Jess on New Girl. Circle skirt features an elastic band, pockets, stripes and daisy stitch. Finished Size 29 (31, 35, 39, 43, 47, 50) waist measurement.