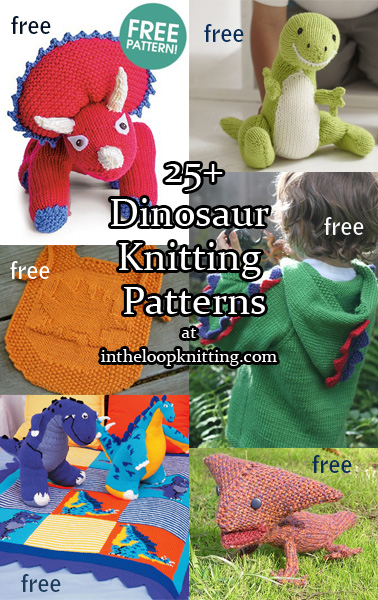 Knitting patterns for everyone's favorite prehistoric animals – dinosaur toys, sweaters, hats, washcloths, scarves and more. Most patterns are free.
To get the knitting patterns, scroll down the page to the individual pattern you want and click on the link to that pattern.
These patterns are not my designs but links to other designers who have generously shared their patterns. If you have questions about how to knit a specific pattern, please contact the designer directly.
All links on this site are for informational purposes, but please note that some links are to affiliate sellers that pay me a small commission on purchases.
Free Patterns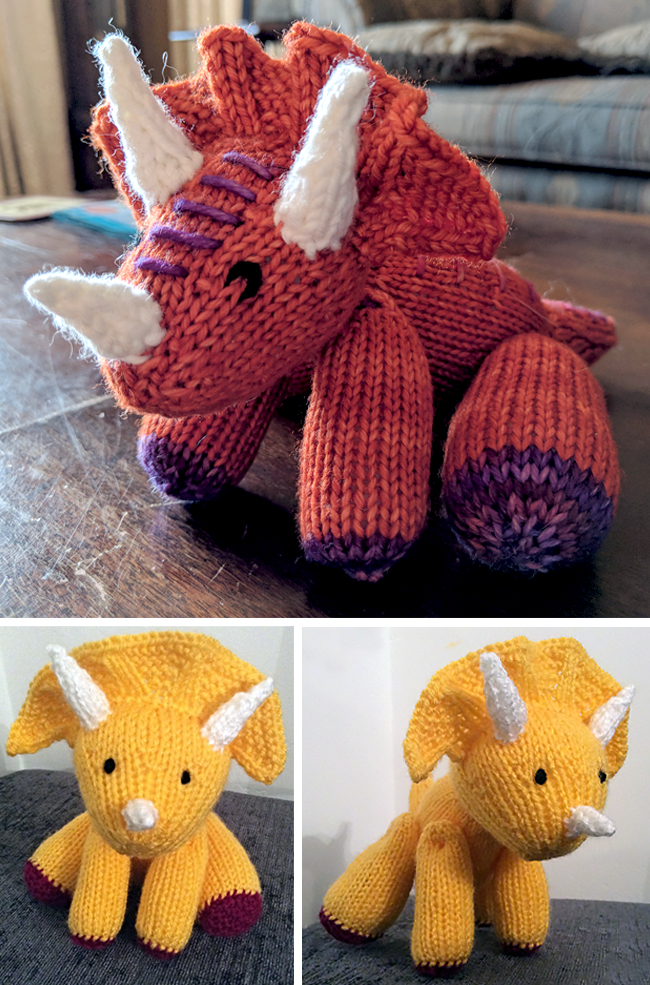 Triceratops Amigurumi
Dinosaur stuffed toy with move-able legs. Designed by Emma Whittle. DK weight yarn. Pictured projects by Raiyna who knit her toy in the round and the designer. (May only be free a limited time.)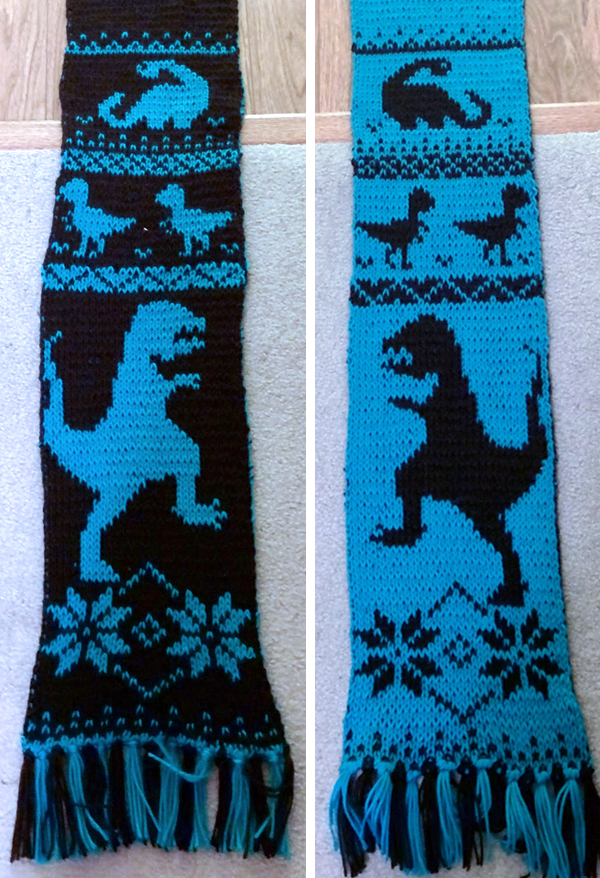 Dinosaur Scarf
Scarf with tyrannosaurus rex and other dinosaur motifs in colorwork, shown here in reversible doubleknit. Chart. Designed by Erin Heinz. Aran weight yarn.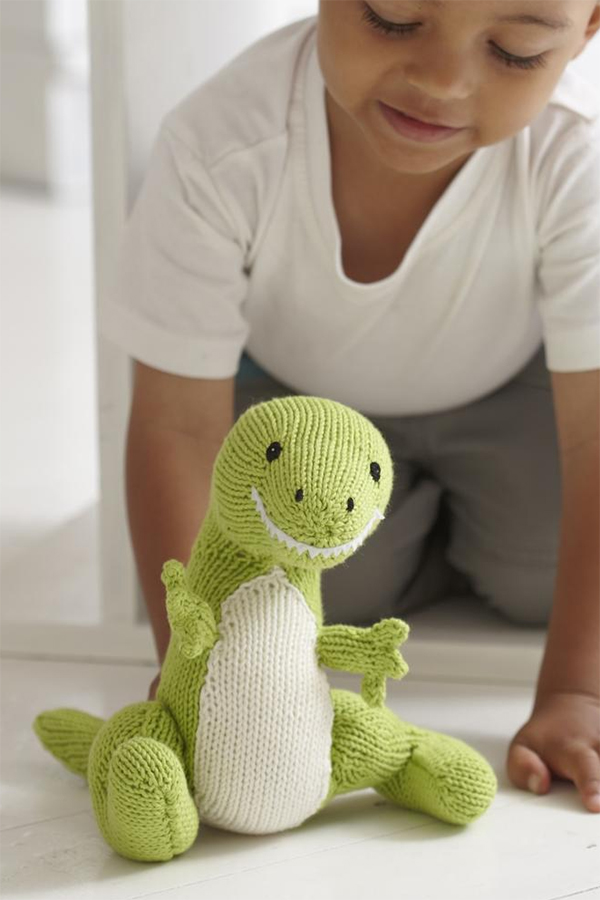 Friendly T Rex
Height approximately 10in (25cm). From the book Baby Knits Made Easy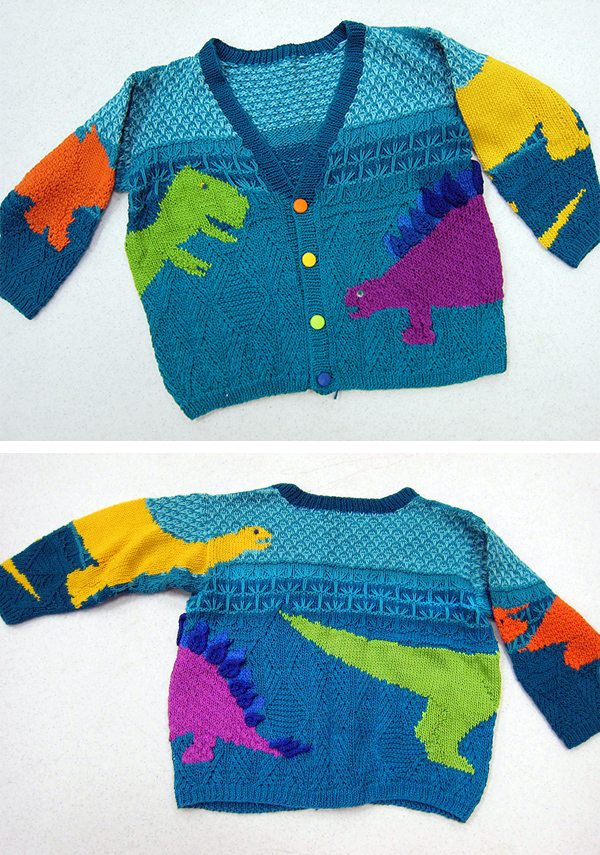 Stefan's Dinosaurs Sweater
Child's cardigan with intarsia designs of tyrannosuarus rex, stegosaurus, triceratops, and apatosaurus, on a background of plant and tree texture patterns. Designed by Pat McDermott. DK weight yarn.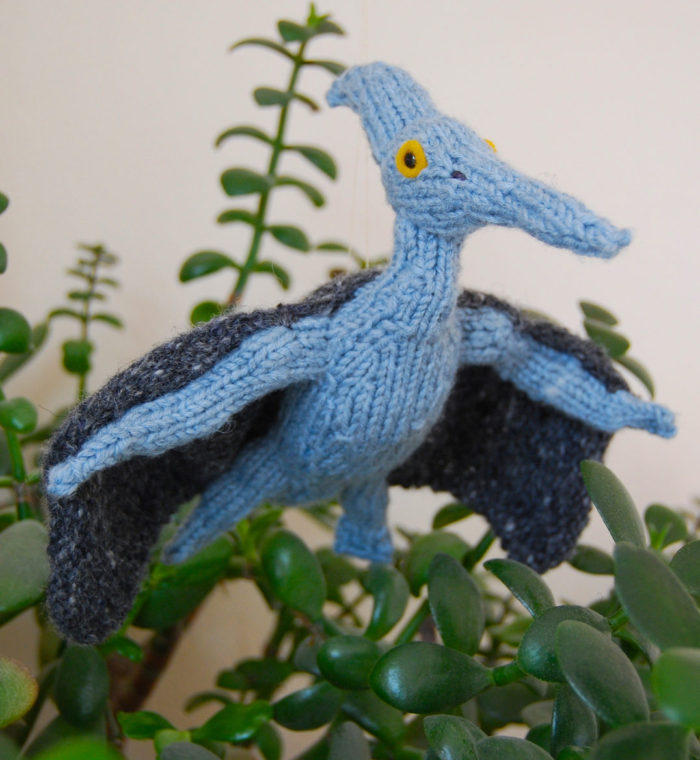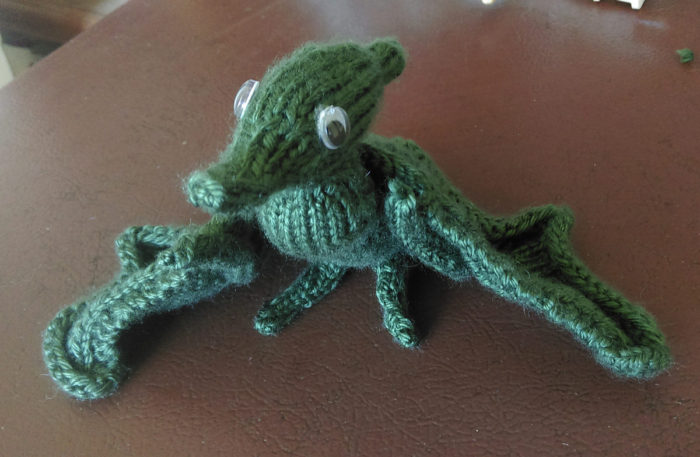 Pterodactyl
Dinosaur toy small enough to hold in your hand. It looks to be about 8 inches long in worsted yarn. Designed by fecknom. Pictured projects by TillyG who knit in the round, catseyegreen, and woollykim who inserted pipe cleaners to make it poseable.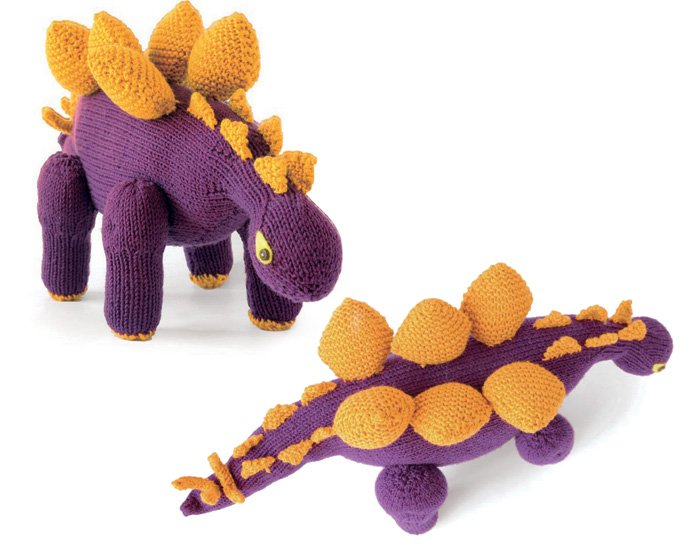 Stegosaurus
Another knitted dinosaur toy designed by Tina Barrett is free pattern from her book Knitted Dinosaurs:15 Prehistoric Pals to Knit from Scratch
.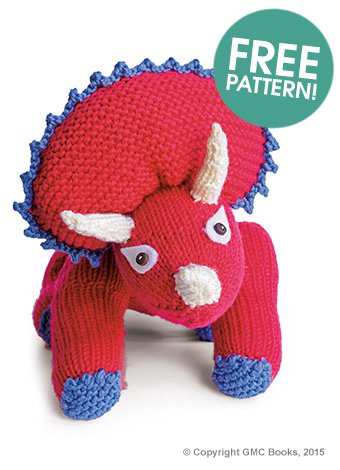 Triceratops
This knitted dinosaur toy designed by Tina Barrett is her book Knitted Dinosaurs:15 Prehistoric Pals to Knit from Scratch
. 46cm / 18in from nose to tail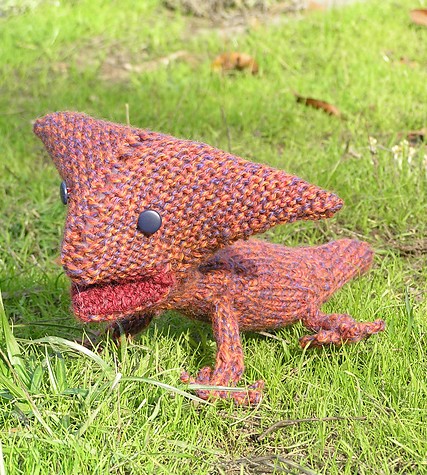 Diplocaulus
Jacob Hellar designed this small dinosaur that can be knit in worsted or bulky yarn. Pictured project by McMurph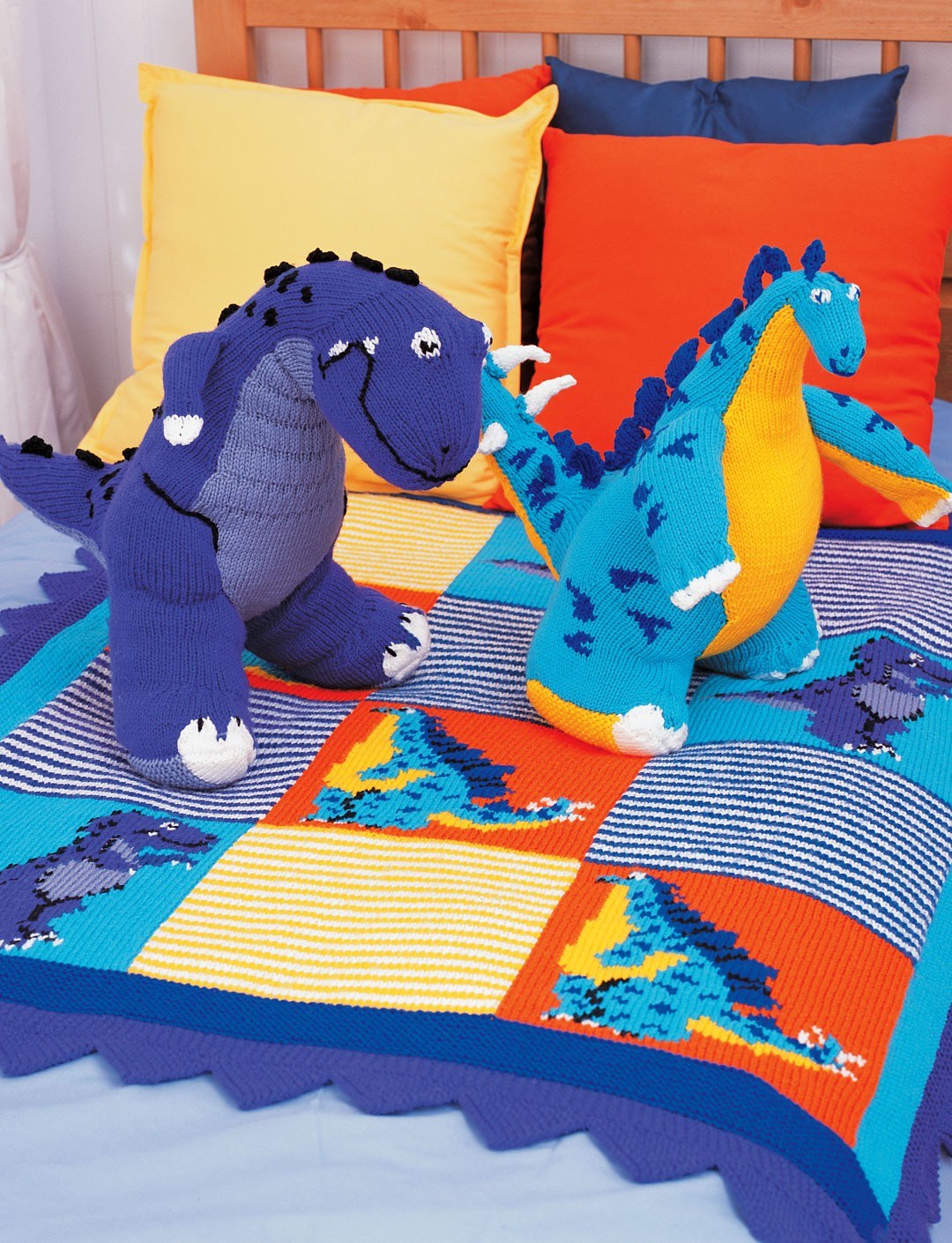 T Rex Toy, Stegosaurus Toy, Dinosaurs Blanket
Designed by Patons. Toy Height: 20 ins [51 cm]. Blanket 37 x 52 ins [94 x 132 cm] point to point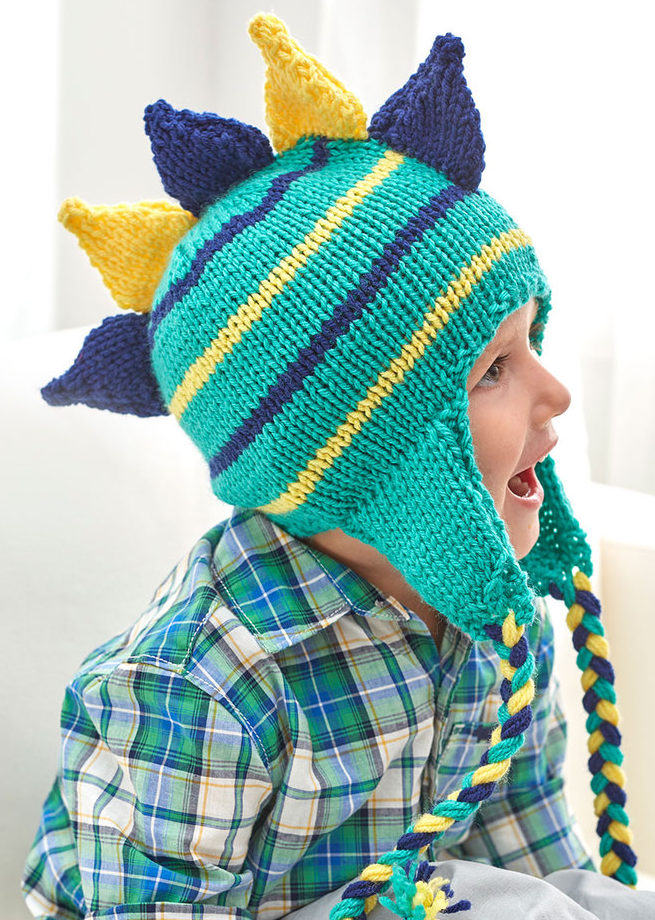 Dino Stripe Hat
Stegosaurus-inspired earflap hat sized for children. Designed by Melody Rogers for Red Heart.
More Free Patterns

Dinosaur Washcloth and Bib
Designed by Elaine Fitzpatrick, this set of easy patterns are done with knit and purl. You could easily use this motif for sweaters or blanket squares.

Stegosaurus Washcloth and Bib
Designed by Elaine Fitzpatrick, this set of easy patterns are done with knit and purl. You could easily use this motif for sweaters or blanket squares. Both patterns are in one pdf.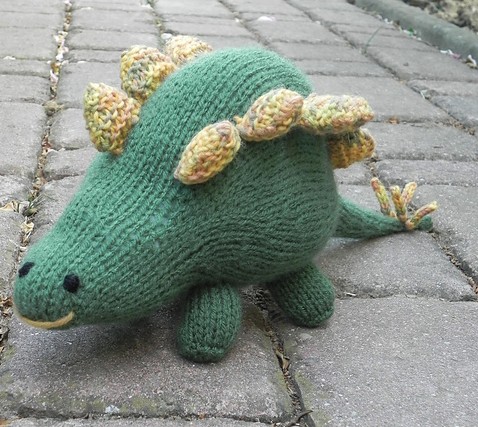 Stegosaurus Plush Toy
Jacob Haller's softie can be knit in any yarn or gauge. Pictured project by MiaSally.

Grumpasaurus
Okay, he's not a real dinosaur (maybe, that's why he's grumpy) but this cute knitted toy by Kat Lewinski is irresistible.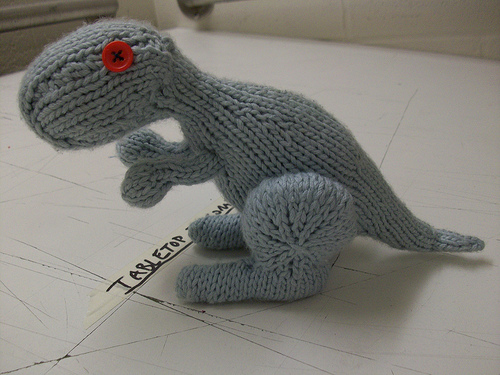 Dino the Dinosaur
Designed by Alyssa Lynough, Dino is a friendly little dinosaur, whose construction is a bit tricky for beginners but a fun challenge for the more advanced toy makers among us.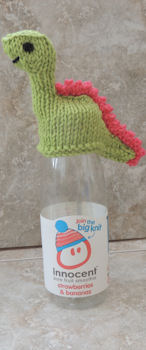 Smoothiesaurus
Dinosaur bottle topper cozy by Jo's Big Knits. Great stash buster!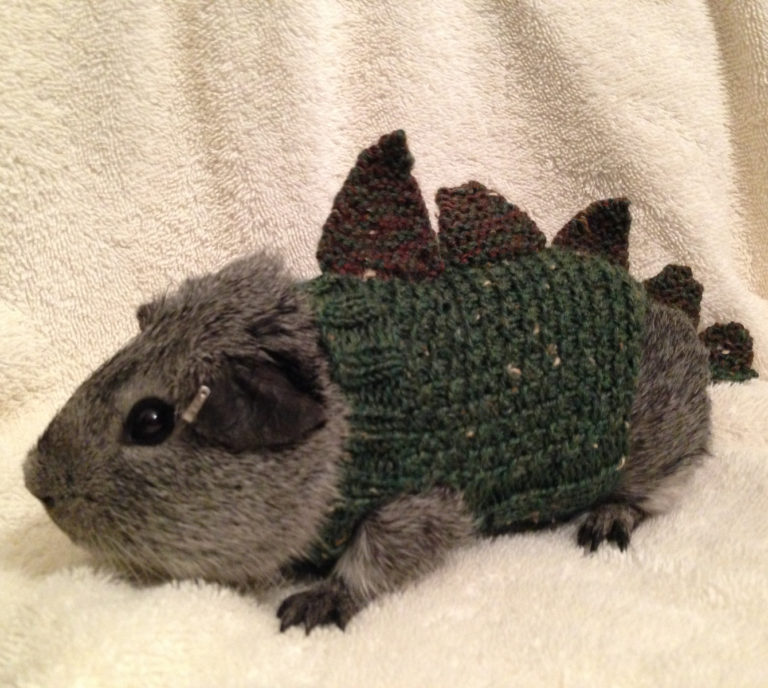 Cavysaurus Rex
SpinKnitUp designed this stegosaurus inspired pet costume sweater.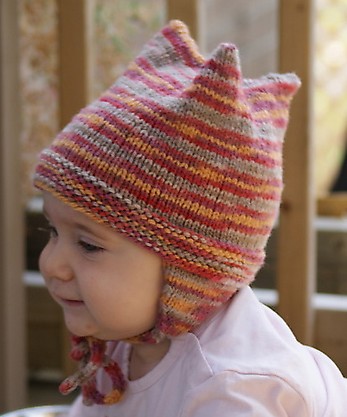 Tricera Tops
itsjustmeghan designed this triceratops inspired baby hat that is easily customizable for any yarn or size. Pictured project by quebecknits

Steggie Hoodie Sweater
Designed by Julia Farwell-Clay, this hoodie with spines is inspired by the stegosaurus. Chest: 26[27.5, 30, 32] inches

Dino Cap
Designed by Kris Hanson, this earflap hat has dinosaur spines like the stegosaurus. Baby and toddler sizes.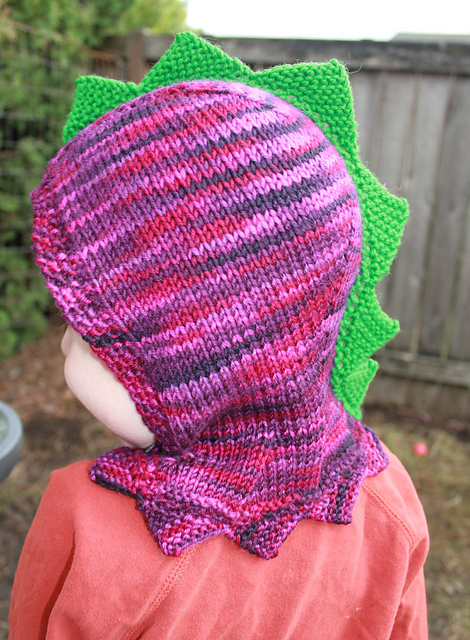 Dinosaur Hood
Designed by Julia Farwell-Clay, this full hood is designed for a toddler but many knitters have customized it for all ages including adult. Pictured project by MaiyaBecker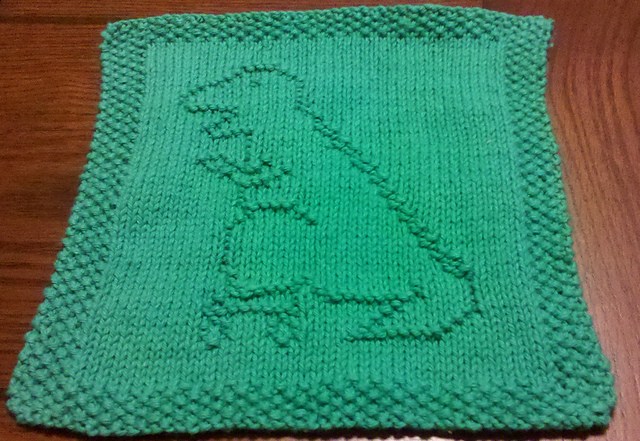 Roller Skating T Rex Dishcloth
Designed by Brett Meyers. Pictured project by debra84

Stegosaurus Skirt
Designed by Kristi Belcher.

Velociraptor Chart
Designed by Kjersti, The chart can be used for any number of knitting projects: hats, mittens, dishcloths, satchels, mittens, etc.
Patterns for Purchase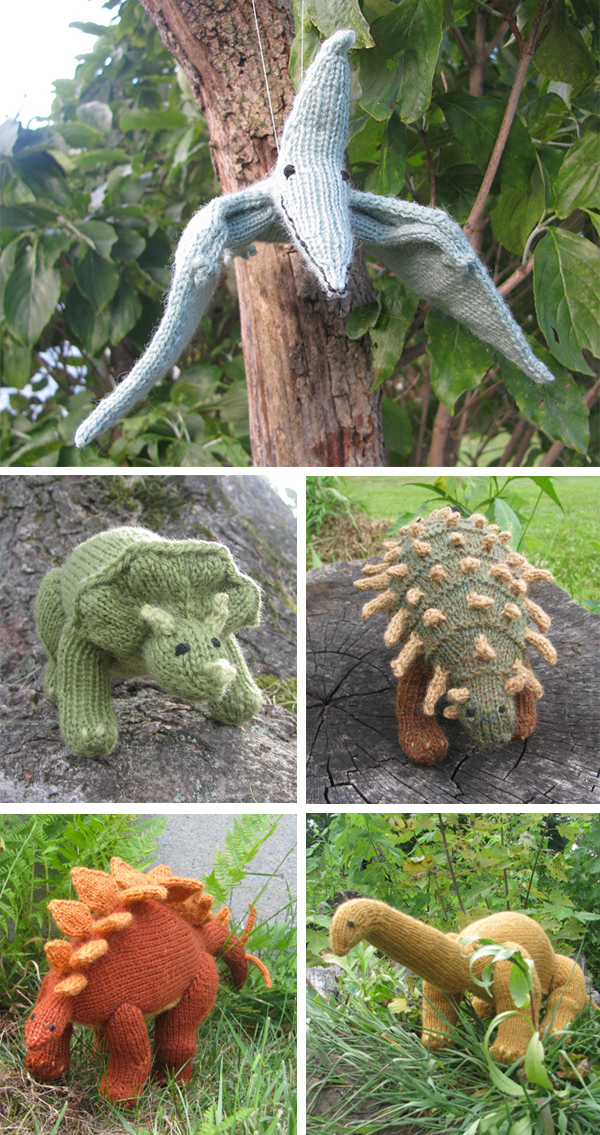 Dinosaur Plush Toys
Knitting patterns for Pterodactyl, Triceratops, Anklyosaurus, Stegosaurus, and Apatosaurus plush softies contain photos, techniques and line by line instructions to create your very own dinosuar in any size or yarn. Patterns sold individually. Designed by Patricia McMahon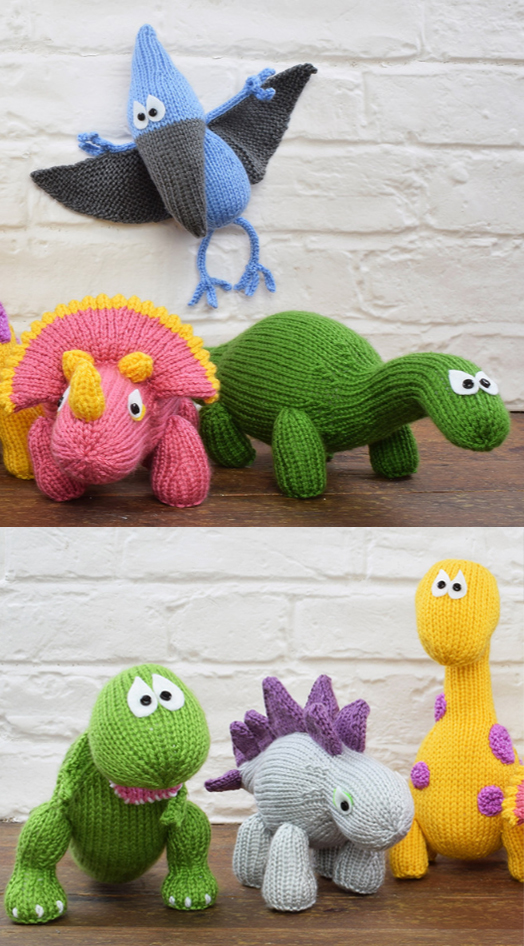 6 Dinosaur Toys Patterns or Kit
Includes Bruno the Brontosaurus, Tina the Tyrannosaurus Rex, Stanley the Stegosaurus, Alan the Apatosaurus, Toby the Pterodactyl and Trixie the Triceratops. Kit contains enough yarn to make all six Dinosaurs, along with a digital copy of each pattern.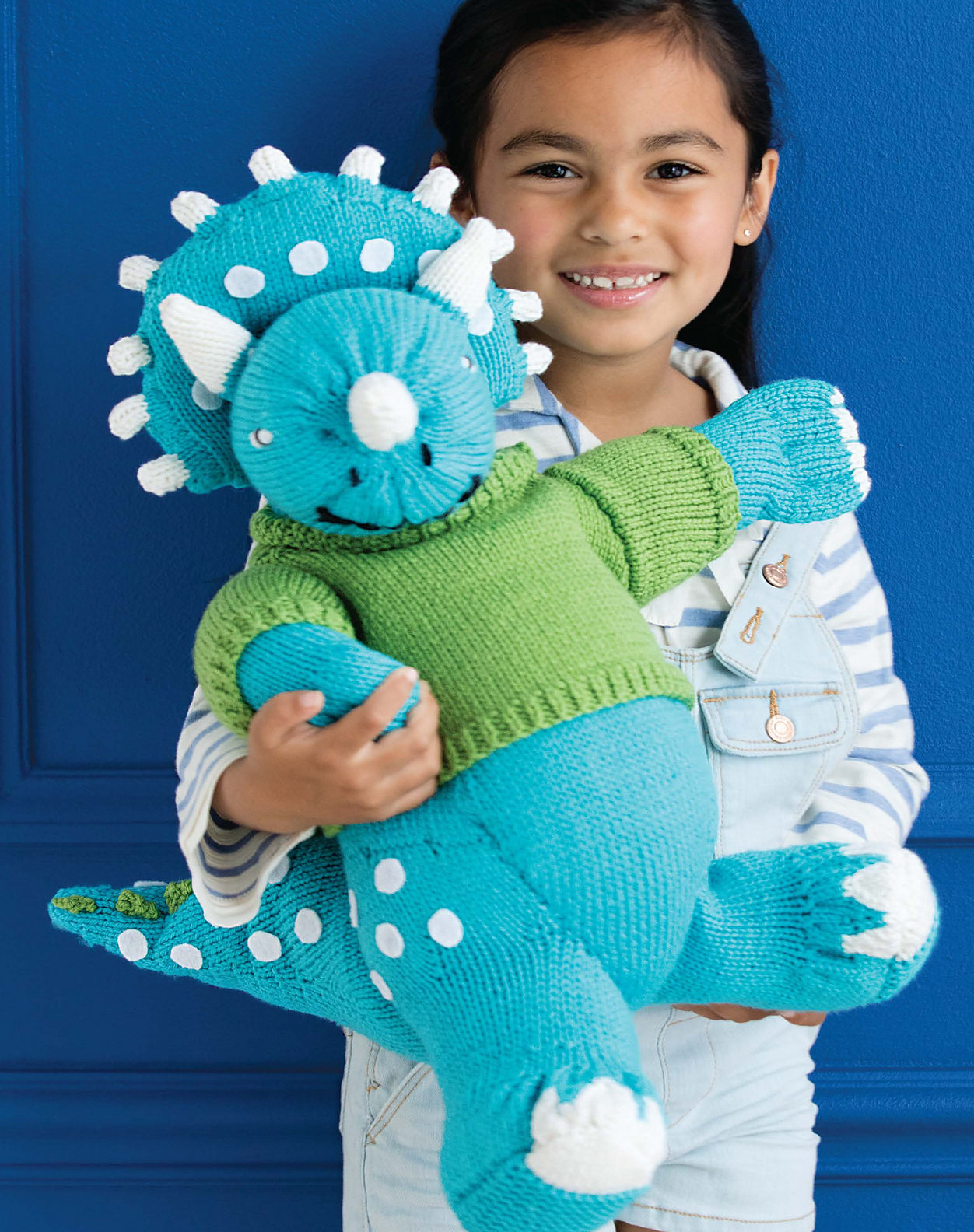 Cuddly Triceratops
Dinosaur toy softie approx 18"/46cm high when sitting. One of the patterns in 60 Quick Knitted Toys. See below for another dinosaur toy in this book (Dinosaur Hatchling)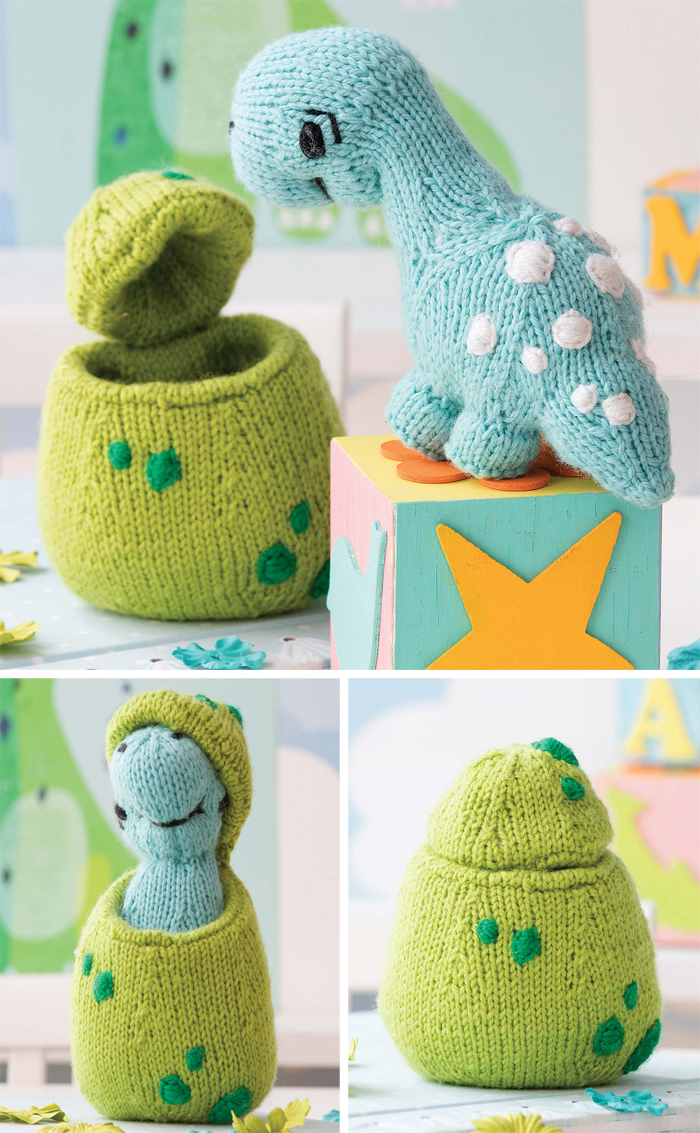 Dinosaur Hatchling
Baby dinosaur sofite toy fits into its own egg. Dinosaur Approx 8"/20.5cm long and 5½"/14cm tall Egg Approx 6"/15cm tall and 4½"/11.5cm wide. One of the patterns in 60 Quick Knitted Toys. Designed by Megan Kreiner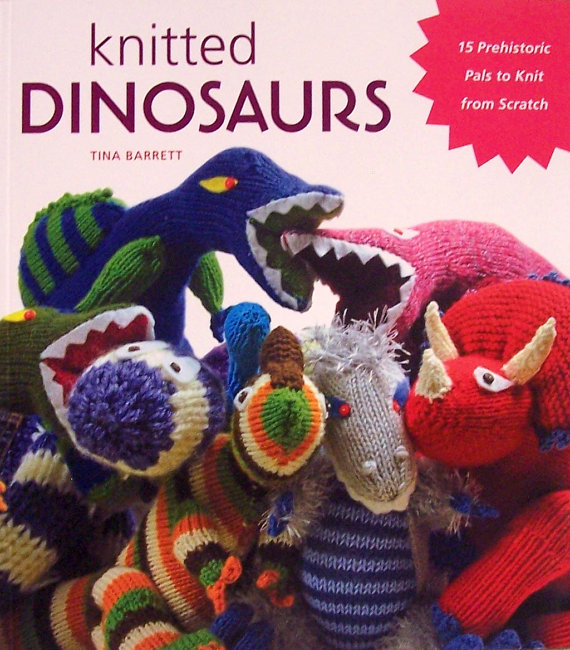 15 different dinosaur patterns, from Stegosaurus to Triceratops. It includes a techniques section that covers everything new knitters need to know – so suitable for all abilities.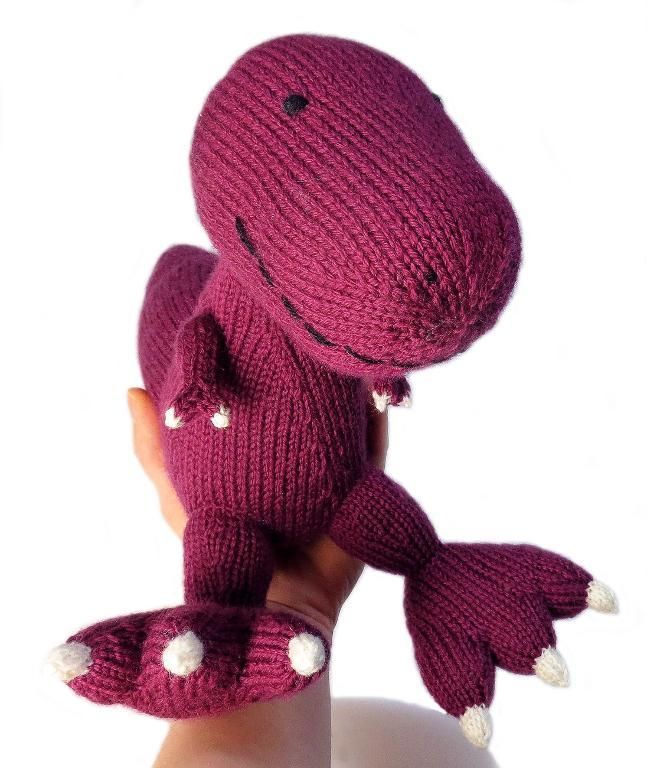 Hektor the Tyrannosaurus
Hektor is knitted in the round and ends up about 30 cm (12 in) long and 23 cm (9 in) tall when sitting down.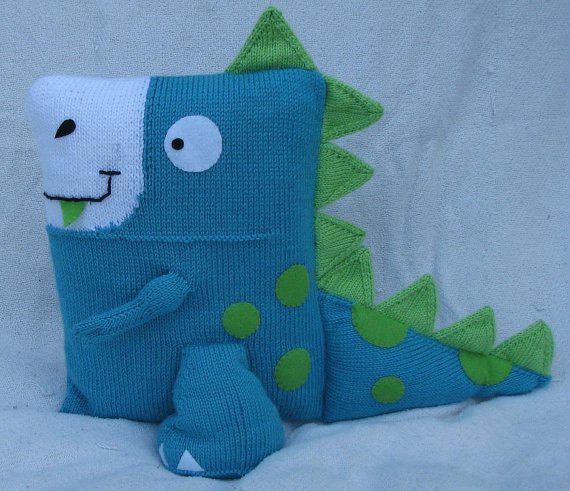 Dinosaur Pillow
Approximately 18″ tall (to the tip of the spike on the head) and 23″ wide (to the tip of the tail).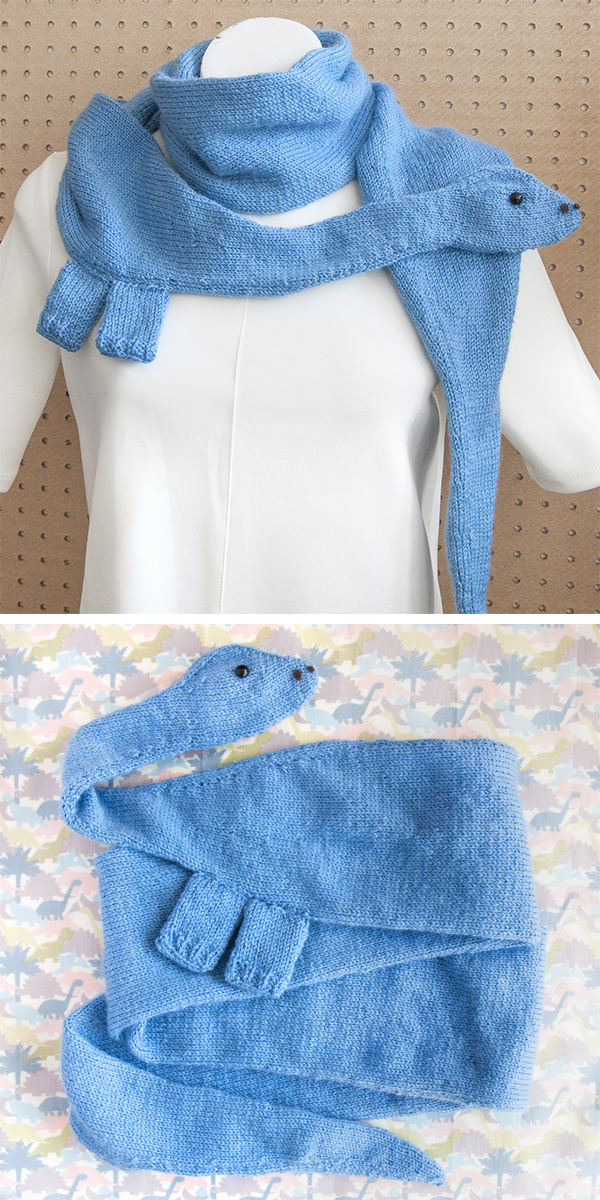 Diplodocus Scarf
This project is aimed at beginner knitters. It is knitted in two pieces, flat, and then sewn together. There is a lot of stockinette stitch with some increasing and decreasing.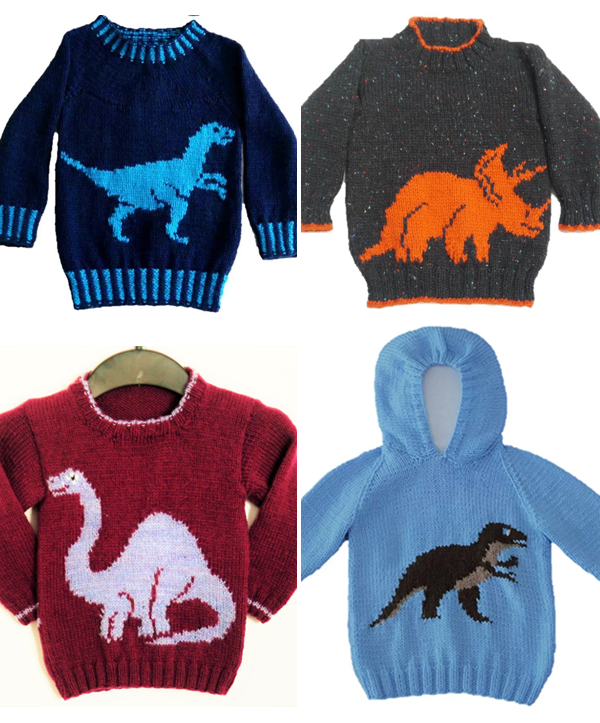 Dinosaur Sweaters by iKnitDesigns
Pullovers and hoodies with dinosaurs including Velociraptor, Triceratops, Apatosaurus, Tyrannosaurus, and more, in a variety of baby and child sizes. Designed by Denny Gould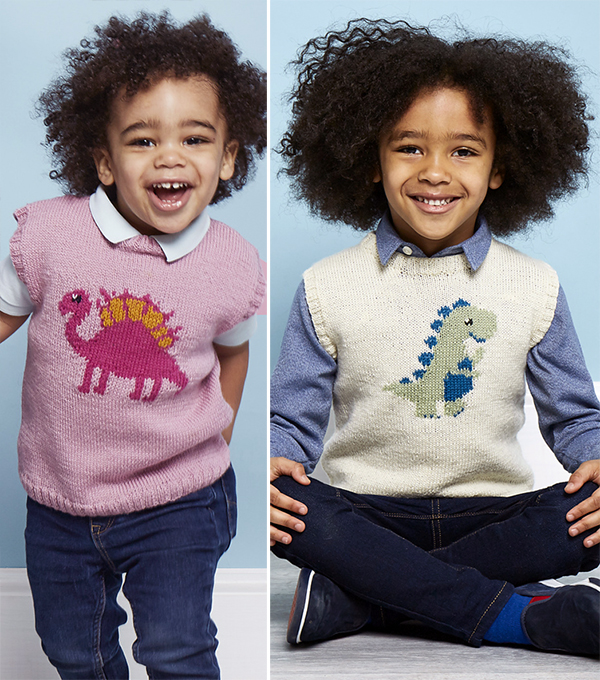 Prehistoric Tank Tops
Sleeveless tops or vests for babies and children with intarsia dinosaurs. Sizes 0 6 Months (6-12Months, 1-2 Years, 2-3 Years, 4-5 Years). Designed by Emma Heywood. One of the 21 patterns in Issue 88 of Knit Now.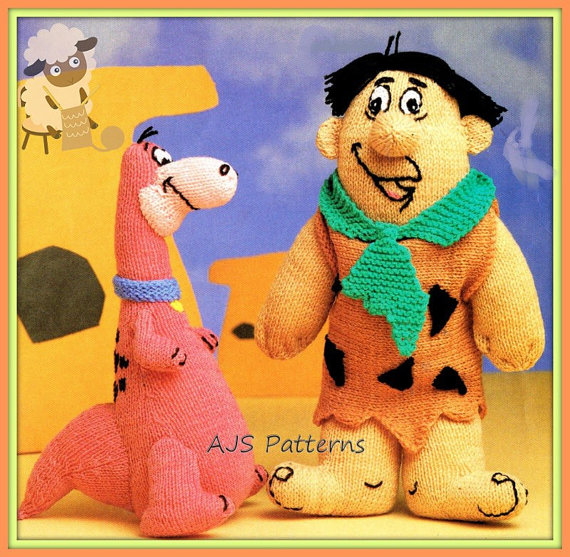 Dino the Dinosaur and Fred Flintstone
PDF of vintage pattern. Fred will be approx 14 inches high when completed & Dino will be 12 inches tall.