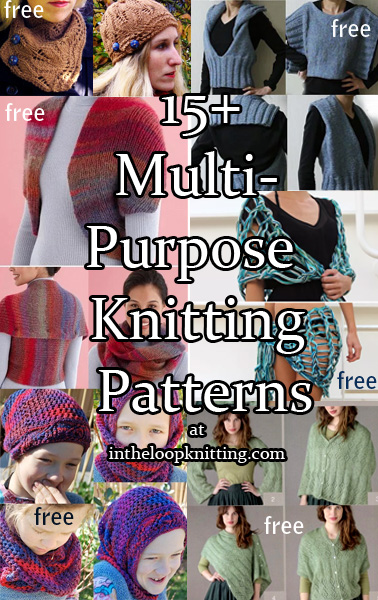 These convertible knitting projects transform and morph change into completely different accessories or garments with easy adjustments.
To get the knitting patterns, scroll down the page to the individual pattern you want and click on the link to that pattern.
These patterns are not my designs but links to other designers who have generously shared their patterns. If you have questions about how to knit a specific pattern, please contact the designer directly.
All links on this site are for informational purposes, but please note that some links are to affiliate sellers that pay me a small commission on purchases.
Free Patterns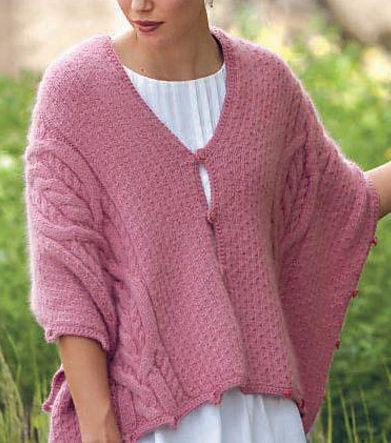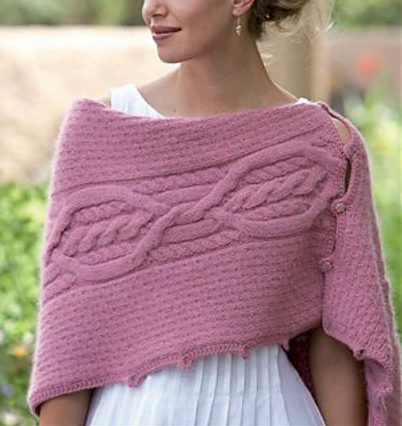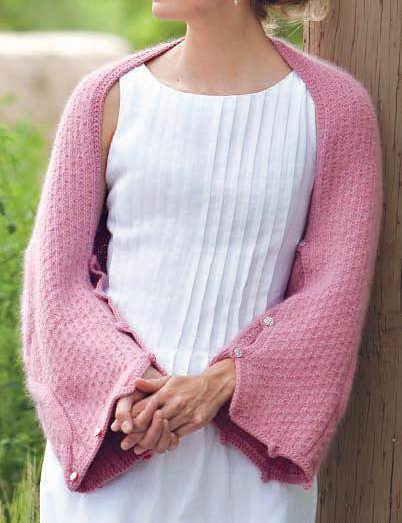 Five-Way Cable Shrug
This versatile cable piece can be worn as a shrug, wrap, poncho, or stole. One of the patterns in the free ebook The Art of Cable Knitting: 7 Free Patterns. Designed by Lily M. Chin. 16″ wide x 54″ long (40.5 x 137 cm). Aran weight yarn.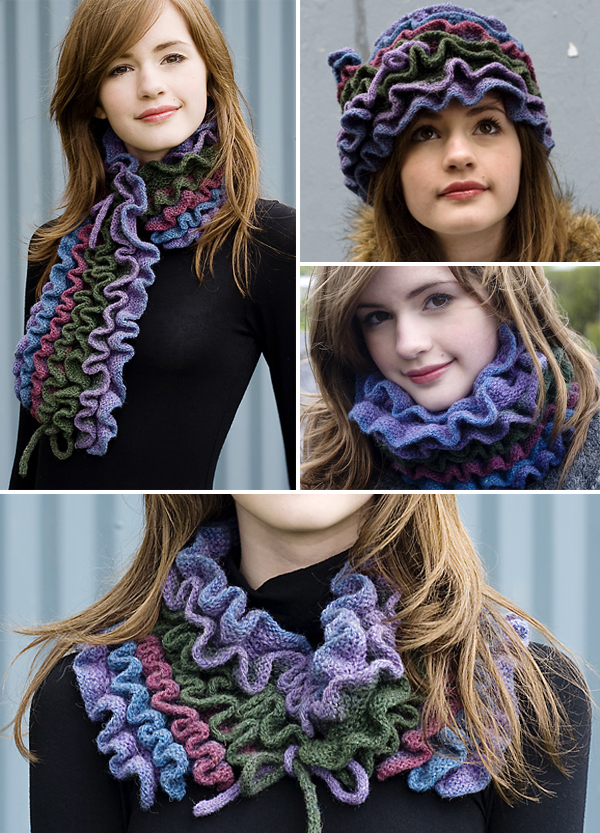 Alda Multi-Wear Scarf
Ruffled scarf with i-cord ties that can be worn in many different ways: as a wrapped scarf, cowl, mini stole, belt, and even as a headwrap. The frills on the scarf represent the endless waves on the vast ocean, and the name, Alda, means wave in Icelandic. Designed by Harpa Jónsdóttir for Knitty. Sport weight yarn.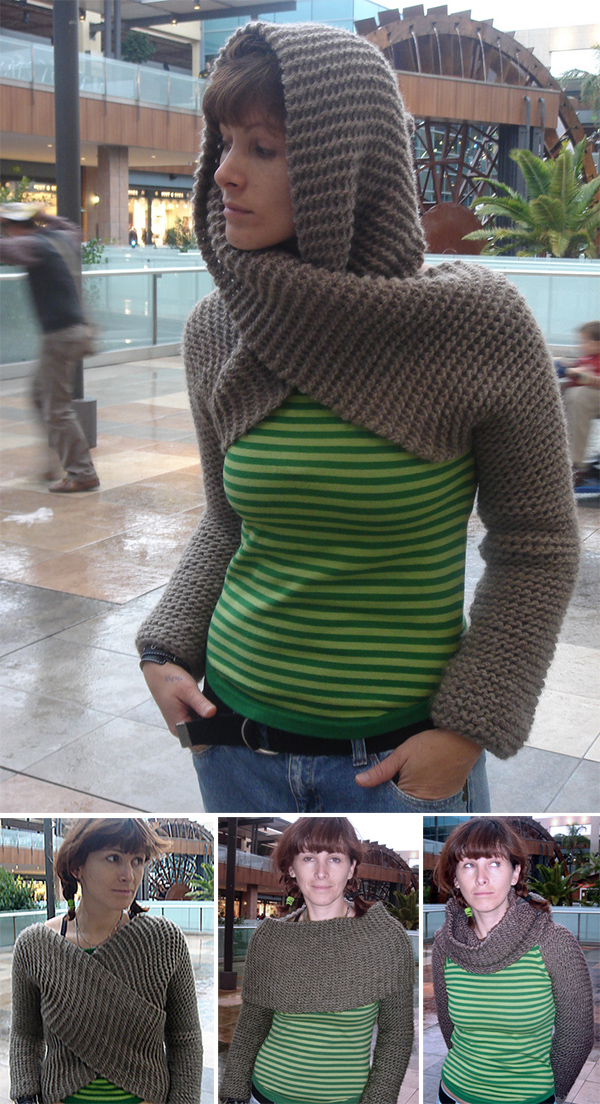 Criss-Cross Shrug
Knit in a simple rectangle and seamed, this easy shrug can be worn many different ways. Designed by Lion Brand Yarn. Sizes S/M (L/XL). Rated easy by Ravelrers Pictured project by translatica who made a slightly narrower rectangle than the pattern. Bulky weight yarn.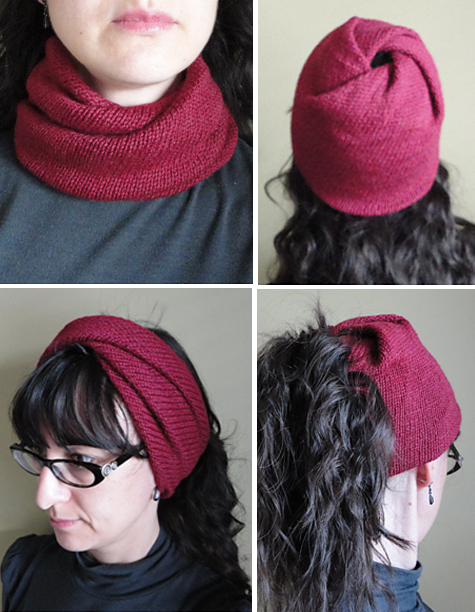 Strange Loop
This recipe for a versatile twisted loop can be worn many different ways. It can be worn as a cowl or pushed up on the head as a headband. Arrange the twists at one end, this can be worn as a hat or as a wide headband with a hole to create a messy bun or ponytail hat. Designed by Morgen Dämmerung. Available in English and Russian. Pictured project by loopysue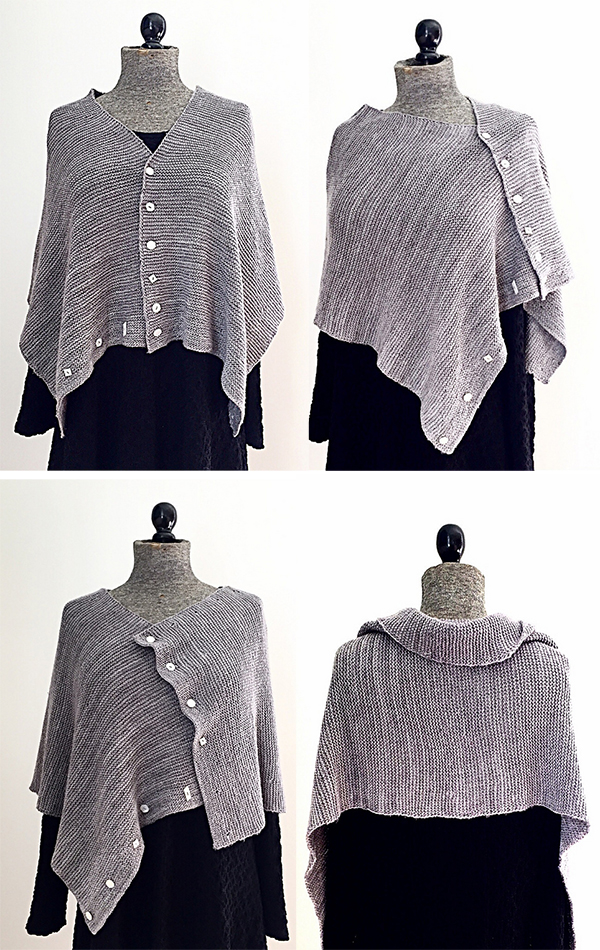 Rectangulum Wrap
Knit entirely in garter stitch, the buttonhole placement on this elegant, drapey shawl made allows for multiple styling options. Wear it as a poncho, cardigan, and more. One size but easily adapted to other sizes by making longer or using heavier yarn and larger needles. Uses 2 skeins of any fingering weight yarn. Designed by Karen Grover. Rated very easy by Ravelrers.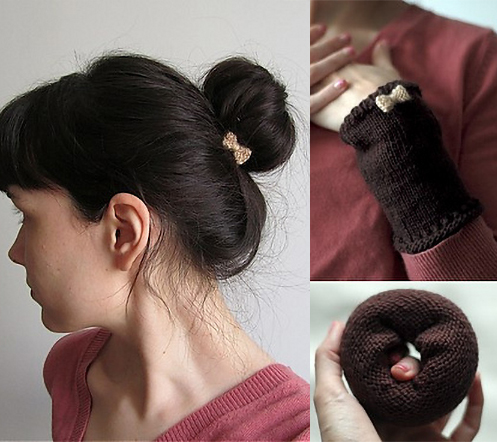 Armwarmer / Sock Bun
The Bun & Bow accessory are bow-embellished fingerless mitts that transform into an easy bun hairstyle. Roll the mitts into a donut shape and then roll your ponytail around the donut to form a bun. Secure with the bow bobby pin. DK yarn. Designed by Derya Davenport for Laylock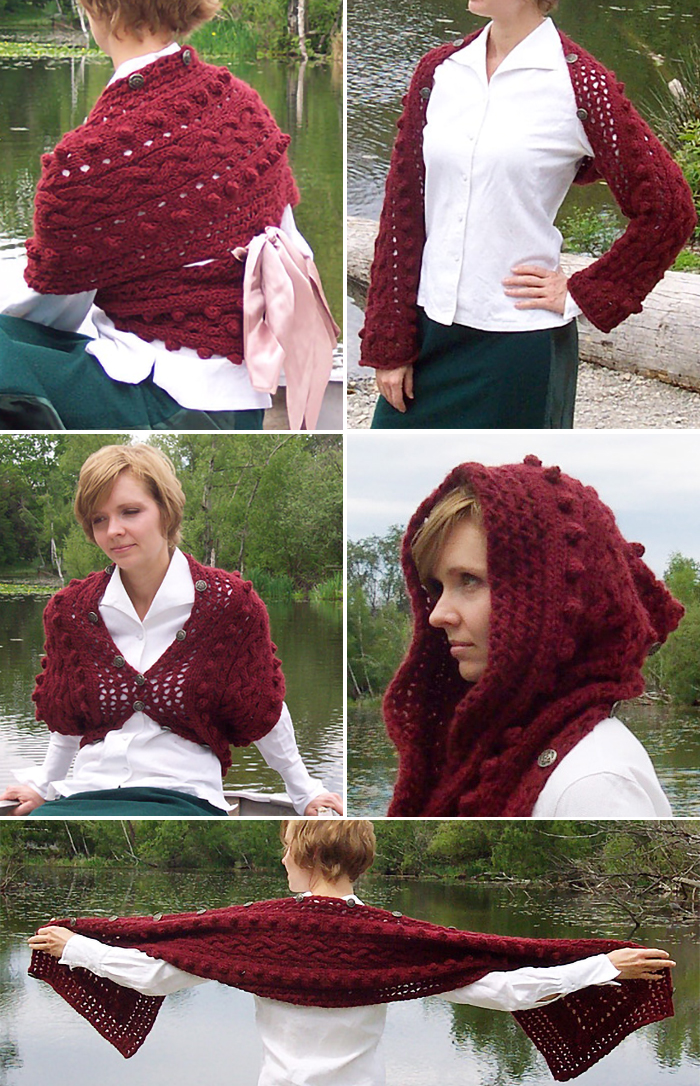 Versatility
This cabled scarf with buttons along the side and added ribbons can turn into a cardigan, shrug, hood, and more. Bulky yarn. Designed by Amanda Williams for Knitty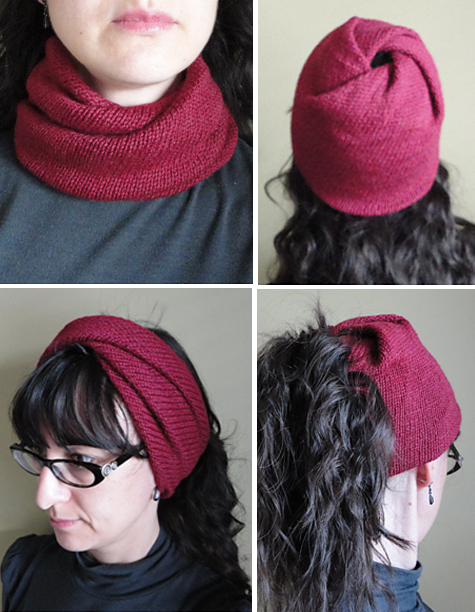 Strange Loop
This recipe for a versatlie twisted loop can be worn many different ways. It can be worn as a cowl or pushed up on the head as a headband. Arrange the twists at one end, this can be worn as a hat or as a wide headband with a hole to create a messy bun or ponytail hat. Designed by Morgen Dämmerung. Available in English and Russian. Pictured project by loopysue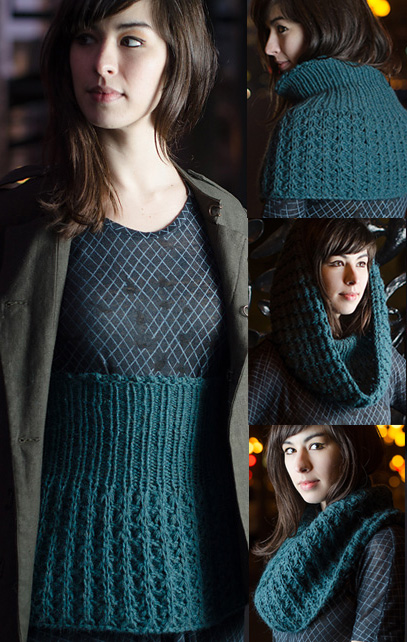 Makiko
Cirilia Rose's versatile garment was inspired by the Japanese belly warmers known as haramaki, that keep vital organs covered to warm the entire body. It has been cleverly designed so it can be layered over your regular clothes to add warmth and style, and also serve as cowl or hood. And it's reversible! XS (S, M, L, 1X, 2X, 3X)

Gennaio Basket / Hat
Here's a fun multi-purpose project for a mitered container inspired by origami. This versatile project can be used as storage if reinforced with cardboard or even worn as a hat. Dimensions: about cm 20.5 x 12 x 16.5h but easy to adjust. Designed by Alice Liotto. Available in English and Italian.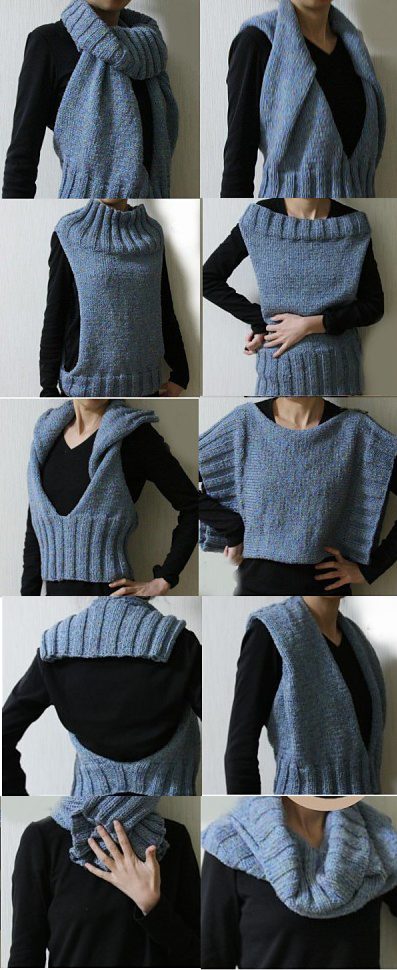 Convertible Halter, Tunic, Cowl, Scarf
Suzanne Resaul's design is the ultimate multi-purpose accessory. The number of ways it can be worn seem almost endless. The pictured project by ANjELLA shortened the rib sections for even more versatility.

Avonia Cardigan
Rachel Søgaard designed this versatile cardigan that can be worn in at least two ways: either as a shorter waist length style or as a longer hip length one, just by turning it upside down. The collar can also be worn as a shawl or cowl collar. Sizes S/M (L) XL/XXL Available in English, German, and Danish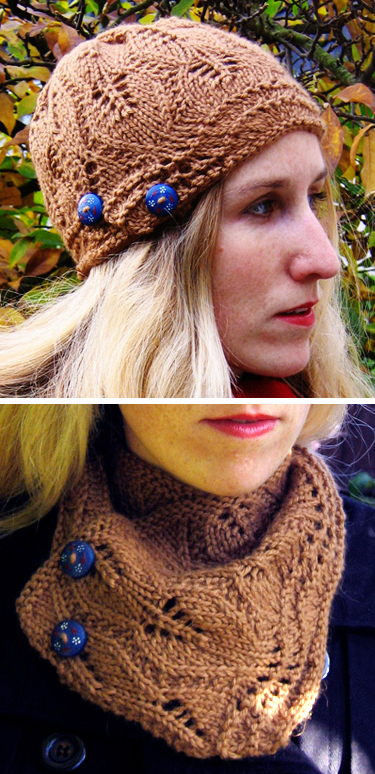 Duet Hat / Cowl
This beautiful leaf lace scarf by Linda Wilgus morphs into hat by fastening the buttons and tightening a ribbon threaded through the top edge.

Trout River Sweater With Removable Sleeves
Anyone who loves camping or the mountains will appreciate this sweater by Becky Herrick. Buttoned removable sleeves transform the sweater into a vest as the day warms up. And you can even wear the sleeves as leg warmers! Chest: 29[33, 37, 41, 45, 49, 53] inches.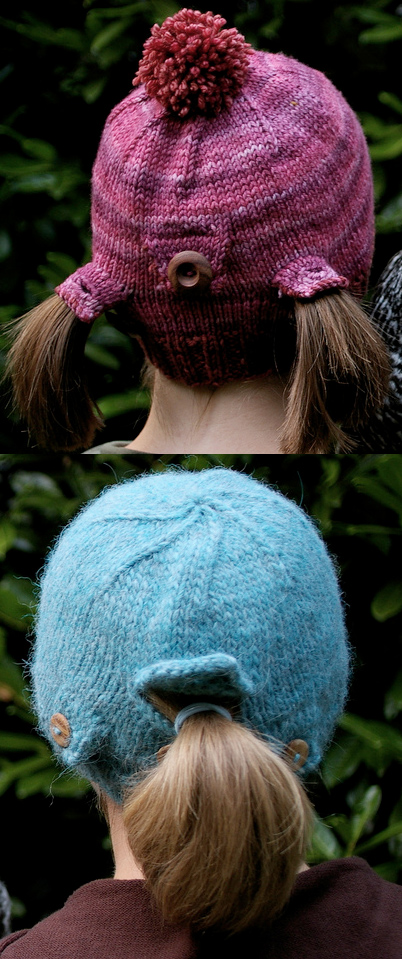 Urban Homesteader Hat
Here's a clever hat design from Christy Varner fits any hairstyle! Open the middle flap for a ponytail, open the side flaps for pigtails or wear as a beanie for short hair. In child and adult sizes.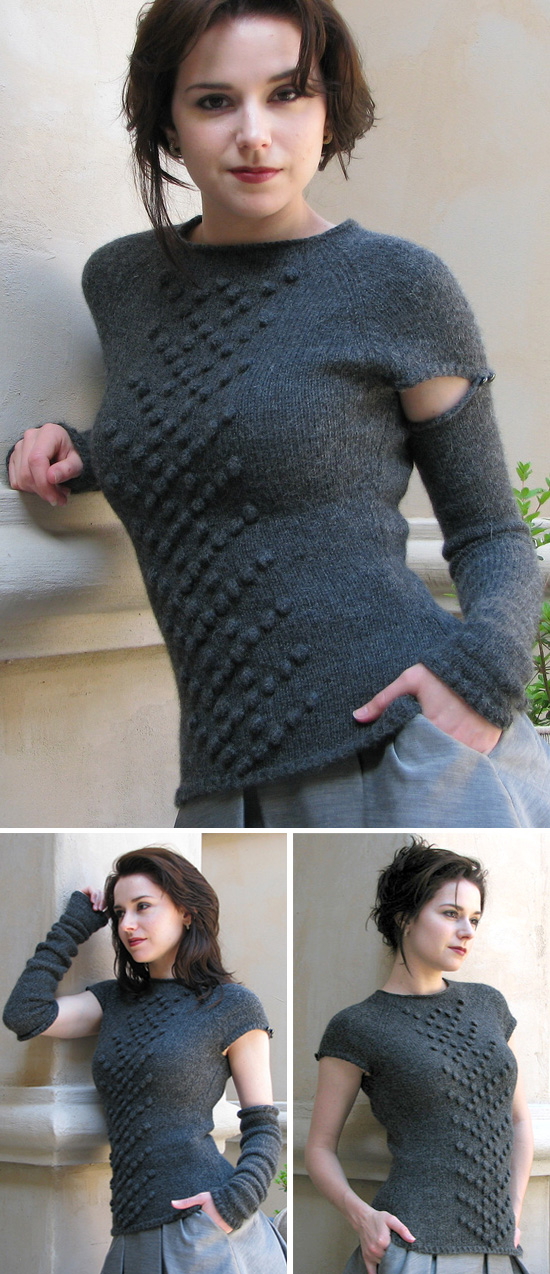 Camden
Ashley Adams Moncrief designed this flattering top with the practical yet decorative removable sleeves. The top can be worn with or without the sleeves and the detachable sleeves can be worn as arm warmers. Sizes XS[S, M, L, 1X, 2X, 3X]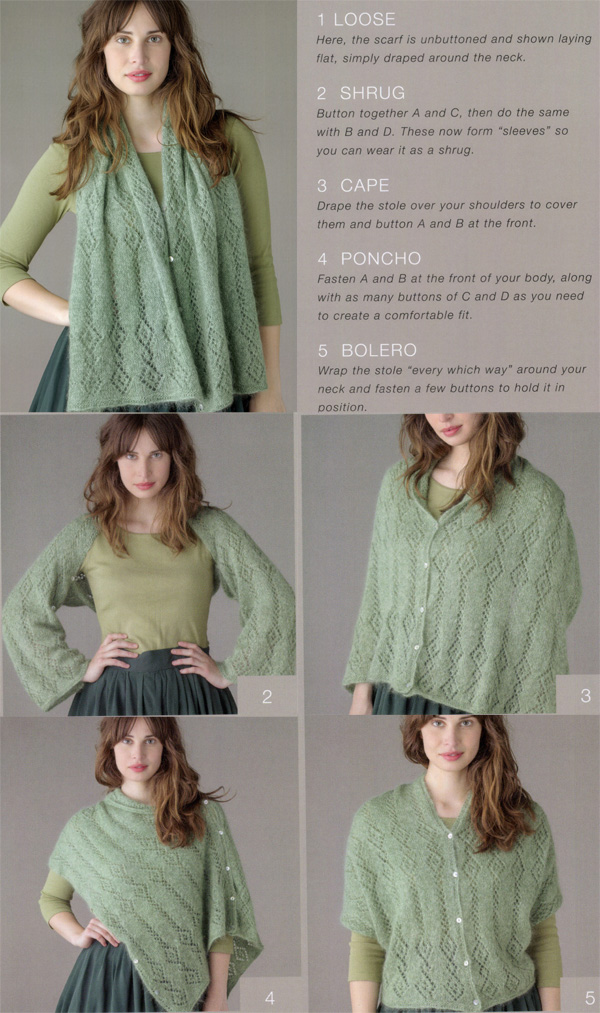 Multi-way Stole
This lace stole by Sarah Hatton can be worn as a scarf, shrug, cape, poncho or bolero depending on how it is buttoned. One of the 22 designs from the book Scarves, Shrugs and Shawls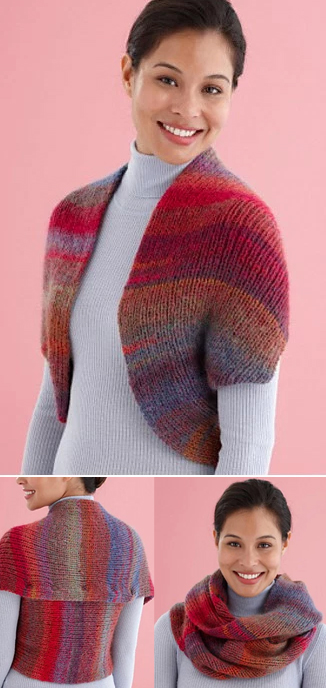 Snapped Convertible Cowl/Shrug
Lion Brand Yarn's accessory transforms with strategically placed snaps. Knit as a single rectangle, just seam and add snaps to get multiple options. Unsnapped it becomes a cowl. Snapping all the snaps creates arm holes for a shrug.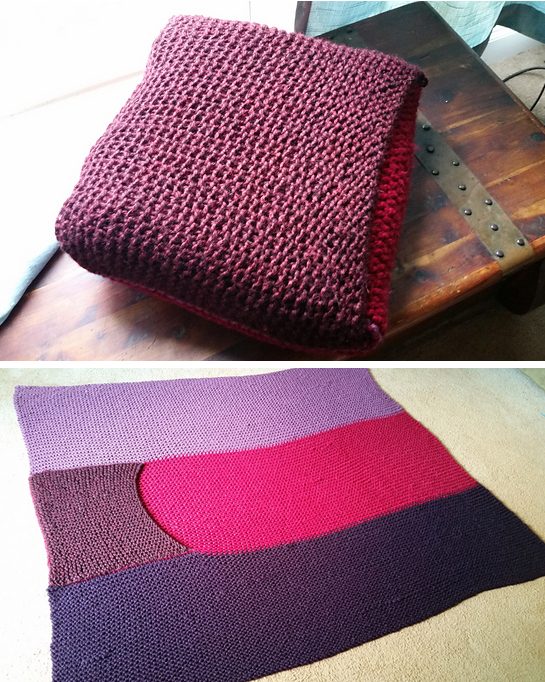 Car Blanket / Pillow
This warm blanket, designed by Kim Hamlin, easily folds into a convenient travel size to be used as a pillow. Featured in YarnPlay and shared by Lion Brand. Pictured project is by humerusknits.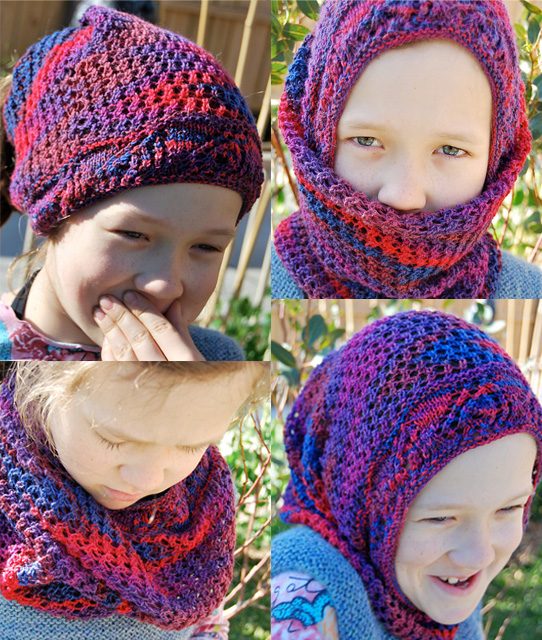 Chameleon
Zeph Kane's ingenious design can be worn as a hat, hood, balaclava, cowl, headband and more. Pictured project is by frockfarie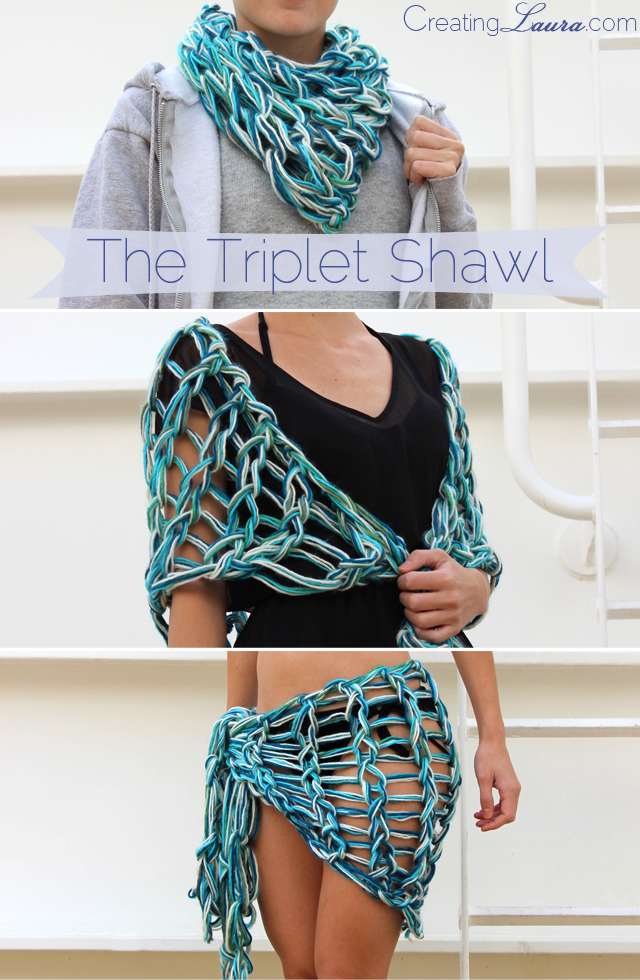 Triplet Shawl
Laura of CreatingLaura.com designed this versatile arm knit project that can be worn as shawl, scarf or swimsuit cover-up. Five complementary colors of worsted weight yarn are arm knit together in a triangle — a unique shape for arm knitting that inspired Laura to figure out how to do decreases and increases in arm knitting.

Sliding Star
Frankie Brown does it again with design based on a origami pattern! A star shape slides into a ring shape and back again. Wear as a brooch and then slide into a bracelet. Frankie requests that you consider a donation to the Children's Liver Disease Foundation at www.justgiving.com/frankiesknittedstuff if you like her patterns. Great stash buster!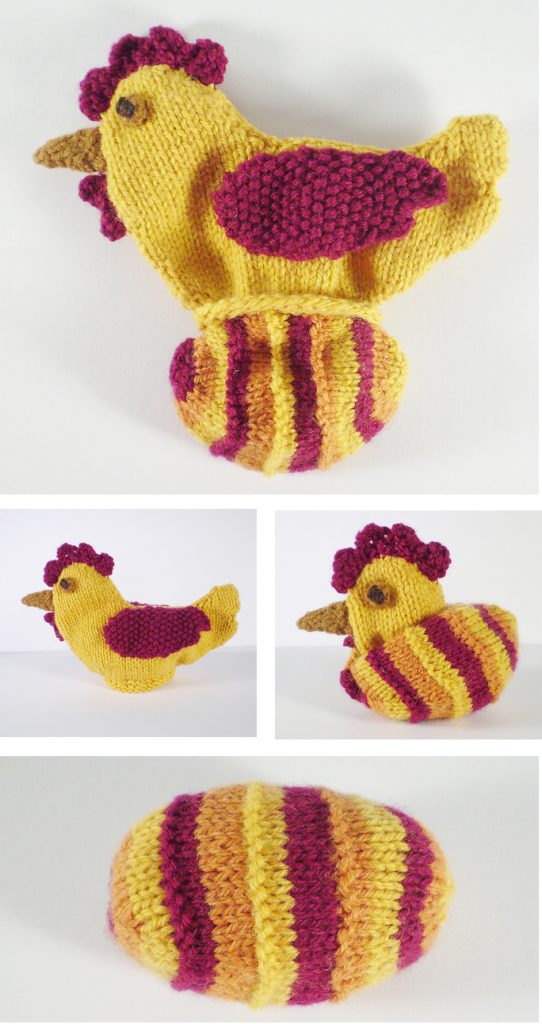 Which Came First?
You don't have to choose with Frankie Brown's humorous transforming toy. The egg fits inside the chicken, turn it inside out and the chicken's in the egg. The chicken is about 11 cm tall and it can hold a real egg or a treat egg.
Patterns for Purchase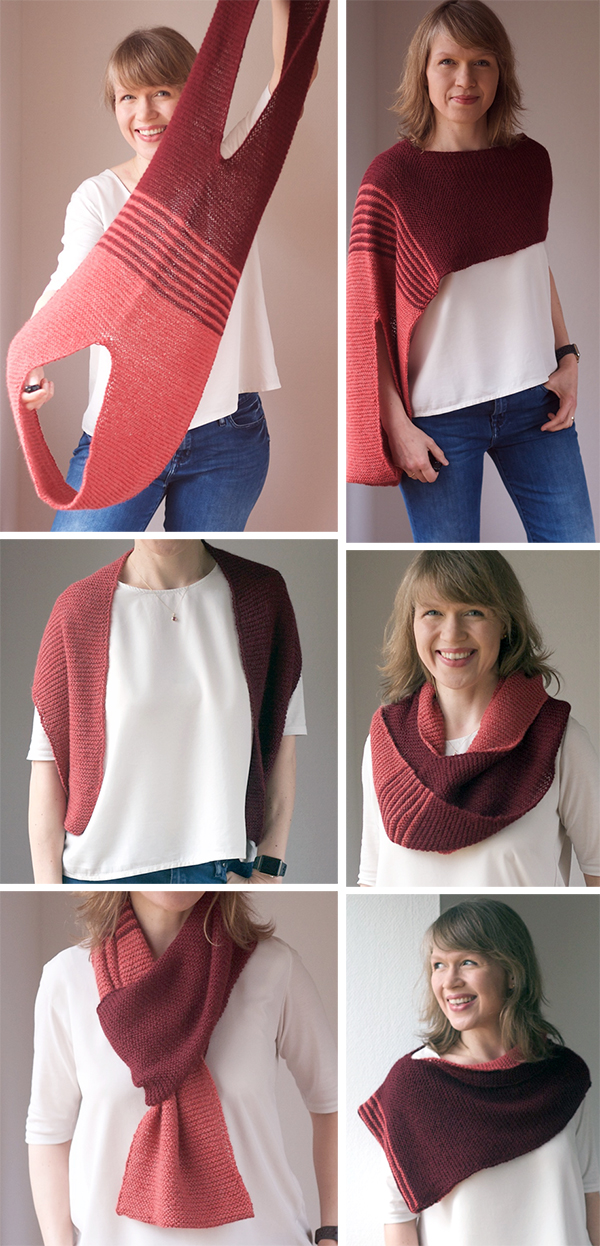 Loops Convertible Accessory
Loops is the one accessory you have been waiting for! Simple to knit, with a striking two color design, and endless possibilities to wear: shrug, cowl, capelet, scarf, and more! DK weight yarn. Rated easy by Ravelrers. Designed by Martina Behm.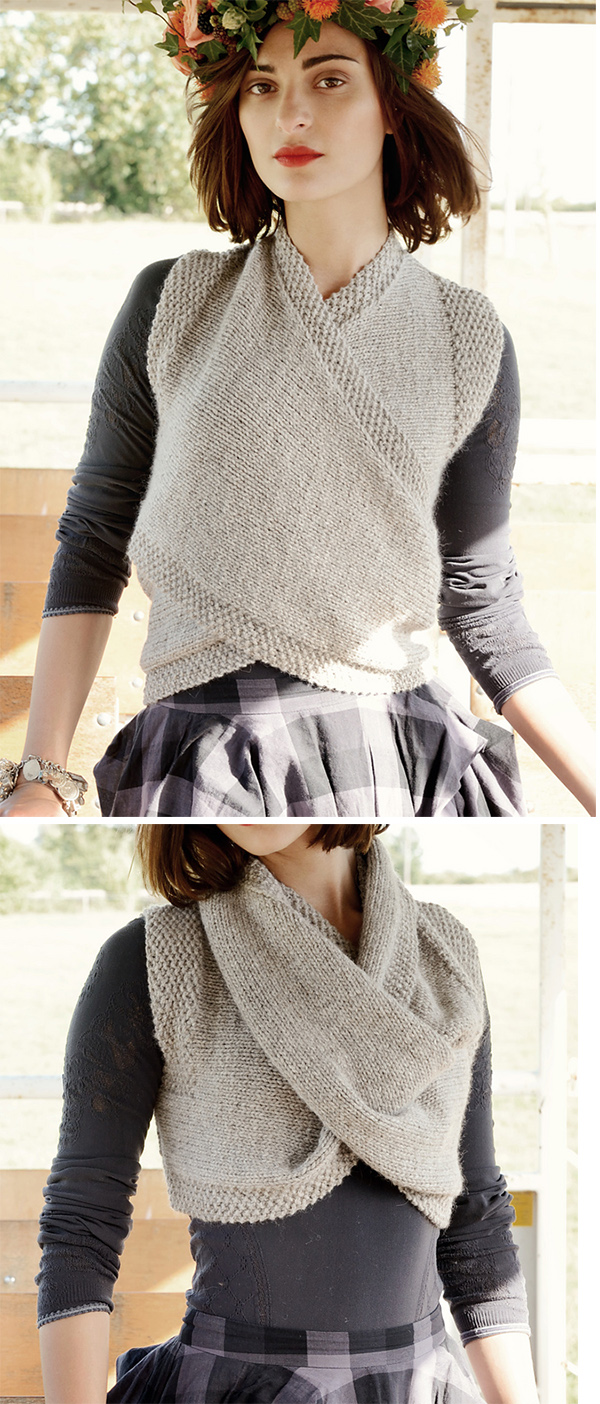 Chelsea Waistcoat
Versatile shrug or vest can be worn 2 ways. Sizes X-Small, Small, Medium, Large, X-Large. Worsted weight yarn. Rated easy by many Ravelrers. Designed by Kari-Helene Rane

Convertible Tunic / Bolero
This multiweave pullover can be worn a variety of ways including tank, cardigan, and more. Sizes size S-XXL. Knit in stockinette. Designed by ToBeStudio who says the pattern is suitable for beginners.

Demetria Cowl
Demetria Cowl is a generously-sized and luxurious scarf with subtle cables on a ribbed background. The simple button closure at the ends transforms the long scarf into an infinity scarf, which can be looped twice for a cozy and warm cowl or worn over the shoulders like a shawl. Designed by Susanna IC. One of the patterns in knit.wear Fall/Winter 2017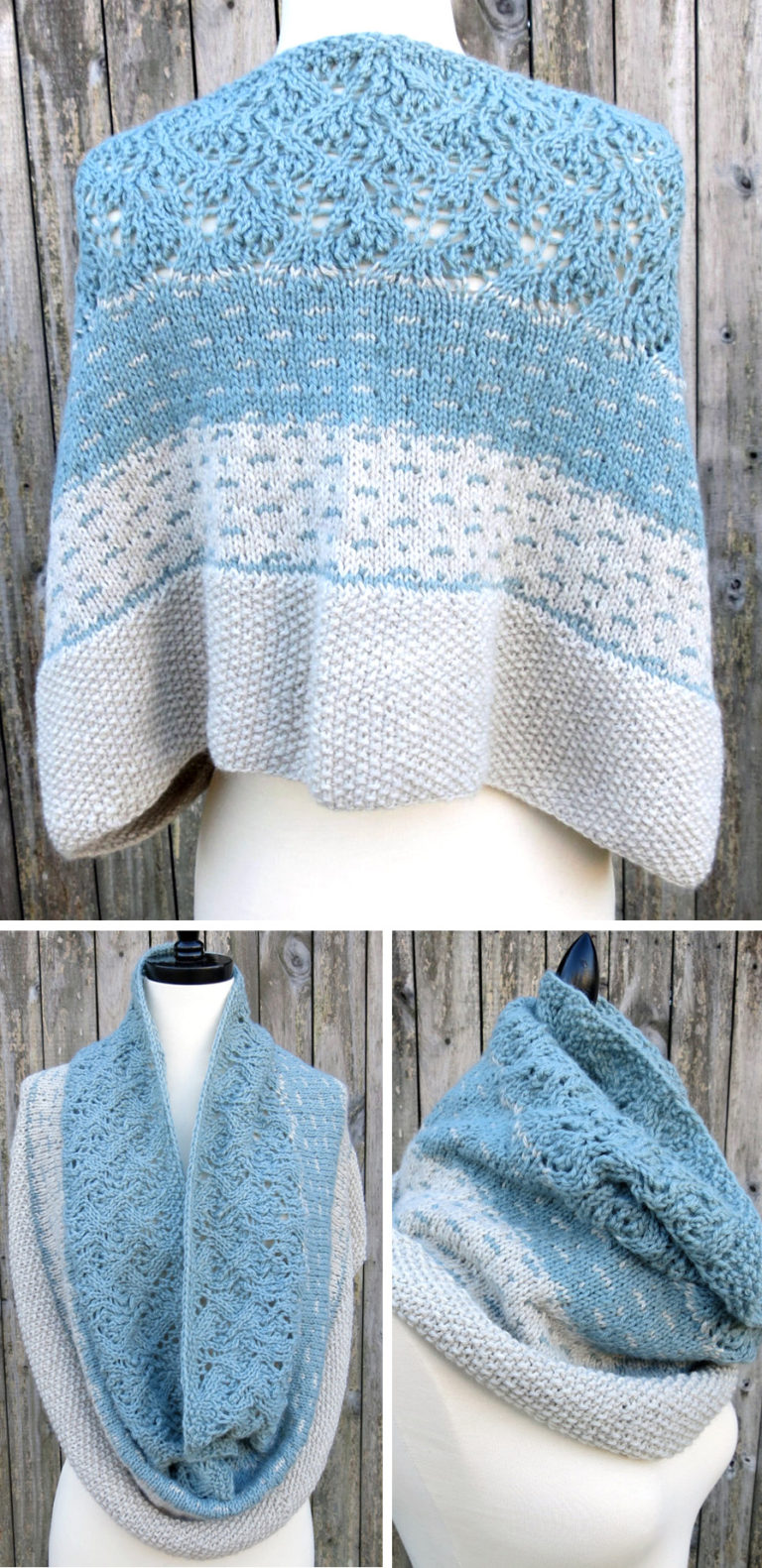 Carol Cowl
This versatile cowl can be worn lace top or bottom, as an infinity scarf, wrapped up around the neck, or down over the shoulders as capelet / poncho. It has three different stitch patterns – texture, easy slip stitch colorwork, and lace.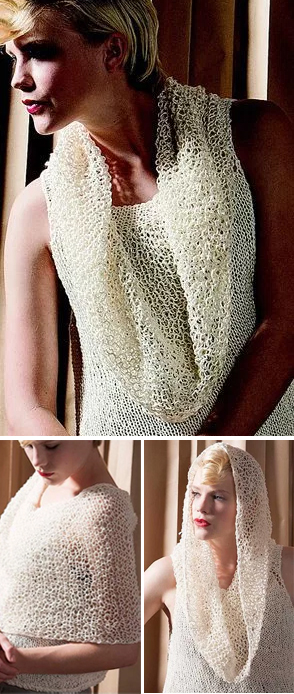 Capelet Tank
Cathy Carron designed this versatile top that can be worn many different ways. The sweeping circular collar becomes a dramatic cowl, a modern capelet, or a romantic hood over a single tank. Finished bust: 36¼ (39¼, 43½, 46¼)"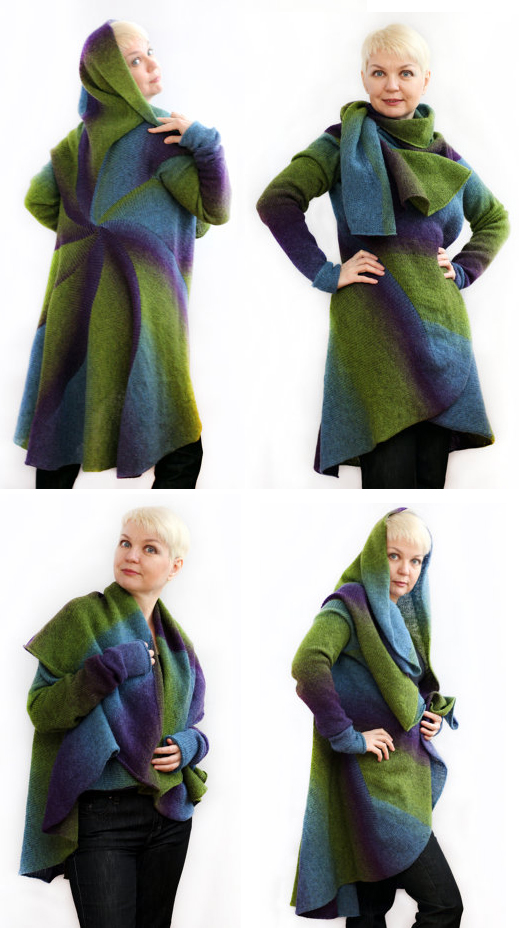 Multiwear Cardigan
ToBeStudio designs amazing multiwear patterns that can be worn many different ways. For example, turned one way the cardigan turns into a long hooded coat. Arranged another way it becomes a short jacket with a large collar.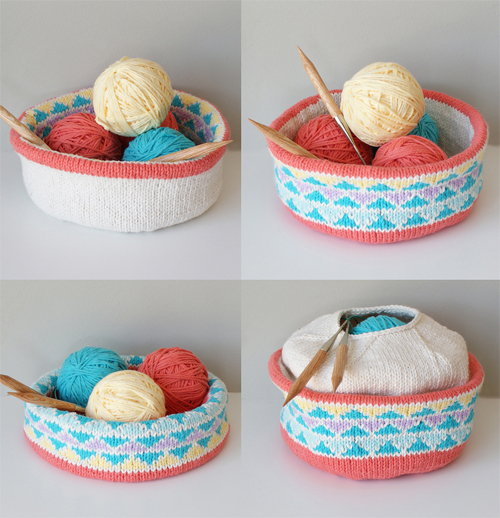 4-Way Bowl
This colorful Triangle Color-Blocked Bowl is multi-functional. It can be folded and refolded to create a reversible bowl, basket or tray. You can unfold it and refold it based on your needs and at 8 inches in diameter it is the perfect size to be used to hold knitting projects, fruit, bread, or even as a super useful catchall.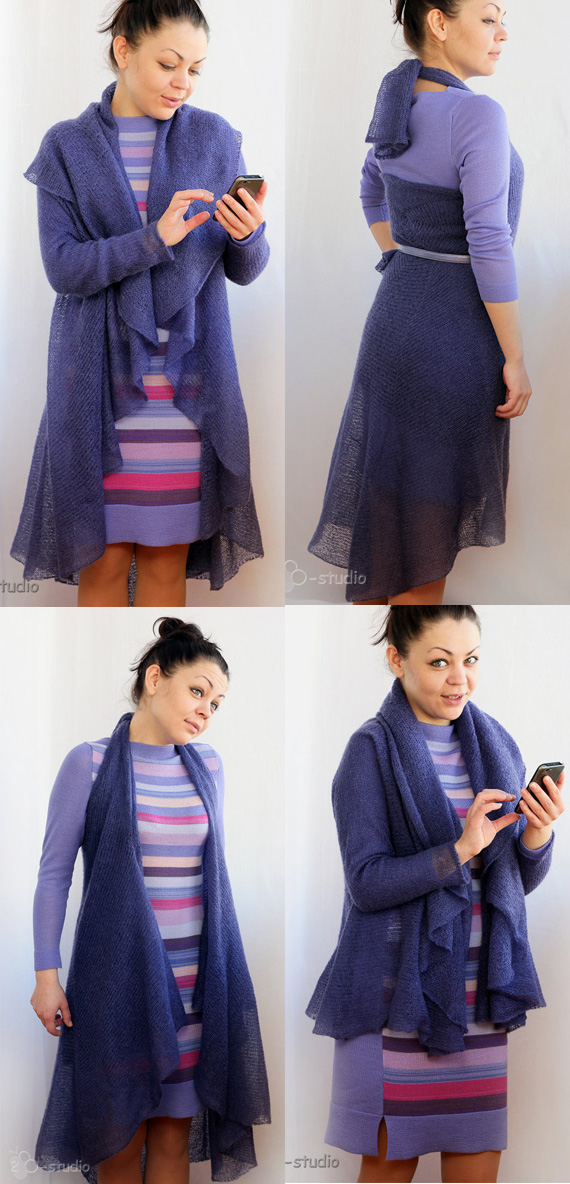 Convertible Cardigan
ToBeStudio designs amazing multiwear patterns that can be worn many different ways.

Elephant / Lion Flip Toy
This Elephant to Lion is a topsy turvy toy. Just turn one of the animal buddies inside out to see the new animal. Designed by Susan B. Anderson. Pictured project by maryeh