<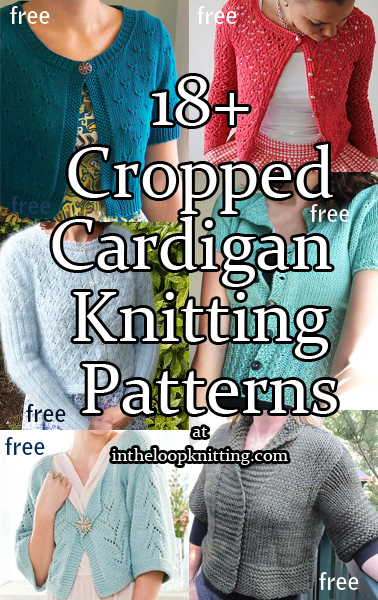 Knitting patterns for cropped cardigans, boleros, jackets with short and long sleeves.
To get the knitting patterns, scroll down the page to the individual pattern you want and click on the link to that pattern.
These patterns are not my designs but links to other designers who have generously shared their patterns. If you have questions about how to knit a specific pattern, please contact the designer directly.
All links on this site are for informational purposes, but please note that some links are to affiliate sellers that pay me a small commission on purchases.
Free Patterns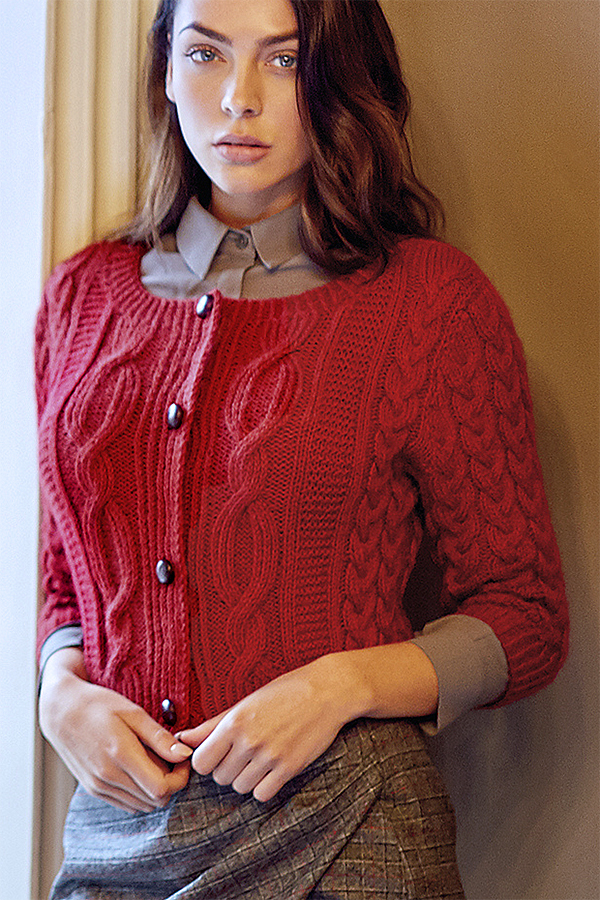 Dawn
Designed by Martin Storey, this cropped cardigan features stunning cables, ballet neckline, and elbow length sleeves. Sizes 32-34(36-38,40-42, 44-46, 48-50)" 81-86 (91-97, 102-107, 112-117, 122-127) cm.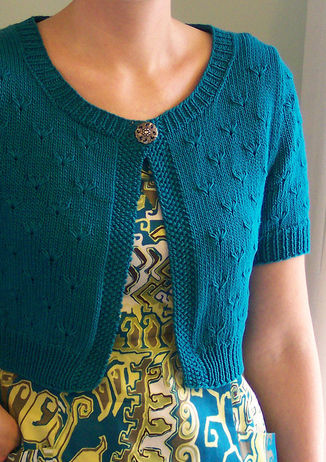 Little Peacock Cardigan
I love this stitch! Sarah Hoadley designed this cute cropped short-sleeved cardigan sweater around a stitch pattern from Harmony Guides – Knit and Purl. Finished Bust Size 31 (35, 39, 43, 47, 51)" to fit bust 30 (34, 38, 42, 46, 50)".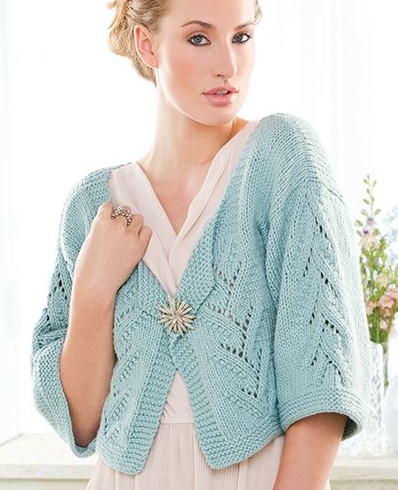 Hint of Lace Cardigan
Deborah Newton designed this cropped cardi with three quarter sleeves and lace detail. Recommended yarn available on pattern page.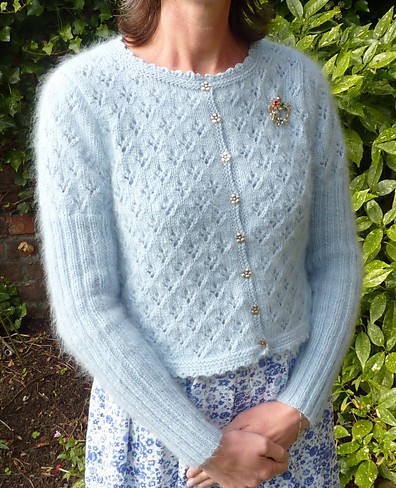 Olivia Cardigan
Janet of Yellow, Pink, and Sparkly designed this mohair cardi with ribbed sleeves, an all over eyelet pattern and a crocheted edging. One size, so you'll have to adapt for other sizes.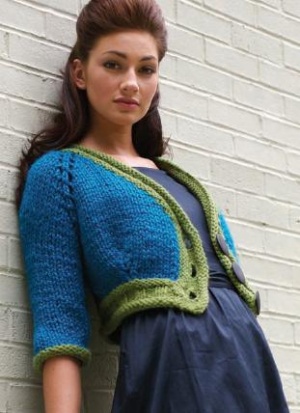 Bold and Bulky Mini Cardigan
This cropped cardigan with mod styling is fitted and a quick knit in bulky yarn on large needles. Small, Medium, Large, 1X. From the book FITTED KNITS by Stefanie Japel
More Free Patterns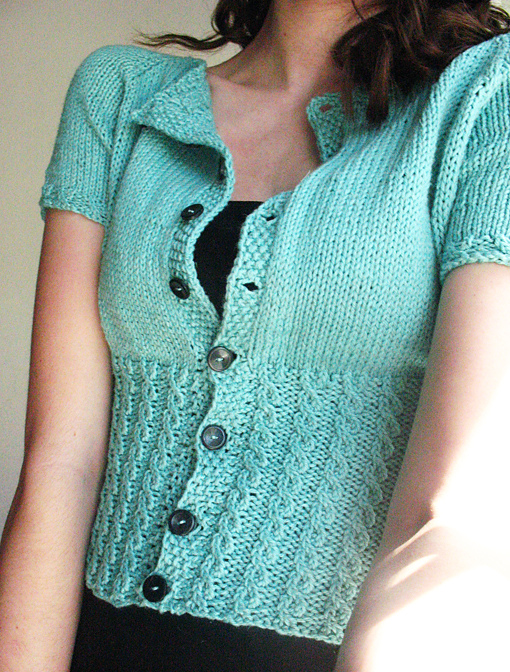 Peggy Sue
Linda Wilgus was inspired by 1950s styles to design this short-sleeved cropped cardigan featuring cables at the waist. SIZE: XS [S, M, L, 1X, 2X, 3X] Pictured project by Elidee.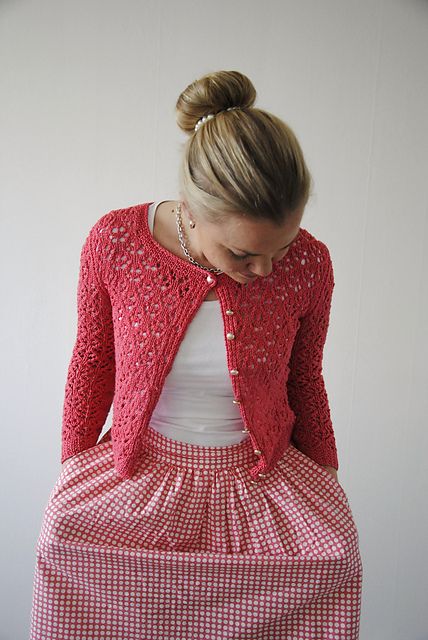 Surry Hills
Maria Magnusson's cropped cardigan features a lace pattern and long sleeves. Knit seamlessly from the bottom up, the sweater has a little shaping on the sides and a seamless set-in ¾ sleeve. Sizes XS, S, M, L, XL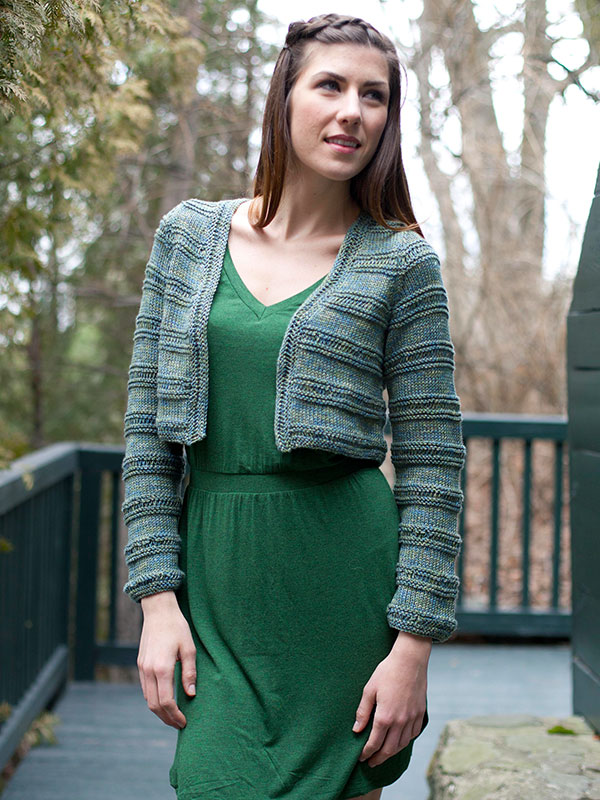 Westbury
Berroco Design Team created this cropped cardigan that features "stripes" of texture with garter stitch, dropped stitch and stockinette. Great for multi color yarn!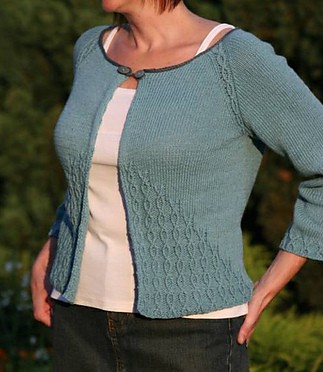 Dawn
Hanna Maciejewska's open cardigan features cable details in the raglans and fronts. It is knit in one piece from the top down.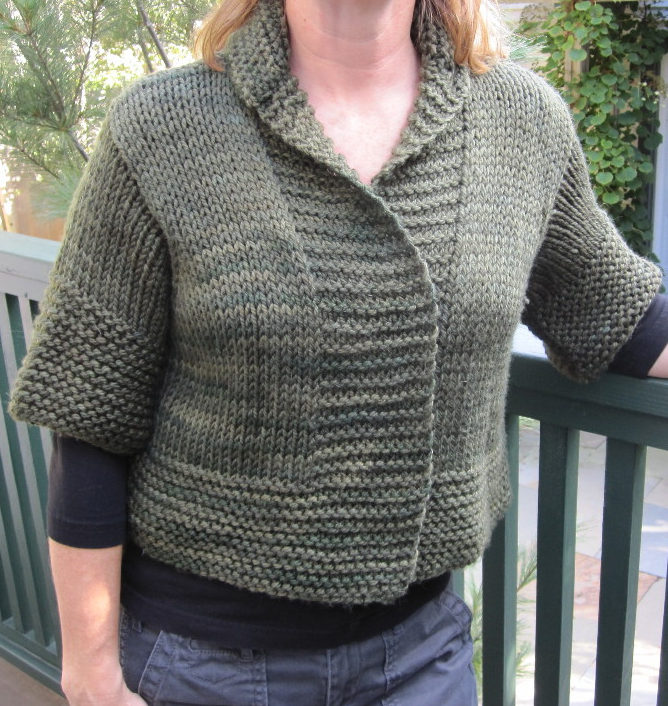 Nimbus
Berroco Design Team created this cropped cardigan with a cozy shawl collar and bold garter stitch accents. X-Small, Small, Medium, Large, 1X and 2X. Pictured project by lkkinetic. Quick knit in super bulky yarn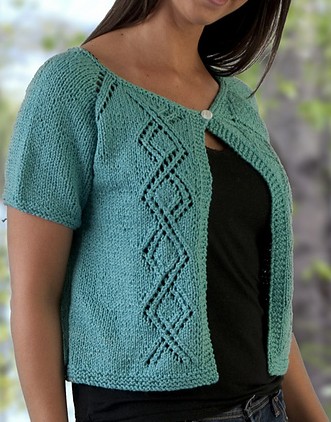 Top Down Summer Lace Cardigan
Vera Sanon's cropped short-sleeved cardigan is knit seamlessly and features a diamond lace detail. S (34-36), M(38-40) L/XL(42-46)" XXL(47″)
Patterns for Purchase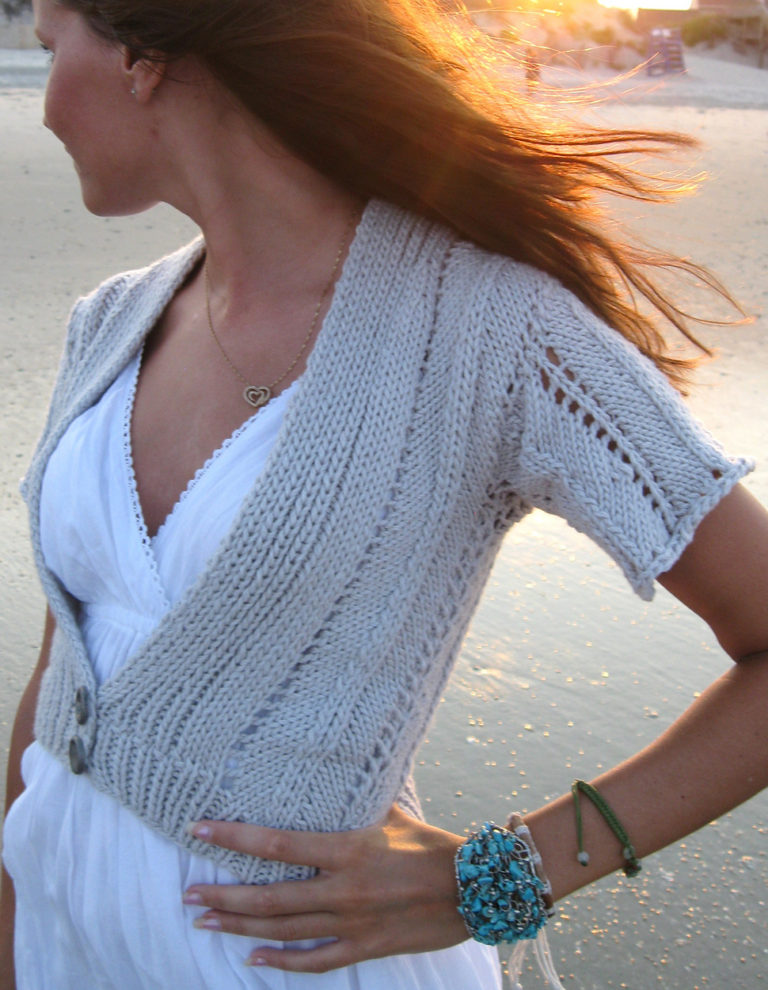 Island Girl Cardigan
Short-sleeved cropped cardigan with lace details. S, M, L. Chest sizes 30-38. Quick knit in chunky yarn.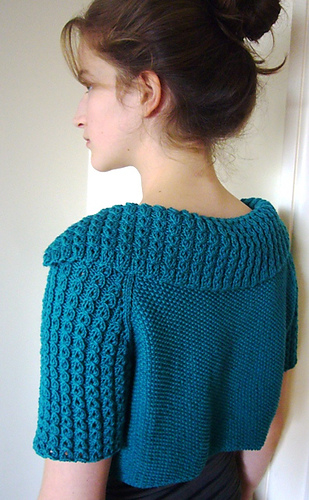 St John's Wort Cardigan
Cathy Carron's St. John's Wort Cardigan strips the sweater down to a few pretty details: columns of texture, a generous collar, a softly gathered bottom hem, and a single dramatic button. 34 (38, 42, 45, 49)" bust, buttoned.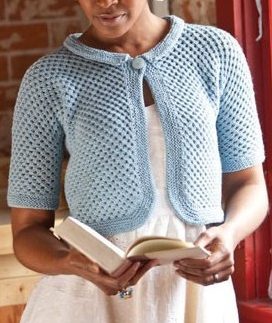 Picnic Cardigan
This knitted jacket is worked in eyelet lace in one piece from the bottom of the fronts. 32½ (35, 37, 39½ , 42, 44½ )" bust circumference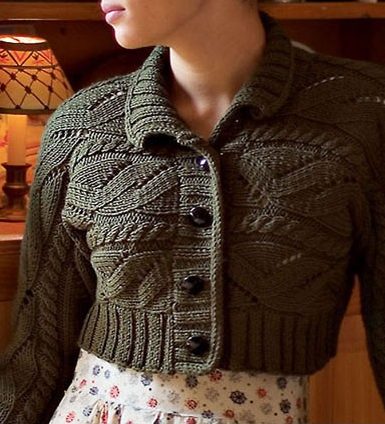 Sideways Spencer
A very short jacket that sits just below the bust line, this Spencer is flattering to many figure types . This jacket is worked sideways from cuff to cuff in a striking cable pattern that adds body to the cropped structure.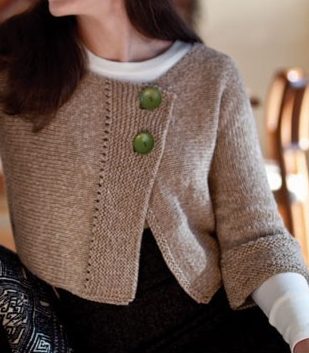 Transverse Cardigan
A dolman cardigan is knitted from side to side, from one cuff to the other. Eyelet rounds, knitted in garter stitch bands, and large buttons give this simple sweater stylish impact. 32½ (36, 41, 45, 49½ , 53½ )" bust circumference, buttoned.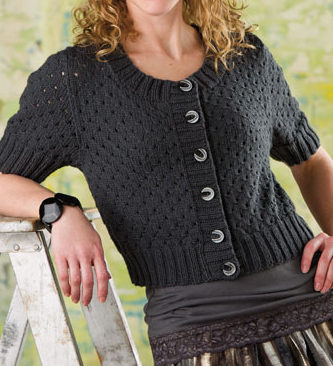 Dot & Dash
Designed by Cheryl Murray, this cropped cardigan sweater features short sleeves and a slip stitch texture. Sizes Small through 3XL. Included in Creative Knitting Autumn 2013 – More than 20 knitting patterns for $6.99.