<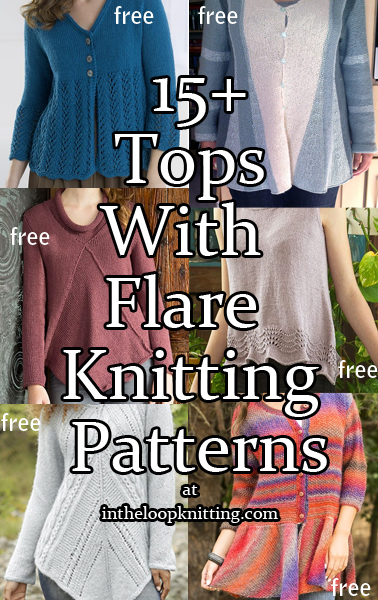 These sweaters and tops feature peplums, a-line silhouettes or draping that flatter your figure.
To get the knitting patterns, scroll down the page to the individual pattern you want and click on the link to that pattern.
These patterns are not my designs but links to other designers who have generously shared their patterns. If you have questions about how to knit a specific pattern, please contact the designer directly.
All links on this site are for informational purposes, but please note that some links are to affiliate sellers that pay me a small commission on purchases.
Free Patterns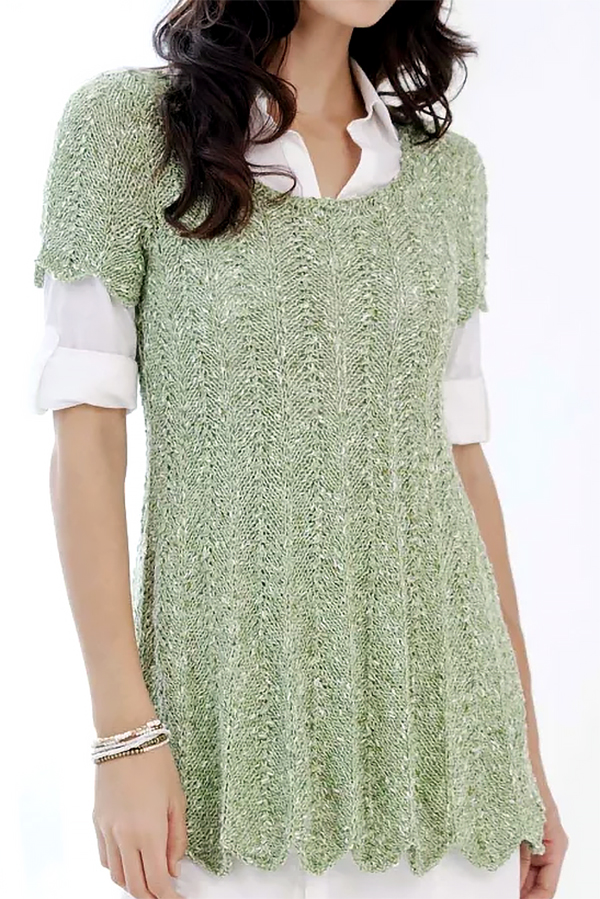 Amalfi Trapeze Top
Short sleeved pullover with a flattering swing silhouette that flares at hips. Knit with a 2 row repeat chevron pattern that creates natural scalloped edges. Worsted weight yarn. Sizes XS, S, M, L, XL, 2X Designed by Beryl Hiatt and Linden Ward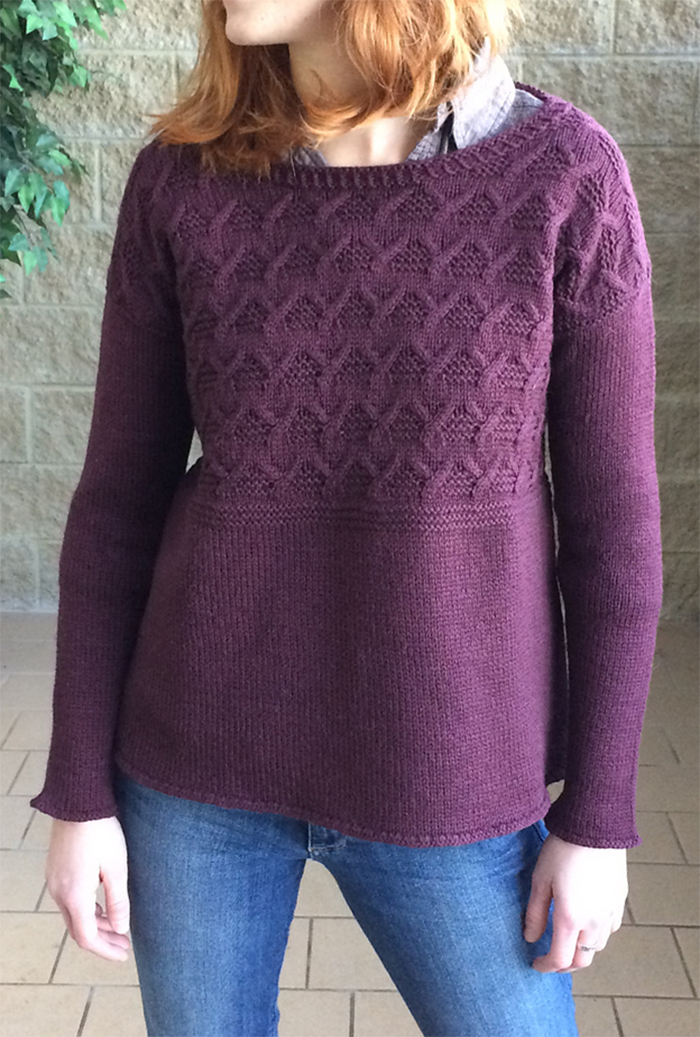 Cable Yoke Pullover
12 row repeat cable and stockinette stitch A-line pullover worked mostly in the round. Worsted weight yarn. XS (S, M, L, XL, 2XL) Designed by Tian Foley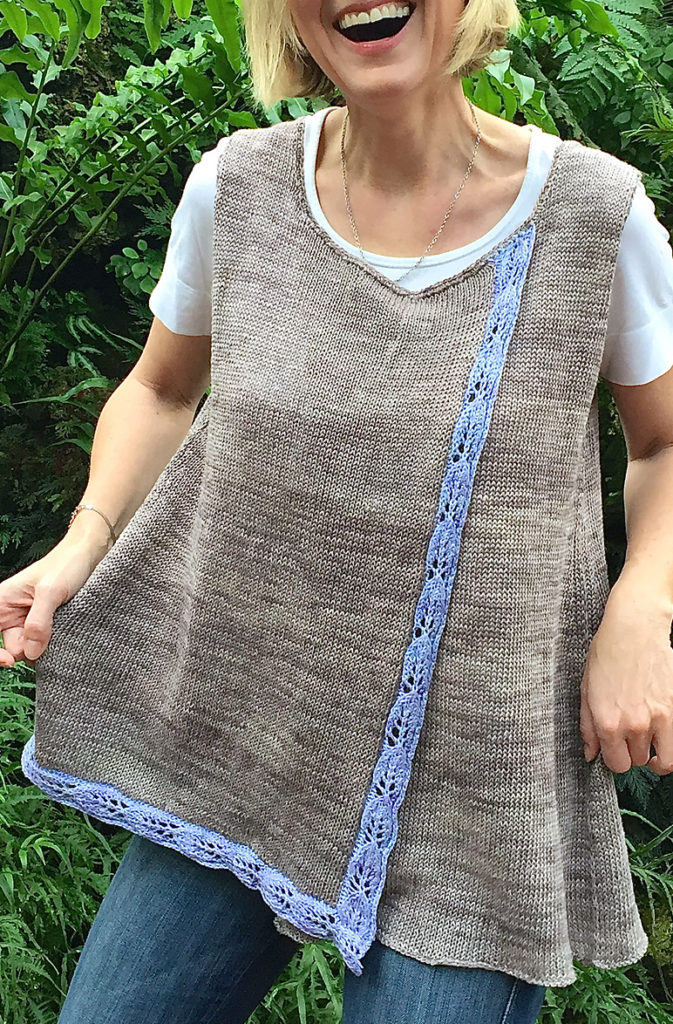 Bay Laurel Tunic
This flattering sleeveless tank top is knit flat in two pieces and features overlapping construction and a leaf lace border. Great for layering. Designed by Julie Turjoman. XS [S, M, L, 1X, 2X, 3X]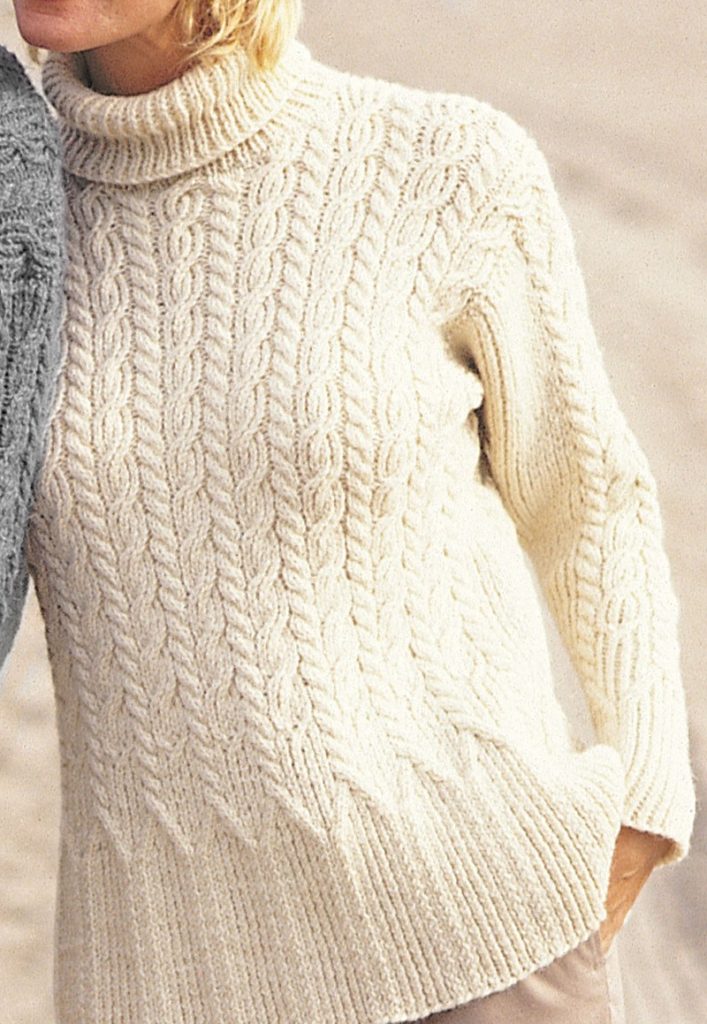 Casual Cables Sweater
Long sleeved cable pullover features a stitch pattern that gives a flattering flare to the hem. Designed by Patons. Small, Medium, Large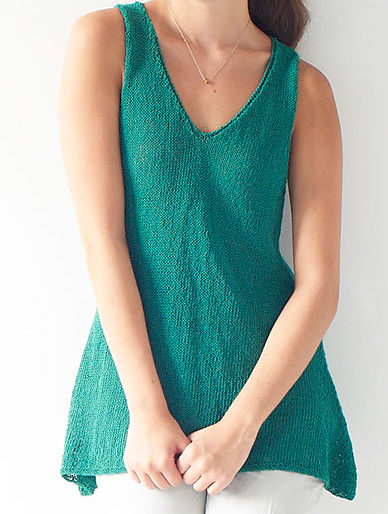 Filia
This easy sleeveless tank features a wide, draping hem. Designed by Amy Christoffers for Berroco. Sizes Bust – 32(36-40-44-48-52-56-60)"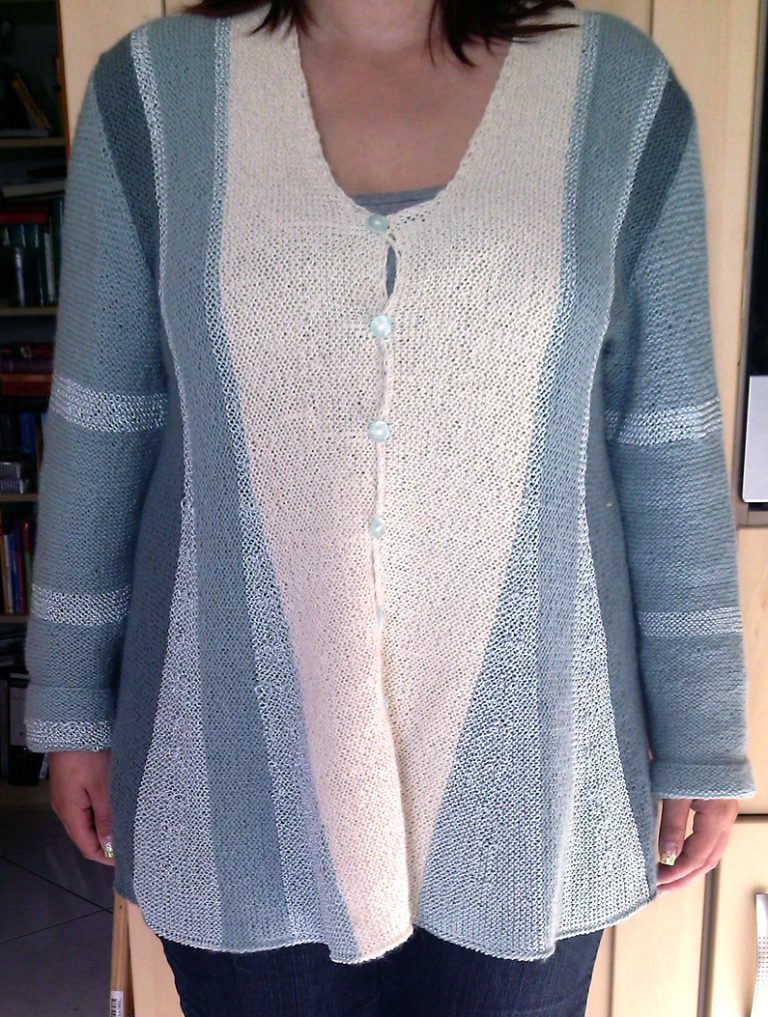 Pleated Jacket
This garter stitch cardigan features flattering panels that flare at the hips. Size S – XXXL. Pictured project by SpinningWitch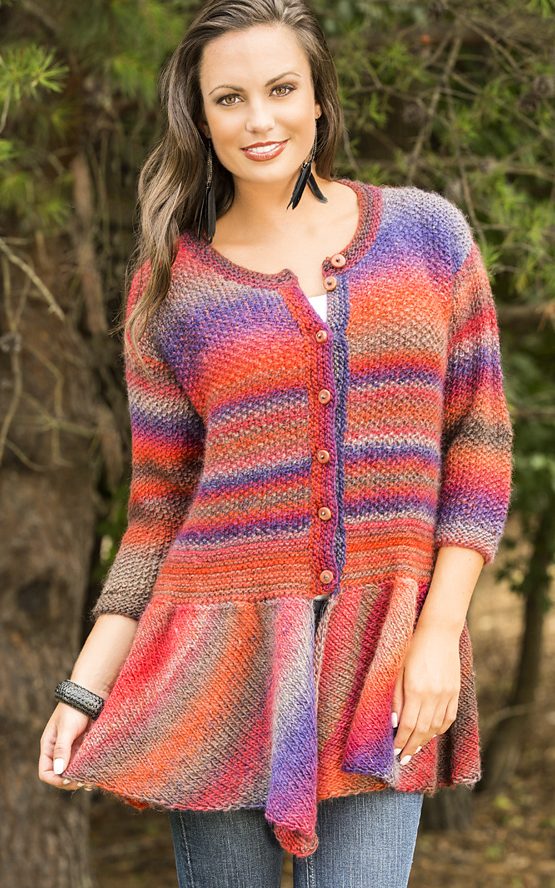 Walking Bird Cardigan
Kristin Hansen's flirty cardigan features a skirted bottom. This would look great over leggings as well as jeans! Great with multi-color yarn. Small (Medium, Large, 1X, 2X)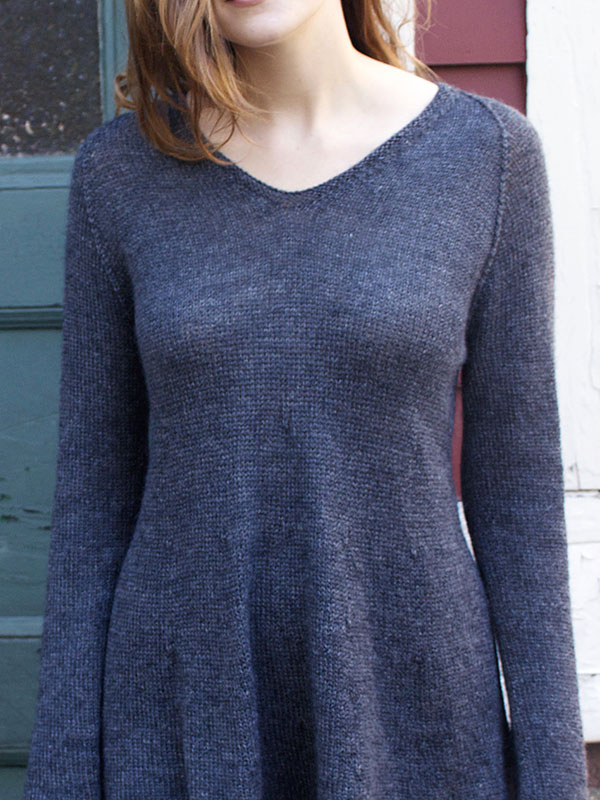 Graphite Pullover
Norah Gaughan's long-sleeved pullover sweater for Berroco features an a-line silhouette and is knit seamlessly from the bottom up. XS, (S, M, L, 1X, 2X, 3X)
More Free Patterns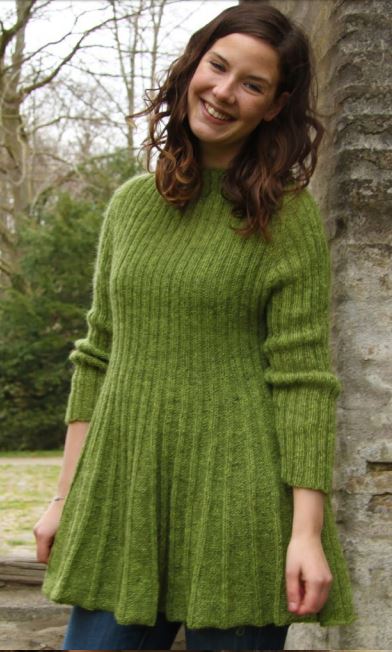 Bretagne
Rachel Søgaard's easy long-sleeved pullover sweater features a flattering skirt that can be worn as a tunic or lengthened to a dress. Available in English, German, and Danish. XS/S (M) L/XL. Ravelrers have rated this pattern as easy.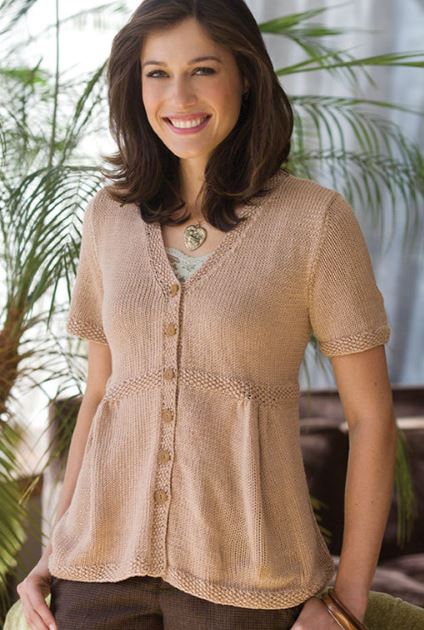 Emily Sweater
Lorna Miser designed this short-sleeved cardigan with a flattering shape. This versatile style can be worn alone, as a jacket over a dress, or layered over a sweater. Sizes S,M,L,1X,2X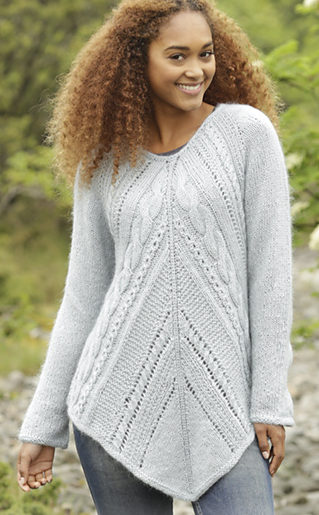 Winter Flair
This cable and lace long-sleeved pullover sweater by DROPS Design is worked for the top down. Size: S – XXXL.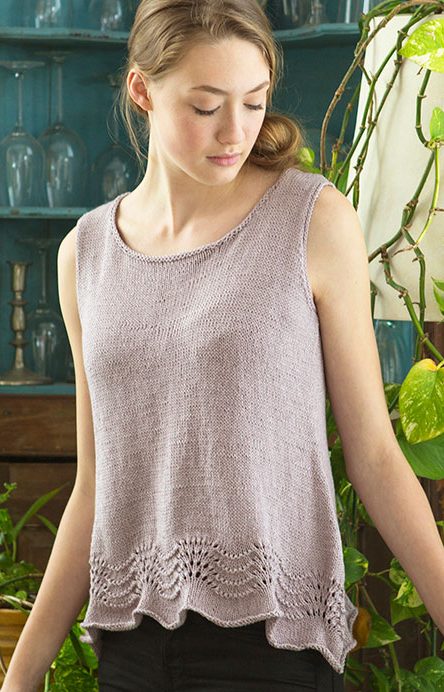 Inez
Emily Nora O'Neil's sleeveless tank top features a lace handkerchief hem that creates a flattering flowing silhouette. Bust – 34(38½-42½-46½-51-55-59)"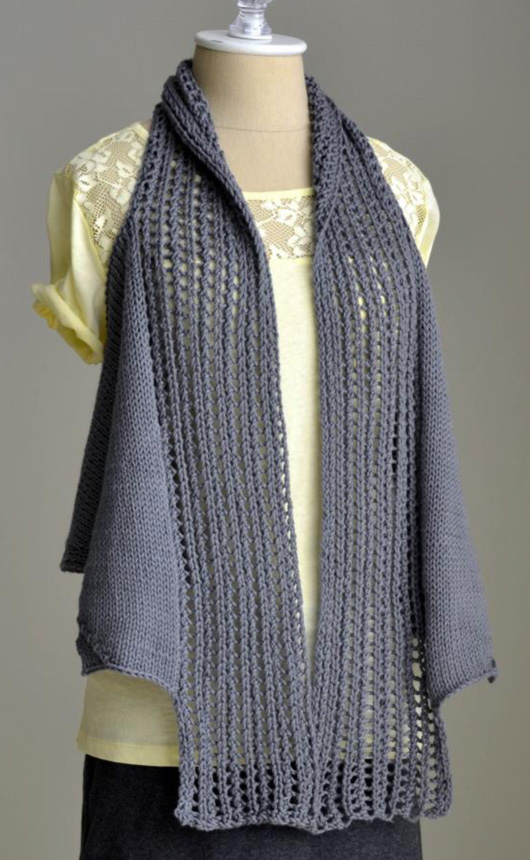 Pathways Vest
Amy Gunderson's vest flares out in front from a low ribbed fitted back to create a flattering drape. The front lace can also be wrapped around shoulders or neck as a shawl.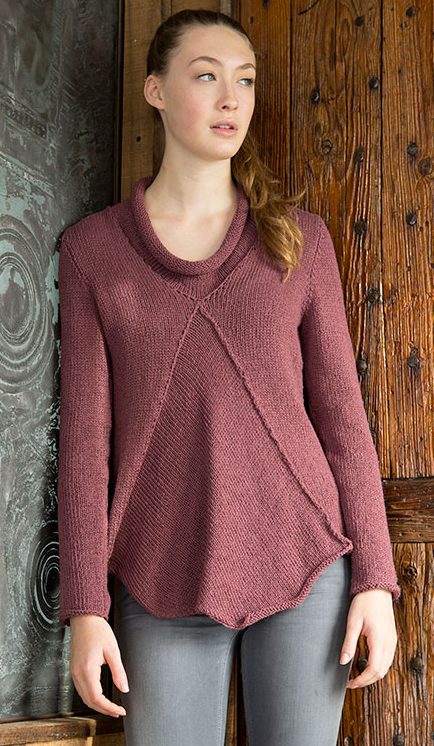 Anhinga 2 Pullover
Norah Gaughan's long-sleeved pullover sweater for Berroco features a swingy, bias-knit front panel and a casual rolled collar. Bust – 31(35-39-43-47-51)"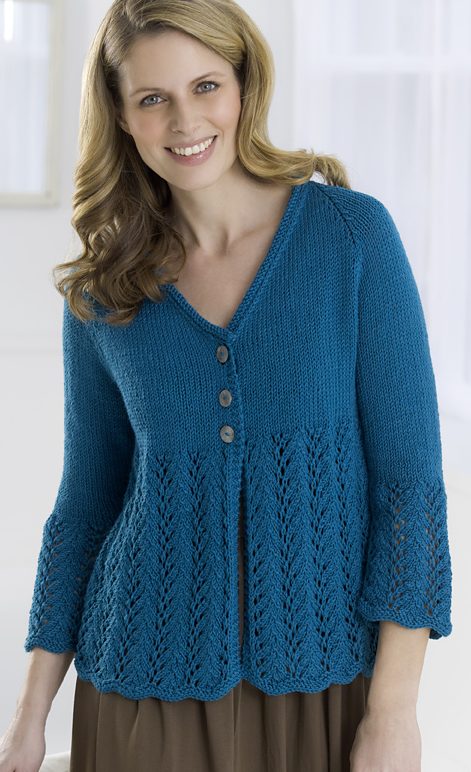 Cardigan to Love
Linda Cyr's cardigan sweater features flared lace skirt and sleeve hems. Sizes S,M,L,1X,2X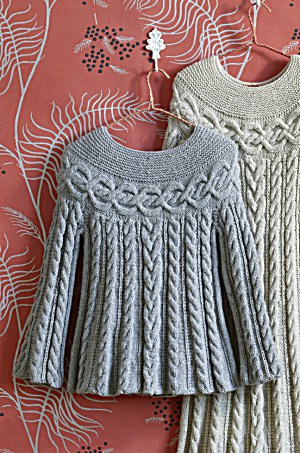 Cable Luxe Tunic
This dramatic sweater designed for Lion Brand is a gorgeous addition to any wardrobe, featuring a beautiful cabled yoke and a slightly belled body and belled sleeves. SIZE: Small, Medium, Large, 1X, 2X in two lengths.
Patterns for Purchase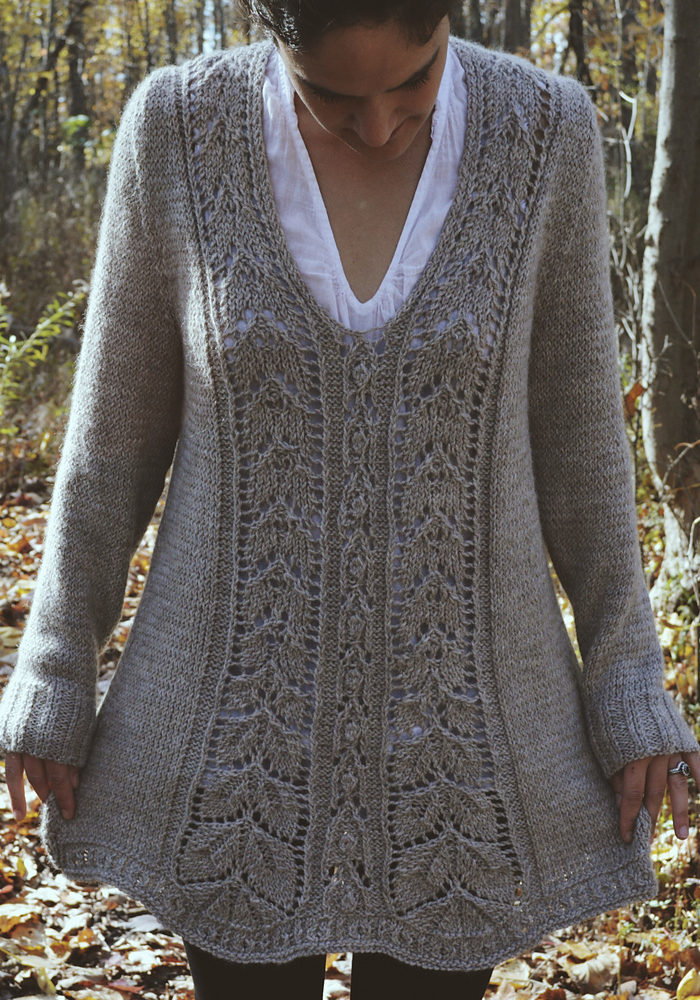 Meara Tunic
This long sleeved pullover sweater features a flattering A-line silhouette with a lace motif on the front that with a whimsical, romantic feel that gives the hem a scalloped shape. Sizes 39 (42, 45, 48, 51, 54)" Bust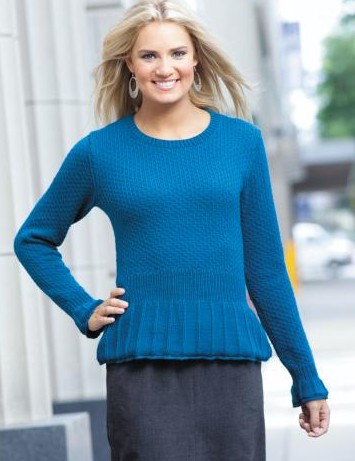 Peplum Pullover
This textured long-sleeved pullover is one of 29 patterns in Easy Textured Knits ebook.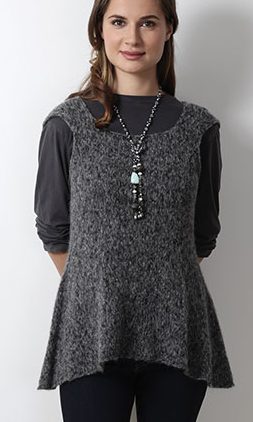 Rahat Top
This easy tunic or vest is perfect for layering all year-round, over pants, skirts, shorts, and leggings. Perfect for beginners. To fit: XS (S, M, L, XL, 2XL, 3XL)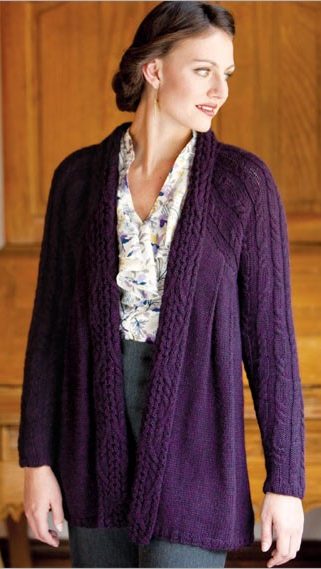 Nora's Sweater
Using a Japanese cable and lace pattern to adorn the collar, Pamela Powers tailors this cardigan with pleats for a flattering drape.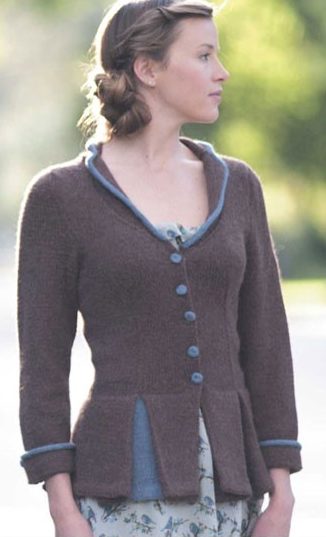 Peplum and Pleat Jacket
This jacket combines a flared peplum and princess-line shaping for a finely tailored knitted jacket with femininity to spare.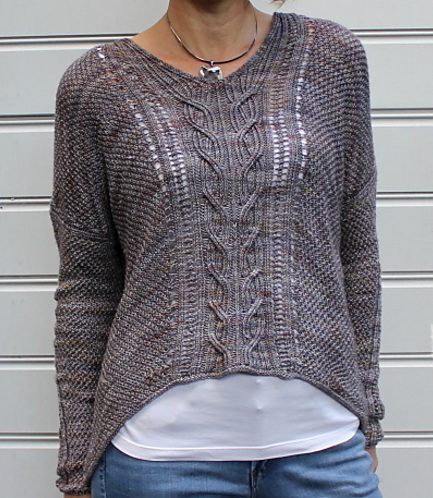 Sous Sous Top
Another amazing design by Norah Gaughan. This figure-flattering long-sleeved pullover sweater features a cable front and is great for layering. Bust: 52 (60, 68)"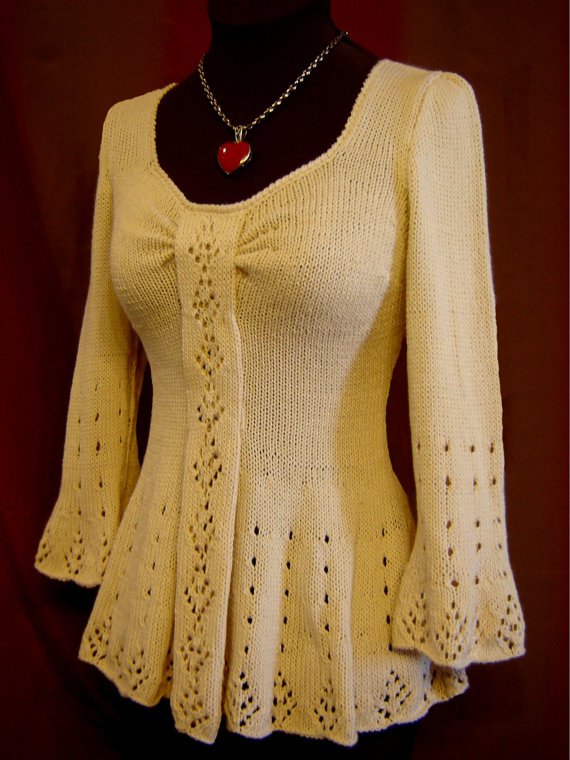 Evangeline Tunic
The fit and flare silhouette gives an hourglass look, the gathered sweetheart neckline creates a beautiful bust and neck, and the soft center panel skims over the tummy with a height-enhancing vertical line. Available in petite to plus sizes!