Little One Hoodie Knitting Patterns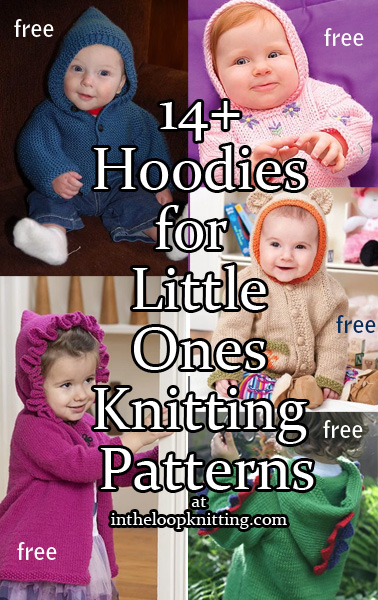 To get the knitting patterns, scroll down the page to the individual pattern you want and click on the link to that pattern.
These patterns are not my designs but links to other designers who have generously shared their patterns. If you have questions about how to knit a specific pattern, please contact the designer directly.
All links on this site are for informational purposes, but please note that some links are to affiliate sellers that pay me a small commission on purchases.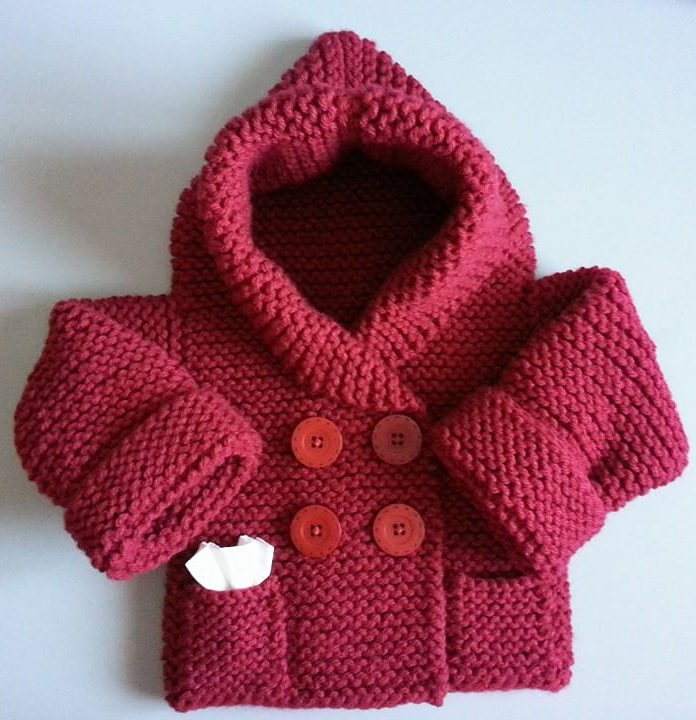 James Hooded Jacket
Baby hoodie cardigan sweater in garter stitch with pockets. Sizes 3mo. – 6mo. Designed by Cecilia Creation. Aran weight yarn.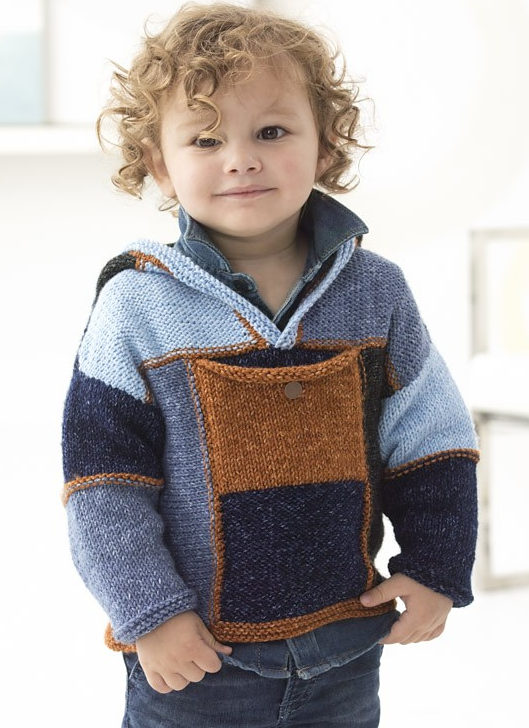 Granville Hooded Pullover
Modular hoodie with front pocket. Child 2 (4, 6). Designed by Irina Poludnenko for Lion Brand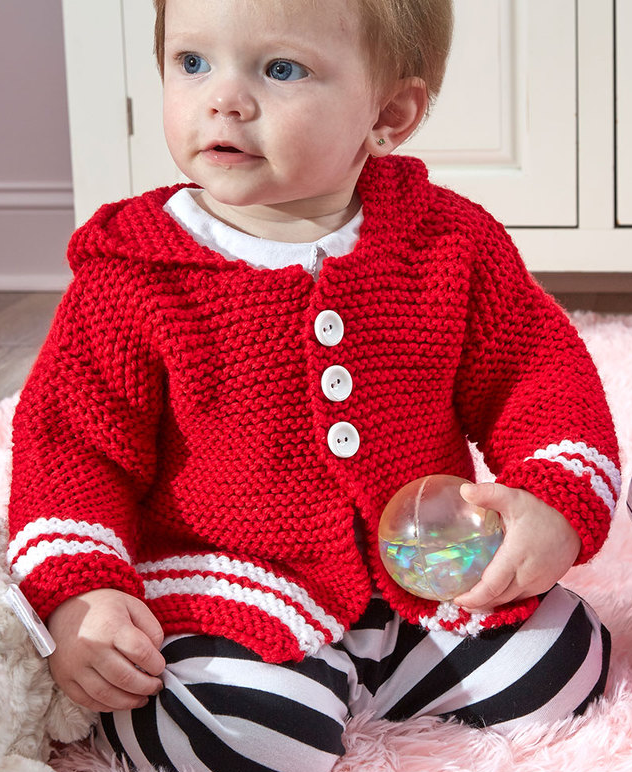 Buttoned Up Cardi with Hood
This easy hooded baby cardigan sweater by Lorna Miser is knit in garter stitch. Sizes 6 months to 24 months.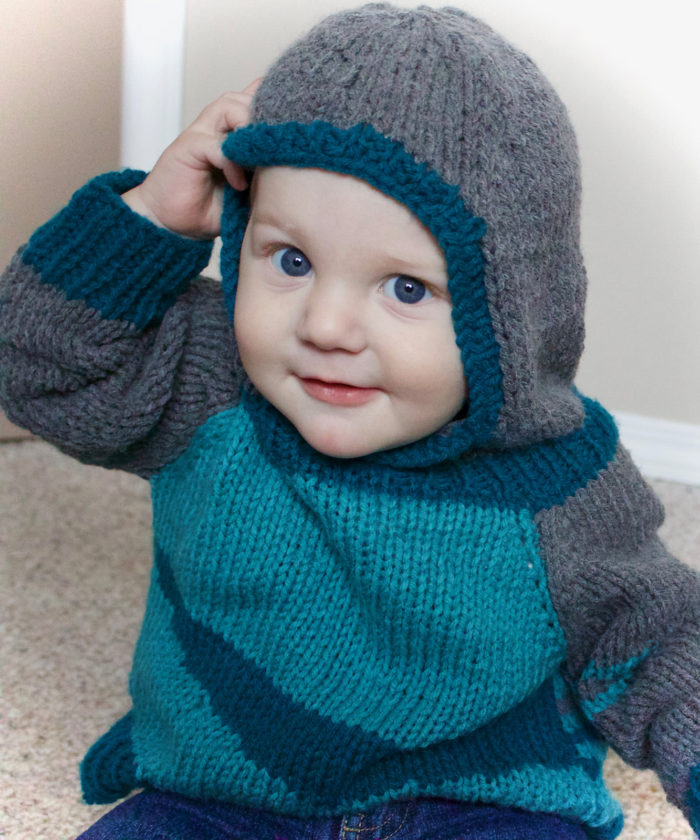 Mason Hoodie
Color blocked pullover with scuba hood sized for babies and children. Available sizes: 0-6 months (6-12 months, 1-2 years, 2-4 years, 4-6 years, 6-8 years, 8-10 years). Designed by Kendra B of StorybookSkeins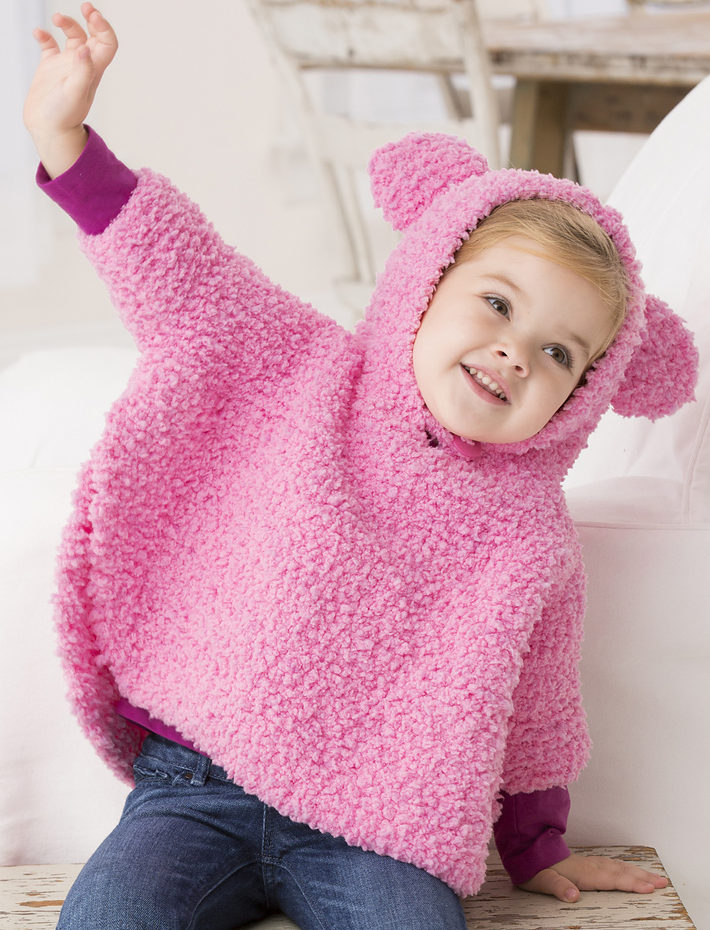 Playful Hooded Poncho
Garter stitch hoodie for babies and toddlers with cute bear ears for fun. Sizes 6 months to 24 months. Designed by Jodi Lewanda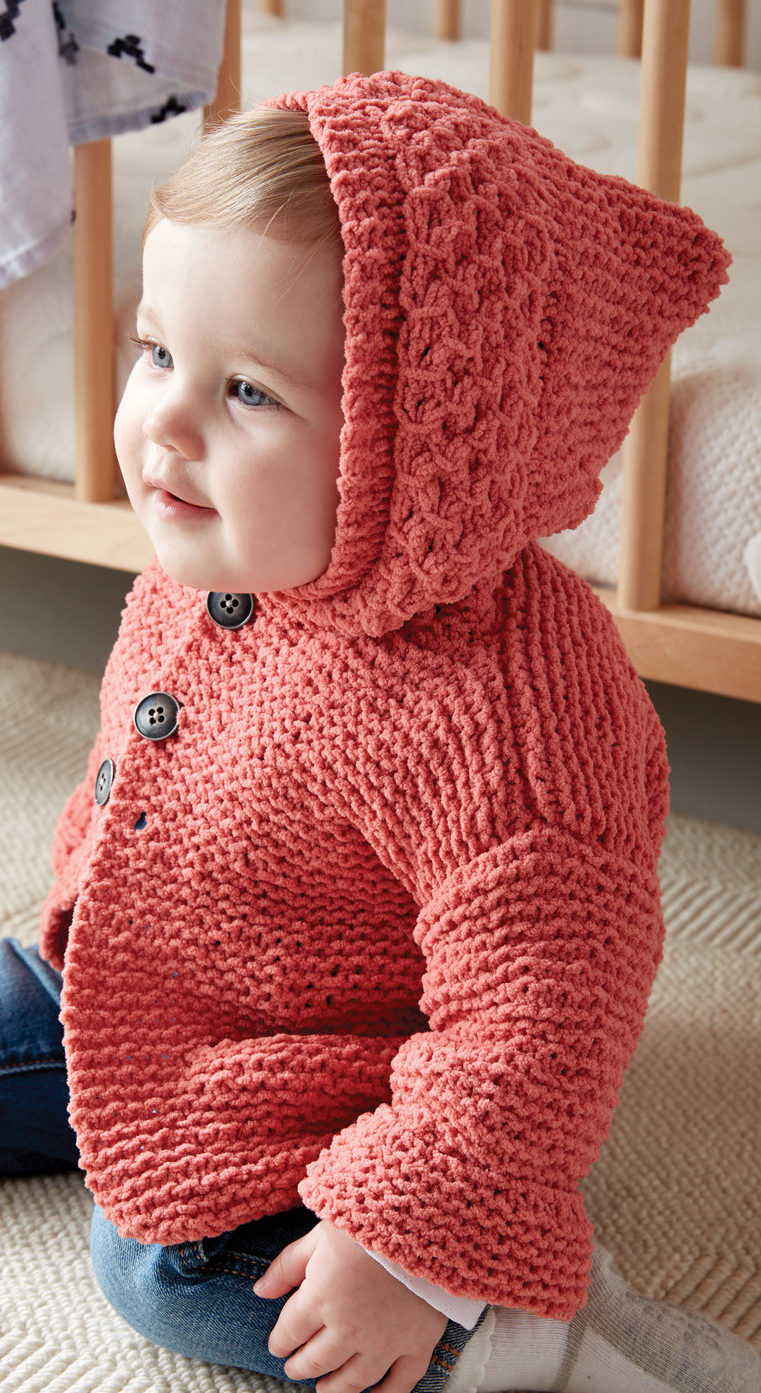 In the Details Baby Hoodie
Hooded baby cardigan sweater knit in garter stitch with smoked stitch around the hood. Sizes 6, 12, 18, and 24 mths. Designed by Bernat Design Studio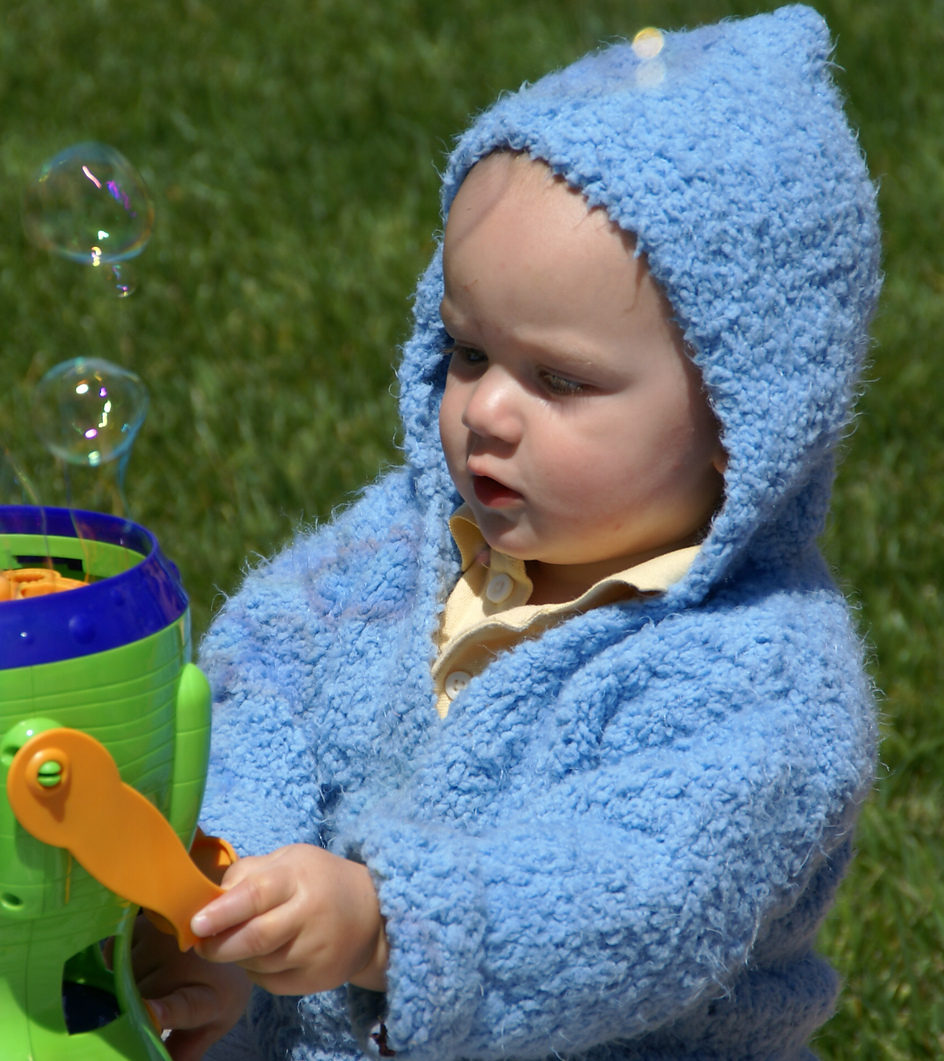 Baby Yeti Hoodie
Easy plush pullover sweater with hood for babies by Berroco Design Team designed for fleece type yarn. Sizes Newborn (3 mo), Small (6 mo), Medium (9 mo). The pictured project is by cguggs who modified the pattern for size 12-18 months. Rated easy by designer and Ravelrers.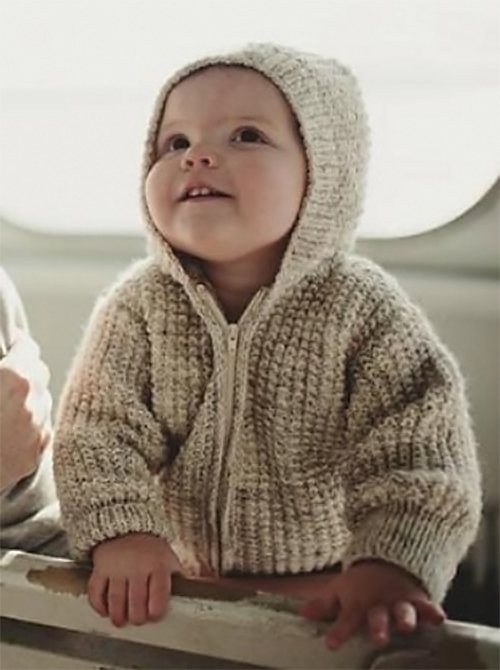 Zippered Baby Hoodie
This zippered cardigan with hood features a two row repeat textured stitch and minimal seaming just to attach the sleeves and hood to the body. Sizes 6 months, 12 months, 18 months and 2 years. Designed by Jeannette Murphy
Storybook Baby Hoodie
Hoodie cardigan in baby and child sizes from Lion Brand Yarn. All pieces are worked flat in garter stitch (knit every row). Sizes: Newborn, 3–6 months, 12–18 months, 2 years, 4 years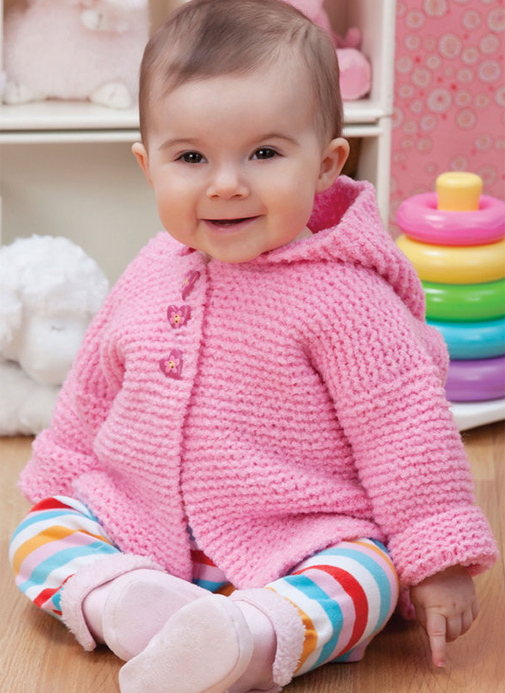 Play Date Cardie
This easy hooded baby cardigan sweater by Lorna Miser is knit in garter stitch. Sizes 6 months to 24 months.

Easy Baby Hoodie
Jean Guirguis designed this hooded pullover sweater for Red Heart UK. Baby sizes 3-6 months, 12 months, 18 months and 24 months.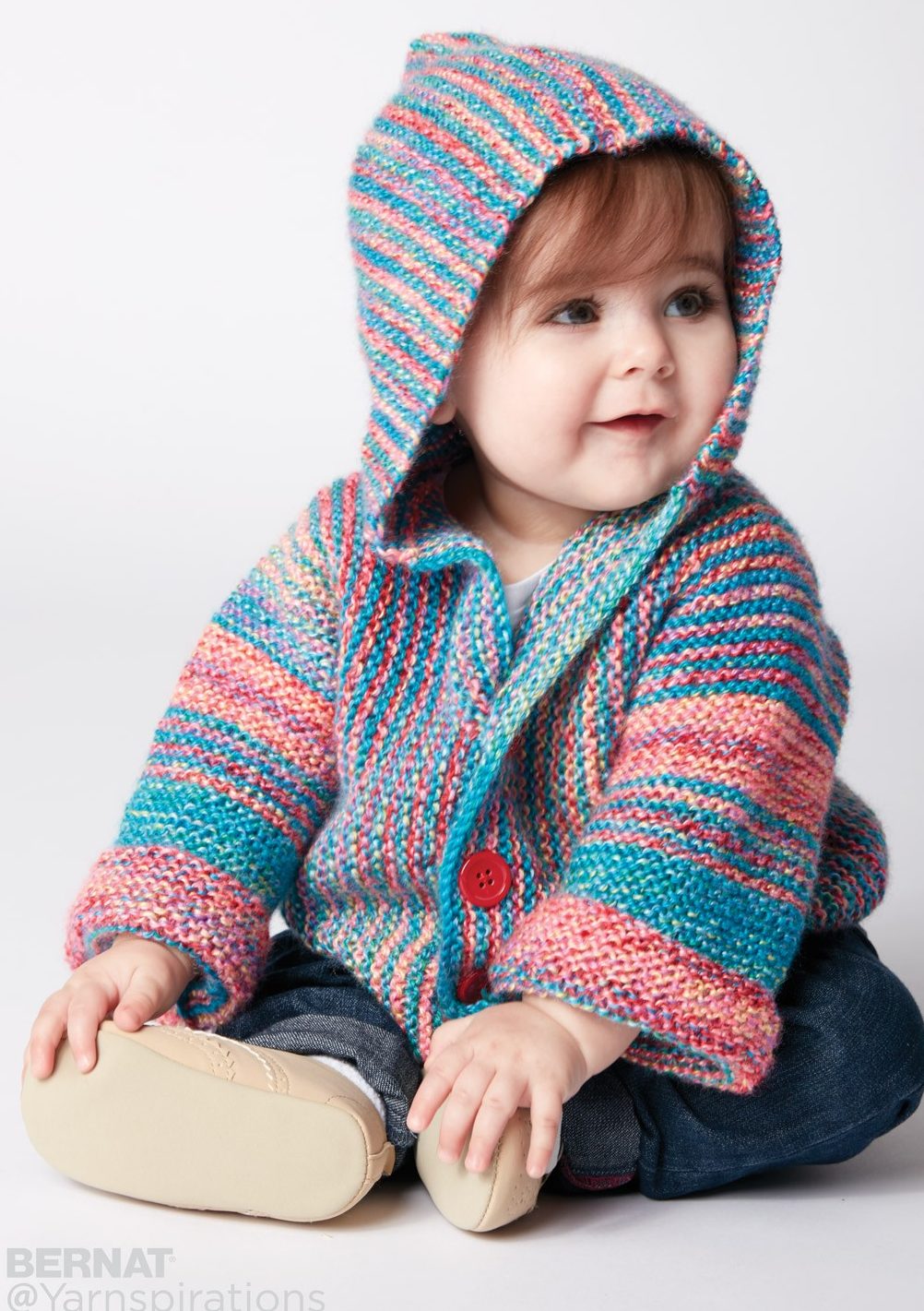 Show Your Stripes Baby Jacket
This easy hooded baby jacket is knit in garter stitch. The sweater is knit in one piece from side to side and the stitches are picked up to knit the hood. Sizes 6 and 12 months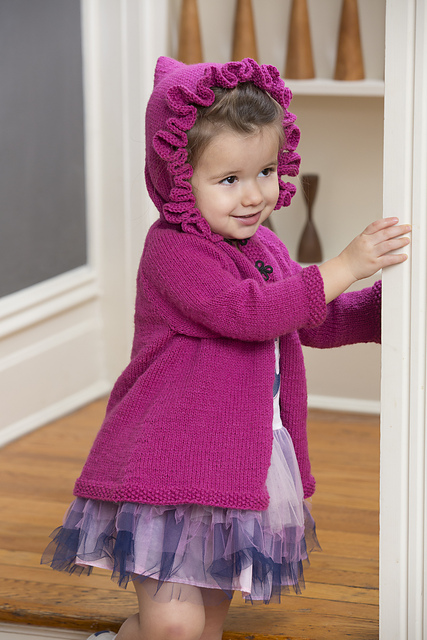 Ruffle Hood Coat
Julie Farmer designed this swing coat with ruffled hood for Red Heart UK. Child's sizes 2-8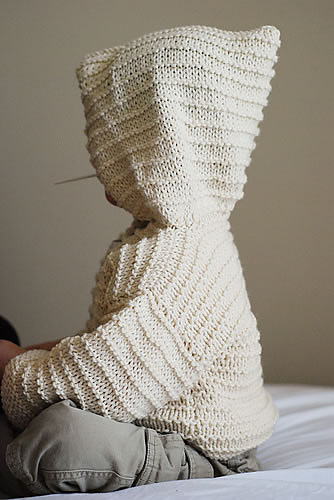 Garter Ridge Hoodie
Erika Flory designed this sweater for 1 [2, 4, 6] years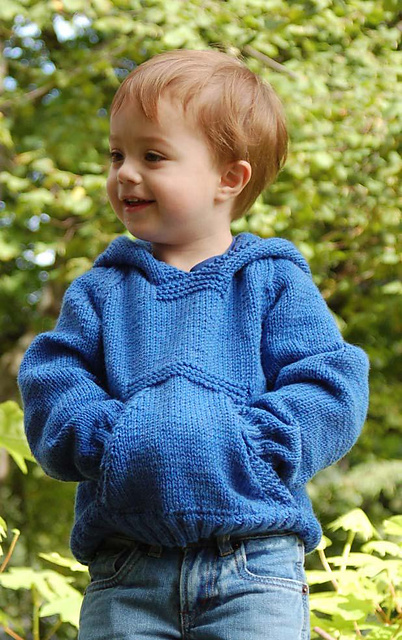 Playtime Hoodie
Susie Bonell designed this hoodie sweater with front pockets for Cascade Yarns. Sizes: Chest: 26, 28, 30 inches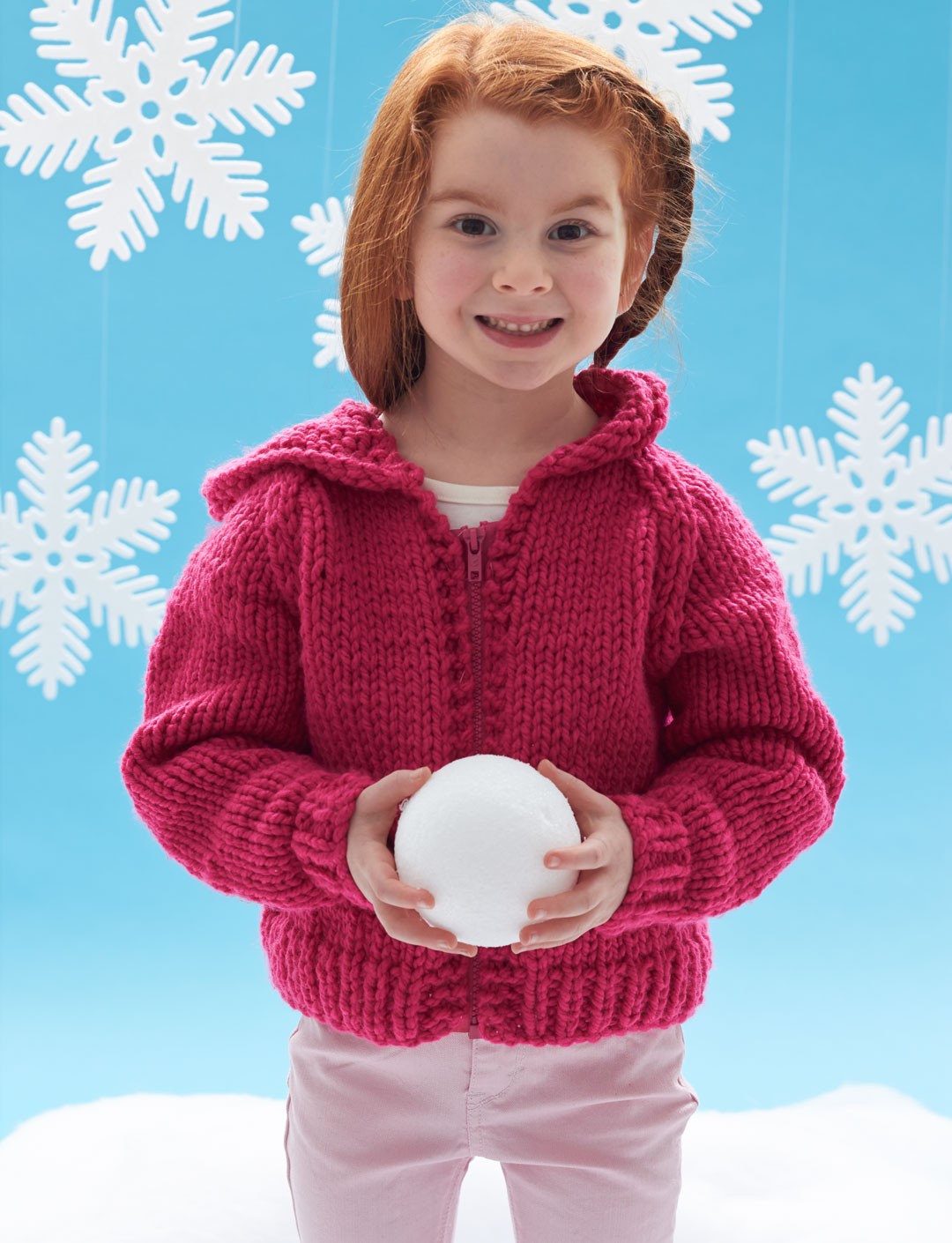 Kid's Jacket
Bernat designed this jacket with zipper and hood for sizes 4, 6, 8, 10.

Steggie Hoodie Sweater
Designed by Julia Farwell-Clay, this hoodie with spines is inspired by the stegosaurus. Chest: 26[27.5, 30, 32] inches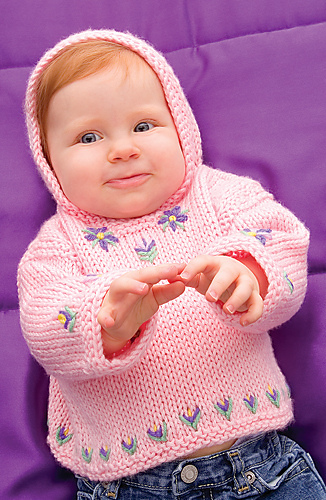 Perfect Posy Hoodie
Marilyn Losee designed this adorable hooded pullover with embroidered flowers for Caron. Sizes 3-6 (9-12, 18-24) months
Baby Bear Hoodie
Finished Chest: 22″, including bands
Wild Thing
Homero Luna designed this hoodie inspired by Max's 'Rumpus Suit' from Where the Wild Things Are, this pattern is available in 19 sizes, from infant to the largest Adult size w/a finished chest circumference of 56".
Hooded Cardigan
4 sizes from 0-24 months. Designed by Yarnspirations.
Recommended yarn is available on the pattern site. You can also get it on sale at Etsy.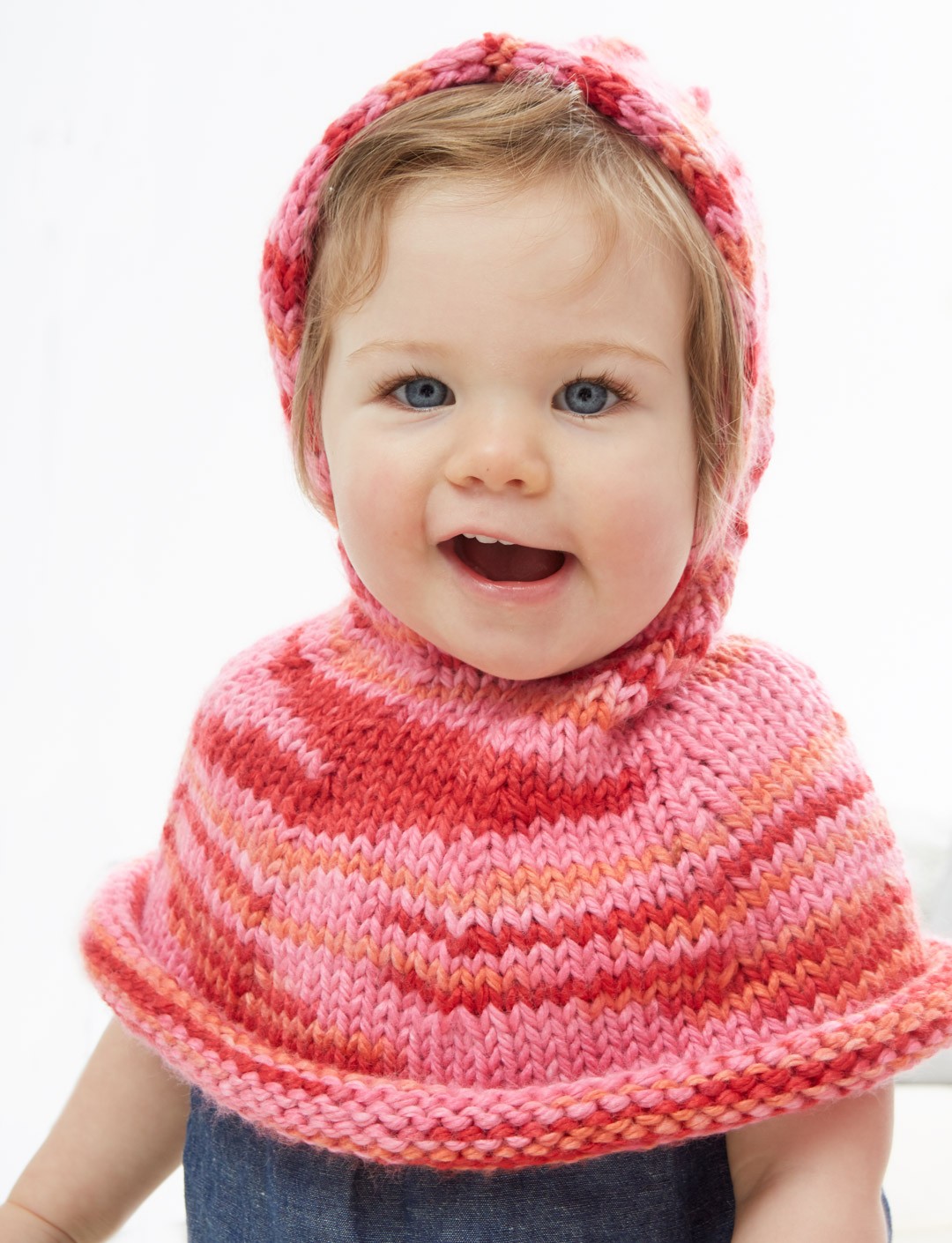 Poncho A Go-Go
This hooded cape from Bernat is knit in multi-color chunky yarn.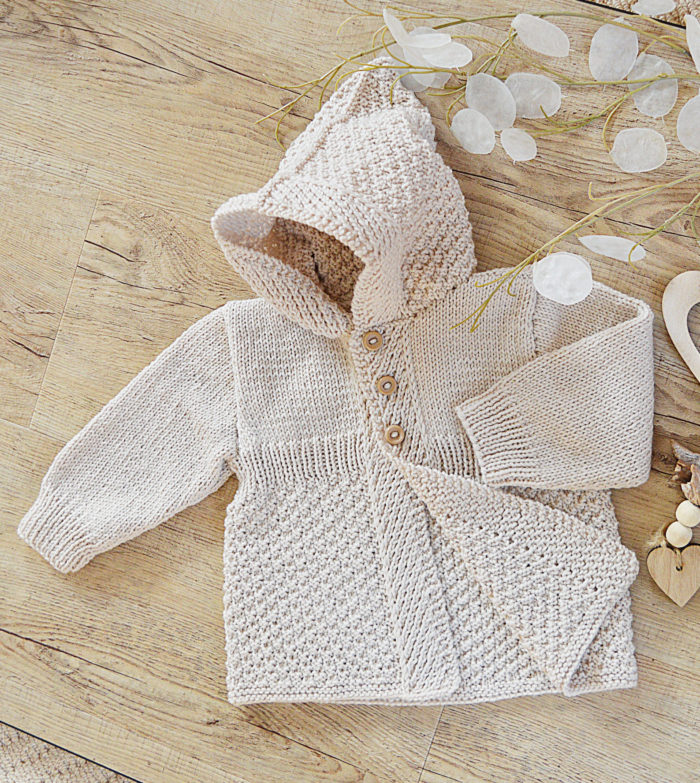 Mayfair Lane Baby Coat With Hood
Baby hooded cardigan knit with double moss stitch in sport yarn. Sizes 6-12 months, 12-18 months, 18-24 months, 2 -3 years. Designed by OGE Designs

Latte Baby Coat
Long sleeved cardigan with woven basket stitch band, optional hood, and optional pockets. Sizes 0-3mo (3-6mo, 6-12mo, 12-18mo, 2T-3T, 3T-4T). Bulky yarn. Designed by Lisa Chemery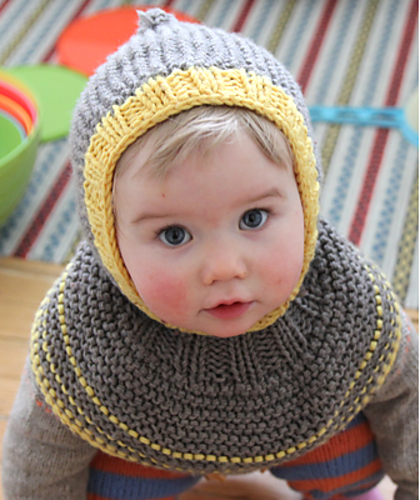 Cool Kid Hooded Hat
Happy Cheer Hooded Cardigan
This sweater is super easy to knit, making it perfect for the first-time sweater knitter!  Finished size to fit Child's 6 (12, 18, 24) months.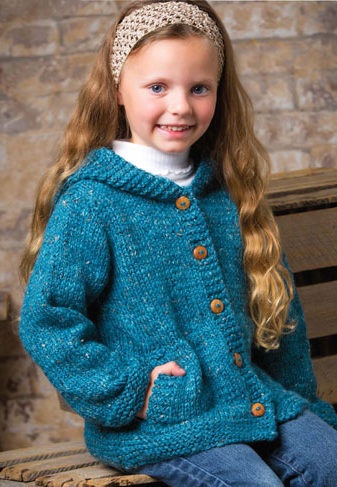 Cadet Hooded Cardi
 Hooded cardigan with lots of buttons and roomy pockets. Quick knit in bulky yarn.  Size: Child's 2 (4, 6, 8) years.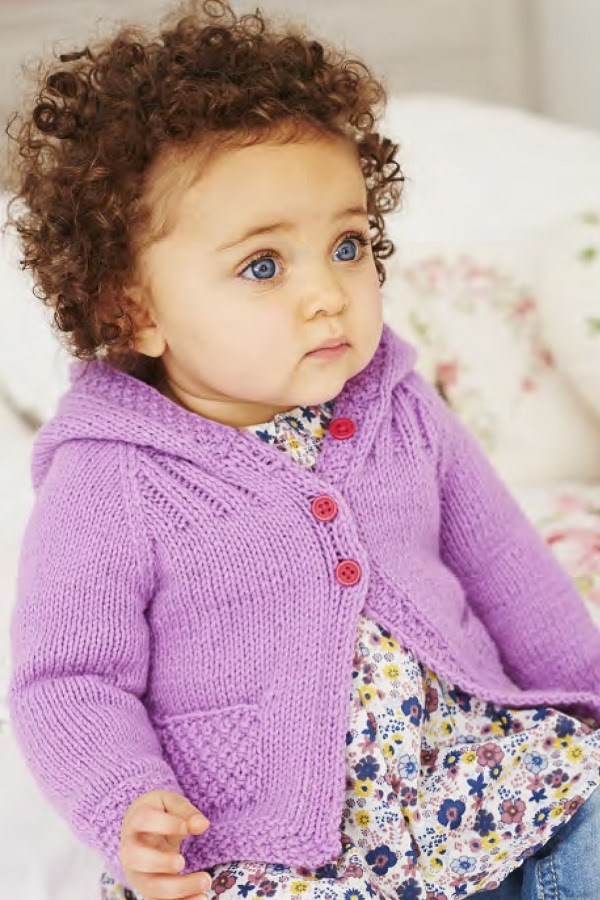 Hooded Baby Cardigan
Sweater versions with hood and without. Knit in stocking stitch with moss stitch detailing, and fastens with 3 buttons. With Pockets. Sizes 0-9months, 9-18 months, 18-24 months, 3-4 years and 5-7 years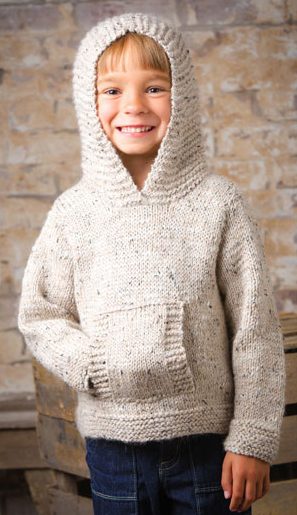 Jumping Bean Hoodie
This pullover features an oversized hood, front pockets and sizes Child's 2 (4, 6, 8) years.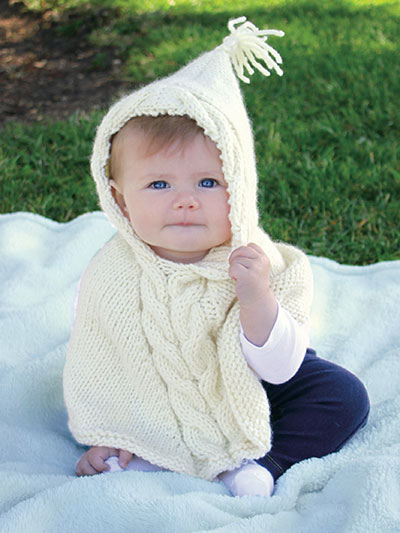 Teeny Poncho
Sizes 6/9 (12/18, 24, 36/48) months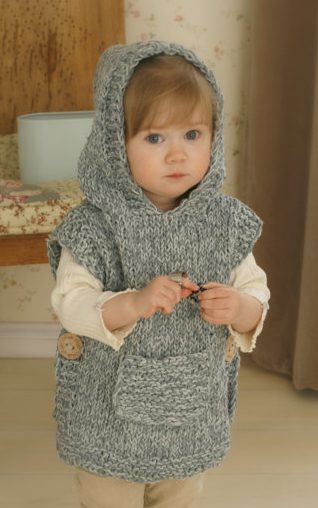 Chunky Hooded Poncho
Sizes include toddler, child, adult woman sizes. Additional directions for making a version lop eared bunny poncho.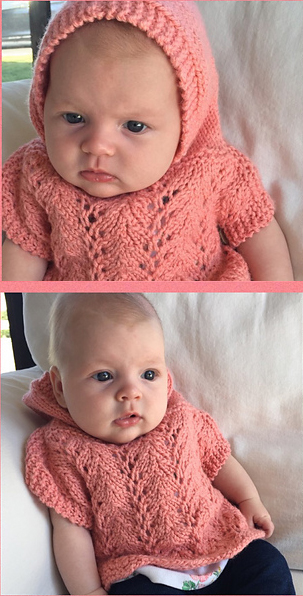 Wee Wrap
Susan Barstein's hooded lace poncho comes in baby, toddler, child sizes. Baby (0-12 months), 12-24 months, 2t-4t, 5-7 years
Terry Matz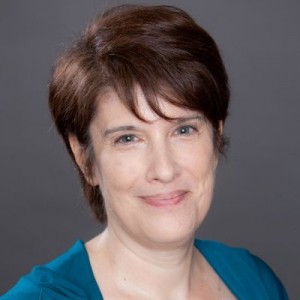 Terry is a knitting late-bloomer, learning to knit as an adult from Internet tutorials, because she wanted a craft that was useful, fun, and portable. Knitting hats for cancer patients inspired her to design her own patterns—available for free at her blog, intheloopknitting.com. Terry met her husband Ken at a science fiction convention and moved to the Kansas City area to be with him more than 30 years ago. Terry supports her yarn stash by creating websites and other digital media. Terry firmly believes in Knitting in Public—it's a great conversation starter!