Beverage Cosy Knitting Patterns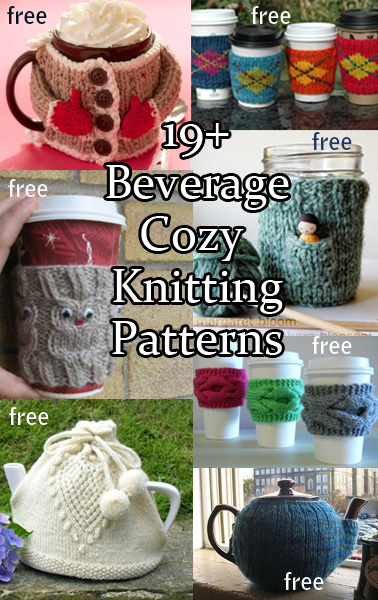 Do you spell the covering for a mug or teapot a Cozy? Cosy? Cozie? Cosie? Coozie? Or do you just avoid the dilemma by calling it a sleeve or a mug hug as some of these knitters do? Whatever you want to call them, we have a knitting pattern for you to use to keep your drink hot or cold and comfy to hold. They make great gifts too for the coffee or tea lover in your life!

Unicorn Drink Cozy
Turn any drink into a unicorn with this easy pattern that's also a great stash buster. Designed by Kristen McDonnell

Wake up and Smell the Coffee Cozy
Beverage cup cozy with coffee cup motifs in stranded colorwork. Designed by Mrs Luedeke

Bishi Water Bottle Carrier
Mesh container carrier with 2 options for strap – garter stitch or stockinette ties. The project can be knit in a couple of hours and requires less than a ball of worsted yarn according to the designer Georgie Hallam.

Wine Glass Holder
This portable glass cozy keeps your hands free for knitting while enjoying your drink or lets you be the life of the party without needing to stay near a table. Seed stitch with buttons. Designed by Claudia Olson. Pictured projects by jillgerbil and DuckDuckKnitDuck/


Bow Cup Cozy, Bracelet, and Headband
The Dolores seed stitch bow is an easy pattern. Although technically the bracelet instructions are different, I like the idea of wearing your cup cozy on your wrist as a cuff and then taking it off to slip on your cup. Designed by Jessica Wirthig

Lacy Cup Cozy
Easy lace sleeves designed by Cassandra Bibler for Red Heart.
[widget id="black-studio-tinymce-17″]

Crown Cup Cozy
This cozy is knit sideways with increases and decreases to form the points. This pattern is rated easy by the designer and Ravelrers. Designed by Susan Cornish

Hug Me Mug Cozy
Yarnspirations designed this adorable cozy. See below for a Santa version.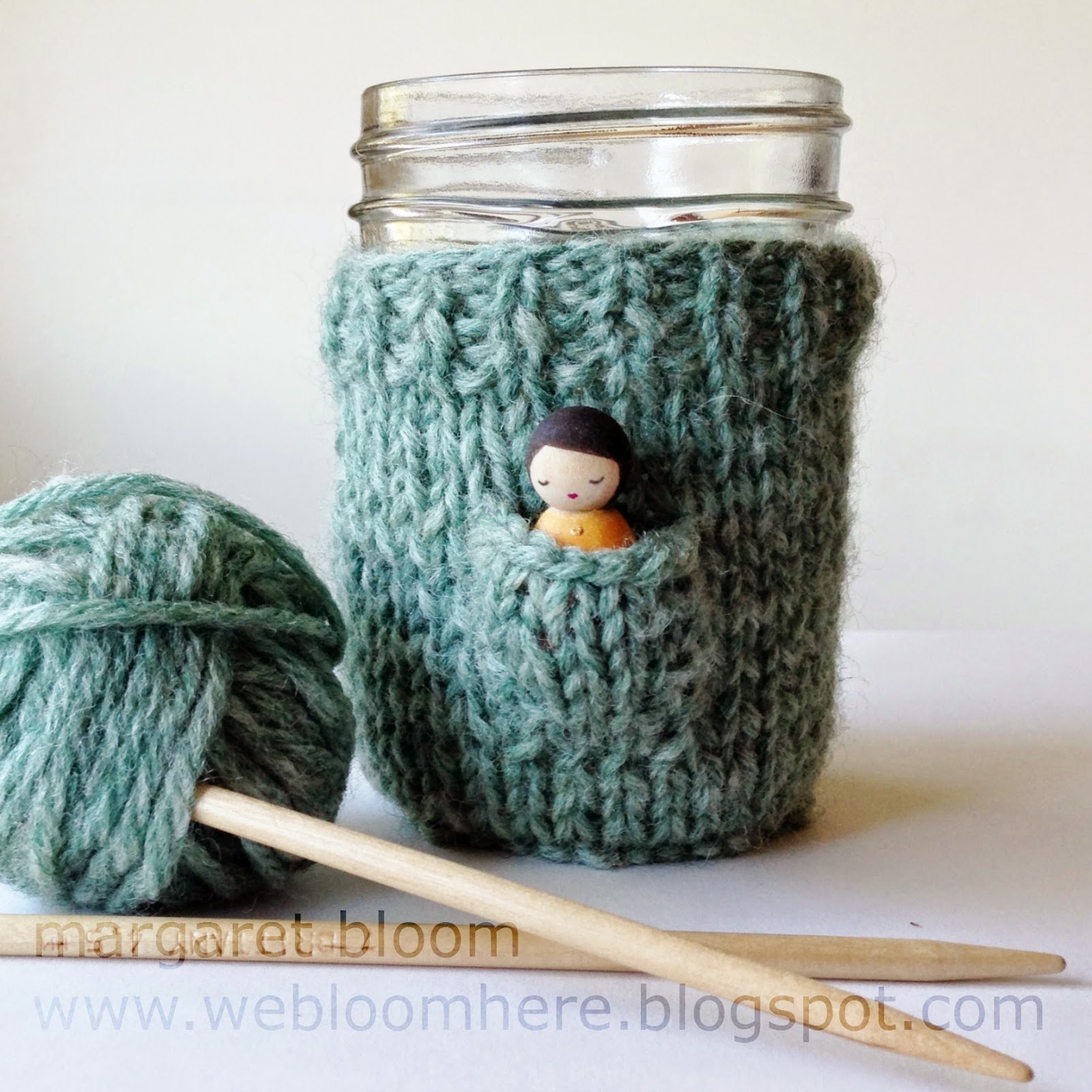 Fairy Cup Cozie
Margaret Bloom's cozie features a cute little pocket for tiny toys, treats, or anything else you can think of. Sized for 8 oz. mason jars.

Owl Cup Cozie Free Pattern
Wide awake owls keep your cup warm and your hands cool. This cable pattern could easily be adapted to decorate blankets, cardigans, and pillows.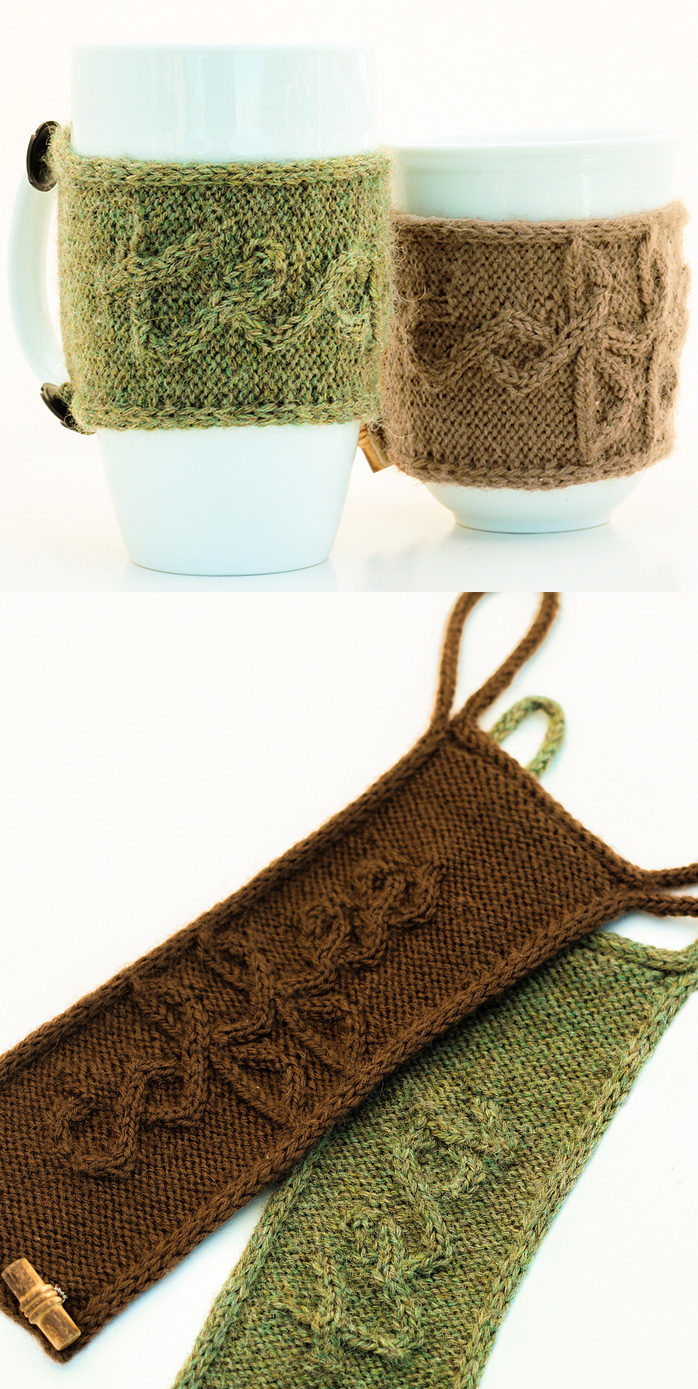 Cuppa Cozy
The unique cabled letters spell out "coffee" and "tea" in cursive in these statement cup cosies. Knit with 50 (55) yds sport-weight yarn. Fastened with ties to adapt to different sized mugs,
[widget id="black-studio-tinymce-13″]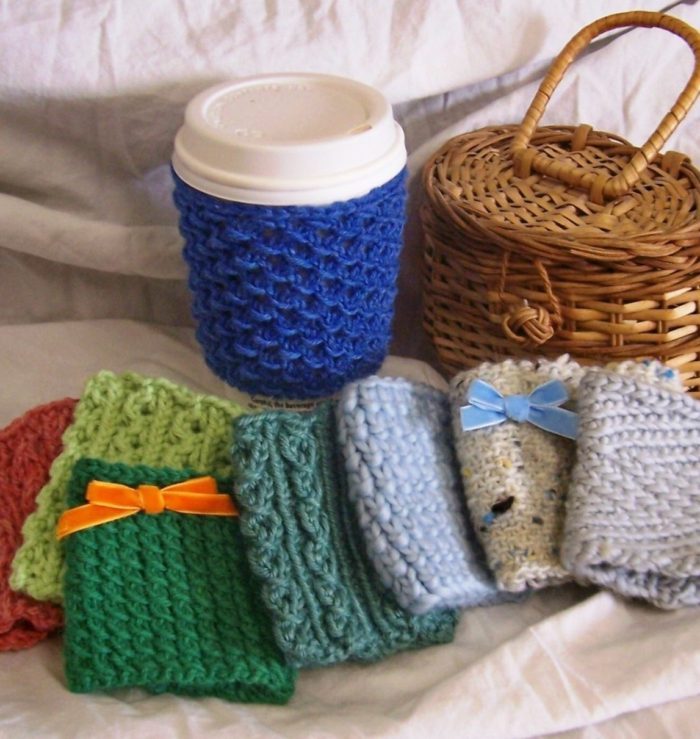 8 Cup Cuddler Cozies Sets
Two different sets of 8 different Cup Cuddler patterns. Set 1 at top from left to right starting with the one on the cup in the picture, including: Lattice, Jamocha, Traveling Vine "Citrus Mint", Bamboo "Chai", Goji, Bitty Braids "Clover", Verona, and Herringbone. Set 2 at bottom  from left to right starting with the one on the cup in the picture, including: "Oasis" Butterfly, "Yukon" Tunisian, "Kitamu" Pearl Brioche, Sumatra, Flora, "Chiapas" Spiral, Estima, and African Solstace.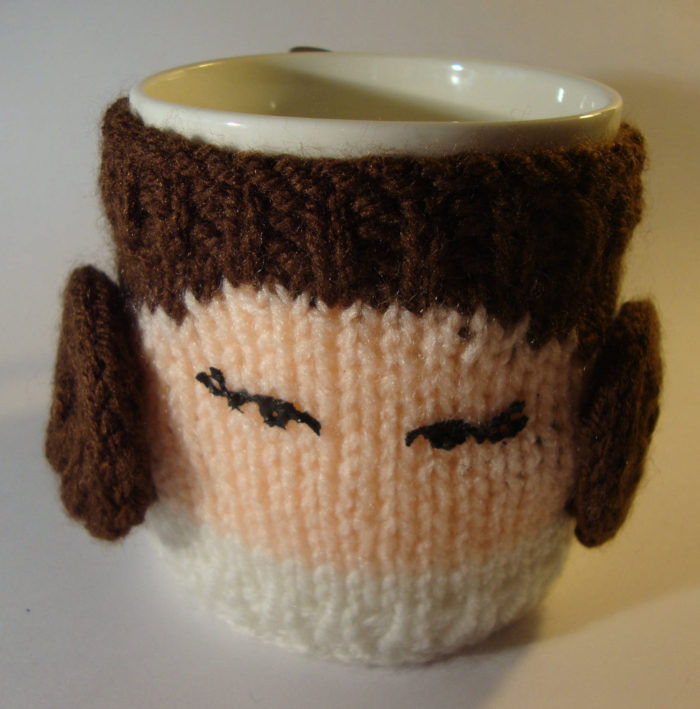 Princess Leia Mug Cozy
Star Wars inspired mug cozy. Also available as kit. The finished product uses about 10g of double knit yarn and measures about 8.5 cm high and 26cm round to fit a standard size mug. Eye detail is added by embroidery or dimensional fabric paint.
Batman Mug Cozy
Intarsia motif.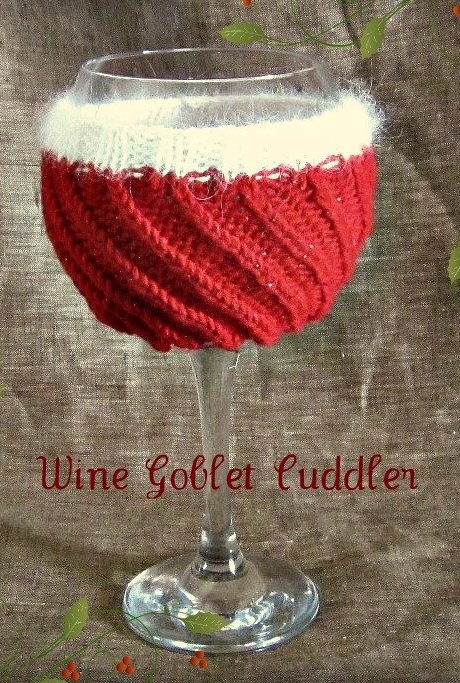 Wine Goblet Cuddler
This glass cozy is a "reversible" pattern and will fit wine glasses of several different shapes and sizes because the spiral ribbing draws inward causing the cozy to hug most forms. Although designed with the holiday in mind you could easily customize for other celebrations with different colors.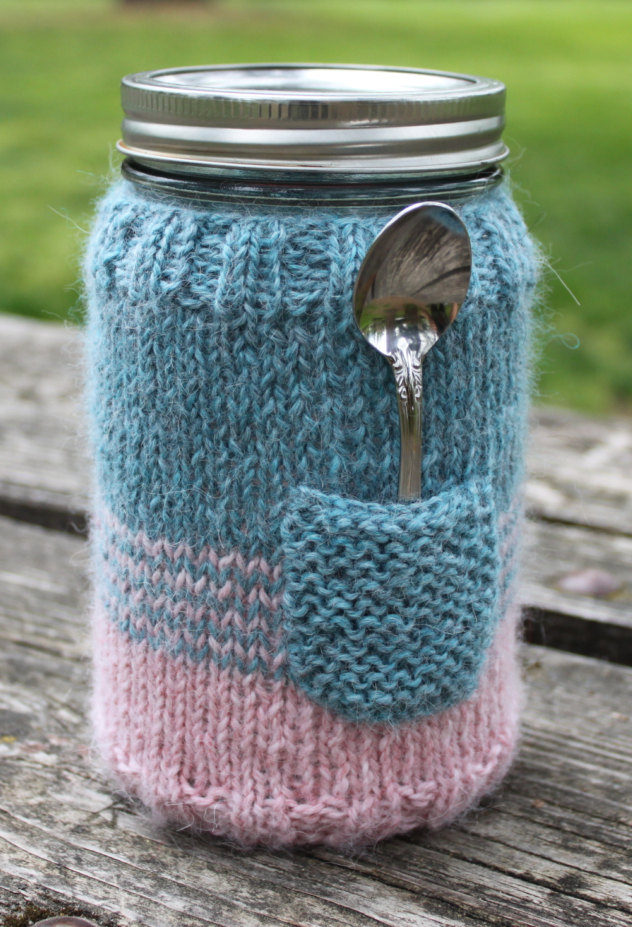 Mason Jar Sweater
Wide mouth cozy with pocket. Makes a great quick gift.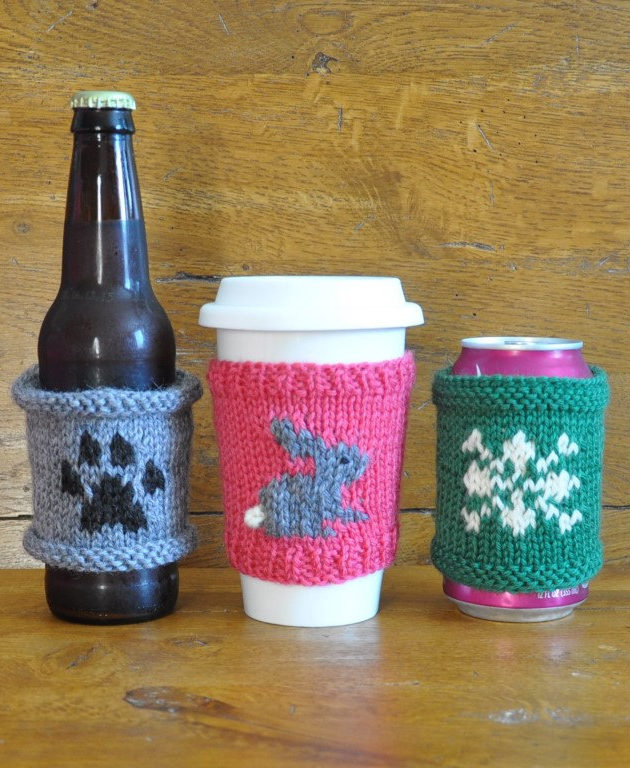 Pawprint, Bunny, and Snowflake Cup Cozies
Includes instructions for all three cozies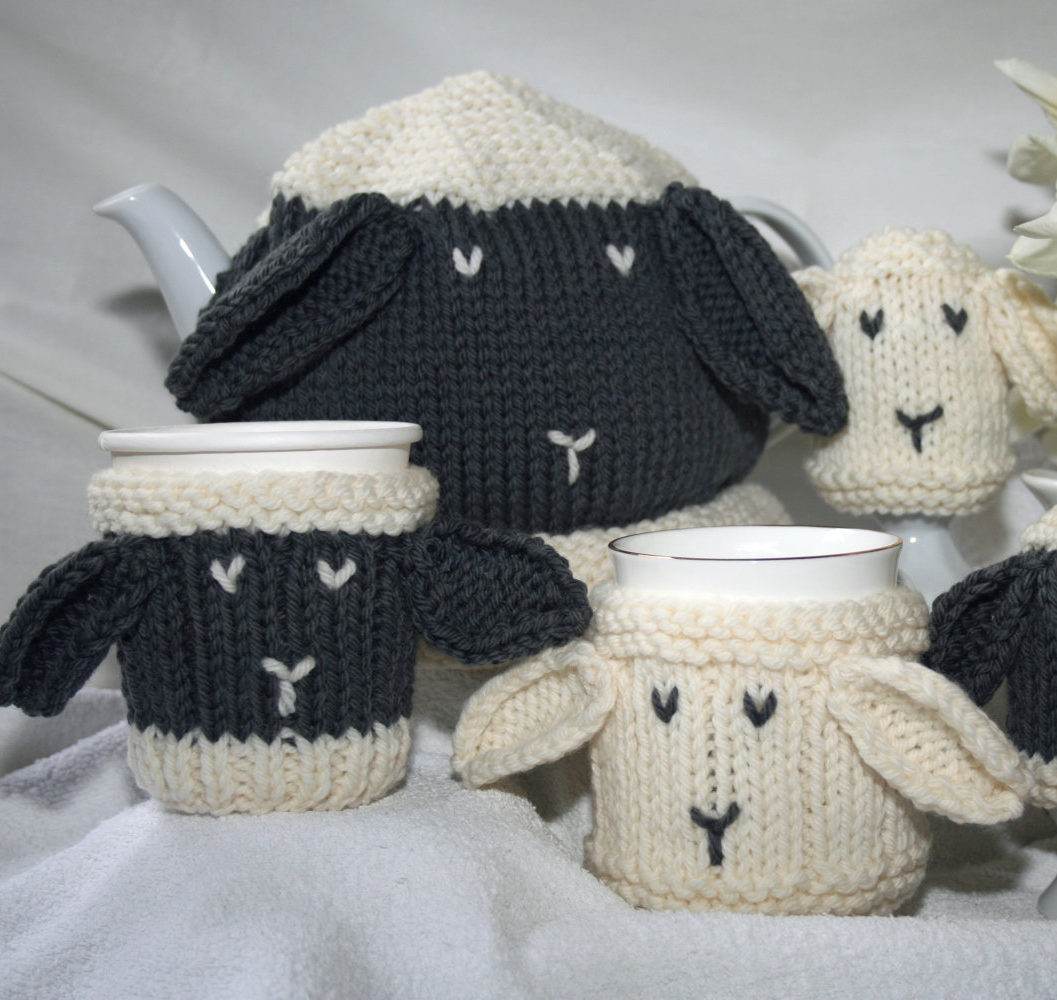 Sheep Cozy Set
Pattern set includes Sheep themed Tea Cosy, Mug Cosy, Cup/Can Cosy and Egg Cosy.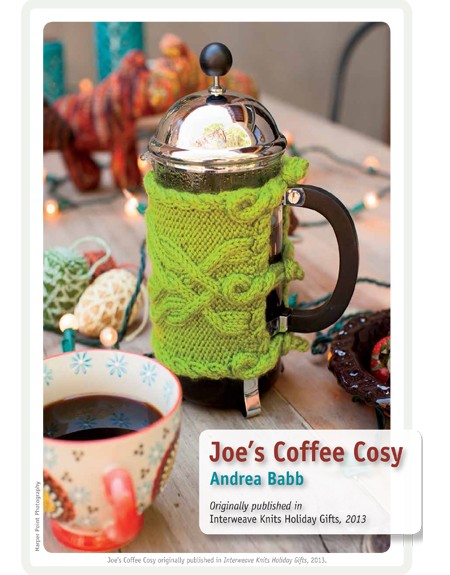 Joe's Coffee Cosy
This cabled coffee cosy (to fit a four-cup French press) fastens with loops and knotted cords for easy on and off.
And for those of you who prefer your mugs sleeveless….