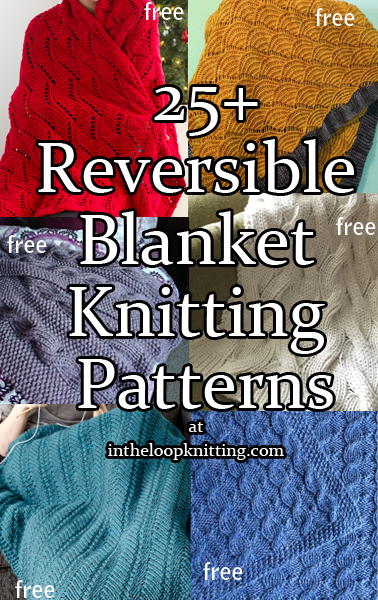 Tired of knitting blankets and afghans that only look good on one side? These knitting patterns are reversible. Almost all are double sided stitch patterns that look the same on both sides. A few have minor differences – such as a reverse of the color – but still look great when you fold them over.
To get the knitting patterns, scroll down the page to the individual pattern you want and click on the link to that pattern.
These patterns are not my designs but links to other designers who have generously shared their patterns. If you have questions about how to knit a specific pattern, please contact the designer directly.
All links on this site are for informational purposes, but please note that some links are to affiliate sellers that pay me a small commission on purchases.
Free Patterns

Reversible Elongated Diamond Blanket
Reversible baby blanket knit in an elongated diamond pattern that looks terrific on both sides. Also works for a revesible scarf. Designed by Alice Kalush. Worsted weight yarn.

Reversible Cable Blanket
Reversible blanket looks the same on both sides. 2 sizes: Baby Blanket and Throw Blanket. Designed by Rachel Brockman for Universal Yarn. Bulky yarn.

Windmill Blanket
This easy College Afghan is knit with a pinwheel or windmill stitch of triangles that is completely reversible. Finished measurements: 58" x 80" Knit with 2 strands of worsted held together. Designed by Jane Wiewora. Rated very easy by Ravelrers. Pictured project by db7506 who knit the blanket in stripes but you can knit it of a solid color.

Tumbling Blocks Baby Blanket
Textured blanket creates a 3D block effect with knit and purl stitches that make it completely reversible. Designed by Susie Bonell for Cascade Yarns. 36" x 43" approx. blocked. Pictured project by Peeps444

Moguls Blanket
Knitting these all over cables in a ribbed pattern makes this easy blanket completely reversible. Designed by Trisha Mitberg. Rated easy by Ravelrers. Quick knit in super bulky yarn.

Nickerchen Blanket
This easy lace blanket is named after the German word for "nap" and is completely reversible. Designed by Mirella Lilli. Rated easy by Ravelrers. Available in English and Italian. Pictured project by moniquelachance

Smells Like Decaf Baby Blanket
Stunning lace blanket that is reversible and looks great on both sides. Finished measurements are 33"x33" but can be increased in increments of 12. Designed by Carrie Briggs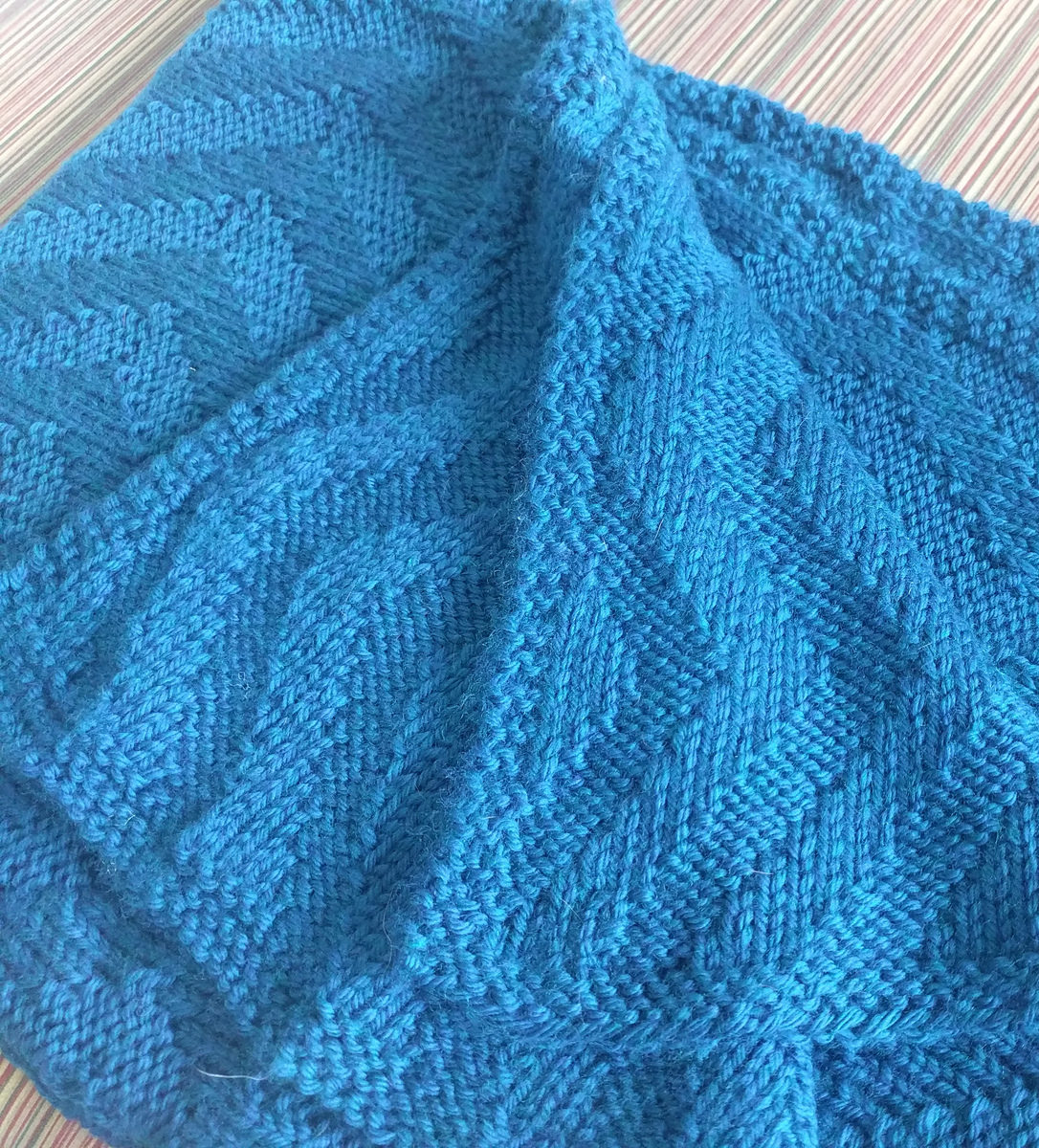 Sunshine Chevron Baby Blanket
Chevron pattern worked in just knit and purl stitches. Rated easy by Ravelrers. Quick knit in bulky yarn. Designed by Mari Chiba for Knit Picks. Pictured project by spamjazz

Quick Knit Blanket
This reversible throw features a zigzag chevron texture. 104 x 147 cm (41″ x 58″). Designed by Red Heart Design Team. Pictured project by dmn0813

Easy Reversible Lap Blanket
The diagonal textured stripes are mirrored on the reverse of this blanket. Quick knit in chunky yarn. Designed by Yarnspirations. Approx 36″ [91.5 cm] wide x 48″ [122 cm] long.

Reversible Wave Throw
This gorgeous lace afghan is designed to be reversible. Designed by Darla J. Fanton for Red Heart. 44″ x 56″
More Free Patterns

Cabled Classic Throw
A simple cable pattern reveals cables on both sides of the blanket. Designed by Red Heart. 46½" X 60". Most Ravelrers rate this as easy. Pictured project by lnewnam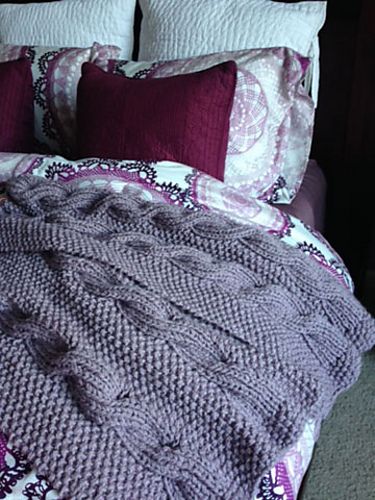 Wintry Cable Knit Afghan
Carole Dietrich's reversible afghan pattern uses a ribbed cable and moss/seed stitch, so it looks the same on both sides.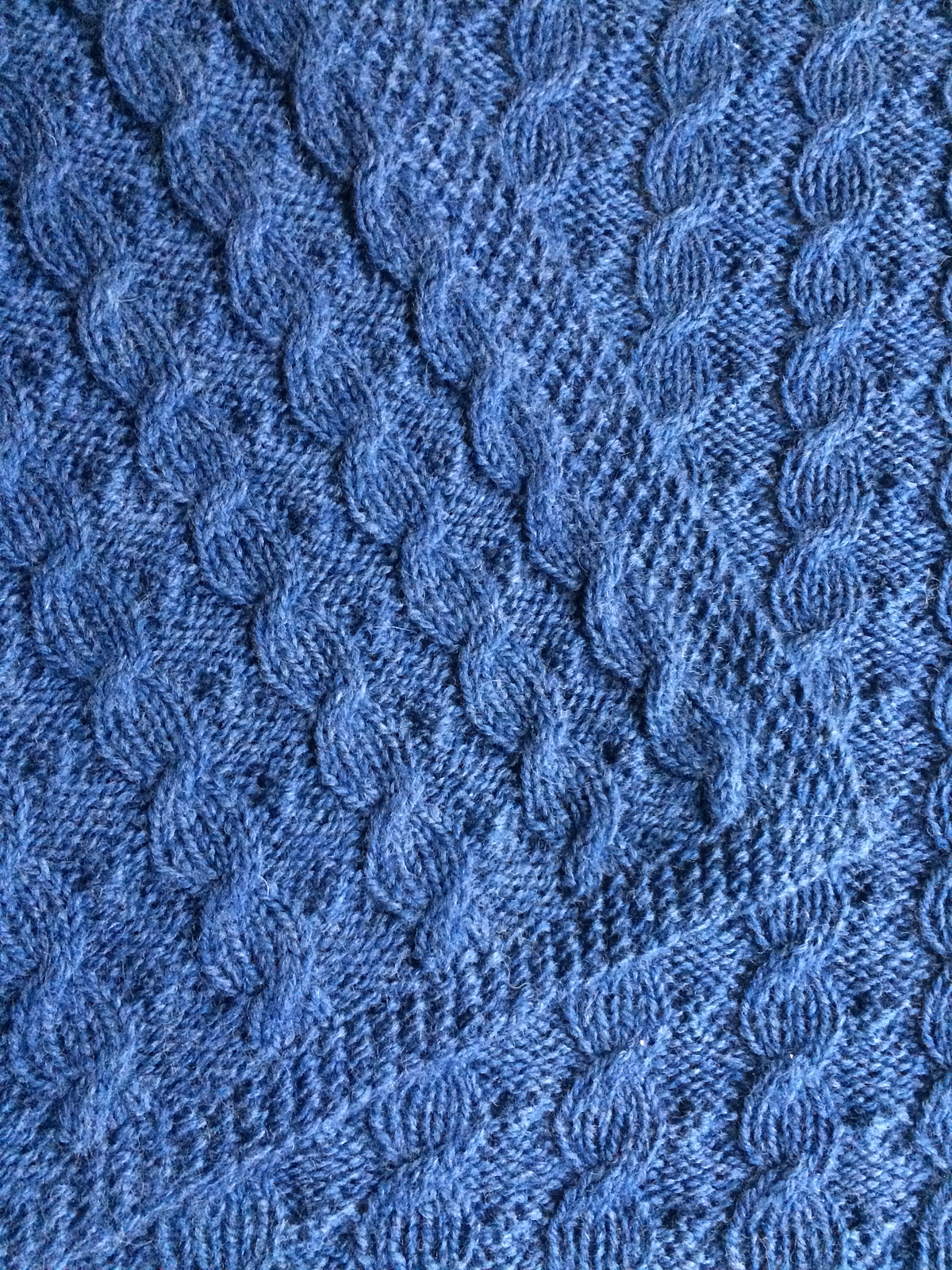 Scarlett's Reversible Cable Baby Blanket
Suzanne Bryan's baby blanket is reversible and the cables can be knit without a cable needle. Pattern includes cable flare compensation to keep the ends of the blanket flat. Pictured project by guarionex

Pinwheel Baby Blanket
This easy colorful and reversible blanket is made of squares knit diagonally in garter stitch in two colors and then seamed to form pinwheel shapes. Designed by Premier Yarns Design Team for bulky yarn. Finished size 32 inches square.

Garter Stitch Ruffles Baby Blanket
This easy reversible blanket is knit completely in garter stitch with two strands of yarn held together. It gets its ruffled look by switching to large needles for a puffier section and then make to smaller needles for a tighter gauge. Consider two yarns or different texture or color to add interest. Designed by Diane Starke. Pictured projectby KathInOC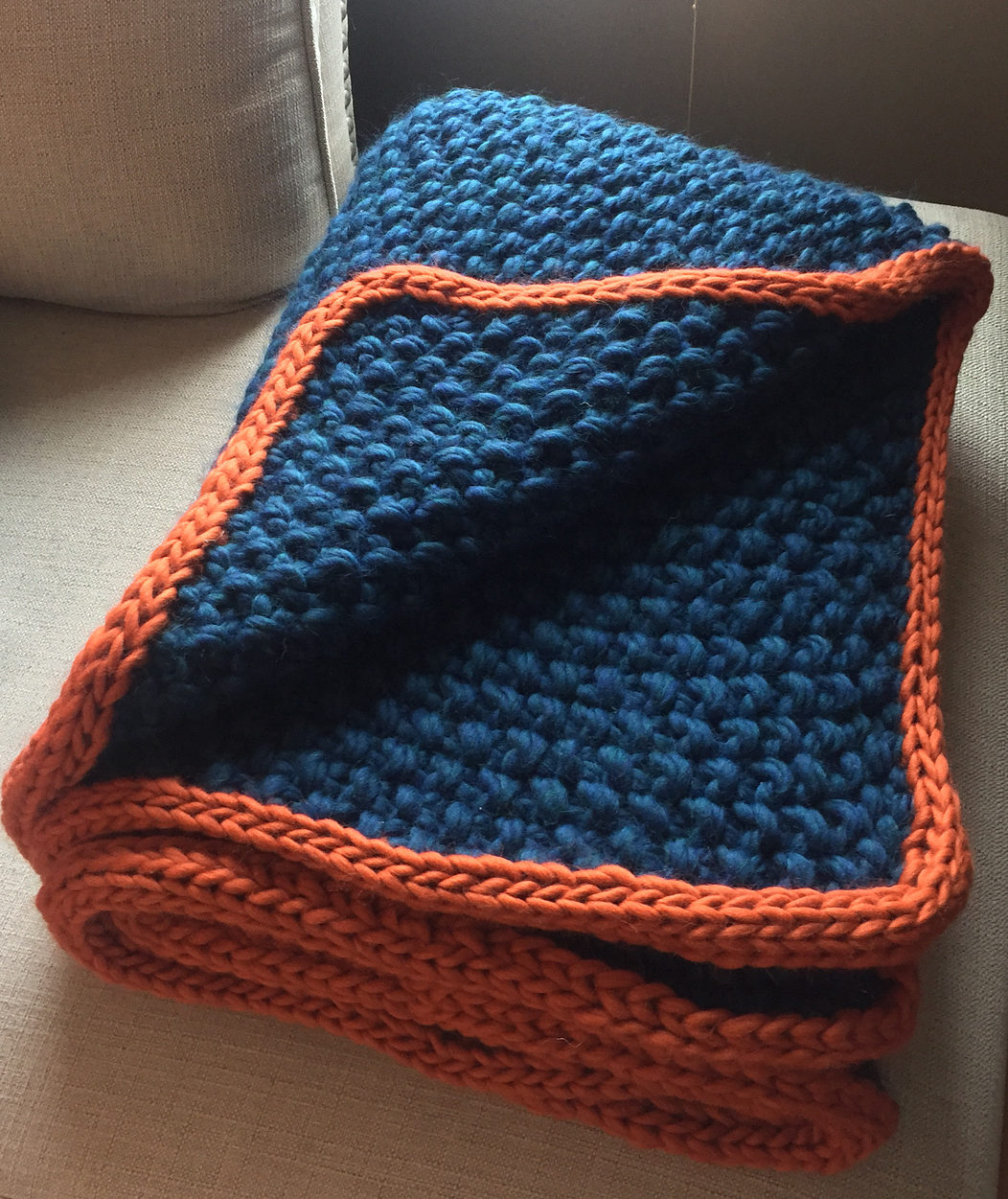 Eleventh Hour Blanket
Purl Soho's quick reversible afghan features seed stitch in super chunky yarn doubled with an applied i-cord edge in a contrasting color. Pictured project by alholmes29

Lava Baby Blanket
The unique Indian Cross Stitch makes this blanket durable and reversible, with a curving border. Designed by Golden Heart Knitting Pictured project by greensong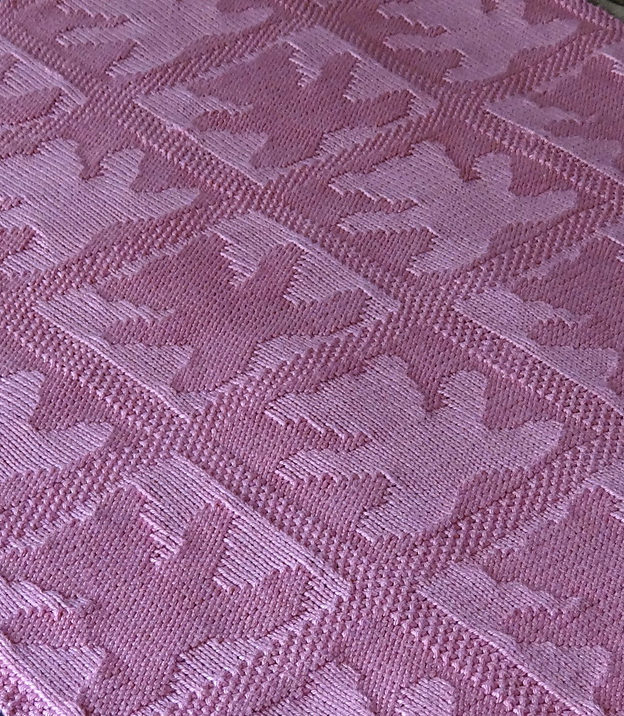 Teddy Bear Blanket
This baby blanket alternates blocks of knit and purl teddy bears to make it reversible. 32.5″ wide x 28″ long. Designed by Barbara Breiter for Crystal Palace Yarns. Pictured project by olexis.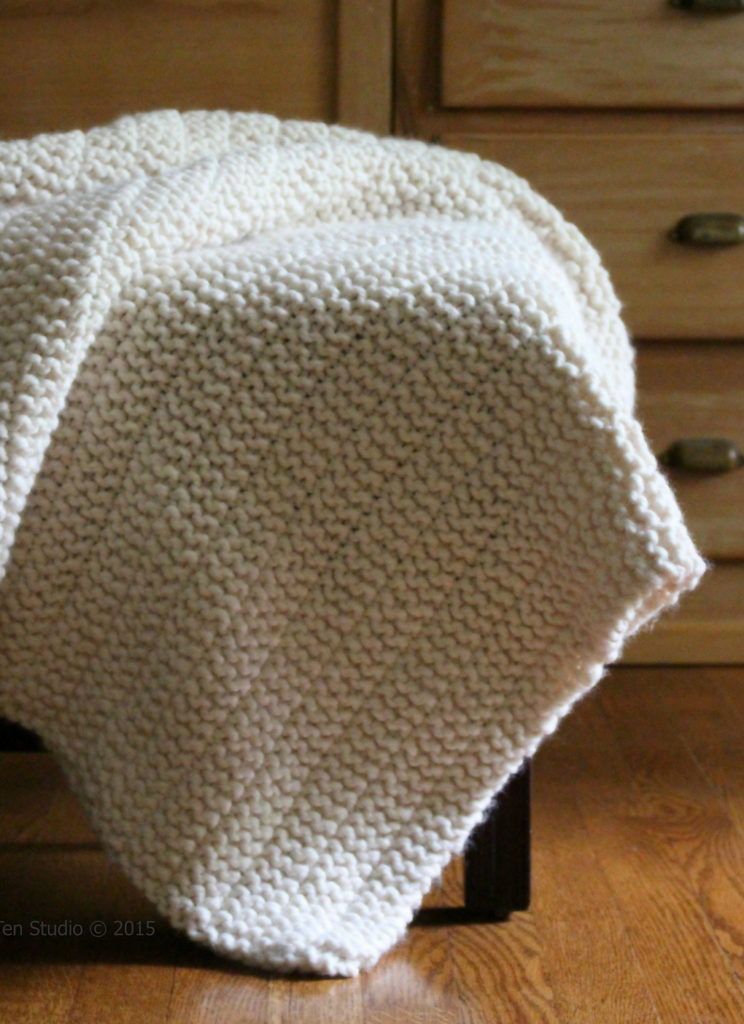 Boulevard Blanket
Fifty Four Ten Studio's easy afghan pattern was inspired by the beautiful tree lined boulevards of her hometown (and mine)….Kansas City. This blanket features an easy two row repeat that adds a texture twist to garter stitch. Quick knit in super bulky yarn.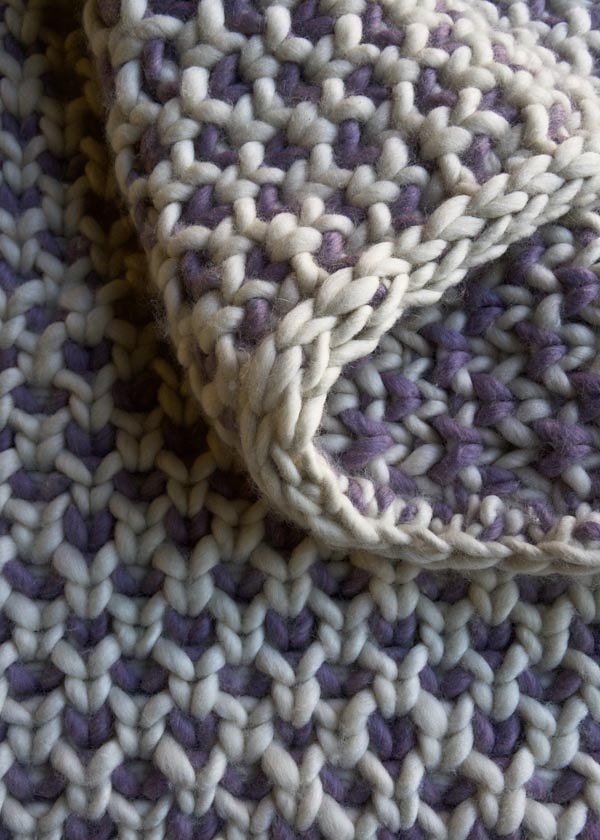 Beautyberry Throw
Purl Soho's reversible blanket can be sized as an afghan or baby blanket. Six row repeat creates colorwork created by knitting in the stitch below and sliding some rows.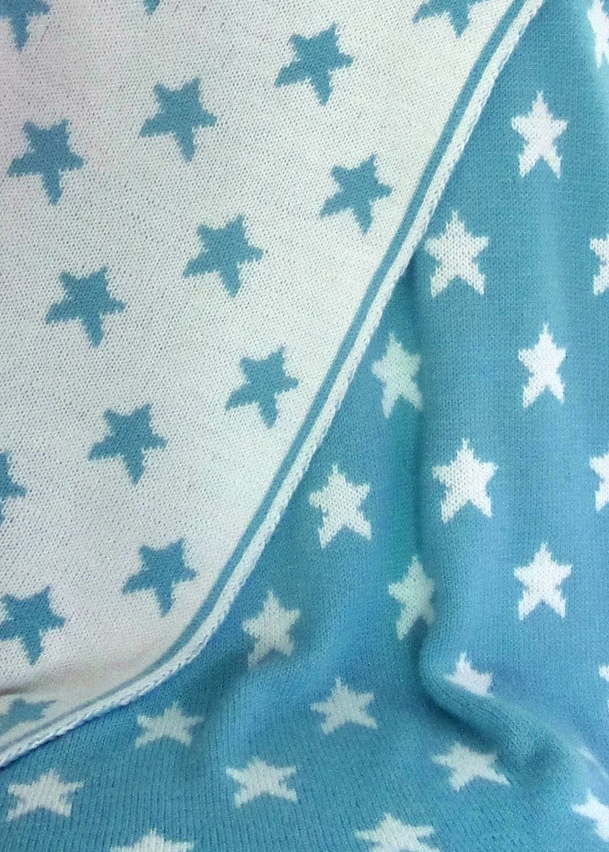 Star Baby Blanket
Octave or Octavie is a reversible double-knit blanket with star motifs designed imawale imawale. Pictured project by MosterOlinia

Heart Baby Blanket
Ann Saglimbene's blanket is designed with easy knit and purl stitches, alternating knit and purl hearts to make it reversible. 30″ x 40″. Pictured project by maggiesc
Patterns for Purchase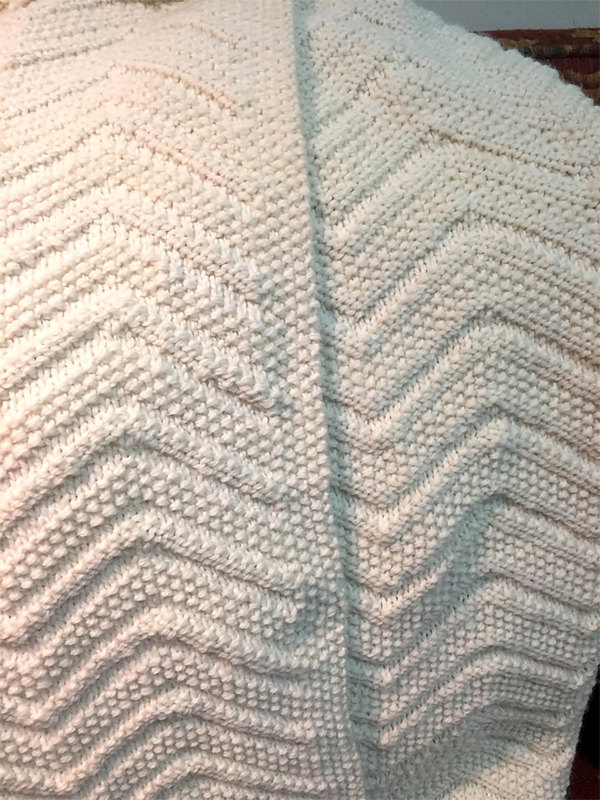 Upsy-Daisy Reversible Baby Blanket
Wide seed stitch chevron design reverses to a narrow chevron. An easy pattern using knits and purls. Finished size: 32" x 32" Sport or DK weight. Designed by Knitting Buzz Designs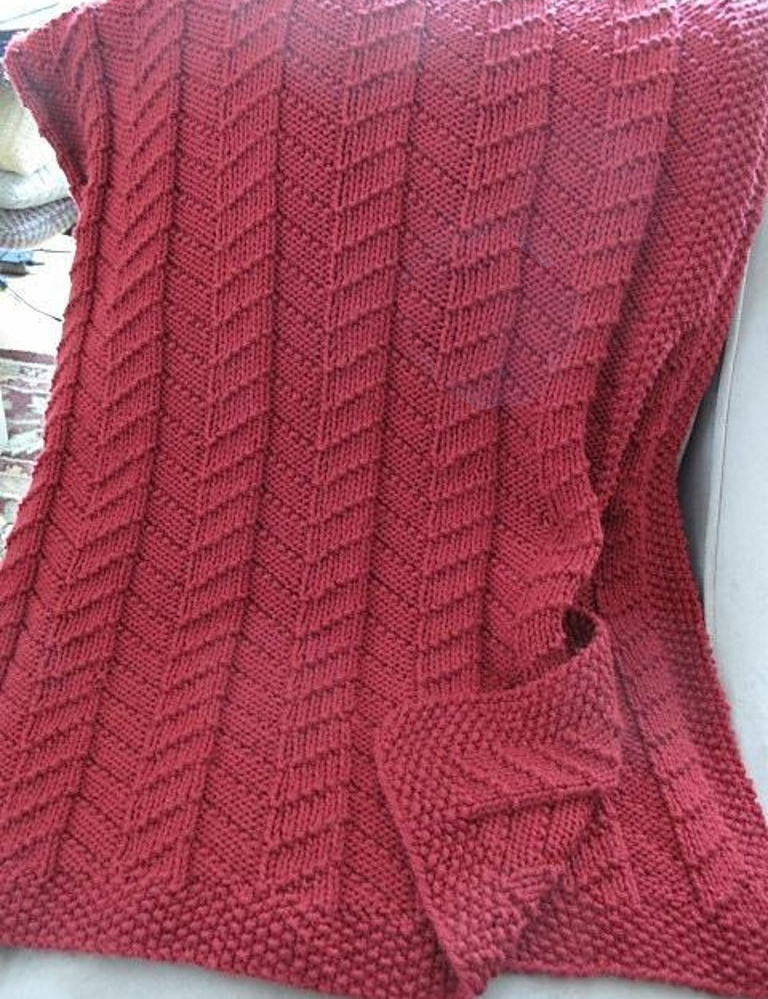 Reversible Mimic Blanket
Ribbed diagonal lines form a chevron herringbone texture that looks great on both sides. An easy pattern to memorize using knit and purl stitches. Aran weight. Designed by Knitting Buzz Designs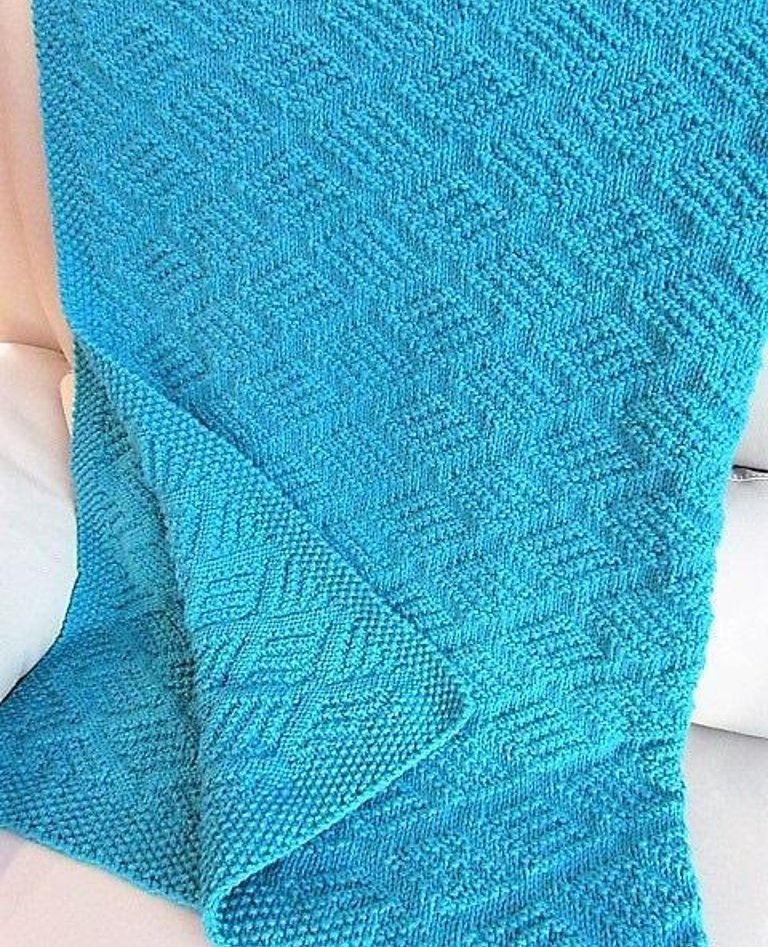 Reversible Amulet Blanket
Alternating diagonal lozenges form diamond texture complimented with a seed stitch border that looks great on both sides. An easy pattern using knits and purls stitches in 2 sizes: afghan and baby blanket. Designed by Knitting Buzz Designs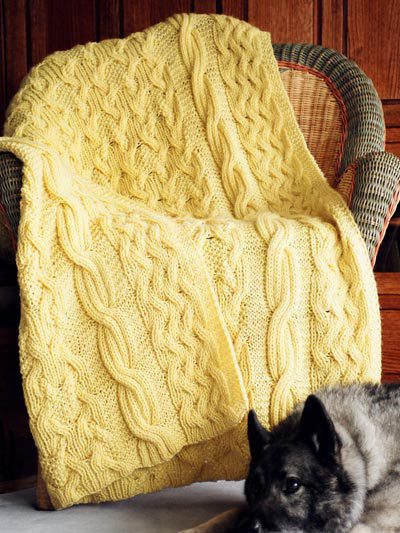 Reversible Cable Afghan
This knitting pattern is unique for cabled afghans because it's reversible! It looks just as great on either side! Finished size: 48″ x 58″.
Get the knitting pattern at Annie's
Recommended yarn also available at the pattern site

Reversible Hugs and Kisses Cable Blanket
Both sides of this blanket are covered with long lines of XOXO in cables. Designed by Heaventoseven

Double Basketweave Baby Blanket
Easy blanket uses just knit and purl stitches and is reversible with different interesting textures on either side.

Rapunzel's Surprise Cable Baby Blanket
Completely reversible braided cable blanket in three sizes. Quick knit in chunky yarn.

Reversible Knitting Stitches Ebook
Want to create your own blanket? This digital book shows you how to create 200 Double-Sided Stitch Patterns. Written by Moira and Anna Ravenscroft

Ennismore Afghan
This blanket features reversible textures knit on the diagonal. Two sizes. Designed by Wyndlestraw Designs

Reversible Afghans
Suitable for beginners who can knit and purl. Worked in one piece — no seams or stitches to pick up – and no wrong side. Three different designs with an easy-to-follow chart for each: Square-In-Square, Zig-Zag, and Basket Weave.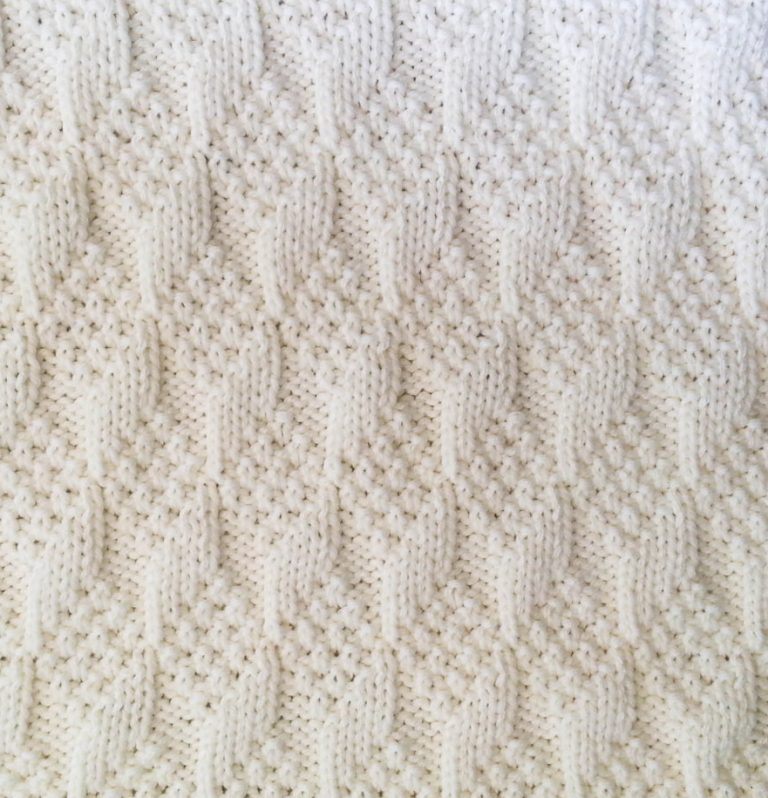 Textured Baby Blocks Reversible Baby Blanket
This textured baby blanket is completely reversible, easily adapted to different sizes, and a quick knit in super bulky yarn.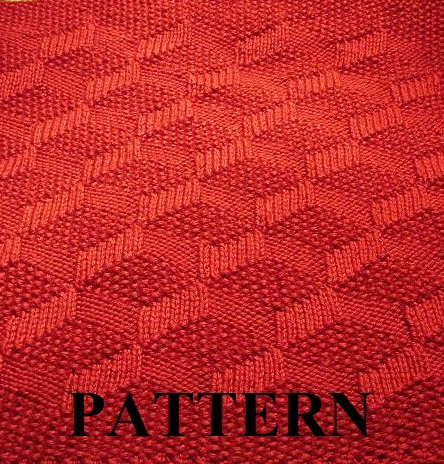 Reversible 3D Block Baby Blanket
The texture on this blanket gives a 3D effect and the blanket is reversible. Quick knit in bulky yarn.