Indian Cross Stitch Knitting Patterns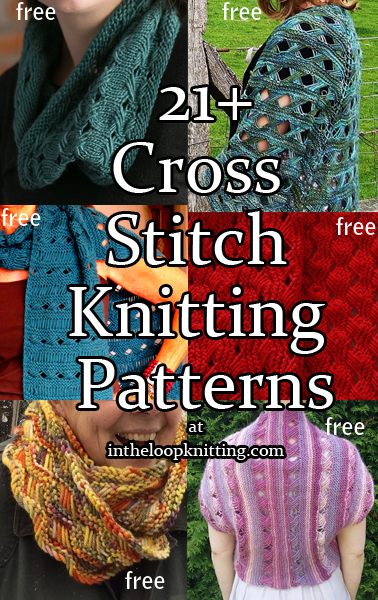 I've always been fascinated by cross stitch knitting stitch, also called the criss cross stitch, the Indian cross stitch, or the yarnover cross stitch. Just by wrapping, slipping, and dropping the stitches in a couple of rows, you can get a unique construction that is sure to get compliments.
To get the knitting patterns, scroll down the page to the individual pattern you want and click on the link to that pattern.
These patterns are not my designs but links to other designers who have generously shared their patterns. If you have questions about how to knit a specific pattern, please contact the designer directly.
All links on this site are for informational purposes, but please note that some links are to affiliate sellers that pay me a small commission on purchases.

Exes and Ohs Shawl
A garter lace and Indian Cross Stitch shawlette/capelet that covers the upper shoulders and back and closes on the neck with a button. . Mixes sport yarn with ribbon yarn. Designed by Amy Williams. Great with multicolor yarn!

Cottage Garden Cowl
This infinity scarf cowl combines Indian Cross Stitch with a 3x2 rib and the added textural detail of a Vikkel braid. Designed by Kezia Cole. Great with multicolor yarn!

Indian Inspiration Shawl
This oversized shawl features sections of lace, Indian Cross Stitch, and textured stitches. Designed by Gudrun Neumann-Mack. Available in English and German. Pictured project by Beatas. Great with multicolor yarn!

Lattice Cowl
Ridges of alternating Indian Basketweave stitch and Garter stitch create this cowl in your choice of short or long size. Great with multicolor yarn! Designed by Melissa Reynolds. Pictured projects by missbabs and dyemama

Reversible Fair Isle Scarf
This scarf features a reversible Indian cross stitch lace section at each end. The body of the scarf is knit in the round as a tube so the scarf looks pretty on both sides. Designed by Clare Hutchinson.

Tote Bag
This market bag is knit in the round using a modified version of Indian cross stitch with stockinette stitch handles. Approximately 14 inches wide by 14 inches high. Designed by Kathy Zola. Available in English and German. Pictured project by kpollard22

Yarnover Cross Scarf
This scarf is knit with sections of cross stitch and drop stitches. Designed by Rozetti Yarns. Pictured project by gulf714

Elis Cowl
This cowl is knit with the Indian Cross Stitch and easily adapted to longer or wider styles. Designed by Reiko Kuwamura. Pictured project by knittily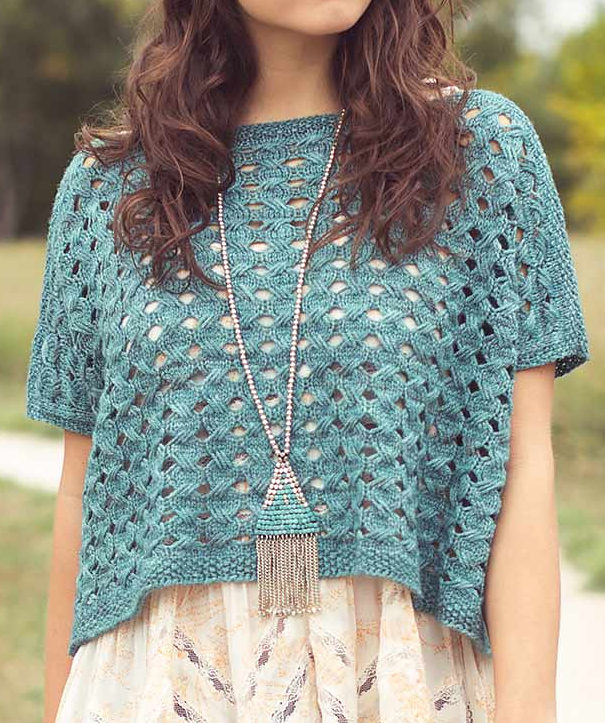 Kricka Top
This openwork pullover is knit in Indian cross stitch in two identical pieces, then the shoulder and side seams are sewn. Sizes of finished piece: 29.75 (31, 32.25)" wide and 15.5 (16.25, 18.75)" tall. Designed by Sherrie Kibler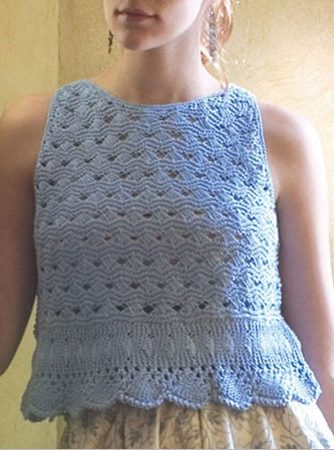 Cropped Cross Stitch Top
This sleeveless top features a knit lace hem and cross stitch lace body. Sizes 34½ (37½, 40, 43)" (87.5 [95.5, 101.5, 109] cm) bust/ chest circumference. Designed by Shirley Paden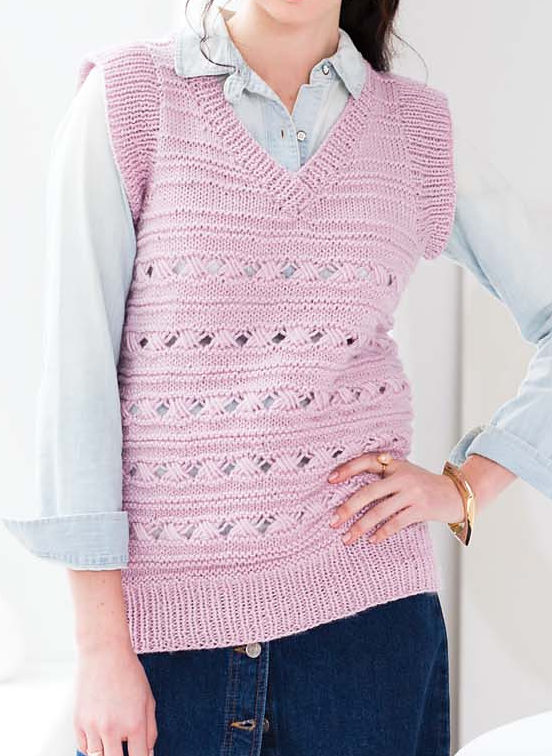 Cross Stitch Vest
Cross stitch lace adds a stylish touch to this classic v-neck pullover vest. Designed by Christine Marie Chen. Sizes X-Small, Small, Medium, Large, X-Large, and XX-Large. One of the patterns in Vogue Knitting, Spring/Summer 2016.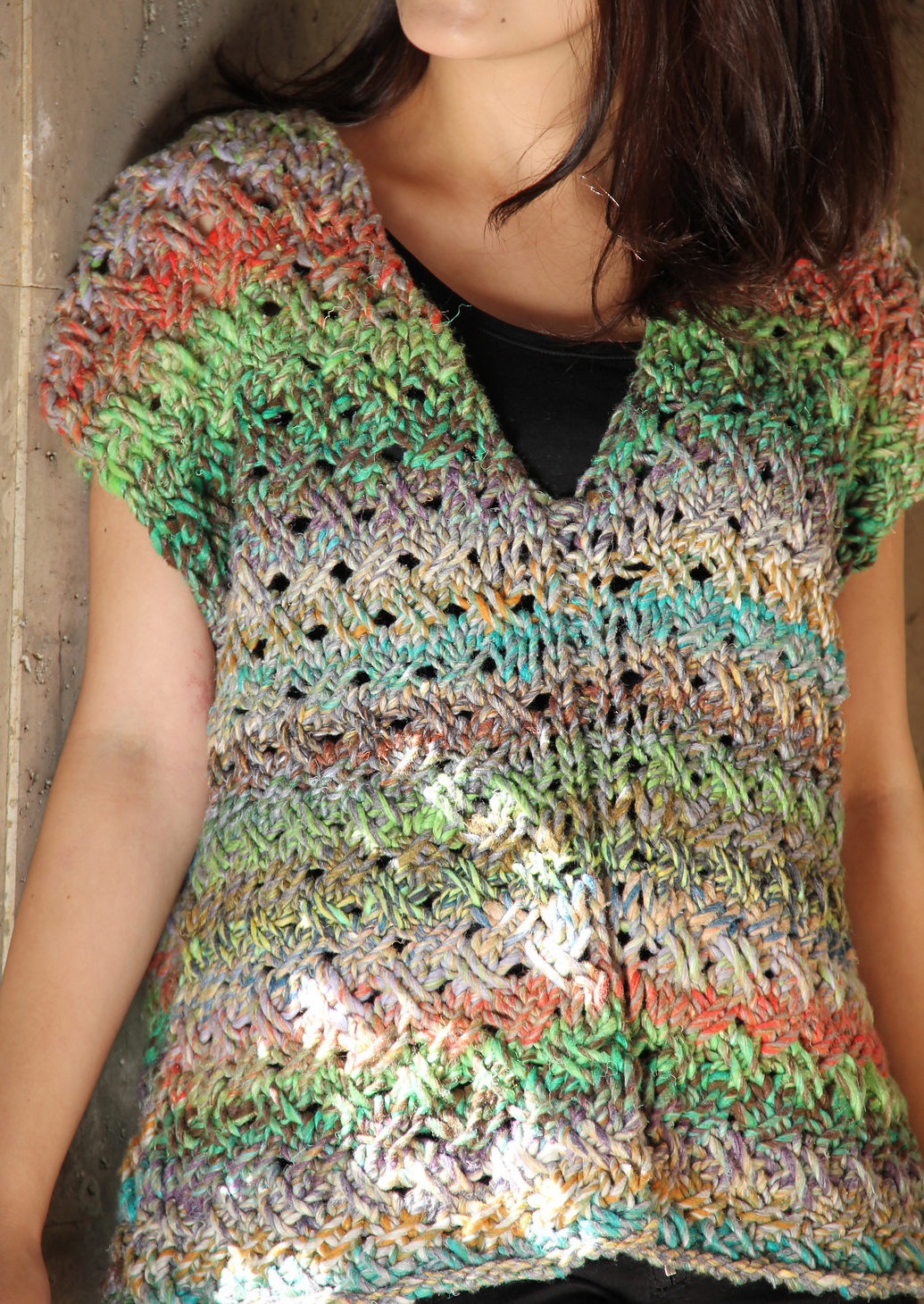 Cross Stitch Top
Airy Indian cross stitch lightens up this sleeveless pullover, which works up quickly in bulky yarn. Designed by Christine Marie Chen. Sizes Small, Medium/Large, X-Large. One of the patterns in Noro Knitting Magazine, Spring/Summer 2017, Issue 10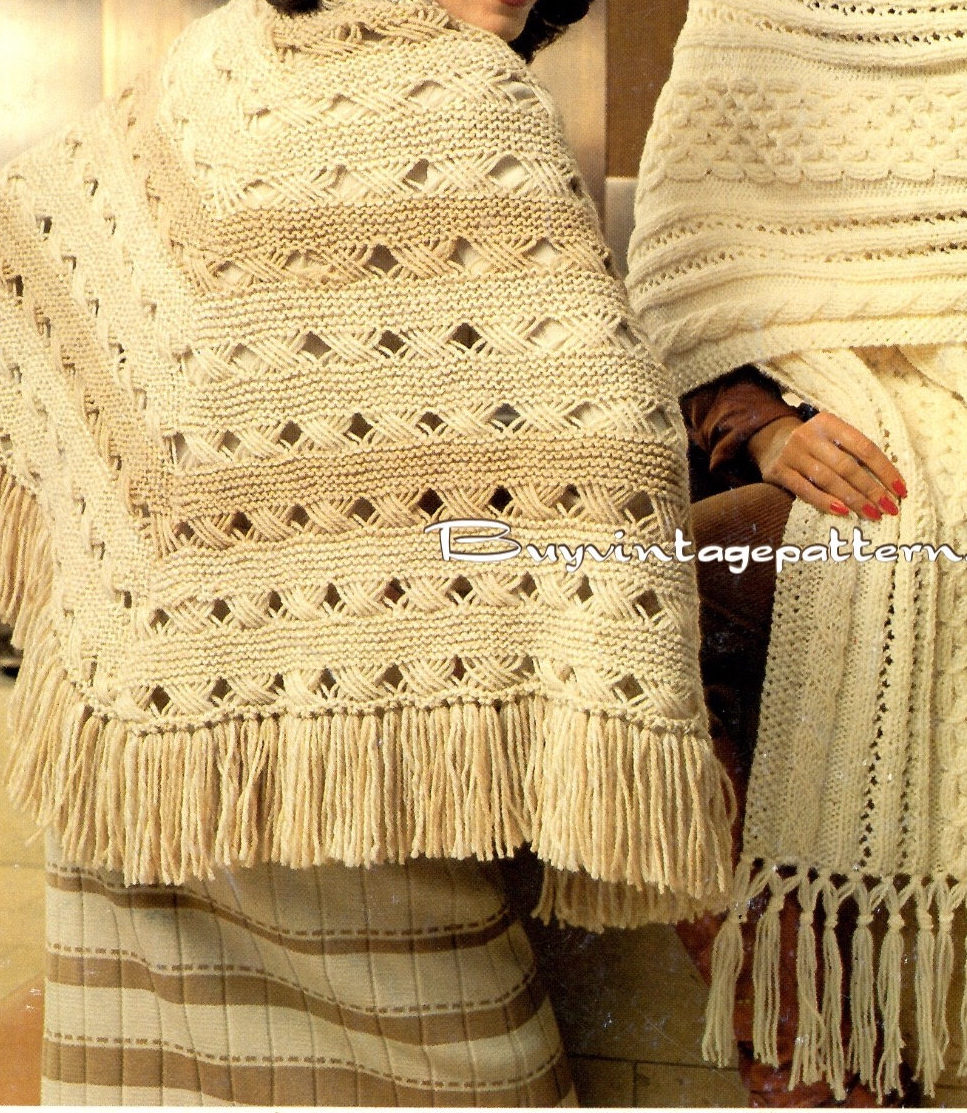 Cross Stitch Shawl and Aran Stole
Vintage pattern set in downloadable PDF file includes a pattern for lace triangular shawl and cable rectangular wrap.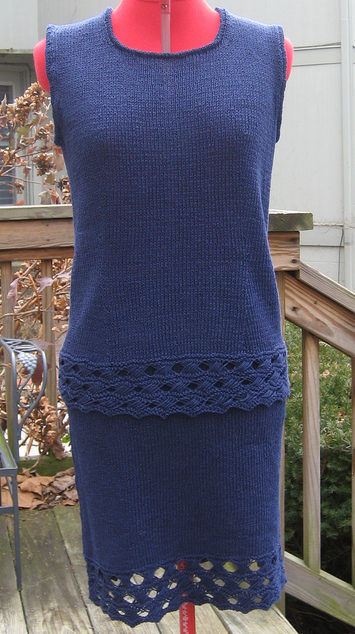 Cross Stitch Skirt and Shell
The skirt and shell both have are bordered with Indian cross stitch. The shell buttons in the back.S, M, L, XL. Designed by Arenda Holladay. One of the patterns in Cast On, May-July 2012
In Print or Digital Editions. Click on pics to see patterns and info.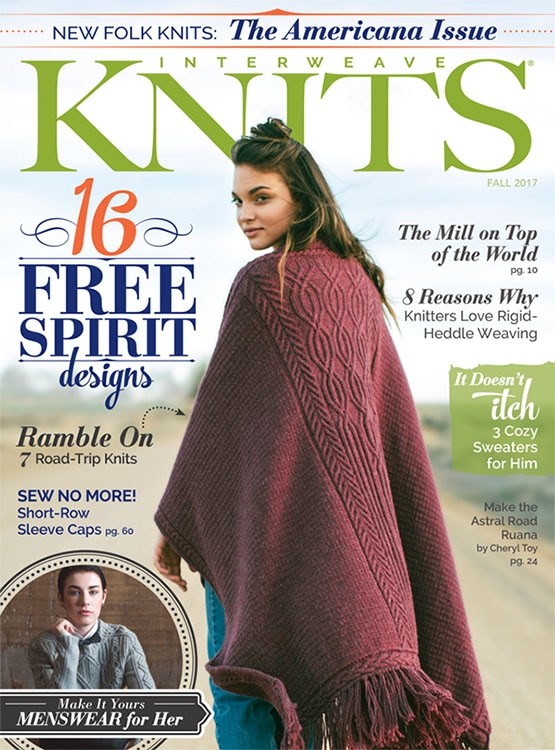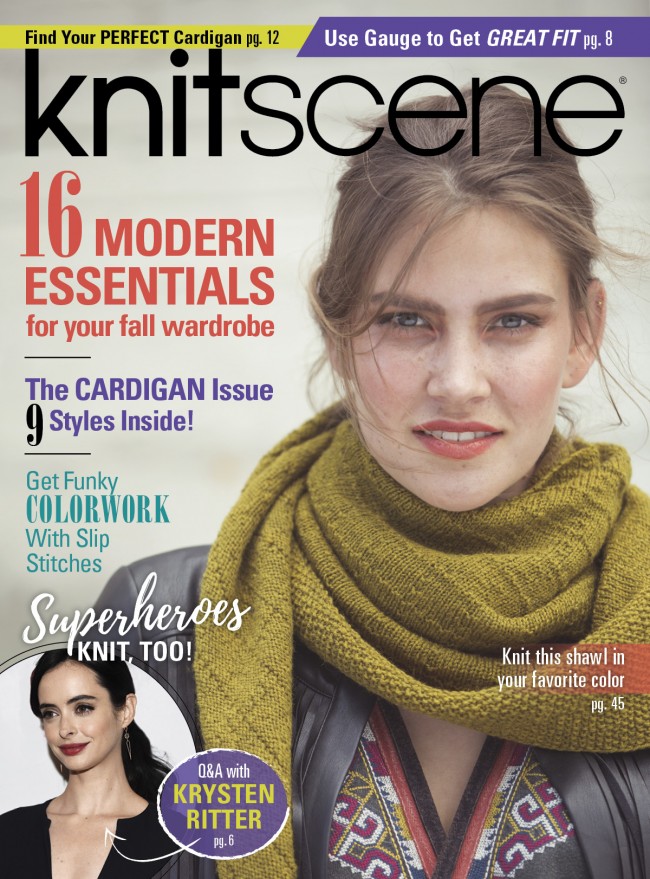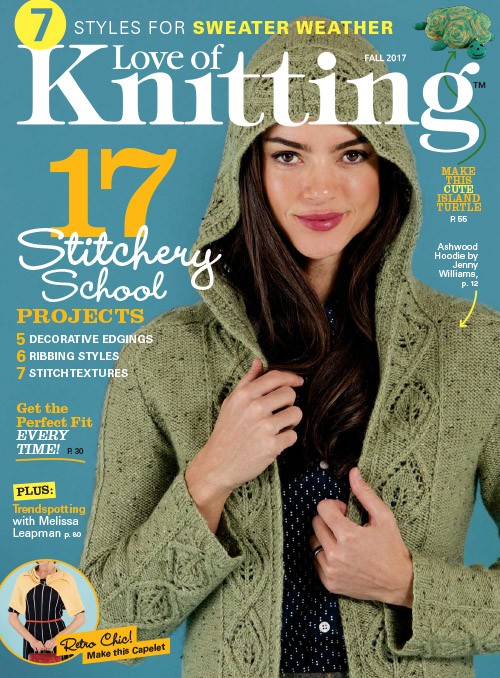 Terry Matz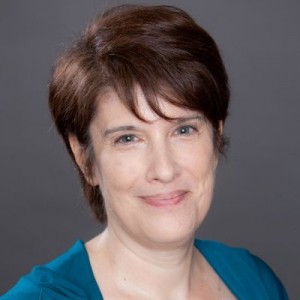 Terry is a knitting late-bloomer, learning to knit as an adult from Internet tutorials, because she wanted a craft that was useful, fun, and portable. Knitting hats for cancer patients inspired her to design her own patterns—available for free at her blog, intheloopknitting.com. Terry met her husband Ken at a science fiction convention and moved to the Kansas City area to be with him more than 30 years ago. Terry supports her yarn stash by creating websites and other digital media. Terry firmly believes in Knitting in Public—it's a great conversation starter!