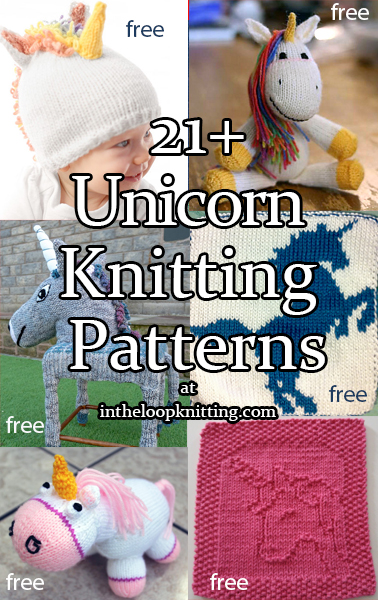 Knitting patterns for unicorn toys, hats, cloths, and other projects. Many patterns are free.
To get the knitting patterns, scroll down the page to the individual pattern you want and click on the link to that pattern.
These patterns are not my designs but links to other designers who have generously shared their patterns. If you have questions about how to knit a specific pattern, please contact the designer directly.
All links on this site are for informational purposes, but please note that some links are to affiliate sellers that pay me a small commission on purchases.
Free Patterns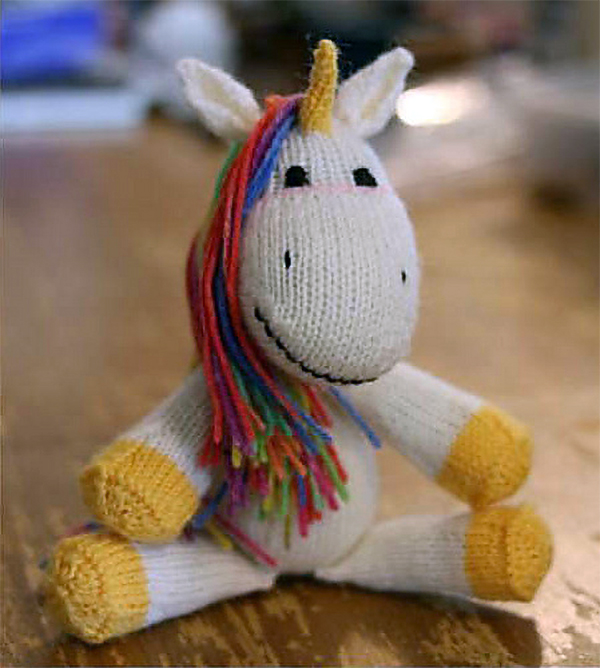 Sock Unicorn
Toy unicorn softie approx 6 inches tall with sock yarn and 2.25mm needles. Designed by Becky Smith.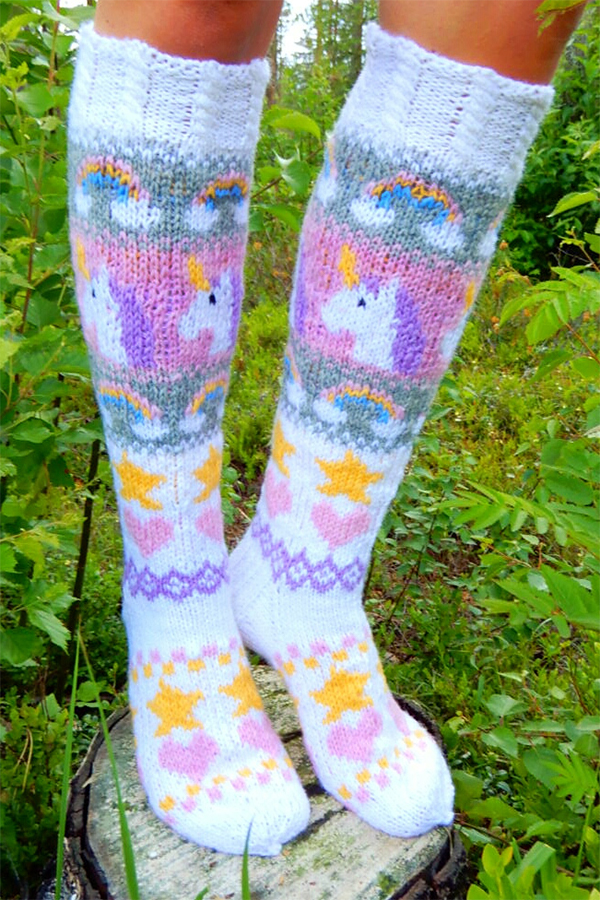 Unicorn Socks
Socks with a stranded design of unicorns, rainbows, hearts, and stars. Designed by Beyond The Loops. DK weight yarn.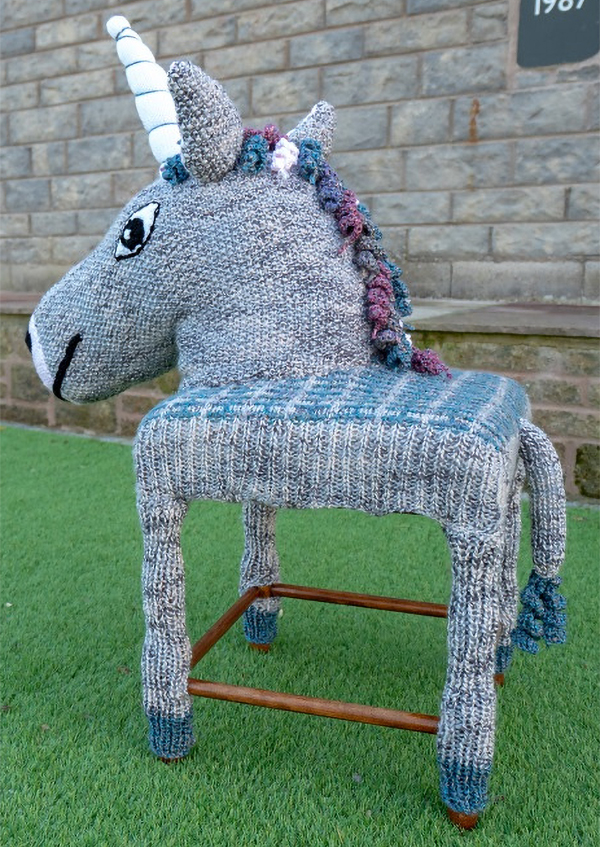 Unicorn Stool Cover
Turn an ordinary four-legged stool into a fantastical animal for children to ride with this knit coverand unicorn heard. The Unicorn head can also be a hobby horse by putting it on a broom handle. Designed by Linda Moorhouse. Bulky weight yarn.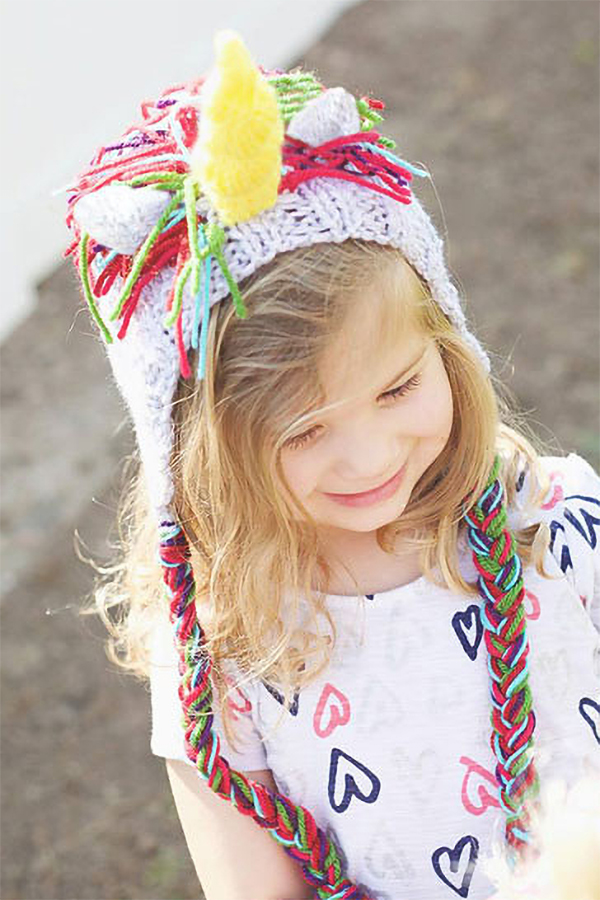 Majestical Unicorn Hat
Hood with unicorn horn, ears, mane, and braids. Rainbow stripe leggings also included in pattern. Sizes Toddler, 2t/3t, 4t/5t, 6/8. Designed by Crochetmylove designs. Aran weight yarn.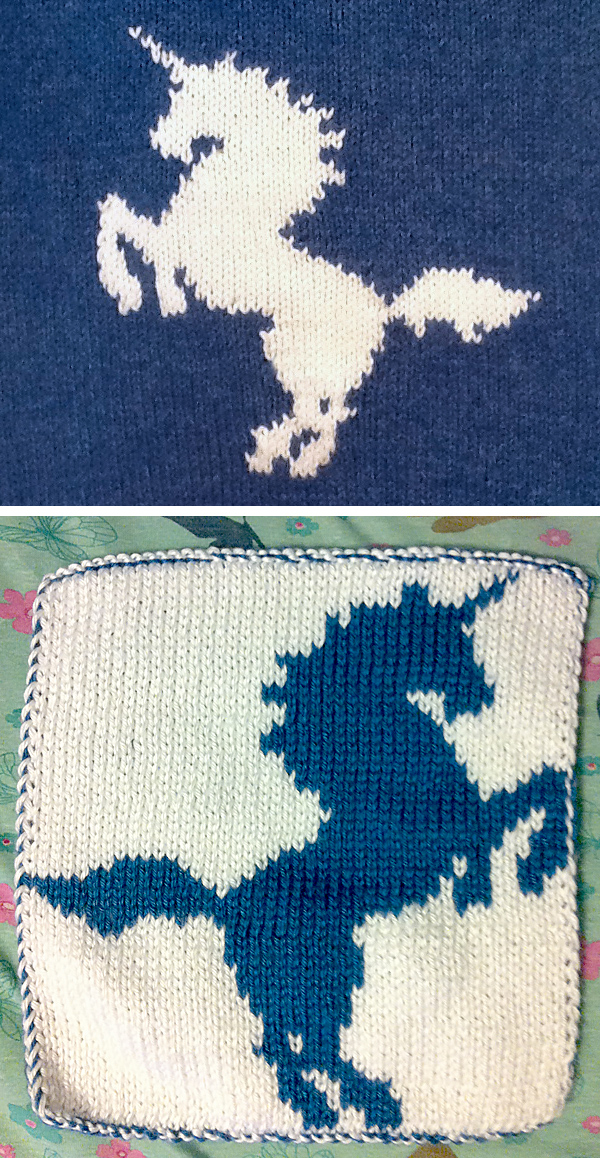 Unicorn Rampant Chart
2 color chart you can use for clothing motifs, squares, photholders, and more. Designed by Anna Novitzky. Pictured projects by TheFireRemains who used this for a vest and guenevol who doubleknit a square.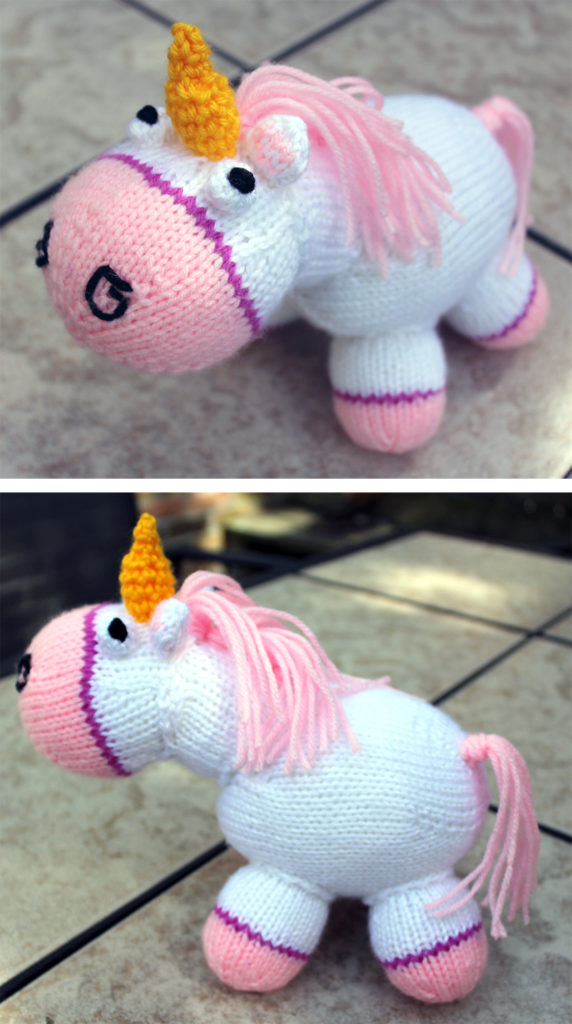 Fluffy the Unicorn
Inspired by Agnes' toy unicorn in Despicable Me. It's so fluffy! Designed by Inga Breuer. Pictured project by alisonj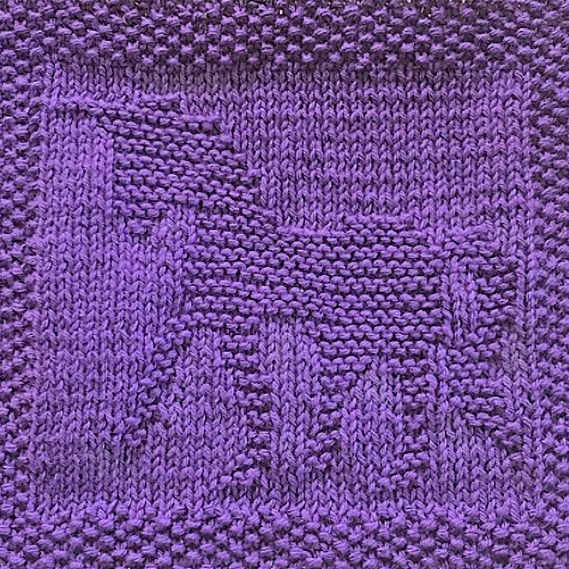 Little Unicorn Square
Great as a dishcloth or with other squares to form a blanket. Both chart and written pattern. Designed by Daisy and Storm. DK weight yarn.
More Free Patterns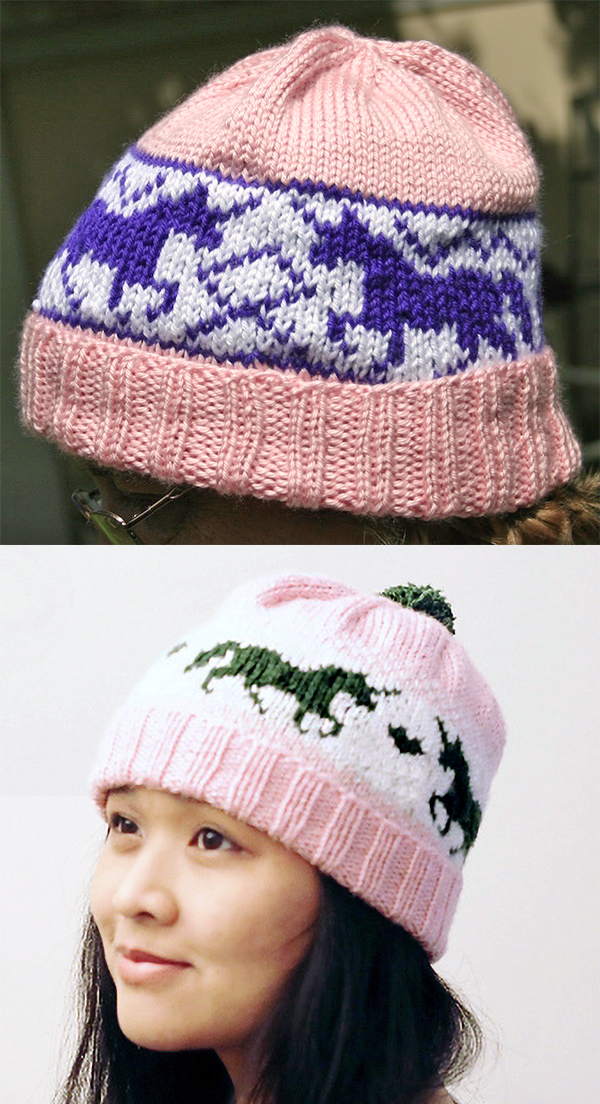 Unicorn Fever Hat
Beanie with stranded colorwork of unicorns and diamond pattern. Designed by Heidi Rosin. DK weight yarn. Pictured projects by StDebb and thebunnystudio who replaced the diamond pattern with hearts.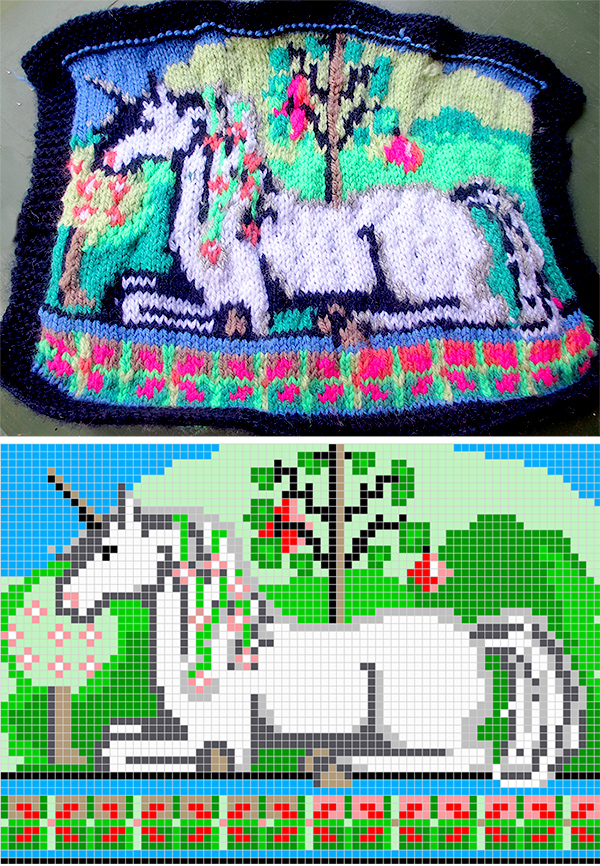 Garden of the Unicorn
Chart for unicorn scene in 2 variations - full color and 2 color. Designed by Melanie Nordberg. Pictured project by ukcrocus.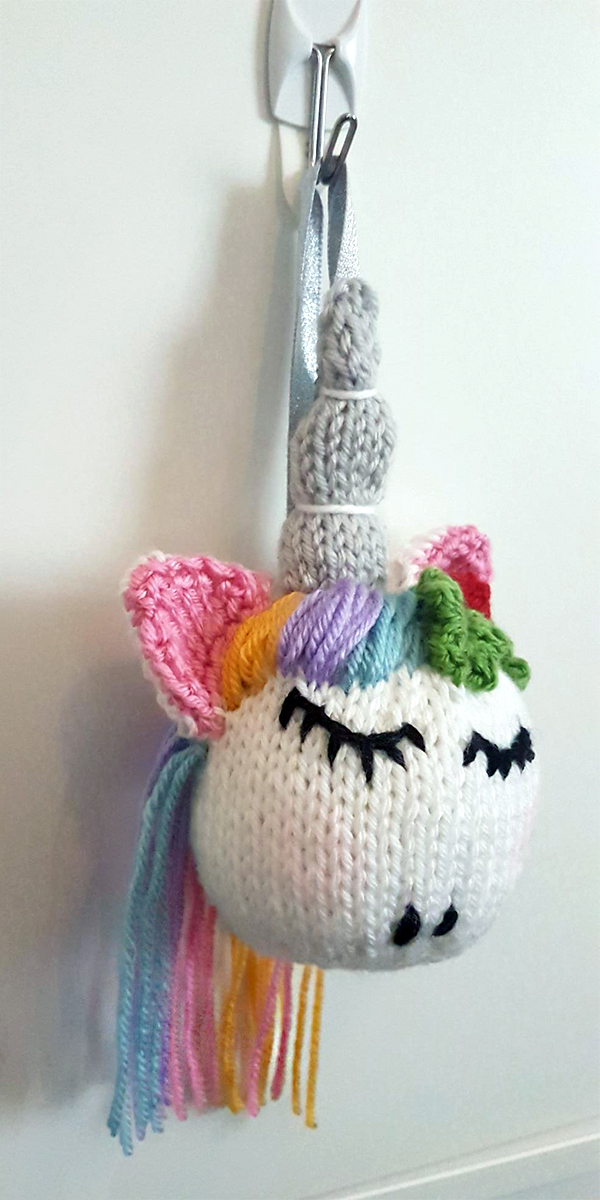 Unicorn Bauble
Hanging ornament or decoration. Designed by Nicola Valiji. Also available in a kit. DK weight yarn.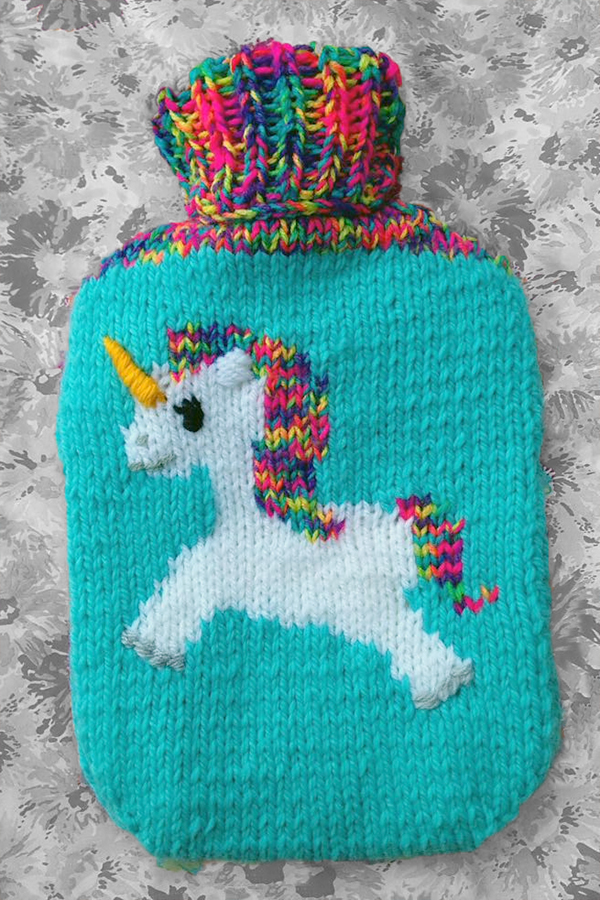 Unicorn hot water bottle cover
Designed to fit a standard 2 litre hot water bottle with intarsia unicorn motif, envelope opening at the back, and ribbed funnel. Designed by Bernadette Coleman. Bulky weight yarn.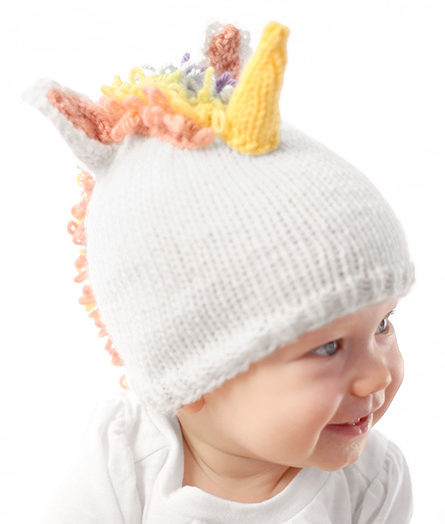 Magical Unicorn Baby Hat
Another adorable baby hat from Little Red Window. Web pattern for 6 months is free. More sizes and a printable pdf are available on Etsy.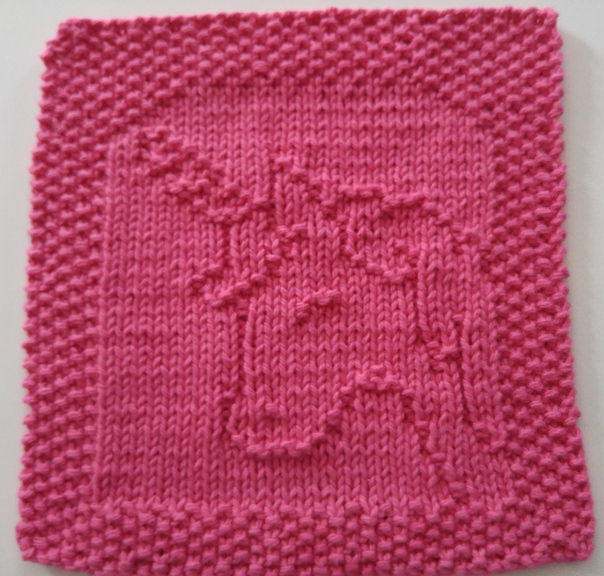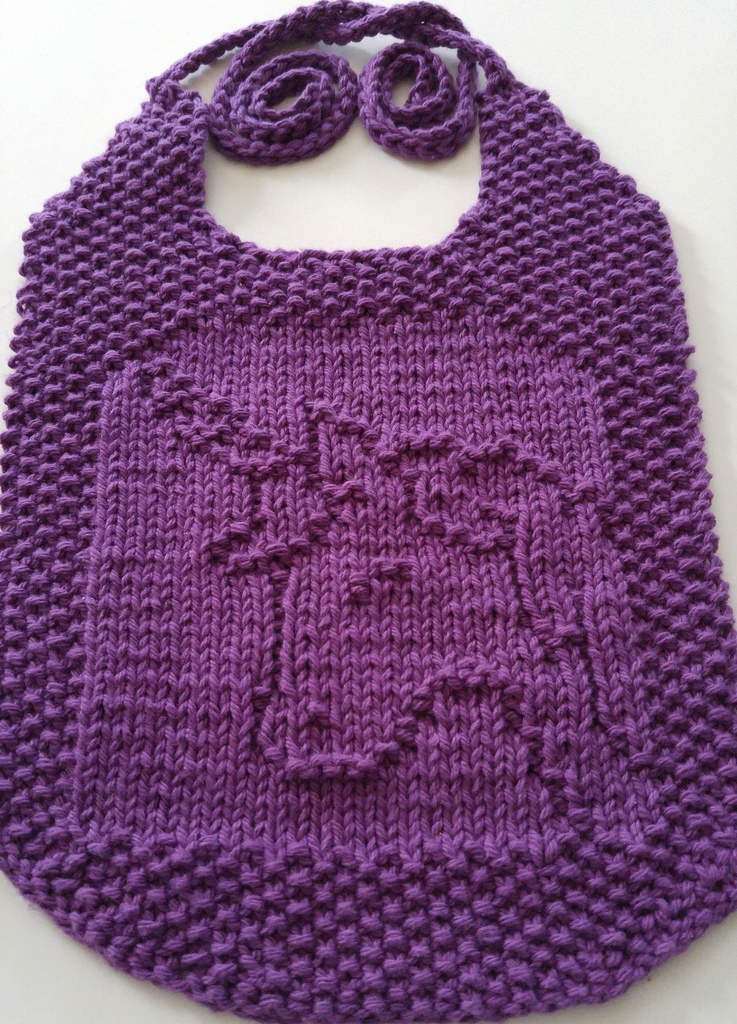 Baby Unicorn Cloth and Bib
A baby unicorn designed in knit and purl stitches by Elaine Fitzpatrick of Downcloverlaine. Both written instructions and a chart.
Patterns for Purchase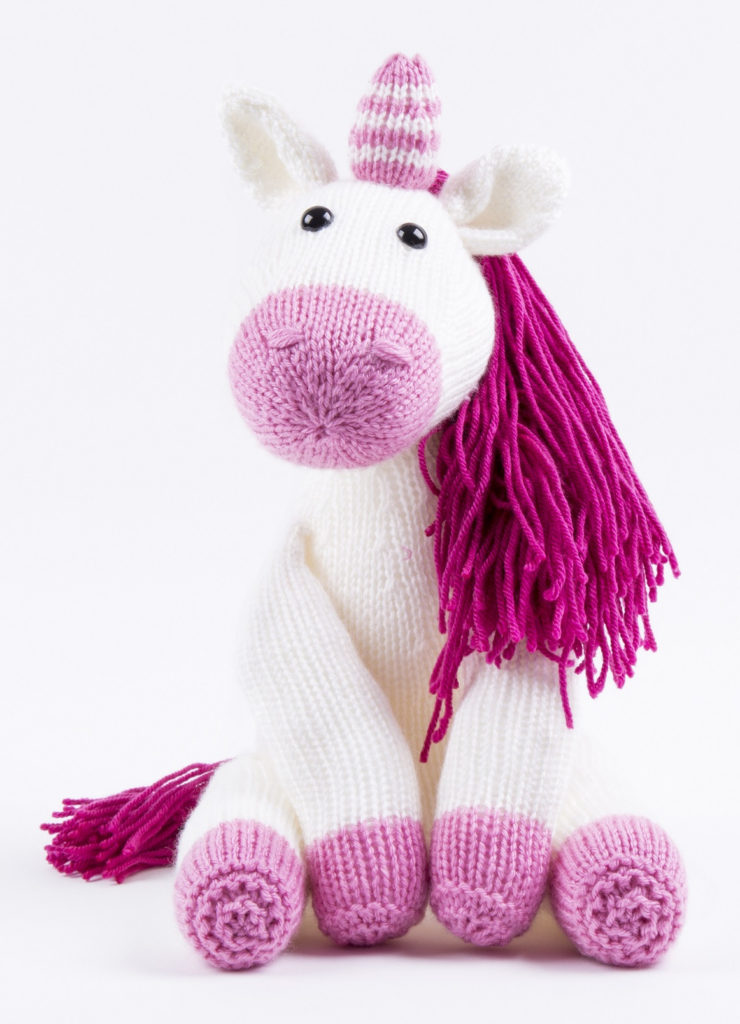 Luna the Unicorn Pattern or Kit
Adorable toy unicorn softie designed by the amazing Amanda Berry. About 48 cm or 19 in tall. Kit contains digital copy of the pattern, the yarn required to create Luna, and a bag of toy stuffing.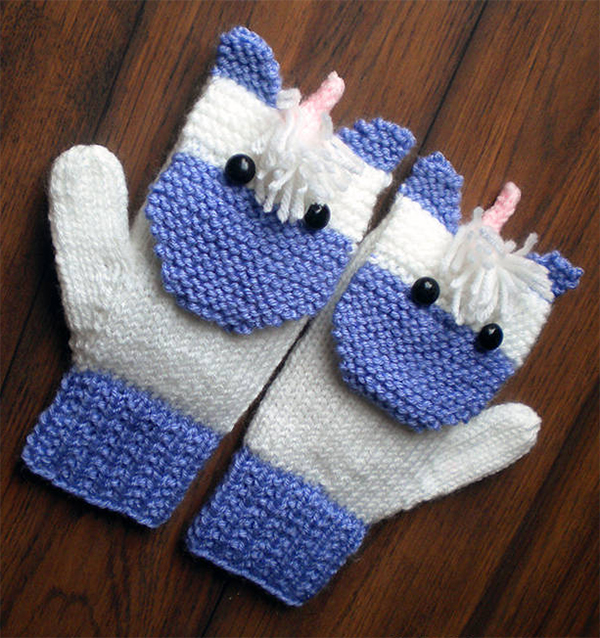 Magical Unicorn Mittens for the Family
Customize the colors, their eyes, their mane, their horns. Or ditch the horn and make them into horse mittens! Includes instructions for the following sizes: 2, 4, 6, 8, 10, teen, women, men. Worsted weight. Designed by AuntJanetsDesigns.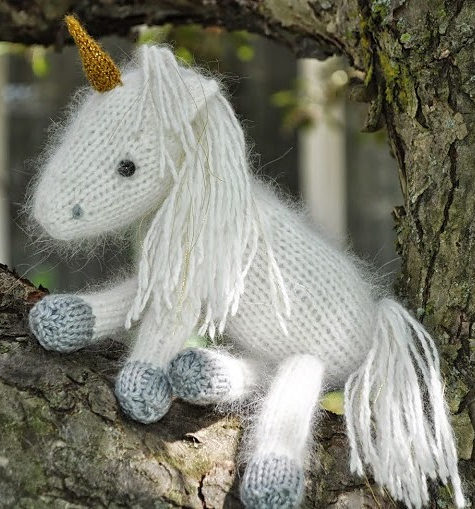 Snow White the Unicorn and her baby Liliana
Pattern includes detailed instructions with many photos for making a unicorn toy softie and her foal. Designed by Cutie Patootees.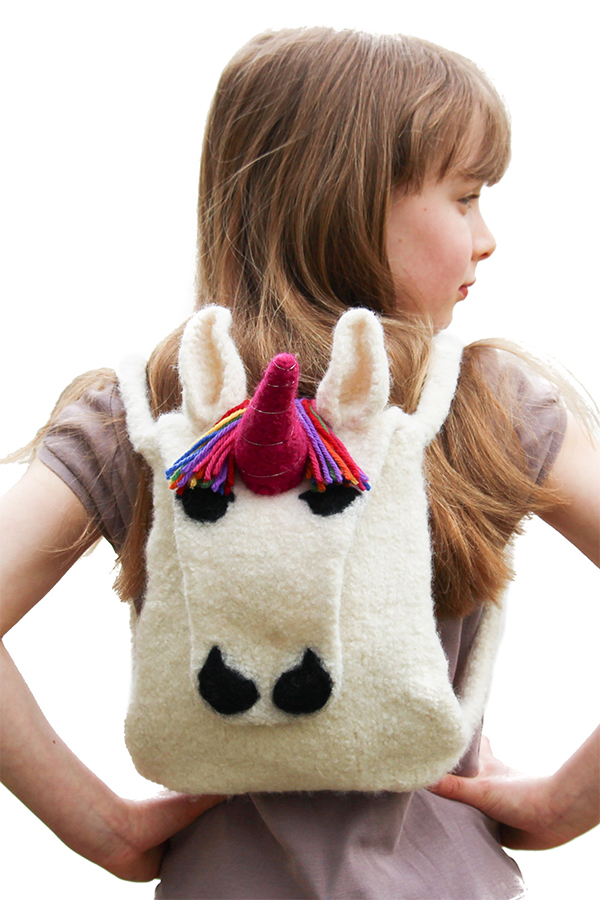 Unicorn Backpack
This fanciful backpack is a simple knit that is felted in the washing-machine-felted. You can also knit it without the horn, so it is will make a pony backpack! Designed by TheYarnGenie. Chunky weight yarn.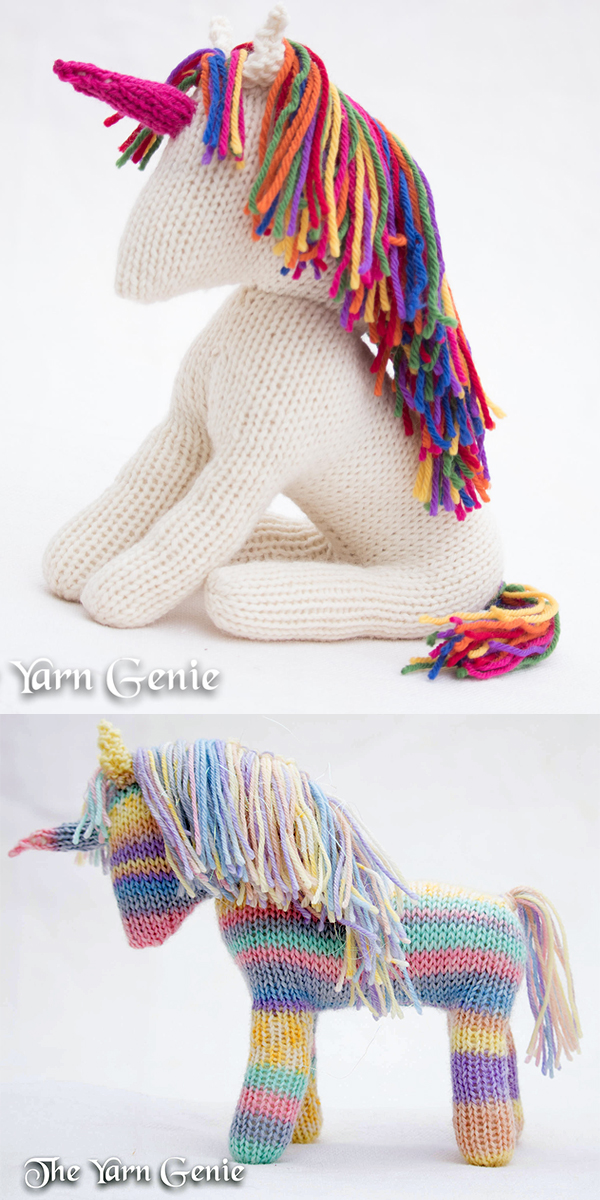 Rainbow Unicorn Toy
Instructions for two sizes of toy unicorn plush softie, small and large, but pattern is customizable to a variety of sizes. As a rough guide, using aran yarn, 5mm needles and the large size pattern will produce a unicorn about 26cm high, and using double knitting yarn, 4mm needles and the small size pattern will produce a unicorn about 15cm high. You can also knit it without the horn, so it is also a toy pony knitting pattern! Designed by TheYarnGenie.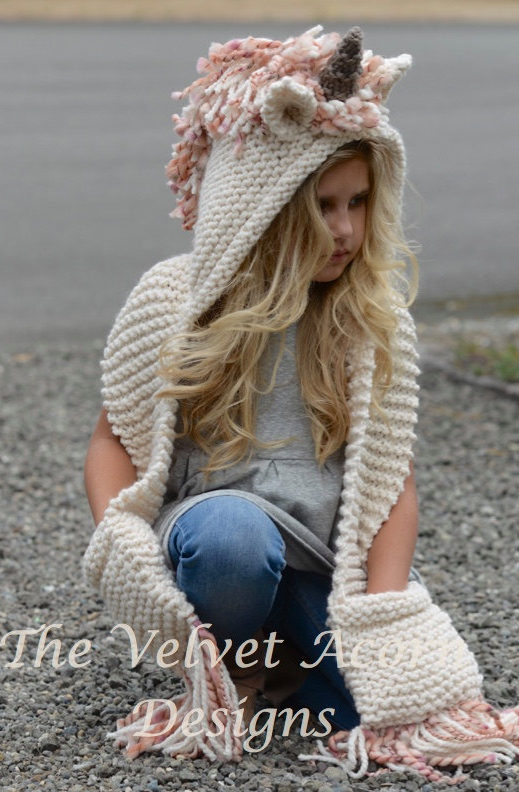 Unice Unicorn Hooded Scarf
Sizes 12/18 months, Toddler, Child, Teen, Adult. Pockets are optional. Quick knit in super bulky yarn.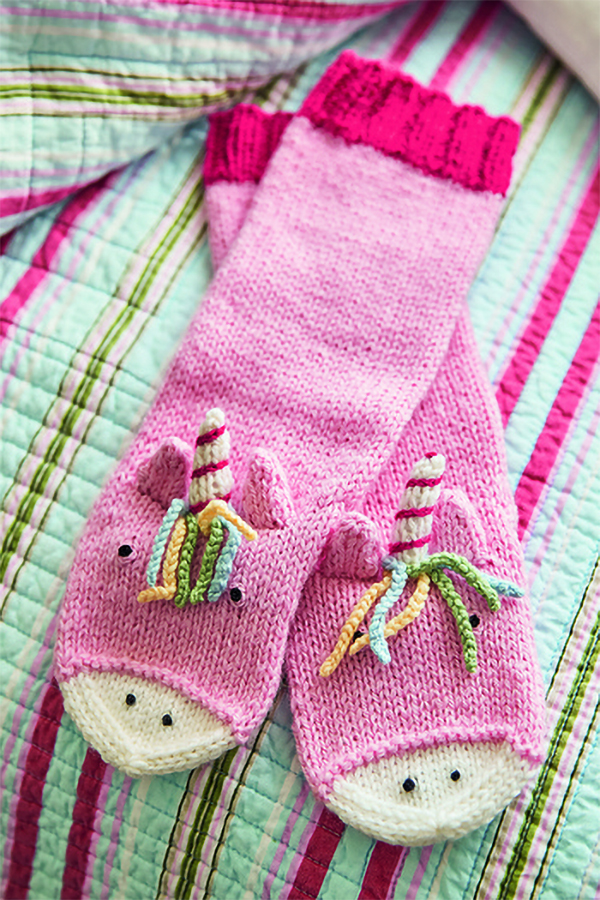 Unicorn Socks
These pretty unicorn socks are worked in the round from the top down, then worked in rows at the heel before again working in the round for the remainder of the sock. The unicorn features are worked in pieces and then sewn on. Sizes 2-4 (4-6) years. Designed by Fiona Goble. Aran weight yarn. Available as one of the 35 patterns in Knitted Animal Socks and Hats or as one of the 16 patterns in Issue 94 of Knit Now.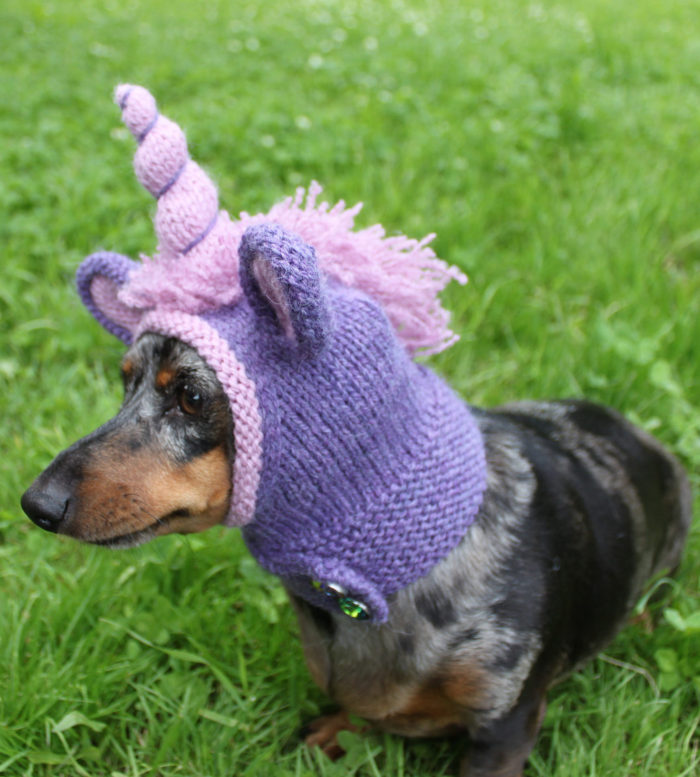 Unicorn Dog Hood
Unicorn costume designed to fit miniature dachshunds but I imagine you could adapt to other breeds.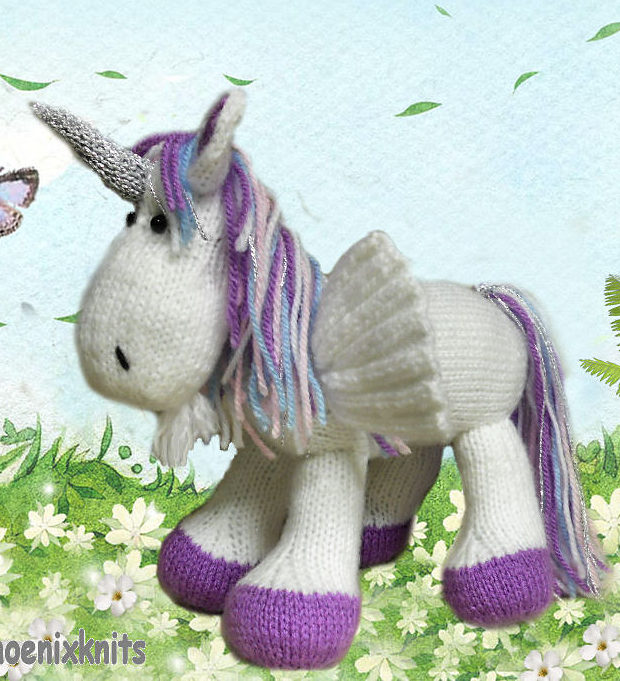 Pegacorn
A Pegacorn is an enchanting mixture of a Unicorn and a Pegasus standing 8 inches high and 7 inches long. The pattern is very easy to follow, there are NO complicated stitches or shaping and contains many helpful photos.
Unicorn Balaclava Hat and Mittens
Sizes included: 6-12 months, 12-24 months, 2-3 years