Lovey Security Blanket Knitting Patterns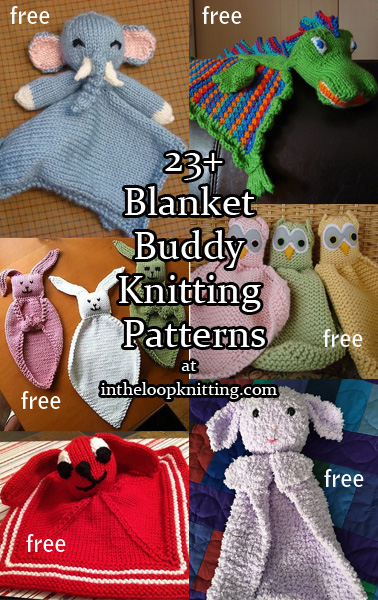 There are almost as many names for these cute cuddly blanket toys as there are patterns! Whether you call them buddy blanket, lovey, lovie, comfort blanket, blanket toy, blankie, security blanket, woobie, cuddle or something else, these are perfect shower gifts and new baby toys. Sized just right for a quick project and tiny hands!
To get the patterns, scroll down to the individual pattern you want and click on the link.
For more baby blanket patterns, see

Teddy Bear Lovey
Cute security blanket for babies designed by Nancy Anderson for Red Heart.

Bunny Lovey
Cute security blanket designed by Jada Young
Puppy Lovey
Designed by Rachel Hill, this baby blanket buddy is knit in the round.
Dragon Buddy Blanket
Ruth Bramley's lovey comfort blanket features a knot stitch that resembles scales.

Bunny Mini Cuddly Blankie
Pat Alinejad designed this lovey sized 11 inches/28cms square/diameter.

Yoda Buddy Blanket
Lovey comfort blanket designed by Holly Pinzin for bulky yarn.
Minion Cuddly (Lovey)
This minion lovey or buddy blanket is designed by Elaine Okupski. You could do a two-eyed minion, make his smile different, make his hair different. About 14″ from top to bottom – can be made longer or shorter by adding or subtracting rows to "skirt"
[widget id="black-studio-tinymce-13″]
Lamby
Tanis Gray's lamb lovey or buddy blanket looks cuddly in plush bulky yarn. About 23″ High, this blankie folds in toward the center to look like a hug.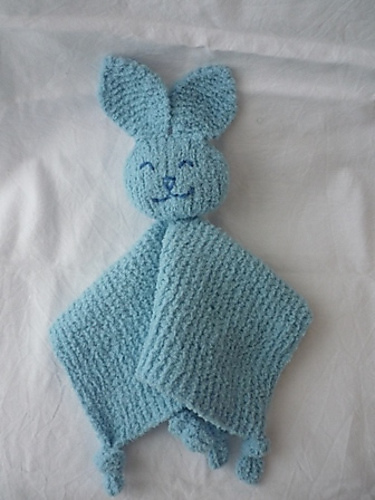 BBF
Avadore designed this bunny BBF = Baby's Best Friend with tied off paws.
Frog Lovey
Kerstin Seidenath's cuddly blankie has been adapted by knitters as a duckling, hippo, caterpillar and more.
Elephant Lovie
Thora Bey designed this blanket buddy. The body is knit flat and then the head and legs are sewn on at the center.
[widget id="black-studio-tinymce-13″]

Owl Loveys
MJay's design is based on the Lion Brand Bunny Buddy above.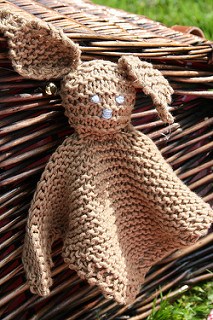 Cuddly Bunny Lovey
This baby blankie is based on a Norwegian pattern with English translation.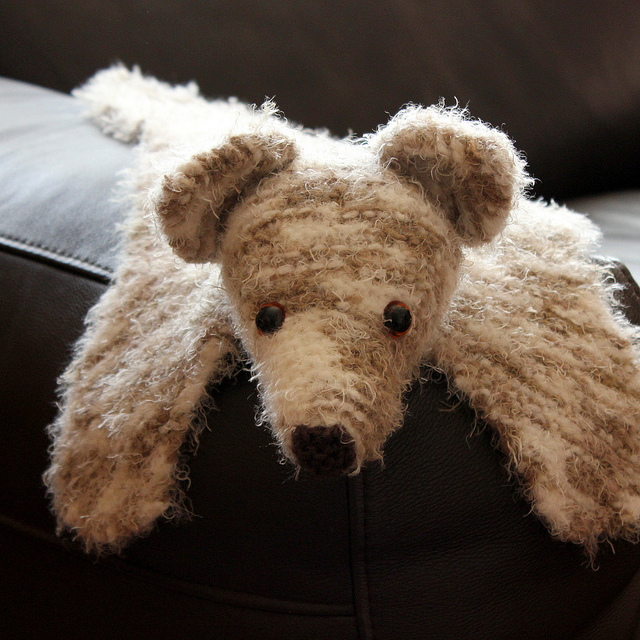 Fuzzy
Sharon Maher's design is both a teddy and a blanket, worked in a simple garter stitch. Use a furry yarn for maximum impact. Length: 51 cm (20 in) Width: 36 cm (14 ¼ in)
Bunny Buddy Blanket
This is the classic Lion Brand design. The body is knit flat with increases and decreases creating the diamond shape. The head is a double knit square that is then stuffed. Optional paws are cast on stitches that are knotted. Depending on your gauge, the diamond can be square or elongated.
Kitty Baby Blanket Buddy
Hattie Tavares designed the pattern for this lovey that uses less than an ounce of any fingering or sport weight yarn that's baby friendly.

Hello Kitty Cuddly
Jane Bond's variation on Elizabeth LeBlanc's Lapin pattern comes with detailed instructions and photos.

Binky Buddy
Julie Ross designed this easy pacifier holder, bib, blanket combo with an easy button fastener.

Chicken Buddy Blanket
Ruth Bramley designed this lovey comfort blanket. Pictured project by minky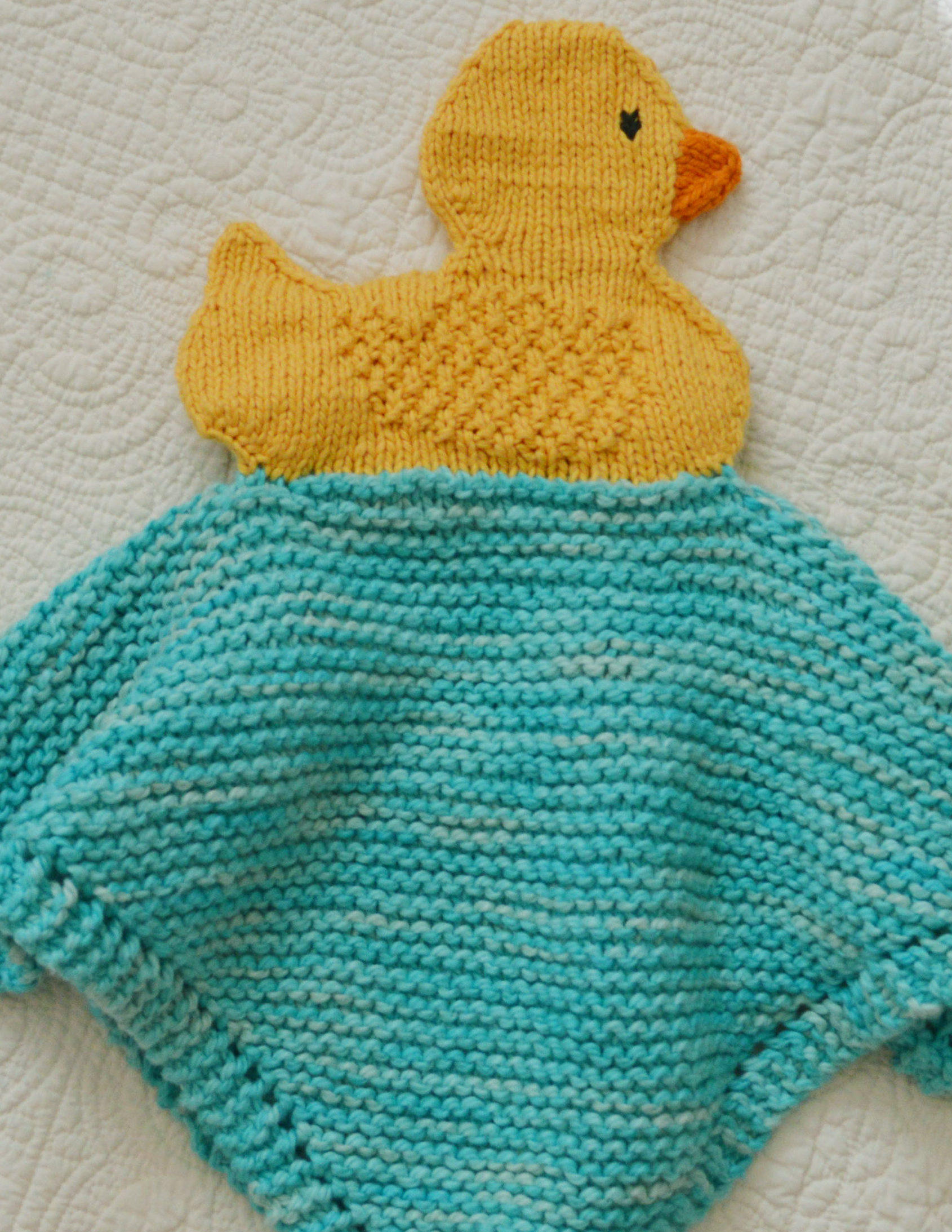 Duckie Lovey
This rubber duckie blanket buddy can double as a puppet because the head is hollow. Perfect baby shower gift. The designer HugKnits says you can sell items made from this pattern!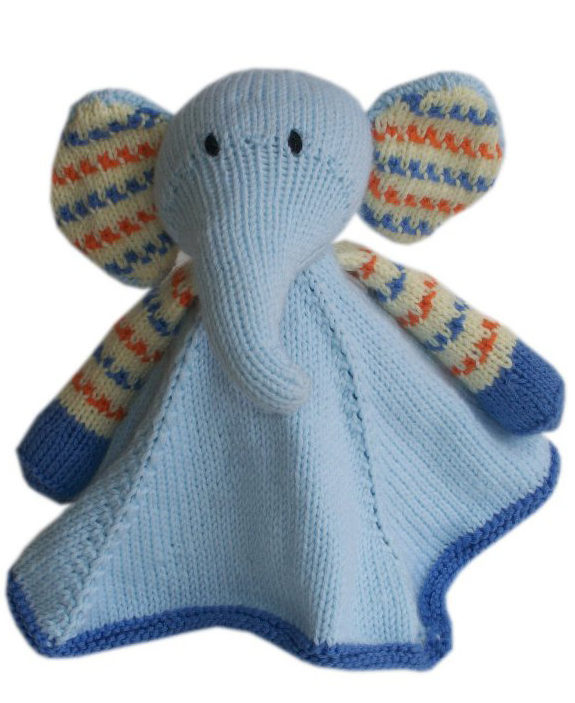 Elephant Lovey
Baby Pears Blanket Buddy is approximately 12 inches wide spread out and 10 inches in length.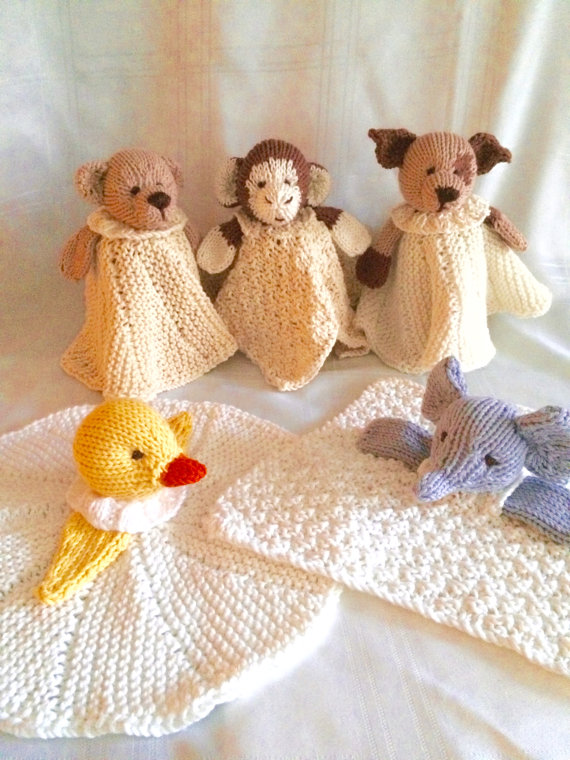 Mini Cuddly Blankies
The finished blanket measures just 11 inches/28cms, just right for babies. There are 5 characters included in this package: Bear, Monkey, Elephant, Duck, and Puppy Puppy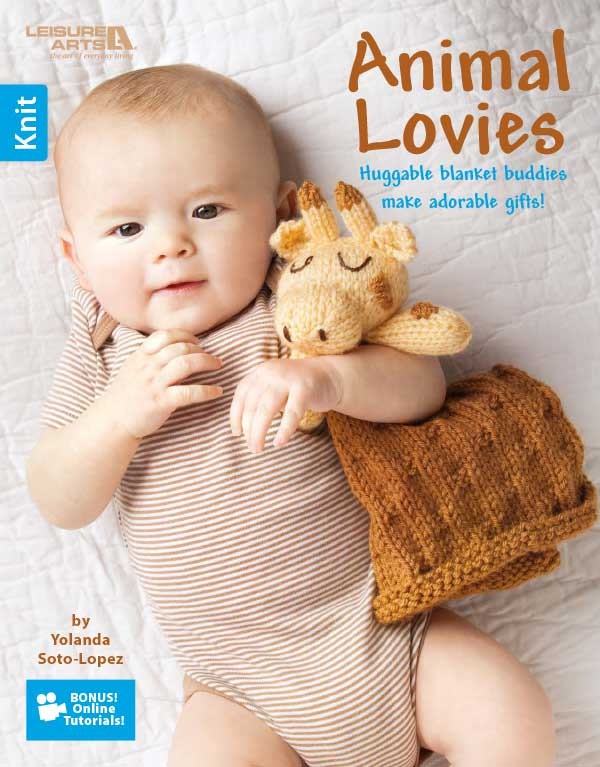 Animal Lovies
Choose from 10 designs by Yolanda Soto-Lopez of AllCraftsChannel.com: Brown Bear, Bunny, Lamb, Penguin, Duck, Owl, Puppy, Kitten, Panda, and Giraffe. Each lovie consists of a 12-inch square blanket with the stuffed animal head and arms (or wings) attached at the center.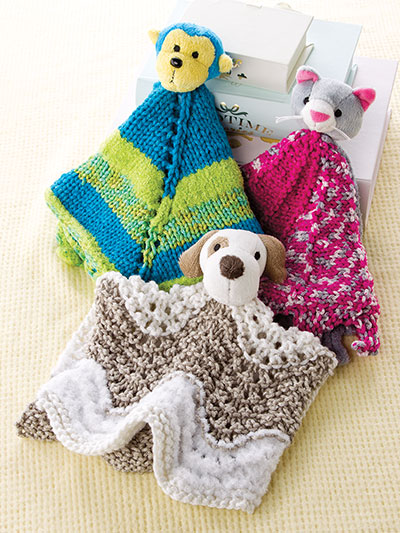 Top This! Blanket Buddies
This collection of patterns couldn't be easier. Just buy a ball of Top This! yarn with the cute animal head included and knit up a lovey. Pattern includes instructions for monkey, puppy, and kitten, but I'm sure you could substitute one of the other animal yarns such as giraffe, owl, teddy bear, and more.
[widget id="black-studio-tinymce-13″]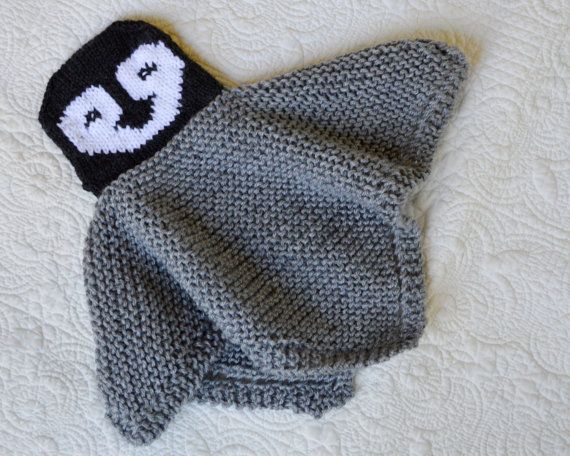 Penguin Security Blanket Lovey
The blanket portion is knit flat in garter stitch for great tactile stimulation, head is knit both in the round and back & forth for the charted colorwork portion. I'd put stuffing in the head but that's a personal  preference.

Fox Lovey
This fox security blanket is huggable blankie perfect gift for baby showers and new babies. Can double as a hand puppet because the head is open.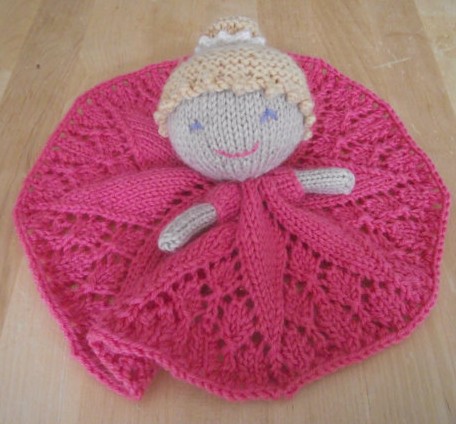 Princess Toy Blankie
Princess Scarlett is a small blankie toy with a lovely lace pattern that looks like a ball gown. I'd make it blue and have an Elsa Blankie!