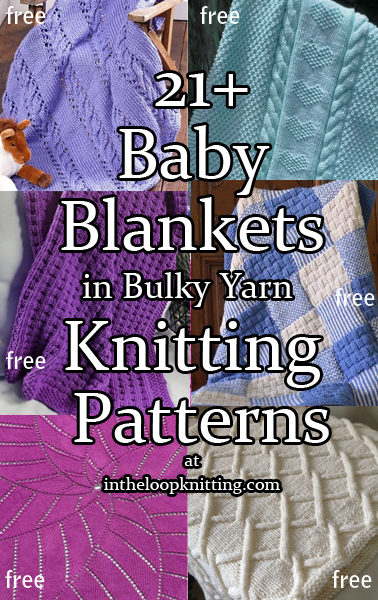 Knitting Patterns for Baby Blankets in Bulky, Chunky, and Super Bulky Yarn for quick knits. Most patterns are free.
To get the knitting patterns, scroll down the page to the individual pattern you want and click on the link to that pattern.
These patterns are not my designs but links to other designers who have generously shared their patterns. If you have questions about how to knit a specific pattern, please contact the designer directly.
All links on this site are for informational purposes, but please note that some links are to affiliate sellers that pay me a small commission on purchases.
Free Patterns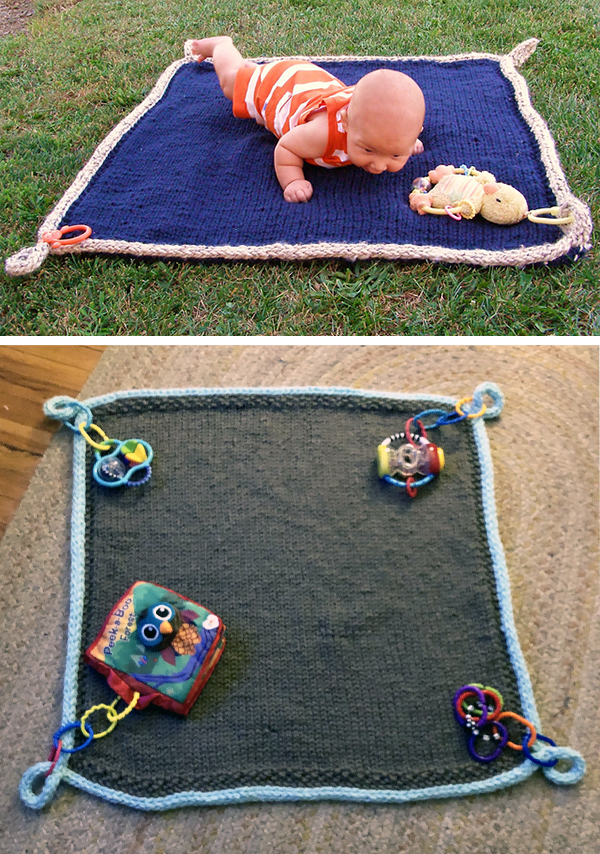 Easy Floor Blanket for Baby
Super bulky yarn blanket cushions baby, while corner loops keep toys close to little hands. An i-cord edging helps to provide a bumper for loose toys. Quick baby-shower gift! This is also a great blanket for trips to places that may not have baby furniture. Designed by Melissa Metzbower. Pictured project by the designer and AnnyBananny.

Pinwheel Baby Blanket
This easy colorful and reversible blanket is made of squares knit diagonally in garter stitch in two colors and then seamed to form pinwheel shapes. Designed by Premier Yarns Design Team for bulky yarn. Finished size 32 inches square.

Sunshine Chevron Baby Blanket
Chevron pattern worked in just knit and purl stitches. Rated easy by Ravelrers. Quick knit in bulky yarn. Designed by Mari Chiba for Knit Picks. Pictured project by WandaAlice

Cables and Lace Baby Blanket
Darlene Dale's baby blanket in chunky yarn measures 40"/101.5cm x 42"/106.5cm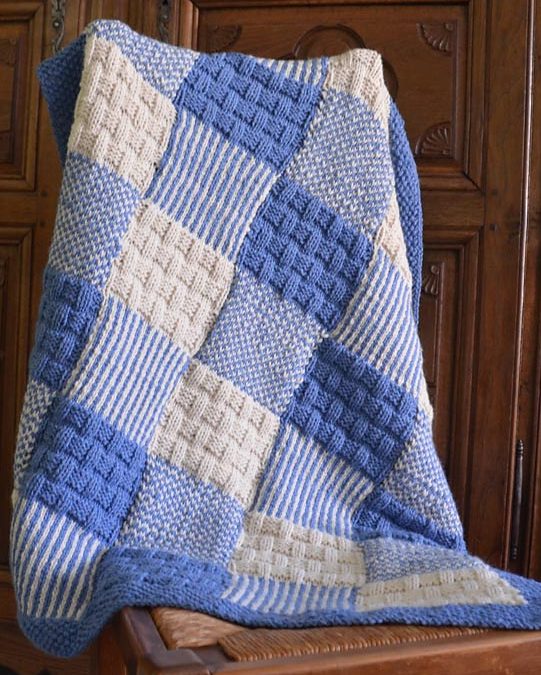 Patchwork Blankie
Trudy Evans' Little Johnny's Patchwork Blankie is a sampler that is knit in one flat piece with no seaming. Pictured project by chatonne

Bricklayer's Lace Baby Blanket
Gretchen Tracy's pattern takes about 400 yards of super bulky yarn. Pictured project by HeidiNeumann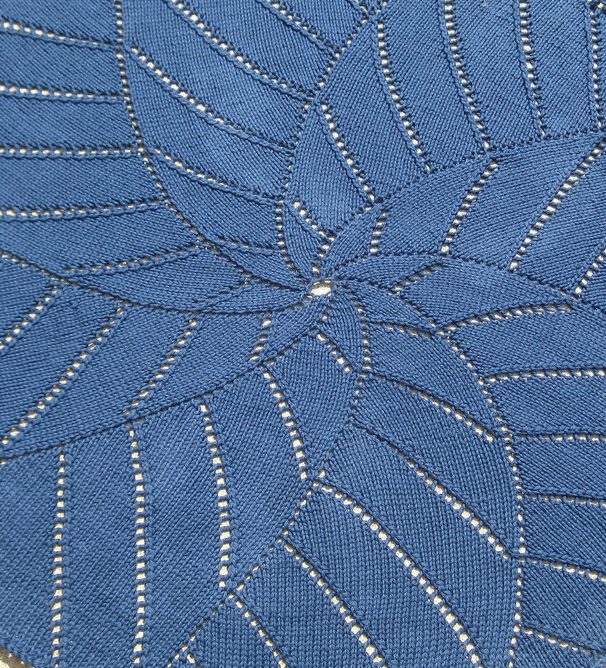 Radiating Star Baby Blanket
Alexis Layton's blanket is 42 inches in diameter and rated as fairly easy. Pictured project by stuckinillinois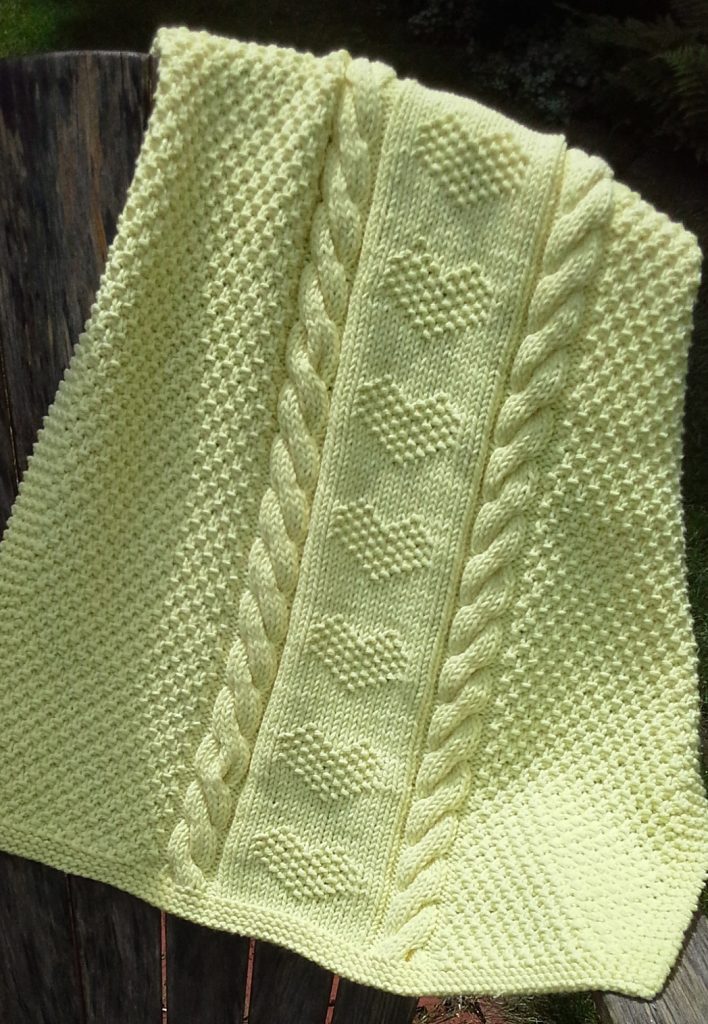 Love Is a Blanket
Marji LaFreniere's baby blanket features cables, textured stitches with a column of hearts in the center knit in bulky yarn

Guernsey Style Baby Blanket
Kate McDaid was inspired by the textures of classic Guernsey, or Gansey, patterns to create this easy blanket that knits up quickly in bulky weight yarn.
More Free Patterns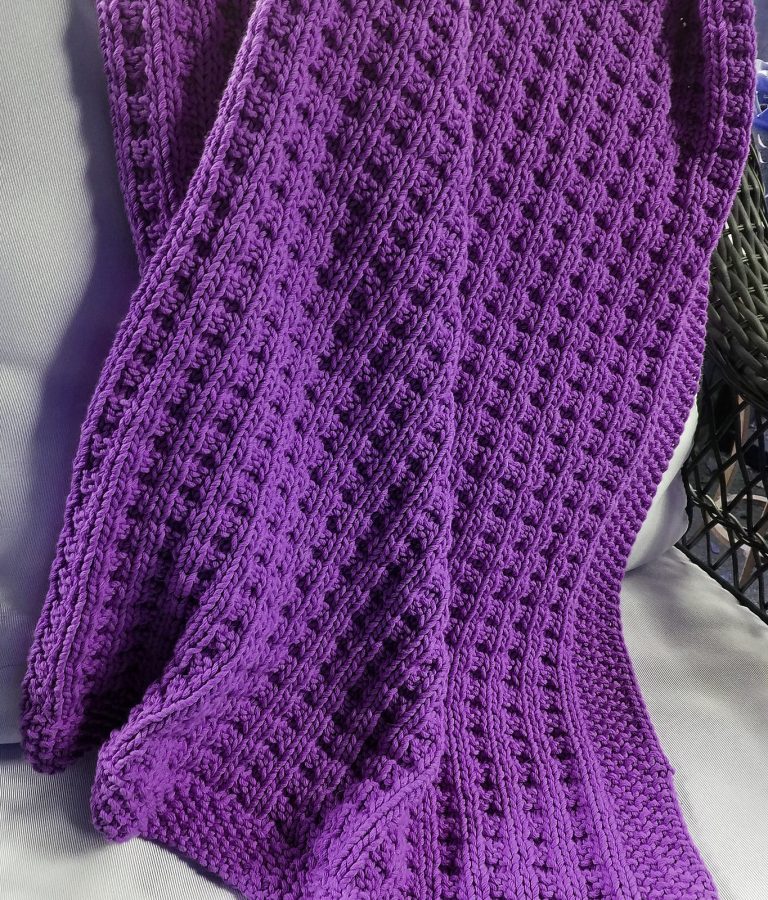 Cuddly Baby Blanket
Sarah Keller's easy pattern uses the waffle stitch to give the blanket texture and extra squishiness in bulky yarn. Pictured project by pdizzell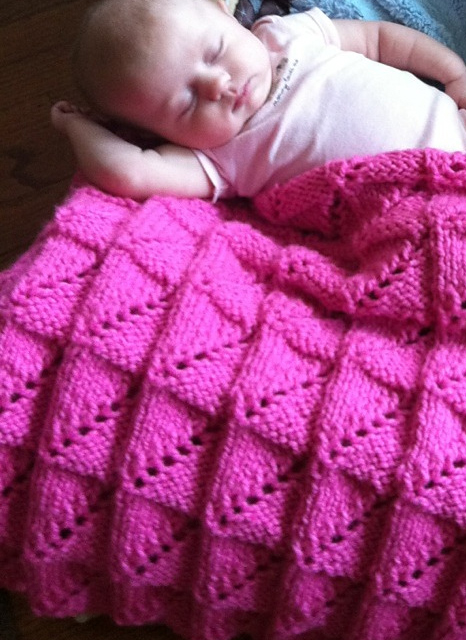 Nickerchen Baby Blanket
Named after "nap" in German, Mirella Lilli's easy baby blanket features a lace pattern knit in bulky yarn. Pictured project by bellrbi is in super bulky yarn

Sweet Cables Baby Blanket
Donna Herron's easy blanket features seven alternating cables and with just a hint of lace knit in bulky yarn. Pictured project by shelleyjjoyce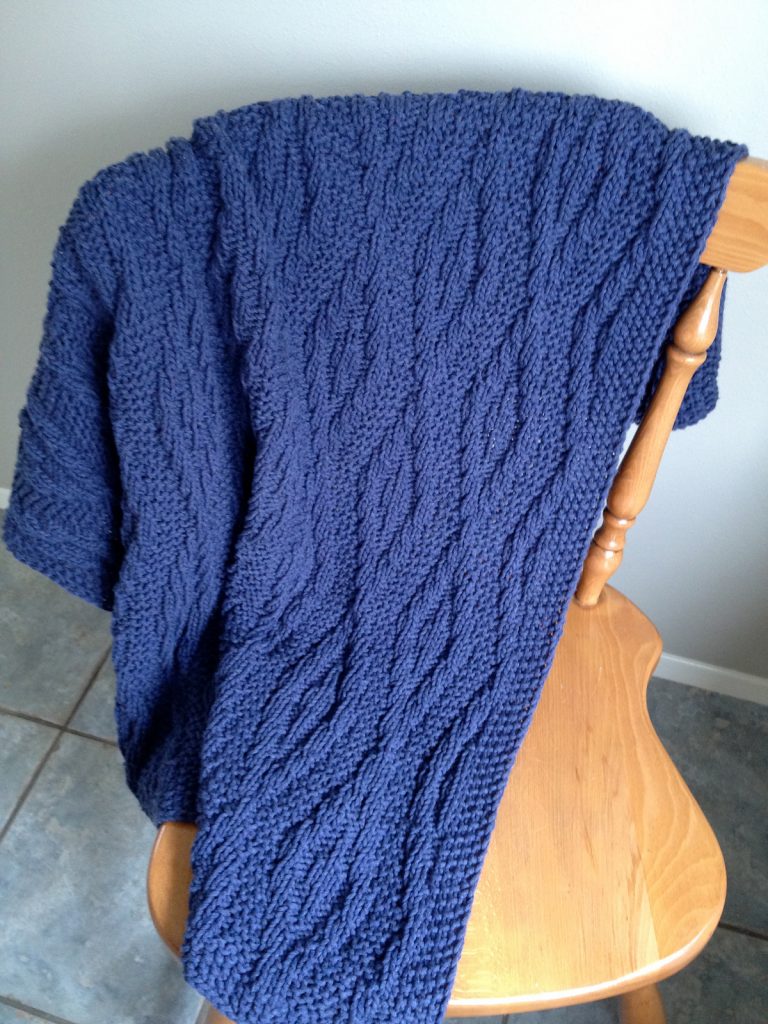 Diamonds Baby Blanket
Kim Brody Salazar's easy baby blanket features a simple knit/purl texture baby blanket in bulky yarn. The texture looks great on both sides. Pictured project by tea4two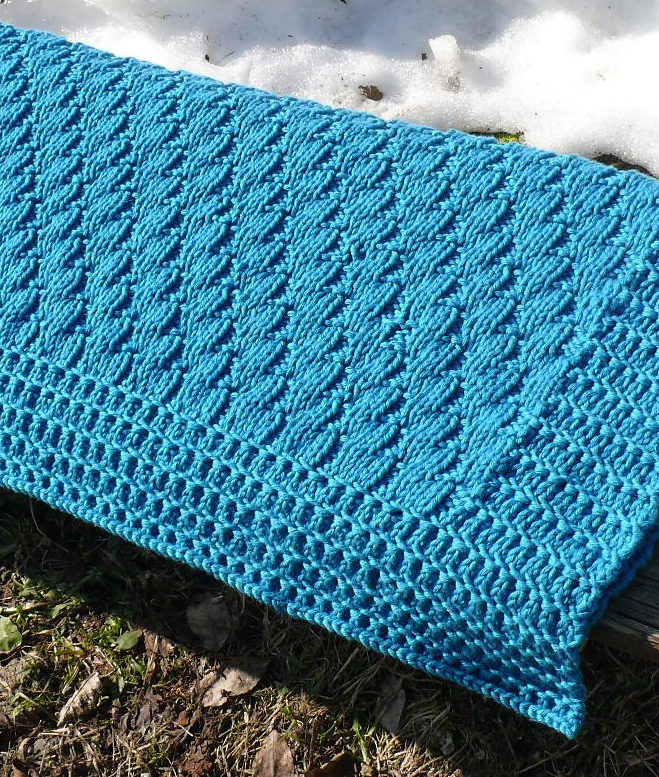 Baby Blanket Nomad
Camille Coizy Delahaie's easy baby blanket for bulky yarn is available in English and French in links on her blog page.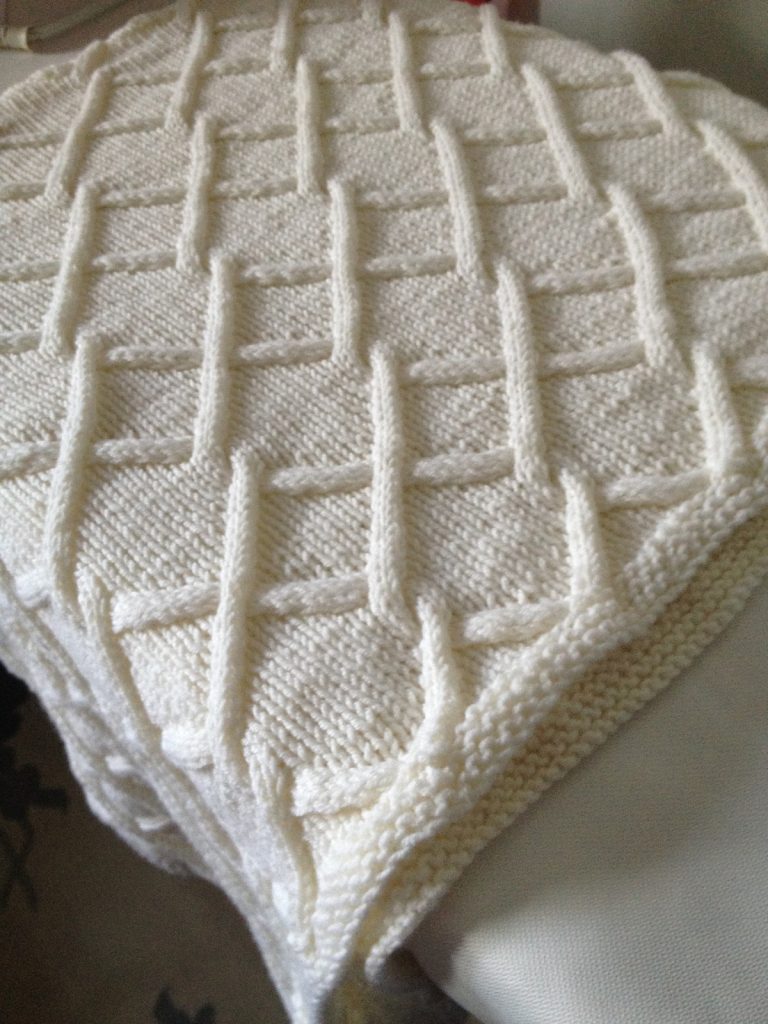 Summer Fence Cables Baby Blanket
This bulky yarn pattern originally from Bernat Design Studio is approx 36 x 38 ins. Pictured project by earlylibs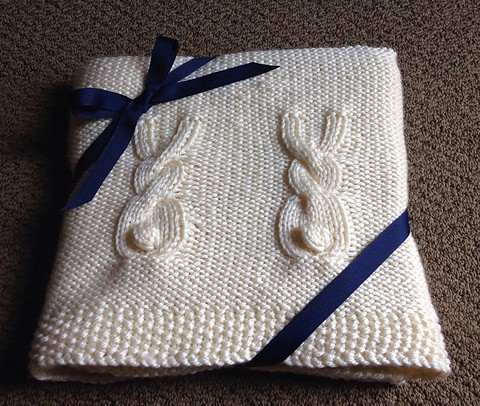 Heirloom Bunny Baby Blanket
Stacylynn Cottle designed this adorable blanket with cable and bobble bunnies to grow with the child from crib to toddler bed and possibly beyond.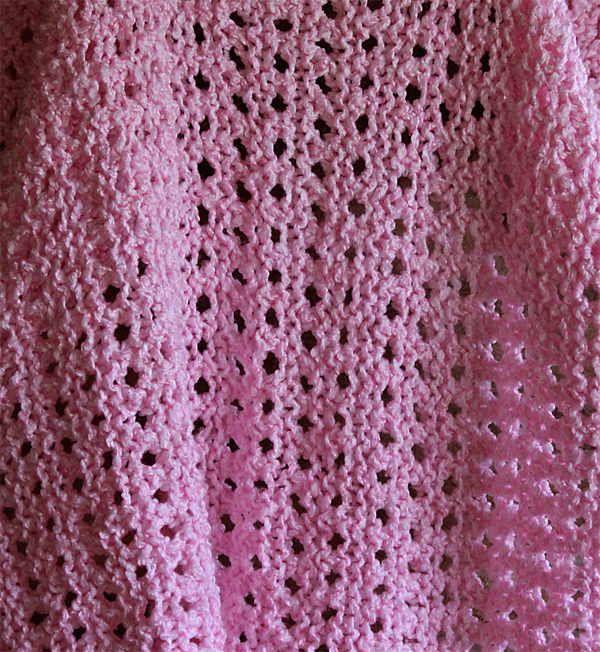 Playful Baby Blanket
Marilyn Coleman's easy eyelet baby blanket is a quick knit in super bulky yarn. Pictured project by prutzman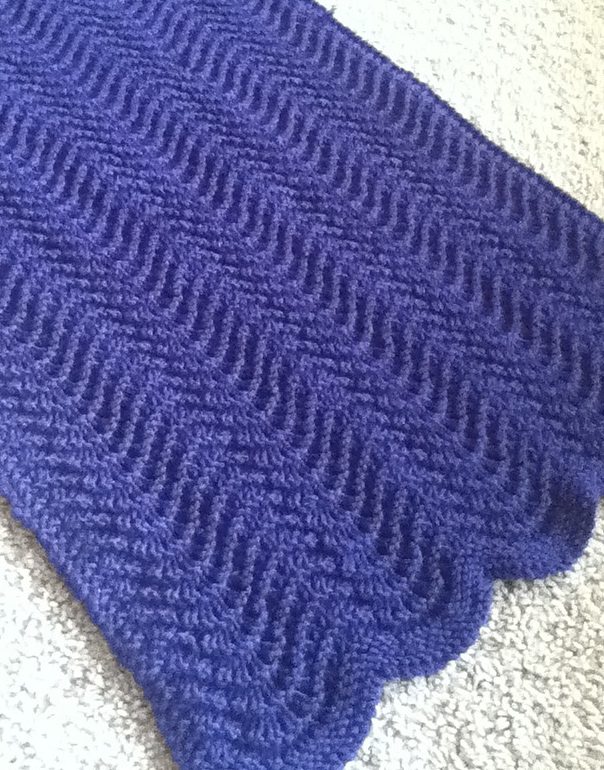 Enchanted Baby Blanket
Dark Horse Design's blanket features a feather and fan lace pattern in bulky yarn. Pictured project by KatieKnitsInYpsi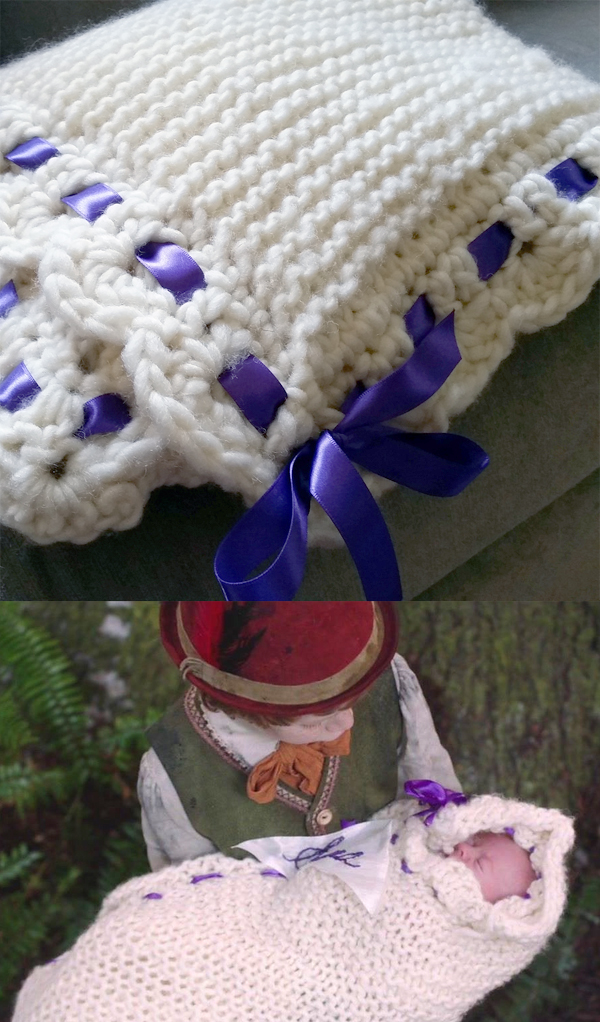 Once Upon a Time – Emma's Blanket
This is the actual pattern used by the designer Caitlin ffrench, who was the official knitter of Emma's blanket featured in the TV series Once Upon a Time. The original border is a feather and fan lace but some knitters, like the pictured project by jackscrapsuk, have substituted a crochet edge. A quick knit in super bulky yarn.
Patterns for Purchase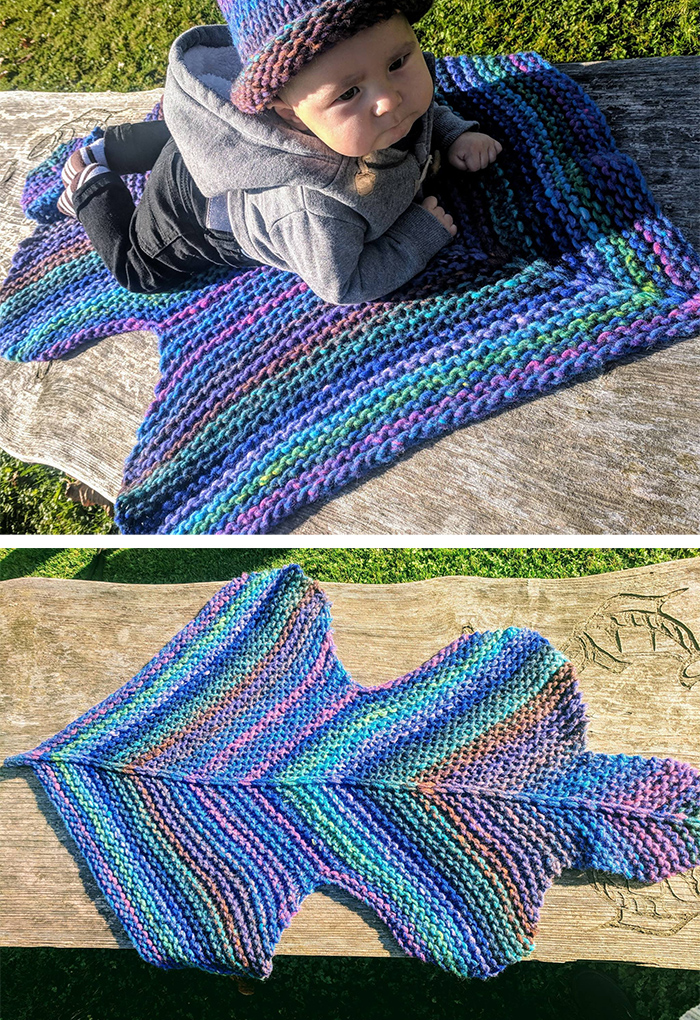 Oak Leaf Baby Blanket
Knit in garter stitch with super bulky yarn, this leaf shaped blanket takes one day to knit according to the designer Alyona Safonova. Great last minute gift.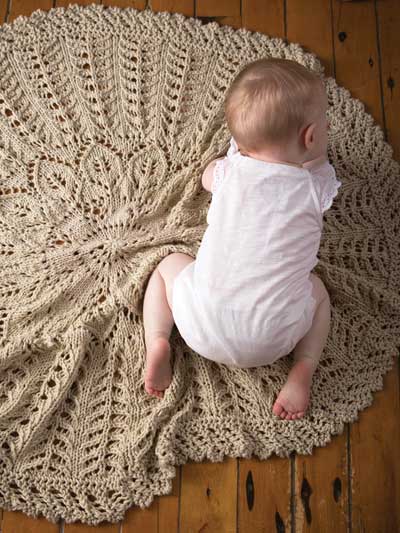 Cecelia Baby Blanket
The circular shape gives a unique shape to this 5-star reviewed baby blanket. It's also knit with chunky-weight yarn and larger needles for a faster project. Get the pattern at Annie's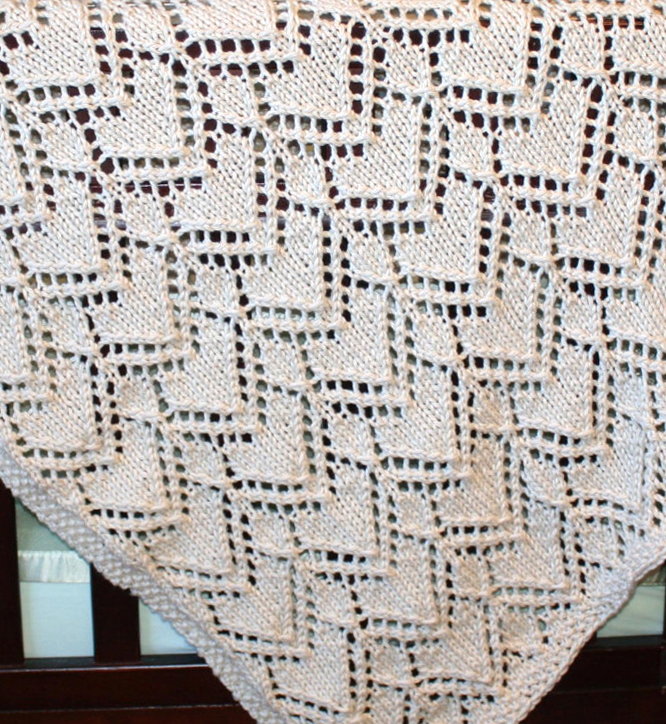 Heart Lace Baby Blanket
The Helen Joyce blanket by Taiga Hilliard is fast and simple to knit and comes in two sizes.
Honeycomb Cable Baby Blanket
Finished baby blanket is 35 inches wide by 37 inches long.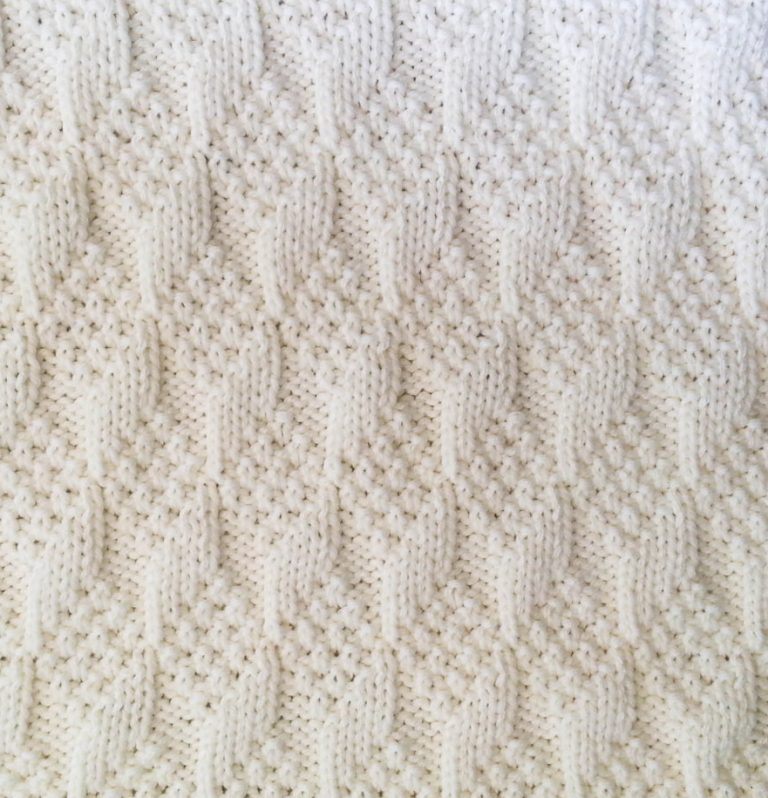 Textured Baby Blocks Reversible Baby Blanket
This textured baby blanket is completely reversible, easily adapted to different sizes, and a quick knit in super bulky yarn.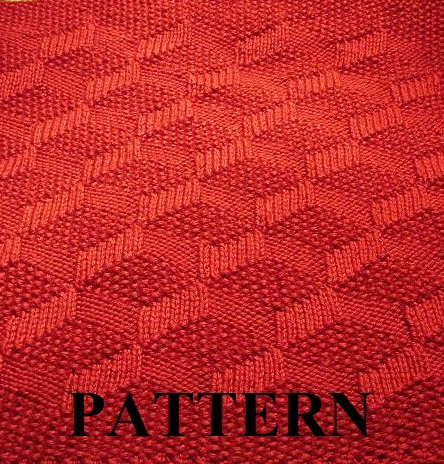 Reversible 3D Block Baby Blanket
The texture on this blanket gives a 3D effect and the blanket is reversible. Quick knit in bulky yarn.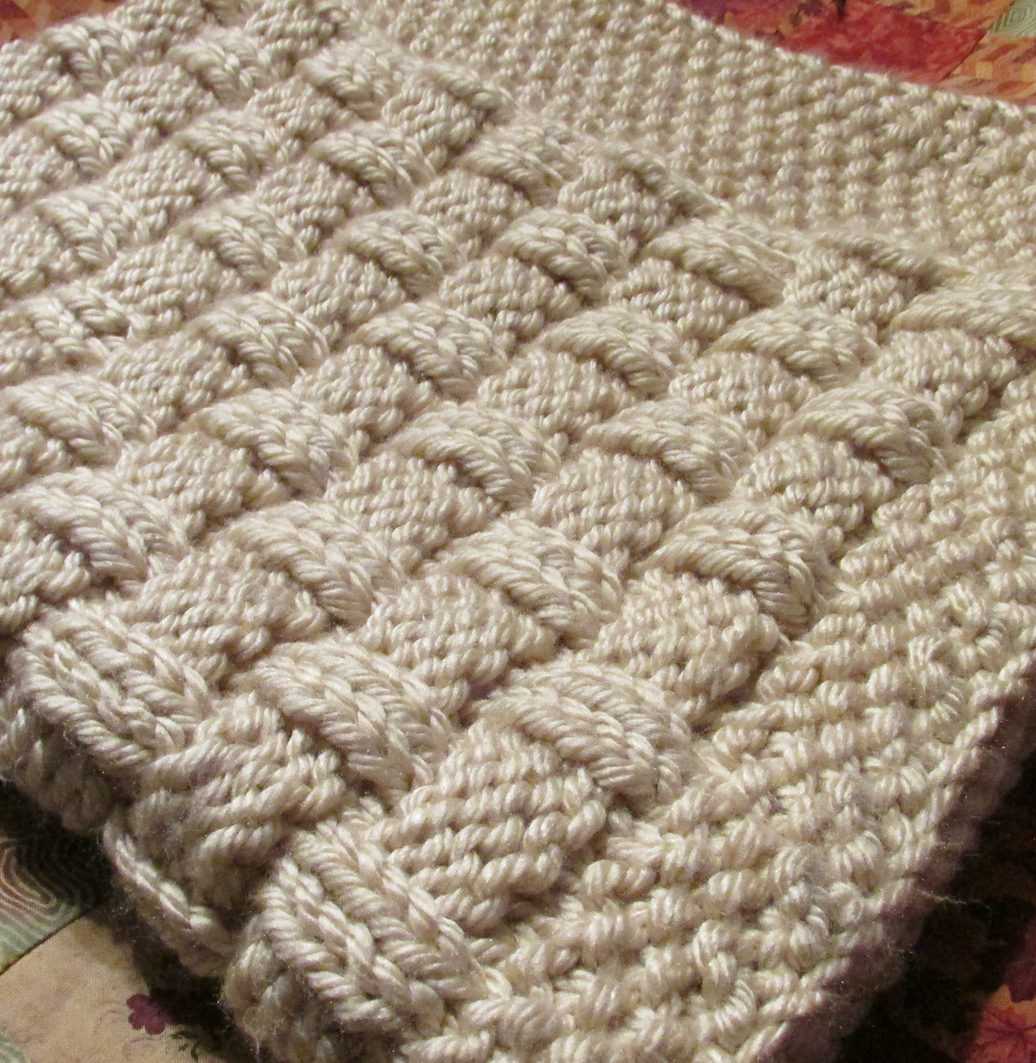 Basket Weave Baby Blanket
This easy blanket of knit and purl stitches makes a quick fluffy blanket in bulky yarn.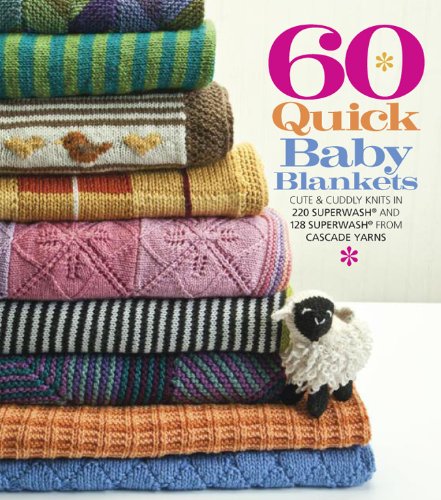 60 Quick Baby Blankets
This pattern book features adorable blankets, throws, afghans, and cuddlies in a variety of sizes and styles