Knitting patterns for Christmas and seasonal tree decorations. Most patterns for free.
To get the knitting patterns, scroll down the page to the individual pattern you want and click on the link to that pattern.
These patterns are not my designs but links to other designers who have generously shared their patterns. If you have questions about how to knit a specific pattern, please contact the designer directly.
All links on this site are for informational purposes, but please note that some links are to affiliate sellers that pay me a small commission on purchases.
Free Patterns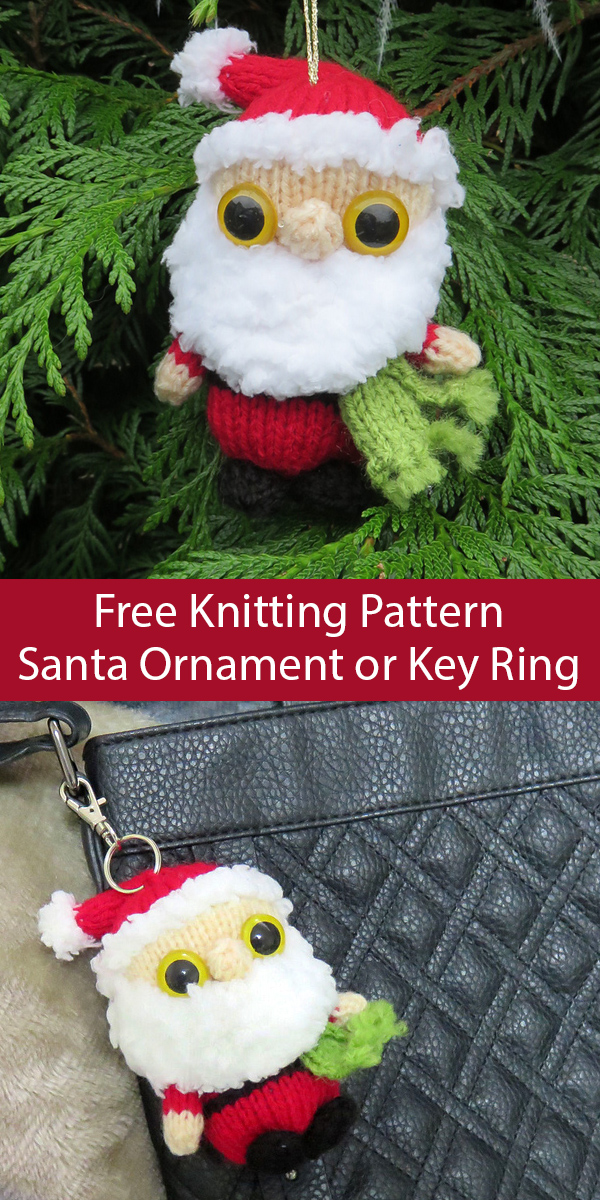 Santa Ornament or Key Ring
This little Santa is only 4 ¾ inches/12 cm high so can be hung on your Christmas tree, used as a keyring or just a standing ornament, you could even fix to a present or sack for a nice festive touch. He is a quick knit and knitted flat using only small amounts of yarn. Great stashbuster! Designed by PhoenyxKnits.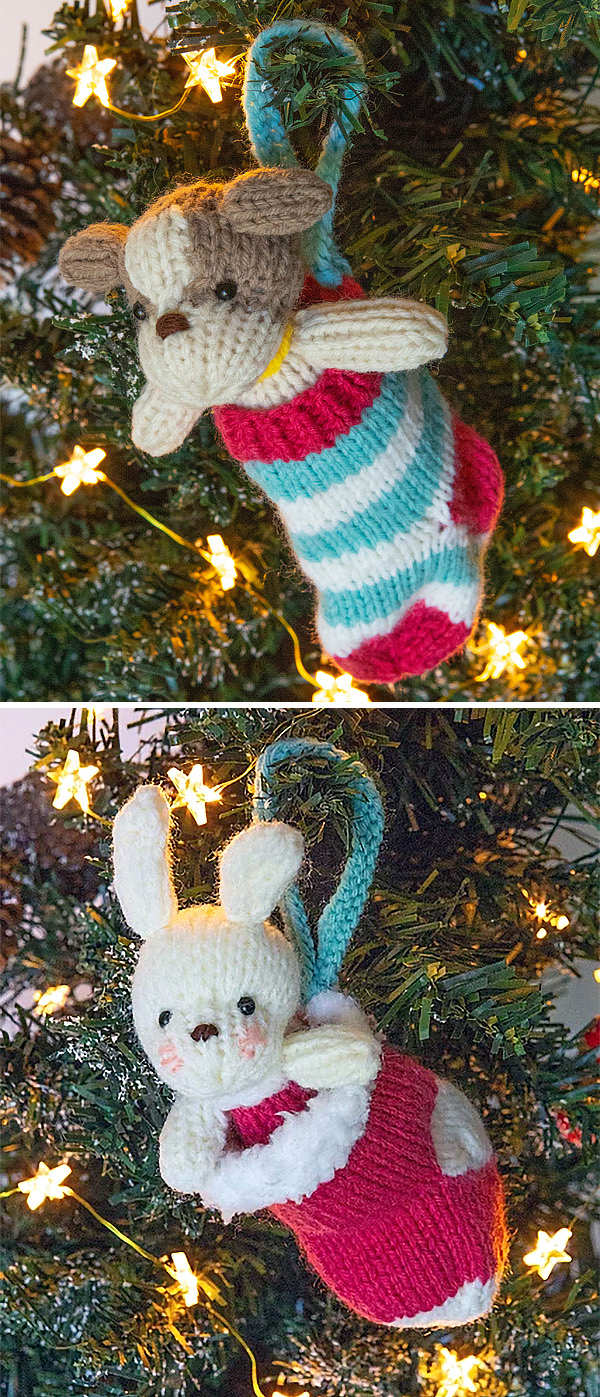 Dog or Bunny in Stocking Ornaments
Hanging Christmas tree ornaments with a cute animals in Christmas stockings. All parts are knitted flat and sewn up at the end. Designed by Sachiyo Ishii. DK weight yarn.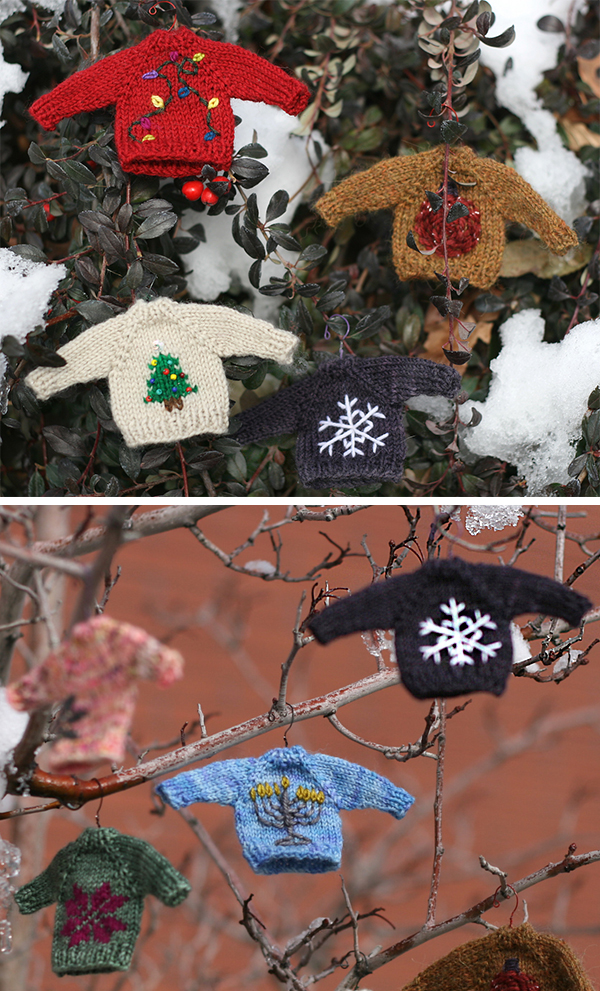 Tiny Sweaters Ornaments
These miniature Christmas sweaters can be used as ornaments, package toppers, bottle toppers, or egg cozies. Instructions for Christmas tree motif, Norwegian star, snowflake embroidery, ornament embroidery, string of lights embroidery, and menorah. Size 4 inches (10 cm) from sleeve to sleeve and 1 7/8 inches (5.75cm) wide at chest, and 2 1/4 inches (5.5cm) from neck to hem. Designed by Miriam Felton. Fingering weight yarn.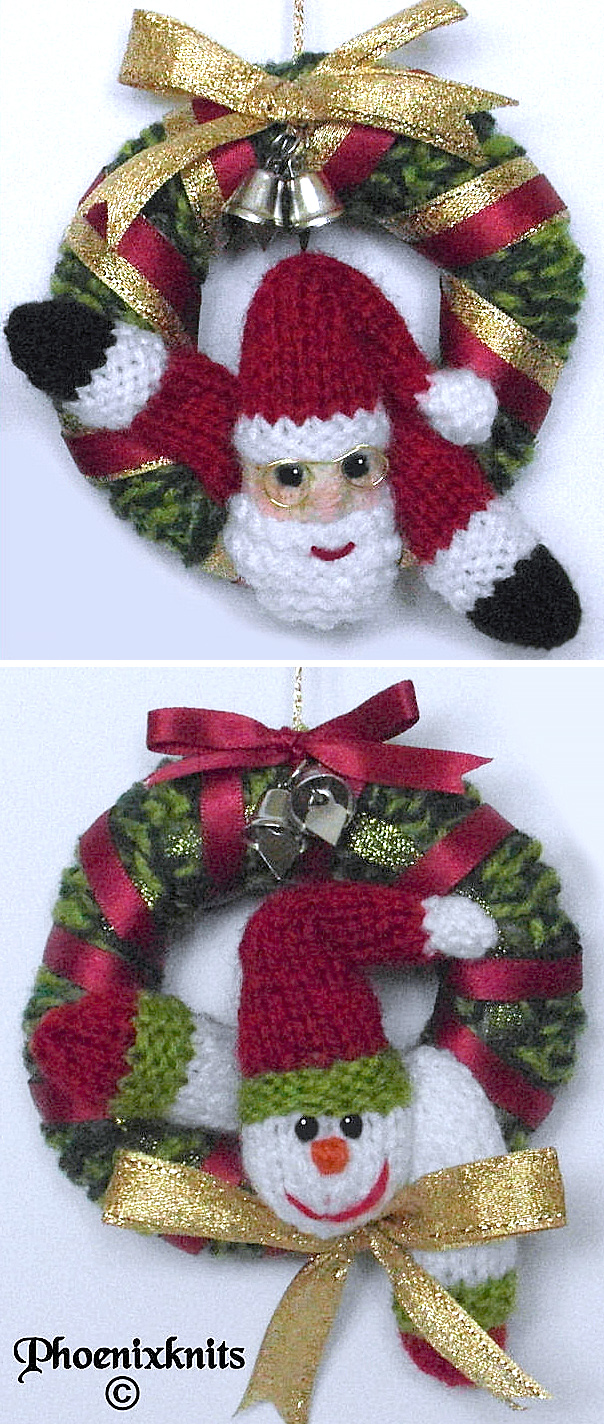 Mini Christmas Wreath Ornaments
The pattern includes instructions for Santa and Snowman wreaths the right size to hang on a tree or anywhere. 3.5 inches/ 9.5cm wide. Designed by Phoenixknits who allows the sale of finished projects from these patterns on a small scale. DK weight yarn.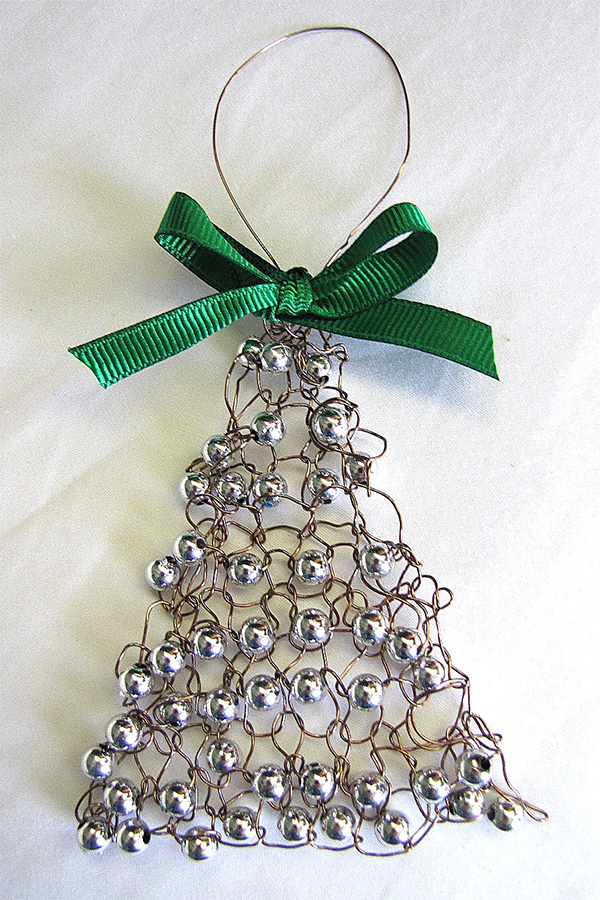 Easy Wire Christmas Tree Ornament
Rated easy by Ravelrers, this knitted wire tree shaped ornament features bead ornaments. Designed by Jamie Hoffman who says her children helped string the beads.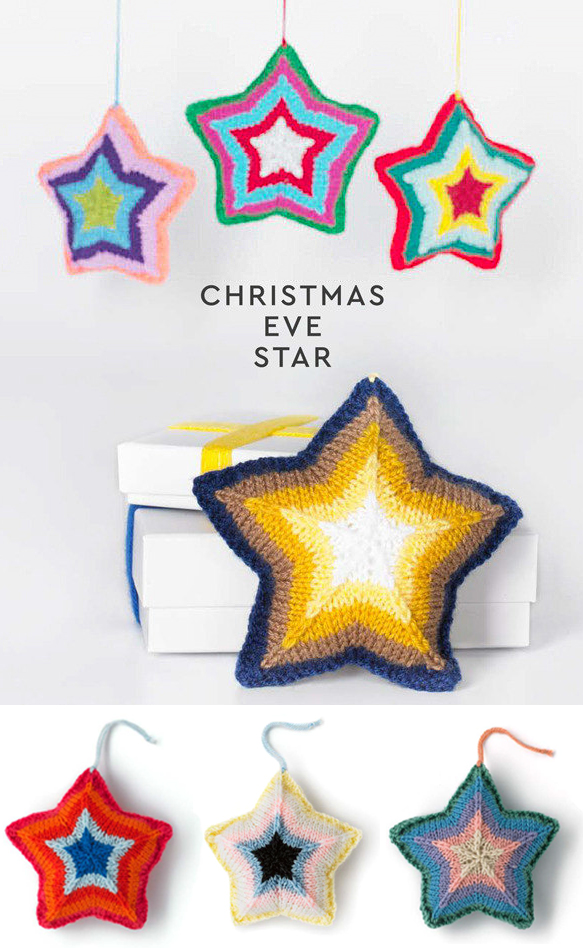 Christmas Eve Star Ornament
Striped star shaped hanging ornament for the tree or other decoration. Designed by Paintbox Yarns. DK weight yarn.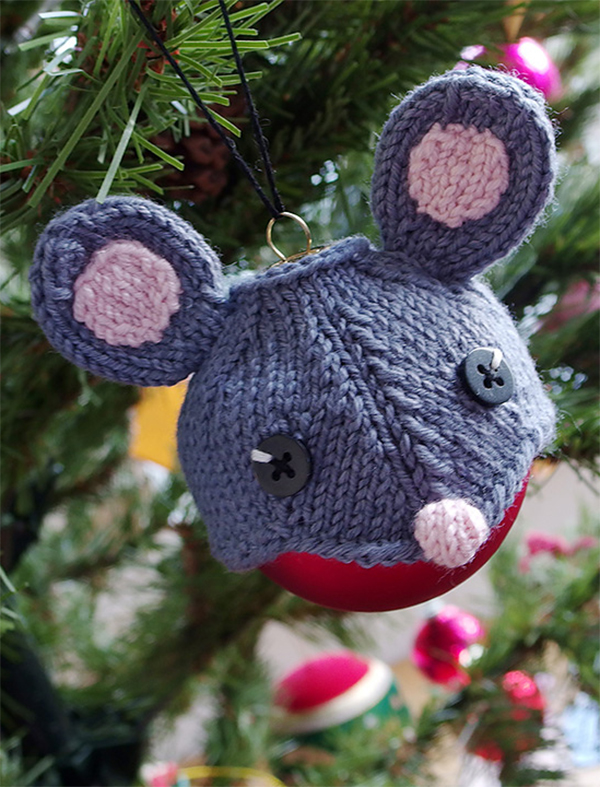 Mouse Ornament "Hat"
Adorable mouse face slips onto an existing ball ornament or bauble for your Christmas tree. Designed by Luise Roberts. Fingering weight yarn.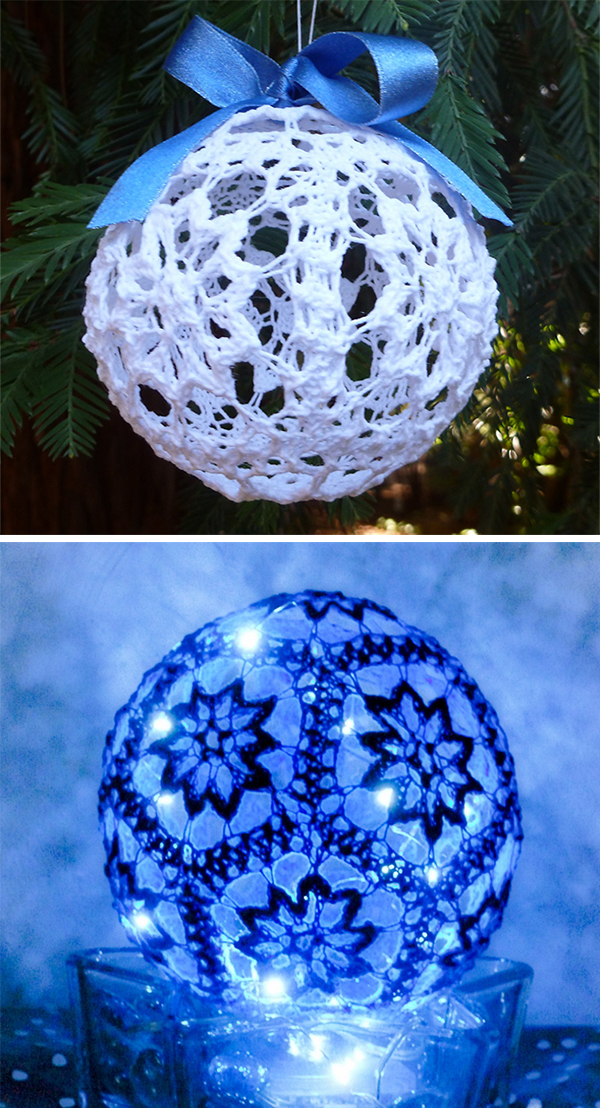 Snowballicious Ornament
Knitted snowball ornament made up of lace snowflakes that are joined together to form a beautiful hanging ornament and stiffened with glue. Place a string of small LED battery powered lights inside and you have a magical accent light for your coffee table or shelf. Designed by Elena Maltseva.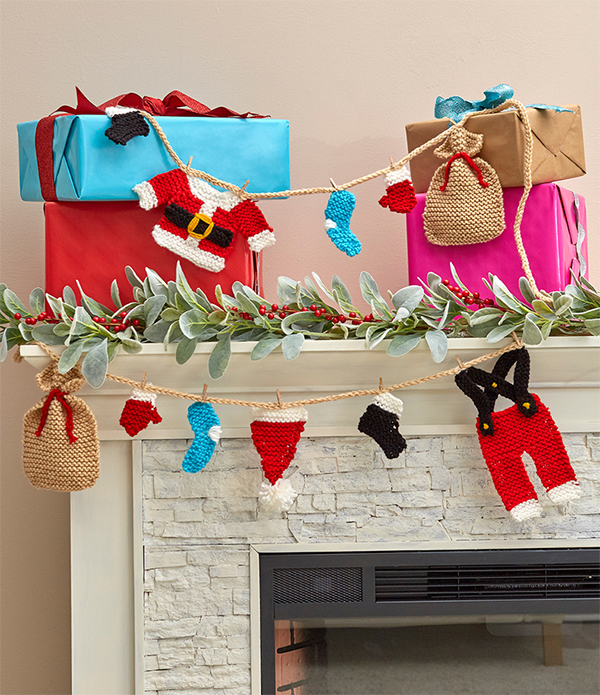 Santa's Wardrobe Garland
These ornaments include Santa's overalls, hat, jacket, socks, mittens, boots and his roomy bag. Designed by Rebecca J. Venton for Red Heart.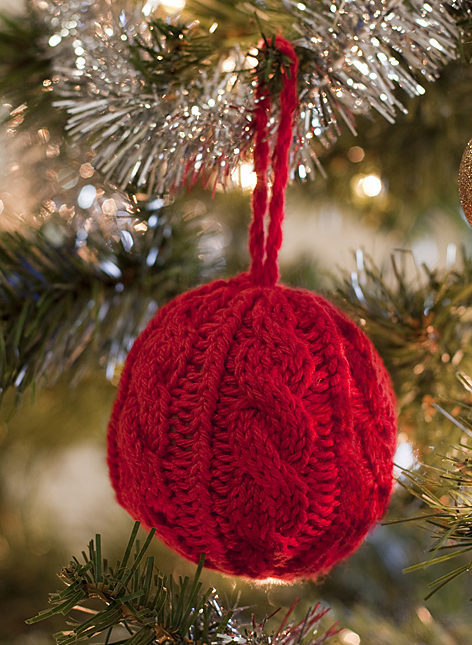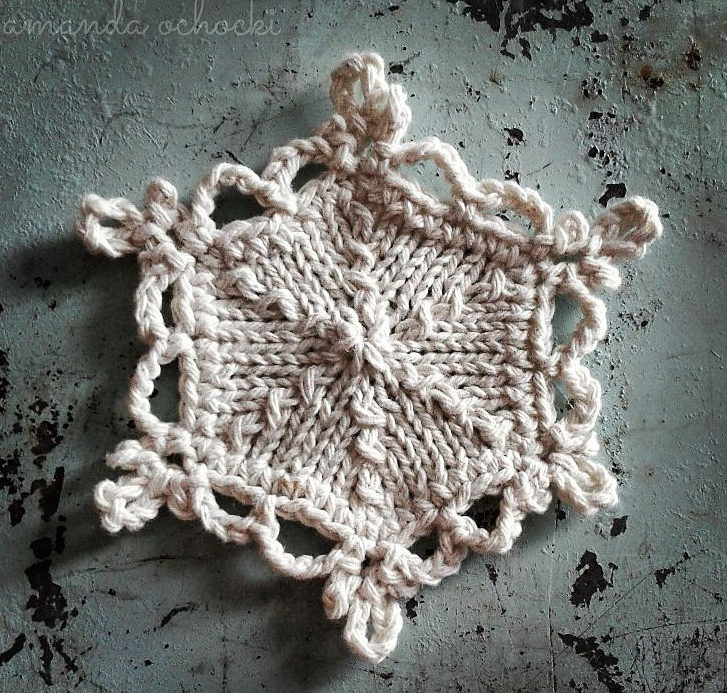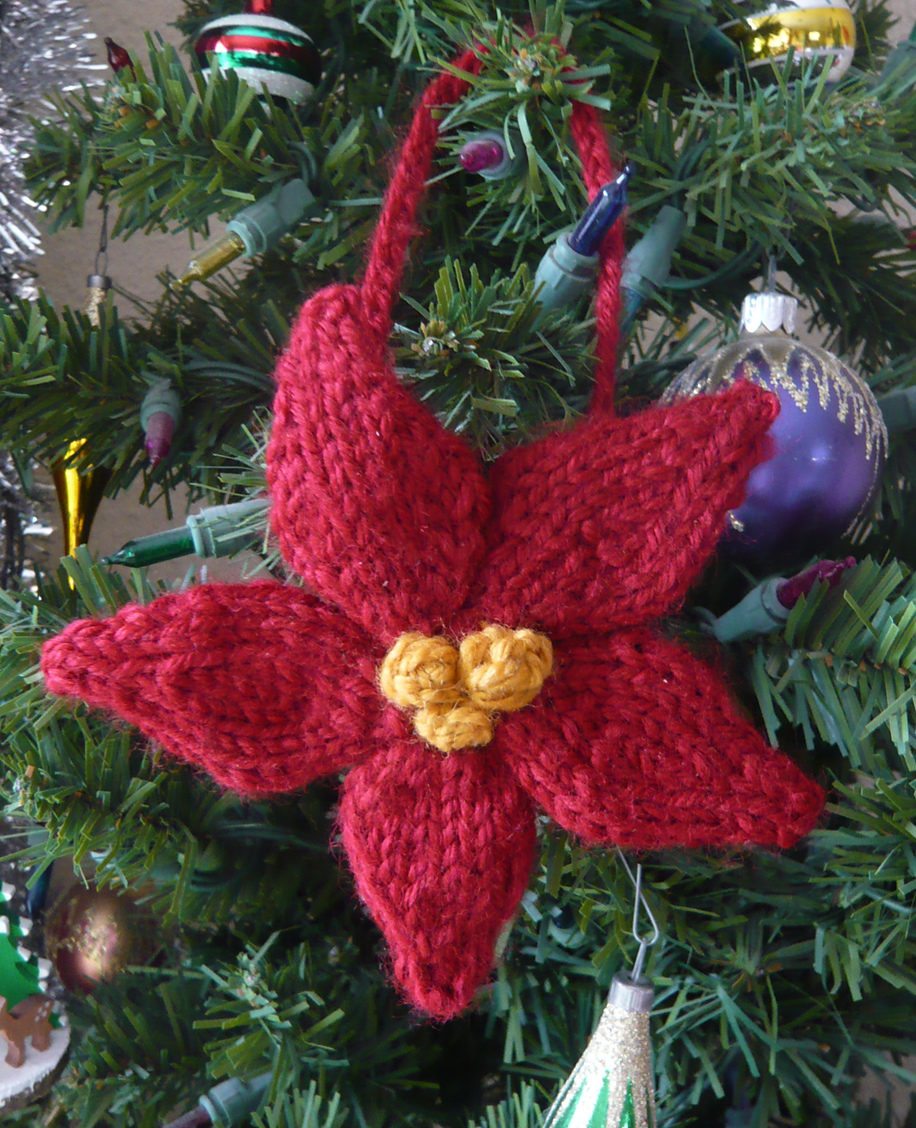 Cable Globe Ornament, and Poinsettia Ornament
Cable Globe Ornament designed by Eunny Jang is 9″ circumference and can be stuffed or wrapped around a ball ornament. Snowflake Ornament designed by Katie Himmelberg is knit but has simple crochet edge. Poinsettia ornament designed by Erin Hallstrom is 5″ across and a great addition to trees, wreaths, gifts wrap, garlands, and more. Pictured projects by suncfye, chalklegs, and mimulu who knit 5 petals instead of 6. These are included in the free ebook Holiday Knitting eBook: 7 Free Knitted Projects from Interweave.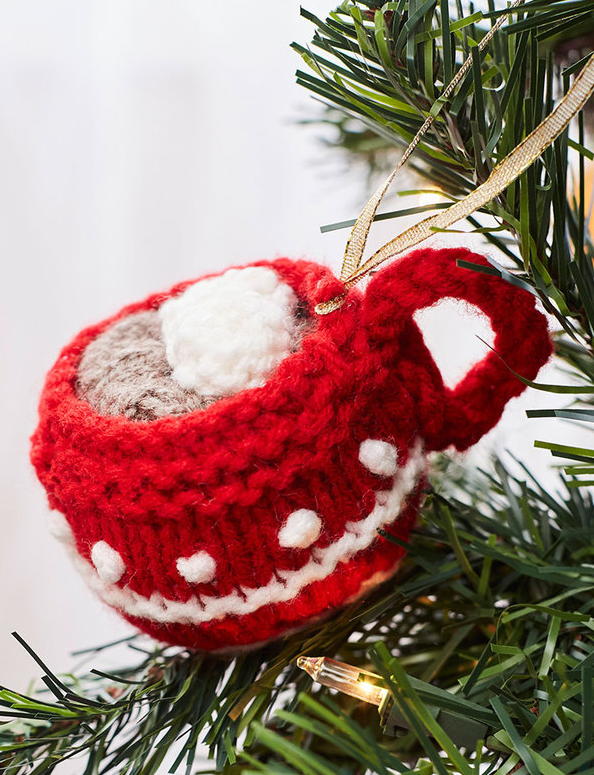 Cup of Cocoa Ornament
Ornament measures about 2¾" [12.5cm] tall. Designed by Michele Wilcox for Red Heart.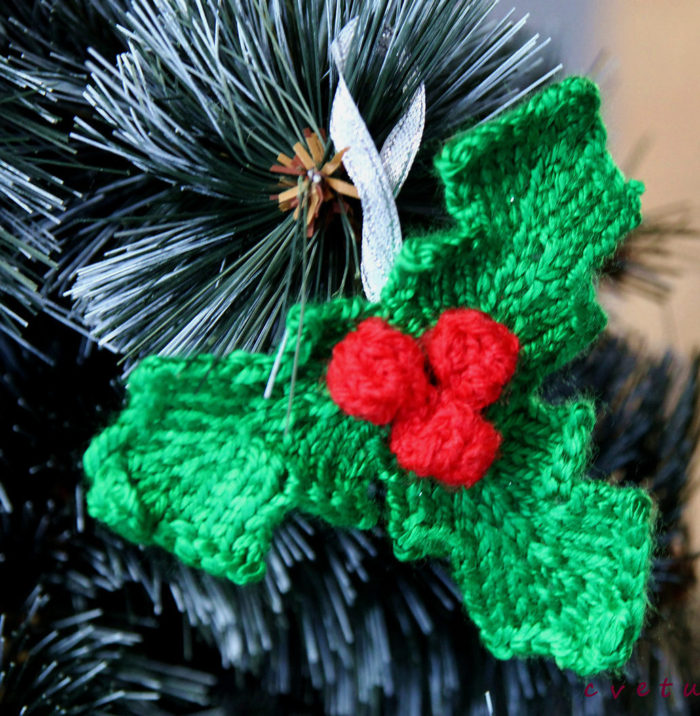 Holly Ornament
This holly sprig decoration is rated easy by Ravelrers. Designed by c v e t u l k a knits who includes other ornament patterns on the page.

Rex the Reindeer
Plush softie reindeer with red nose perfect for holiday decorations, toys, or ornaments. The head by itself makes a great tree ornament. Rex is 13.5cm tall not counting his antlers. Designed by Jenny Stacey of JustJen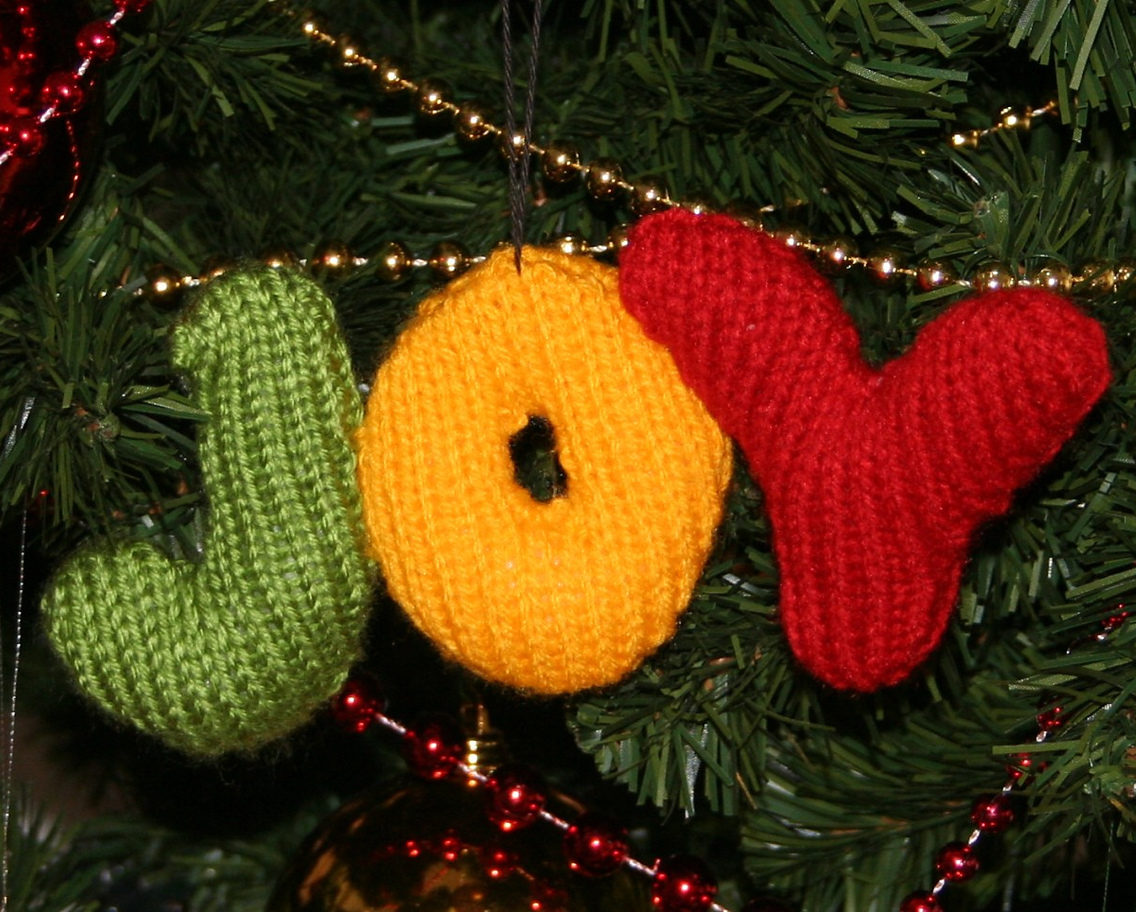 JOY Christmas Ornament
These letters measure 7 1/2 cm (3") high, perfect for decorating the tree. Designed by Amalia Samios of Kookla Creations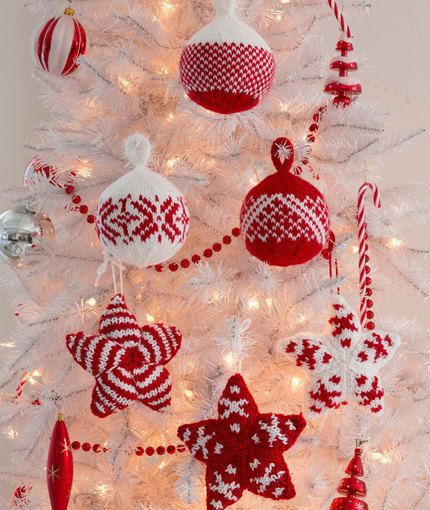 Holiday Stars and Balls Ornaments
Designed by Laura Bain for Red Heart, these ornaments are unbreakable.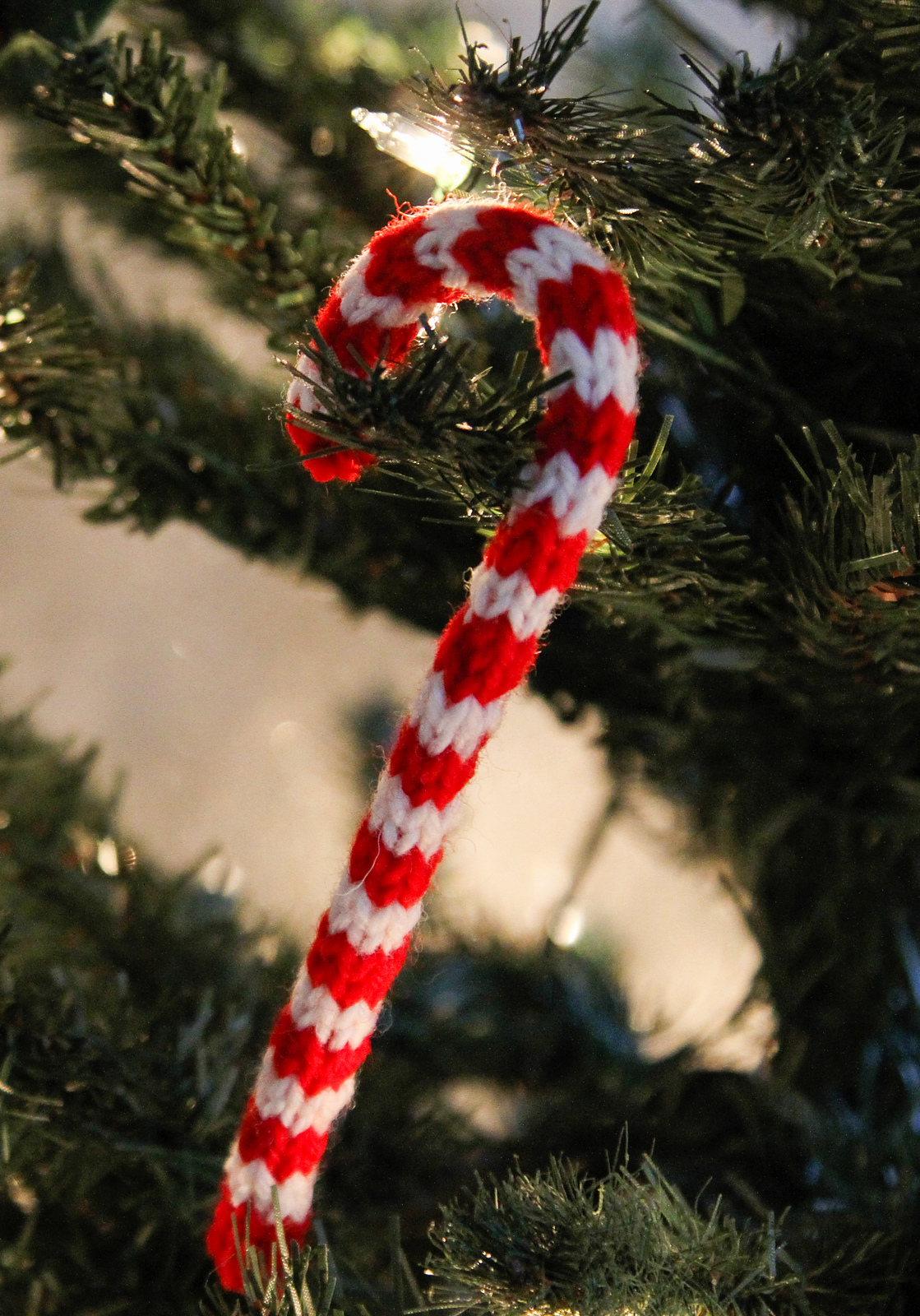 Candy Cane Ornament
This knit candy cane is a quick and easy way to decorate your tree or a gift package. 6" in length. Use a pipe cleaner inside to create the cane shape. Designed by Ms. Ellaneous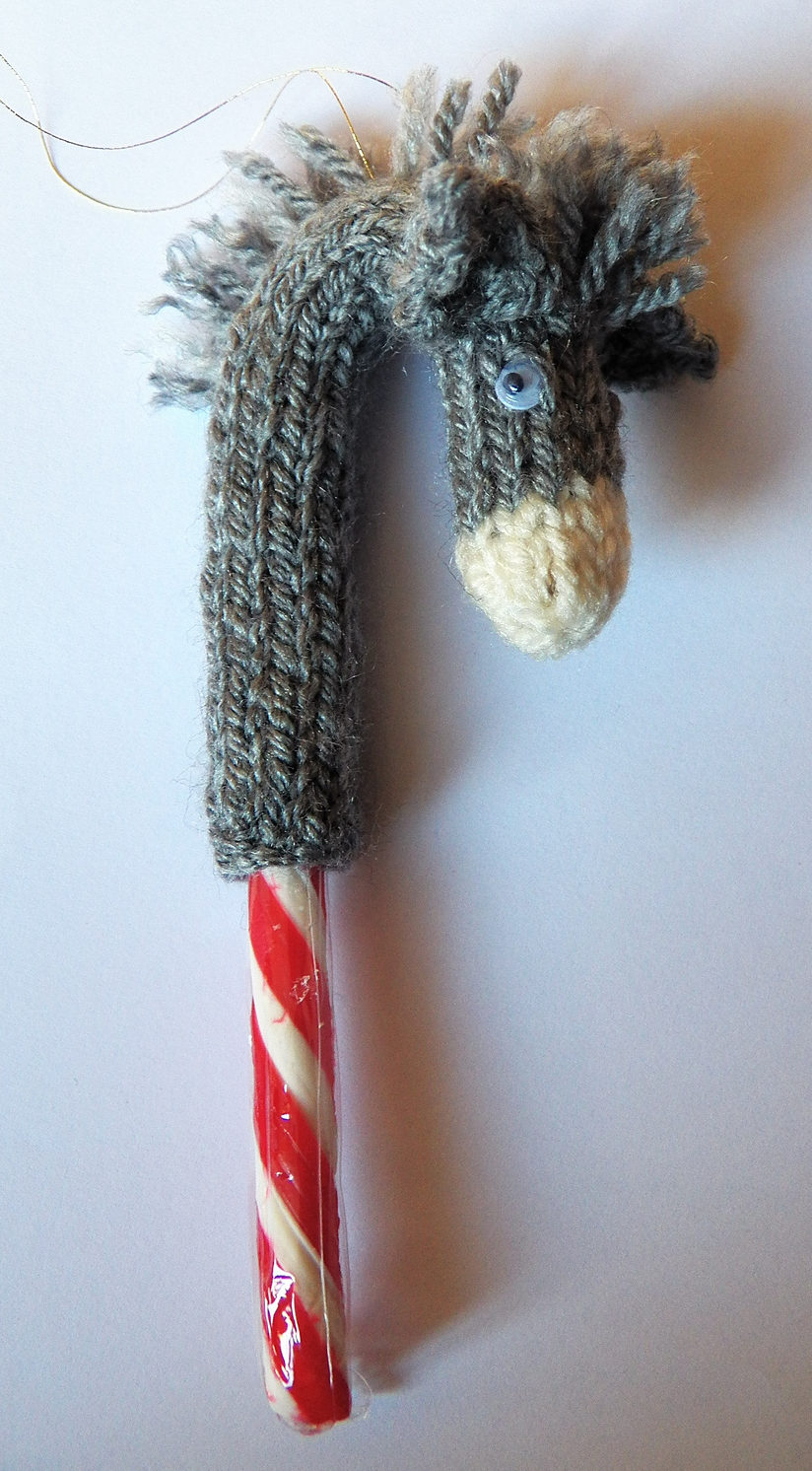 Candy Cane Donkey
This clever design creates a donkey or horse head knit in the round to slip over a candy cane for ornaments or treats. To fit a 12cm candy cane. Designed by J Paling who requests that you consider donating to a donkey sanctuary.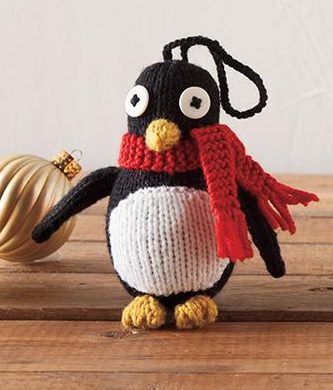 Penguin Ornament
This Knit Picks design is approximately 4.5″ tall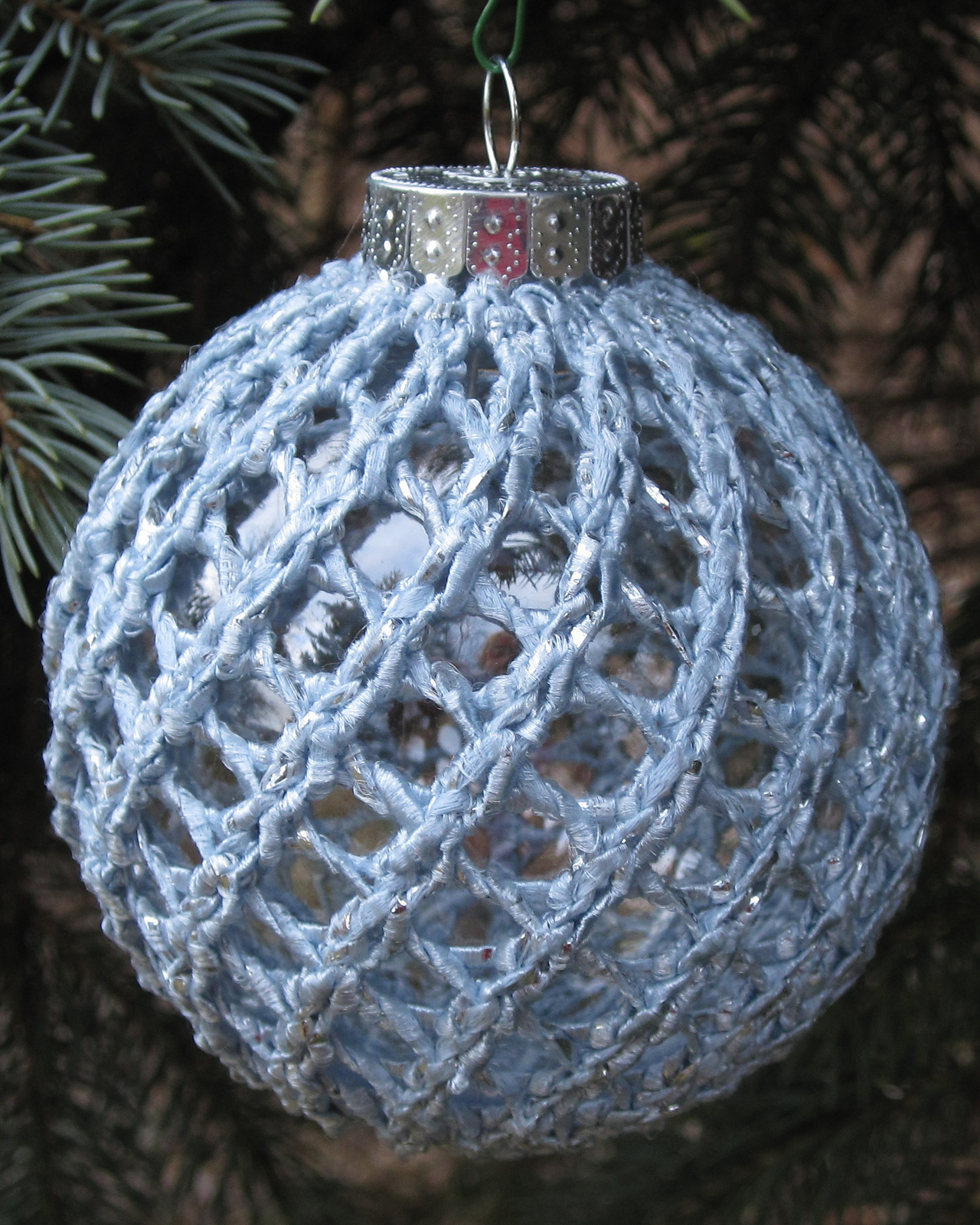 Easy Ornament Cover
Quick mesh cover to embellish glass ornament balls. Rated very easy by Ravelrers. Designed by Judy Sumner. Pictured project by akitacrazy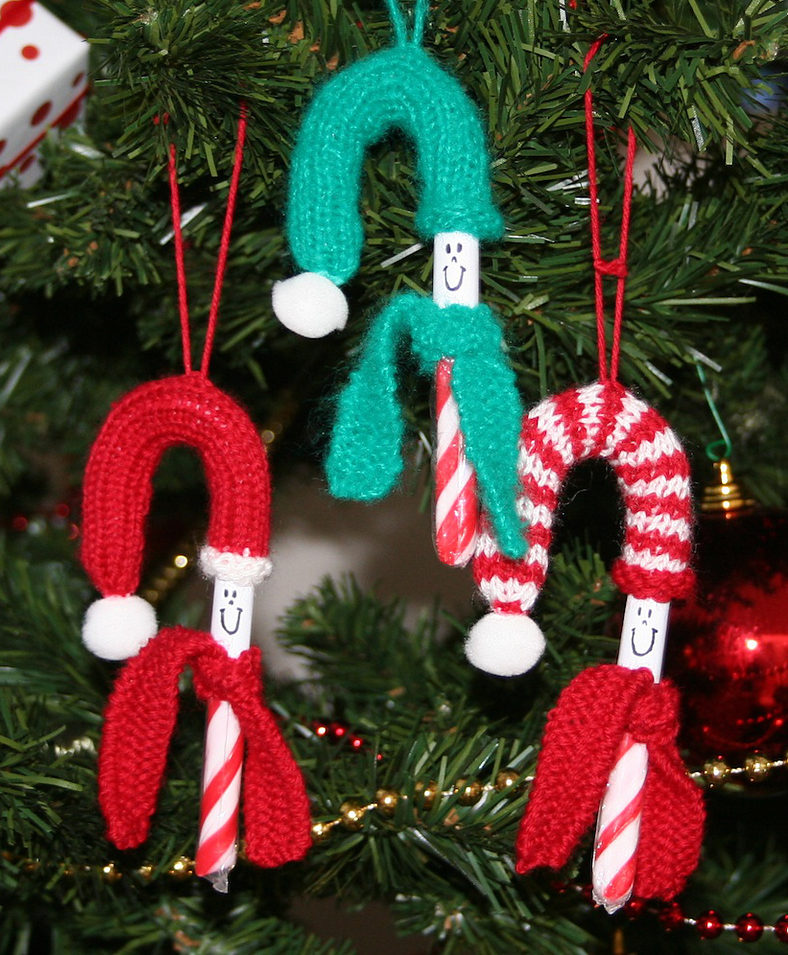 Candy Cane People
Dress up your candy canes with hats and scarves to create easy cute ornaments kids will love. Designed by Amalia Samios of Kookla Creations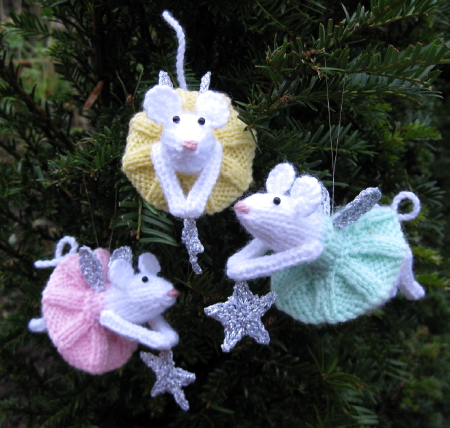 Furry Fairies Ornament
These adorable star-hanging mice fairies are designed by the amazing Alan Dart.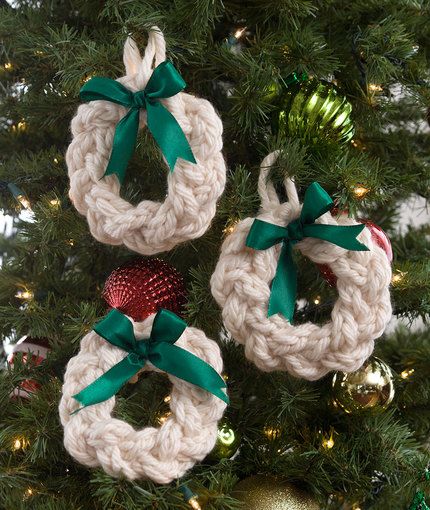 Wreath Ornaments
Designed by Lorna Misner for Red Heart, these ornaments are made from braided icord. They also make perfect gift decorations. And a great use for leftover yarn!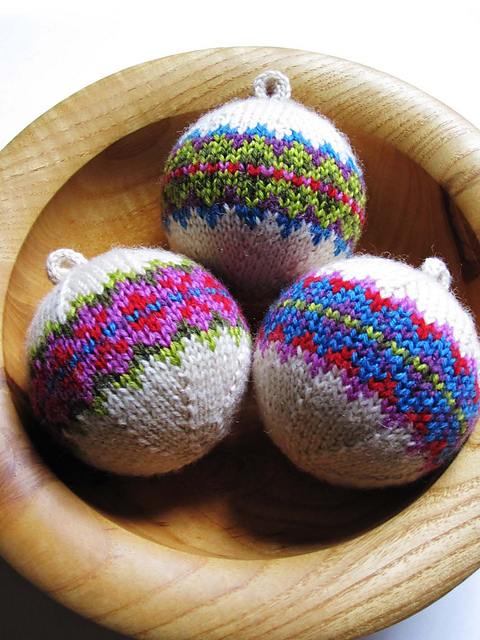 Balls Up
General Hogbuffer has a variety of patterns for ornaments — these are just three examples.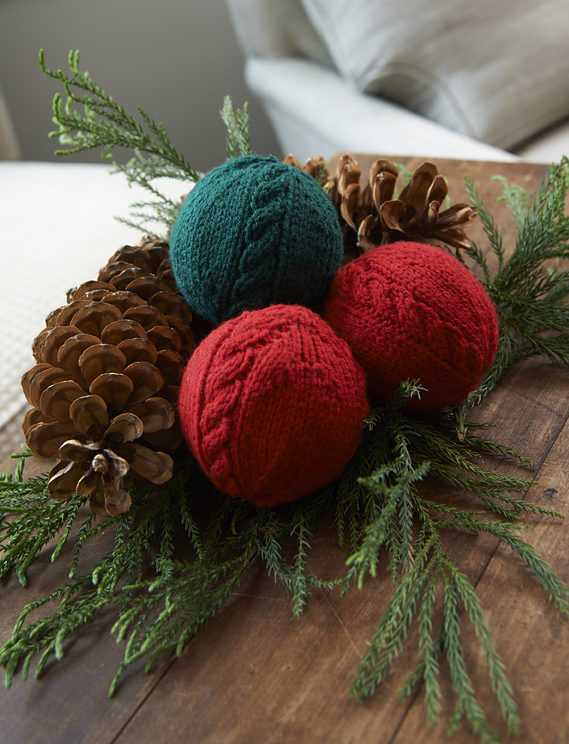 Cabled Holiday Balls
Designed by Nancy J. Thomas for Red Heart, these ornaments are 4″ (10 cm) in diameter.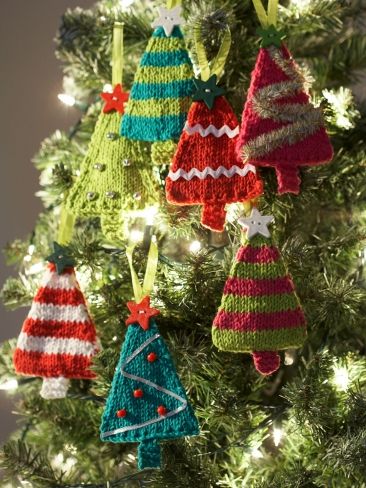 Tiny Trees
Yarnspirations designed these tiny trees that can be knit or decorated any way you want.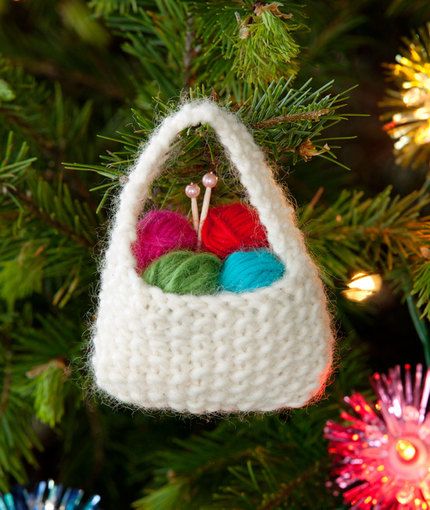 Yarn Basket
Perfect for knitters and crocheters! Designed by Scarlet Taylor for Red Heart.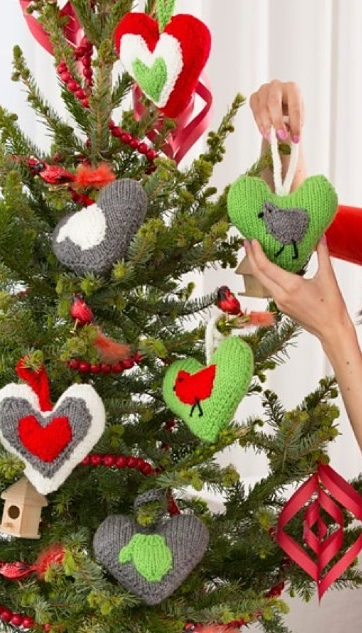 Heart Holiday Ornaments
Michele Wilcox's heart-shaped ornaments feature concentric hearts, birds, and mitten motifs.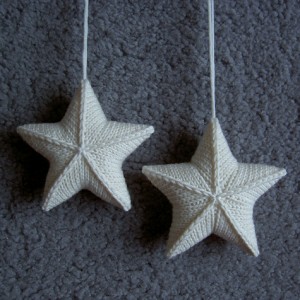 Stjärna
Karolina Eckerdal designed these star hanging ornaments to be about 2.5 inches /6.5 cm from tip to center.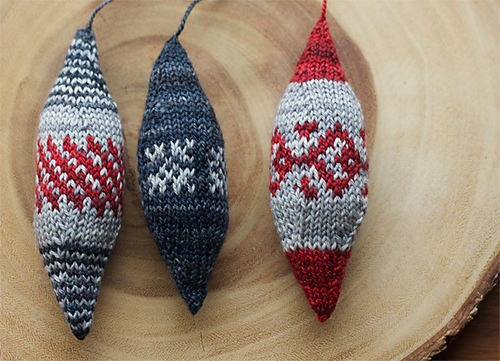 Fancy Balls
These retro ornaments by Alexa Ludeman and Emily Wessel are 5 inches tall, 4.5 inches around.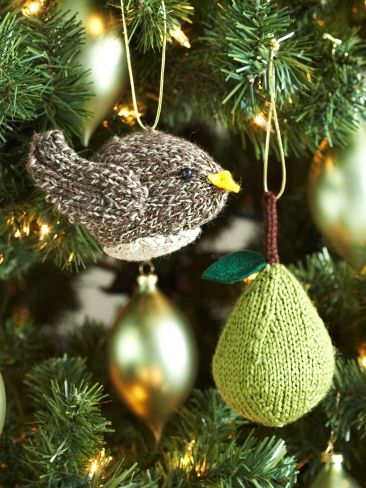 Patridge or Pear Tree
Yarnspirations' tree ornaments are approximately 6 ins [15 cm] long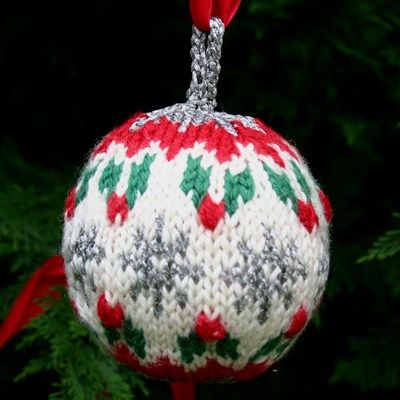 Christmas Balls
Knitting patterns for three different ornaments from Two Strands.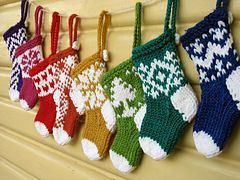 Mini Christmas Stocking Ornaments
Julie Williams designed these tiny stockings that are only 2 to 3 inches high. Several designs available.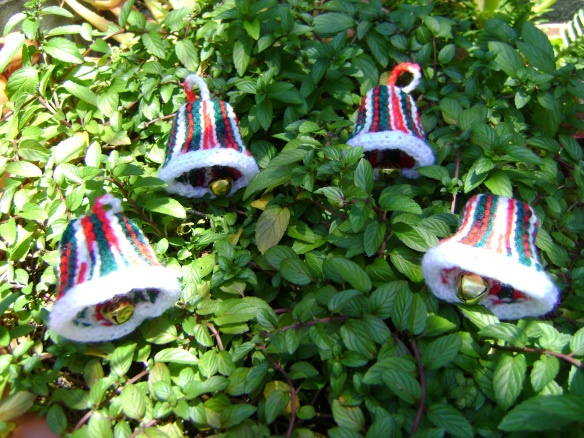 Christmas Bells
Debbie McGrath created an easy, flexible pattern for a bell pin or ornament. Pictured project by MelsNattyKnits.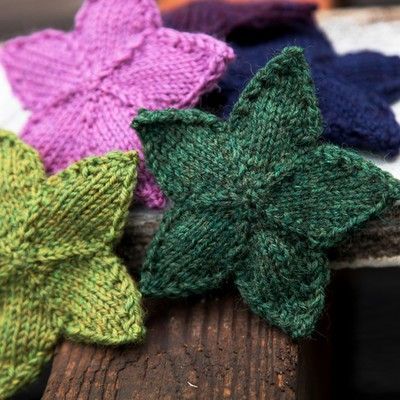 Stars
These 4 inch stars are made in two pieces and then sewn together.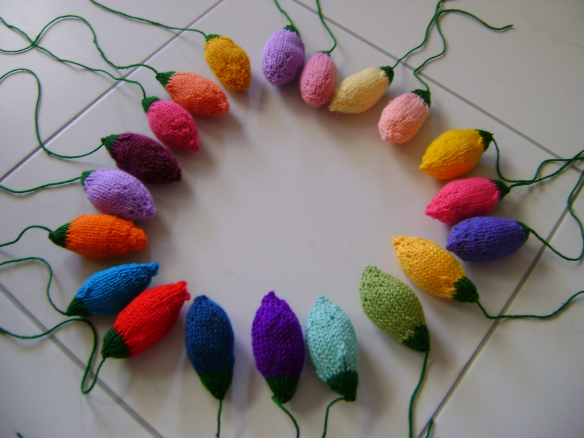 Christmas Lights
These lights designed by Kimberly Chapman will never go out! String them together for a garland or hang them individually as tree ornaments. Pictured project is from MelsNattKnits
Patterns for Purchase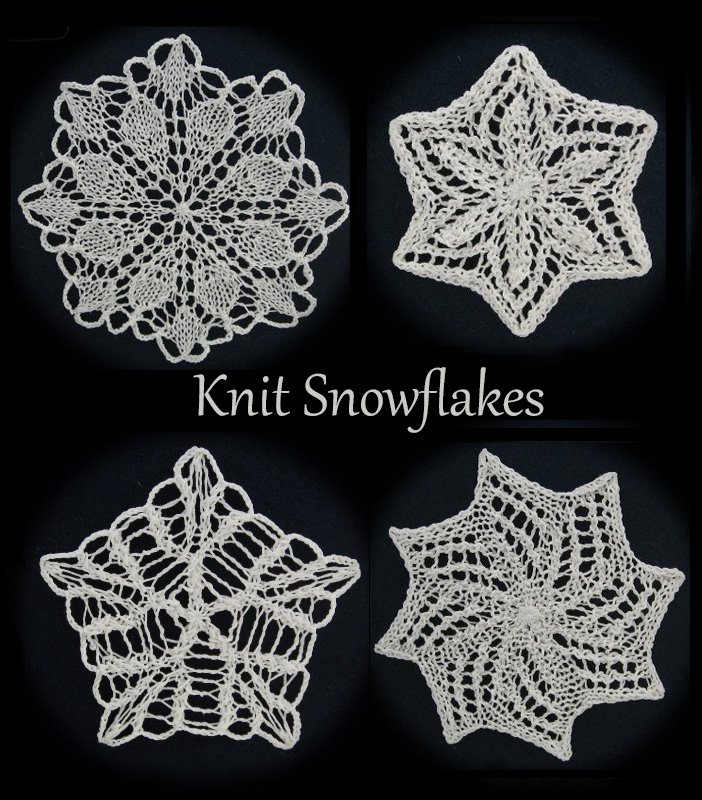 Snowflakes
4 lace snowflakes to knit and use for holiday ornaments, decoration, or appliques. Each finished snowflake measures about 4 to 6 inches across, and takes between 15 and 25 yards of size 10 crochet cotton. Designed by NeedleNoodles.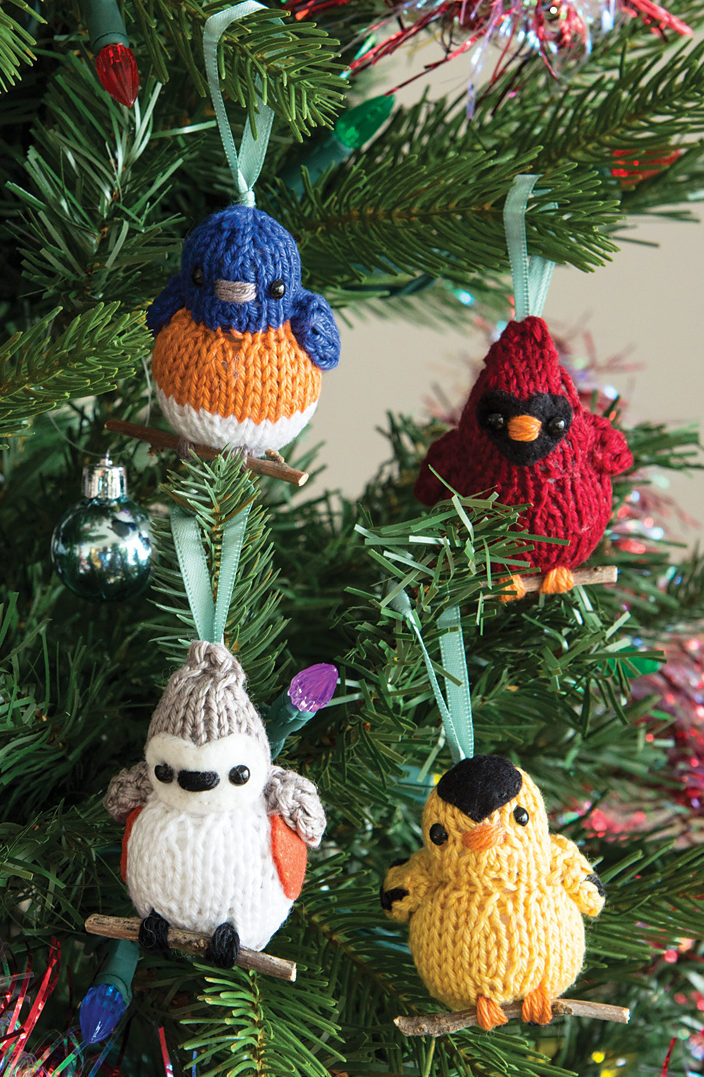 Four Calling Birds Ornaments
Four songbirds 2 1/2″ tall x 2″ wide. Designed by Megan Kreiner for Interweave. One of the 35 knitting patterns in Love of Knitting Holiday Knits 2014
Dickens' Christmas Carol Doll Ornaments
Re-create one of Charles Dickens's best-known stories with tiny knitted figures of Scrooge and the 3 Christmas Ghosts to decorate your tree and home. The Dickensian Dolls all use the same pattern for the body, with individualized robes to give them character. Finished Size 5" tall and 3.5" wide. Designed by Sarah Ivinson. One of the 22 knitting patterns in Interweave Knits Holiday 2017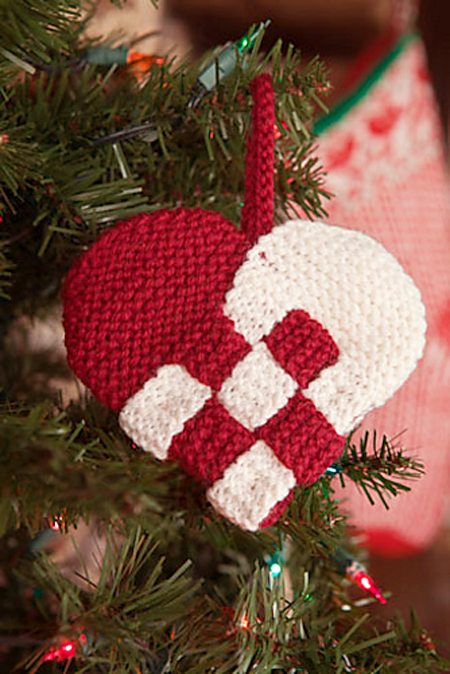 Danske Hjerte / Danish Heart Ornament
Designer ANN MCDONALD KELLY created this knitted version of traditional Danish ornaments made of red and white paper she made as a child. Size 5″ wide and 5″ tall.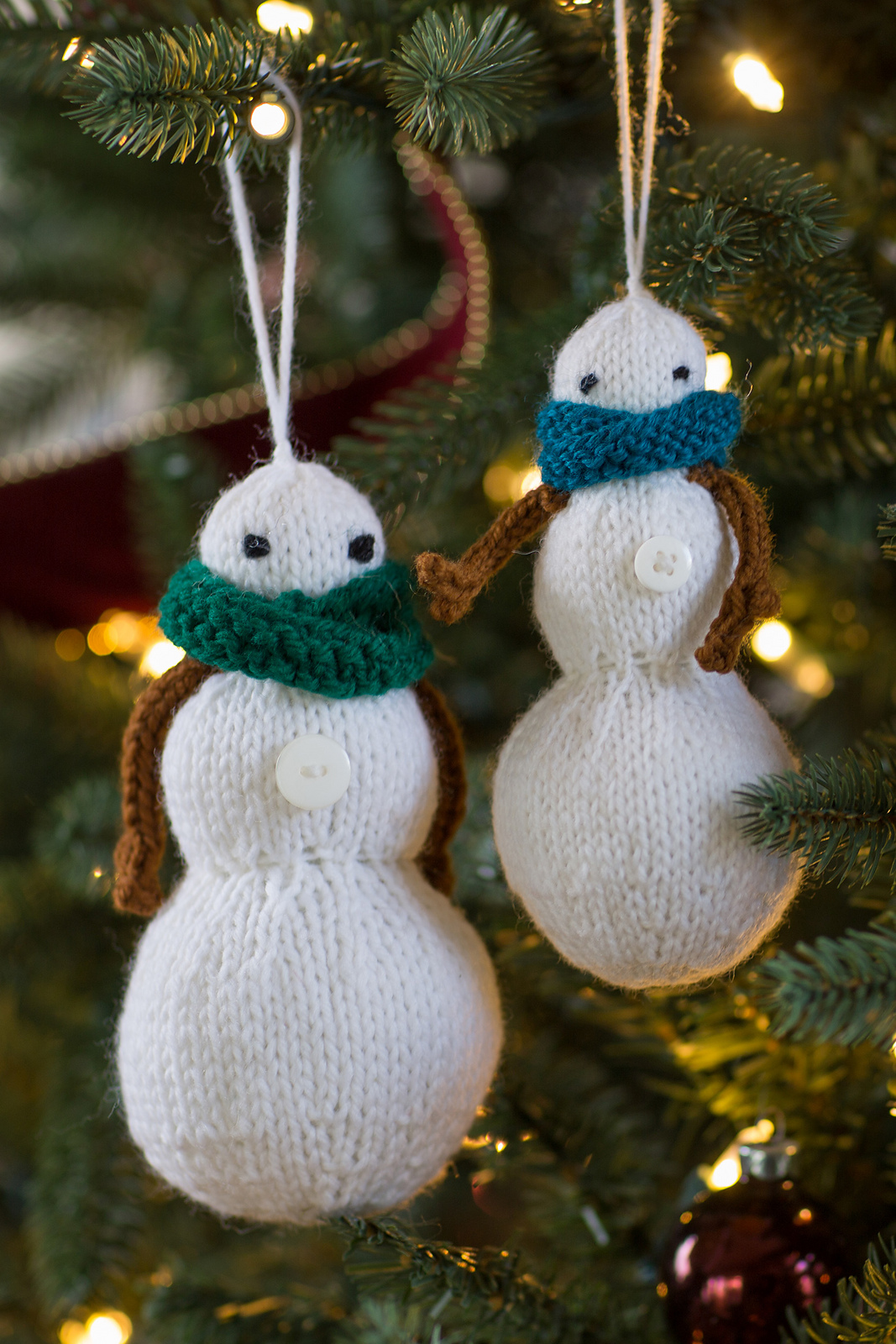 Snowman Family
These snowman ornaments are part of a Snowman Family made in four sizes with different weights of yarn. Ornaments 5″ tall and 7¾" circumference. Designed by Jesie Ostermiller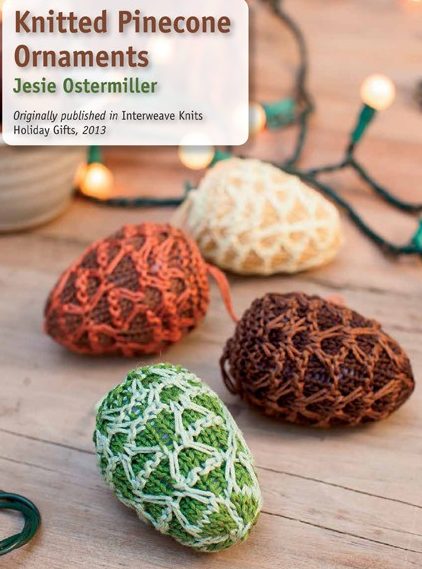 Pine Cone Ornaments
Pinecone shaped two-color ornaments, knit in the round and stuffed, perfect to add some seasonal cheer to your home. Finished Size: 6″ circumference and 3″ tall.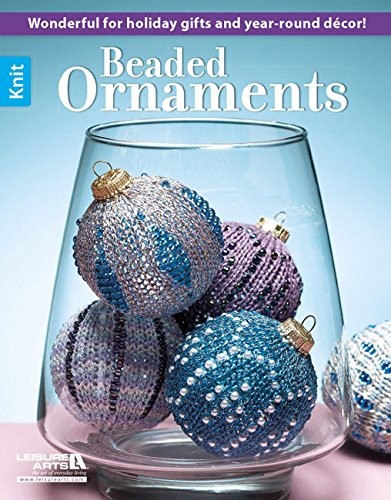 Beaded Ornaments to Knit
Each of the 12 knit designs in Beaded Ornaments cradles a clear glass ornament inside and is highlighted by dozens of beads.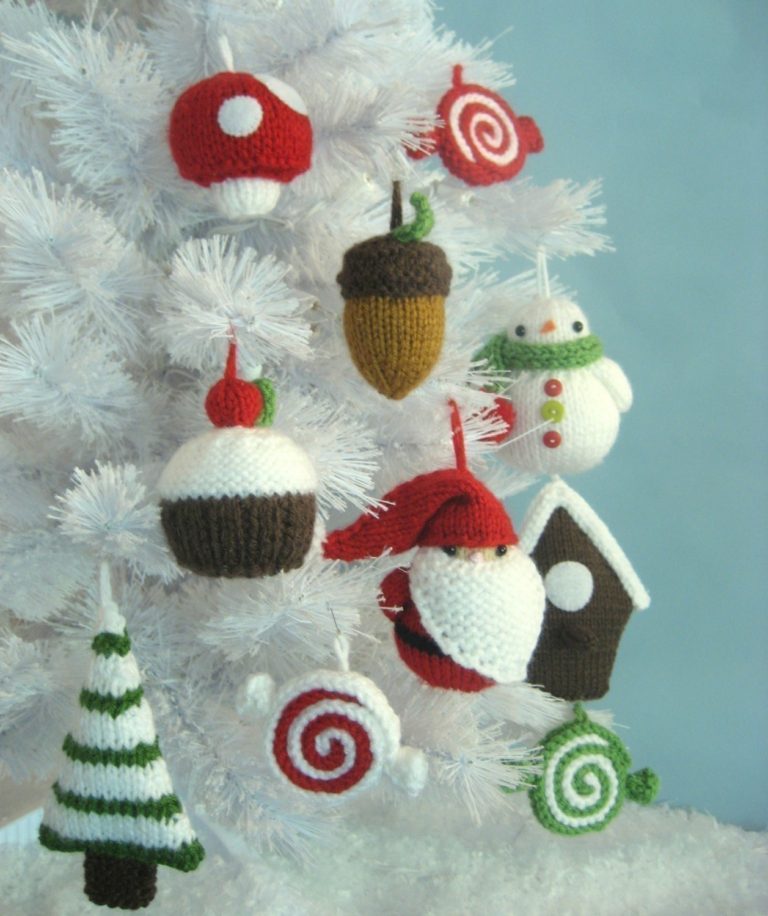 Amigurumi Christmas Tree Ornaments
Pattern includes instructions for the following knit ornaments: Santa, Pepperments, Snowman, Acorn, Tree, Birdhouse, Mushroom and Cupcake. Sizes from 2.5 inches to 5 inches tall.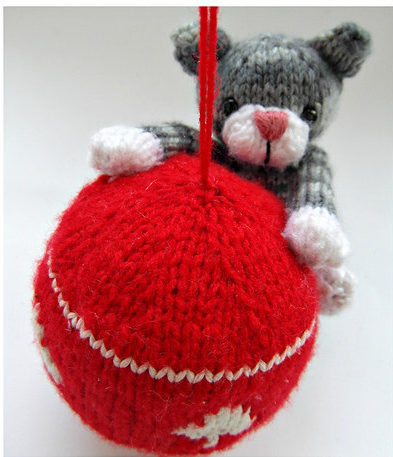 Swinging Kitty Ornament
Adorable kitten hangs on to bauble ornament. There is also a crochet version of the pattern.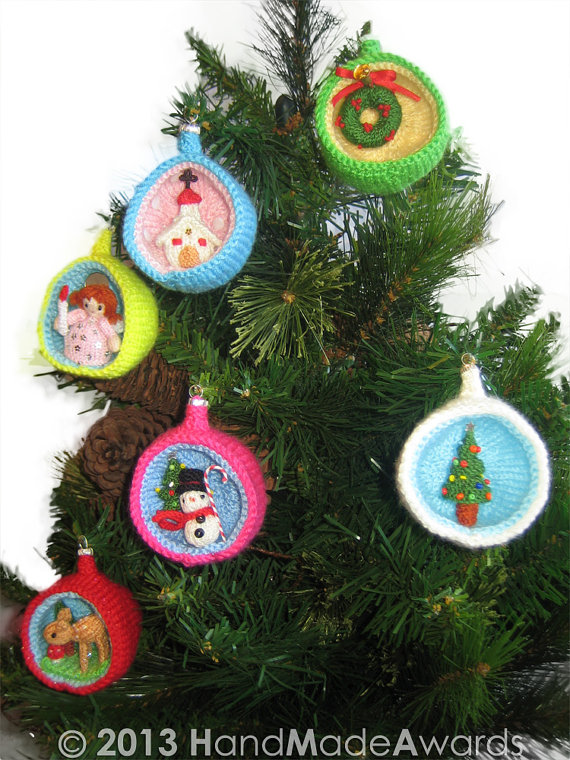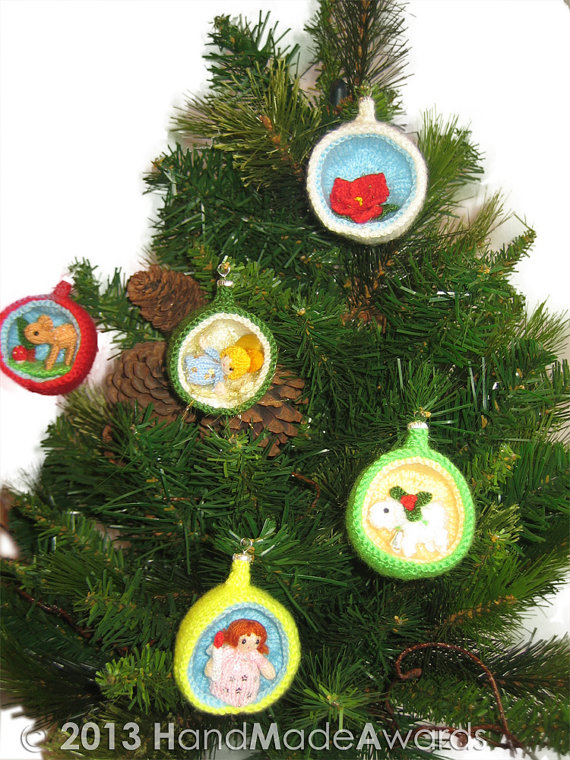 Christmas Diorama Ornaments
Knitting patterns for individual diorama ornaments — each diorama pattern is separate.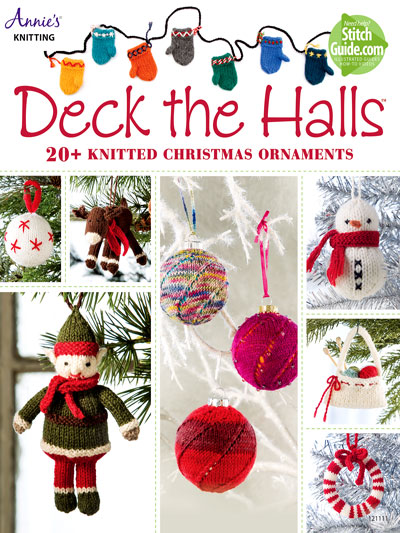 Deck the Halls – 20+ Knitted Christmas Ornaments
Patterns for beginner through intermediate knitters.