Fingerless mitts, with a twist – cable stitches, twisted stitches, and other multi-directional patterns that give an extra twist to the style of these handwarmers.
To get the knitting patterns, scroll down the page to the individual pattern you want and click on the link to that pattern.
These patterns are not my designs but links to other designers who have generously shared their patterns. If you have questions about how to knit a specific pattern, please contact the designer directly.
All links on this site are for informational purposes, but please note that some links are to affiliate sellers that pay me a small commission on purchases.
Free Patterns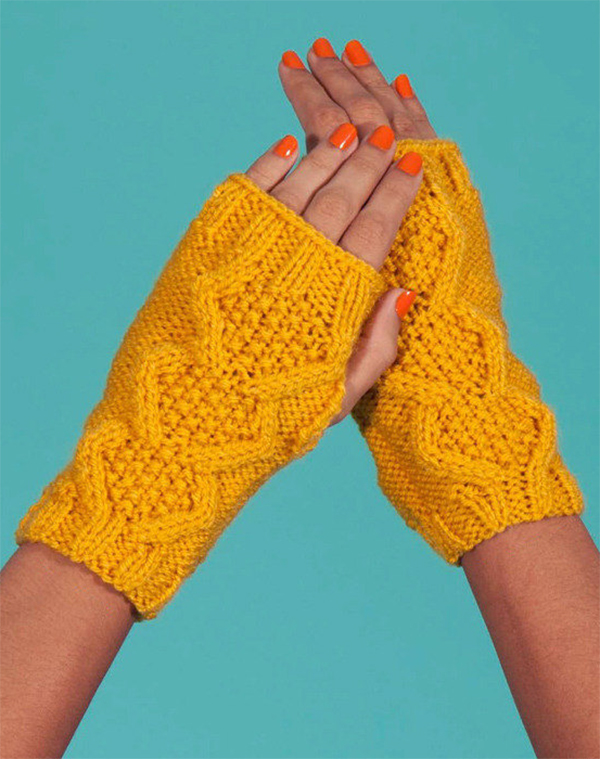 Snowfall Wristwarmers Mitts
Fingerless mitts knit with cables framing seed stitch. Aran yarn. Designed by Paintbox Yarns.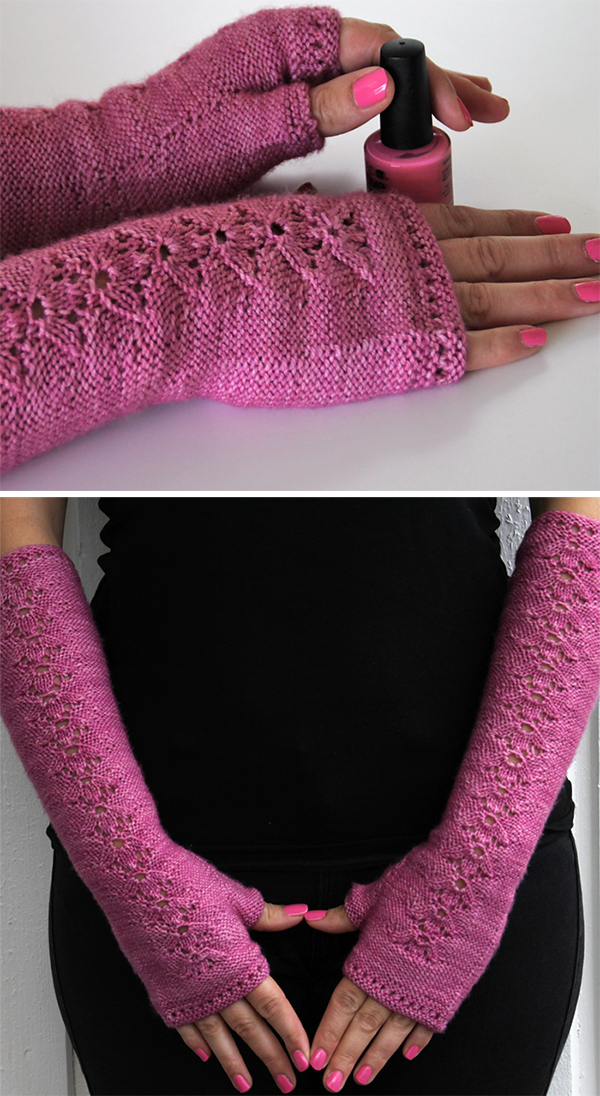 Darn Good & Pretty Fingerless Mitts
Lace mitts with beautiful 8 row repeat flower lace stitch. Fingering yarn. Designed by Yvonne Bakke Thorsen for Darn Good Yarn. Also available as a kit.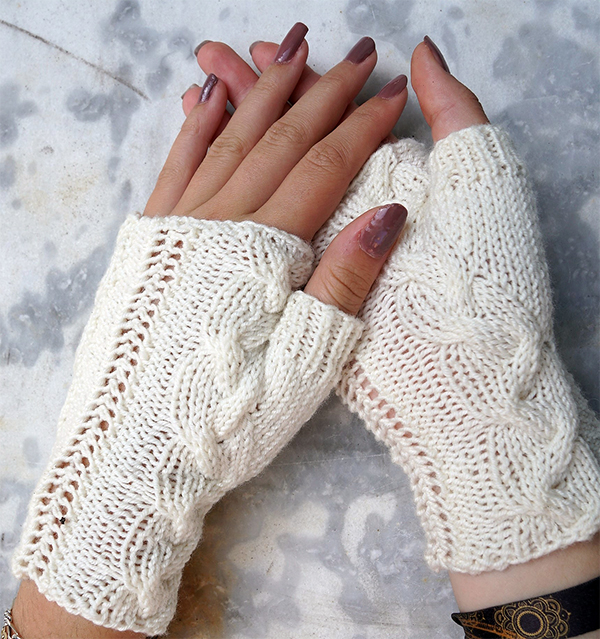 Enez Arun Mitts
Fingerless mitts with a cable running up the thumb and lace on the outside. Fingering yarn. Designed by anne regourd.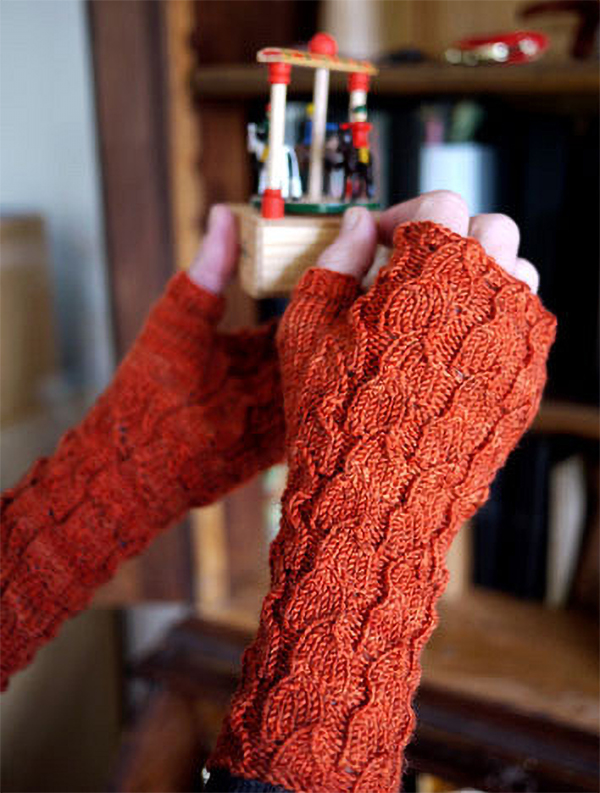 Fallberry Mitts
These cozy fingerless mitts in two sizes feature a fitted thumb gusset and deeply-textured openwork pattern. Sport yarn. Designed by Anne Hanson for Knitty.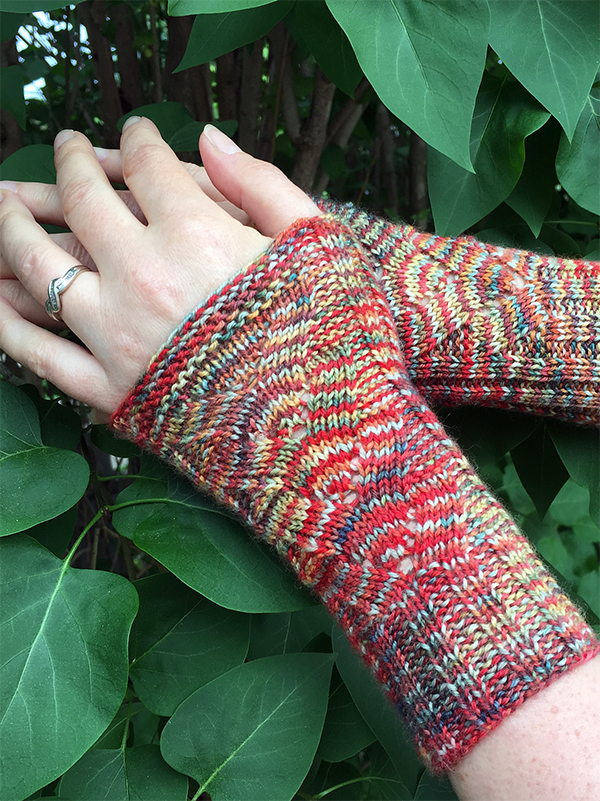 Celebration Wristlets
Fingerless mitts combining ribbing and lace in a swirling design. Fingering yarn. Designed by Myriam Dostert. Looks great in variegated yarn.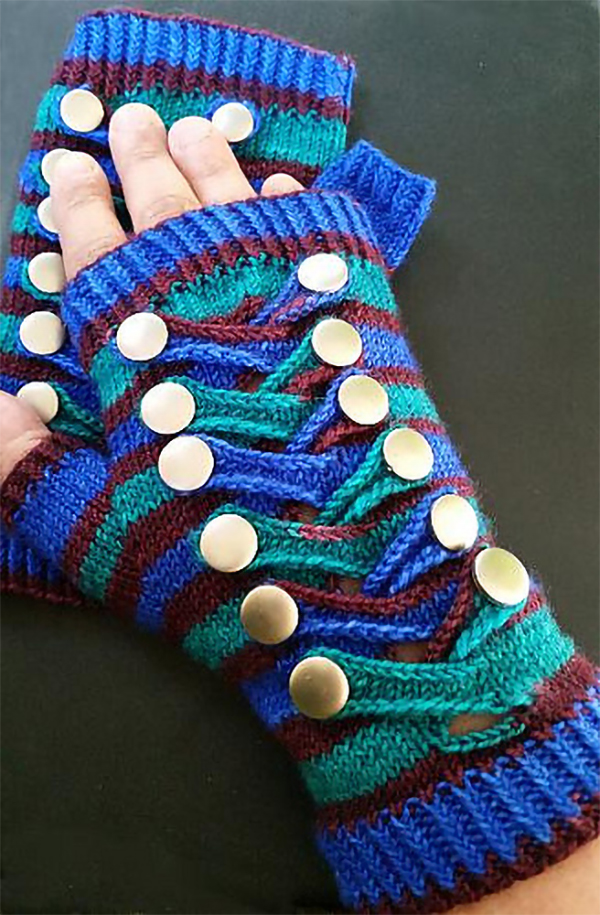 Crossing The Frame Mitts
Unique fingerless mitts with buttoned interlaced straps on the top. Fingering yarn. Designed by Awilda B. Designs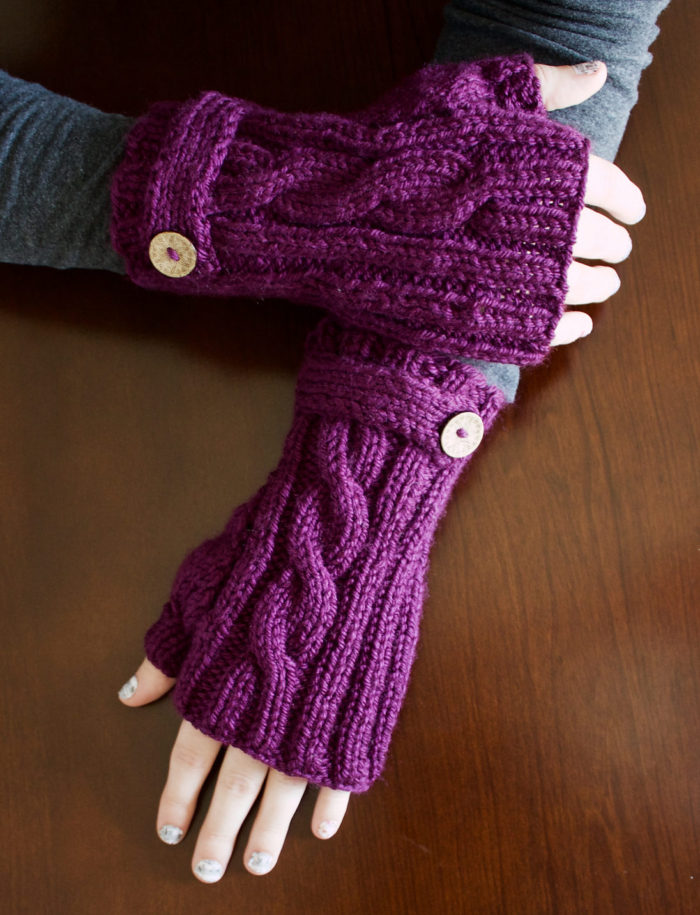 Jammin' Fingerless Mitts
These mitts feature a simple & elegant twisted cable, with 2x2 ribbing all around, accented with a strap and button on the wrist. Aran yarn. Designed by Whittney Perez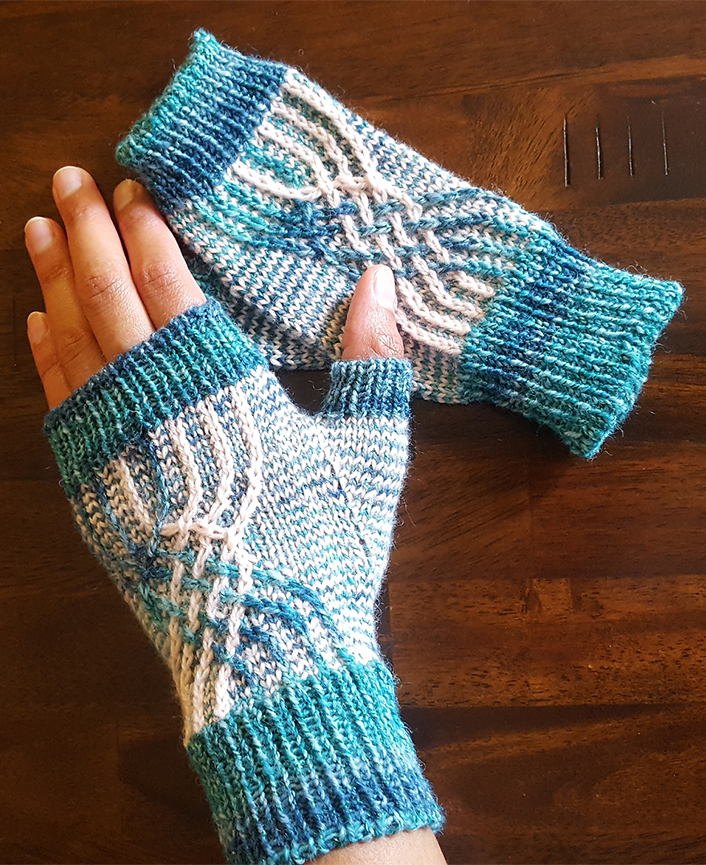 Non-Hyphenated Mitts
These fingerless mitts feature a colorful woven line design of twisted stitches and slipped stitch colorwork. Designed by Leah Blackwood. Pictured project by andrealea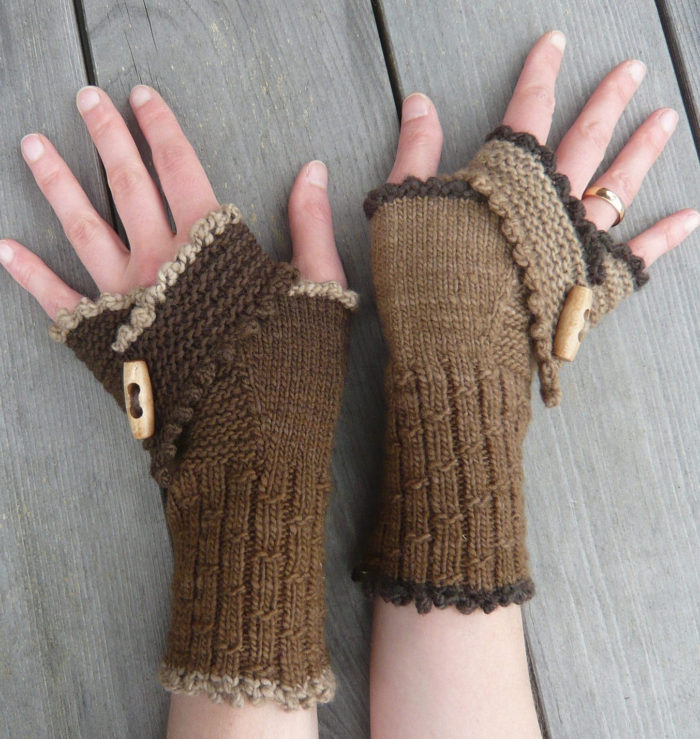 Wharariki Beach Mitts
These fingerless mitts feature a decorative flap that is knit flat using short rows. It shapes the upper part of the hand and defines the thumb hole when folded over. Sport yarn. Designed by Sabine Kastner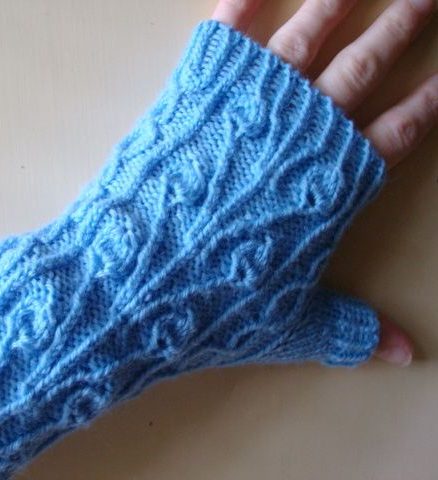 Leafy Twist Mitts
Jude Webster's Stretchy fingerless gloves feature twisted knit panels with a leaf motif and twisted ribbing across the palms.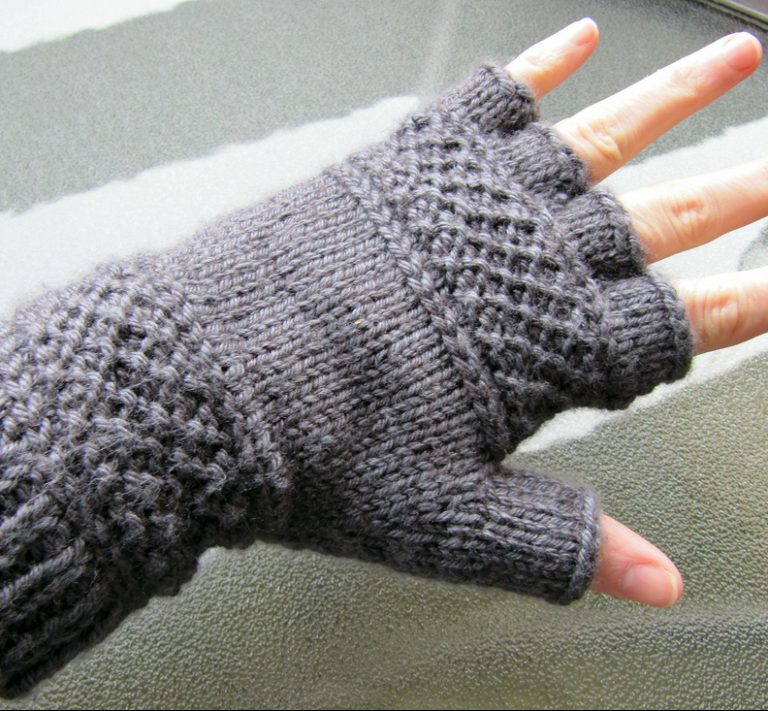 Treads Tipless Gloves
Victoria Anne Baker's unisex gloves feature the linen ridge stitch that inspired the name of the pattern that can easily be modified to make full-fingered gloves, fingerless mitts, or even mittens.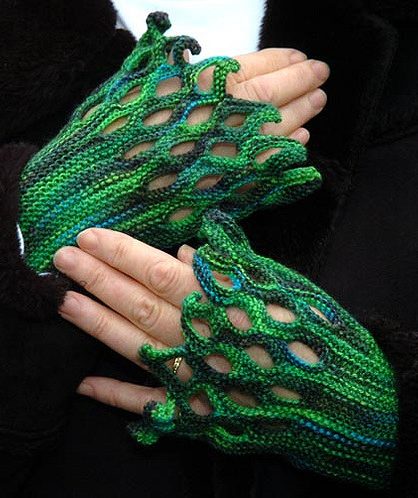 Hand-Charmer Mitts
Claudia Höll-Wellmann's Handschmeichler fingerless mitts have a twining openwork pattern made by knitting "buttonholes". The mitts can be worn with the openwork facing the fingers or reversed so it is on the wrist. Available in English and German. Great with multi-color yarn.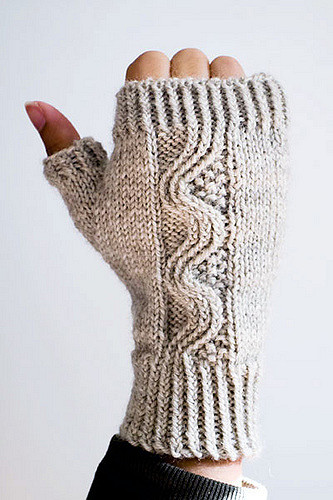 Nalu Mitts
Leila Raabe's cable mitts feature a traveling twisted-stitch wave flanked by reverse stockinette and seed stitch. Knit with one skein of DK yarn.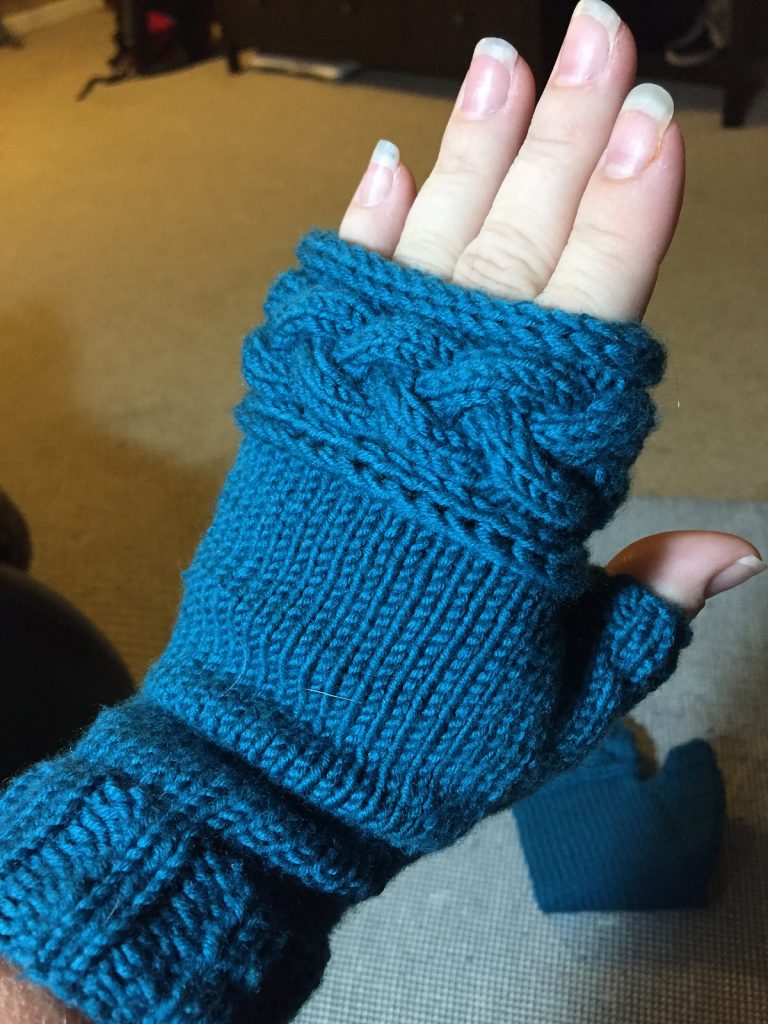 Mistress Beauchamp's Mitts
Jill Bickers' fingerless mitts with cable trim were inspired by gauntlets worn by Claire in the Outlander series.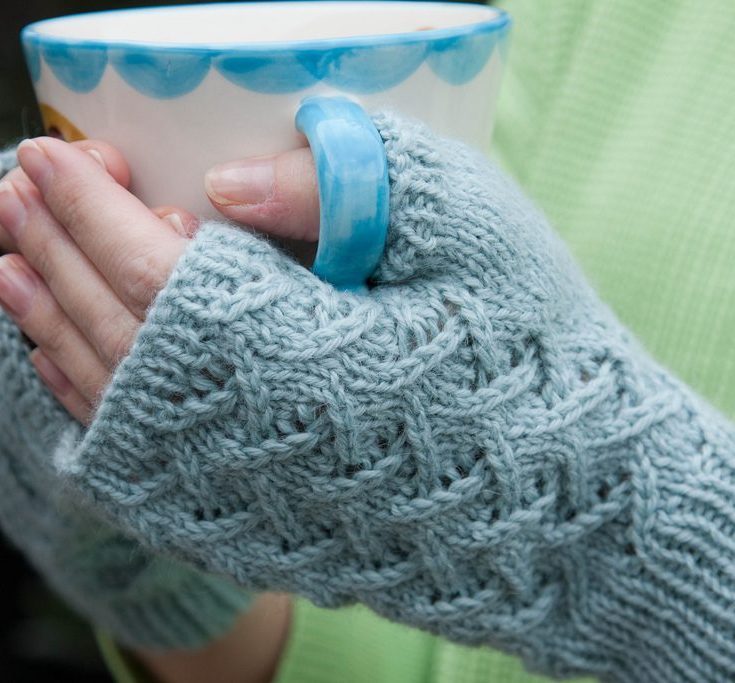 Cafe Au Lait Mitts
Paula McKeever's fingerless mitts feature an easy all-over lace pattern. Pictured project by kimbamel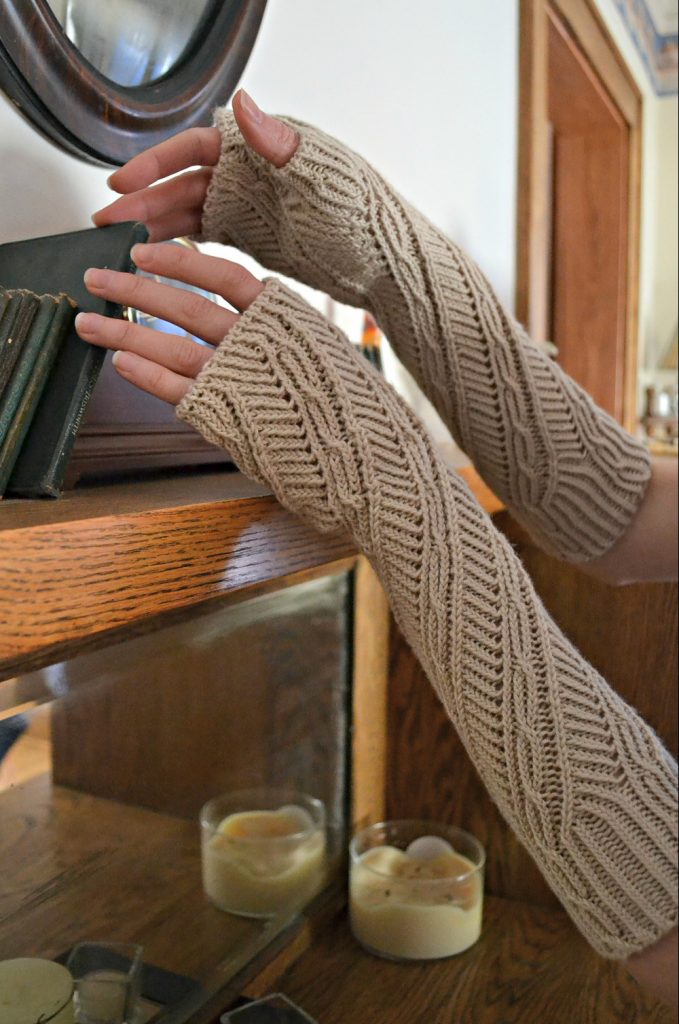 Rasen
Izumi Ouchi's arm warmers use spiraling cables and stitch patterns to create an elegant look. Pictured project by Cumberb1tch who says these arm warmers are not as challenging as they look.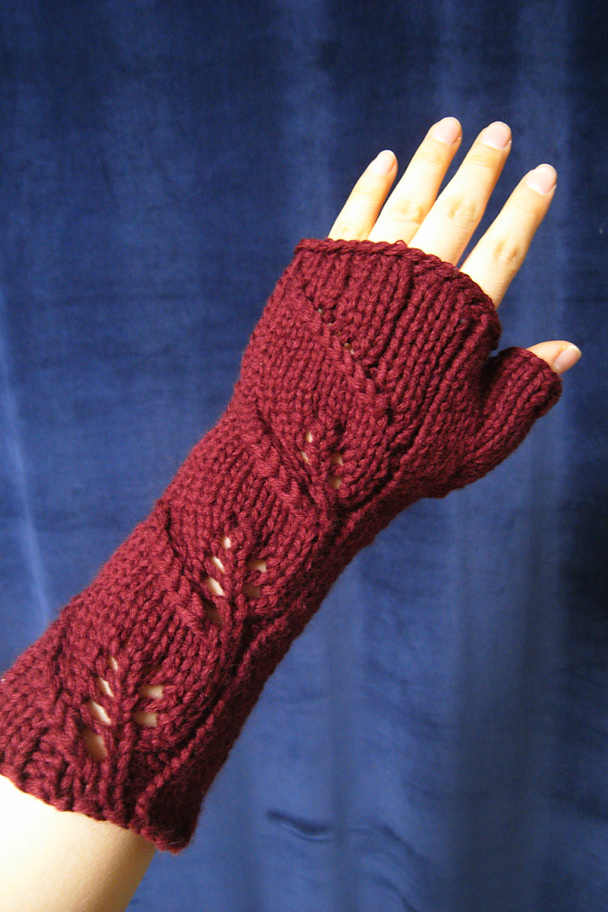 Three Leaf Mitts
Brenda K. B. Anderson's fingerless mitts feature a leaf motif in lace. Pictured project by jacquain who said the project took 4 hours.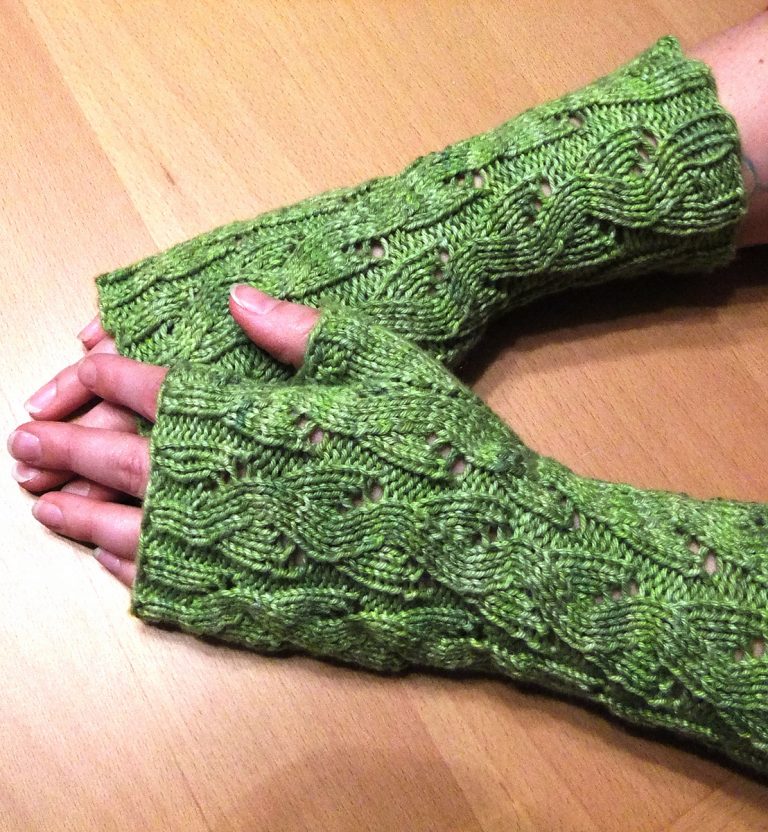 Emilee Dee Mitts
The all-over pattern in Paula McKeever's fingerless mitts looks like cable but it's not – it's lace! Pictured project by bonniebeth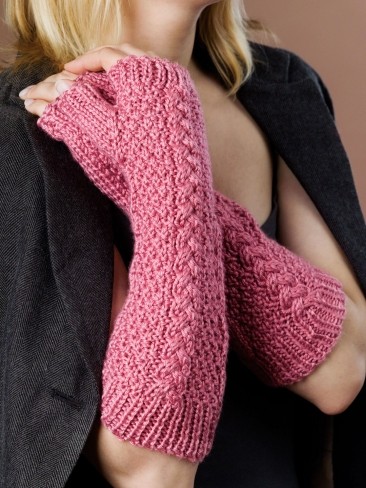 Caron Fingerless Gloves
Marilyn Losee's fingerless mitts feature a braided cable on a moss stitch background.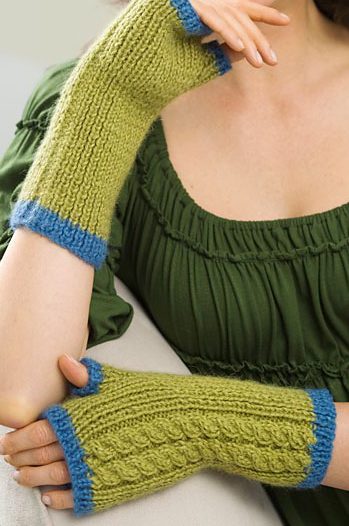 Twin Cable Wristers
Grace Alexander's easy fingerless mitts have a design that will work for women and men.
Patterns for Purchase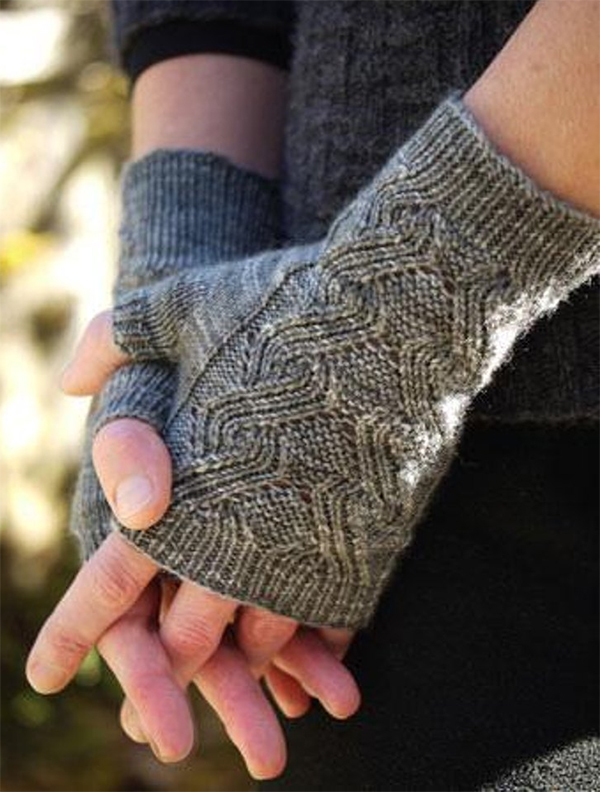 Curling Neckwarmer and Mitts
A simple cable design adds architectural detail to these fingerless mitts and matching cowl. Two sizes (S/L). Comes with a matching cowl pattern. Fingering yarn. Designed by Anne Hanson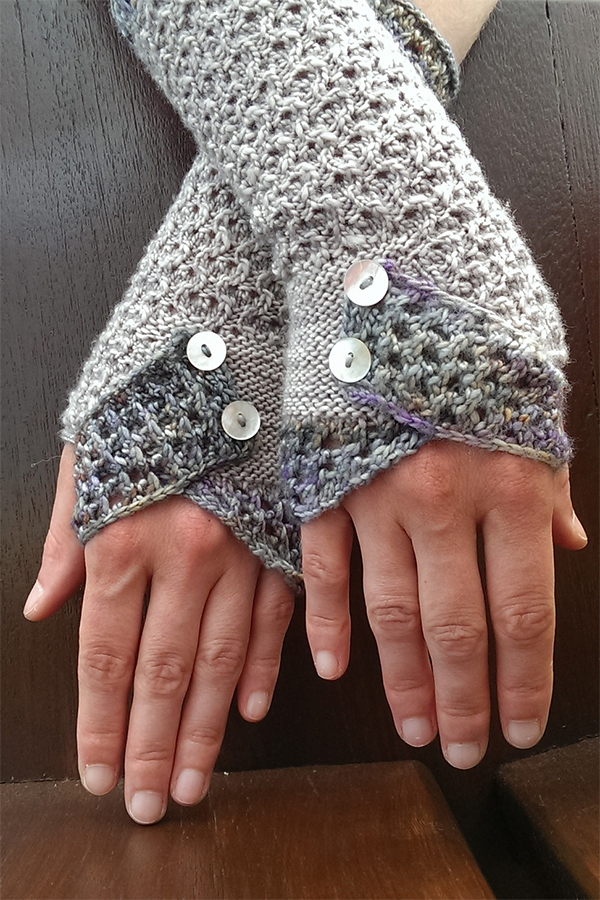 Aotearoa Mitts
"Aotearoa" is the name that Maori people have for their country (what we know as New Zealand), meaning "The Long White Cloud". These fingerless mitts feature cloud inspired lace and a decorative flap over the fingers that creates the thumb hole. Fingering yarn. Designed by Sabine Kastner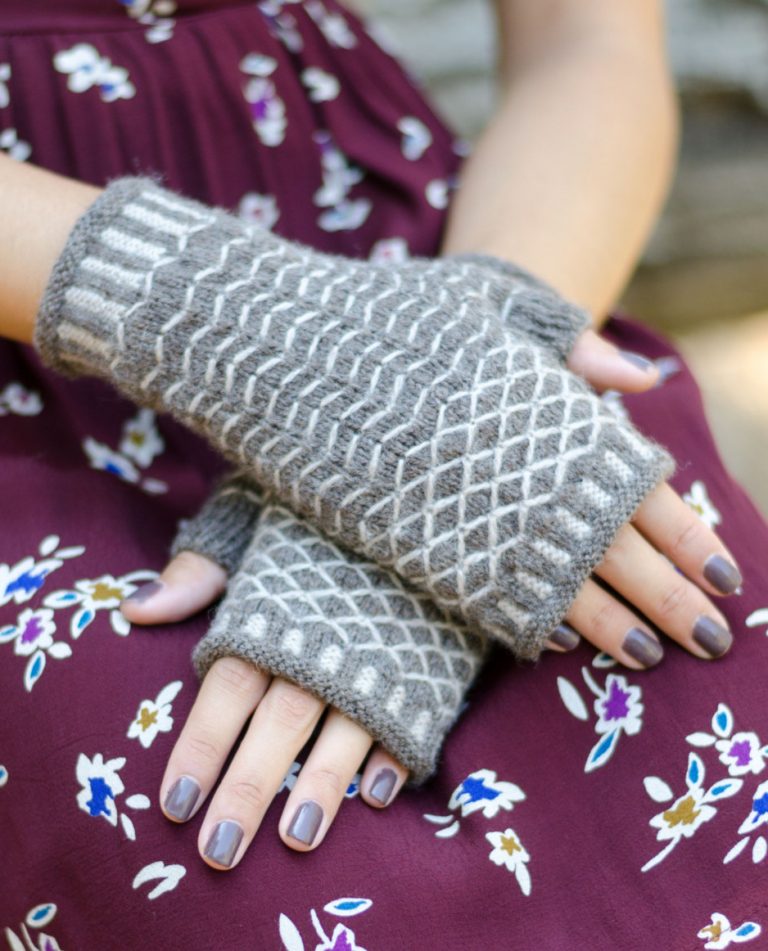 Quilted Lattice Mitts
Comes with a matching hat pattern.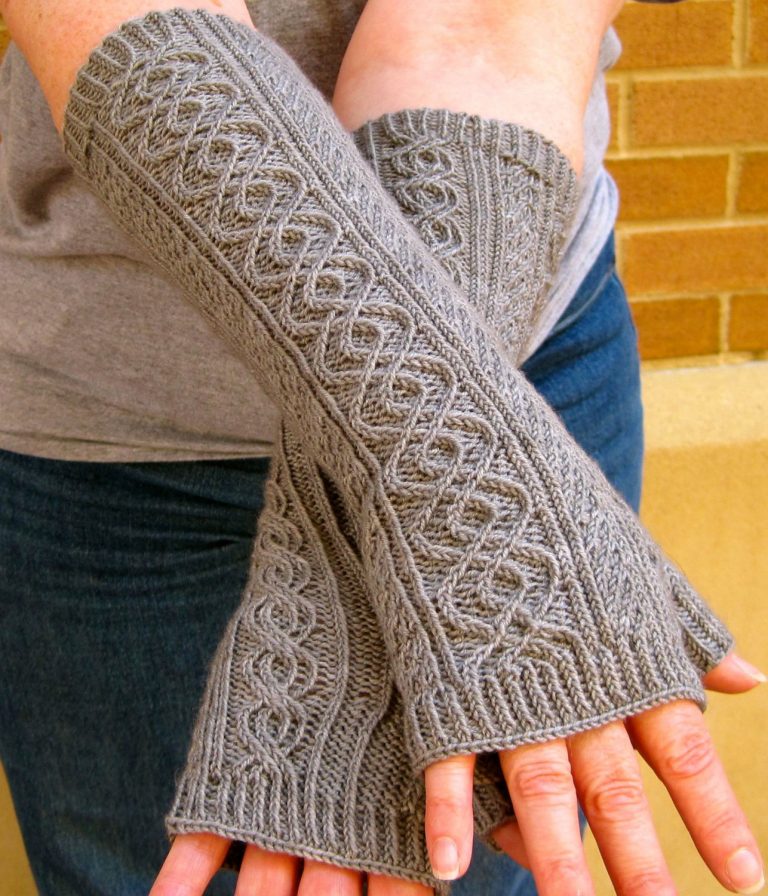 Totally Cabled Fingerless Gloves
These fingerless mitts feature two distinct cables, as well as one twisted stitch. Instructions are written out and charted.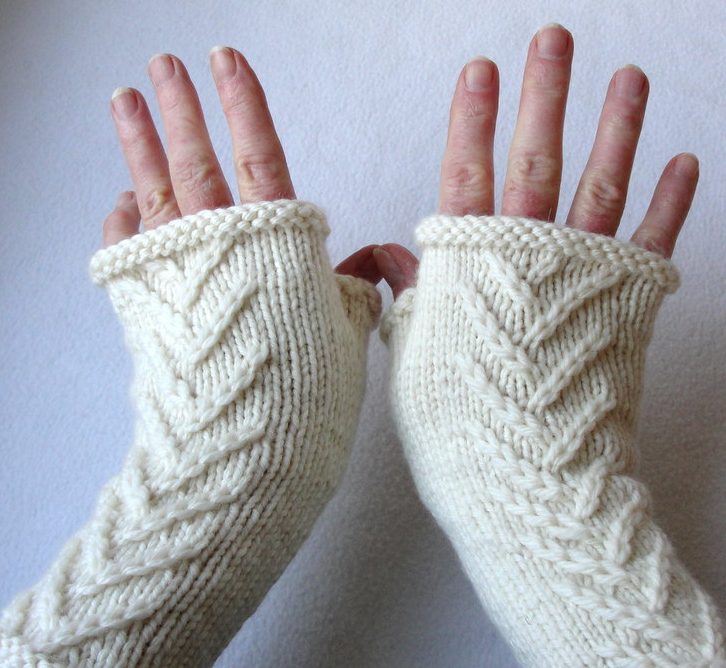 Nottingham Gauntlets
These fingerless mitts feature an easy twig pattern that resembles arrowheads.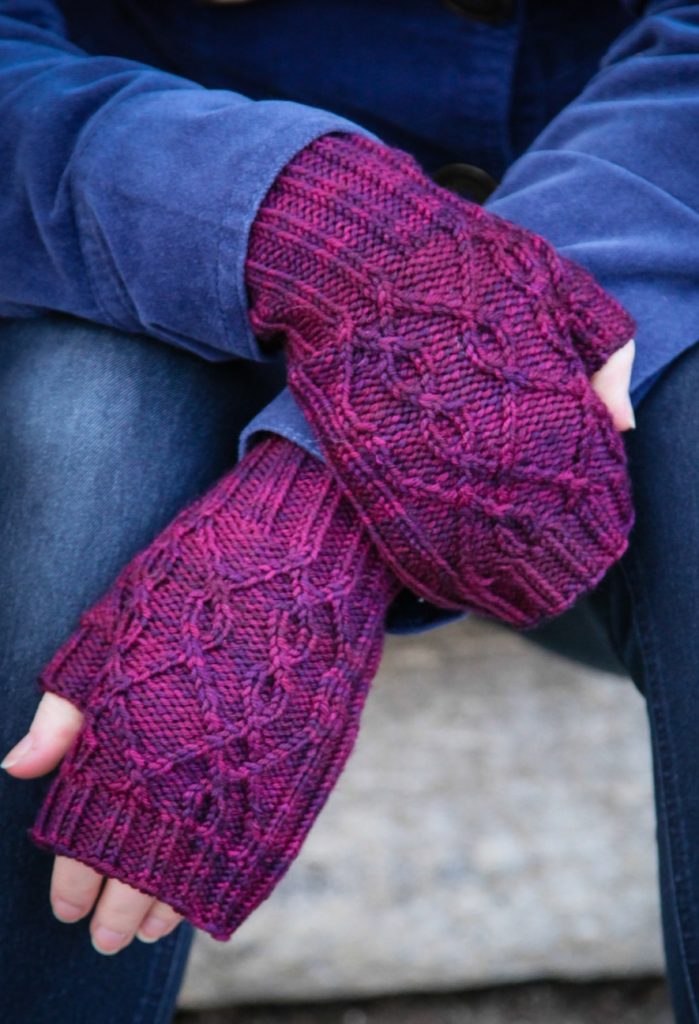 Birthstone Fingerless Mitts
Simple 2x2 ribbed fingerless mitts with a delicate 2-stitch cable motif on the backs of the hands.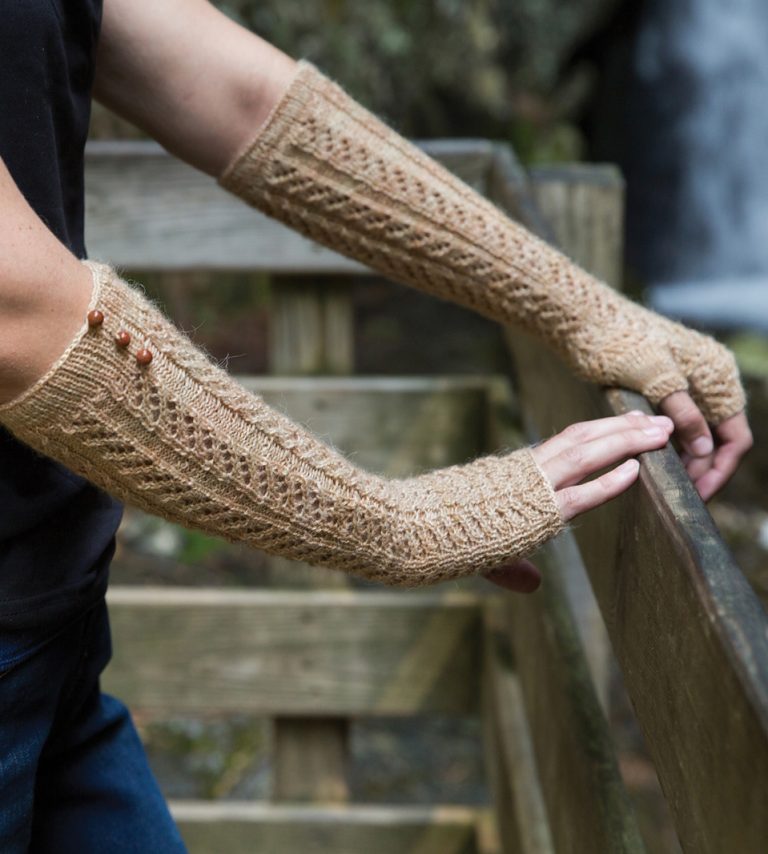 Elegance Fingerless Gloves
Sandy Huff's aptly named long and lacy gloves feature lace panels that look like braids.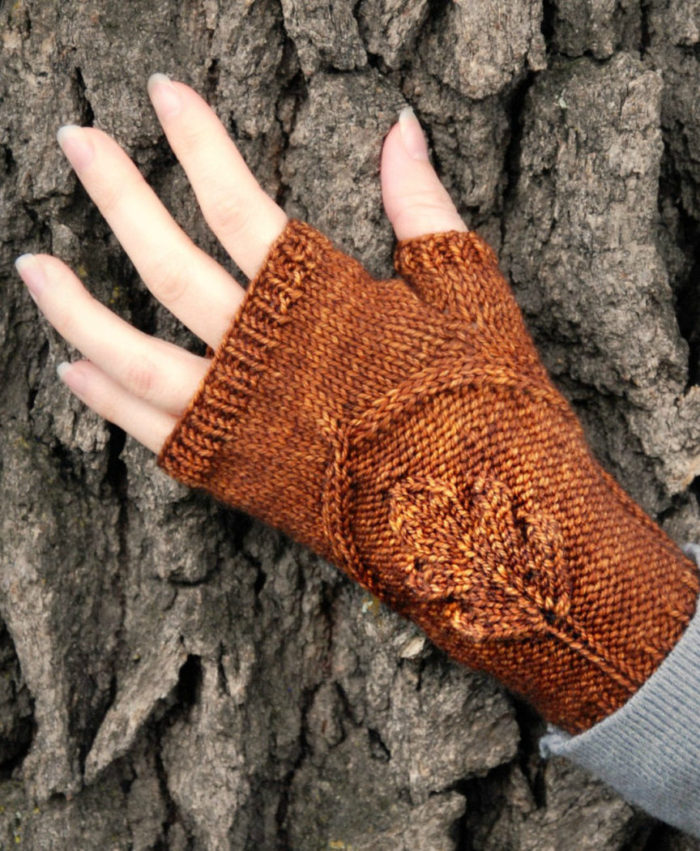 Oak Grove Mitts
Cozy little mitts with a beautiful embossed oak leaf. Instructions are included for both a fingerless glove and fingerless mitten version. Sport yarn. Designed by NeverNotKnitting