Knitting patterns for those who need a little extra comfort in their lives.
To get the knitting patterns, scroll down the page to the individual pattern you want and click on the link to that pattern.
These patterns are not my designs but links to other designers who have generously shared their patterns. If you have questions about how to knit a specific pattern, please contact the designer directly.
All links on this site are for informational purposes, but please note that some links are to affiliate sellers that pay me a small commission on purchases.
Free Patterns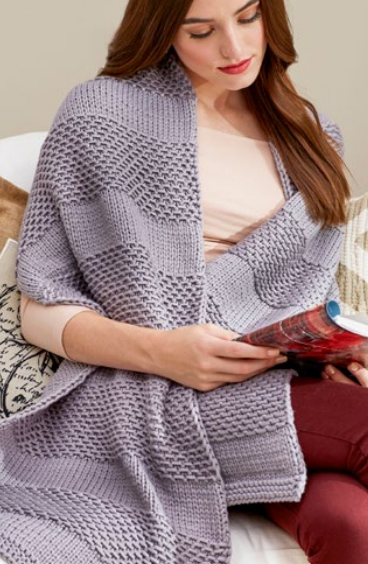 Soothing Comfort Shawl
This easy rectangular shawl by Christine Marie Chen features a slip stitch texture pattern in tubular bulky yarn.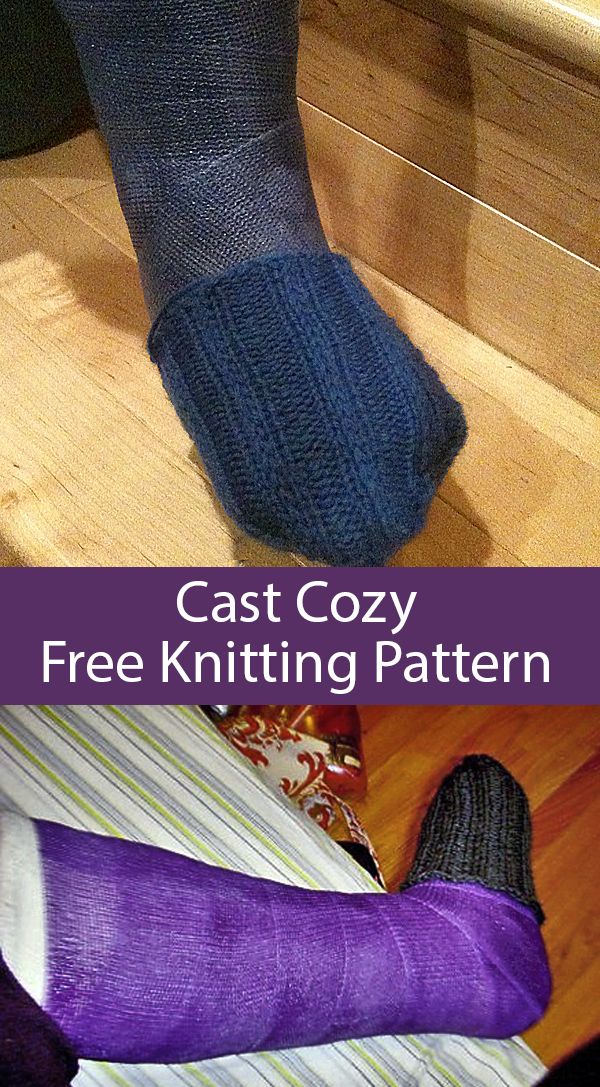 Cast Cozy
Toe cover for people in leg casts to keep feet warm. The pattern uses a dense slipped-stitch rib to really cling to the cast and to the toes. Designed by Leah Williams. Worsted weight yarn. Pictured projects by webhill and the designer.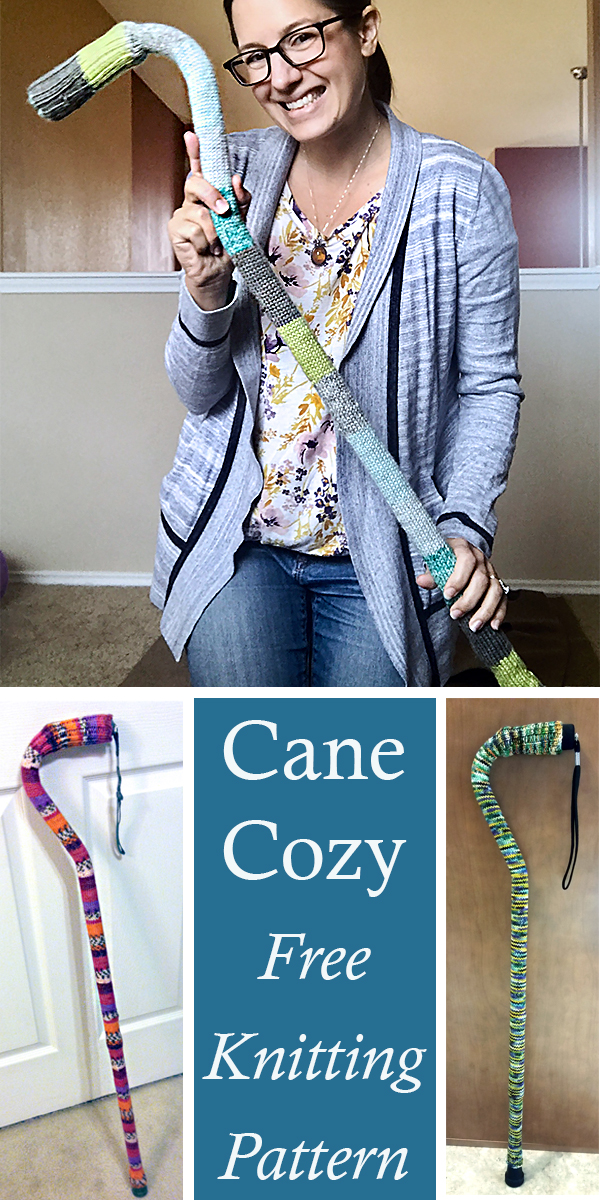 Cane Cozy
Dress up your cane with this easy project knit in the round in stockinette with ribbing on the handle for a snug fit and grip. Or you can leave the handled unknitted. Designed by C.C. Almon. DK weight yarn. Pictured project by thefurryknitter, the designer, and knitteroncapecod.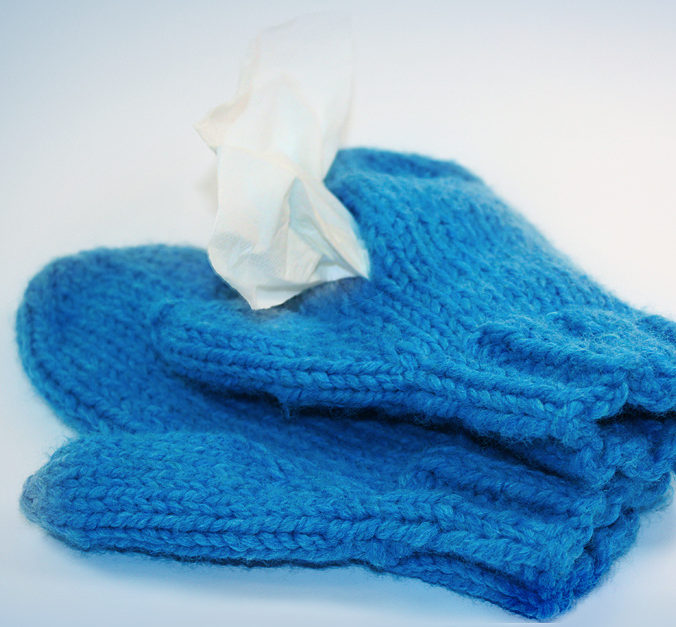 Kleenex® Mittens
These mitts will keep your hand cozy while also keeping tissues close at hand! One mitten has a slit and pouch inside the mitten to keep a small pack of tissues on top of your hand. 2 sizes. Quick knit in super bulky yarn. Designed by knittedblissJC. Available in English and French.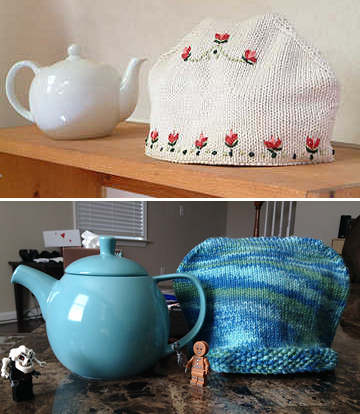 Aromatherapy Tea Cosy
This clever cozy includes four hidden interior pockets for sachets filled with scented flax seeds or aromatherapy beads. When you brew a comforting pot of tea, the moist heat from your teapot will release the healing scents. One of the patterns in Mindful Knitting by Tara Jon Manning.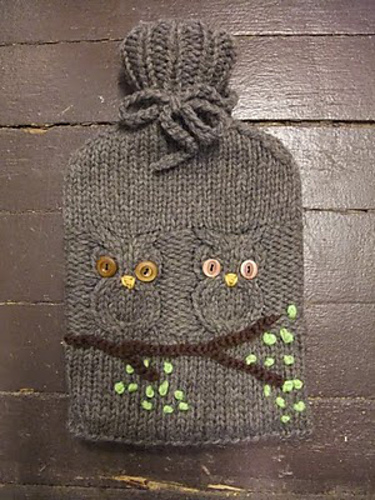 Hoot Water Bottle Cozy
Robyn Wade designed a hot water bottle cover with owl cable motifs that you can embellish with embroidery, buttons, and more to make it your own.

Phil's Knee Warmers
Sarah Peasley created these knee warmers for an uncle who had knee surgery. They also have been helpful for those with arthritis. Pictured project by reanbean.

Ice Pack Socks
These slipper socks come with a pocket on the sole to slip an ice pack in to help relieve painful feet. The designer Denise Sutherland used the Sock of Doom pattern but says you can adapt it to any sock pattern.

Heartwarmers Microwavable Heat Packs
These knitted hearts are filled with a microwavable rice or bead packet that makes them a wonderfully warm spot to be held or put in your pocket. Pictured project by sarahelise

Sweater for Purse Tissue Packets
Fasty, easy pattern for small cozy to hold purse-sized tissue packets. Great for stash busting, stocking stuffers, and fundraisers. Project by breet who added a flower.
More Free Patterns

Twiddle Muffs or Mitts
Twiddle muffs have a calming effect for people with dementia and other cognitive difficulties. The muffs provide simple stimulation that has been shown to reduce agitation and restlessness. Twiddle muffs have also been used as a sensory comfort aid for autism, ADHD, and anxiety. Knit the muffs or mitts with colorful textured yarn from your stash and then add buttons, ribbons, beads, toys, anything that would be fun to fidget with — inside the mitt as well as outside! Be sure to take a look at the projects for this pattern for inspiration. Check with your local nursing homes about donating twiddle muffs for their residents. Pictured project by Kipipsso.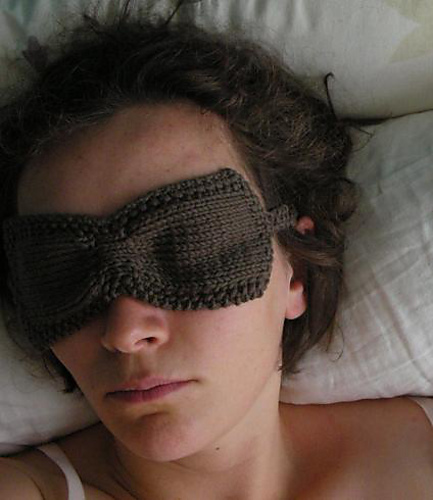 Ruched Sleep Eye Mask
Designed by Sarah Core, this sleep mask covers the eyes without laying heavy on the face. The pattern also provides instructions for turning your mask into a eye sachet, with a detailed pattern included for making a mask backing. Pictured project by martyporteous

The Original Prayer Shawl
This easy shawl is offered by the Prayer Shawl Ministry. The designers Victoria Galo & Janet Bristow say, "The making of a prayer shawl is a spiritual practice which embodies our thoughts and prayers for the receiver… Made in prayer, as prayer, for prayer, the shawls are passed on hand-to-hand and heart-to-heart." Pictured project by saskknitter who added meditation beads.

Loving Thoughts Heart Card
Show you care with a personalized card with a knitted heart by Kelly Jo Sweeney. Pictured project by fluffernutters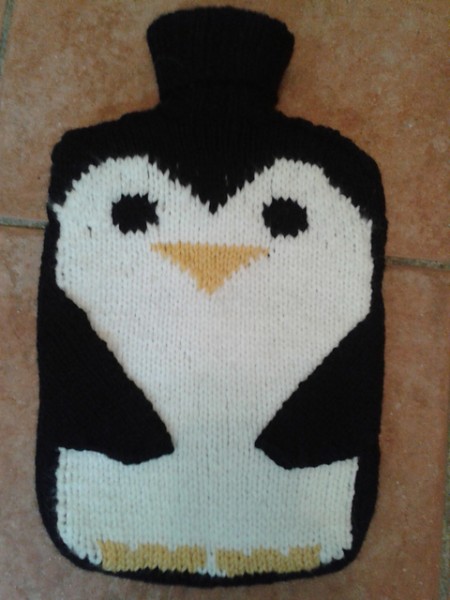 Penguin Hot Water Bottle Cozy
Designed by Marianne Wells, this adorable hot water bottle cover is knit with dk yarn held double so as to create a thick fabric to keep the heat from burning skin, and the cosy opens at the back for easy access as well as at the neck for easy refilling.

Finger Labyrinth
This portable version of the classic Baltic labyrinth pattern by Beth Dubeck can be a great aid to meditation, prayer, and generating a sense of calm. At 17 inches in diameter, this double-spiral labyrinth is perfect fit for laps or table tops and can be customized for larger sizes. The original pattern uses eyelets for the labyrinth edges. In this project, LLWright added duplicate stitch to the eyelets to make the labyrinth more tactile.

Dog Anxiety Wrap or Swaddle
And let's not forget about comforting our animal companions! Chiwaluv Amigurumi Critters designed this wrap and swaddle sweater to help anxious dogs feel safe and relax. The Ttouch Mock Anxiety Wrap is based on principles of Tellington Touch to use moderate pressure to comfort the mind and body during periods of stress, travel, loud noises, hyperactivity, or injury. The Swaddle Sweater is designed for snug, calming fit like swaddling a baby.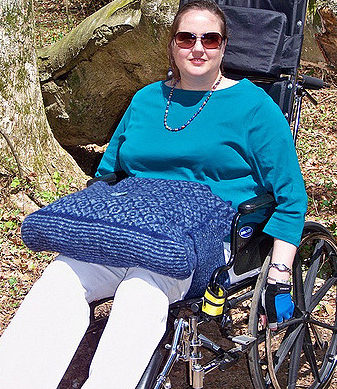 Ramp Tote
This ingenious hands-free tote was designed Jodie Gordon Lucas with panels that fit beneath your legs to keep your knitting projects or other items secure but convenient. Three designs. Jodie points out it also is ideal "for knitting while sitting in bleachers, knitting while sailing, knitting on a rollercoaster, knitting on a ski-lift, knitting on a motorcycle".

Heat Relief Mittens with Pockets
These mittens feature a pocket for inserting air activated handwarmers. Michele Czekala designed these for Raynaud sufferers but anyone who suffers from cold or pain in the winter would benefit from the extra warmth.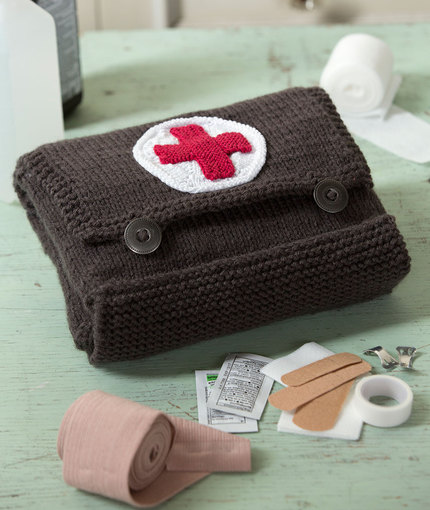 First Aid Kit
Nancy Anderson designed this vintage-style first aid kit with two expanding pockets for Red Heart Cares. 8 x 8 x 3 inches.

Smiley Face Cloth
Add a smile to a knit cloth, shawl, blanket to cheer them up. Designed by Knit a Little Store.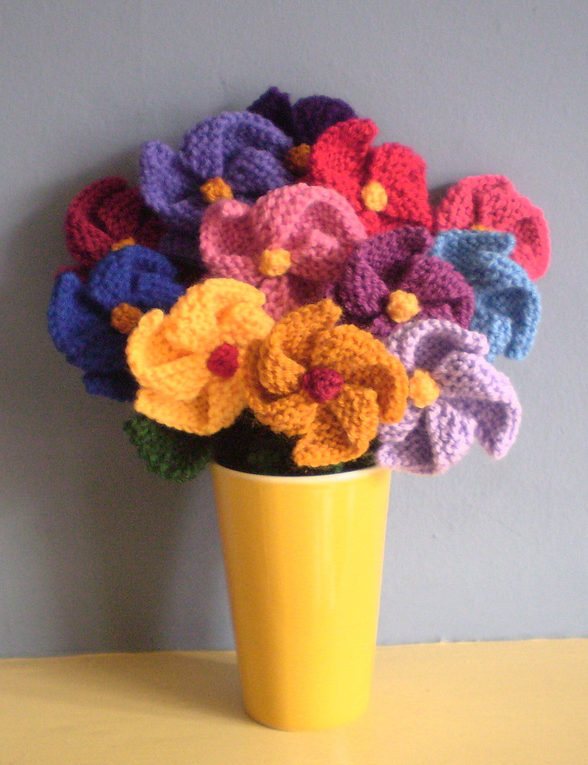 Pinwheel Flowers
Cheer them up with flowers that never fade or die! These flowers designed by Frankie Brown are simple garter stitch flowers, knitted in one piece, from DK yarn. A pattern for stalks and leaves is also included, should you want to knit a bouquet.
Patterns for Purchase

Arm Sling
Create a personalized sling to take some of the pain out of injured arms. One of the 30 patterns in Knockdown Knits. Designed by Joan of Dark aka Toni Carr. Pictured projects by the designer and Poodlezilla who felted her sling. Worsted weight yarn.

Armpit Cushions for Crutches
Get padding and protection from the pain of using crutches. Knit in two simple pieces, then stuffed for some extra padding, these cushions knit up in no time at all. One of the 30 patterns in Knockdown Knits. Designed by Joan of Dark aka Toni Carr. Pictured projects by the designer and KaceyJH.

Knit Prayer Shawls: 15 Wraps to Share
15 designs included: Southwest Color, Just-Right Wrap, Sunny Days Ahead, Comfort Abides, Light & Airy, Colors of Joy, Celtic Spirit, Wishing You Well, Swaying Cables & Lace, Tranquil Waves, Nature's Peace, Sweet Solace, Restful Ruana, Because I Care, and The Picture of Health. Spiral-bound pages lie flat for ease of use.that would be fun to fidget with — inside the mitt as well as outside! Be sure to take a look at the projects for this pattern for inspiration. Check with your local nursing homes about donating twiddle muffs for their residents. Pictured project by Kipipsso.

Mindful Knitting: Inviting Contemplative Practice to the Craft
Mindful Knitting contains ten original and enjoyable knitting projects, each complemented by a meditation exercise.

Knitting for a Cure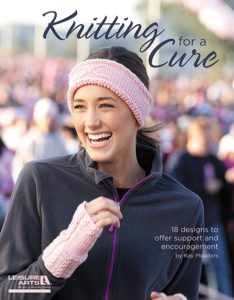 This afghan is one of 18 designs from Knitting for a Cure. Other patterns include scarves, a hat, a headband, fingerless gloves, teapot cozy, hot water bottle cover, pillow, and more. Many feature breast cancer awareness ribbon.

Teddy Bear Hot Water Bottle Cover
This sleeping bear cozy is perfect for children or anyone who needs a warm fuzzy. Also includes a pattern for pajama case.

Boo-Boo Bunny
Fun cozy cover for reusable cold packs.

Cable Hot Water Bottle Cozy
This pattern works up to fit any standard size water bottle.

Peanut Neck Pillow
Quick and easy pattern for a peanut shaped neck support pillow to use at home or for traveling.

Stanley Snake Wrist Rest
This easy snake toy has a practical side — keeping your wrists comfortable while you use the keyboard or mouse.